10 Undeniable Reasons Why a Small Bathroom Is Best
Here are 10 undeniable reasons and a bit of humor about why small bathrooms are better than large bathrooms. Small does not mean you cannot have luxury.

Sometimes less of something is better for us, because many of the things we want are not good for us. Consider these examples:
A carton of ice cream
A bag of potato chips
A dozen chocolate cupcakes
Unlimited Champagne cocktails
24 hours of nonstop sleep
A month of nonstop TV
12 months of vacation instead of one
A chance to tell the boss what you think
A new boss and
The boss's job.
Reviewing Wants Versus Needs
Oh what a headache! You may have been wanting a large, fancy bathroom for years. But stop thinking that bigger is better. As we said, sometimes less is more. Consider these consequences of the previous list:
Items 1-3: Major weight gain
Item 4: A horrendous hangover
Item 5: Bad hair bed head a day later
Item 6: Brain rot
Item 7: Indecision about where to go and what to do
Items 8-10: The desire to take a long trip to Neverland so you can forget you are the boss.
Now, for the third time, less can be more. Here is the proof — a list of ten undeniable reasons why a small bathroom is best.
We could not be more serious, because seeking less stuff is a practice that will save you effort and money (and maybe weight), simplify daily life, make you more creative and let you afford luxury on a small scale. It will help to make you the boss of your life.
Without further ado, here are ten undeniable reasons why a small bathroom Is best.
10. You Save Floor Space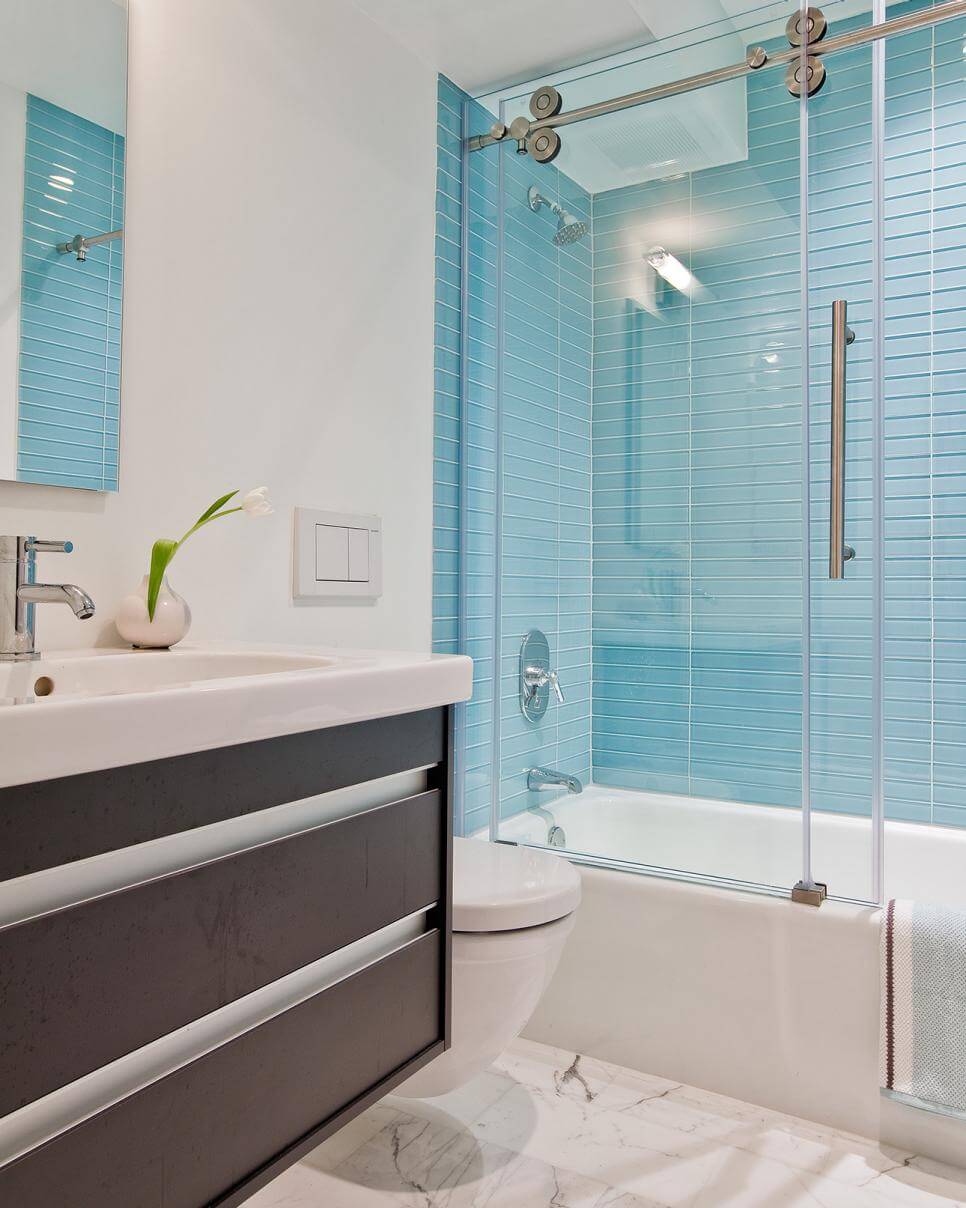 Photo: Credit
Whether building or renovating a house, problems always arise with a shortage of space. Sometimes you have to remove a room from your plan, make it smaller or reduce the size of other rooms.
The question is which choice bothers you the most. Instead of giving up on the study you planned to squeeze into the floorplan, maybe you can cut size elsewhere including the bathroom.
What we love: The brown vanity and cool blue tile create a vibrant atmosphere in the small space. The sink is not very small though.
Our suggestion: Such a small room should only have one kind of tile.
9. Small Spaces Are Cozy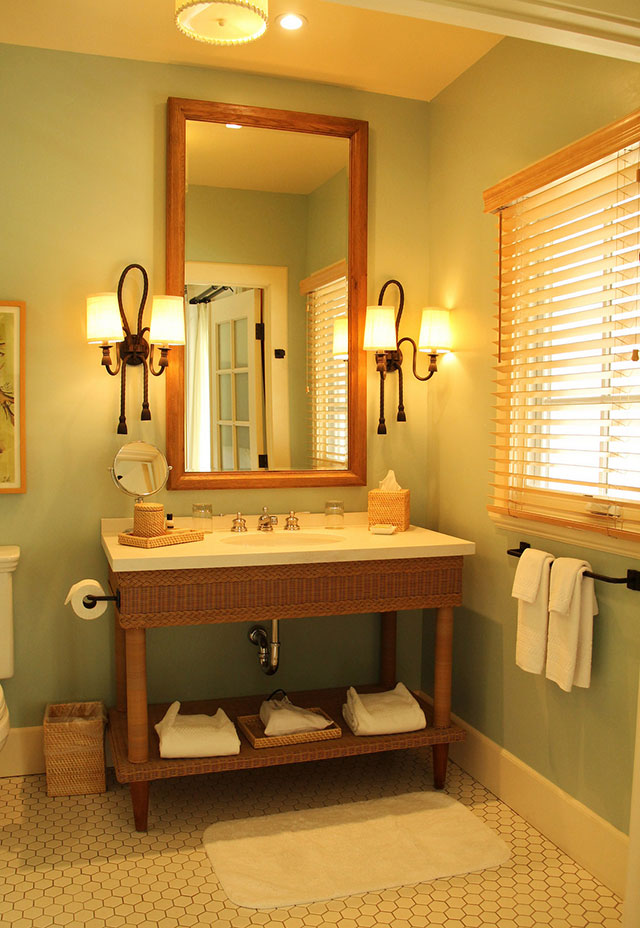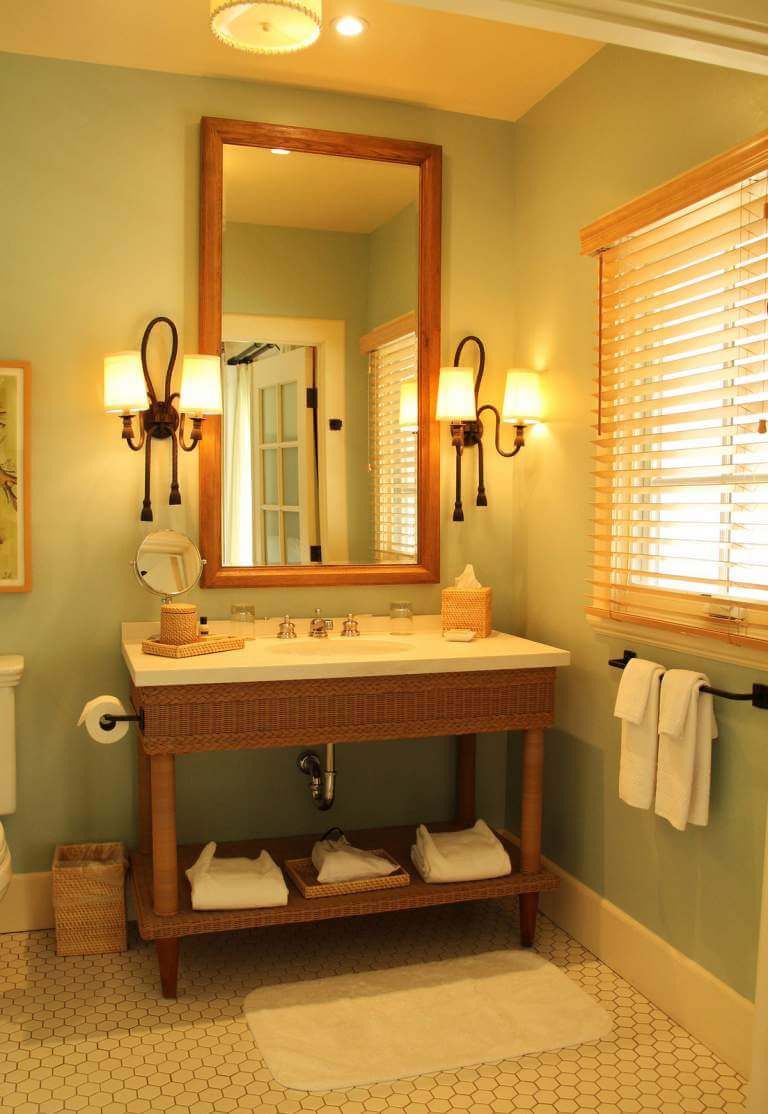 Photo: Credit
Big mirrors, lighter ceiling colors and a vanity without a cabinet make this small bathroom seem bigger. But it is cozy due to its size and color scheme.
What we love: The rust of its wooden mirror frame and wicker, the glowing sconces and the apricot-orange ceiling warm up the cool green walls.
Our suggestion: How about a more colorful bathmat, such as a deeper sage green?
8. Everything Is Nearby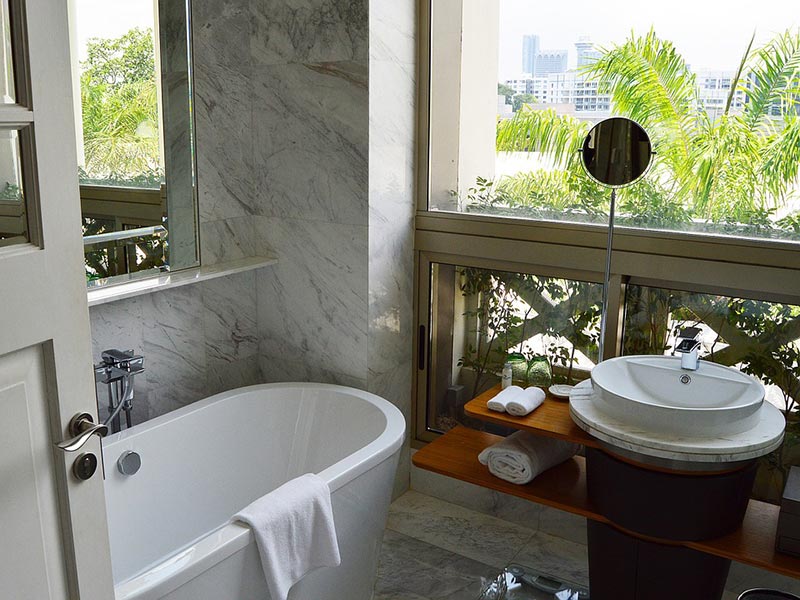 Photo: Credit
Everything, including an up-close view of the outdoors, is within an arm's reach here. Need a towel, a glass of water or some lotion? Just stretch a hand out to the creative, minimalist vanity.
What we love: The porcelain tub is shaped like an old fashioned, metal sitz-bath. Its glossiness works well with the light gray marble walls and mirror that make the small space seem bigger. The sink is tiny but an elegant luxury due to its unusual shape.
Our suggestion: Add a splash of drama with solid color towels in a plush red, royal blue or hunter green.
7. Less Cleaning Is Necessary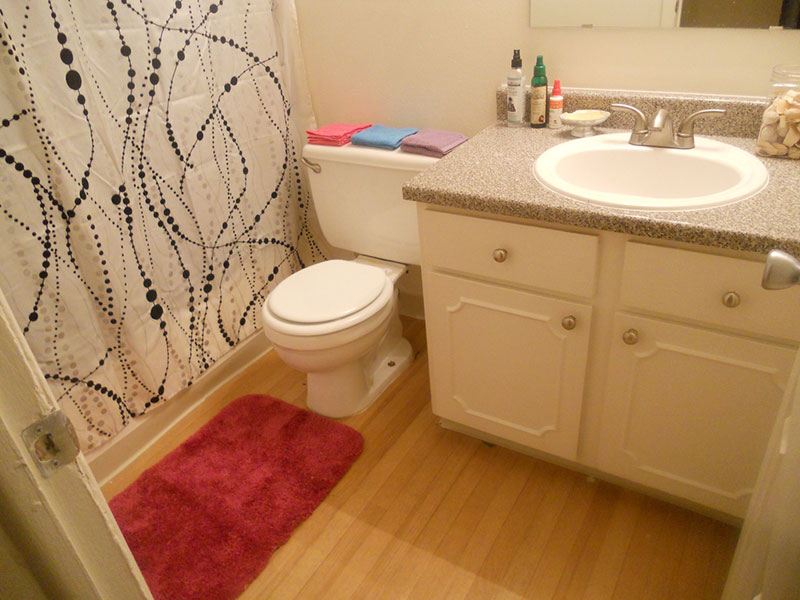 Photo: Credit
Small spaces generally require little time for cleaning. That means more time for all the other things you have to do or want to enjoy.
The vanity has only one sink and two cabinets to clean. Minimal decorations and beauty products on the countertop also speed up the task.
What we love: This room has a rosy glow due to the pink blush in its beige wall paint and granite-like counter as well as its red accessories and warm oak floor.
Our suggestion: The shower curtain seems a bit too busy for the room.
6. Less Painting Is Necessary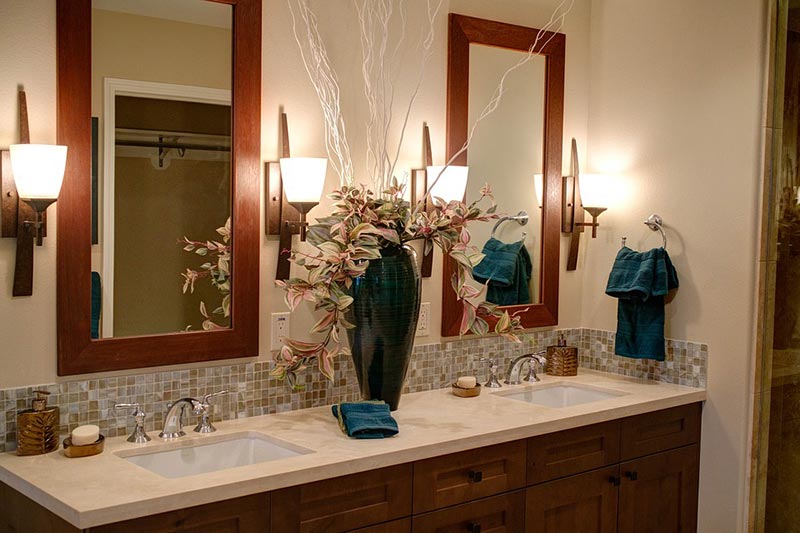 Photo: Credit
Once again, rosy beige paint and rusty wood (mirror frames and vanity) show how neutrals can be carefully selected to keep a small room calm yet colorful.
Ambient lighting provided by the sconces increases the room's warm glow that is perfectly countered by the cool, deep blue-green of the towels and vase.
Tile is kept to a minimum, but there still is little wall space to paint when it is time to refresh the color.
What we love: This is a small detail, but the deep, bright white sinks contrast crisply with the peach countertop. We also love the way the large mirrors add depth to the room.
Our suggestion: The tiles in the backsplash are too small; size them up. We don't like the mosaic look.
5. Less Decorating Is Necessary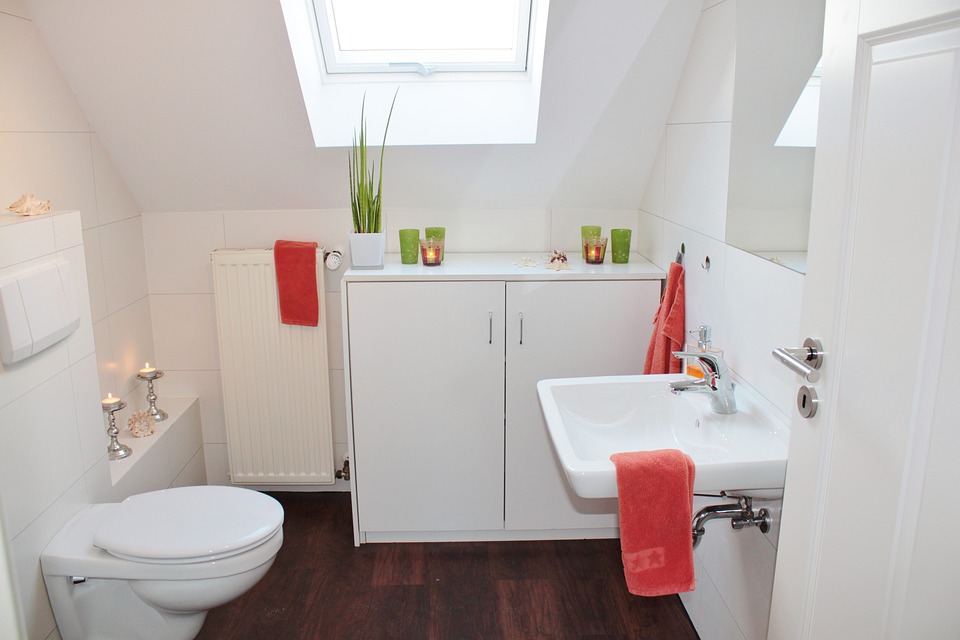 Photo: Credit
It's seldom that an almost completely white bathroom is so attractive. But the light drawn in by the dormer window, the deep cherry brown of the wooden floor and minimal splashes of bright green (drinking glasses and the attractively vertical, grass-like plant) and red (towels and candles) make this one of the cheeriest small bathrooms we have seen. Never has a hot water radiator looked so chic!
What we love: We admire the self-control of the designer. The addition of even a few more decorations would give this tiny room a crowded atmosphere. The only other touches to mention are seashells and votive candles burning in small silver chalices.
Our suggestion: This one gets a "10." We like it the way it is.
4. You Learn to Simplify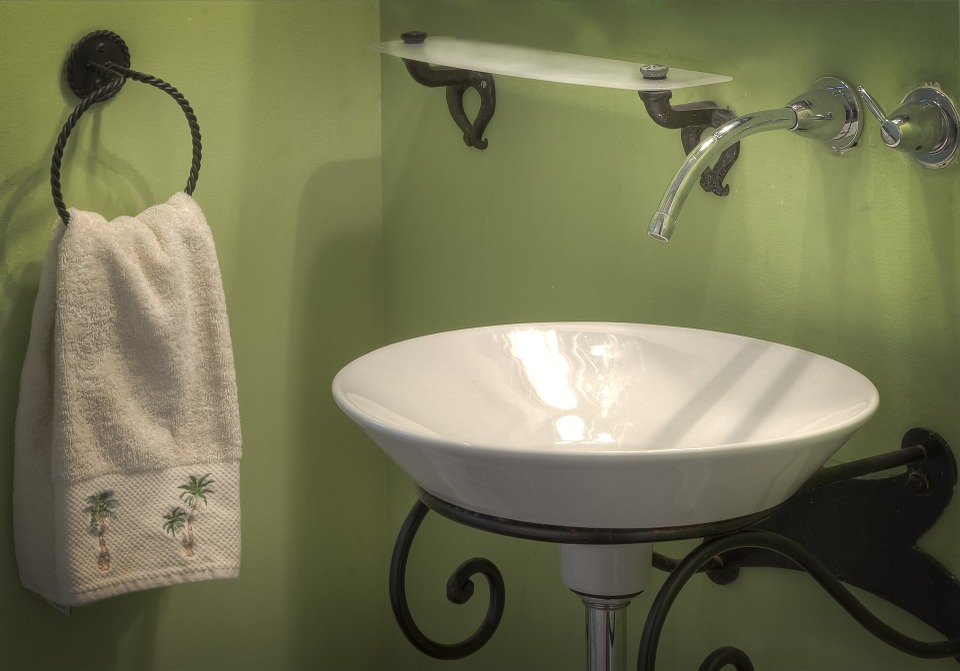 Photo: Credit
When you have little bathroom space, simplifying a room's fixtures, finishes and decorations is crucial. The old-fashioned dentist style sink pictured here is one of the tiniest we discovered in our search for photos of small bathrooms.
There is no room for an under-sink vanity. Instead, the sink's wrought-iron supports become part of the room's decorative elements. Perhaps there is a wall-mounted cabinet elsewhere in the room or other storage space nearby.
But the sink and the itsy-bitsy glass shelf say a lot about this room's size.
What we love: Apple-green walls mixed with bright white and the dark black of wrought iron are hard to resist.
We suggest: A gold-tone faucet assembly would be more attractive and add warmth to the color scheme.
3. You Become More Creative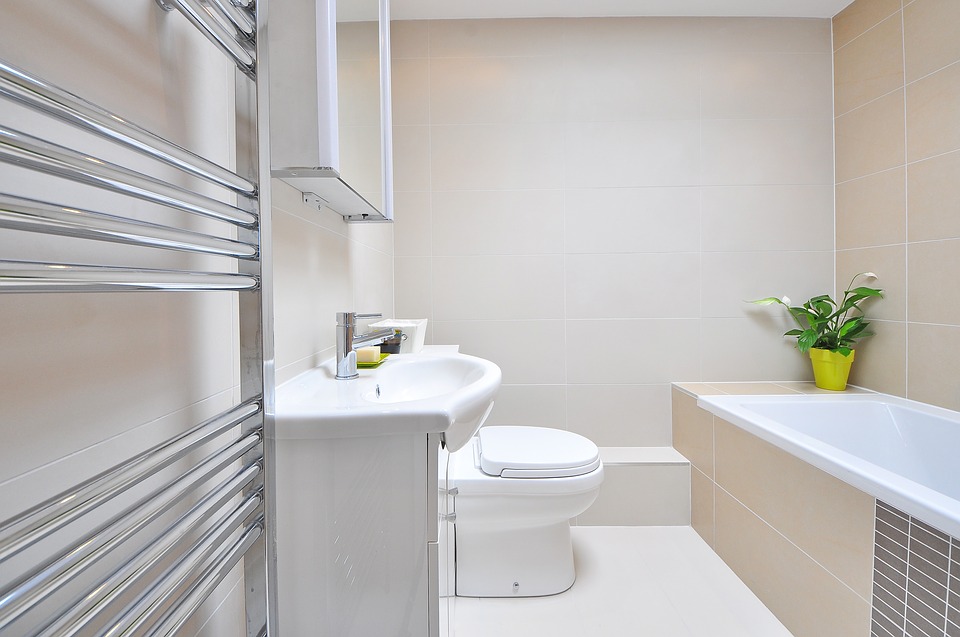 Photo: Credit
It can be difficult to find such a shallow fixtures and fittings for a narrow bathroom. The slender bathtub, heating rack-style towel bars and the tiny vanity and sink make the room work. So does the neutral combination of white, beige and tan.
What we love: Everything! However, it is also nice that a sizeable medicine cupboard with a large mirror is available. The houseplant is a welcome splash of color in a room without windows to the outdoors.
Our suggestion: Add another houseplant, and hang an attractive framed poster on the back wall.
2. It Is Easier to Afford Luxuries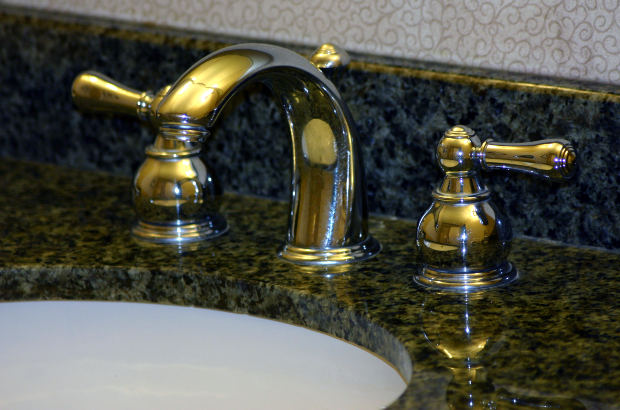 Photo: Credit
Obviously this photo tells you little about the size of its bathroom. But we want to point out that owners of small bathrooms may more easily indulge in luxurious fittings and vanity countertops. They don't have to purchase lots of cabinetry or decorations to fill a large space.
What we love: The gleaming gold finish of the fittings reflected by the dark marble and cooled by the bright white sink.
Our suggestion: We would need to see more of this bathroom. Whoever designed it has made a rich combination of textures work together from wallpaper to countertop.
1. Consider Your Options
Our list of points in favor of small bathrooms is worth considering in depth before making decisions and purchases. Think hard about the size of bathroom you need before removing a room from your plans or deciding to purchase budget fixtures, fittings and finishes for your bathrooms.
Try not to give in to pressure from house tours or photo displays online and in pretty home improvement magazines. Palatial bathrooms featuring walk-in showers, Jacuzzis, bathtubs brimming with bubble bath and other amenities may affect your better judgement.
Build that kind of bathroom and you might need to toss out the baby with the bath water! You might have to cut the nursery from your floorplans as well as your study.
Build a big, big bathroom and you may end up spending far more time in there than you ever imagined possible. You will be holding rags, squeegees, scrubby sponges, mops and buckets. You may need to buy more chocolate cupcakes.
You probably will not be able to afford Champagne. But your ex-boss may be drinking it in her dinky yet darling bathroom.