Banquettes: A Comfortable Alternative to Chairs
Banquettes are an alternative to chairs, a functional and space-saving solution, which offers seating, storage, and appeal.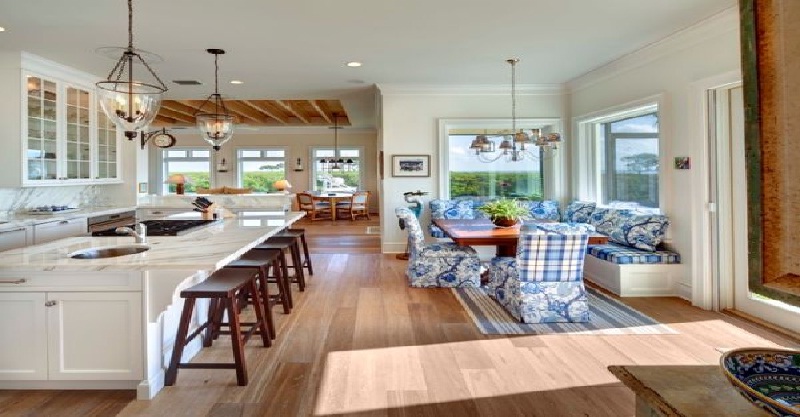 Commonly incorporated in kitchens and dining areas, customized banquettes usually help fill awkward corners and niches and put them to use, which makes banquettes a favorite seating option. Although it depends on the size of the space, as they are easily accessible when combined with banquettes, relatively smaller trestle or pedestal tables are a suitable solution.
In small spaces, where every inch counts, banquettes offer extra storage.
These usually yet not necessarily built-in benches of different sizes and designs/from tiny L-shaped to U-shaped to semi-circular to long one-sided ones/ work well in spaces of any style and help create intimate, casual atmosphere.
As no space is too small for transforming it into a banquette, it makes a versatile design solution, both indoors and outdoors.
Usually complemented by chairs with matching/or, at least, coordinated upholstery/ and plenty of throw pillows, wherever positioned, banquettes offer a way to add color, pattern, and texture.
Generally, upholstered for more comfort or topped with just a simple cushion, built-in or not, when it comes to creating a multifunctional area and providing extra seating and storage, banquettes are an unbeatable choice.
1. Banquettes as a Storage Solution
Apart from providing a space-saving solution for adding cozy seating, banquettes offer another great benefit, which, especially in small urban flats, is a huge bonus. Wherever positioned, banquettes, large or small, can always add some extra hidden storage. From multiple built-in drawers to lift-up tops, which reveal large trunks to open storage with uniform baskets or boxes, the options to utilize the space underneath the bench depend entirely on the homeowners' needs and taste.
The best part is that as it is hidden, it is perfect for storing practically everything, from cookbooks, table linens, dishware to rarely used kitchen equipment to toys to extra blankets.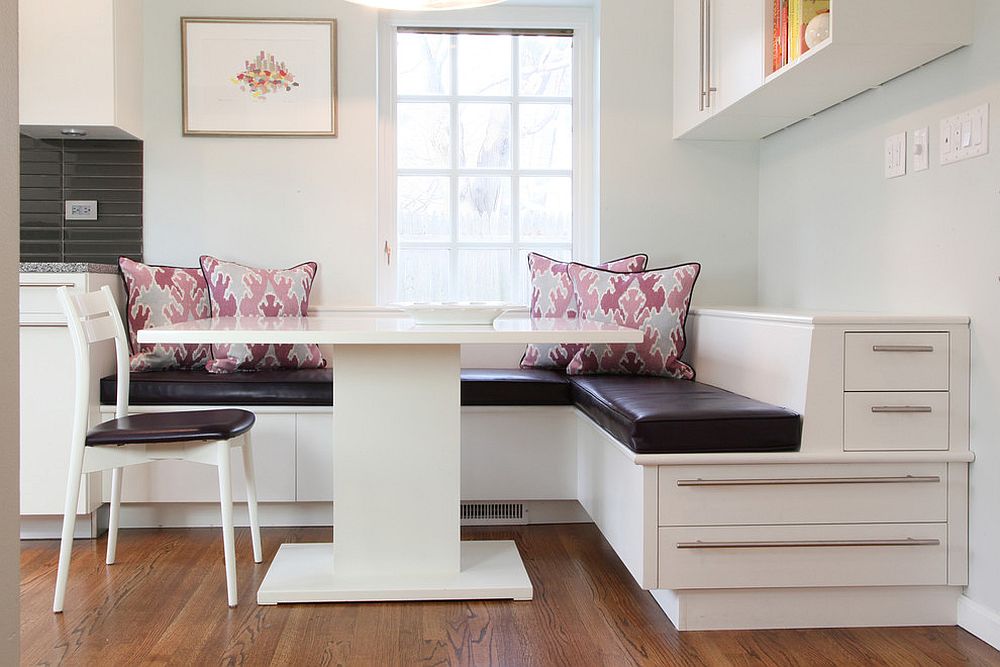 In the picture above, a contemporary-style banquette makes use of a kitchen corner, which otherwise would be left unused. Customized drawers provide plenty of built-in storage. When not in use, the chair can be stashed way to prevent interrupting the traffic flow. A paneled window offers adequate natural light. Throw pillows create a sense of coziness and add color, pattern, and texture. A piece of wall art brings visual interest. So stylish and elegant yet functional and convenient!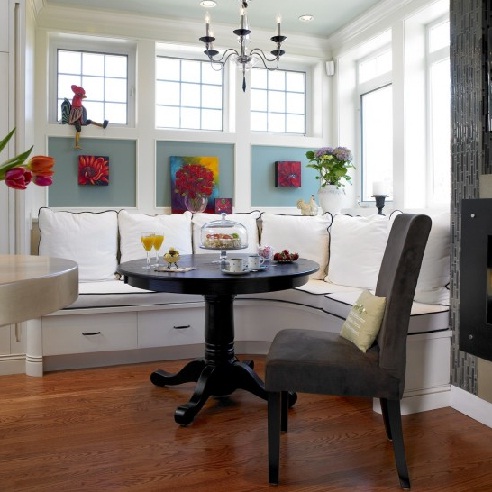 Above shown, an inviting dining nook with adequate natural light. A curved corner banquette design solution in white offers plenty of storage. A black table makes a contrast. Throw pillows create coziness and comfort. An appealing chandelier dropped above the table provides artificial light. Wall art, accessories, and fresh flowers add color, freshness, and visual interest.
2. Banquettes in Kitchens and Dining Rooms
Being a versatile solution, banquettes work well in any space of any design style, from traditional to eclectic to ultra-modern ones.
However, these comfortable seating arrangements are usually incorporated in kitchens and dining rooms where add extra functionality, softness, and personality and help create breakfast and dining spaces of predominantly yet not necessarily casual, intimate character.
Banquettes work perfectly well with bay windows.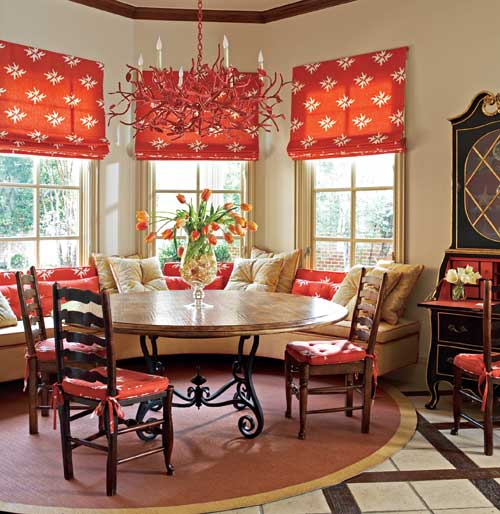 Shown above, an awesome traditional dining zone in cream and red. A curved banquette follows the bay windows and offers adequate seating. Plenty of throw pillows add coziness. A stunning coral red chandelier is hung over a large round dining table. Touches of black add sophistication and elegance. Roman shades provide light control and privacy. Matching fabrics used for the shades, upholstery, and chair pads create a sense of harmony and add visual appeal. A tulip bouquet in a clear glass container brings charm and freshness. Unquestionably, this space is pure perfection!
Sometimes, when it comes to truly tiny and/or awkward nooks, nothing would fit better and create cozy seating and an inviting atmosphere than a banquette.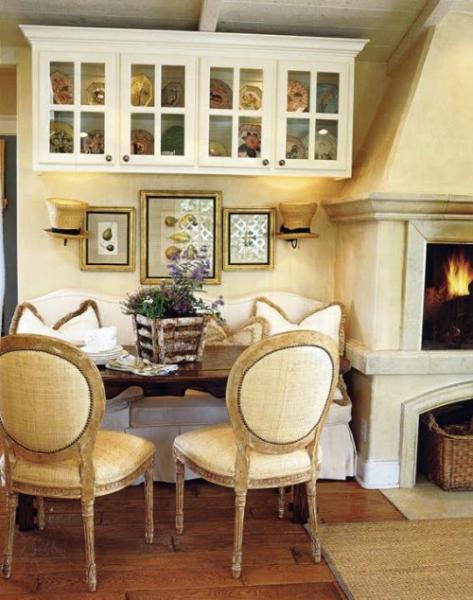 In the picture above, a picture-perfect breakfast nook. Slip-covered banquette works well in the tiny space next to an open fireplace. Throw pillows create a sense of coziness and add texture. A pair of matching chairs offer extra seating. A glass-paneled door cabinet above the banquette provides both storage and displays an attractive dishware collection. Botanical-themed art pieces and whimsical wall sconces made from hats add visual interest and personality. Greenery planted in a wooden crate brings color and freshness. An area rug and a woven basket for wood storage add to the organic feel of the space.
However, banquettes go beyond casual dining areas. When necessary, they help create elegant, formal zones for breakfast or dining.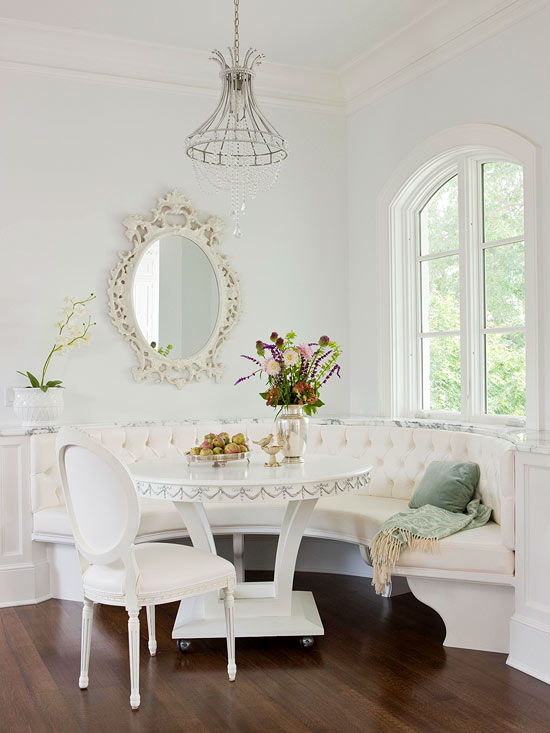 Above, a semicircular built-in white bench makes use of an empty corner and transforms it into a chic formal dining zone with a soft, feminine vibe. An elegant chair offers extra seating. A round table fits into the space. Vintage accessories add extra charm. Flowers bring color and freshness. So elegant and sophisticated yet warm and inviting!
As already mentioned, banquettes work well with any design style, from traditional to contemporary and even ultra-modern.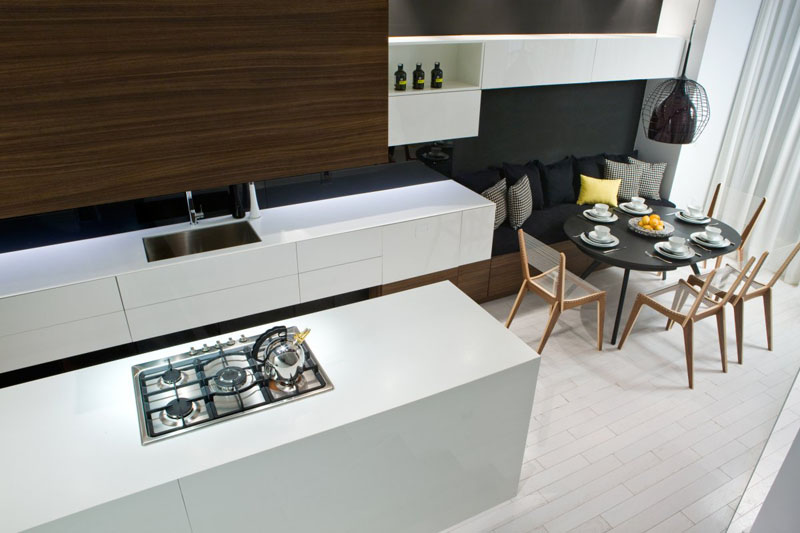 In the picture above, a contemporary kitchen of minimal design. This is a space in a palette of white, black, and brown with furniture pieces of clean lines and a modern look. A built-in banquette helps create a cozy dining nook. Elegant chairs offer extra seating. An eye-grabbing pendant is hung over a round black table. Throw pillows are a way to add color, pattern, and texture.
Note that in kitchens, banquettes can be used not only for creating dining zones. When it comes to window seating options, banquettes make a perfect, favorite solution.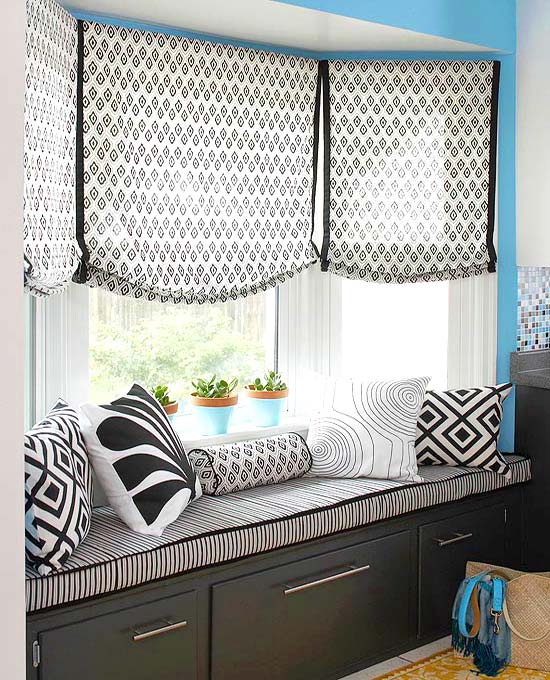 Above, a charming bay window seat with plenty of storage beneath the bench. Predominantly in black and white with a light blue trim for extra visual interest, this space offers a lovely view and makes a cozy spot to relax. The seat cushion, Roman shades, throw pillows, and a bolster add lots of pattern.
3. Banquettes in Other Spaces
In living rooms, bedrooms, both master and guest, kids' rooms, nurseries, and even in mudrooms, closets, and on stair landings, banquettes help transform unused spots into usually yet not necessarily built-in window seats and reading nooks, which are commonly complemented by open shelving and hidden storage for added functionality. Sometimes, windows seats are designed to double as daybeds. Plenty of throw pillows are used to give these spaces a sense of coziness.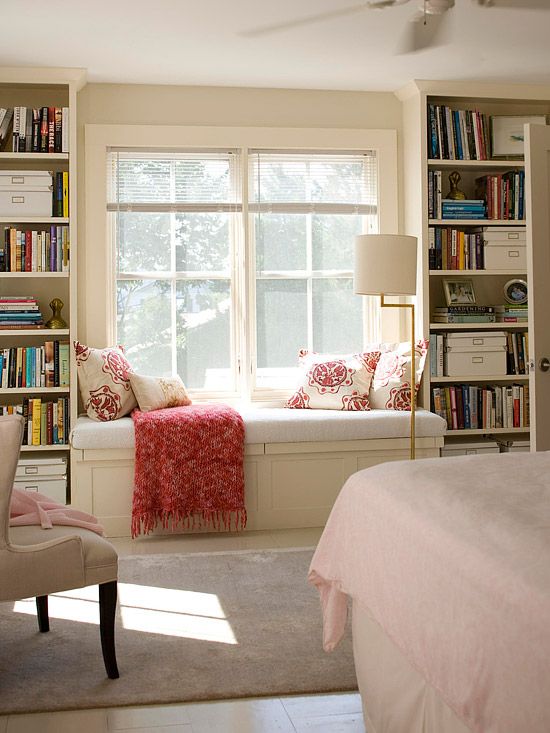 In the picture above, an adorable bedroom with adequate natural light. In this space, an inviting window seat that doubles as a reading nook offers a gorgeous garden view. Throw pillows and a throw coordinated with the bedspread add color, pattern, and texture and give the space a sense of coziness. Built-ins flanking the window seat provide ample storage. A floor lamp adds vertical interest and provides artificial light.
When creatively incorporated, banquettes don't make only window seats and reading nooks, though.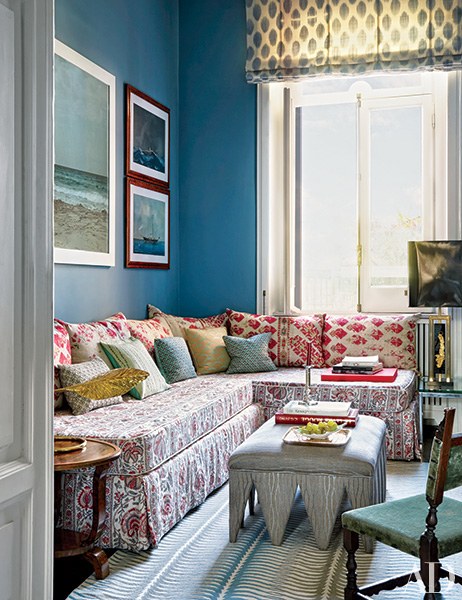 Above, a fascinating living room. A skirted corner banquette offers adequate comfortable seating. Phulkari and other throw pillows and the area rug are a charming way to bring pattern, extra color, and ethnic touches. A unique ottoman serves as a coffee table. Wall art adds visual interest.
Banquettes are a versatile, space-saving solution, which offers extra functionality and storage. Furthermore, wherever positioned, they help utilize otherwise unused corners, work well in any room, blend seamlessly into any design style, create focal points, and add coziness and a sense of drama.