Inspiration: Adding Greenery to Your Space
As houseplants can instantly enliven any room and make an intriguing focal point, always consider adding some to your living space.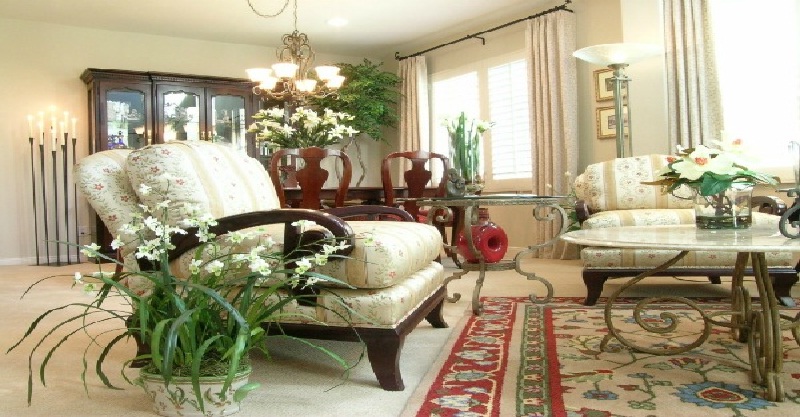 Actually, greenery is an easy and inexpensive way to enhance any interior space.
Whether a single oversized plant in a colorful pot or a collection of smaller ones, plants add freshness, color, scent, charm, and personality.
Don't forget about the pots, they are an extra option to add color and visual interest.
With literally endless easy-to-grow options, from Dracaena and Grape Ivy to Fiddleleaf Fig, Dieffenbachia,  Snake plant, and Philodendron to Spider Plant, Boston Fern, Jade plant, Ponytail palm, and Weeping Fig, no green thumb required.
However, when buying plants from a local nursery, ask how to care for your new plant.
You are afraid you can kill any plant? That is because you obviously haven't tried with Air plants, Bamboo, Kalanchoe, Peace Lily, Pothos plant, and Succulents. Believe it or not, it is worth trying, these plants simply refuse to die!
1. Reasons to Add Plants to Your Living Space
In terms of health benefits, plants are definitely a necessity!
It is scientifically proved that some plants, such as Aloe, Spider plant, Snake Plant, Azalea, Peace Lily, and Chinese evergreen help purify the air.
In addition, plants help increase indoor oxygen and humidity levels and boost healing.
When placed in bedrooms, some plants, such as  Jasmine, Lavender, and Aloe Vera give off a gentle soothing effect, which leads to reducing anxiety levels and helps sleep better.
Also, they sharpen focus and help people work better. Plus, plants reduce stress, create a sense of calmness, and make people feel happy and optimistic.
In terms of functionality, when strategically positioned, leafy greens can help reduce noise levels.
If still not sure about incorporating plants into your home, think of greenery as of a way to embellish your living space. Greens add  freshness, visual interest, color, and texture, they literally bring life indoors. Imagine growing fragrant flowers or herbs, they can fill your home with enchanting all-natural scents. Generally, plants can make any house a home!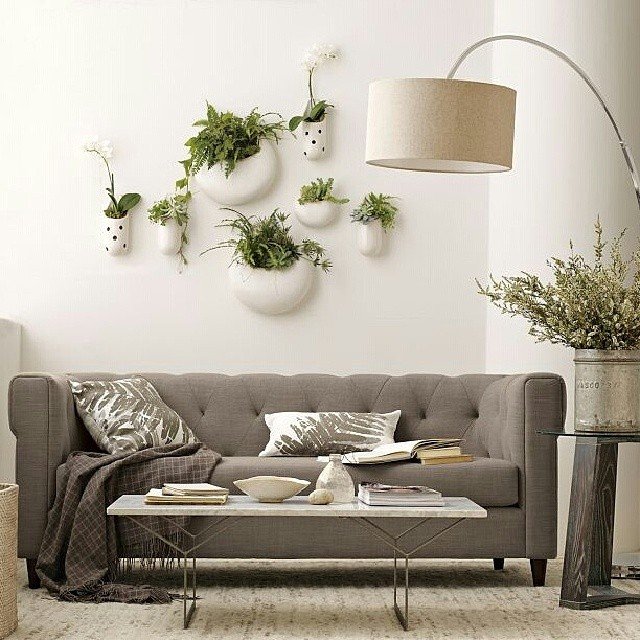 Above, a mini indoor garden in eye-grabbing ceramic planters is used as wall décor. Definitely a creative twist on indoor gardens. In addition, a bunch of branches in a vintage-looking container is positioned on a unique glass-topped  side table. A stunning floor lamp adds extra doses  of visual interest. Definitely a fascinating space!
2. Thing to Consider Before Displaying Your Plants
If don't feel confident, when buying new plants you should consult about all plant-related questions, such as sunlight requirements, watering frequency, best soil type, and pot size.
Note that some of the most popular and favorite plant choices are actually poisonous. So, before buying a gorgeously blooming flower, get informed about it!
Plants can be placed everywhere, from sunrooms to bathrooms.
However, avoid placing plants in nurseries and kid's rooms. Generally, keep greens out of children's reach.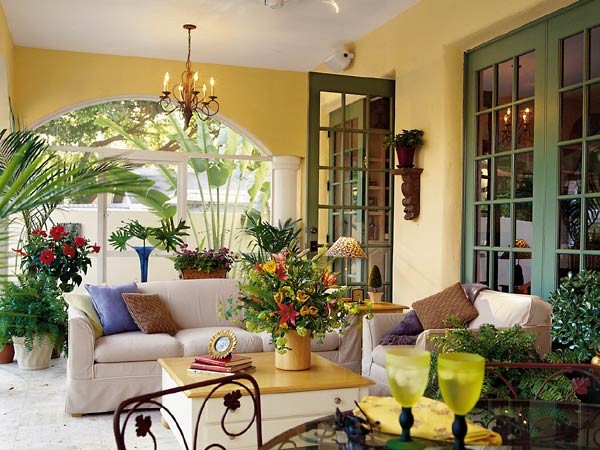 In the picture above, an enchanting screened-in porch. Groupings of plants and blooming flowers add color, scent, and visual interest to this outdoor living room. A casual multi-color bouquet of cut flowers brings extra doses of charm. Definitely, a heavenly beautiful space!
A single small plant will be lost in a large room, so, if you opt for small plants, create groupings and when possible, use similar containers. Just on the contrary, a large plant in a small room can be overwhelming.
In airy rooms, large plants with expressive leaves work well with stylish, compact furniture.
For monochrome interiors, choose flowers with colorful leaves and blooms.
Displaying plants with small leaves against the background of wallpaper with large patterns is not a smart option, they simply will go unnoticed.
Spaces with predominantly vertical patterns can be softened with branchy plants.
When displaying greens, use mirrors, they create a sense of a "winter garden".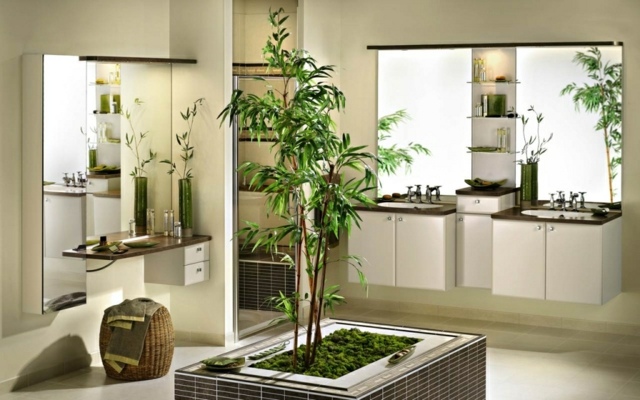 In the picture above, an elegant, sophisticated bathroom. A bamboo tree is just the perfect addition, it brings so much color and personality. Mirrors double its look and create a sense of more greenery.
3. Beautiful Ways to Display Plants
As already mentioned, houseplants offer the easiest way to freshen up any interior space and add color, scent, charm, and personality.
You can always use traditional pots and position your greens on pedestals or shelves. Hanging pots/baskets offer another classic option. In addition to being a space-saving solution, they add tons of visual interest and personality. Macrame hangers are an alternative to hanging baskets. When in groupings and in different colors, they can instantly brighten any space.
However, unleash your creativity and come up with unexpected, unique solutions for displaying your houseplants, in terms of both containers and ways.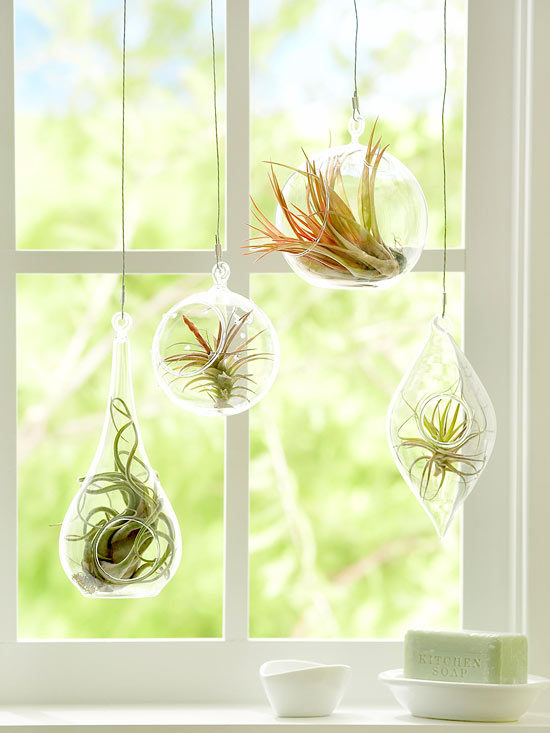 Above, a fascinating way to display air plants. Air plants in glass capsules of different size and shape suspended at different height for extra visual interest definitely create a statement display.
Terrariums and tabletop gardens are another fabulous option to create a sense of vibrancy. Actually, any container, from mini-aquariums and cloches to jam and Mason jars to votive candleholders and even light bulbs can be used for terrariums.
As for tabletop gardens, container options are literally countless, your only limit is your imagination.
Note that tabletop or hanging culinary herb gardens, especially in vintage-looking containers, are an awesome option to both enhance the look of your kitchen and make your food taste better.
Displaying rooting plants in water is a super simple way to enliven any space. Plus, it is an affordable floral trend! All you need is a clear glass container, some spring water, and a branch of a leafy plant. Herbs, such as mint, basil, and rosemary, as well as some houseplants/English ivy and philodendron/ respond well to this technique known as indoor hydroponics.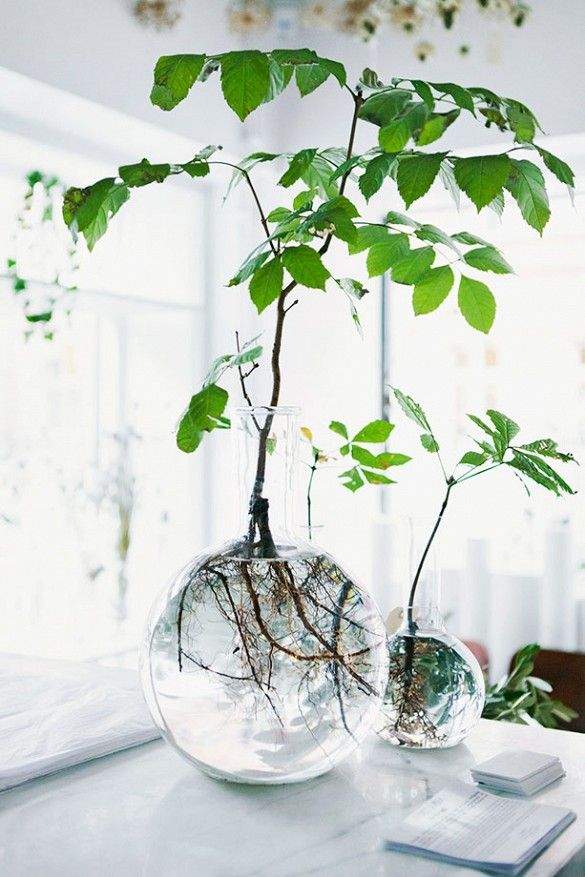 Above, an easy and inexpensive yet awesome way to bring outdoors in!
What about styling a shelf with Succulent bookends? Creative, isn't it?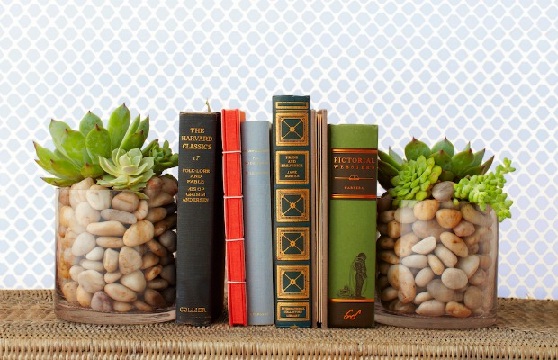 In the picture above, a simple and budget-friendly DIY project helps add color, texture, and personality. Not to mention that this is definitely a fabulous way to highlight your favorite books or a collection of rare books!
Growing an indoor tree? If so, beautifully displaying it is a stunning option to add some touches of drama and instantly spruce up your living space!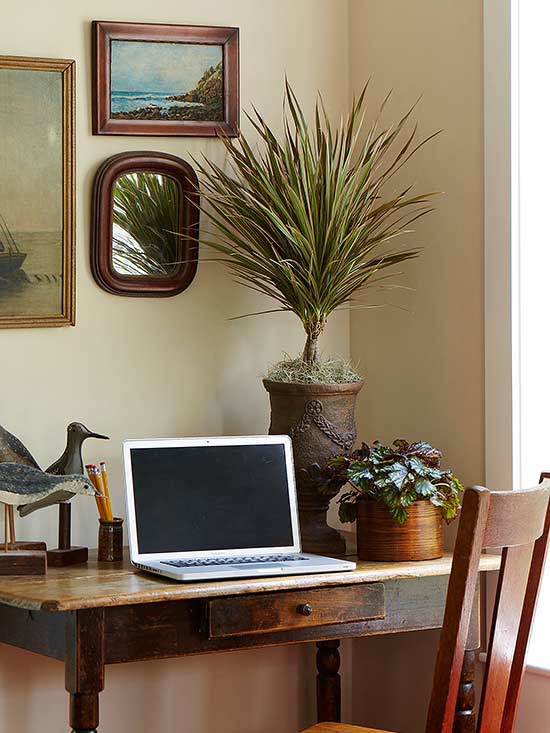 Above shown is a Madagascar Dragon tree displayed in a stunning container. This relatively carefree, air-purifying tree has grassy green leaves with red or pink margins and definitely makes a dramatic piece of décor. Positioned on a working desk and complemented by a smaller plant for added visual interest, this spectacular tree makes a delightful focal point.
If short on space, vertical gardens are a fabulous option to both enliven your home and add a statement piece of living wall art.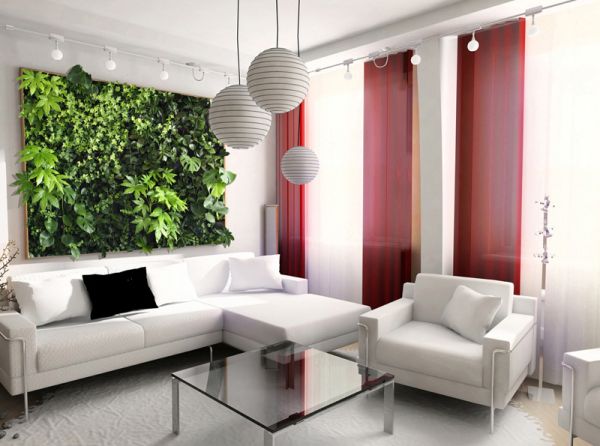 Above, a fabulous contemporary all-white living room. Lighting accentuates an eye-grabbing vertical garden. What a way to add color, texture, visual interest, and a focal point to a space!
Consider ladders, whether new or with a vintage look, they always make stunning plant stands.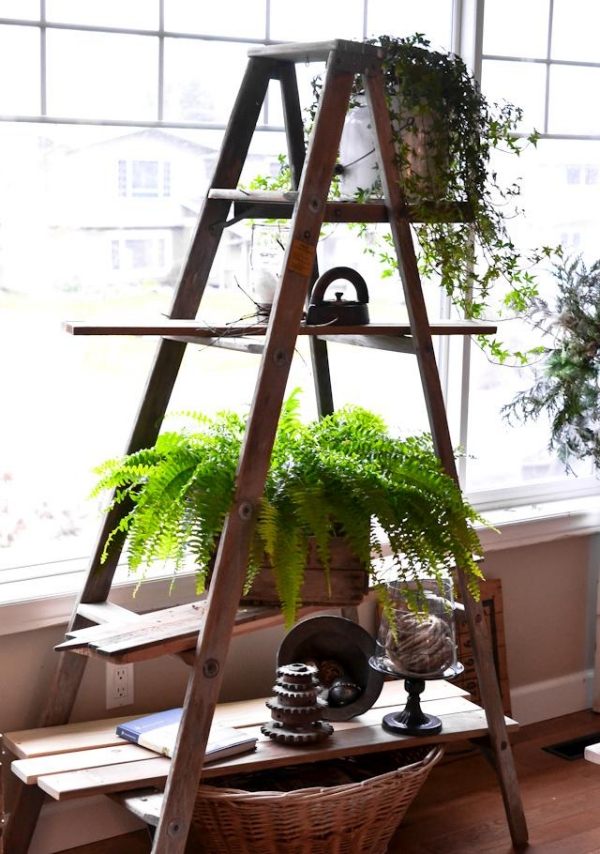 In the picture above, an old ladder repurposed as a plant stand is the focal point in this room. Greens complemented by vintage décor items create a fascinating display. Stunning, isn't it? What a way to add charm and personality to any living space!
Adding greenery to any living space is the easiest way to infuse it with color, scents, and texture. Whatever plant you choose/even herbs and edible plants are an option/, it will bring beauty, charm, character, and positive energy. Afraid you are not an expert on growing plants? You don't need to be any more. There is an array of options you literally can't kill. Opt for beautiful, unique containers and unexpected ways to display your greens and make them a statement décor item!