Swedish interiors are simple, light, elegant, livable, usually with high ceilings and lots of wood, and incorporate minimal accessories.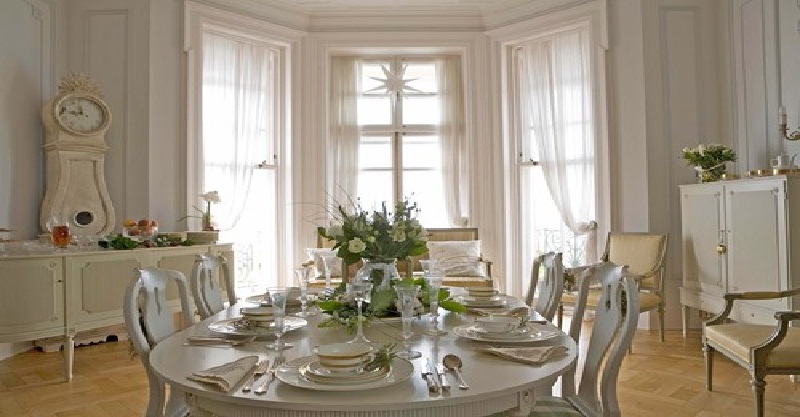 Typically with all-white walls, ceilings, and floors, Swedish interiors create a sense of calmness, cleanliness, and freshness.
High-quality furnishings made of natural materials lend Swedish spaces a timeless look and an organic vibe.
Including varying textures adds visual interest and helps create layered interiors.
Although minimal, as a rule, accessories are refined and in vivid colors. Used against an almost all-white background, they make a stunning contrast and add character.
Some simple features, such as high ceilings, wall moldings, and hardwood flooring help lend Swedish interiors an easily recognizable, unmistakable look. Traditional tile stoves/called kakelugn stoves/ are another typically found architectural detail. Dating back to the 18th century, usually yet not necessarily positioned in room corners, they offer radiant heating, add warmth and coziness, enhance the décor, and create a sense of history. Furthermore, this floor-to-ceiling stove is definitely a make-a-statement element of the Swedish-style spaces.
Patterned textiles/usually on a white ground/, Mora clocks, mirrors, fabulous glassware/such as crystal chandeliers/, candle holders, and ceramic mugs are commonly used in Swedish homes, for both functional and decorative reasons.
1. Colors and Materials
Heavily influenced by the light and weather, Swedish decorating style is all about pale, airy, usually minimal interiors in whites, creams, and grays. Soft, subtle shades of yellow, green, and pink are also included.
Generally, white is dominating not only walls, but also flooring and furniture. This background is the perfect one to make bright pops of color/mainly turquoise, orange, and red/ definitely stand out. Note that furniture pieces and decorative items are a common way to introduce color into Swedish spaces. This color scheme helps create eye-grabbing, vivid interiors with tons of character and an unmistakable look.
Apart from decorative items, wallpaper, fabrics, stencils, and floral prints are common, easy ways for introducing color.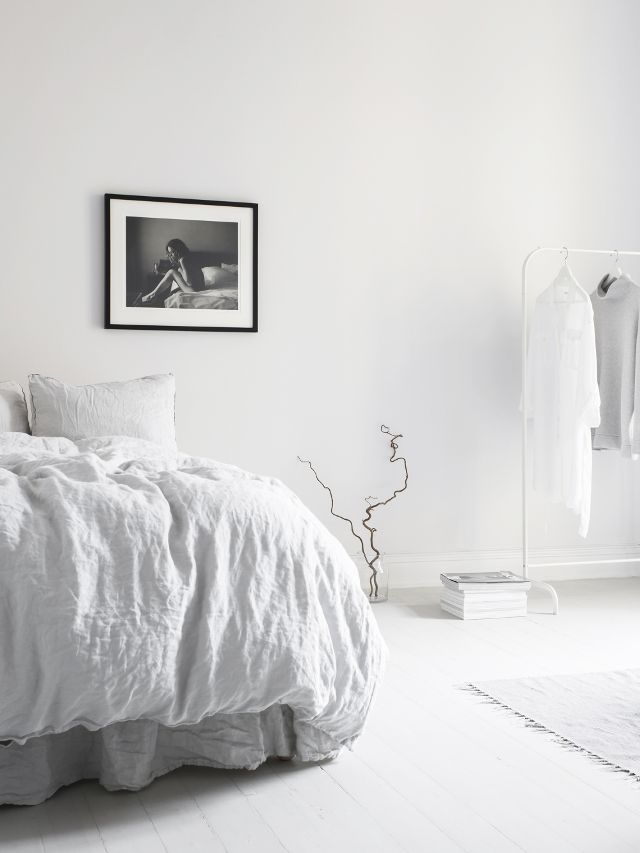 In the picture above, an elegant bedroom of minimal design. In pastel shades of gray, this bedroom is so fresh and inviting! Simple yet stylish décor items add visual interest. Sometimes, simplicity is so beautiful and intriguing!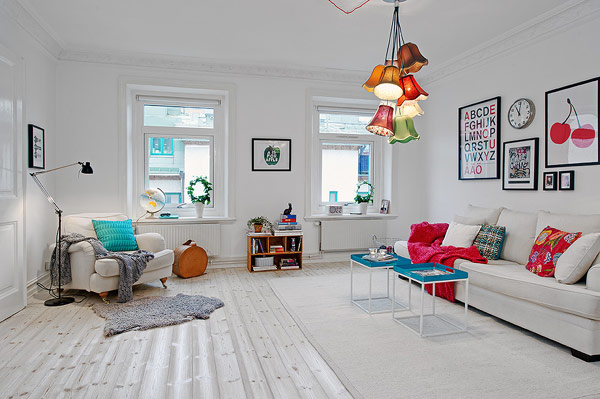 Above shown, a fascinating living room with adequate natural light. Bright pops of color/introduced by pieces of wall art, throw pillows, and a throw/ thoughtfully positioned throughout the space definitely stand out against the all-white background and add visual interest. What immediately grabs the eye is a wow-worthy multi-color hanging light. What a way to personalize a space! Potted plants add extra doses of color and freshness.
As they all reflect light and create a sense of bright and spacious interiors, apart from whites and soft grays, pale and smoky blues are also often used in Swedish interiors, in one way or another.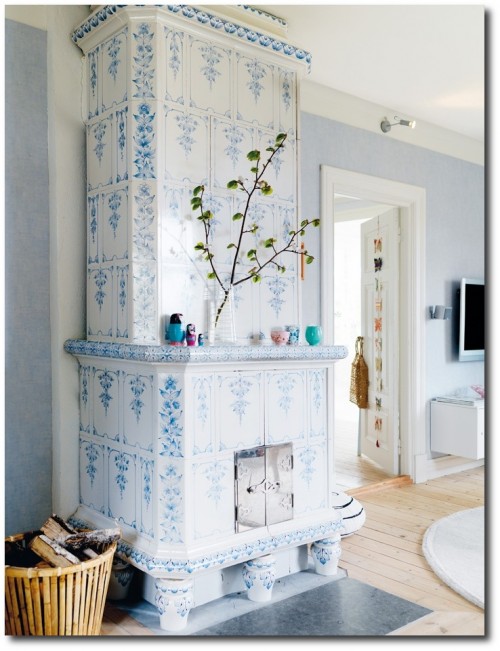 In the picture above, a space in pale blue. An eye-grabbing traditional Swedish tile stove is a statement décor feature. The stove tiles elaborately decorated in blue create a sense of harmony and balance.
For flooring, furnishing pieces and accessories/including handmade ones/, Swedish decorating style makes use of lots of natural materials, such as wood, glass, and textiles/usually linen and cotton/.
Whether left natural, whitewashed, or painted in light colors, light hard and soft woods, such as birch, white pine, beech, and alder are common options.
As for fabrics, they are used predominantly for pillows, upholstery, table cloths, napkins, and hand towels. Usually, to let as much natural light as possible, windows are left untreated.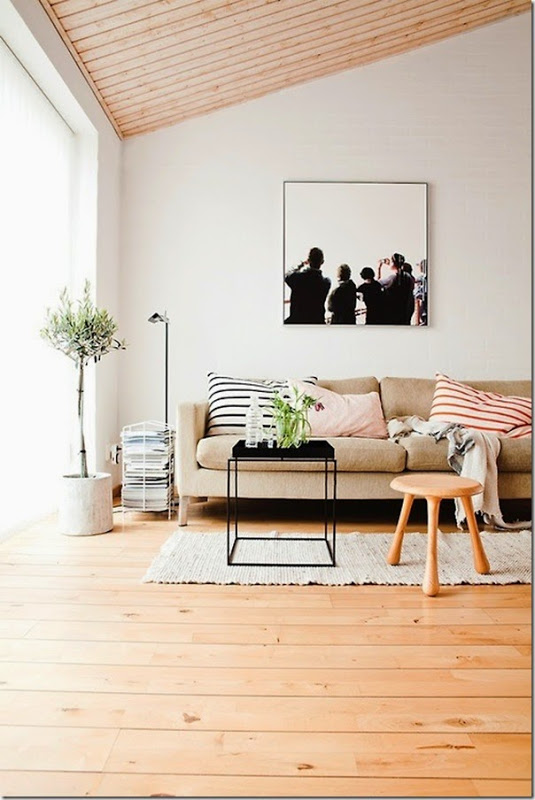 Above shown, a living room, which exudes warmth and coziness. Natural wood floor and ceiling add an organic vibe to this light-floored space. Throw pillows and a piece of wall art add color and visual interest. A potted plant and a casual bouquet bring freshness.
2. Furnishings
As already mentioned, furnishings/either with straight, clean lines or delicate curves/, such as tables, beds, case goods, chairs, benches, frames, and more are made of natural wood, usually painted in light, subtle colors. Sometimes, stencils are added for extra doses of visual interest.
Canopy beds with rich white fabric drapes, trundle beds, and daybeds are commonly used in Swedish interiors.
Couches with light, soft fabric upholstery are a must-have décor element.
Incorporating striped rag rugs as well as lots of throw pillows, floor cushions, seat pads, bolsters, and woolen blankets softens the look of the wooden furniture and adds warmth and coziness.
In order to provide adequate lighting, Swedish interiors make use of a variety of lighting sources, from crystal chandeliers to floor and table lamps, wall sconces, and pendants to spotlights.
As they reflect light and create a sense of space, mirrors are widely used. A mirror complemented by a pair of wall sconces/or candles/ is a popular choice.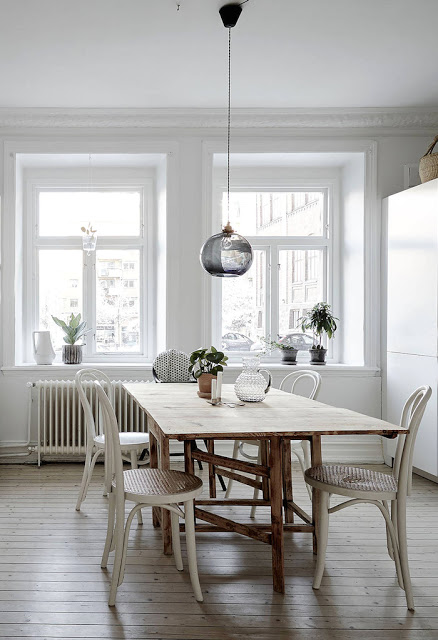 In the picture above, a traditional Swedish-style dining space. A solid, wooden table is complemented by chairs with delicately curved backs. Light natural wood flooring adds warmth. Potted plants bring color, freshness, and visual interest. Definitely a simple yet elegant space!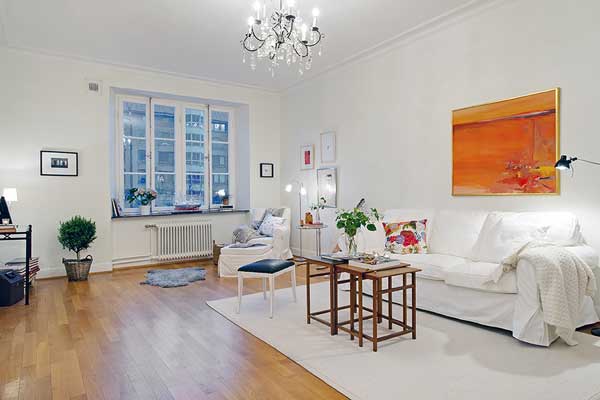 Above shown, an adorable Swedish-style living room with a layered look. Wood flooring and a unique coffee table create a sense of warmth. A white sofa and a chaise longue offer seating and provide coziness. Pieces of wall art and throw pillows add color and visual interest. A make-a-statement crystal chandelier adds sparkle. Potted and cut plants bring extra doses of color and freshness.
Just as the traditional tile stoves, Mora clocks also help lend Swedish interiors an unmistakable, easily recognizable look. Coming in a variety of styles, shapes, sizes, and colors, with different finishes, usually beautifully embellished, Mora clocks easily become an amazing focal point. Unquestionably, this unique furnishing piece with a distinctive curvy silhouette is a wonderful adornment of any house.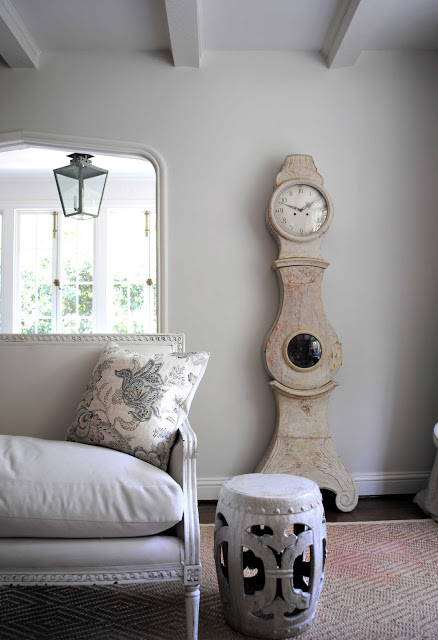 Above, a Mora clock adds height, visual interest, and personality to this space.
3. Accessories
Incorporating decorative elements in vivid colors is a key feature of the Swedish-style interiors. Furthermore, as Swedish spaces are usually of minimal design and in whites, grays, and blues, décor items offer a way to add character and express the owners' personality.
The colors and patterns/stripes, checks, or flowers/ of the accessories complement each other and help lend Swedish spaces this easily recognizable look.
As they provide light and create a sense of warmth and coziness, tons of candles are widely used for both practical and decorative reasons.
Fresh flowers and natural materials, such as arrangements of pebbles, shells, and driftwood are commonly used to accessorize Swedish spaces. In this regard, décor items are a way to celebrate nature.
Intricate pieces, such as candleholders, vases, and bowls are also included to beautify and add personality to Swedish-style interiors.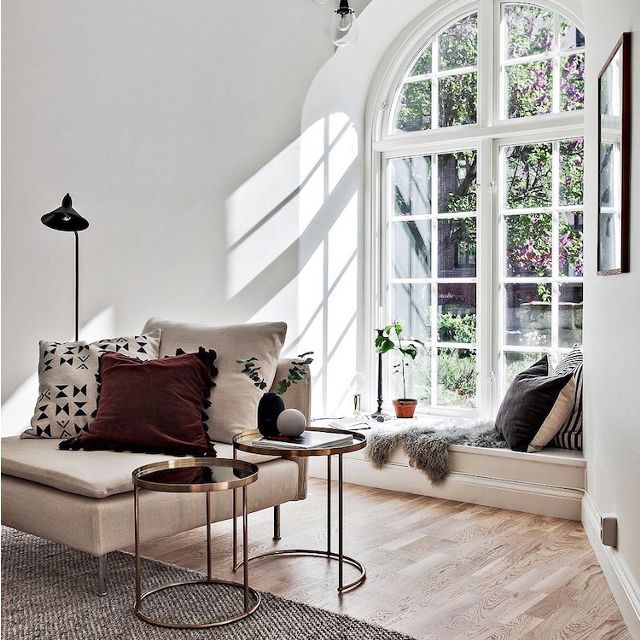 Above, an adorable living area. A floor-to-ceiling arched window provides adequate natural light and creates architectural interest. A cozy window nook adds a sense of warmth. A set of stunning mismatching coffee tables offers functionality and visual interest. An area rug, throw pillows, a candlestick, and plants add texture, pattern, color, and freshness and embellish the space.
Actually, originally painted in red and decorated with floral-inspired traditional motifs, Dala horse is an iconic piece of the Swedish-style décor. Now available in an array of colors, sizes, and designs/even as a fabric pattern/, this decorative item is commonly used in Swedish homes.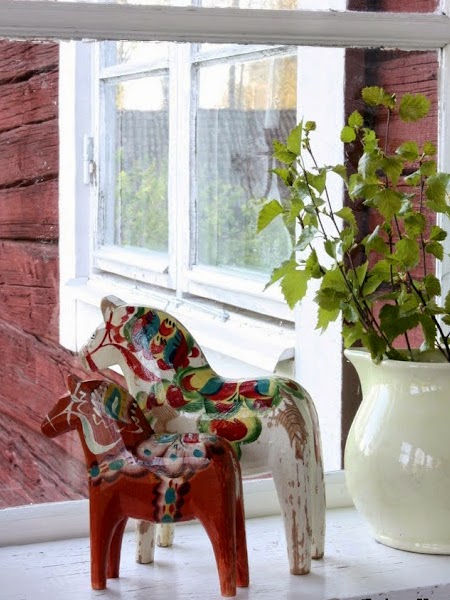 In the picture above, an arrangement of Dala horses and a jar with green branches makes a simple yet eye-grabbing piece of décor.
Generally, Swedish interiors are all about light, calmness, wood, comfortable furniture, and bright accessories. A tasteful mix of simplicity, refined elegance, and coziness, they offer functionality and visual appeal and have an unmistakable, easily recognizable look.