Touches of Black: Sophistication
When it comes to interior color schemes, black is usually overlooked as a solution. However, when tastefully included, black helps create refined interiors.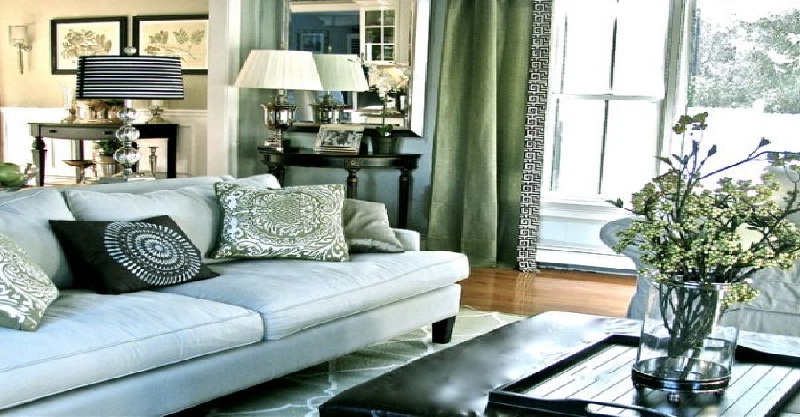 Generally, black is a versatile, powerful color, which is usually associated with formality, elegance, sophistication, mystery, and drama.
Black works well with a range of colors, such as navy blue, yellow, orange, green, and pink. In addition, when paired with white and/or red, it creates classic color combos, which can lend any room a timeless look. Note that all colors look lighter against a black background.
When black is too much, it can be overwhelming. Yet, it can be creatively incorporated into an array of ways to add touches of sophistication, style, and elegance to any space. Furthermore, interiors in black, used in one way or another, are bold but cozy and chic, with tons of personality and a unique, inimitable look.
Consider that black can make a space look smaller in size.
Whether as a sophisticated background, an accent wall, pieces of furniture, or exquisite décor items, it is definitely worth trying to include some black in your living space.
Although for some people black is too bold and in a way even aggressive and intimidating, when paired with other colors and used right, it works well in any interior space.
1. Black Walls
Don't be afraid to add some black to the walls of your home. After all, if you don't like the effect, the wall color can always be changed.
Especially for spaces with high ceilings and adequate natural light, painting your walls black is a stunning design solution, which helps create modern interiors. Contrasting furniture and décor pieces enhance the effect of the black background and add visual interest.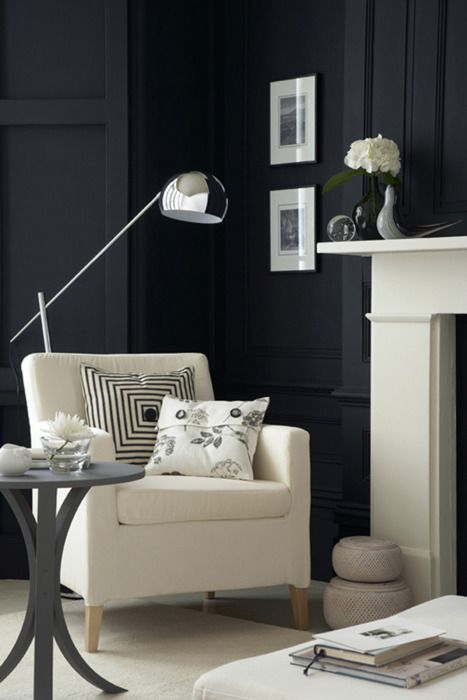 In the picture above, a living room in the classic black-and-white color combo. White furniture stands out against the background of the black walls. A stunning floor lamp, throw pillows, a mantel display, and pieces of wall art add extra visual interest. Definitely a sophisticated space with charm and personality!
The same effect can be achieved with elegant black wallpaper. Generally, using wallpaper to lend a new look to any space is an easy, affordable solution.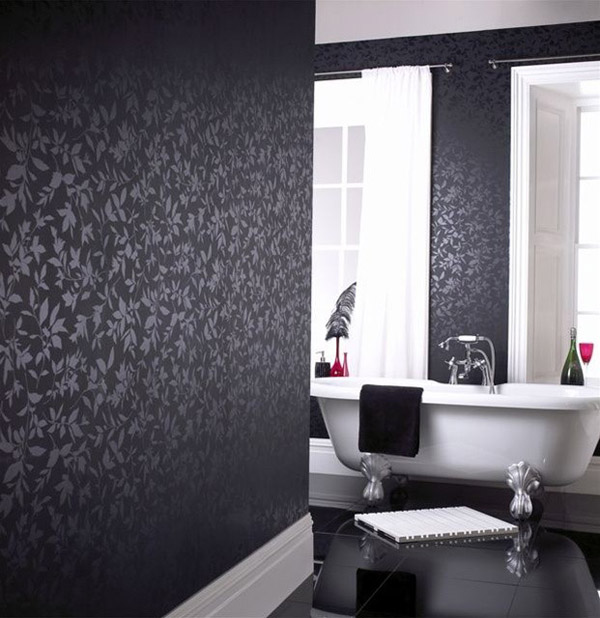 Above shown is a dramatic bathroom with black wallpaper walls. A white clawfoot tub and some splashes of red help create a space with a timeless look.
However, if all-black walls are too much for you, but are tempted by the idea of adding some touches of black, you can choose from an array of options, from accent walls and fireplaces to doors and floors to window frames to moldings, arched doorways, and exposed ceiling beams. All these solutions make spectacular, dramatic accents, help create sophisticated settings, add depth, and lend any space a sleek, modern look.  As already mentioned, black should be used in spaces with adequate natural light and paired with light and bright colors.
Note that a black-painted ceiling definitely makes a statement. Plus, it can add tons of drama to the space!
Generally, as black makes décor elements stand out, consider this color a way to highlight architectural details and create focal points.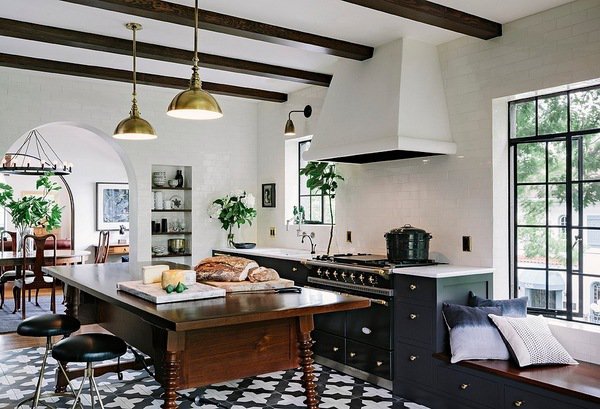 In the picture above, a gorgeous kitchen with a number of black décor items. Black-and-white tile flooring, black window frames, black cabinetry and appliances, black accessories…What a beauty! In addition, a window seat adds so much charm! A mind-blowing table serves as a kitchen island. A pair of matching pendants adds warm brass touches. Greenery brings color and freshness. Definitely an inviting space with tons of personality.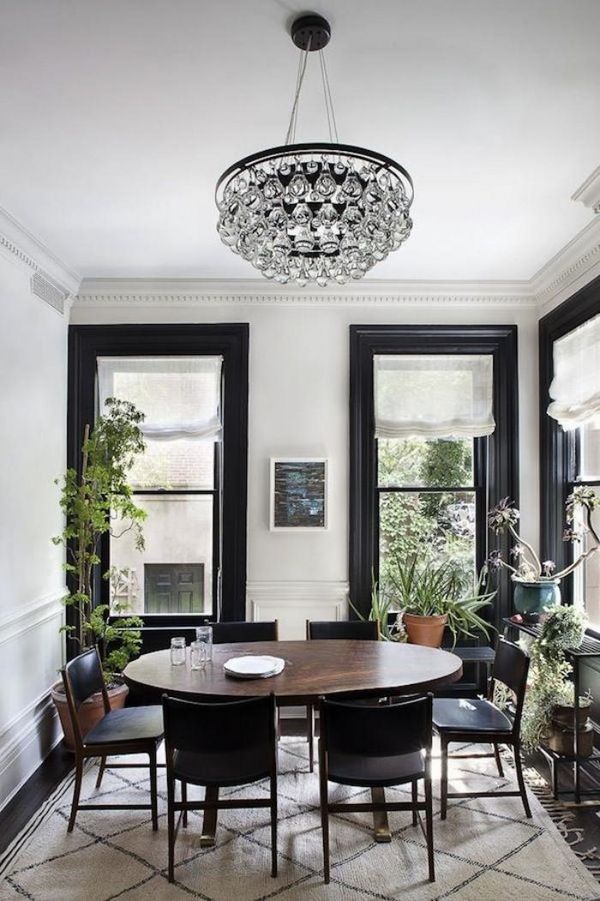 Shown above, an adorable dining room. Black window casing is definitely a stunning way to both introduce the color black and highlight the tall windows. A mind-blowing chandelier adds sparkle and glam and greenery brings color and freshness. Definitely a space with character!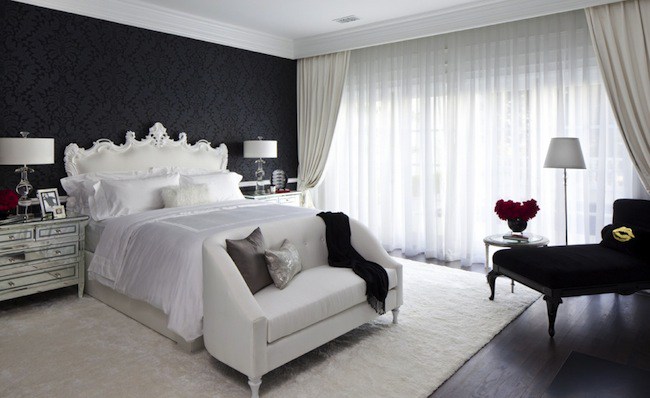 In the picture above, an elegant master bedroom.  A black wallpaper accent wall is an easy and affordable yet attention-grabbing way to introduce touches of black. Stylish furniture pieces, a fabulous headboard, and awesome drapes add luxury and sophistication. Red flower arrangements bring color, charm, and romance. What's not to love in this bedroom?
2. Black Pieces of Furniture
One of the key advantages of the color black is that it complements any color. As black works well in any space, from living rooms to kitchens and even bathrooms, use this color to add a new dimension to your home and take it to the next level.  Whether a black sofa, a coffee table, nightstands, a bathroom vanity, dining and side tables, chairs, armchairs, and ottomans, or built-inns, when paired with bright wall colors create a striking contrast, which immediately brings visual interest. Plus, black furniture pieces always make stunning focal points.
Just imagine an entryway with black stairs, black wallpaper, or an arrangement of a table and chairs in black. Black will definitely won't go unnoticed! An untraditional yet stunning way to welcome your guests!
As for kitchens, black cabinetry is an unexpected approach to create a space with a modern, sophisticated look. Pair black cabinets with wood countertops for a truly gorgeous effect.
When used in neutral kitchens, black cabinetry creates contrast and adds visual interest and personality.
In light-colored kitchens, black-painted cabinet backs or a part of the cabinets adds visual interest.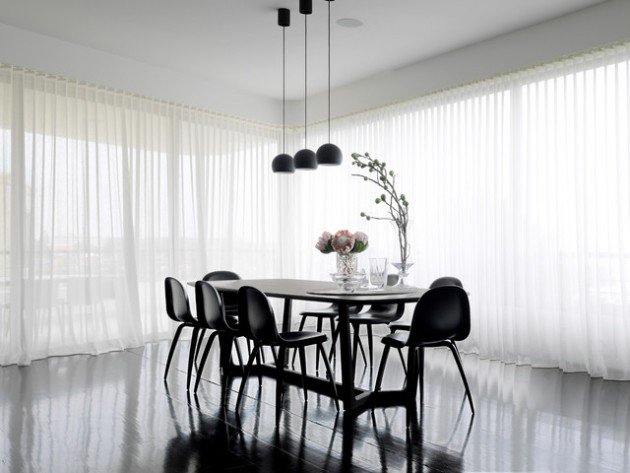 Above shown, a magnificent contemporary dining room. A black dining table and chairs positioned on a black hardwood floor…A trio of matching black pendants dropped over the dining table…A complete wall of sheer curtains helps sunlight enter the space. In addition, it creates a fascinating contrast, which adds visual interest and personality to the space. Cut flowers bring delicate dashes of color and freshness. Truly impressive!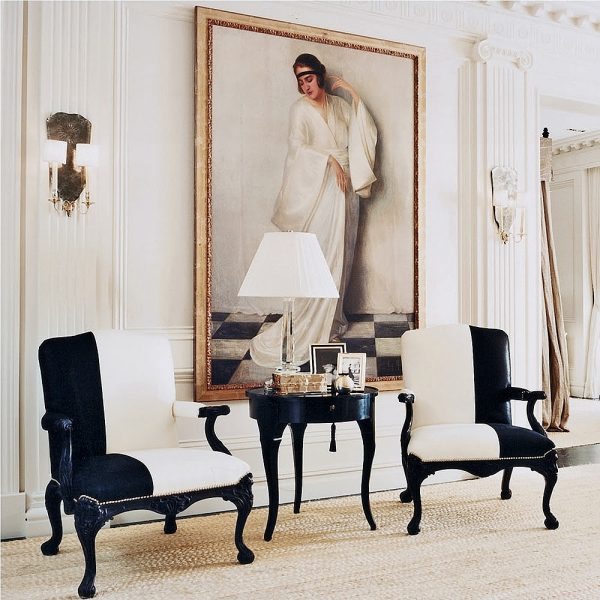 In the picture above, an entry with a timeless look. An elegant black side table is flanked by two classy black-and-white armchairs. An oversized piece of wall art and an appealing wall sconce add tons of visual interest. A table lamp complemented by stylish accessories creates an eye-grabbing display placed on top of the table. Definitely an entry that exudes luxury and sophistication!
3. Accessories in Black
When decorating, accessories offer an easy, simple, and affordable way to lend any of your living spaces a new, fresh, trendy look. If working with two or more colors, accessories are an option to introduce some, even small, doses of black and create a room that exudes class, elegance, and sophistication.
From vases, candle sticks, and clocks to picture and mirror frames to area rugs, countertops, and shutters to even chandeliers, pendants, and art pieces, you have practically endless options to add black to any color combo and give any space a whole new vibe.
Note that when used right, black is an unexpected way to add texture, patterns, shape, and depth.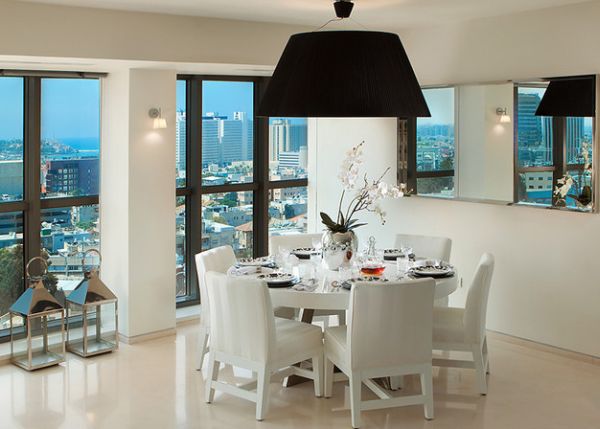 Above shown is a stunning dining room. A large pendant with a black lampshade is dropped over a round, pristine white dining set. What a way to incorporate the color black! Upholstered chairs add touches of luxury. Floor-to-ceiling windows offer adequate natural light. A wall-mounted mirror creates a sense of space. Lanterns add touches of charm and romance and tons of personality.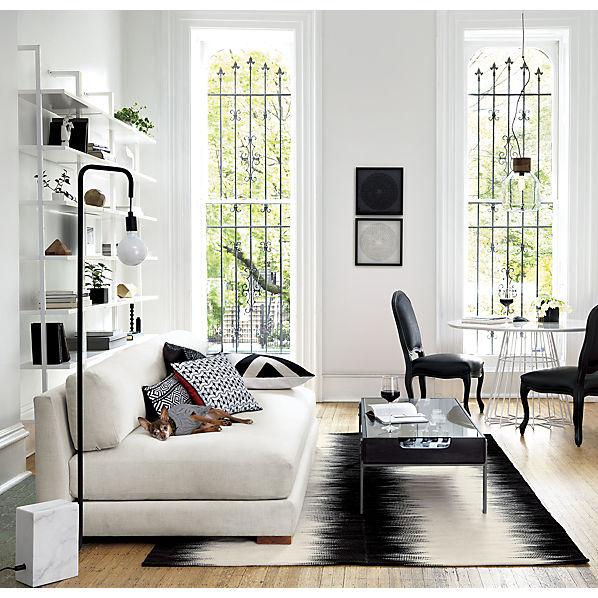 In the picture above, a contemporary space in the classic black-and-white color combo. Elegant furniture pieces and stylish accessories in black stand out against the crisp all-white walls and create contrast, which adds visual interest. Definitely a space with a chic, sophisticated look!
Although including black in interior design can be daunting, when used right, it helps create modern, elegant, dynamic, and sophisticated spaces, which simply can't go unnoticed!