Most definitely, wall murals make amazing, eye-grabbing décor and help create unique spaces with a truly special atmosphere.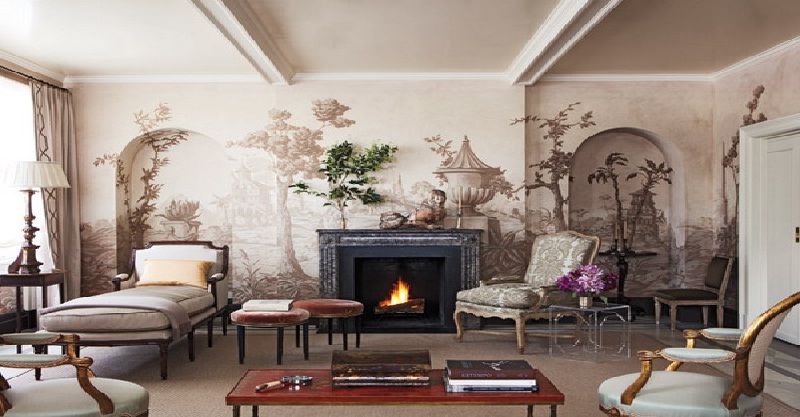 Wall murals in all their variations, from hand-painted to one-of-a-kind wallpaper designs, always make a bold statement, create a sense of dynamics, evoke excitement, and can transform any space, indoor or outdoor.
Furthermore, when it comes to large-scale removable and repositionable wallpaper and wall decals, they offer a simple, easy, affordable, and renter-friendly yet high-quality way to enhance interiors without damaging walls.
Actually, bespoke wall wraps can be incorporated into both business and residential spaces. Printed with cutting-edge printing technology, they are a no-paint alternative that adds color, pattern, and texture and serves to advertise businesses, promote events, or simply lend a space an unmatchable look.
With a range of styles and categories to choose from, it is not that difficult to find wallcovering that meets any homeowner's taste and needs.
Note that full-wall size or not, murals with a trompe l'oeil /deceive the eye/ effect complemented by faux finishes and architectural elements, such as columns, pillars, arches, and more/if any/ help add visual interest and new dimension to the space, interior or exterior.
Generally, wall murals are a solution to dress up blank and/or unsightly walls and make them pieces of art.
1. Hand-painted Wallcoverings
Unquestionably, hand-painted wall murals are one of the oldest wall décor options, a way to express emotions and give any space a timeless, classic look and doses of Old-world charm.
Whether applied directly to permanent surfaces or to paper to create wallpaper for added versatility, wall murals, of full-wall size or large- and smaller-scale ones, make stunning accents, always create a sense of drama and can add style, dimension, depth, and touches of uniqueness to the space where used.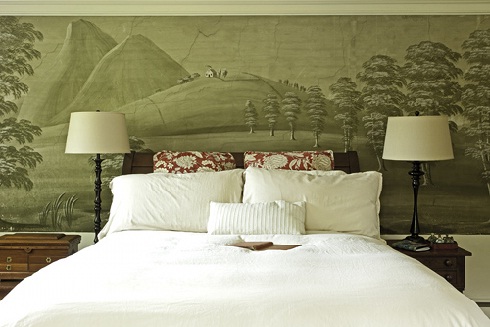 In the picture above, a traditional master bedroom. In this space, the bed is positioned against a wall with an original monochrome mural from the 1800s painted by Rufus Porter. Unquestionably, the mural dominates this bedroom, adds tons of personality, and helps create a unique space.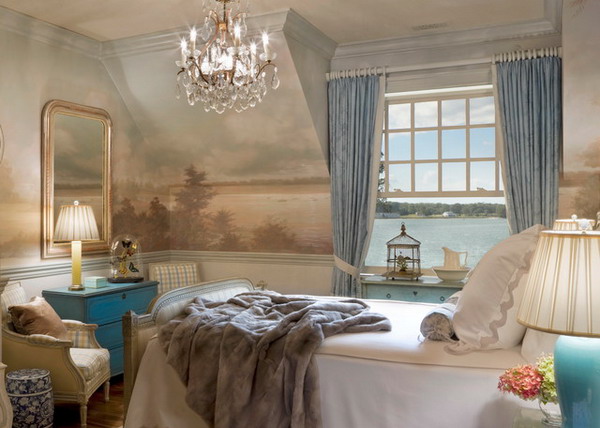 Above shown, a nature-inspired mural in shades of gray helps create a soothing atmosphere in this bedroom. In this space with a distinctive architectural character and a harmonious look, a gorgeous paneled window reveals a view that becomes a part of the mural. An eye-grabbing chandelier adds sparkle and touches of luxury and elegance. What's not to love in this space?
When it comes to adding touches of exotics and an Asian flair, as well as symmetry, pattern, extra color, and elegance, and creating a bold statement, always consider incorporating Chinoiserie.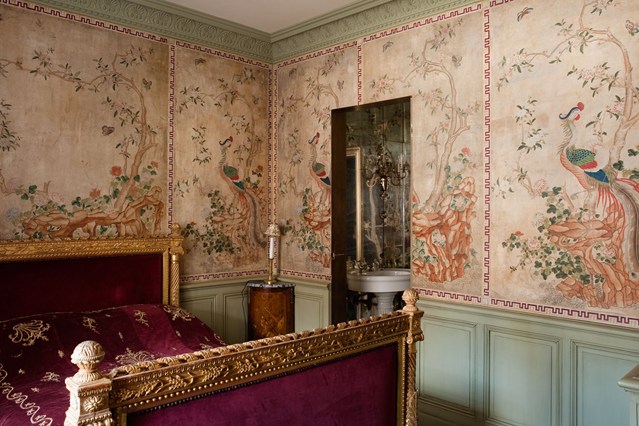 Above, a magnificent bedroom. Hand-painted rice paper replicating 18th-century Chinese wall panels is used as wallcovering. What a way to add color and pattern! A stunning ornate bed complemented by a velvet bedspread brings touches of luxury and sophistication. Unquestionably, a wow-worthy space!
On a side note, using Chinoiserie helps create chic, enchanting interiors. If you like it, but feel a bit overwhelmed by Chinoiserie wallcovering, then, include small doses with furniture pieces, such as garden stools, fabrics, art and porcelain pieces, the options are limitless and work well to make a statement, add a sense of history, artistic touches, and personalize spaces of any style. However, the easiest solution is to include white-and-blue pottery, in one way or another, it definitely lends a timeless look.
Wall murals present an opportunity to also beautify contemporary-style spaces.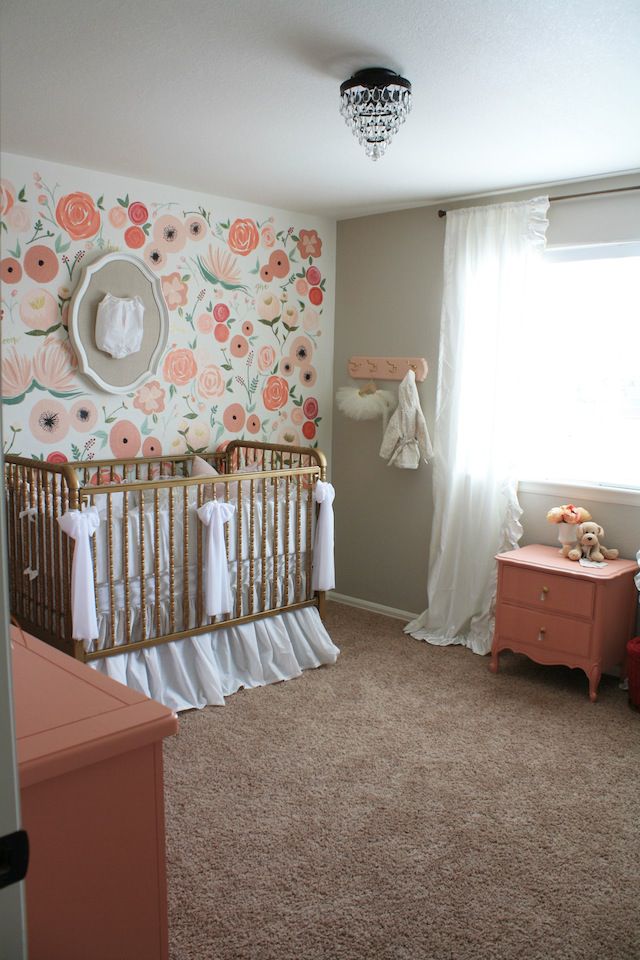 In the picture above, a fascinating baby girl nursery. A hand-painted floral-inspired mural definitely makes a statement and adds color and personality. Pastel colors help create a soothing atmosphere. Details bring extra charm to this delightful bathed in light oasis. Pure perfection!
Sometimes, when approached with creativity, even a relatively simple DIY project can add artistic touches, color, charm, and personality, transform a boring space, and lend it a completely new, intriguing look.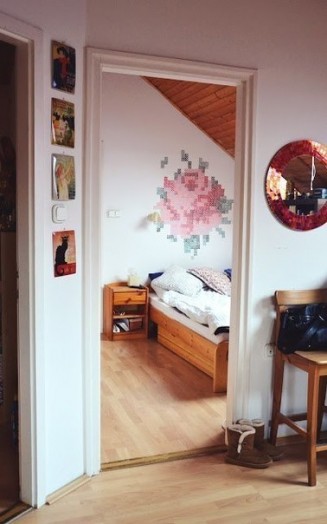 Above shown, a bedroom with a feminine vibe. A DIY floral hand-painted stenciled mural is definitely a stunning way to create an accent wall and personalize any space. So simple yet eye-grabbing, whimsical, and romantic!
2. Other Décor Wallcoverings
When it comes to printed wallcoverings, in terms of style and size, the options are practically limitless and depend entirely on the taste, preference, and needs of the homeowner. However, printed wallpaper, wall decals, and wall stickers are a favorite, no-fail way to easily personalize any space, whether a residential or a business one, and add color, depth, pattern, texture, and visual interest. Furthermore, wallpaper and wall decals can be customized to meet specific needs.
Note that silk and satin printed wallpaper are a way to add touches of elegance, luxury, and sophistication, while grasscloth wallcoverings present an option to bring organic touches.
Waterproof wallpaper and wall decals can be used in bathrooms. As an alternative, a wall mural look can be created by arranging mosaic tiles.
For a timeless look, choose wallpaper options replicating original pieces of art, such as Piero Fornasetti's  "Nuvole"/ "Clouds"/.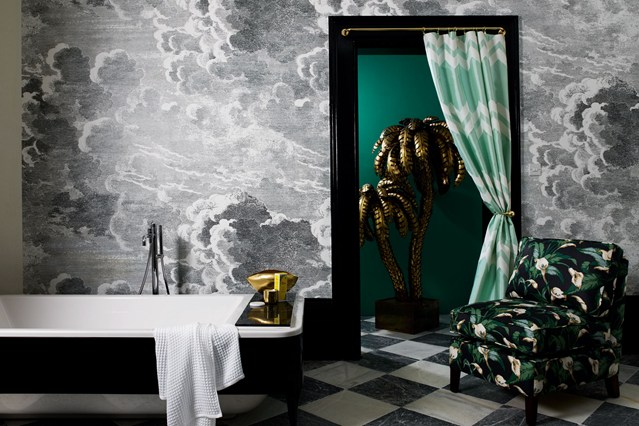 In the picture above, a stunning bathroom. In this predominantly black-and-white space, wallpaper depicting stormy clouds creates a hand-drown effect and adds personality, visual interest, and a sense of whimsy. Pops of different shades of green and floral-inspired armchair upholstery add color, freshness, and an organic feel. Unquestionably, a wow-worthy bathroom!
Watercolor-inspired wall murals offer another option to create stunning interiors. They help transform boring walls, make a chic colorful statement, work well in any space and with any design style, can definitely lend a unique look, and add visual interest, pattern, and artistic touches.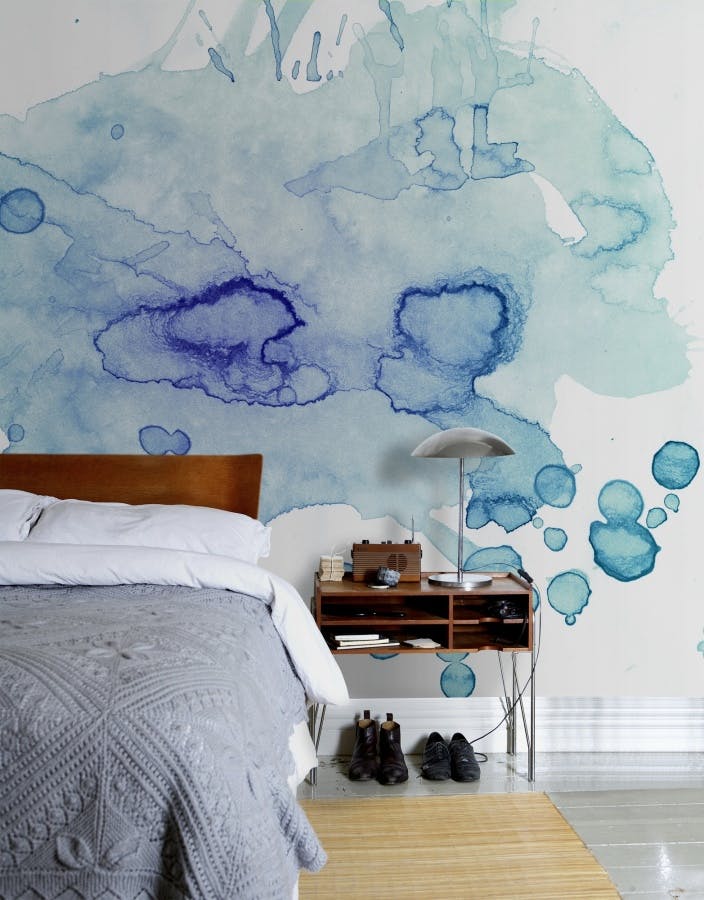 Above shown, a color puddle mural makes a stunning accent wall in this bedroom. What a way to add color, personality, and doses of intrigue to the space! Truly impressive, don't you think so?
As already mentioned, as they are available in different sizes and shapes and design options/from nature scenes to famous buildings to fine arts replicas/, printed wall murals provide endless options to create unique interiors. Furthermore, they can be customized to suit homeowners' taste and needs. Actually, the best part is that even favorite personal photos can be transformed into wall murals, which helps create one-of-a-kind spaces.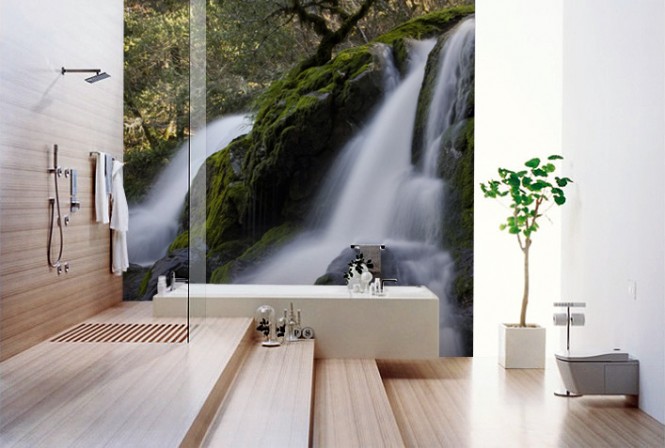 Above, a modern multi-level bathroom of minimal design. A wall mural makes a spectacular statement, creates a sense of movement, and adds dimension, visual interest, and charm. A potted plant brings extra doses of color and freshness.
Unquestionably, when creatively and tastefully used, wall murals can make a bold statement and add tons of personality.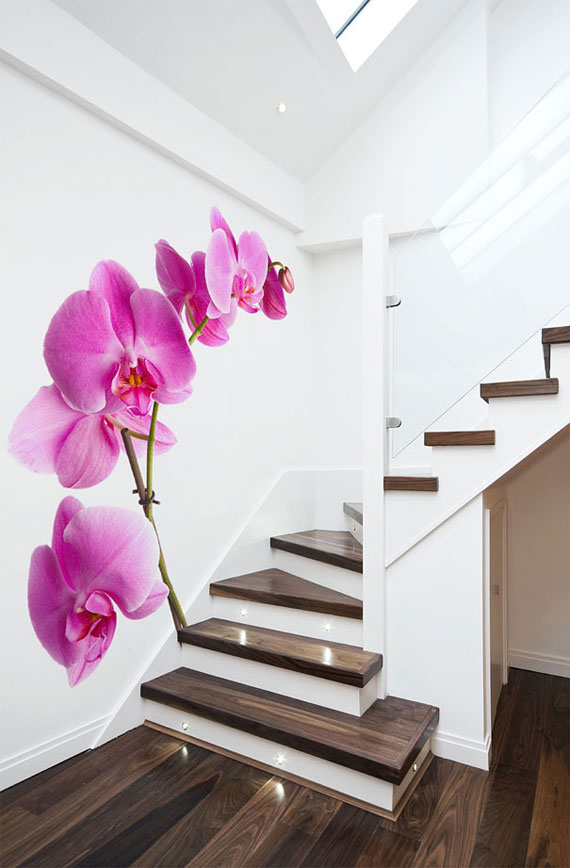 In the picture above, a radiant orchid wall mural looks fabulous against the background of the all-white walls and makes a stunning statement along the staircase. What a way to introduce color and create a sense of movement and freshness! A skylight adds extra visual interest to this space with a distinctive architectural character.
Whether hand-painted or printed, wall murals are a way to transform or dress up any wall space and lend it a spectacular look. They work well with any design style, create atmosphere, and add excitement, charm, dimension, personality, and artistic touches. Furthermore, cutting-edge printing technology offers eco-friendly self –adhesive removable and reusable options, which provide renter-friendly solutions to spruce up bare walls and make bold statements.