5 Desgin Ideas For Waterfalls in Backyard Landscaping
Whatever the design, any waterfall adds charm, drama, and personality and helps create a soothing, truly romantic atmosphere.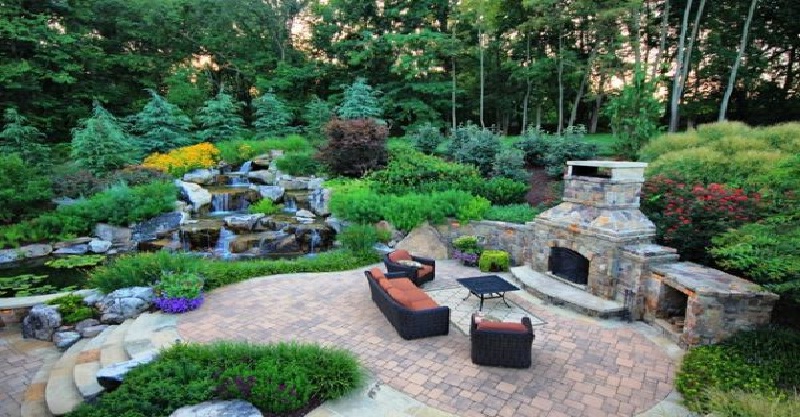 Whether natural or manmade,  connected to a pool, pondless, of traditional or contemporary design, waterfalls definitely make an impressive backyard feature.
Furthermore, a waterfall can transform a boring backyard and make it a favorite place for the whole family. Not to mention that adding a waterfall can definitely help attract wildlife to any outdoor space.
Usually combined with other landscape and décor elements and surrounded by lush vegetation, which softens the look of rocks, waterfalls are a common backyard feature, which grabs and keeps attention.
Always consider adding some seating to create a space where to enjoy the hypnotizing effect of the falling water and its soothing sound.
When coming is a series, small waterfalls meeting in a pond make a magnificent addition to any backyard.
For large spaces, waterfalls can be included to connect a series of ponds.
For a truly dramatic effect and extra visual interest, lighting can also be added.
1. Waterfalls of Natural, Traditional Design
Although manmade waterfalls come in a range of designs and sizes, for backyards with descending, rocky slopes, waterfalls of classic design are a favorite choice. Mix and match rough stones of varying shape, size, and color to lend the waterfall a natural, unique look.
With some good planning, it's not that difficult to make your backyard look as heavenly beautiful as a piece of a mountain landscape.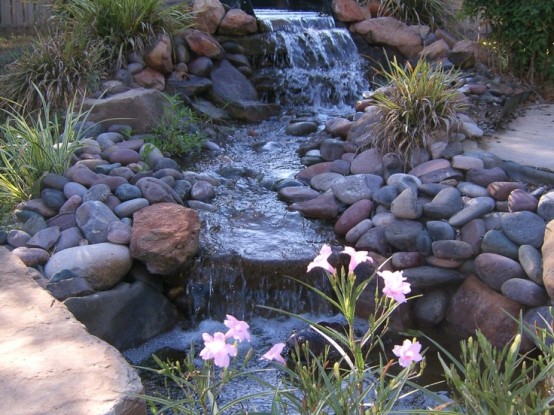 Shown above is a stone waterfall, which imitates a mountain river. A simple design that definitely lends a serene, hypnotizing look to the space.
Usually, landscape and décor elements, seating arrangements, and lighting complement waterfalls to add functionality, visual interest, and personality to the backyard.
Furthermore, when tastefully positioned in or around the waterfall, pieces of backyard art can make even the smallest waterfall stand out.
In the picture above, running down a steep slope, a rock waterfall flows into a stream. Greenery adds color and visual interest. A small wooden bridge is an unexpected touch for extra charm.
Seating of any kind, from simple wooden benches to chair arrangements to contemporary seating and dining outdoor furniture pieces, helps create cozy, inviting spaces where to relax in privacy and serenity, entertain with family and friends, or simply admire your spectacular water feature.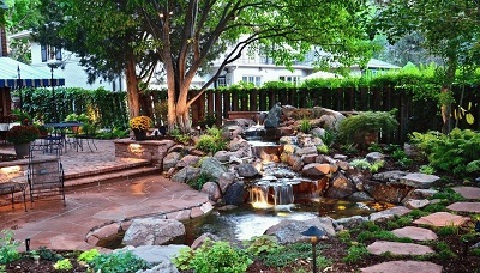 Above, a waterfall complemented by a pond takes this multi-functional backyard to the next level. Stone pavers used for covering the area add to the organic feel of the space. Lighting adds extra functionality, visual interest, and romance. Simply a magical backyard!
Actually, incorporating a firepit and lighting/underwater or along the waterfall/is a way to both add functionality, charm, drama, and romance and enhance the look of the space.
Never forget that when it comes to lighting, safety should be your top priority!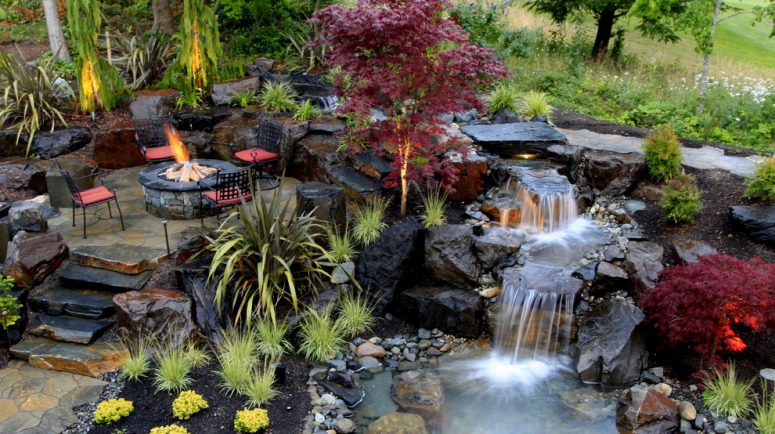 In the picture above, a fascinating patio. Stone steps lead to a terrace where a fire pit complemented by chairs is positioned… A series of lit waterfalls…Lush greenery…What an inviting space!
2. Pondless Waterfalls
Pondless waterfalls/or disappearing waterfalls/ offer a practical way to incorporate a fascinating water feature into any space, especially smaller ones.
These waterfalls work on the principle of circulating water, water is pumped over rocks and disappears into a reservoir hidden under a layer of stone and gravel.
When combined with rocks, greenery, seating, and other landscape and décor elements, as the classic waterfall designs, they can also create fascinating spaces, which offer the soothing sound of cascading water.
Pondless waterfalls come in a variety of designs, styles, sizes, and materials and you can easily choose an option that fully integrates into your space.
As for their pros and cons, pondless waterfalls are a space-saving, kid- and pet-friendly, and low-maintenance solution. However, as they do not end in a pond, you can't enjoy aquatic plants and fish life.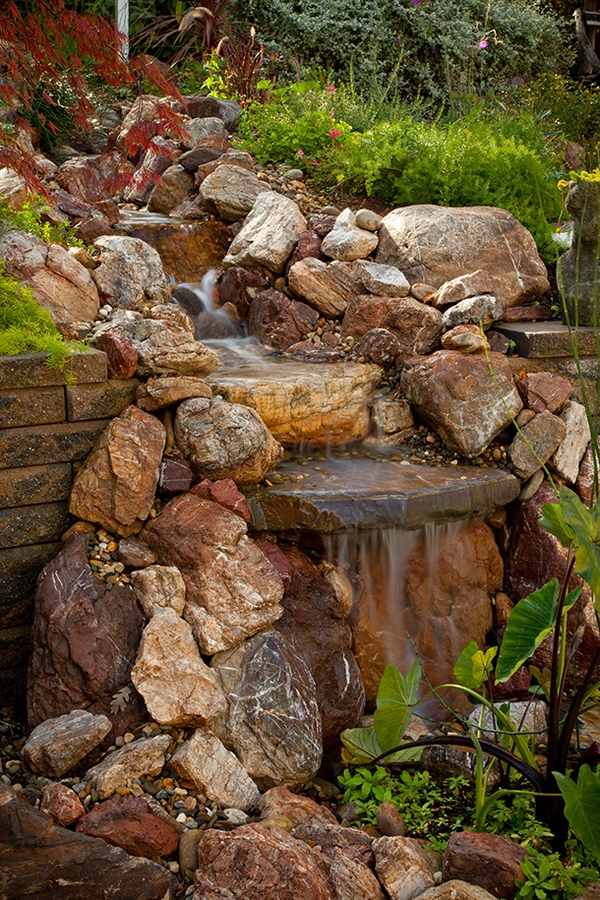 Above, cascading water from a series of waterfalls disappears under a layer of rocks and greenery. Definitely an enchanting backyard!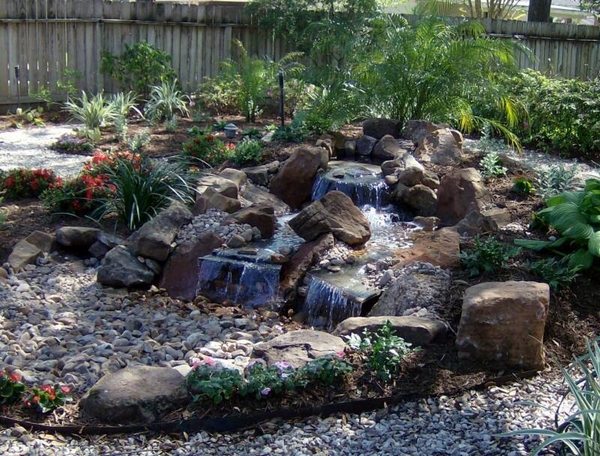 In the picture above, a fascinating way to incorporate a water feature!
Generally, when you have a limited space, a pondless waterfall is a fabulous option to add the soothing sound of cascading water to your backyard.
3. Contemporary Designs
Unquestionably, waterfalls create a serene atmosphere and make an instant focal point. With some planning and creativity, they can fit effortlessly into any backyard, whether of traditional or contemporary design.
When it comes to contemporary spaces, think beyond the limits of conventionality and the classic waterfall solutions and choose an option that can add extra touches of modernity.
However, you can always mix and match new and old and come up with a unique, contemporary design solution that works well in an outdoor space with a classic décor. Usually, such spaces have tons of personality and can leave anyone speechless.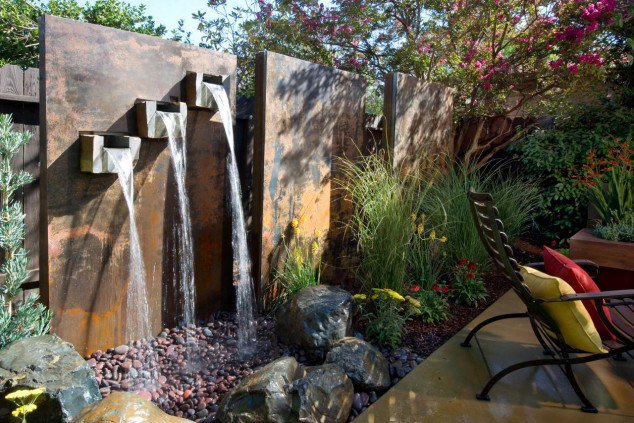 Shown above is a stunning backyard with one-of-a-kind water feature.  Metal panels with a rustic look are a part of a fence, which offers privacy to the seating area.
Plenty of greenery brings in color, scent, freshness, and visual appeal. Three stone containers create a spectacular waterfall, which adds interest and charm to the space. Definitely a wow-worthy backyard!
Waterfalls don't necessarily need to be massive and expansive, even a modest, small falling water feature can also create a relaxing atmosphere and take any backyard to the next level.
Think outside the box, an overflowing pool can also create a waterfall effect. Plus, it's an enchanting way to add personality to your backyard.
Generally, when combined, pools and waterfalls definitely create truly impressive spaces, the epitome of relaxation and serenity.
Sometimes, simplicity offers stunning design solutions.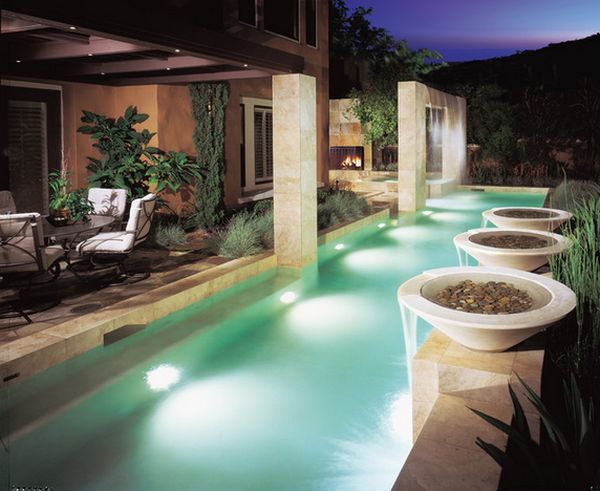 In the picture above, an inviting backyard pool area with an elegant dining zone. A series of three bowls empties in a narrow pool creating a waterfall effect.
At the other end of the pool, a transparent water wall adds extra visual interest. Lighting and greenery complete the look of the space. Definitely a backyard that exudes style and sophistication!
4. Waterfalls of Unusual Design
Unquestionably, waterfalls are a fascinating backyard feature, which helps transform any outdoor space into a dream-come-true oasis, where to relax in a soothing atmosphere.
Furthermore, when creatively approached, incorporating a falling water feature is a way to add personality to your backyard, just focus on waterfalls of unusual design.
Pallet, stone, and metal walls, fences upgraded with containers of different shape, size, and material, repurposed garden stuff and containers with a vintage look, and even stone steps can make unique waterfalls.
For extra visual interest and appeal, add lighting, greenery, and garden art.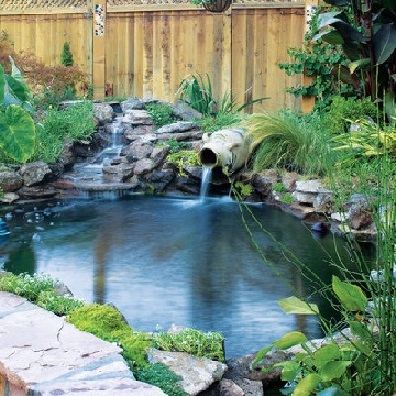 In the picture above, an inviting backyard. A small pond surrounded by lush greenery is complemented by two waterfalls, one of classic design simply flowing down the rocks to empty in the pond and another – streaming from an urn. A fence adds privacy to the space. Truly impressive!
As they unquestionably create a soothing, relaxing atmosphere and add charm, romance, drama, and personality, if trying to transform the look of your backyard, incorporating a waterfall is always worth considering!
With some creativity, any waterfall, especially if complemented by other water features, such as pools and ponds, can definitely turn even the most boring backyard into a magical, wow-worthy retreat.