If your backyard is small, you can still make it functional and welcoming. It is important to manage space thoughtfully to have a defined sitting nook, gardens and possibly an entertainment area.
Designing a backyard on a smaller scale could be a challenge but with our 16 Big Landscaping Ideas For Your Small Backyards, you will find this project pleasant and doable.
1. Dedicated Nooks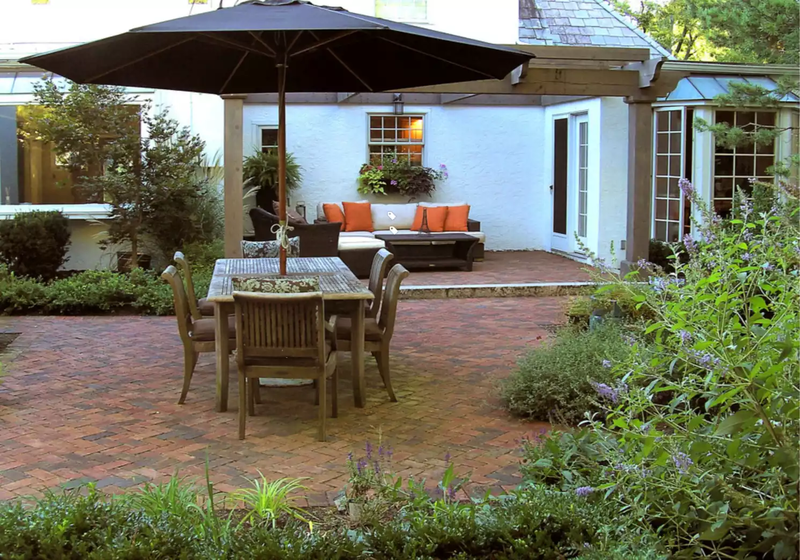 This small backyard has been well-managed to offer a beautiful landscape and comfort. The porch is covered with a pergola that will provide shade for the people sitting on the couch during the hot days.
The backyard showcases an edging garden bed with a wide variety of flowers and an area covered with stone bricks where a set of a table and dining chairs stays.
2. Tranquil Backyard Retreat: Adirondack Chairs, Garden Views, and Cozy Corners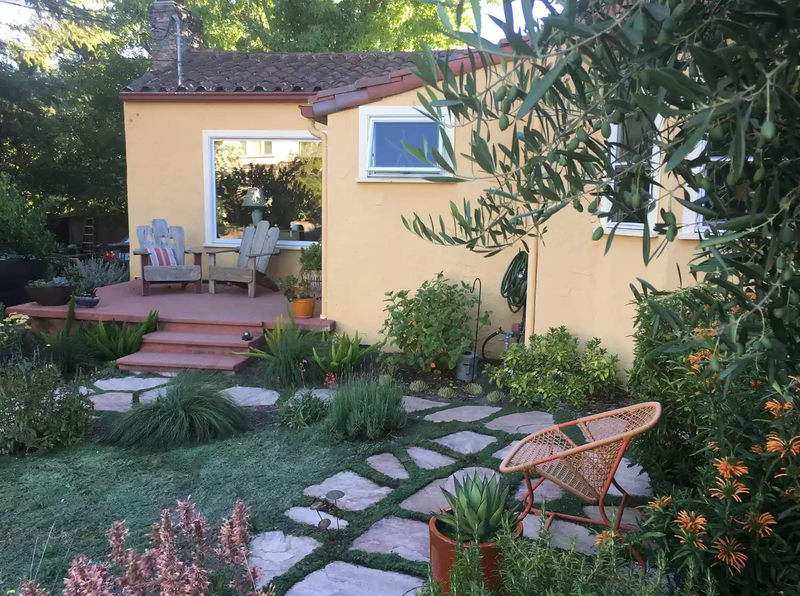 This small backyard offers everything you need to spend a lovely time in your home. Two Adirondack chairs stay on the porch, revealing a wide view of the rich garden.
A curved walkway made of stepping stones leads to a cozy corner where a person can sit by himself and stay undisturbed for a while.
3. Outdoor Living Room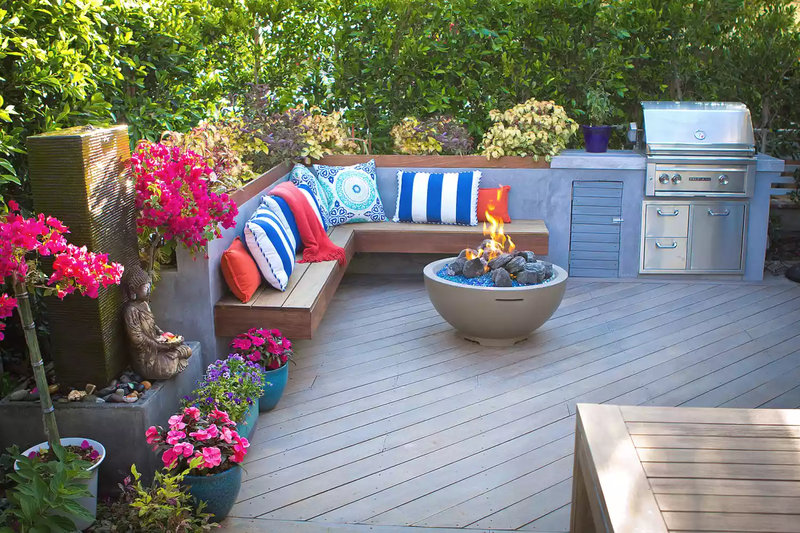 This small garden landscape highlights the fire pit with welcoming benches. Placing the seating spot just next to the barbeque makes the time spent outdoors more exciting and comfortable.
The nook looks homely thanks to the color palette and bright flowers.
4. Small Exotic Oasis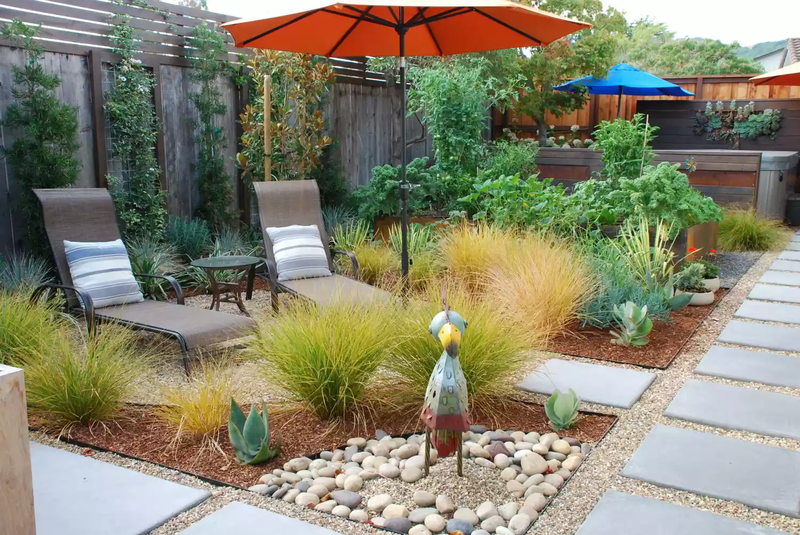 Two sunloungers, a small table and an umbrella, that is all you need to add to the backyard to make a private oasis.
The surrounding landscape and decoration enhance the holiday feeling by adding an exotic touch. And if you look closer at the furthest end of this picture, you will see a hot tub offering ultimate outdoor relaxation.
5. Small Yard With Big Capacity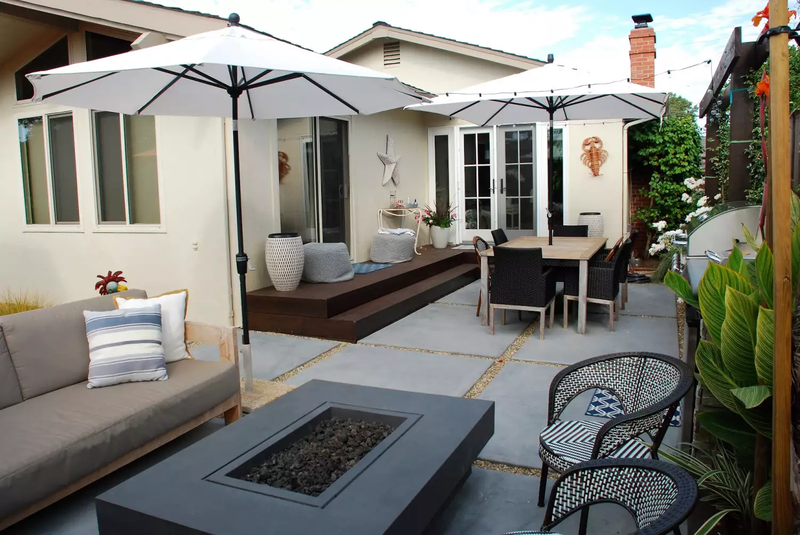 This backyard idea is very modern and stylish. The small patio is divided into two sitting areas. The edging garden creates an appealing setting to enjoy the fresh air and the natural touch.
Despite its size, it is an interesting idea of how to use the garden functionally. Instead of covering more of the patio area, you can tuck it in between the green tall plants.
6. Tiered Backyard Idea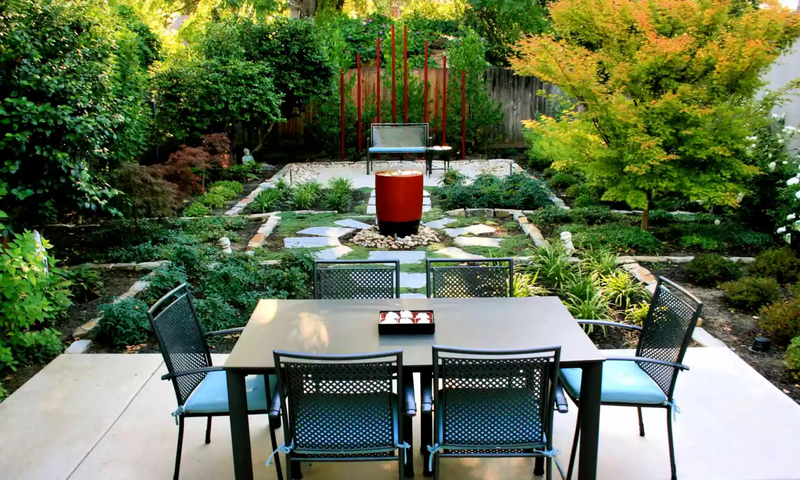 This backyard is rather long than wide but this hasn't been a problem for the homeowners to create a beautiful outdoor escape nook.
It is designed in three tiers and each level has its function. The top one is with a sitting set where the whole family can gather together. The second level is for outdoor entertainment around a fire pit.
The last one is the private corner where two people can sit and enjoy the surroundings on a small but comfortable bench.
7. Poolside Nook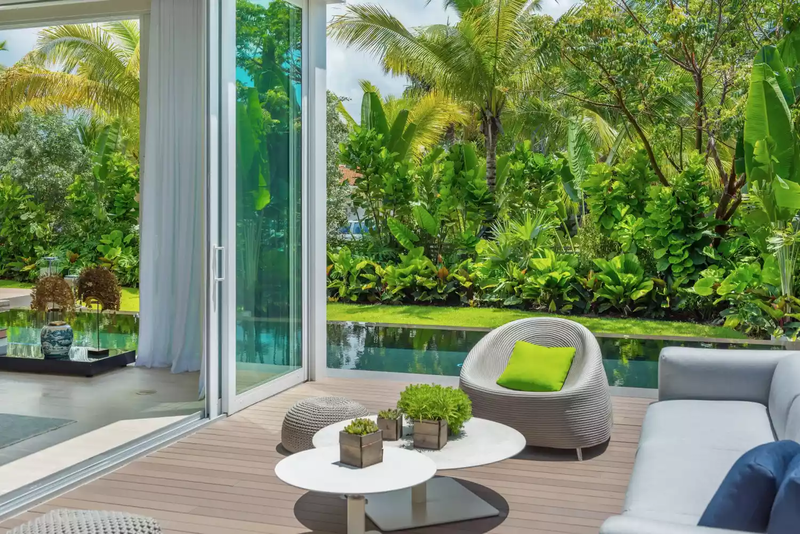 The best place to make a relaxing corner is where there is a beautiful landscape. The pool is such a place, especially if it is combined with a fountain.
A sofa, a table, an armchair and ottomans are just enough to gather your family outside. Add simple decorations like flower pots to blend the furnished area with the green landscape of the garden.
8. Dining Table With Cooking Utensils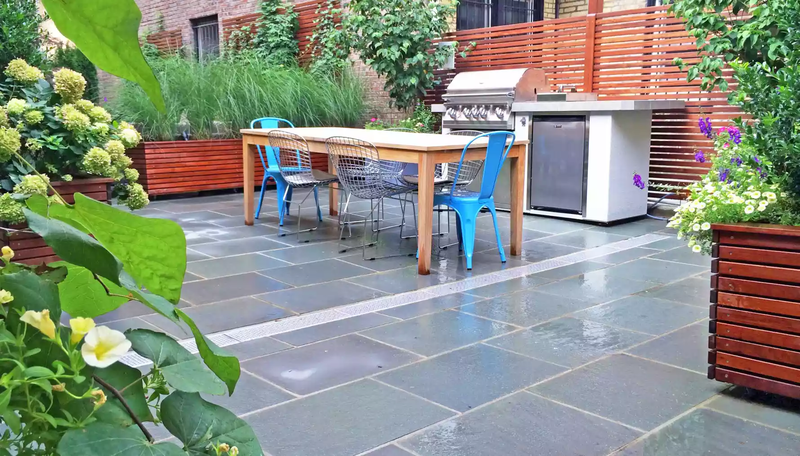 Adding a small kitchen furniture set can make the outdoor sitting nook very functional. This area is like an extension of the indoor space offering space and comfort. Choose suitable furniture and utensils that can resist the outdoor impacts.
The decoration of this nook is entirely natural stacking on diverse varieties that create texture and volume.
9. Pergola Nook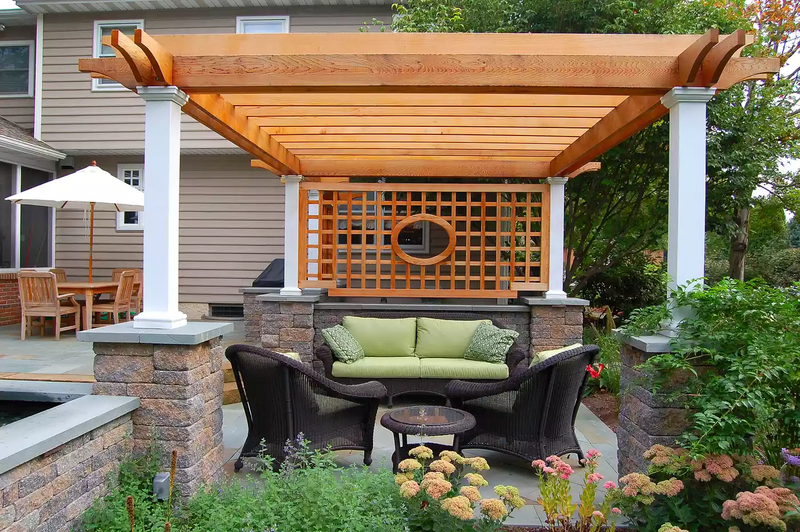 The pergola is the right spot to make a sitting nook underneath. Firstly, the pergola acts as a defining structure. Secondly, it will throw shade during the hot sunny days. The soft cushions and throw pillows make the nook very homely.
For surrounding there are blooming flowers and green shrubs that set a relaxing and harmonious atmosphere.
10. Private Nook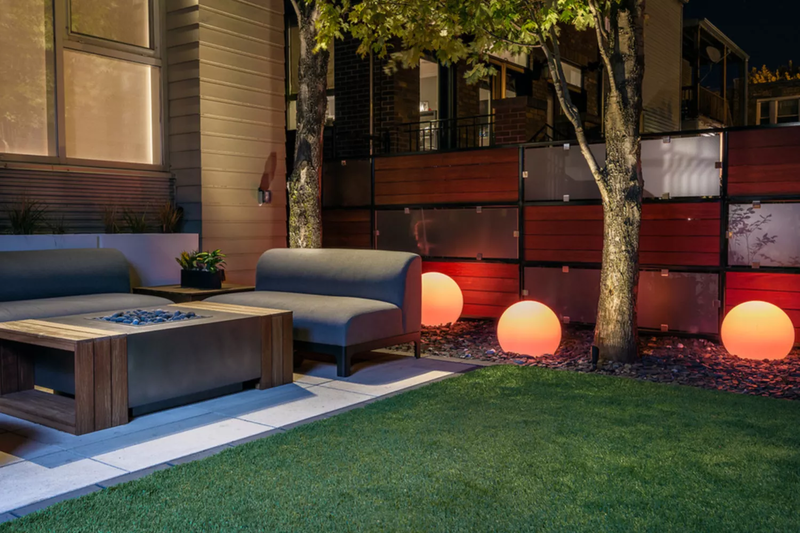 Lighting can make the backyard more welcoming and comfortable. You can choose from a wide variety of outdoor fixtures. The cheapest option is a string of lights. If you prefer a more modern design, globe lights are great.
They match the modern design of the furniture and the frosted glass fencing.
11. Luxurious Patio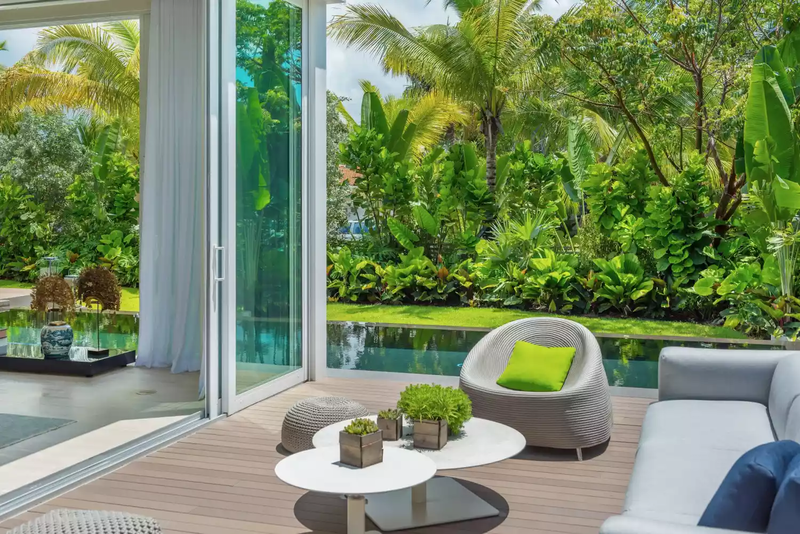 This modern backyard features a small garden with lush exotic greenery edging a long pool. A patio with sleek decking offers a comfortable sitting nook from where you can enjoy the natural landscape and the infinity pool.
12. Structured Backyard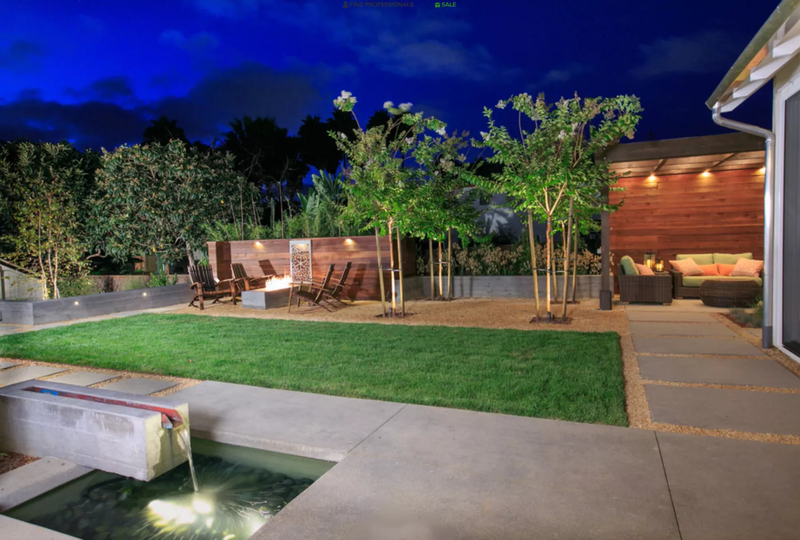 This backyard features a number of outdoor entertainment features- a covered area for sitting, an open area with a fire pit, a fountain, an edging garden with greenery and a small lawn. All features are spaced from each other to create an illusion of a spacious backyard.
13. Among The Nature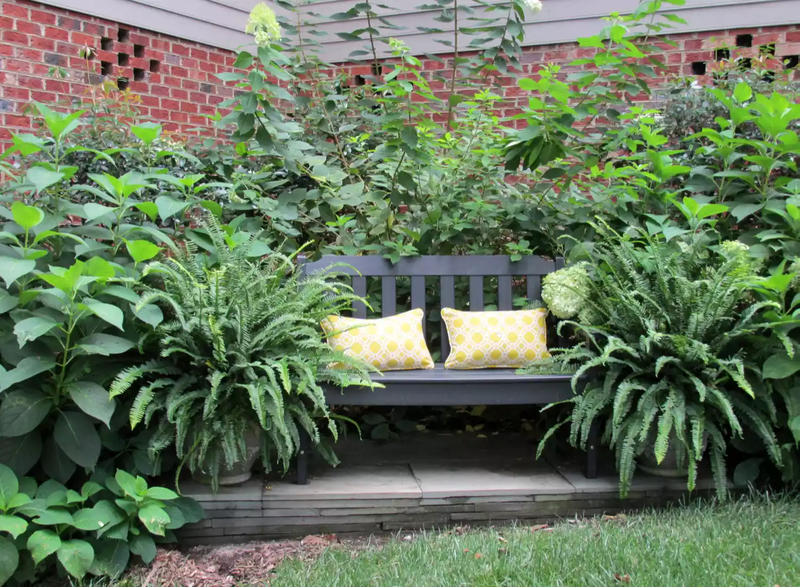 Right into the lush garden bed, a bench is positioned. It is like an escape nook, a place where a couple can sit, and enjoy the greenery and the fresh air.
14. Modern Patio Surrounded By Gardens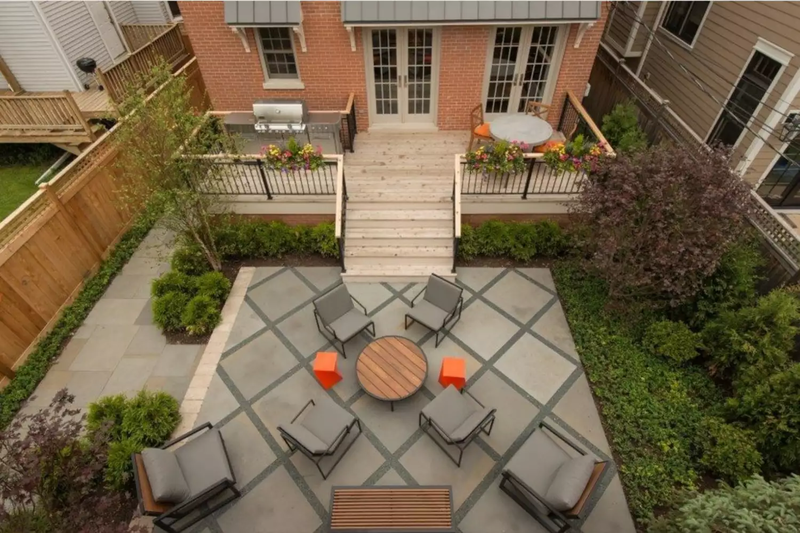 The geometric design of the patio sets a modern flair. The straight and clean lines of the stamped concrete define the furniture's look. Gardens gird the square patio adding an elegant touch with Japanese maple trees, Rhododendron and boxwood.
15. A Walkway To Lead You To A Private Sitting Area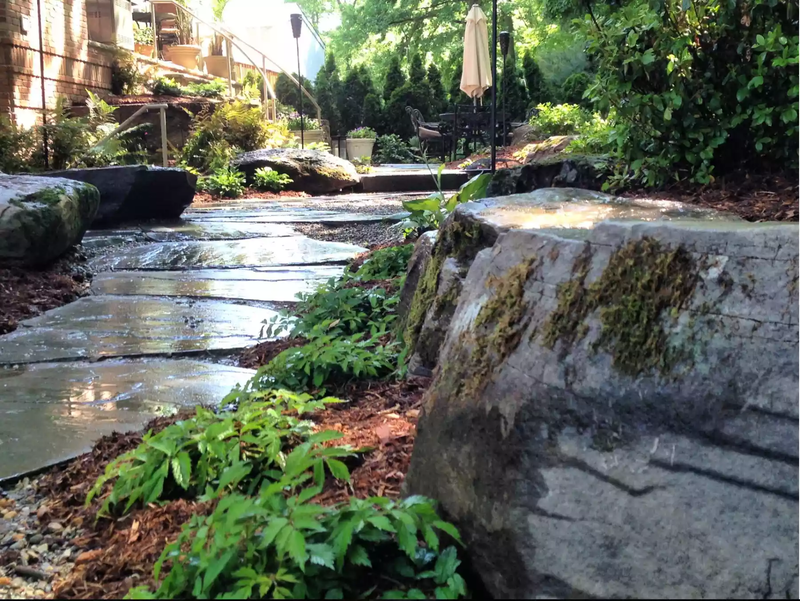 This backyard is nature-inspired. A stone pathway curves through lush greenery to lead to a dining area at the farthest end. The nook is hidden in the garden to set a private tone and a fairytale atmosphere.
16. Next-To-The-Fence Sitting Nook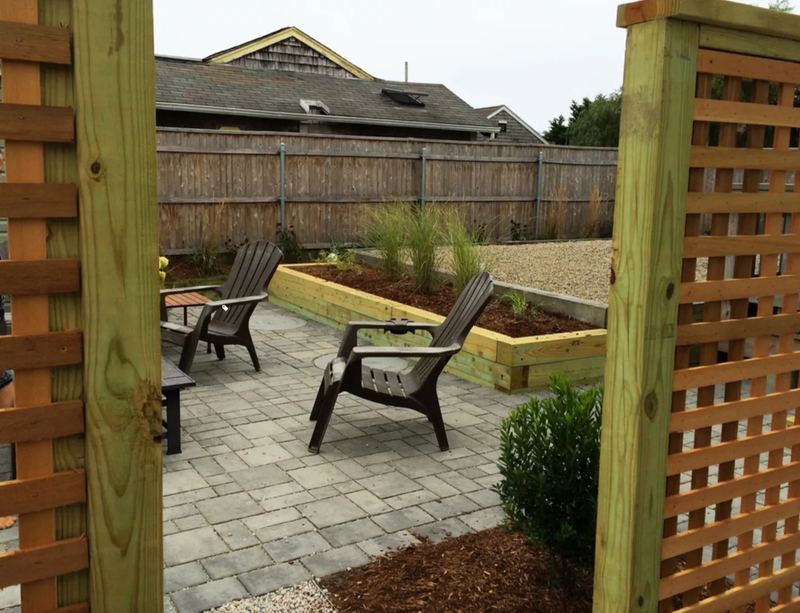 This backyard is defined with fences. You find a cozy nook with Adirondack chairs and a table set on a stone surface when you enter it. Maintained gardens surround the sitting corner featuring boxwood shrubs and ornamental grass. A pea gravel patio is set on a higher level to form another entertainment nook.