Glitz and glamour is a must on New Year's Eve — whether you're hanging out in your pajamas or hosting a formal party, a bit of sparkle can make the evening feel special.
As you celebrate the new year, these DIY projects can help you make the transition in style.
1. Confetti Balloons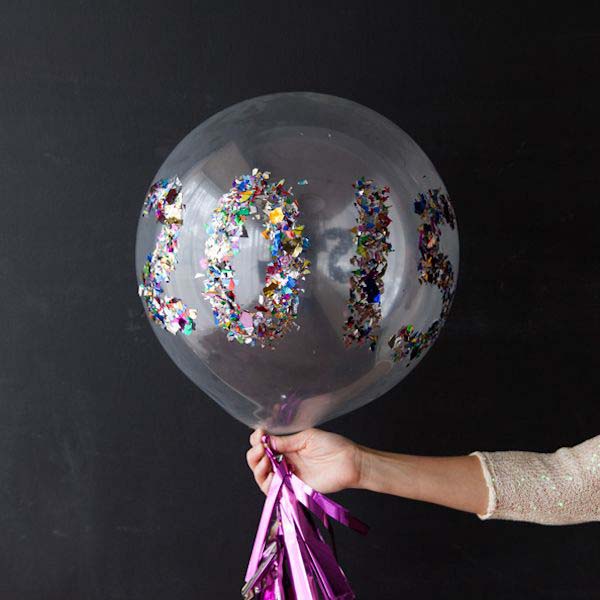 Fun and festive, these confetti balloons are a playful way to decorate your home for New Year's Eve.
Just write the new year on a balloon with glue, sprinkle glitter over the numbers, and let them dry.
Use a clear balloon to keep the focus on the glitter, or use colored balloons for an extra pop of fun.
2. Disco Ball Wreath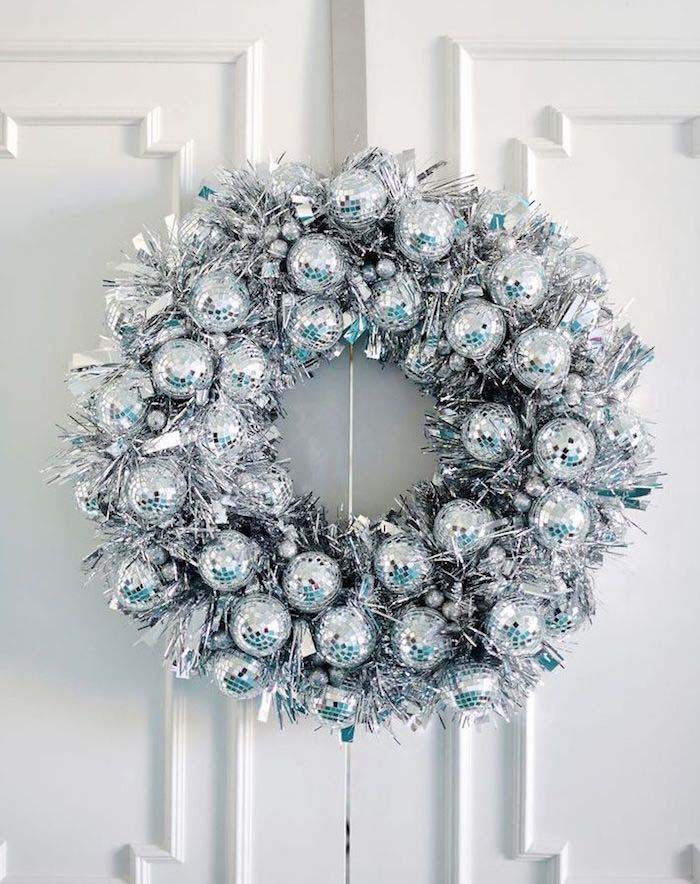 After Christmas, switch out your green wreath for this disco ball-studded version.
It's a celebration of silver — from the individual pieces of tinsel to the tiny berries, every component sparkles beautifully.
Make your DIY wreath in any color to match your party decor; you can even mix and match metallic tones.
via A Beautiful Mess
3. DIY Glitter Cake Stand & Utensils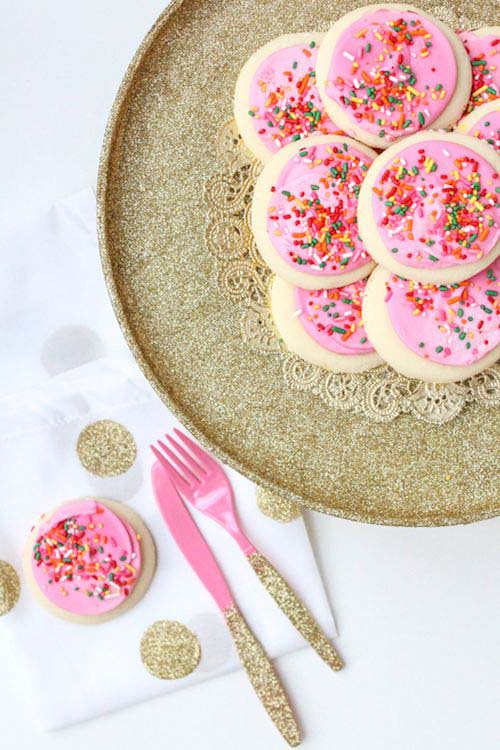 Are you serving treats this New Year's Eve?
Grab a cheap cake stand from the thrift store to create this stunning platter.
Add a coat of glitter and a matching paper doily, and you have the perfect spot to display cookies, cupcakes, or other snacks.
For extra impact, glitter-dip plastic utensils to match.
via Sugar and Cloth
4. DIY Glitter Wine Glasses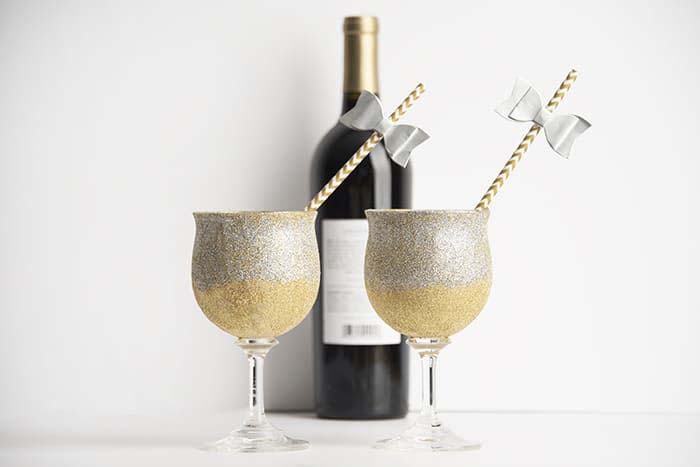 Take your cocktails or champagne toast to the next level with a layer of glitter.
They look luxurious, but they're easy to make using supplies from the craft section of any store.
Choose a single color for a sophisticated vibe, or create an ombre gradient for a trendy look.
If you use the right craft glue, you can clean your glasses in the dishwasher.
via Mod Podge Rocks
5. DIY Glittery Champagne Bottles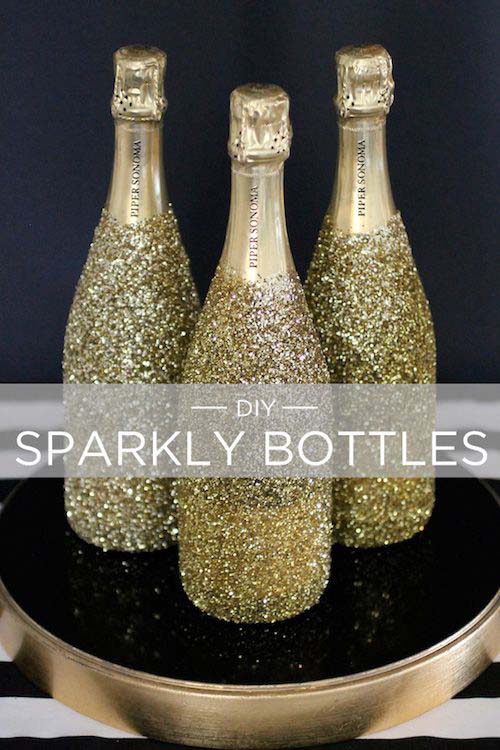 Champagne is a celebration all on its own — with a package of glitter, you can take each bottle to the next level.
The result is a shimmering, sparkling display piece that decorates your table until the clock strikes midnight.
This craft project is a fun way to dress up an inexpensive bottle of bubbly or a high-end brand.
via Evite
6. DIY Gold Fringe New Year's Eve Party Hats
What's a New Year's Eve celebration without a party hat?
If you can't find any that suit your aesthetic, create your own.
These stunning hats are made with a few simple supplies: cardstock, metallic tissue paper, and elastic.
Make a selection of hats to hand out to all of your guests, or get the family involved for a low-key celebration at home.
7. DIY Mirror Ball for NYE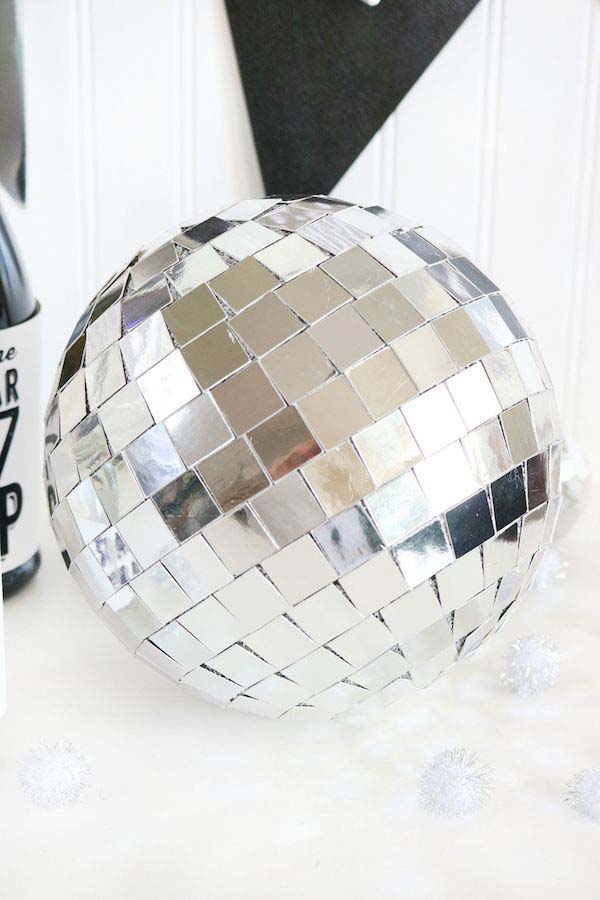 Create a ball drop in the comfort of your home with a DIY mirror ball. The trick?
Use mirrored cardstock instead of glass pieces; they're safer, lighter, and just as beautiful as the real thing.
Hang the ball from the ceiling on a string and watch as it spins in the breeze.
8. Fortune Cookie DIY
Fortune cookies are a delightful way to look to the future as you ring in the new year.
These creative cookies are made from clay, so you can hand them out as party favors.
Break them to reveal the fortunes inside or leave the strip of paper loose for easy removal. Write your own fortunes to start the year off right.
via Lil Luna
9. Fringe Garland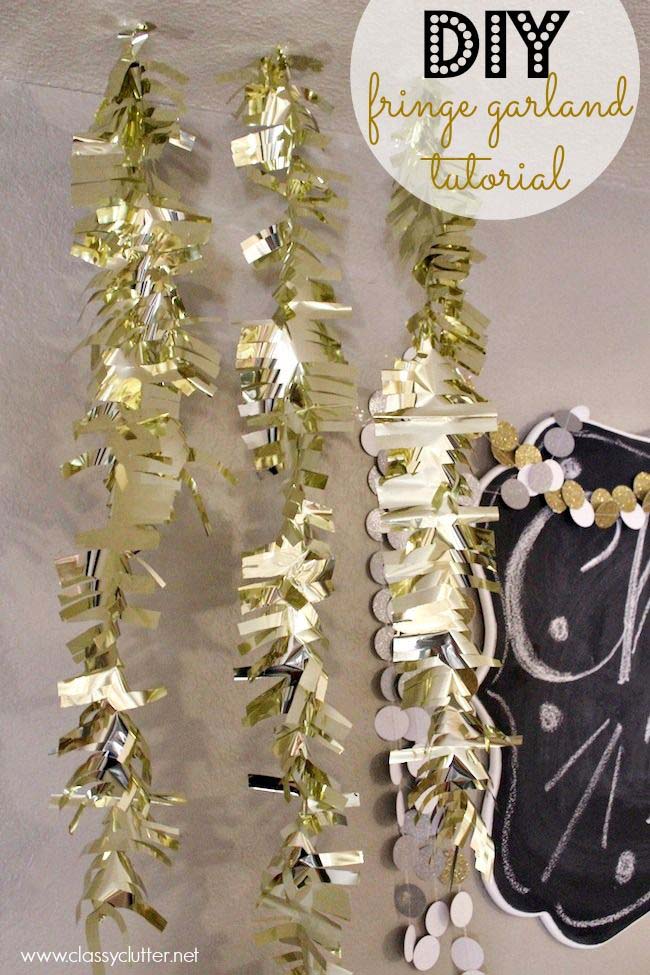 Garland adds a shimmering finish to any surface — use it to line the edge of a buffet table, decorate the wall, or frame a doorway.
A full wall of fringe garland makes a lovely photo backdrop.
Don't worry about finding garland; you can make your own for a fraction of the cost.
via Classy Clutter
10. Glitter Dipped Balloons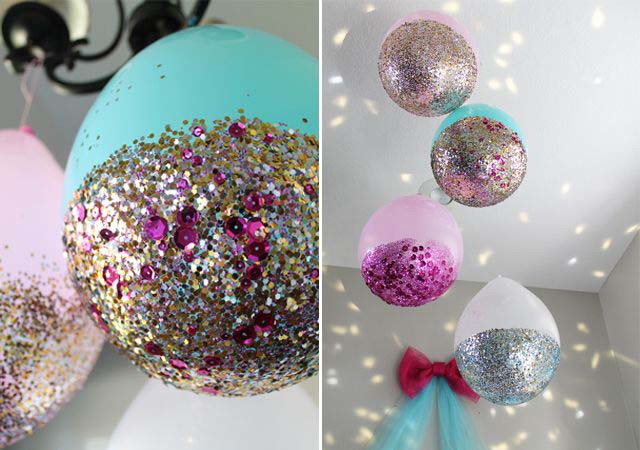 These glitter-dipped balloons are a gorgeous way to dress up a room for New Year's Eve.
Hang them from the ceiling, and the sparkling surfaces reflect the light like a disco ball.
For maximum impact, choose a large-scale glitter or a selection of sequins.
11. Glitter Party Poppers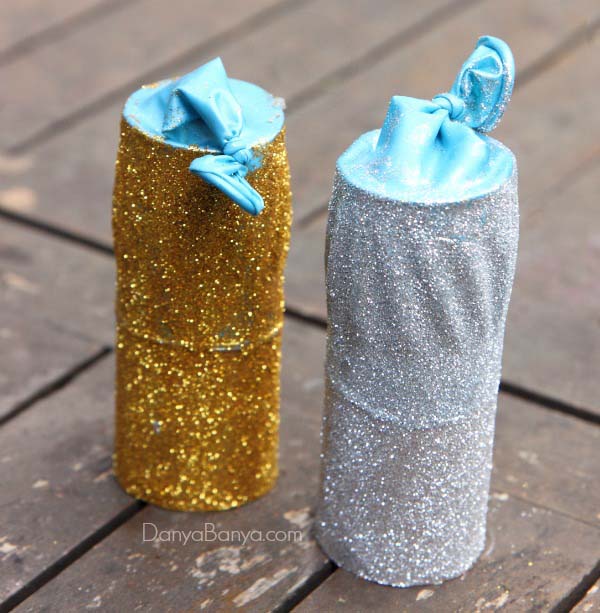 Keep your guests or little ones entertained as the clock strikes midnight with DIY party poppers.
They're made from cheap, durable supplies, so you can refill them and use them again and again.
Fill your poppers with anything that's easy to clean up — sparkly pom poms and large-scale confetti make great choices.
via Danya Banya
12. Metallic Paper Medallions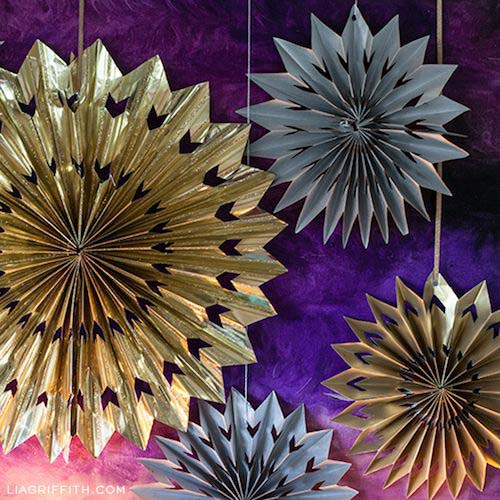 Turn your ceiling into a canopy of snowflakes with DIY paper medallions.
Made from metallic paper, they look lovely individually or as a group. Although each one looks elegant, they're surprisingly easy to make.
These medallions are durable and easy to store, so you can use them to decorate next year.
via Lia Griffith
13. New Year's Eve Confetti Party Favors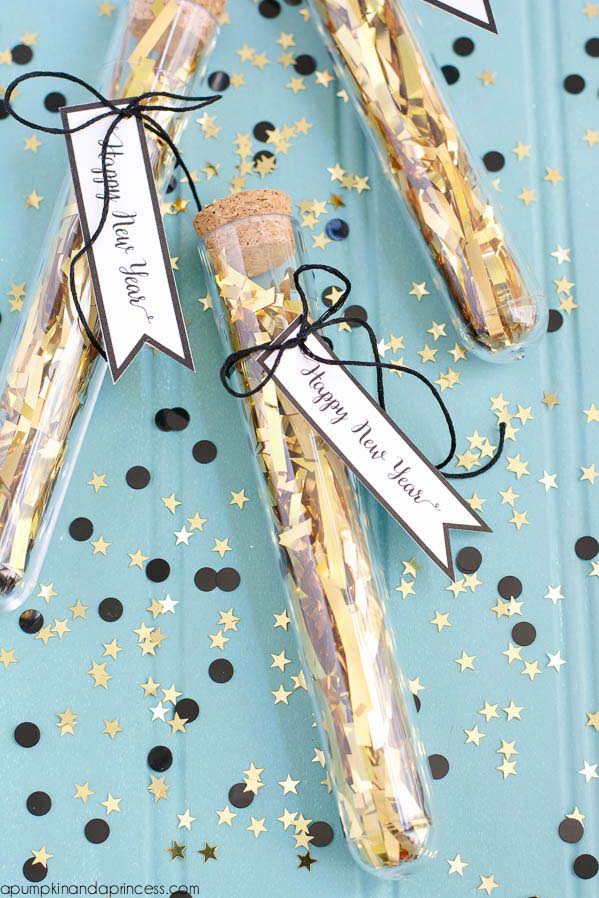 Looking for a way to make your midnight toast more exciting?
Hand out one of these party favors to each of your guests.
When the clock strikes 12, everyone can uncork the tube and throw the confetti in the air to create a shower of glitter and gold.
Don't want to deal with cleanup? Hand the tubes out as people leave for a sweet memento.
14. New Year's Eve Photo Backdrop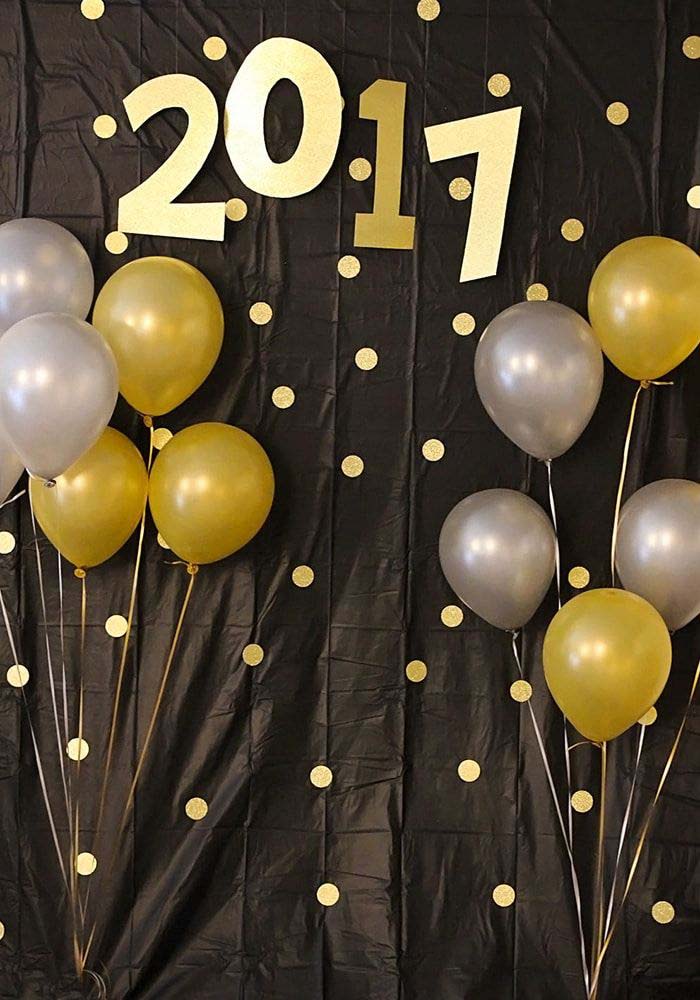 A DIY photo booth makes it easy for your guests to capture memories from a special New Year's Eve celebration.
Making one is a breeze — all you need is a paper tablecloth, balloons, and a few sheets of metallic craft paper.
Apply metallic shapes and the new year to the tablecloth to create the perfect place for photos.
Help everyone find other guests' photos by providing a hashtag for use on social media.
via Somewhat Simple
15. New Year's Eve Silver Topiary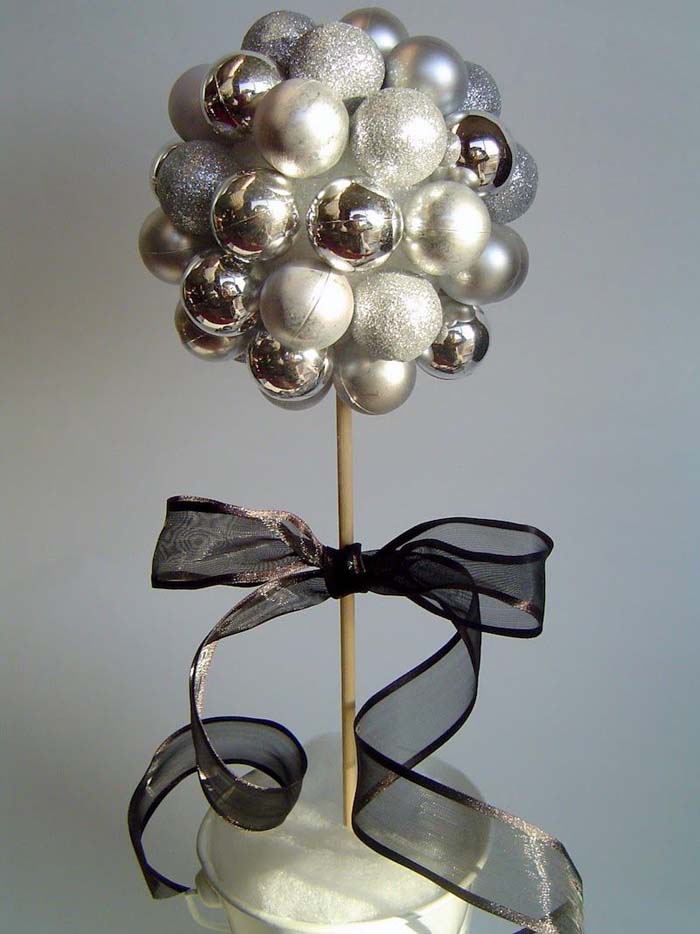 Elegant and chic, this silver topiary is a lovely way to decorate for New Year's Eve. The best part?
If you shop the after-Christmas sales, you can get all of the supplies you need with minimal cost.
Set the final product on a buffet table or by the front door to set the tone for the celebration.
via Simply Designing
16. New Year's Silver Star Headband
Make a splash this New Year's Eve with silver star headbands that you can make yourself.
Coated with a thick layer of glitter, they're a stunning way to dress up a cocktail dress or your favorite loungewear.
17. Ombré Disco Balls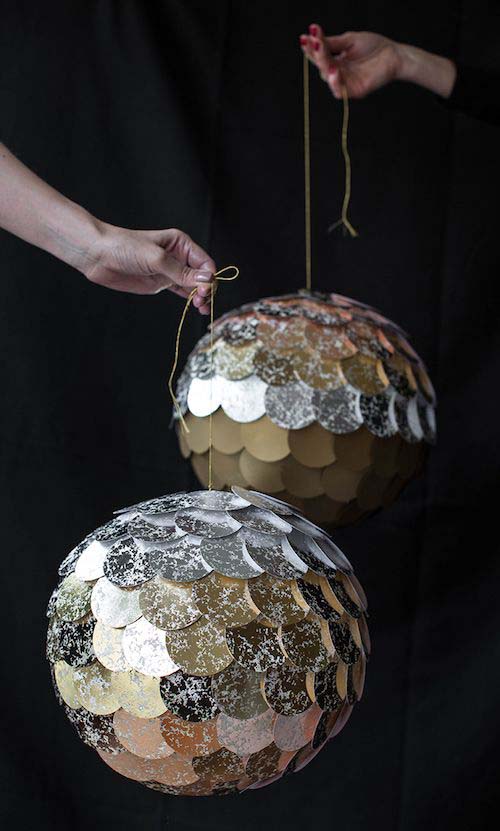 Made with round scales, these gorgeous ombre disco balls elevate any New Year's Eve gathering.
The colors shift from one metallic tone to the next, bringing a beautiful transition of color and shine to your decorations.
Use one as a focal point, or make several for a bold, high-intensity sparkle.
via Lia Griffith
18. Sequin Letter Garland DIY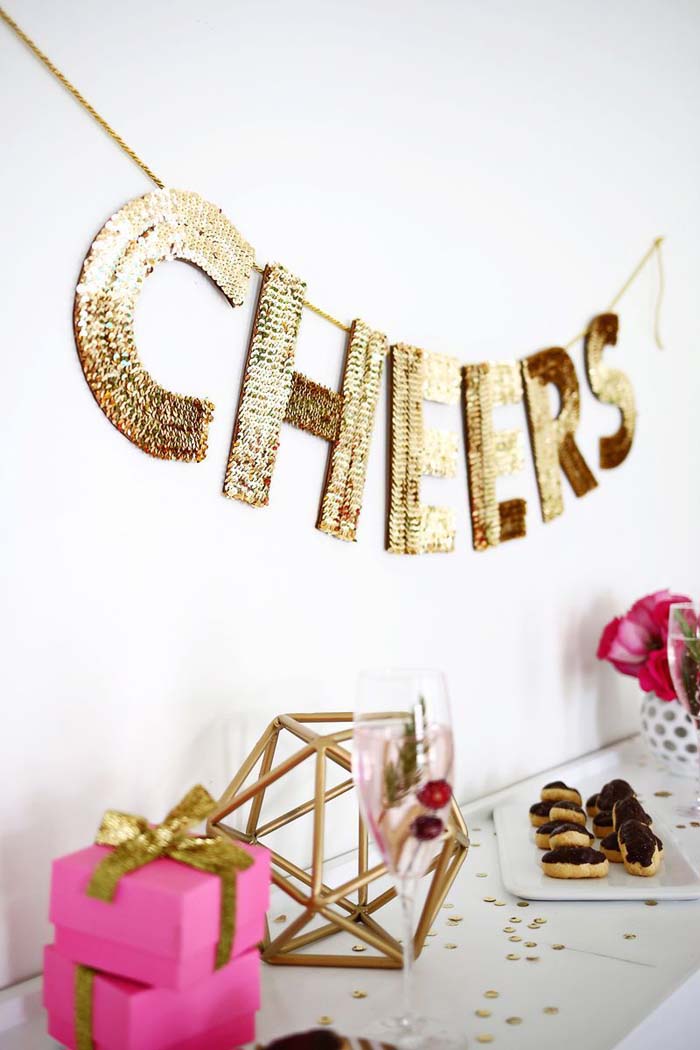 Greet your guests with a burst of sparkle and good cheer with a garland made from sequined letters.
Pick a word that captures the spirit of your event, and spell it out using cardboard letters.
Simple sequin trip turns each letter into a glittering decoration.
via A Beautiful Mess