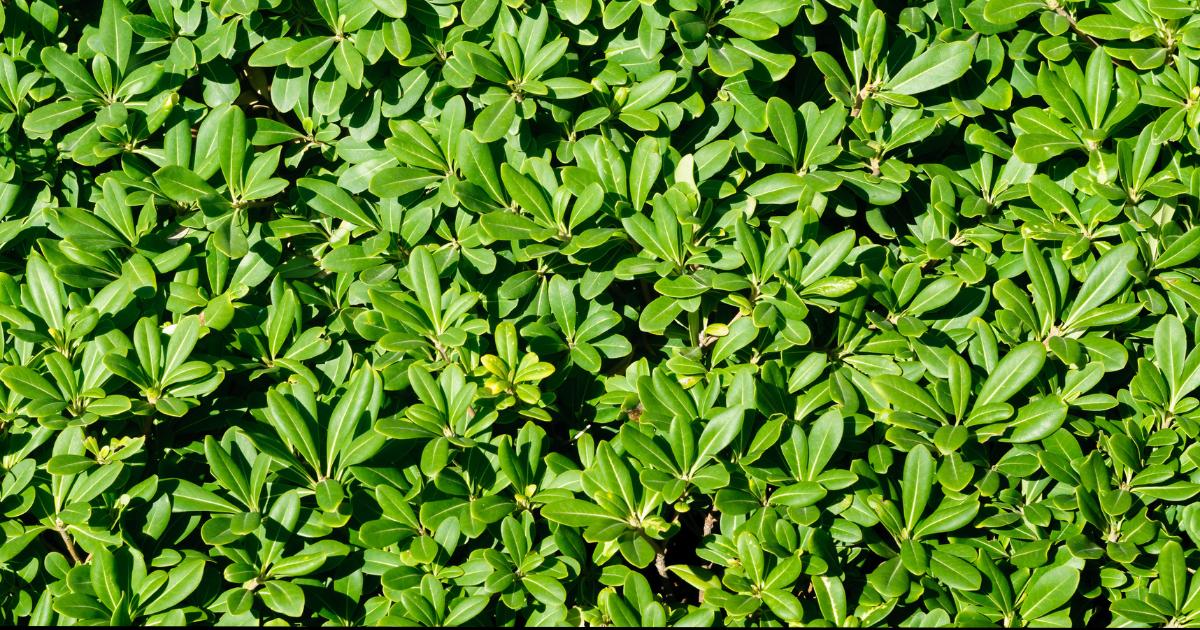 We all love a bit of privacy in our backyards, and that's why most of our homes are surrounded by gates or fences. But what if you want a touch of nature's beauty as your privacy screen? If so, the Pittosporum Hedge is the perfect solution for you!
Pittosporum is a plant that comprises grouped small trees that make evergreen shrubs. They are relatively easy to maintain and ideal for pathways, patios, and gardens.
Pittosporum hedges will provide you with the privacy you long for, as well as increase your garden's aesthetic appeal.
This article will provide information on how to grow and maintain a Pittosporum Hedge, so keep reading to learn more!
Tips On Growing A Pittosporum Hedge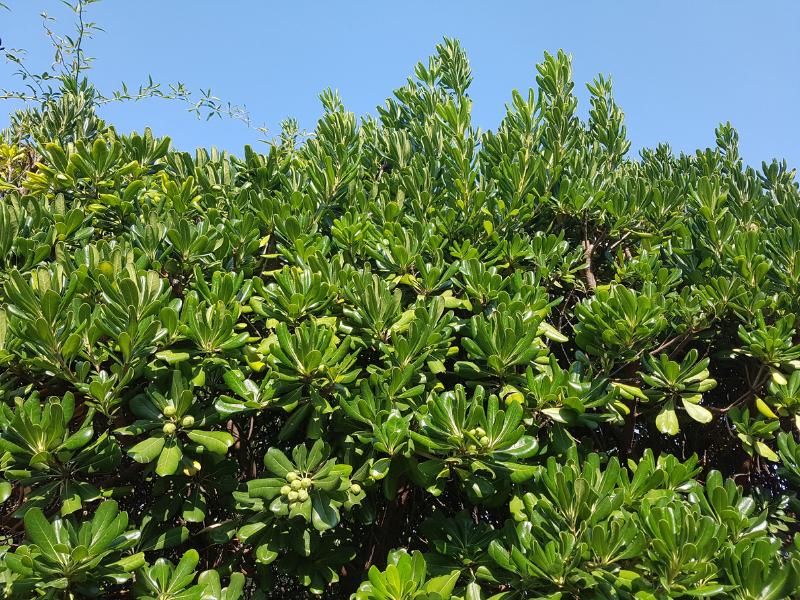 Pittosporum plants are easy to take care of since they don't have any special requirements. This might also explain the existence of numerous varieties of these plants.
This section will discuss the care guide for a Pittosporum hedge to help you keep your natural privacy screen healthy-looking and beautiful.
Soil Requirements
These plants are versatile and will grow in different soil types. They will, however, flourish in nutrient-rich and well-draining soil.
Before planting, prepare your soil by adding compost and fertilizers. Incorporate mulch around the base of the plants to improve moisture retention and reduce soil temperature.
Temperature and Light Requirements
The versatility of these plants also helps them adapt to different climates. Each type of pittosporum plant will have a preferential environment that suits it. They can tolerate sweltering temperatures, and they can be frost-hardy as well.
Pittosporum plants thrive in full sun and partial shade. Please give them six hours of sunlight daily to encourage new growth.
Water Requirements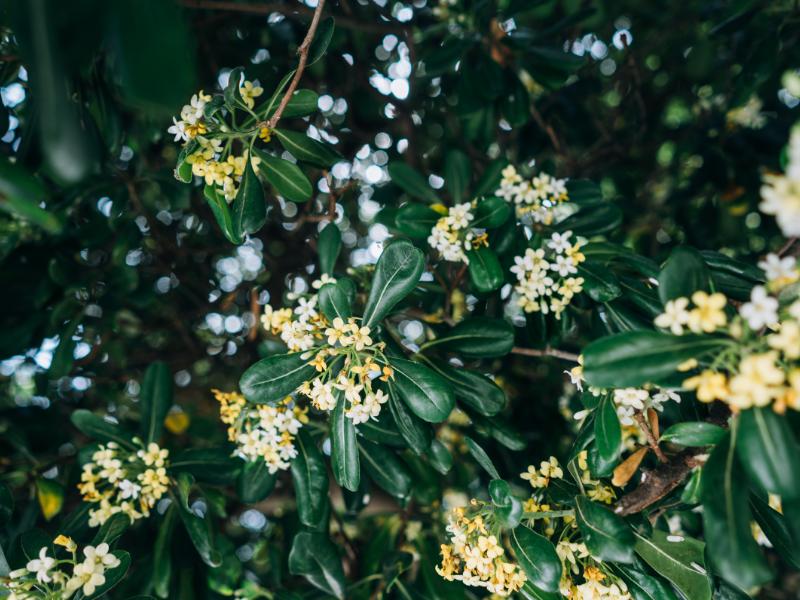 Pittosporum plants are drought-tolerant and will survive a long time without watering. Their watering requirements won't bother you at all!
Nonetheless, apply frequent watering to young and developing plants to encourage establishment of their root systems. Water mature pittosporum plants only when there are scorching temperatures.
Spacing Requirements
Spacing is a crucial factor when creating an ideal hedge for your garden. The perfect spacing for Pittosporum plants is at least 3 feet apart. Pittosporum plants normally grow tall and have dense foliage, so this length should just be enough.
Fertilizer Requirements
Pittosporum plants don't require frequent fertilizing since they aren't heavy feeders. However, you may provide them with 17-17-17 fertilizers for a dense green hedge during spring.
Pruning
This is probably the most vital step in keeping your Pittosporum hedge clean and tidy. Due to their rapid growth rate, you must often prune these plants. The best time to prune them is in the late spring and end of the summer.
Pruning encourages your Pittosporum hedge to produce more dense foliage. Additionally, you can explore your creativity and experiment with different patterns and shapes when pruning!
What Are Pittosporums?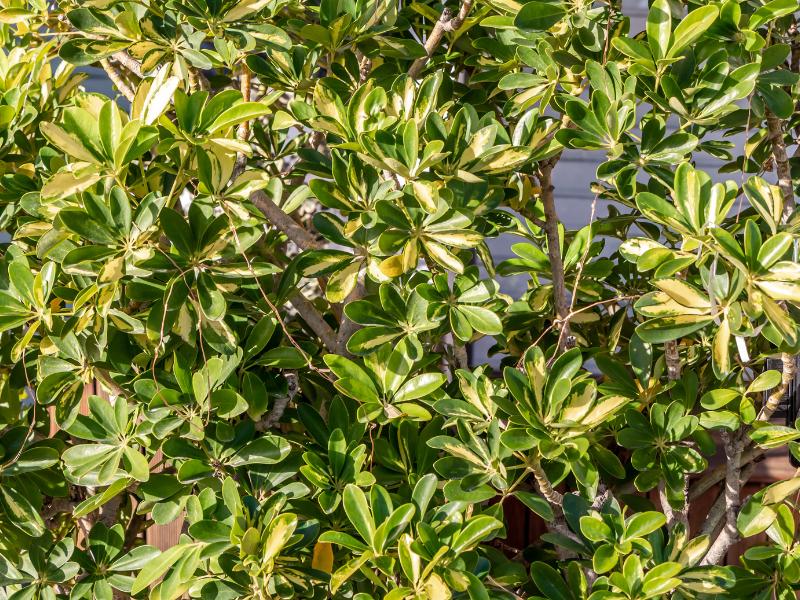 Pittosporum plants exhibit dark-green foliage all year long. Their rapid growth rate and versatility make them ideal for use as ground covers, hedges, patios, and more. Their dense green leaves make them the perfect privacy screen for your backyard and will uplift your garden.
Pittosporums are easy to maintain and will grow almost anywhere — it should be easy to find a variety that best suits your needs!
You can choose a ligustrum, perennial camellia, or even a boxwood hedge for your privacy screen options. Still, there are many more Pittosporum cultivars that you should also explore.
Pittosporums belong to the Pittosporaceae family, which contains about 130 members.
Below is some general information regarding Pittosporums:
Native to New Zealand
Hedge size 50 cm to 3 m
Leave untrimmed for shrub 3 to 5 m
Lightly trim for screen or shelter 1.5 to 3 m
Flowers – Dark maroon-black, spring-summer
Drought-tolerant
Thrives in damp conditions
Frost-hardy
Suitable for all conditions – part shade or full sun
Highly fragrant
Evergreen
Stephen's Island variety tolerates coastal and wind exposure
Pittosporum Plants Ideal For Hedging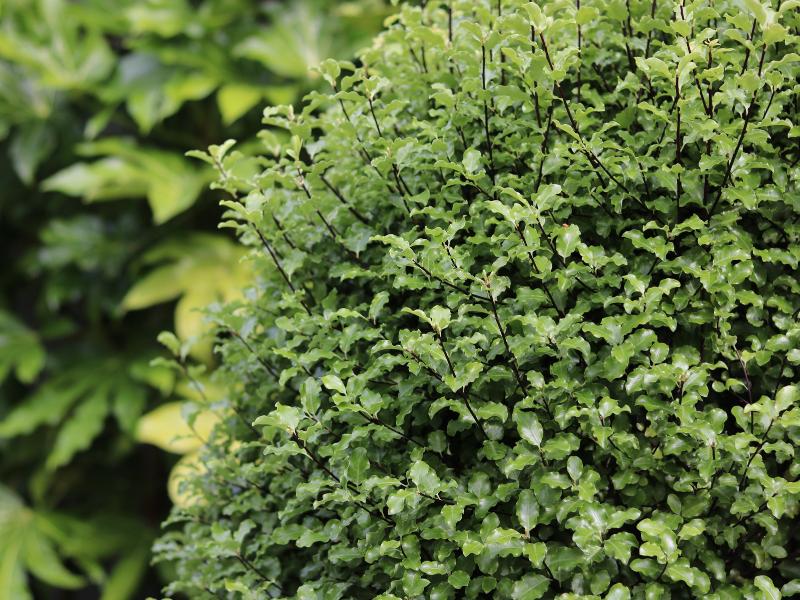 This section will highlight seven different types of Pittosporum plants that will be best used as hedges for your garden or backyard.
Let's take a look!
1. Marjorie Channon Pittosporum
This cultivar grows oval gray-green leaves with creamy-white margins and is usually used as an ornamental shrub. With its rounded habit and dense foliage growing on dark stems, the Marjorie Channon Pittosporum is perfect for sunny garden landscapes.
The Marjorie Channon can grow in most soils and needs little maintenance. The plant can grow up to 2.4 – 3.4 meters (8 – 12 ft) tall and 2.4 meters (8 ft) wide. You can use it as an attractive bush, as a specimen tree, or for mass plantings.
2. Pittosporum Undulatum or Australian Cheesewood
This Pittosporum variety has large, green, glossy, ovate flowers with distinctive wavy edges. The leaves can measure 2.3 – 6 inches (6-15 cm) long and 1.5 inches (4 cm) wide. This attractive shrub also boasts small orange fruits and aromatic white flowers.
The Australian Cheesewood can grow up to 15 meters (50 ft) tall without trimming. The plant adapts to most soil types and flourishes in full sun. In Australia, these plants are regarded as invasive due to their intense growth habit.
The Pittosporum undulatum is also referred to as mock orange, native daphne, and Victorian box.
3. Pittosporum Nigricans or Pittosporum Tenuifolium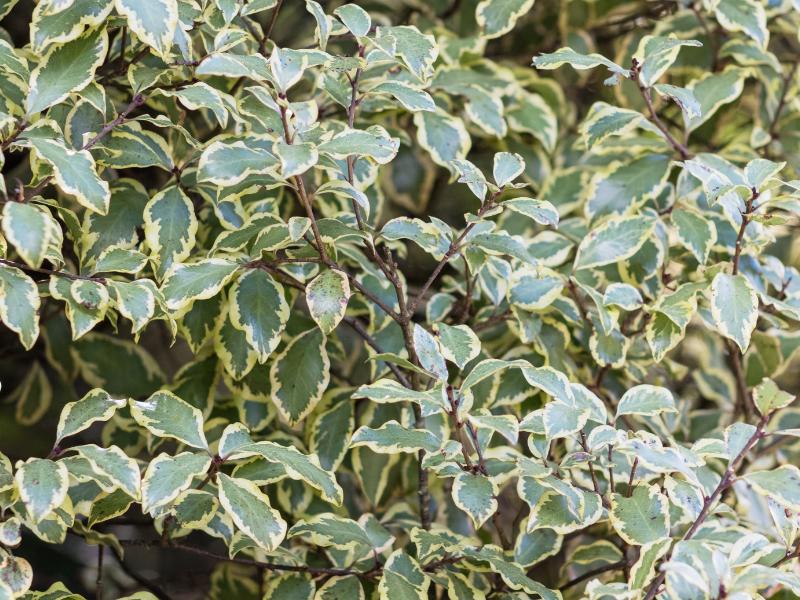 Pittosporum Tenuifolium grows in USDA hardiness zones 8-11. This large evergreen shrub produces glossy, green oval-shaped leaves with wavy edges. The shrub may also have small purple flowers, which are almost unnoticeable due to their dark color.
This cultivar can grow up to 30 ft tall, so whichever type of privacy screen you need, you'll be sorted.
The plant is native to New Zealand, where it's also called Tawhiwhi or Kohuhu. There are other Pittosporum Nigricans varieties with colorful silver, purple, or variegated foliage, which you can all try for your landscaping ideas.
4. Mojo Pittosporum or Pittosporum tobira 'CNI Three'
The Mojo Pittosporum is a dwarf, evergreen shrub that produces glossy green leaves with creamy and white variegation on its leaves. This cultivar can grow up to 1 meter (3 ft) tall and 1 meter (3ft) wide.
This Pittosporum variety's low-growing and compact habit makes it ideal for use as a border plant, foundation planting, container shrub, or accent plant. You may notice some small, creamy-yellowish aromatic flowers appearing during spring. The plant thrives in full sun or partial shade.
One advantage of Mojo Pittosporum over other cultivars is that it's frost-hardy in USDA hardiness zones 7-10.
5. Japanese Pittosporum or Pittosporum Tobira
The Pittosporum tobira is usually grown as a decorative plant, and people use it for landscaping designs. Also known as Australian laurel or mock orange, the plant has spoon-shaped leaves which have a leather-like texture. Its dense foliage makes it ideal to be used as a hedge too.
What's more, this Pittosporum type produces scented white flowers, which will embellish your garden with elegance!
They thrive in well-draining soil, and their rounded shape makes it relatively easy to maintain a desirable shape. The plant grows in full sun or part shade, and pruning won't require too much effort. They can grow up to 13 ft tall and 8 ft wide.
6. Pittosporum Tobira Variegata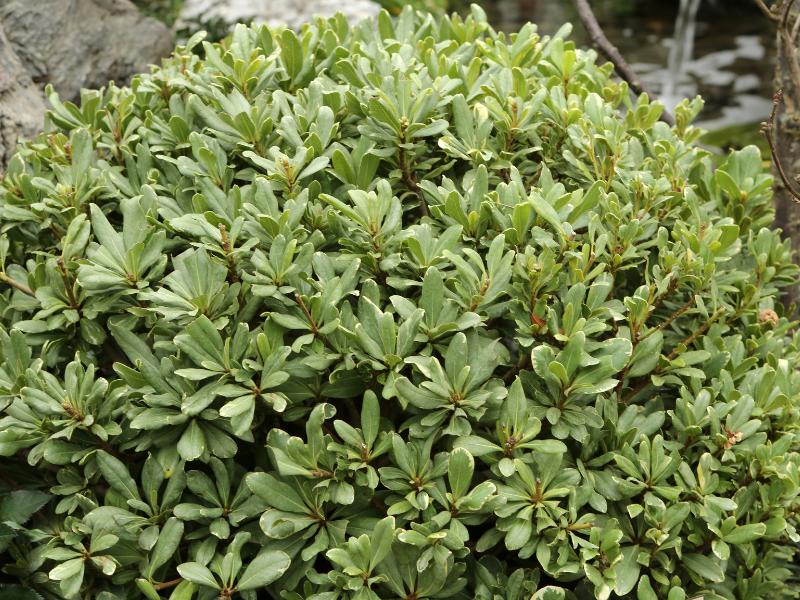 This Pittosporum type is different from other cultivars due to its variegated leaves. It has dense, glossy green leaves with white edges, making them an excellent backyard privacy screen option.
This cultivar also produces white flowers, and you can grow it as a tree. You need only cut the lower stems and have a marvelous tree with green, dense leaves covered with white flowers.
The Pittosporum Tobira Variegata can grow up to 10 ft tall, making it a popular hedge option. You can also use the plant as a living wall!
7. Pittosporum Tenuifolium 'Silver Sheen'
The Pittosporum' Silver Sheen' derives its name from its leaves, which are silvery-green in color. These dense, oval-shaped leaves grow on thin, dark-purple stems in a columnar, pyramidal form.
They can grow from about 15-18 ft tall and almost 10 ft wide. You can create a large hedge using them, and they can also withstand pruning, so you can make all kinds of shapes!
Common Pittosporum Hedge Problems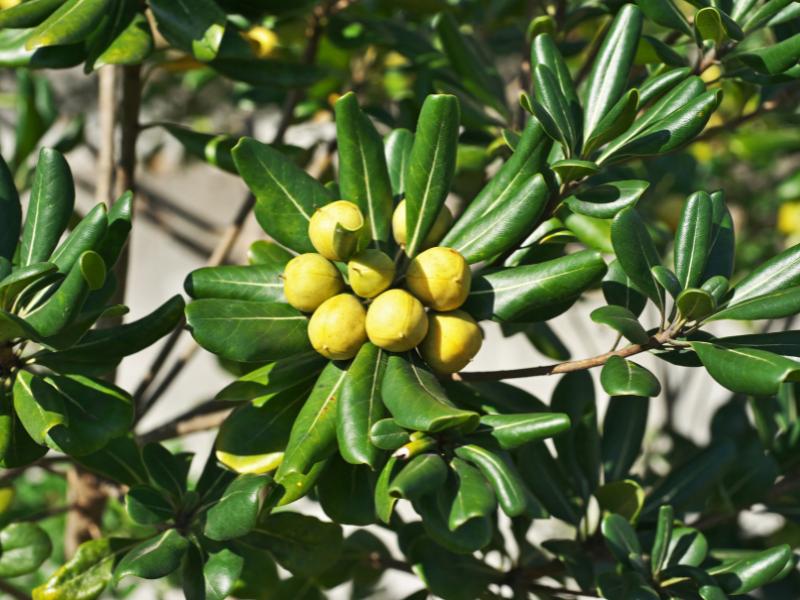 You may encounter some issues with your Pittosporum hedge as it grows.
Nonetheless, these issues can be fixed, so there's nothing to worry about!
This section covers some Pittosporum hedge problems and how to deal with them.
Pests and Diseases
Pittosporum plants are susceptible to pest infestation, especially mealybugs and aphids.
Check the leaves of your hedge regularly to identify any changes that might occur. For example, white spots on the leaves might be an indicator of powdery mildew.
Eliminate these pests using sprays or insecticides or water and insecticidal soap.
Leaves Turning Brown
When leaves start to change color, it normally means there's a problem with your plant. This is a common occurrence for many plants, and the issue mainly pertains to watering.
As such, brown leaves on a Pittosporum hedge might result from underwatering or overwatering.
Overwatering is associated with root rot which can inhibit leaf growth and lead to brown patches on your beautiful hedge.
Underwatering, on the other hand, can be rectified by frequently watering your plant until it starts showing signs of a healthy-looking plant.
FAQ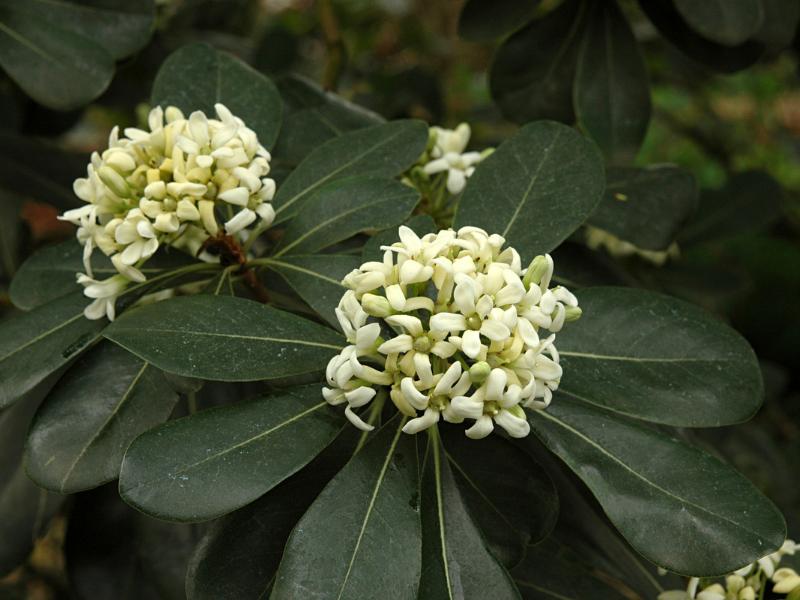 1. Which Pittosporum grows the fastest?
A lot of Pittosporum cultivars are fast-growing. However, Pittosporum Tenuiflium is by far the fastest cultivar. This variety can grow up to 30 ft tall! Additionally, it produces stunning purple flowers that would elevate your landscape to another level.
2. What is the height of a Pittosporum?
Each Pittosporum cultivar has its own unique height. For instance, Mojo Pittosporum can grow up to 1 ft tall. In contrast, other varieties, such as the Pittosporum Undulatum, can grow up to 50 ft tall.
3. How should the spacing be for a Pittosporum hedge?
Spacing also varies for different Pittosporum cultivars. Generally, planting Pittosporums with a space of 3 ft from one another is enough for a dense Pittosporum hedge.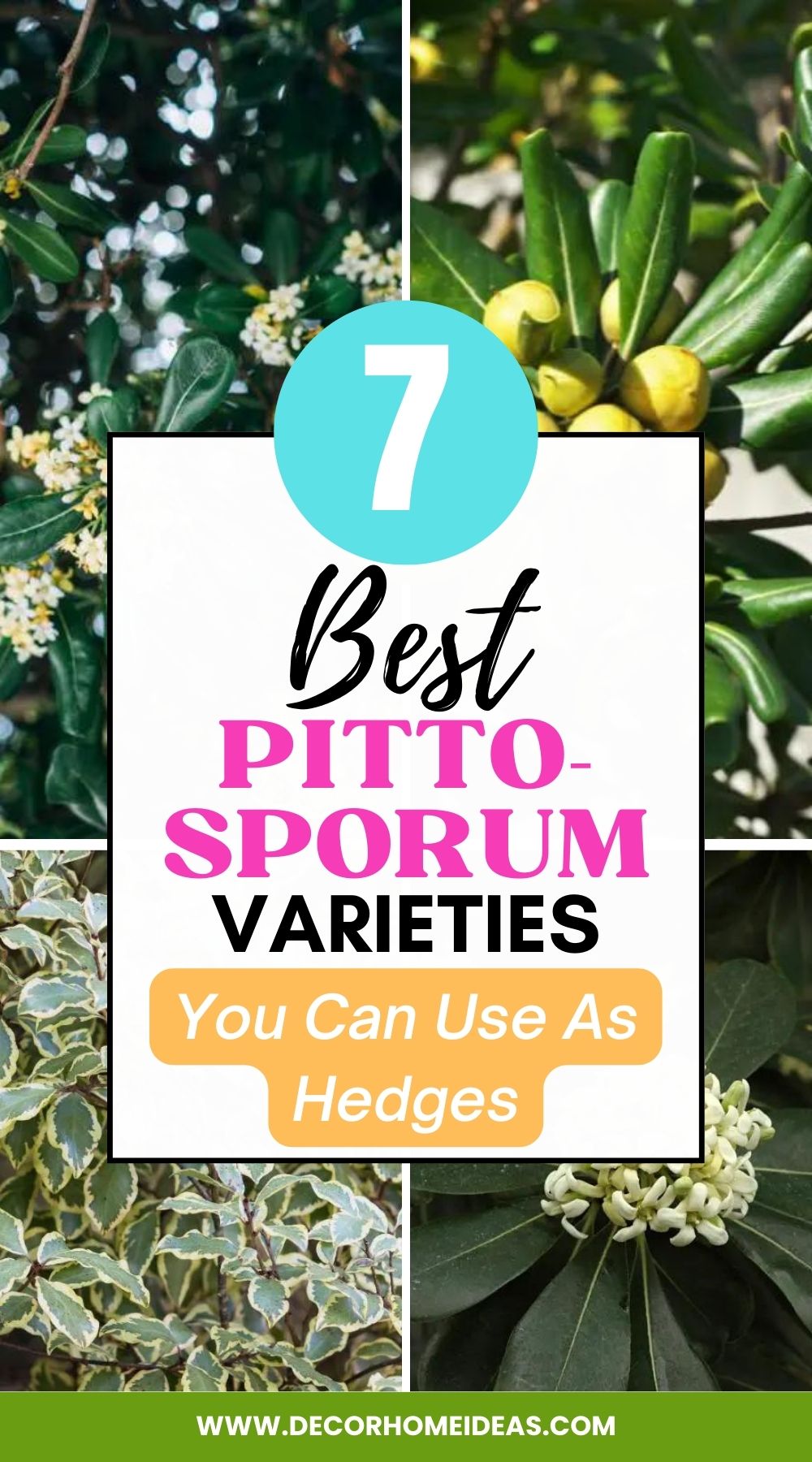 Final Remarks
A Pittosporum hedge will go a long way in transforming your garden into a lush green jungle and also act as a privacy screen.
These low-maintenance plants can grow in different soil types as well as climates.
You can experiment with different shapes and patterns on them when pruning to create alluring privacy screens. What's more, their beautiful flowers will increase the aesthetic appeal of your whole garden!
A Pittosporum hedge is definitely something you should have for your landscaping project!
Enjoy!