Small spaces don't have to feel cramped. Decorate cozy corners with ease when you borrow design tips from these experts. Live in a snug apartment or a camper?  Warm design is only as far away as your imagination.
Living in a small place interior poses challenges, it's true. But there's no need to spend your days in confinement that's crazy with clutter.

These tiny place tips will show you what's most important in your particular space. And then they'll help you design around those functions. Do you like to entertain?
Need more room for storing favorite books? Or do you just want someplace to sleep at night that's comfy and clutter-free? These rooms will both inspire and enlighten the design professional inside you.
Use small-scale furniture that serves several functions. Add leading lines to draw the eye forward. And top it all off with artwork and shelving that makes great use of vertical space.
All you need is an open mind and time to step back and survey your room's possibilities.
Every room has the potential to be comfortable, attractive and well-functioning. We'll show you how to achieve all three.
1. Small Bathroom Is Big on Storage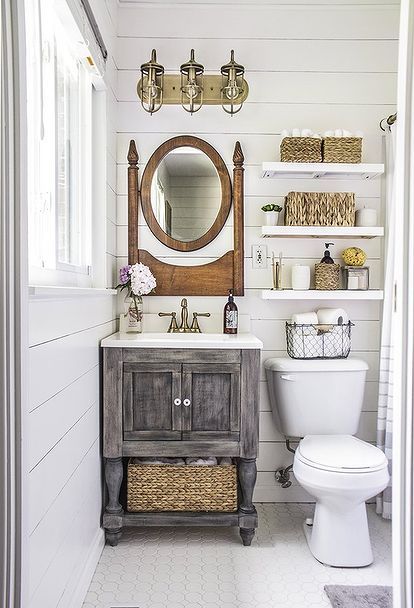 Photo: Credit
This small bathroom makes good use of wall space. There's a place for everything so that clutter is kept out of sight. Shelves that use no brackets add storage. A wall-mounted mirror and light fixture add the illusion of height and space. And precious floor space remains clear.
Wood flooring that's the same color as the walls offers a nice flow and makes the room comfy. Add a basket tucked away inside an alcove to store toiletries and a sink that's housed in a cabinet to complete the look. A bathroom like this little latrine is easy to decorate using these tiny place tips.
2. Bohemian Living Room Seats Many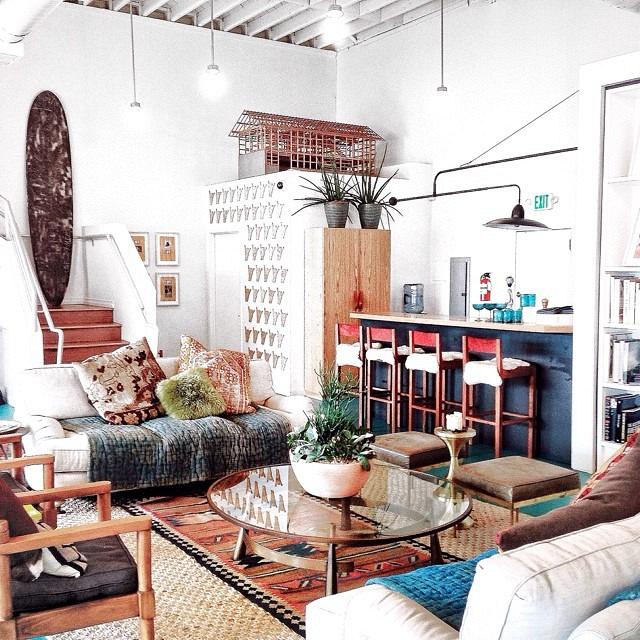 Photo: Credit
Bright, white walls make this small living room appear large. It has lots of space for friends and plenty of room to move around. Light colors fill this room that offers stools tucked away under a countertop and a surfboard as wall decor. Simple pendant lights provide lighting.
And a casual beach theme adds comfort. This small space contains a lot of stuff that's well organized to appear sleek. Chairs placed close together offer a path for guests to move about.
Get more out of your little living room when you try these design tips that make great use of space.
3. Corner Nook Adds Function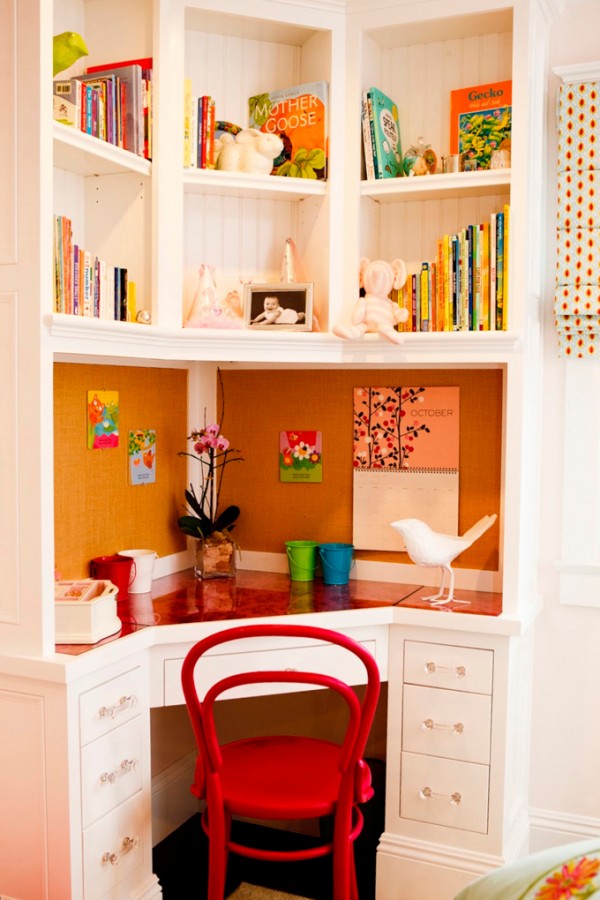 Photo: Credit
Unused corners made perfect cubbies. Tuck books and things away neatly in your kid's room by using built-ins.
A small corner desk and easy seating adds to the design of this bedroom work station. Your child will make excuses to spend time here. Study, do homework, or just read a favorite book without blocking the flow of traffic in the room.
Need a new idea for kids' room storage? Try this small desk and overhead storage combo unit. It's perfect for bedrooms, dens, or small corners of your kitchen that just need a boost. Store tons of clutter without using up vital floor space.
4. Storage Separates Spaces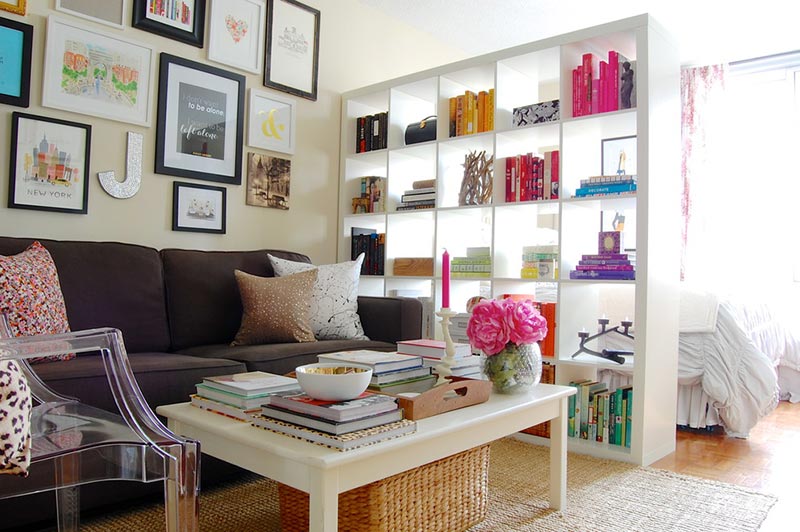 Photo: Credit
You could use a plain partition to separate areas of a room. Or, you could turn that partition into a shelving unit that does the same job in a more functional way. This studio apartment is divided into a living space and a sleeping space by storage. Simple furniture pieces add comfort without clutter.
And interesting wall art draws your eye upward to add height. Add a basket tucked beneath a coffee table to store shoes or magazines for neatness. This room finishes with a bright wall color.
5. Furniture Does Double Duty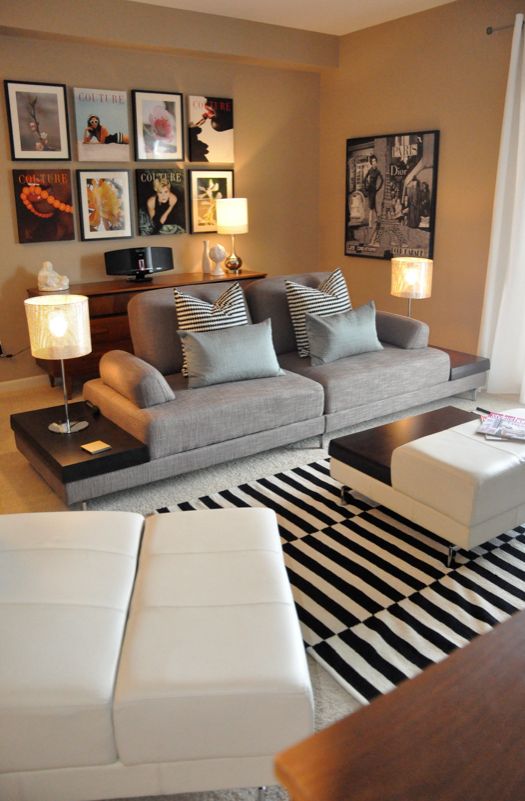 Photo: Credit
You may notice the soothing, neutral colors, but it's the furniture that's the star of this show. A couch that has end tables and a coffee table that doubles as seating add function.
Artwork hangs low on the wall to make the ceiling appear taller in this small apartment. No clutter keeps surfaces looking neat.
Tons of natural light and neutral tones make walls appear bigger. If you have a room that's the same size as this one, choose pieces that work hard. They will give you more storage while using up less floor space.
6. Urban Apartment Offers Uber Comfort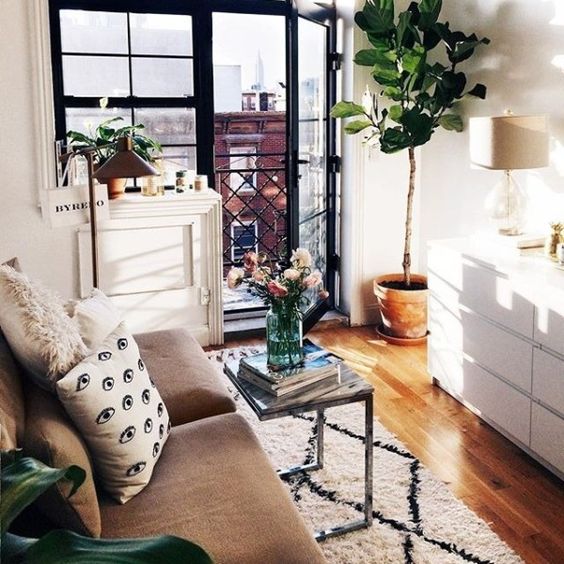 Photo: Credit
Your slice of the city may be small, but it doesn't have to resemble a closet. This little living area uses a portable tray as a coffee table and a dresser as an entertainment console. Keep wires, DVDs, and stereo components tucked away inside drawers.
Decor here consists of plants to give the space an airy appeal. Mix these features with the light that pours in through the door and window for all the comforts of home.
Curtains are non-existent in this city dwelling. Windowsills double as shelves. Simple task lighting in the form of well-placed lamps complete this room.
If your city apartment is short on space, this design is the one to try.
7. Entryway Is Effective, Yet Endearing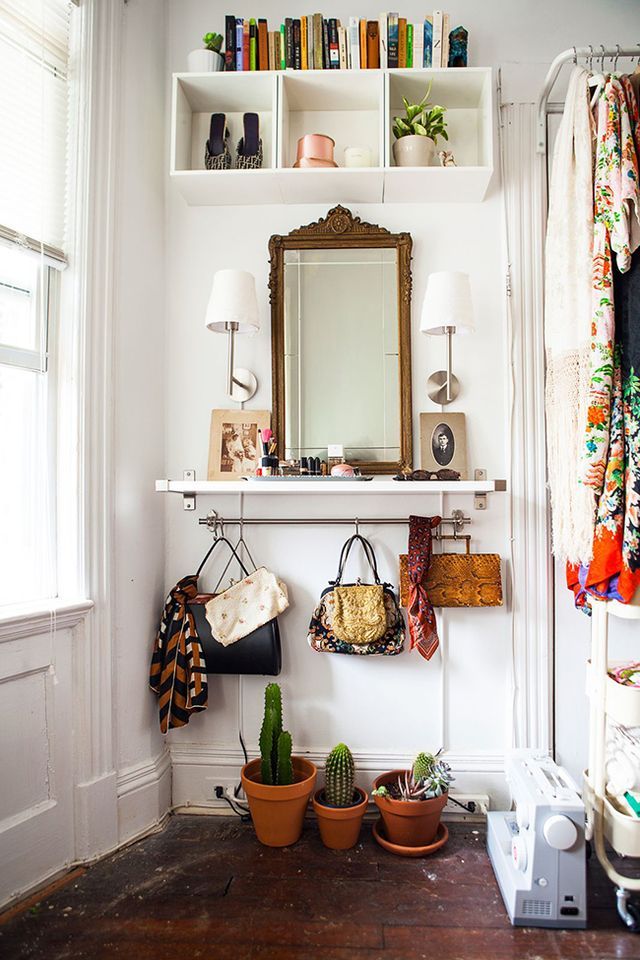 Photo: Credit
Entryways often present their own problems because they're small on space. Everyone needs room to store things by the door. But tons of baskets and pegs for keys, and shoes that line the floor make a space look cluttered. Try this tiny entry instead.
It provides plenty of storage for purses, scarves and shoes. Wall-mounted lighting illuminates this space. A rod adds that extra element of the organization.
Shelves and storage cubes hold things like photos and footwear. Even the cacti look happy in this cozy nook that every home should have.
8. Lines Lead the Way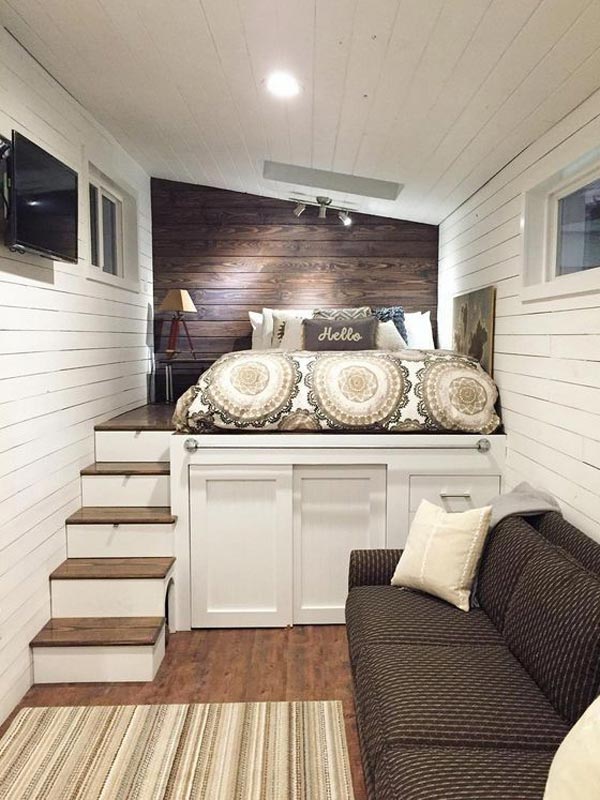 Photo: Credit
Fans of tiny home living will love this living/sleeping design that elevates beds to new levels. A bed on a raised platform makes room for ample storage underneath. Stow extra bedding or boxes there. But there's still room for a couch down below.
This room is filled with leading lines, as well. From the moment you step inside, wood flooring, a striped rug and tons of shiplap direct your eye to the bold, back wall, making you think it's farther away than it really is. Effective use of form and color are the two main ingredients that make this tiny home feel roomy.
It just takes a little practice to master them. If your future plans include investing in a tiny home, study up on your small place living tips beforehand. It will give you the jump on design ideas you're going to love.
9. Central Walkway Works Well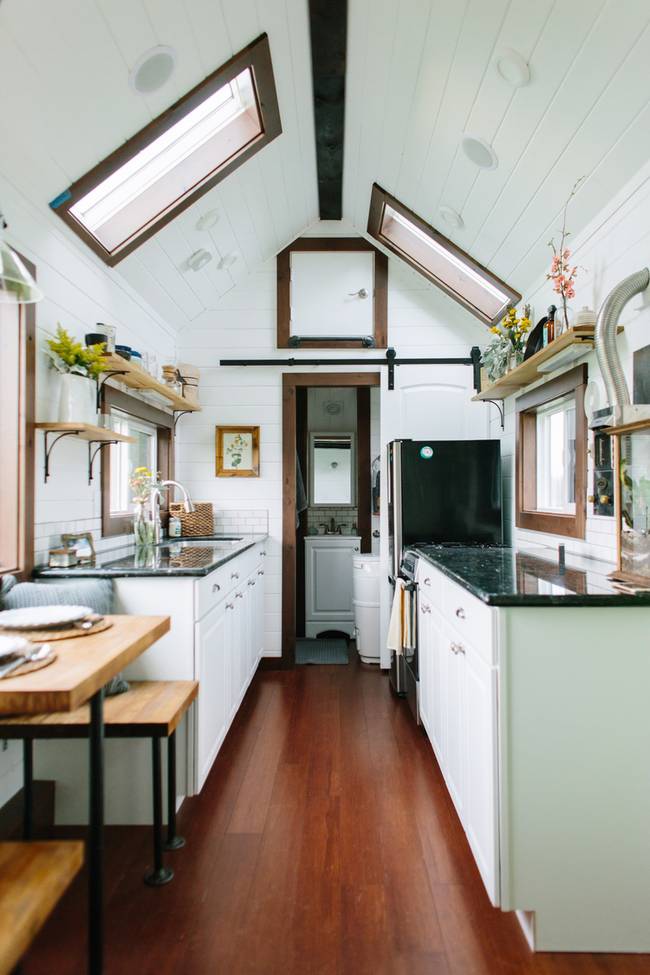 Photo: Credit
You might not think a galley kitchen has appeal. But this one does. Skylights bring the outdoors in. And bright white walls and cabinetry keep things simple. A sliding door allows the refrigerator to set next to the wall. And a table allows seating for two without blocking traffic.
Drop in some dark countertops and open shelving for style and storage. Everything in this kitchen works to provide a spacious central walkway. You're going to fall in love with your galley kitchen when you use these design tips that delight.
10. Coffee Table Offers Clever Seating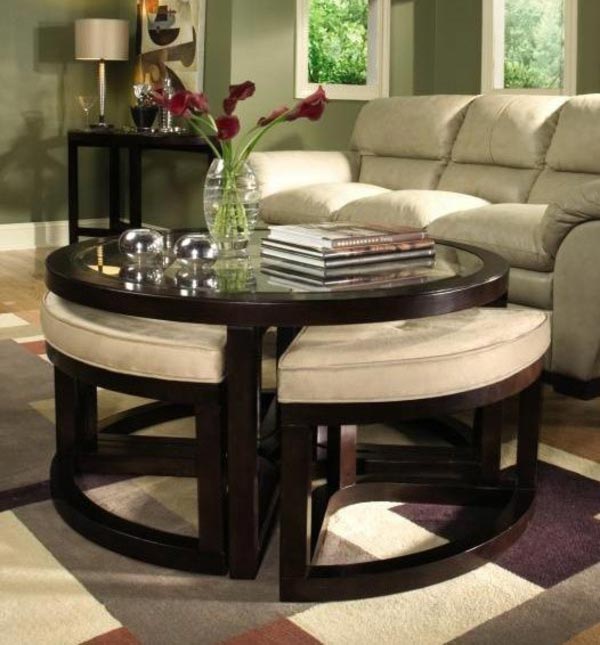 Photo: Credit
Seating ideas are important. This table is just what you need when entertaining is high on your list of priorities. Four comfortable chairs tuck firmly away beneath the glass top of this little table.
When friends come to call, pull them out for additional seating. When they leave — store them back away.
It's an attractive and affordable way to up the capacity of your parties without giving in to clutter. Furniture pieces that feature designs like this are perfect for your small place interior.
Best of all, you can find them in the forms of tables, consoles, benches, and wall units. It doesn't matter which room of the house you need to define. Rest assured there's a piece of furniture to fit it.