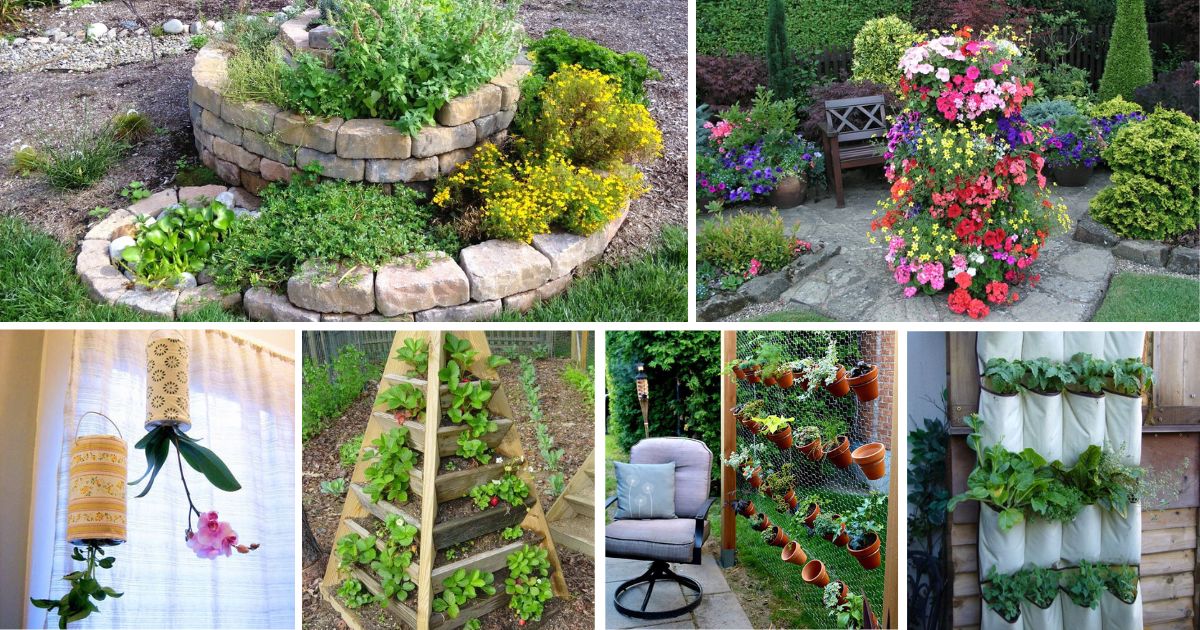 Is your garden space too small to release your green thumb creativity? The small space is no longer a problem with our 14 Stunning Ideas To Save Gardening Space.
We are here to inspire you to make your outdoors unique and beautiful and to leave your imprint on the landscape. All of the ideas here are DIY, with affordable or free materials and customizable to fit your outdoor space.
1. Repurpose An Old Chest Of Drawers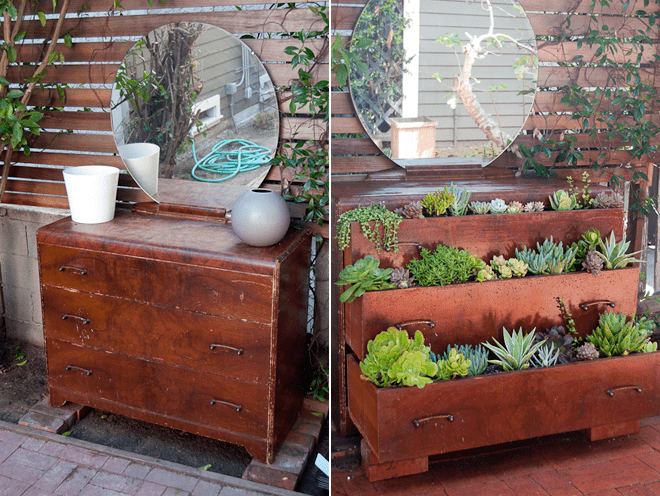 The old but beautiful chest of drawers may not be very storage useful anymore but that isn't a reason to throw it away because we have an inspiring idea of how to repurpose it. Turn it into a layered vertical garden for succulents.
This vertical planter is space-saving and its rustic look will add a touch of nostalgia to the outdoor space.
2. Make A Pallet Vertical Garden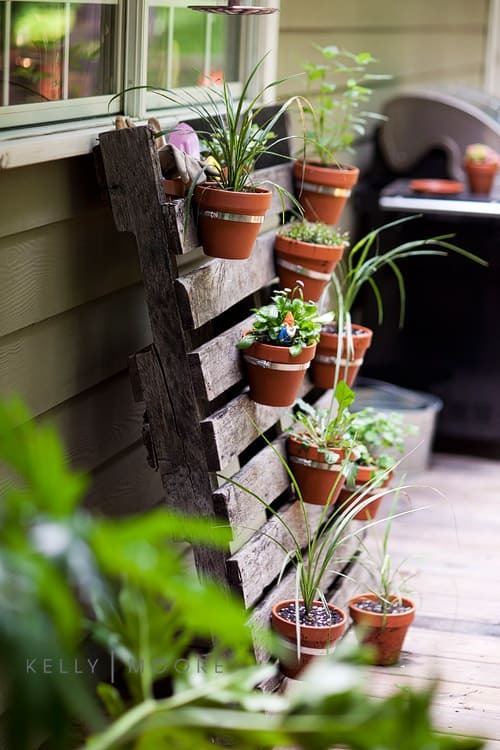 Vertical planters are very practical for small garden areas or for decoration of covered patio or porch.
You don't have to go to the garden stores and look for a suitable planter. You can do it easily yourself as long as you have one pallet and pipe brackets.
Screw the brackets to the pallet slats configuring the best alignment pattern based on the flower pots you are about to insert into them.
For an enhanced rustic look, leave the pallet wood untreated. In case your outdoor nook is missing a touch of bright color, this vertical planter can add it if you paint the wood.
3. Go Vertical With Blooming Flowers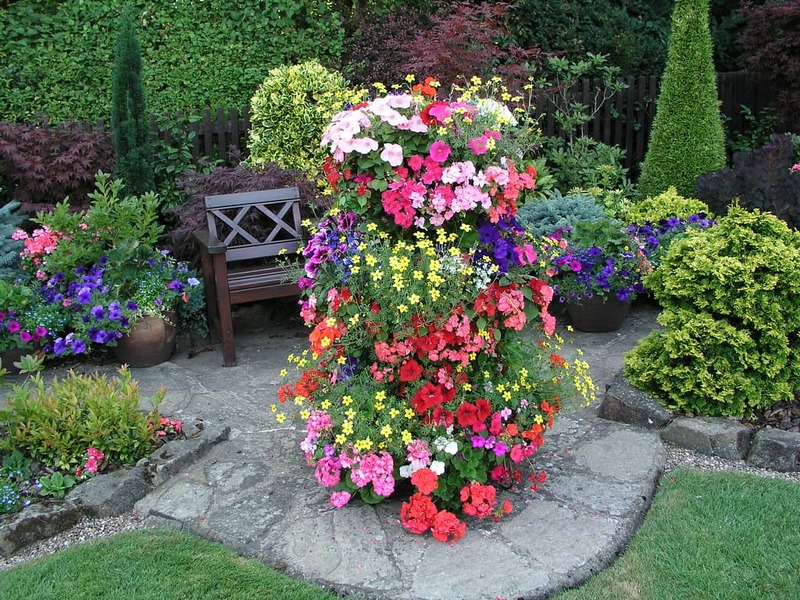 This is another great landscape idea for small garden spaces. Instead of placing flower pots in the ground and cover the precious walkway space, you can stack them vertically.
The flower pedestal is a tiered flower stand. It can be built from wood, metal or plastic tubes. Choosing the right flower kinds ensures that the stand remains unvisible. The final result is a colorful blooming column.
4. Plant Herbs In A Dollar Tree Organizer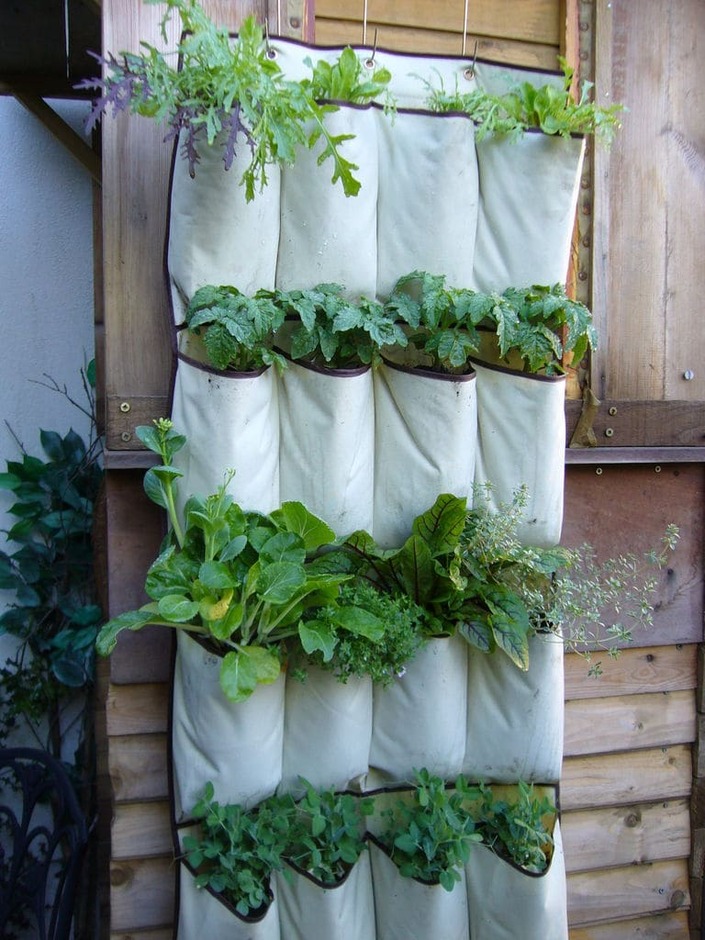 The plastic door organizers from the Dollar Tree can be used in numerous ways. They are great for neat storage of shoes, scarves, jewelry and also amazingly functional as planters.
Fill each pocket with soil and plant the desired variety. You can create a dedicated herb garden to enjoy the scent and flavor of freshly cut spices.
5. Add Vertical Gardens To The Windows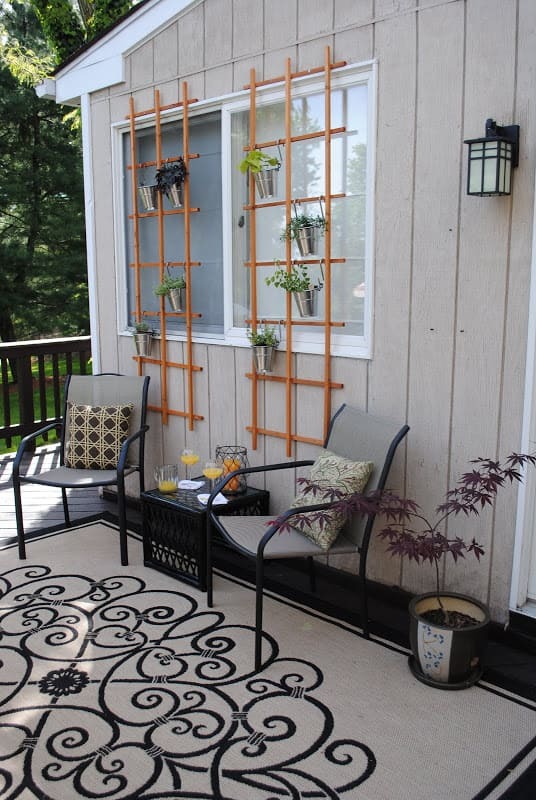 This outdoor decor idea is easy to make and saves plenty of garden space.
To make these trellis-like flower stands you need thin slats or bamboo sticks. Assemble them in the pattern shown in the image and then fix to the exterior wall with hardware.
Galvanized buckets with hooks match perfectly the wood texture of the stand.
6. Create A Spiral Rock Garden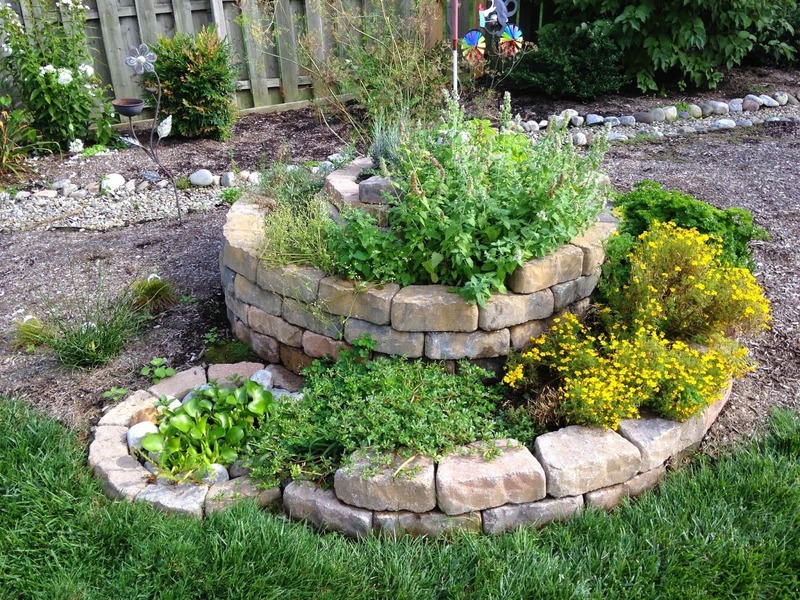 Rock gardens can be made in the size upu desire. In case you are limited in space but at the same time want a rock garden with a wide range of plant varieties, then go for a spiral pattern.
Rock gardens are easy to maintain and at the same time create a lovely focal point in the garden.
7. Upcycle The Old Ladder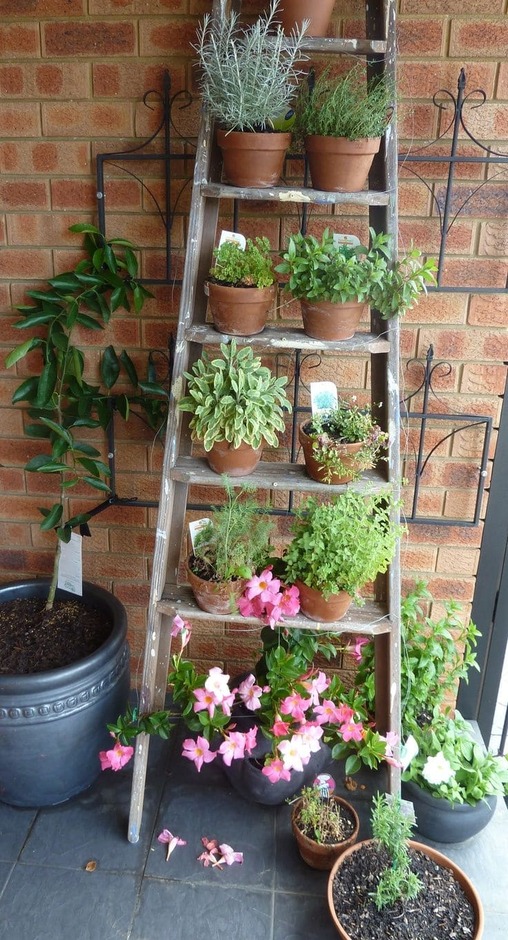 Repurpose the old painter's ladder into a flower stand. No need to do any upgrades. In fact, the more weathered it is, the bigger its country effect is.
This type of vertical stand is perfect for herb pots or cascading flowers.
8. Make A Tiered Herb Garden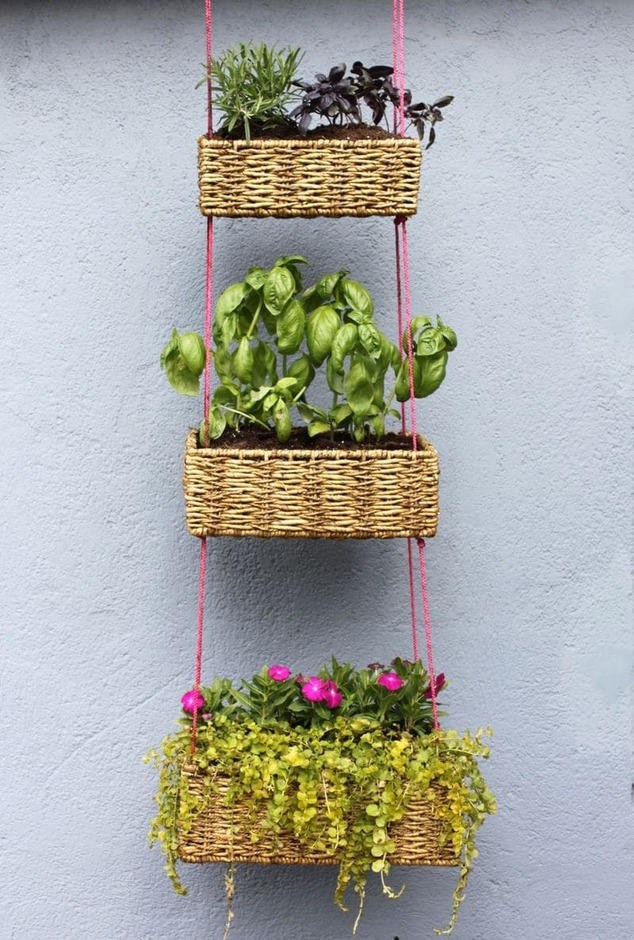 Wicker baskets are suitable for indoor and outdoor space-saving solutions. Do you wonder how to repurpse them into planters so that the rattan doesn't rot from water?
Add garden liner to the bottom of the baskets and then fill with soil.
To make the baskets tiered, get a strong and thick rope and thread it through the rattan.
9. Build A Cinder Block Vertical Garden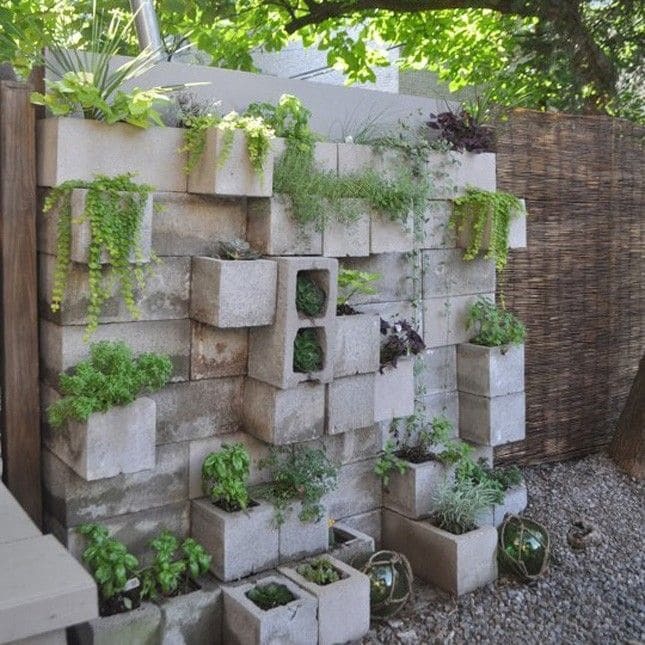 Cinder blocks are a universal material for outdoor features. You can build a firepit, edge a garden, create benches or stack them vertically to build a dual-function fence.
This garden space-saving idea has a modern look with the mismatched alignment of the cinder blocks.
Fill the holes of the blocks with soil and plant succulen or herbs. Their roots are shallow and are suitable for such planters.
10. Add Chicken Wire To The Pergola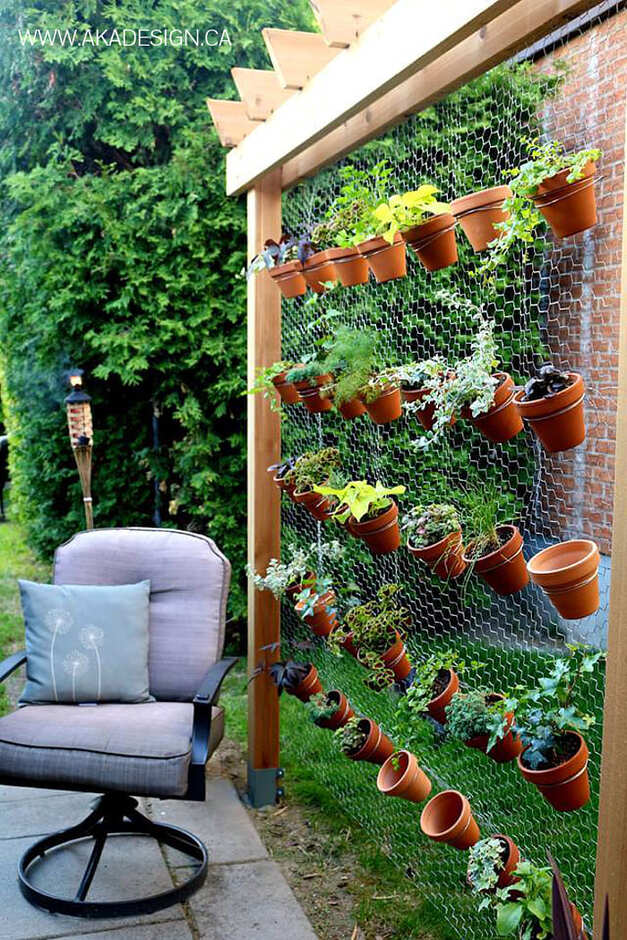 With this DIY garden space-saving idea, you can build a wall acting as a planter.
The supplies you need are cedar posts, chicken wire, and terra cotta pots. Hang the pots with hooks. If the pots are arranged as tight as possible to each other, the vertical planter will also become a living privacy wall.
11. Plant The Strawberries On A Pyramid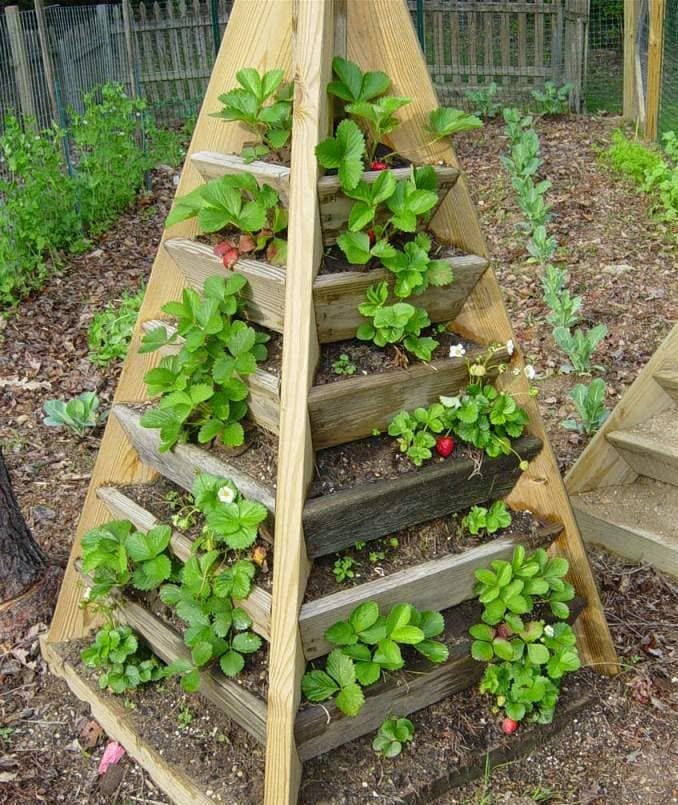 The pyramid type of strawberry planters are very efficient. First, the pyramid structure takes up little space from the garden. Using the space vertically ensures multiple layers for planting. That ends in more harvest from a square inch compared to ground planting in the same size of space.
Thanks to the pyriamid design each strawberry seedling receives equal light amount.
12. Make A Rustic Wall Garden For Herbs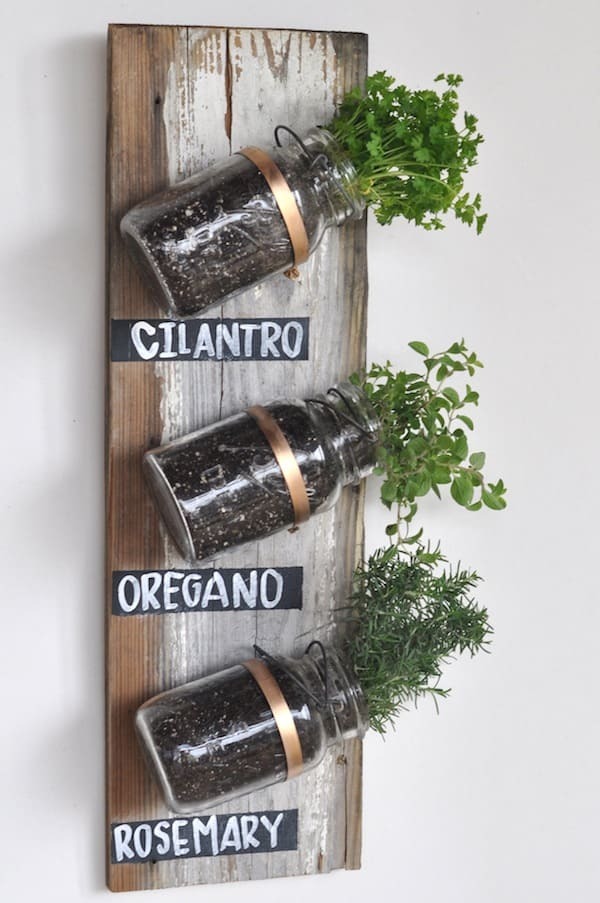 This compact her garden will add a fresh rustic touch to the porch walls. It is very compact, customaziable and very easy to make.
You can start the herbs from seeds planted directly in the jars. Make sure that the vertical garden receives enough indirect light.
13. Hang Your Plants From The Ceiling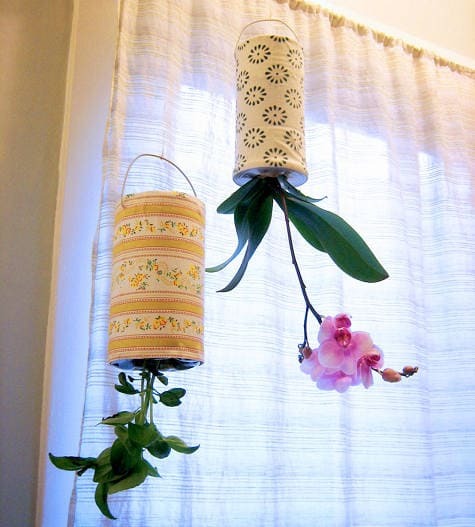 These upside down planters are going to be the star of your interior or exterior! Any plant can be hung like this. The key to the magic is to repurpose a plastic bottle or a tin can into a pot.
Cut the bottom with a can opener and drill holes. One of the holes will be for the hook, the rest for watering. Put the bottom back to its place and seal generously with strong tape. On the upper side of the bottle or the can put a coffee filter and take the plant leaves out of its central hole carefully. Seal with tape.
The final step is to decorate the pots to give them an appealing look.
14. Re-think The Rain Gutters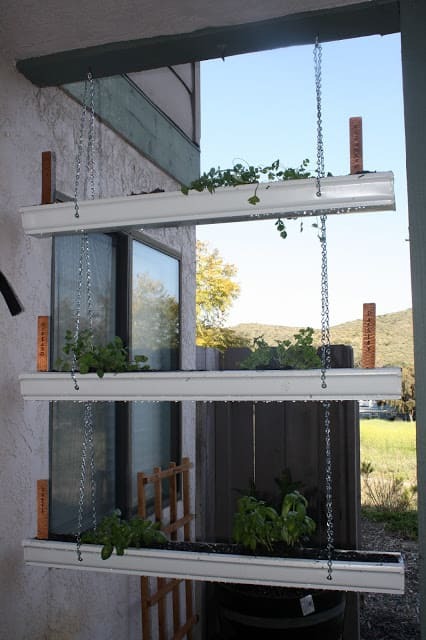 If you have pieces of rain gutters left, you can turn them into planters. This tiered garden idea is perfect to add to the end of the porch. It will double its function also as a privacy wall.