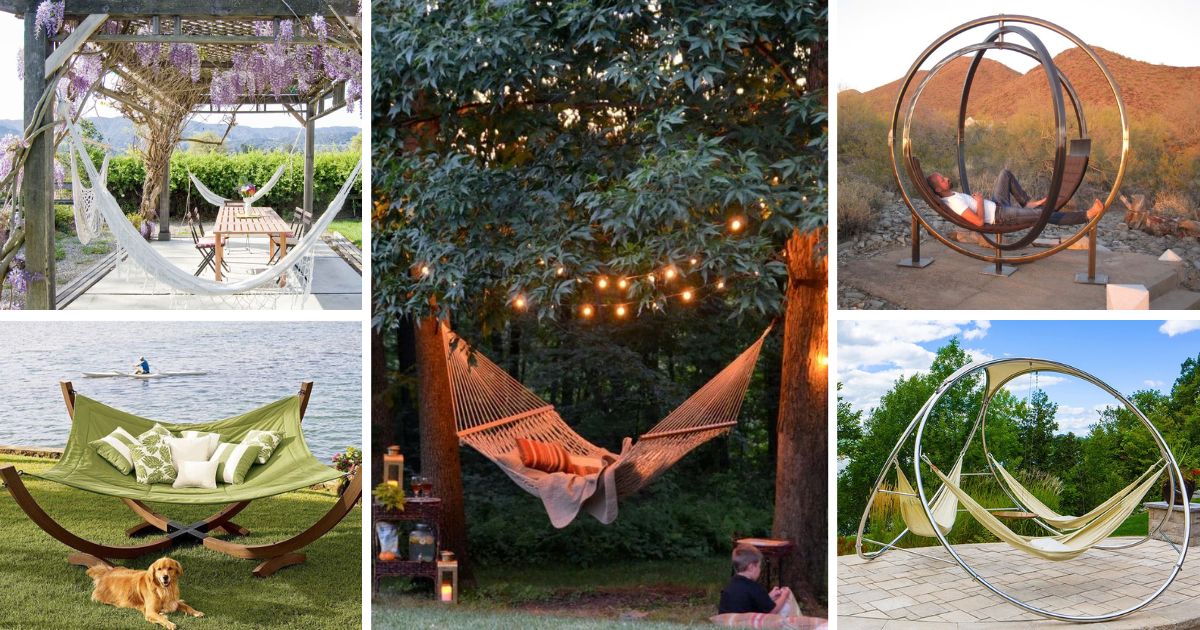 Hammocks are an affordable retreat in the outdoor space. Whether stretched to trees or standing on a support, the hammock ensures a relaxing rocking in the open air.
Hammocks come in various sizes and styles. Some are intended for one person knly, others make space for two. There are even ideas for day beds where two people can comfortably lie and have a nap outdoors.
Our 15 incredible hammock ideas will upgrade your backyard and will create a special relaxing nook to enjoy.
1. Macrame Hammock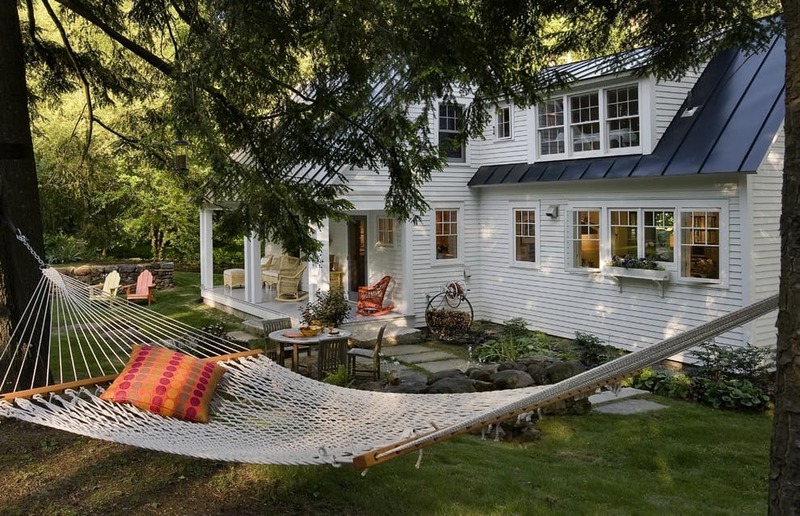 Two large trees in the backyard and a stable macrame hammock are all you need to create an outdoor relaxing nook. The trees will double act as supports of the hammock and natural shader. In this quiet boho nook you can read a new book or take a quick nap in the open air.
2. Pergola Hammocks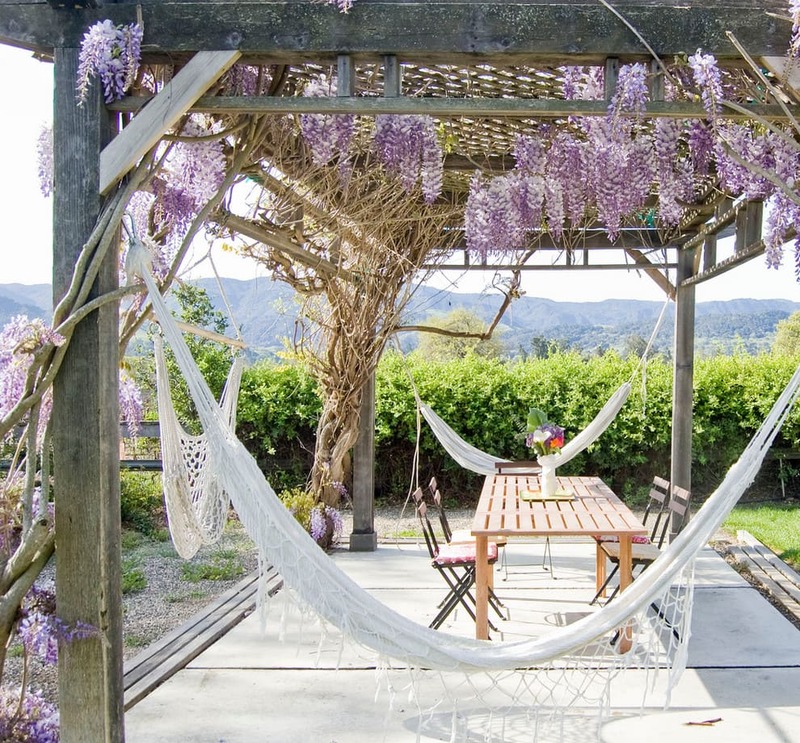 Hammocks aren't just for suspension on trees. You can hang them to rigid supports such as pergola supports, porch columns, wooden posts.
In this backyard hammock idea, hammock beds and chairs are added to the sides of a pergola to ensure extra space or an alternative way for relaxation.
3. Hammock From A Metal Shell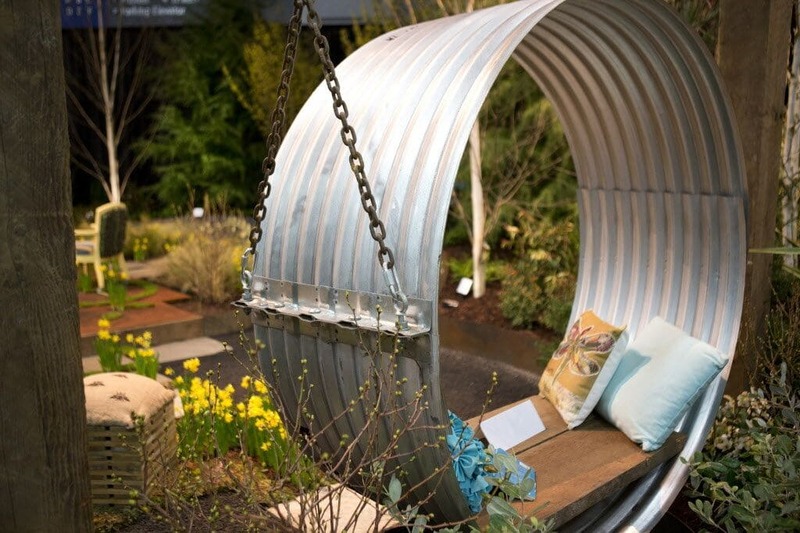 Fabric hammocks look great but the cons about them is that fabrick quickly wears down under the outer conditions.
Here we give you an idea of an alternative of the fabric hammock which will last lifetime. The hanging structure is made from a corrugated metal shell. To overcome the oval shape and ensure flat sitting space, wooden slats are fixed to the inner side of the circle.
Suspension happens with chains and hooks.
4. Hammock In A Secluded Backyard Area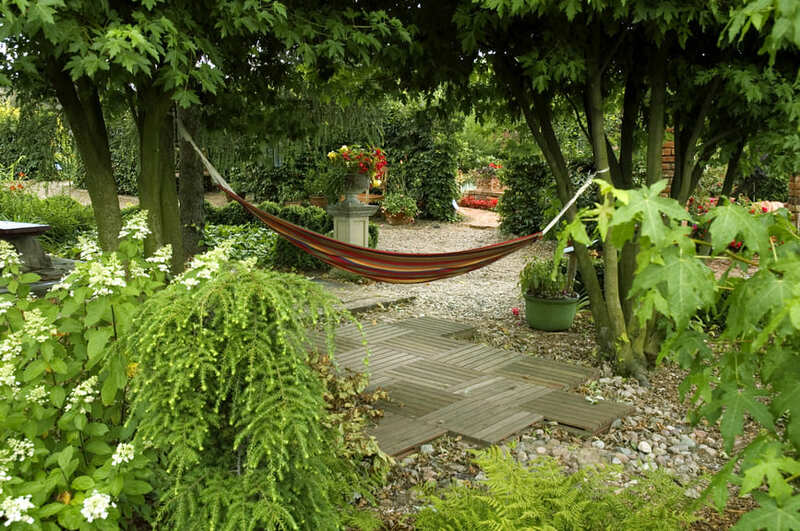 This oasis is all you need to get the stress out and relax under the calming sounds of nature.
Tall trees provide shade and support of a lonely hammock. It is surrounded by a short shrubs and plants which enhance the feel for a forest setting.
5. Hammock Under A Shelter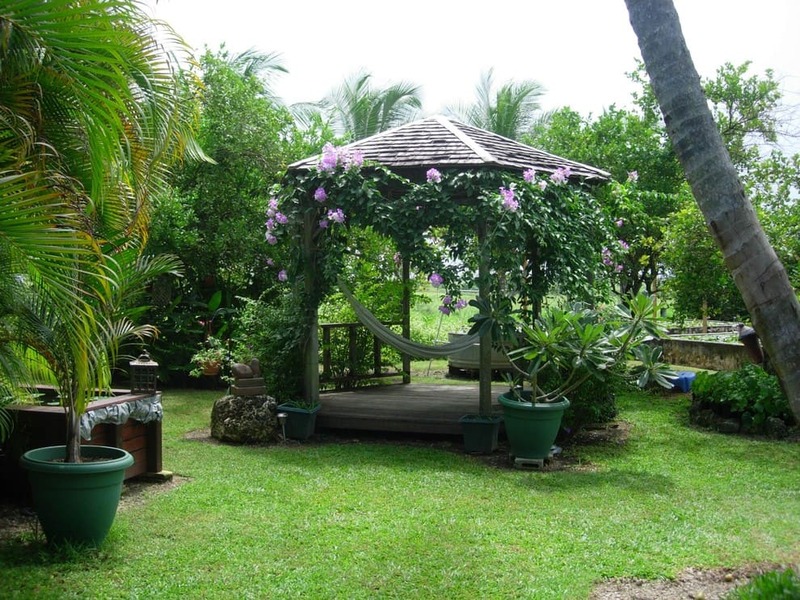 This gazebo shelter is so romantic. It is surrounded by large pots with ornamental plants and when you look up, there is a blooming vine.
The greatest thing about this gazebo is that you can enjoy the surroundings lying in a hammock under the shade of the gazebo roof.
6. Relaxing Garden Area With A Hammock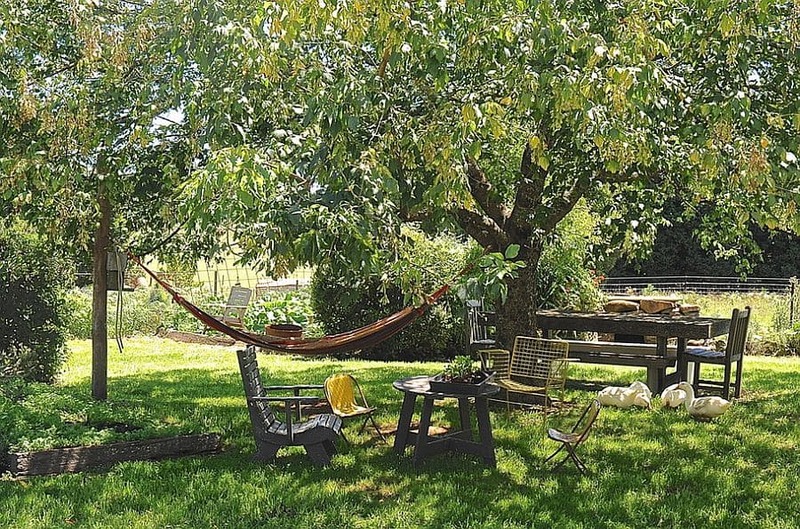 This sitting corner is created in a shady area of the backyard. As you can see, you can recreate the setting with inexpensive furniture made from lumber.
A hammock is streched to two large trees to make the outdoor experience special and relaxing.
7. Hammock Garden Corner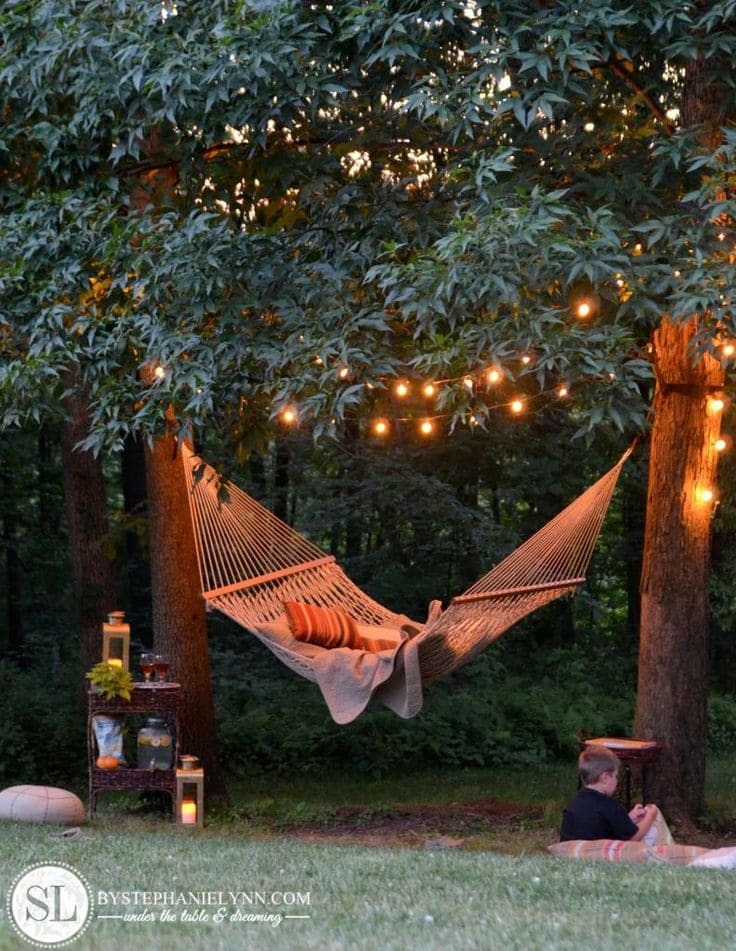 You can turn the area where a hammock is hung into a special part of your outdoor entertainment with suitable decorations.
String lights, side table with candles, throw pillows and a blanket give the nook a romantic vibe and make the time spent outdoors comfortable and relaxing.
8. Rattan Hammock Chair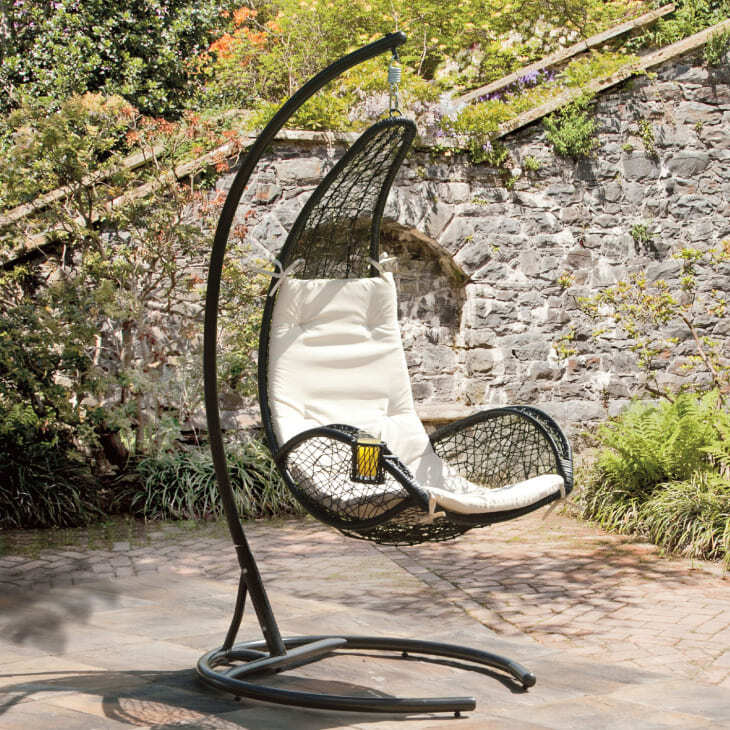 Rattan furniture fits perfectly the outdoor ambiance offering a modern farmhouse look and comfort.
Rattan hanging chairs are an affordable solution ensuring extra sitting space and entertainment.
9. Four-Pole Hammock Idea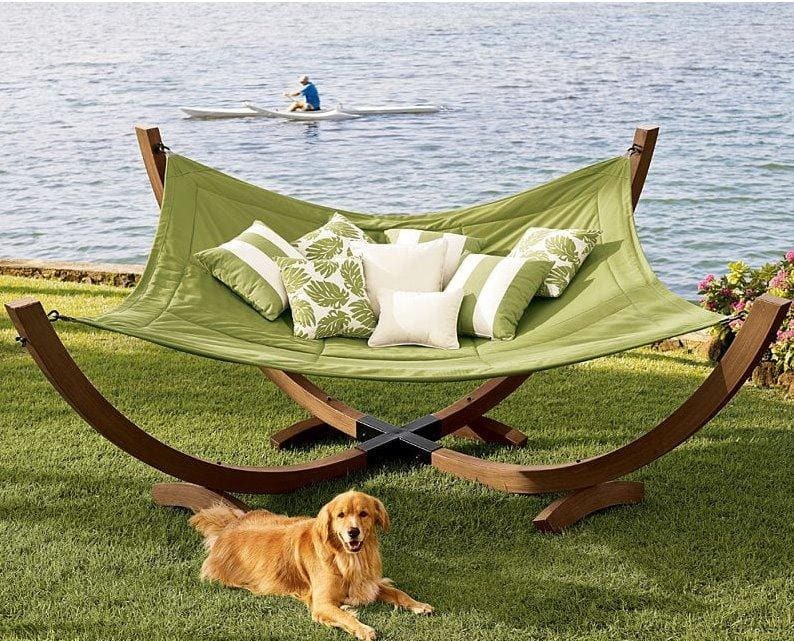 Four pole hammocks are equipped with supports which makes their installation easy. They are quite wide offering space for two or three people.
Rocking is gentle ensured by the curved shape of the poles.
10. Minimalist Spherical Hammock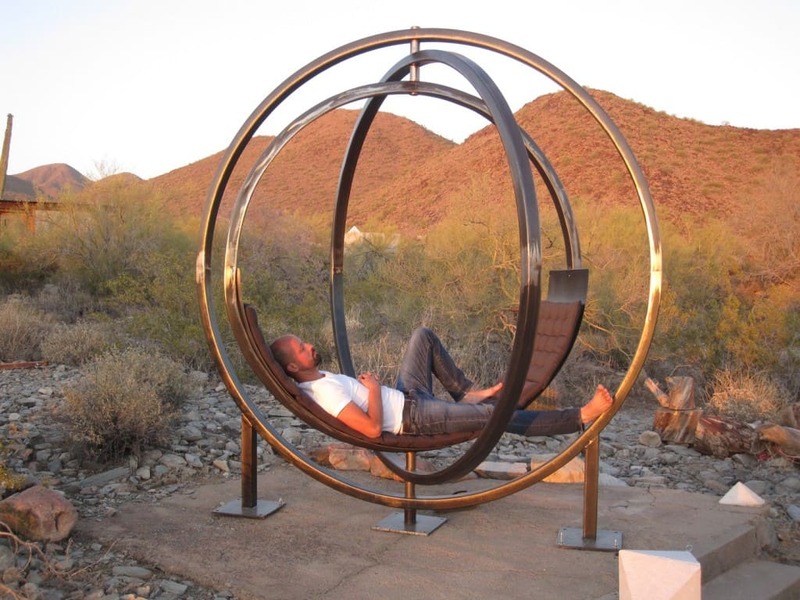 This metal outdoor extra is more or less a piece of modern art. Three metal circles interweave to create a 3D sphere resembling the Earth. In the center of the art piece, there is a semi-circle seat where one person can stretch and rock.
11. Pergola Day Bed Idea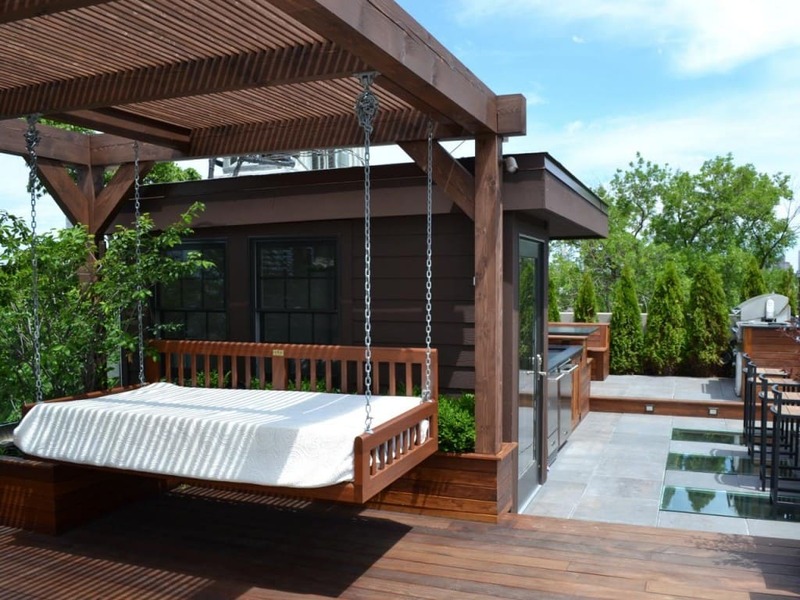 The soothing swing effect is combined with the comfort of a full size bed in this swinging day bed idea.
Suspending it to the pergola posts makes sure that shade covers the bed and prolongs the time spent outdoors during the hot summer days.
12. Hammock Bed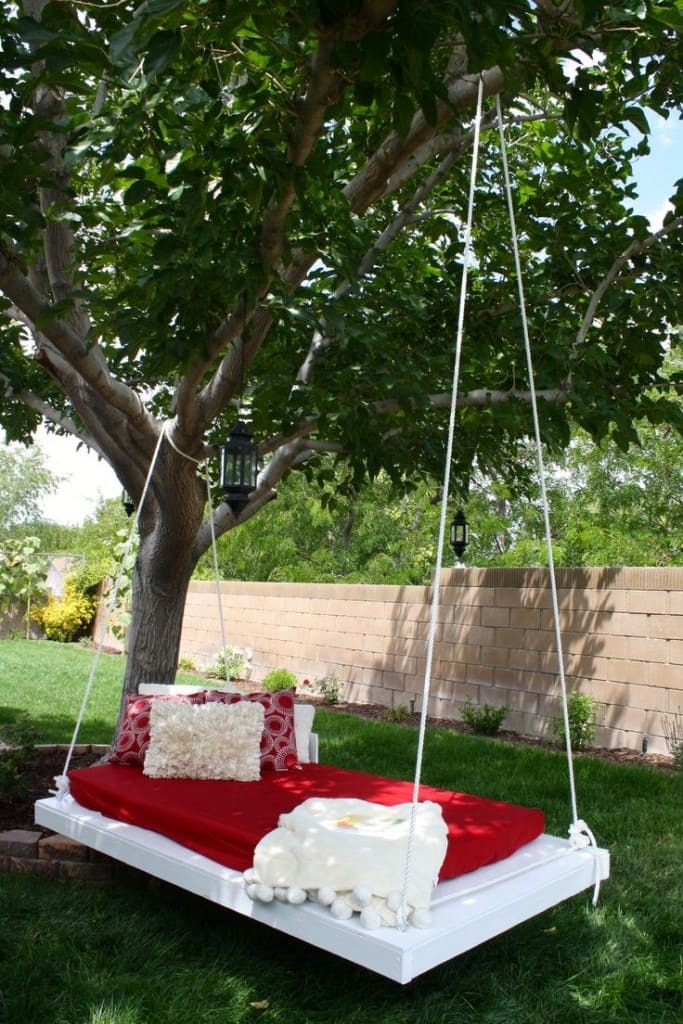 Hammock beds can also be suspended to large trees.
This bed idea is a DIY project that will turn the backyard into a dreamy spot.
The basis is a wooden frame equipped with a thick cushion for improved comfort. Suspension is ensured with strong rope keeping each corner of the day bed secured and levelled.
13. Modern Multiple Hammock Stand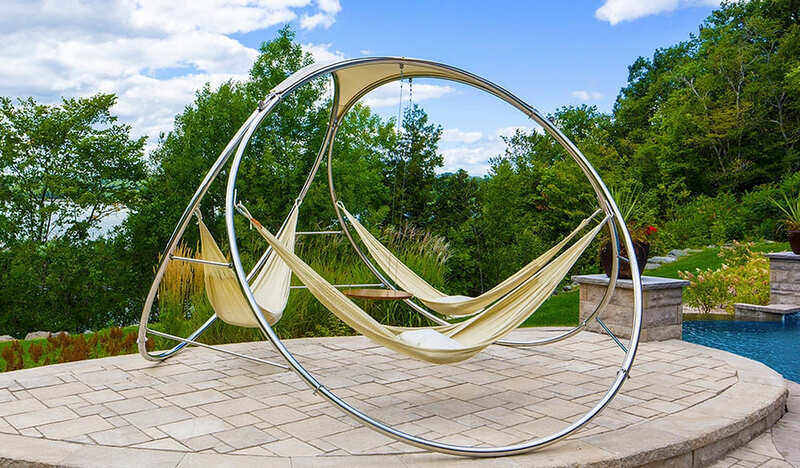 This structure us called Infinity Hammock because of the round metal supports.
The hammock extra features a modern look combined with functionality offering three hammocks.
14. Hammock On A Wooden Stand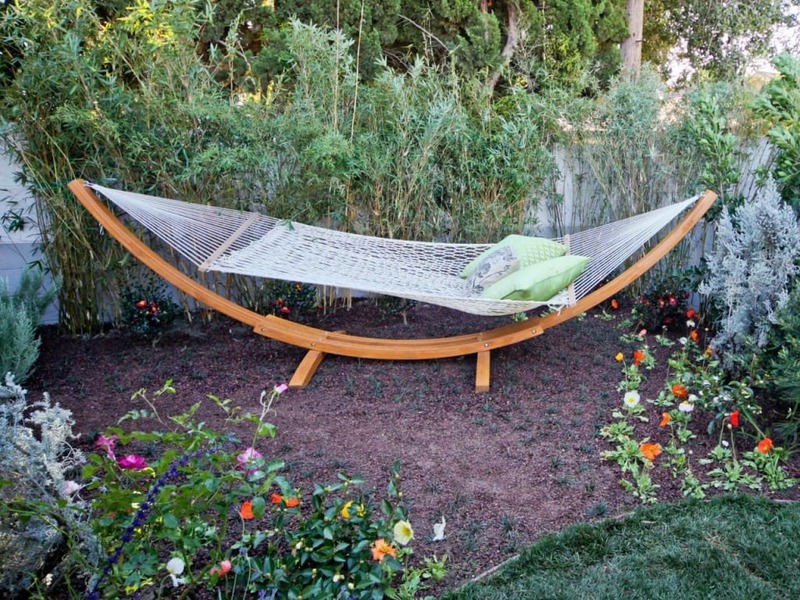 In case your backyard is small and there aren't any old trees, you can still have a hammock. Suspension is replaced by a rigid wooden support. Its curved shape ensures rocking to the left and right.
15. Hammock On The Patio Pillars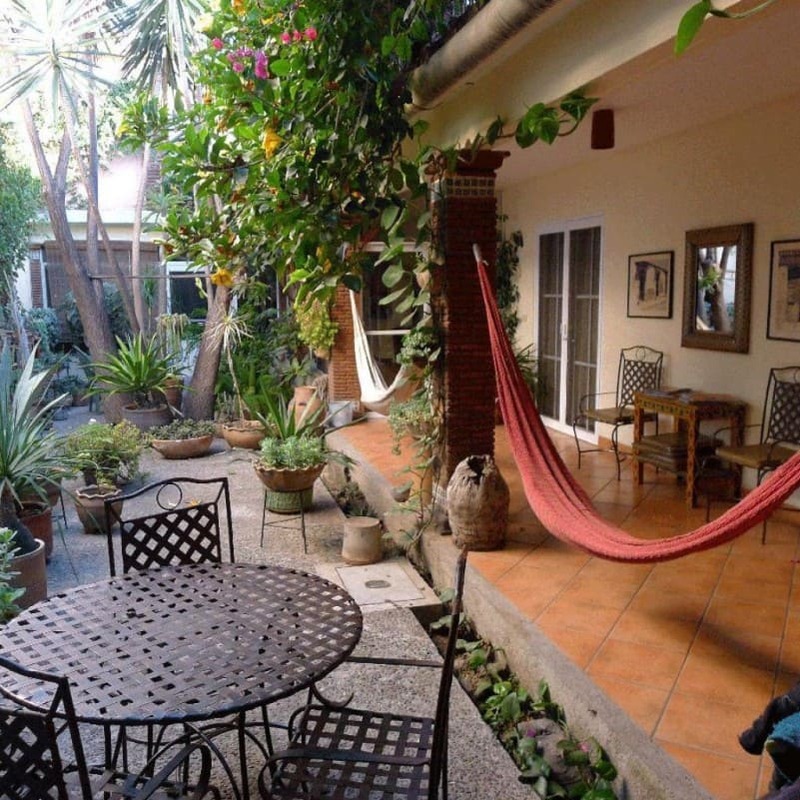 House pillars are very rigid parts of the house structure which makes them perfect to hang hammocks.
Another advantage of the location is the shade thrown by the porch ceiling.