Nature provides all crafters with a wealth of resources and inspiration.
Just strolling through the neighborhood or relaxing in the garden can lead to wonderful ideas for home decor projects.
Using the twigs and sticks found, wreaths, mobiles, photo frames, and other decors can be crafted.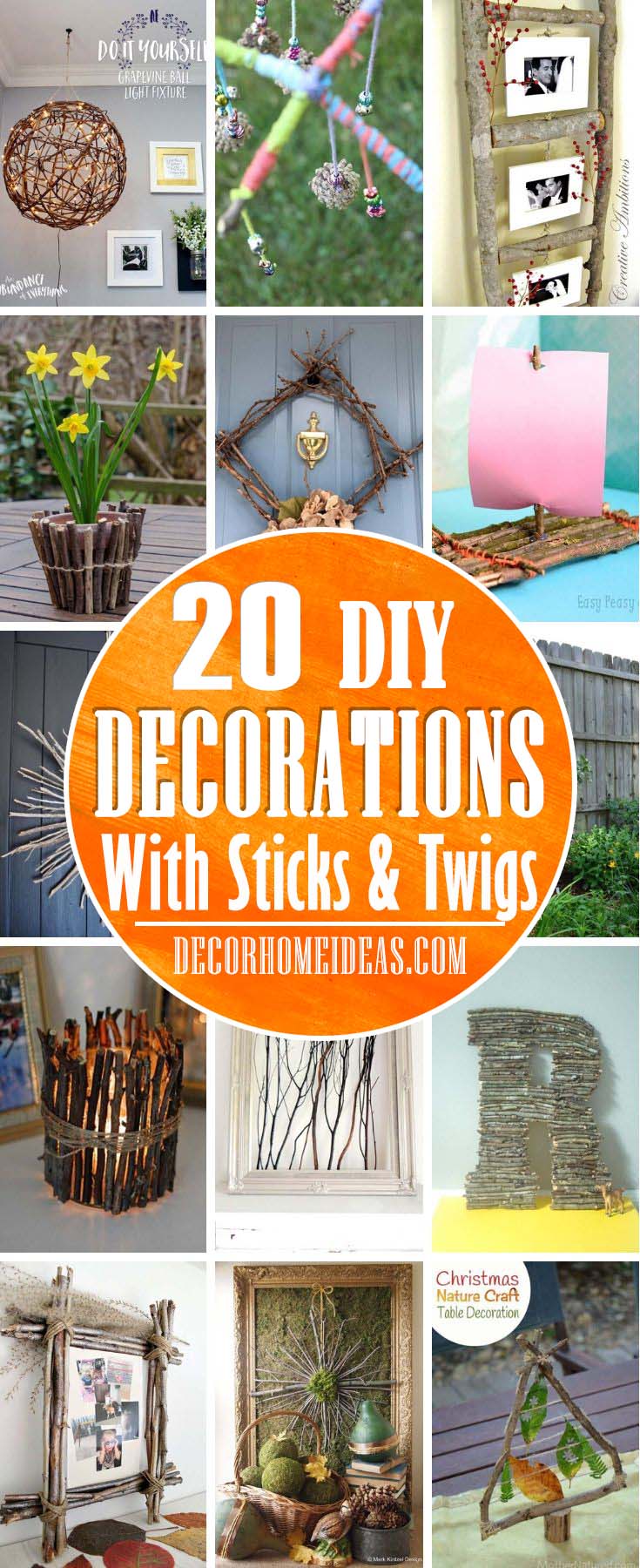 Check out these 18 decorations with sticks and twigs for your next DIY project.
1. DIY Twig and Pine Cone Mobile for Kids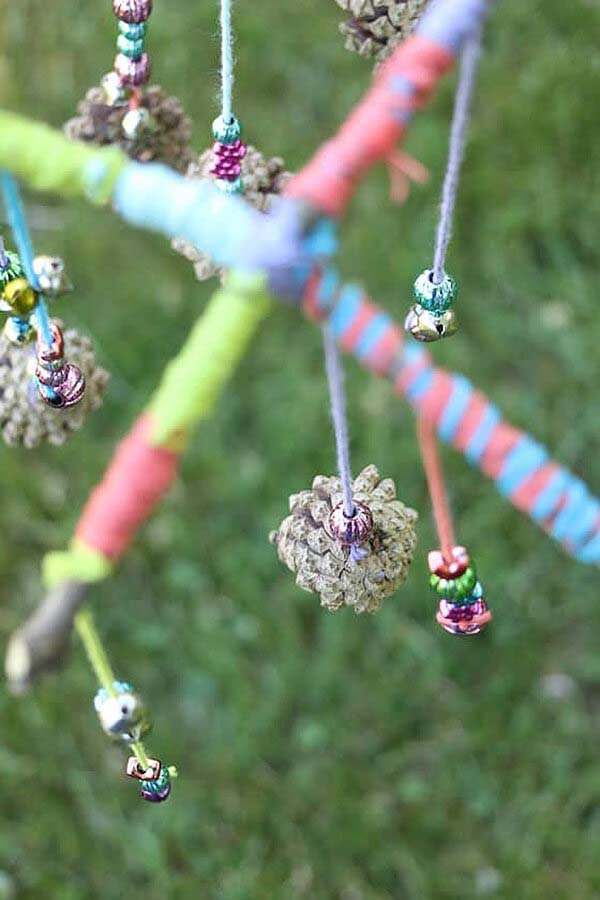 This playful DIY idea turns twigs and pine cones into a lovely mobile for your kids to enjoy.
Two twigs are secured together with twine. Wound around the twigs multicolored string is used to hand pine cones and metallic jingle bells and beads.
via Happy Hooligans
2. Create a Nature-Themed Centerpiece for Your Holiday Table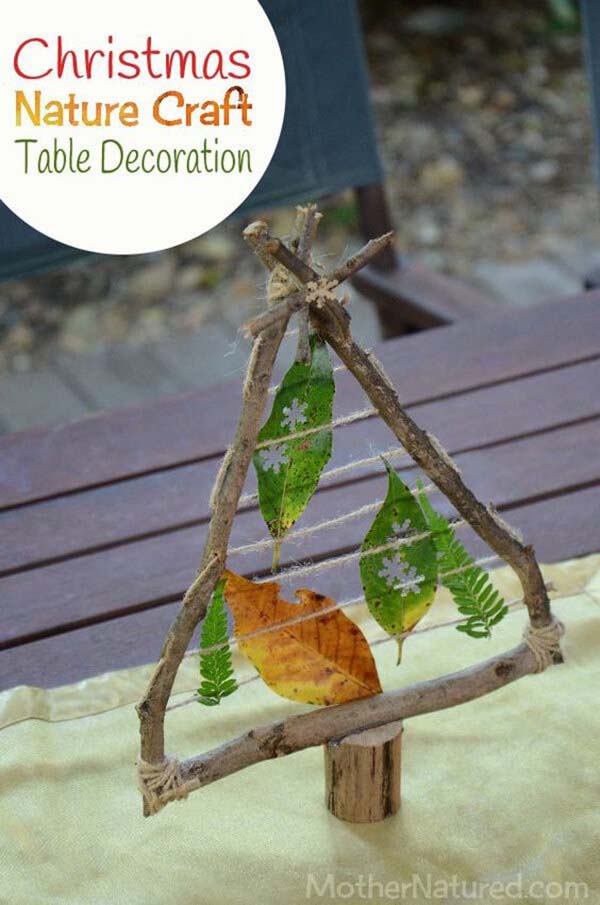 With some creativity, this idea crafts a nature-themed centerpiece for your holiday table.
Using twine, three twigs are fastened together in the shape of a triangle or Christmas tree. This is secured onto a thick branch stump to give the full effect of a tree.
Various leaves with snow cutouts are secured along with twine in the middle of the triangle.
via Mother Natured
3. Build a Whimsical Ladder using Tree Branches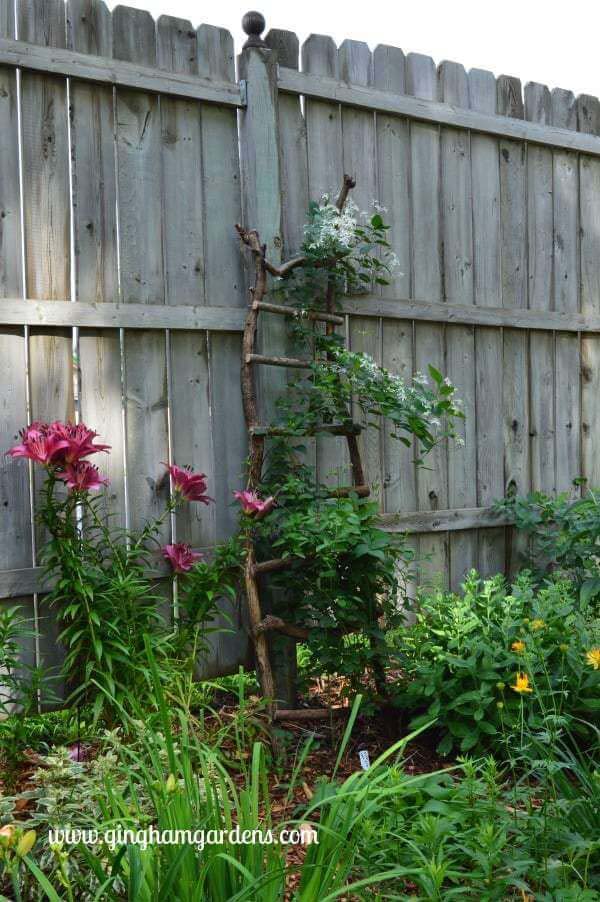 Whimsical and carefree, this DIY idea adds some fun and useful decor to your garden.
Tree branches have been used to create a four-foot ladder that rests against the yard's fence. In the garden, plants and flowers can grow in between and around the ladder rungs to create a wonderful look.
via Gingham Gardens
4. Create a Unique Photo Frame with Rustic Twig Art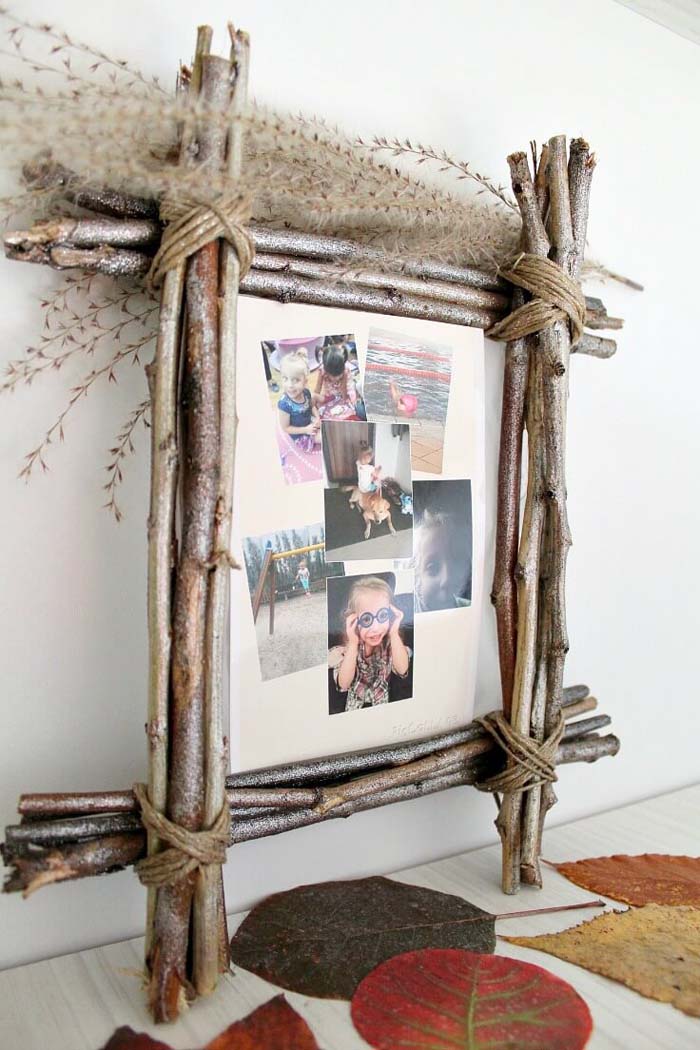 In a charmingly rustic design, this DIY idea uses twigs to create a one-of-a-kind photo frame.
With twine, four bundles of thin twigs are tied together to make a square. In the middle rests white card stock, where small photos may be placed.
5. Rustic Nature-Inspired DIY Wreath for the Front Door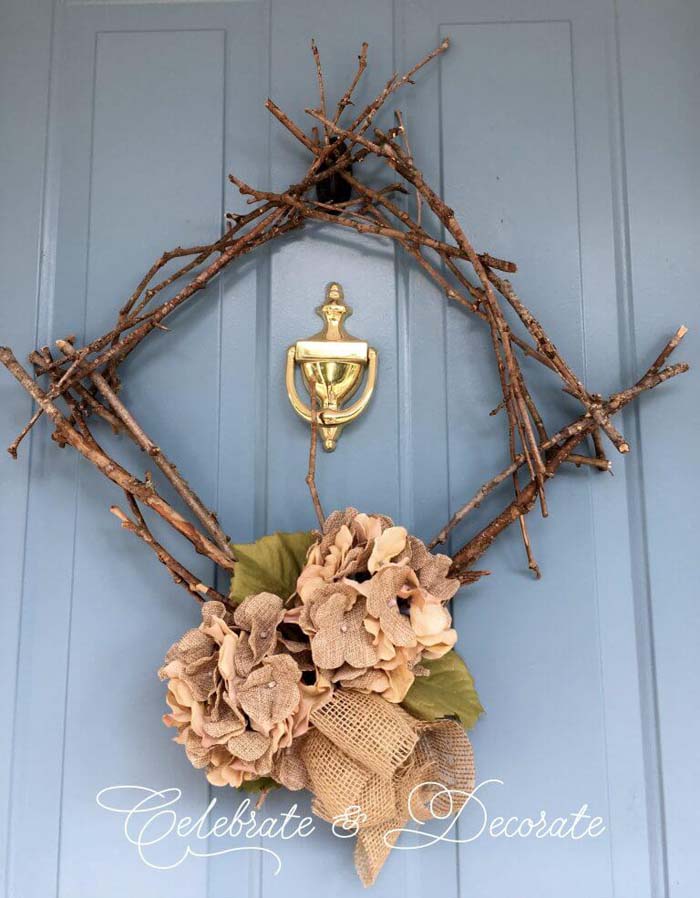 This simple DIY idea gives your front door a minimalist nature up-do. Thin sticks are loosely bound together in the shape of a diamond.
This rustic wreath is then mounted on the front door. Burlap bouquets with roses and ribbon are added to the bottom to complete the look.
6. Make a Fall Decor Piece with DIY Twig Pennants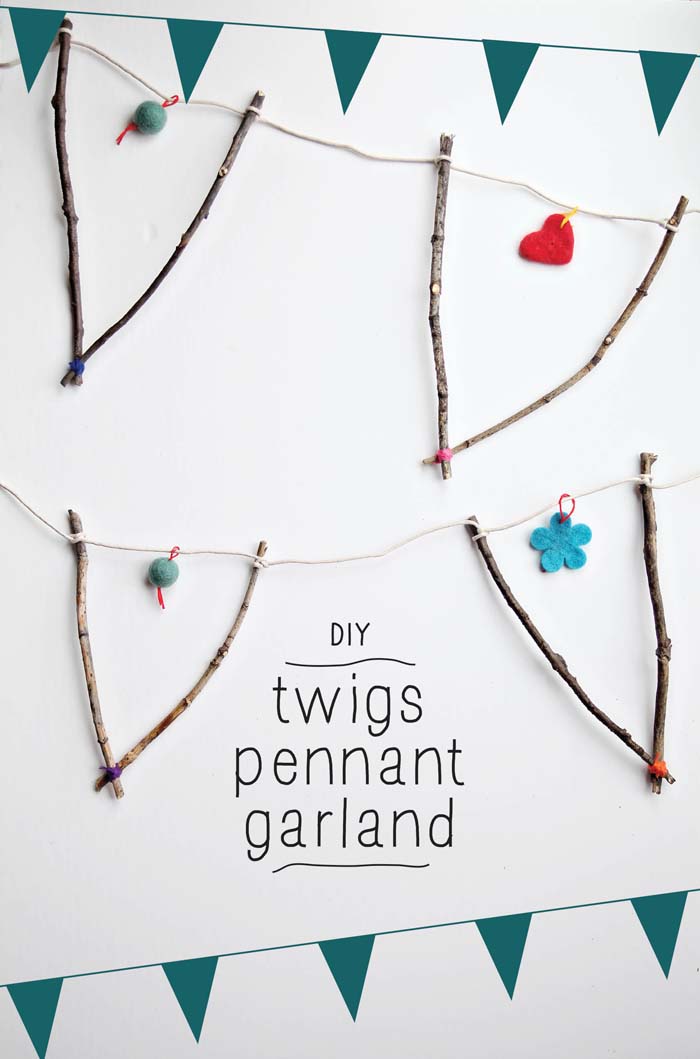 Simple, playful, and cute describe this DIY idea that is perfect for fall or a kid's playroom.
Pennants are created by fastening two small, thin twigs together with colored tape in the shape of a 'V'. Multiple pennants are then hung from a loosely placed string.
Additional felt items, like hearts and flowers, may be added for color and fun!
via Small For Big
7. Create a Winter Wonderland Wreath using Twigs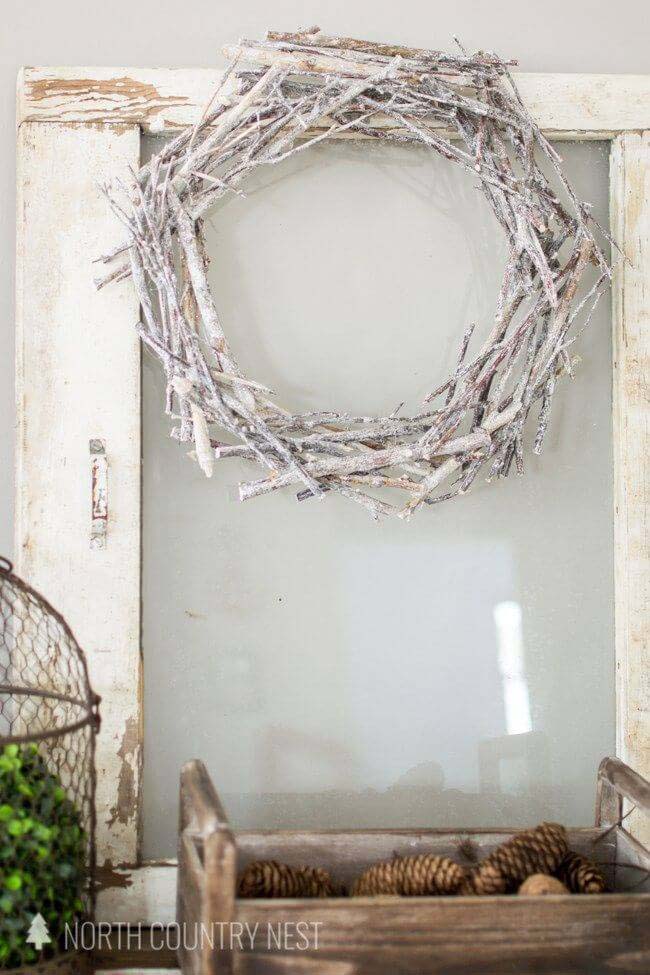 This aesthetically pleasing DIY design gives you a chance to make your own wreath for winter.
A thick hexagon is created by bundling several sticks and twigs together. Each stick has been previously spray-painted in silvery-white glitter to give an effect of frost.
This beautiful wreath works well both inside and on the front door.
8. Capture Nature's Beauty with Framed Twigs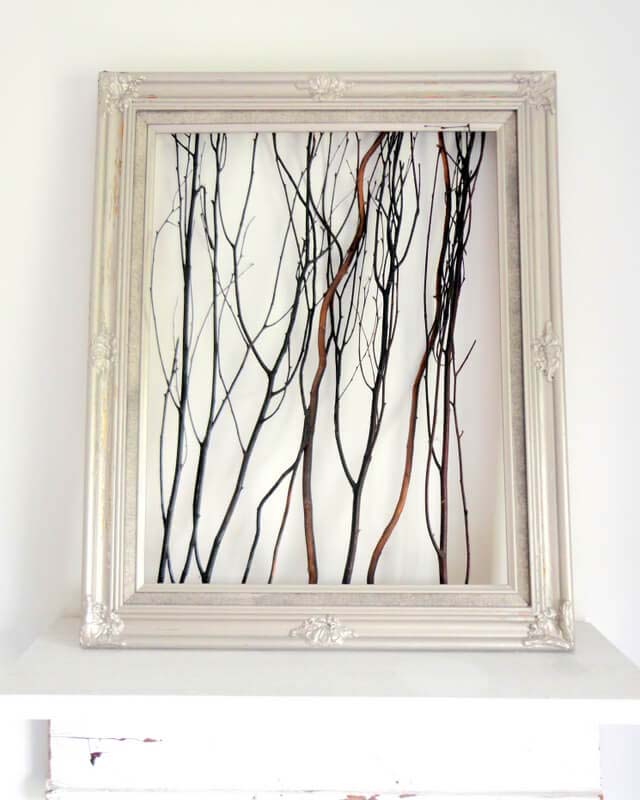 Capturing the essence and beauty of nature, this DIY idea helps you express art and nature.
Several multi-branched thin twigs are laid vertically in between the glass panes of a white ornate photo frame. Any stick shape and color will for this, depending upon your artistic eye.
Here, two statement brown sticks stand out of the darker black stick background.
9. Timeless Geometric Natural Art DIY Clock Wreath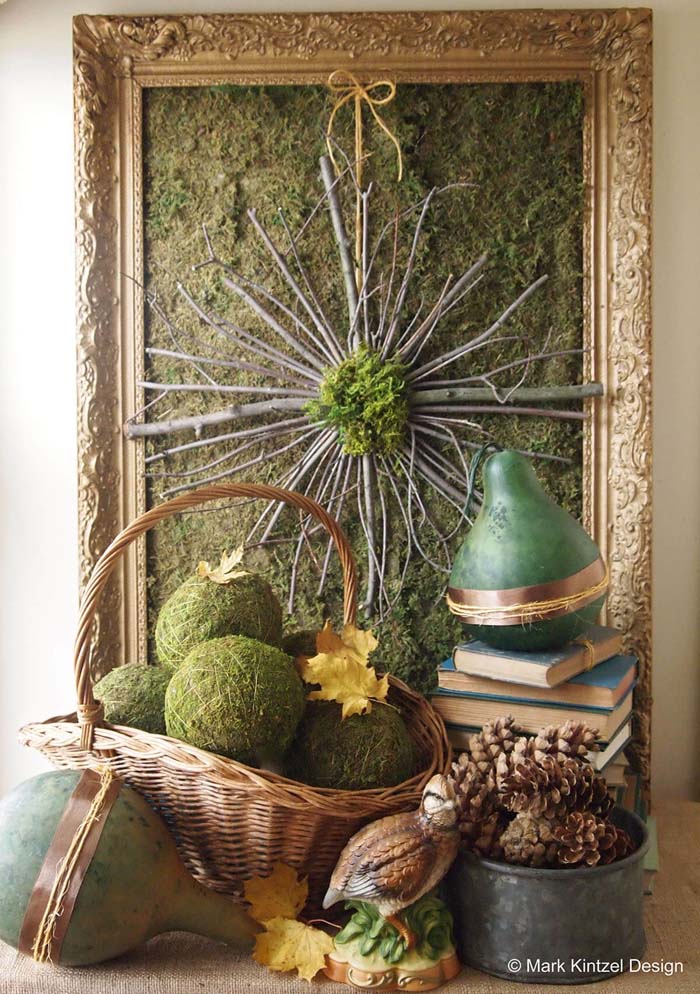 In a geometric representation of natural art, this alarmingly beautiful DIY idea creates a beautiful focal point for any room.
Set in an elaborate and gold-toned frame a backdrop of silk moss rests.
Atop this, twigs have been made into a clock-style wreath with some brighter green silk moss in the center.
via Mark Kintzel
10. Bring a Magical Ambience with a DIY Twig Light Fixture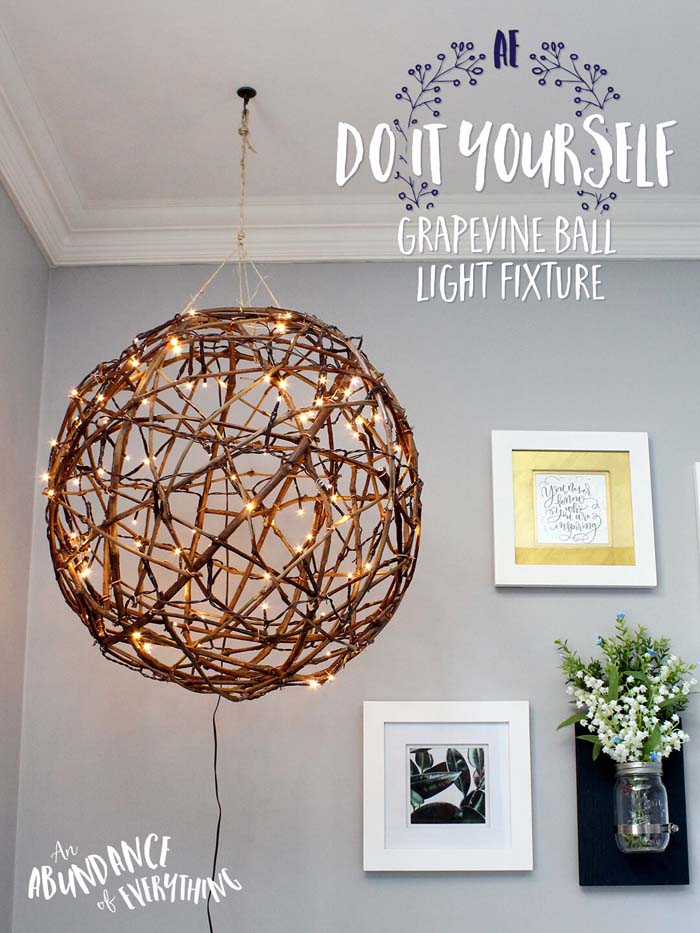 Illuminating a room with natural whimsy and wonderment, this DIY idea turns twigs into a light fixture.
A large grapevine ball is made by securing twigs together. Inside, string lights are wound around the frame of the grapevine ball.
This light fixture is hung from the ceiling adding decor and functional lighting.
11. Display Your Memories with a Romantic DIY Wall Photo Ladder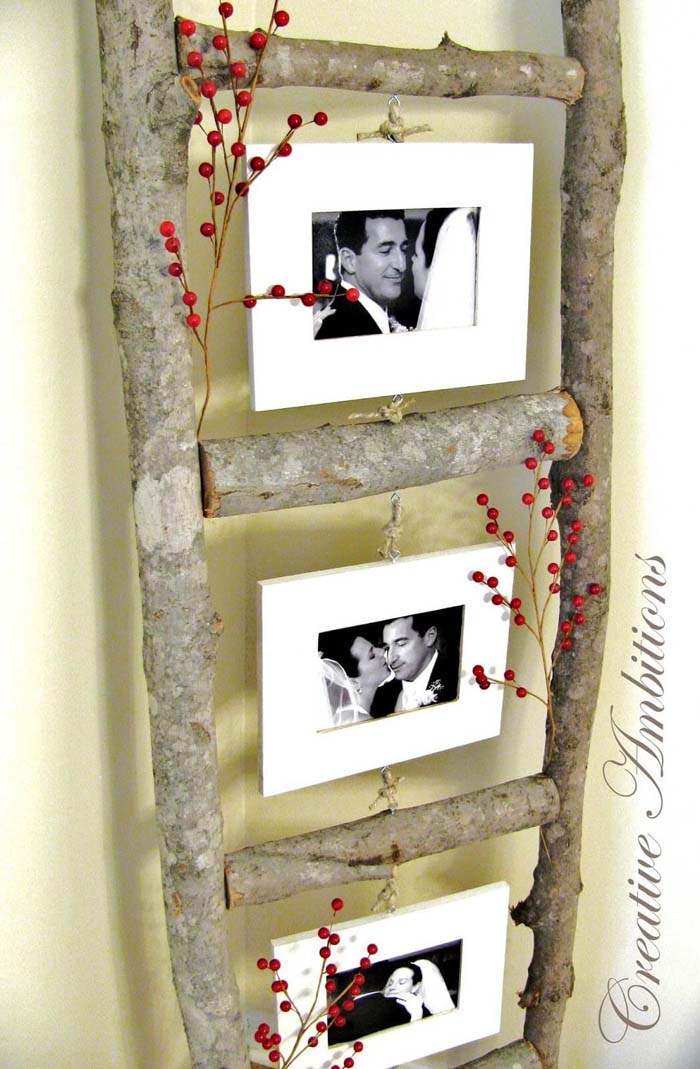 This romantic DIY design lets nature store your most precious memories.
Thick gray branches are used to make a ladder that can rest against the wall. In between the rungs, photos are hung by rope and metal hooks to showcase your favorite events.
The photos have a large white frame and are in black and white. Pops of color are added with red silk berries.
12. Make a Rustic Candle Holder with Wood and Fire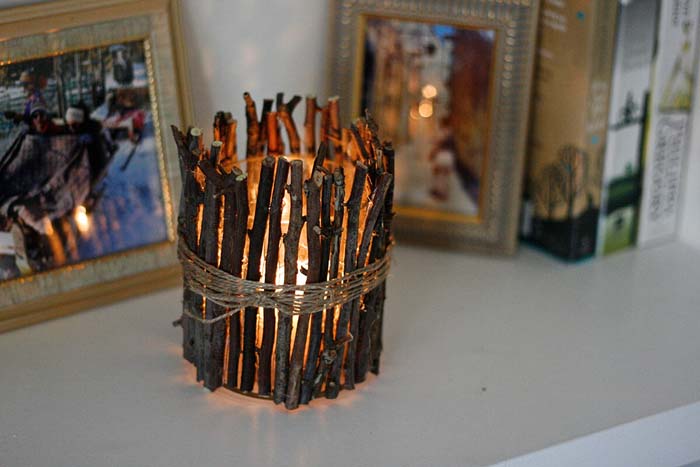 With a few magical vibes, this DIY idea merges the wood and fire elements with a rustic candle.
Small sticks are secured vertically around a glass candle holder with twine and a bow. The effect is somewhere between a fall forest and a campfire.
13. Decorate Your Front Door with a Glittery Starburst Wreath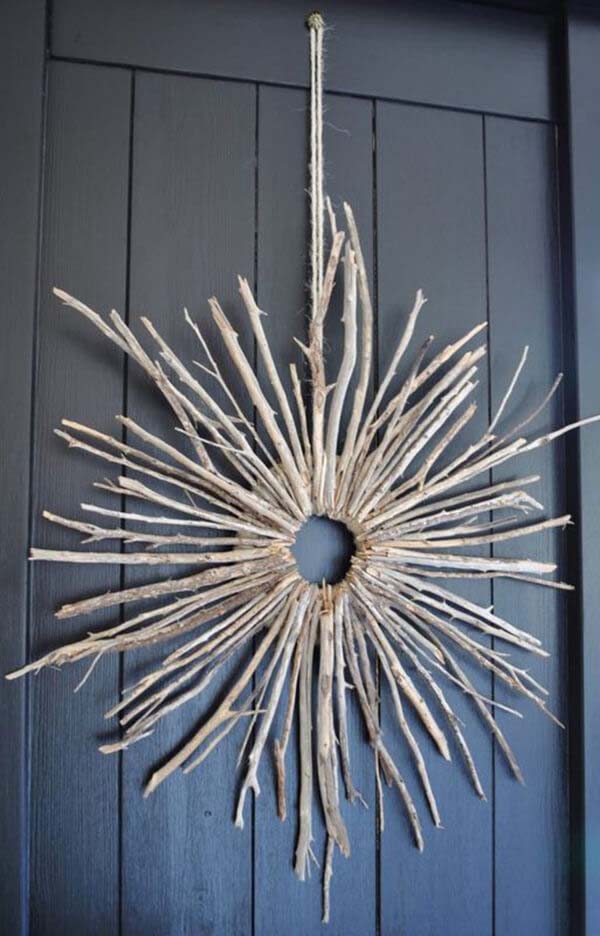 Adding a unique look to your front door, this DIY wreath uses light-colored thin sticks.
To a thick ring of cardboard, several of these ashy gray twigs are secured and placed in a starburst fashion. With a twinkling star look, this wreath is sure to brighten your doorstep.
via The Painted Hive
14. Craft a Working Raft from Twigs and Card Stock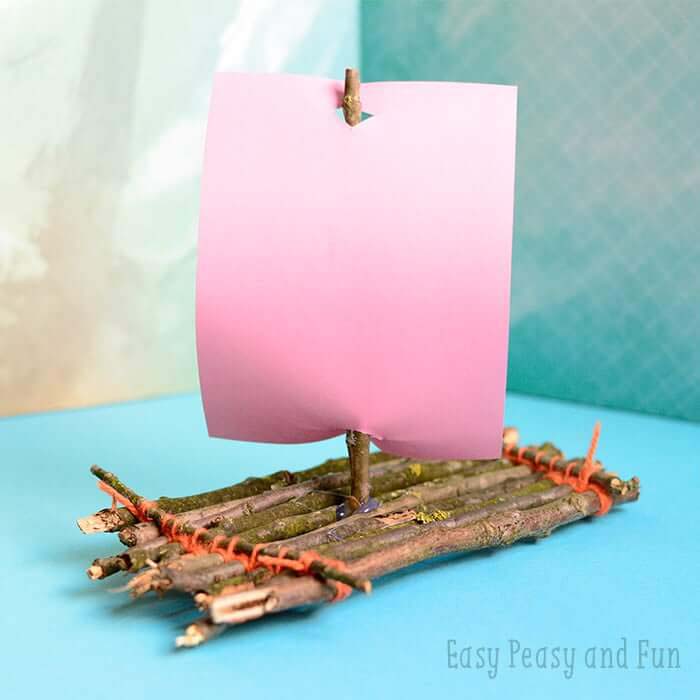 This playful DIY idea has you and your kids ready to set sail for adventure.
A group of eight small twigs is intricately tied together with two perpendicular support twigs to create a small, but a working raft.
A sail is secured in the middle with another twig and is made of pink card stock.
15. Bring a Nature-Inspired Look with Twig-Wrapped Flower Pots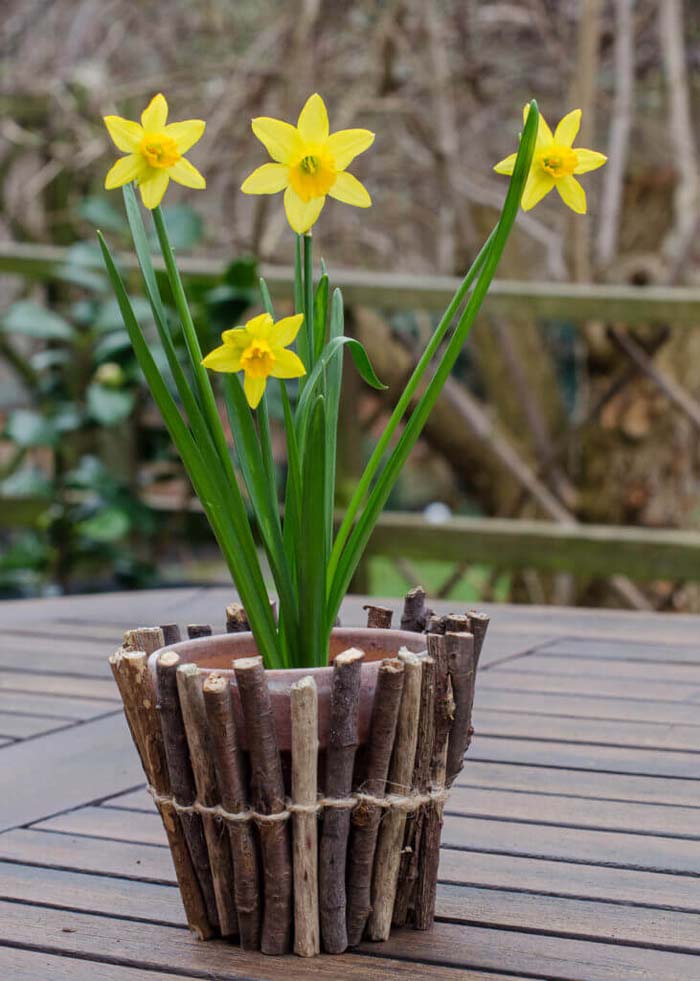 In a wonderfully whimsical way, this DIY idea gussies up your outdoor flower pots.
Thick sticks have been trimmed to be of similar length and are tied vertically around a flower pot with twine.
This twig-wrapped flower pot gives your flowers a more natural look. Try using multi-colored sticks for a fun effect.
via Growing Family
16. Create a Colorful Twig Mobile for Kids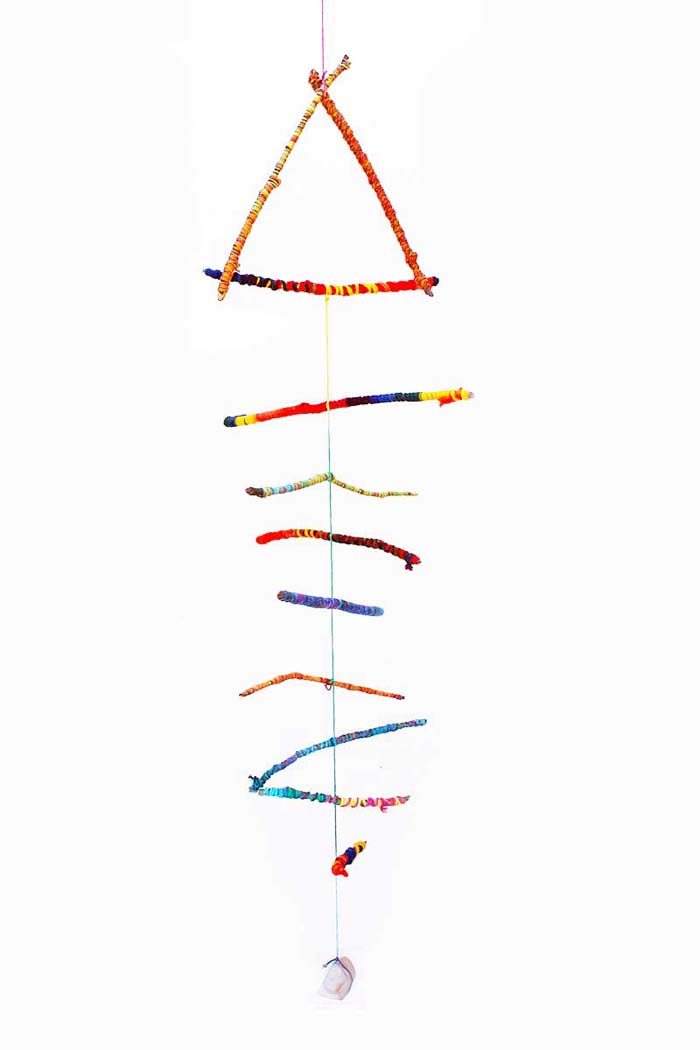 This DIY idea creates a colorful mobile for your children. At the top, three thin twigs are secured in the shape of a triangle.
From its base, a hanging string supports eight other horizontal twigs that are free to twirl about. At the bottom, a support rock is tied to weigh the mobile down.
Each twig is wrapped in fun-colored string.
via Babble Dabble Do
17. Adorn Your Bookcase with DIY Twig Heart Wall Decor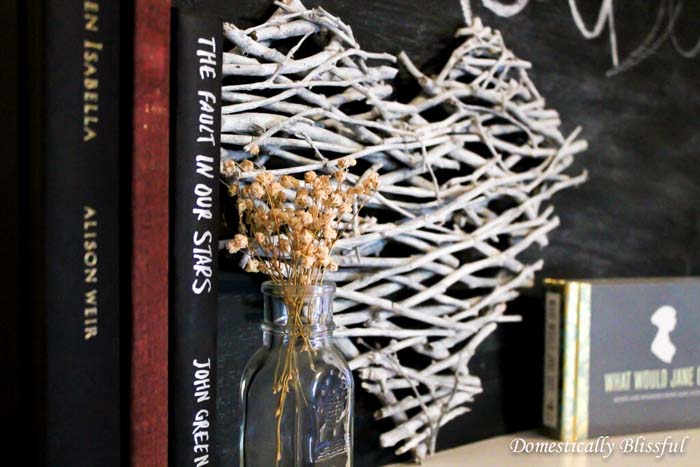 Using twigs, this DIY idea crafts a lovely wall decoration.
A heart hangs from the wall and is made from white painted sticks bound together. Try placing this next to some flowers or near your bookcase.
18. Make DIY Wooden Monogram Letters to Show Family Pride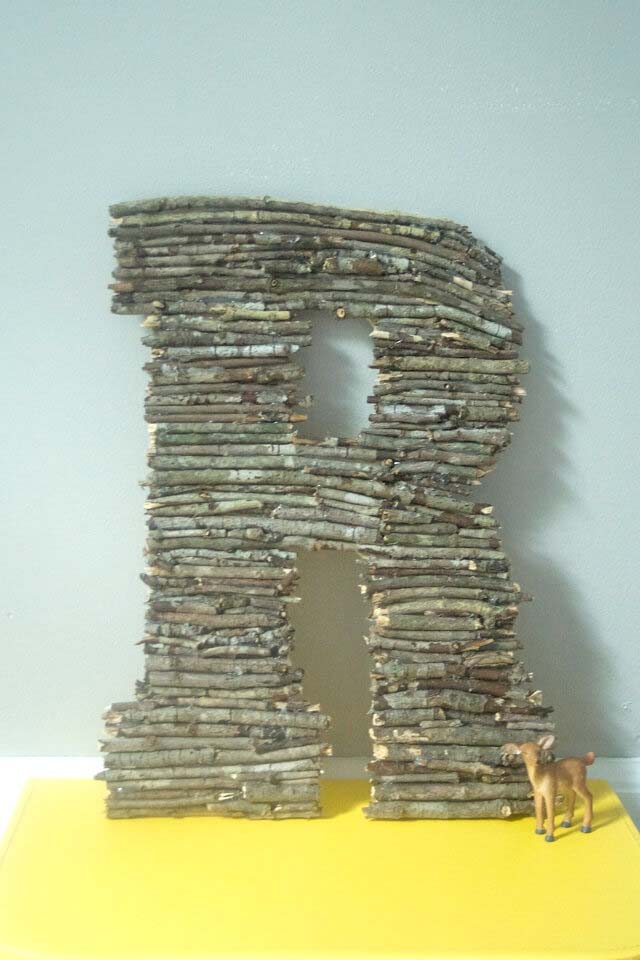 Showcasing your name and crafting abilities, this DIY idea helps show your family pride.
Barked twigs are stacked and cut horizontally in the shape of the letter 'R'. This can be done for your initial, too!