Convenient and versatile, mason jars provide the perfect starting point for several creative projects!
In many ways, they are another blank canvas of crafting, whereby artists can express their creativity and create something useful.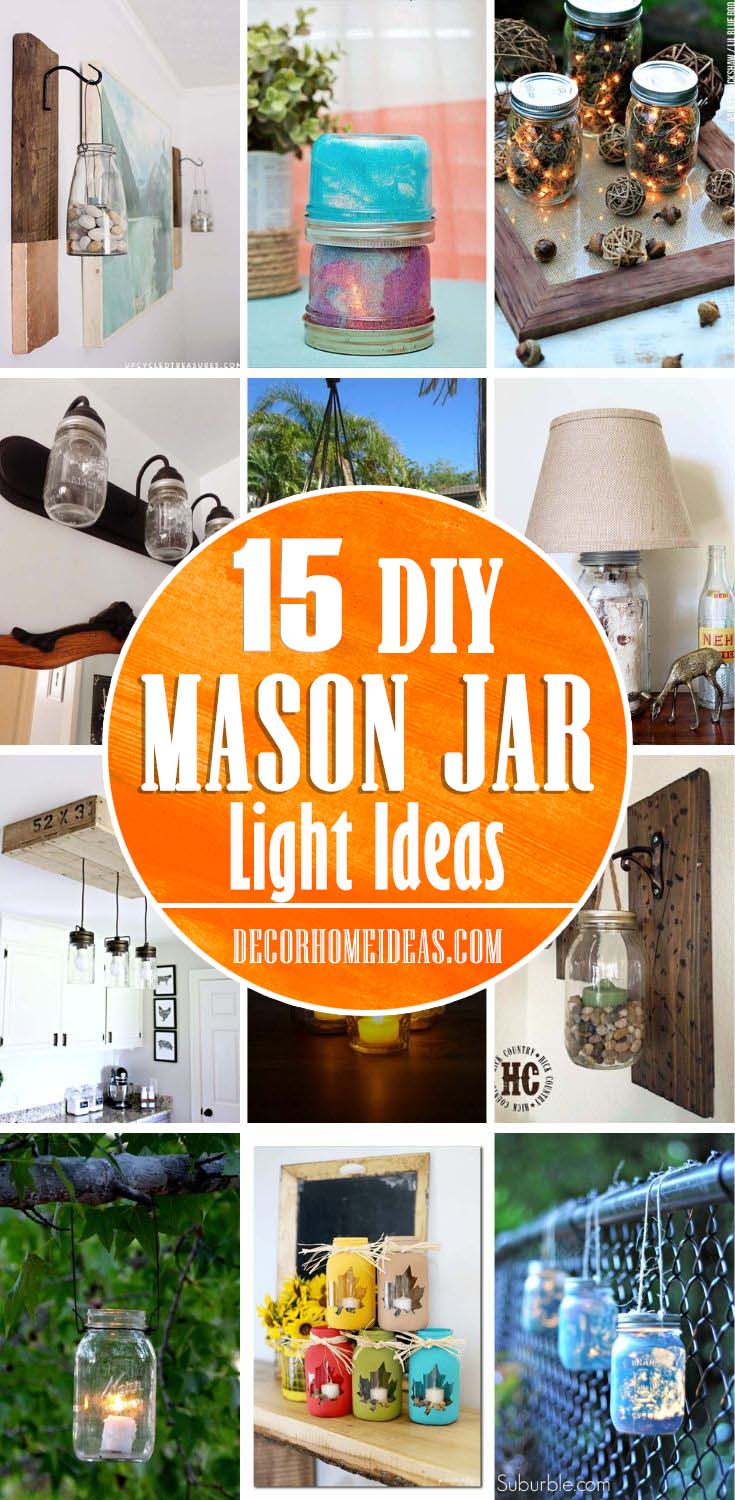 From lanterns and light shades to candles and centerpieces, this list of 15 mason jar light ideas gives enough inspiration to get you started on your next project!
1. All-Natural Citronella Lavender Candle in Mason Jar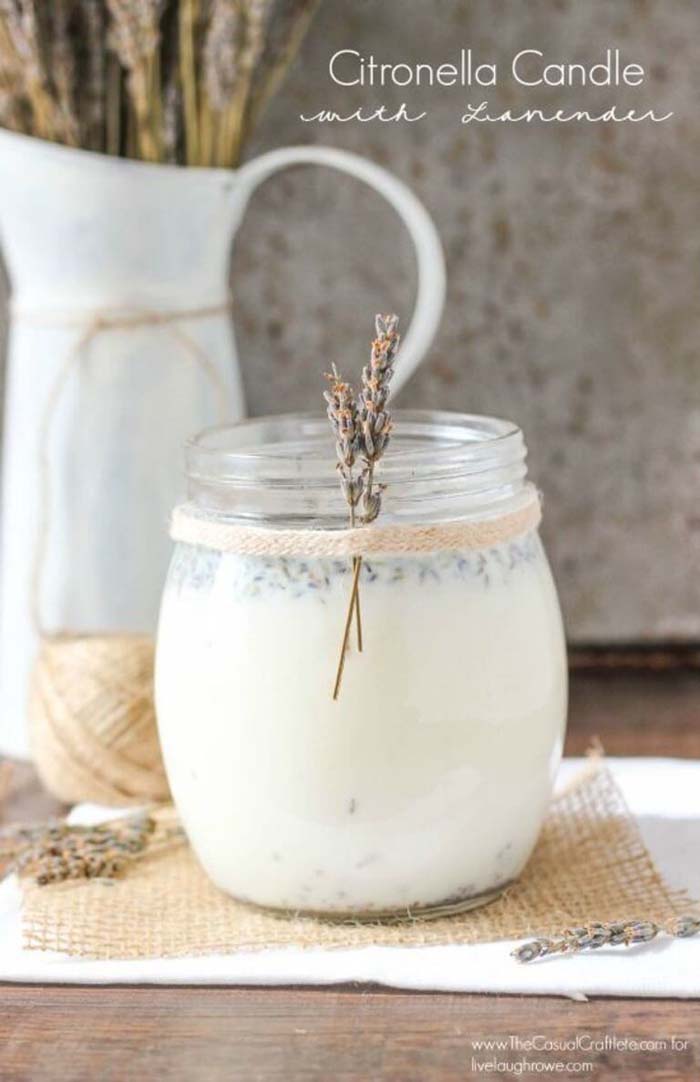 This delicate candle garners both utility and aesthetic from its mason jar.
Made with citronella, this candle will help protect the area from mosquitos and other unwanted bugs.
Lavender is added to the top to release a relaxing aroma and provide a unique texture. A thin layer of twine is tied around the neck of the mason jar to complete the look and can be used to hold a sprig of lavender.
via Live Laugh Rowe
2. DIY Mason Jar Farmhouse Light Fixture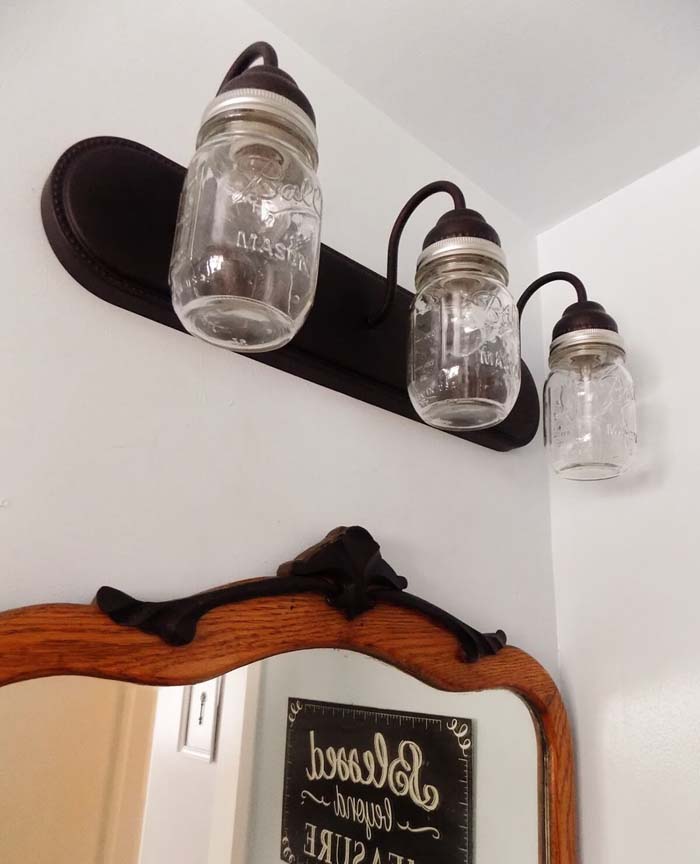 A unique combination of rustic and modern, this DIY mason jar idea creates a farmhouse lighting fixture.
Three large mason jars are fastened over hanging light bulbs to create a one-of-a-kind light shade.
The fixture is held to the wall with a black oval base, which matches nearby features.
3. Create an Enchanting Outdoor with Mason Jar Lanterns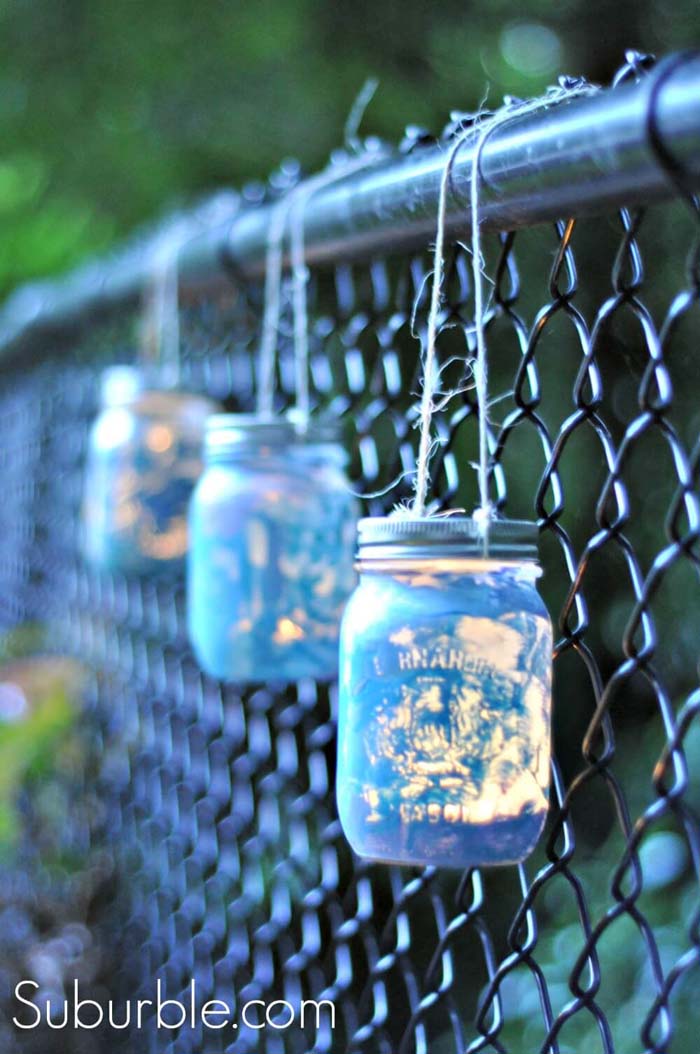 With a flair for whimsical fantasy, these mason jars are repurposed to create outdoor twilight mood lighting.
Three, or as many as needed, mason jars have been loosely painted on the outside in white, meaning there are patches uncovered.
Inside each jar is a candle that shines through the unpainted portions, giving a soft blue ambient glow. These jars are secured along a fence with twine.
via Suburble
4. Ambient Candlelit Display with DIY Mason Jar Wall Hanging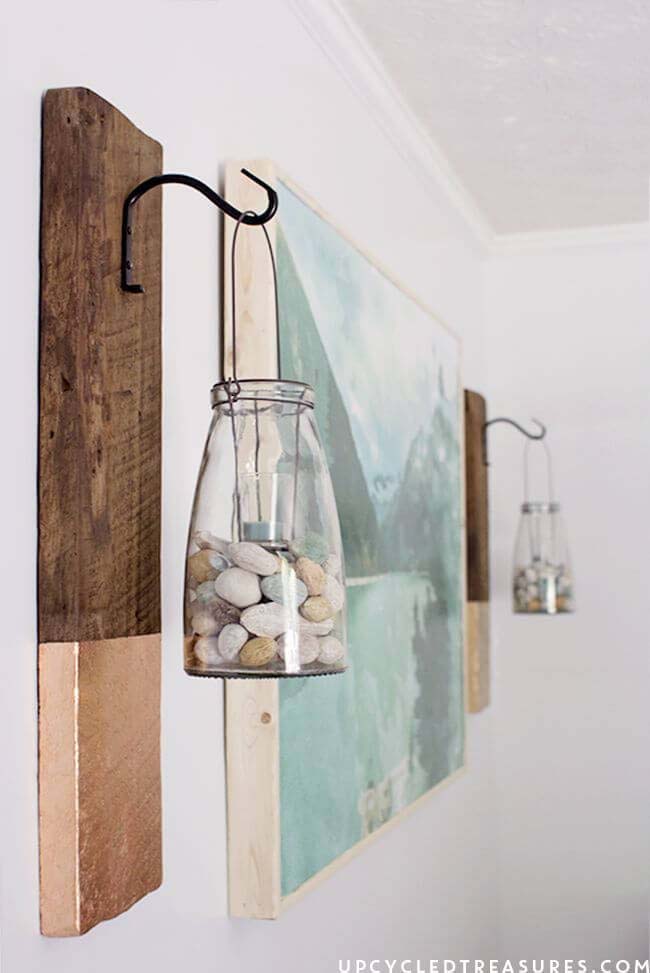 Making use of interestingly shaped mason jars, this DIY idea creates a wonderful wall hanging, perfect for the bedroom or anywhere in the home.
A large narrow-necked mason jar hangs from a black hook secured to the wall via a wooden plank with a gold dip.
The mason jar has been half-filled with large rocks and topped with a tea light candle. Two hang opposite a painting to create a balanced look.
5. Repurpose a Mason Jar for a Magical Outdoor Ambiance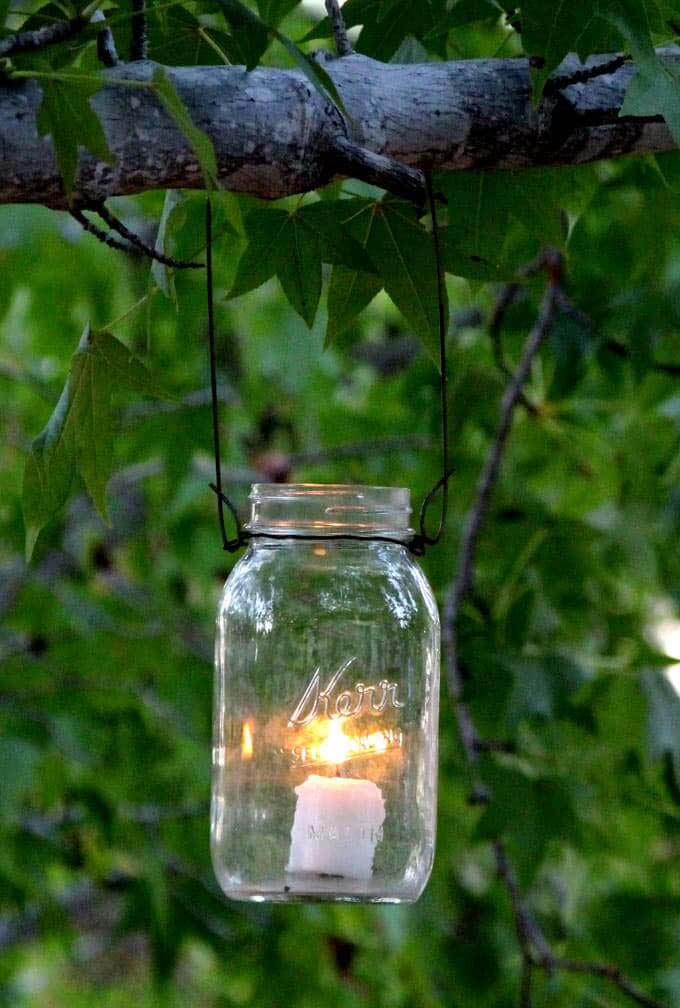 To create a magical outdoor ambiance, this idea repurposes a mason jar as a candle holder.
Hanging from a tree branch with a long black string, a simple, lidless mason jar holds a tall wax candle. In this simplicity, the beauty lays.
6. Illuminate the Night with a Mason Jar Firefly Lanterns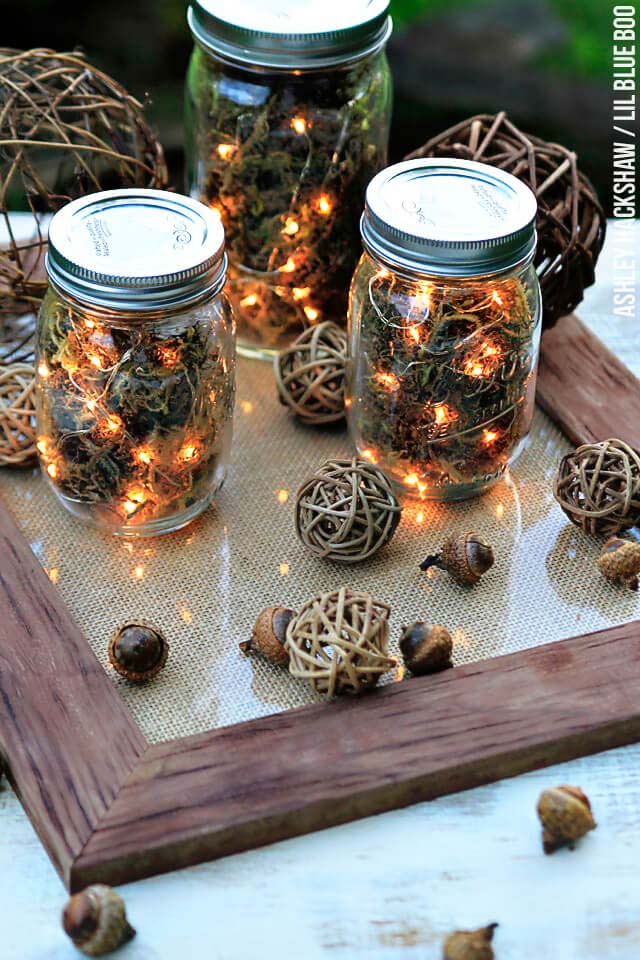 This whimsical mason jar idea crafts a romantic and safe hand-held lantern.
A medium-sized mason jar is filled with a small bulb, orange-glowing string lights. Around the string lights, silk plants are packed in to add to the ambiance and separate the lights.
These can be carried around outside both safely and conveniently. Try playing around with the shape and size of the mason jar to find the right look for you!
via Lil Blue Boo
7. Create a Unique Night Light with Glittery Mason Jars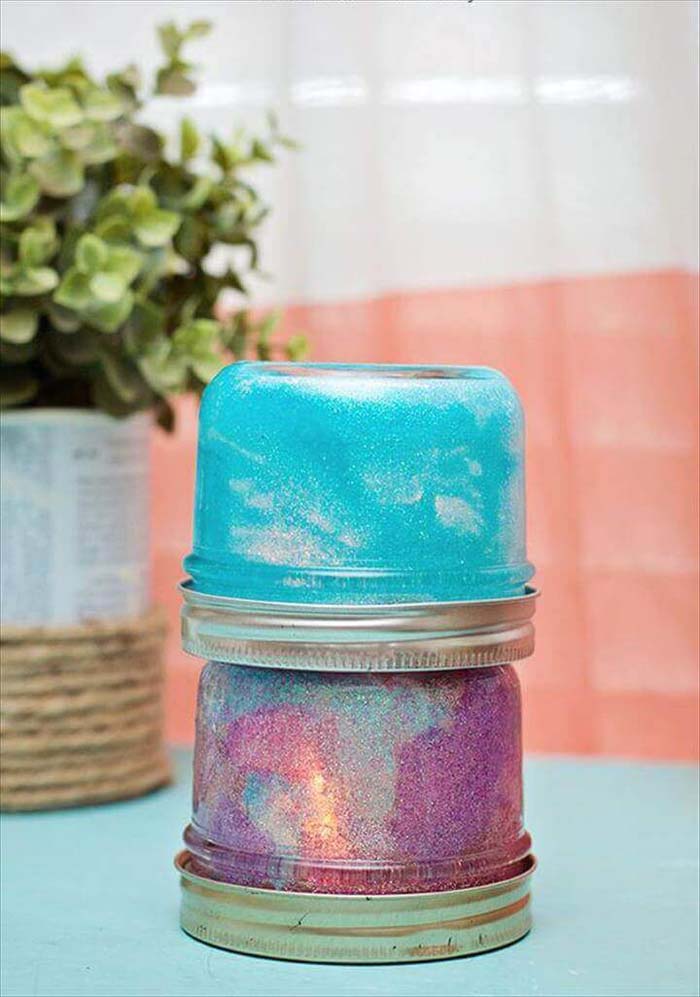 With your kids in mind, this crafty DIY idea turns mason jars into fun night lights.
The inside of a small mason jar has been painted with modge podge and glitter to create a unique galaxy-type look.
A flameless candle has been secured to the lid of the jar. When closed and turned over, the glittery jar sends shimmering light in a darkened room.
via Mod Podge Rocks
8. DIY Mason Jar Lamp with Tree Bark Accents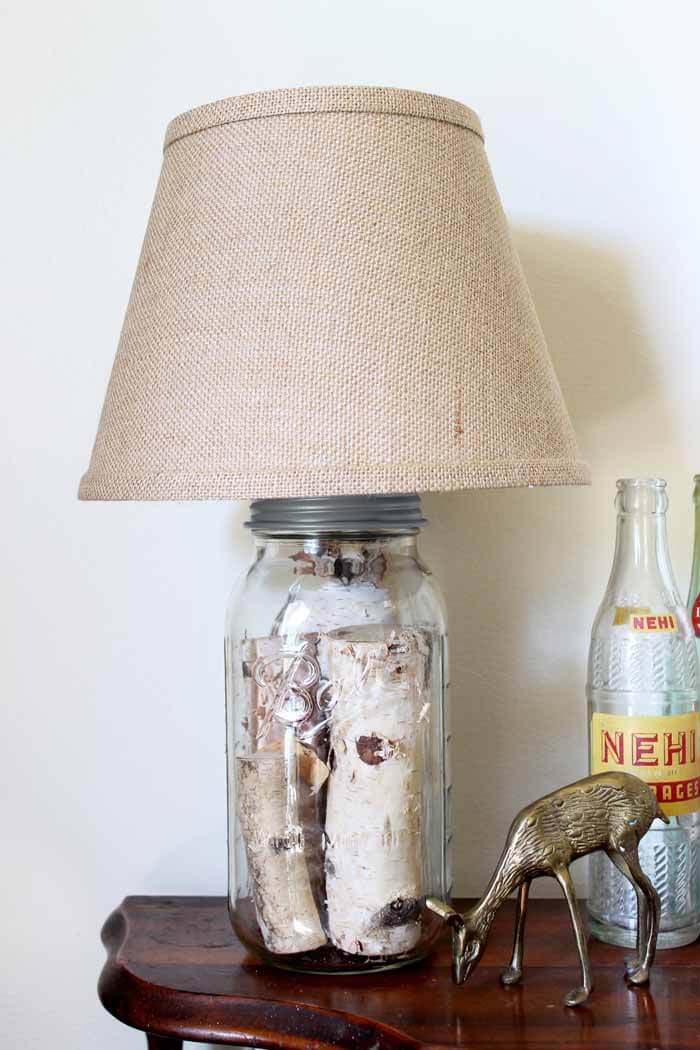 A large and tall mason jar makes for the perfect lamp base in this DIY home decor project.
White tree bark stumps fill the mason jar which has the lamp fixtures nestled inside.
On top, a beige canvas lamp shade covers the light bulb and adds to the soft neutral tones of the look.
9. Illuminate Your Outdoors with Garland Mason Jar Lighting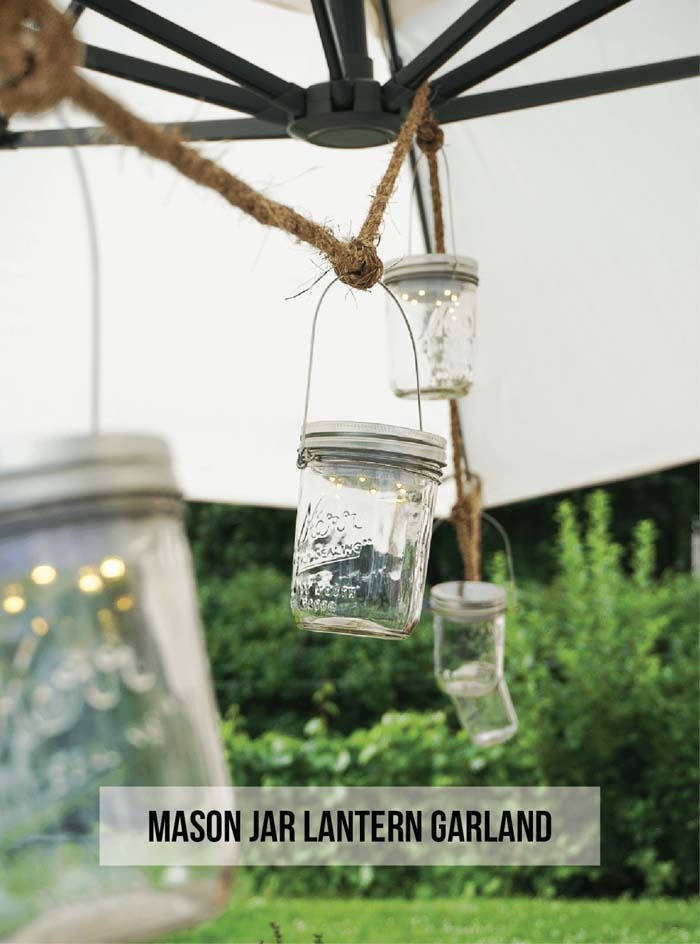 This delicately simple DIY mason jar idea adds soft garland lighting to any outdoor venue.
Several small mason jars have a small set of dot lights fastened to their top rim. These lights are small and glow a dim yellow, adding a subtle ambiance.
The twinkling lights hang from a bulky rope along with the ceiling of the venue, creating an interesting height element.
via Froncois et Moi
10. DIY Autumn-Themed Mason Jar Candle Holders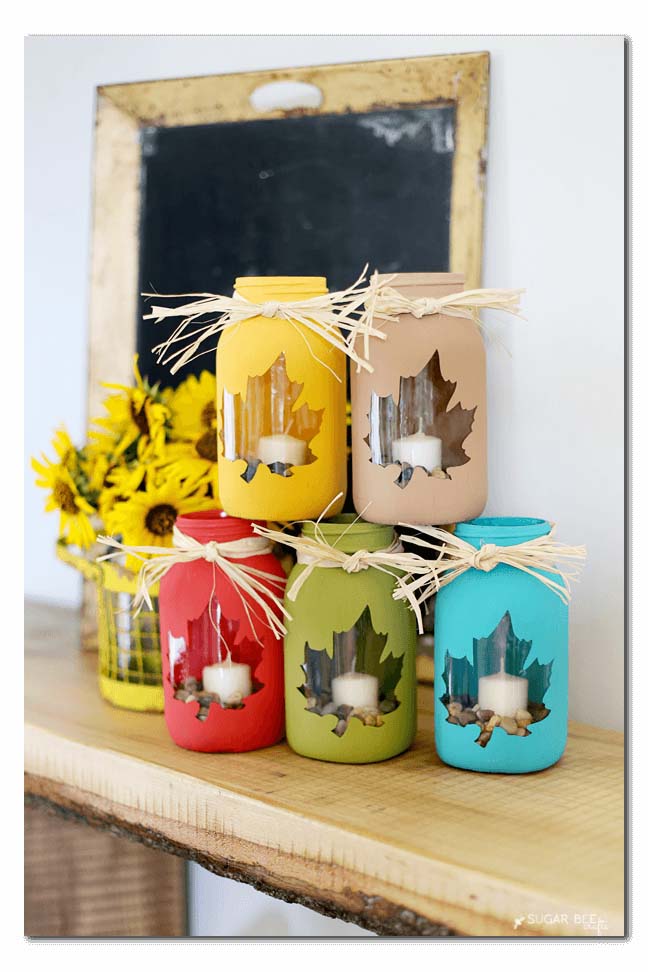 In the autumnal festival spirit, this DIY idea transforms mason jars into color-blocked leafy candle holders.
A tall mason jar has been painted in a solid autumn-themed color except for a leaf negative that remains transparent. Inside the mason jar, a small votive candle rests in a bed of small pebbles.
To complete the look, a piece of twine is tied around the neck. This is done to five separate mason jars in differing colors to create a festive look.
via Sugar Bee Crafts
11. Rustic Kitchen Lighting with DIY Mason Jar Fixture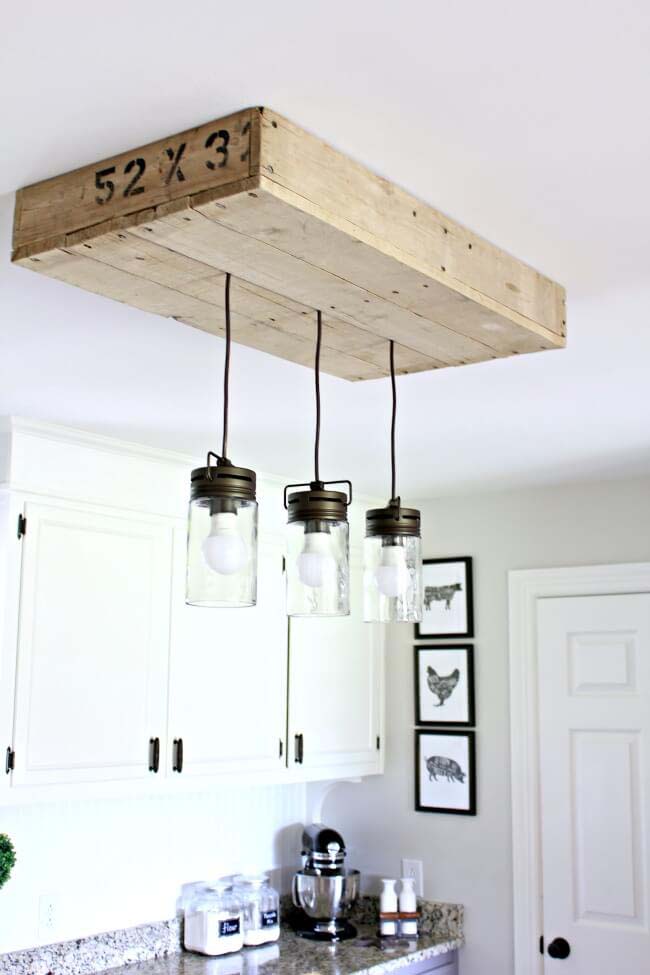 With a minimalist rustic look, this mason jar DIY idea creates a beautiful lighting fixture for your kitchen.
Three mason jars have been secured over three handing light bulbs to create a transparent filter for their light. These three light bulbs hang from a pallet affixed to the ceiling.
This lighting fixture rests just above the kitchen island to allow for optimal lighting.
via Noting Grace
12. Bring a Bohemian Feel with a Mason Jar Lantern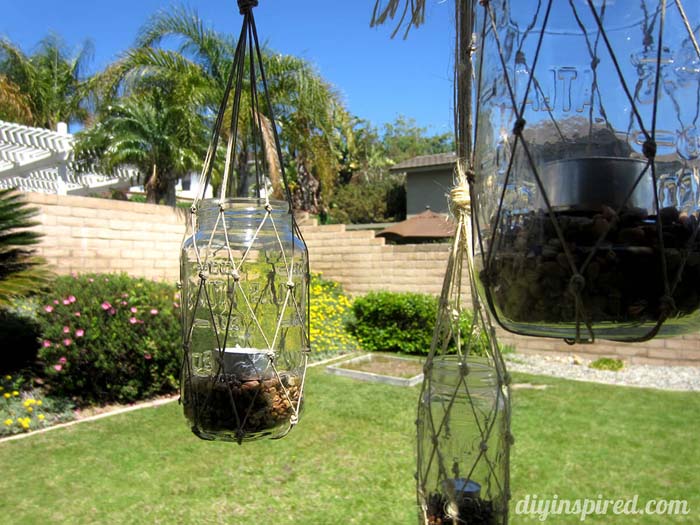 This DIY idea gives your outdoor space a bohemian meets beach take on a mason jar lantern.
A large mason jar has been a quarter filled with small, packed in rocks, which hold a large tea light. This is hung from the ceiling of an outdoor area with a roped netting to give it a relaxed vibe.
via DIY Inspired
13. Create Ambient Lighting with Mason Jar Lanterns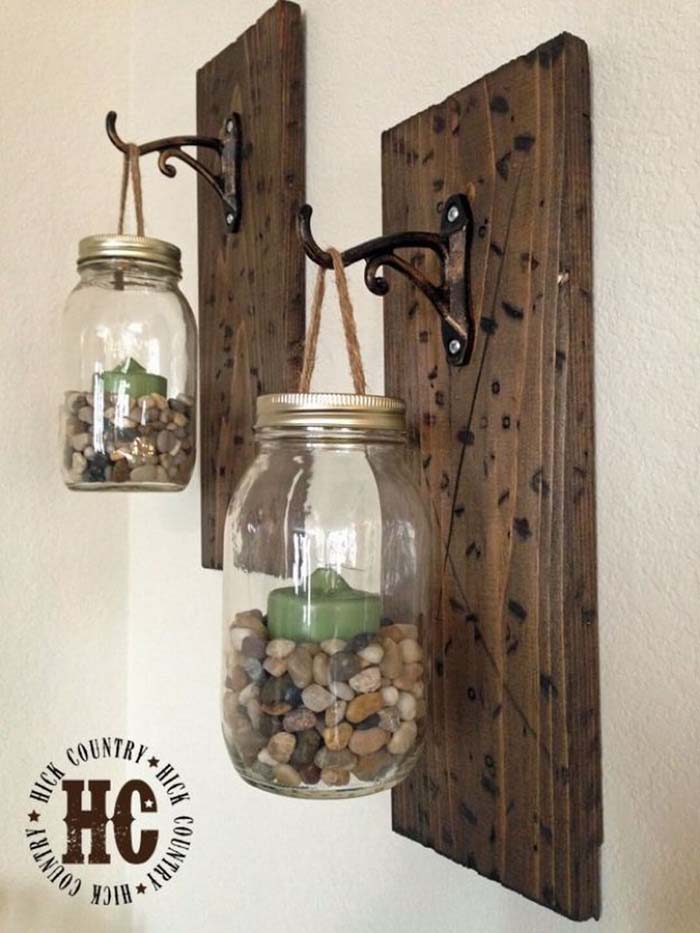 With attention to detail given on the color scheme, this DIY idea turns two mason jars into the perfect mood-setting ambient wall lanterns.
A large mason jar hangs by rope from a bronze hook secured into a unique piece of hardwood.
Try to find a wood grain that works for you, but any will do! Inside the mason jar, smooth pebbles lay about a third of the way up, holding an olive green votive candle.
14. Romantic Summer Elegance with Mason Jar Centerpiece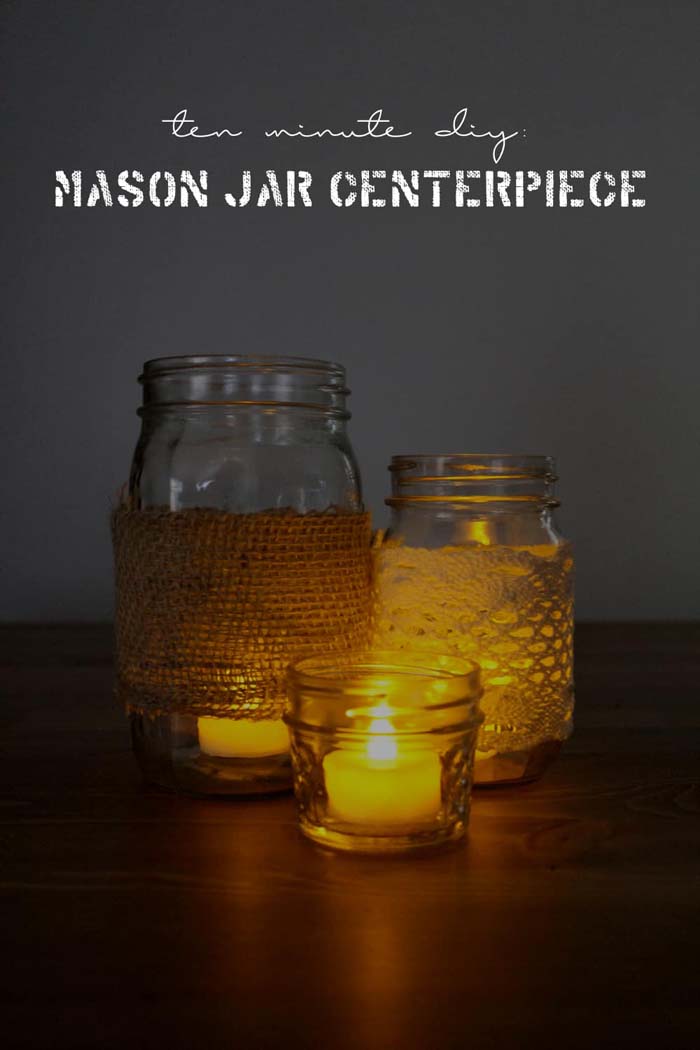 Feelings of romance and summer elegance emerge from this mason jar centerpiece.
Three differently sized and shaped mason jars each hold a plain white votive candle and are grouped together.
The two largest have been decorated with a thin sleeve of either lace or canvas, while the small one lays bare.
via Hello Nature
15. Vintage-Inspired Mason Jar Light Ideas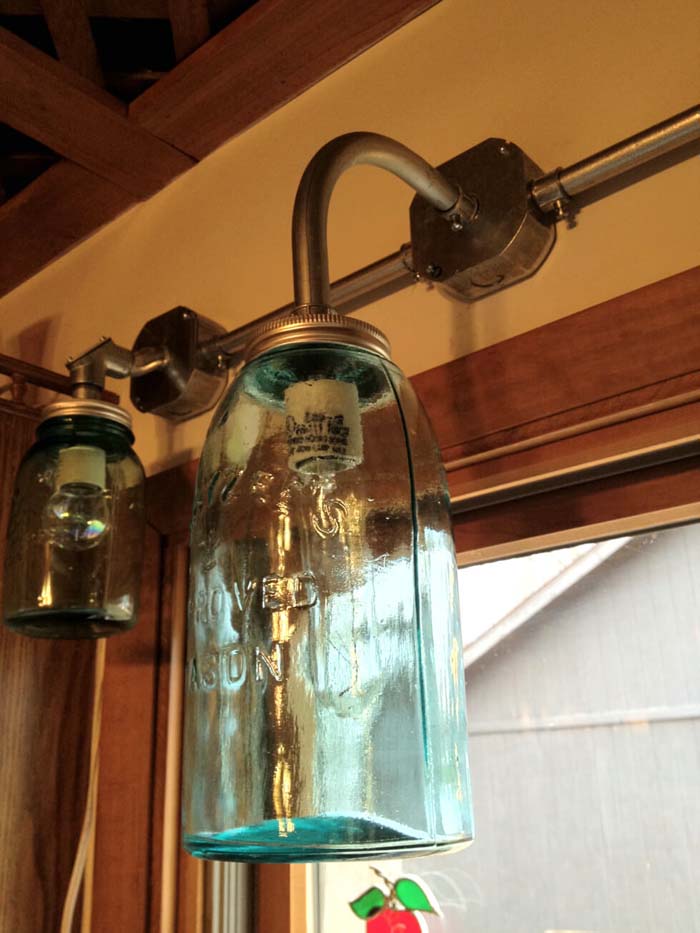 This DIY idea transforms a mason jar into a vintage light fixture. A large, older mason jar with blue-tinted glass rests over a hanging light fixture.
The light bulb in the jar is a small, vintage-shaped design, giving it further call back to a rustic time.
via Frou Frugal