Are you looking for a new wall décor idea? You have tried out paintings, signs, picture collages, floating shelves and many more wall decorations but have you ever tried a wall hanging?
Wall hangings are artistic artworks made from various materials that can be used to enhance an existing interior, add a new style, or redesign the home's atmosphere.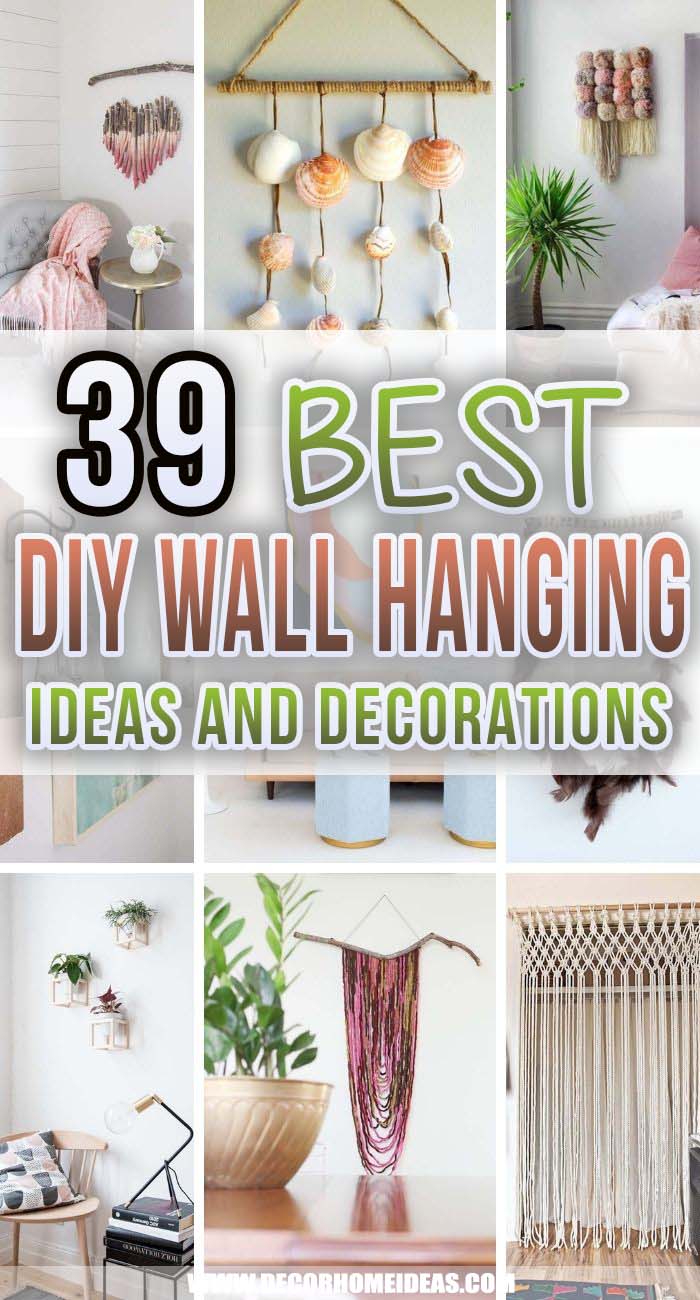 Wall hangings can cover an entire wall or can be smaller to decorate a piece of a blank wall.
There are wall hanging ideas that feature natural materials and macrame-inspired designs and others that go beyond the standards and scream out modern and unique.
Let's see some of the great DIY wall hanging designs that will fill your home with life and character.
1. Bead and String Wall Hanging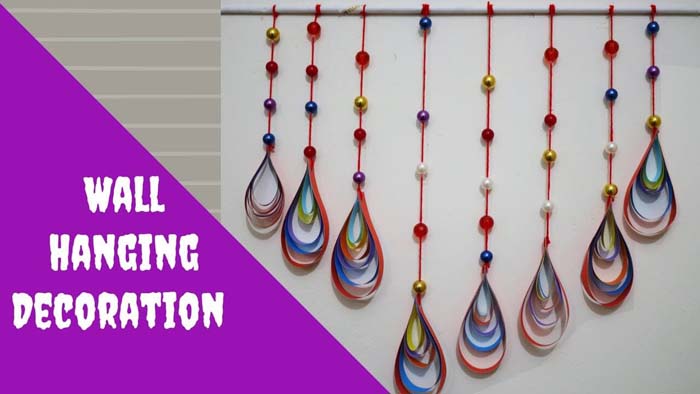 This wall art idea is ideal for adding a colorful touch to a blank neutral wall. If you have already tried quilling, then you surely know how easy it is to recreate yourself the pattern.
Choose those colors of quilling strips that will match the interior of the room this unique plaque will be used.
via Tanis Gallery
2. Bohemian Floral and Twig Wall Decor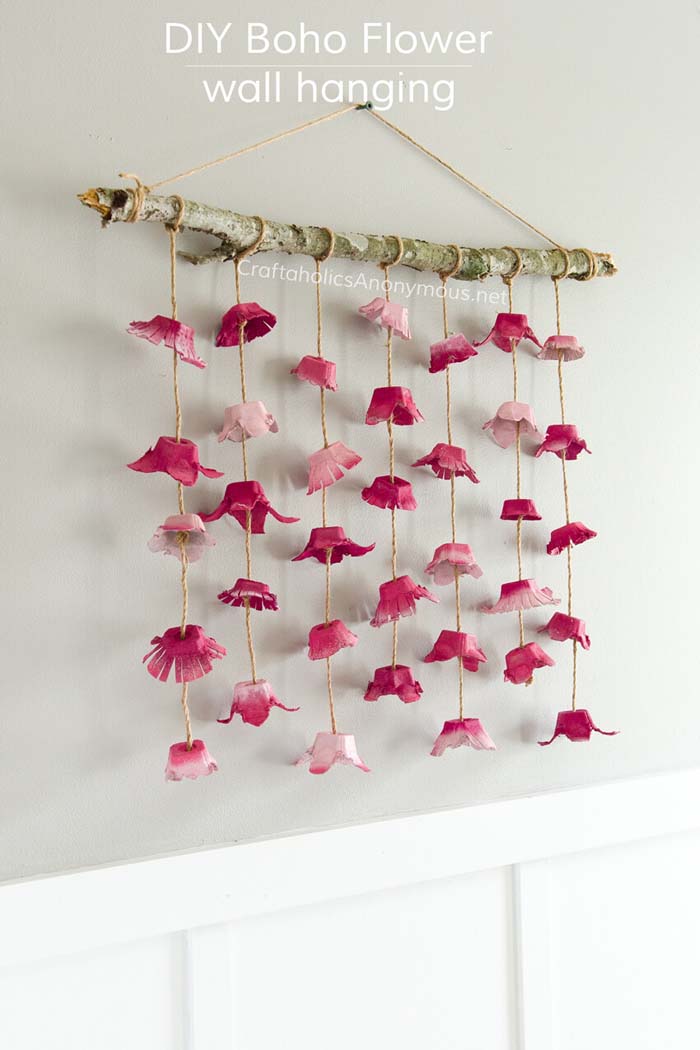 Would you believe that these beautiful and delicate flowers were made from egg cartons? The carton pieces turn into vivid petals thanks to spraying paint that give them the ombre effect of a realistic flower.
The inclusion of a birch branch and rope enhances the natural look of the wall décor piece. This particular model uses 7 threads of rope and 35 egg carton flowers. You can customize it to cover a larger part of a blank wall.
3. Canvas and Macrame Simple Wall Hanging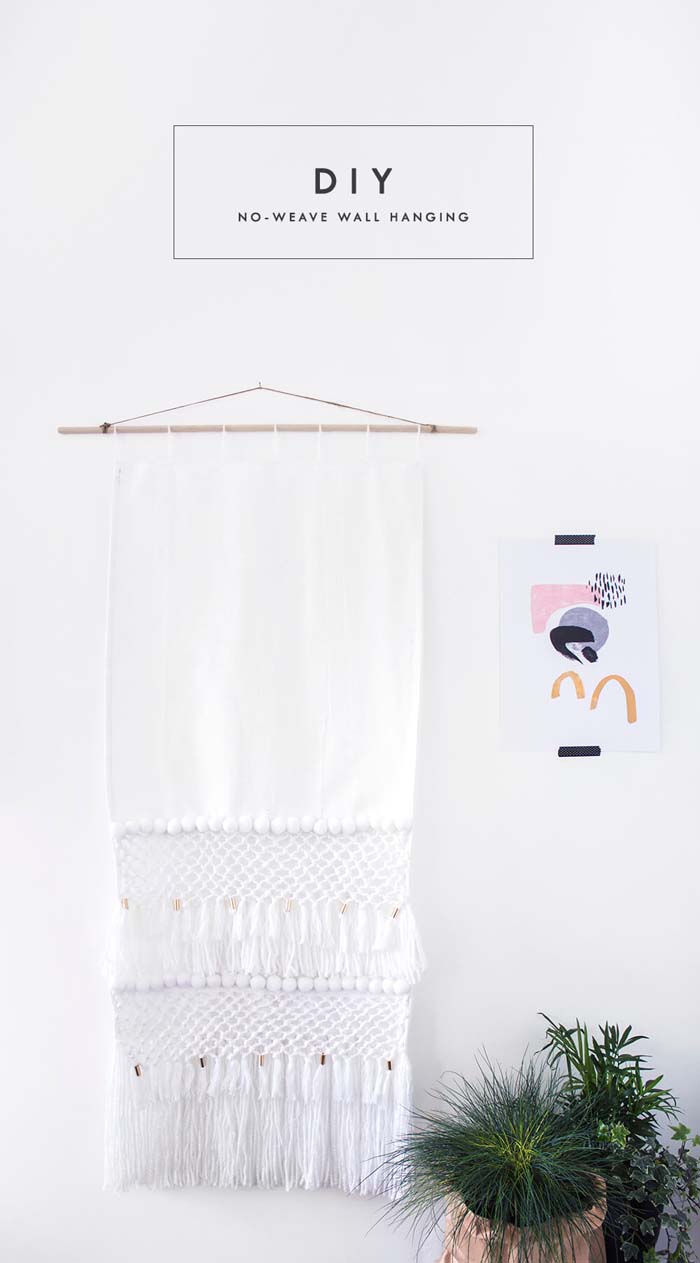 The macrame wall hanging ideas suit perfectly boho and farmhouse interiors. The macrame designs fit into their charming conception of aged, casual and welcoming décor.
This wall hanging idea includes also a piece of white linen fabric to give the wall décor piece length and minimize the macrame twists.
The white yarn used instead of the typical macrame thread gives the piece a more delicate and minimalist look.
4. Canvas Floral Art Wall Hanging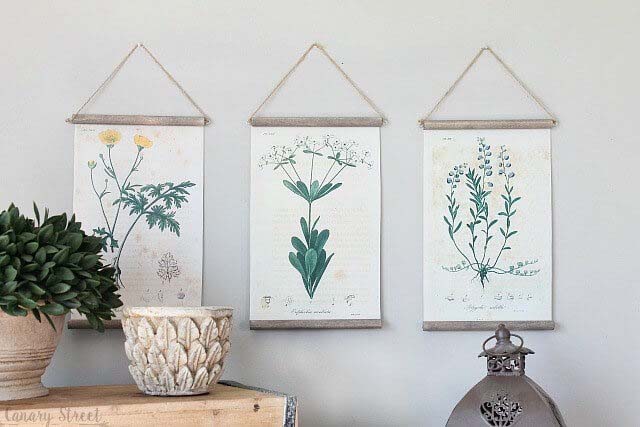 This set of botanical paintings looks like an antique wall décor. Actually, it is a brand-new handmade craft that will make the living room décor more appealing.
Wooden dowels cut at the size of the print-outs give the paper images the aged look. This idea for hanging paintings or print-outs on the wall is so genuine as it gives plain art pieces a gallery look.
5. Clam Seashell Mini Wall Hanging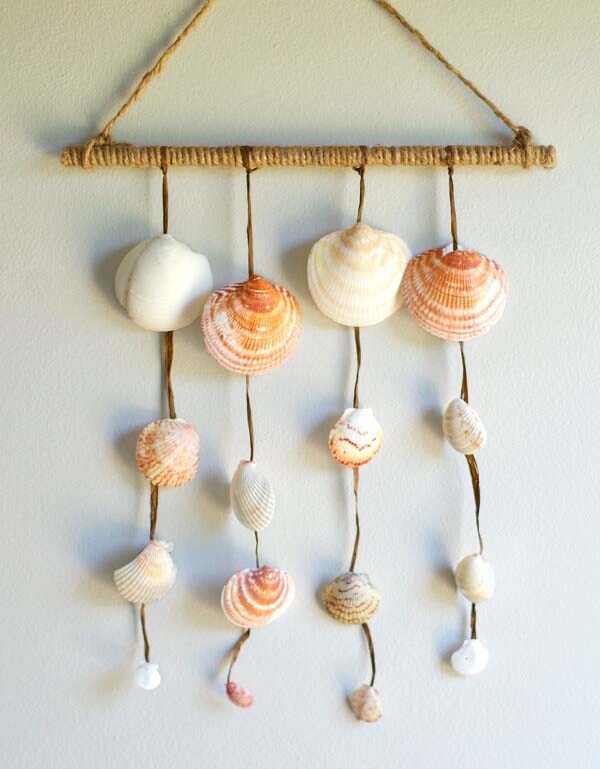 In love with the ocean? Then bring it inside your home with this delicate and charming wall hanging idea!
Inspired by the typical macrame wall hanging, this DIY project features leather treads and shells in the place of the macrame thread and wooden beads.
39 Creative DIY Wall Hanging Ideas To Decorate Your Home video:
The strings are tied to a wooden dowel covered with rope but if you are looking for a more nature-impacted look, replace the dowel rod with a piece of driftwood.
6. Colorful String Design Wall Hanging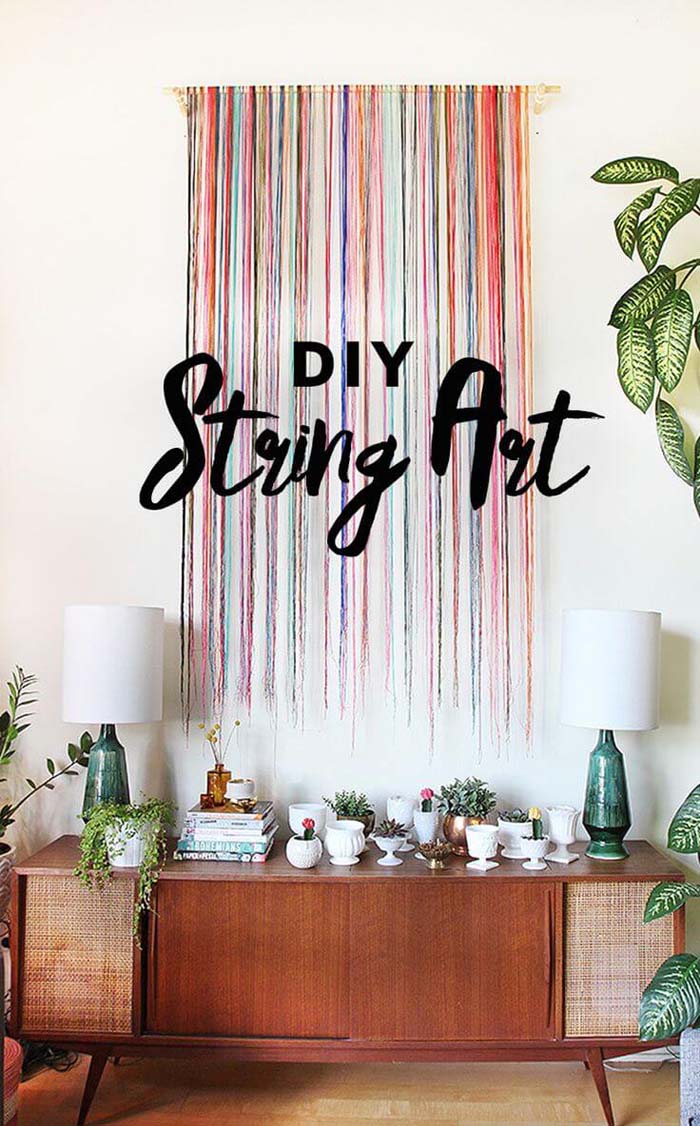 This wall hanging idea will add to your room the whimsy of the bursting colors and the warmth of the farmhouse being made from yarn strings.
Color choice is all yours but make sure that you choose a palette that matches the existing interior and enhances its accents. You can vary the lengths of the yarn threads or you can cut them straight at one even level.
via The Sweet Escape
7. Colorful Tassel Twig and String Wall Hanging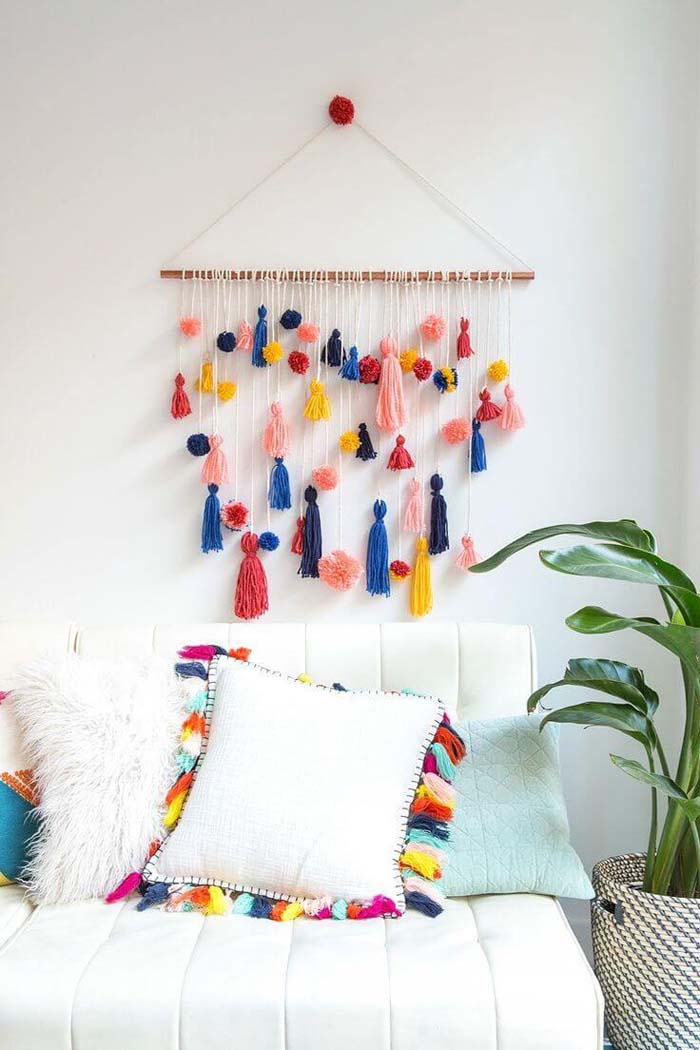 Yarn is a supply for another wall hanging idea. This time, it features tassels and pom-poms in different colors attached to white yarn lengths.
The alternating shapes and colors of the yarn easily turn this wall hanging into the focal point of the room. Pair the wall artwork with pillowcases with tassels in the same colors.
via Brit Co
8. Cube Box Plant Holder Wall Hangings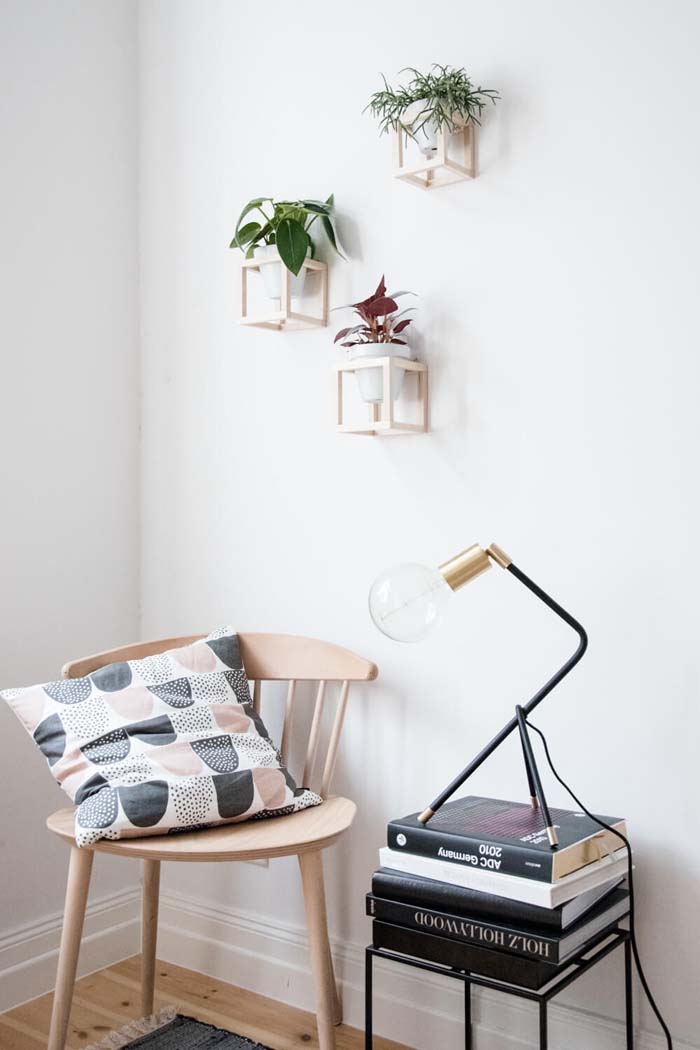 Your Scandi living room décor will become more nature-impacted and friendly with this set of wall pot holders.
All three are of the same size, shape and color to create an eye-pleasing set that matches the casual elegance of the Scandinavian style.
The holders feature a cube structure where the flower pot is securely inserted and held by the top slat rim. For a continuous look, use identical flower pots.
via Crafti Fair
9. Cutout Moon Phase Wall Hanging with Beads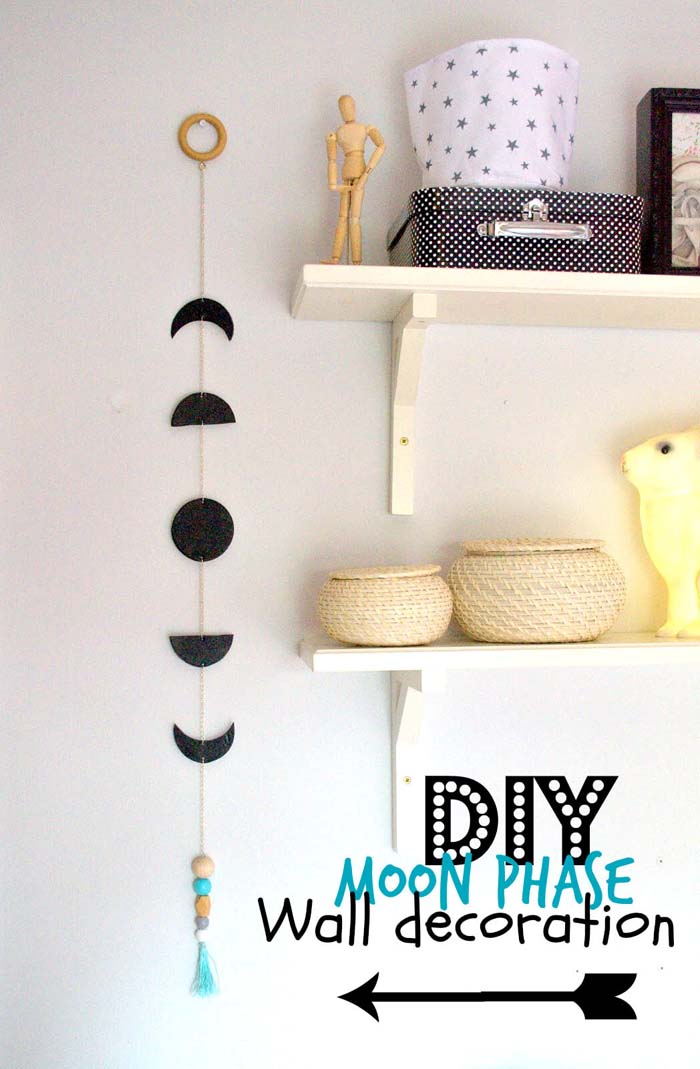 This enjoyable DIY wall hanging idea has been inspired by the moon and its shape throughout its cycle.
The color choice for this idea aims to match the Scandi interior of a girl's room which is calming and decluttered from heavy items and elements that would distract attention and affect the mood.
The moon phase wall decoration ends with a blue tassel preceded by a string of wooden beads for a delicate pop of color.
via Nostalgiecat
10. Delicate Wall Hanging with Greenery Leaves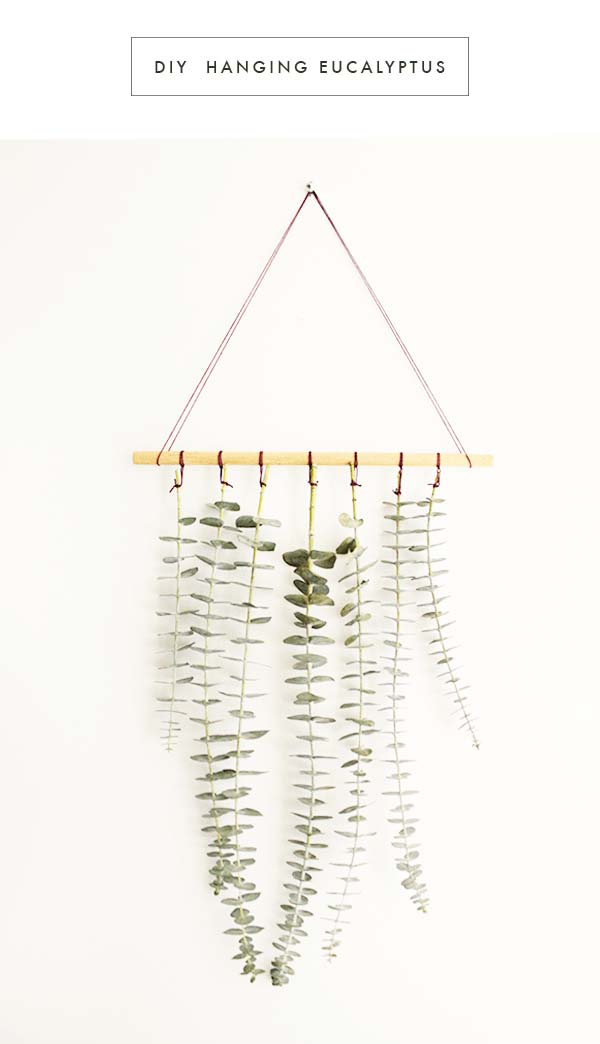 You have seen many wreaths with eucalyptus leaves but you have probably never seen a hanging wall art with eucalyptus! This is what this DIY tutorial features- beautiful faux eucalyptus twigs hanging from a wooden dowel.
Their ends form a triangle mimicking the typical macrame hanging. Replacing the rope strings with natural-looking twigs makes an amazing point of interest that will turn your living room wall or bedroom wall into a statement element.
11. Dip Dyed Wooden Stick Heart Hanging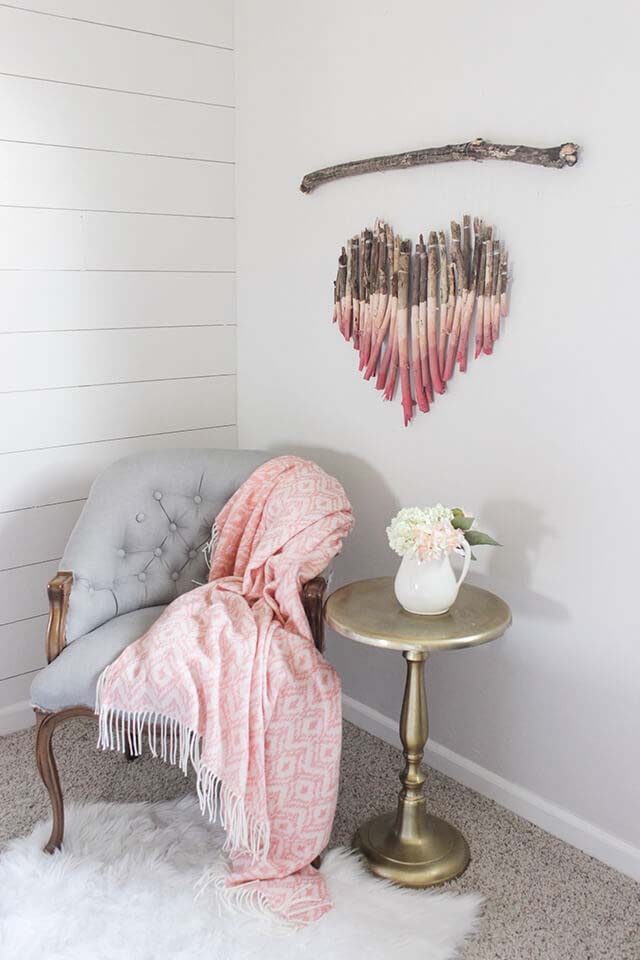 With the tutorial below you would be able to make wall hanging with tree branches in any shape! The key step to this craft is making a template from a large piece of cardboard that will help shape the branches.
The color choice in this heart-shaped wall hanging is picked up to pair with the accents in the room.
We bet that this wall hanging idea will give meaning to your next sunbathing at the beach or hiking in the forest.
via eHow
12. DIY Apple and String Wall Decor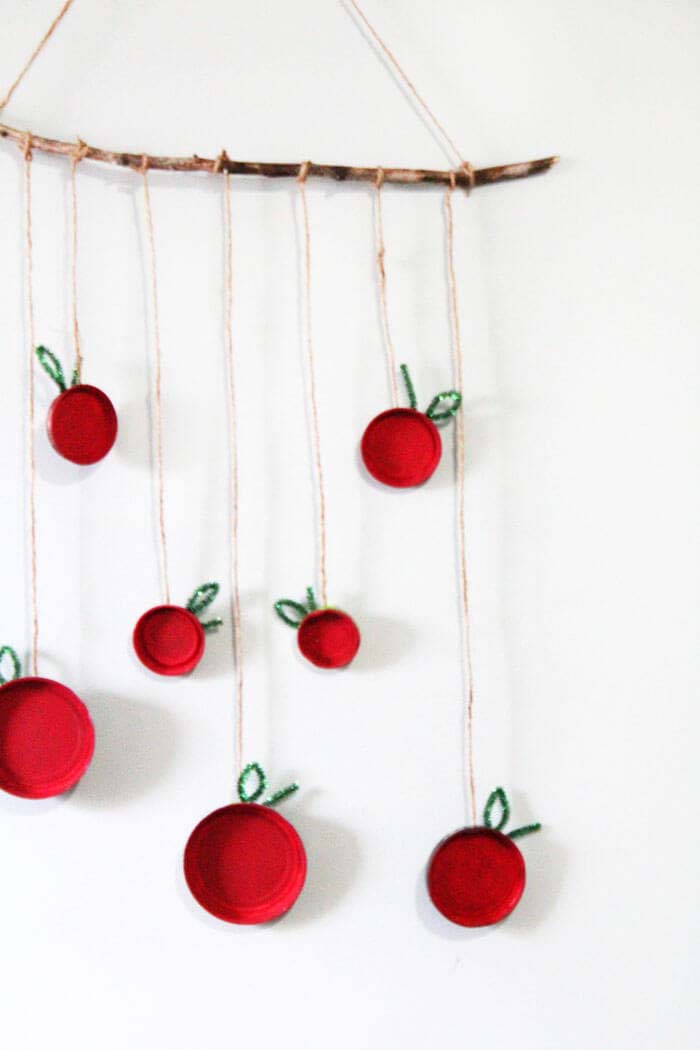 The elements of this cute wall hanging idea make it suitable for a kids' room or kitchen décor. The apples are made from jar lids painted with red acrylic paint. Leaves are formed from pipe cleaners.
Making and assembling this wall hanging decoration is easy and fun and safe to be made together with kids.
13. DIY Banner Wall Hanging Decor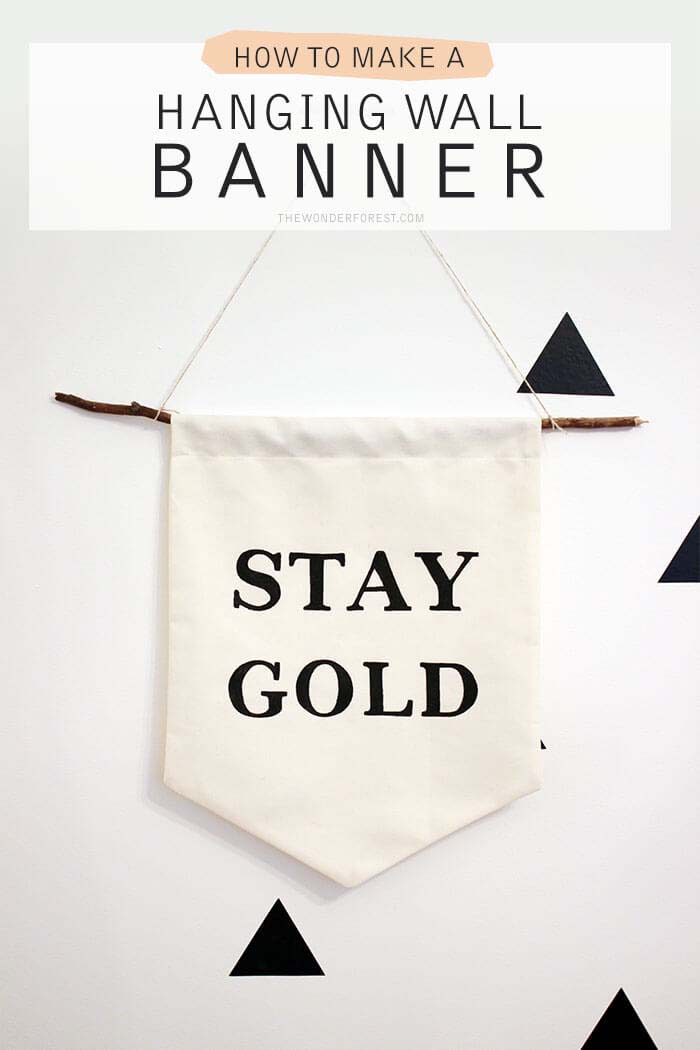 Are you looking for a décor sign that has a minimalist and modern look? This DIY hanging wall banner is great for adding a personal touch to a contemporary interior.
In addition to being easy to make, the sign is customizable! You can choose any inspiring thought that motivates you to write it on the blank piece of white fabric.
14. DIY Heart Cutout Wall Hanging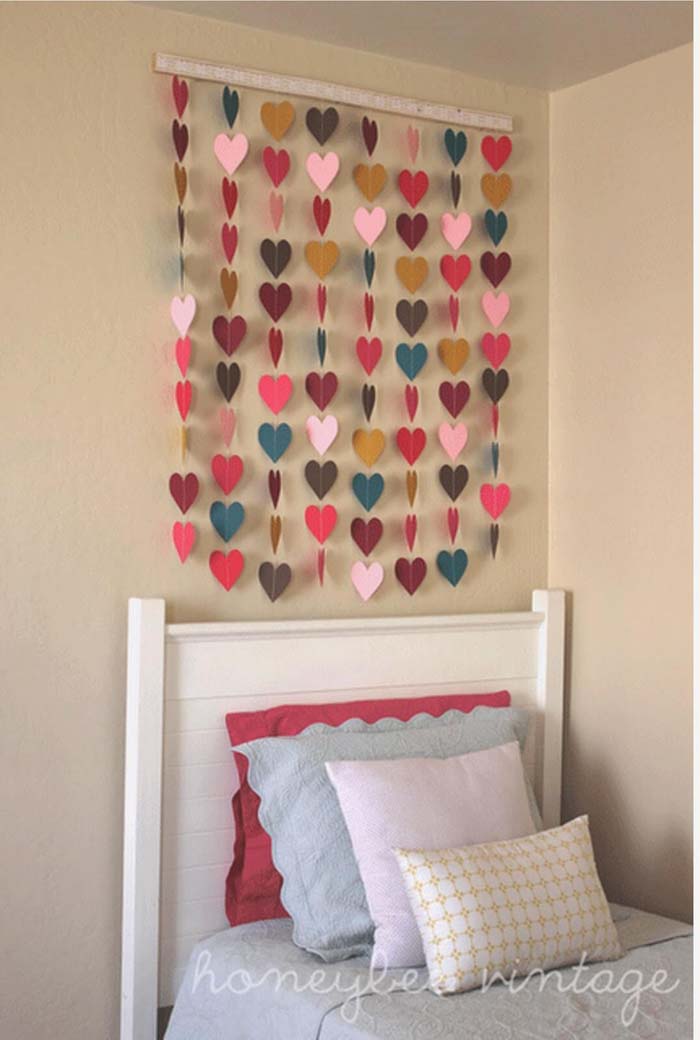 Your daughter will fall in love with the heart-shaped paper pieces and lovely colors of this wall hanging idea. The craft is easy and fun and you can include her in the making process to make the final result even more satisfactory.

The strings of hearts are tied to a straight wooden slat but they can be also tied around a branch or a dowel rod.
15. DIY Macrame Plant Holder Wall Hanging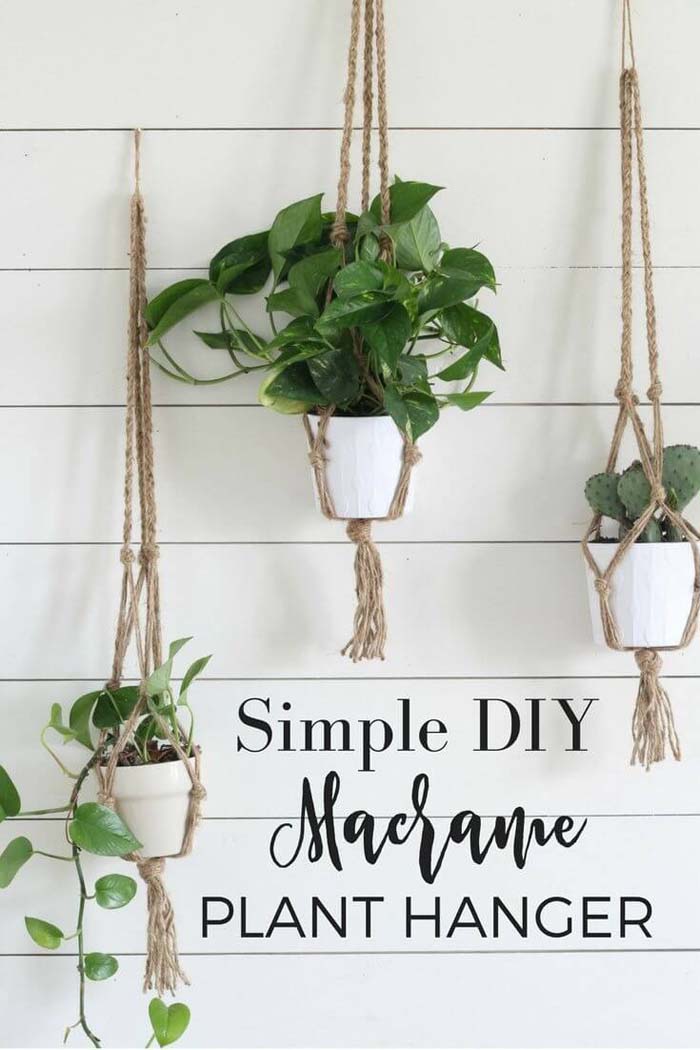 These plant hangers look gorgeous and are very easy to make thanks to the tutorial below.
Although they look like macrame hangers they are actually made only by tying knots at different points of the jute strings which give it this authentical macrame knitting look.
To let suspension at height be possible end the jute strings with braids.
16. DIY Tassel and Photo Wall Hanging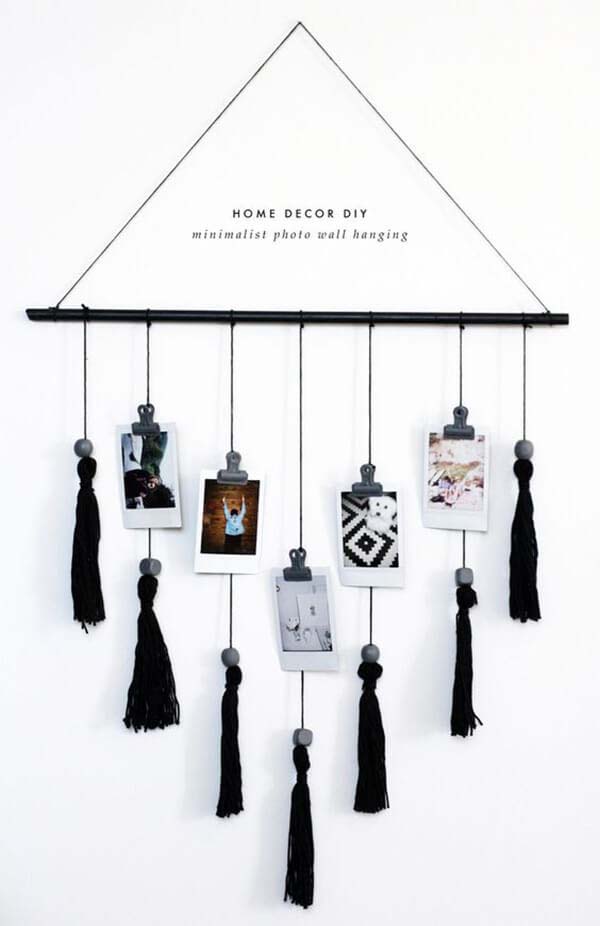 This wall hanging idea has a minimalist look achieved with the black color of the tassels.
What makes the wall décor piece even more intriguing is its function as a photo display.
While the majority of DIY photo displays ideas look more rustic, this one is a great solution to show your special memories in a more contemporary-designed home.
17. Draped Colorful String Wall Decor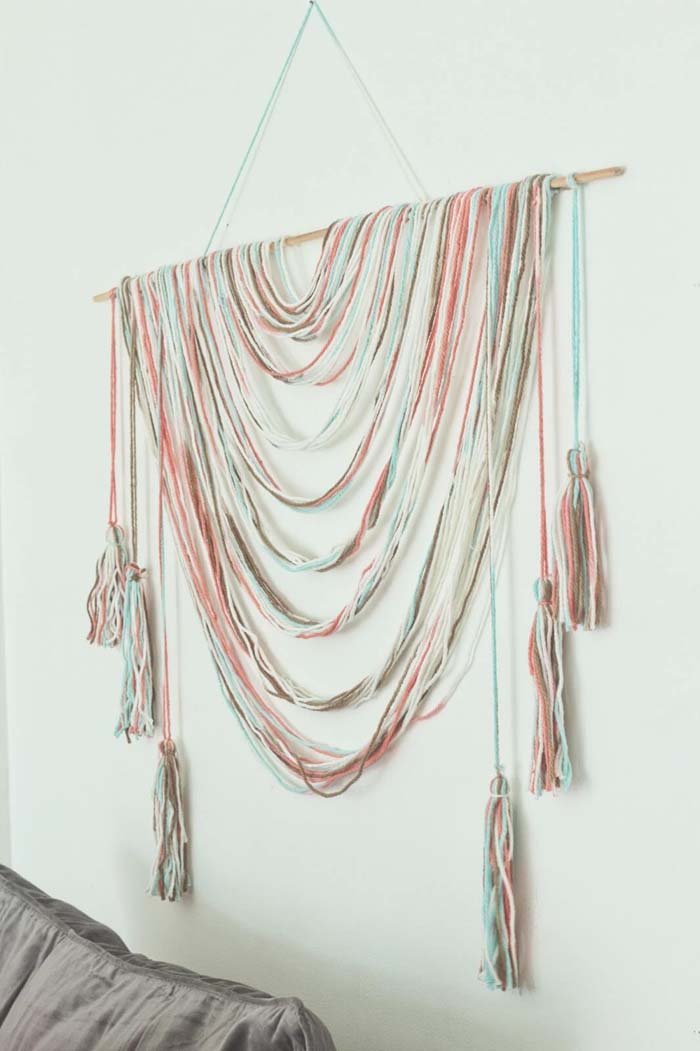 When you do your yarn wall hanger, you can experiment not only with the colors of the yarn but also with the alignment of the threads.
Vertically positioned strings of yarn mimic the typical macrame hanger and improve the visual height of the room.
Another way to tie the yarn is to drape it on a wooden dowel. There is no weaving, knitting or any other complicated patterns to do, simply glue the yarn to the dowel rod.
via Made By Carli
18. Mini Floral and Macrame Yarn Wall Hanging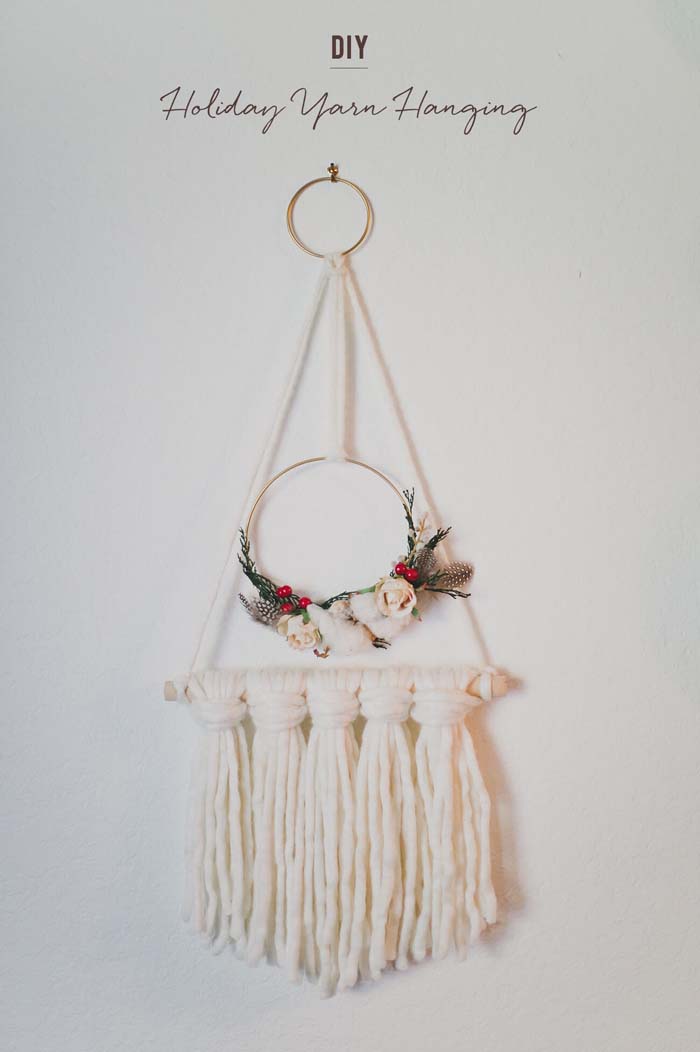 This idea is a new way to decorate your home for Christmas. It includes the typical festive color palette but instead of seeing it on snowflakes, Christmas trees and baubles, it is represented through a macrame wall décor piece with realistic faux flowers and feathers.
Macrame rings are used to create the layered pattern of the wall décor piece which makes sure that each part of this idea is well defined to impress.
19. Mint Green Paper Disc Wall Hanging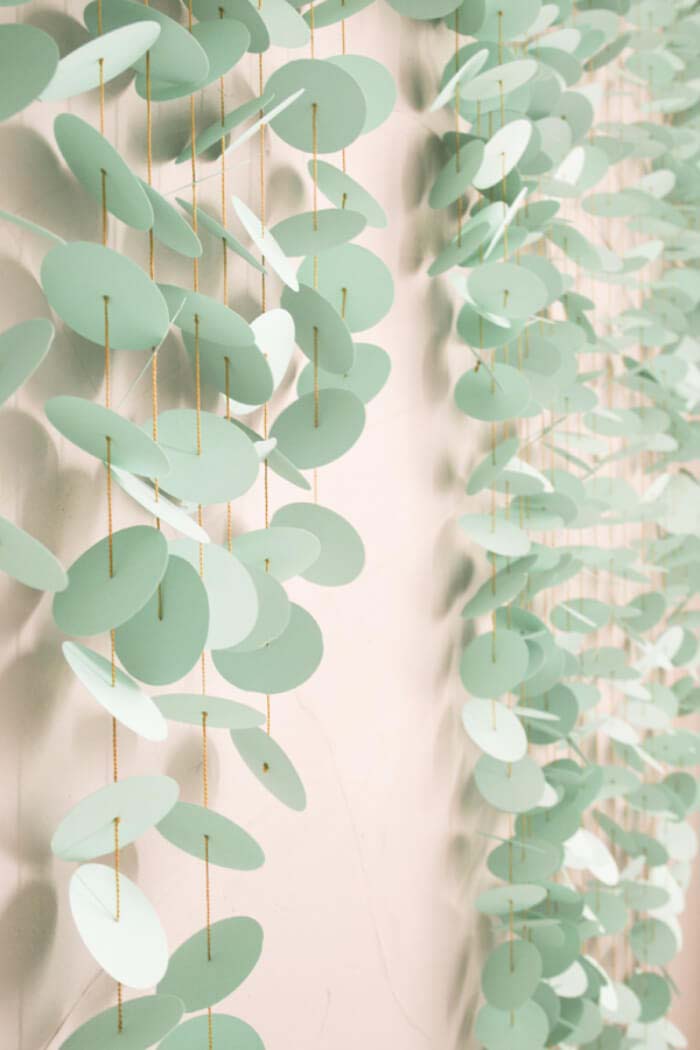 This is an eco-friendly wall artwork that will give character and charm to any blank wall.
The charming simplicity of the design makes it unpretentious and universal for any room application- from hotel reception to the wall above the bed in the bedroom.
For this craft idea, you need leftover cardstock, paint chips, catalog pages or any other paper laying in your craft supplies. Circles are made with a 2" circle puncher.
Once you have cut all circles (the number depends on the size of the wall décor piece), it is time to thread them on the embroidery floss with a needle. Secure each string with a double knot at the end.
via Ruffled Blog
20. Mirror and String Wall Decor Tassels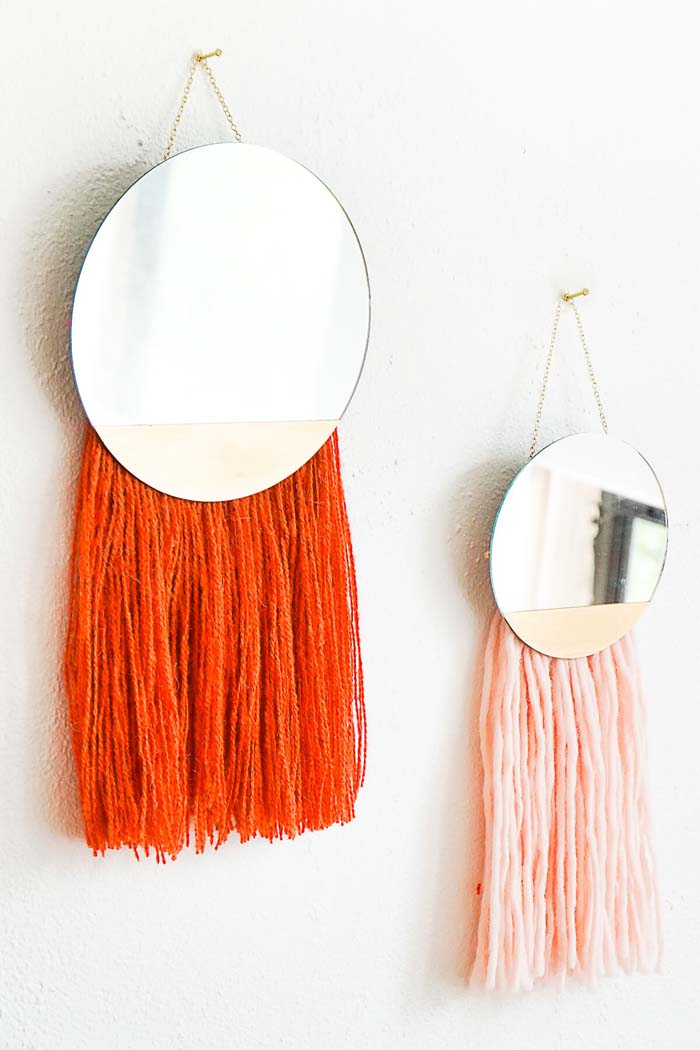 This mirror embellishment will give the reflecting object a boho look. You can use this décor idea to give an entryway or a bathroom a boho touch.
The colors of the yarn tassels are also important for the décor impact.
The neutral and pastel colors are suitable for interiors where bolder and darker colors are present. The brighter and bolder the color of the yarn is, the more distinguishable the wall art will be.
via Sugar and Cloth
21. Modern Art Copy Fabric Wall Hanging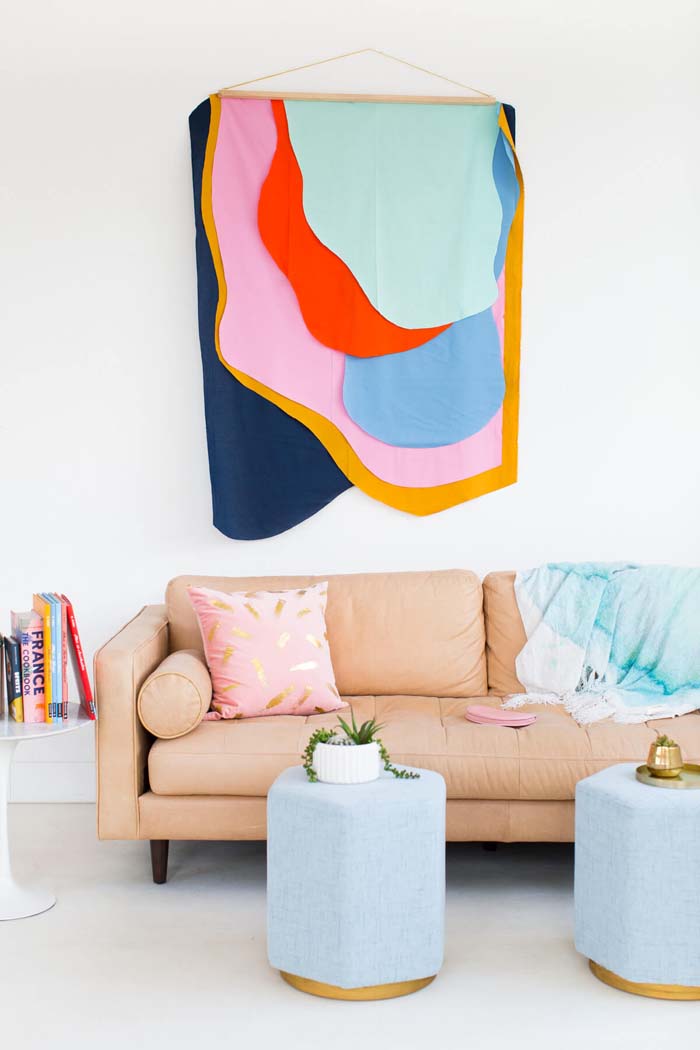 If you want to show off your art skills, here is a great DIY wall art idea to reveal your skills and imagination!
It is made from pieces of fabric, a wooden dowel to attach them on and a tacker to fix the fabric to the dowel rod.
Choose colors that match each other and at the same time create a point of interest to the overall décor.
via Sugar and Cloth
22. Modern Twig and String Necklace Like Wall Decor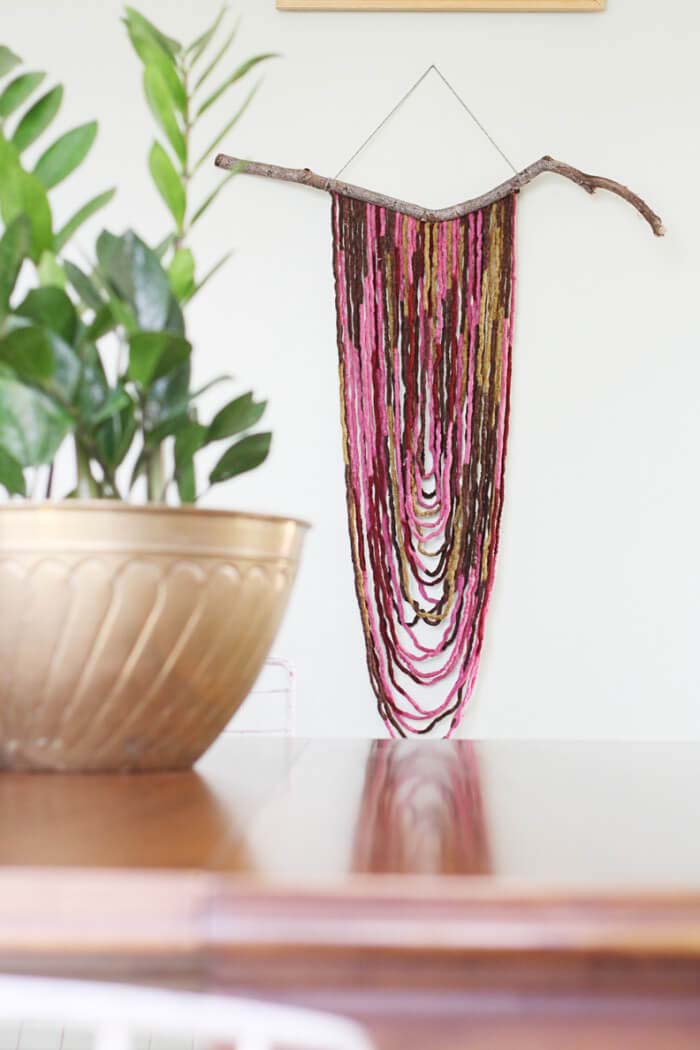 Are you looking for a new wall art idea for your seasonal décor? This wall décor piece can be customized to match all four season themes with the colors of the yarn draped down the branch.
Hang the decoration on a blank wall and watch it brighten up the atmosphere.
via Hello Lidy
23. Modern Valentine Message Heart Wall Decor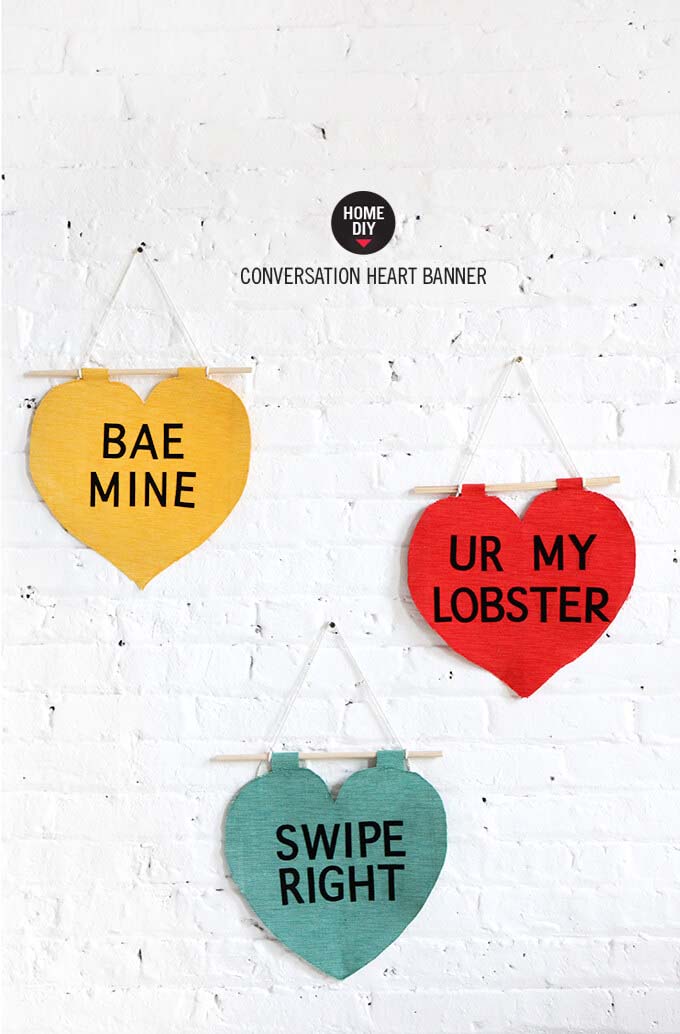 DIY wall hangings are perfect for the temporary decoration of a room. The idea in the link below features a cute Valentine's Day decoration consisting of three heart hangers.
Every banner describes a love message to make the holiday more festive. You can even write down on the fabric your special nicknames or jokes to make the decoration more personalized and special.
via I Spy DIY
24. Paper Art Leaf Wall Hangings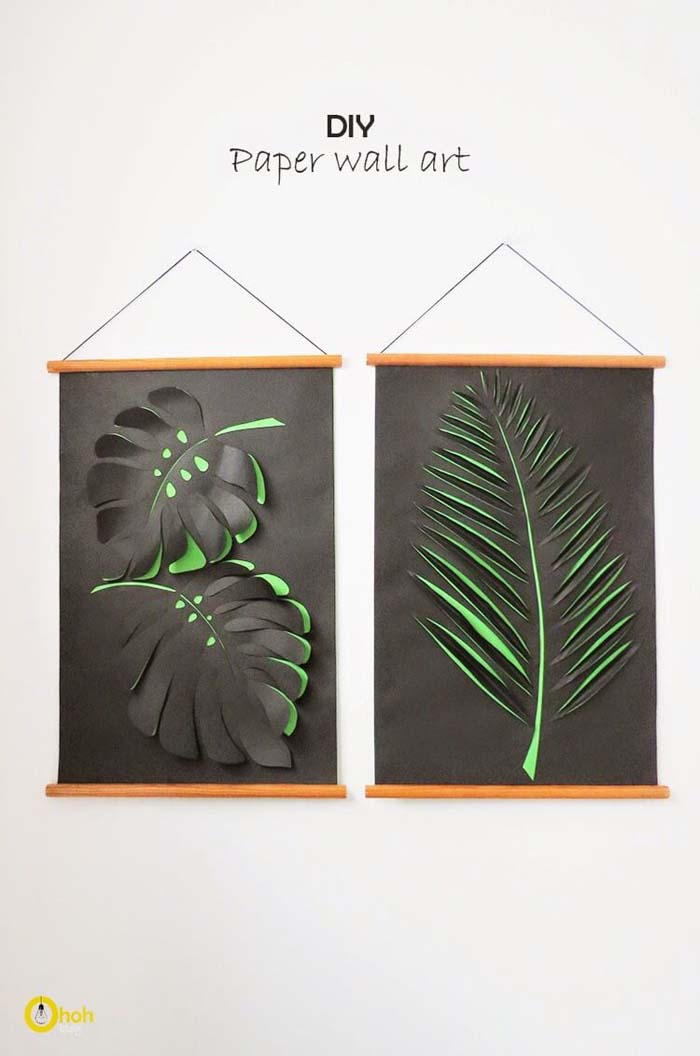 Leave wall art is on trend for a vacation home or summer-themed interior. This amazing wall décor piece idea gives the tropical leaves volume thanks to backing the traced leaf image with a piece of paper in another color.
Framing the top and bottom of the paper with wooden dowels gives the art pieces a finished look and a means to hang them on a wall.
via Oh Oh Deco
25. Puff Ball and Tassel Fuzzy Wall Hanging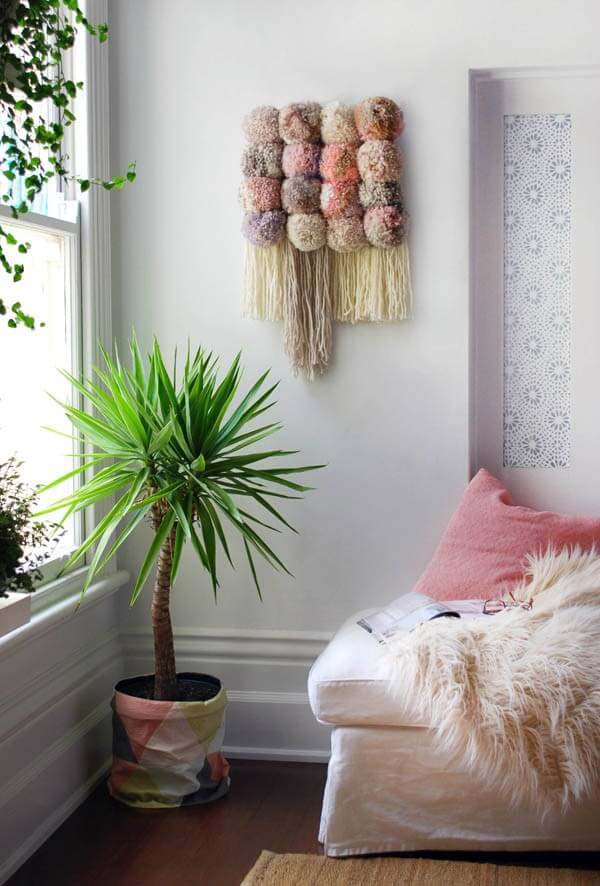 This is an original way to make a wall décor piece with pompoms. We have seen pompoms from yarn attached to a mat to make a soft rug but we have never imagined how well pompoms will look on a wall.
The design of the hanging piece makes sure that a bare or boring wall is given a dimensional texture in delicate colors.
You can customize it in size and colors to match the décor of the room you are about to decorate with the pompom wall art.
via We Are Scout
26. Random Ribbon Wall Hanging with Tassels and Ties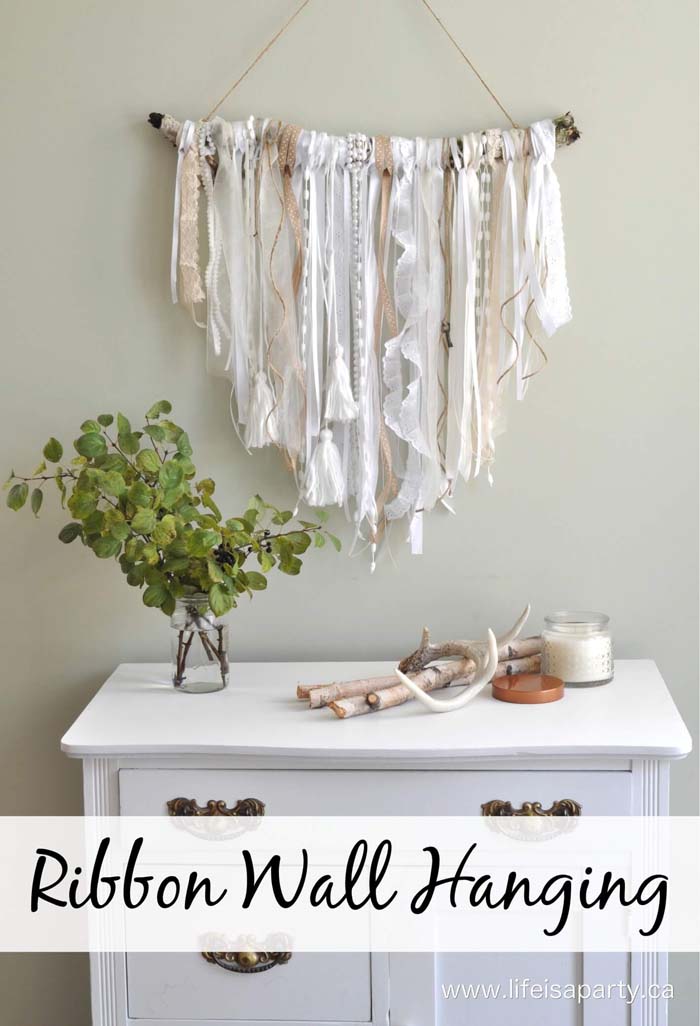 If you like the macrame wall decoration but are looking for a more lux look, replace the macrame yarn with ribbons.
You can choose from a variety of textures and embellishments which will give the wall décor the elegant look. Strings of pearls, lace and silk embroidery will surely enrich the texture variety and will make the final look unique.
via Life Is a Party
27. Roses and String DIY Wall Hanging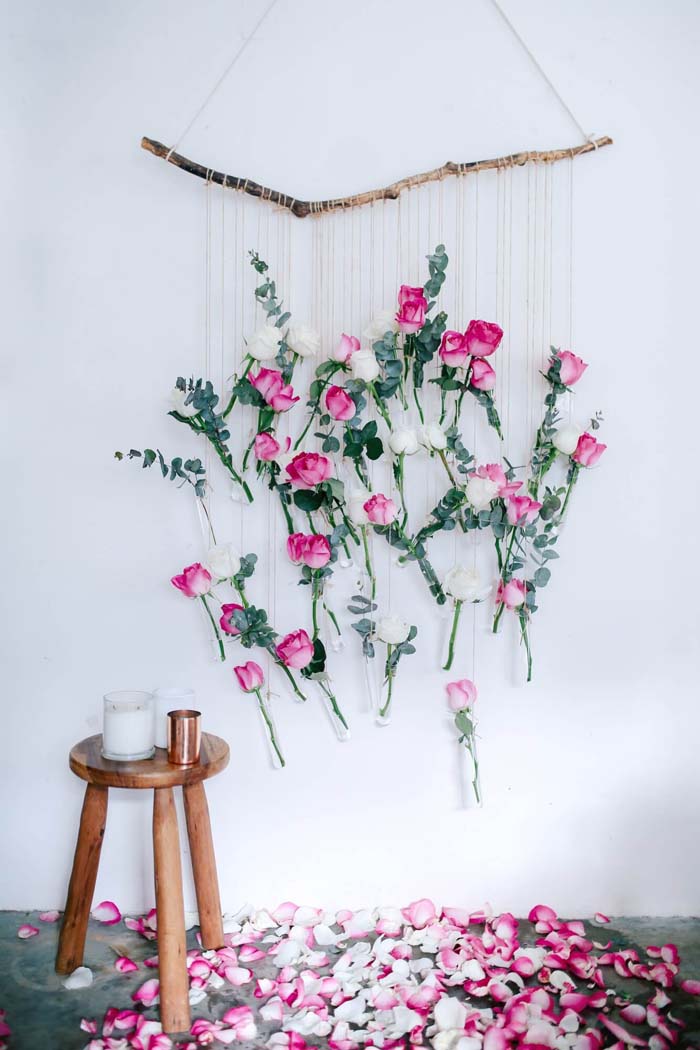 This is another interesting wall art idea that spreads delicacy and romance in the room. Real roses are used for this design to spread their amazing aroma in the room and create a temporary living wall in the interior.
Next time you receive more bouquets on Mother's Day or on your birthday, you can keep them fresh and beautiful for a longer time using this creative wall art idea.
via Collective Gen
28. Round Floral Wall Hanging with Greenery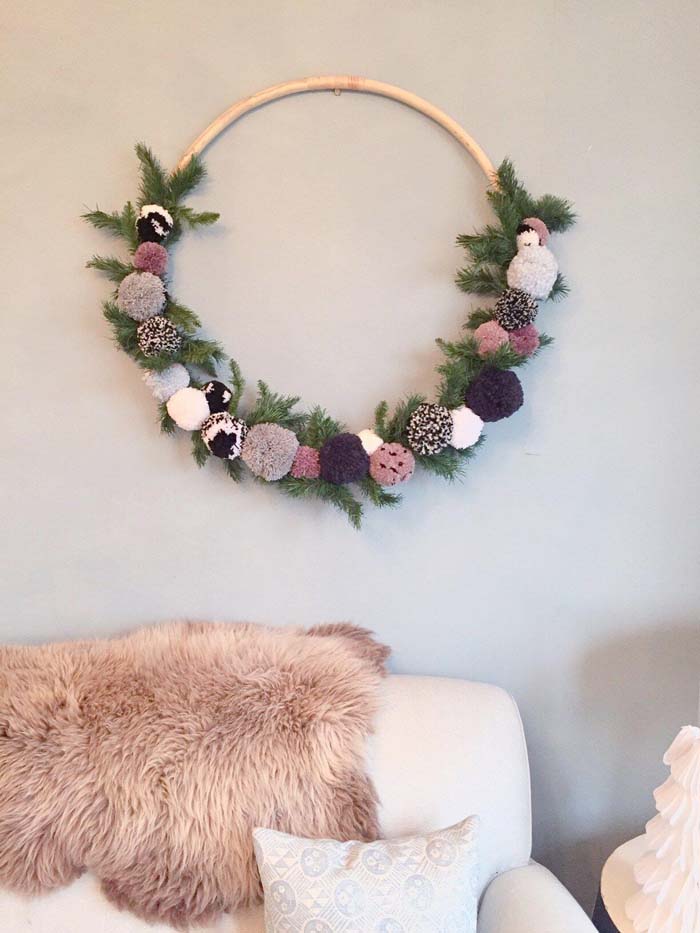 This is another festive design of a wall décor piece. The inclusion of yarn pompoms and evergreen twigs quickly set the Christmas mood.
When you make your own pompom wreath, make sure to choose yarn colors that pair well with the existing décor.
29. Round Floral Wreath and Tassel Wall Decor

This is a modern version of the macrame wall decoration. The inclusion of a metal ring in the place of the typical wooden rings and faux flowers as embellishment gives the authentic yarn decoration a contemporary look.
This wall decoration can be part of a wedding decoration or a romantic addition to summer-themed bedroom decor.
via Persia Lou
30. Seashell and Glass Bottle Hanging Decor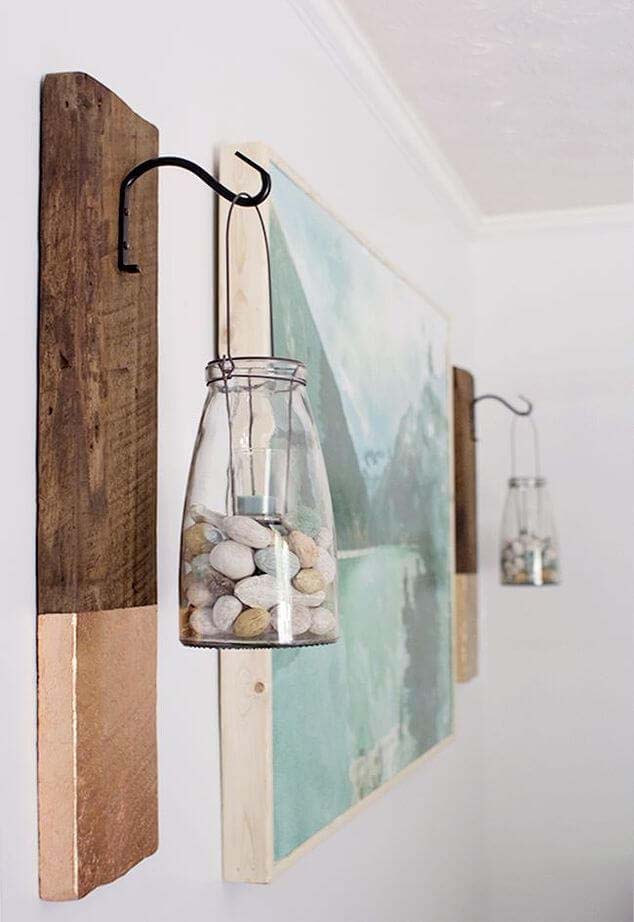 Not living on the coast doesn't mean that you shouldn't add it to your interior. On the contrary, the coastal-inspired decoration will bring it closer to you and will add to the ambiance that typical calmness and charming casualty.
This DIY wall hanging gathers pieces from the ocean in two glass jars positioned at the sides of a beautiful landscape painting. Once you need a change in the interior, you can easily replace the jars for glass vases with beautiful spring flowers. Isn't that great
31. Simple and Mini Rock Wall Hanging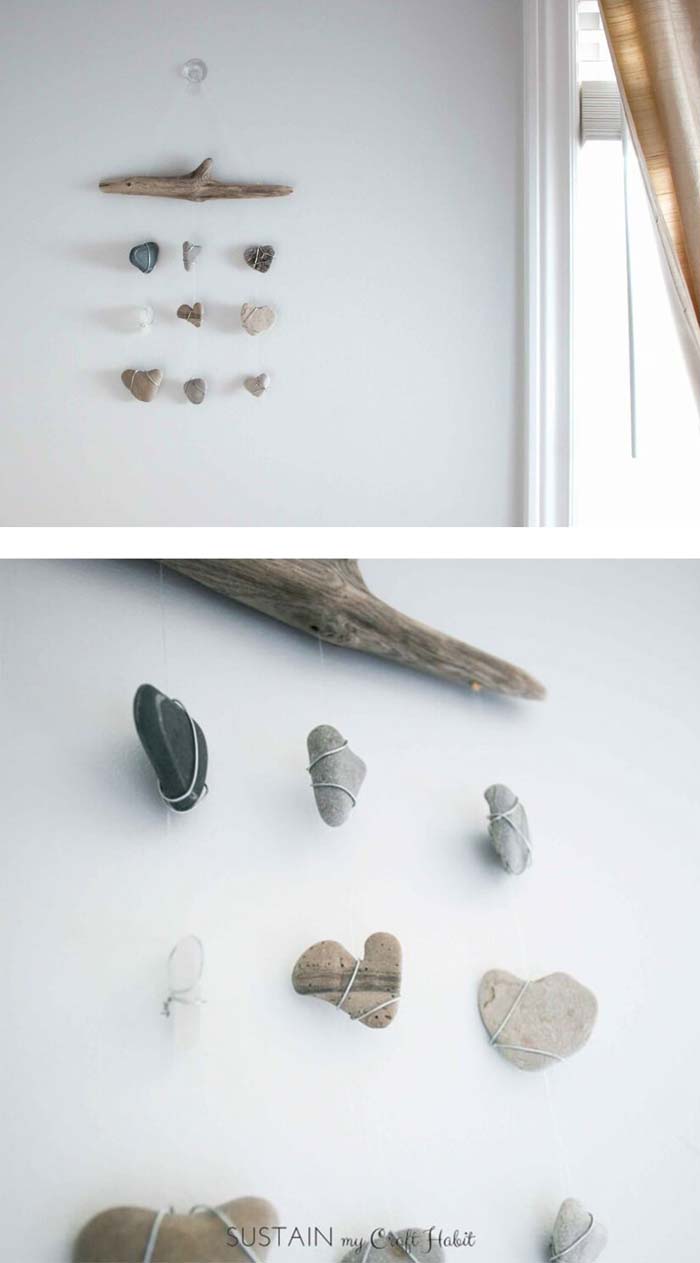 I don't know about you but one of the ways to keep the memories from places I have visited is to collect stones with interesting shapes.
I used to write down the name of the place I took the stones from but now seeing this wall décor idea, I will surely include the most special ones in a wall hanging piece.
32. Simple Hanging Shelves with Triangle Shapes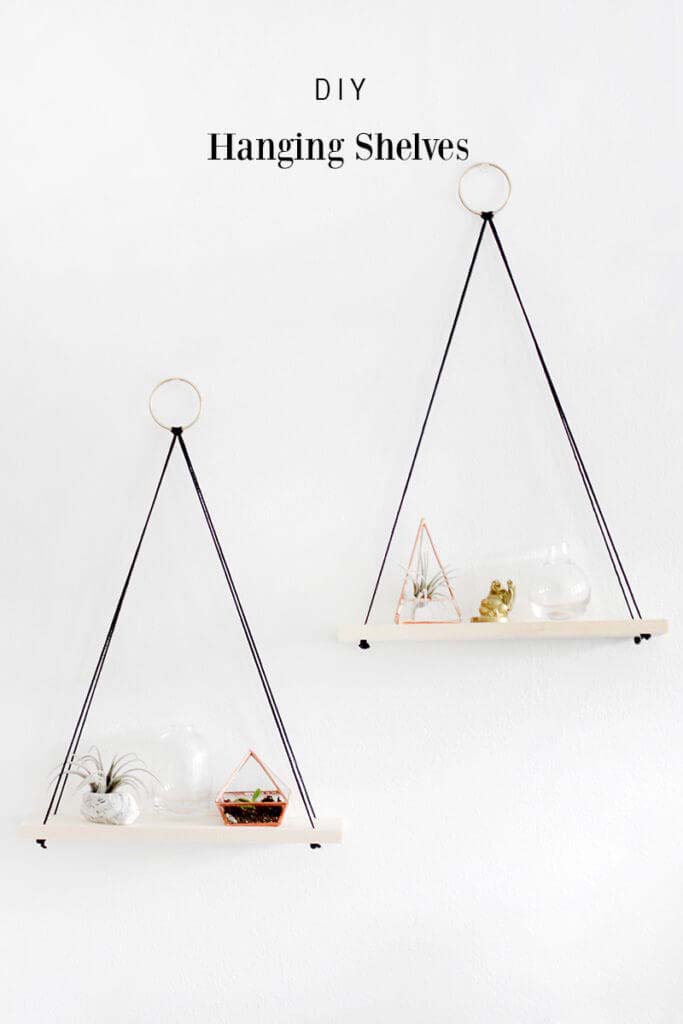 Shelves are another way to decorate the bare walls of your rooms. Once you attach them to the walls, you can change the décor pieces on them to match the season and the holiday.
This easy DIY hanging shelves idea is suitable for lightweight items. You may need a few tries to make the knots perfectly even but it is worth doing so to make sure that the wooden boards are stable to hold the décor pieces.
33. Thick Rope Wall Hanging with Brass Elements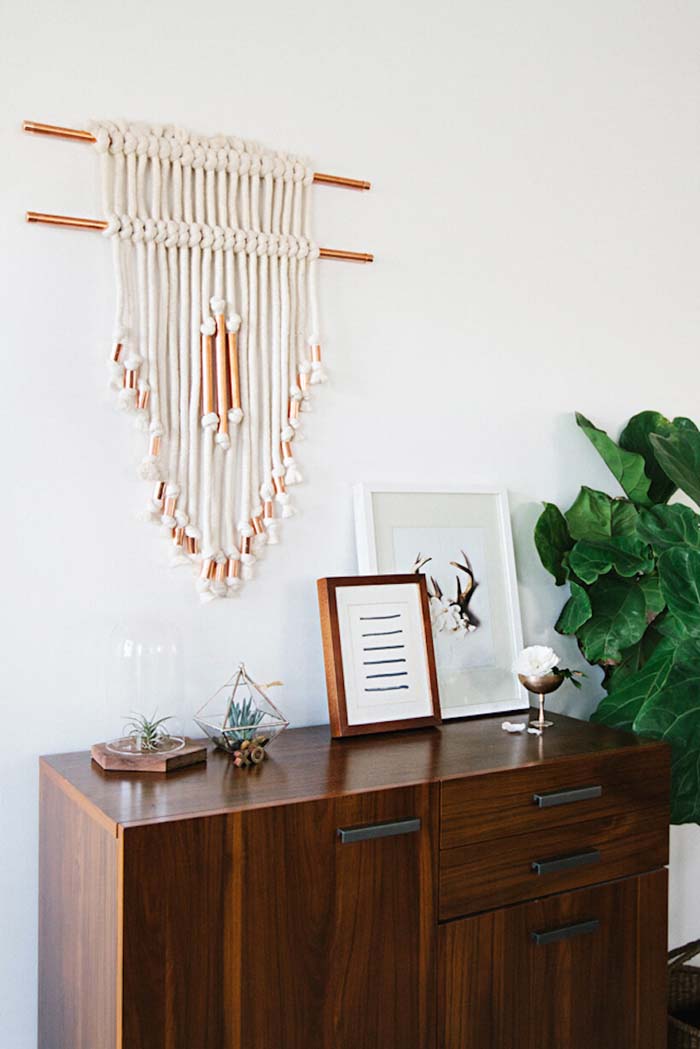 The copper glam of this macrame design and the cotton piping replacing the yarn are the perfect way to balance authentic with modern.
Such modern macrame hangers can be quite expensive so if you want to have one but there is no budget left for another home décor improvement, you should give it a try yourself.
Follow the picture tutorial below and you will end up with your own modern macrame piece.
via A Beautiful Mess
34. Tribal Feather and Twig Wall Hanging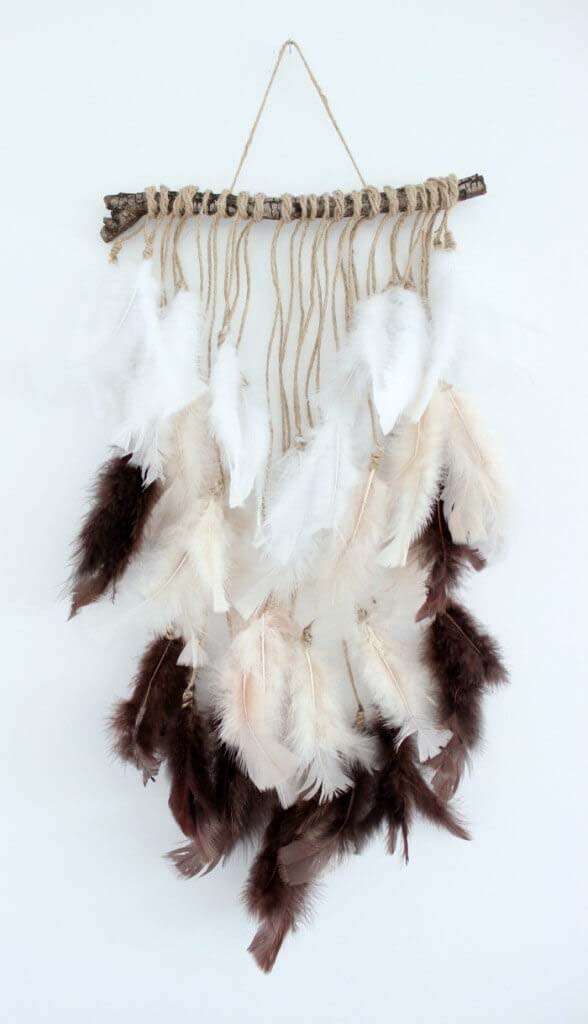 If you want to bring a touch of art to a plain bedroom wall, you can make your own wall decor with feathers. It reminds the dream catcher design but here there aren't any wooden rings or string weaving included.
Making this attractive feather hanging is easy. To create the layers of feathers, tie each feather to the twine string with a knot.
35. Twig and Greenery Triangle Wall Decor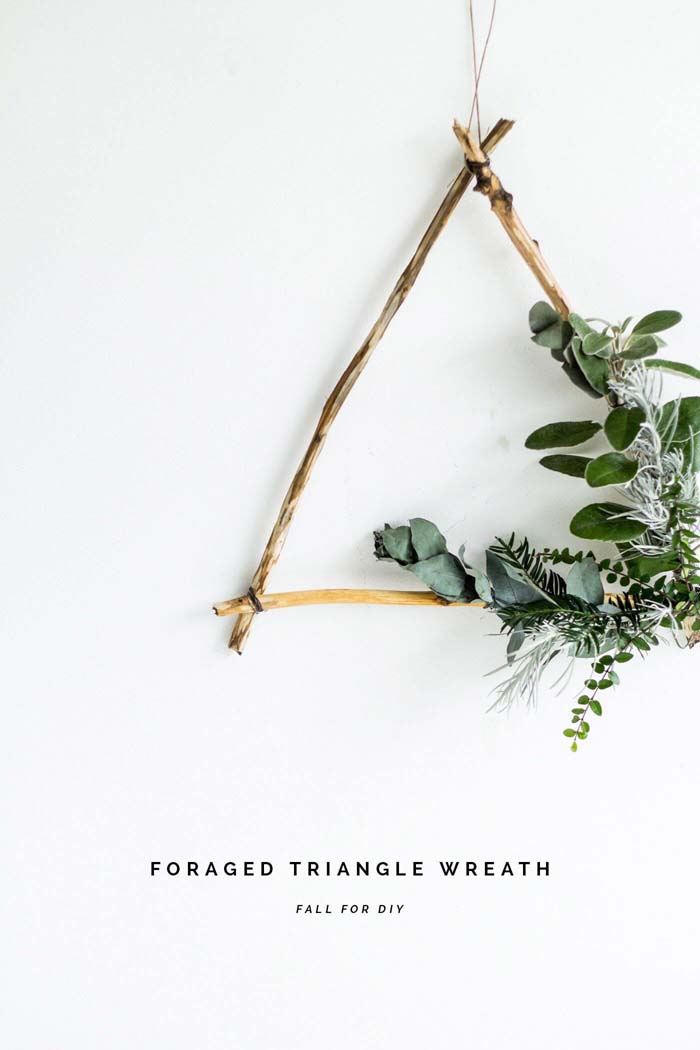 Who says that wreaths should be round? If you want to escape the standard and make a wreath that is easy to be seen, try this whimsical triangle wreath idea.
Once you are happy with the triangle twig structure, it is time to decide on the nature-inspired embellishment. Eucalyptus and other leafy twigs are perfect for spring décor.
Adding colorful blooms to the green backdrop will easily transform the wreath into your favorite summer decoration.
via Fall For DIY
36. Vintage Macrame Off-White DIY Wall Hanging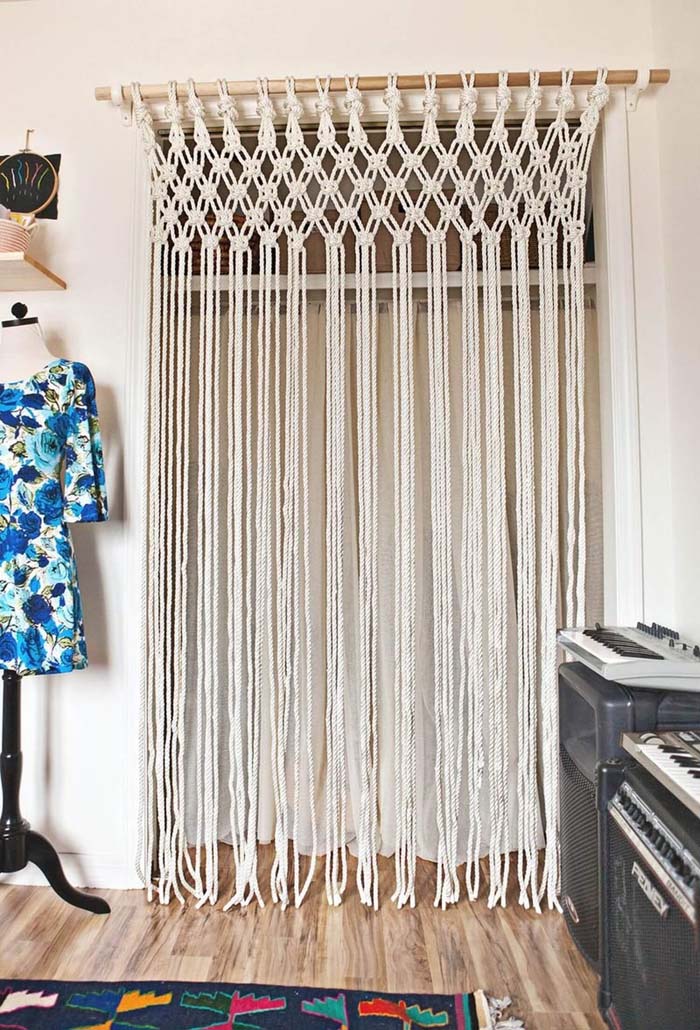 This wall hanging idea has a triple function- as a decoration, as a curtain and as a means to improve privacy.
You would probably be in doubt whether to try it because of the macrame weaving at the beginning of the hanger. No need to think about that because the tutorial below explains the process with photos that will help you do this step easily.
via A Beautiful Mess