The unique designs of the rustic living rooms combine natural stone, wood and greenery- a unique combination of natural elements that easily make it the warmest and coziest part of the home.
If you want to make this space even more unique, do it with suitable wall decoration. The rustic decoration tends to be of earthy colors, most of the time made of wood and wrought iron.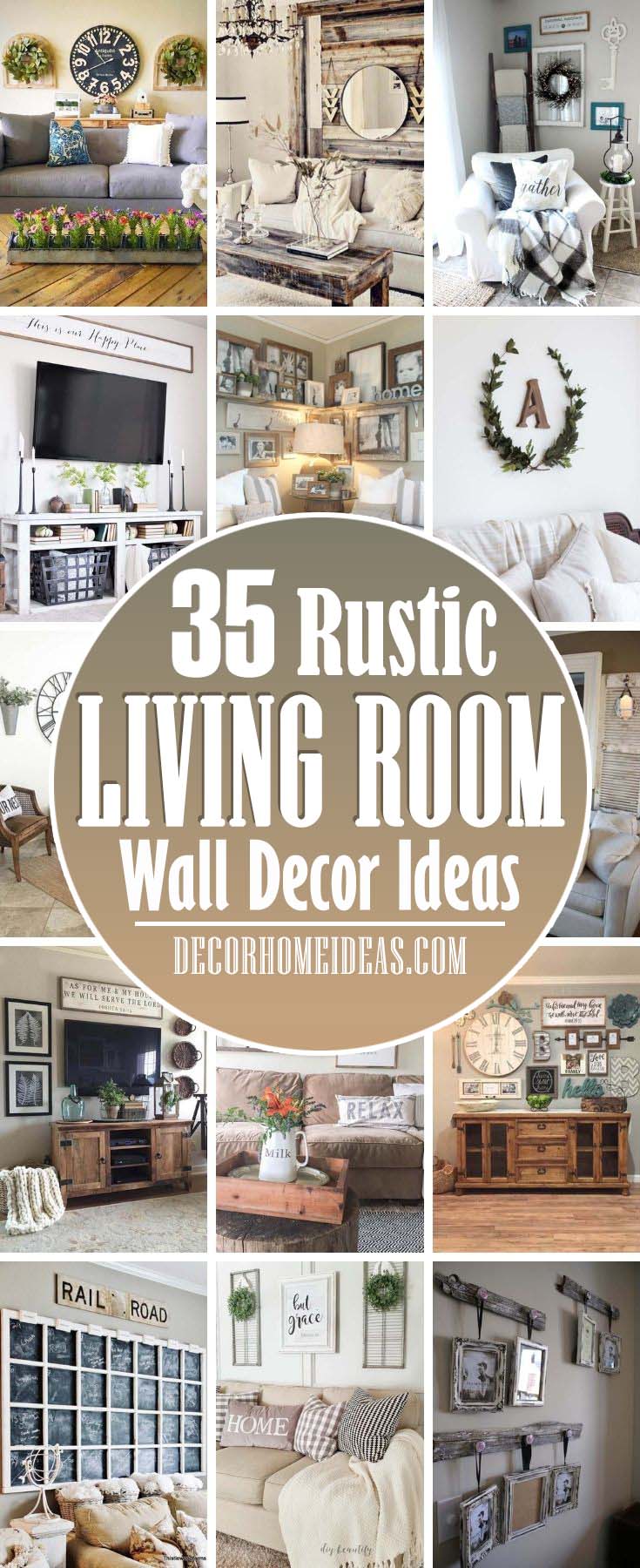 Whether made out of scrapped pieces or by the repurposing of old things, the beauty, charm and warmth of the rustic decoration are mainly in the handmade fabrication.
If you want to find a customized and unique piece of decoration for your rustic living room wall, look no further. The best ideas are here for you.
1. Keep Your Family Organized with a Rustic Chalkboard Calendar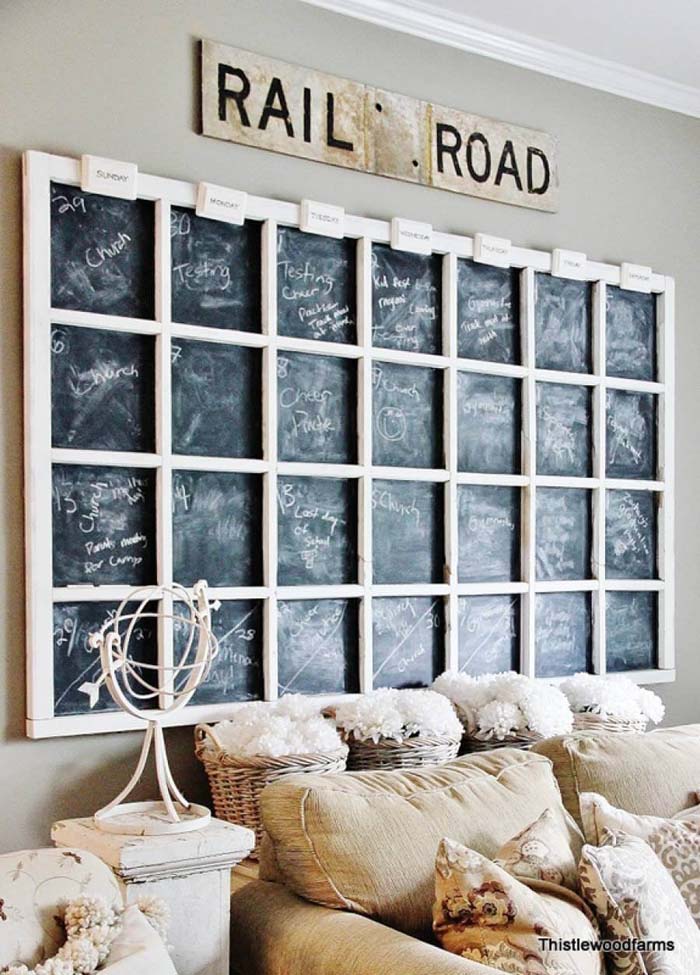 Keep your family organized with a cute and charming rustic calendar. The large frame is made out of an old window frame that has been customized to fit all days from the week, as well as the dates from a month.
The chalkboard is painted plywood board fixed at the back of the frame.
2. Create a Rustic Wall Arrangement with Framed Art and Signs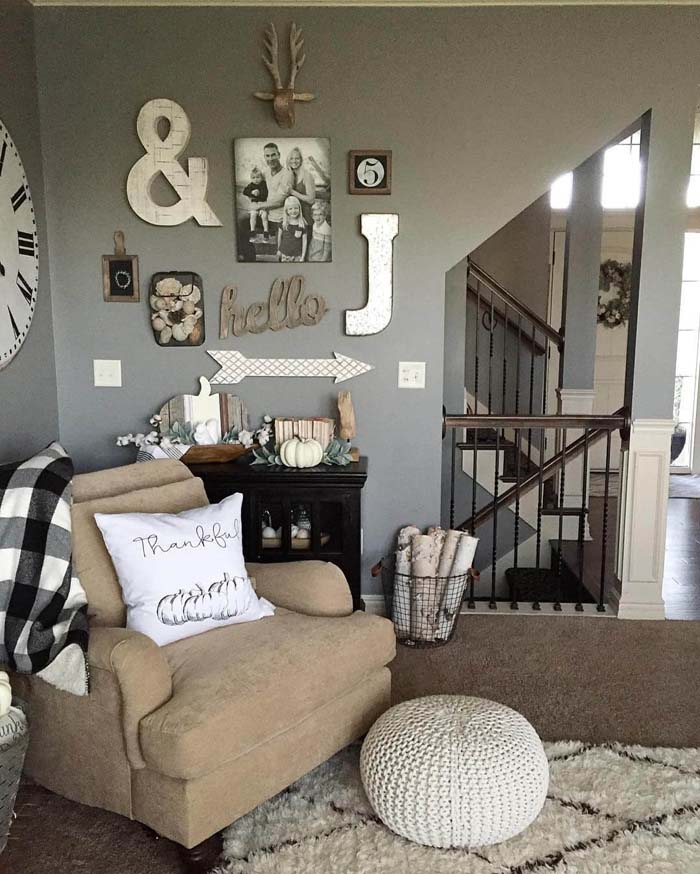 This wall arrangement reveals some of the most common rustic decor techniques.
Large signs in the shape of a letter, a number, a word, a framed art and a photograph create a wall decor with a unique individual touch.
3. Large Wall Décor: Styled Initials, Frames, Signs & Arrows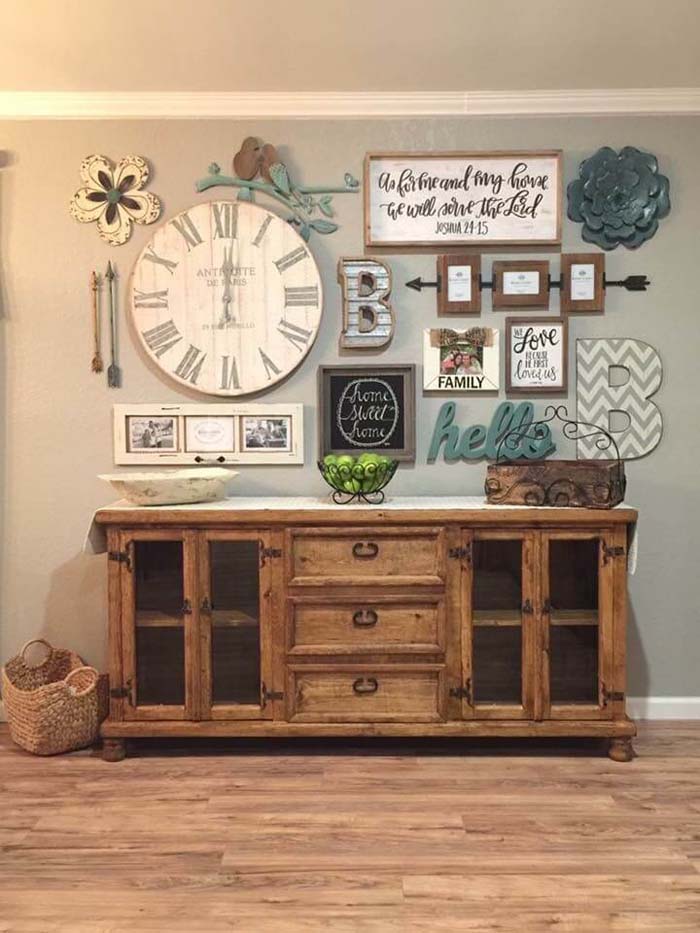 The wall decor here includes again initials, frames, word signs and arrows. What makes it different is the size of each element.
All of them are large but they succeed in popping out independently without losing their contribution to the entire arrangement.
4. Create a Cozy Memory Wall with Rustic Frames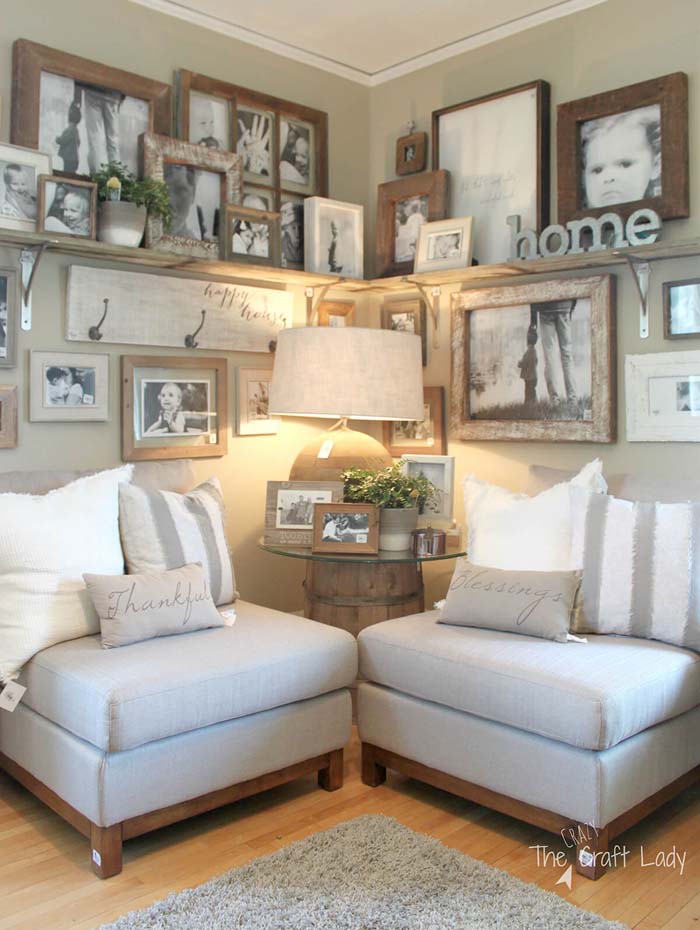 Turn a space above the seating area into a memory wall. Place different in size frames to create a layered look.
The rustic impact is felt through the predominance of wood material and the usage of colors that match the interior.
5. Inviting Wall Décor with Painted Plaque and Candle Holders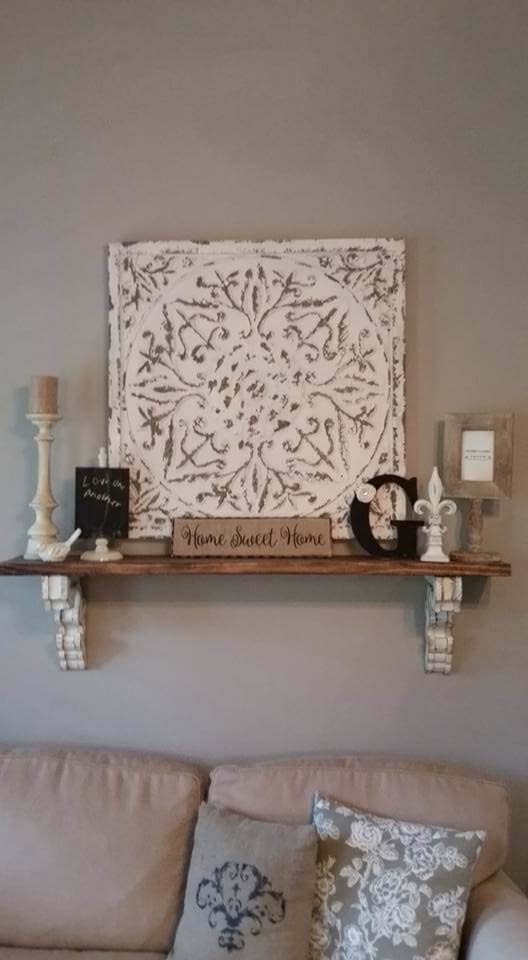 Use the rustic style for that special decoration on the wall above the sofa. Place a painted plaque to serve as a center point of the arrangement and also as a backdrop of a meaningful sign.
Frame it with candle holders from wood and add other accents like initials. If you want to add greater rustic impact, support the shelf with corbels.
6. Add Rustic Charm with Hanging Old Shutters and Burlap Banner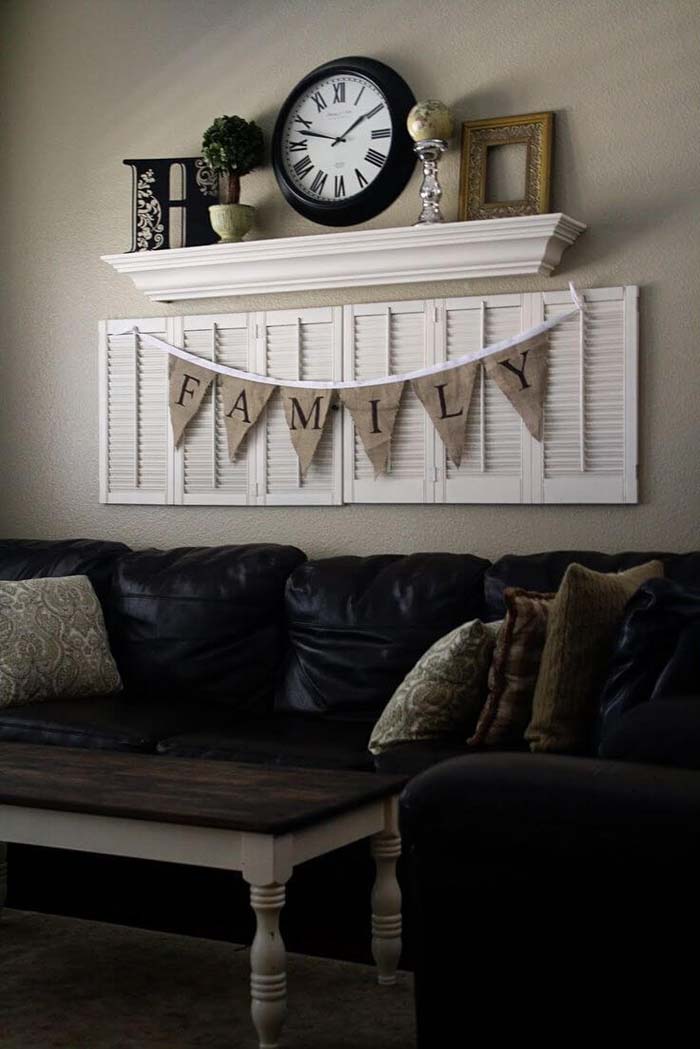 Hanging old shutters will make a drastic change to the living room interior making it more appealing and welcoming.
If you want to add extra interest to that point of your decoration, add a banner with a word of your choice. To keep the rustic charm of the setting, make it from burlap.
7. Create a Custom Wall Gallery with Reclaimed Wood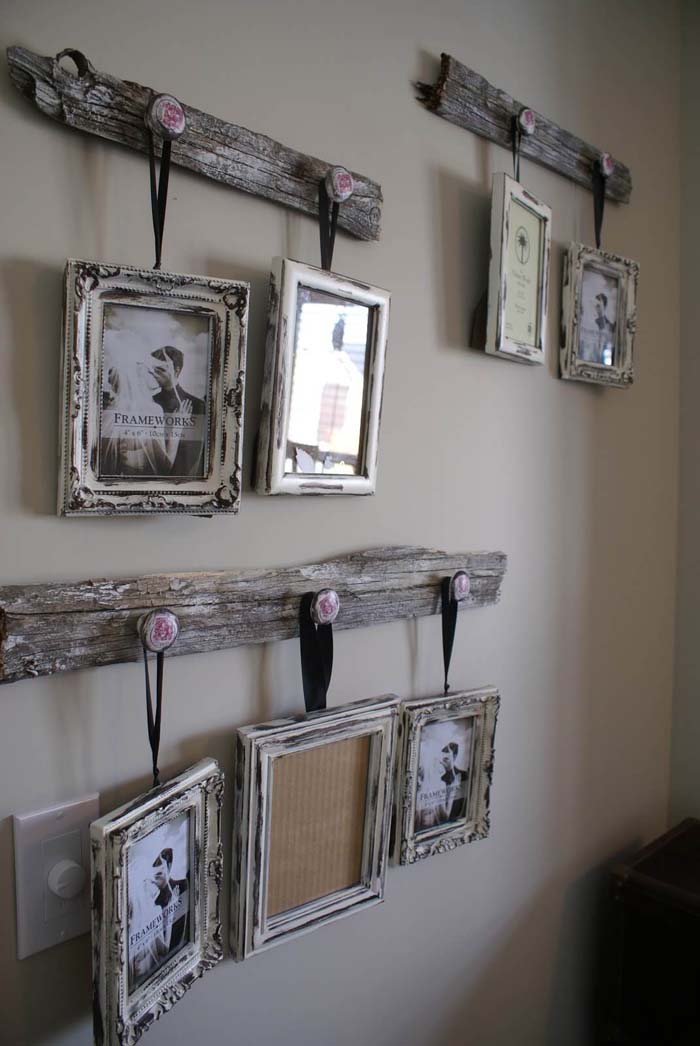 Are you looking for a more interesting and nature-affected way to hang your photos? Do it with reclaimed wood.
A few long pieces will be just enough to create a wall gallery in the living room.
8. Create an Inviting Farmhouse Look For Your Living Room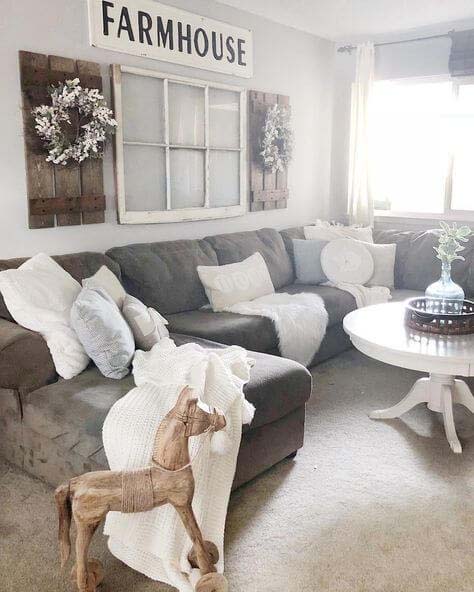 Another way to make your living room cozier and welcoming is to recreate a farmhouse picture indoors.
All you need is an old window and two shutters. Bring nature in the setting with a pair of wreaths and mark it with a large farmhouse sign.
9. Aged Distressed Sign with a Sentimental Statement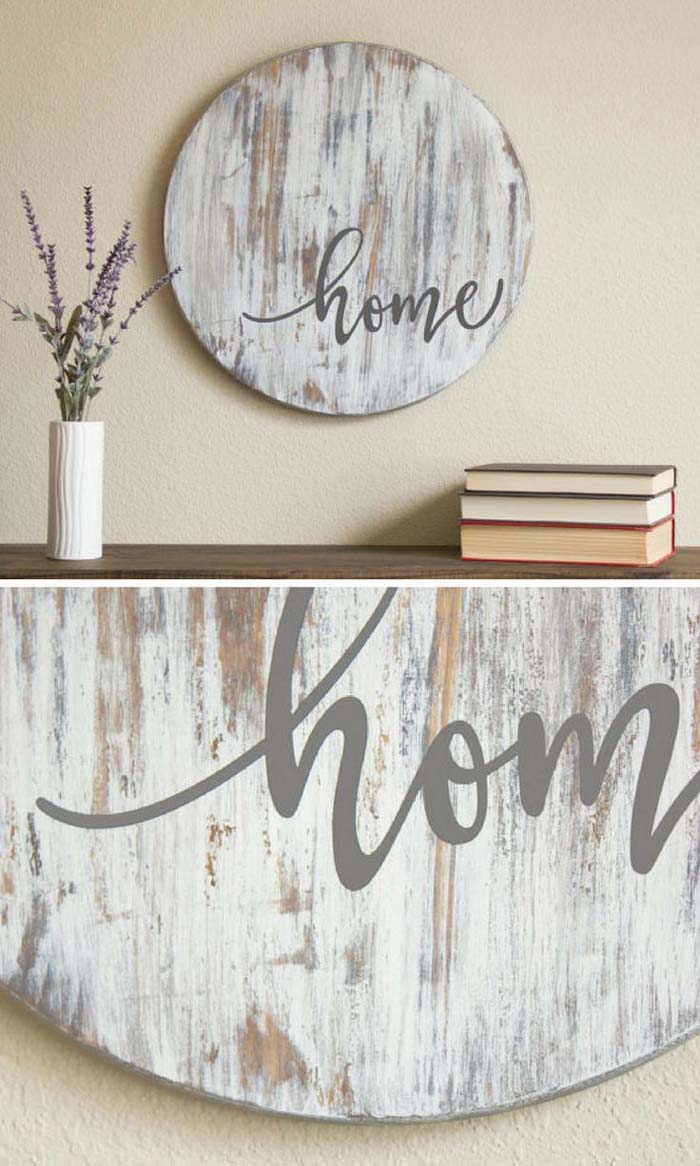 This round sign has a significant effect on its simple background but a sentimental statement.
The wooden basis is painted in white and then distressed to achieve an aged weathered finish. For the word, you can use a preliminary cut deal or stencils to paint it.
via Etsy
10. Reclaimed Wood Sign for Living Room Window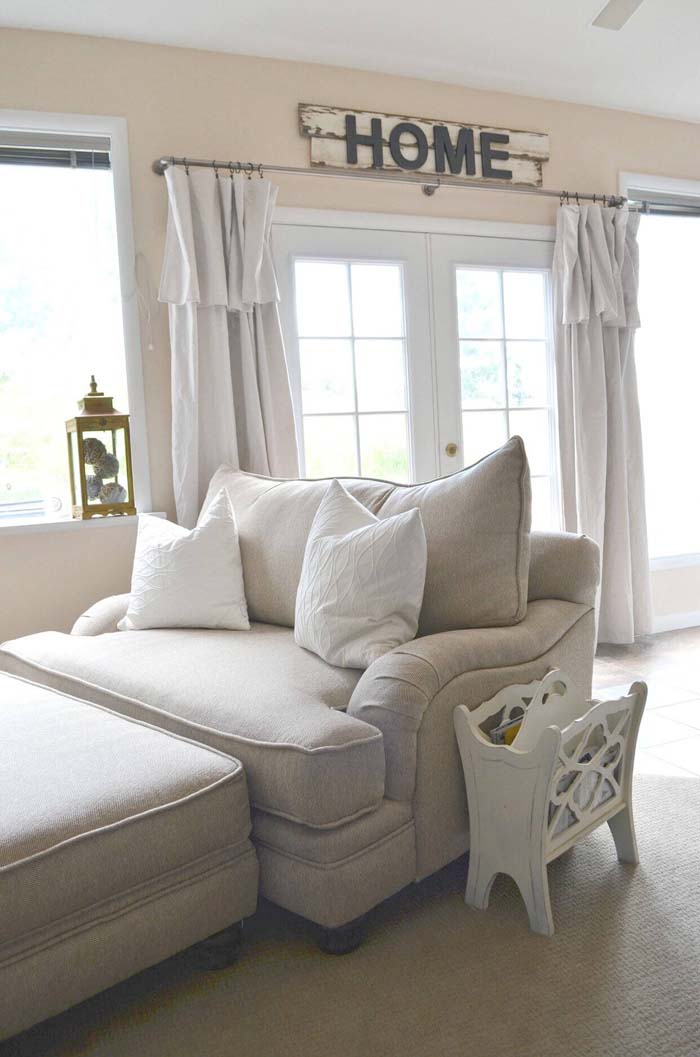 Put a sign just above the window in the living room. Made of reclaimed wood, it is very notable because of the large letters used.
If you want to make it yourself, get the letters from the local dollar store or cut them with a jigsaw.
via Sarah Joy Blog
11. Rustic Décor to Symbolize Family Values around the TV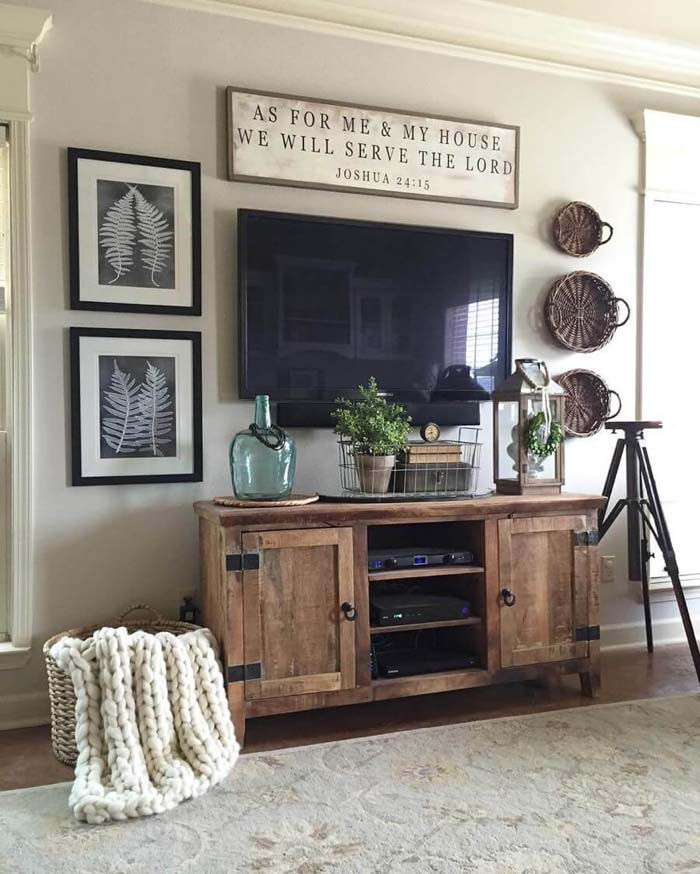 Surround your TV with a rustic arrangement. Two frames showing pictures of leaves emphasize nature's importance.
The other side is decorated with a set of wicker baskets emphasizing the farmhouse symbols. The peak of this arrangement is a Bible statement showing that belief in God is a family value.
via Our Vintage Nest
12. Enhance Room with a Large Wooden Clock and Accent Pieces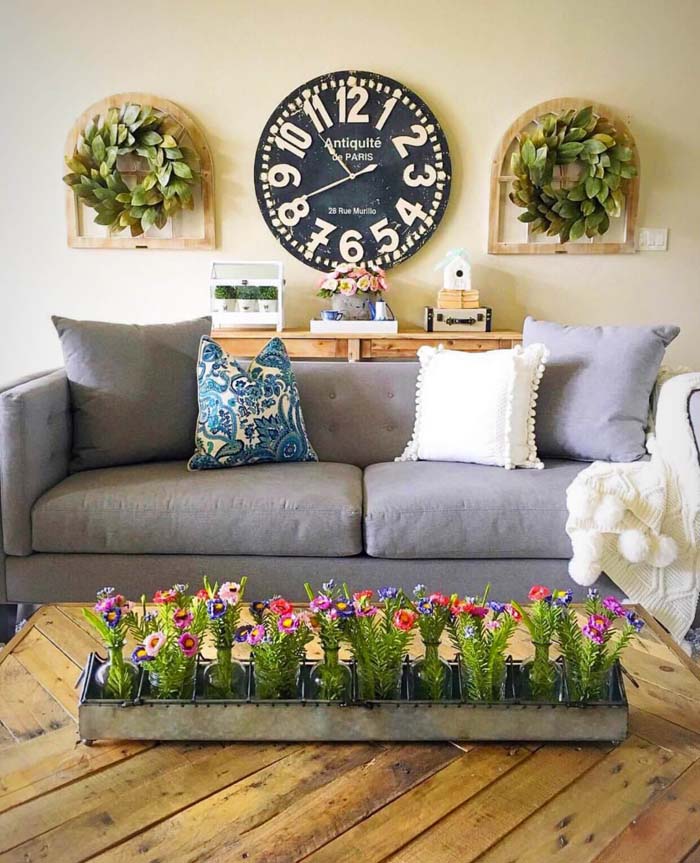 A large wooden clock is an unpretentious but charming rustic decoration that will suit any living room.
Give the decor a bigger effect by framing it with two small shutters decorated with wreaths. Add another green accent as a centerpiece on the table with a tin tray holding flower vases.
13. Decorate Walls with Laurel Wreaths for All-Season Appeal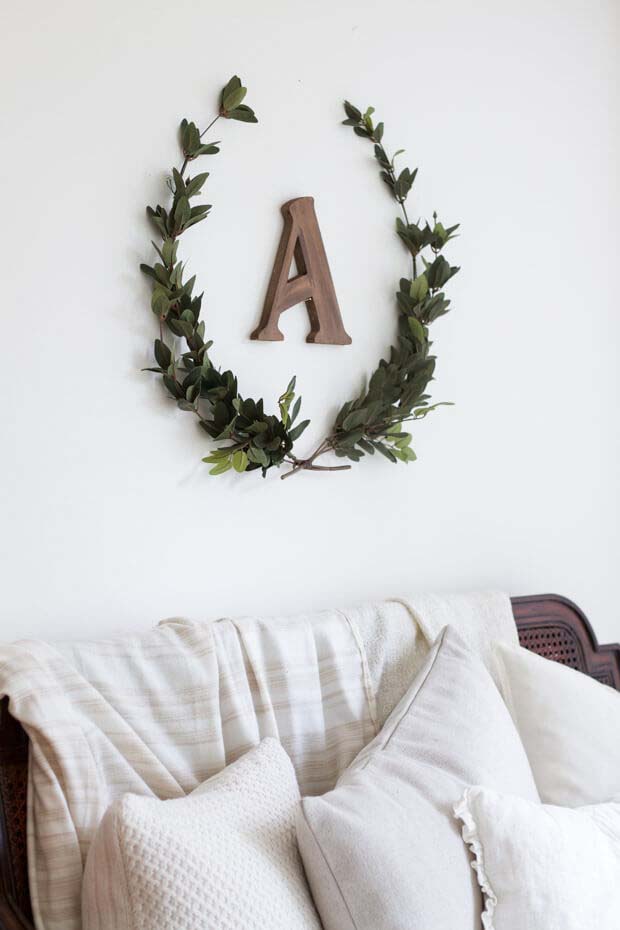 An easy way to decorate your wall in the living room is to do it with a wreath. If you prefer an all-season decoration, choose leafy branches like these laurel ones.
You would be surprised to know that their curved shape is kept thanks to pieces from a metal form.
via Craftberry Bush
14. Create a Homey Atmosphere with Rustic Picture Frames

Pictures are surely the easiest way to make the place feel like home. Their effect would be even greater if put in rustic frames.
The rustic look is gained by staining of plain white wood with two colors of stain. You can make your own frames in sizes that fit your living room wall.
15. Rustic Thrift Store Frame Décor Piece with Custom Message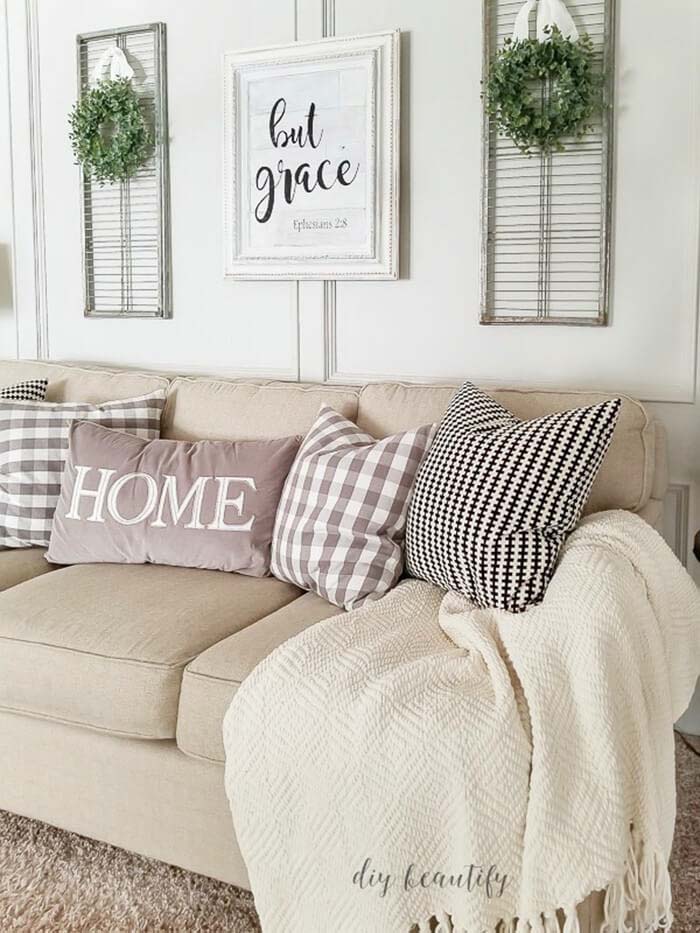 If you are looking for impressive but inexpensive decoration for your rustic living room, go to the thrift shop.
Find an ornamented large wooden frame that will be customized with a saying that inspires you. The backdrop for the words can be leftover laminate, plywood or any other thin wooden material.
via DIY Beautify
16. Create an Illusion of Space with a Mirror and Shutters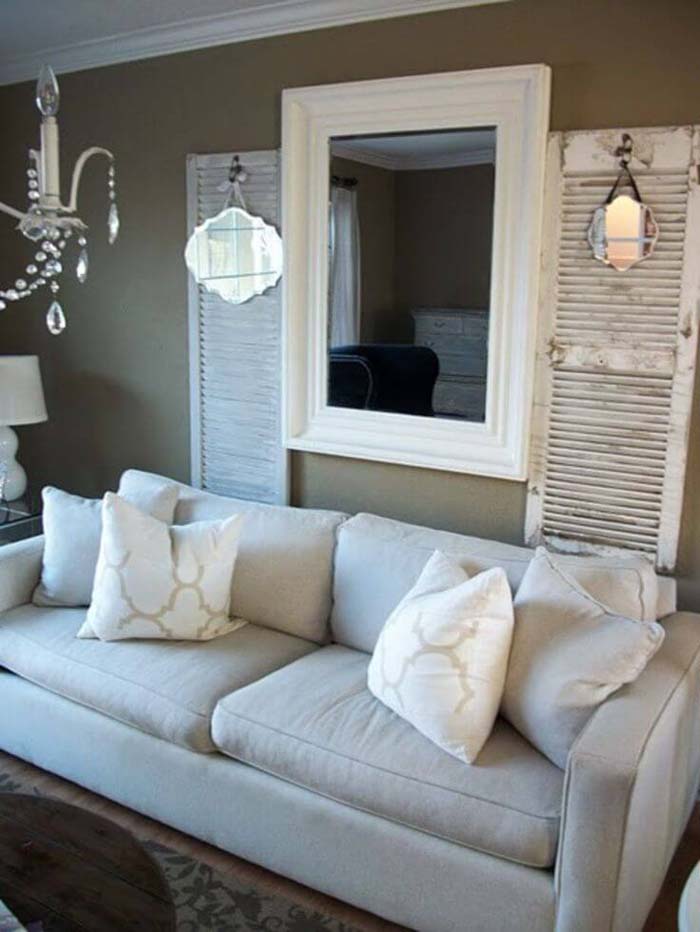 If your living room is tiny, use a mirror as an accent. It will visually enlargen the space and will reflect the light.
When you are aiming at achieving a rustic vibe, frame the mirror with two old shutters. It is worth hanging longer ones as they will also contribute to enhancing the illusion for a bigger space.
The small mirrors are of a shape that matches the pattern of the pillow fabric. Small accents make it all, don't they?
17. Rustic Wrought Iron and Wood Décor with a Metal Wire Clock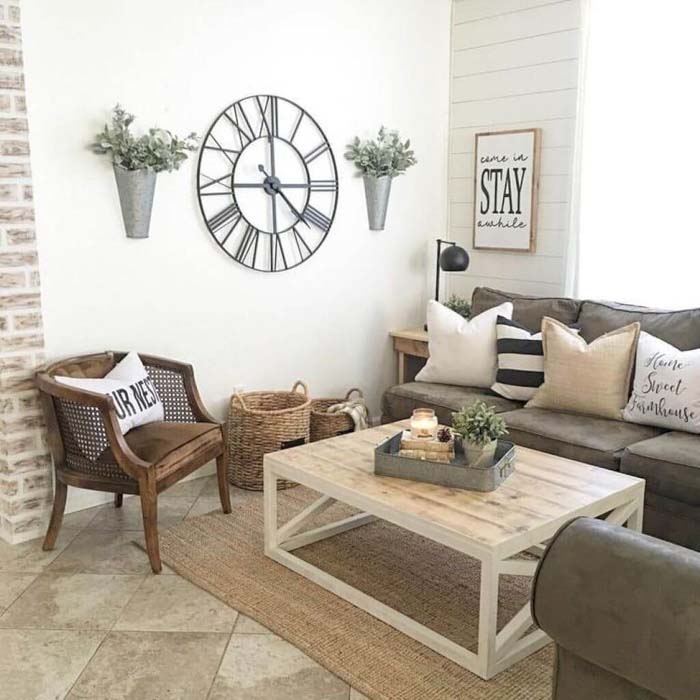 Wood matches very well with wrought iron. This combination is not only beautiful but also very rustic.
Use a large metal wire clock as a centerpiece of wall decoration. On either side of it, place two galvanized vases with faux flowers. This setting is very universal as it can be used in all seasons.
18. Make a Bold Statement with Rustic "H" Letter Art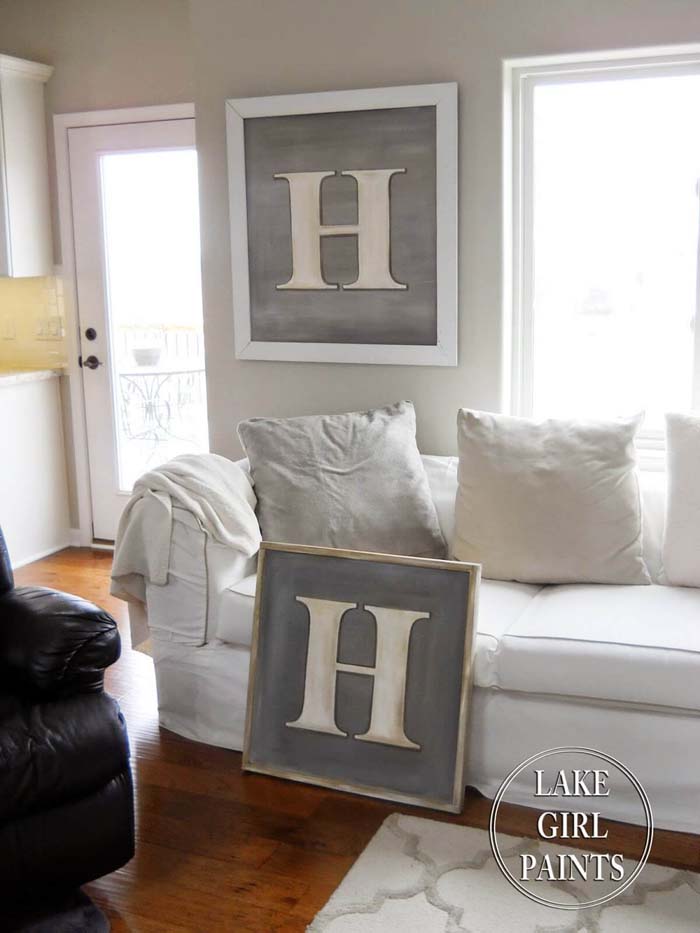 A simple but large letter in a frame can be called bold art. And it is just enough to add a rustic vibe to your living room.
"H" is for home and that makes this handmade art precious. If you want to try painting it yourself, the instructions on the link below will help you a lot.
via Lake Girl Paints
19. Rustic Wall Décor to Add a Dramatic Impact to Living Room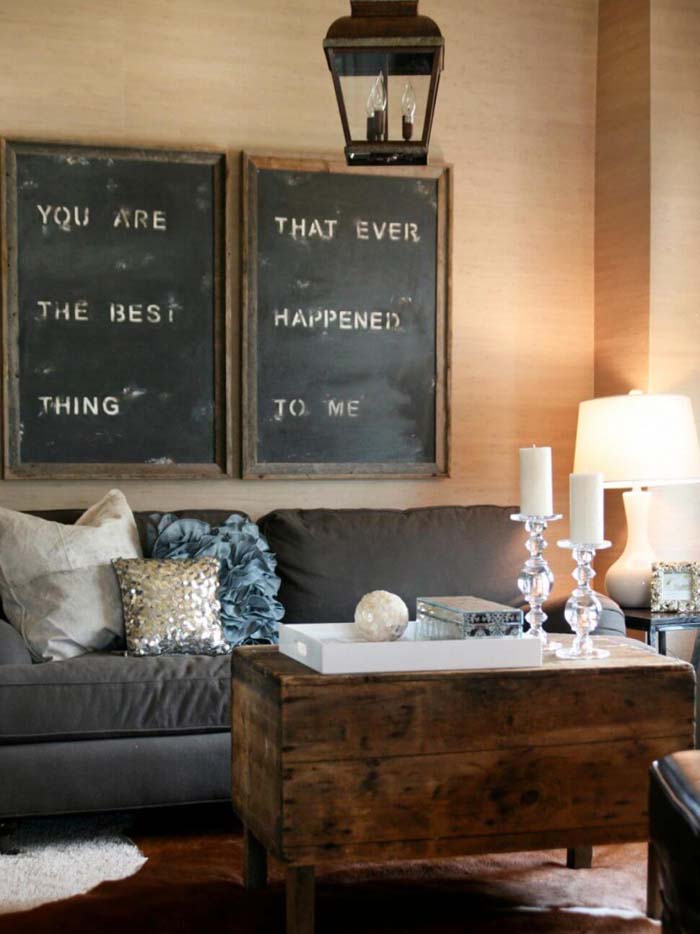 If you are keen on decorations that are more dramatic, this rustic one could be your solution for the wall above the sofa.
Two framed chalkboards become the canvas for a beautiful saying that marks the special connection of the people living there.
via HGTV
20. Create a Cozy Rustic Nook with Reclaimed Pallet Slat Wall Art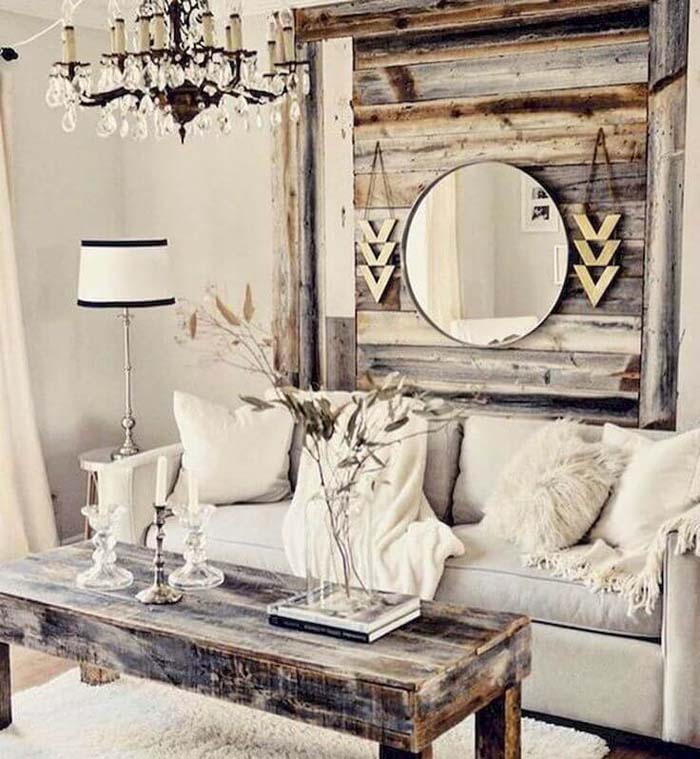 Turn a part of your living room wall into a barn wall. Made with pallet reclaimed slats, this rustic wall art gives the space a tangible warmth.
The mirror parts in the shape of a large circle and chevron pattern forming two arrows, add elegance and a modern vibe to this cozy nook.
21. Add Visual Interest with a Wooden Ladder and Framed Poem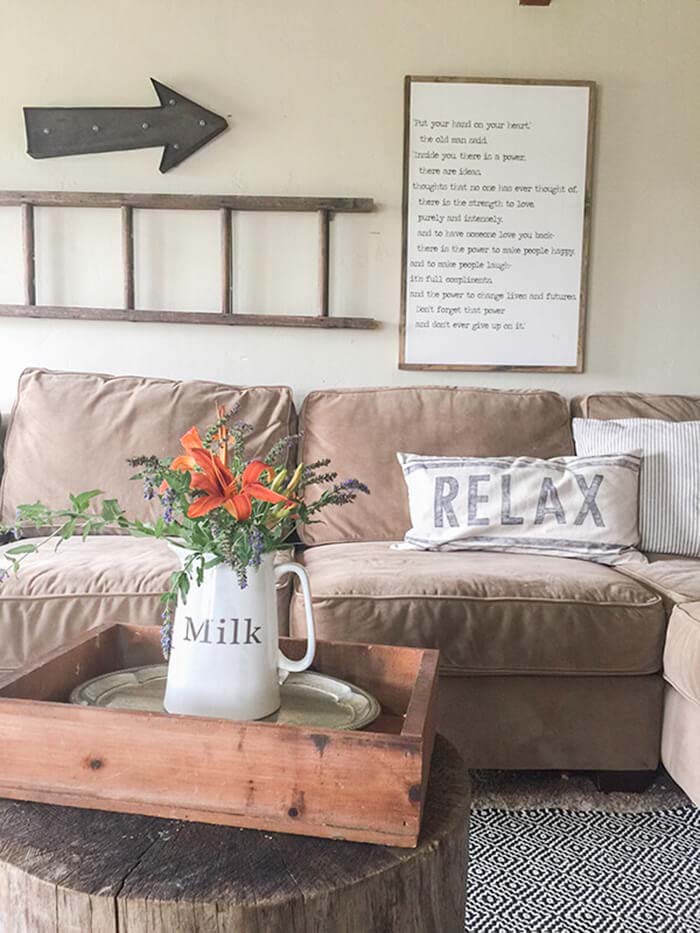 Do you want an unusual decor for your living room wall? A wooden ladder is more than impressive as it will quickly attract attention from its repurposed use.
A large arrow is pointing at a framed poem that inspires the homeowners.
via Twelve On Main
22. Give Your Home Décor a Rustic Touch with Old Shutters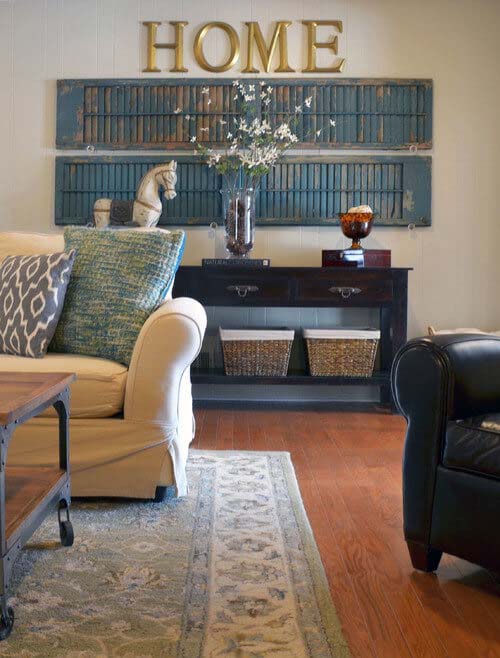 Use old shutters as stylish rustic decor. Along with their original look, they also can be used as a backdrop or means to give an emphasis on another wall accent.
In this case, they underline a large home sign in shining gold. What makes the whole setting finished is the drawer decoration arrangement- a vase with field flowers in the center and two antiques on either side of it.
via Build Direct
23. Enhance Wall Décor with Rustic Sign and Handmade Mantel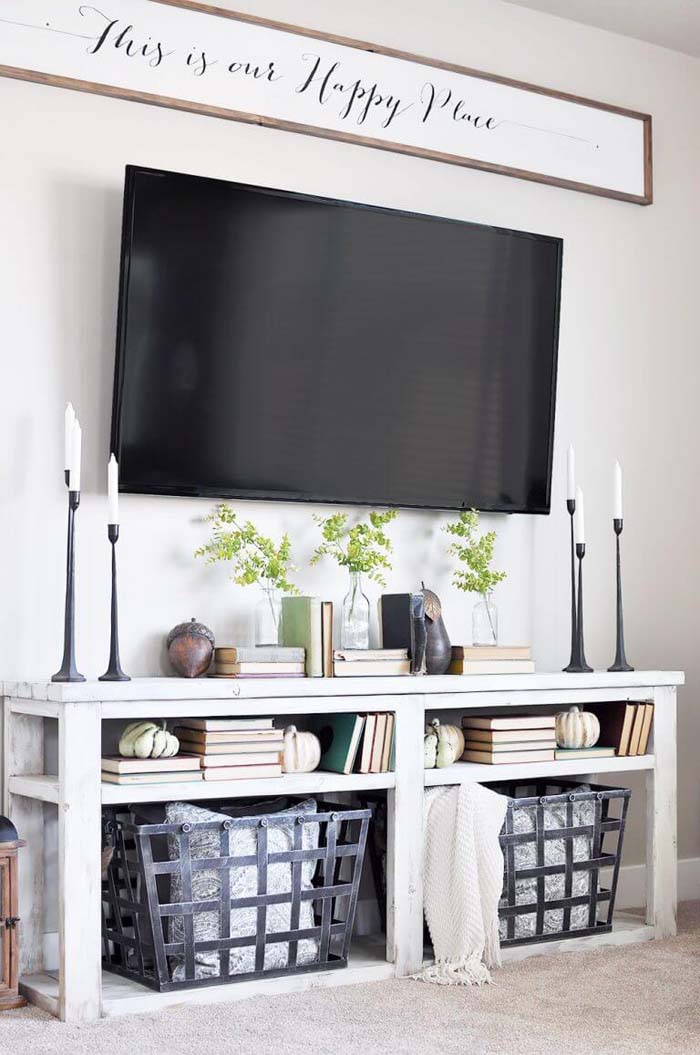 The focal point of this living room seems to be the wall with the TV. The space beneath the TV is taken by a large handmade mantel.
Its open design lets the decoration be visible and impacting the entire wall decor.
The wall above the TV is covered by a long rustic sign that quickly makes the place even more homely.
The old-fashioned font for the letters and the wood frame give it an aged but everlasting look.
via Cherished Bliss
24. Decorate Large Empty Walls Creatively with Ikea Frames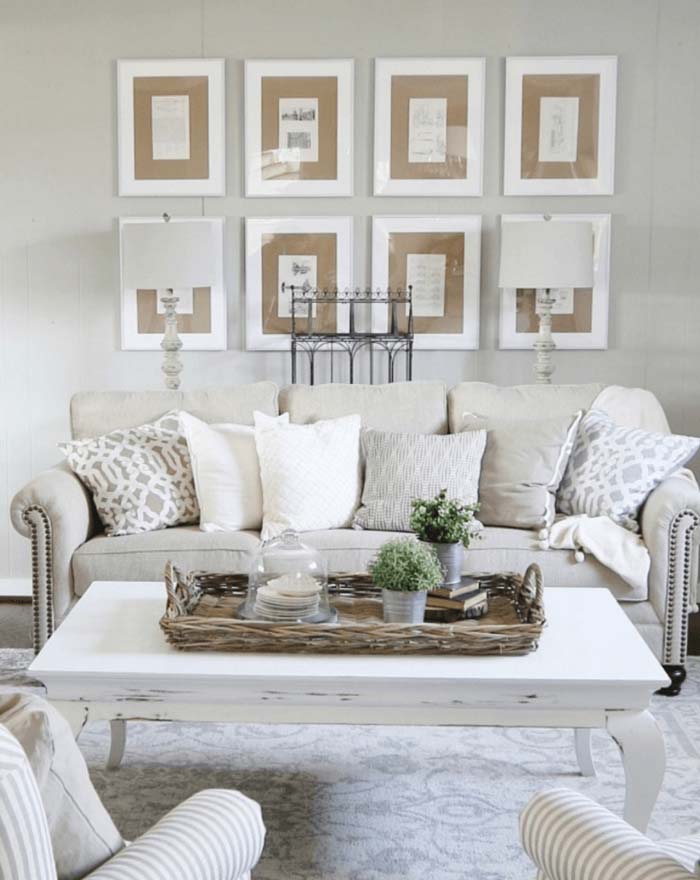 A large empty wall could be a big decoration challenge. Luckily, there are quick, inexpensive and impressive ways to solve that.
These simple white frames from Ikea have been the author's savior after a few unsuccessful attempts.
For a rustic effect, put photos of a smaller size so that the wooden back is visible.
25. Inspiring Sign for Your Living Room with Chic Décor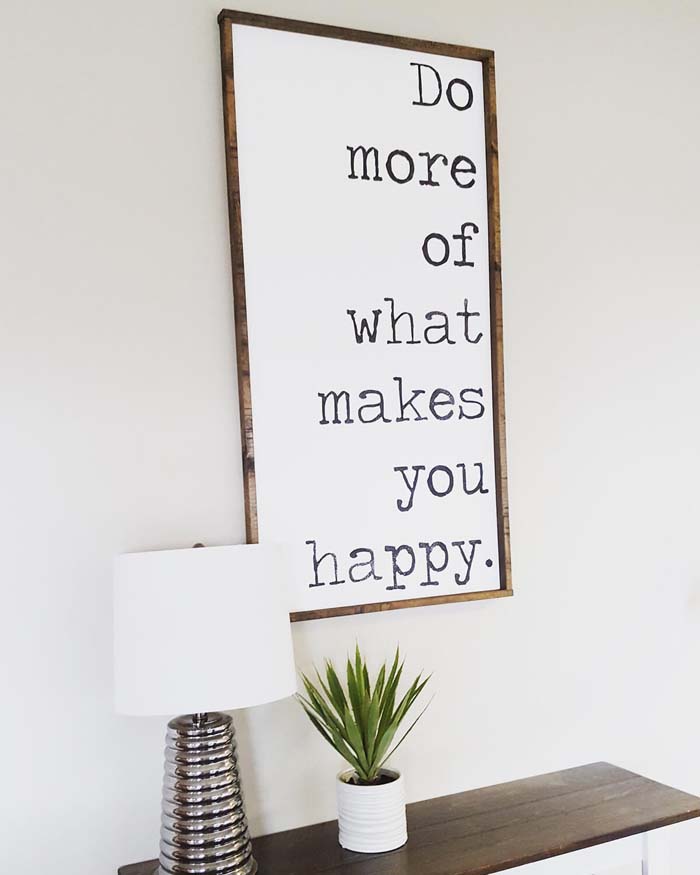 A sign with a special thought could be just enough decor and a source of inspiration in your living room.
The white backdrop ensures a great contrast to let the typewriter font letters pop out.
This clutter-free setting is backed up with an elegant lamp and a small white pot with greenery.
26. Celebrate the Nation's Heritage with a Patriotic Wall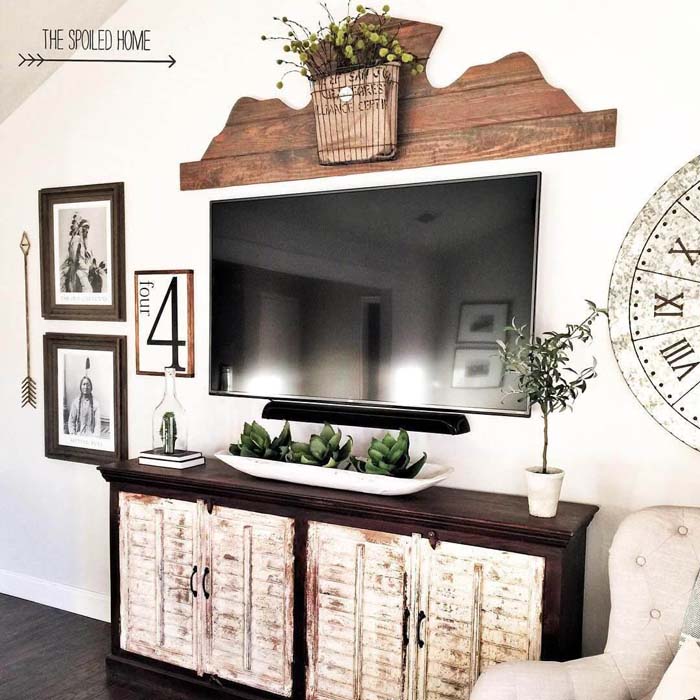 This living room wall is very patriotic. It marks the importance of our ancestors and one of the greatest days in our history.
The timeless aspect of these symbols is marked with a wooden clock. Wood is the major material used for all of the accents to emphasize their historical value.
via The Spoiled Home
27. Rustic Look with a Leather Couch and Farmhouse Décor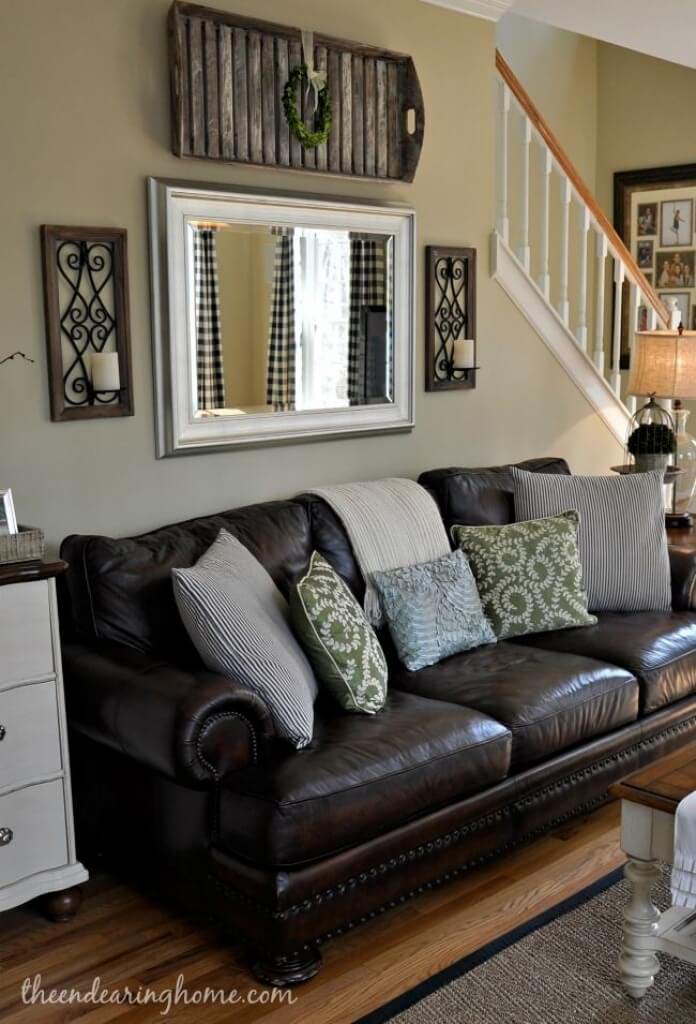 If your couch is leather, the rustic decor above it will match it best.
Try a similar arrangement using a farmhouse tray, two scones with candles sitting on either side of a large mirror.
28. Reclaimed Wood Initial and Tree Sign Add Rustic Elegance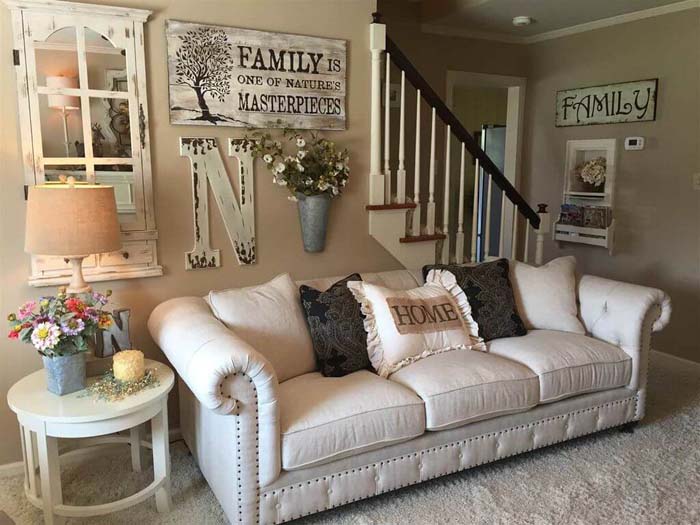 It is difficult to say which one of the elements in this arrangement is the centerpiece. They all have a big impact and thoughtful presence.
Made of reclaimed wood, the large initial complements the family tree sign. The framed mirror in the shape of a window adds farmhouse charm to the living room and reflects the space.
via Zillow
29. Rustic-Style Window Frame Décor with Natural Accents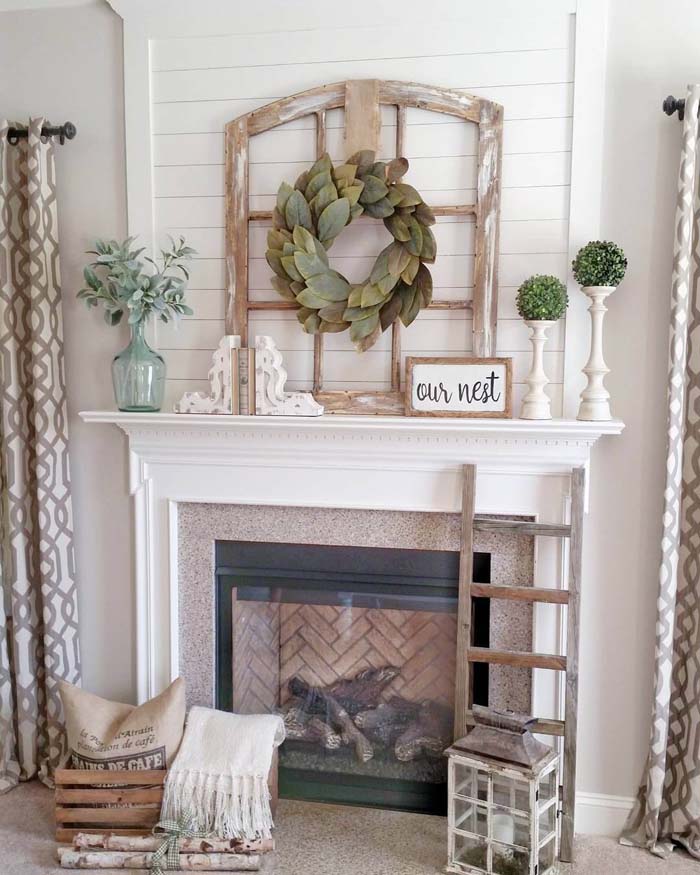 This simple but extremely beautiful decor is entirely affected by the rustic style.
A window frame with a weathered surface is the centerpiece of a mantle decoration. The smaller accents in this arrangement are two corbels used as bookends and a small but thoughtful sign.
On either side of the frame, there are elements affected by nature that match the bay leaf wreath in the center.
via Beauty For Ashes
30. Rustic Nook in Reading Lounge for Cozy, Quiet Activities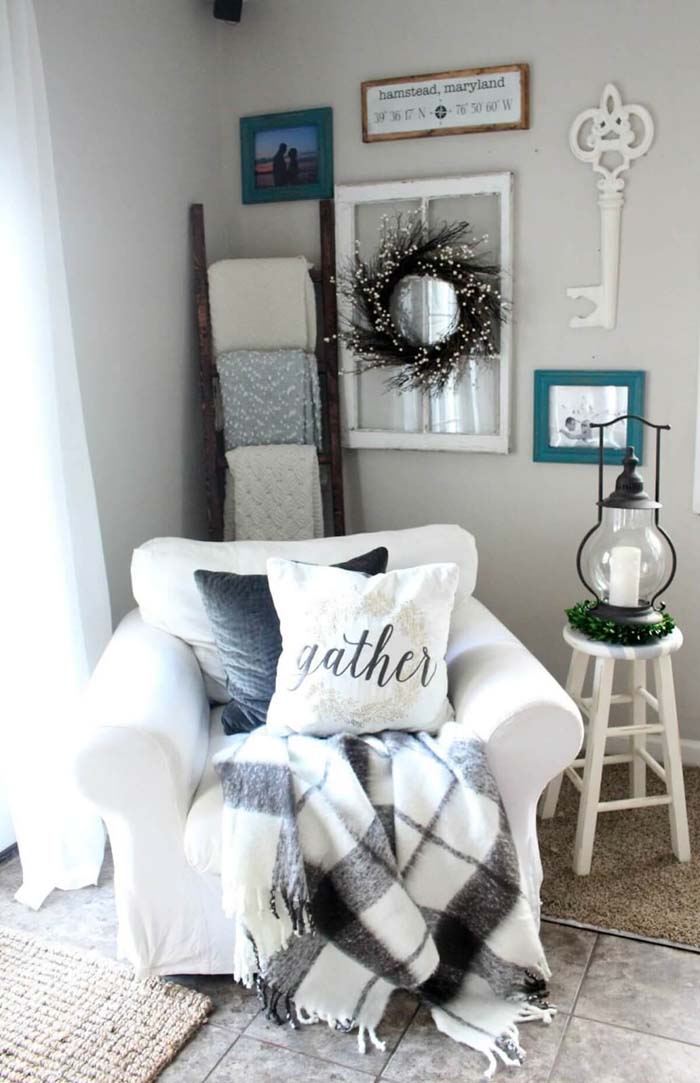 Make the wall behind the reading lounge a rustic nook that will easily welcome quiet activities.
Use a window frame as a centerpiece and hang a wreath to it. Any photos in wooden frames will give a personal touch to the decor. Wooden signs, antiques and other farmhouse items will increase the farmhouse and rustic vibe.
31. Capture Memories with an Artistic Wooden Frame Display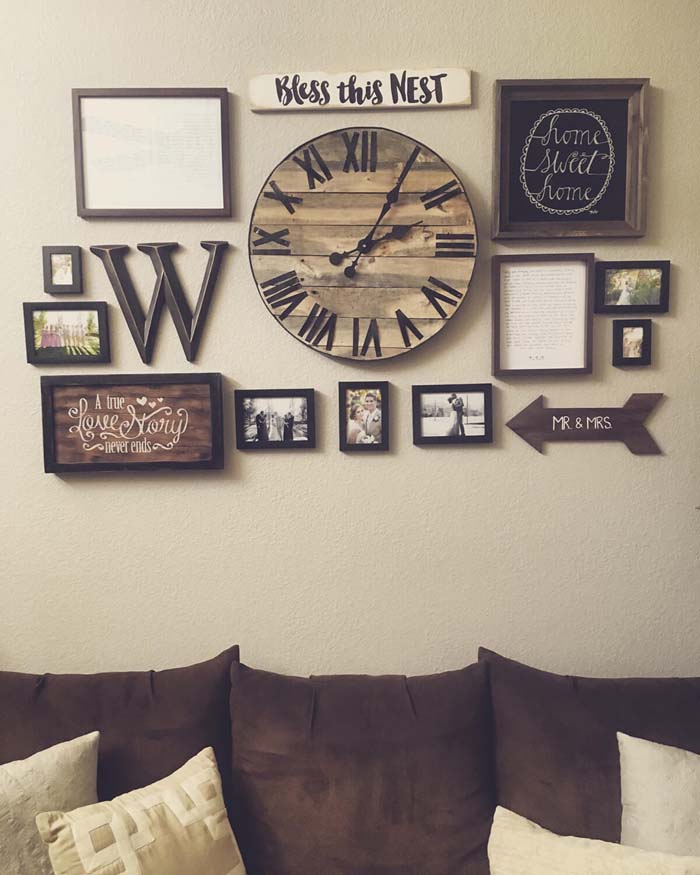 Although this arrangement consists of many items, it is not too overcrowded. All of them are of the same style and in the same palette to ensure a good look and perception.
Different wooden frames are keeping the memories of the family with the initial "W". The wooden signs give further emphasis and meaning to the image collection.