Today we are going to show you how to breathe life into old shutters and turn them into a creative part of your décor. Upcycled shutters are capable of creating a cozier and happier atmosphere at home as they are genuinely charming and romantic.
Old shutter decor ideas are a fun task as most of the time it changes their intended application. Whether transformed into an indoor or outdoor decoration, their impact on the interior or exterior is significant.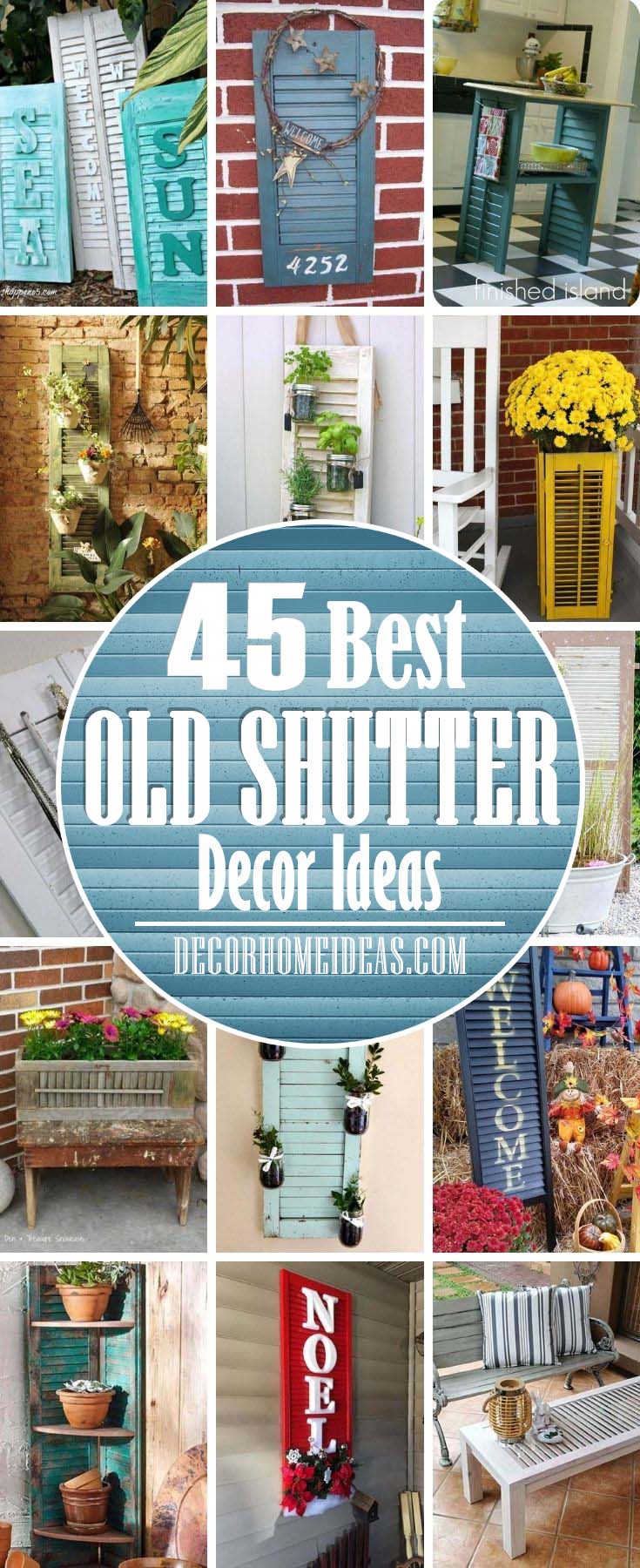 If you still keep the old shutters of your windows at the garage, it is time to bring them to life and turn them into a beautiful and practical decor feature.
Use them for creative wall art, make a cabinet, a vanity, a table, or even a hanger. The most inspiring ideas for repurposing old shutters follow and it is no doubt that one of them will be your next home decor challenge.
1. Transform Your Home with Cuban-Style Wooden Wallpaper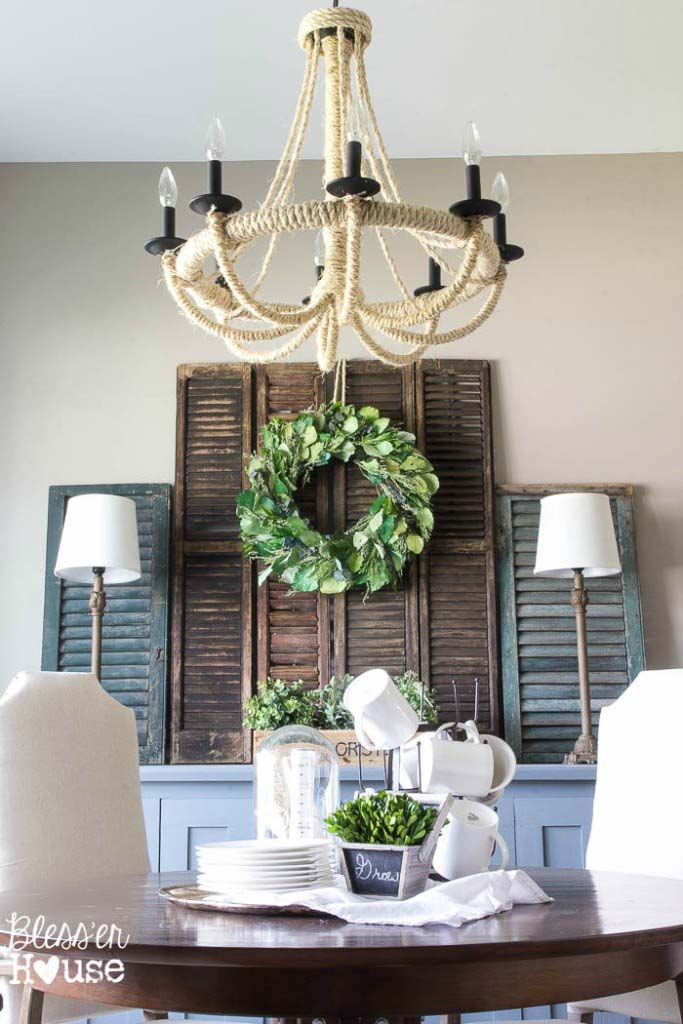 Have you ever heard of wooden wallpaper?
Well, this is fixing old shutters and window frames to the wall. Inspired by the exterior of the Latin American countries, the shutter wallpaper will transform the room into a Cuban hacienda.
via Blesser House
2. Durable Wooden Shutters Perfect for Garden Screens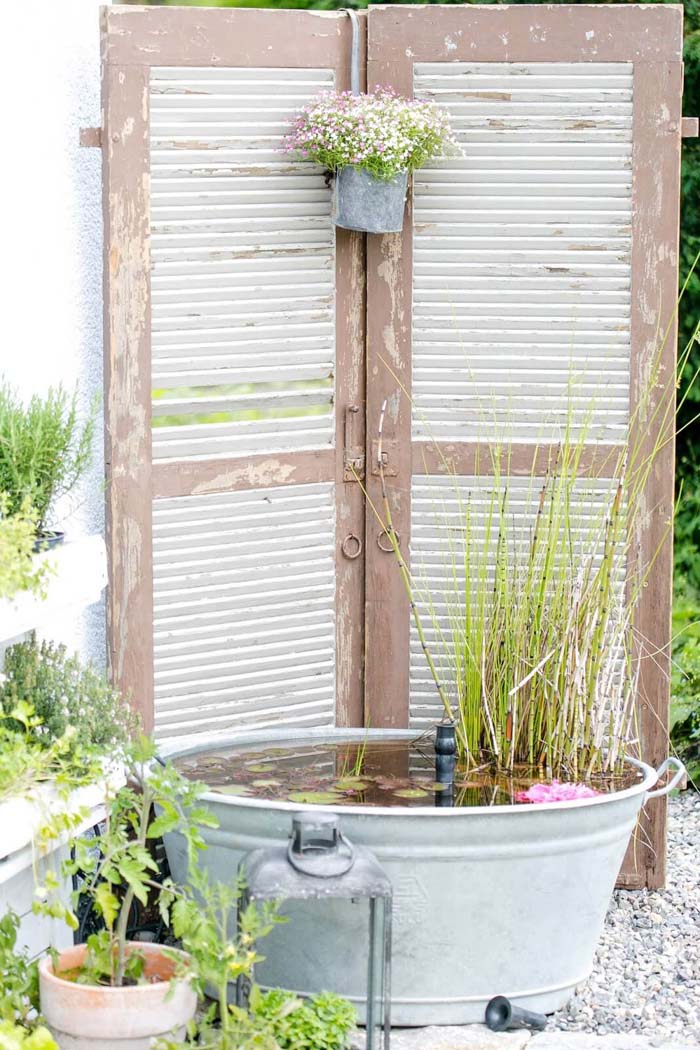 Wooden shutters are durable and outer exposure resistant. That makes them very suitable for usage as a screen in the garden.
In addition to the separating ability, they have a high decorative function.
via Pomponetti
3. Colorful Old Shutter Decor Ideas For Rustic Nooks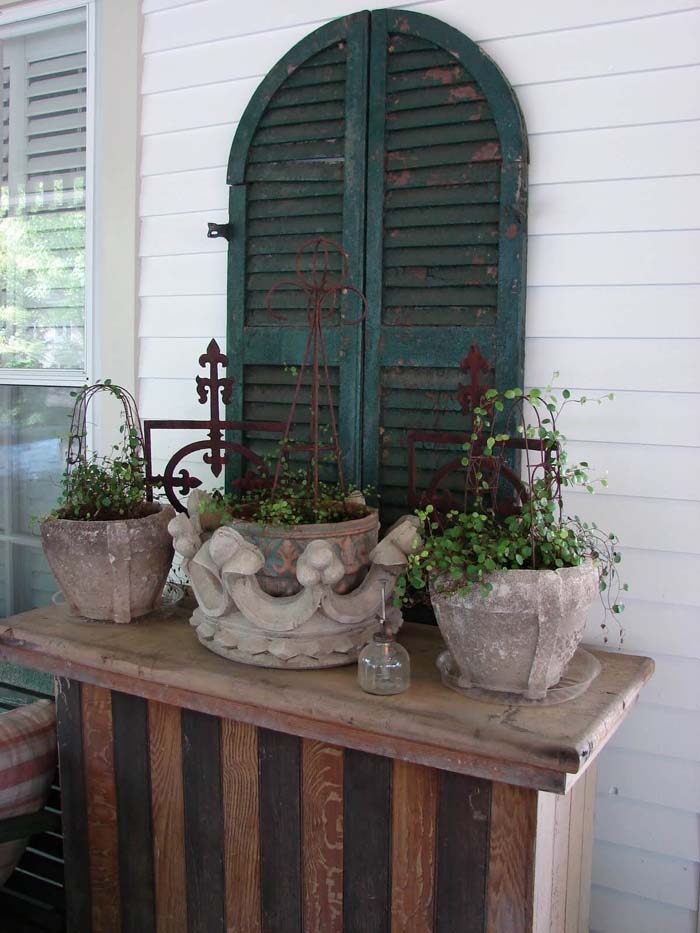 Use as a background for your rustic focal point inside or outside.
If it is painted in contrasting colors, the shutters will make the rustic nook pop up.
via Theresa Smith
4. Add an Old Shutter to Create a Delightful Porch Focal Point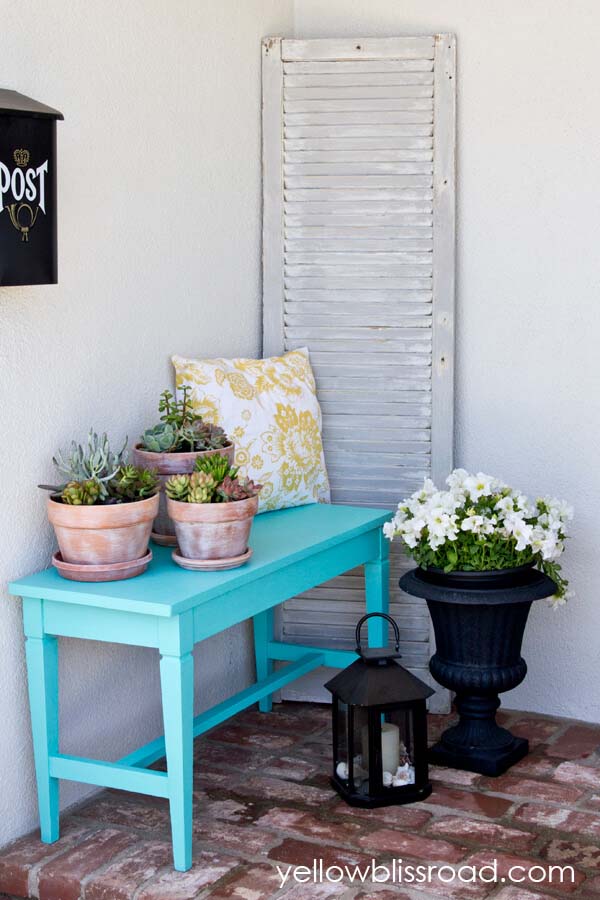 Let the porch focal point stand out with the help of an old shutter used as a backdrop.
The color scheme makes the arrangement serene and very inviting.
5. Decorate Your Porch with a Blue Shutter Planter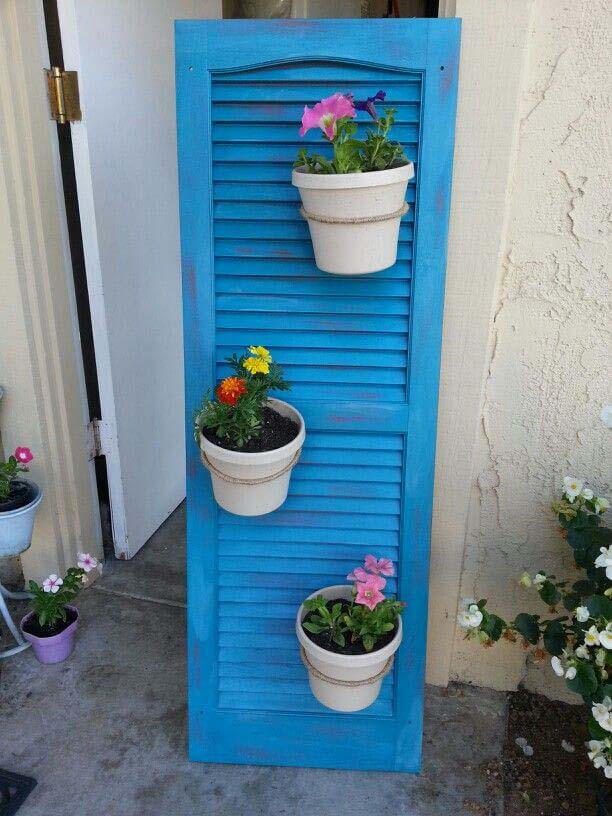 The fabricated slots make the shutters very convenient for usage as hangers.
This interesting plant holder is appropriate for small porches and spaces because of its small footprint.
6. Make a Rustic Plant Holder with Short Shutters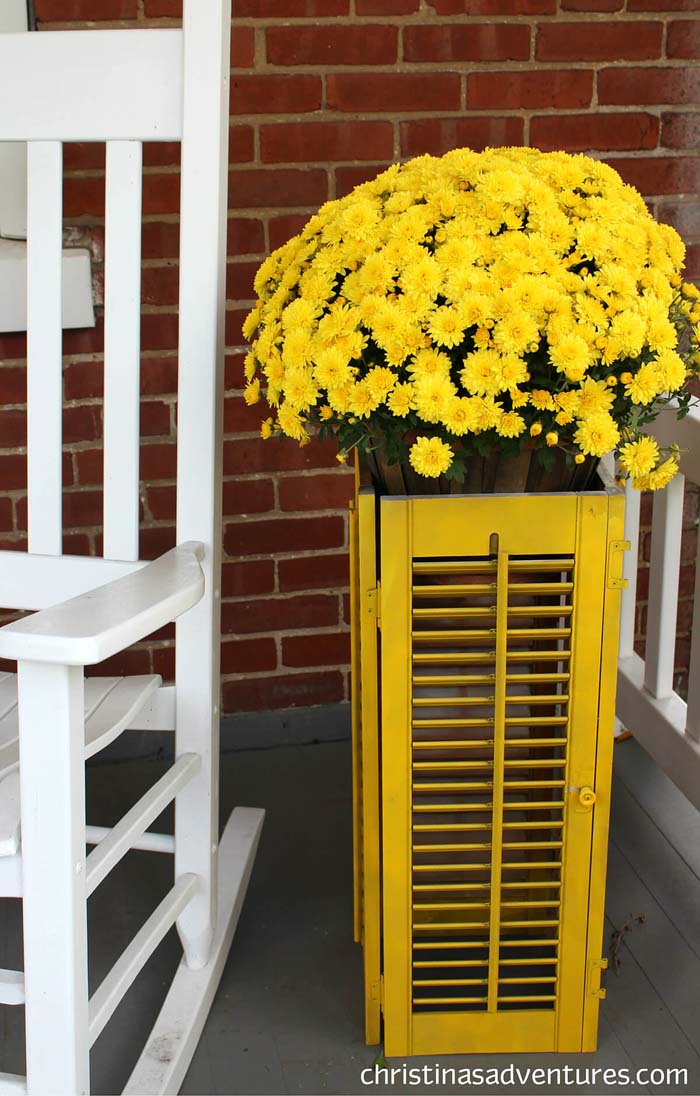 Use short shutters to craft a rustic plant holder.
The yellow color and the openings make the planter an outstanding summer decoration for any interior and exterior.
via Christina Maria
7. Create a Rustic Side Table with Weathered Shutters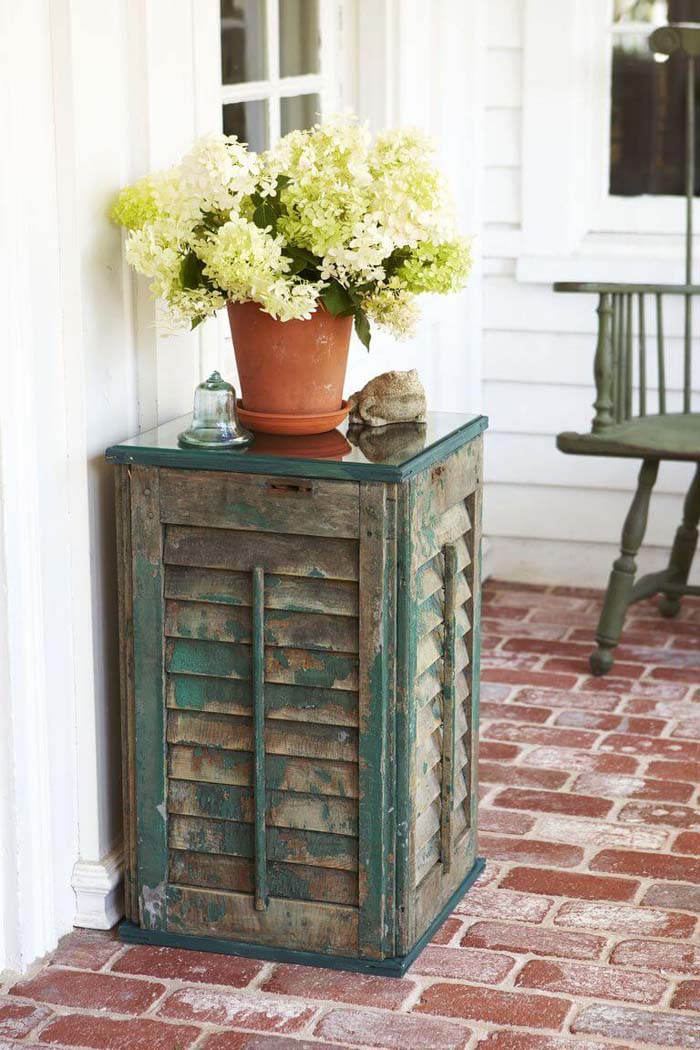 Keep the weathered appearance of the shutters, assemble them together in a square pattern and make yourself a functional rustic side table.
Its application could vary- for flower pots and vases stand when placed at the hallway or in the living room, as a nightstand in the bedroom, as a rustic decoration at the porch.
8. Create Personalized Decor with an Old Shutter and a Monogram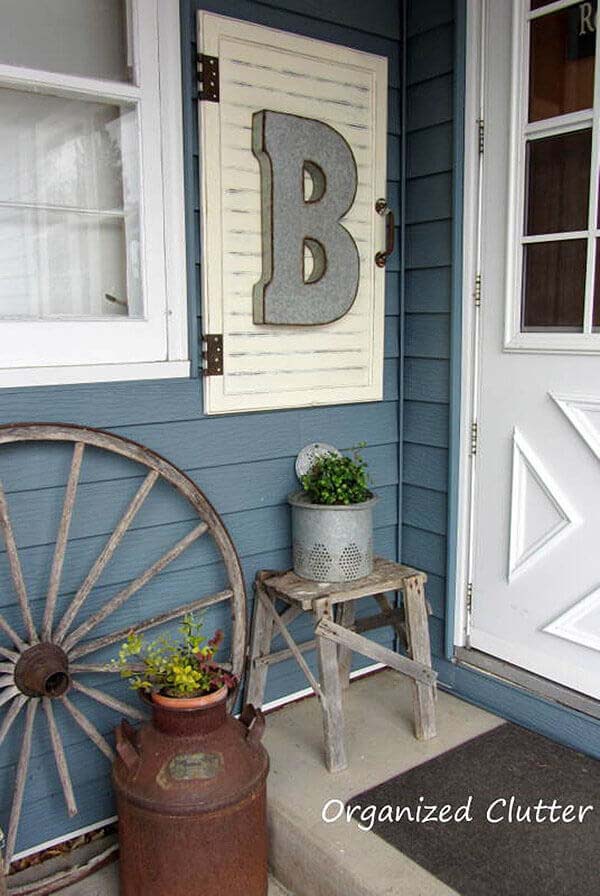 An old shutter hung onto the porch wall can become the background for personalized decoration.
The chosen initial can be made of metal sheet or wood, or can be found as a ready piece at the dollar store.
9. Craft a Rustic Welcome Sign with a Chalkboard Slat Shutter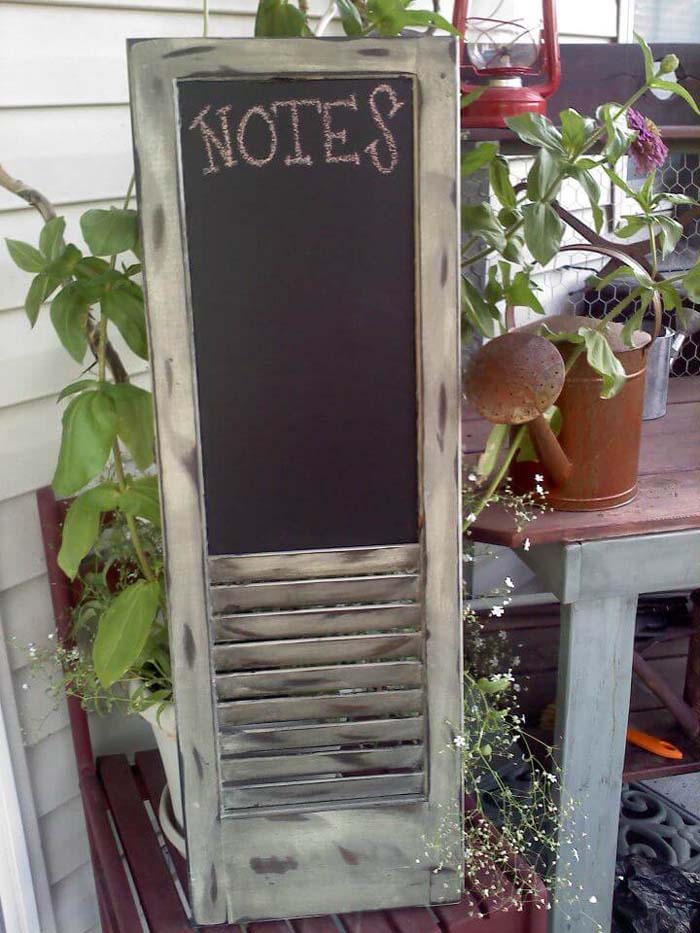 Replace half of the slats of an old shutter with a chalkboard piece.
This easy-to-make rustic sign can be used as a front porch decoration with a welcoming statement, as a restaurant feature or as a board for inspiring words inside the house.
10. Make a Privacy-Enhancing Shutter Screen for Your Home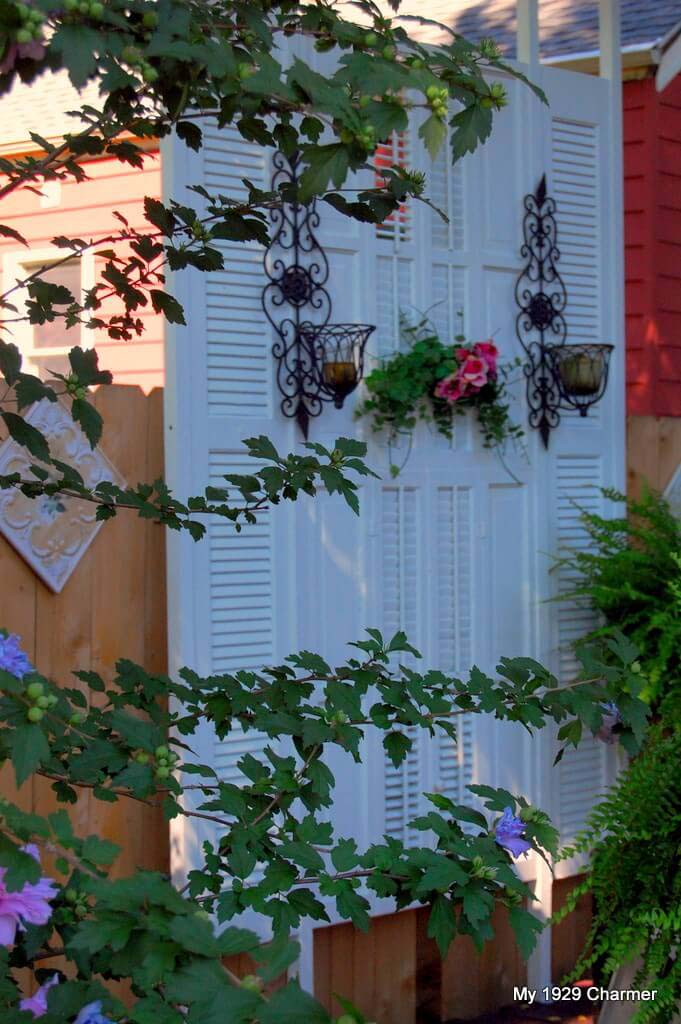 When the curious sights of your neighbors are no longer bearable, make a shutter screen.
It can be of the height you need depending on the length of the shutters and the wood posts supporting them. Enjoy the private time spent outside.
via My 1929 Charmer
11. Utilize Old Shutters to Create a Flexible Screen for Your Deck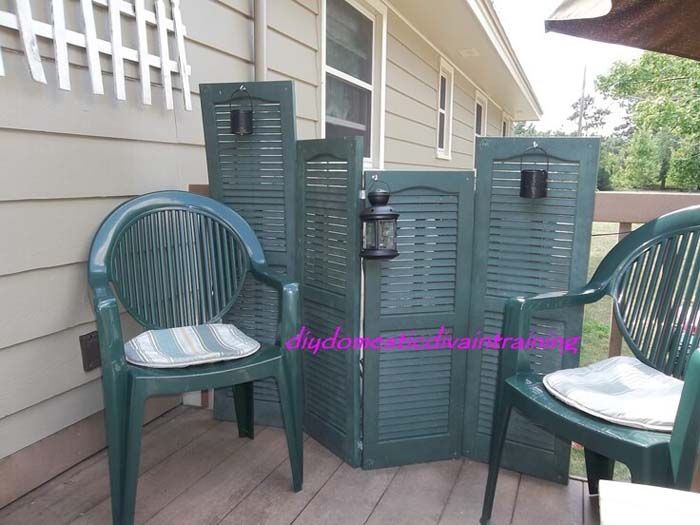 With the help of hinges, old shutters can form a flexible screen for your interior or exterior.
For a more appealing look, use shutters of different heights.
12. Add Rustic Charm with Vintage Window Shutters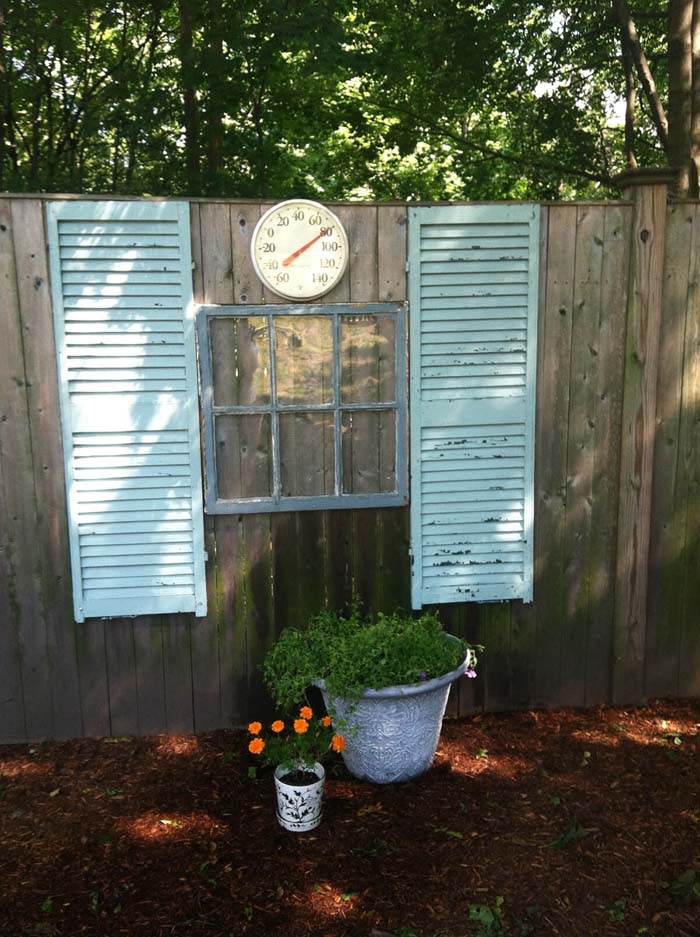 If you want to make an interesting rustic accent on the plain wood fence of your property, consider old window shutters.
Placed on both sides of a window, they create an imaginary view of the outer world.
13. Decorate Shutters with Paint, Letters, and Accents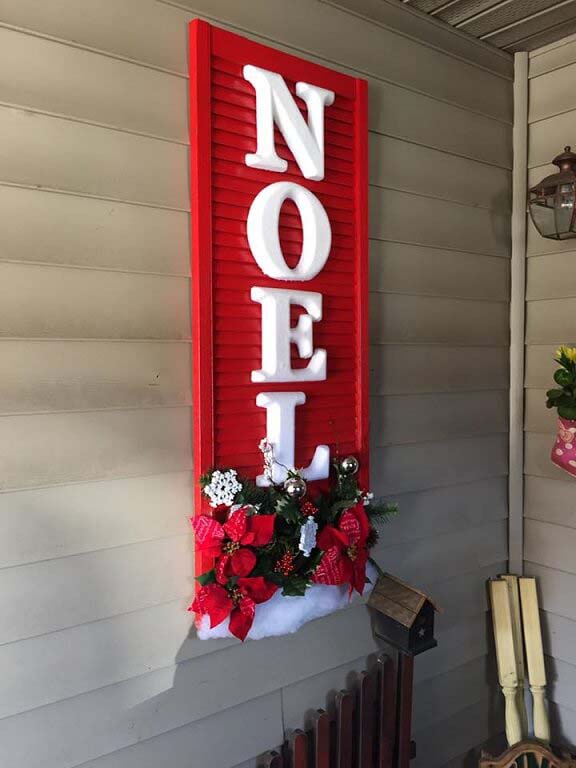 Depending on the color, the shutters can be used as a holiday decoration. Paint in green or red for Christmas theme and add styrofoam letters.
To make the piece more festive, add holiday accents like faux snowflakes, poinsettia flowers, etc.
14. Creative Ways to Show Patriotism with Old Shutters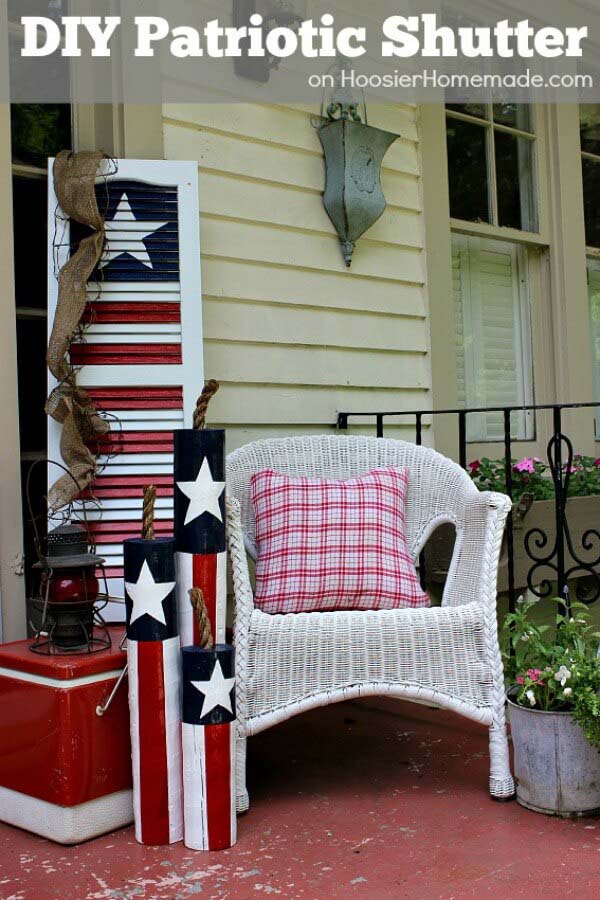 Old shutters can be patriotic.
With the help of paints, only the shutter can recreate the colors and motifs of the national flag.
15. Create Practical Storage Solutions with Repurposed Shutters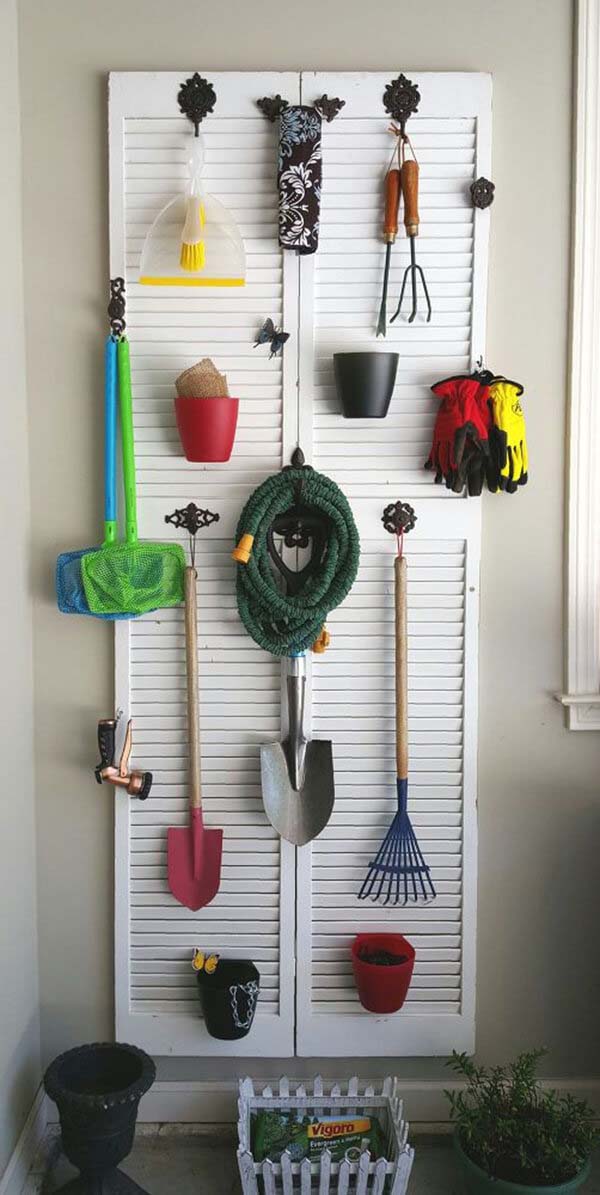 If you are looking for a more practical application of the old shutters, turn them into vertical organizers.
Fix them to the wall, nail some hooks on them and use them and the slots to hang your garden or garage appliances.
via Hometalk
16. Upcycle Old Shutters into Garden Décor for Privacy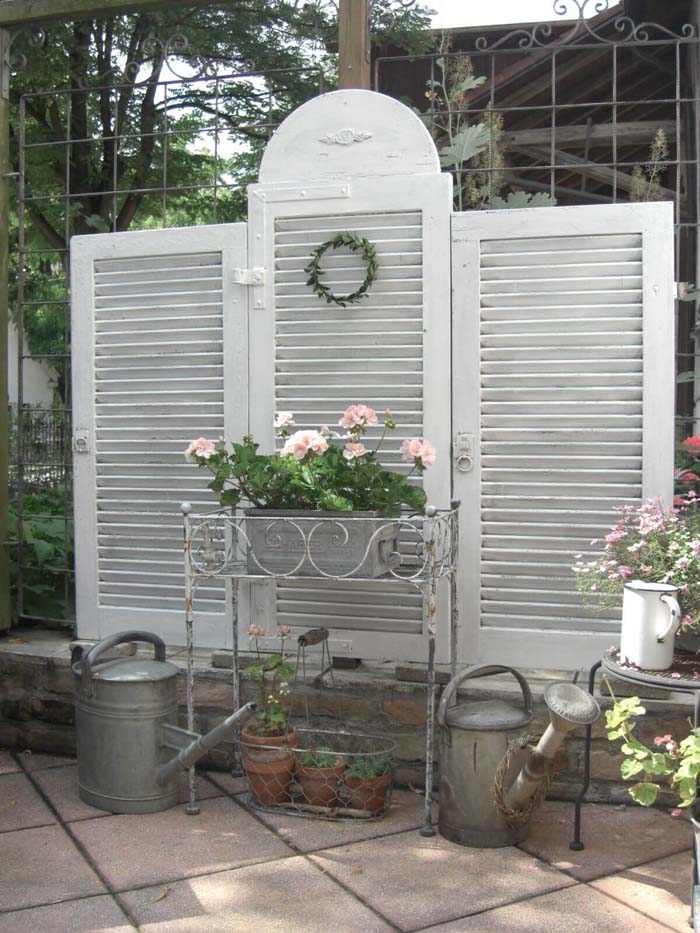 Antique old shutters become an extraordinary and beautiful garden decoration.
In addition to their beautifying capacity, they serve as a garden space divider or privacy screen.
17. Create a Vertical Herb Garden with Old Shutters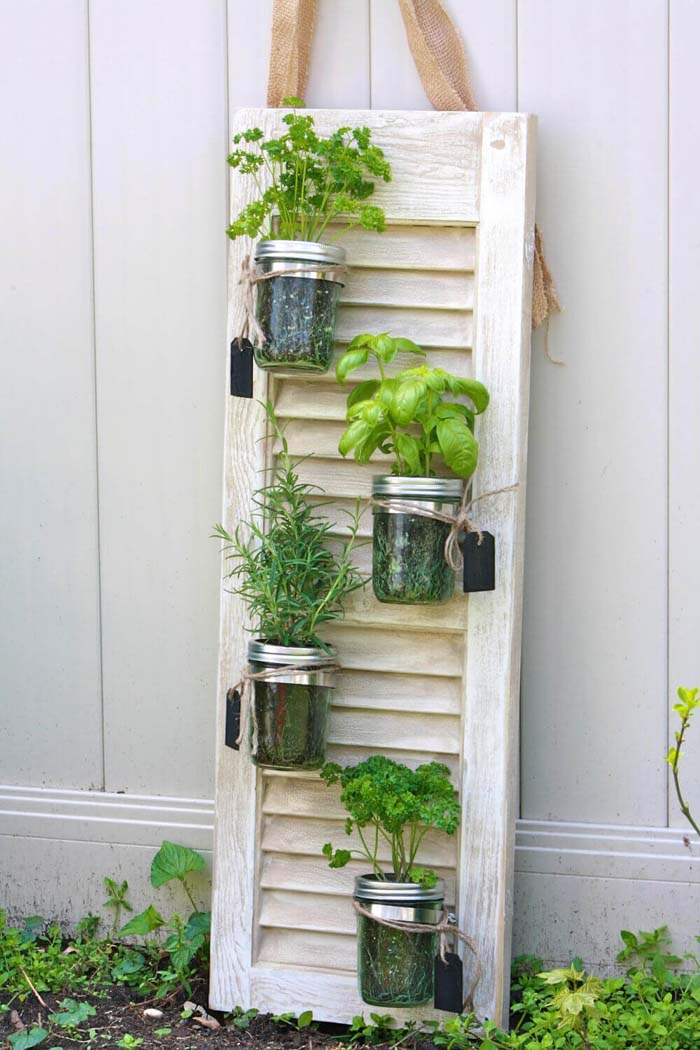 Old shutters are given the leading role in vertical gardening. Use the horizontal fabricated slats to attach jars or pots with herbs.
This herb garden can be grown outside or inside your home.
via Etsy
18. Display Your Jewelry with a DIY Shutter Jewelry Organizer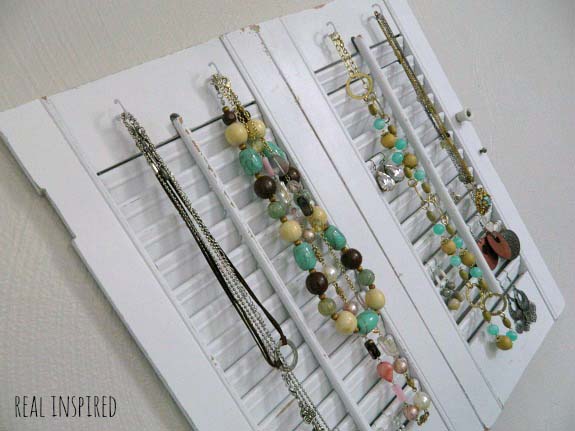 This is another source of inspiration for how to repurpose old shutters. Fix nails onto the wood and hang your jewelry.
The wide surface guarantees optimum organization. Well, maybe one of these may not be enough!
via Real Inspired
19. Create a Stylish Kitchen Island with Vintage Shutters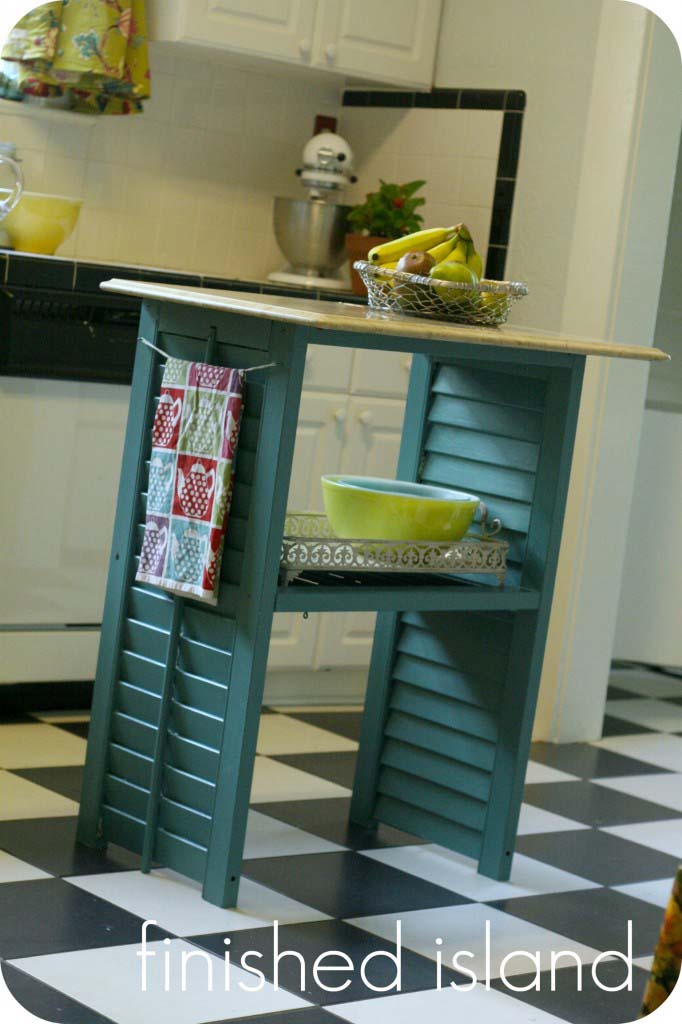 With the help of old shutters, you can make a brand new kitchen island.
Paint the wood in a color that matches the interior and use a marble countertop to withstand the cooking activities.
via So You Think You Are Crafty
20. Utilize Shutters to Create an Organized Kitchen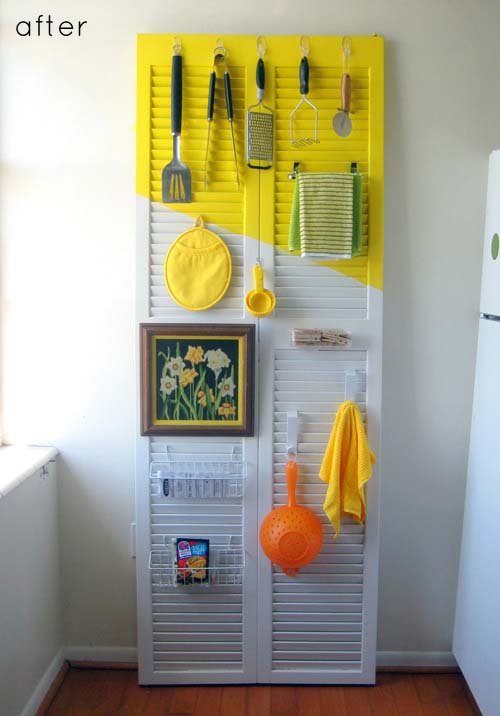 Similar to the garden and garage organizer, shutters can be used to put an order in the kitchen.
If you are not sure how long you are going to use it, don't nail it to the wall, instead- lean against it.
via Design Sponge
21. Transform Old Shutters into a Vintage Corner Shelf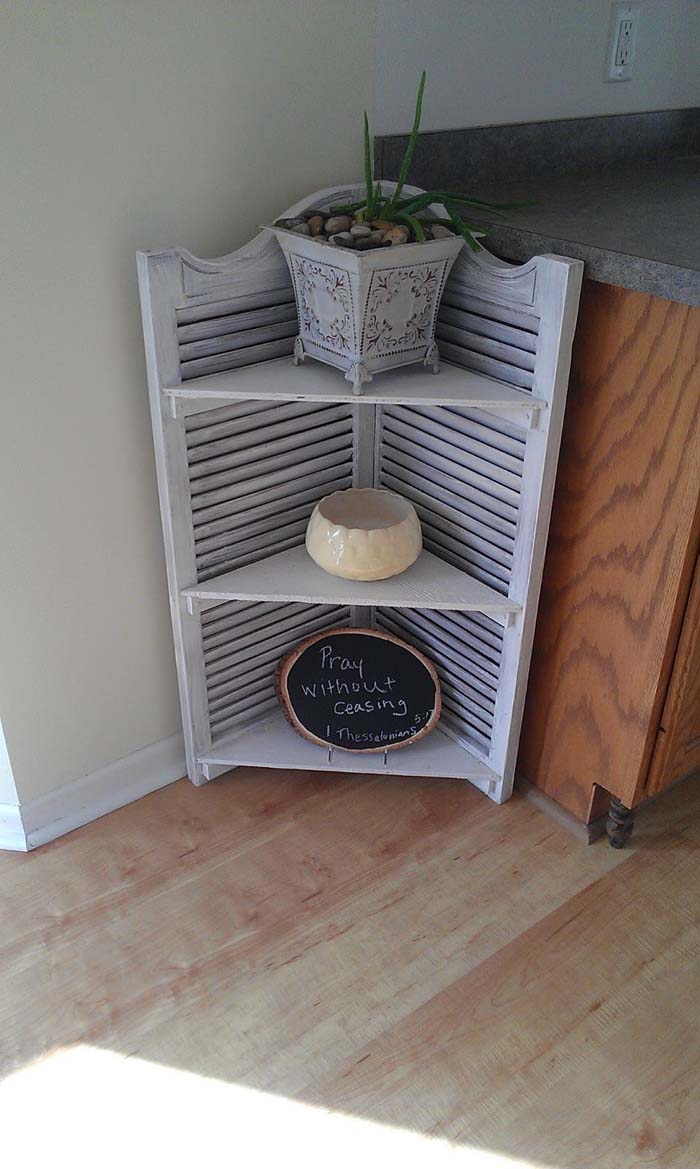 Old shutters provide wide possibilities for upcycling, like this vintage corner shelf for example.
Making it requires two old shutters, some plywood and paint.
22. Welcome Guests with Colorful and Meaningful Shutters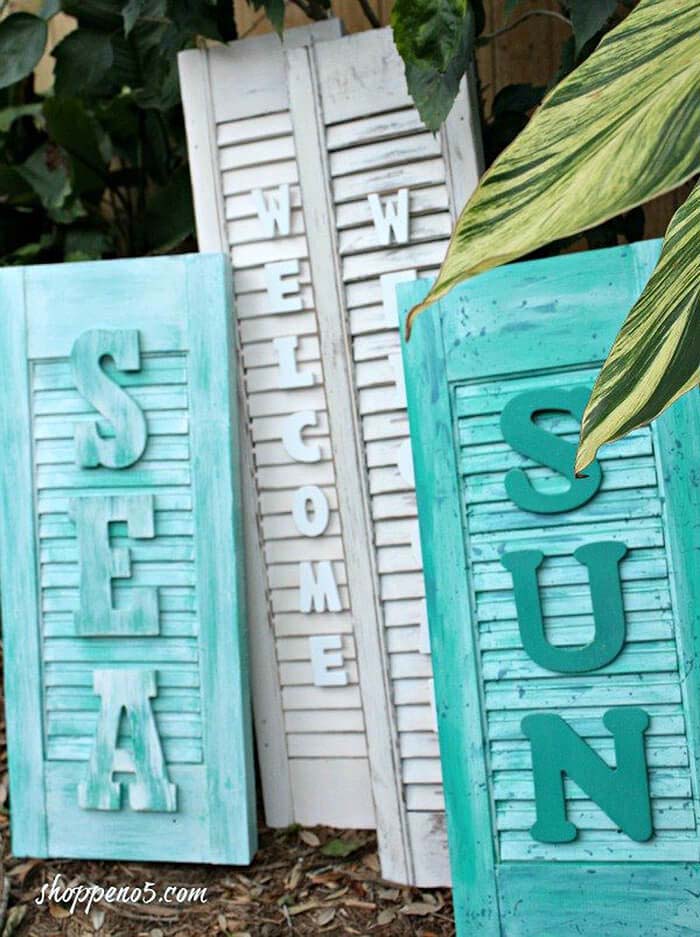 When decorating is lifted to another level where the purposeful and meaningful aspects matter, shutters come in help.
Painted in bright colors, they serve as a background for summer word signs to welcome everyone at the porch or in the garden.
via Shoppeno5
23. Affordable Outdoor Decoration with Shutter Posts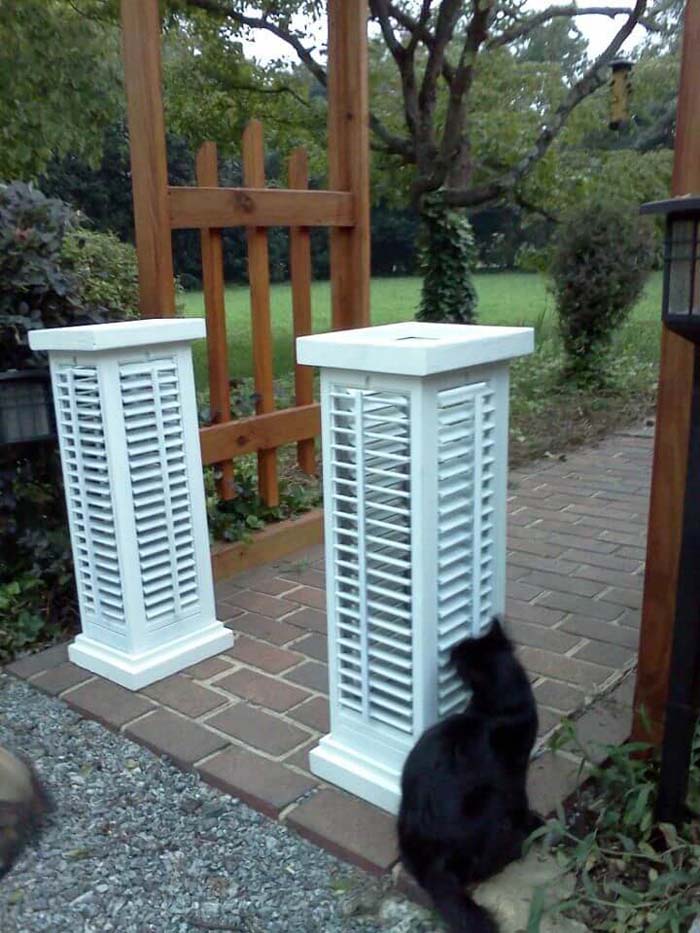 If you are looking for affordable outdoor decoration, use this image as an inspiration.
These shutter posts can be used as flower pot stands, torches or lantern holders or just to outline the beginning of the garden walkway.
24. Make a Festive Wreath with an Upcycled Shutter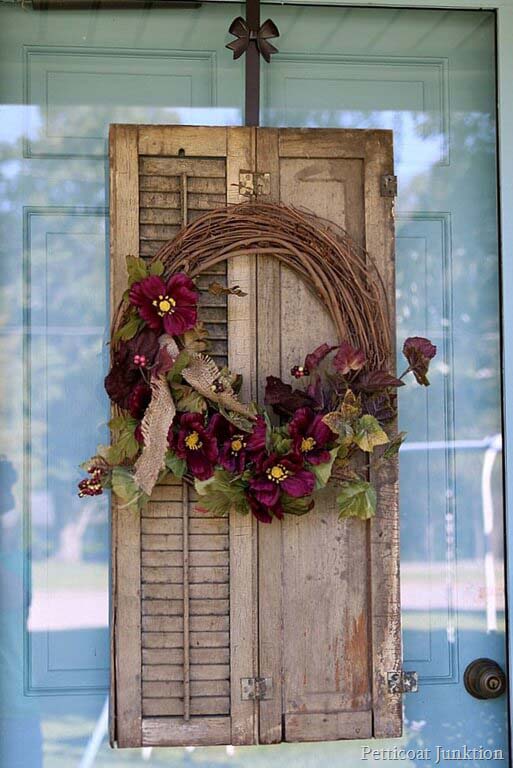 Use an old shutter as a frame for a wreath.
The decoration will make the front door more charming and the porch ambiance more welcoming.
25. Outline Garden Nooks with Shutters and Decorative Accents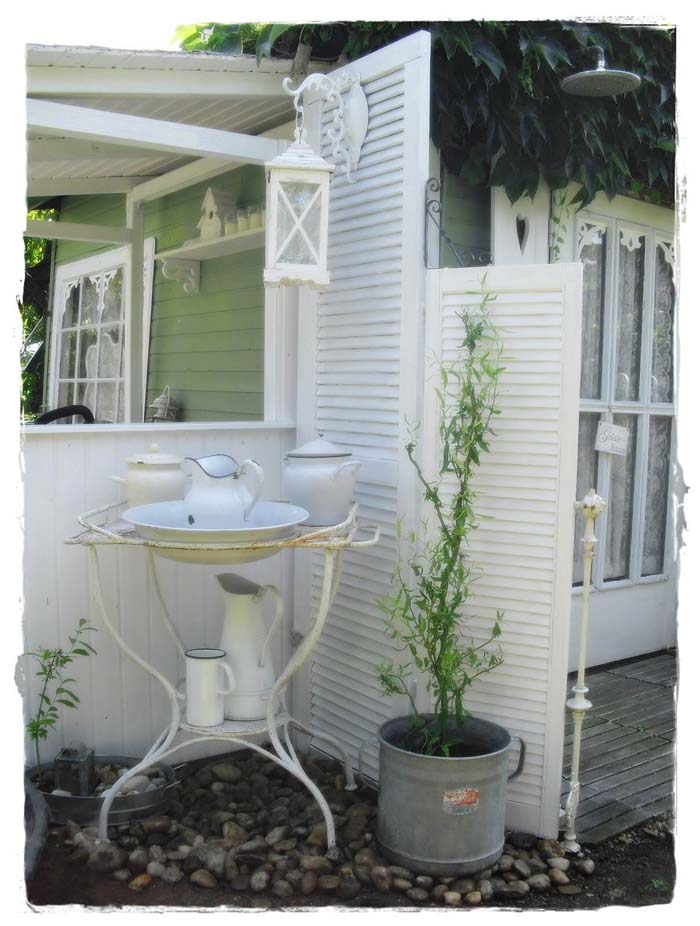 If you want to outline nooks in your garden, use a few shutters to make a divider.
Decorate it with lanterns, flower pots, signs to blend it with the existing decoration.
via Shabby Landhaus
26. Draw a Festive Snowman on an Old Shutter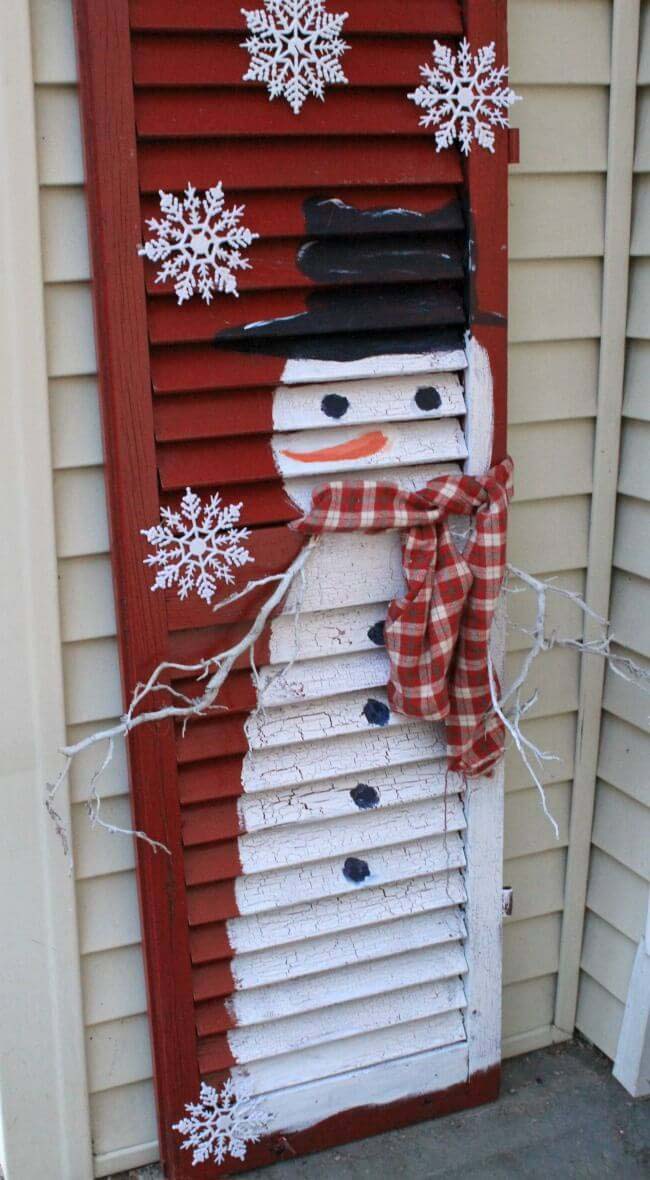 This is another idea of how to turn the shutter into a seasonal decoration. With the help of paints, a happy mood and some time, make a fun snowman sign.
Tie a ribbon to serve as a scarf, glue two twigs as hands and enjoy the cute handmade decoration.
via Crafts a la Mode
27. Exterior Wall Solutions with Wooden Shutters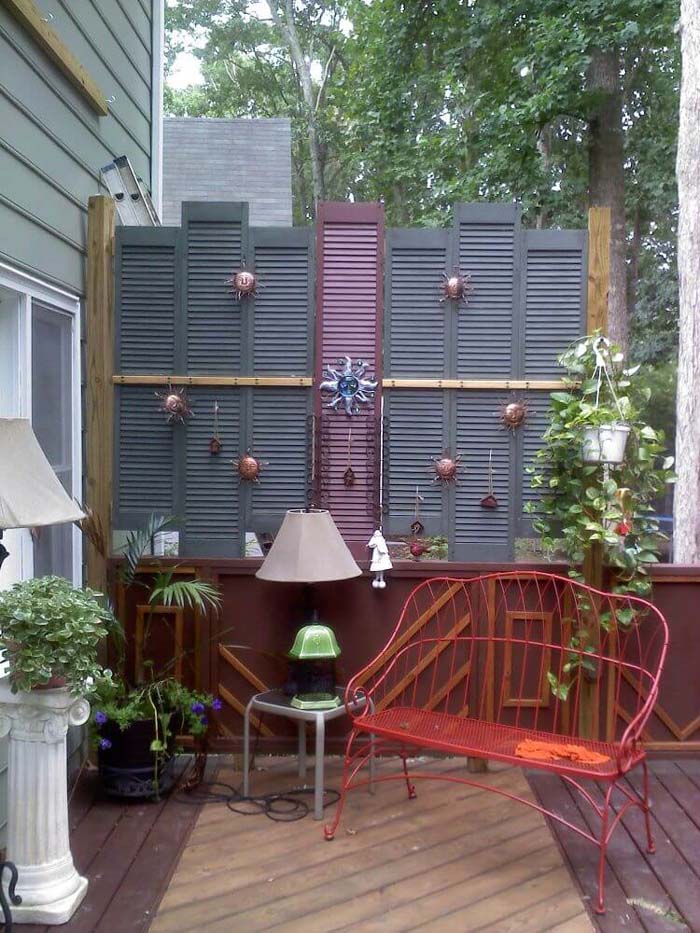 In the beginning, we spoke about wooden wallpaper made of shutters. This is its alternative for the outdoors.
Different shutters are assembled together to form an exterior wall. In addition to its privacy contribution, it makes the outdoor space cozier.
28. Repurpose Shutters to Utilize Your Home's Corner Spaces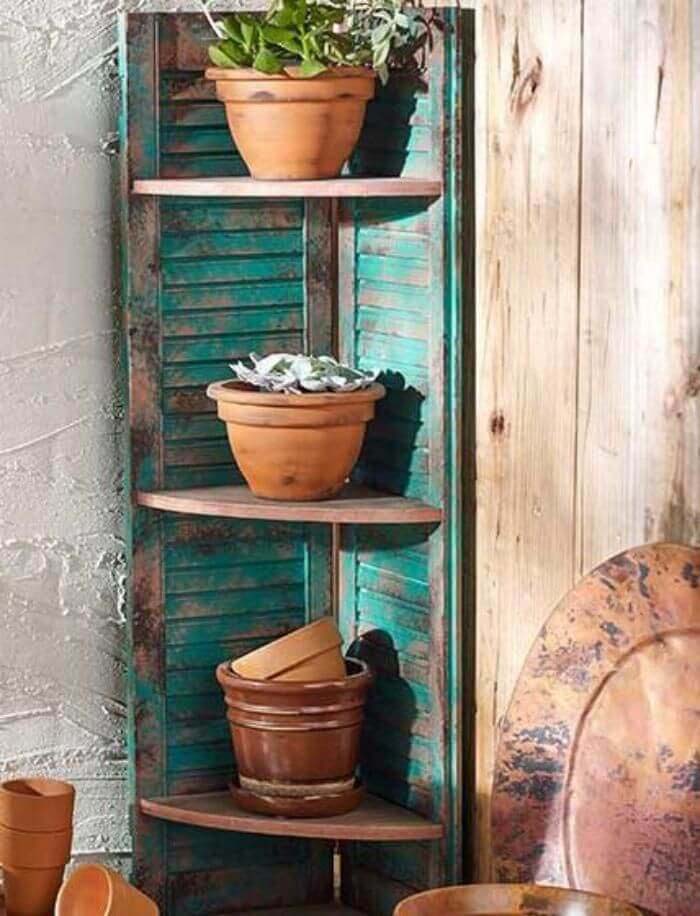 If you want to utilize a corner space at your home without investing too much, consider repurposing shutters. Depending on the surface texture, they can fit any interior.
In this case, the piece is suitable for a rustic or farmhouse-inspired interior because of the aged patina finish.
via Plaid Online
29. Transform an Old Shutter into a Useful Wall Shelf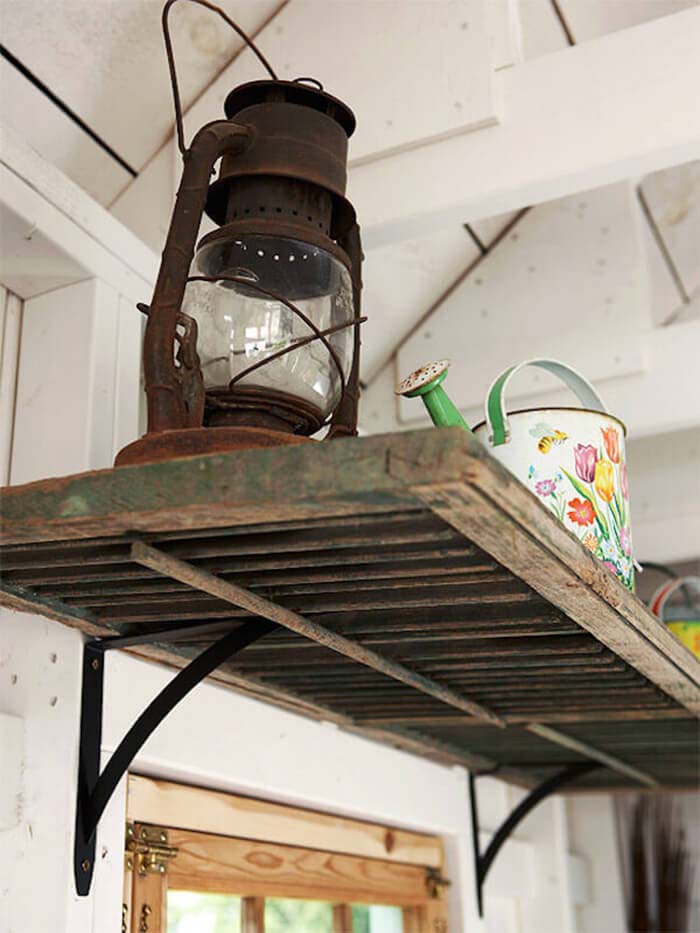 Use an old shutter in its original condition and shape to make a shelf. Fix it to the wall with the help of consoles.
It can be placed above the door inside or outside the house.
via BHG
30. Build a Custom Garden Bench with Repurposed Shutters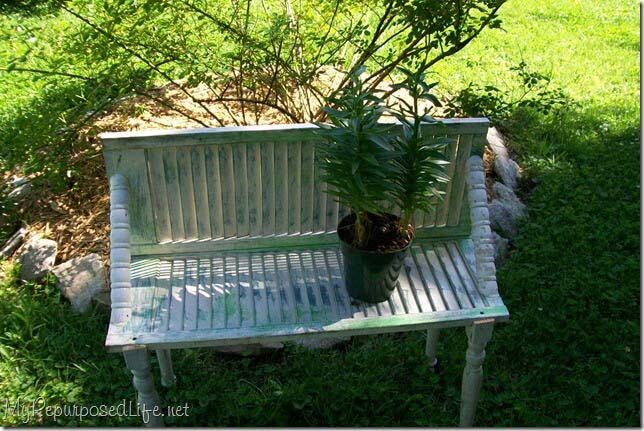 The shutters are the perfect supply for handmade small garden benches. Use two shutters for the sitting area and for the back.
For legs and armrests, you can use parts from old furniture.
31. Make a Planter Box from Repurposed Shutters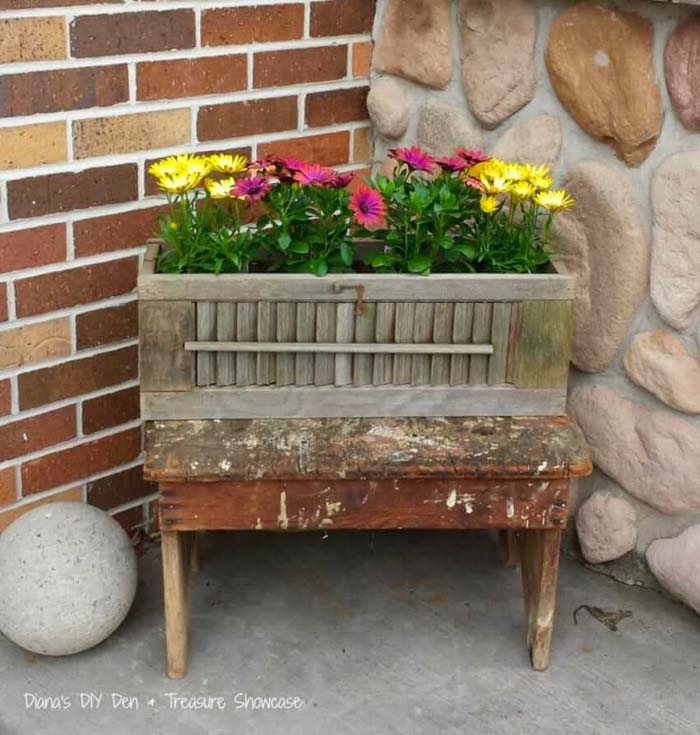 People that love repurposing old furniture and items, won't find it difficult to make a planter box out of shutters.
The weathered the wood is, the greater the aged effect and value will be.
via Rolloid
32. Wooden Angel Statue Turns Garden with Spiritual Presence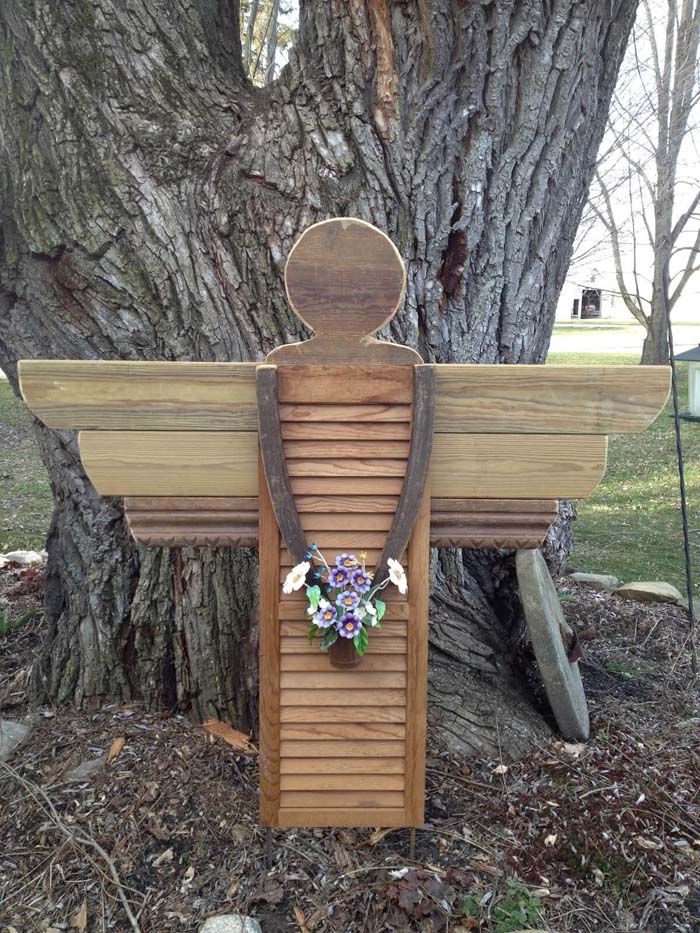 Speaking of meaningful decorations, this figure of an angle will make the garden more divine and spiritual.
The body of the angle is imitated by a wooden shutter, the rest of the parts are cut from scrapped wood.
via My Oh My
33. Transform Shutters Into Stylish Seating for Your Patio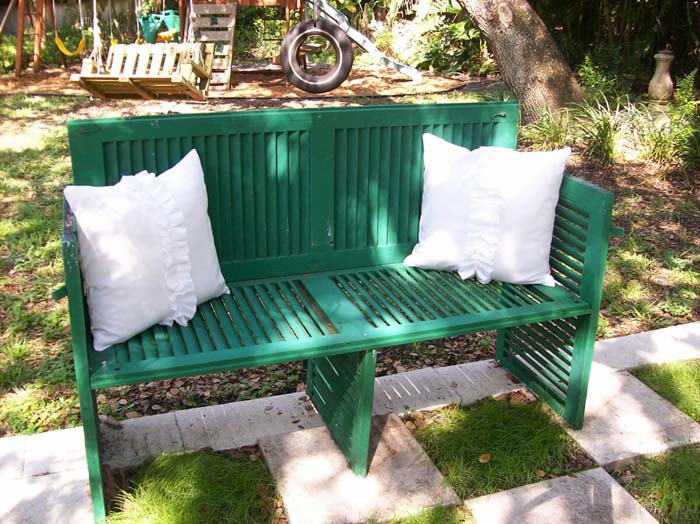 If you have a lot of shutters left, use them to make sitting furniture for your patio. Each bench takes approximately 3 shutters.
Decorate with pillows to make the benches' color pop out and to ensure comfort.
34. Upgrade Your Bedroom with a Shutter Headboard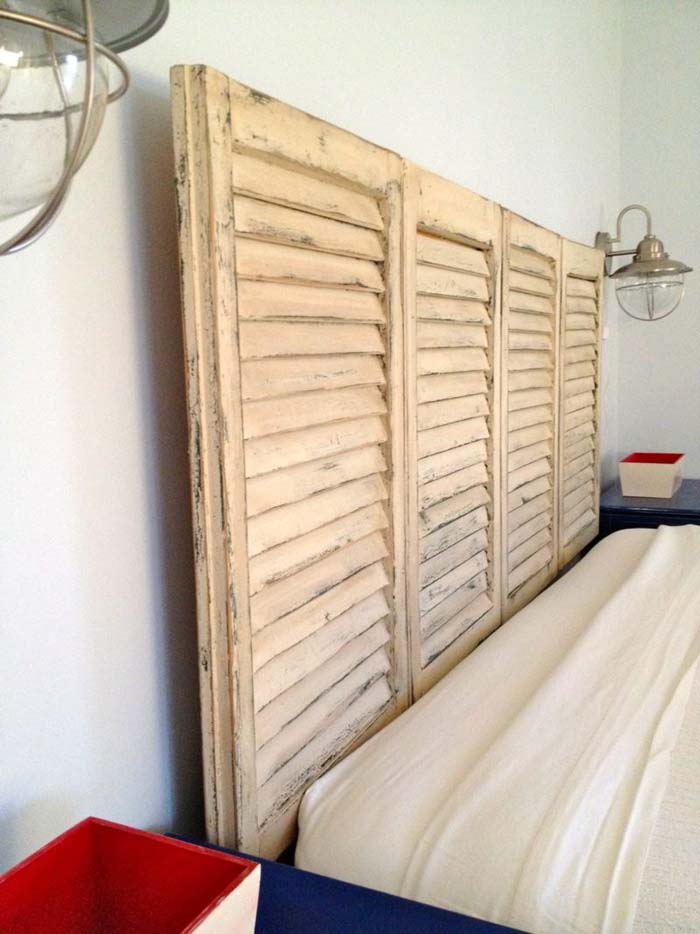 The appearance of the bed can easily be transformed with a shutter headboard. Depending on the effect you are looking for, you can leave the shutters weathered or use paint techniques to achieve a certain design effect.
The existing slats can be used to put through fairy lights or for hanging nice pictures.
via Jamie Costiglio
35. Use Old Shutters as a Chic and Functional Mail Organizer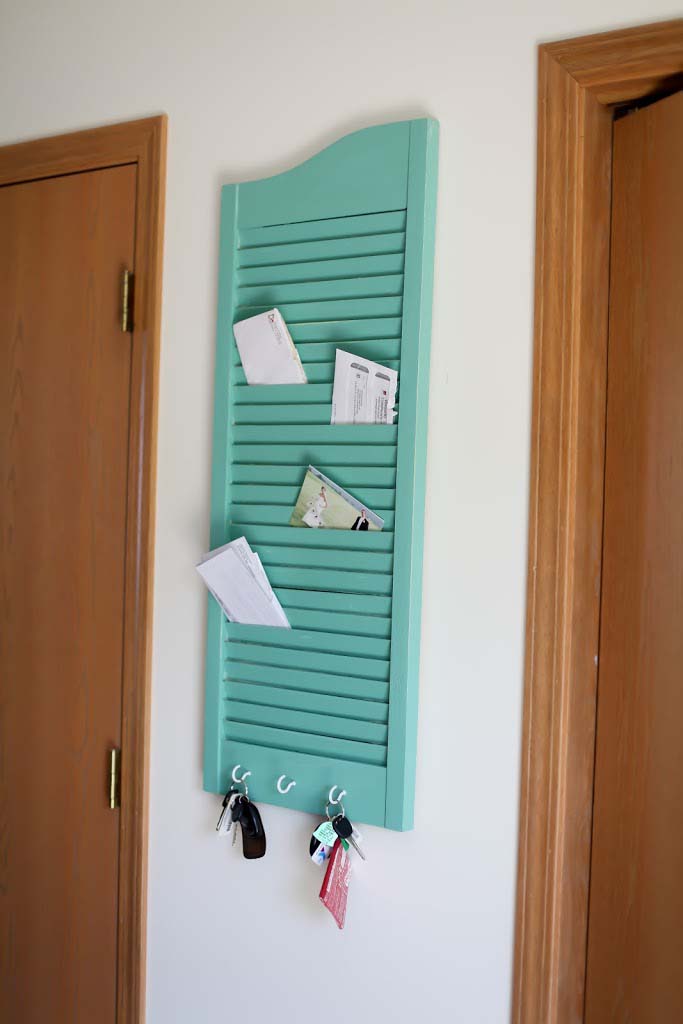 The multifunctional application of old shutters makes it possible to use them as a chic mail organizer.
Although the modern world doesn't use the mail service that often, it will be nice to have a special place for the cards from your friends.
This organizer can become a functional office storage space for invoices.
36. Vintage Herb Garden with Repainted Shutters and Mason Jars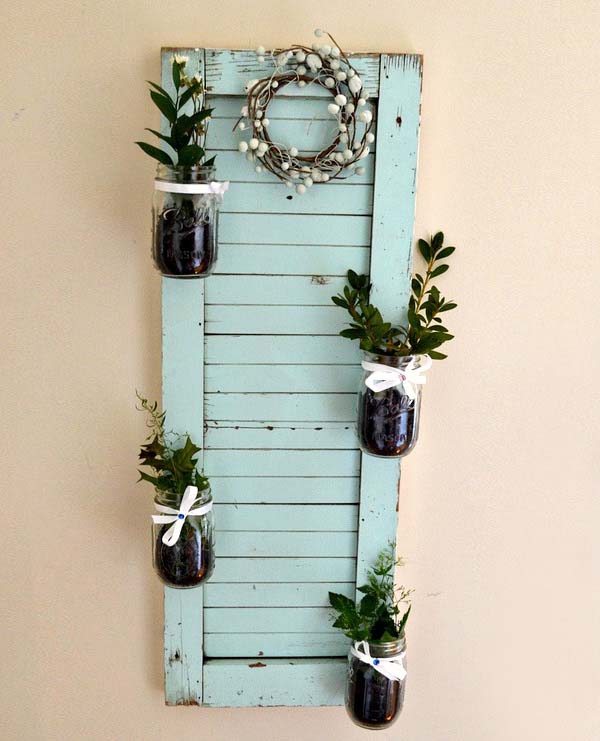 A repainted shutter and a few mason jars are all you need to make a vintage charming herb or plant garden.
If the jars are placed on the rims, you will have space in the center to decorate with a wreath, ribbon or similar accessory.
via She Knows
37. Bring a Rustic Look to Your Home with a DIY Shutter Mirror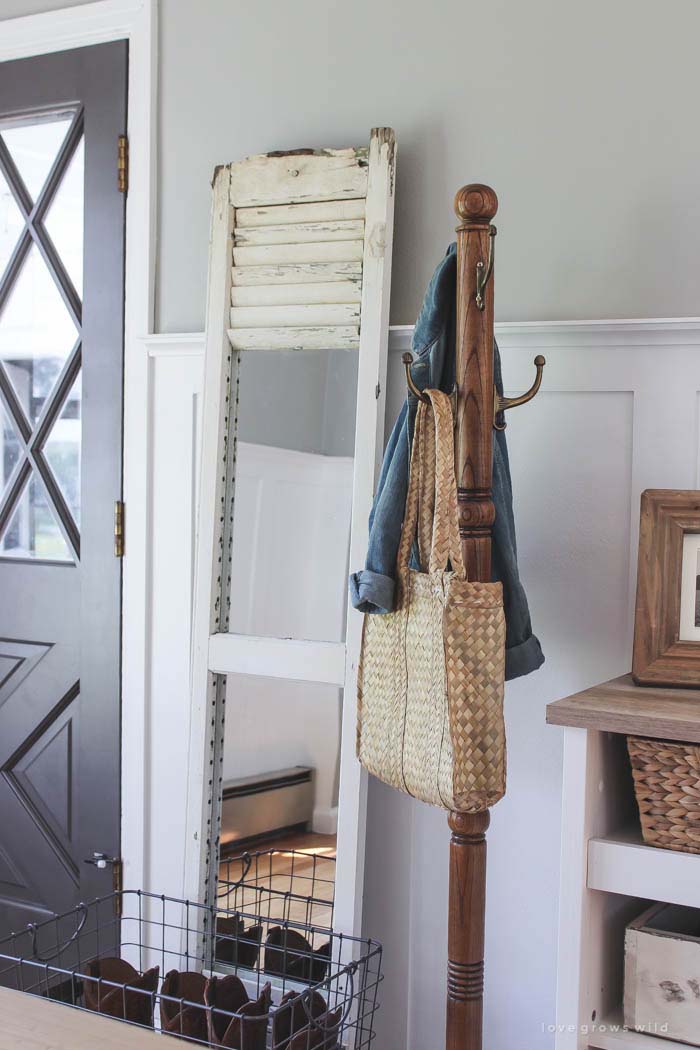 This DIY mirror is perfect for a cottage house or cabin. Its farmhouse touch increases its decorative value.
Make sure to read how simple and creative this idea is.
via Love Grows Wild
38. Upcycled Window Shutter for a Hanging Succulent Planter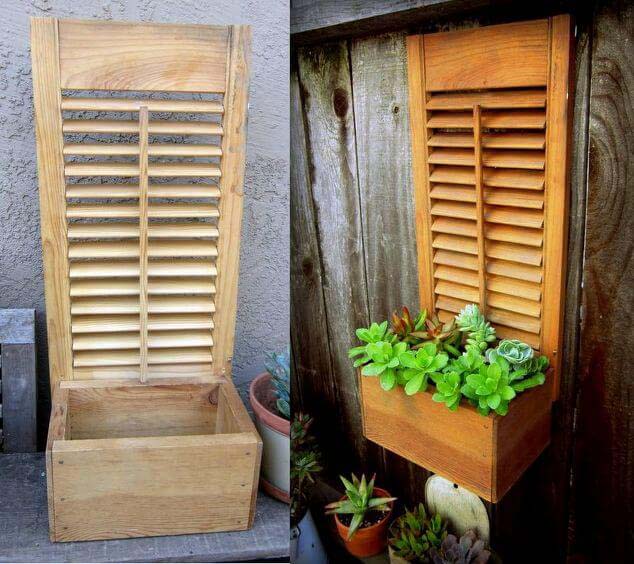 The window shutter takes another transformation and becomes a stand for suspending a succulent planter.
via Hometalk
39. Make a Multifunctional Light Feature with Shutters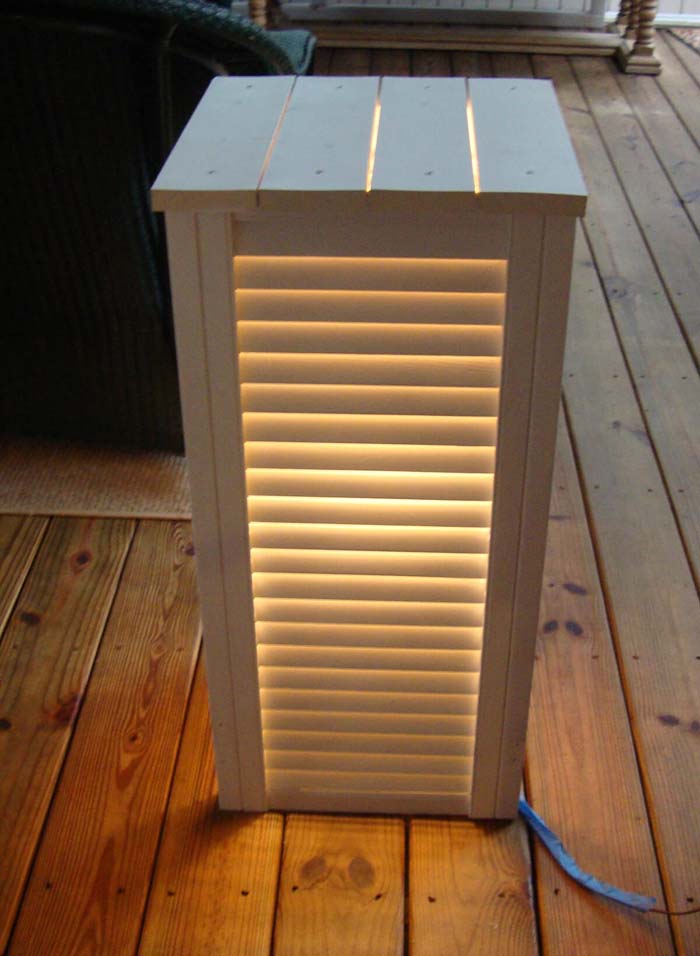 The shutters are great for the making of a multifunctional light feature because the slats let the light gently protrude out.
You can fix a regular electric bulb or use fairy lights.
40. Craft a Rustic Birdhouse with Shutter and Tin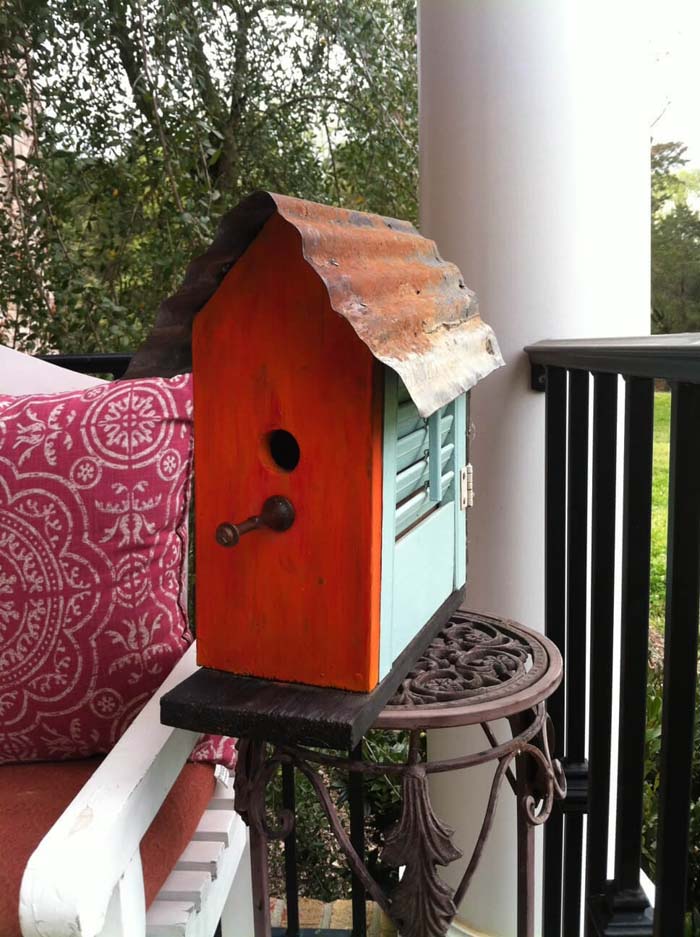 Birdhouses are a favorite outdoor feature when it comes to garden decoration.
You can get one pre-made or craft yourself one, using scrapped wood, a shutter and tin.
via Etsy
41. Distressed Green Wall Shutter Art Featuring Vibrant Flowers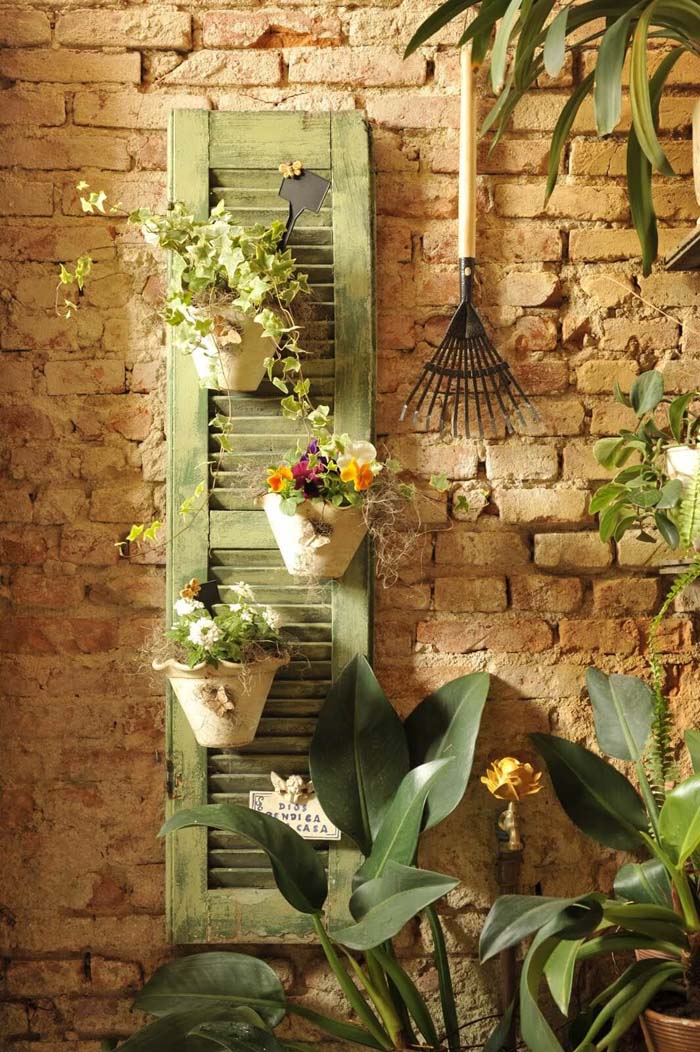 This wall shutter art is focused on flowers. The beautiful distressed green shades make the wood look aged and weathered.
This vertical garden will be a notable decoration for any old shutter decor ideas for interior or exterior.
42. Make a Watering Can Angel on a Repurposed Shutter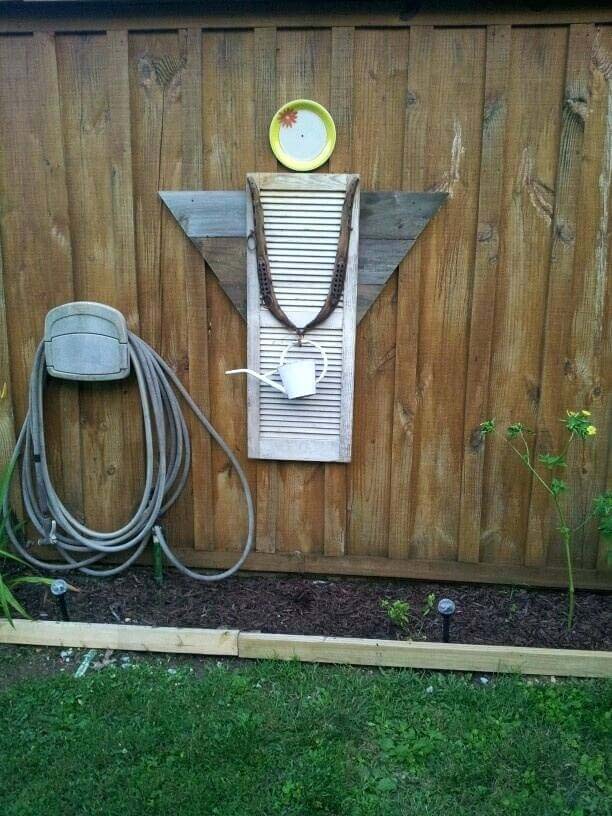 Thanks to the watering can, the angel figure from a shutter and scrapped wood blends well with the garden ambiance.
43. Rustic Accents for House Number Sign with a Small Shutter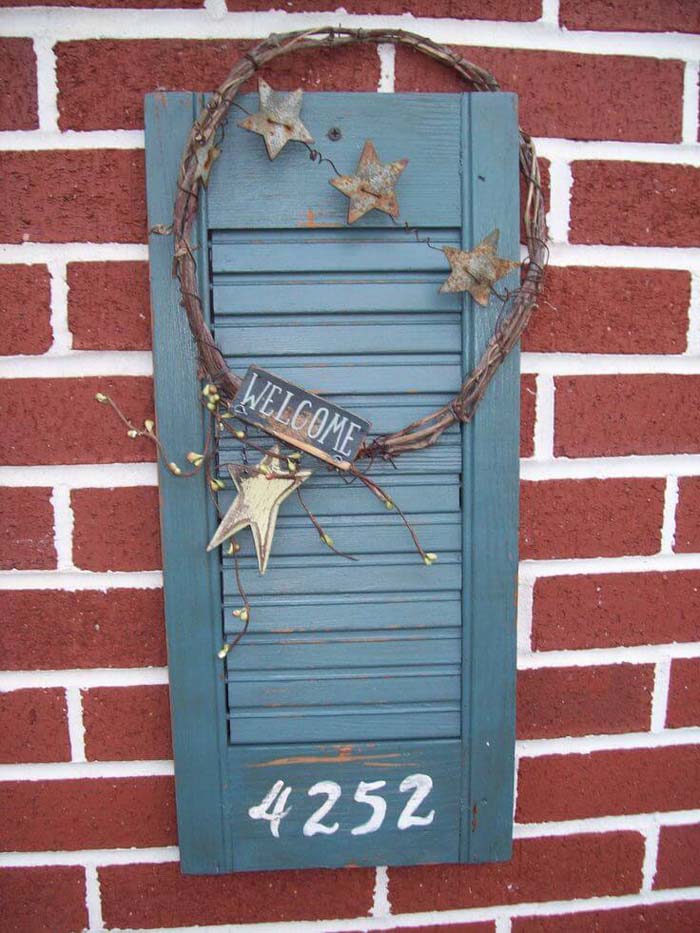 A plain small shutter provides just enough space to write the house number and to put some beautiful accents.
The distressed paint, the wreath from grapevine and the metal rusty stars take the shutter sign to the rustic concept.
44. Make Your Porch Inviting with a DIY Welcome Sign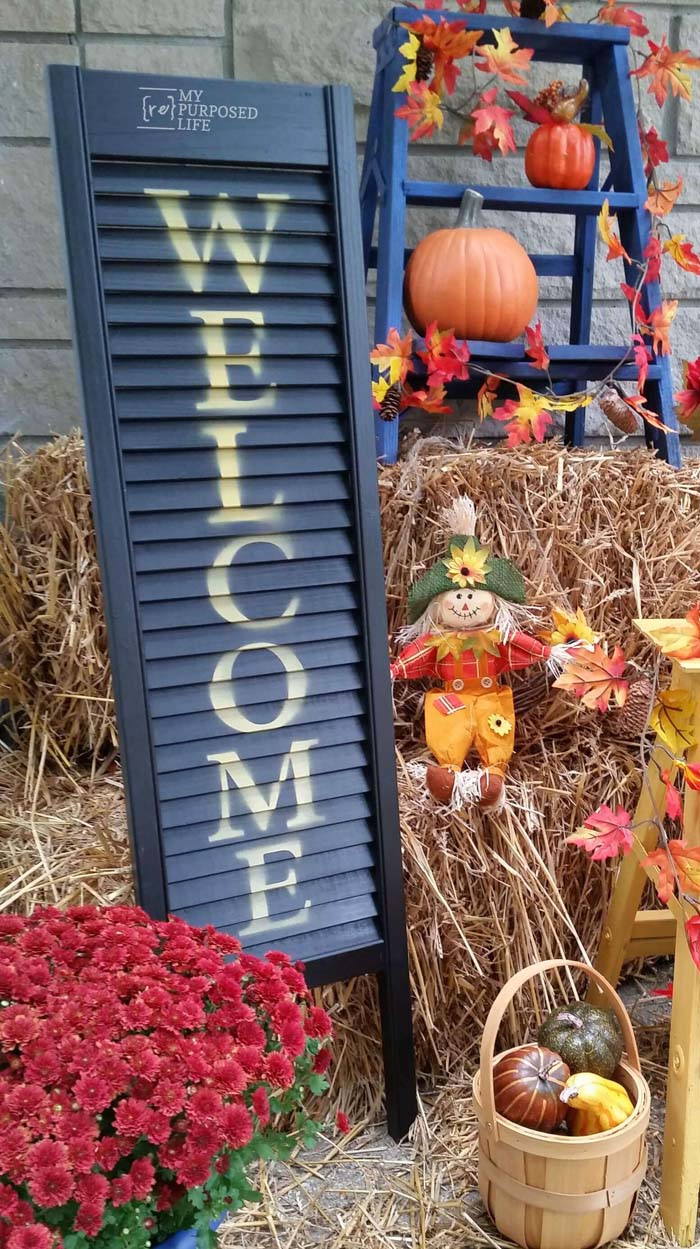 Make your porch more inviting with a welcome sign. Making it is an easy task and doesn't require any special skills.
What you are going to need though are spray paint and a stencil.
45. Make a Coffee Table Using Repurposed Window Shutters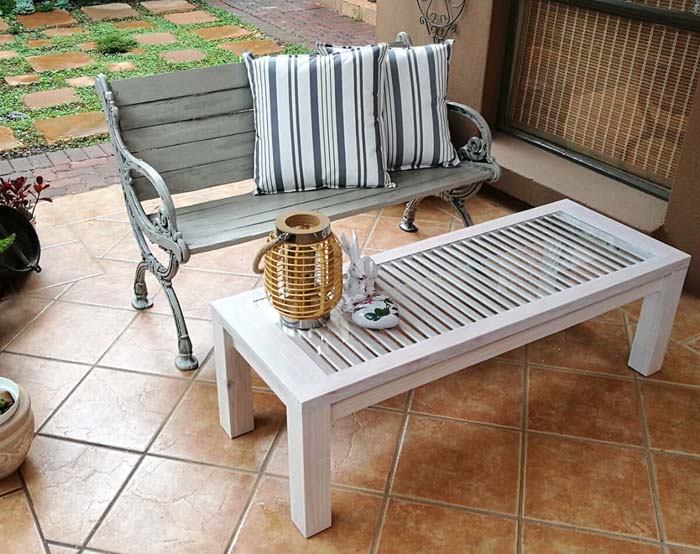 As it may have crossed your mind, shutters can be used even for table making. The shutter becomes the countertop of the table. The legs must be of a height that eventually makes the table comfortable for dining or having a drink.
We recommend that you place a glass piece over the slats to make the surface even and easy to be maintained.
via The Home Channel