Even if small, the garage is most often considered the place for storage of everything that doesn't find its place inside our homes.
This random storage is most often related to quite chaotic and practically inexisting organization which leads to a total mess.
With the help of some storage and organization hacks and ideas, you can put an order in that place.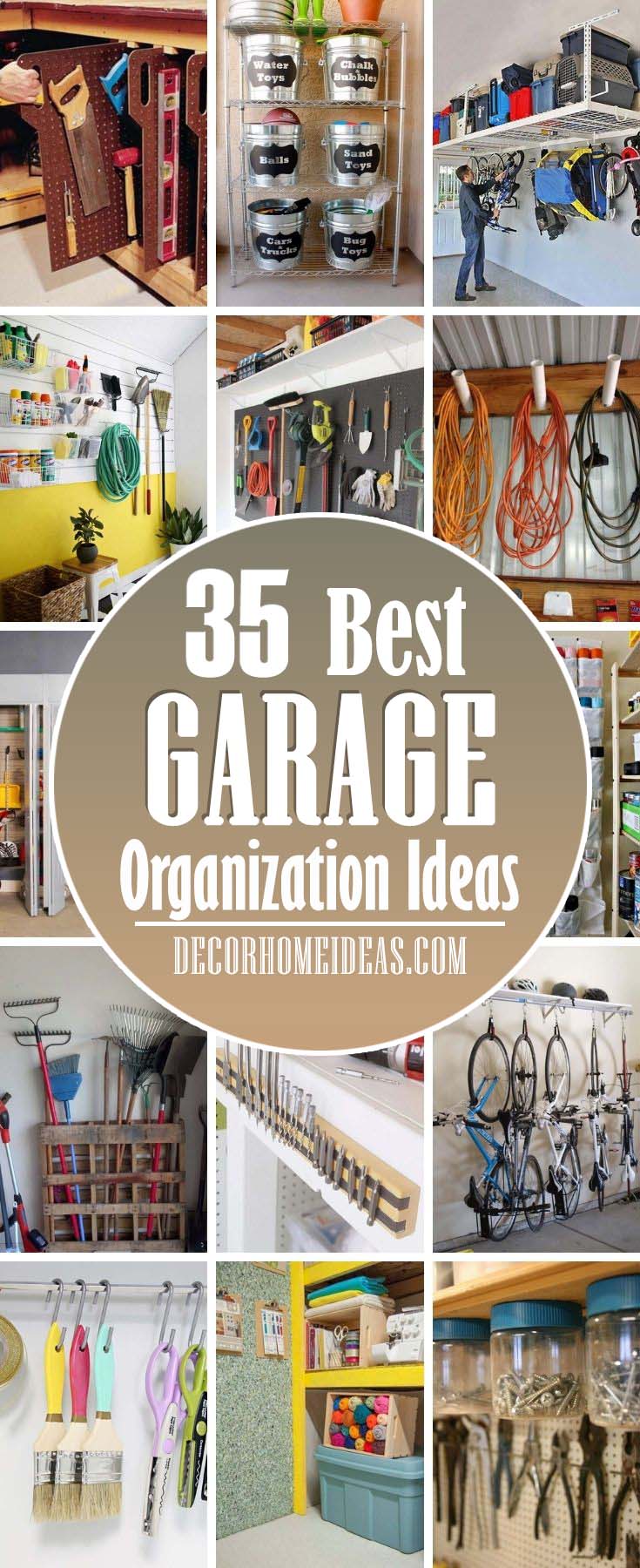 Utilizing the walls and even the ceiling of the garage can create far more free space for storage of things that will be at a one-hand distance and easy to find.
The smartest garage organization ideas follow so make sure to read all of them for inspiration and upgrade of your garage.
1. Garage Ceiling Storage Idea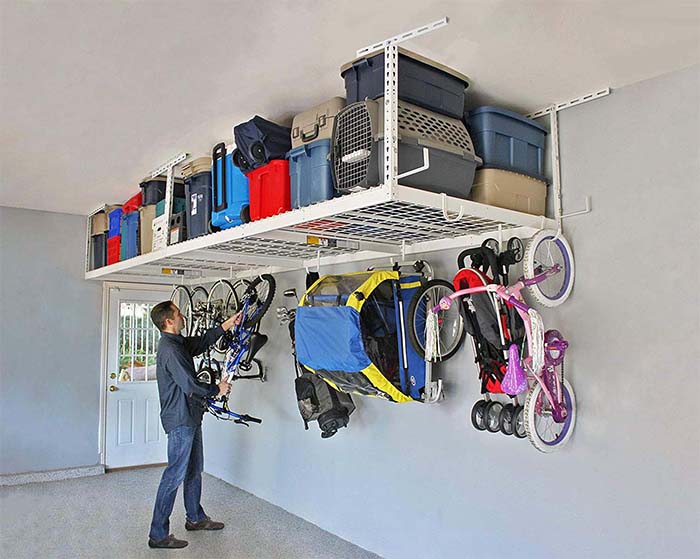 The system SafeRacks can be installed onto the garage ceiling to accommodate elements of various sizes.
The rack provides space for large boxes, sports equipment and similar. The hooks at the bottom of the rack can be used for bicycles and other stuff that can be suspended.
2. Black Pegboard Wall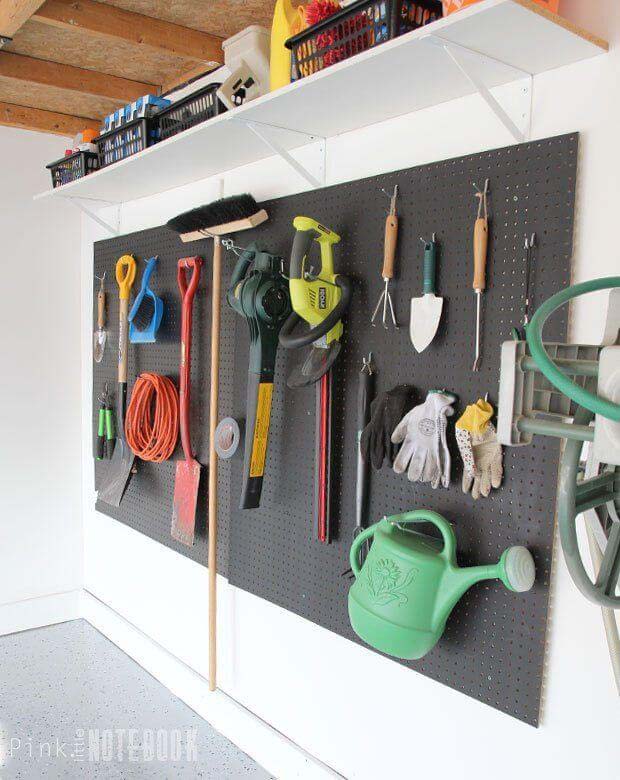 The pegboards are the simplest and most convenient wall storage system.
The larger the panel is, the more hooks you would be able to fix to it to store your garage stuff.
3. Clear Totes, a Workspace, and Extra Storage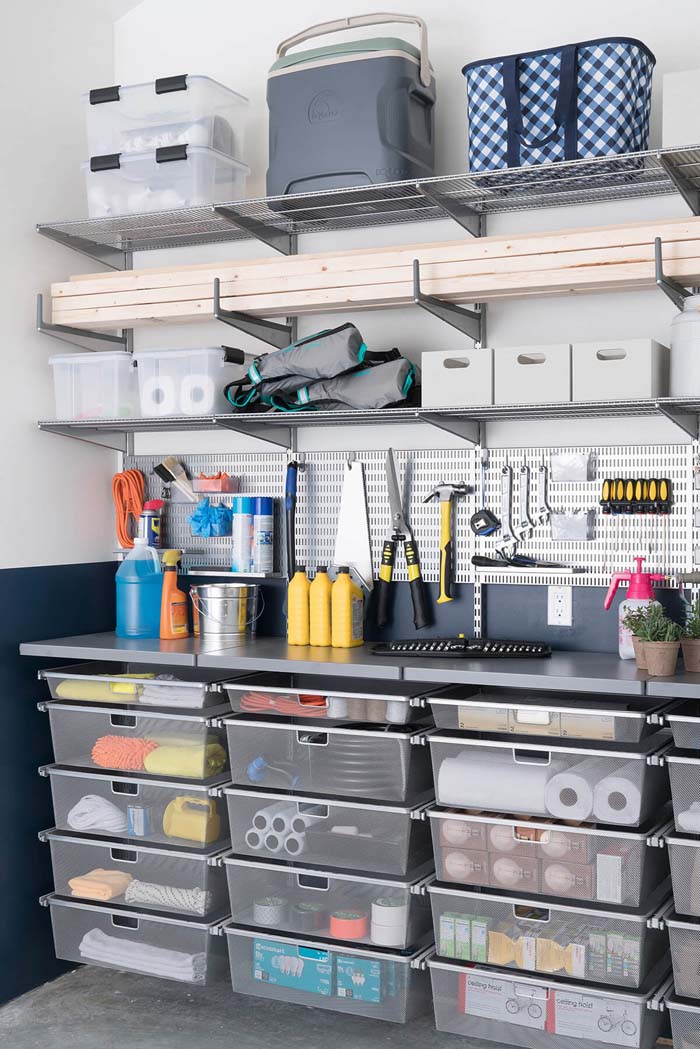 Almost every garage has a differentiated workspace. Use the space beneath and above for storage systems similar to those from the image.
The shelves can be of the shape and size you desire. The box storage system beneath works thanks to sliding bars fixed to the wall and to each box.
For more information about supplies and tools required for this project, check below.
via DIY Network
4. Crafter's Heaven Garage Makeover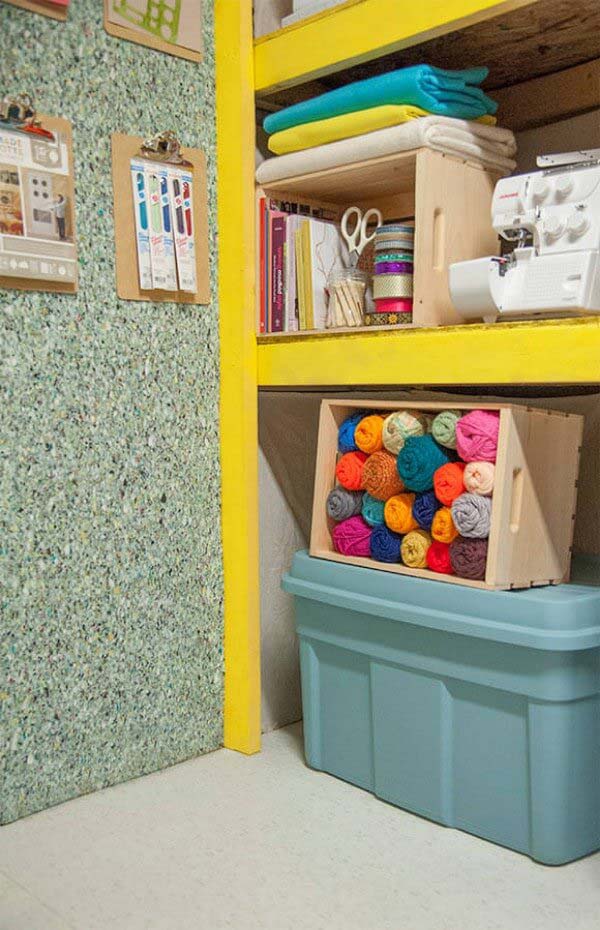 A rack placed tightly in a corner of the garage and tracing the height of the wall will have a small footprint but will provide a lot of storage places.
Make it from scrapped wood materials like posts, OSB's, plywood. If you prefer neater storage, use crates, boxes and similar containers.
5. Rolling Double-Sided Pegboard Tool Organizer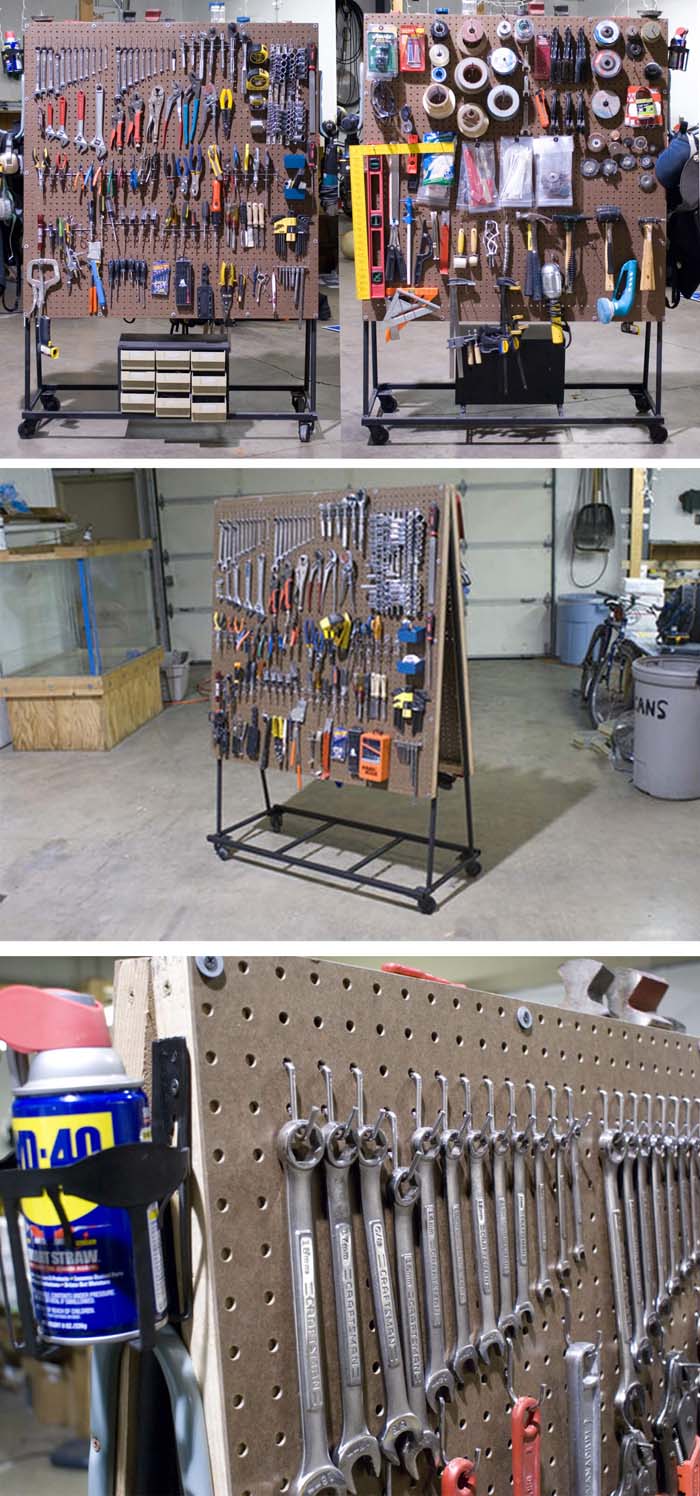 Sort your tools like a professional! This DIY stand ensures a neat organization of all tools and instruments and comes as a mobile solution.
Each time you start any repair, roll the stand next to your workspace and save time from going, finding and taking back the instruments you need.
via Instructables
6. Dual Purpose Garage Wall Storage Solution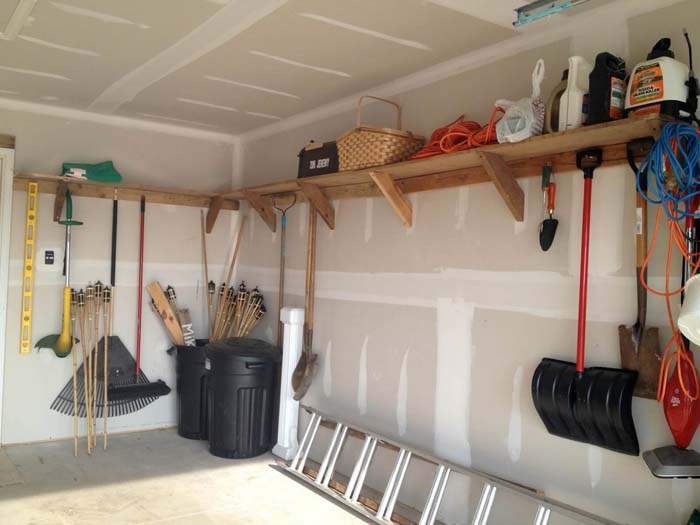 Fix racks to the top part of your garage walls. They can be as wide as you wish as long as the material allows you.
In this case, they are made of reclaimed wood which gives the garage some homely charm.
The bottom of the racks is used as additional tool storage thanks to nails screwed to the horizontal support beam.
via Dont Worry Be Happy Keep Learning
7. Easy PVC Pipe Cord Collectors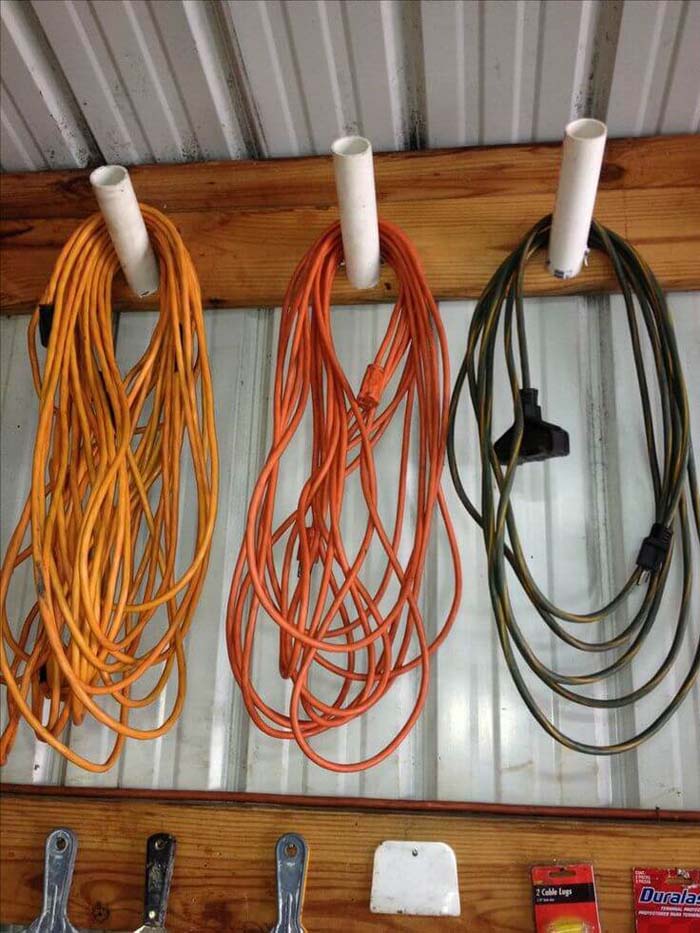 The organization of the garage can be a fun and very affordable project. Some wooden boards with protruding nails become a vertical tool display.
The same boards but equipped with long PVC pipes instead of nails can accommodate all of the cords.
via Glenn Bates
8. Easy Shelf-Side Magnetic Bit Organizer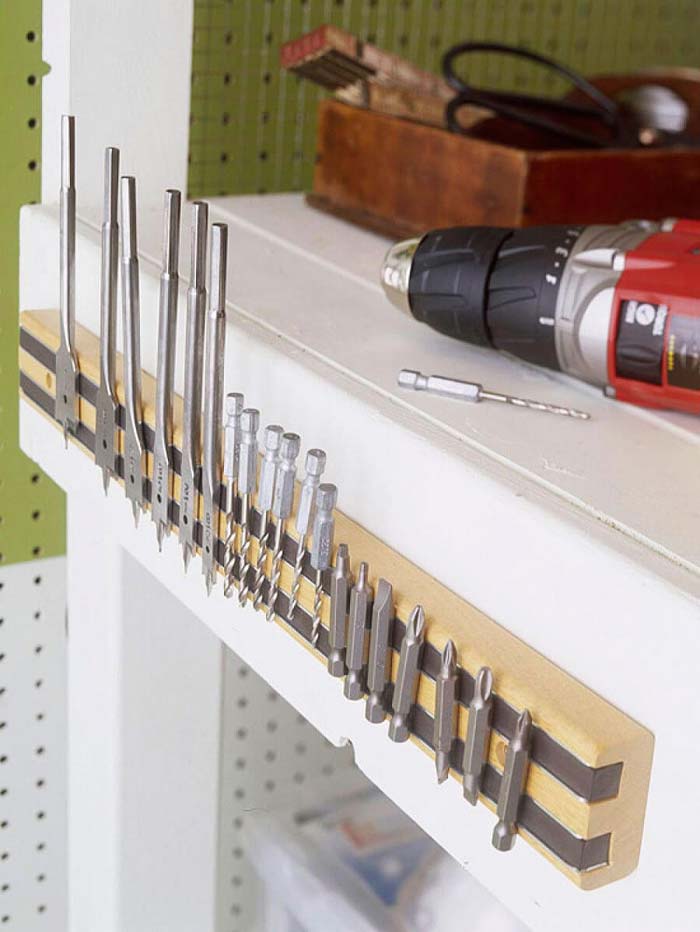 Most of us put the small bits in boxes but let's be honest- this isn't even close to an organization!
This clever idea for storage of the bits onto magnetic strips will let you store them properly and will let you quickly find the piece you need.
via BHG
9. Floor-to-Ceiling Small Space Utilization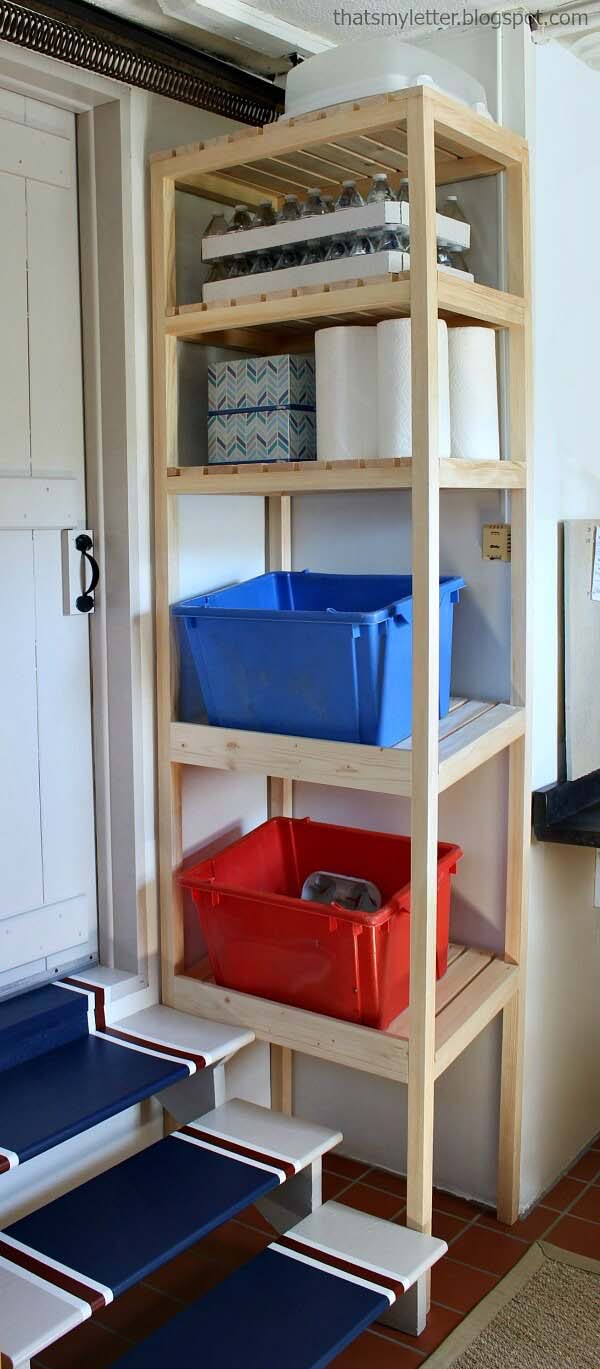 Designed for easy access to the stored items, this handmade tower will use the vertical space of a small corner of your garage.
The distance between the tiers is big so it can accommodate those bulk items that would otherwise stand in your way.
via Jamie Costiglio
10. Fun Kids' Labeled Bucket Stash Rack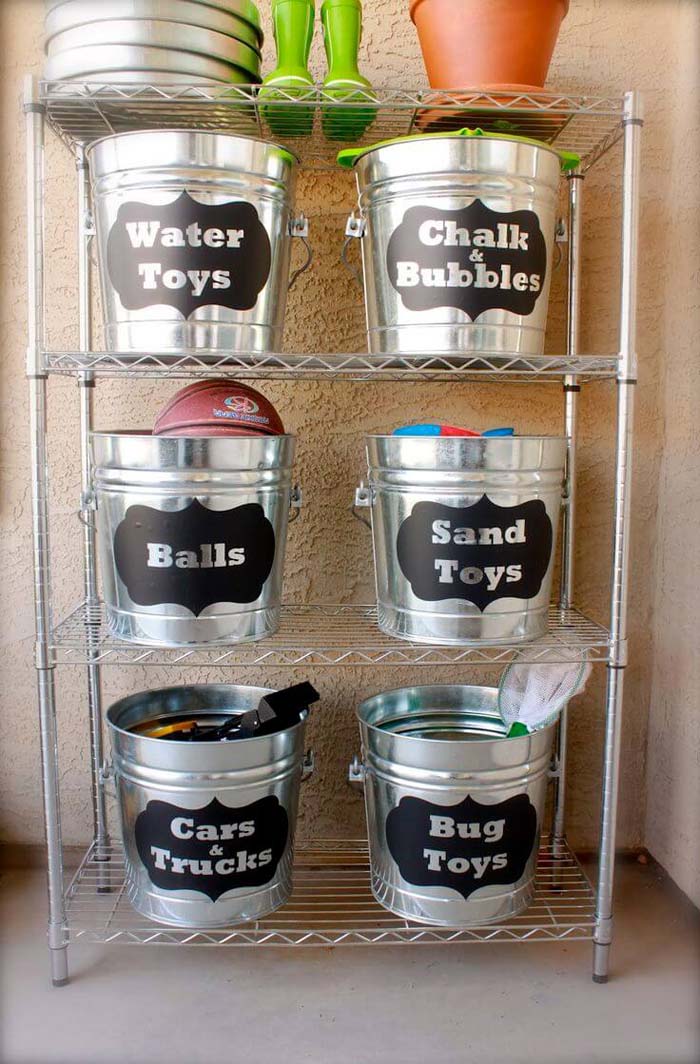 A multipurpose metal stand can come in help with the storage of the outside toys in the garage.
Lift the organization to another level and sort the things in metal buckets with cute labels.
via Domestic Charm
12. DIY Corner Storage Shelves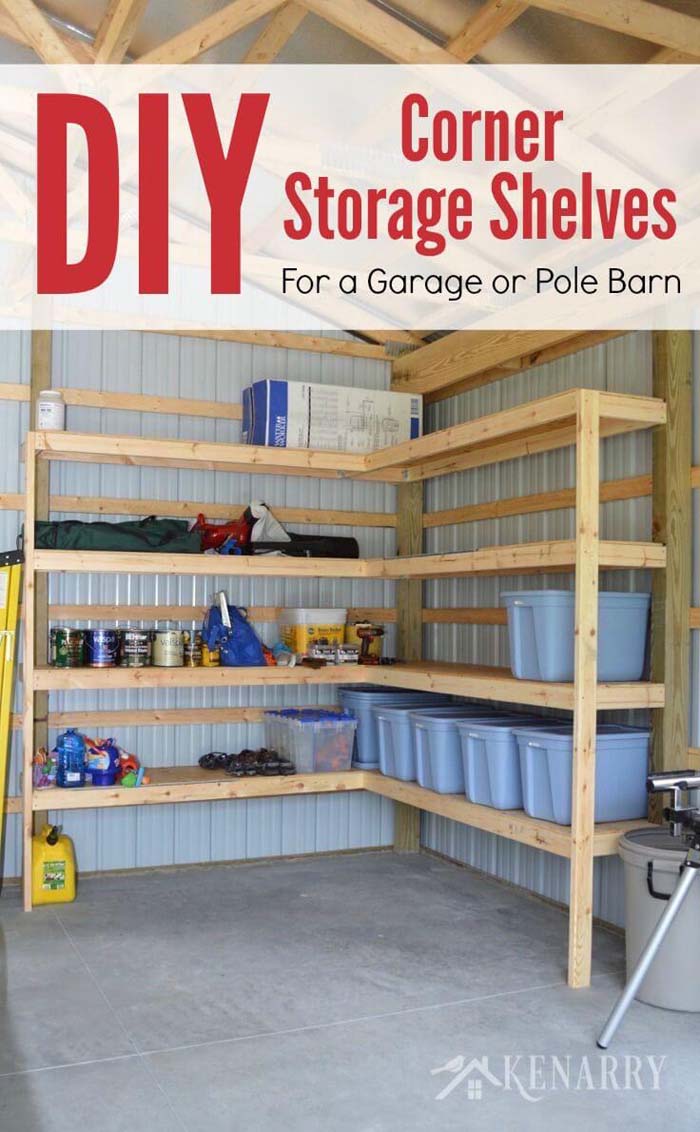 Make your personalized storage system consisting of tiered shelves from wood.
They will use the vertical space and will take up a lot of stuff compared to a storage version with closed cabinets.
13. Garage Organization Idea for Tools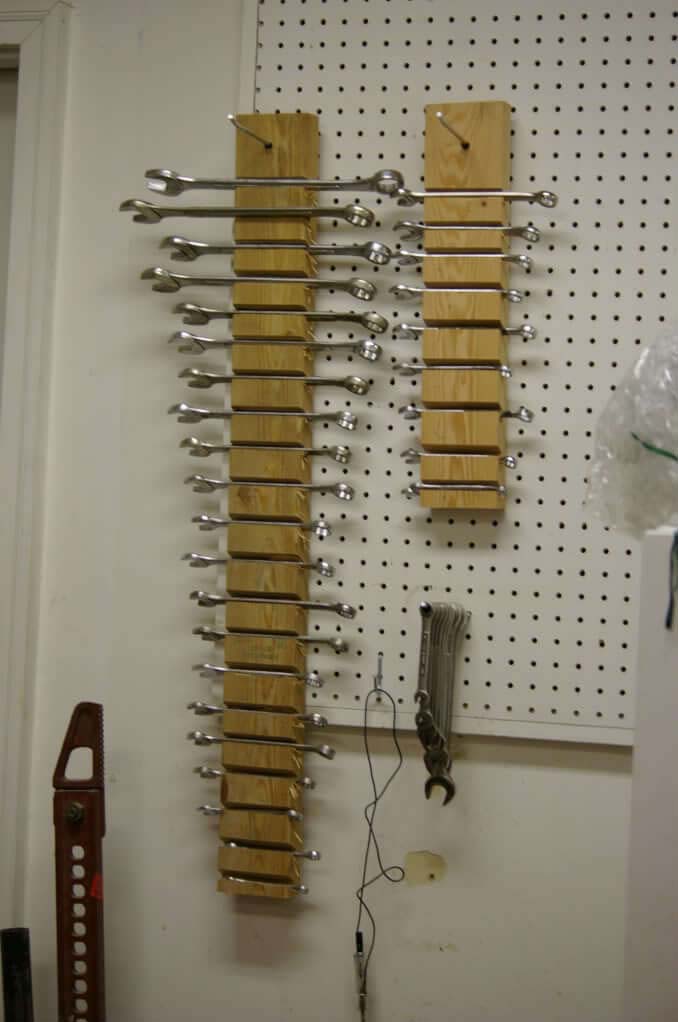 A long piece of wood post with cuts at an angle will let you organize the tools per size and type.
You can nail the post to a wooden shelf or attach it to a pegboard with a hook.
via Imgur
14. Garage Organization Ideas with Bins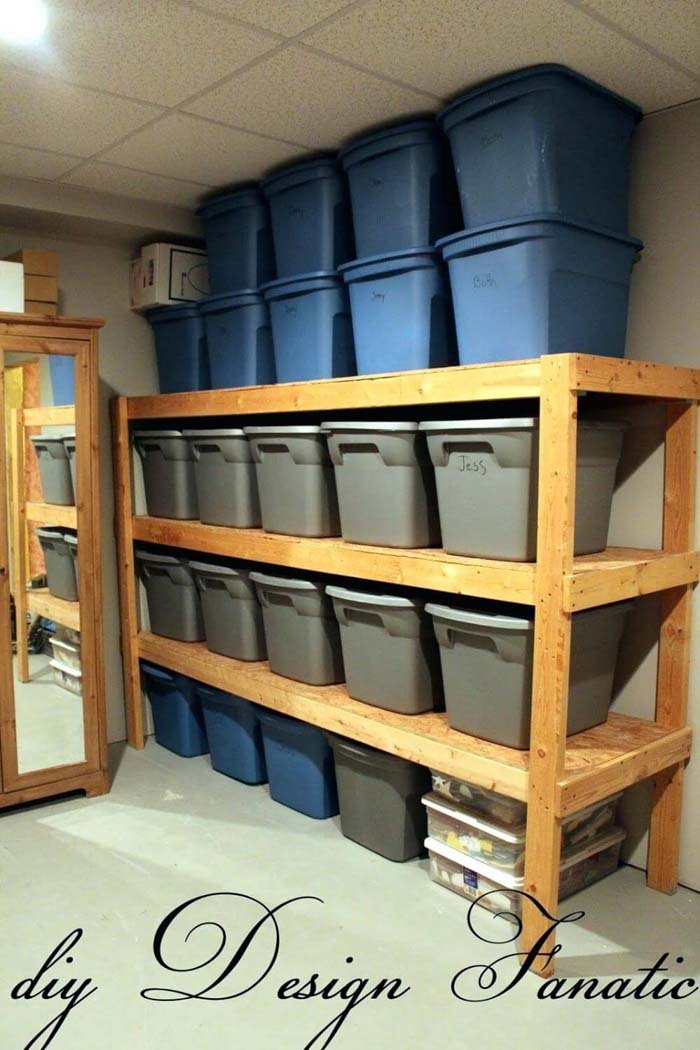 The plastic containers are used to achieve a less crowded look of the storage system.
Another advantage they give is the possibility of stacking.
15. Garage Organization Project for Bicycles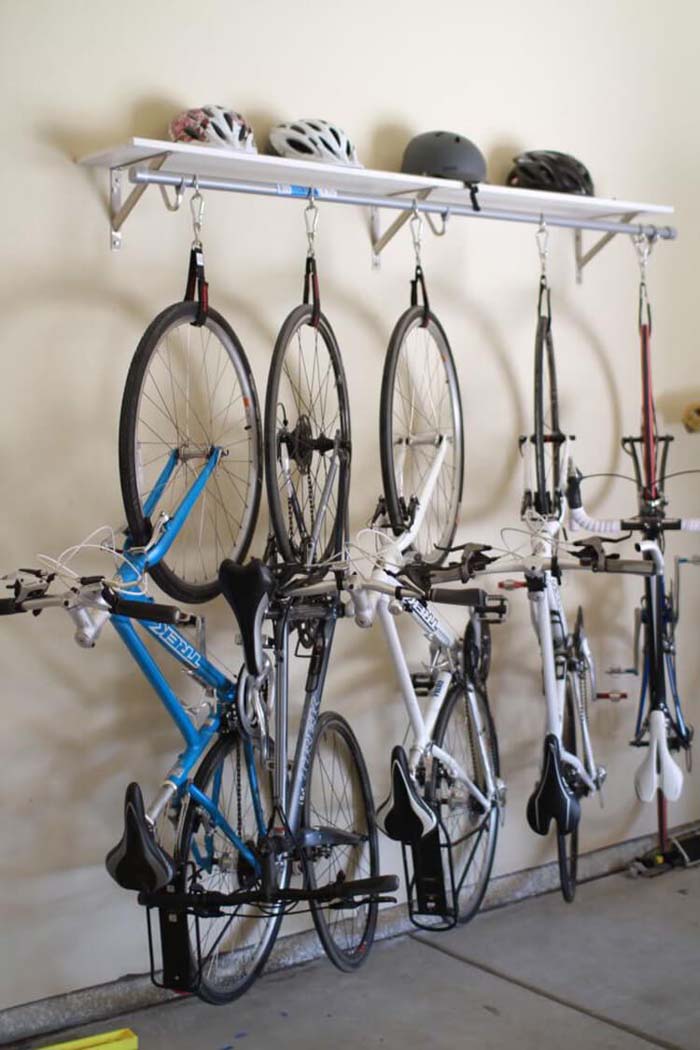 Hanging the bicycles to hooks is a great way to save space in the garage.
Suspending them onto a metal rod installed beneath a wall rack will let you store them closer to the wall and slide them next to each other for optimum space usage.
via Fabelio
16. Garage Shelving Can Be Pretty Too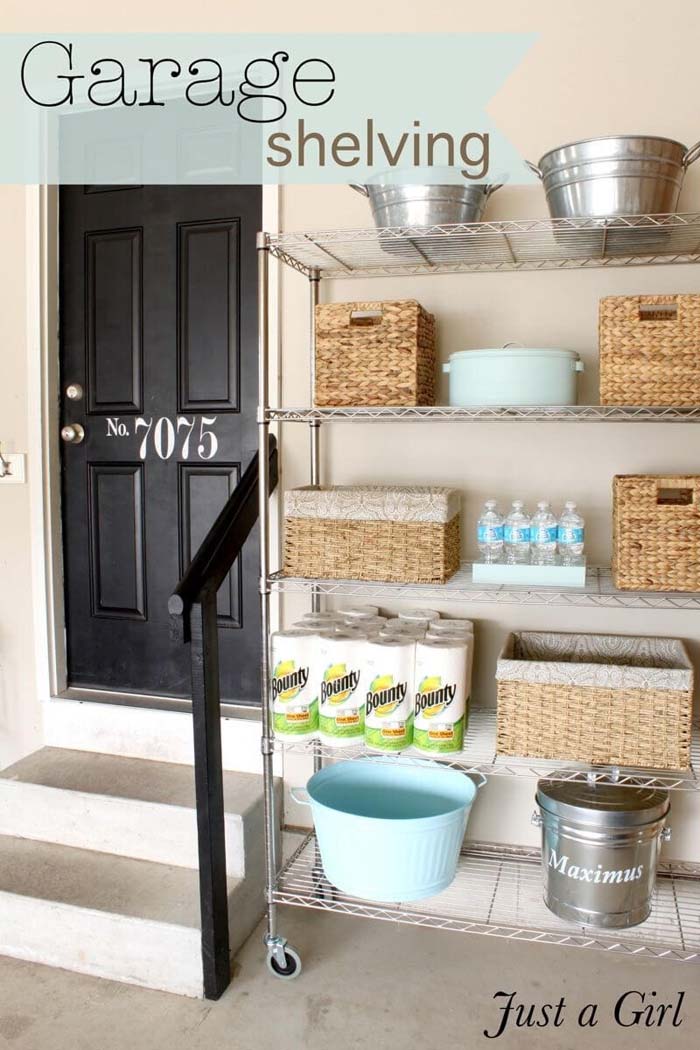 Who says that garage storage must look industrial? It can be quite pretty if you pay as much attention as to any other part of your property.
A metal rack on casters is a good mobile organizer. For neater and tidier storage of stuff, use wicker baskets and galvanized labeled containers.
via Just a Girl Blog
17. Give Your Garage Some Mod Personality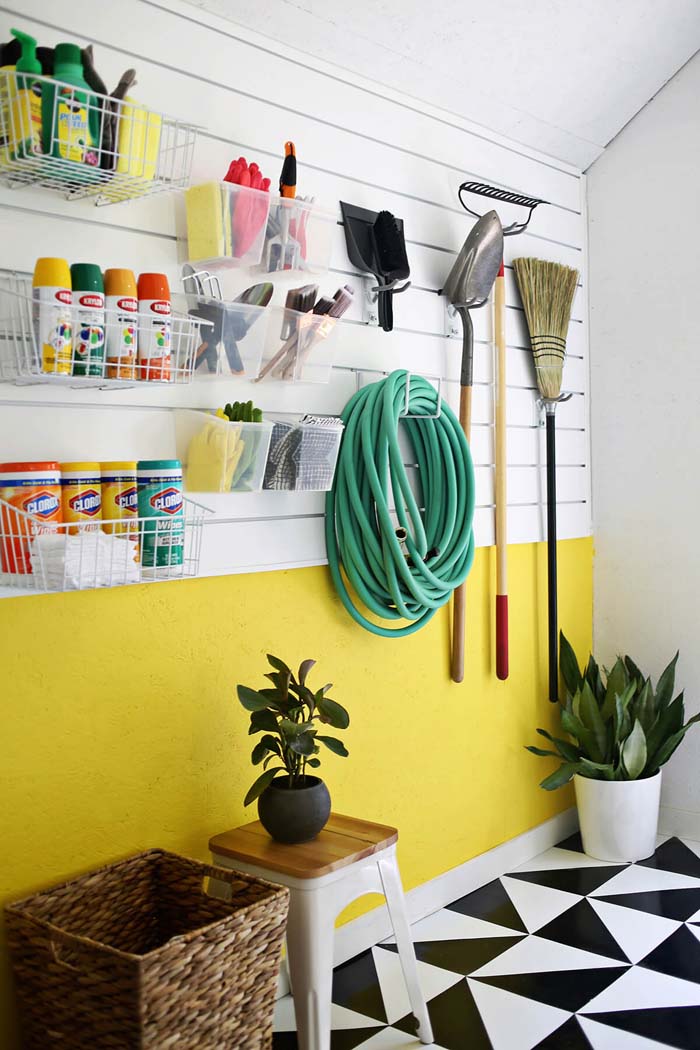 These wall panels looking like siding are perfect for garage installation for several reasons.
They are easy to maintain, they eliminate clutter thanks to the easy attach of baskets, hooks and similar. Furthermore, they give an aesthetic touch to the space.
via A Beautiful Mess
18. High Efficiency Storage Closet Orientation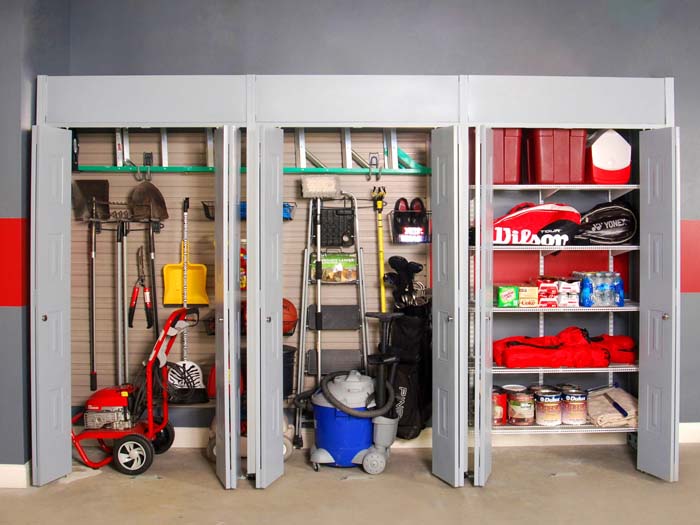 If there is an awkward corner in your garage, you must use it.
Taking its depth as an advantage, make a built-in closet that will take up all the tools and accessories that have been wandering on the floor so far.
For maximum convenience, use sliding or harmonic-type doors.
19. No Tool Shed Required Garage Layout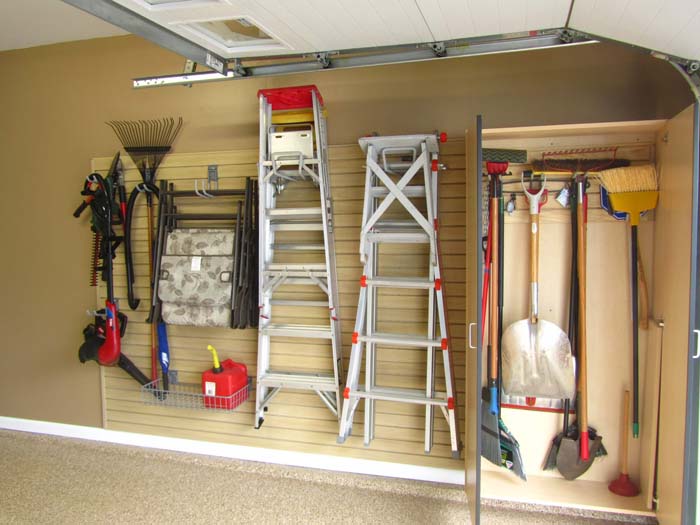 Such a wall storage system solves two issues- firstly, to use smartly the alley between the wall and your car and secondly, to ensure a solid surface that will bear a large number of heavy tools.
Plank part of the wall with horizontal slats and nail hooks and baskets for storage.
You need to be sure the wall shelves and cabinets won't interfere with the garage door. Different options are provided by garage door services.
20. Off the Wall Army of Tubs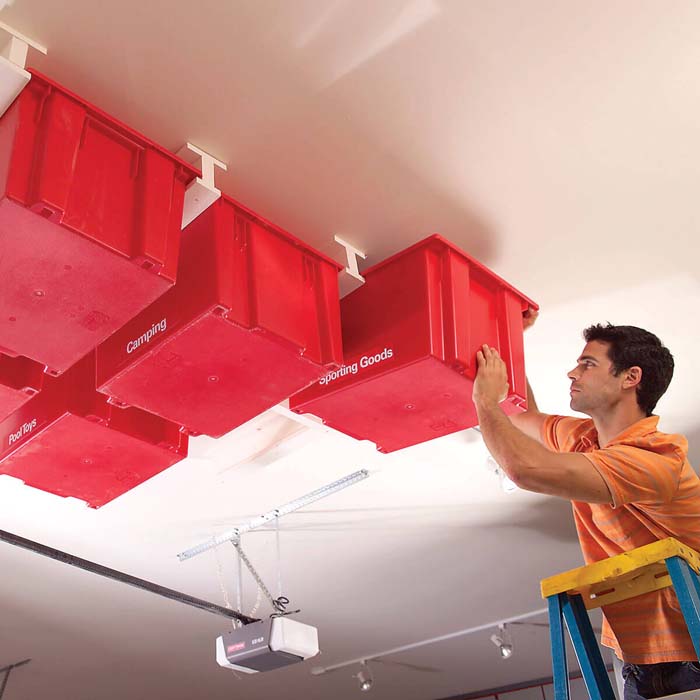 The ceiling storage system is the most suitable solution for small garages. The storage containers define the distance between the rails.
The rails themselves are rigidly fixed to the ceiling with the help of proper hardware.
This type of storage is best for lightweight things like seasonal decorations, camping stuff, toys.
via Family Handyman
21. All in One Place Mobile Tool Tote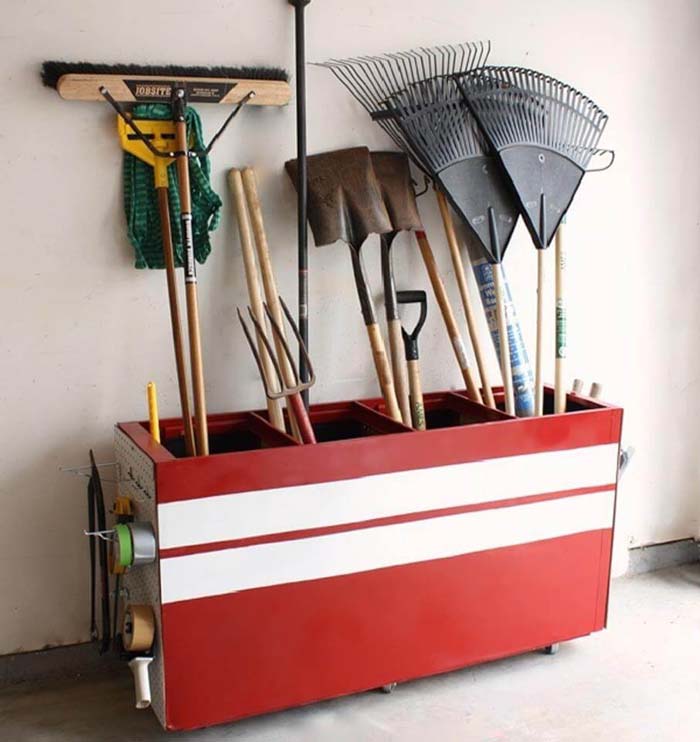 By repurposing an old filing container, you get an all-in-one mobile tote.
The square holes are big and their depth is just enough to put in long garden tools like rakes, shovels, brooms. Any time you need them, just roll the tote over.
via Contry and Victorian Times
22. Ingenious Over-the-Door Shelving Unit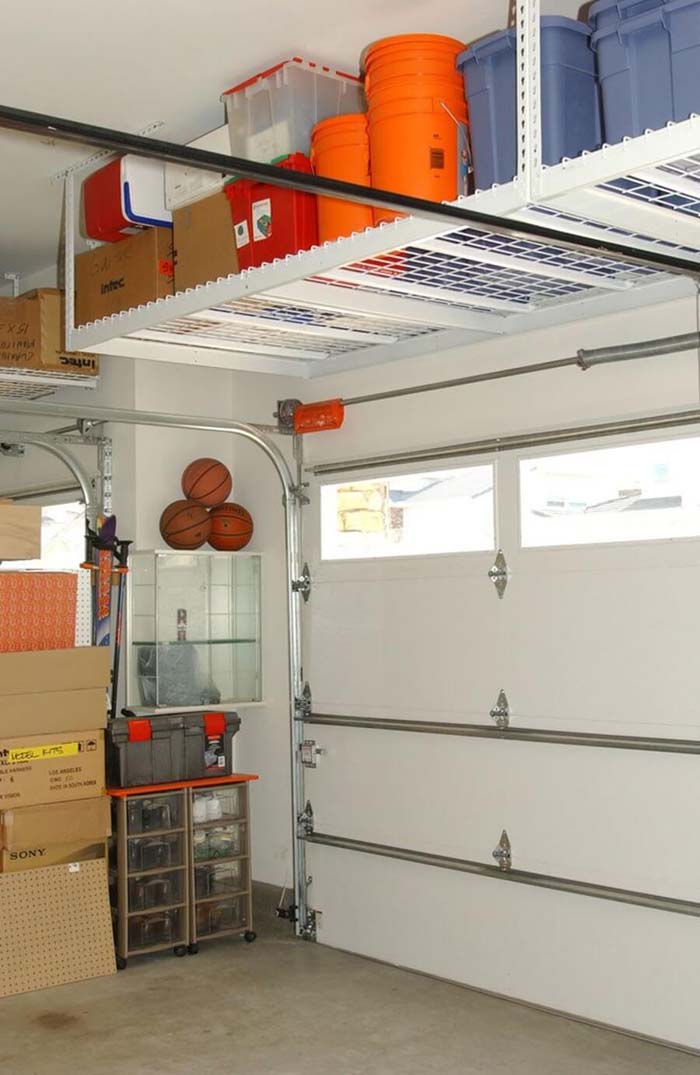 Another idea for using the storage potential of the garage ceiling is to place a heavy-duty rack just over the door.
This place will accommodate bulky items that you don't use that often.
23. Power Storage for Power Tools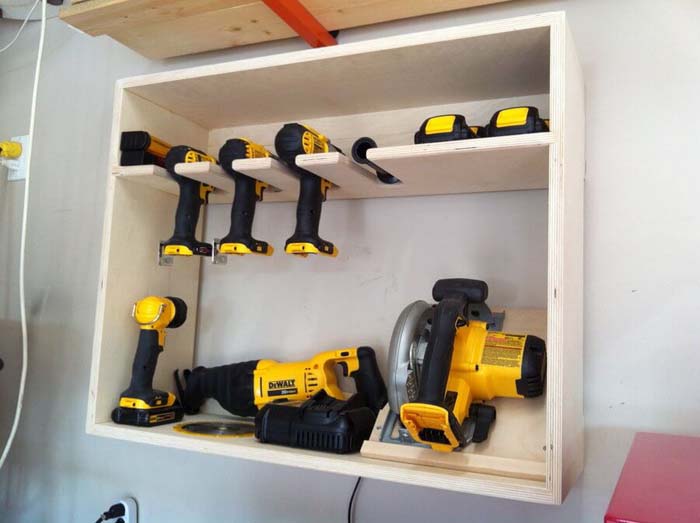 Provide ready access to your cordless tools with a functional and easy-to-make open wooden station.
It can be customized according to the free wall space and the variety of tools.
via Lumberjocks
24. Pull and Stow Pegboard Tool Mounts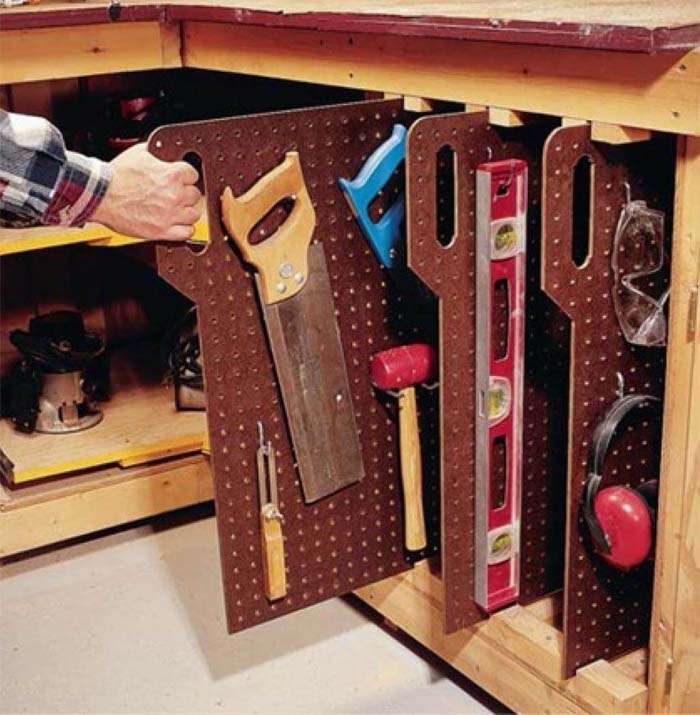 Tools are quite expensive so they must be stored properly. Plus, safety is also an important consideration.
These vertical peg boards are both dividers of a bottom open cabinet and tool organizers.
25. Put a Pantry in Your Garage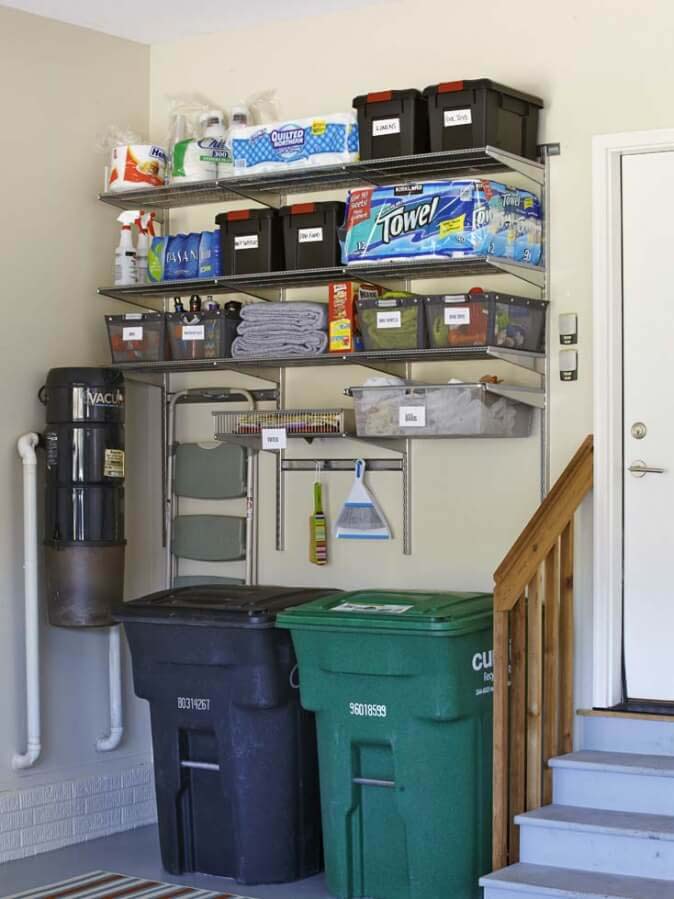 This is another idea of how to use a dead corner in your garage for the storage of various stuff.
The depth of the space defines the size of the shelves and bins that will be used.
The material and the number of shelves depend on your garage height and preferences but in all cases they will accommodate a lot of stuff.
via BHG
26. PVC Pipe Power Tool Caddy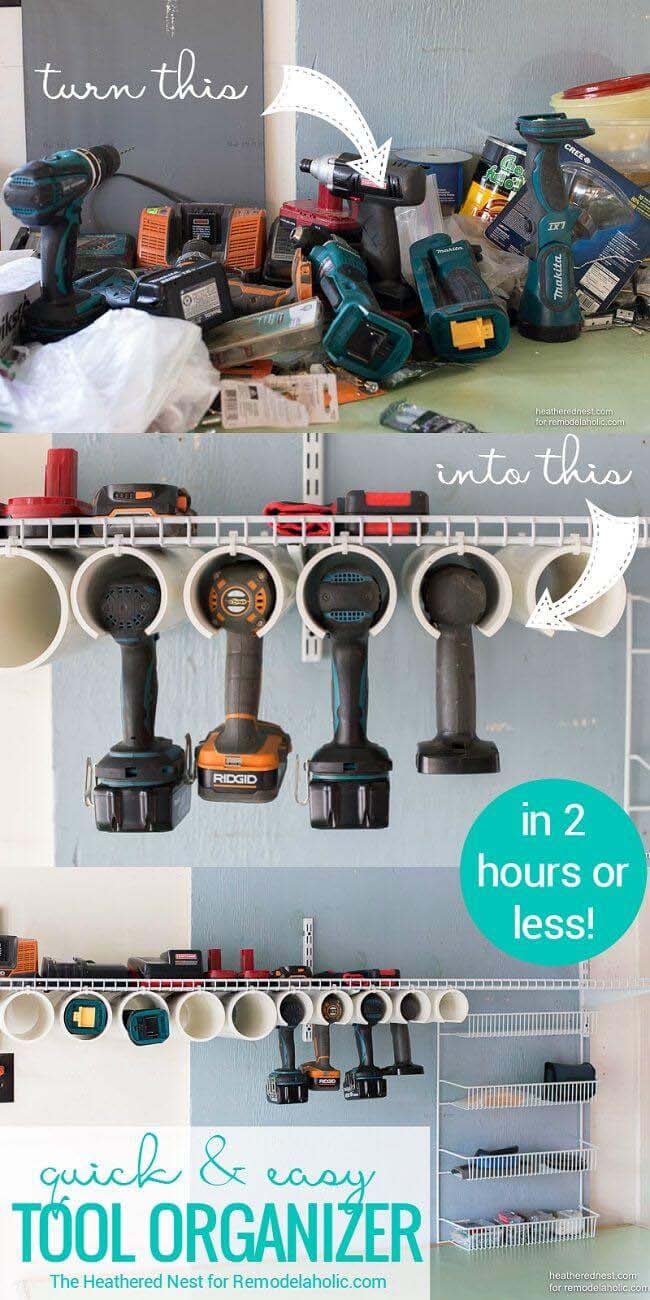 We bet that you have surplus pieces of PVC gutter.
If you have ever wondered why you have kept them all along, here is a fresh and easy-to-do project that will help you organize the power tools.
via Remodelaholic
27. Rainbow Paint Display for Master Crafters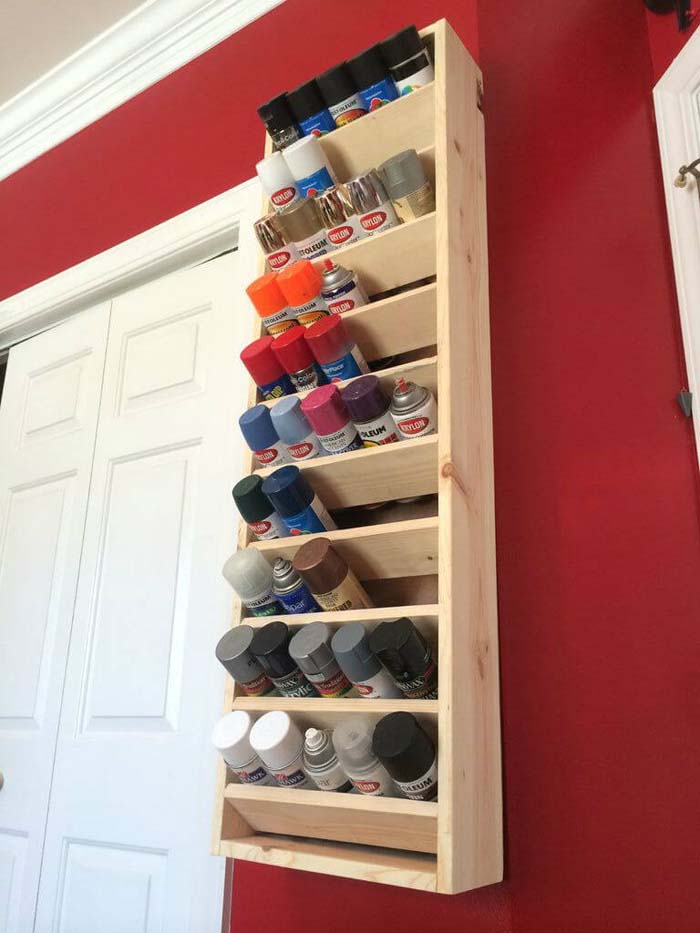 When you have a number of things of the same type, you definitely need a dedicated storage area for them.
For example, a specially made display for spray paints will let you store them properly and easily find the color you need. Full instructions on how to make this rack yourself can be found below.
via Instructables
28. Rakes and Shovels Storage

This idea will cover a narrow part of the garage floor or can be the perfect project to utilize an otherwise odd wall.
If you still have left any PVC gutter pieces, nail them to two wooden beams, positioned at the middle and bottom part of the wall.
Insert your garden tools in them for safe and organized storage.
via Newly Woodwards
29. Repurposed Pallet Lawn Care Storage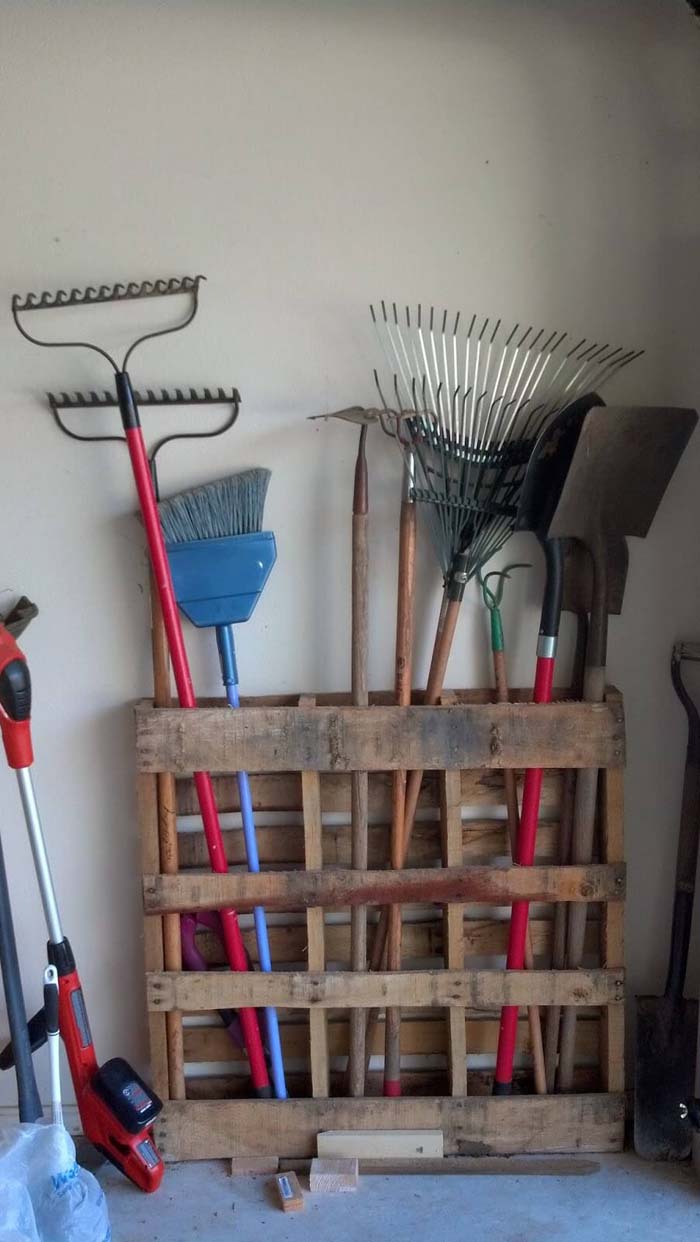 Simple as you see it, a plain pallet put the long-handled garden tools in one place.
It doesn't have to be fixed to the wall, just leaned against it.
via Fix Lovely
30. Rustic 2×4 Outdoor Supply Shelf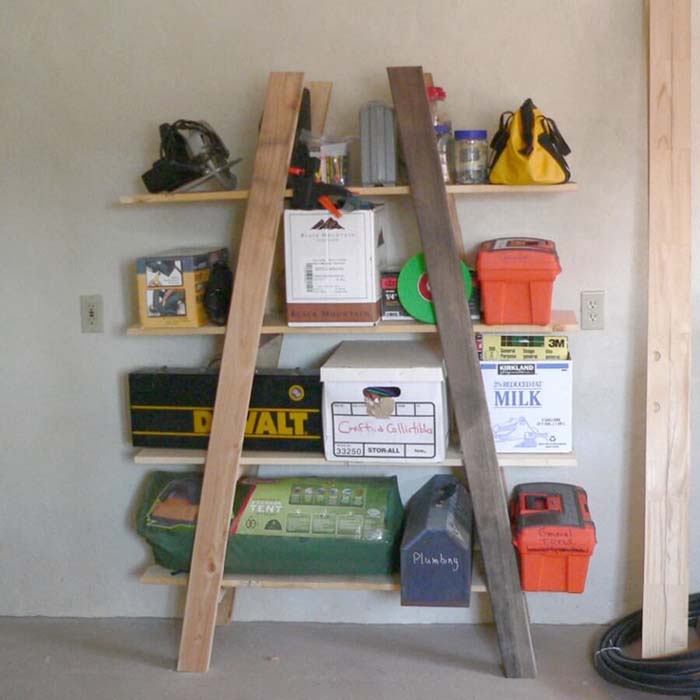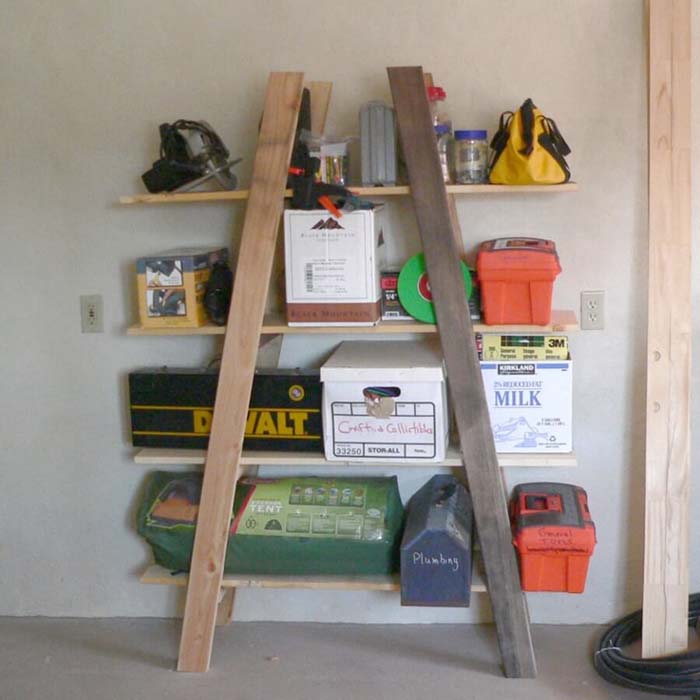 In case you have scrap wood left from previous projects, you can easily make a temporary storage rack in the shape of a ladder.
Put laminate or pallet slats over the steps to form shelves.
31. Screw-Off Hanging Hardware Holders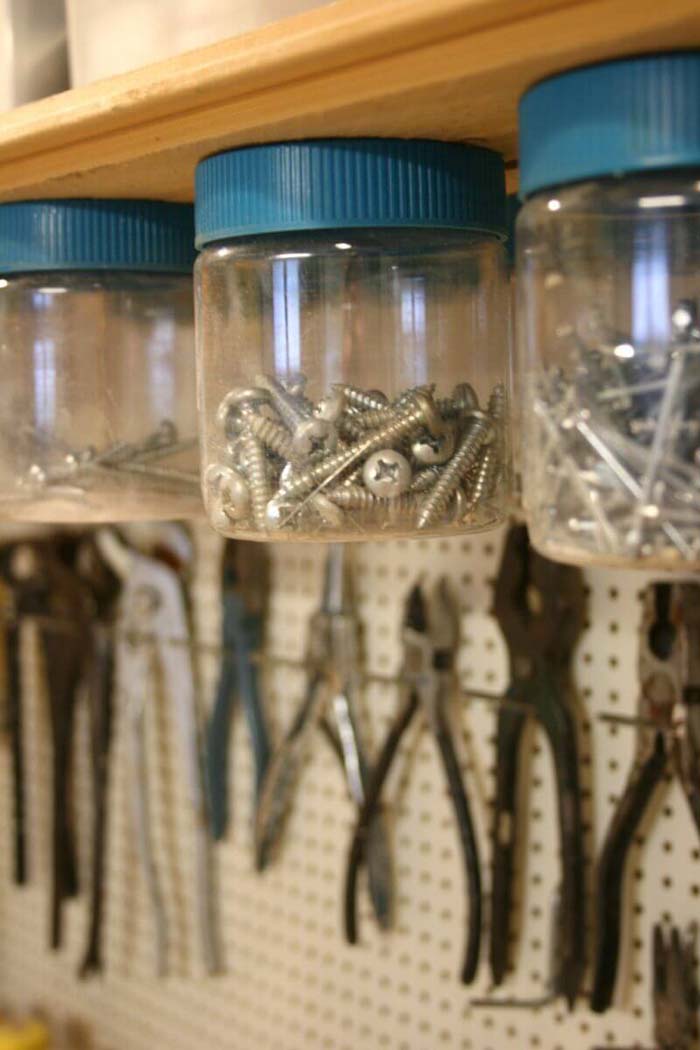 Use the bottom side of a shelf for storage of the tiniest bits and pieces like bolts, nuts, screws, etc.
Nail the lids of plastic jars to the wooden surface and then screw the jar onto the mounted lid.
via Chez Larsson
32. Simple Arts and Crafts Accessory Rack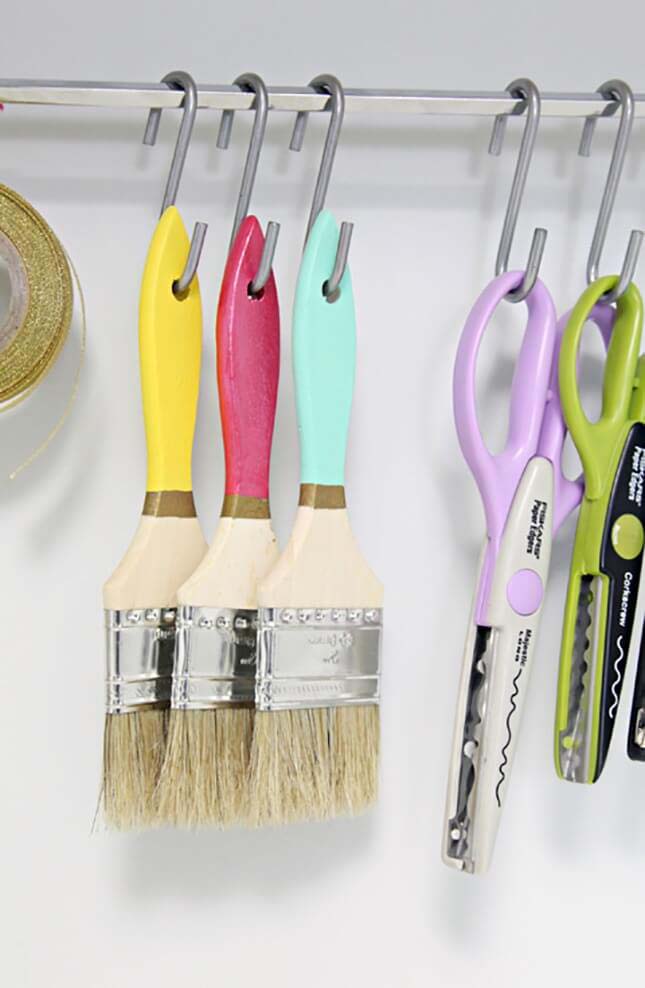 With the help of a rod or a dowel and some S-shaped hooks you can easily organize the craft supplies.
Since these supplies are usually of small size, such an organizer can be placed over the worktable in the garage.
33. Wall-Hanging Paint Can Pocket Display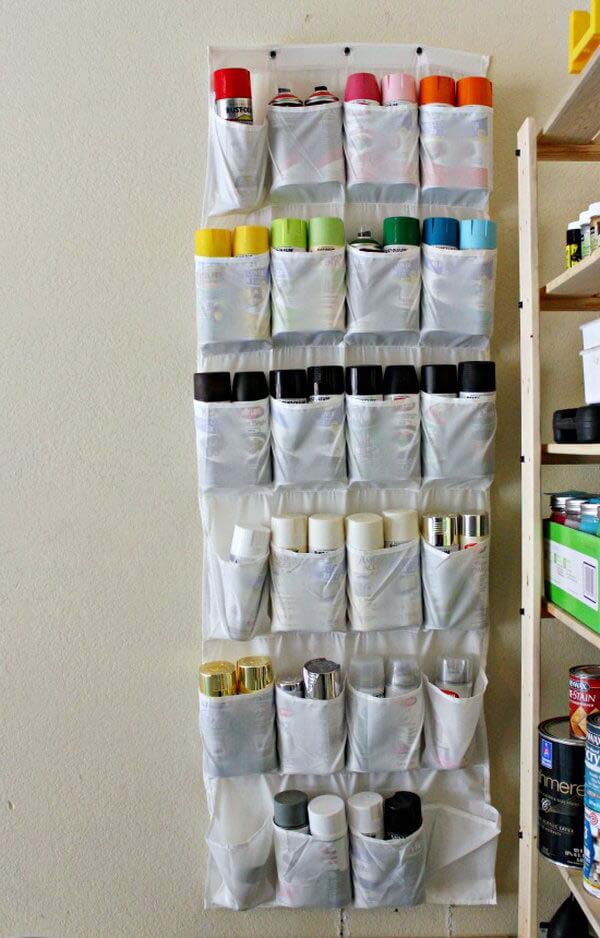 Ikea's shoe organizer can be practically used for the storage of spray paints.
It can take up to 48 cans so that makes it one of the best and most affordable garage storage hacks.
via Hi Sugarplum
34. Wall-Mounted Garage Organization Projects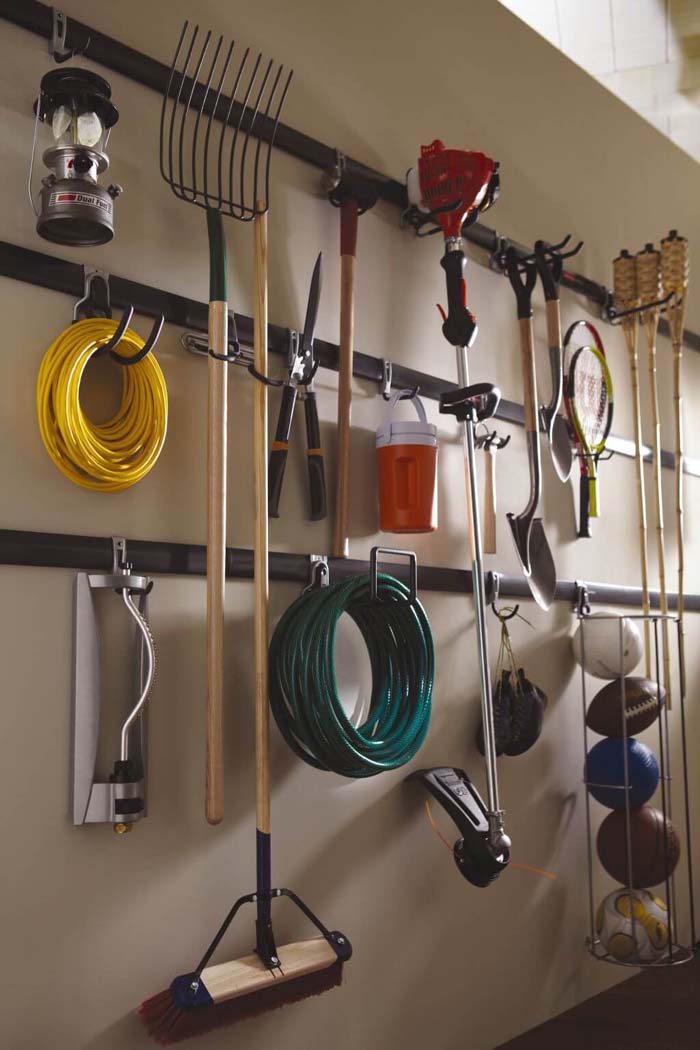 This wall storage system uses metal sections which seem to be a more durable and long-lasting solution compared to the wooden version.
The only disadvantage of such a system is related to the hardware for suspension.
Instead of screwing or nailing down hooks or nails (as you would normally do on the wooden board), you need to secure special metal brackets.
via Adela Parvu