Okay, let's admit it! If you have stopped here, then you are the same coffee addict as me! Have you turned morning coffee into a special ritual in your daily routine?
Then, you surely have a coffee station or at least a nook where you keep all accessories related to coffee making in one place.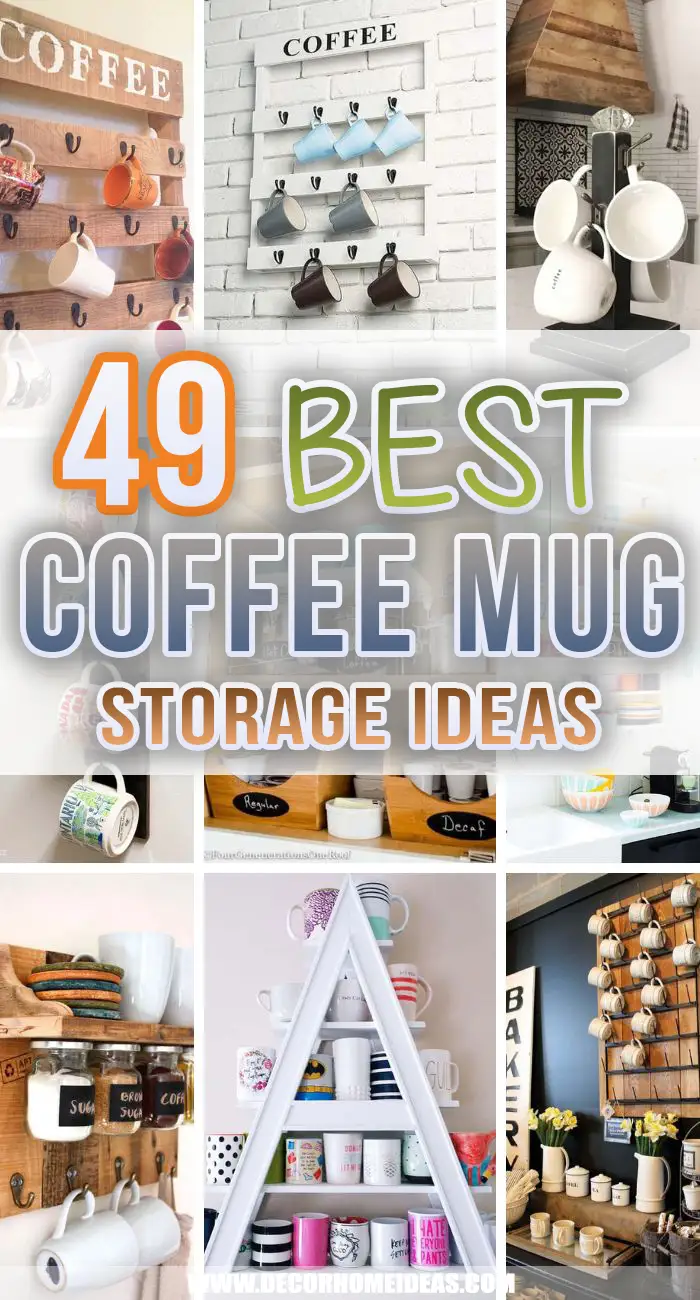 And if you love coffee and you have a coffee nook, then you surely have special mugs that complete the morning magic. Have you ever thought that the mugs can be organized in such a way that they are kept at reach and honored for their important part?
Let's check together the most inspiring and easy-to-do coffee or tea mug storage ideas that will declutter the kitchen countertop and will let your special collection stand out.
1. Industrial Farmhouse Holder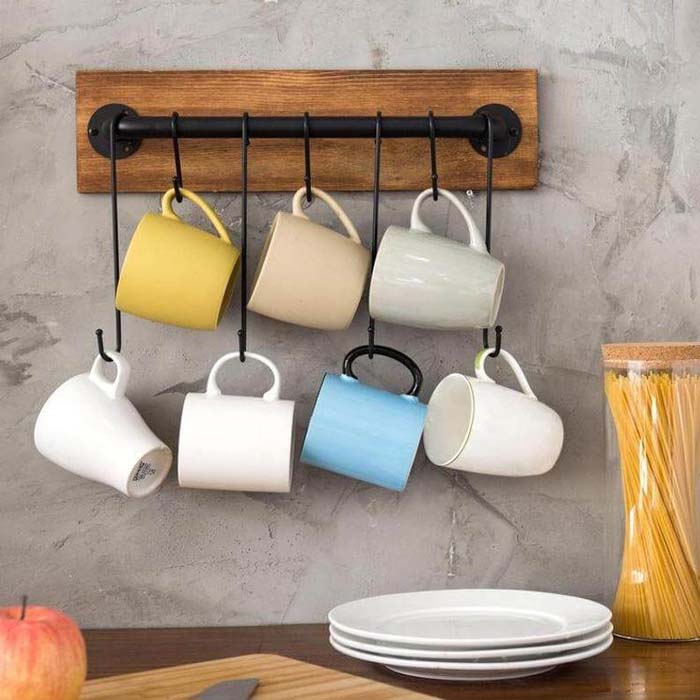 This mug holder creates a wonderful visual impact over the blank cement finished wall. The texture and the minimalist look of the background welcome the warmth of the dark stained wood.
The simplicity of the piece is decorated with wrought iron hooks suspended at different heights. This pattern ensures enough space for the storage of mugs and also makes a unique industrial statement.
2. Space-Saving Side Cabinet Mug Rack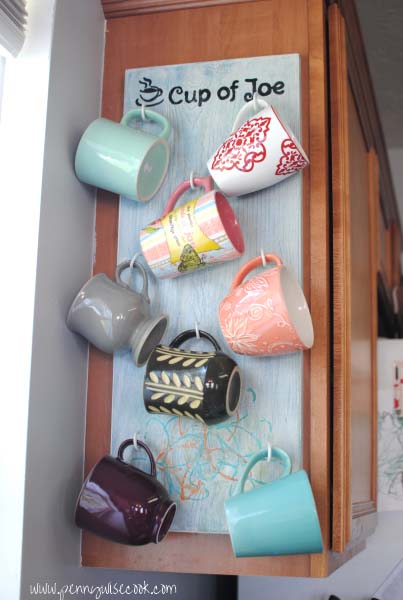 This is a great storage idea when it comes to space saving and organization. If you insist on a decluttered countertop and a neat look in the kitchen, this wooden board with hooks is your easy DIY solution.
A simple wooden board with screwed hooks is attached to the side of the last cupboard. You can add a fun inscription at the top to label your special mug storage place.
via Pennywise Cook
3. Repurposed Apothecary Cabinet Drawers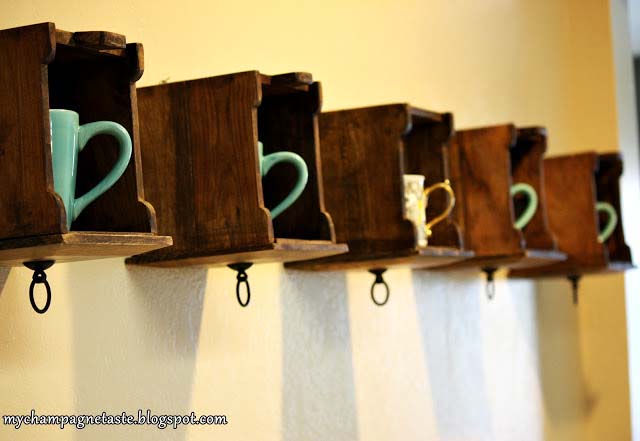 This is one of those trash-to-treasure ideas that create a unique décor statement. A few apothecary cabinet drawers are positioned vertically leaving the opening facing the room to become cute farmhouse mug holders.
No need to rework the outer surface of the drawers because the age of the wood and the antique shape is what make the holders so unique.
4. A Tree Of Mugs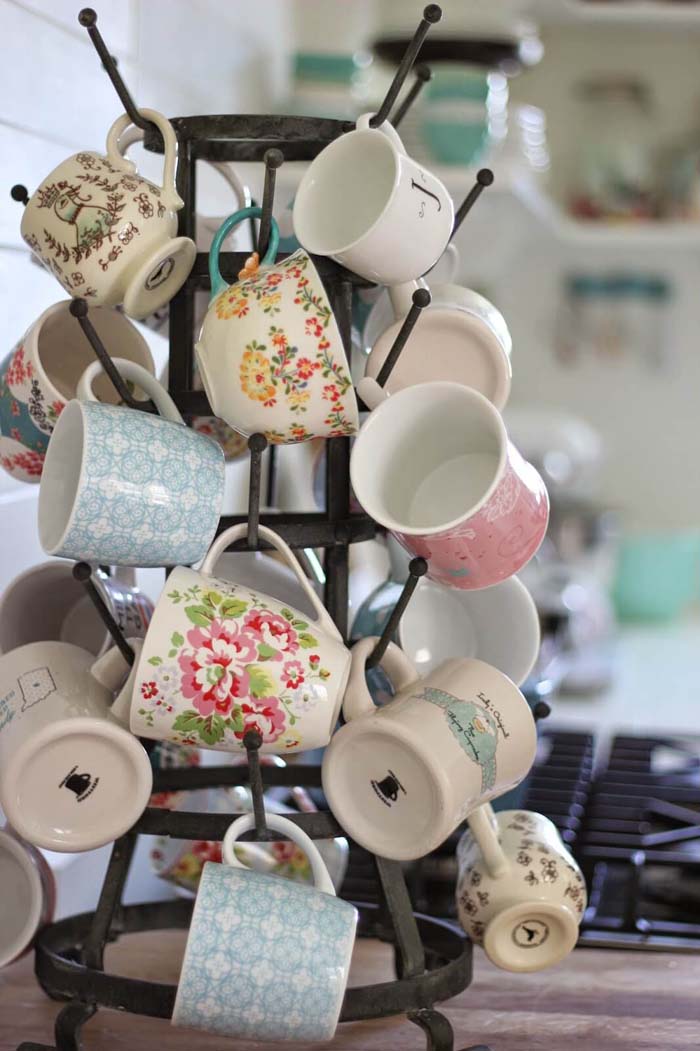 This wrought iron pedestal with hooks is designed to hold mugs on six staggered levels.
It has a rough industrial look which stands out when the different in size and ornaments mugs are attached on.
via The Cottage Nest
5. Rustic Personalized Hanging Holder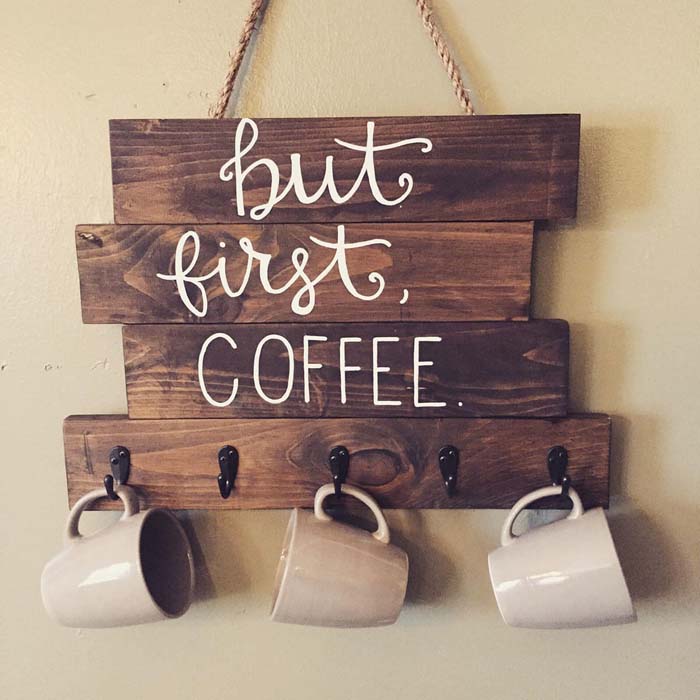 This wall hanging mug combines rustic charm and a fun impact in one.
The mugs are hanging at the lowest slat while the three above it act as a canvas for a personalized message that all coffee lovers follow.
6. Pipe Holders For Wall Installation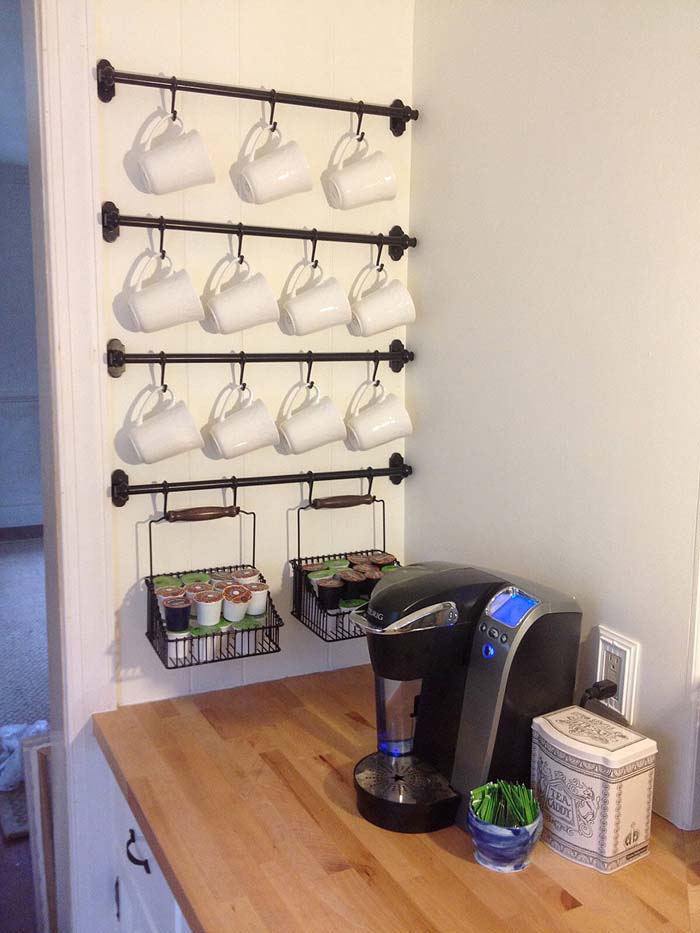 This mug organization hack is so appealing and also smart. Plumbing parts are installed symmetrically on a side kitchen wall to ensure plenty of dedicated spaces for the storage of mugs.
The pipe holders are chosen in a black color to create an industrial impact over the modern farmhouse kitchen décor.
7. Customized Cubbies For Your Favorite Mugs

This cubby shelving is specially made for mug storage. Each compartment is of a small size to accommodate a medium-sized mug.
The open concept makes sure that the beauty of the variety of ornaments is used decoratively.
8. Reclaimed Wood Mug Rack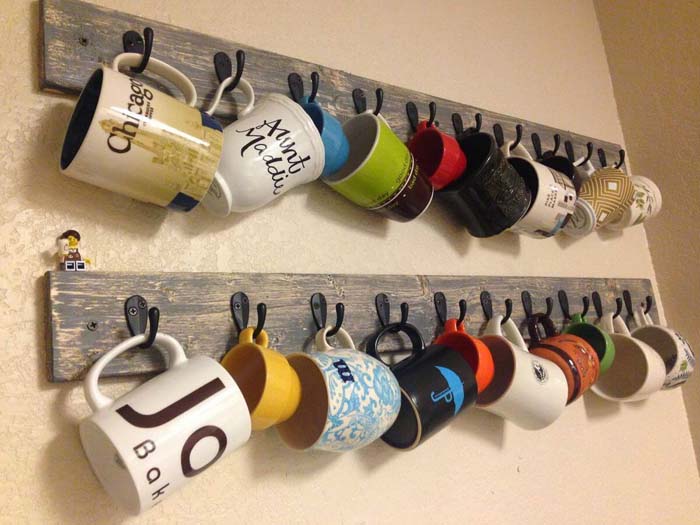 Repurposing a coat rack into a mug vertical storage creates a unique farmhouse statement. You can install as many beams with hooks as you may need for your mug collection.
Screw them on the wall next to your coffee maker and you will enjoy your own coffee station nook.
9. A-Shaped Storage Unit For Mugs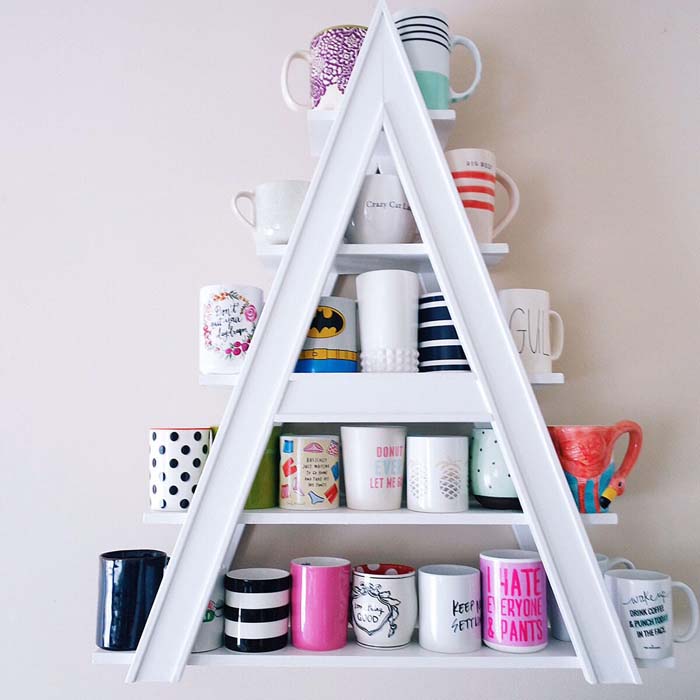 This Scandinavian-inspired mug storage idea features an A-shaped holder.
The design makes sure that there is plenty of space for storage and also a display of colorful mugs.
It can be added to a wall or placed directly on the kitchen countertop.
via Pineapples and Coffee Cups
10. Coffee Station With Mug Rack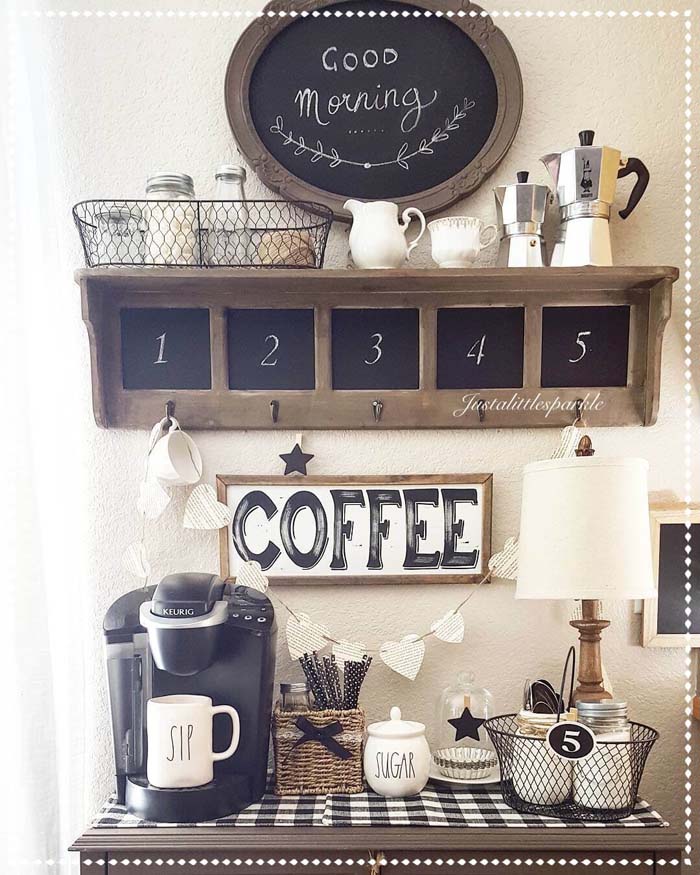 This is a great idea for a dedicated coffee station nook. Every part of it is related to the special morning drink- a coffee maker, sugar, cream and other flavors that will make the coffee so special in taste.
A repurposed farmhouse shelf provides 5 hooks for hanging white coffee mugs. The color combination of the entire arrangement let the vintage pieces stand out.
11. Tall Wall Rack For Mugs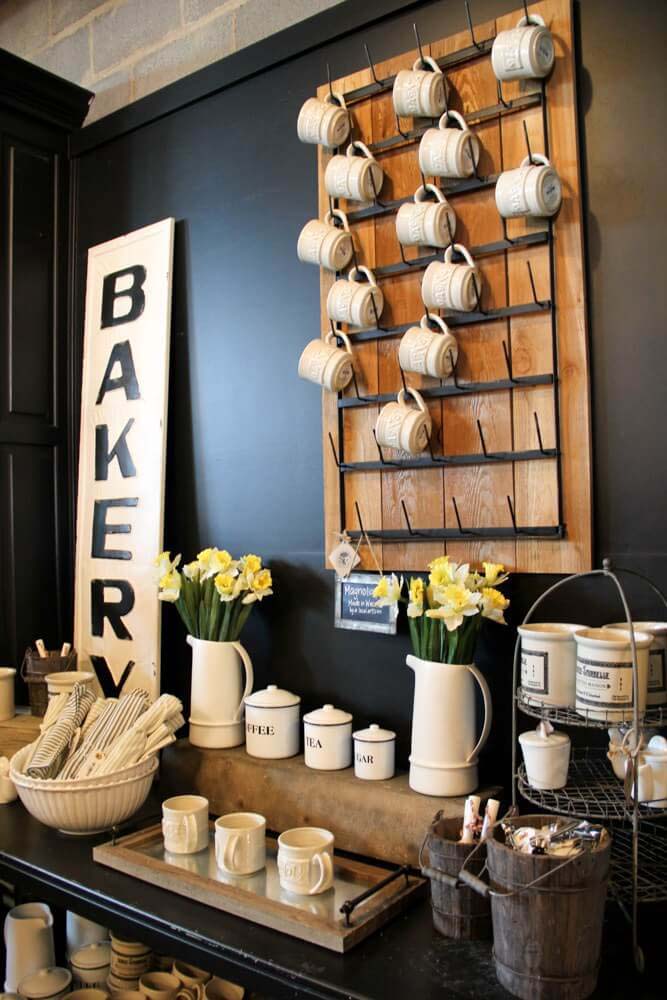 This vertical mug rack can be installed in a domestic household or in a coffee shop. There are plenty of hooks to hang mugs of different sizes and decorations.
The rack is made from a large wooden board and metal racks that cohere with the rustic arrangement of the coffee station.
12. Combined Wine Glass And Mug Holder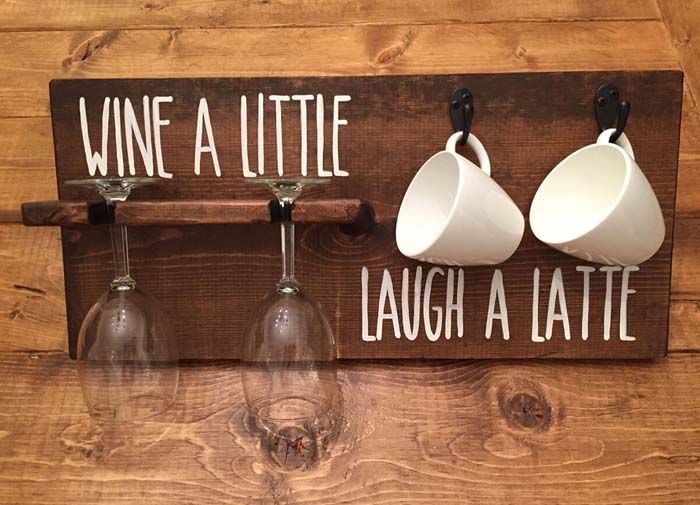 Give honor to your two favorite drinks with one wall holder! The small wall hanging ensures dedicated spaces for two wine glasses and two coffee mugs – the perfect setting for a couple.
The fun inscriptions on the wood are an interesting way to give the holder a personalized touch.

13. Wire Spool Coffee Station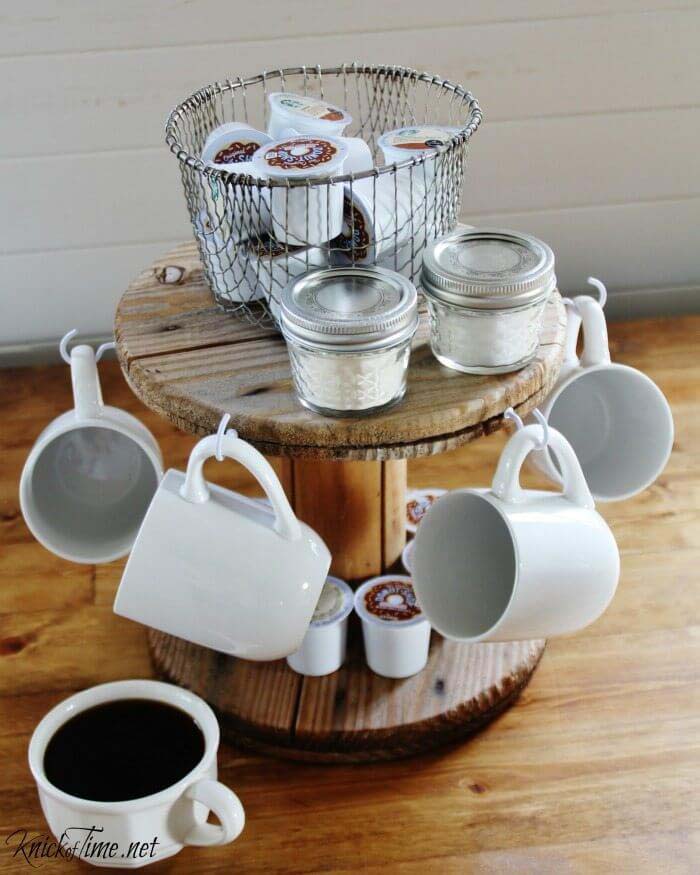 Wire spools have inspired many farmhouse decorations. The idea here features repurposing the smallest ones into a mug station.
The rack is of a free-standing design but thanks to its compact size it can easily find a place on your side table or on your countertop.
14. Pegboard Mug Storage Idea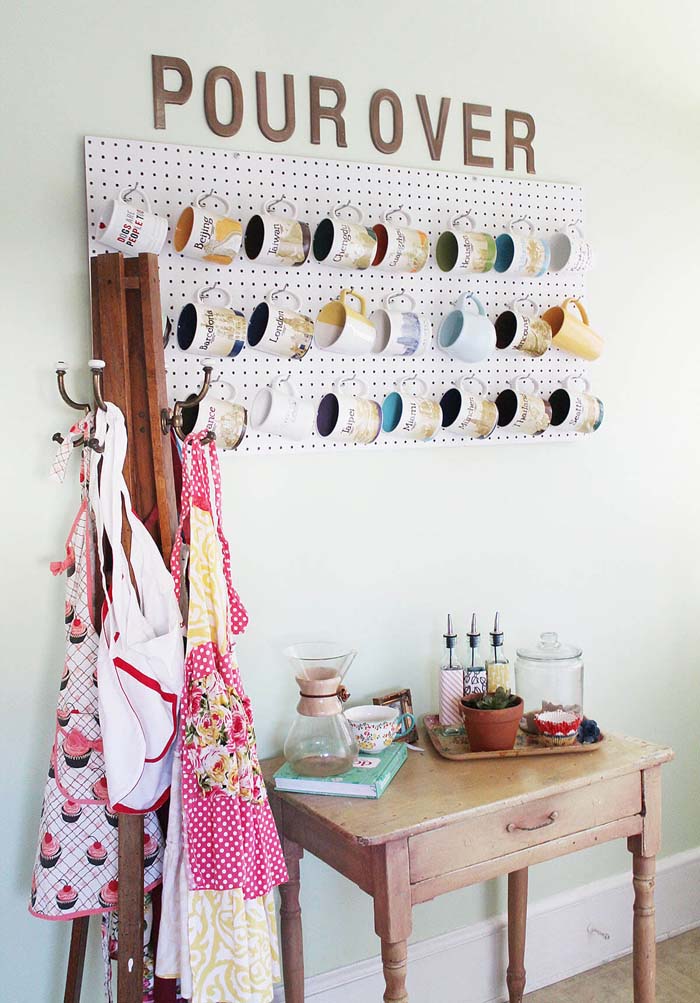 Pegboards are great for optimized and organized storage.
Depending on the number of mugs you have, you can get the size of a pegboard that will hold all of them.
15. Floating Shelves For Mugs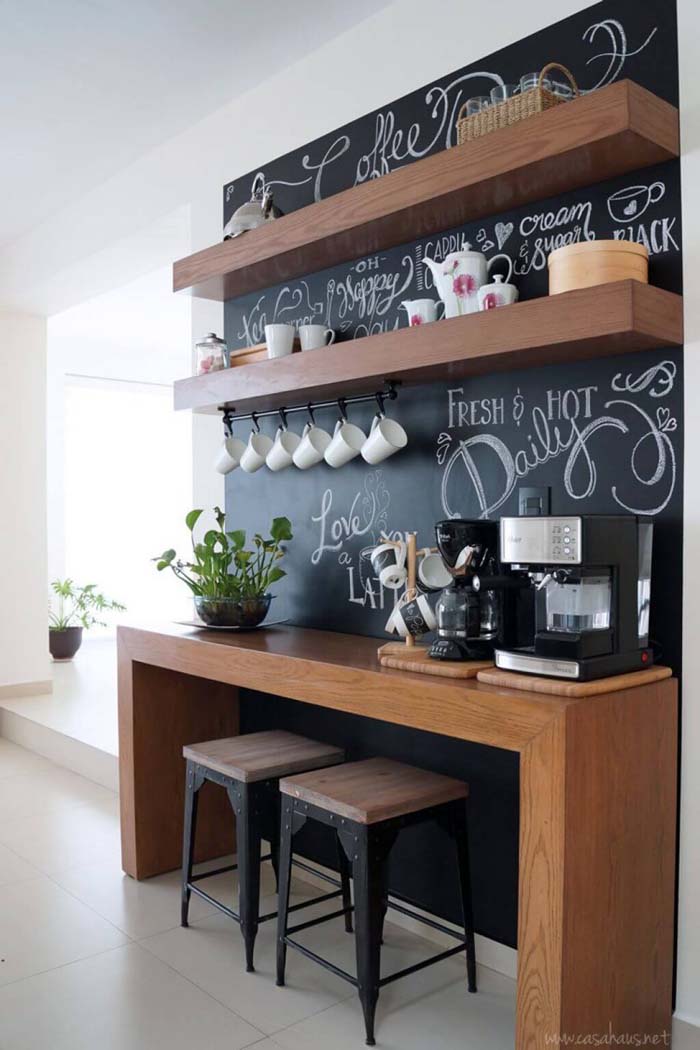 If you have enough space in the kitchen, making a special and big farmhouse coffee station is a great idea. The station will make sure that there is a dedicated space for all coffee-related items but it will also create a lovely décor impact.
The black pipe at the bottom of one of the floating shelves makes a modern industrial statement and makes sure that the stylish white mug collection stands out.
16. Shelf With Hooks For Mugs And Plates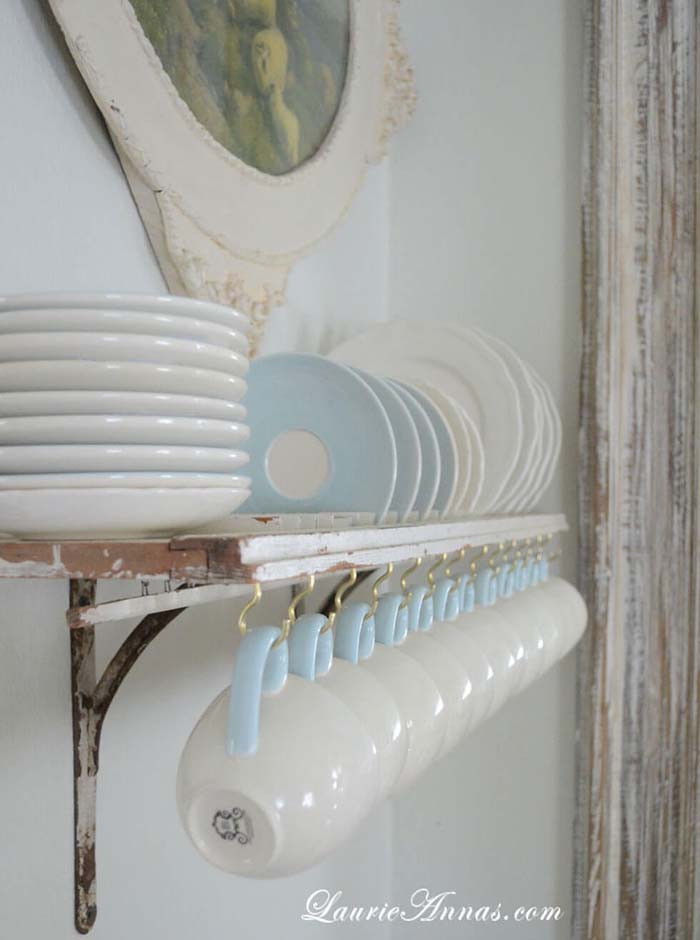 In case you have a special set of mugs and plates, you can turn them into part of your kitchen décor. For that, you need to think of the best display design that will match the antique value of the set and will let it stand out.
A reclaimed piece of wood, metal brackets and golden finished screw hooks create a compact and rustic appealing shelf where you can store and also show off your coffee accessories.
17. Wire Basket Shelf With Hooks For Mugs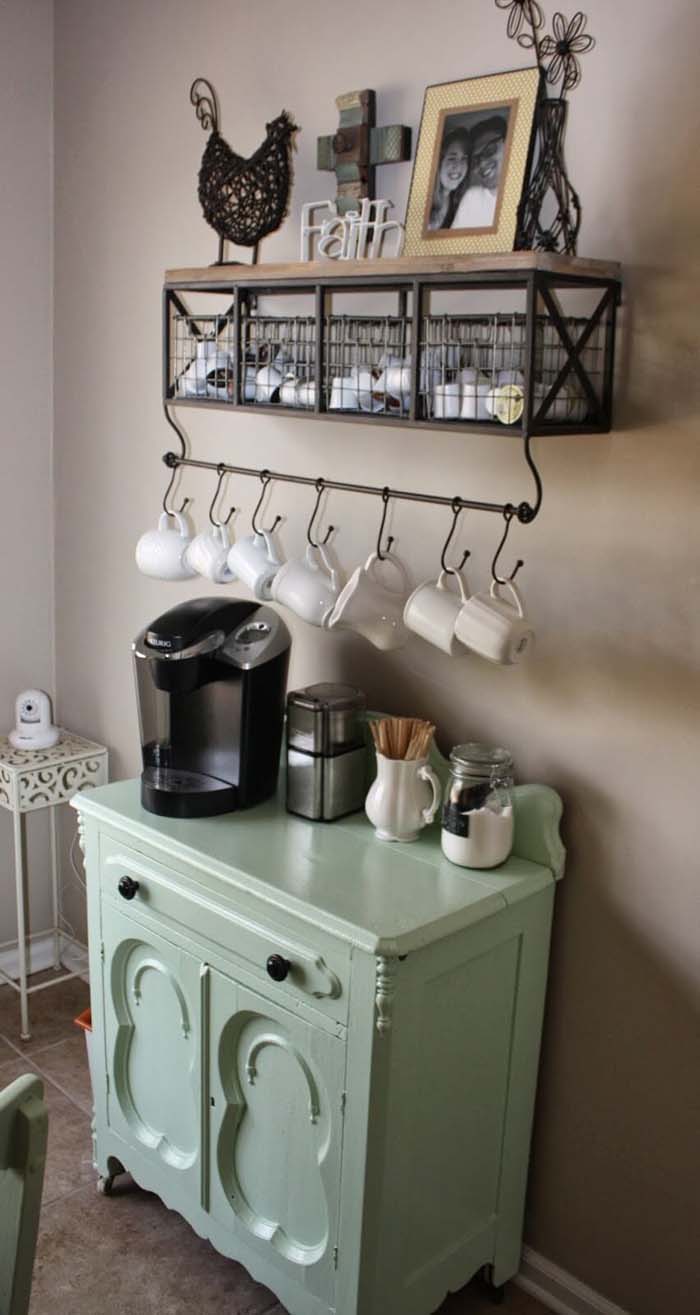 Creating a coffee station doesn't mean supplying unique furniture pieces and holders. Instead, you can repurpose an old vintage cabinet into a coffee maker stand and add a shelf unit to store all coffee-related accessories.
A shelf with wire baskets matches visually the antique look of the cabinet. Use the top shelf for personalized decorations to give the nook a homely look.
18. Small Pallet For Your Colorful Mugs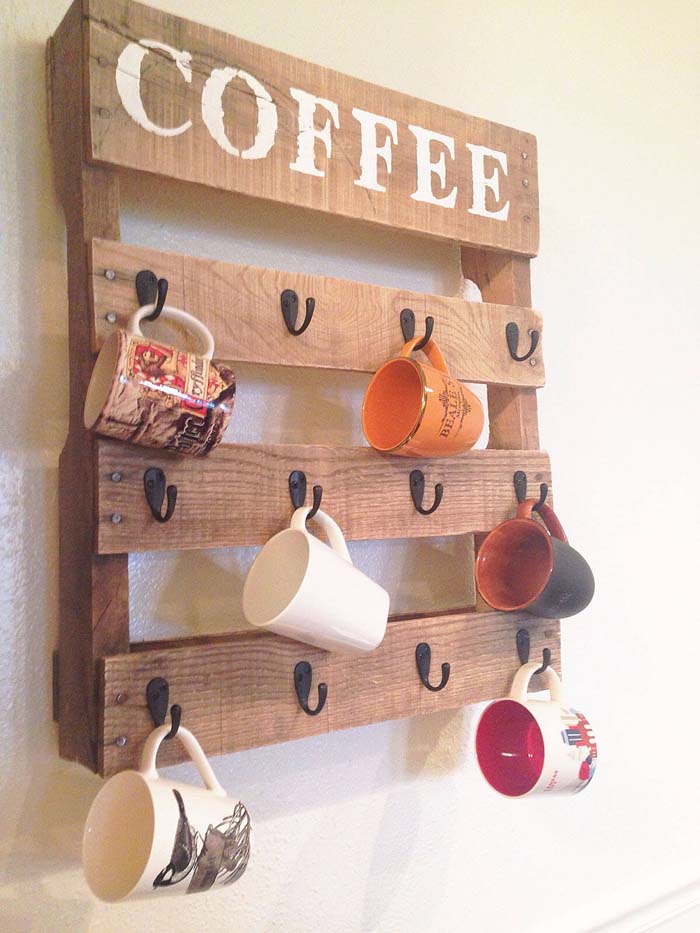 An easy idea for a mug storage shelf that can be your new DIY inspiration! A piece of pallet is equipped with hooks spaced at equal distances.
The pallet can be given a fresh coat of paint r stain or be left in its original texture.
19. Mug Collector's Shelf Unit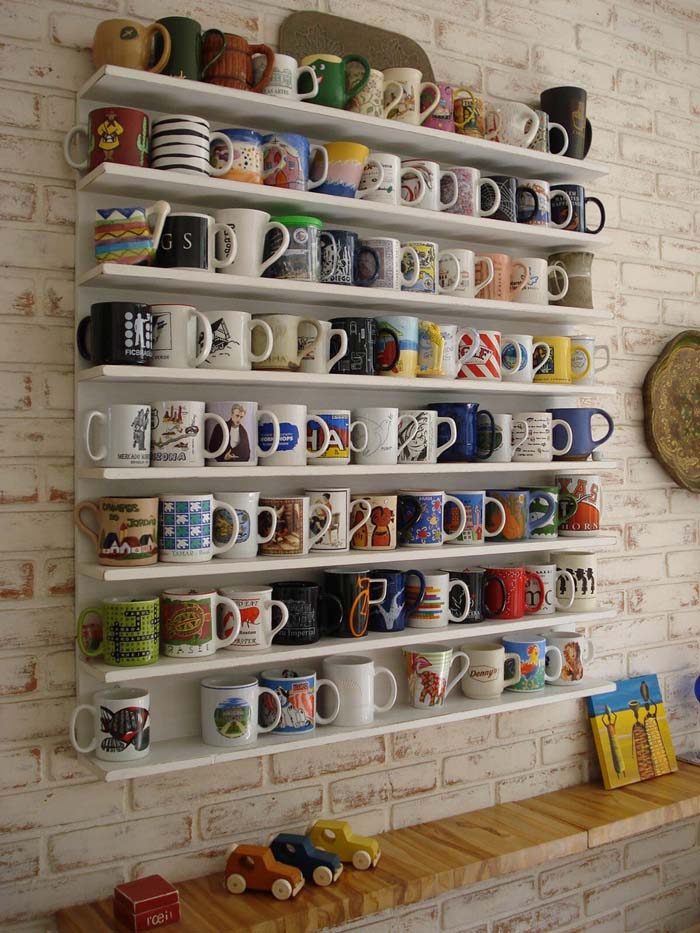 When mugs are more than any other kitchen necessity, you are surely a mug collector. This passion deserves a special way of displaying it.
This big wall open-shelving unit will accommodate all of your mugs and will let their ornaments stand out.
20. Under-The-Shelf Storage For Mugs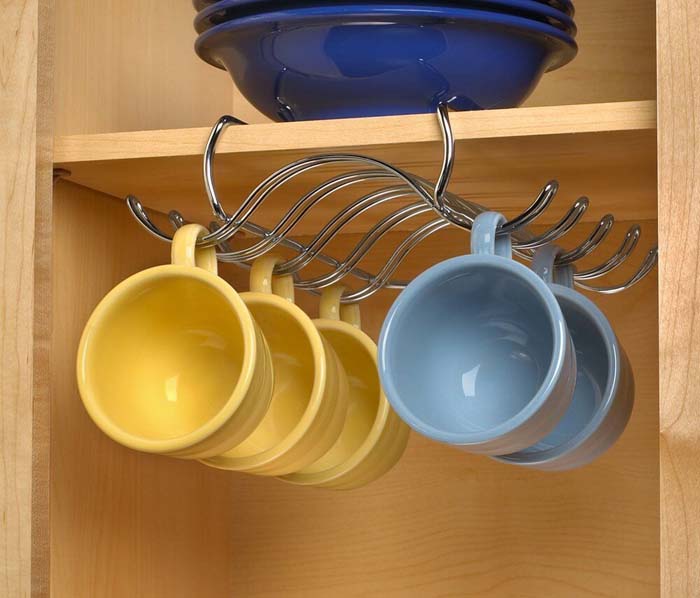 This mug storage idea aims to provide additional space for cupboard storage.
The metal rack is mounted directly to the shelf. It features 10 hooks that keep the coffee mugs within reach.
via Brit Co
21. Heart-Shaped Wall Hanging For Mugs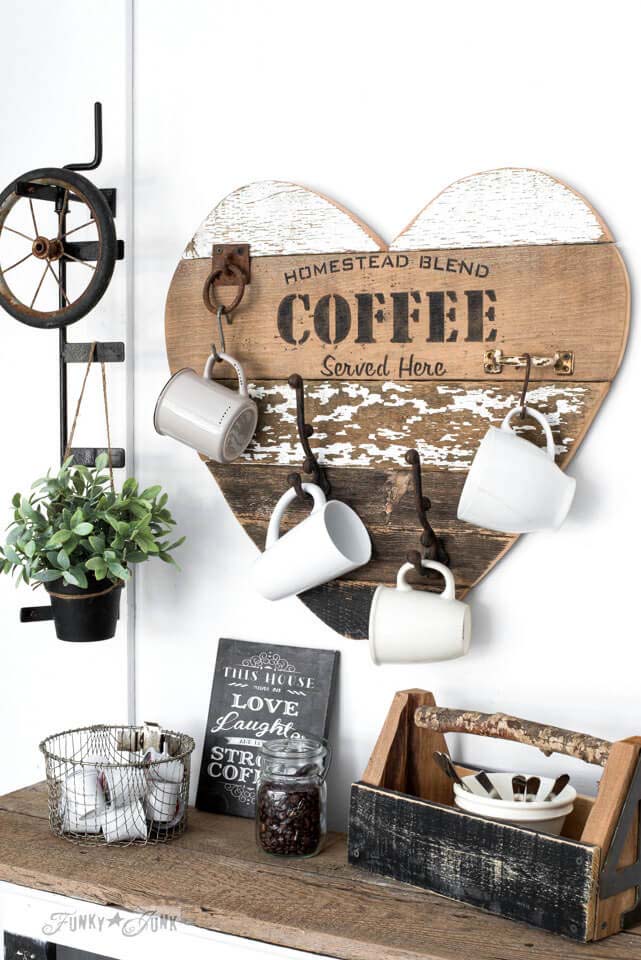 Add a personal touch to your farmhouse coffee station with this amazing wall mug holder! It is in the shape of a heart produced by assembling together reclaimed wood slats.
Different in size and design vintage hooks are added to the periphery of the heart to leave space for a personalized inscription.
22. Optimized Cabinet Space With Special Mug Holder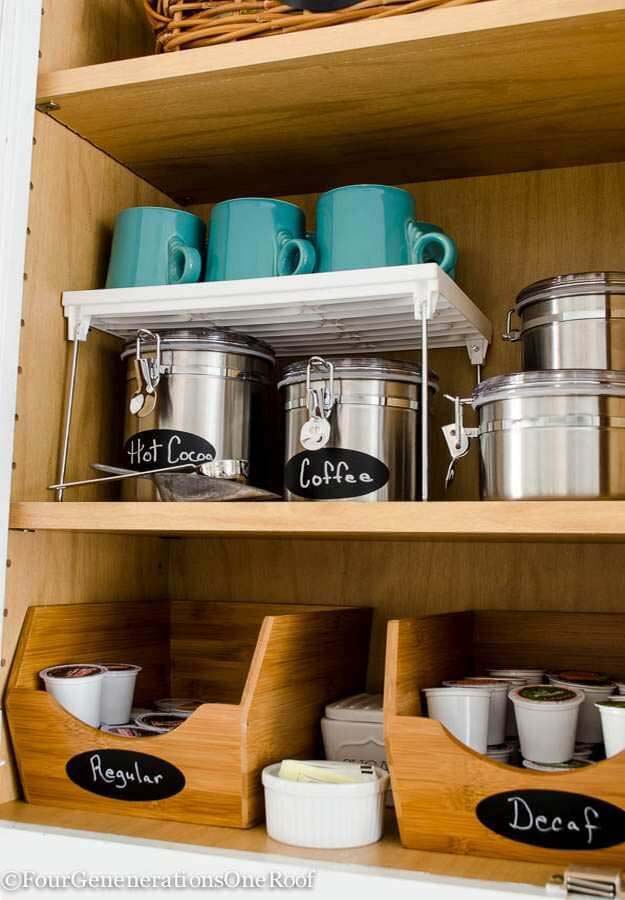 This is another great idea for additional storage space in the cupboard. It comes in the shape of a small stand that ensures a second storage level in one cupboard section.
Its size ensures easy storage of up to 6 coffee mugs.
23. Steel Pipe Holder For Storage Of Mugs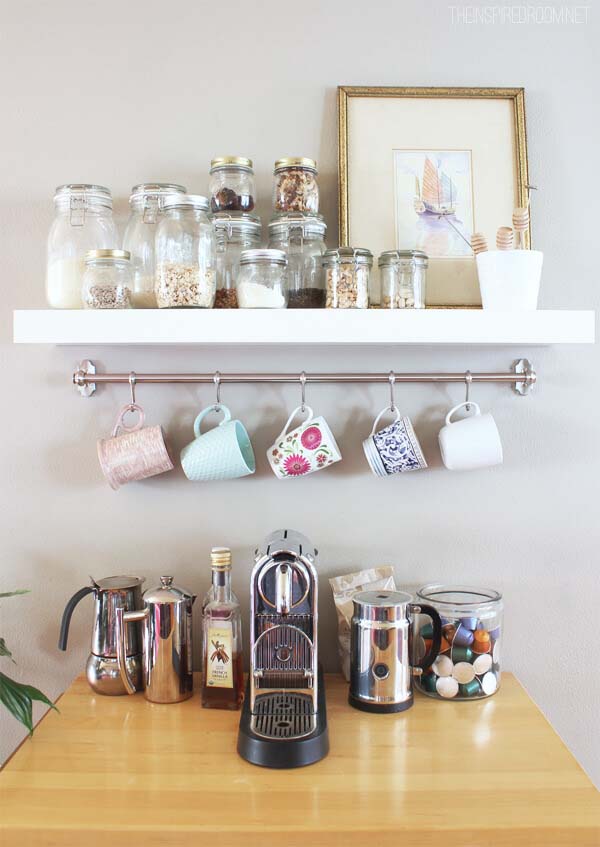 A simple but very appealing way to store the coffee mugs in your coffee station nook requires only one brushed stainless steel pipe.
Screw it to the wall above the cabinet and add hooks for the mugs. The brushed finish is preferred for modern kitchen decors where the appliances are of inox finish.
24. Mug Open Cabinet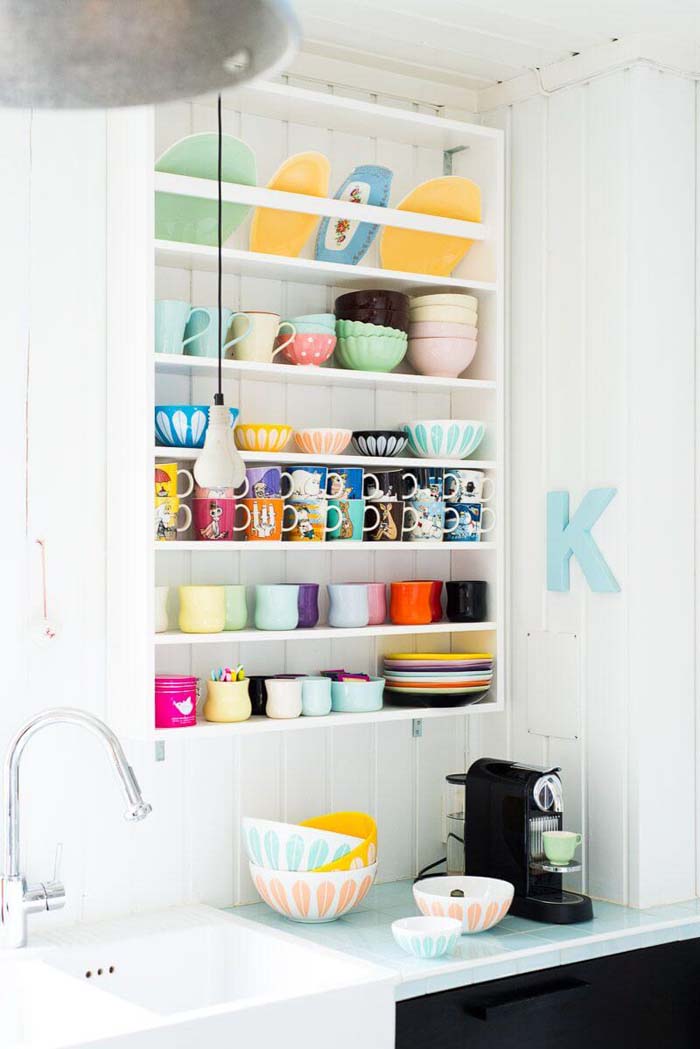 This wall-mounted coffee mug holder can be placed on every kitchen blank wall.
It consists of six open shelves where you can put not only the cups but also bowls and plates with ornaments matching the cup design.
via Scandia
25. Functional Rack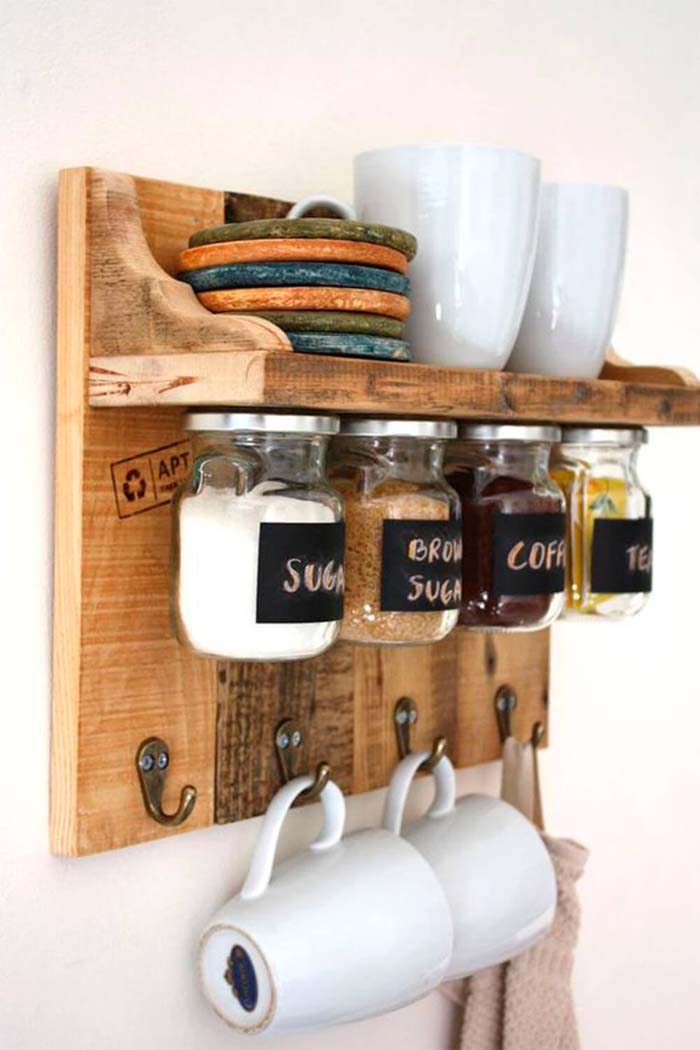 This multifunctional and space-saving rack ensures space for mugs, coffee additives, mats and a towel.
It keeps all the needed supplies for a good morning coffee in one place and surely makes an interesting farmhouse statement with its weathered wood texture.
26. Utilized Alcove For Mug Storage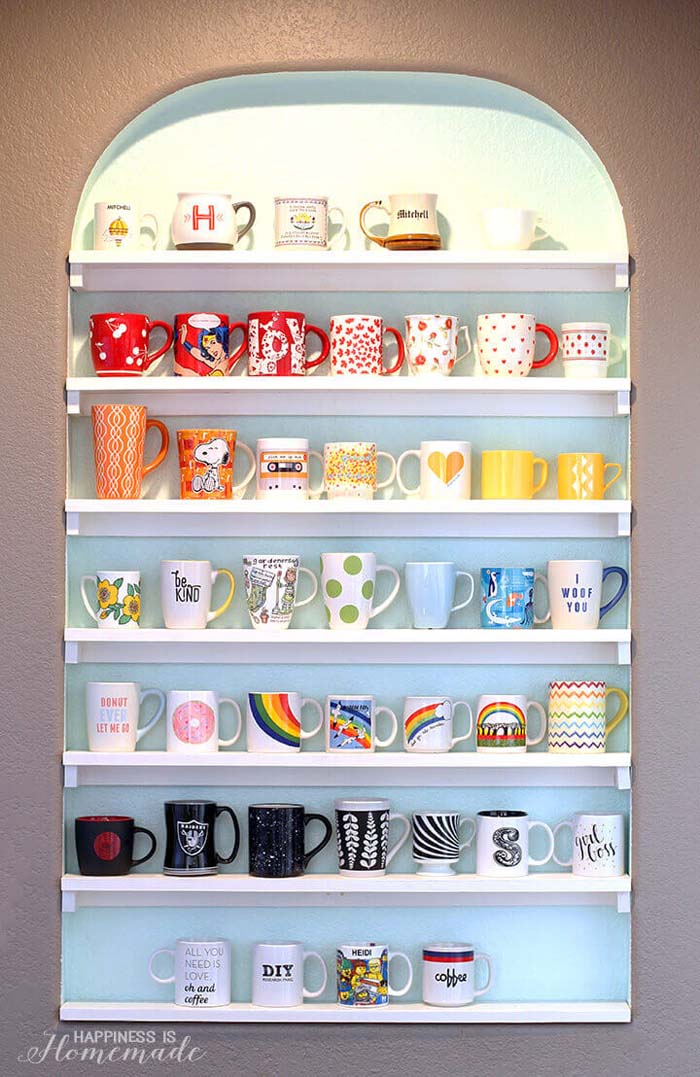 If one of your hobbies is collecting mug shelves, here is an inspiring mug storage idea that will keep all of your special mugs in one visible space.
The idea utilizes a shallow alcove into a shelf unit with plenty of shelves.
The light shade of blue and white let the unit stand out against the grey wall and make sure that the displayed mugs are the focal point of the kitchen.
27. Staggered Mug Rags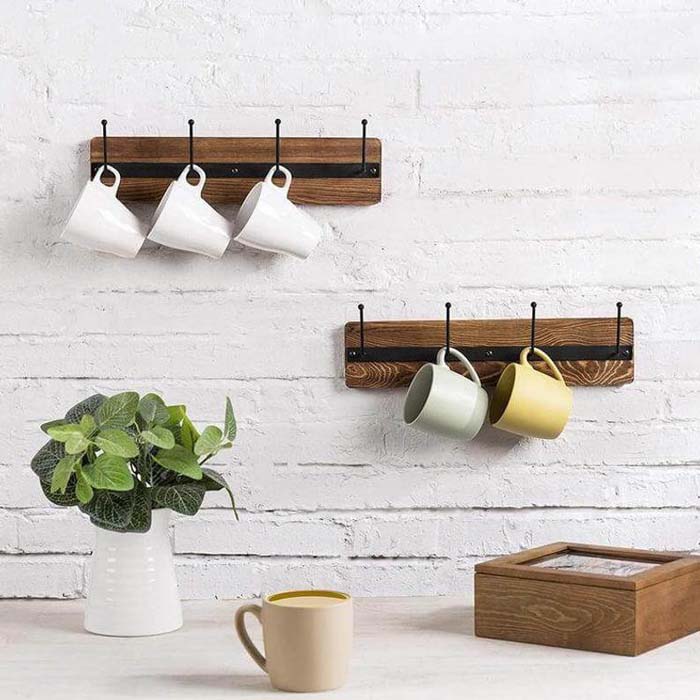 A set of two reclaimed wood racks with hooks ensures a unique décor impact and also additional storage space for coffee cups.
Place the racks in a staggered hanging pattern to enhance their decorative impact.
28. Modern Hexagon Racks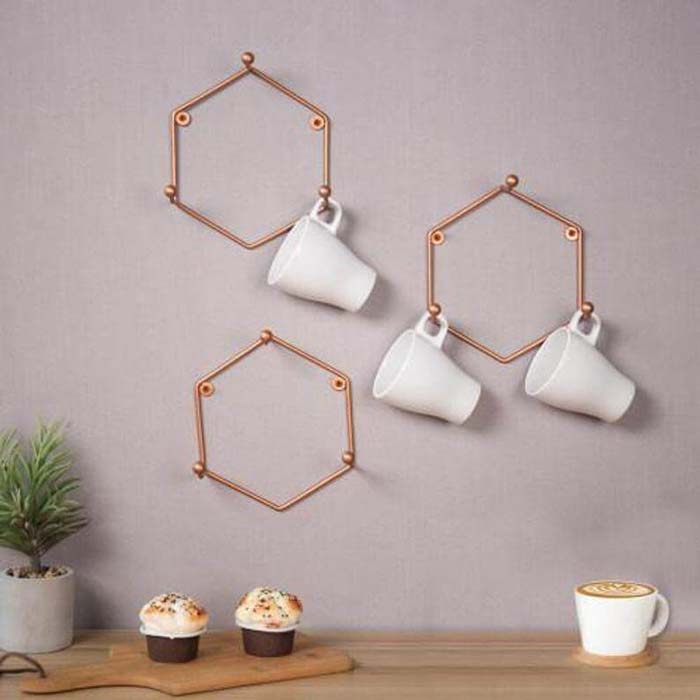 This set of metal geometric racks resembles a modern storage solution for any style kitchen. The honeycomb racks feature a copper finish that stands out from the blank wall texture.
The pattern for mounting the pieces from the set can be used to enhance their contemporary look.
29. Simple Under-The-Rack Storage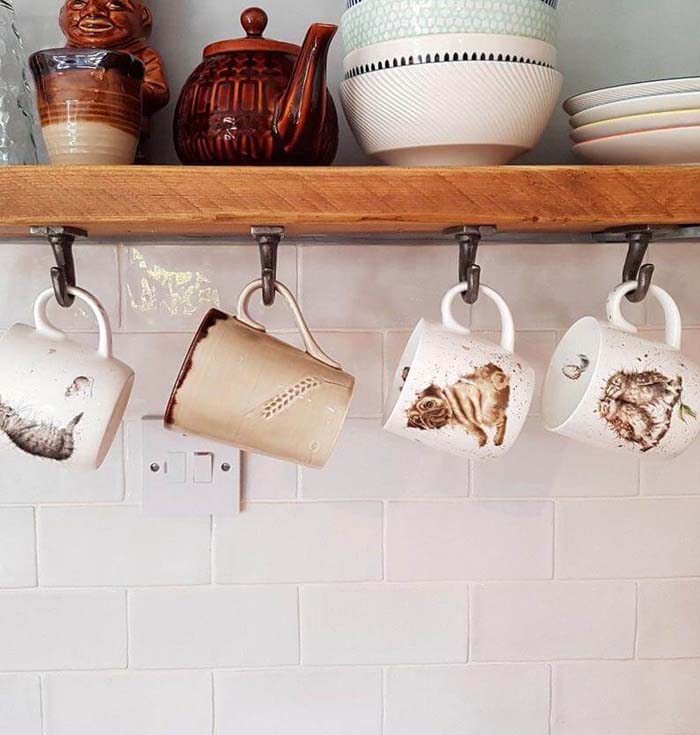 Hooks added to the bottom of a shelf are the easiest way to provide additional storage space for your mugs.
Use the finish and the shape of the hooks to enhance a certain décor style in your kitchen.
Black metal hooks are perfect for an industrial touch while copper or silver finished ones are suitable to create a modern effect.

30. Display Your Mugs Beautifully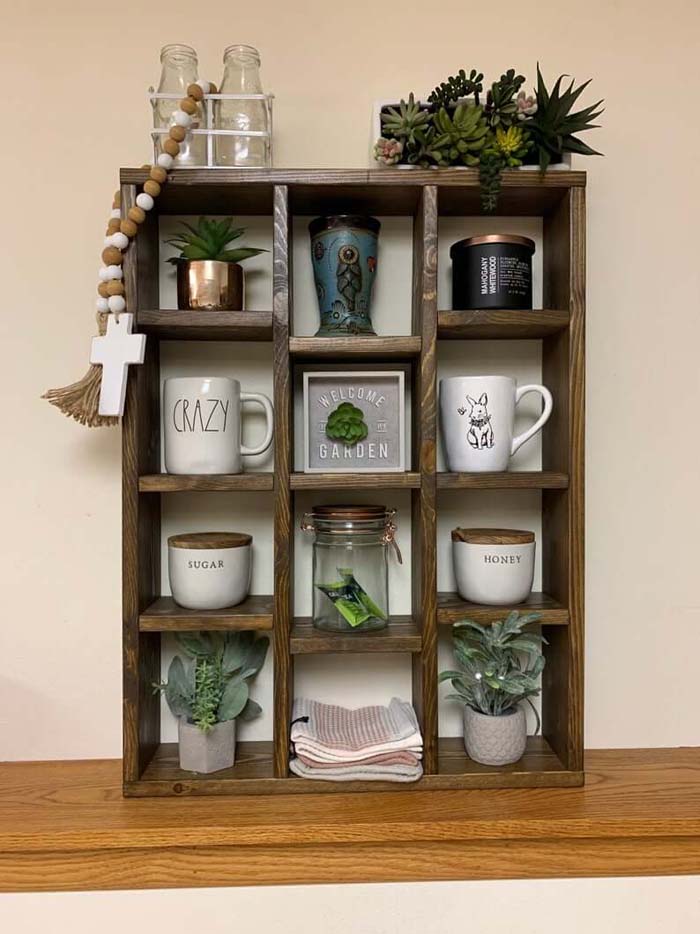 12 open cubbies from reclaimed wood that are resembled a compact free-standing storage unit? Isn't that a great storage idea? The shelf can be placed on the coffee station cabinet or on the countertop.
Add your favorite coffee mugs together with decoration that matches their style. The rustic look of the shelf will embrace rustic pieces and small flower pots that cohere with the natural concept of the mug unit design.
31. Small Coffee Station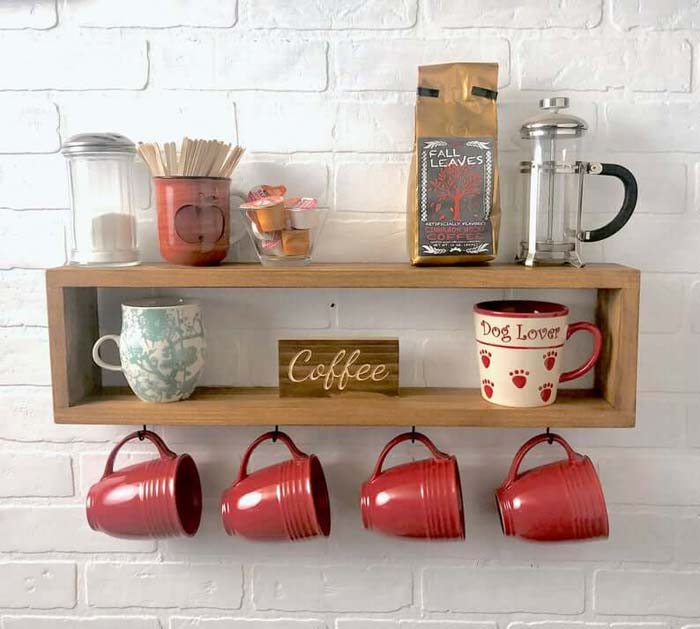 Create your compact coffee station with this functional shelf idea.
The rectangular design of the simple shelf ensures three levels for storage of the most needed coffee accessories- mugs, sugar, manual coffee maker and additives.

32. Free-Standing Unit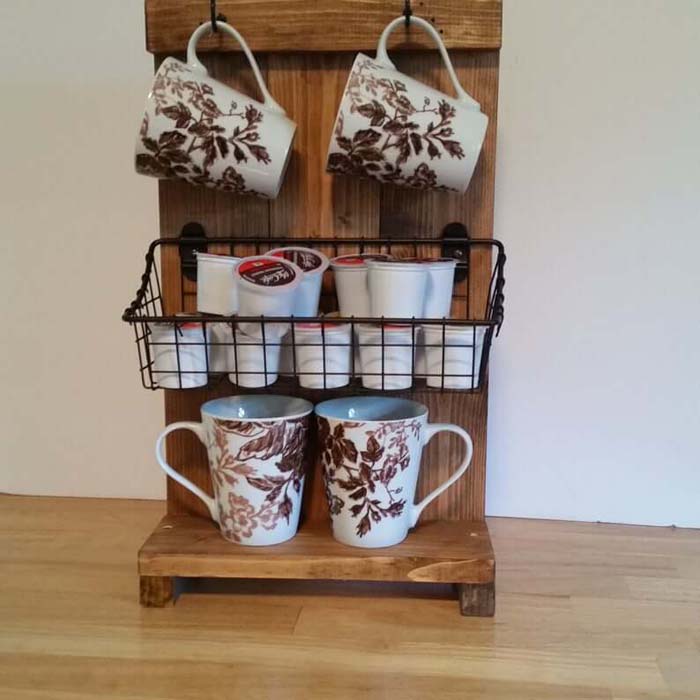 This pallet-inspired design is a free-standing version of a multifunctional coffee station storage unit.
It offers three levels for storage ensured by wooden shelves and a wire basket for unique farmhouse touch.

33. Crate-Inspired Rack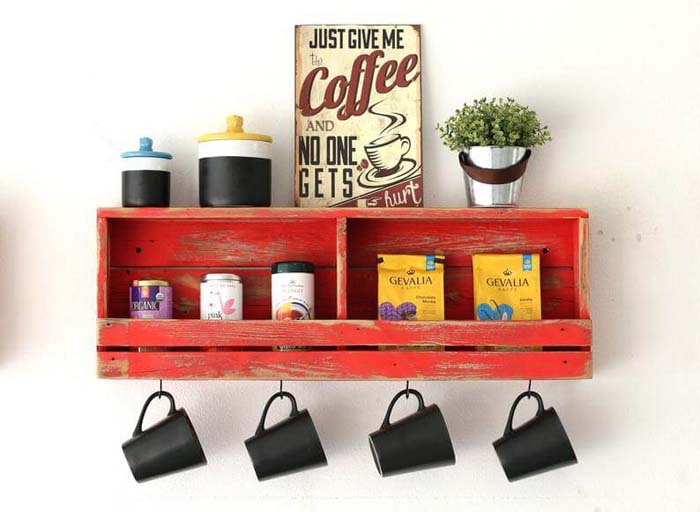 Add a combined vintage and industrial touch to your contemporary kitchen décor with this easy-to-make DIY storage unit.
It is inspired by the rustic look of the crates and their endless repurposing options. Two crates are attached together and then hung on the wall.
The shape ensures three levels for storage of various in size coffee necessities.

34. Reclaimed Wood Cubby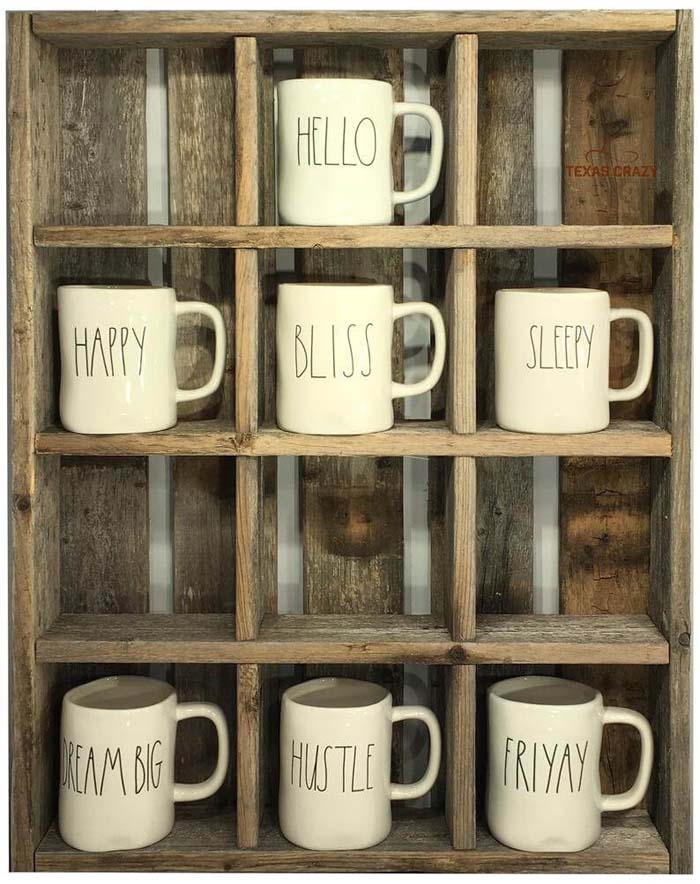 Rae Dunn font is quite popular these days for inscriptions on kitchen pottery. It looks best on clean white surfaces.
If you already have a set of mugs or cups with inspiring words in Rae Dunn, it needs a special place that will let it spread its farmhouse charm and personal statement.
This reclaimed wood slat cubby idea features a beautiful farmhouse structure and can be customized with the number of compartments you need.

35. Reclaimed Wood Shelf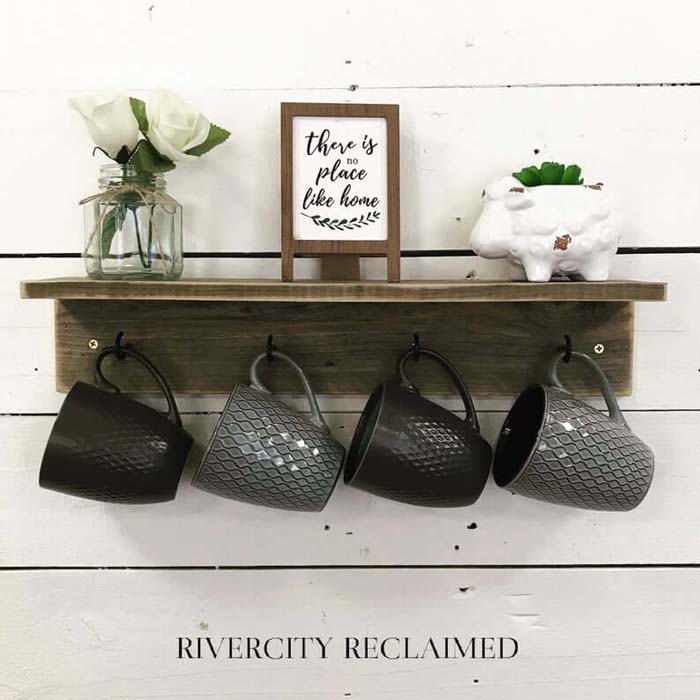 The shiplap boards on the wall provide a nice farmhouse background for a reclaimed shelf from wooden boards.
The shelf complements the white texture with its grey stain. The top can be used for storage of decorations or jars with coffee additives. The bottom that acts as a support is equipped with hooks for the hanging of four mugs.

36. Pallet Slat Rack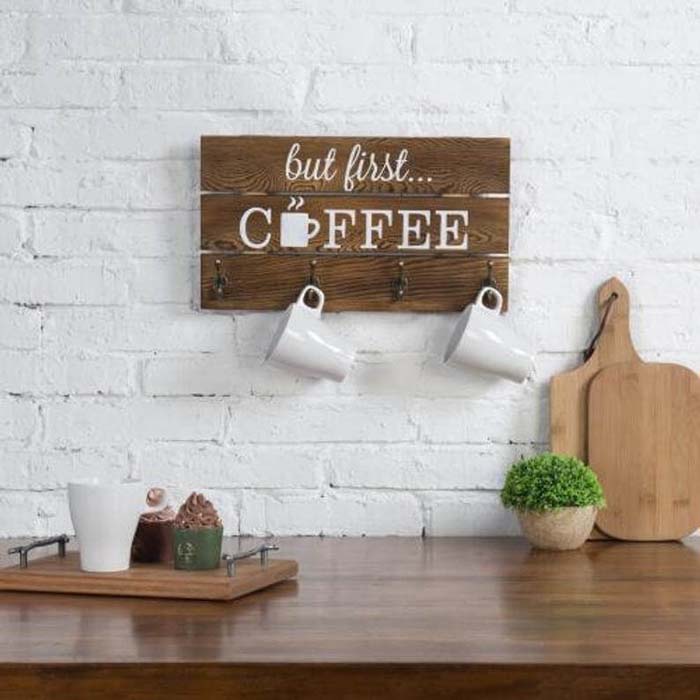 Do you know what the mantra of the coffee person is? You can see it on this beautiful pallet slat hanging! Its decorative function is backed up with functionality.
Four vintage hooks provide space for the hanging of four white coffee mugs that cohere with the chalk inscription.
37. Industrial Farmhouse Shelf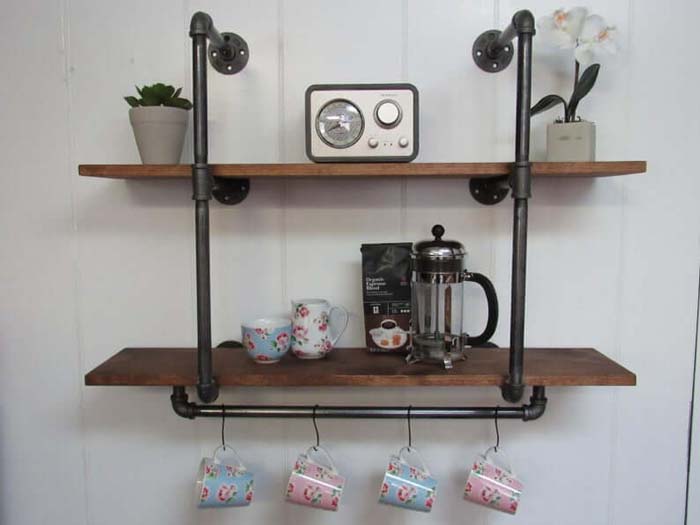 Metal pipes, elbows and hardware for rigid fixing to the wall create the structure of an industrial farmhouse shelf unit. Two wooden boards are added to the structure to provide two tiers for storage.
The vertical shelf can be utilized for the open storage of various items. In this idea, the shelf acts as a vertical coffee station.

38. Dark-Stained Pallet Holder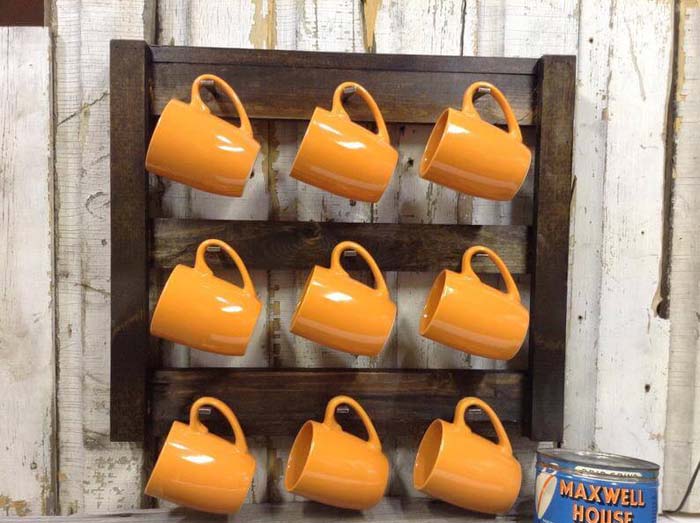 Another pallet-inspired mug holder features a simple structure from wooden slats offering three tiers for the hanging of mugs.
The dark stain of the wood highlights the storage unit and makes a rich rustic statement.

39. Reclaimed Soda Crate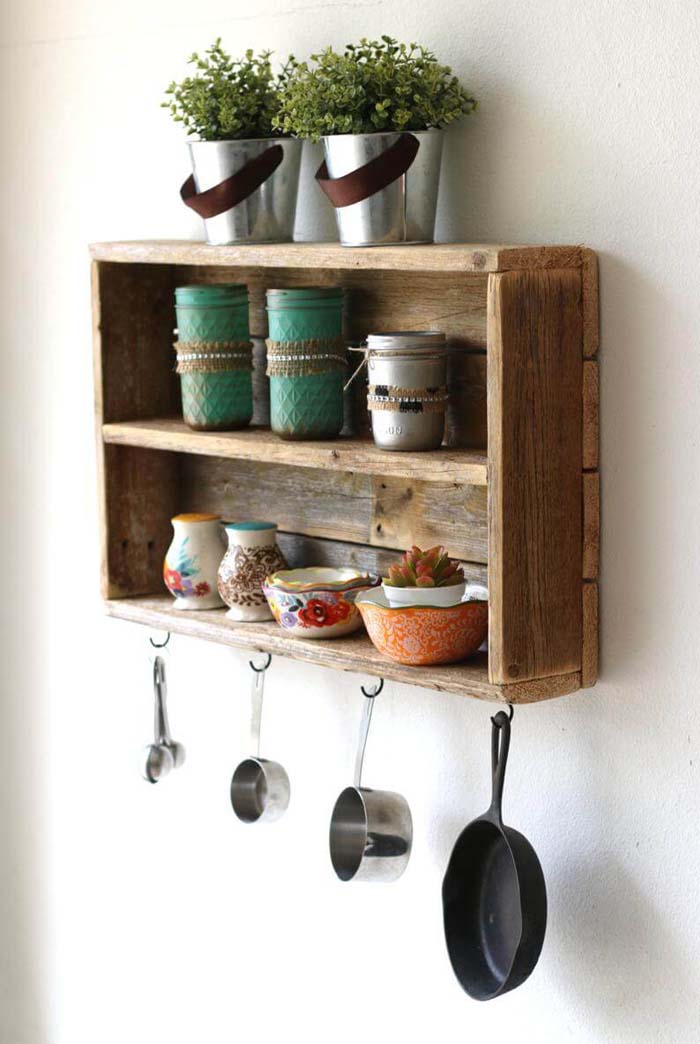 In love with repurposing old items? This mug storage idea is just for you! An old soda crate is turned on its side to become a vertical shelf spreading loads of rustic charm to the interior.
You can use the flat shelves for storage only or also add a few screw hooks to the bottom to organize mugs.

40. Whitewashed Pallet Holder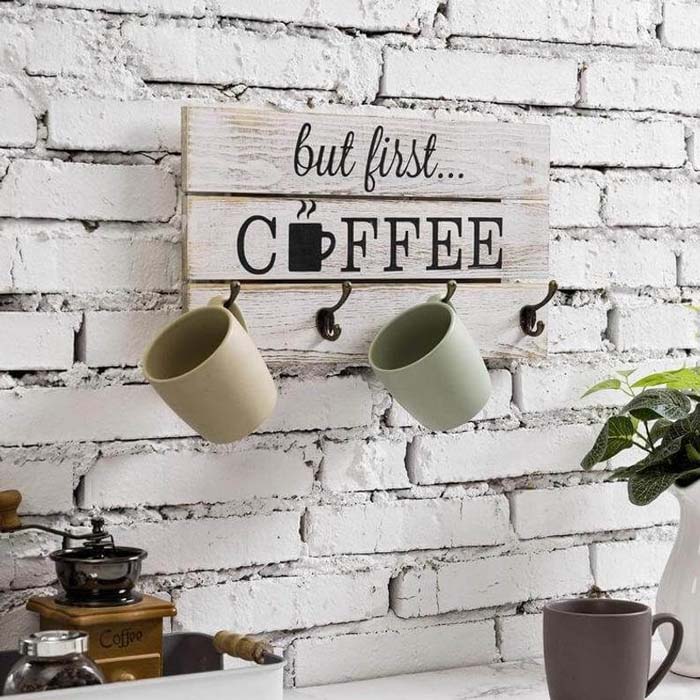 The coffee person mantra is represented once again on a different wood texture. Here, the pallet sign features a black and white combo that suits a modern farmhouse interior.
41. Special Forged Holder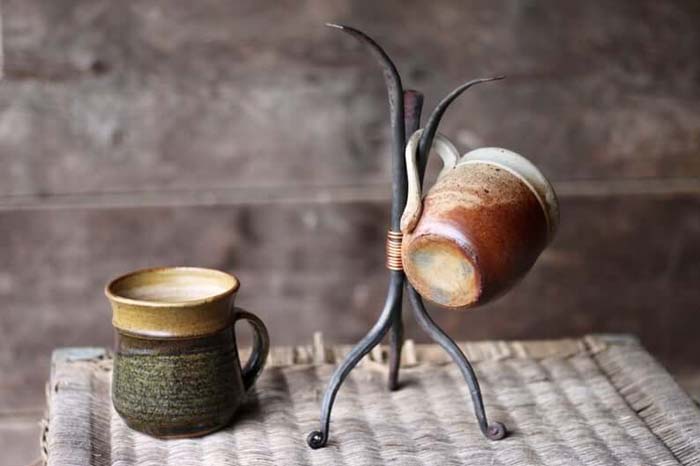 This unique cup holder is made from wrought iron. Its shape mimics a tree with three branches that are inclined at its upper end. This shape makes it possible to hang a mug.
The detail and the unique design of the stand can be highlighted by hanging antique or limited cups.

42. Compact Holder With A Pallet Slat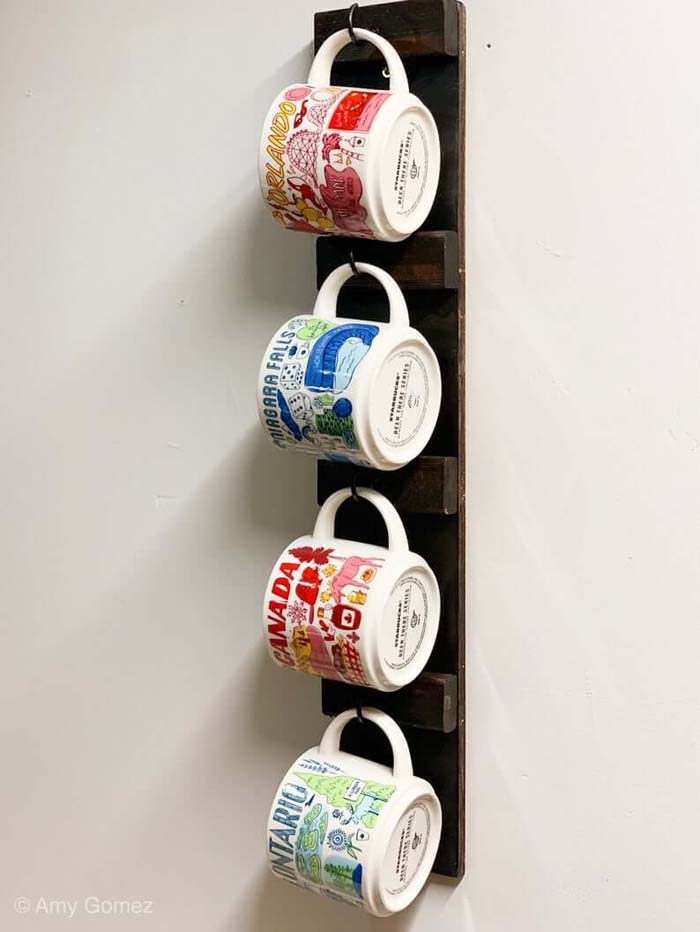 This compact mug holder is made from a pallet slat. It can be easily repurposed into a vertical rack by adding screw hooks along its length.
The dark stain is very important for the overall look of the mug holder. It stands out against the neutral grey wall and provides contrast for the mugs.
43. Multifunctional Pallet Slat Holder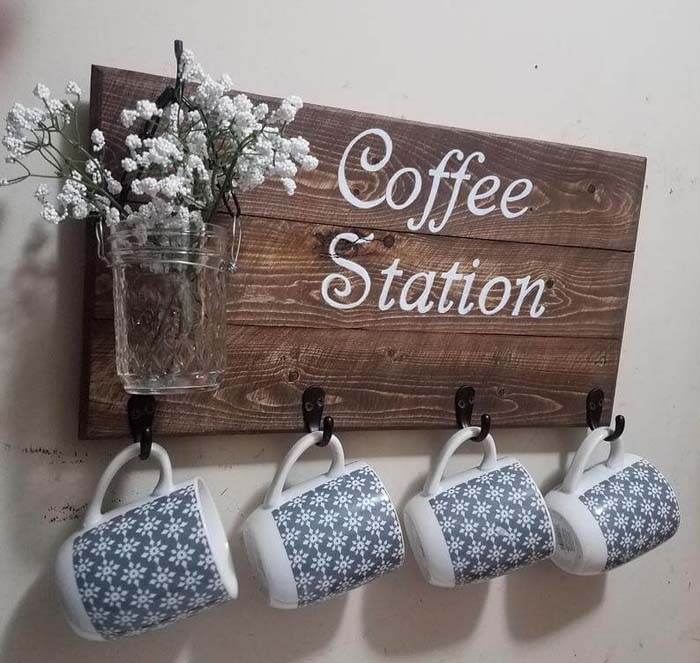 This is a lovely farmhouse decoration that offers a cute function as a mug holder. The front of the boards gives a name to the purpose of this wall hanging and also makes a beautiful rustic ornament.
The mugs are hung on simple black hooks screwed at the bottom of the plaque. There is also a mason jar vase that adds a fresh natural touch to the arrangement.
44. Vintage Mug Storage Idea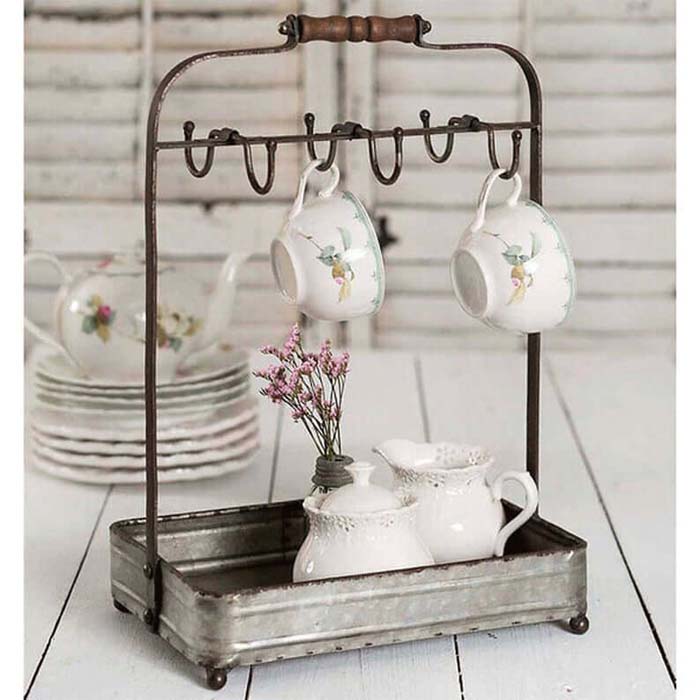 This caddy is an excellent DIY idea for functional kitchen décor. The mugs and the coffee accessories fit perfectly on it thanks to the galvanized tray and a bar with hooks.
The caddy is very convenient and portable thanks to the handle at the top. You can take the entire set for coffee at once and bring it to any room you are willing to drink your morning coffee in.
45. Distressed Set Of Racks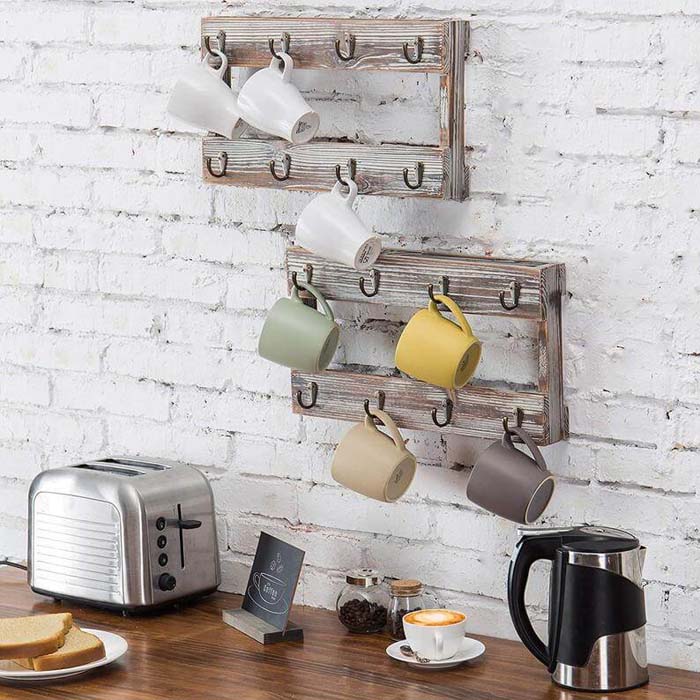 A set of two pallet parts is displayed on an exposed brick wall to offer four racks for mugs.
The wood is whitewashed and then distressed to create a weathered look. The pallet units create so much character to the statement wall and ensure plenty of space for your coffee station accessories.
46. Vertical Free-Standing Holder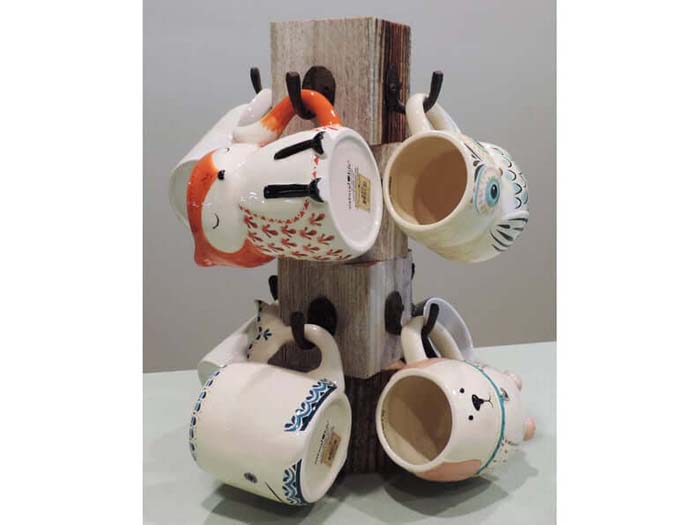 This free-standing mug station fascinates with its original design and rustic charm. Four blocks cut from a wooden pedestal are aligned vertically leaving their edges mismatching.
That pattern creates a dimensional interest which is additionally highlighted by the black metal hooks.
The piece is of a pretty small size to make it a desired mug holder for every kitchen.

47. Repurposed Wooden Box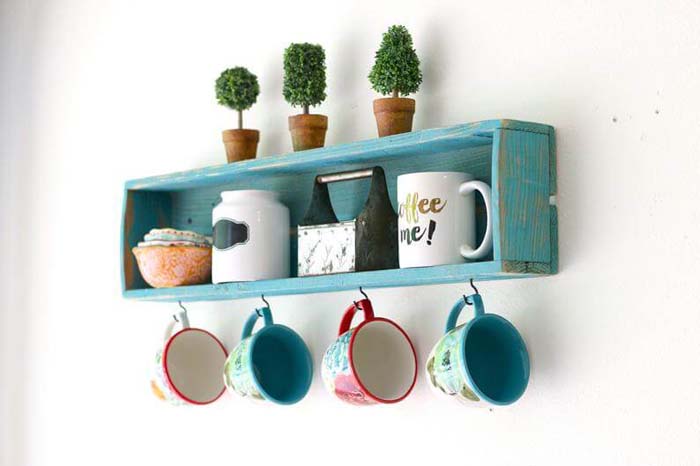 Turn a plain wooden box on its side and hang it on the wall to create an easy and charming DIY shelf unit.
Depending on the existing décor, you may leave the wood weathered or apply a new coat of paint in case you want to use it to add a pop of color.
The box provides two tiers for displaying beautiful and special decorations. But possibilities don't end here. You can make another tier for storage with screw hooks.
48. Black-And-White Pallet For Storage Of Mugs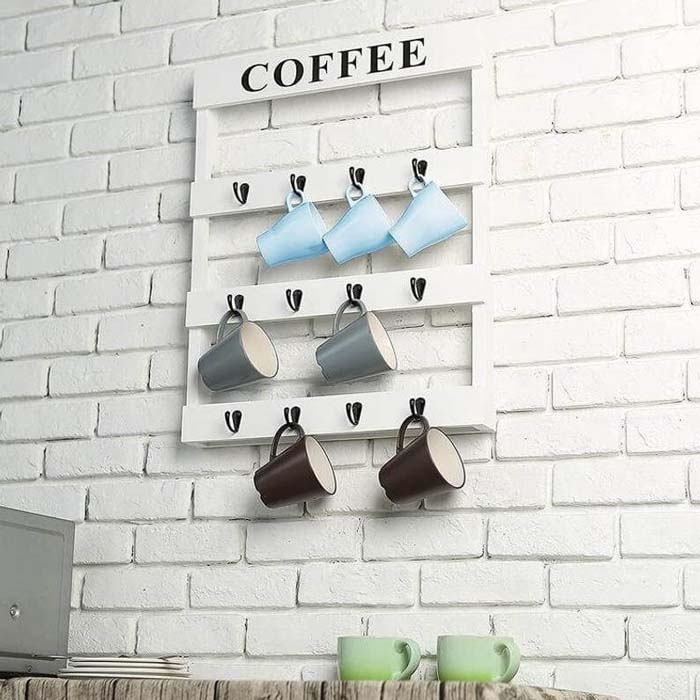 If you like the idea of an exposed rack for your mugs but don't want to change the focus from the texture of the wall it will be mounted to, unite the pieces.
How to do it? Paint the rack the same color as the wall. Of course, adding a simple inscription to the rack will do no harm. On the contrary, it will give the rack a decorative touch that distinguishes it from the background.
49. Free-Standing Pedestal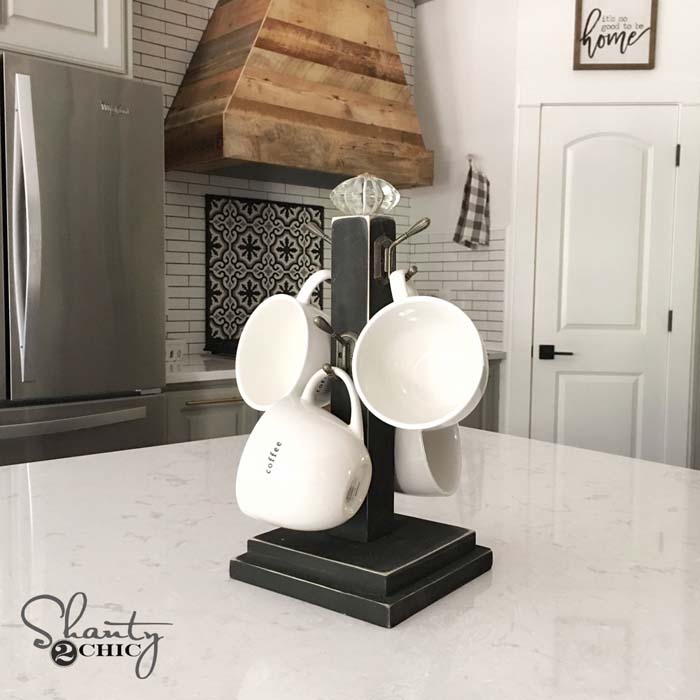 Did you like the idea of a tree of mugs? This is another alternative design of a free-standing pedestal.
The design is simple to let the geometric pieces stand out. The black color makes sure that the tree fins easily a place in contemporary home décor.
via Shanty 2 Chic