If the first thing you do after waking up is getting a coffee, then you have come to the right place. Having a dedicated coffee bar is an extra that you will enjoy and find functional.
All utensils, appliances and essentials are sorted in one nook. The coffee stations have also another great function, to improve the home decor and make the atmosphere homely and inviting.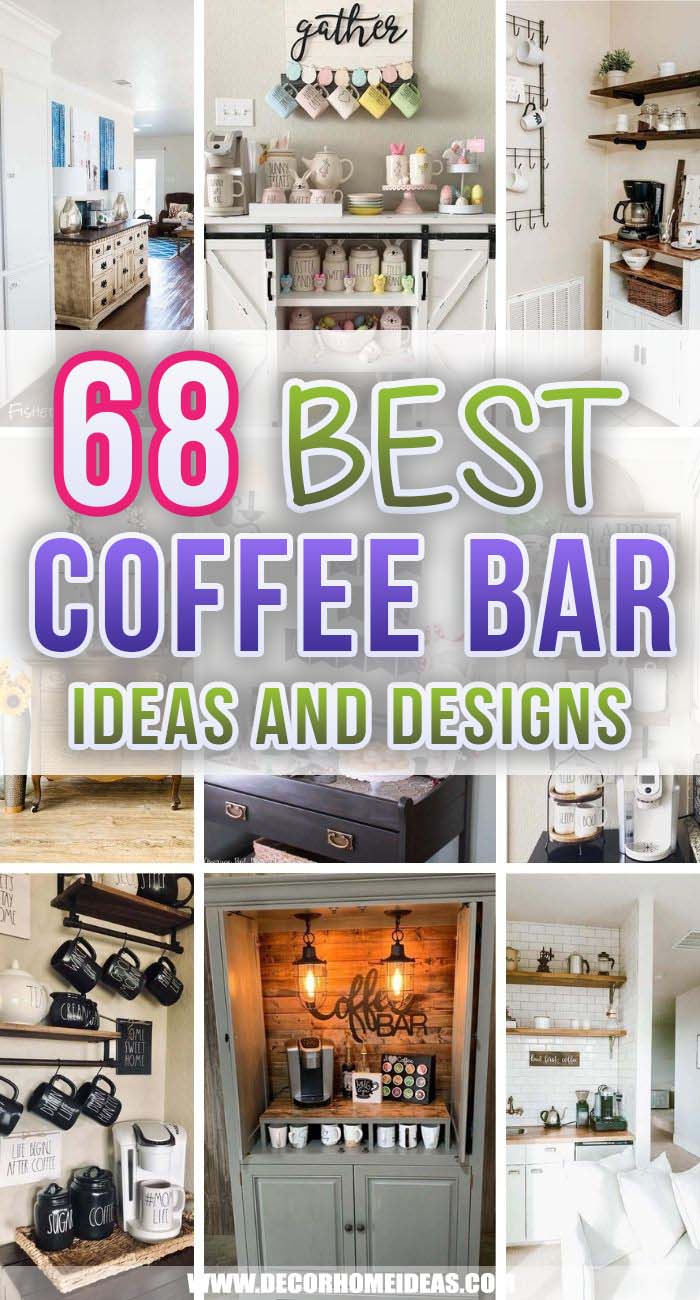 Let's see this impressive list of Awesome Coffee Bar Ideas and Designs that will make your mornings better.
1. A Coffee Cafe in Your Kitchen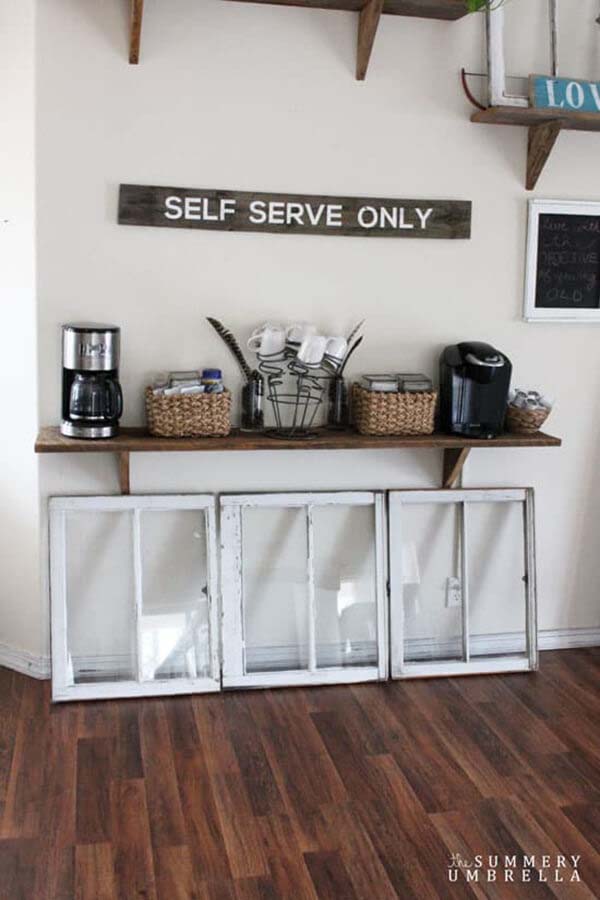 The coffee bar can be just a bar- no chairs or tables. Simply a sturdy wooden shelf that is space-saving yet inviting and comfortable to make and have a coffee.
All coffee essentials are kept sorted in wicker baskets that fit the style of the bar. Added window frames below the shelf create a charming farmhouse point of interest and make the space look visually larger.
via LZ Cathcart
2. A Coffee Cart for All Seasons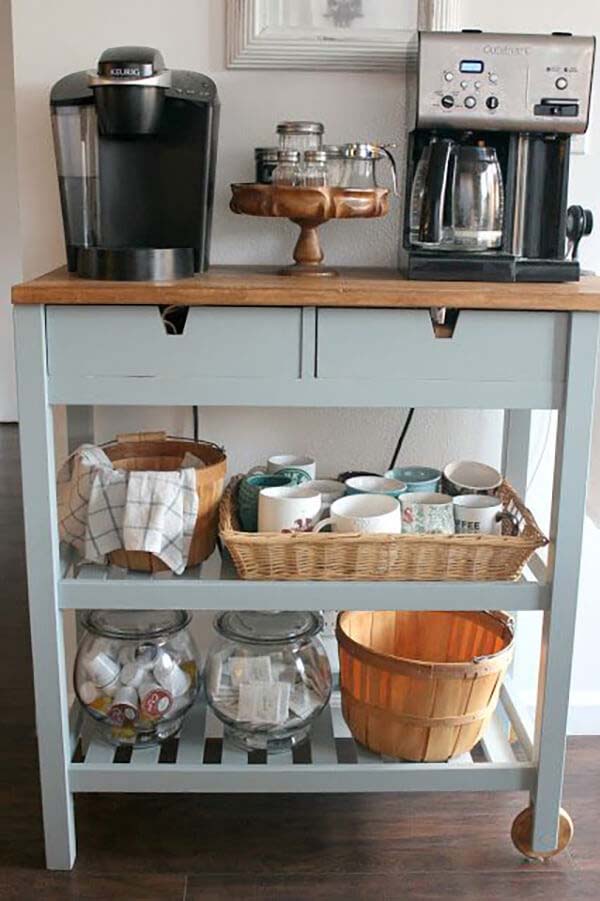 An IKEA hack features how to transform a traditional IKEA wood cart into a coffee bar with plenty of storage space.
Some paint and wood wax gives the simple cart a bright look that will cheer up your home or workspace.
via Charmed Crown
3. Basket Chic and Leafy Wreathes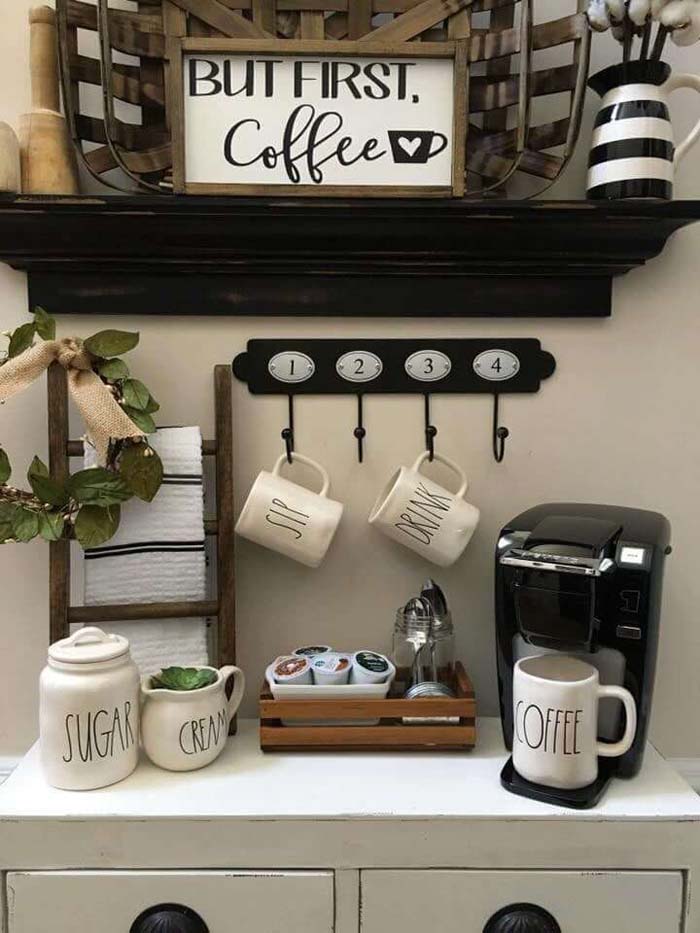 Make the coffee bar on the top of a vintage chest of drawers. Use the surface of the wall above to make extra storage space ensured by a rustic shelf and hooks.
Naming the nook with a simple farmhouse sign backed up by a wicker basket set gives the nook a finished look and unites it with the rest of the interior.
4. Black Rae Dunn Coffee Station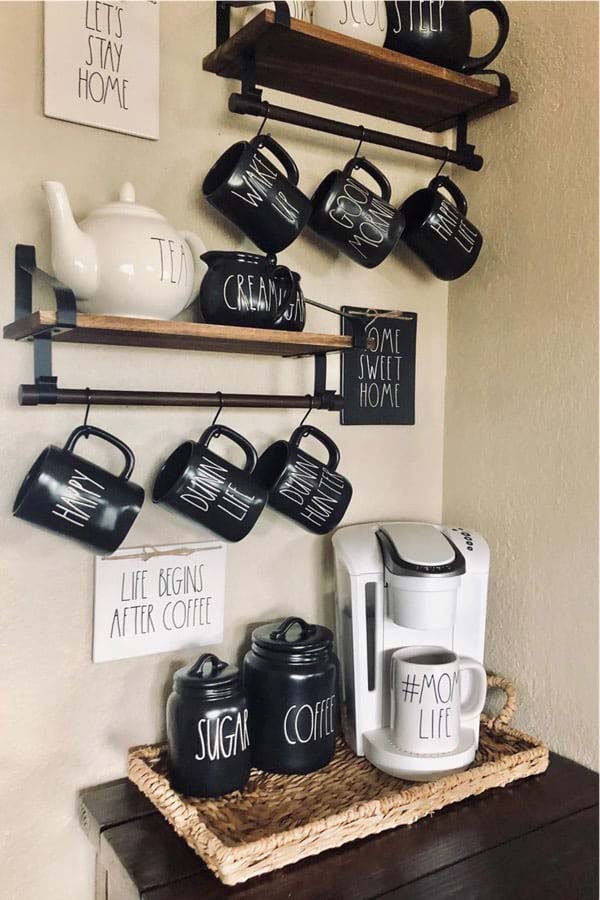 Determining the best spot for your coffee bar can be an easy task. Just use an old side table, a chest of drawers or other storage furniture.
In case the piece doesn't offer storage places, you can add wooden shelves to it or the wall above. The shelves can be given a dual function.
Installed metal pipe to the bottom side of the shelf lets you arrange your greatest mug collection. The Black and white color combo has defined this coffee bar nook as farmhouse stylish.
5. Bohemian Flair in Coffee Bar Decor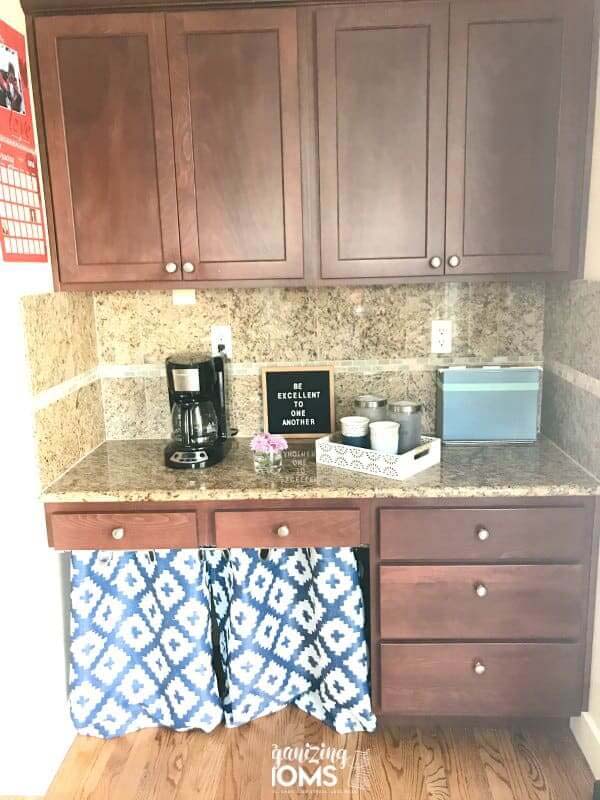 Turn a kitchen counter space into your dedicated coffee station. This easy and affordable idea is great for small spaces.
68 Awesome Coffee Bar Ideas and Designs For A Fresh Good Morning video:
Added sign with an inspiring phrase gives the nook a personal touch. The tray organizes mugs and flavors for two which enhances the personal flair in the nook.
via Organizing Moms
6. Built-In Coffee Bar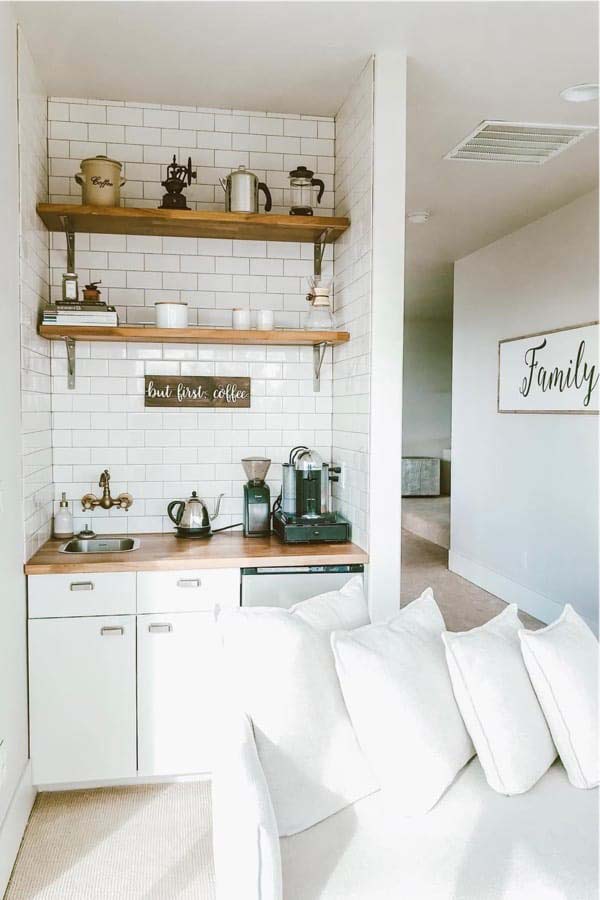 This living room niche has been utilized into a coffee bar that has all you may need to make the most flavored coffee ever.
In all compartments for storage make sure to store neatly and tidily mugs while the coffee machine and the teapot stay on the counter space. Once you are ready with your hot drink, you can leave the mugs in the sink.
7. Cabinet Coffee Station Example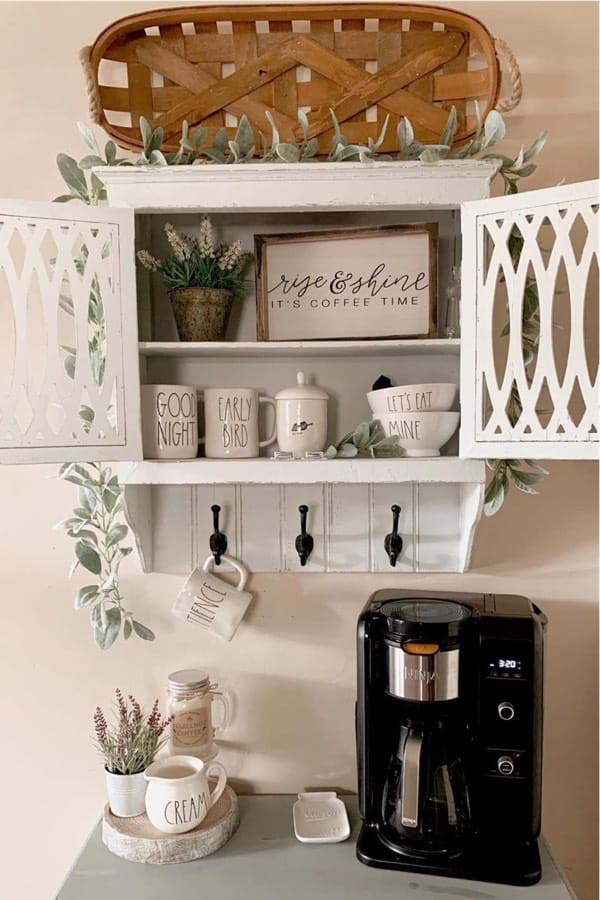 This coffee bar is tiny but very adorable. It is obvious that you don't need much money to make it, only loads of love and creativeness.
Dedicate a top surface of a vintage table for the coffee maker and add an antique cabinet to the wall to store your customized family mugs.
Decorate with nature-inspired elements to enhance the welcoming vibe of the coffee station.
8. Christmas Coffee Bar Inspiration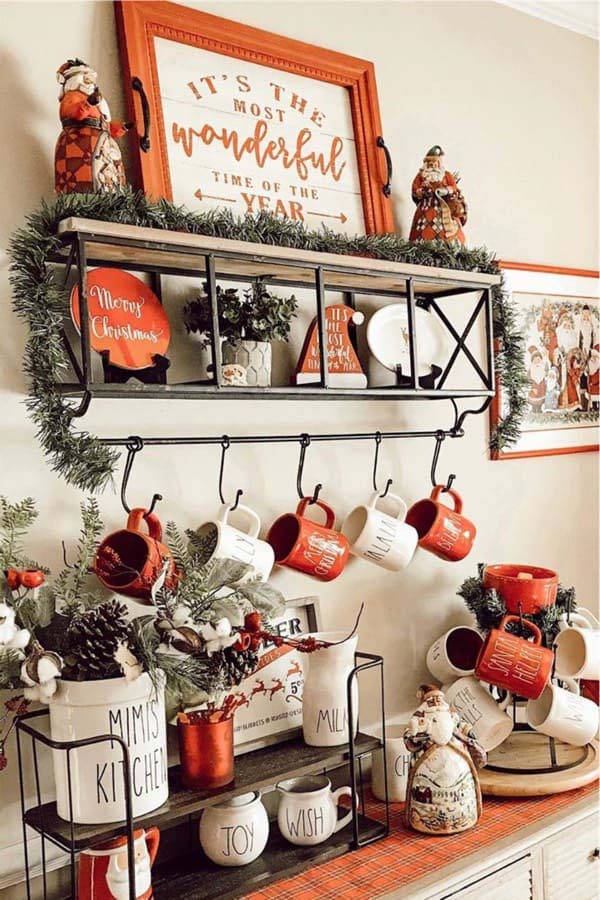 The home coffee bar can be an important part of your seasonal decor. See how you can use holiday mugs and decorations to turn the coffee station into a festive house spot!
Every mug has a written label with a Christmas theme. Complemented by the white and red color scheme, surely this will be the most visited part of your home during Christmas.
9. Coffee Bar Down on the Farm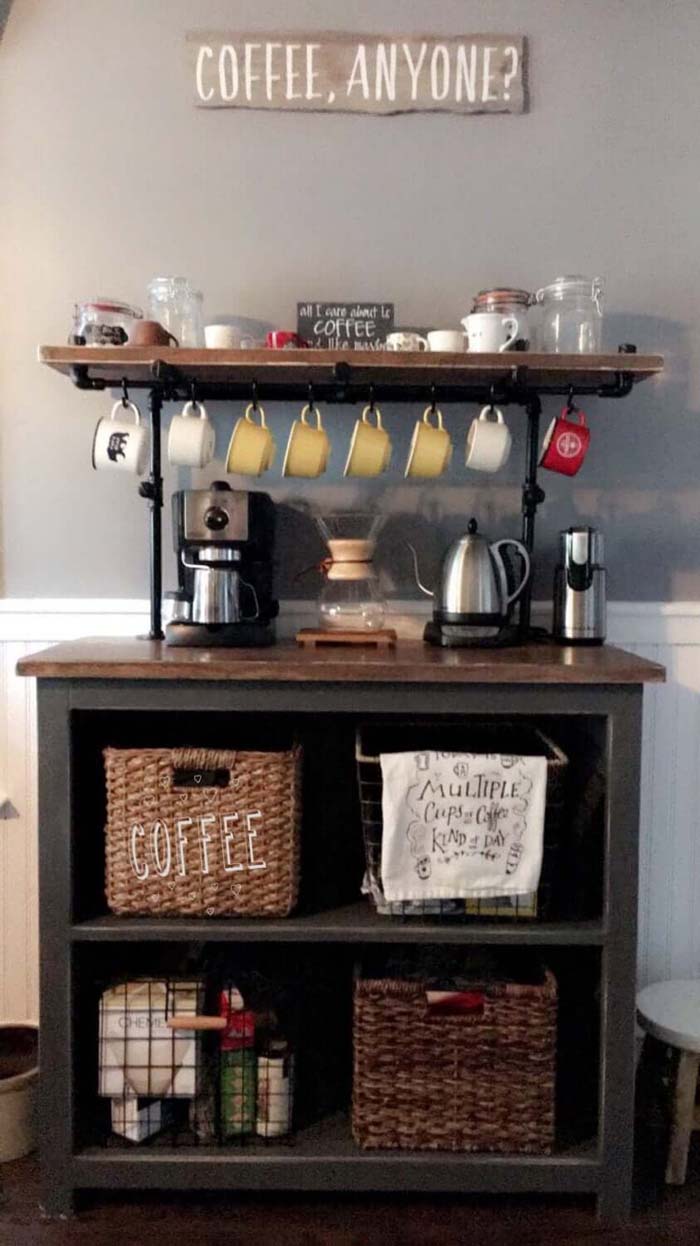 This coffee bar design is the perfect balance between feminine and masculine taste- neither gentle nor rough. Its versatility comes from the material and color choice.
The table with added shelves for storage keeps all coffee essentials at one hand distance. Wicker and wire baskets keep smaller items sorted, while an auxiliary shelf over the top keeps the mugs cheerfully hanging.

10. Coffee Bar For K-Cups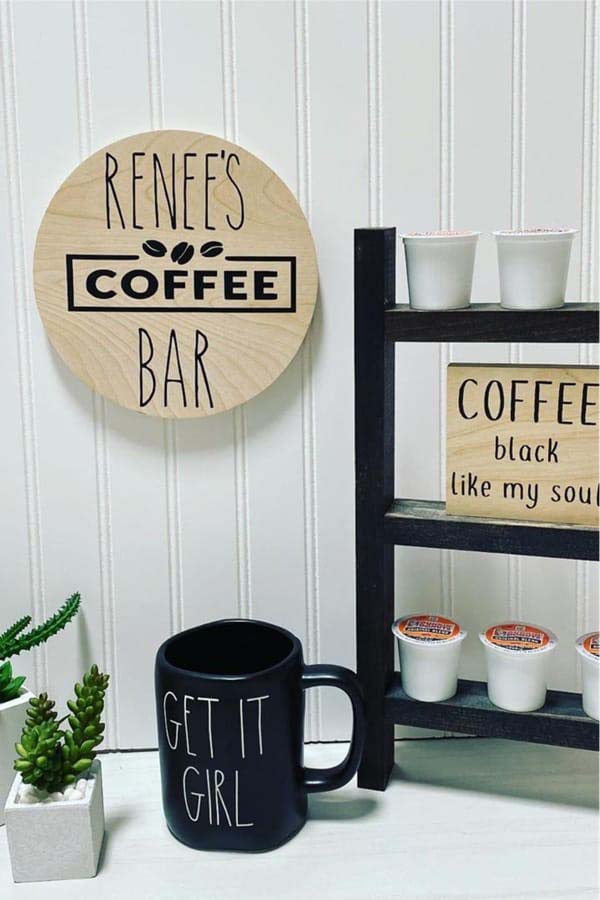 In case there is a free corner in your kitchen or living room, you can make your small home coffee bar.
The K-cup holder is very functional in this small nook, keeping coffee pods sorted. Small faux plants and two signs in the coffee theme decorate the nook and make it very special.
via LF Rustics
11. Coffee Bar For Party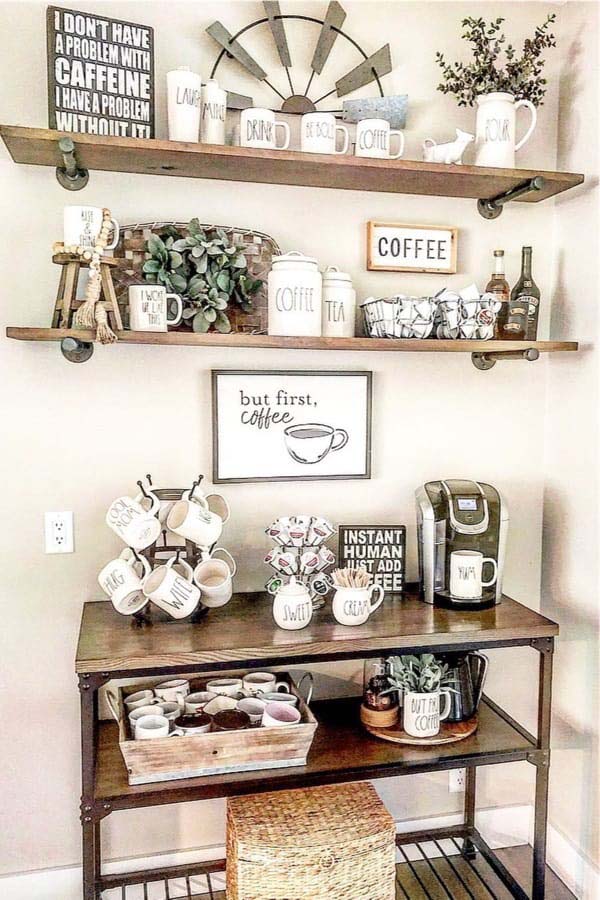 If you are a coffee addict, you will fall in love with this farmhouse coffee bar. It consists of a metal table with a wooden top and shelves where all you may need to make and flavor your coffee is at a one-hand distance.
Decorations inspired by nature make the nook welcoming and blend it with the existing decor.
12. Coffee Bar With Fall Decor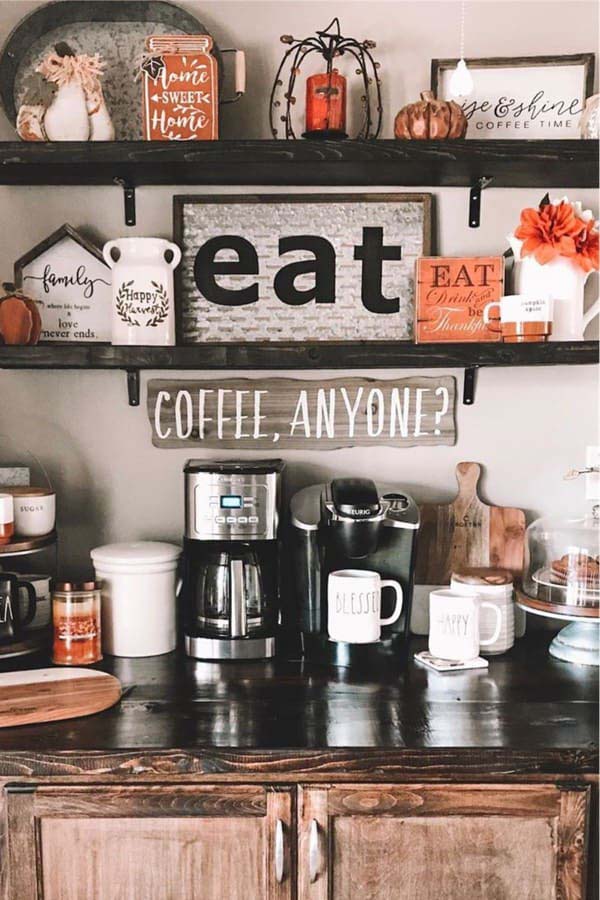 This is another example of how the coffee bar can be turned into part of the seasonal decor. In addition to the existing coffee accessories, cheerful autumn-themed accents are displayed.
They create warm contrast with the black and white color design and make the nook very welcoming and warm.
13. Coffee Bar With Fall Pumpkins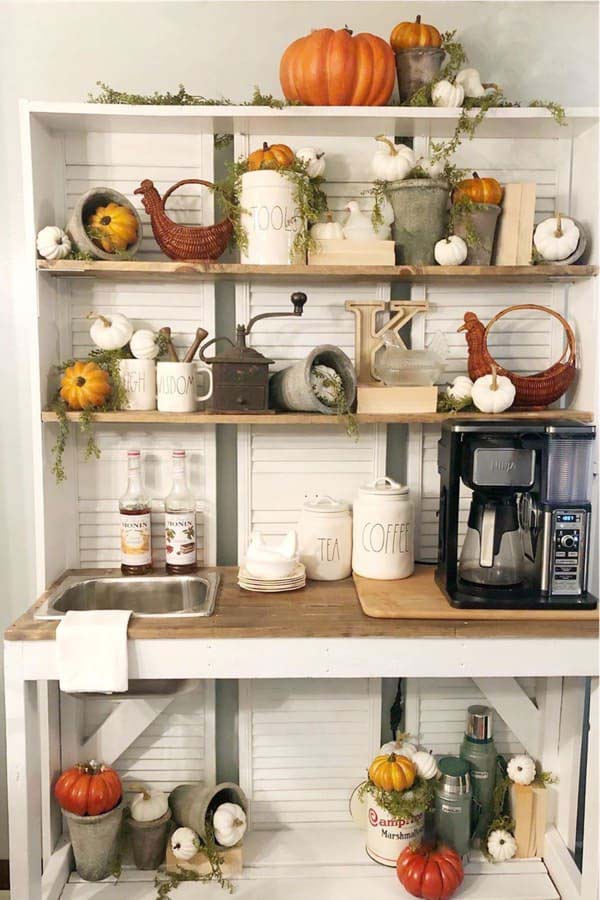 This is another interesting fall coffee bar arrangement. The traditional pumpkin element has been chosen to be the accent in the fall theme of the nook.
Various in sizes and colors pumpkins stay on the farmhouse station shelves to create a cheerful atmosphere.
via In The Moment Restorations
14. Coffee Bar With Pineapple Decor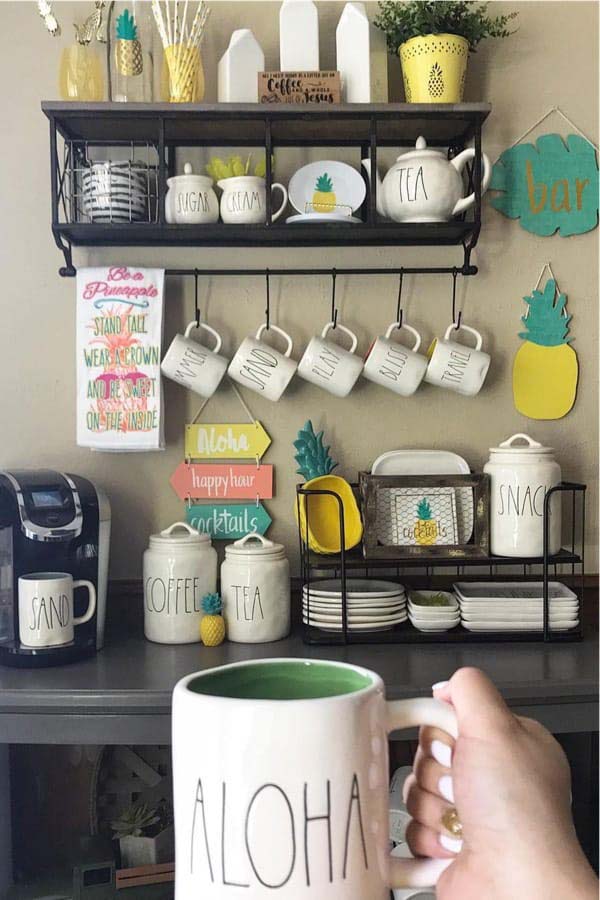 This is an inspiring coffee bar decor idea for the summer season. The cheerful pineapple creates a fresh summer theme adding bright colors to the farmhouse coffee station.
The mugs are also beach-themed spelling out with their labels the most exciting activities summer offers. Added signs complement the color scheme of the pineapple.
via Mariana Baeza
15. Coffee Trays on the Walls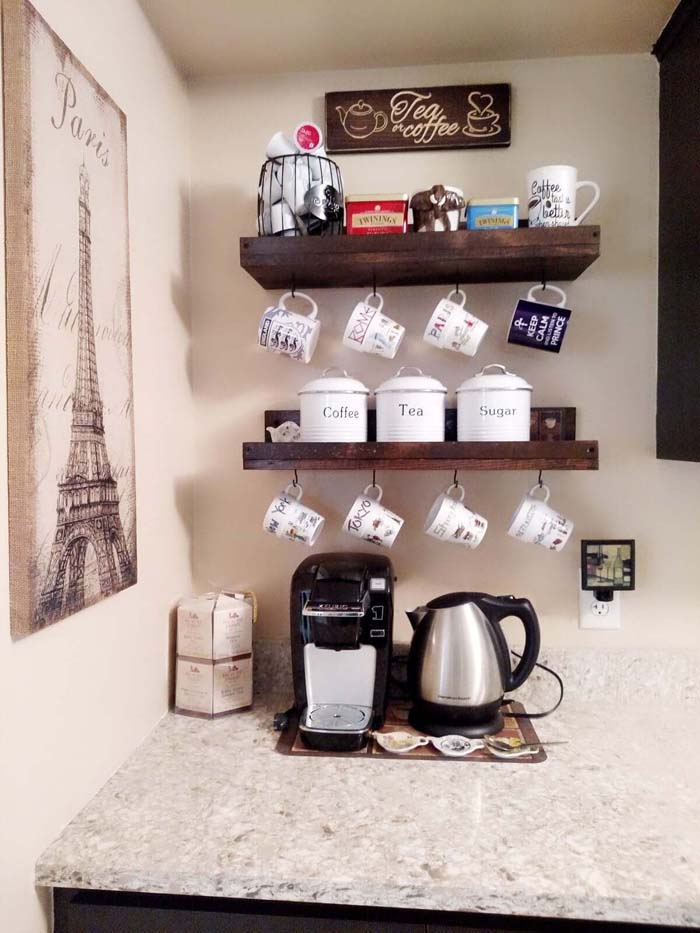 The vintage coffee trays have inspired the design of the shelf unit of this coffee bar. Screw hooks are added to the bottom of the shelves to store travel-themed mugs.
They form a special collection describing the hobby of the homeowners.
The coffee station is another opportunity to give your home identity and character.
16. Colorful and Whimsical Kitchen Coffee Nook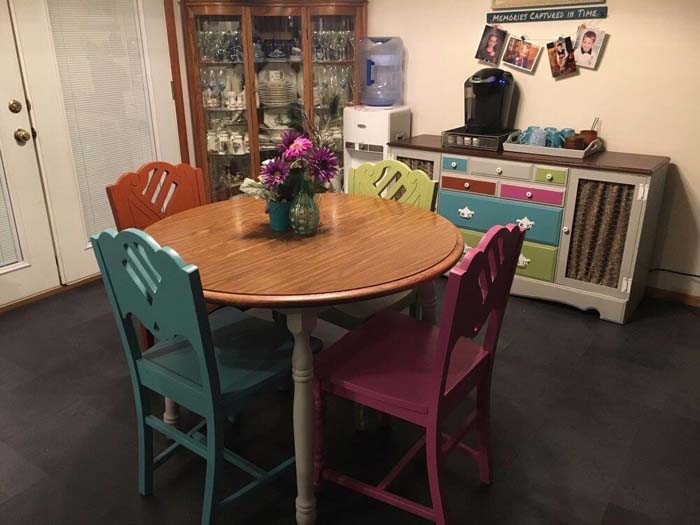 This kitchen decor clearly speaks of artistic people living in it. Many bright colors are incorporated into the design making sure that the final look will be appealing.
The home coffee bar that has been formed on a vintage chest of drawers repeats the color scheme of the chairs to create together a tied overall look.
via Sharsum Paint
17. Colorful Kitchen Coffee Station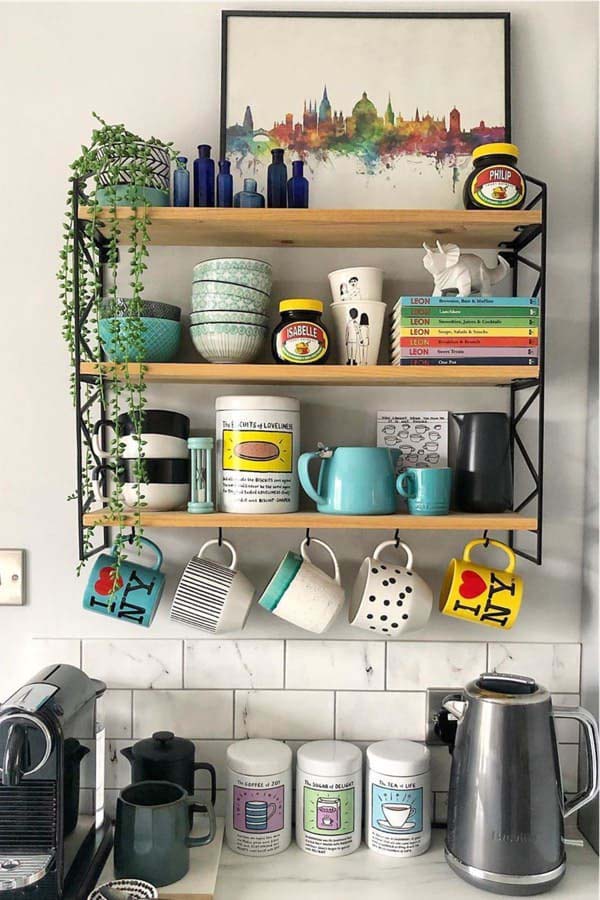 Create a coffee bar on the kitchen counter by dedicating only a small corner to it. This DIY idea is affordable and practical since there is no need for any drastic changes or investments.
Add a shelf unit to the wall above the countertop to display coffee mugs in combination with interesting decor pieces that will give the nook a look matching the existing decor.
via Nest Number 9
18. Dark Wood Coffee Station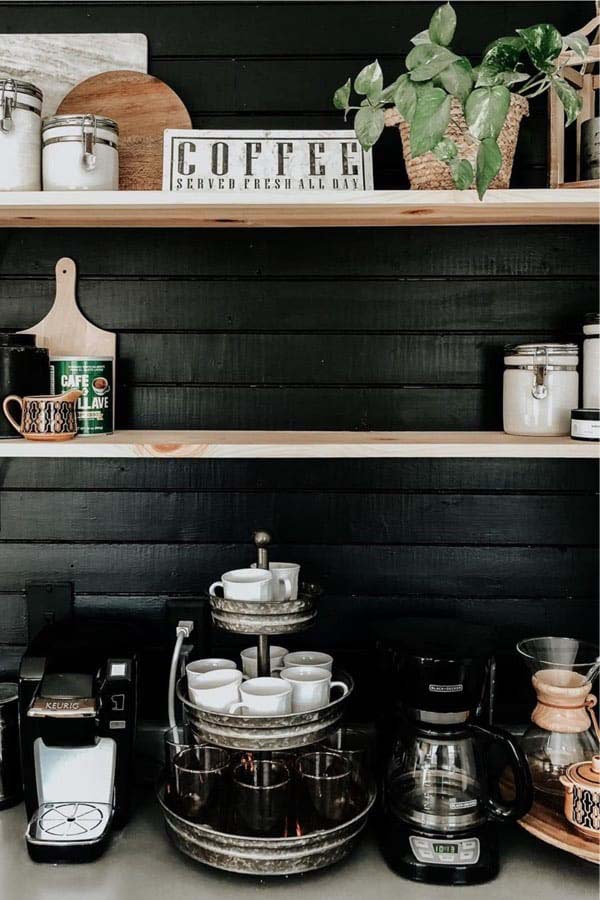 This coffee station is one of the easiest DIY ideas. With two shelves, a themed sign and arranging of all coffee-related items in one dedicated space from the counter space, you easily form a coffee nook.
The most appealing part of this idea is the color choice. Black shiplap pairs with natural wood shelves. They look great together and give the kitchen a customized look.
via Erin Lynch
19. DIY Coffee Bar In Kitchen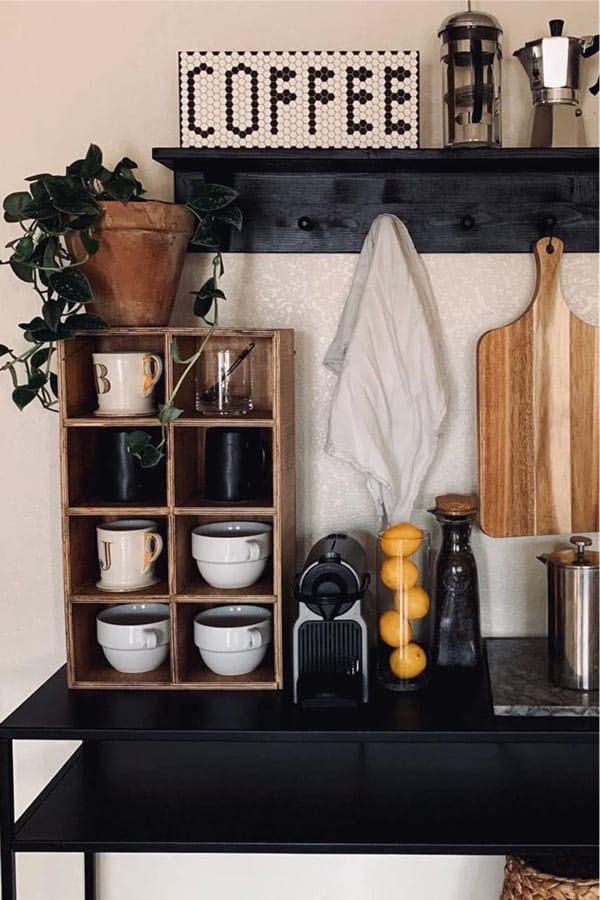 A high metal table painted black is repurposed into a coffee bar showing a lot of styles and a modern farmhouse look.
Storage items enhance this farmhouse touch with their antique shapes and textures. The added bold coffee sign clearly speaks how important this nook is for the homeowners.
via Brittnee Lokey
20. DIY Grundtal Bar IKEA Hack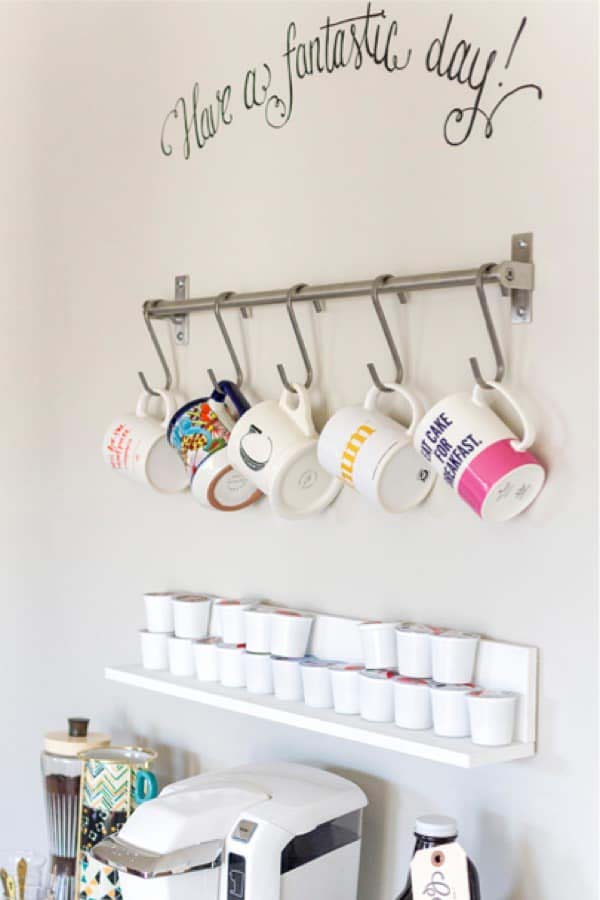 This rail system of IKEA works perfectly in this space-saving coffee bar idea. Hooks store charming personalized coffee mugs which add color to the neutral color scheme.
via Dream Green DIY
21. Do Double Duty with Coffee and Bar Cart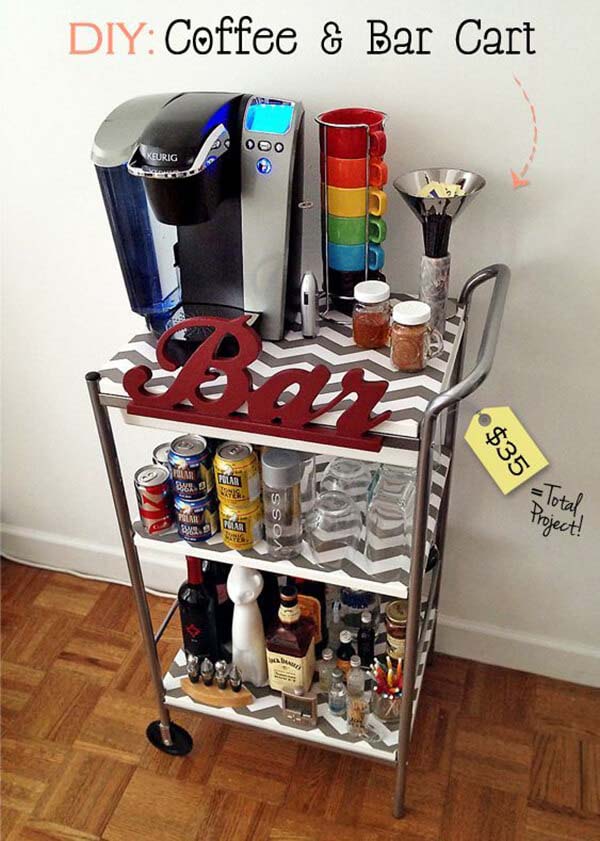 This is a great and easy-to-make coffee station. All you need is a metal cart on castors, and foil with an interesting pattern to give the cart a modern look.
The cart is easily repurposed into a coffee station by adding all coffee-related items and a large initial sign at the front. A set of colorful mugs complements the sign and makes the bar cheerful.
via Fabulous Fashions 4 Sensible Style
22. Easter Coffee Bar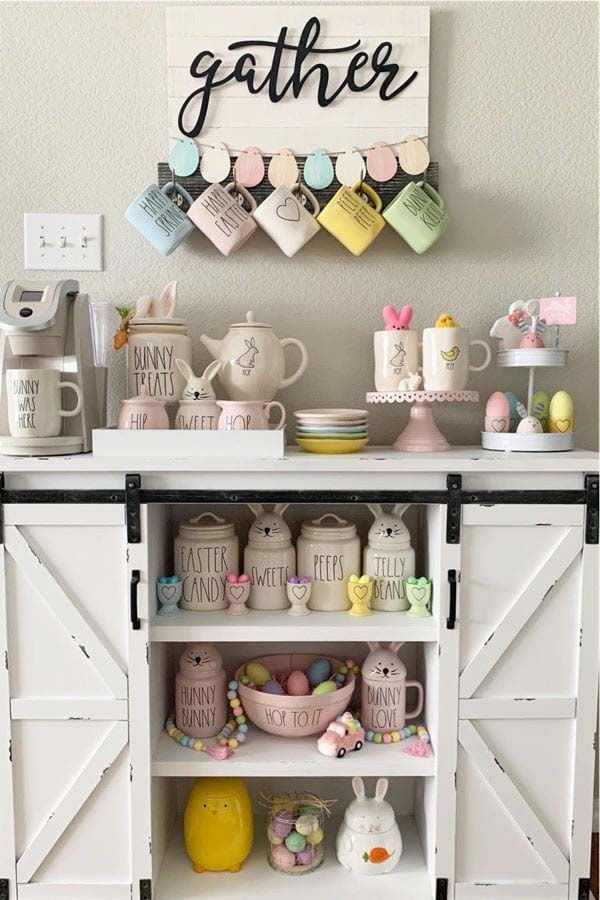 An old vintage cupboard had more to offer, hence it has been transformed into a coffee bar. A fresh coat of white chalk paint, and some distressing and industrial hardware turn it into a modern farmhouse nook for coffee.
This idea can also inspire you for the decoration for next Easter. Replace the mugs with bunny-themed ones displaying Easter wishes. Add garlands in pastel colors and a farmhouse sign to complete the seasonal decor.
via Dawn's Diary
23. Espresso Bar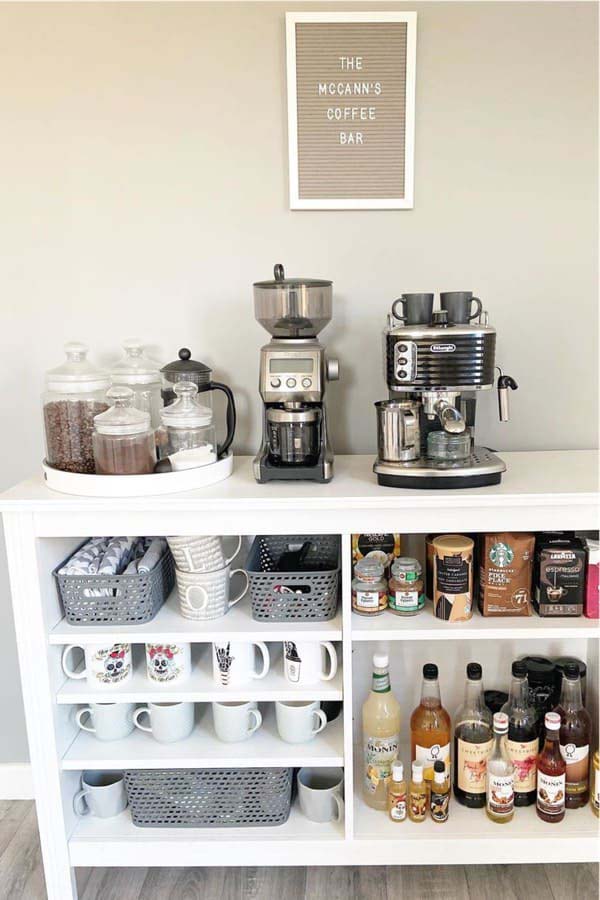 This accent table is a functional piece of furniture for spacious kitchens. It offers two compartments dedicated to different types of drinks. The one with shelves is dedicated to the coffee station. The open cupboard is for flavor adds.
This coffee bar is surely created by people enjoying every cup of coffee!
via Keeping Up With Our New Home
24. Everything in Its Place Kitchen Coffee Bar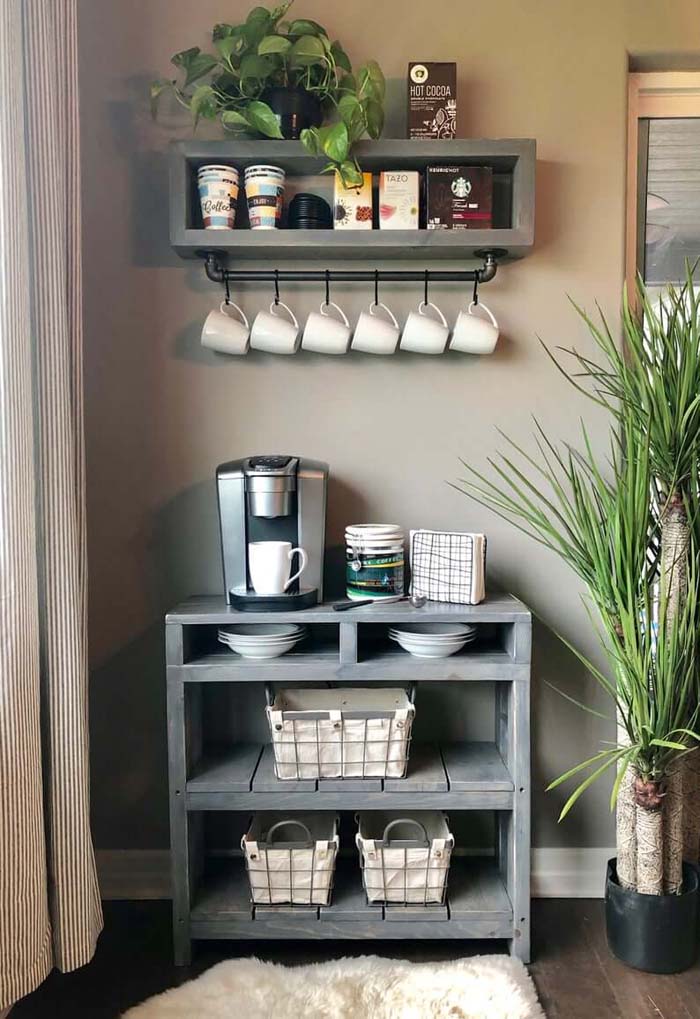 This picture shows how much space exactly you need to make a coffee bar that is practical and very organized.
The farmhouse table matches the existing decor in this living room. The muted finish of the wood keeps it neutral and pairs the adjacent elements.
The shelf above it follows the same style to let the items on it be the focal point.

25. Exposed Shelves with a Modern Look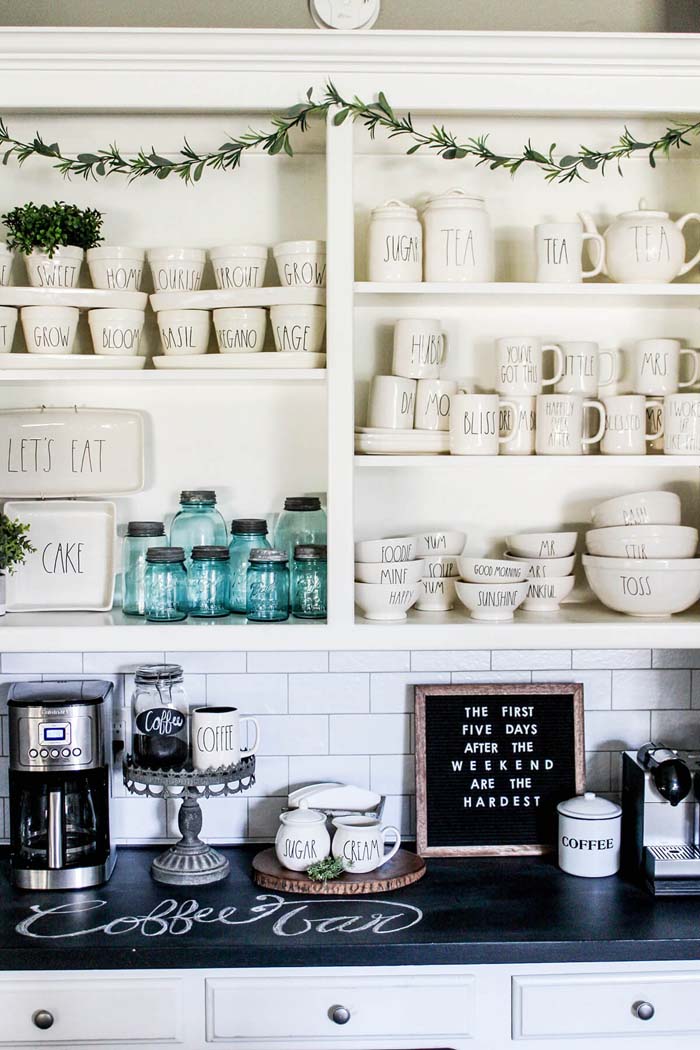 If you like the exposed shelves, here is an idea for a coffee bar design that incorporates them. Black and white define this nook as very elegant and charmingly rustic. Inscriptions can be seen almost on every surface, making the nook very personalized and inspiring.
The large black sign displayed against the wall reveals one of the funniest thoughts ever letting you smile despite the working day will soon start.
via Beauty For Ashes
26. Fall Rae Dunn Coffee Station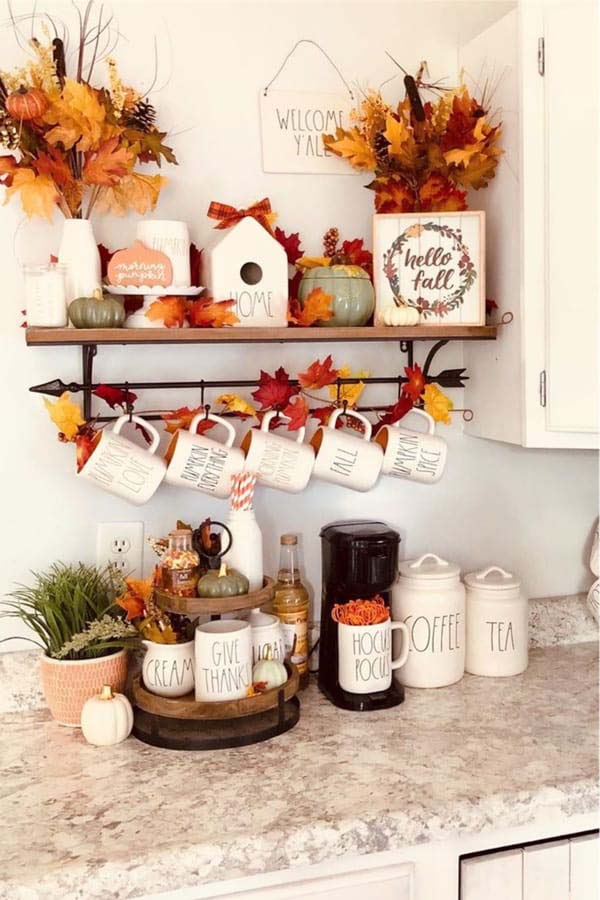 Do you like this fall-inspired coffee bar? Well, this idea is easy to recreate with a garland of autumn leaves draped along with the coffee mug rack, two vases with fall bouquets displayed symmetrically on the top shelf and mugs with Thanksgiving phrases.
Add mini pumpkins here and there to enhance the fall theme.
27. Farm House Blackboard Coffee Delight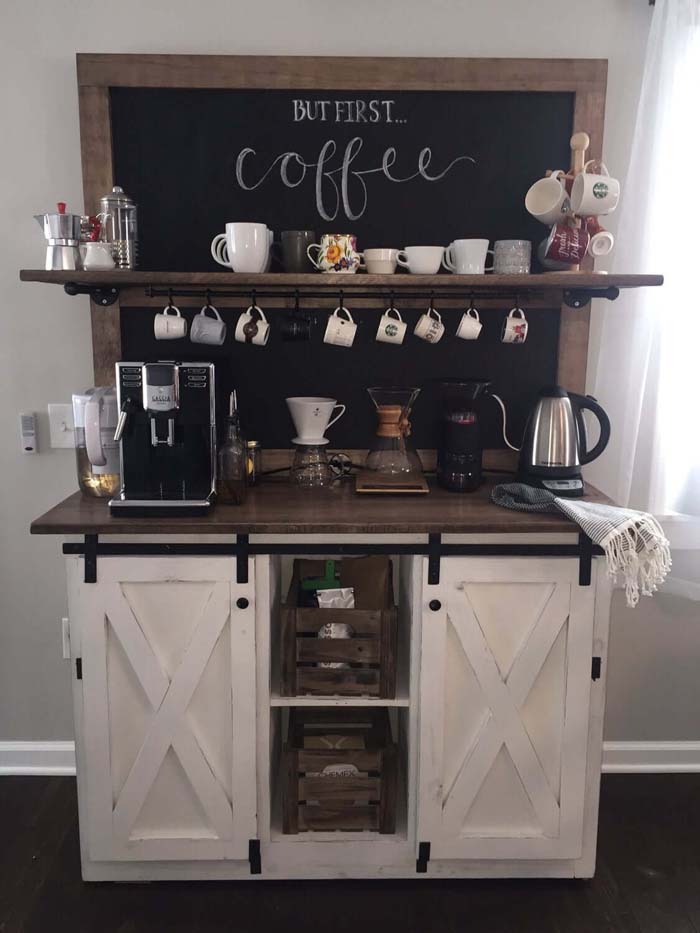 This coffee bar looks quite professional with the number of coffee-related appliances standing on the top of the repurposed cabinet.
A wide blackboard acts as a backsplash and a back decor. It reveals how important coffee is in this home. The black and white combination can be seen on the station elements and also on the mugs.

28. Farmhouse Corner Coffee Stand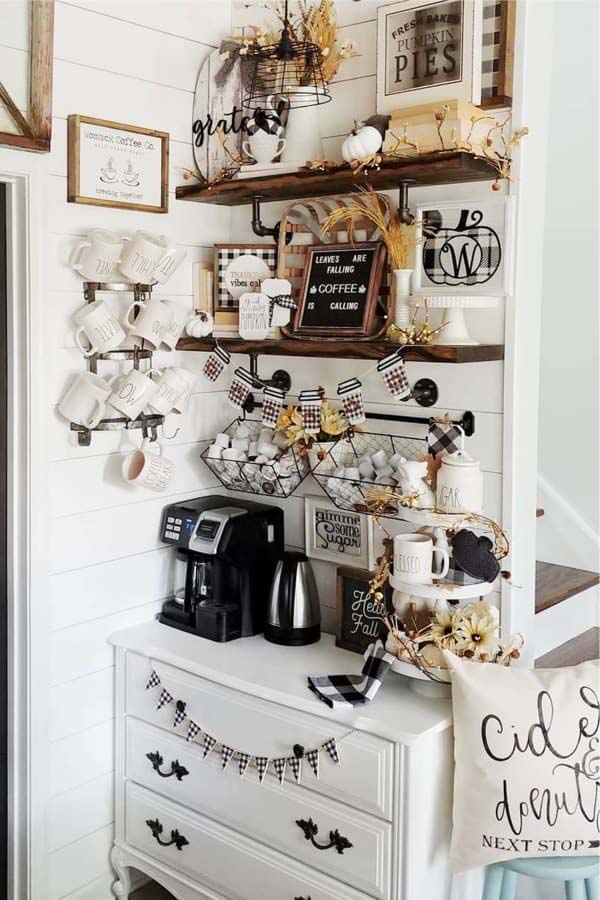 The coffee station can be built in any corner because it is independent of the activities done in all rooms. So in case, you don't have free space in the kitchen, or in the living room, you can make it in the hallway.
Place a chest of drawers that will store coffee supplies and use the top for the appliances. Some coffee-related signs, a shelf unit with wire baskets and the coffee corner are ready for use!
29. Farmhouse Glamour and Beautiful Flowers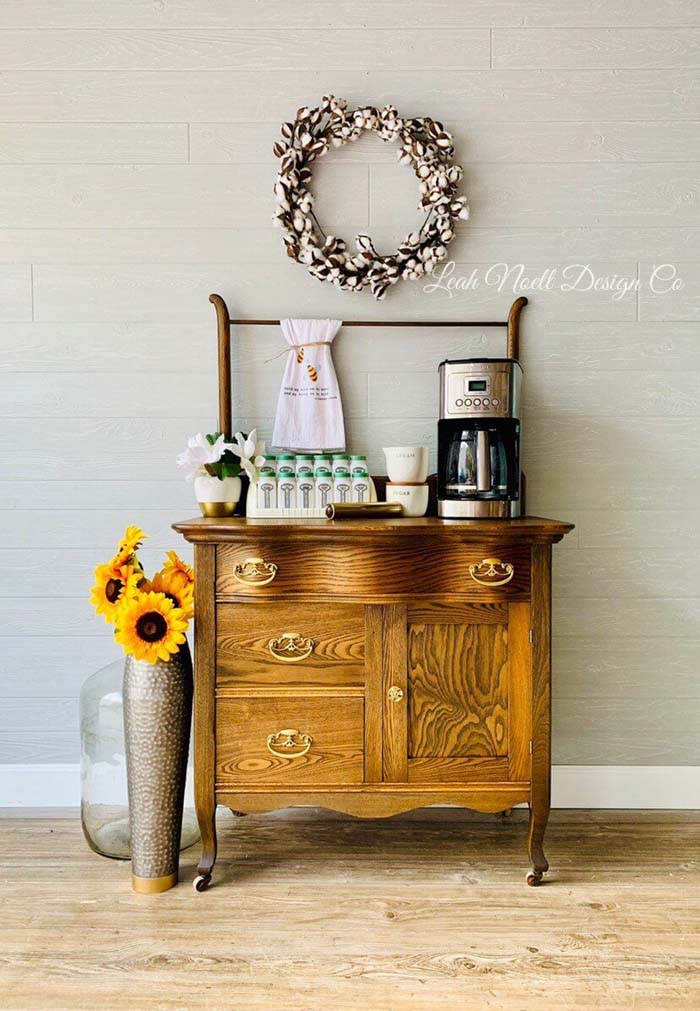 In case you love rare furniture pieces, you can use one to make your coffee bar. The antique piece will surely be functionally used and its beauty exposed.
Add decor pieces that match its styles such as glass vases, antique statues, and a farmhouse wreath.
30. Floating Shelf DIY Coffee Station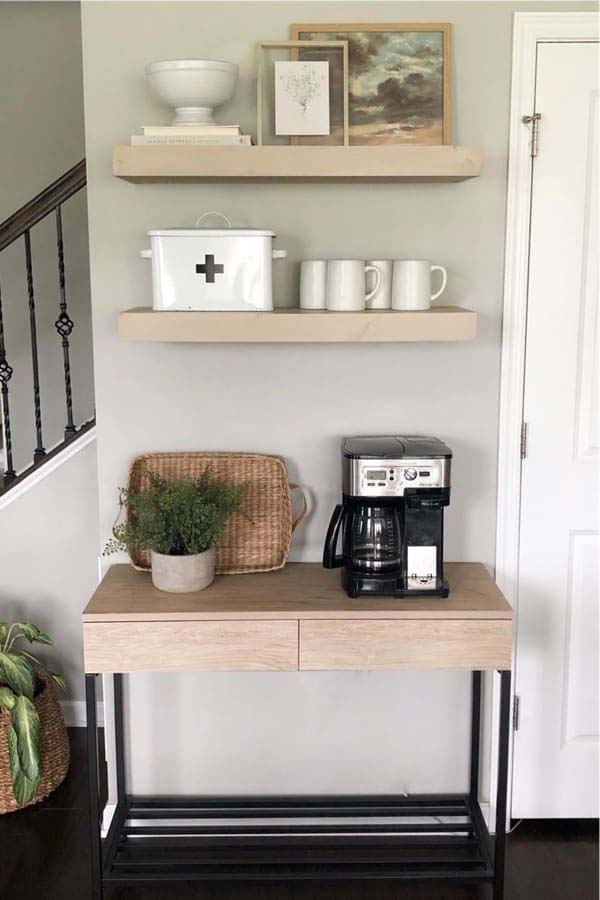 This is another inspiring idea of a coffee bar placed in the hallway. Its design is simple and very functional. A table and a few floating shelves ensure sufficient space for storage of the coffee accessories.
Add decor pieces that will blend the coffee station with the adjacent interior.
31. French Press Bar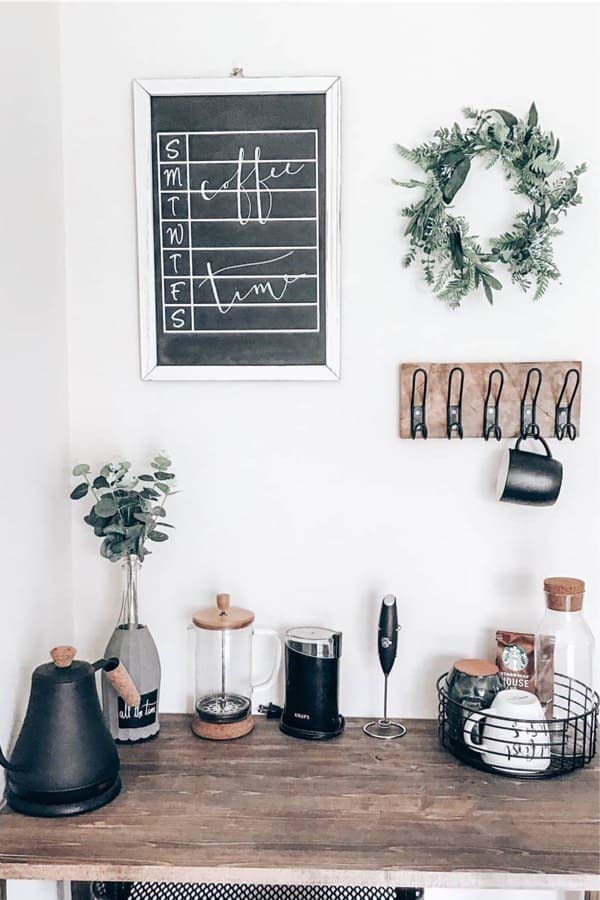 This appealing farmhouse coffee bar is for coffee enthusiasts that experiment with all coffee types. That is vivid from the appliances on the tabletop.
The wooden top, the wire basket for storage and the rack for mugs are charmingly farmhouse and useful. Add a large sign in the same style to differentiate the nook usage.
via Boldly Rise
32. Functional and Sturdy with Style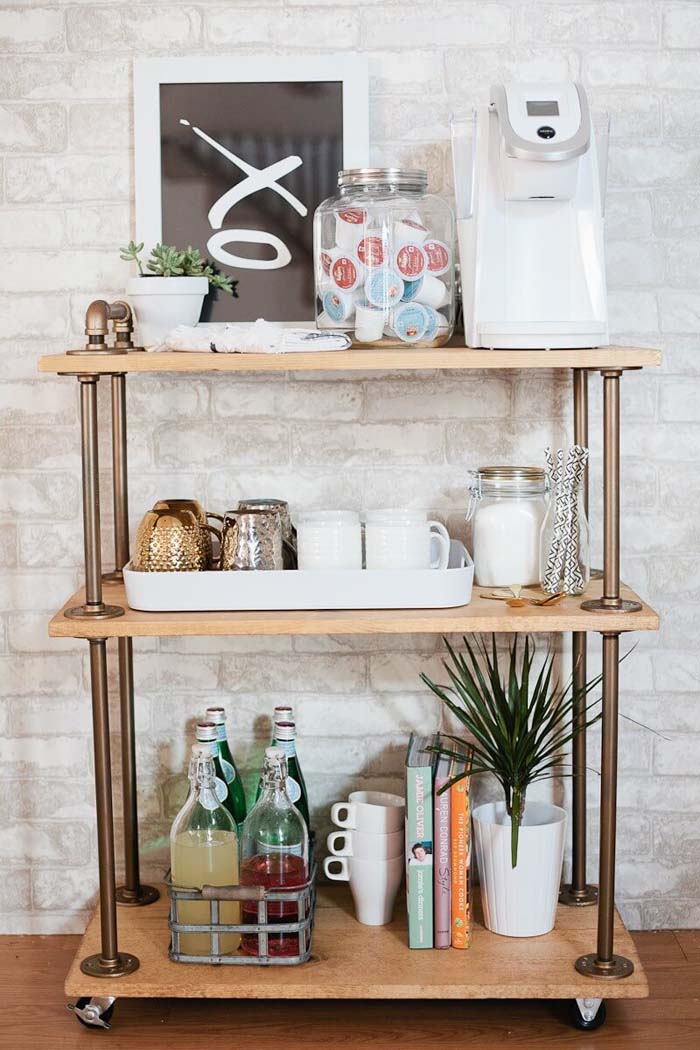 This is a coffee bar that matches the design concept of a modern industrial interior. It is contemporary when it comes to functionality and industrial in the choice of materials. The bronze finish of the plumbing hardware gives the cart an elegant touch.
Decor pieces added to the bottom and top lever are an important part of the coffee bar decor letting it blend with the existing interior.
via Fresh Mommy Blog
33. Hallway Coffee Stand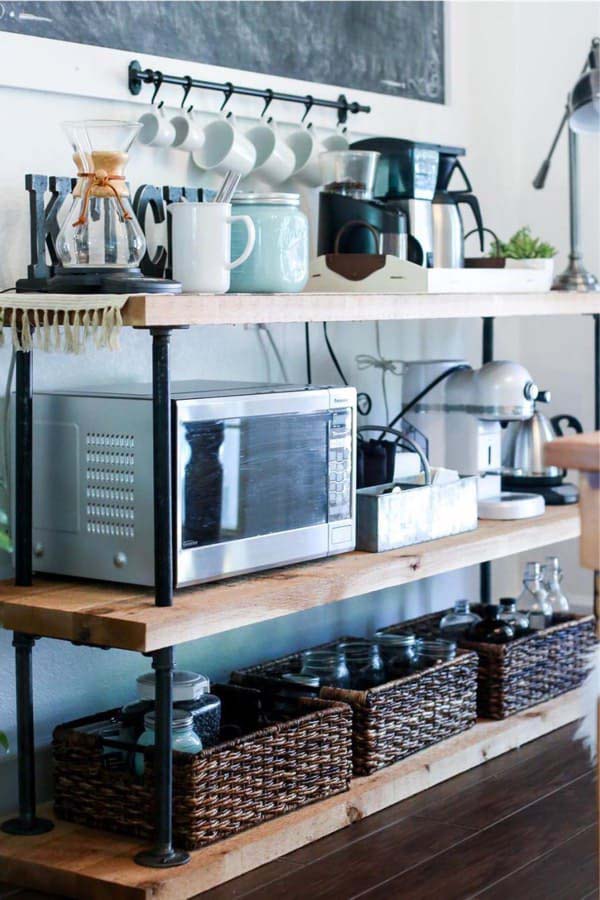 This is another hallway coffee station that spreads on three long shelves. They are connected with black plumb pipes. The overall design reveals an appealing combination between industrial and farmhouse.
This coffee bar idea will look great in modern and rustic interiors.
34. Hanging Rae Dunn Coffee Cups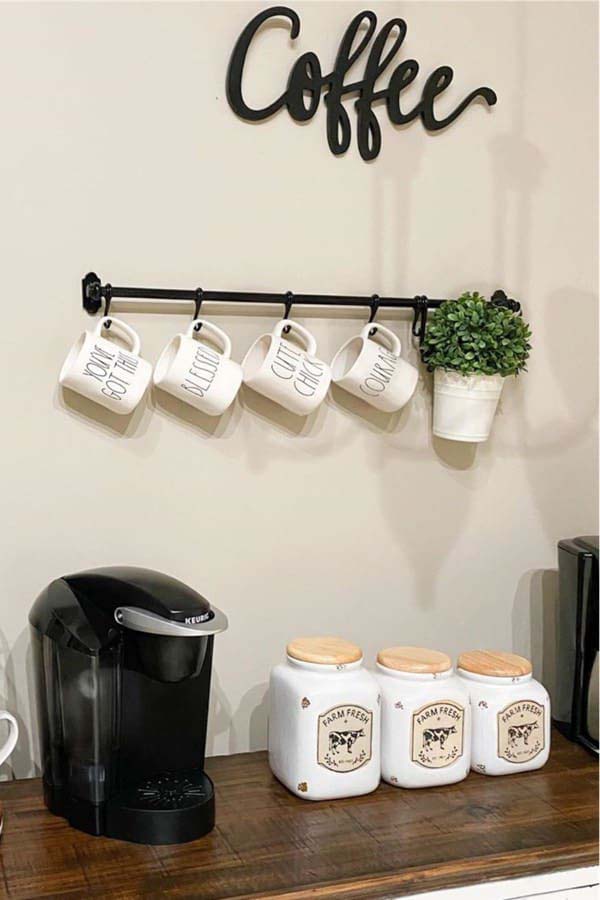 This small nook can be created in a corner of the kitchen. Simply declutter the kitchen counter space to arrange the coffee-related items. Add a rack matching the style of the kitchen for the storage of mugs.
It is also very important to "put a name" on this nook with a special sign to let it look appealing and detached from the rest of the kitchen.
35. Holiday Coffee Bar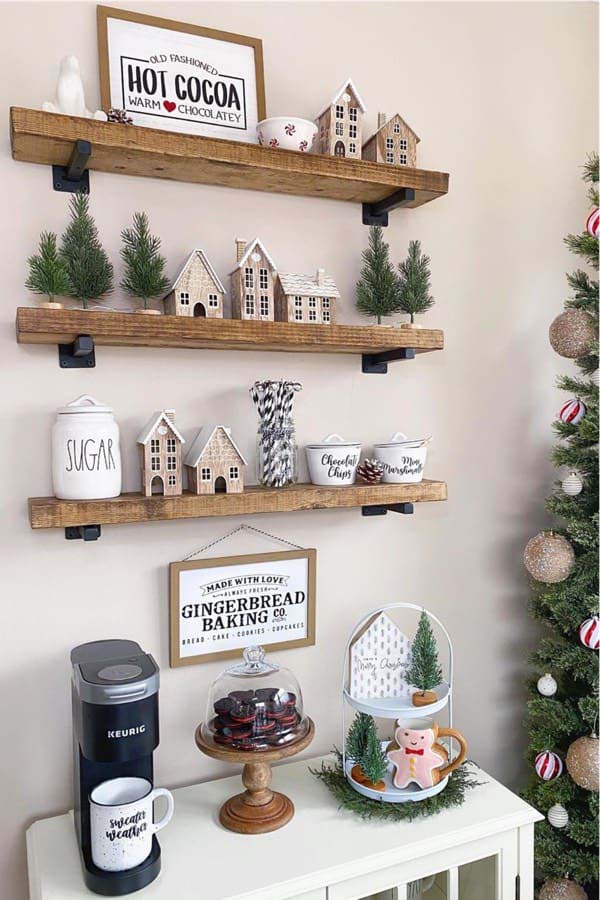 You can make your coffee bar cheerful and festive with holiday decor. Replace the mugs with new ones in the color palette of the holiday. If the mugs are decorated with phrases in the holiday spirit, that would even be better.
When you prepare the coffee station for Christmas, place small Christmas trees to decorate the shelves. Any Christmas ornaments can be actually incorporated into the station decor as long as there is space for them.
36. Home Espresso Station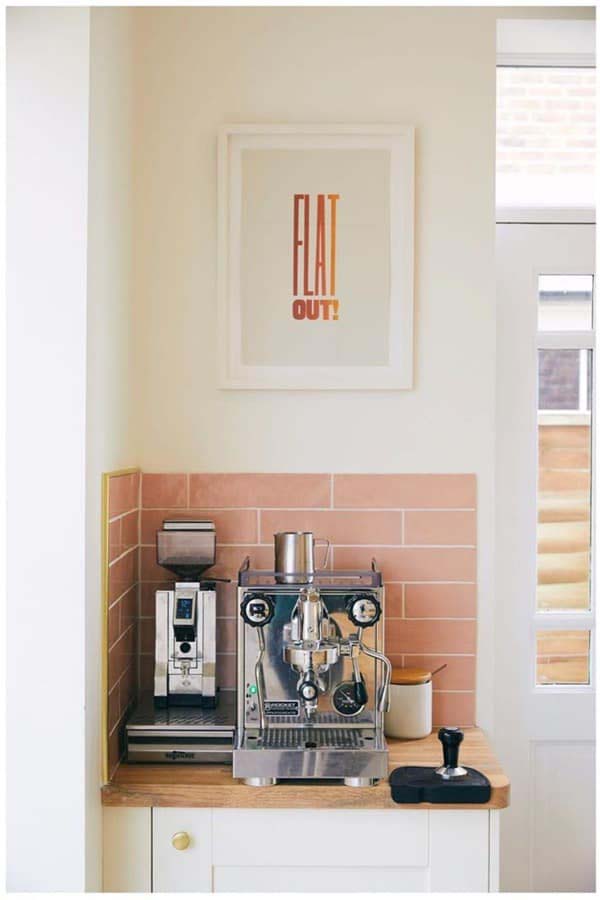 This coffee bar is one of the smallest ones. It is simple, and compact but offers all you may need to enjoy a cup of strong coffee in the morning.
The backsplash mimicking bricks lets the nook be differentiated from the rest of the room. There is only one decoration here. The poster on the wall is so impacting and any other decoration would have blurred its effect.
via Home as a Hobby
37. How To Make a DIY Coffee Bar at Home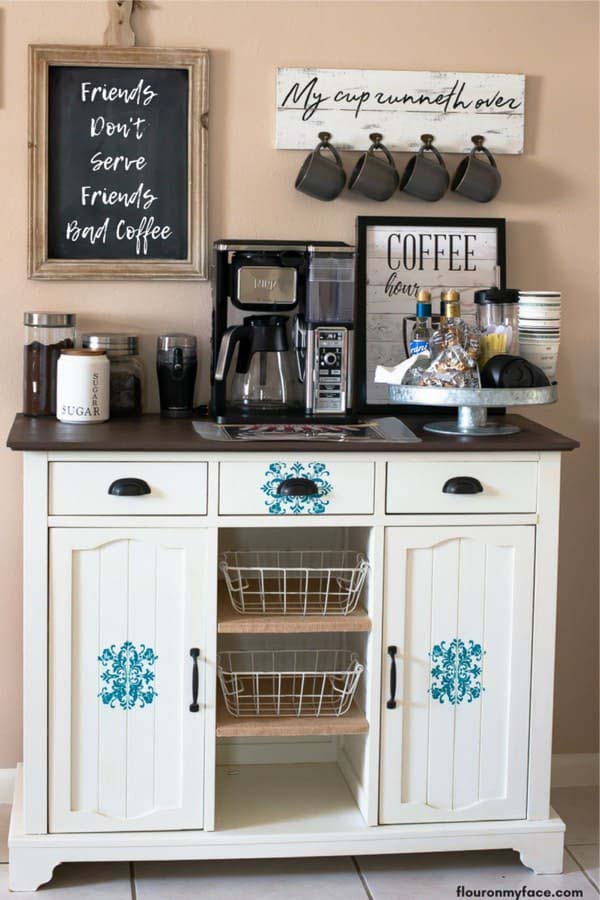 The cabinets are probably one of the best choices for making a dedicated coffee bar. First, they offer a large enough countertop, secondly, the storage place behind doors is great for neat storage.
If you have a cabinet left from your old kitchen, you can revive it with some paint, stencils and a small modification that will give it a modern look. Insert shelves in the middle for improved interest. Add racks for mugs on the wall together with signs in the coffee theme.
via Flour On My Face
38. K-Cup Station With Hanging Cups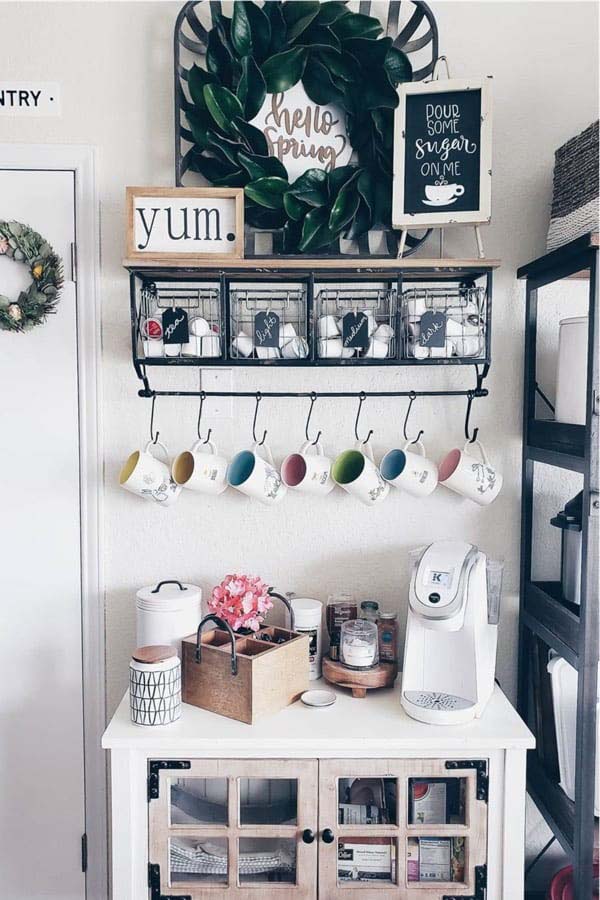 Isn't this coffee bar adorable? It is small, functional and very cheerful with the set of colorful mugs displayed.
They are stored on hooks added to a shelf unit. It is of a very practical design offering baskets for K-cups and a display for decoration.
via Casa La Linda
39. Kitchen Corner Coffee Stand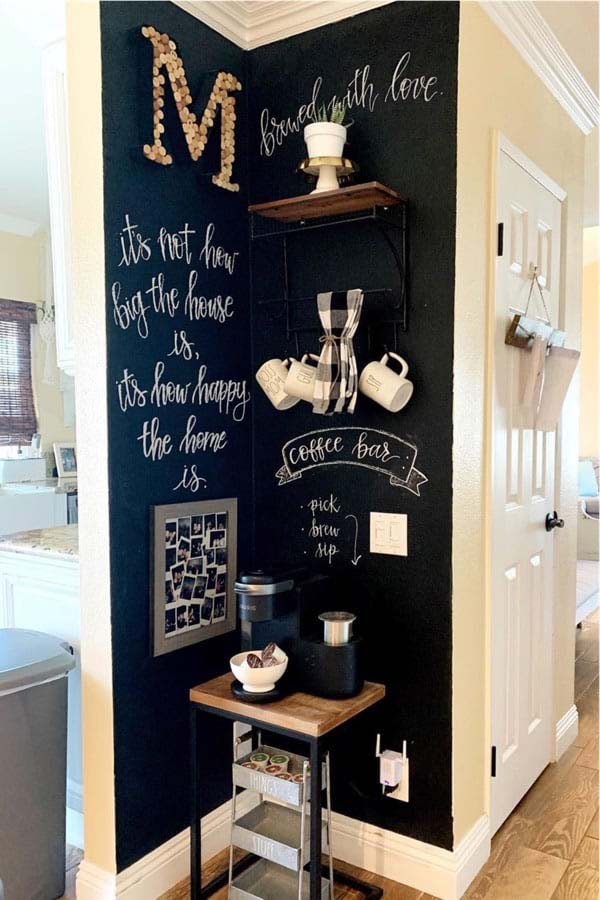 This dead corner is actually a treasure! If you have such a spot in your home, it will no longer be empty and odd! Turn it into your special and customized coffee station.
Paint it a color that matches the adjacent interior but at the same time draws attention. Black is a great choice for a contemporary white interior. The chalk paint will offer you also a canvas for phrases letting everyone quickly realize the purpose of the nook.
40. Large Mug Rack and Corner Table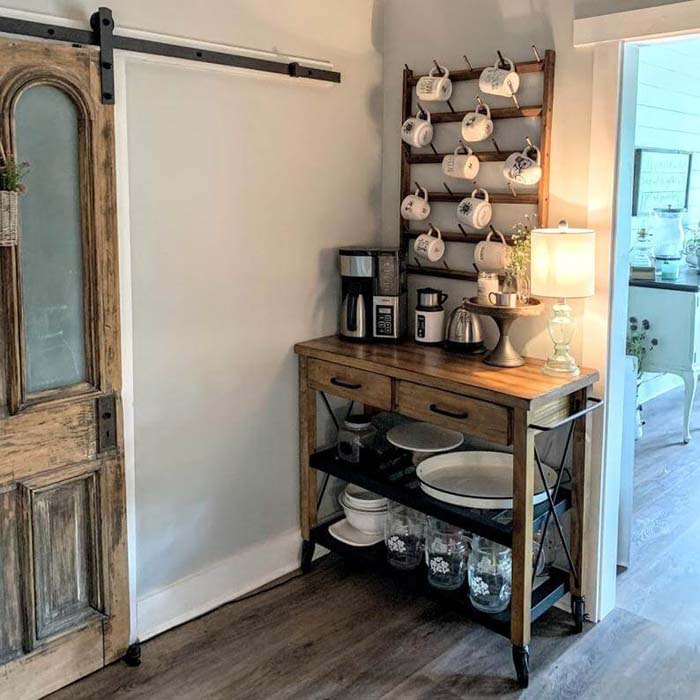 This is another example of an odd corner transformed into a functional part of the home.
With a table of a suitable size, a rack with levels for mug storage and a few decor pieces, the corner becomes a functional and decorative coffee station.

41. Making the Most of Above-Counter Storage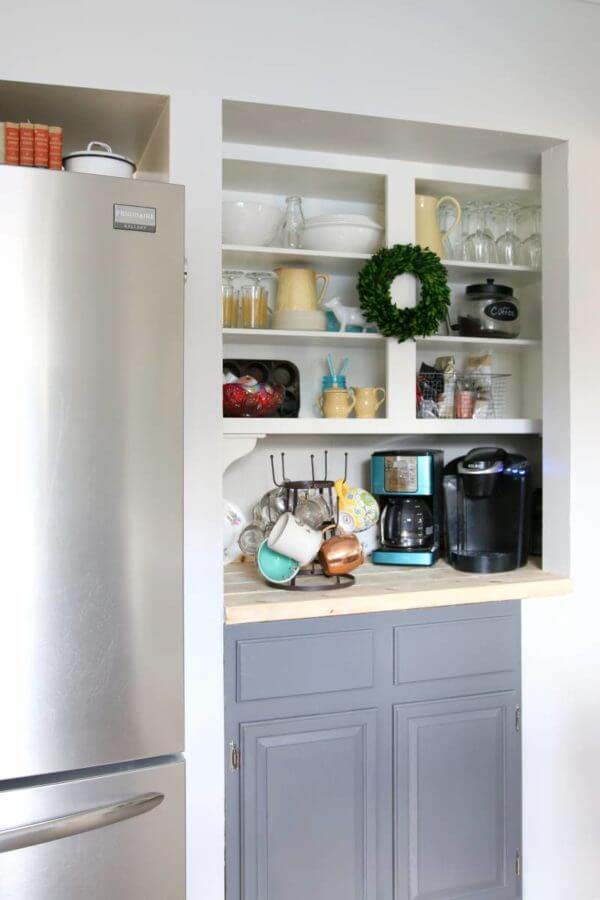 If you already have a dedicated part of the kitchen countertop for a coffee station, think about the storage of coffee supplies. No need to pile up everything on the counter space.
Declutter it by arranging it on shelves on the wall or in a cabinet beneath the top. Add a sign or another piece of decoration that will give the nook interest.
42. Mediterranean-inspired Home Coffee Station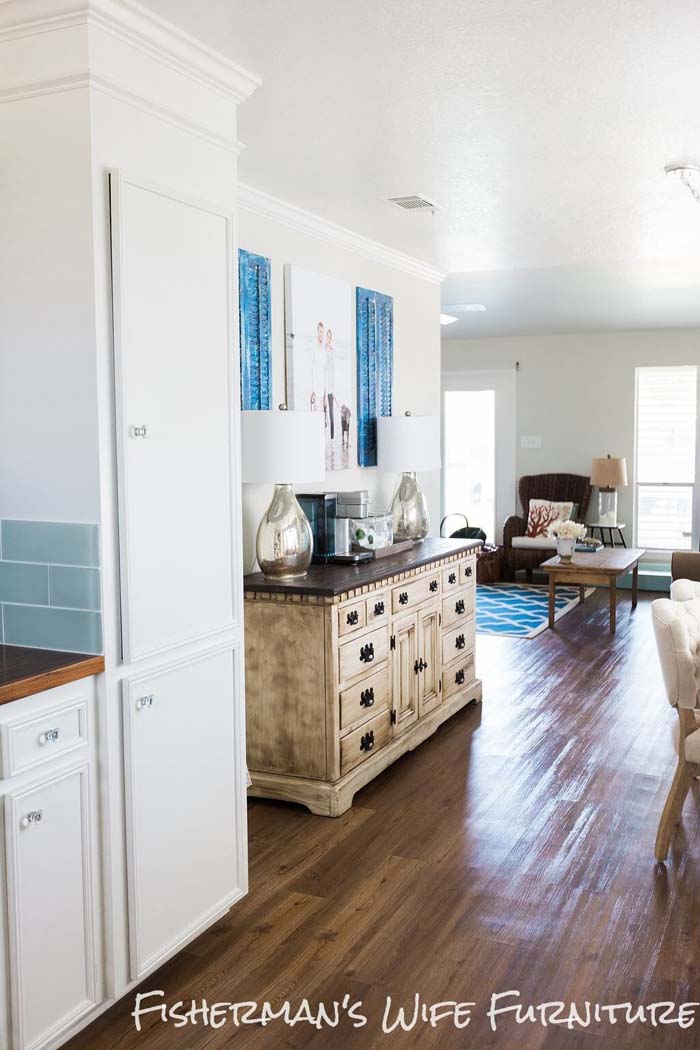 The look of this coffee station aims to make it part of the living room decor. There are no additional furniture pieces or signs. Simply part of the decor is given a dual function.
The top of the antique chest of drawers is not loaded with decorations but with coffee appliances and accessories.
via Fisherman's Wife Furniture
43. Minimalist Geometric Designs with Modern Equipment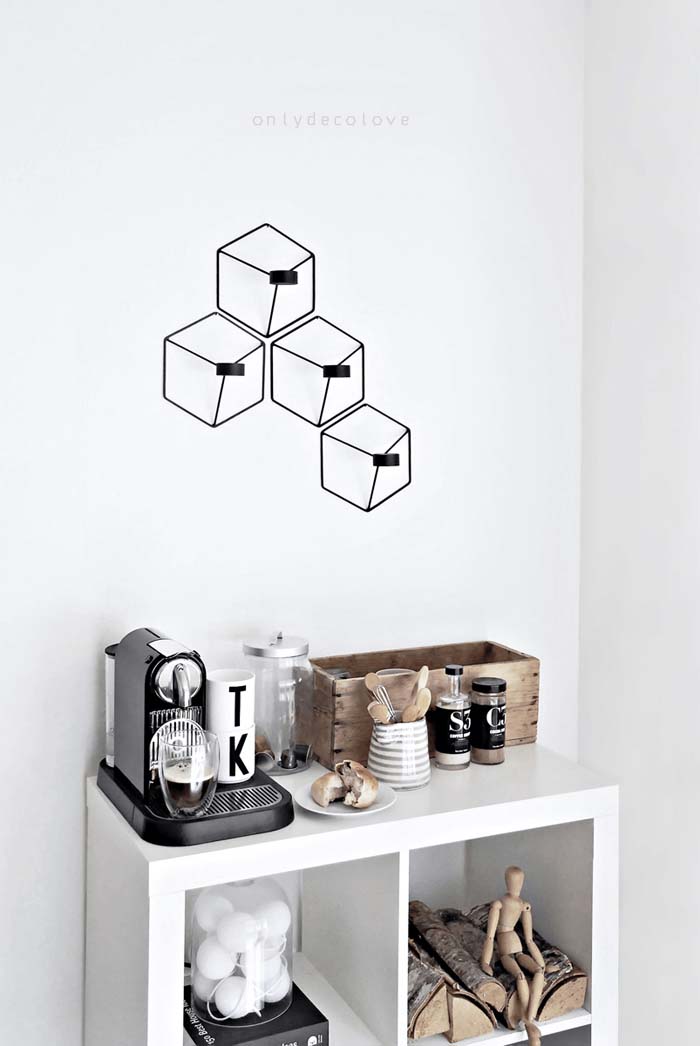 This coffee station is minimalist in its design and decoration style and probably it is customized to fit the taste of a man.
It is clear and simple in shape. Natural materials are used in their rougher finish to add a personal touch. The coffee-related accessories are also taken down to a minimum.
via Only Deco Love
44. Our Happy Place Coffee Station and Mug Rack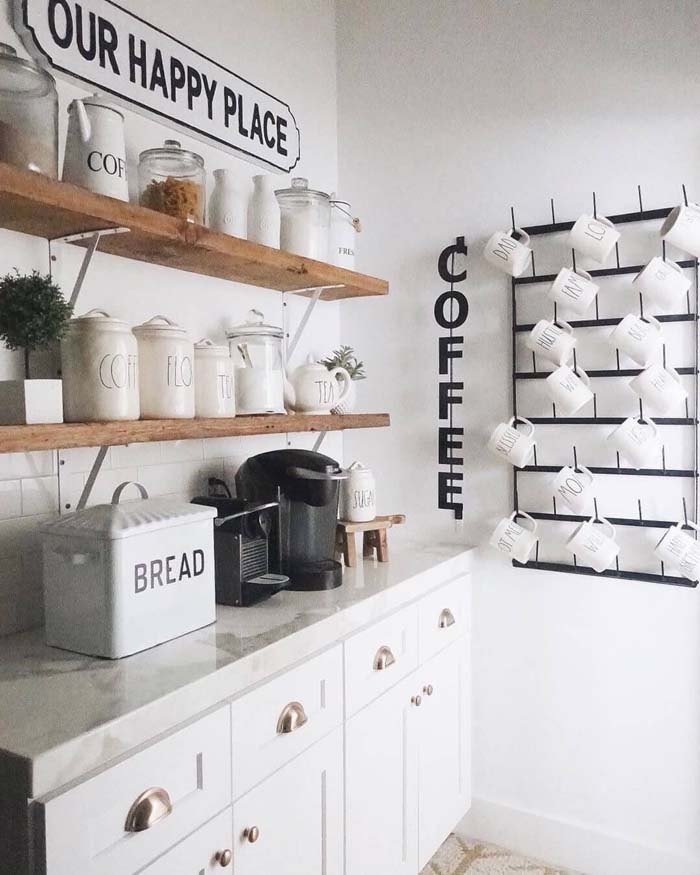 This coffee bar impresses with its elegant modern farmhouse design. It is not big but all its elements offer enough space for storage without the risk of overwhelming the interior.
The metal rack for mugs is a clever decision for storage. It creates a point of interest and also lets storage be neat. Farmhouse signs complement the mug rack and let the station feel a special part of this home.
45. Pour Over Coffee Bar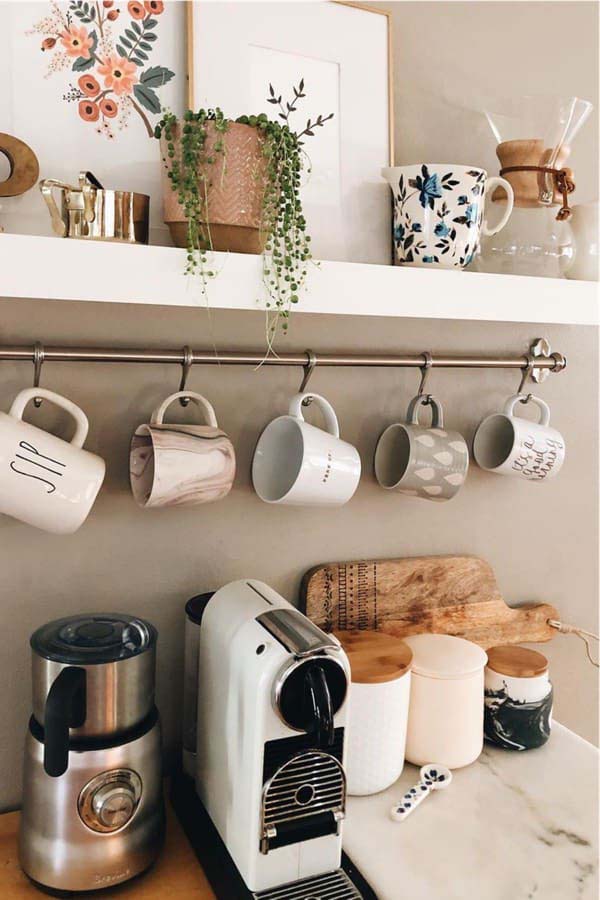 To easily make a coffee bar, you only need an extra rod for storage on the wall. Clear a small part of the counter space to put the coffee appliances and hang mugs on the rod.
via Kylee Noelle
46. Powerful Chalkboard Wall with Solid Wood Shelves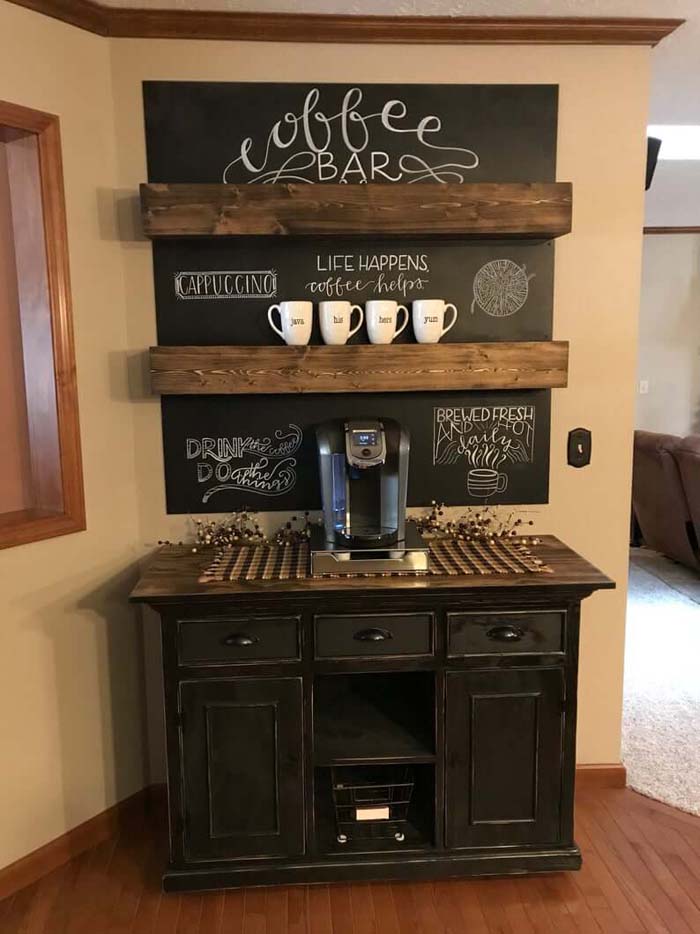 The black chalkboard on the wall of this coffee bar is what makes it so special. The canvas is used for writing down phrases praising the importance of the coffee.
The overall look is an elegant farmhouse featuring a vintage cabinet and added newly-made shelves with a rustic finish.
47. Quirky Lettering with Antique Charm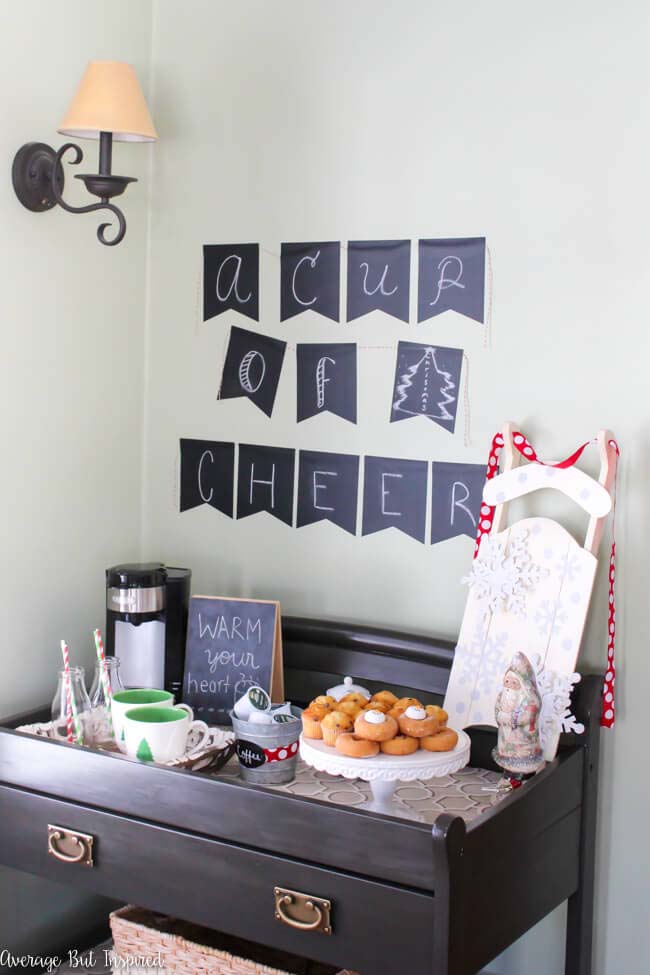 This is a simple Christmas decor implemented on a small coffee bar. The banner uses coffee and Christmas-related words that create together a fun message.
Mugs are festive so are the smaller accents added to the arrangement.
via Average Inspired
48. Rae Dunn Coffee Bar Inspiration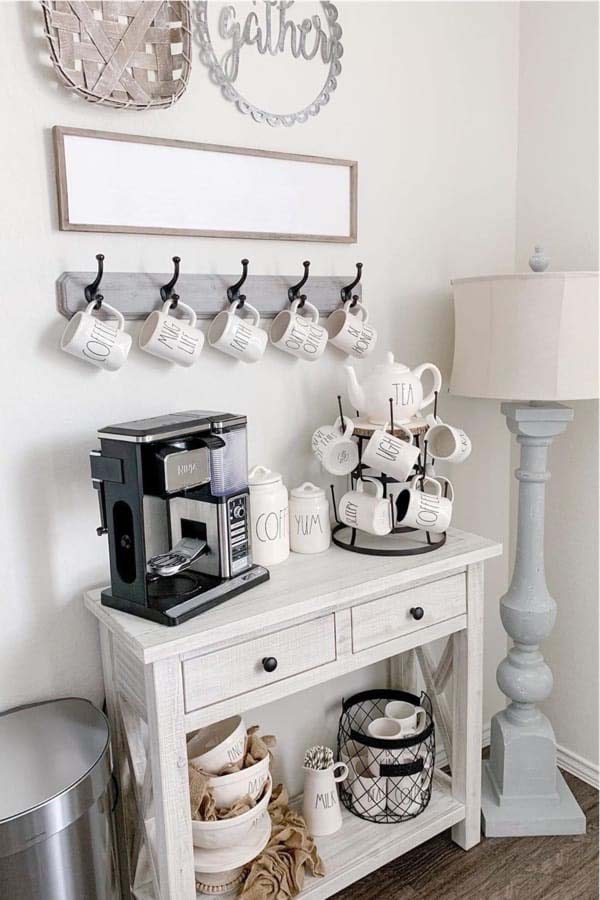 This coffee station idea is incorporated into a small part of the living room, hence its color is decided to be neutral and bright.
It features a small table with drawers and a bottom shelf for storage. Above it there is a mug rack and three large farmhouse-inspired wall decorations.
via Simply Kayle
49. Rolling Coffee Station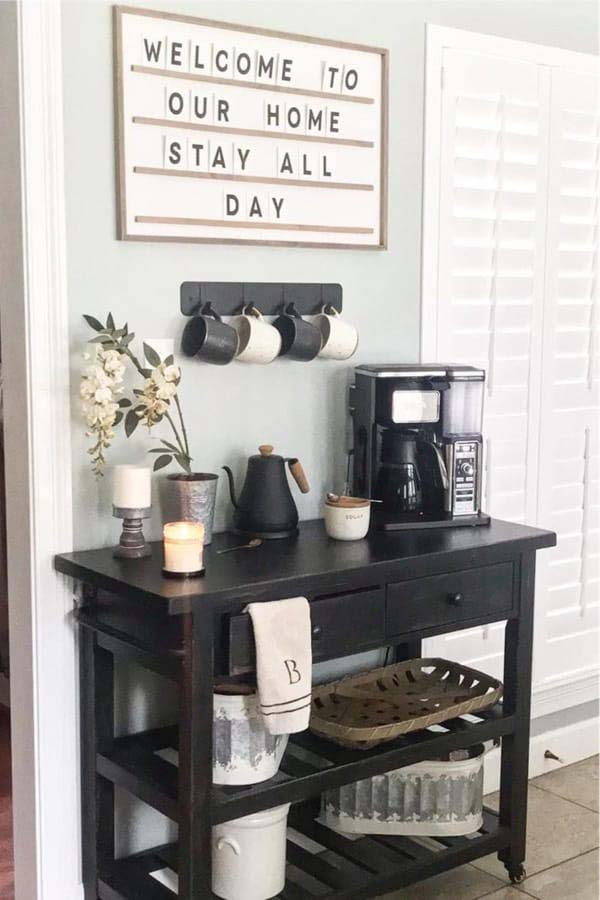 This one from the coffee station ideas in this example is used to make the home more welcoming. It is placed right below a large farmhouse sign inviting guests to the private world of the homeowners.
The table is vintage offering three levels for storage and a wide enough top for the appliances. Farmhouse containers are used for storage on the shelves and for enhancing the welcoming feel.
50. Rustic Farmhouse Coffee Bar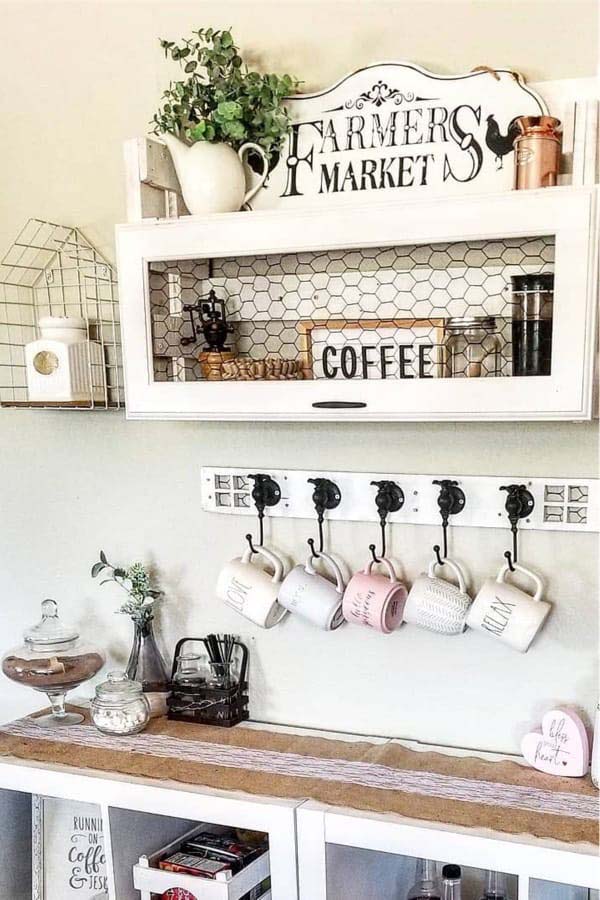 Love the elegant farmhouse look of this coffee station idea? You can modify yours by adding typical farmhouse-style elements.
Replace the glass panel of the cabinet door and put chicken wire instead. Add a burlap runner to the top, and wire crates to the wall and to the shelves for sorted storage.
Farmhouse signs also do a great job for an improved rustic overall look.
51. Rustic Farmhouse Glamour with Wire Storage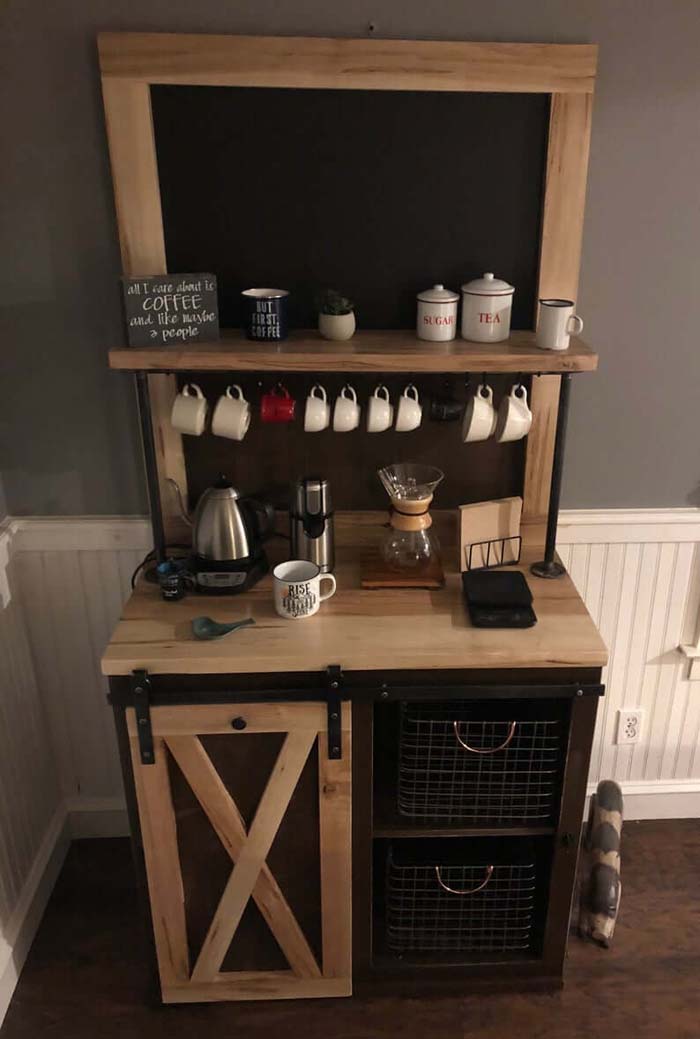 This coffee station is made to give the room a warm and inviting vibe. The design and the materials are all helping this aim.
Storage is in wire baskets and wrought iron hooks. Part of the station back is painted with black chalk paint to be used for writing down inspiring thoughts.

52. Shabby Chic Kitchen Coffee Bar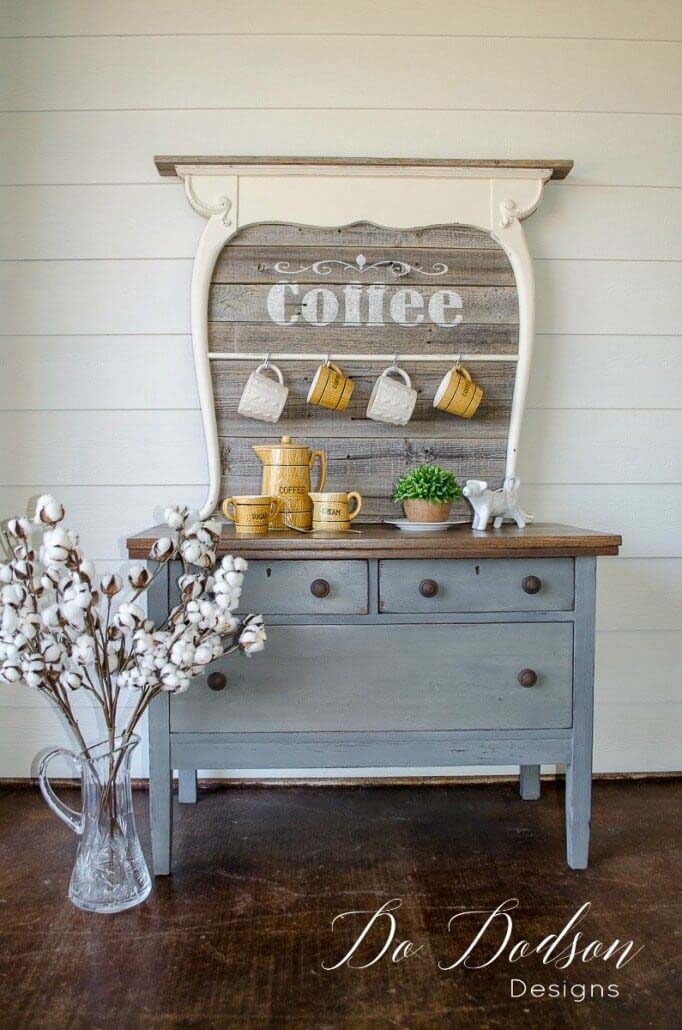 This kitchen coffee bar enhances the homey and inviting atmosphere. It combines the elegance of the antique curved shapes with the muted tones of the contemporary interior styles.
This mix ends in a fantastic customized piece of furniture offering enough space for coffee essentials. The decorations around and on the bar add casual elegance and tie this arrangement as a shabby chic nook.
53. Simple and Inviting Kitchen Coffee Table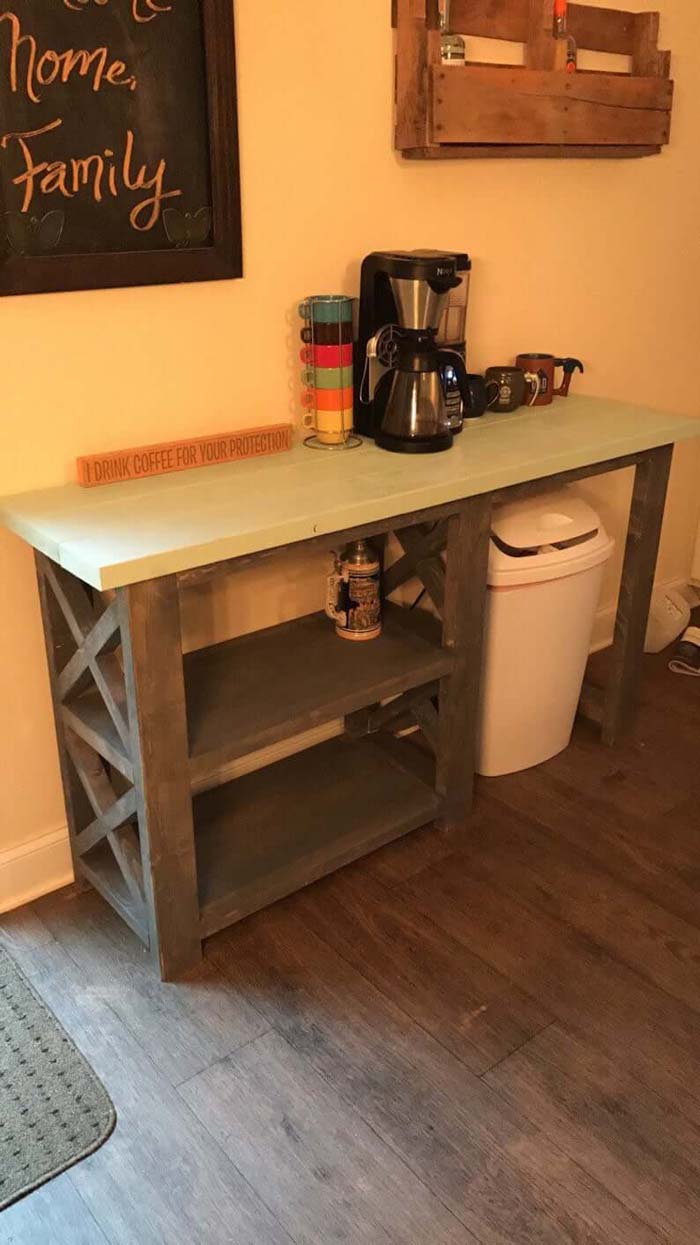 If you want to keep your coffee bar simple, functional and casual, go for this idea. It features a wooden table with two compartments for low storage and a long top for appliances and essentials.
The colors are muted to match the interior and to let the coffee bar feel right in its place. Only the top beams are painted mint color to delicately create interest.
54. Simple Coffee Cup Stand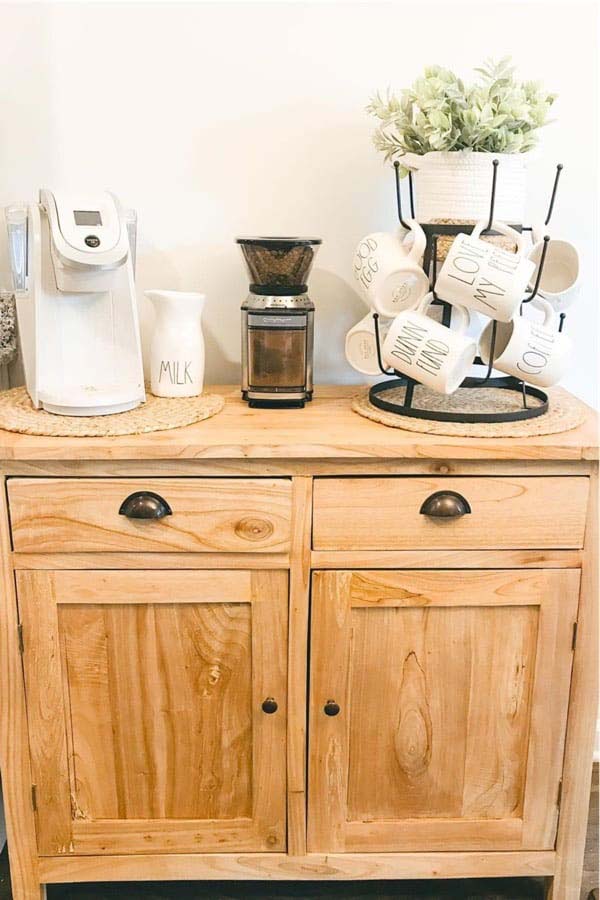 Making a coffee bar is not difficult, nor expensive. Get a wooden cupboard, a coffee maker, a mug rack or stand and a pretty sign or plant.
Depending on the surrounding interior, you may want to change the color of the cabinet or add interest to its surface finish.
55. Simple Coffee Station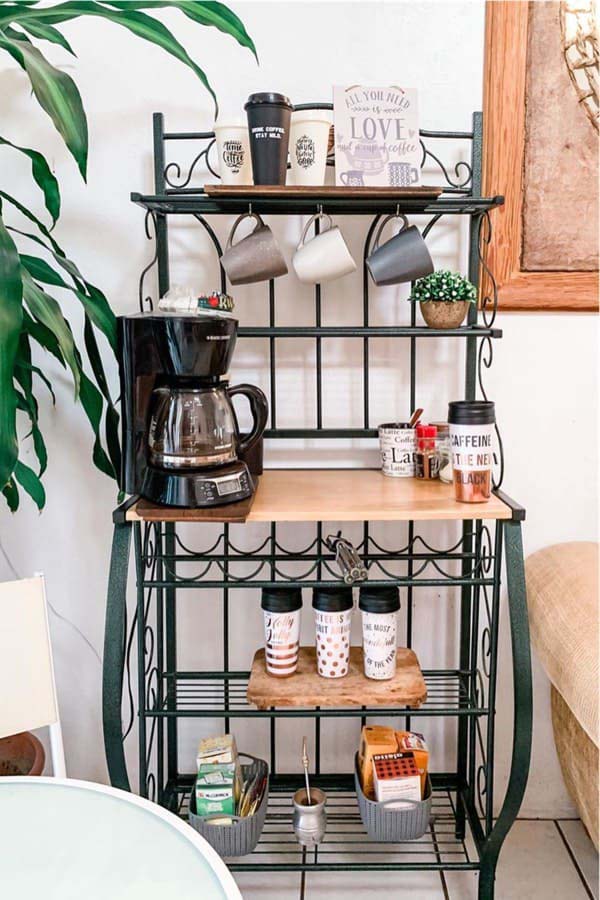 This is an interesting DIY coffee bar idea you definitely need to consider. It is easy, affordable and universal when it comes to matching the existing home decor.
The metal support of the station is sleek and elegant. Its black color gives it a modern look. Another advantage of this coffee station design is its compact design.
56. Simple School Days Coffee Bar Decor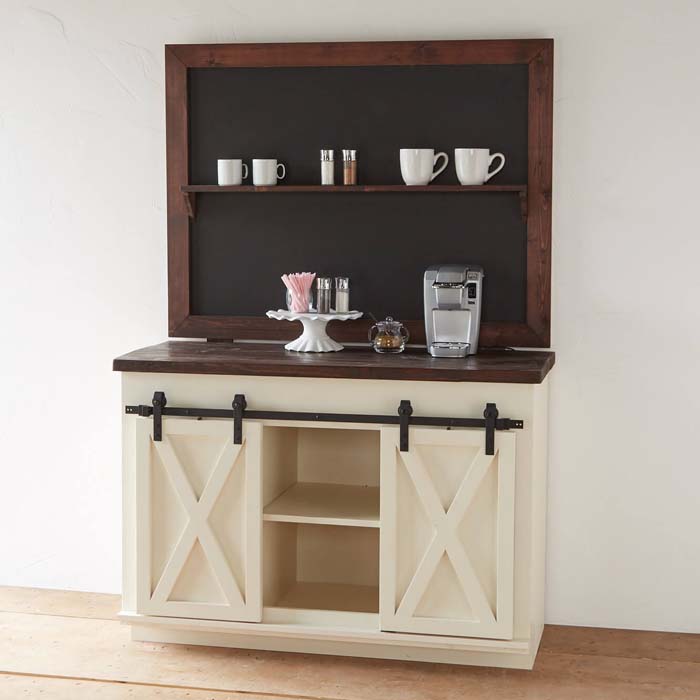 Do you want to make your coffee station a focal point? Then combine two contrasting colors while keeping the design simple and functional.
The matte white cupboard is equipped with two sliding barn doors which create a lovely farmhouse accent together with the metal supports holding them.
Next, is a solid stained top continued with a chalkboard in a frame of the same color. White mugs, galvanized buckets and glass vases will fit perfectly on this dark background.
57. Small Coffee Shelf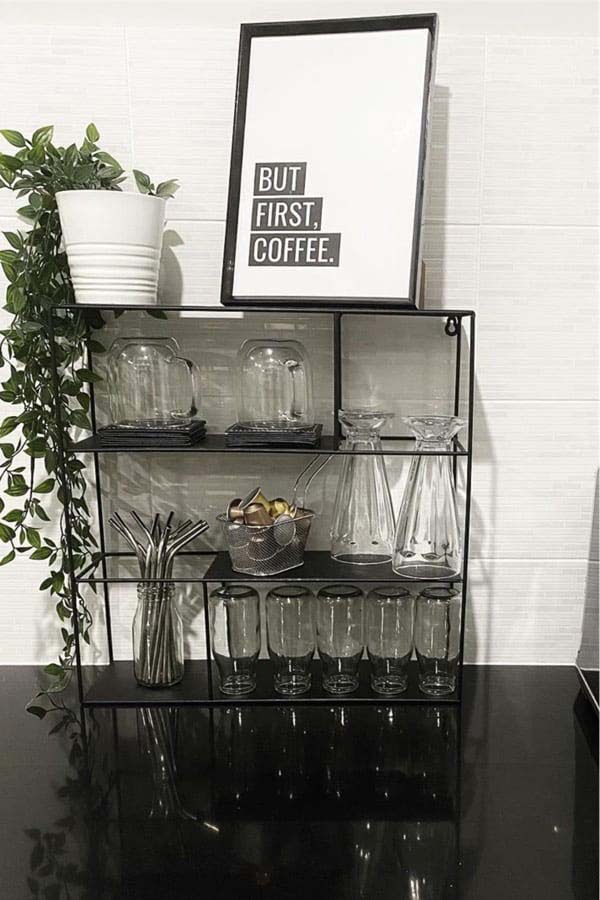 Your coffee station can be only one metal rack organizing the essentials. This idea is great for small spaces or for minimalist decor keeping things simple and the overall look airy.
Of course, one large sign related to coffee will never be odd, especially if it follows the minimalist concept.
via Organise My Life
58. Small Gray Coffee Bar Inspiration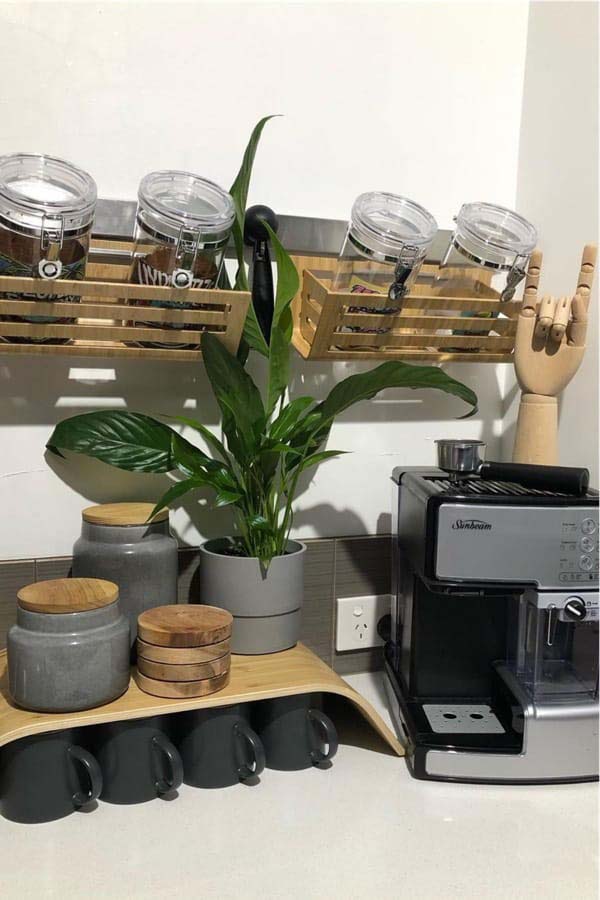 Gray is a trendy color even for a coffee bar idea. Here is an inspiring example of how modern gray and farmhouse wood pair together to create a pleasantly looking and functional coffee corner.
via Coz Bass
59. Small on Space, Big on Style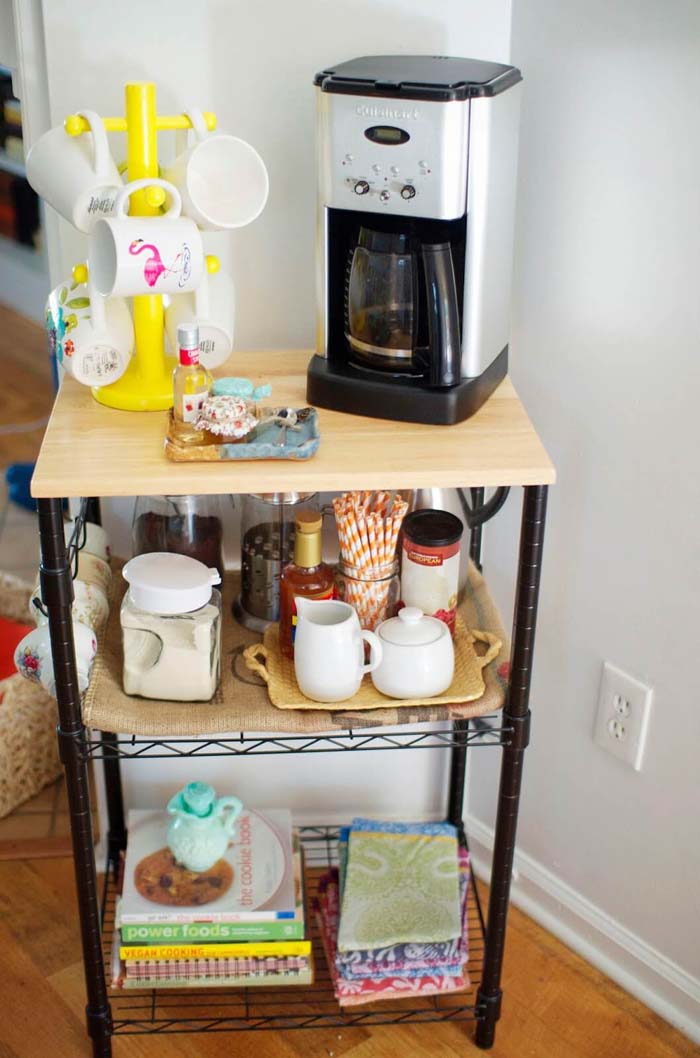 The tables with a compact footprint but with a number of shelves for storage are great for small spaces. They can be turned into a fresh vegetable rack, an extra bathroom storage space or a coffee bar.
Use containers for storage to sort items out and to make the station visually more appealing.
via Love Lola Blog
60. Sophisticated and Upscale Coffee Bar Ideas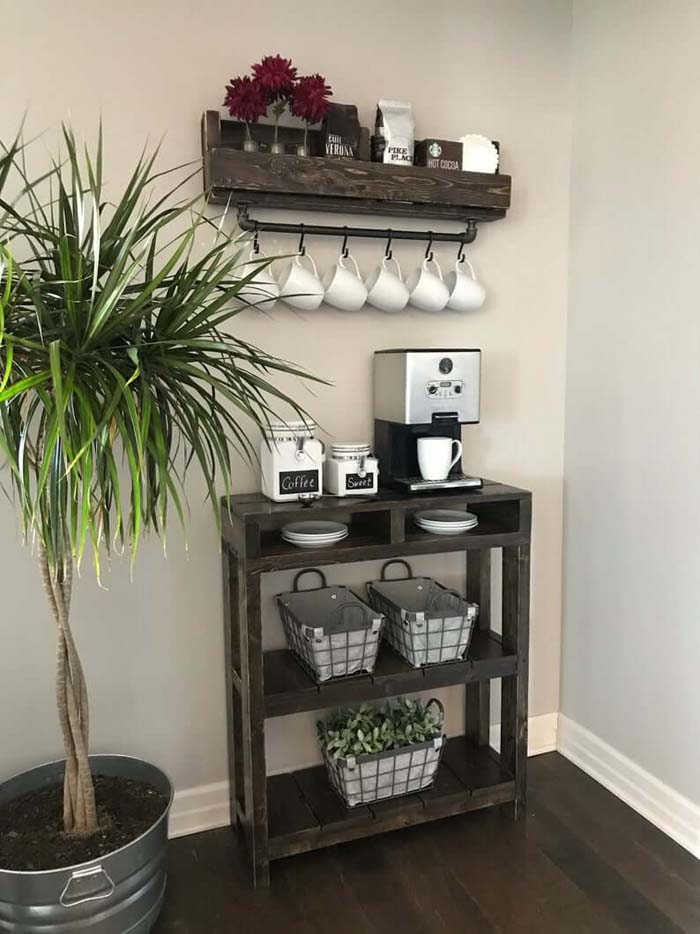 This coffee station is minimalist when it comes to size and colors but farmhouse when it comes to materials and decoration. This combination is on-trend and fits almost all interior designs.
Storage can be done in wicker or wire baskets if you want to enhance the rustic look.

61. Spacious Two-Tone Cupboards and Cabinets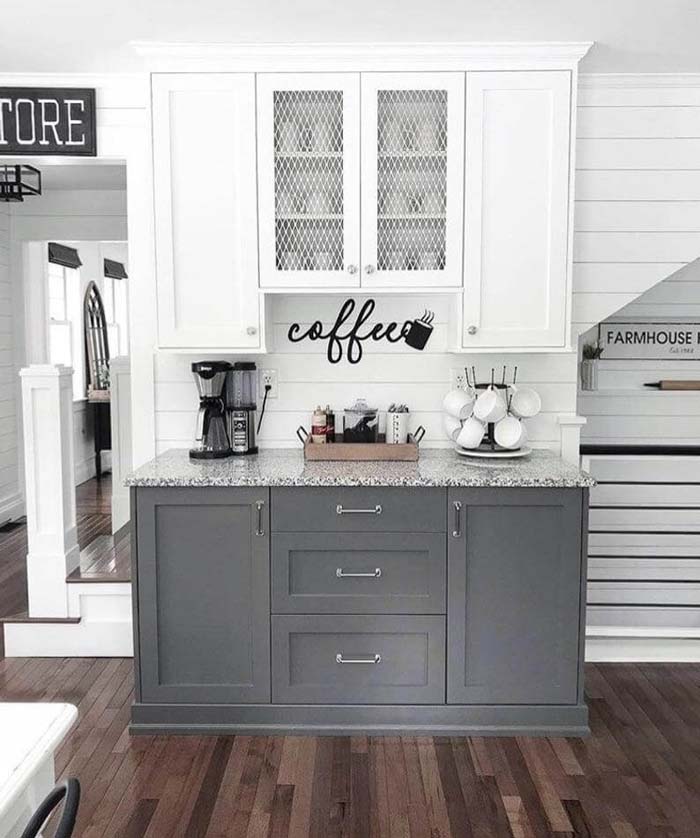 This is one of the biggest coffee stations in our collections. This is possible in a spacious room where adding another storage piece of furniture won't affect the airy feel.
The color palette is trendy and universal to almost all interior styles. Gray is the color of the bottom cabinet, and white of the upper cabinets.
This color choice is important for the overall look of the room letting it remain airy and bright.
62. Stand Alone Coffee Bar Cabinet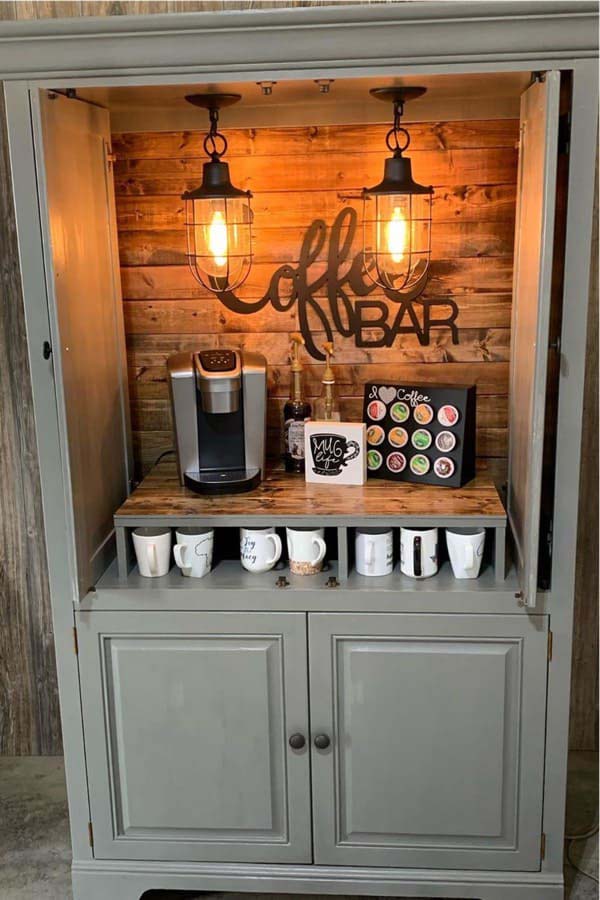 Your coffee bar can stand out even at night when there are added light fixtures. In this example, the light sources are lanterns hanging from the top of the stand-alone station.
They anchor the farmhouse style together with the rustic design of the cabinet itself.
63. Valentines Coffee Bar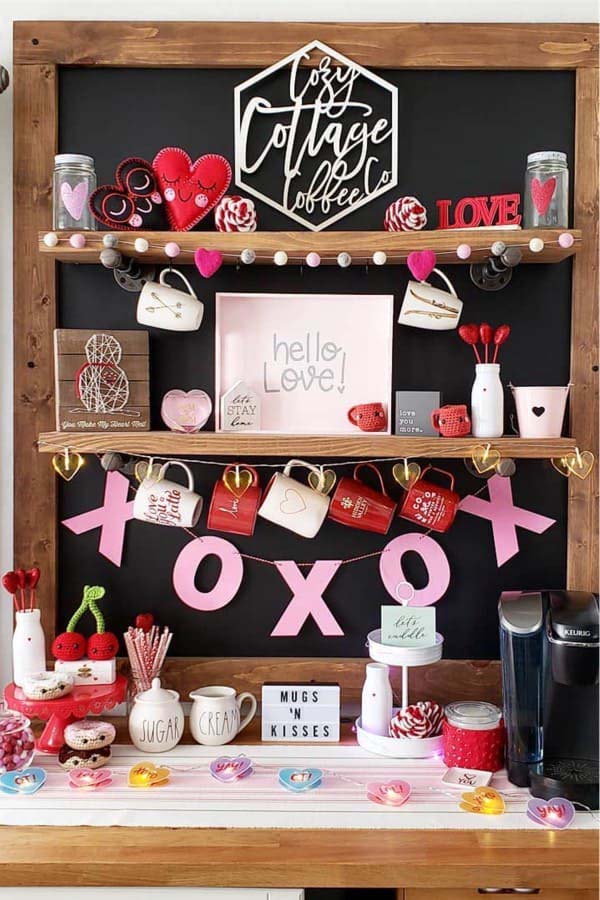 The coffee station can be your way to say "I love you" to your partner. Isn't this setting a great idea? He or she will see and feel your love right after waking up! Because every part of the coffee station sends love.
This surprising idea is perfect for people whose first habit in the morning is to have a coffee.
via Trish Martino
64. White Keurig Coffee Bar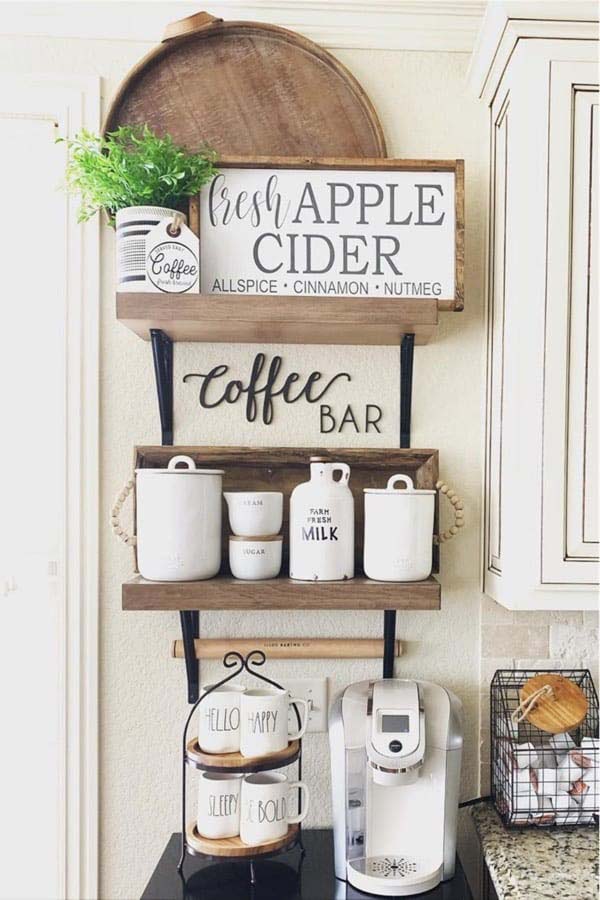 The vertical design of this coffee station is perfect for small spaces. It takes almost no floor space so you can certainly add it next to the kitchen cabinetry.
The tall shelf unit is what offers space for the coffee essentials revealing two shelves for storage.
65. White Wood Coffee Station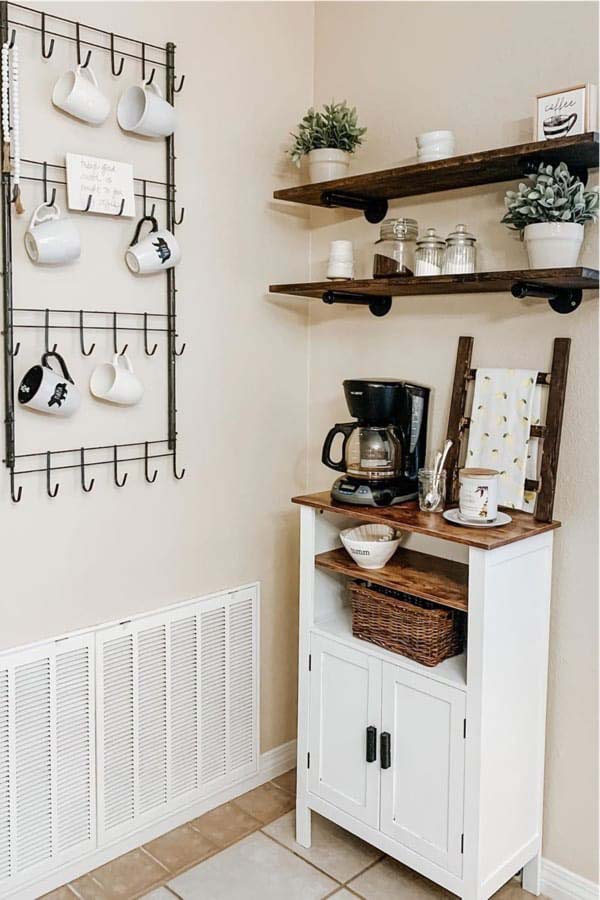 This is an example that proves that coffee stations are more than just a place to make your coffee. They play an important decor part. So you can build them to improve the interior or add an effect that is lacking.
This coffee bar idea showcases an arrangement consisting of a rustic cabinet, farmhouse floating shelves and a vintage metal rack. They make the atmosphere more casual, inviting and homey.
66. Windows for Cupboard Doors Plus Wall Art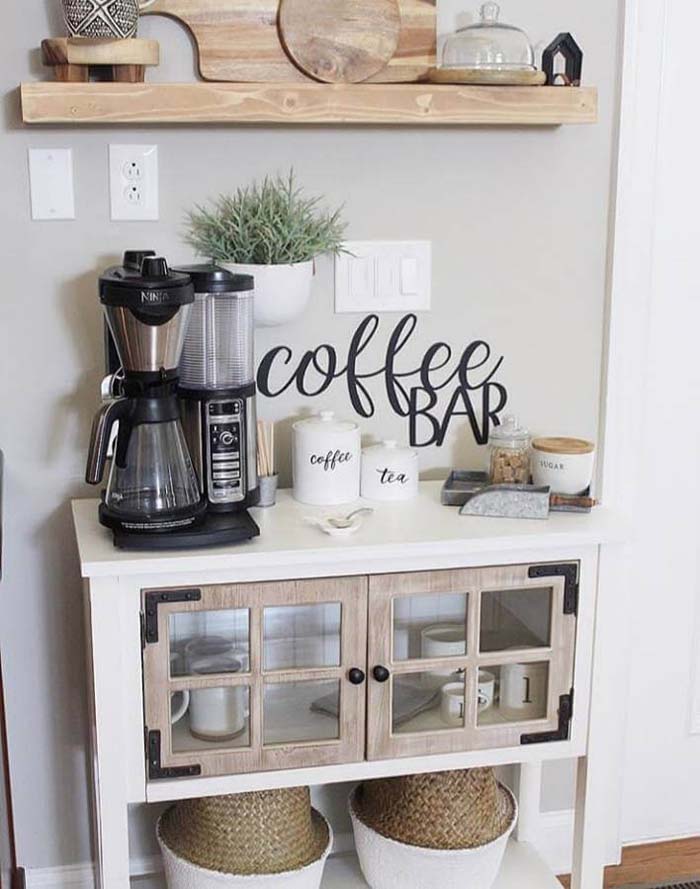 Another great idea for giving the coffee station a charming farmhouse touch is changing the doors with such mimicking windows.
Combine them with farmhouse decor accents to make the station more appealing. Once you make that change, you will feel how much more welcoming the room looks.
67. Wooden Coffee Bar Inspiration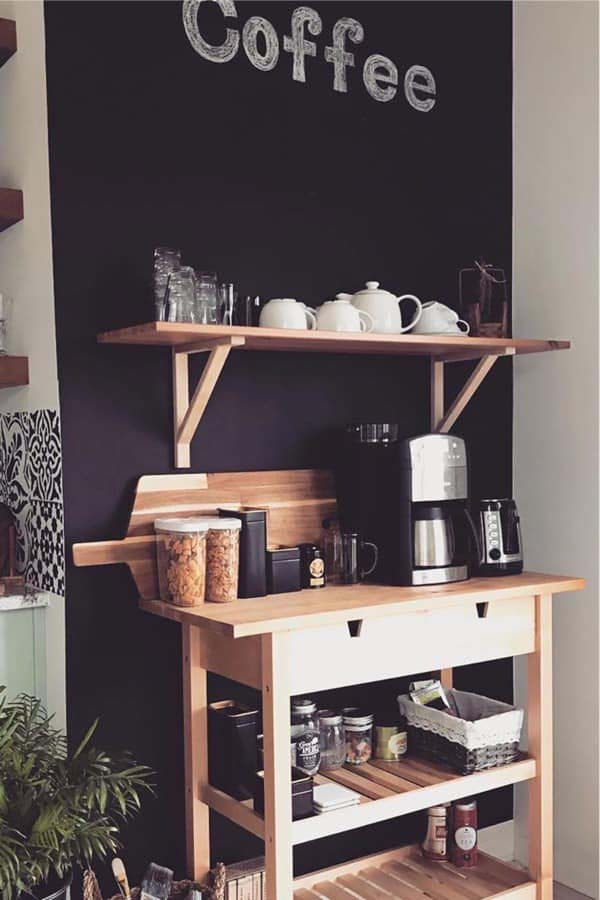 This is one of the simplest DIY coffee bar ideas. No need to assemble large cabinets or stations. Simply paint the wall a bold color that will act as a statement piece and also as a backdrop for the coffee bar.
Add a small but functional table and arrange neatly the coffee essentials. Chalk paint could be great for such projects because it offers writing with chalk on it.
via Yurok