Which is the room that we spent the most time in?
The living room, of course. Whether it can gather the whole family together or because it sets a relaxing mood, this is that part of the room that needs to be the most welcoming part of our home.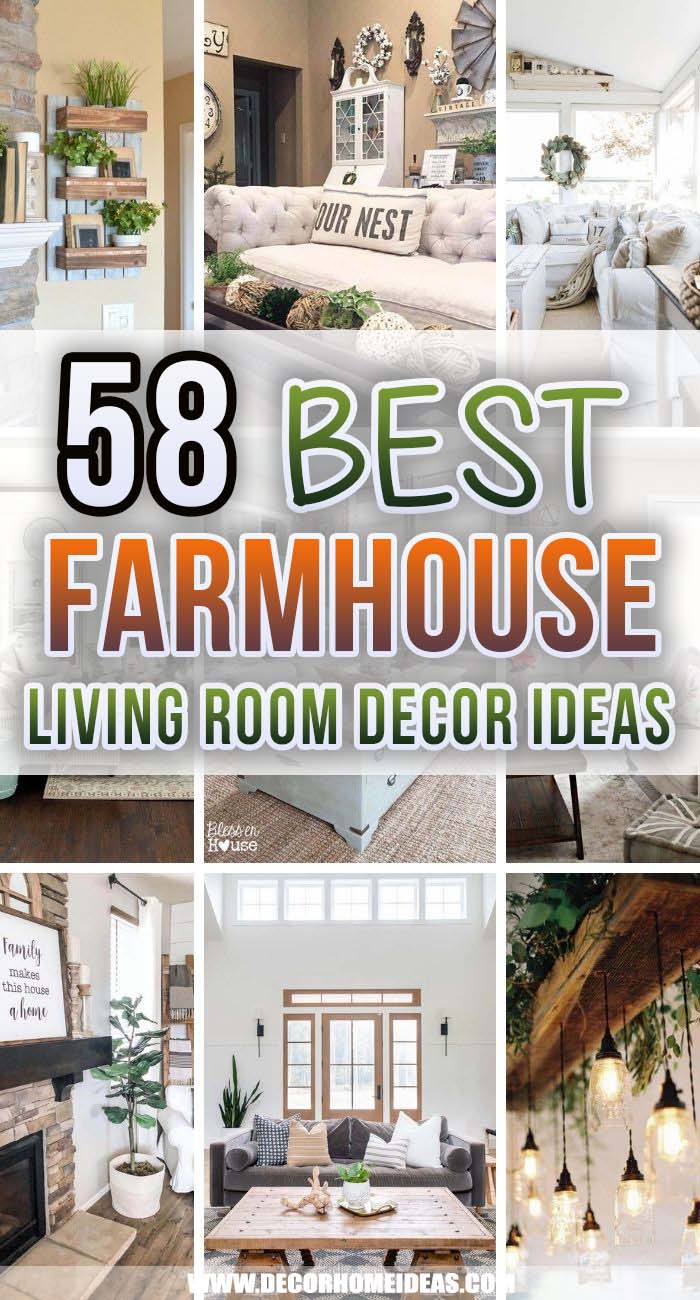 One of the easiest ways to make a living room cozy and welcoming is by implementing farmhouse decor in it. It doesn't matter if the living room is big or small. There are numerous ways to welcome the farmhouse style in it. And don't worry, our ideas don't require a total overhaul.
On the contrary, we have thought about how to help you enhance the homely feel of your living room in a budget-friendly way.
With earthy tones, repurposed pieces of furniture, outdoor elements brought inside as part of the decor, slipcovers, signs and rustic centerpiece arrangements- farmhouse spreads out of each of the 58 Best Farmhouse Living Room Designs and Decor Ideas we have collected especially for you.
1. Bring Farmhouse Charm with Wooden Ladder Photo Display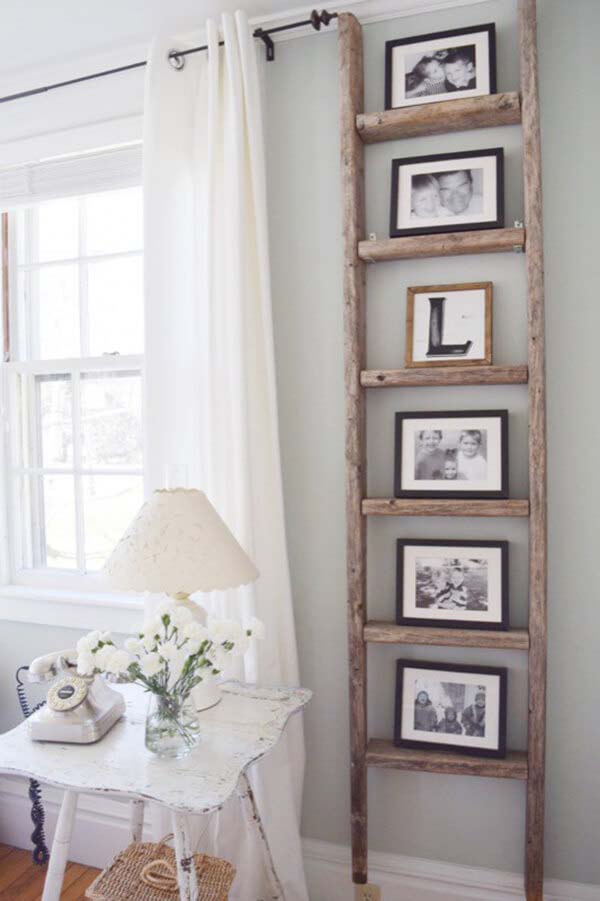 This farmhouse-style living room idea lets you add a personal touch to the interior in a space-saving way. A painter's ladder is repurposed into a photo shelf by fixing it on the wall with suitable hardware.
Adjacent vintage side table displays antique elements to enhance the farmhouse vibe.
2. Capture Autumn Ambiance with a Pumpkin End Table Display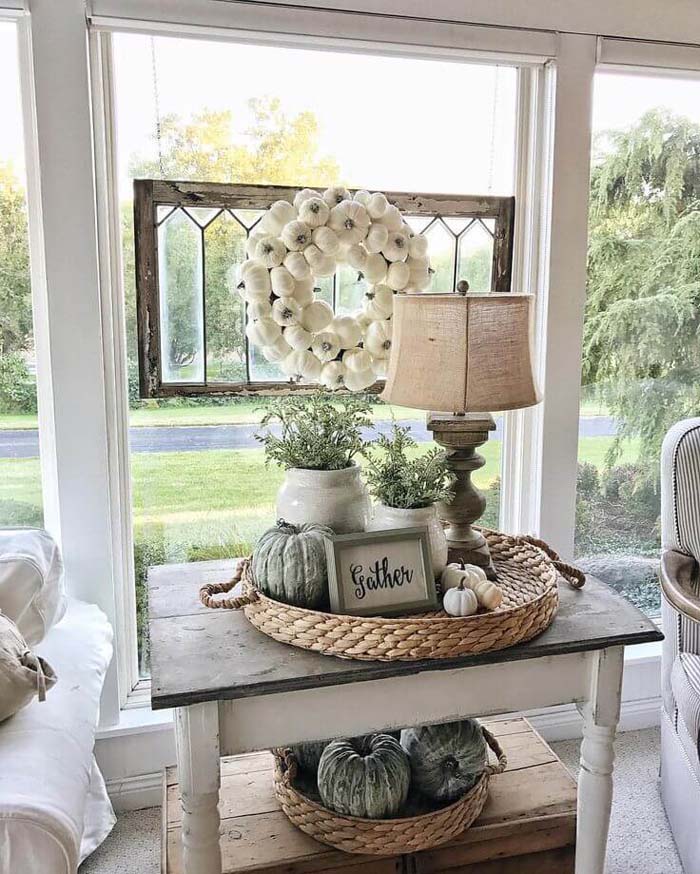 Welcome the autumn season with a farmhouse display celebrating the harvest. A side table made from reclaimed furniture pieces becomes a stand of a wicker tray centerpiece. Pumpkins in various sizes surround rustic planters and a wooden candlestick.
You can make another tier for farmhouse accents by placing a wooden chest, crate or vintage trunk.
via Liz Marie Blog
3. Upcycle Pallet Slats into Rustic Chevron Wall Decor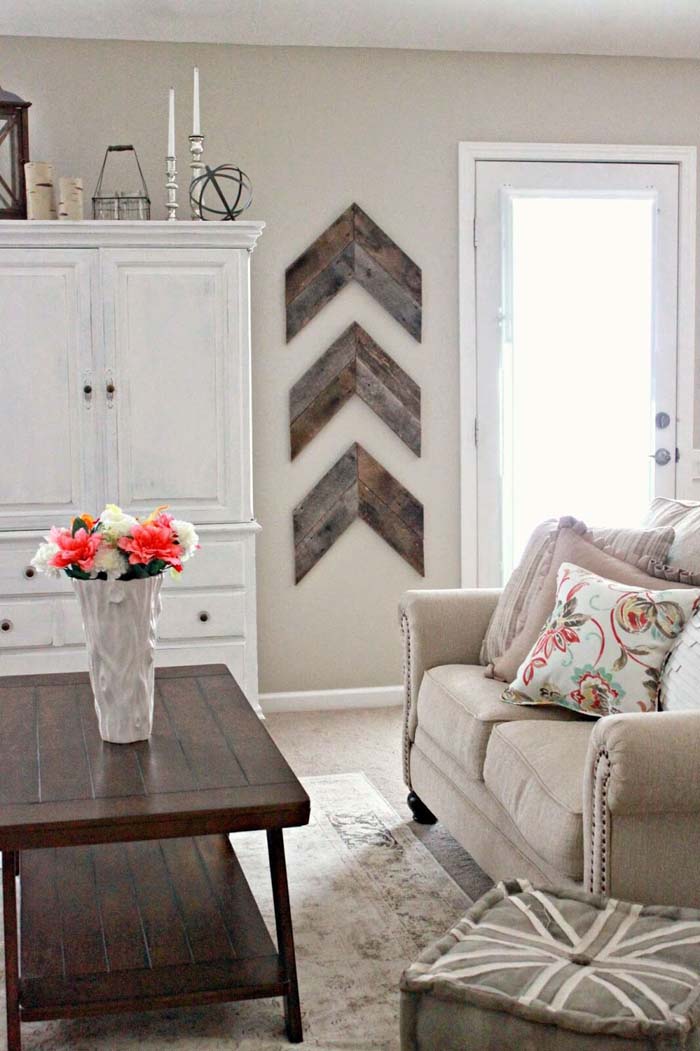 Create an authentic rustic wall decor with wooden slats. You can upcycle laminate leftovers or pallet slats for this DIY farmhouse living room decor.
Arrange the slats in a chevron pattern mimicking three arrows. You can place them vertically or horizontally. For an enhanced rustic farmhouse effect, you can use barn wood, especially if it has signs of wearing.
4. Adorn a Boxwood Wreath with a Recycled Window Frame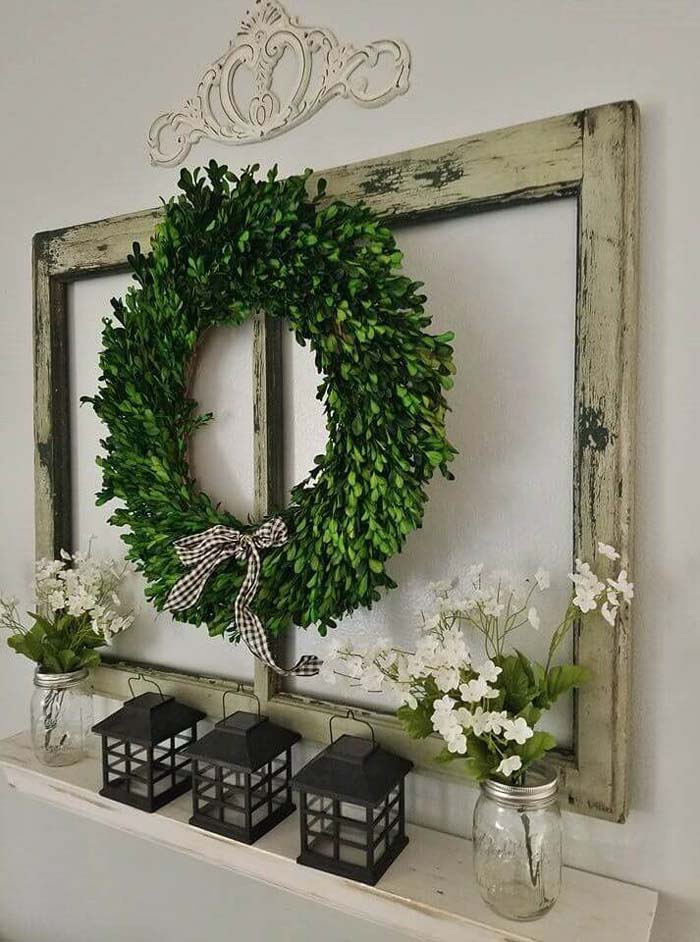 If you don't have a mantle to display your farmhouse decoration, you can create a special wall nook for them. A floating shelf from a weathered beam accommodates jar vases and black garden lanterns to welcome the outdoors inside.
The presence of the outer farmhouse world is enhanced by the wall art continuing the shelf arrangement represented by a repurposed window frame completed with a faux boxwood wreath.
5. Give Your Home a Modern Edge with Rustic Accents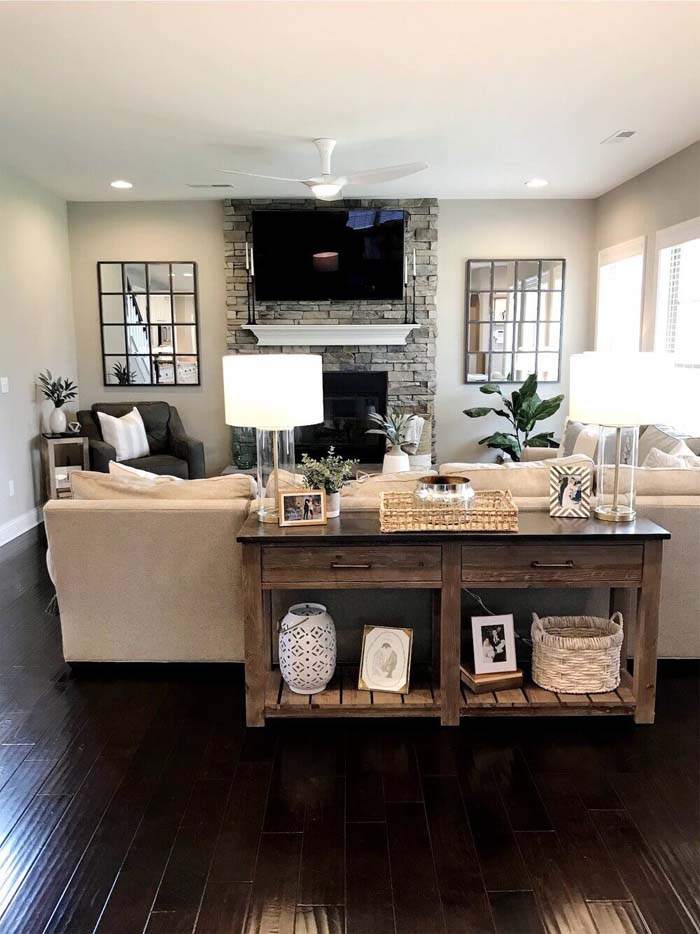 The farmhouse living room decor ideas can be given a contemporary look if you add modern touches. This rustic home decor idea combines the typical rural materials such as stone and wood with modern light fixtures, glass and mirror accents.
58 Best Farmhouse Living Room Designs and Decor Ideas
Although these are only accents to the basic decor style, they manage to give it a more contemporary look.
via Gathered Living
6. Create a Rustic Coastal Wonderland in Your Living Room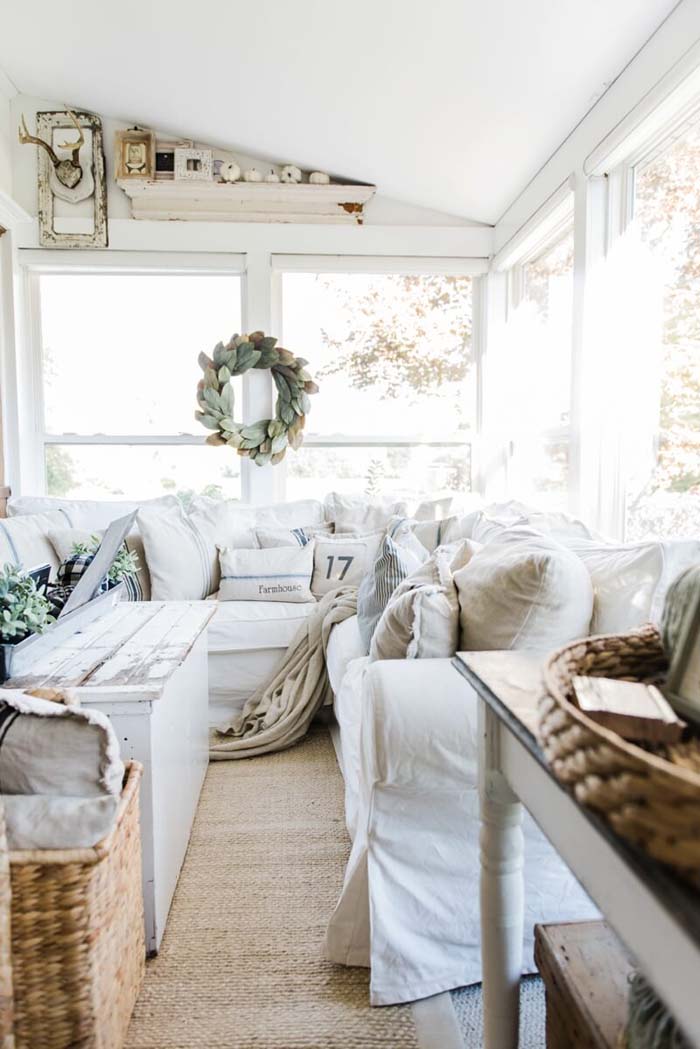 Mixing blue, light green and sandy colors give a rustic farmhouse living room a coastal touch. Whitewashed wooden surfaces, rattan containers, comfy linen-covered sofas and a jute rug set the sitting area.
Eucalyptus leaf wreath decorates a wide window letting warm natural light come through. The wicker baskets spread here and there contain smaller rustic items that make this sunny living space more inviting.
via Liz Marie Blog
7. Spruce Up Decor with Armchair and a Corner Quilt Display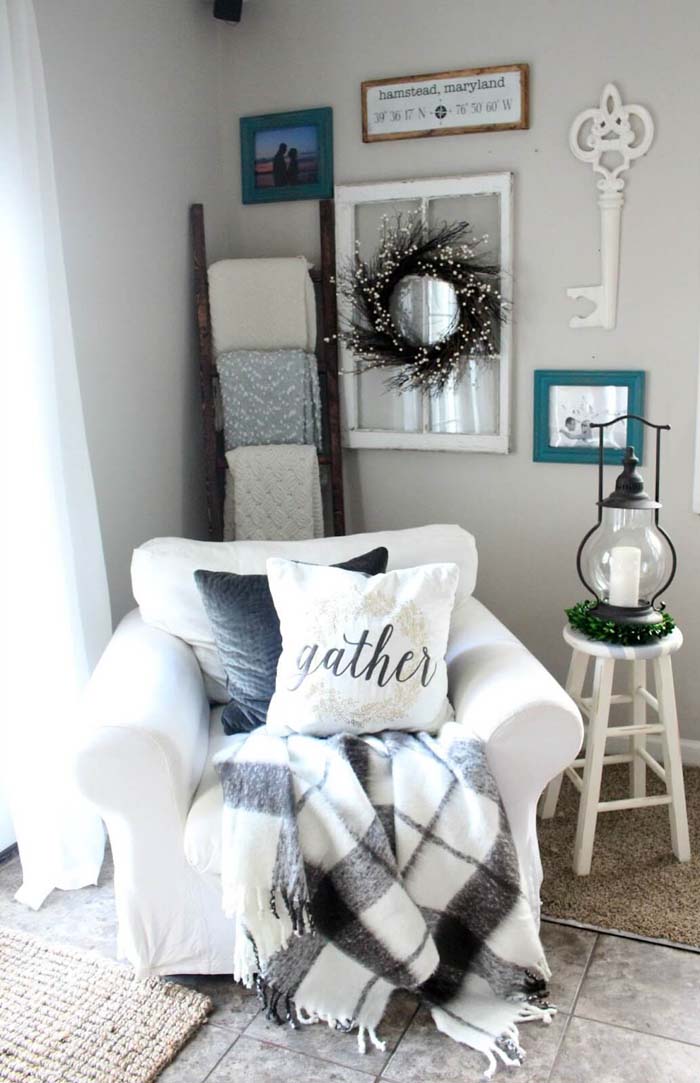 The cozy armchair in the living room is the favorite spot for privacy and relaxing. Turning it into part of a farmhouse nook will enhance its inviting vibe.
It is easy to achieve that by adding some particular elements to it. Cover it with a white or light brown cover. Add a throw and a few throw pillows on it.
Surround it with rustic accents that will let the room embrace the farmhouse armchair. A ladder with blankets, signs, a wreath hung on a repurposed window, a gas lamp on a rustic accent chair.
8. Enjoy Fall with a Cozy Rustic Sitting Area Arrangement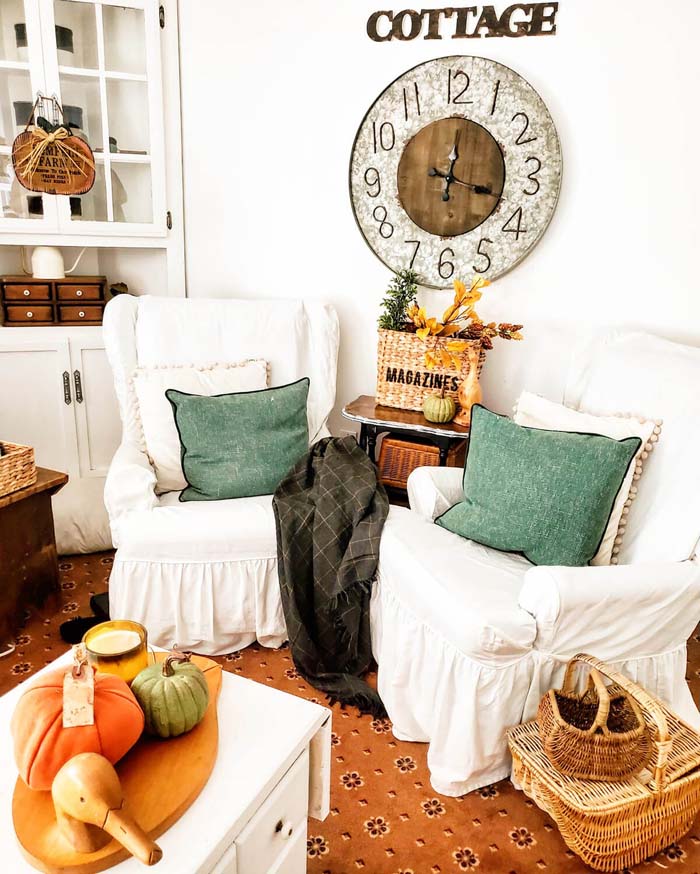 Nature at fall is so warm and welcoming! Transfer its spell into the inside of your living room to create a relaxed and cozy atmosphere.
Farmhouse style is represented by multiple warm colors in the fall palette, natural textures and the typical pumpkin symbol. Pillows and throws enhance the warm vibe and welcome you to sit there and take off all your cares.
9. Give a Couch a Farmhouse Makeover with Linen Slipcovers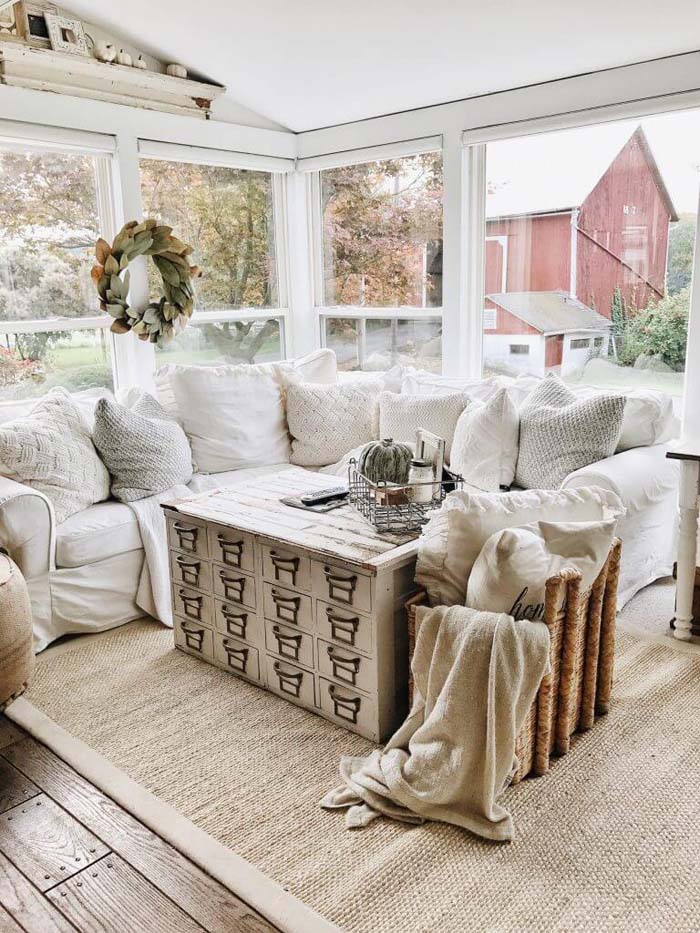 You can give an existing couch a farmhouse look in a budget-friendly way. Instead of changing it for a rattan set, you can purchase or sew yourself a linen or burlap slipcover.
It is easy to be maintained and gives the sofa a total transformation. Combine with an antique coffee table, a few knitted throws and pillows covered with a coffee sack or burlap pillows.
A wreath and pumpkins in a wire basket add a pop of green color to the neutral setting and make this sunny farmhouse-style living room a magical place.
via Liz Marie Blog
10. Add Splendour to a Home with a Framed Sheet Music Decor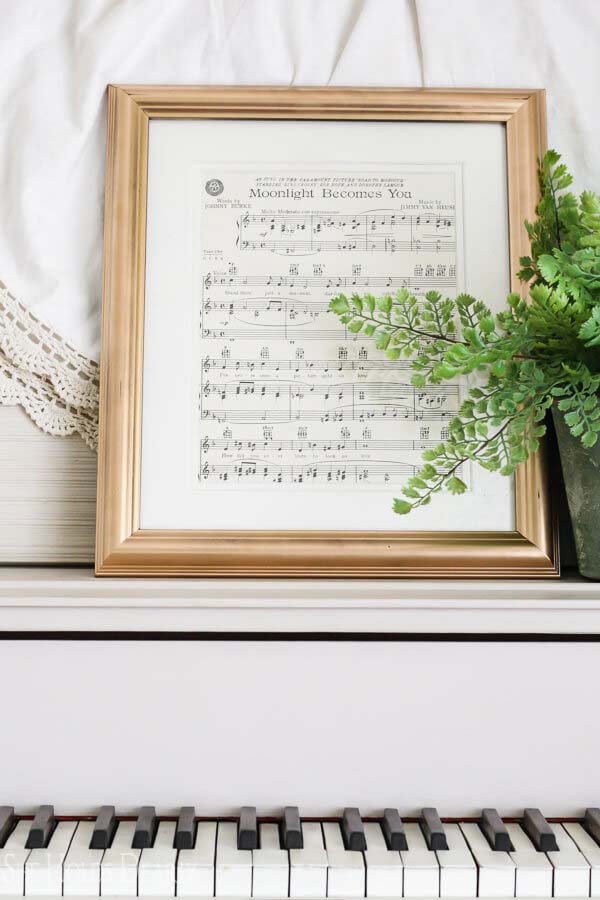 If you are a musician or you have a nook in your living space with musical instruments, you would appreciate this farmhouse living room decor idea.
It can be hand-crafted easily as long as you print out the music sheet of a sentimental for yourself music piece. Frame it into a plain wood frame and place it on the piano or among the pieces of your music nook.
via She Holds Dearly
11. Bring the Farmhouse Feel to Your Home with Light Fixtures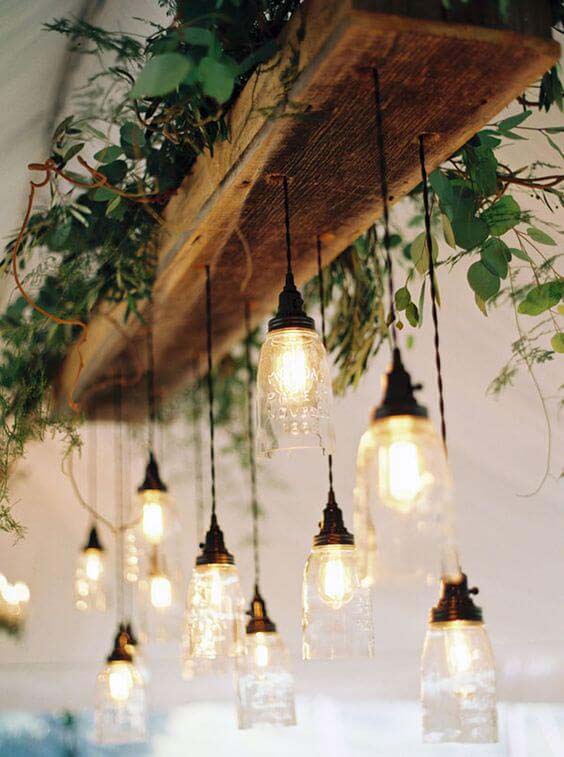 These kinds of light fixtures are very trendy nowadays. A solid wooden beam becomes a stable fixture for basic light bulbs suspended on it at different heights.
Each cable goes through a hole drilled in the wood so you wouldn't see its end. Green sprigs pop out from the top of the beam to enhance the amazing farmhouse feel this light fixture creates.
via ID Lights
12. Discover Timeless Beauty with Distressed Wall Sconce Decor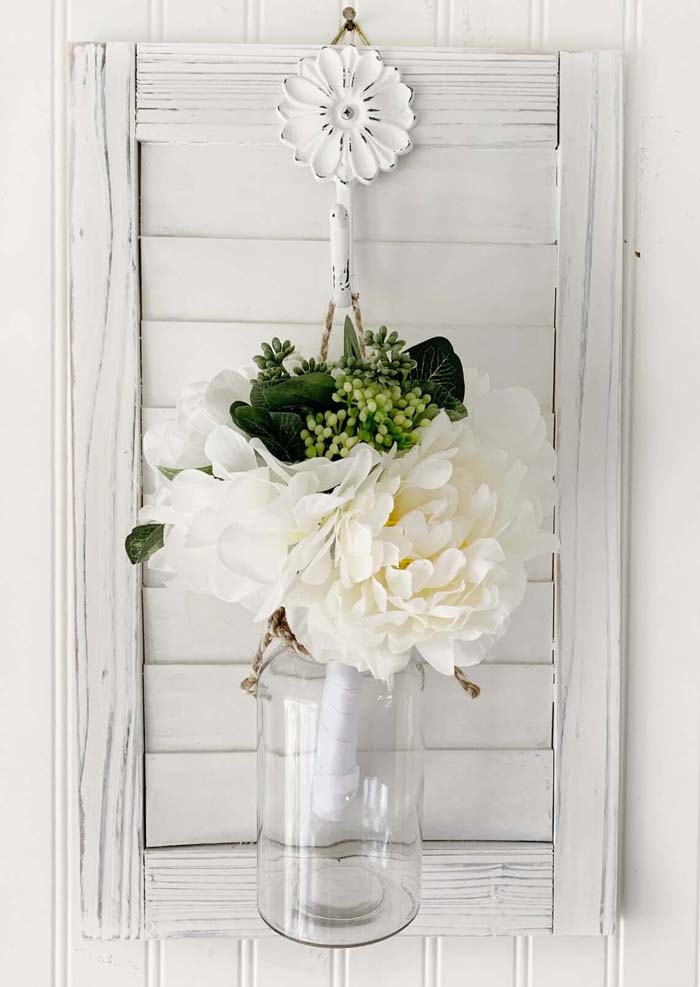 This plaque has been made from a small window shutter, a vintage hook and a simple jar repurposed into a vase.
White color unites the three elements together. The wood and the metal surface are given some distressing to enhance their age.
The flower bouquet is an evergreen solution made from faux flowers and twigs. Added to the clear vase, the bouquet gives this rustic home decor a beautiful personalized accent.

13. Upgrade a Mantel with Wire Basket Logs and Chalkboard Sign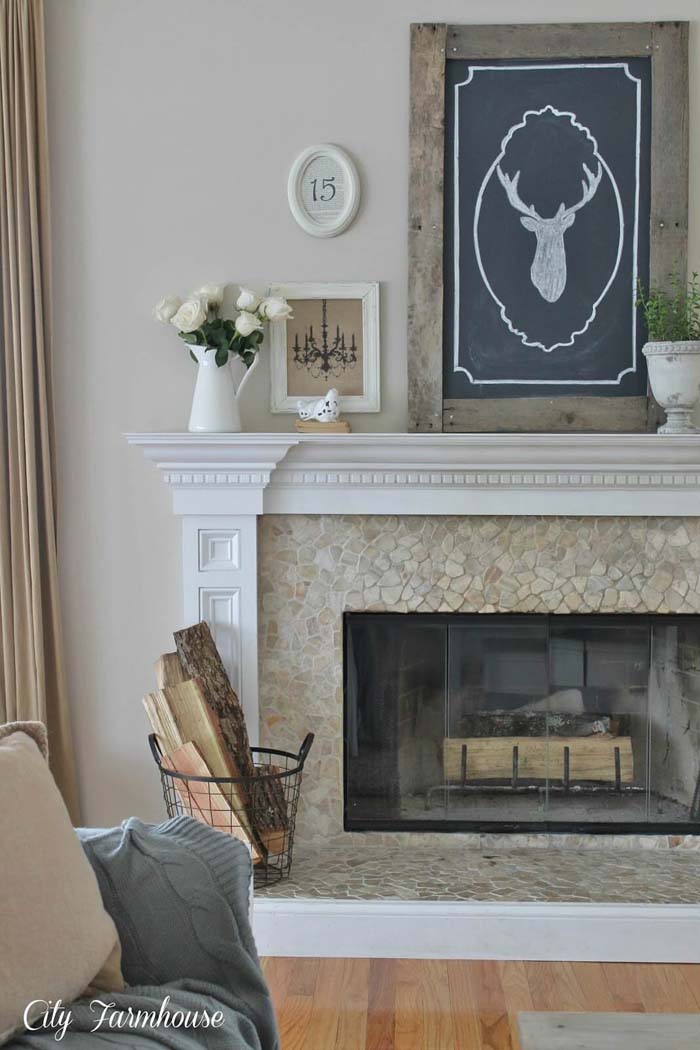 Want an elegant farmhouse living room? Try this decor idea around the mantel. A wire basket full of logs can stay next to the fireplace all year long.
Decorate the wall above it with a chalkboard sign with a farmhouse symbol. Add greenery in clear vases or simple clay pots. You can continue the mantel decoration with white candles and white photo frames. Uniting the decoration by its color will create an elegant atmosphere.
via City Farmhouse
14. Embrace Earthy Colors and Textures with a Fireplace Decor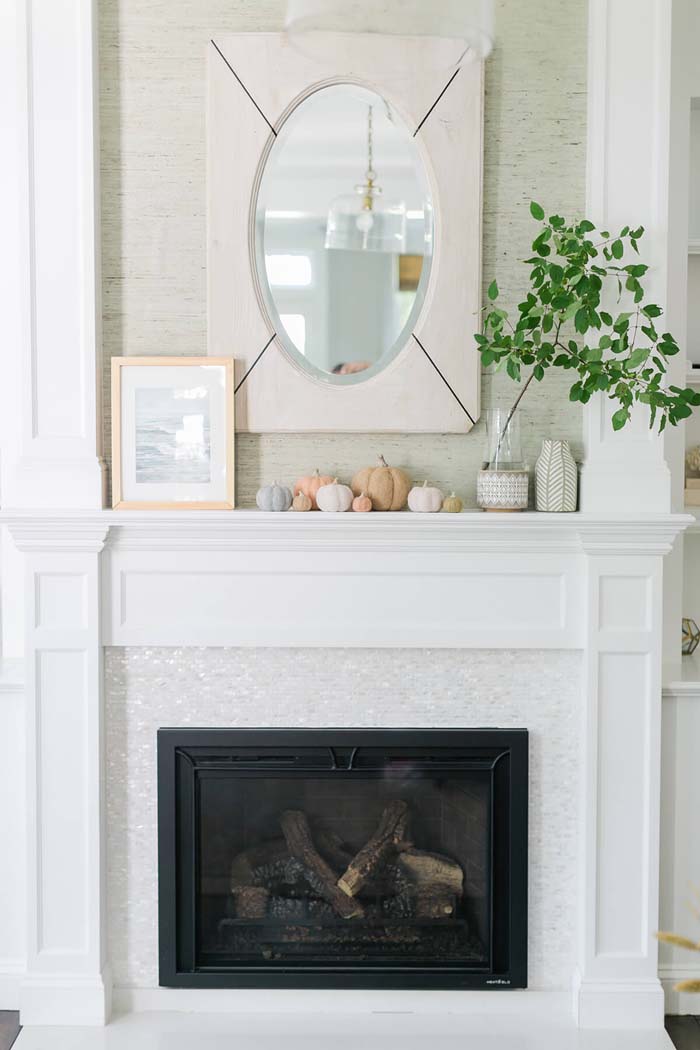 The autumn loves the farmhouse style and there isn't a better period when you should definitely stake on the earthy colors and natural textures in your living room decor.
If you have a fireplace, use the mantle to make an impressive nature-inspired arrangement. Faux pumpkins in pastel colors, a wooden sign and minimalist vases maintain the welcoming farmhouse feel.
via Finding Lovely
15. Elevate Living Room Decor with a Stylish Wooden Sign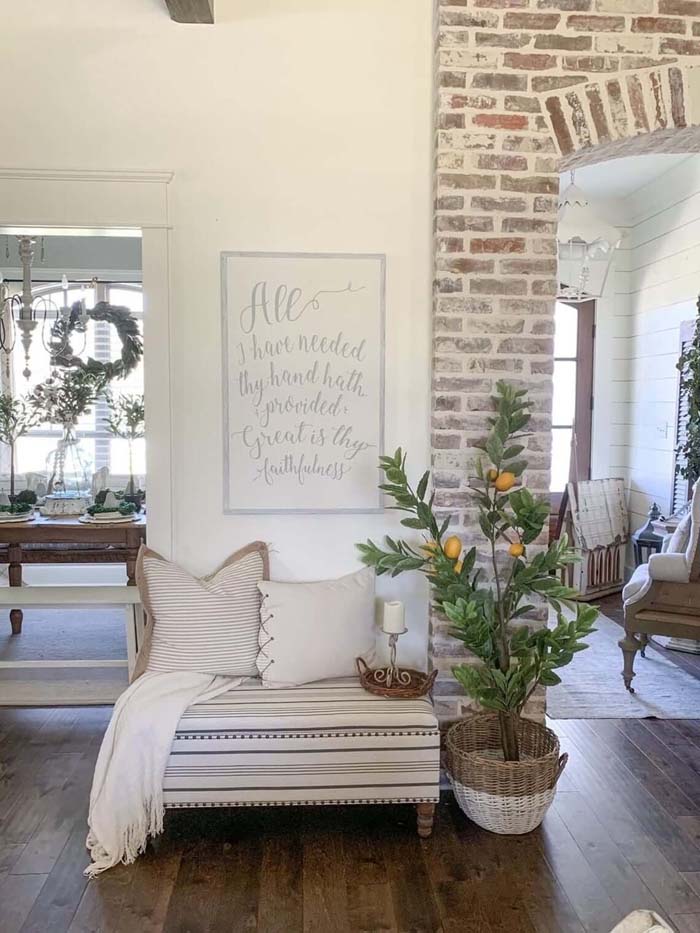 A wooden sign in the pale palette can be very impacting if it is properly placed in the living room.
The words and the frame are greyish to stand out against the white canvas. The elegant touch this sign makes completes the cozy sofa below it.

16. Add Greenery as Focal Point with a Textured Clay Vase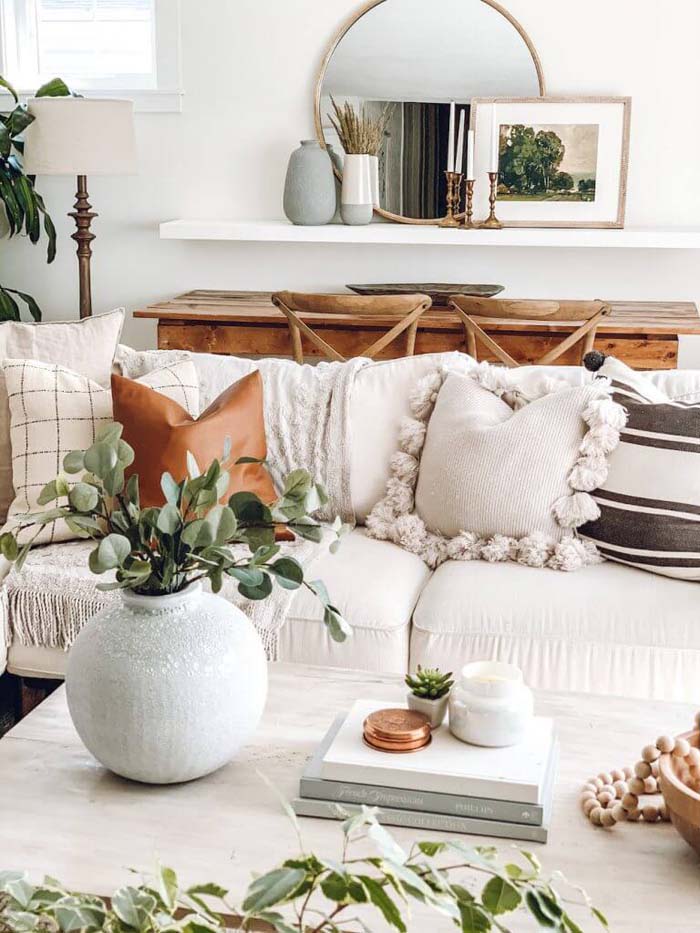 Added greenery to a central point of the living room, creates a focal point taking you directly to nature. Instead of placing green leaf twigs into a glass vase, you can use a textured clay vase that enhances the personal touch in this living room arrangement.
17. Add Animal Prints and Vintage Elements to Your Living Room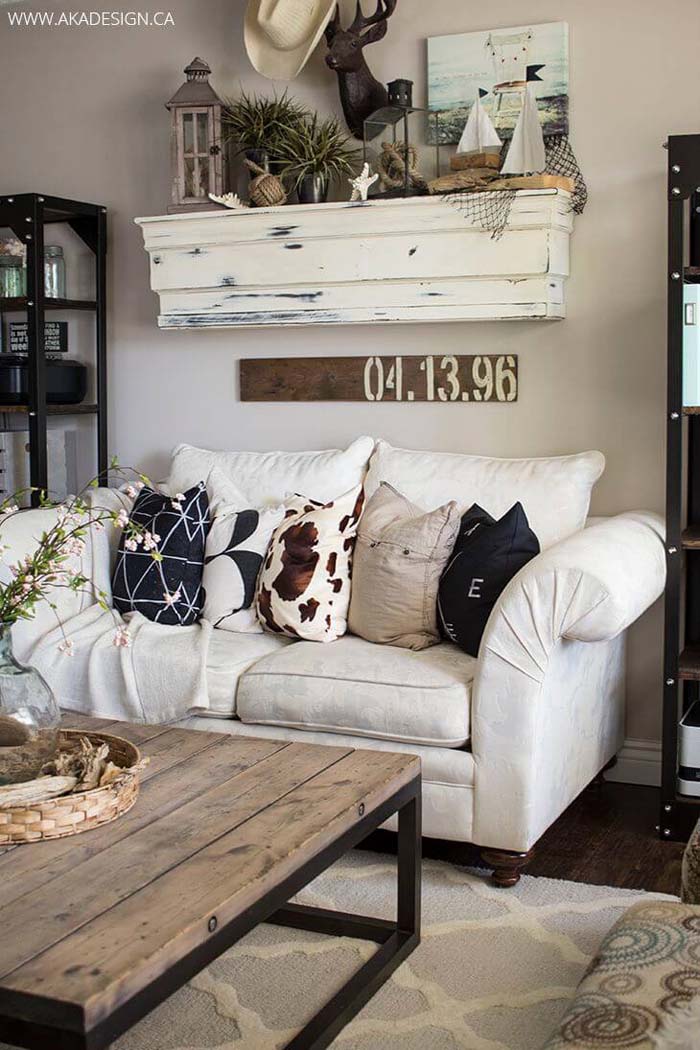 If your understanding of a farmhouse style living room involves countryside elements, try this decor arrangement.
Decorate the couch with throw pillows with covers in an animal patterns. Continue the farmhouse animal theme up with a cowboy hat hanging from a deer head. Add some greenery to balance the repetitive symbols with other vintage elements.
via Home Made Lovely
18. Remould an Antique Steamer Trunk into a Stylish Coffee Table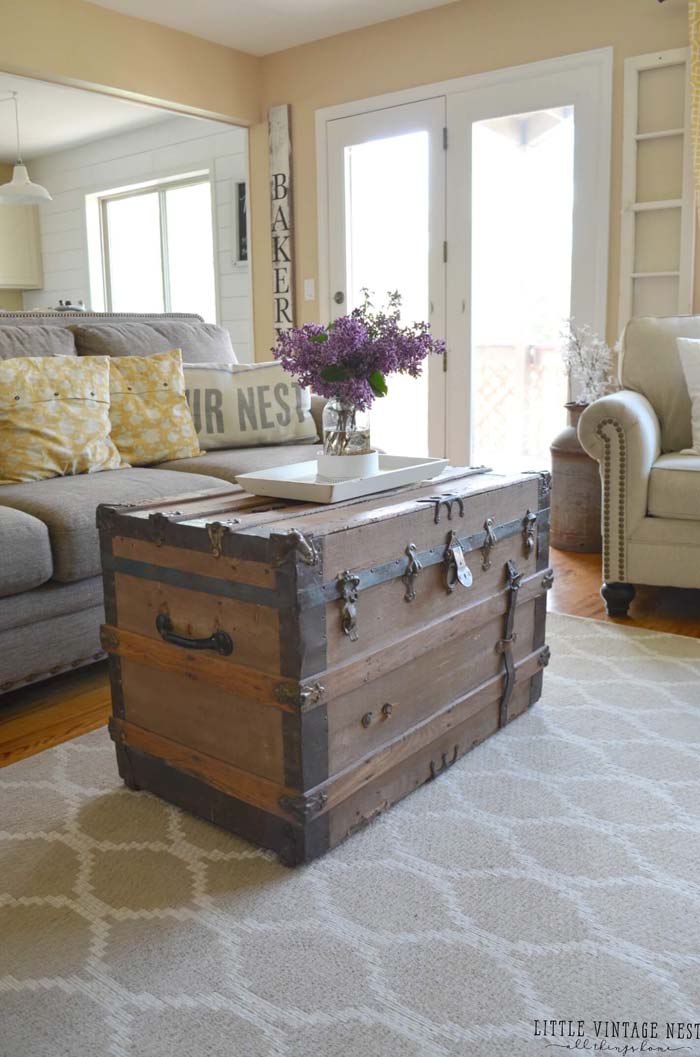 Repurpose an antique steamer trunk into a coffee table. Depending on the color palette of your room, you can leave it in its original hues to complement the existing dark stain or give it a whitewash coat in case the interior needs a pop of bright color.
Place a clear vase with flowers to give the rougher wood an elegant touch.
via Sarah Joy
19. Blend Old and Modern Elements with Your Fireplace Mantel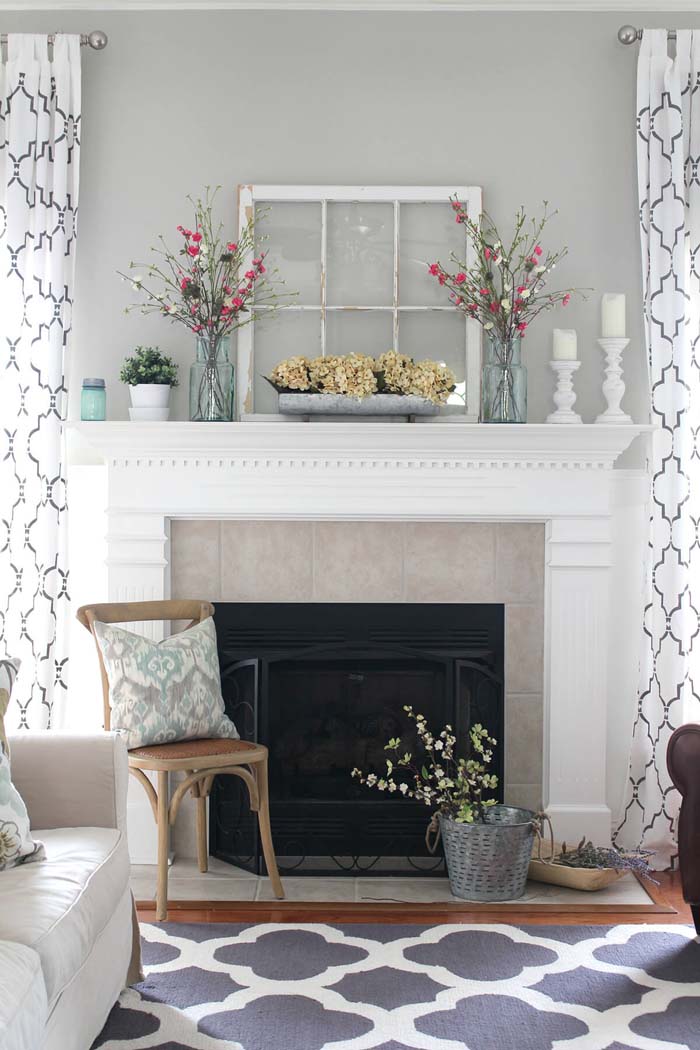 This is another inspiring living room idea for those of you who love farmhouse design but in a moderate amount. The combination between old pieces of furniture and modern fabrics and textures balances the old with the contemporary.
A few candles, flowers and glass vases speak for the feminine imprint in this modern farmhouse living room design.
20. Brighten Your Home with a Rustic Lilac Flower Centerpiece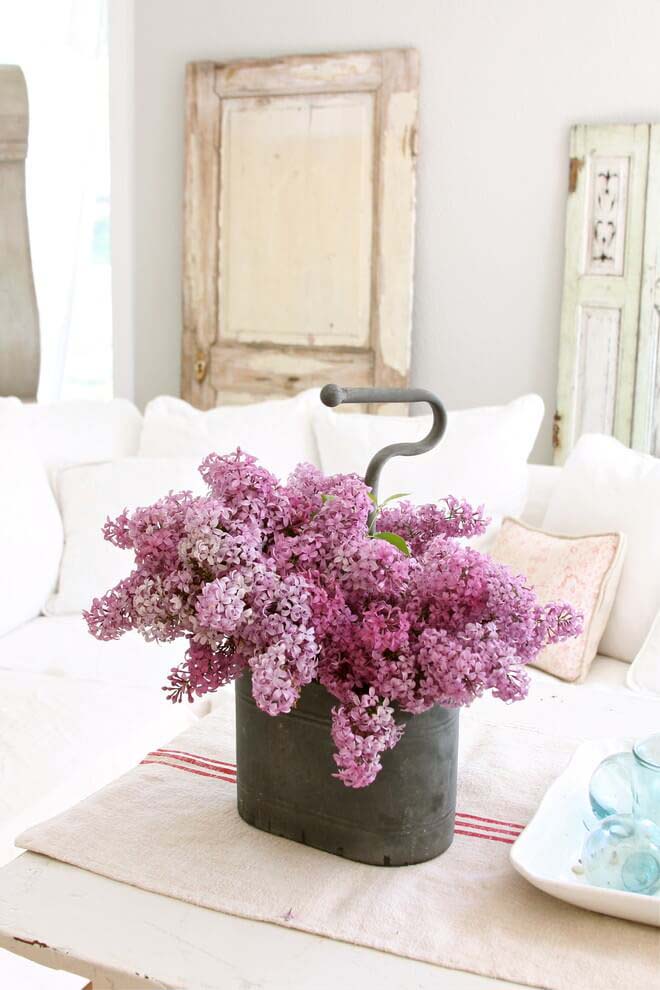 The farmhouse living room will become brighter and more cheerful if a galvanized container holds fresh flower cuts.
In the spring that could be a lilac bouquet spreading its calming color and scent around. Set the tin in the center of the coffee table or on the mantel to let it stand out.
21. Keep Your Microfiber Sofa and Still Achieve the Theme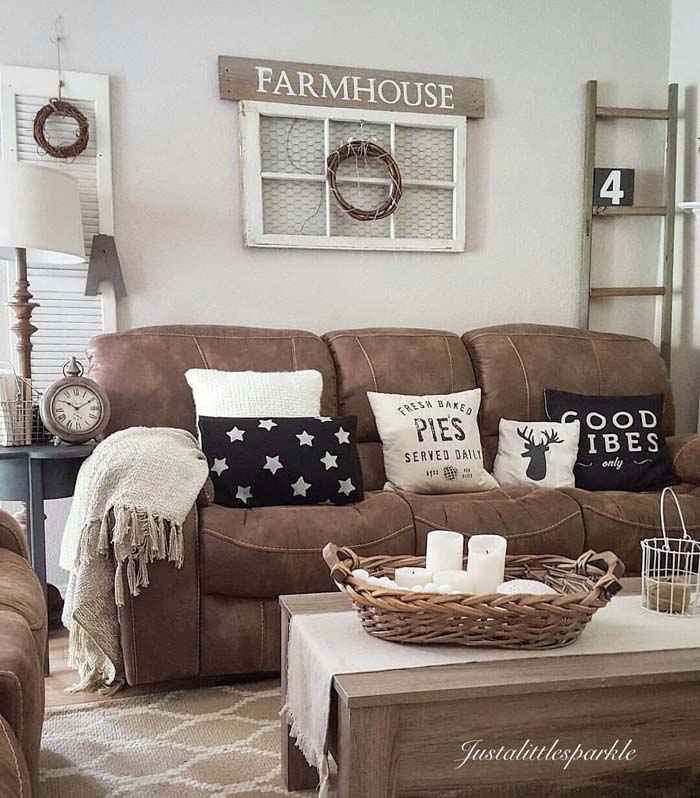 You don't need to replace your comfortable microfiber sofa if you have decided to renovate your living room interior in the farmhouse style.
If it is an earthy color, it can easily match the theme colors of the farmhouse which are sandy, white, creamy, grey. Add a matching wooden table, a jute rug a few rattan baskets for storage of smaller accents.
Decorate the walls with repurposed elements such as window frames, shutters, doors. Attach a wreath to the window filled with chicken wire where the glass panes have once been.
via Cristina Reed
22. Update Antique Apothecary and Incorporate in Your Interior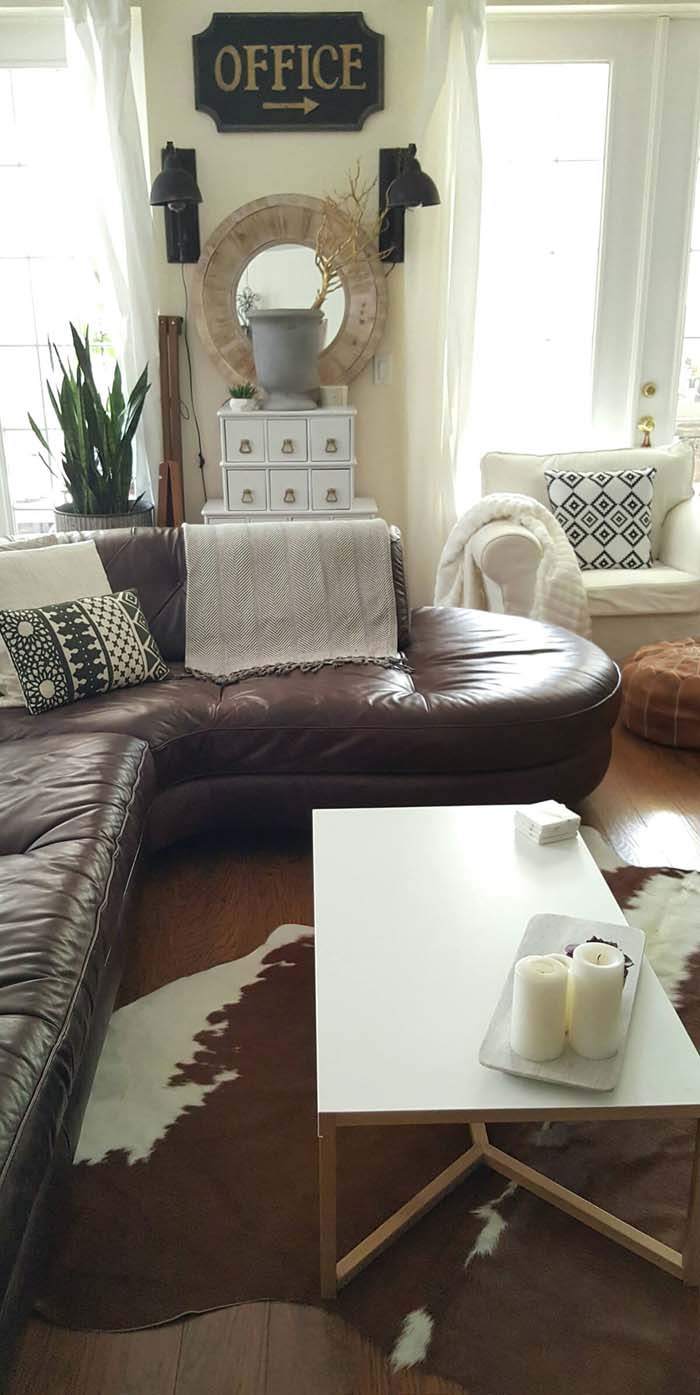 If you have found an apothecary at the thrift shop, don't miss it. Regardless of its antique look, it can match any interior style if you update its outer appearance.
White is a universal color and when applied to an apothecary, it lets it brighten up the room. Use it as a pedestal to give another accent height or as a display for other vintage pieces of decor.
via Bees and Burlap
23. Bring an Industrial Vibe with an Elegant See-Through Lantern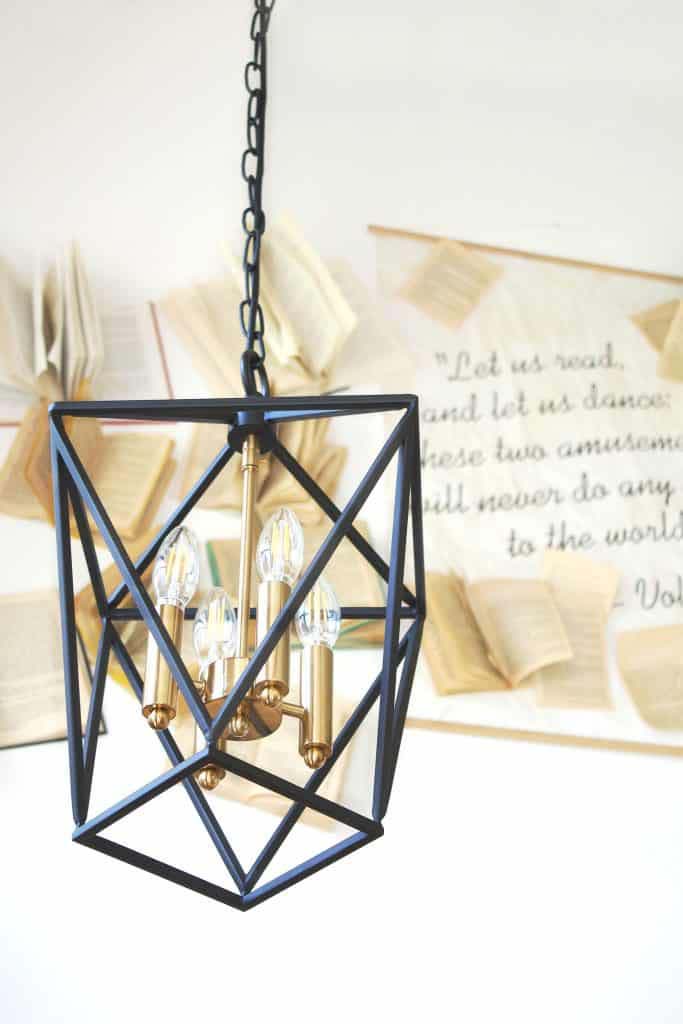 If you are looking to create a balance between old and contemporary, mix farmhouse with industrial. This model of light fixture is a trendy representative of this mix.
The metal prism-shaped frame lets you see the light source represented by four bulbs inserted on a golden finished candle-like pedestal.
Placed in a living room with weathered furniture and neutral color decor, this light fixture adds an interesting contrast.
24. Create a Rustic Atmosphere with Neutral Living Room Decor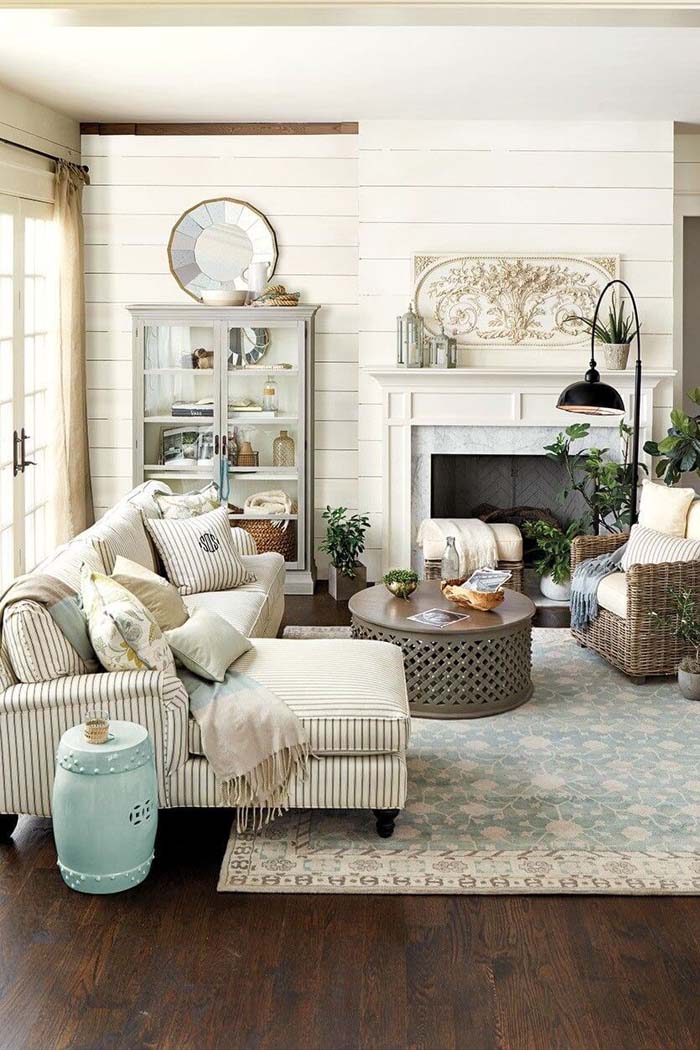 Shiplap wall lining is a perfect choice for an accent wall of the farmhouse style living room. It sets a bright and warm backdrop for the rest of the decor elements.
A comfy sofa surrounds a round coffee table, cladded with a lattice-like side. A rustic cabinet with glass panes reveals vintage accents that are precious for the family.
Greenery and mirror wall art add some color to the room and enhance the welcoming feel.
25. Add a Fresh Touch with a Milky Mint Coffee Table Base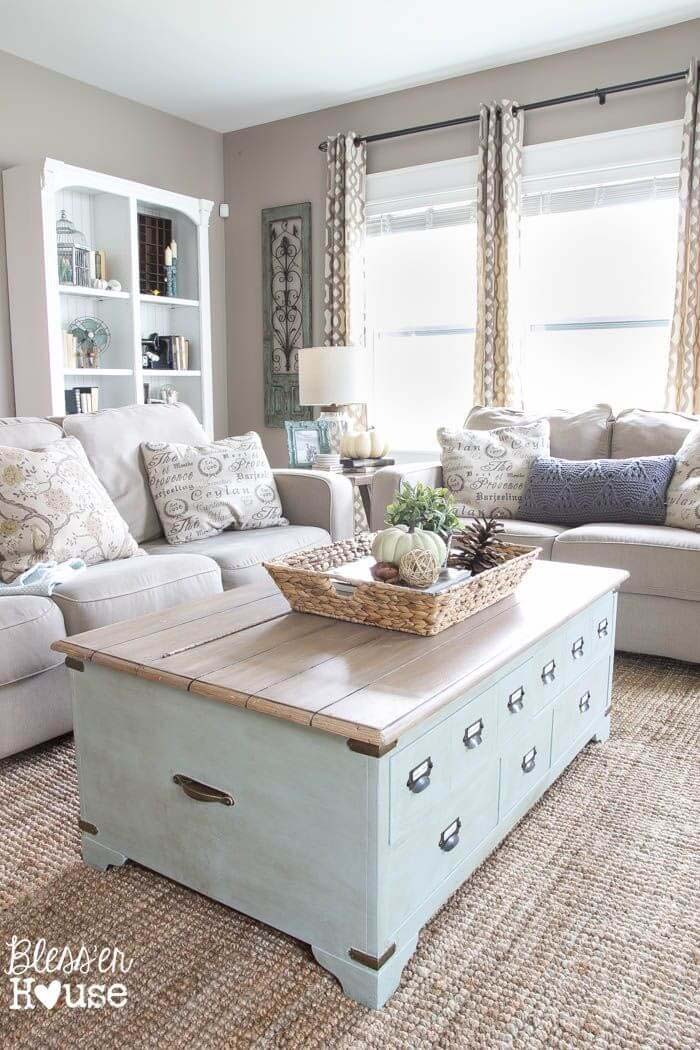 If your farmhouse living room is missing a pop of fresh color, apply milky mint color to the basis of the antique coffee table.
The light wood top on this table coordinates with the jute rug and let the whole table fit into the color palette. Numerous drawers with brass pulls reveal plenty of storage space. You can keep small items, books, magazines and other living room-related items neatly stored and away from sight.
via Bless'er House
26. Personalize Your Living Room with a Wood Framed Wall Sign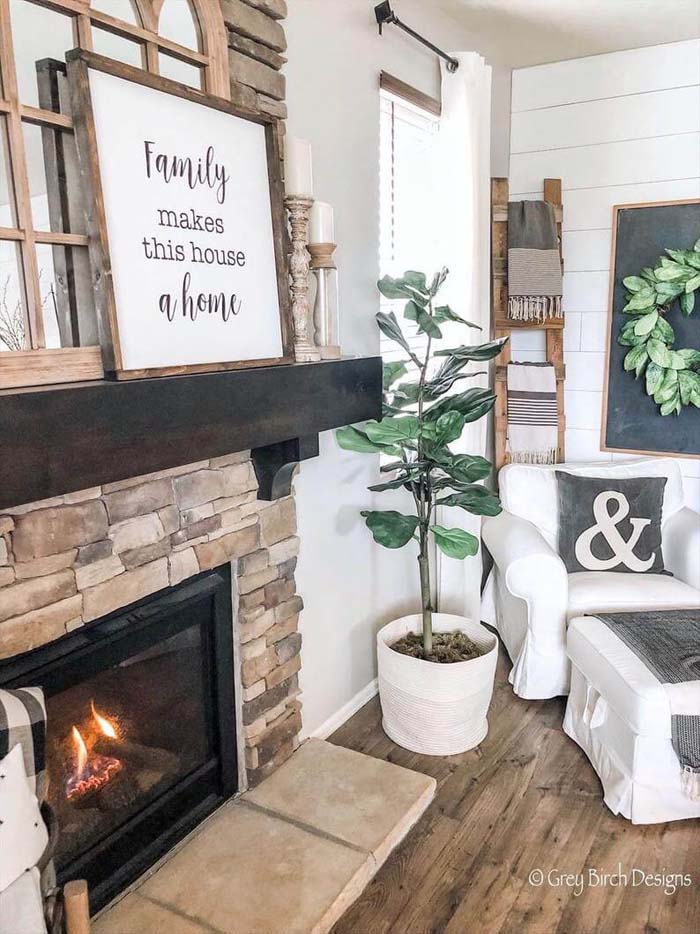 Praise the importance of your family with a special custom-made sign. Made on a canvas painted white, the black letters in the hand-written script easily stand out to become the core of the decoration.
The stained wooden coheres with the earthy tones used in the interior and gives the sign a rustic effect.
27. Combine Style and Warmth with with Tufted Seating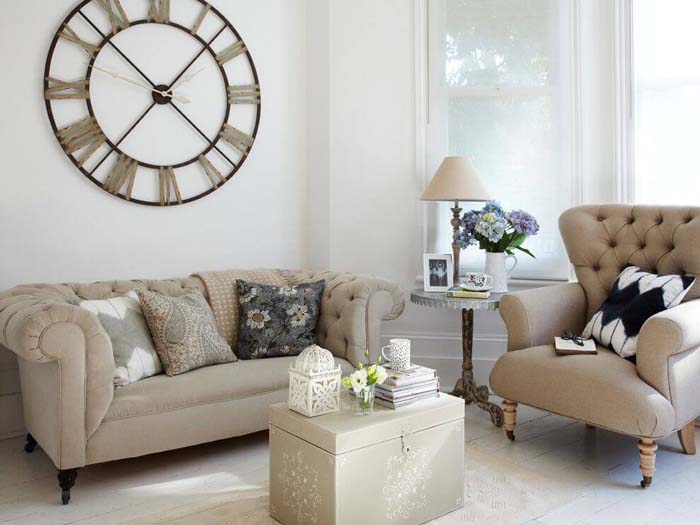 This farmhouse living room idea showcases how the taste for luxury can be given a rustic nuance. The tufted couch and armchair speak for a high taste for comfort.
Added throw pillows in farmhouse fabric patterns go well with the plush furniture thanks to the matching colors.
The chest repurposed into a coffee table, the wooden clock on the wall and the antique side table anchor the farmhouse presence.
28. Nature-Inspired Living Room Centerpiece with Antlers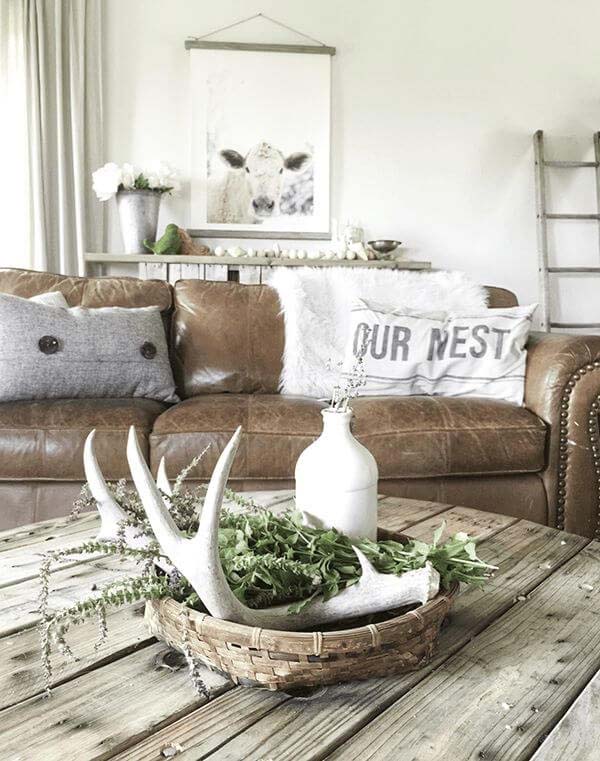 Take pieces of nature directly into your living room with this authentic arrangement. A wicker basket stays in the center of the living room coffee table to accommodate a deer antler, a bouquet of field green cuts.
Add a white glass bottle repurposed into a vase to back up the farmhouse centerpiece and tie up the arrangement.
29. Display Your Throw Patterns with a Wooden Ladder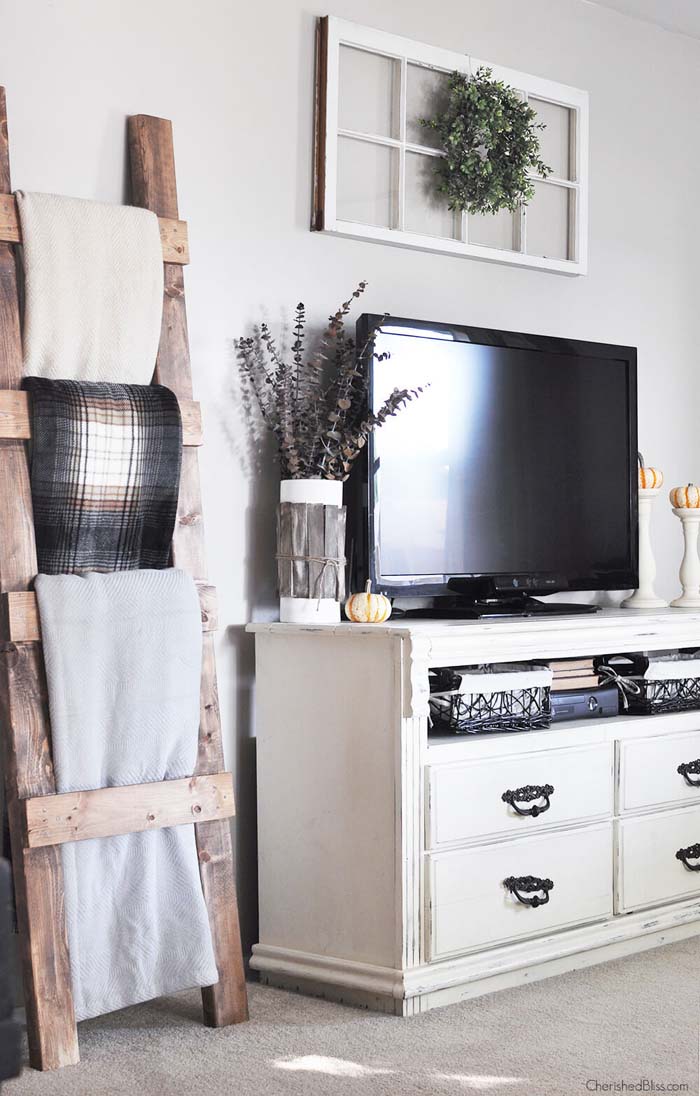 Do you have a collection of authentic throw patterns? Well, the wooden ladder is the perfect place to display them.
It doesn't take up any of the space so you will surely find its best spot. Lean it against the wall close to another farmhouse decor element to enhance the welcoming feel.
via Cherished Bliss
30. Lavish Look with Recycled Rustic Barnwood Accent Wall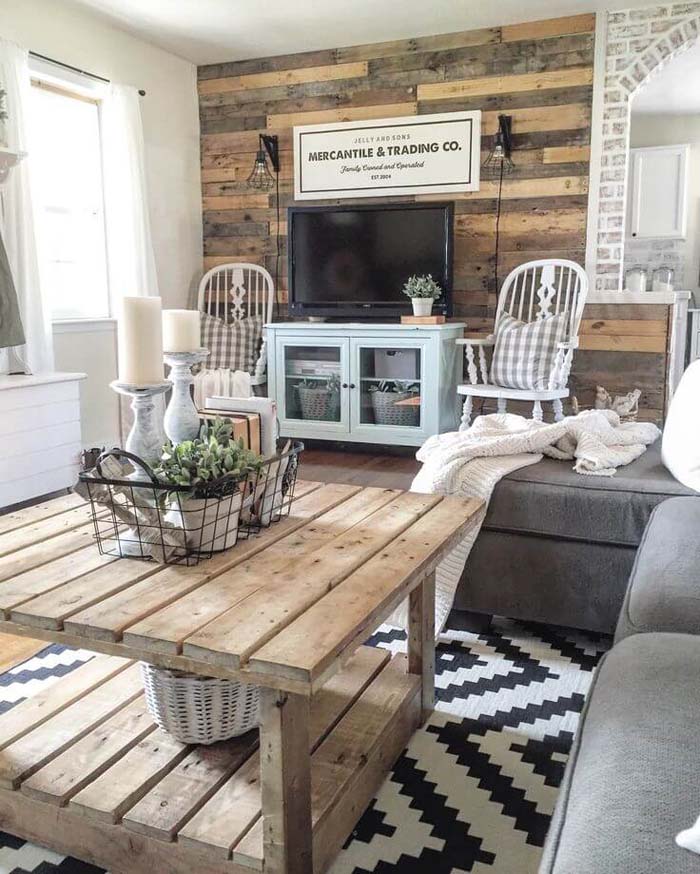 Give your farmhouse living room a special touch with an accent wall. You can use reclaimed barn wood to line up an entire wall where the TV stays. This way you would be able to easily blend the new technologies with the retro style of the interior.
Vibrant accents in milky grey, white and mint will add a pop of color to brighten up the room.
31. Cozy Farmhouse Living Room with Customized Decor Accents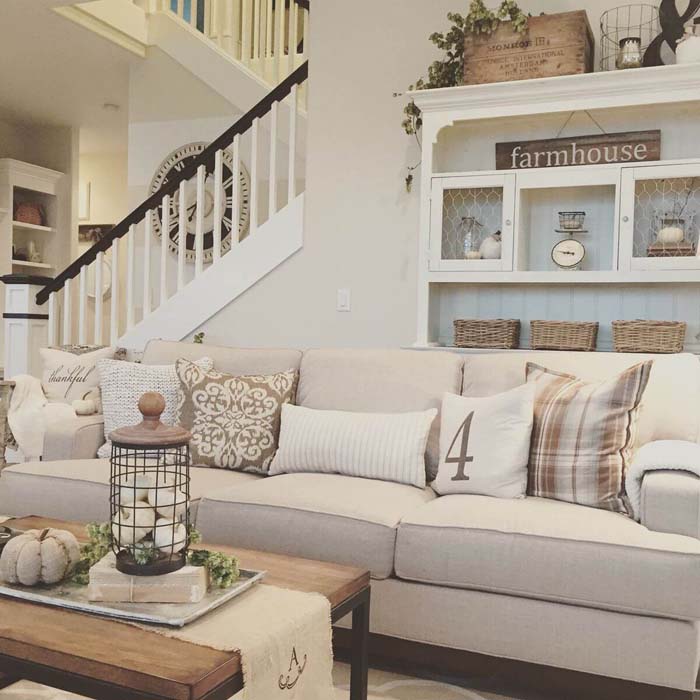 This small farmhouse living room is very cozy. The plush cushions of the couch promise comfort. Various sizes and colors of pillows enhance this feeling and add a personal touch to the decor.
The coffee table represents a combination between a minimalist metal frame and a solid butcher top. A personalized burlap runner sets the place for a vintage arrangement welcoming fall into this home.
32. Make a Statement with Rugged Barn Wood TV Cabinet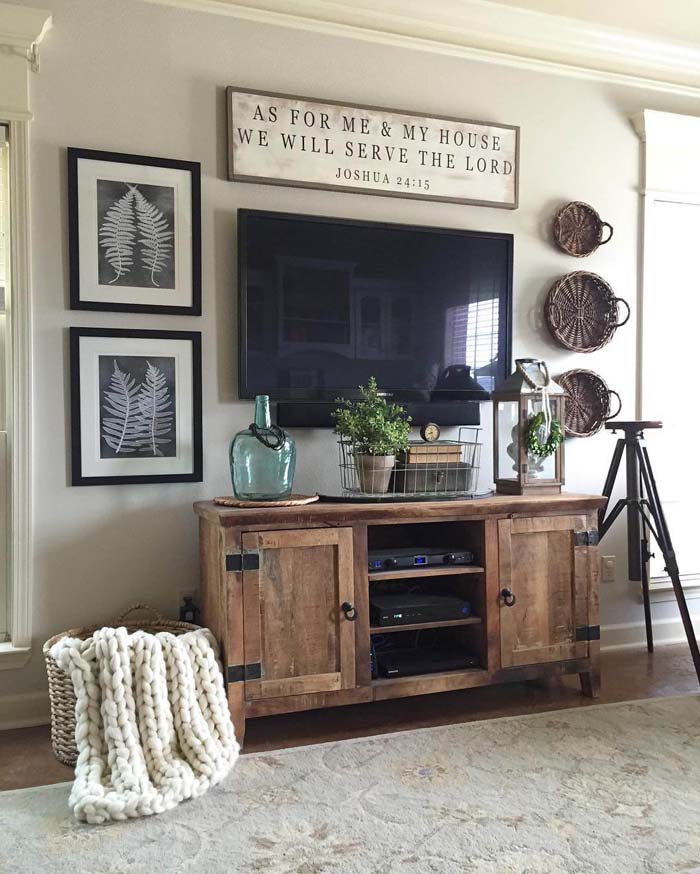 Most people think that it is very hard to blend the innovative design of technologies with the basic simplicity of the farmhouse interior.
Well, taking this living room design as an inspiration, we can judge that this is not impossible. Use wooden materials with farmhouse textured for the entertainment center. Barnwood is sturdy and charming and it works perfectly for a customized chest of drawers or cabinetry to put the TV on or above.
Other rustic elements and accents such as lanterns, vases, signs will enhance the warm feel of the room and will make sure that the appliance does not look odd.
via Our Vintage Nest
33. Create Airy Charm with Craftsman Cocktail Coffee Table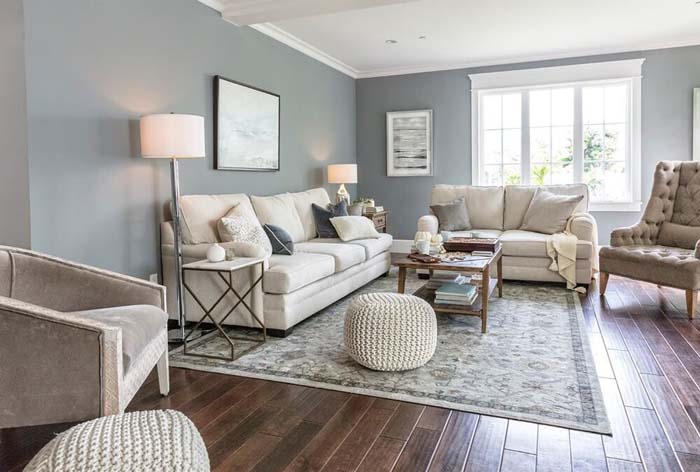 This neat and elegant living room uses neutral light colors to set the feel for airiness and brightness.
Dark tones represented by the brown tile floor, the wooden pine table and the metal legs of a side table act as balancing accents anchoring the rustic charm inside.
via Living Spaces
34. Be Charmed with a Rustic Painted Wooden Kitchen Sign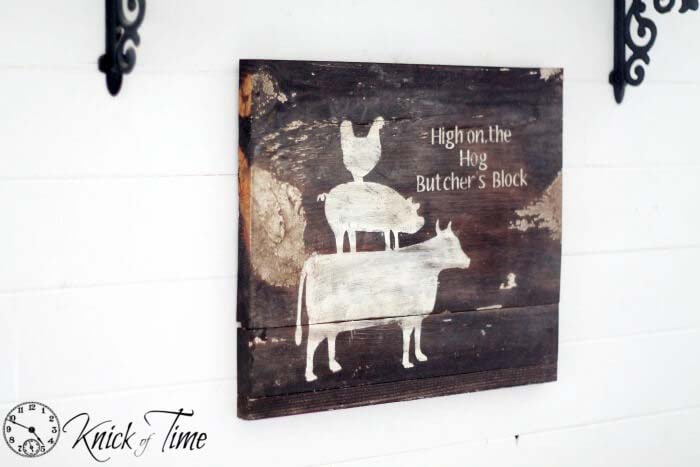 This sign is very simple and extremely farmhouse-impacting. The inspiring vintage sign is made from reclaimed barn wood and images of a cow, pig and a chicken. You can't see the animals in detail, only their silhouettes.
Place the stained wooden sign against a blank neutral wall and watch it cheer up the decor with its cute design.
via Knick of Time
35. Enjoy Coffee with a Rustic Wooden Table and Platter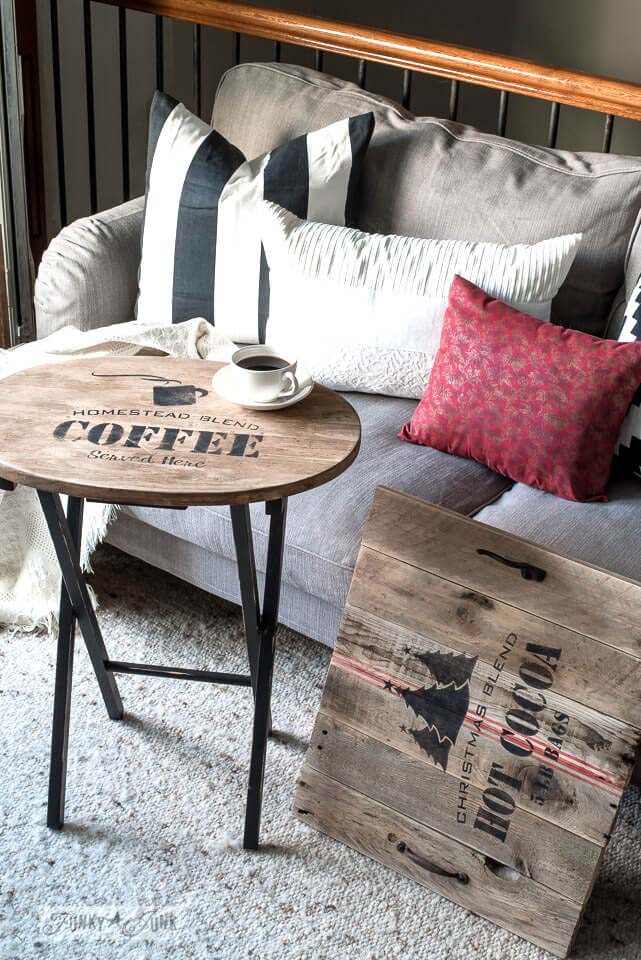 Use crate or barrel slats to make your own coffee table design. Most of us relate coffee and hot cocoa drinking to the cozy time spent in our homes so imprinting this connection on the wood surface is understandable.
You can use stencils to make sure that the inscribed looks as perfect as you imagine it and acrylic spray or paint.
36. Create Idyllic Atmosphere with a Wooden Slat Table Runner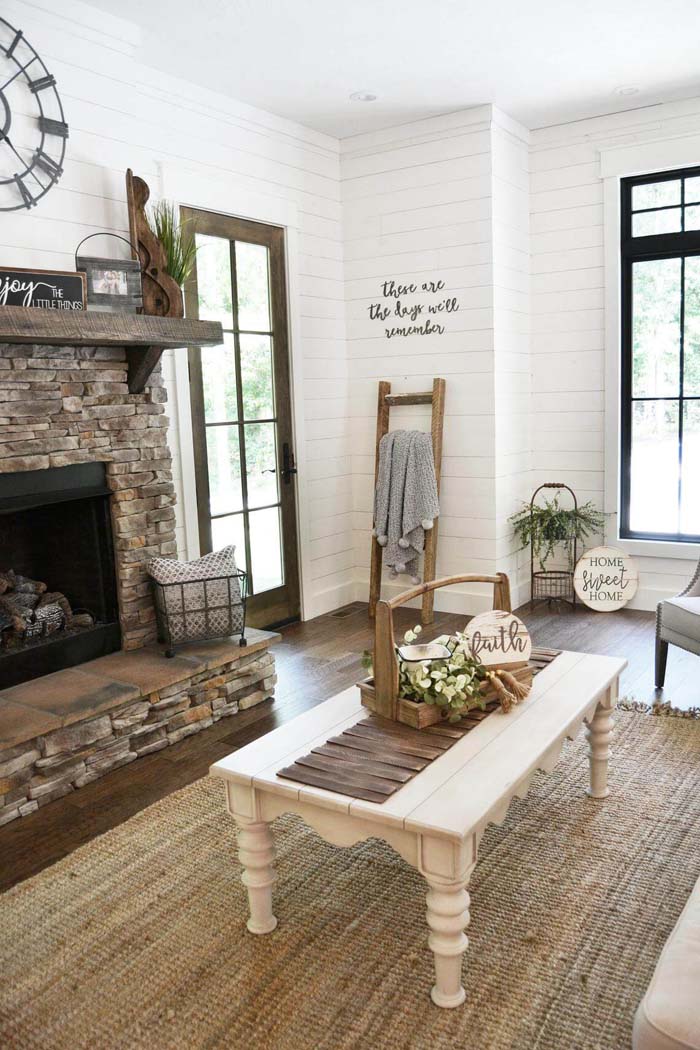 Table runners can be very rustic if they are made from slats instead of fabric. If you want to imprint a cozy vibe in your living room, add a slat runner to the table.
You can choose from four colors and various lengths to adapt it to your own table.

37. Accentuate a Vintage Coffee Table with Rustic Accessories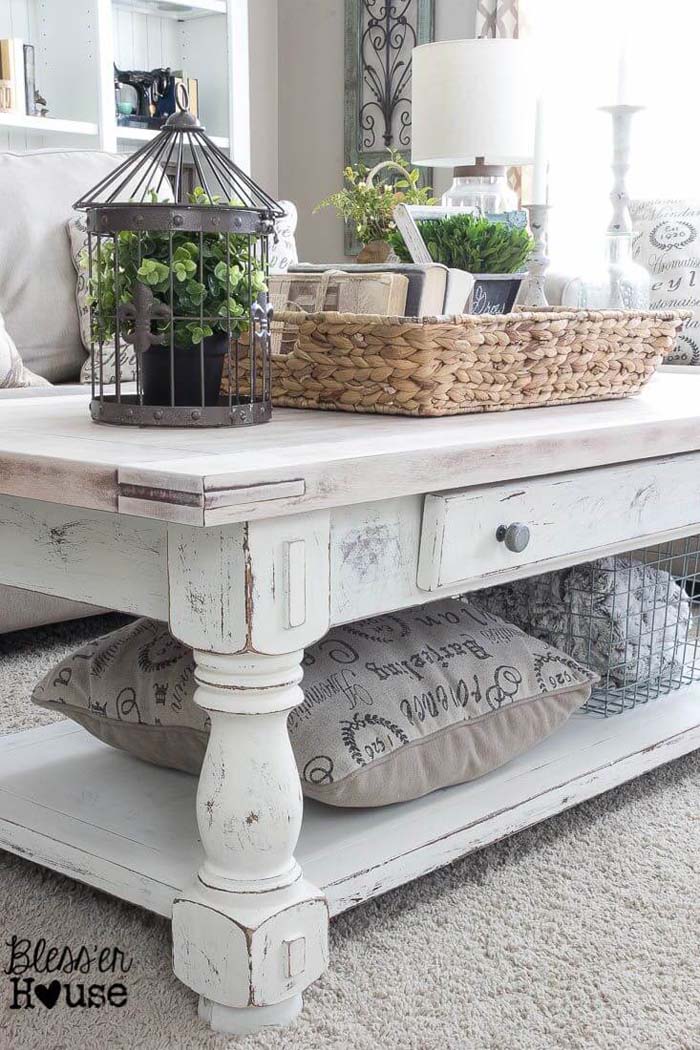 Looking for decorations for your rustic coffee table? Rattan or wicker baskets, metal birdcages, lanterns, candles, a pile of books, clay or clear vase with flowers, greenery, the variants are many. You can use them separately or create a personalized arrangement.
If there is a storage surface underneath the tabletop, you can use it to store a throw or metal basket with small items that enhance the farmhouse vibe.
via Bless'er House
38. Embrace Shabby Chic Style with a Multifunctional Couch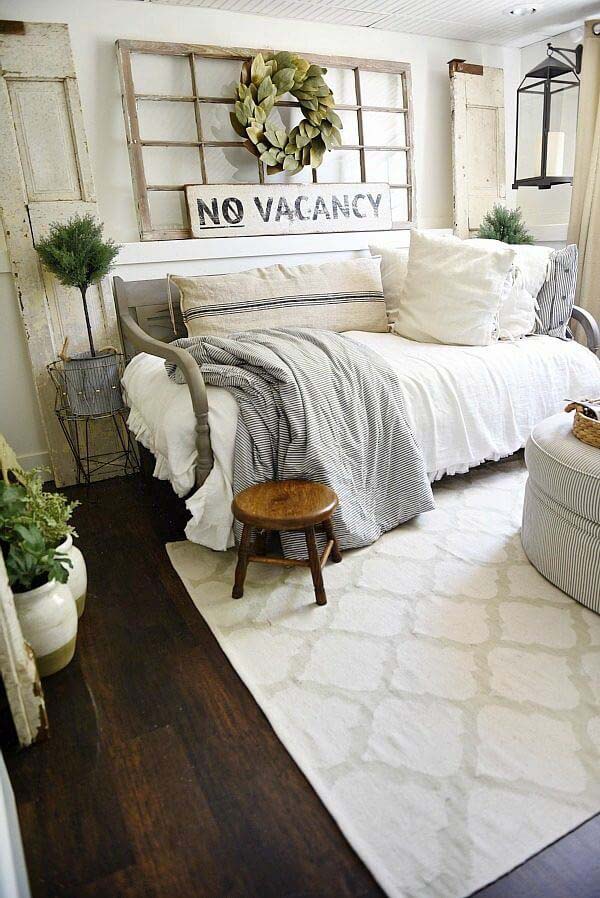 Welcome the shabby chic in your living room with a couch acting as a daily bed thanks to soft blankets and pillows.
Their colors and textures match the Morrocan rug set over the beautiful dark wood floor. Clay vases repurposed windows acting as decoration, green plants and vintage stands to anchor the farmhouse style in this bright living room.
via Liz Marie Blog
39. Add Character to a Living Room with a Chalkboard Wall Art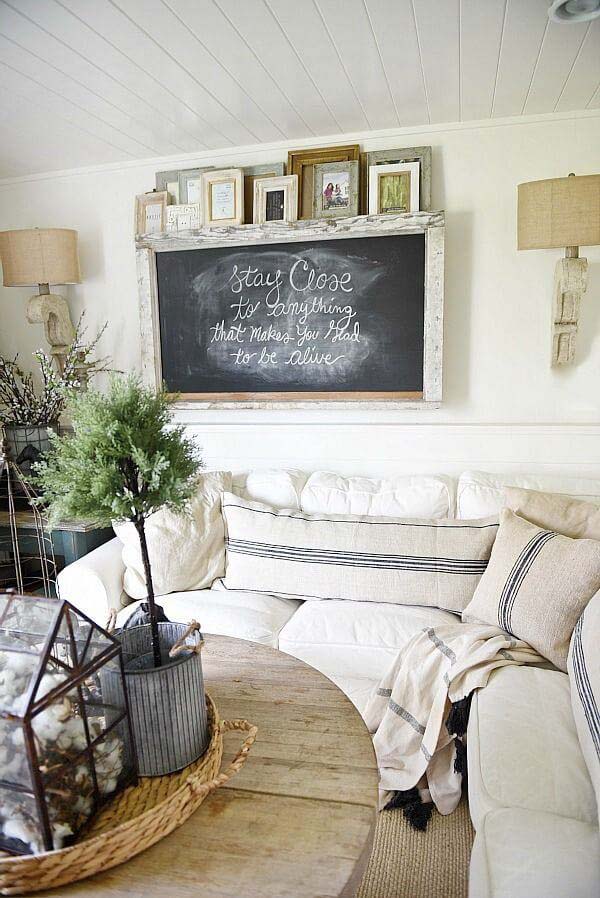 One of the best farmhouse decor for the wall above the sofa is the chalkboard signs. This idea gives you more than that- it lets you change the inscriptions when you wish.
Grab a vintage frame and board. Paint the board with black chalk paint and let it dry. Once the paint cures, you can leave favorite phrases and quotes there.
via Liz Marie Blog
40. Add Warmth with a Wicker Tray and Fall-Inspired Accents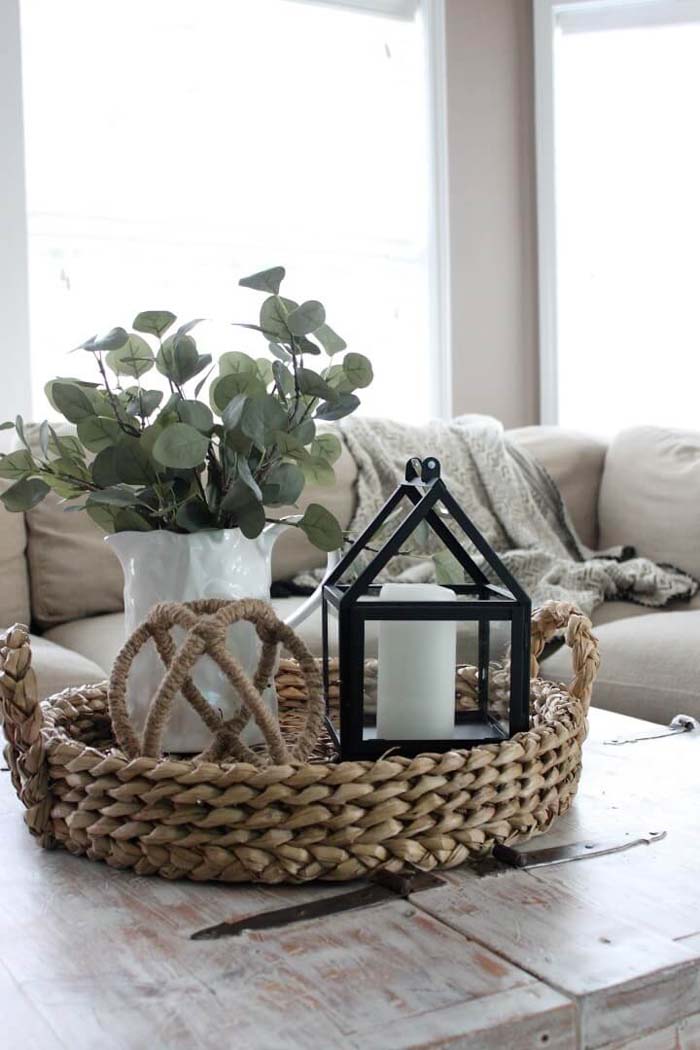 Accentuate your farmhouse living room decor idea with a wicker tray. Use typical farmhouse elements such as a lantern, a vase with green leaf twigs, a pumpkin.
The arrangement is very simple but the colors and textures of the items spread calmness and warmth. If you are looking for a more permanent plant option, use faux greenery.
41. Brighten Farmhouse Decor with Snowy White Sherpa Pillows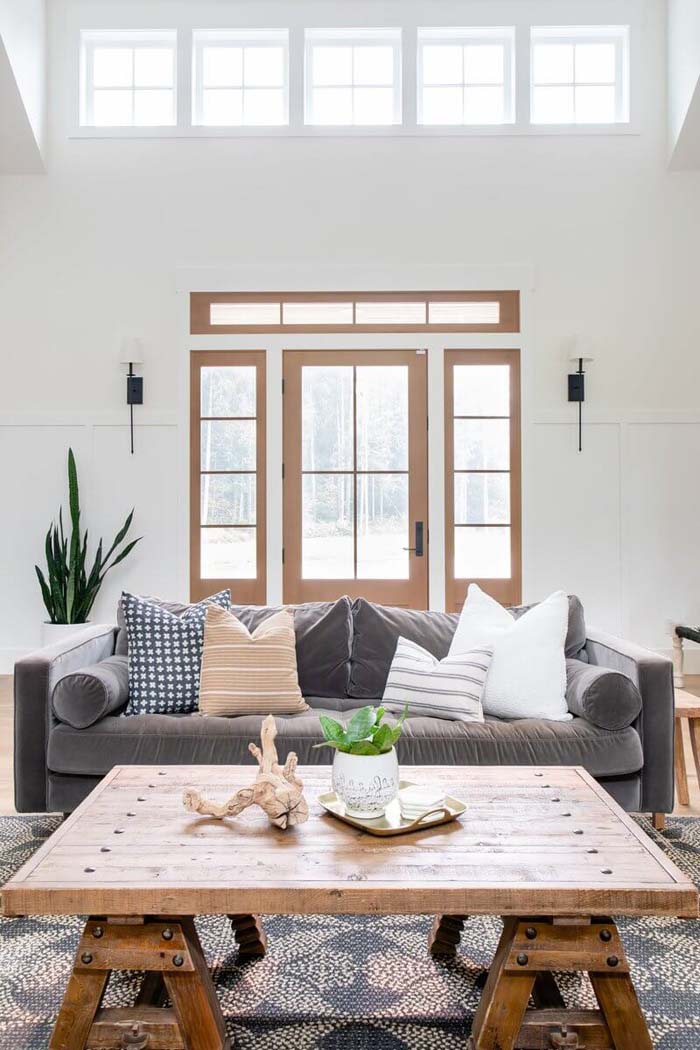 When it comes to smaller accents in your farmhouse living room decor, you are not limited only to earthy tones. Snowy white Sherpa pillow will create a wonderful contrast to the existing neutral colors and will brighten up the space.
You can find this pillow in various sizes and combine it with other patterns and textures.
via Linen and Ivory
42. Create a Magical Atmosphere with Dark Farmhouse Decor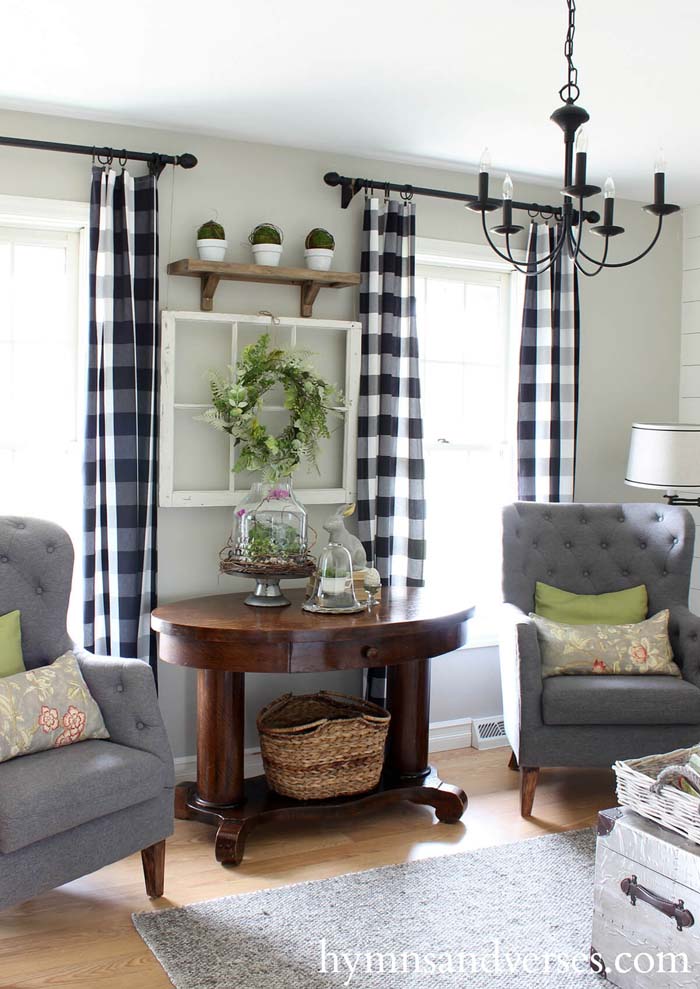 This is another great idea that farmhouse is not only white. The farmhouse also means black, dark grey, dark blue combined with the typical colors.
Create a point of interest in your farmhouse living room with buffalo plaid curtains hanging from black iron rods. Complement them with a black vintage light feature.
Fabric with a floral patterns makes the pillows cheerful and the atmosphere appealing.
via Hymns and Verses
43. Charming Handmade Round Tables Ideal for Small Rooms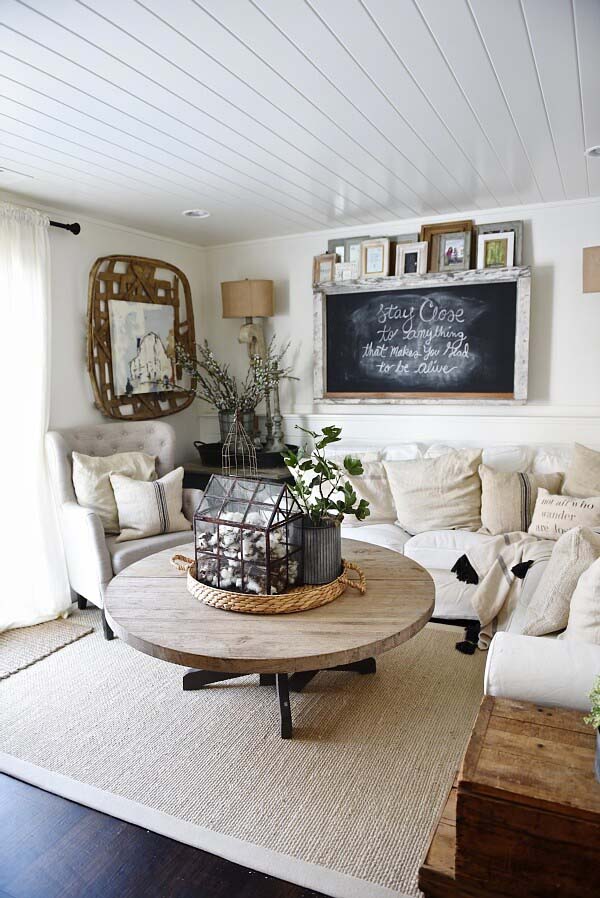 The round farmhouse tables are very charming. Usually, they are handmade from different leftover materials.
Its size is perfect for a smaller living room. A jute rug stays over a dark wooden floor and anchors the relaxing nook. The centerpiece reveals the personal touch involved in its arrangement. A wicker tray accommodates a glass house with a rusty frame closing cotton balls inside. A galvanized tin continues the natural farmhouse theme.
via Liz Marie Blog
44. Give a Home a Makeover with White Dipped Blanket Ladder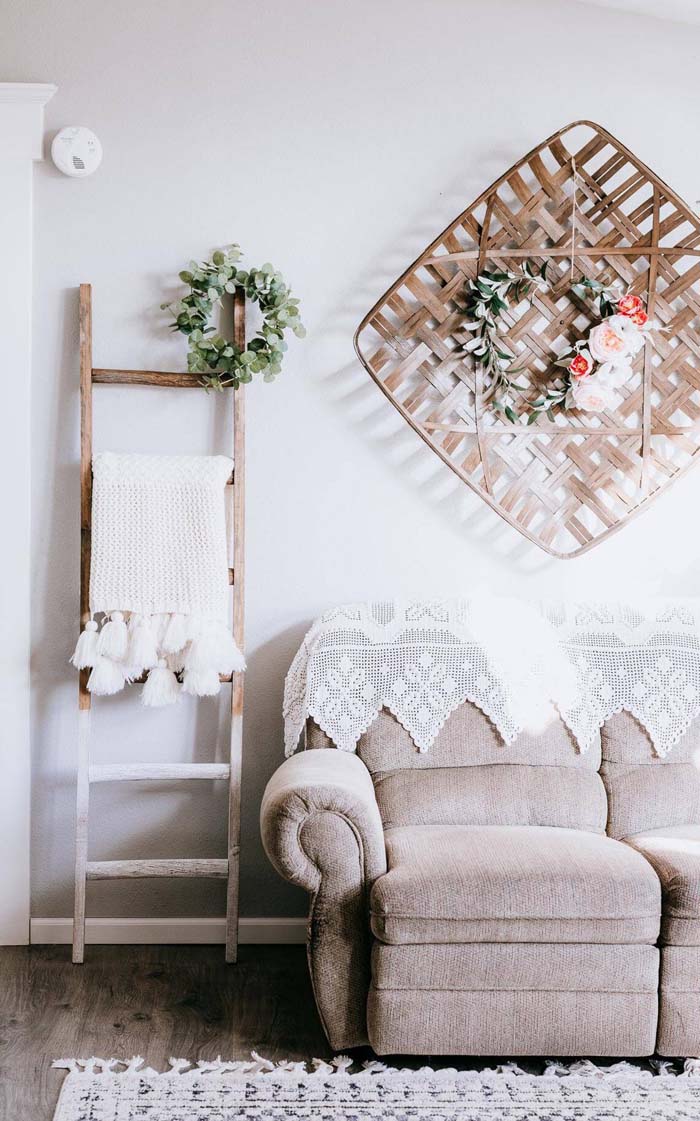 Enhance the cozy vibe of the living room with a farmhouse ladder displaying blankets. This repurposed item lets you access the soft throws easily and keeps them well maintained and organized.
The ladder makes more than just storing the blankets. Leaned against the wall, it adds an outdoor element to the indoors spreading the basic charm of the countryside.

45. Farmhouse Living Room with Customized Table Centerpiece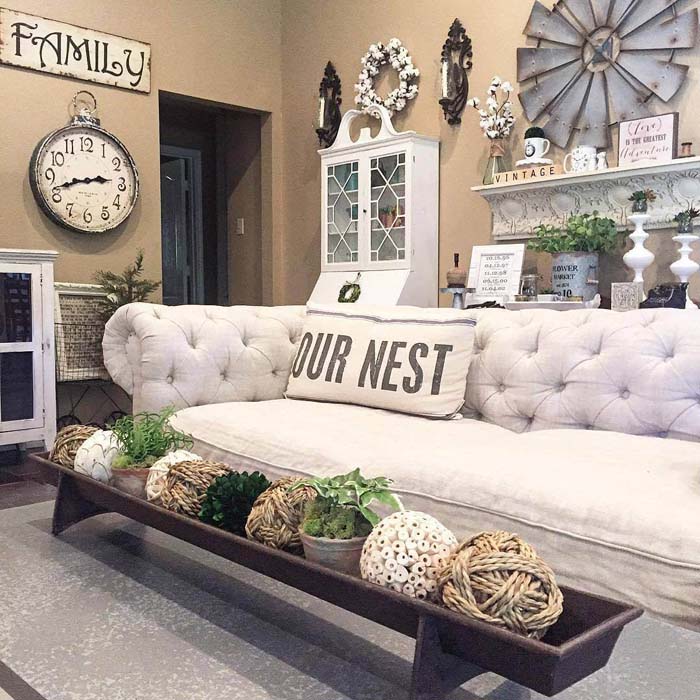 This rustic farmhouse living room idea is so amazing! The white tufted couch seems to be very comfortable. When sitting on it a customized table centerpiece reveals.
Twine balls, green plants and balls from other natural materials alternate to create a breath-taking farmhouse accent. When we take a look at the surrounding decor, we find unique antiques that enhance the farmhouse feel.
46. Personalized Wood Slat Sign with Cinnamon Weathered Look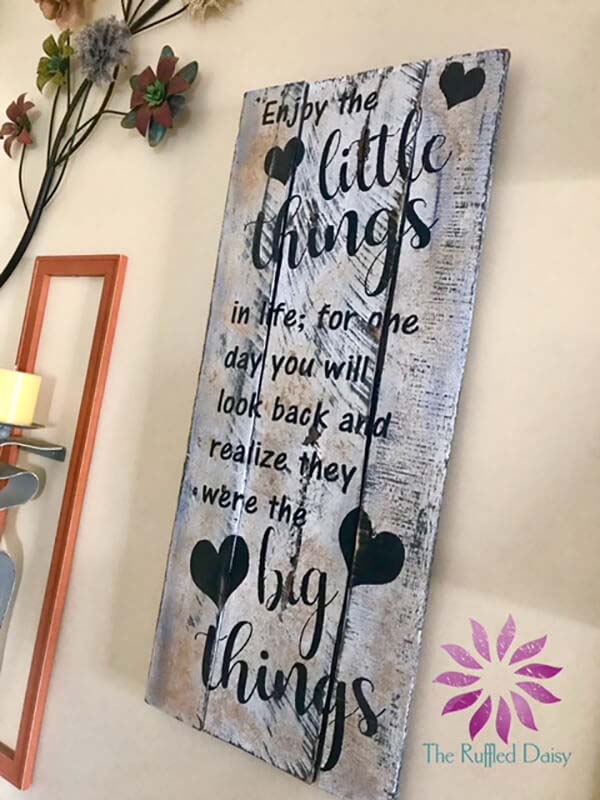 Personalized decor pieces such as signs are always a good way to liven up the living room decor. This DIY farmhouse living room decor idea represents a wood slat basis given a weathered look thanks to the blending of cinnamon with white paint.
The cinnamon gives the background a brownish hue as if this is part of the wood texture. You can customize the piece with a favorite sentence or a sentimental saying you would like to see every day.
47. Upcycled Side Table Steals the Show with Antique Design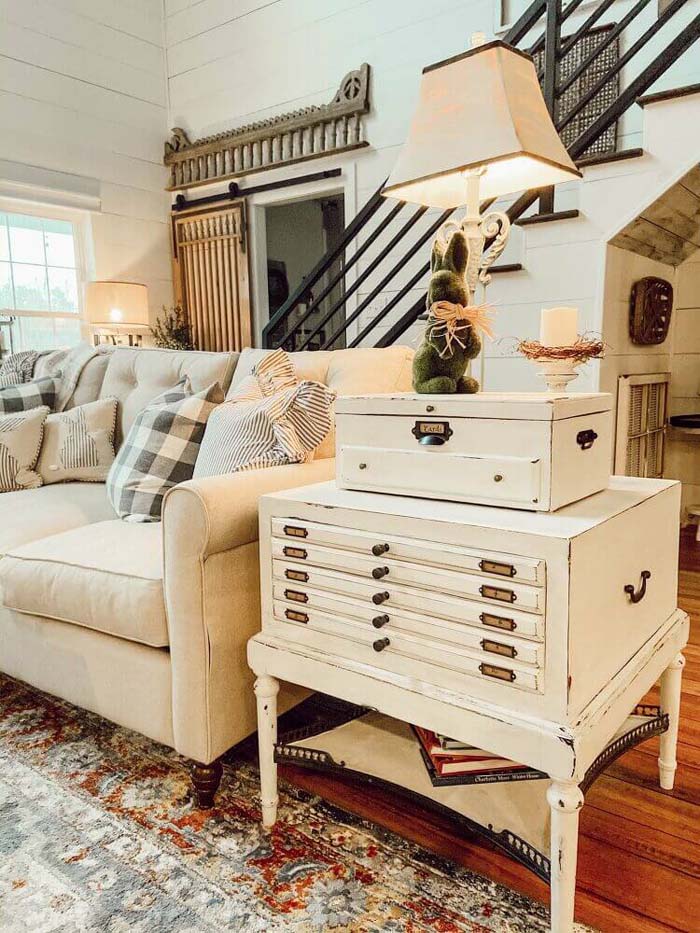 The authentic look of the decorations in this rustic farmhouse living room makes it so special and unique. The upcycled side table is of a fascinating antique design which instantly turns it into the focal point of this farmhouse-style living room.
It is a fun fact that this side table has never looked like that. Originally, it was a dull side table. With some upcycling and repurposing of existing pieces of furniture, it transformed into a one-of-a-kind piece mixing vintage and industrial.
48. Get Instant Cozy Look with a Vintage Distressed Coffee Table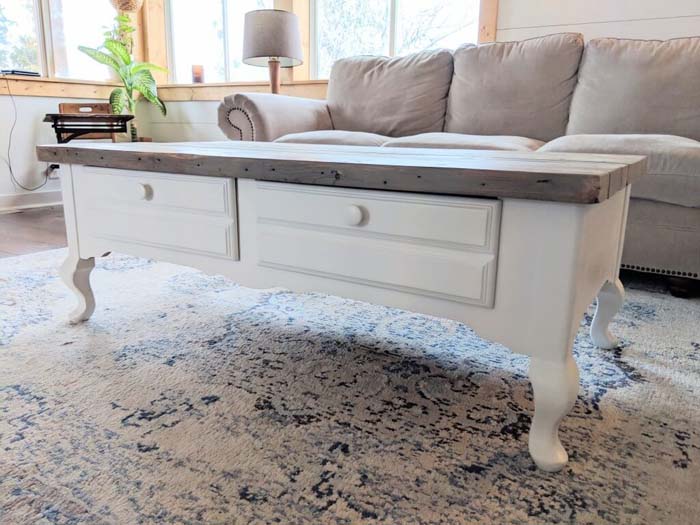 If you want to add an impacting piece of farmhouse decor, do it with a vintage-inspired coffee table. This one has been taken from a thrift shop in a sturdy condition.
To give it a more rustic farmhouse look, the author has decided to replace the original tabletop with a reclaimed surface. A combination of 2×6 and 2×4 reclaimed boards cut at the size of the table make a stable surface. The grey distressed coat matches the existing furniture and accents and gives the piece a unique design.
49. Transform Your Living Room into a Cozy Farmhouse Haven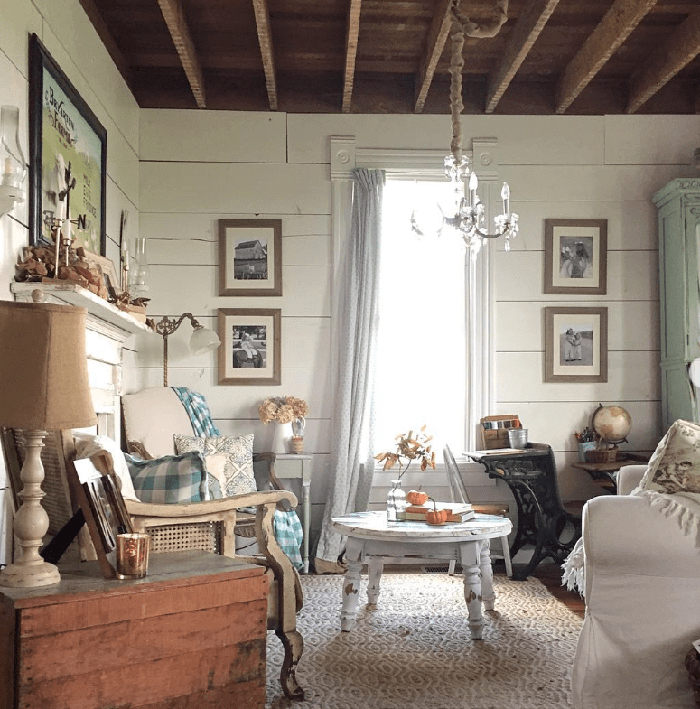 The farmhouse decor can be the predominant interior style of your living room. Distressed wood, vintage pieces of furniture, antique decor elements mix together to spread the coziness of the farmhouse living.
Neutral colors, natural textures and farmhouse fabric patterns work perfectly together and create a personalized interior where you can enjoy coziness and comfort.
via Bryarton Farm
50. Turn an Upcycled Door into Wall Decor with Rustic Twig Bag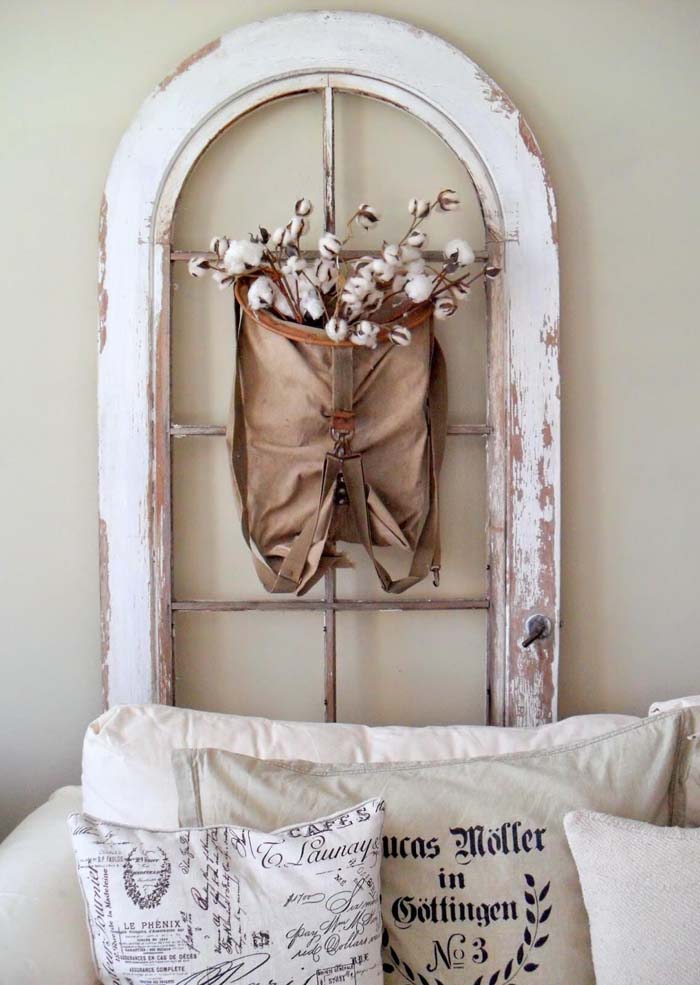 This simple idea makes an amazing living room decor! Repurposing an old weathered door into a wall piece of decor creates a unique rustic backdrop. Instead of a wreath or a pot filled with flowers, there is a burlap bag filled with cotton twigs.
The repurposed twig container is easy to be hung and creates an amazing welcoming feel.
via Must Love Junk
51. Warm and Inviting Fireplace Decor with Farmhouse Accents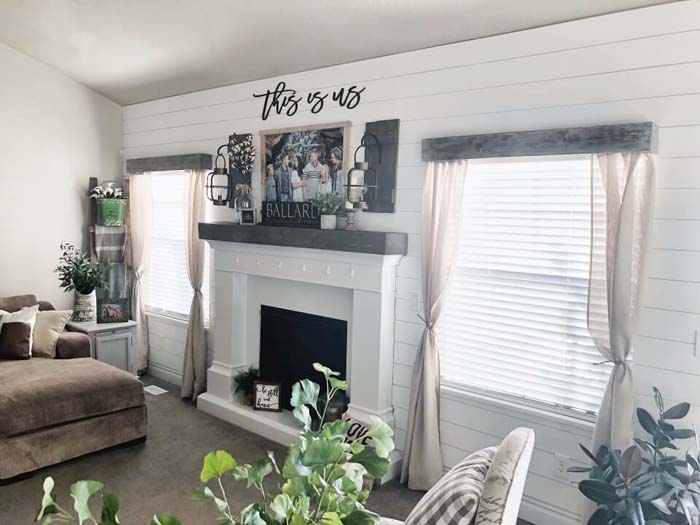 If there is a fireplace in your living room, it instantly plays the role of a central point of the room. You can decorate its mantle, the wall above it or both.
Because of the symbolism of the fireplace, the best elements to incorporate as decoration are personal items such as photos and accents enhancing the welcoming vibe.
Farmhouse style works best for these accents as it enhances their value. Use weathered photo frames, wreaths from natural materials, lanterns to create your homely fireplace decor.
52. Impress Guests with Upcycled Furniture and Natural Textures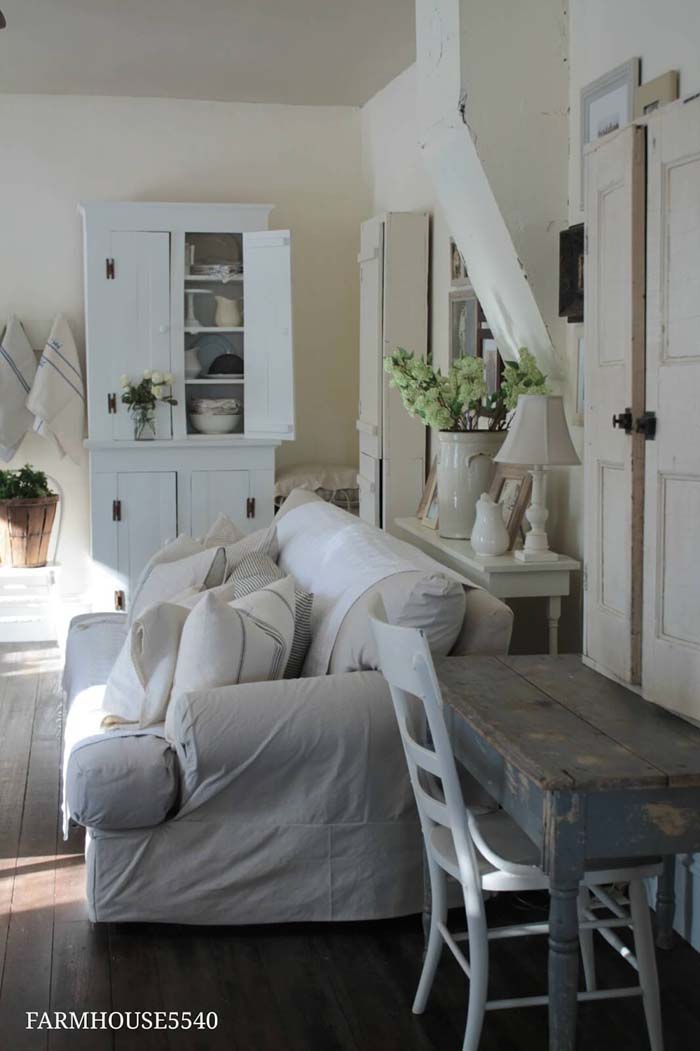 White color, natural fabric textures and weathered upcycled pieces of furniture- isn't that the coziest living room ever?
Use of old items that are given new application is a budget-friendly means to give a room a new look. The white color adds brightness and airiness and matches any kind of decor accents.
via Farmhouse 5540
53. Cherish Memories with a Wood-Framed Photo Display Corner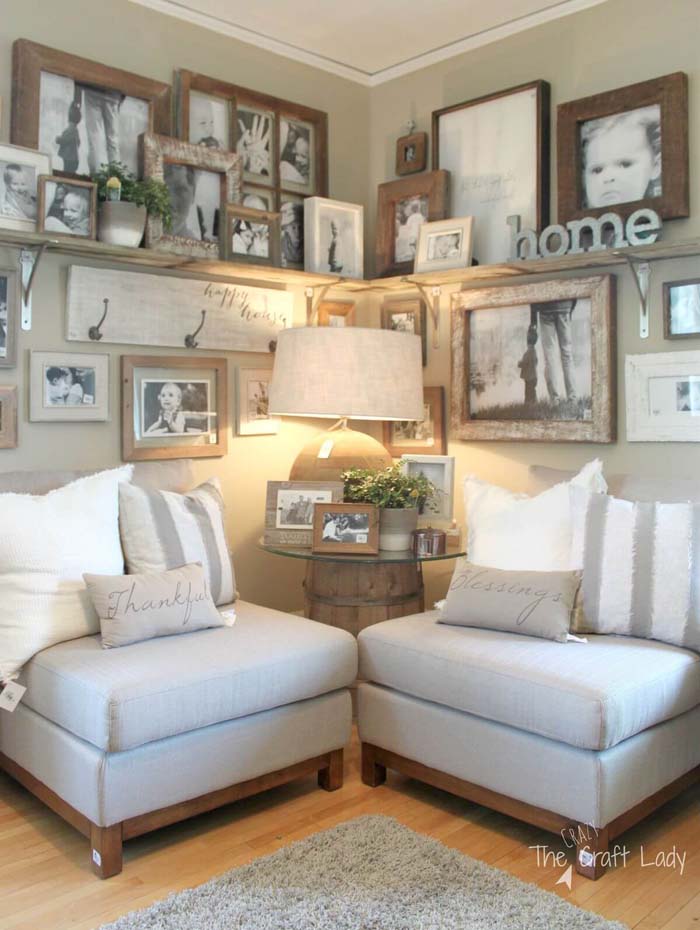 Turn the walls of your farmhouse living room into the canvas of your family story. Use wooden frames of different styles and sizes to preserve the special memories of the periods in your life.
You can leave all frames their authentic look or unite them by giving them the same surface finish.
54. Add Glamour with a Wooden Bead Garland with Tassel Tag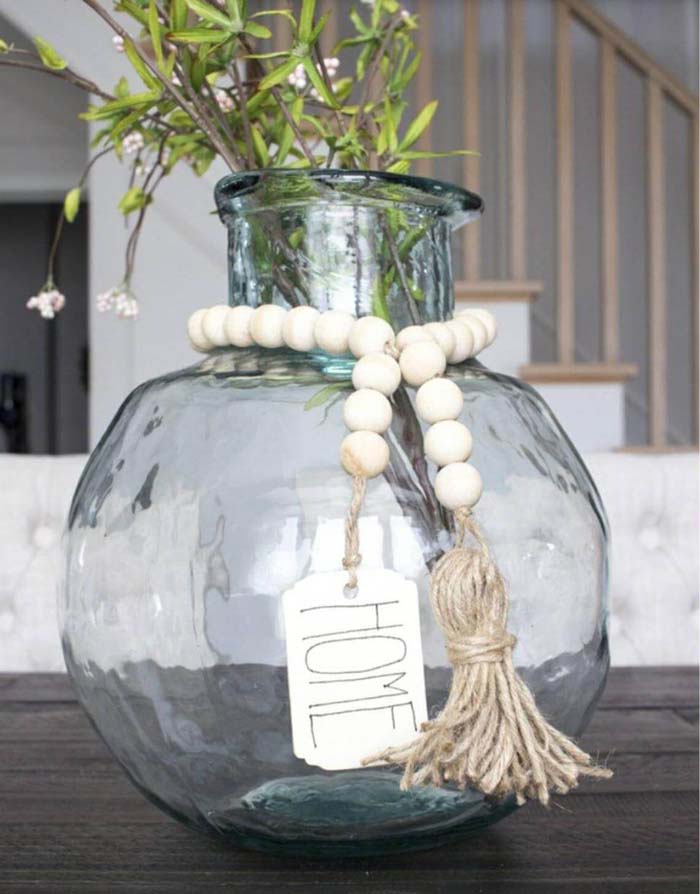 Decorate a simpler vase or planter with a piece of rustic jewelry. This handmade necklace is made from wooden beams in its natural blonde color. One of its ends is finished by a twine tassel and the other holds a charming tag praising home.
This type of farmhouse bead garlands can be twisted around various items or be stretched on the wall acting as a frame of a farmhouse wall decor.

55. Get Creative with a Simple Painted Mason Jar Centerpiece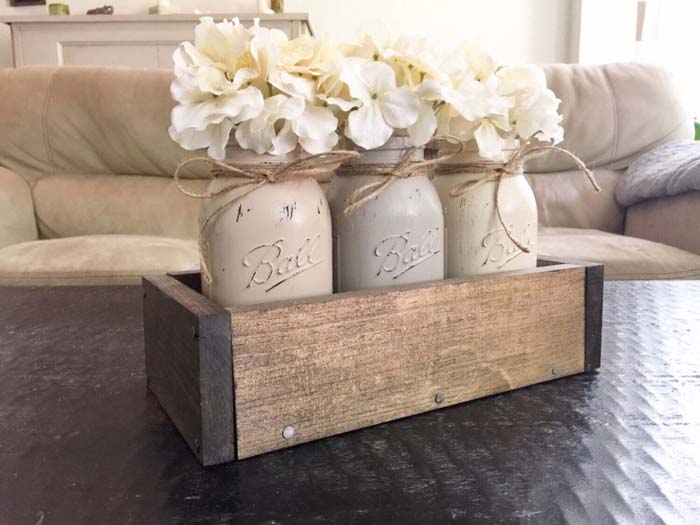 This is one of the easiest and most impacting DIY rustic centerpiece ideas. If you are missing a piece of decor to place on a side or a coffee table, this set of Mason jar bases and a wooden box works perfectly.
All you need are pieces of reclaimed wood nailed in a box shape. Paint the jars with pastel chalk paints and sand the raised glass areas. Finish the vases with twine bows and beautiful hydrangea cuts.
56. Enhance Your Farmhouse Living Room with a Wooden Shelf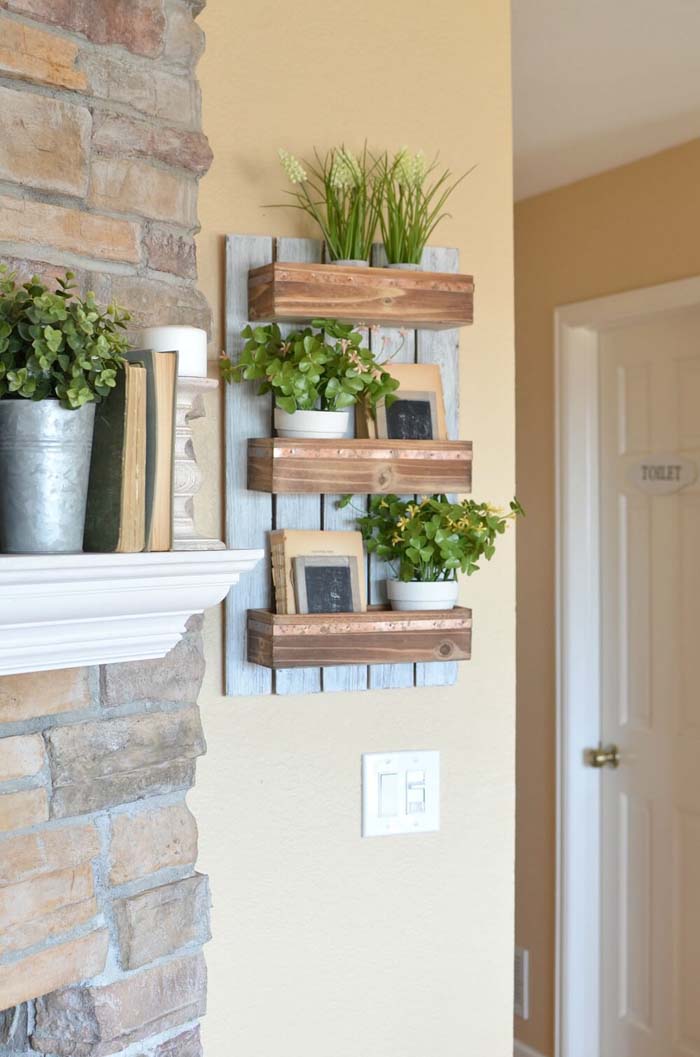 This handmade farmhouse shelf works perfectly for narrow blank walls. White wooden planks create the back for three box-shaped shelves decorated with plants and chalkboard signs.
They add some interest to the neutral color of the wall and cohere with the adjacent stone fireplace.
via Sarah Joy
57. Turn a Painted Milk Jug into a Rustic Wooden Table Base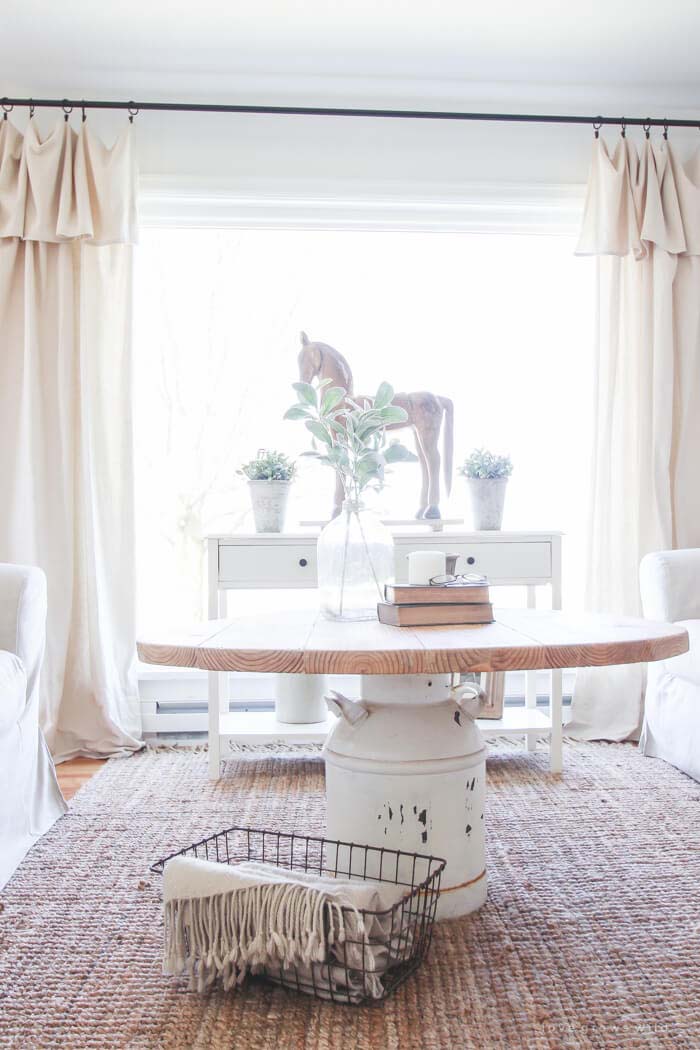 This unique handmade table is the perfect addition to a farmhouse living room. It is made from a vintage milk jug and a wooden round top.
Add a pile of books and a glass bottle holding fresh flower cuts or greenery. This small table can be used as a coffee table or a side table next to the sitting furniture. Add a basket with throws and pillows next to it to enhance the inviting vibe.
via Love Grows Wild