Window treatments are the most overlooked part of farmhouse decor.
Done well, they put the finishing touch on a casual, inviting space.
Whether you're going for a look that's simple and understated or bold and packed with personality, these rustic farmhouse window treatment ideas can help you find the best colors and fabrics for every room in the house.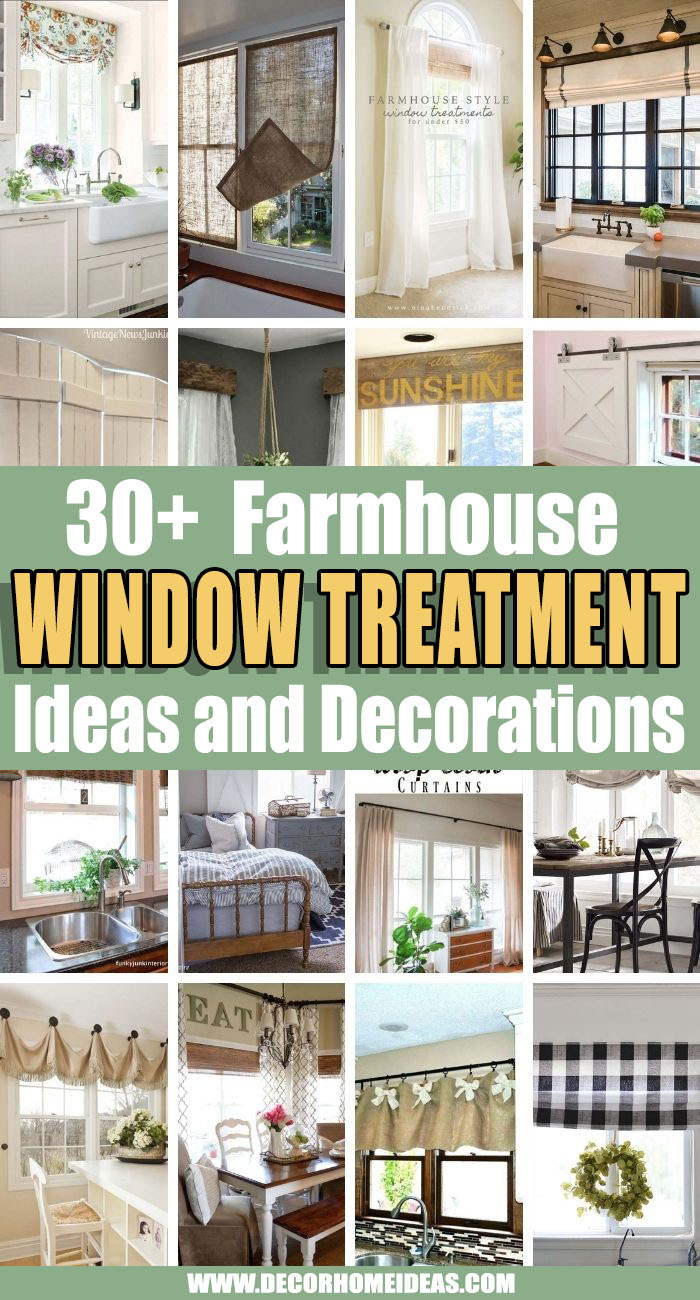 1. Retractable Buffalo Check Roman Shade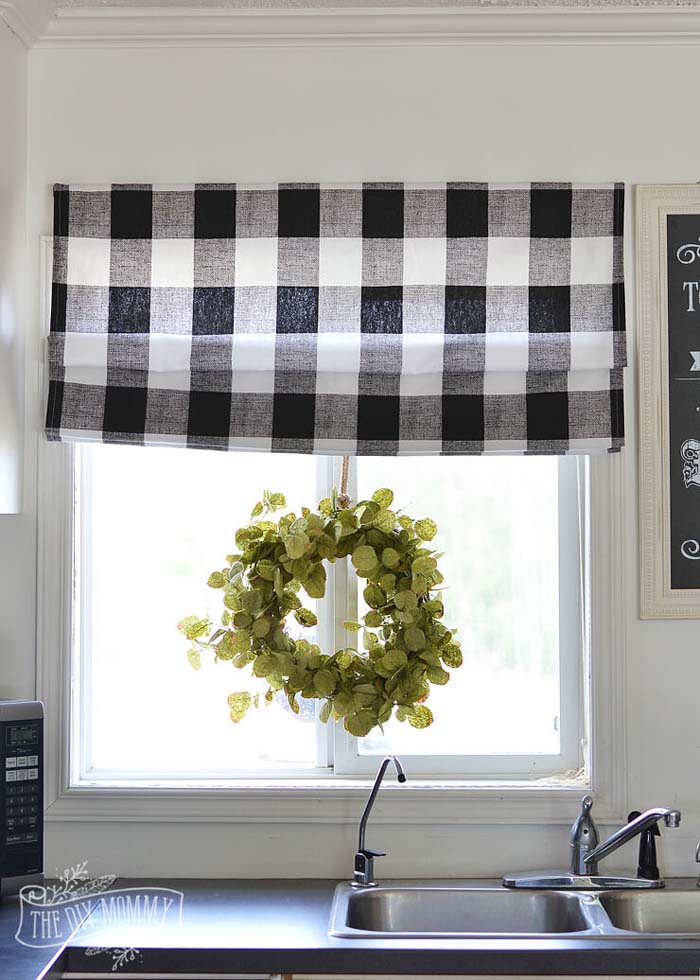 Classic buffalo plaid shades are a gorgeous way to bring texture and color into your home.
Here, simple black and white Roman shades add a contemporary twist that's perfect for a modern farmhouse design.
For a more cabin-inspired vibe, you might choose a red version; for a country twist, look for blue and white buffalo checks.
via The DIY Mommy
2. French Farmhouse Burlap Stenciled Valance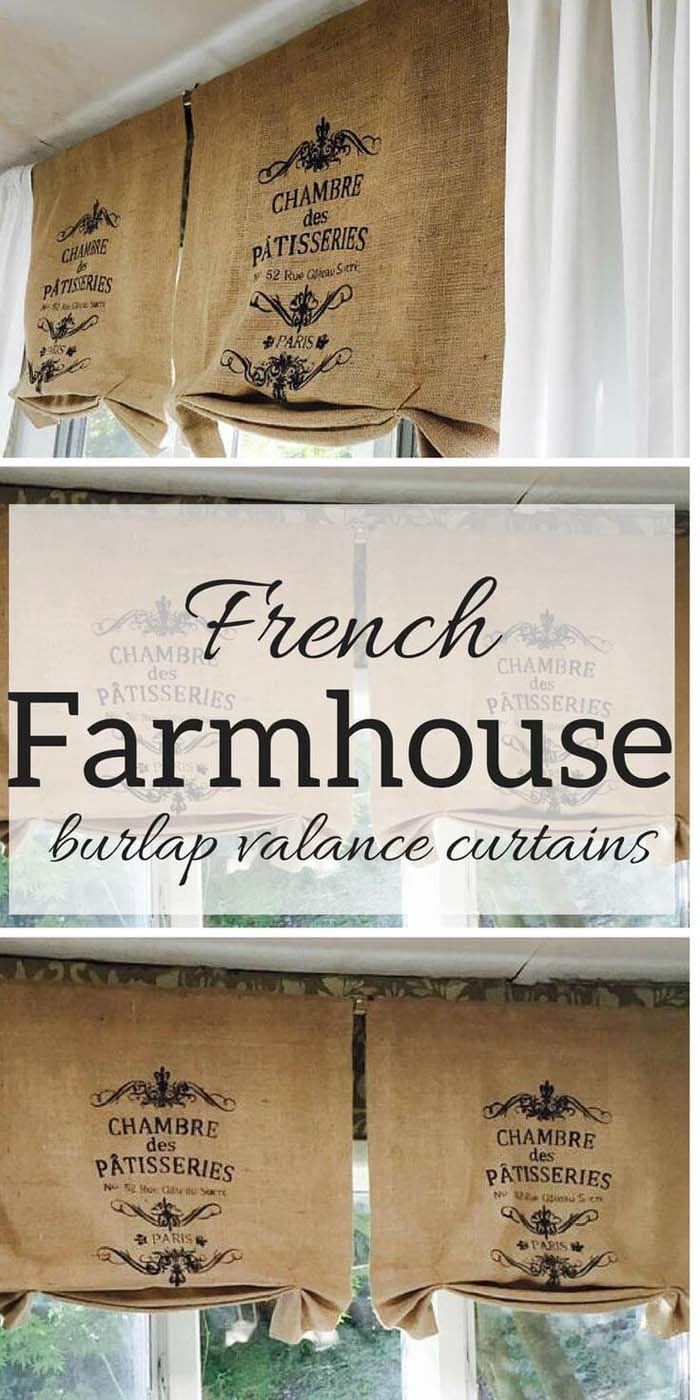 Are you looking for a way to bring your personality into your window treatments?
Make your own valances out of rustic burlap fabric. A vintage French print adds an unexpected touch of charm — you can even make it yourself using fabric paint and a stencil.
This style blends homespun style with a hint of worldly flair for a truly unique combination.

3. Trellis Print Curtains Add Height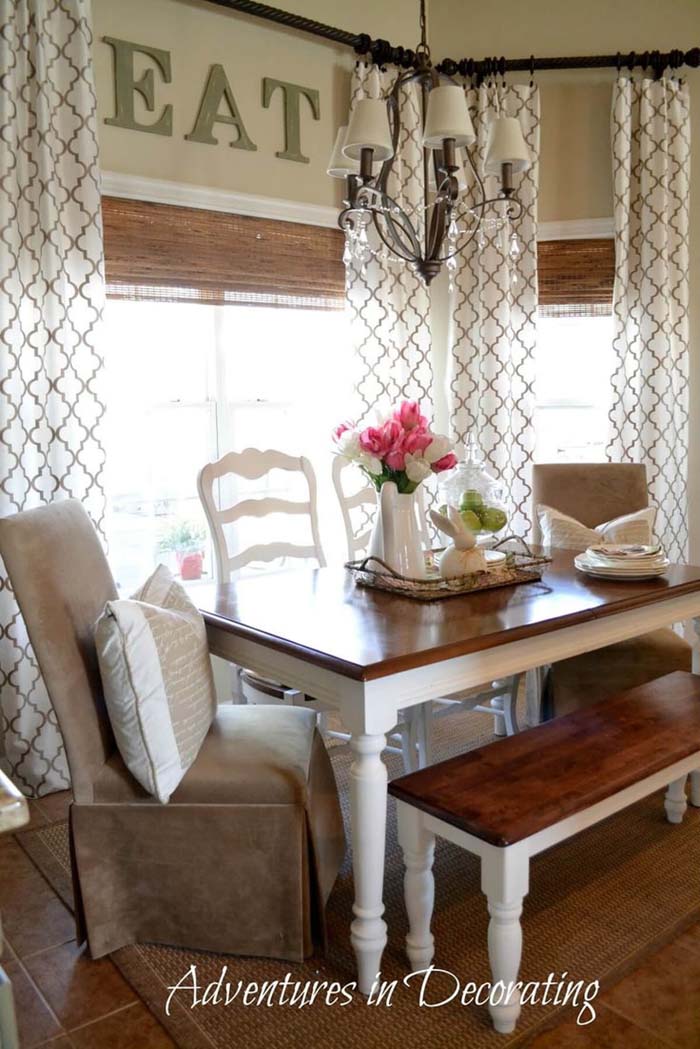 If your farmhouse is looking a little plain, curtains are a wonderful way to add a pattern.
A trellis print is a great choice; it fits in with the rustic and traditional elements in your home, all while adding a hint of contemporary farmhouse style.
To keep the space from looking crowded, choose a light-colored print on a classic white background.
4. Barn Door Window Covering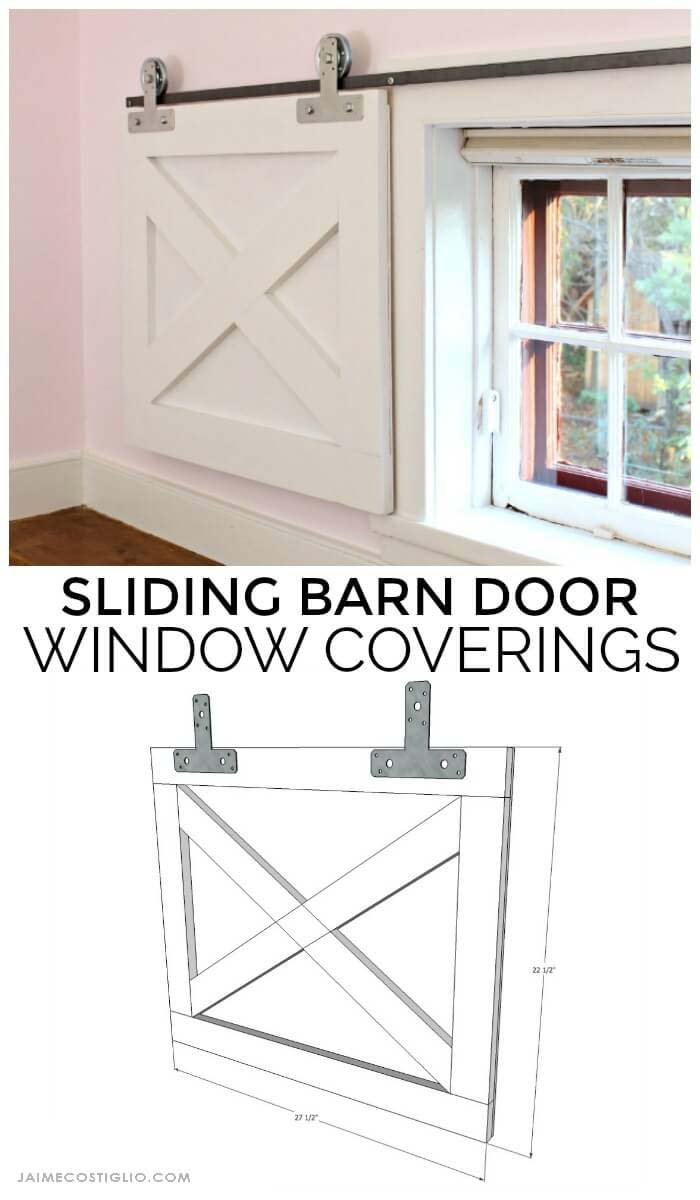 Who says window treatments need to be made from fabric?
This clever design replaces curtains with a small sliding door.
Using X-shaped accents and sliding hardware, you can add the beauty of a barn door without the bulk and expense of a full-size version.
via Jaime Costiglio
5. Burlap And Gingham Half Curtains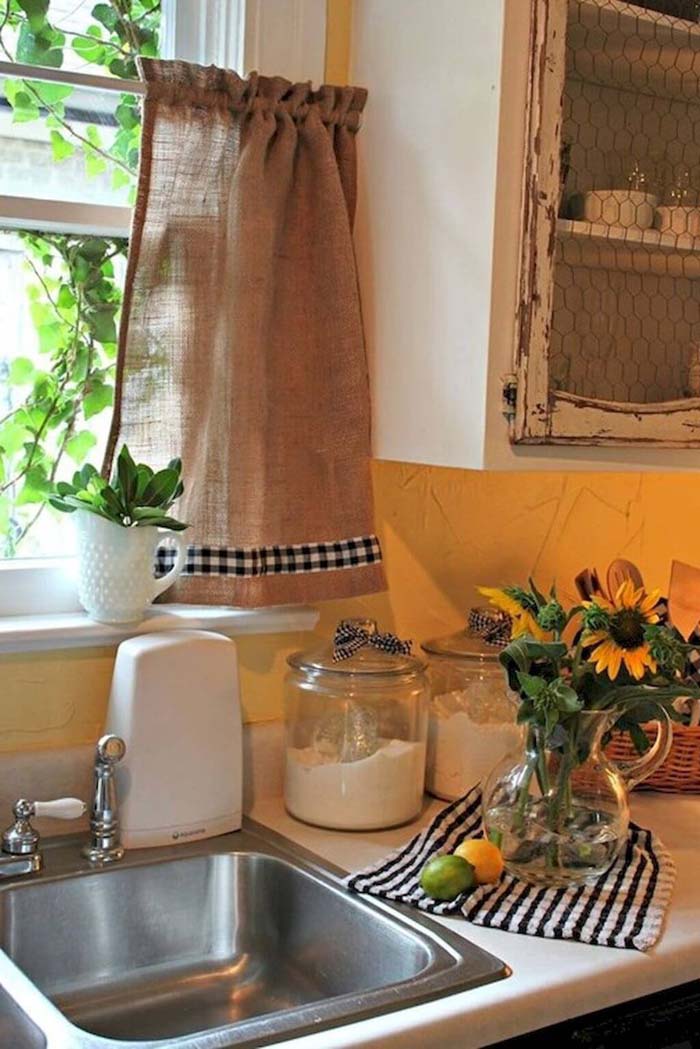 These curtains combine two popular farmhouse materials: burlap and gingham.
The texture of the burlap feels relaxed and casual, while the plaid trim brings a dynamic pop of pattern. The best part?
You can customize the drapes to match your existing color scheme for a cohesive look.
via Opulent Cottage
6. Burlap And Bows Kitchen Valance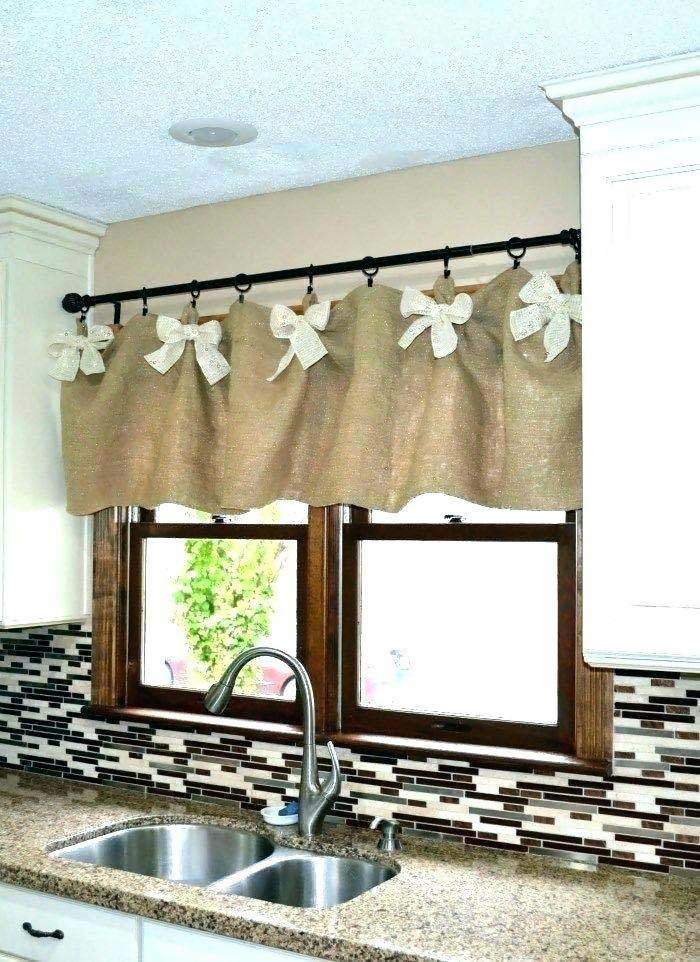 Farmhouse style is all about a combination of utilitarian materials and soft, lived-in surfaces.
If your kitchen is looking a little too modern, why not soften it up with half-drape window coverings?
Here, burlap curtains tone down a sleek backsplash, and adorable bows create a sweet, romantic finishing touch.
7. Wreath Completes A Window Treatment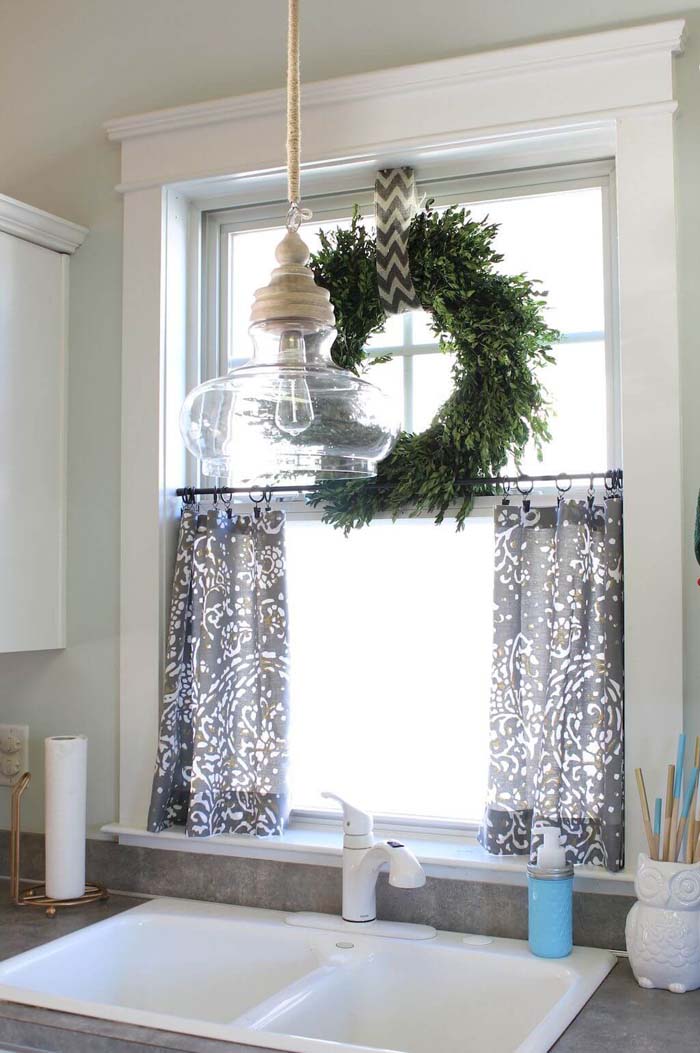 When you're decorating a modern farmhouse, color is the biggest challenge.
Soft gray paired with fresh green tones is a great way to maintain the minimalist vibe.
Add privacy to a kitchen window with soft gray café curtains; they look gorgeous next to a simple, leafy wreath. The result is bright, cheery, and sophisticated.
via Simple Stylings
8. Full Burlap Curtains With Holdbacks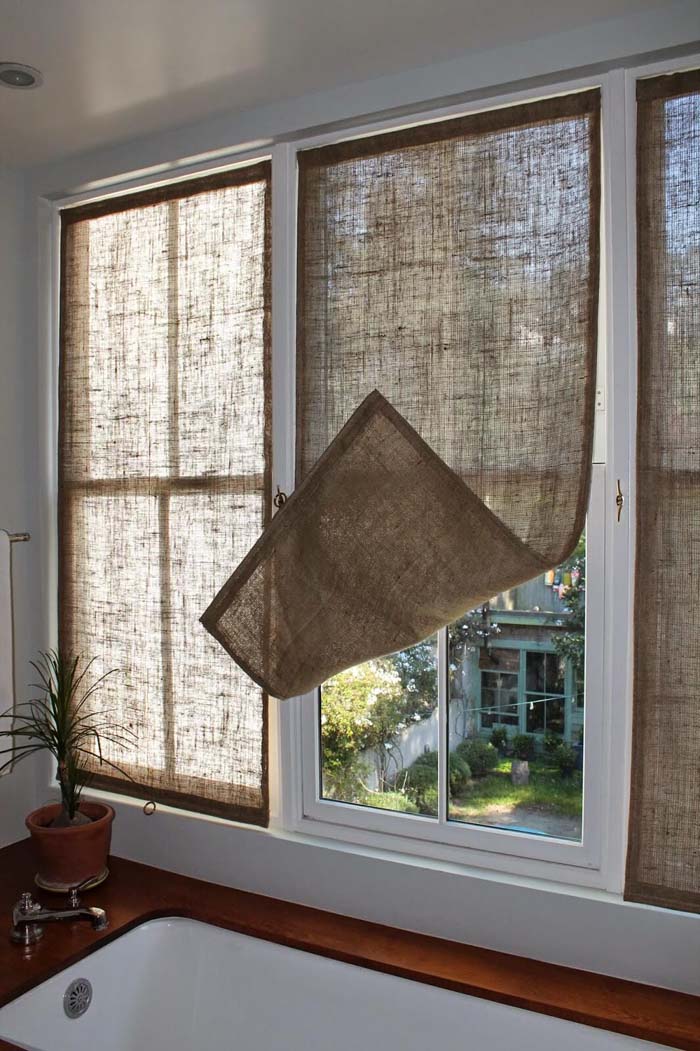 If you love the look of burlap but you want a more streamlined vibe, keep things simple with effortless window panels.
The simple rectangular shape showcases the natural texture without looking too fussy.
A metal loop on the bottom edge fastens over wall-mounted hooks to let in the light.
9. Natural Fabric Look With Drop Cloths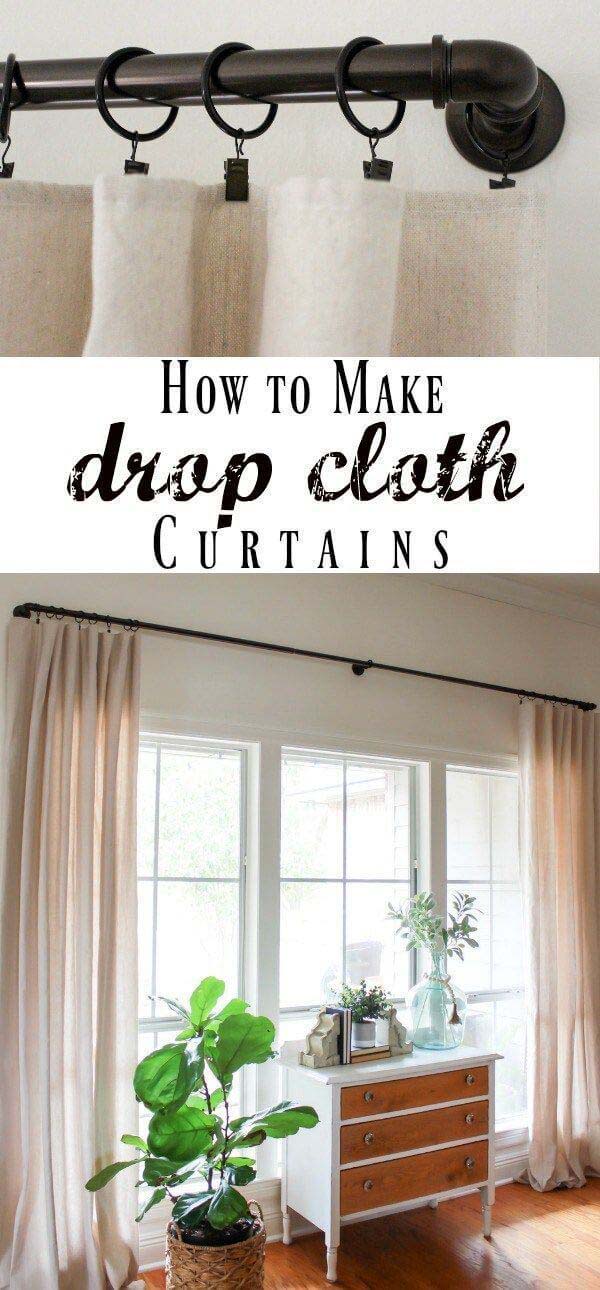 Fabric drop cloths are a great way to save money and create perfect farmhouse window treatments at the same time.
You don't even need to worry about sewing — just attach the top hem with drapery clips attached to metal rings. The color of the curtain rod could create contrast.
In minutes, you'll have a custom treatment that looks surprisingly sophisticated.
via Beauty For Ashes
10. Embellish Curtains With Tassels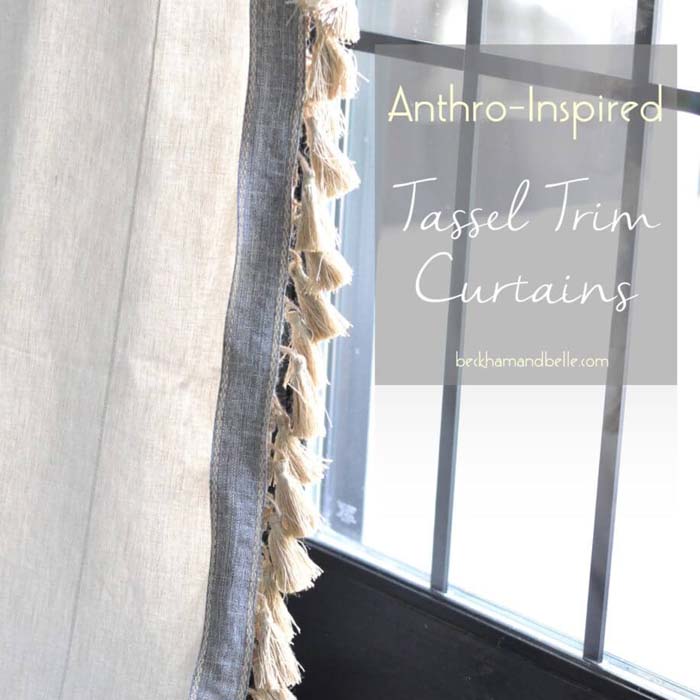 Is your home in need of texture and movement?
Don't break the bank on embellished drapes — create your own with a roll of affordable tassel trim from the craft store.
Sew it in place, cover it with contrasting ribbon trim, and you'll have drapery that looks like it came from an upscale boutique.
11. Add Pattern And Color With A Valance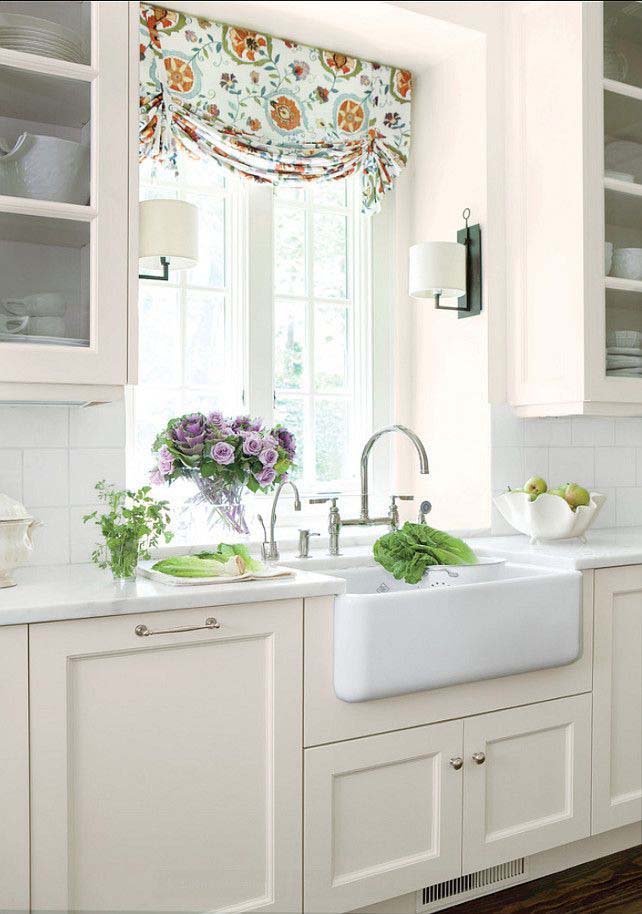 Bring a beautiful burst of color to your home with floral window treatments.
With so many different pattern options, it's a breeze to find one that matches your farmhouse decor.
Here, a modern interpretation updates a classic kitchen; if you're going all-in on vintage, look for traditional flowers.
12. Bold Knob Valance Hardware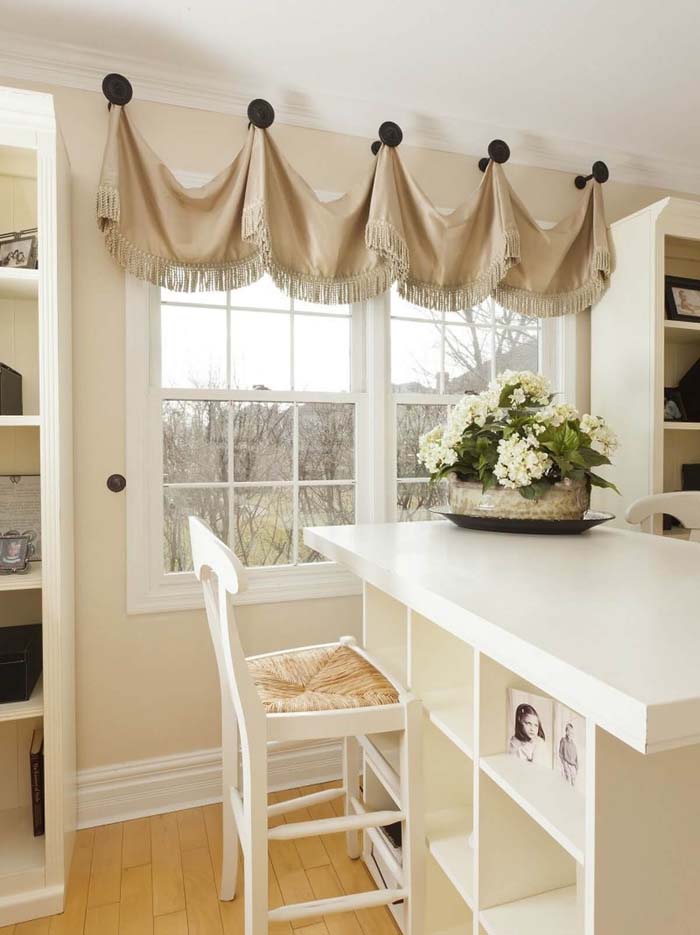 A window treatment is a great way to make a statement. Here, a row of large cast-iron knobs takes the place of traditional hardware.
Simply drape a fringed valance from the knobs to create soft folds with a stunning sense of movement.
13. Simple Striped Retractable Shade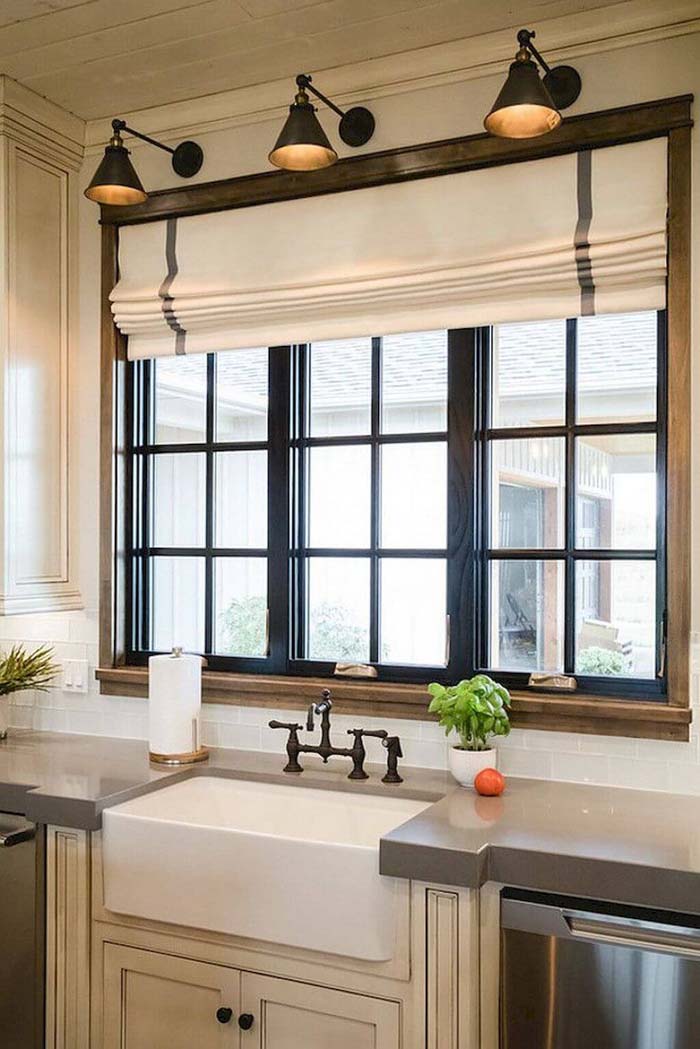 Roman shades are a wonderful way to combine style and simplicity.
This version folds into gentle gathers when you raise the shade, adding just the right touch of softness to a space filled with hard surfaces.
Two vertical lines help the shade blend in with the linear window panes.
14. Sheer Cottagey White Curtains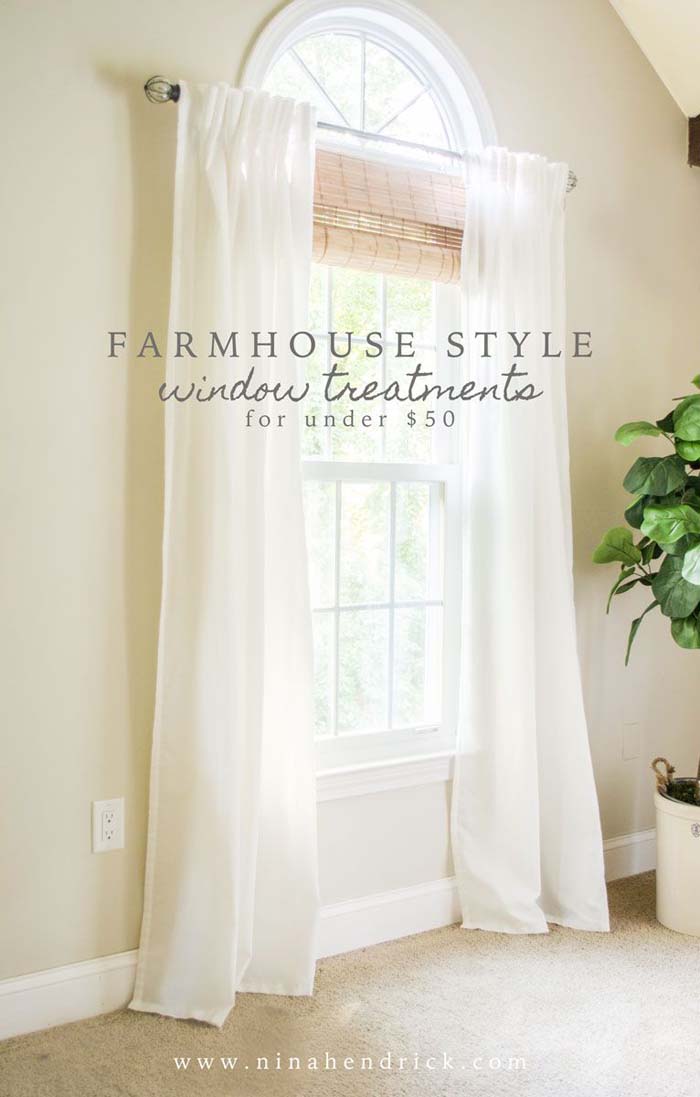 Maximize the natural light in a modern or traditional home with white sheers.
Sheer curtains give the light a diffuse, glowing quality that's beautiful in any setting.
To make your ceilings seem higher, mount the rod above the top of the frame.
via Nina Hendrick
15. Farmhouse Ribbon Tied Burlap Shade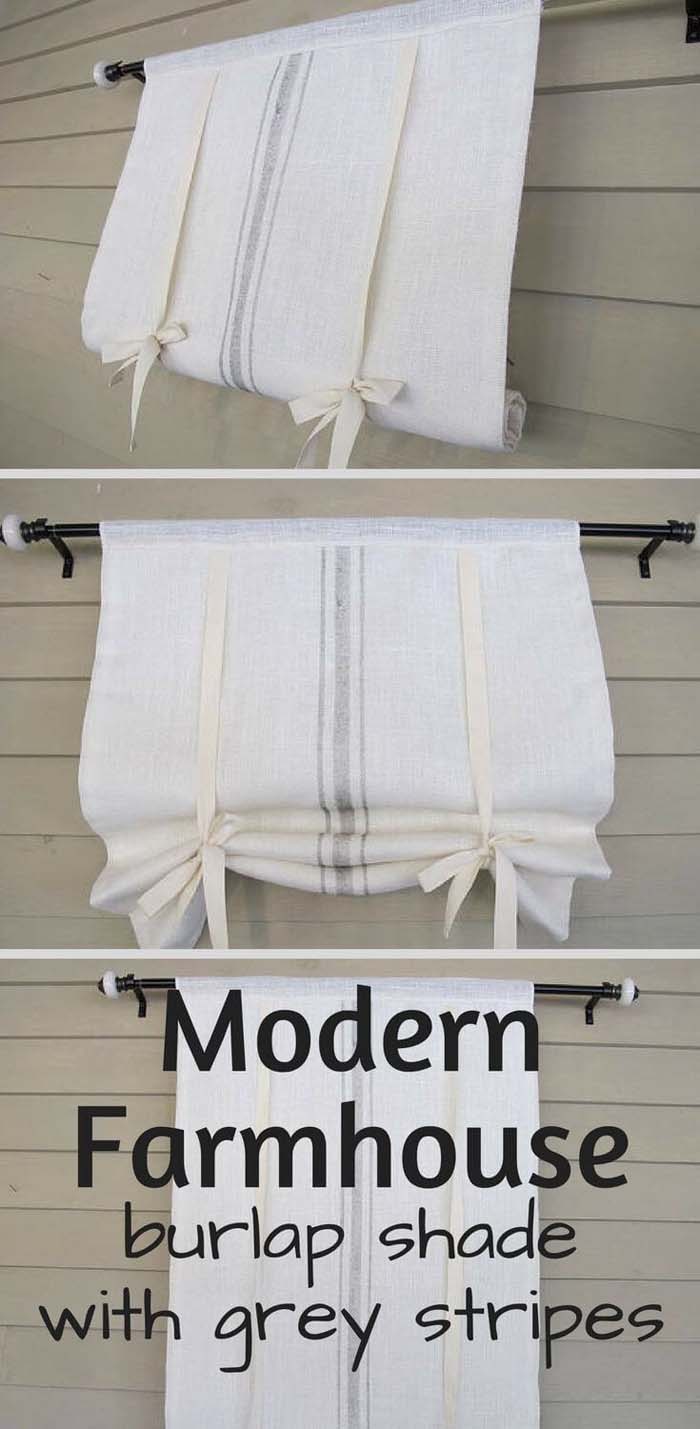 Did you know that burlap comes in different tones within a neutral color palette?
These gorgeous natural shades feature a white background with contemporary gray stripe accents.
Adorable ribbon ties balance out the streamlined design and make it feel softer.

16. Hang A Vintage Window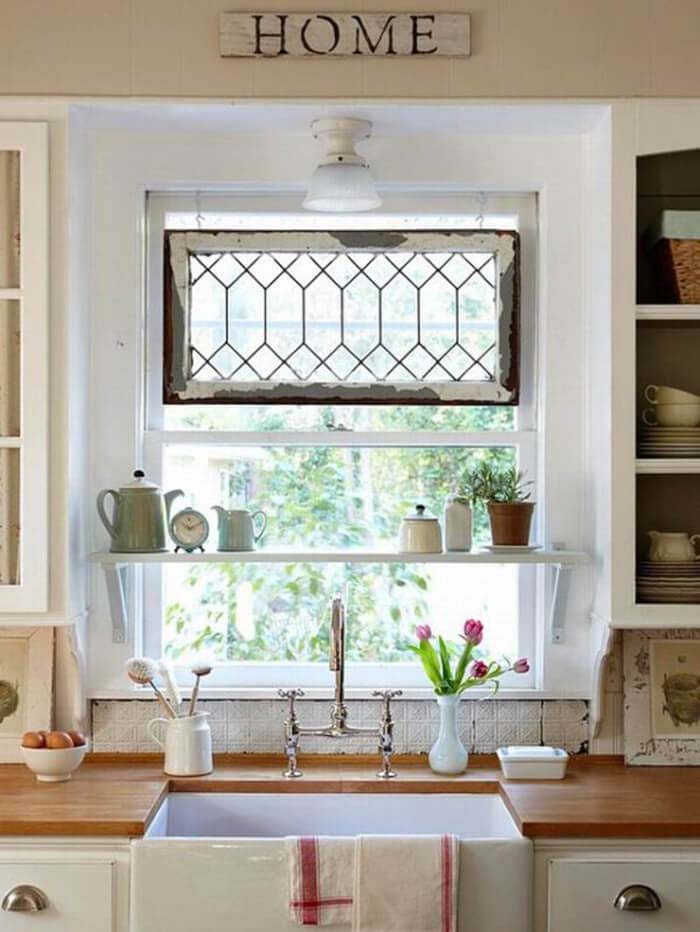 Leaded glass windows are not common in most new-construction houses, but that doesn't mean you can't enjoy their beauty. Instead of a typical valance, hang an antique window.
The rustic finish brings a vintage vibe to the room, and the clear glass allows natural light to flow through.
17. Rustic Board Décor Valance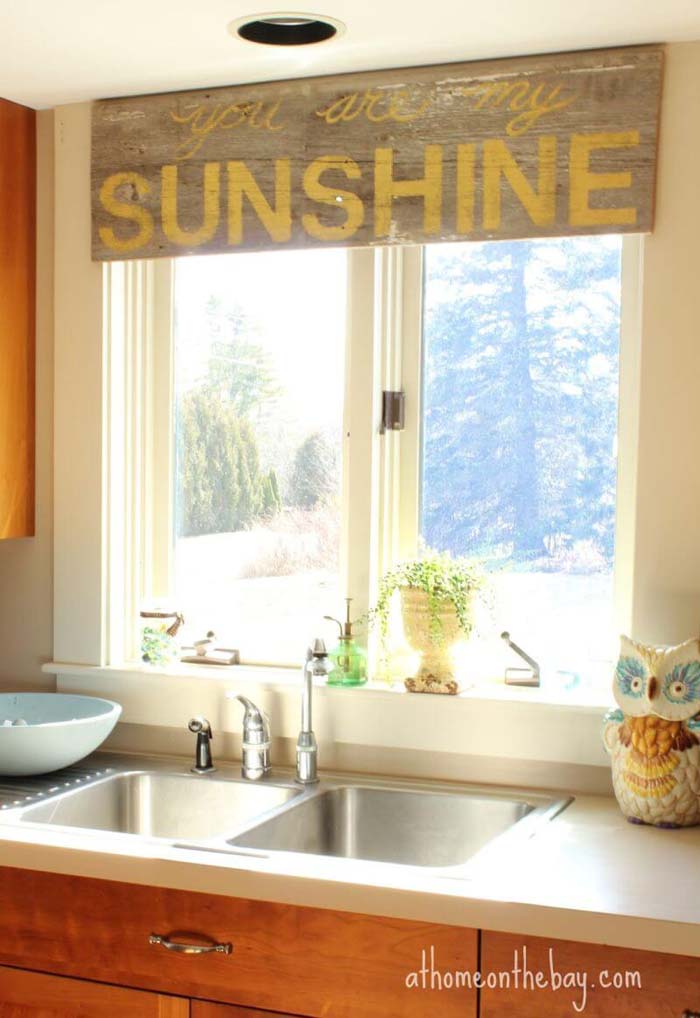 Here's another clever alternative to a valance — a rustic sign!
You can buy one or make your own with an old plank and a can of paint. The key is to use light colors and weathered wood to keep your room feeling bright and cheery.
18. Add Cottage Style With Ruffles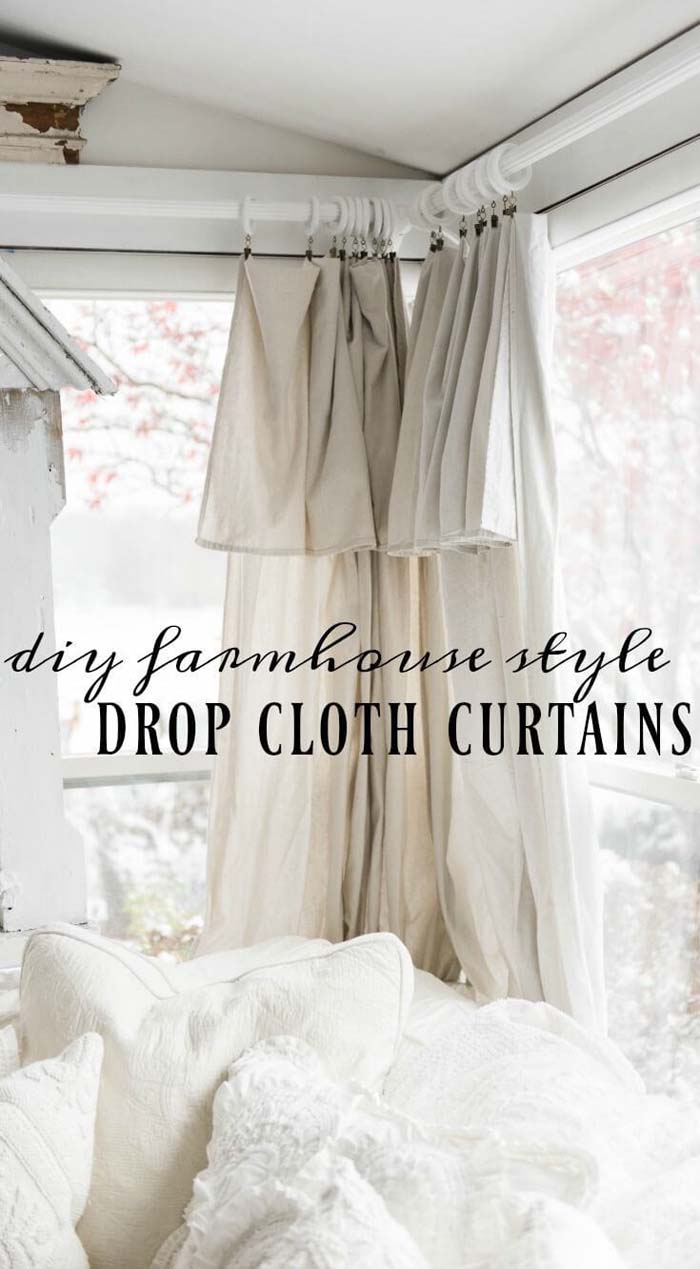 DIY curtains often require lots of sewing — unless you use a pre-hemmed painting cloth.
To give your window treatment a more custom vibe, fold over the top edge to create a ruffle.
Add a few clip rings, and you're ready to hang the new curtains.
via Liz Marie Blog
19. Ethereal Sheer Overlay Drapes

If your style is traditional and feminine, lace is the perfect accent. The best part?
You can add lace panels to your existing window treatments for a budget-friendly upgrade. For extra texture, gather the lace panel to the side.

20. Dark Wood Box Valance With Lace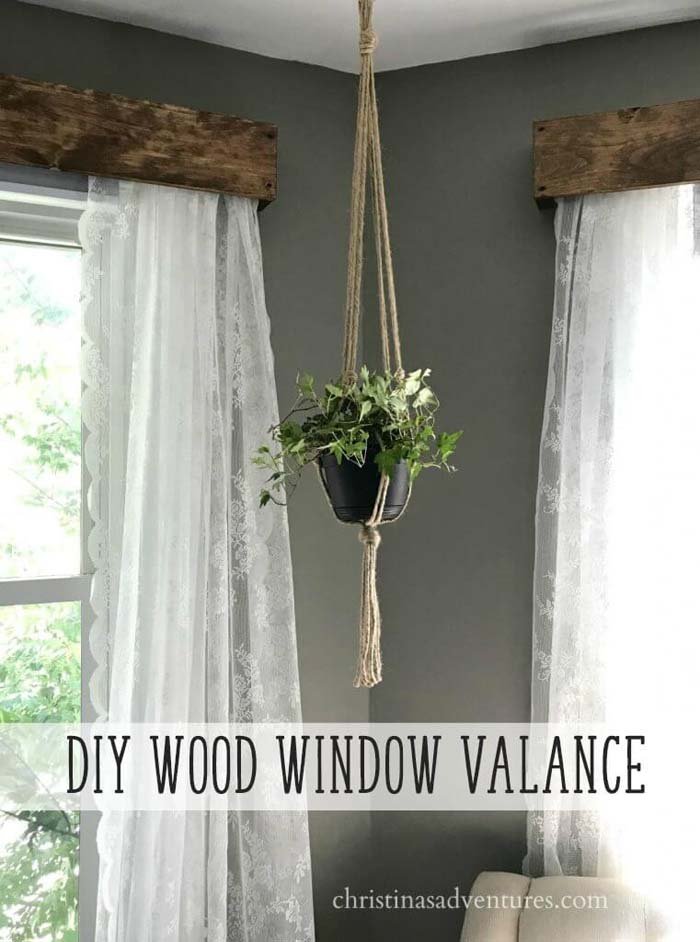 Are your curtain rods detracting from the style of your home?
Cover them with simple wooden headers. Building them is quick and easy; use reclaimed wood for a gorgeous pop of rustic texture. Mount them on the wall so the bottom edge just covers the rod.
The extra height will automatically make your room feel taller.
via Christina Maria
21. Repurposed Grain Sack Valances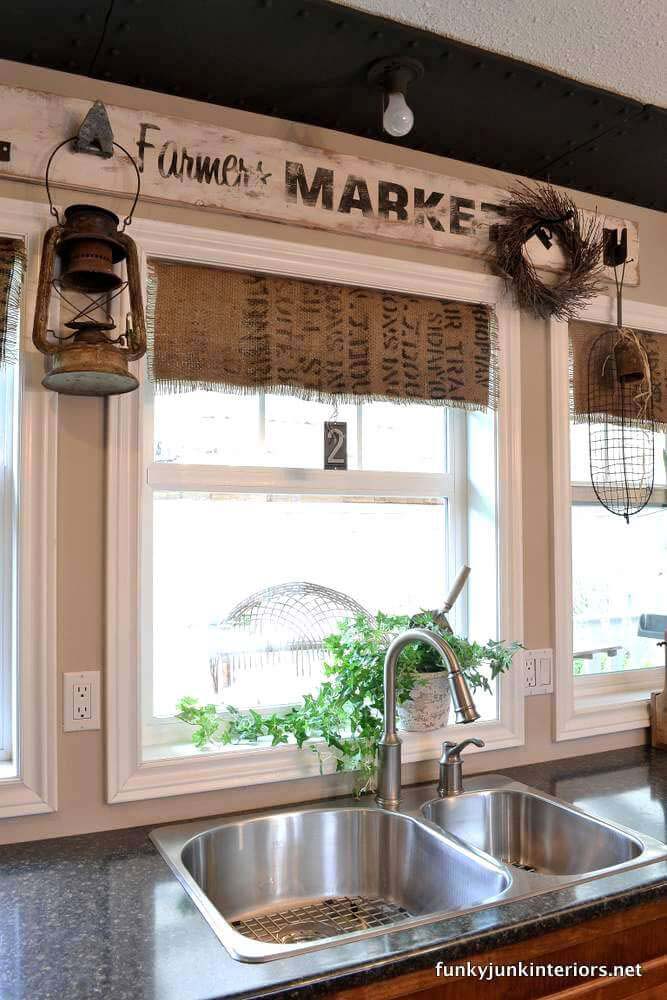 Printed grain sacks are a natural decor accent for a farmhouse-style home, but it can be difficult to find a way to use them.
This clever project takes panels from a sack and turns it into valances.
Just drape it over the curtain rod; the smooth surface highlights the print and keeps the focus on the rough-weave texture of the fabric.
22. Bring The Shutters Indoors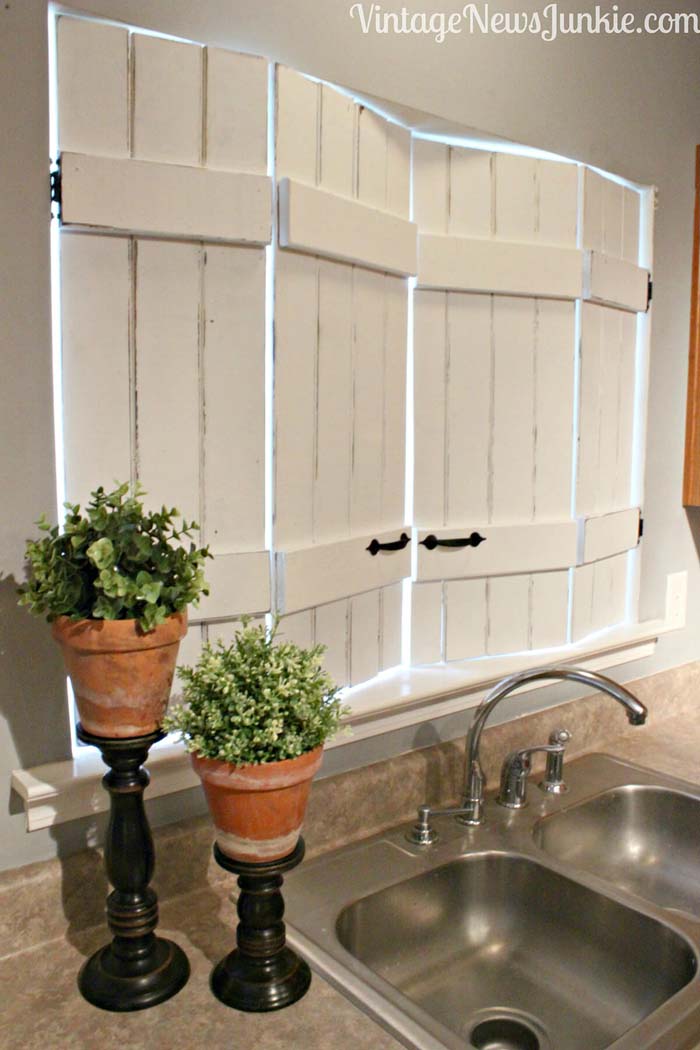 Look at pictures of vintage homes, and you're sure to see beautiful wooden shutters.
You can make these unique window coverings on your own with scrap wood and a few hinges.
Pull them open during the day, and close them at night — the wood is the perfect way to ensure privacy.
23. Curtain Treatments Soften Blinds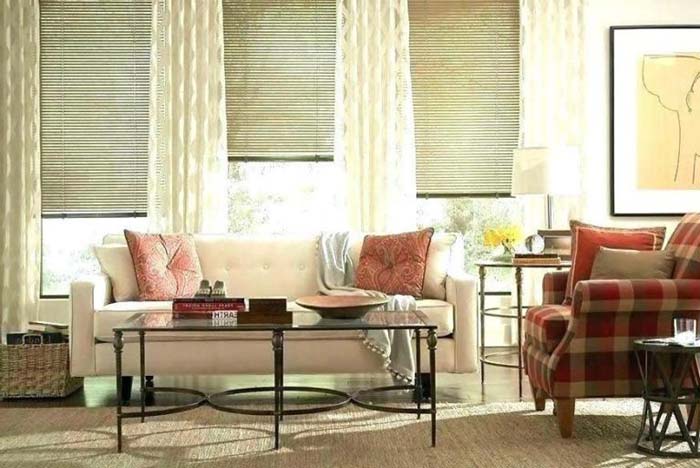 Infuse your room with shabby chic style using your curtains.
To add extra textures, choose a curtain fabric that's different from your furniture upholstery.
Lace is a great choice, especially when it's paired with textured accordion blinds.
24. Reclaimed Wood Hook Hanger

In centuries past, curtain rods were hard to come by.
Add a vintage flair to a bedroom or living room by replacing the rod with simple frame-mounted hooks.
This system allows you to suspend the panel from a series of loops, adding unexpected shapes and a soft drape.
via Olive and Love
25. Vintage Look Floral Valance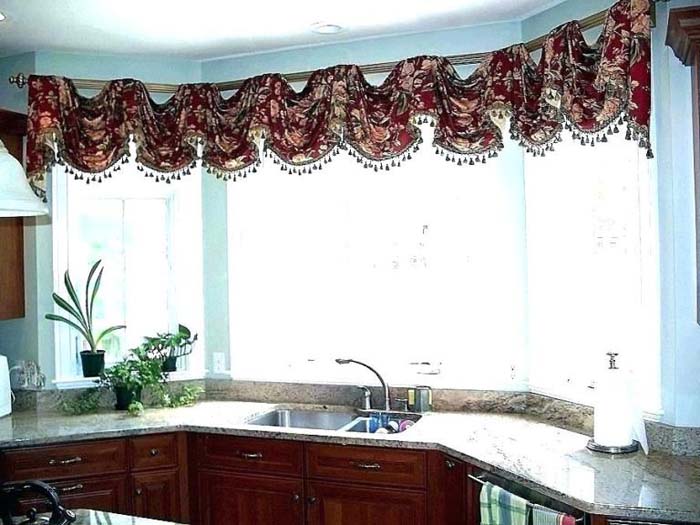 Do you love Victorian style?
Make your farmhouse feel slightly more formal with intricate floral valances.
The deep color and tassel trim brings an elevated feeling to a kitchen, especially when the valances extend across multiple windows.
26. Sheer Lace Textured Drape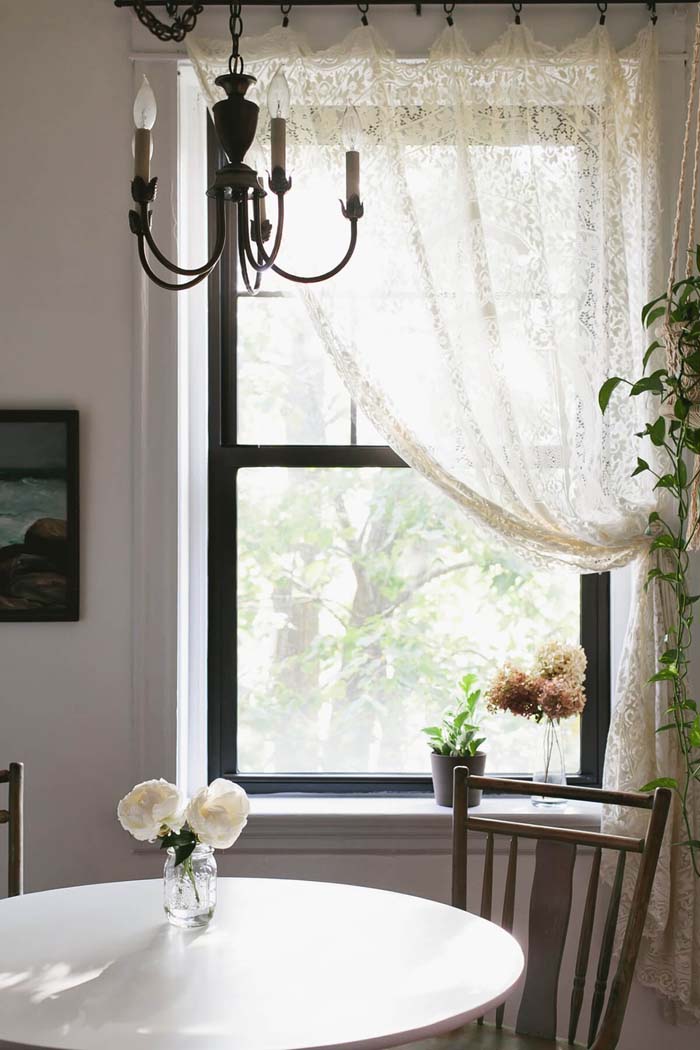 When it's hanging flat, a lace panel can look boring. Solve that problem by adding clip rings and a side hook.
The clips allow the fabric to fall gently between each ring, and the side hook gathers the lace in soft, sweeping folds that highlight its beauty.
via Ana Rosa
27. Classic Barn Style Doors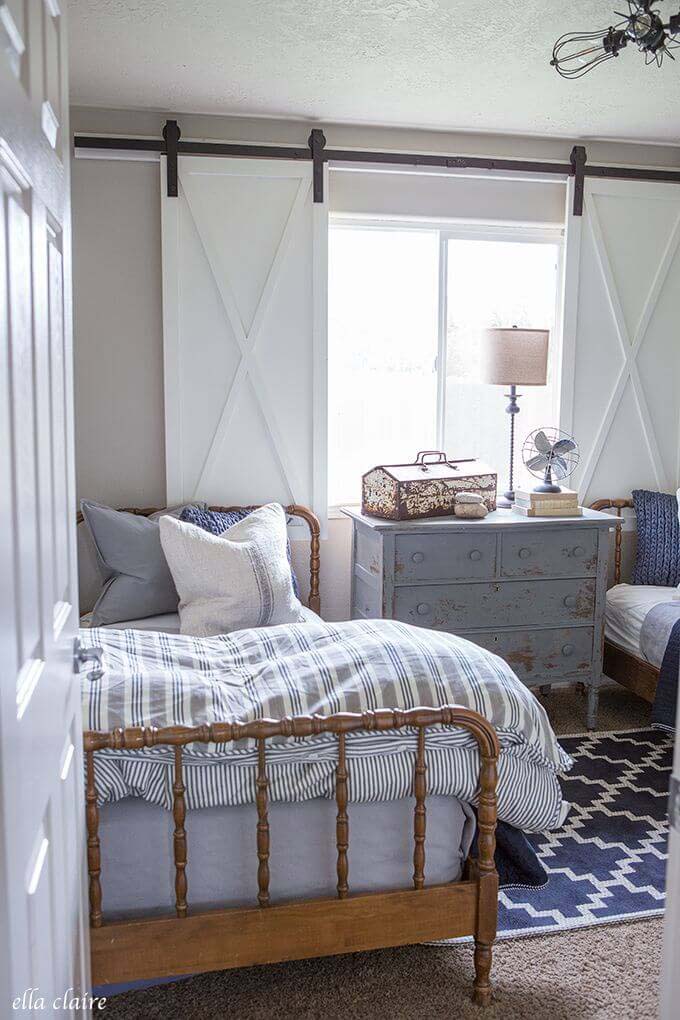 When you're decorating a modern farmhouse, don't worry about blackout shades in the bedroom.
Instead, use sliding barn doors. They turn a plain wall into a focal point.
As a bonus, you can pull them shut to block the light and ensure a solid night of sleep.
via Ella Claire
28. Tied Up Shades In Farmhouse Fabric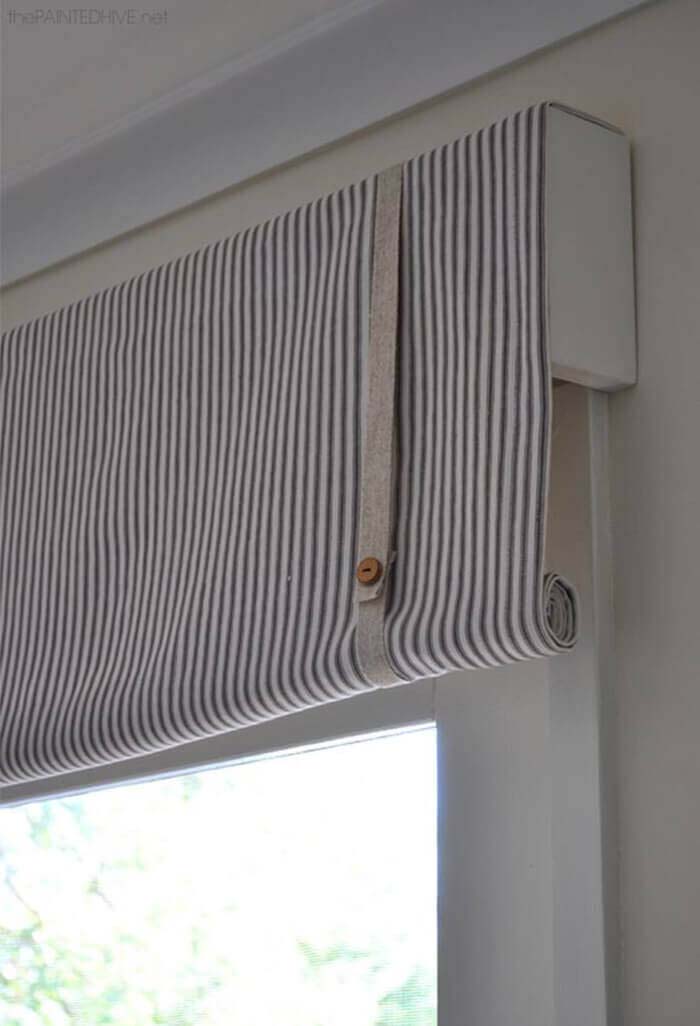 Ticking-stripe fabric is a lovely way to introduce a country pattern into a room without getting too precious.
The vertical lines look updated yet casual, particularly when the shade is mounted onto a roller.
Secure the shade with a simple button strap for a sweet touch.
via The Painted Hive
29. Sheer Natural Shades Allow Light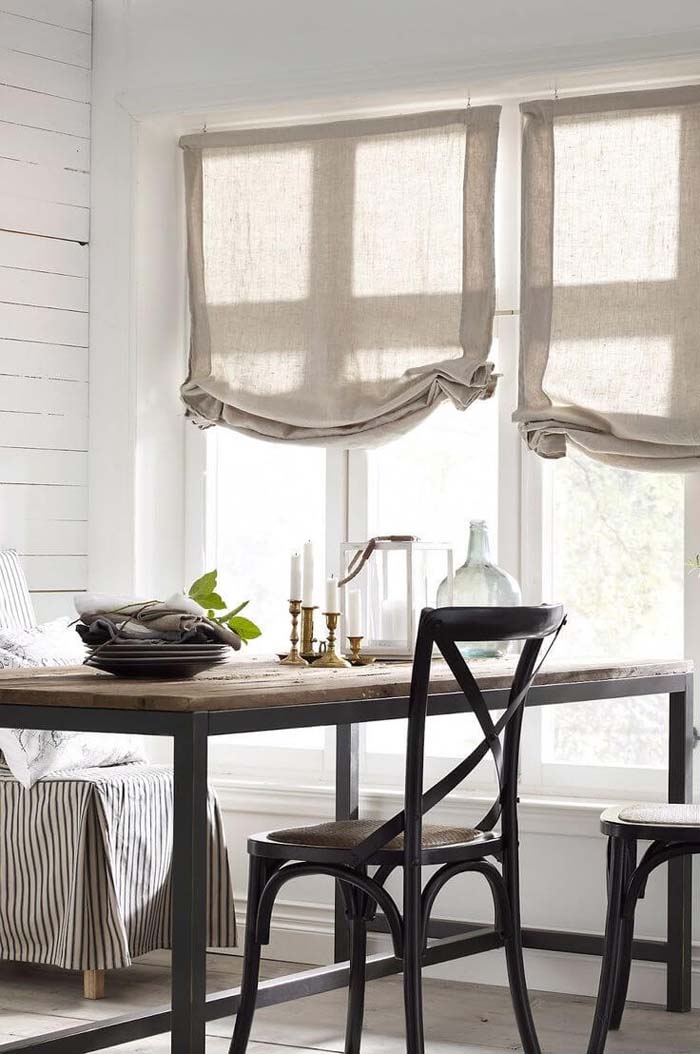 Add sophisticated rustic charm to a room with beige woven shades.
The soft color makes the space feel bright and airy, and the loose weave allows sunlight to show through.
Here, a simple cordless Roman shade design eliminates the need for cords and hooks.
via By Harrington
30. DIY Metal Awning Window Treatment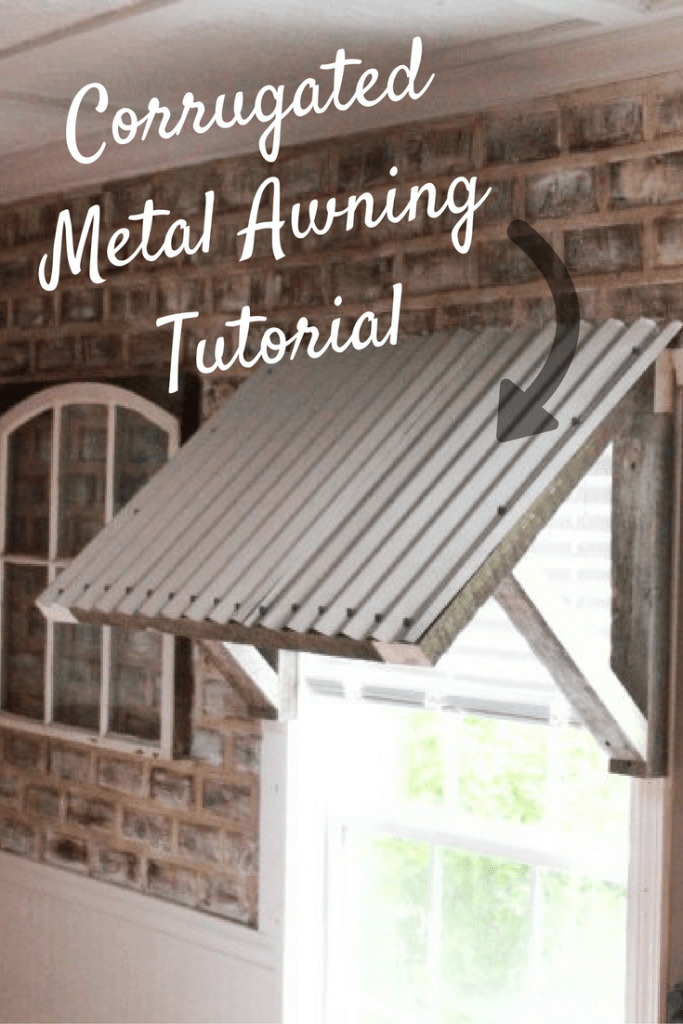 Do you have tall ceilings and a large space?
Make it feel more accessible by doing away with traditional curtains and adding a small awning, instead.
Galvanized metal brings shine and texture, and the rustic wooden frame brings a natural color that complements your casual wooden furniture.