Trays are very useful- not only for decluttering the kitchen countertop but also to gather a group of smaller decor elements.
When they are placed together on one display, they become visually more attractive and impacting.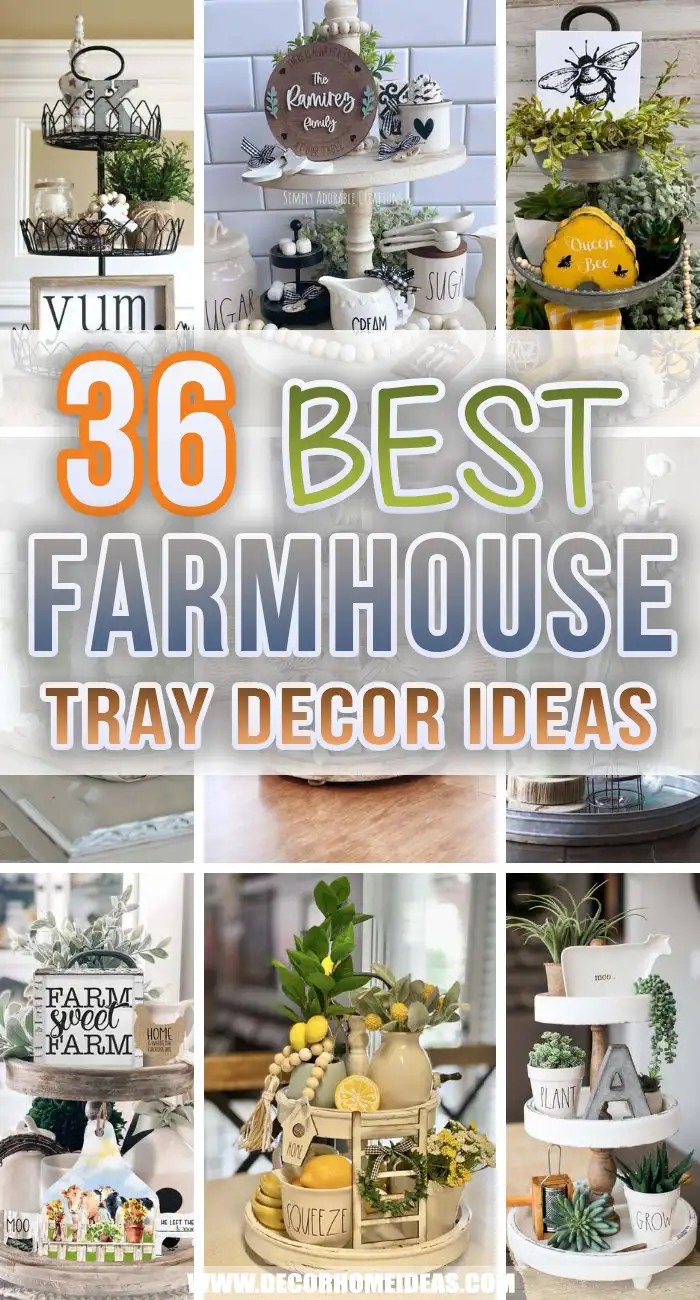 Farmhouse trays have become a popular part of the decor of any room because they are compact, beautifully authentical and they can instantly change the atmosphere.
These 36 Best Farmhouse Tray Decor Ideas will give you inspiring ideas for decor arrangements and new applications of the tray.
1. Fresh Tiered Tray With Lemons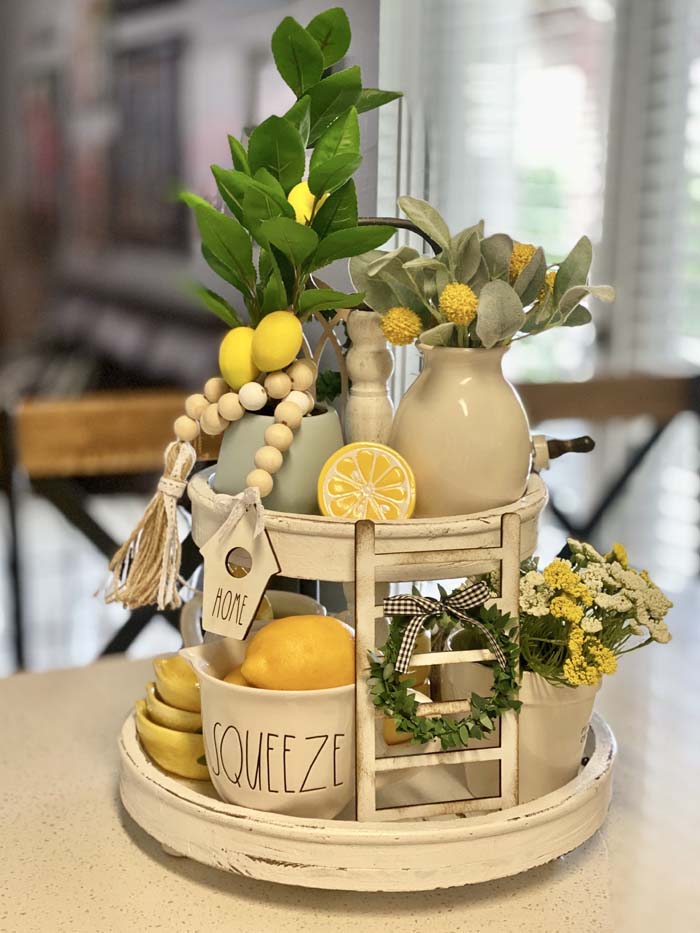 The tiered farmhouse tray can be updated for every season easily. Simply change the decoration with elements that fit the theme.
For a fresh start to summer, you can use the cute symbol and bright color of the lemon.
Use real lemons and green twigs to set a good natural backdrop for the yellow color.
2. Tiered Tray With Wire Baskets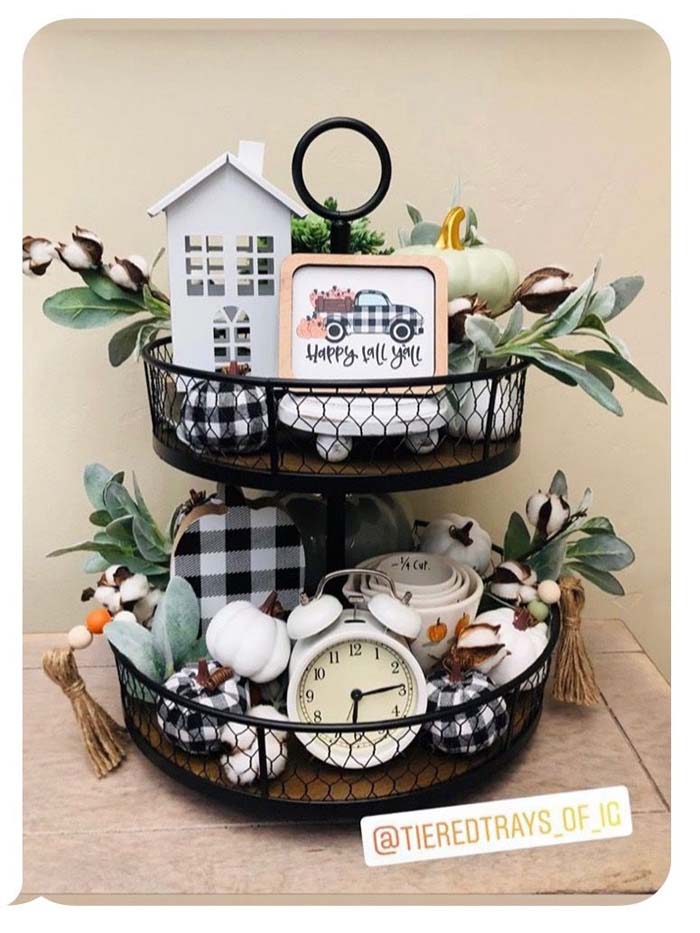 Wire baskets look very modern despite being related to the farmhouse style. Especially, when painted black, they set an elegant basis for the charming farmhouse decor.
This arrangement welcomes autumn in an appealing color combination- black and white reproduced in a buffalo plaid pattern. Some faux greenery and macrame tassels add a pop of color to the trays and let them look completely finished.
3. Galvanized Tiered Tray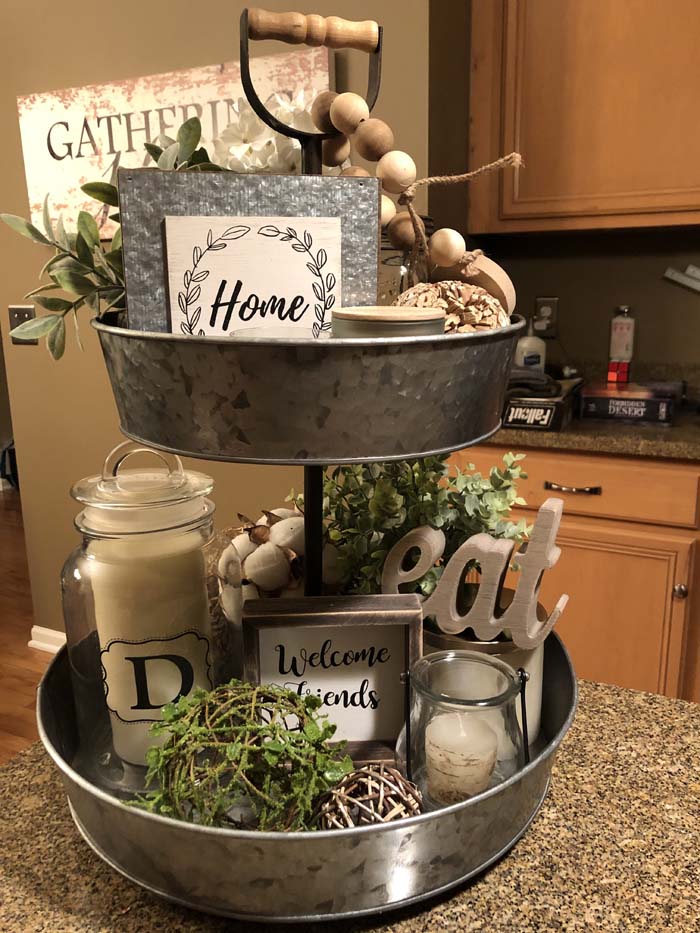 If you like the beautiful contrast the metallic surfaces create, check out this interesting tray design. The typical wooden trays are replaced with metal ones, made from galvanized steel. The light reflects on the surface and shows the beautiful retro texture of the material.
The arrangement in the trays here is more or less all-season friendly aiming to set a welcoming vibe in the atmosphere.
4. Flat Woven Basket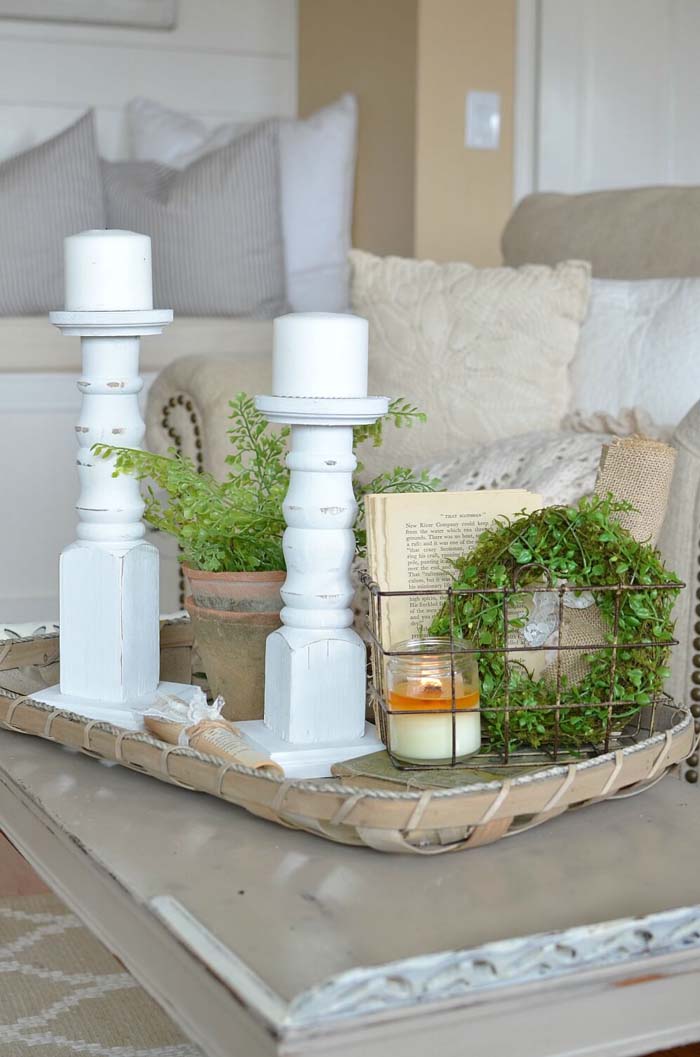 You can repurpose the covers of the old picnic baskets into trays. Simply turn it upside down and arrange the chosen decoration.
This example can inspire you with the elegant arrangement consisting of two wooden candlesticks made from old furniture, the rustic plant pots piled in one and the wire basket holding a green wreath.
Such an arrangement is great for a centerpiece of a side table in the living room.
via Sarah Joy
5. Upcycled Leg Into A Tray Stand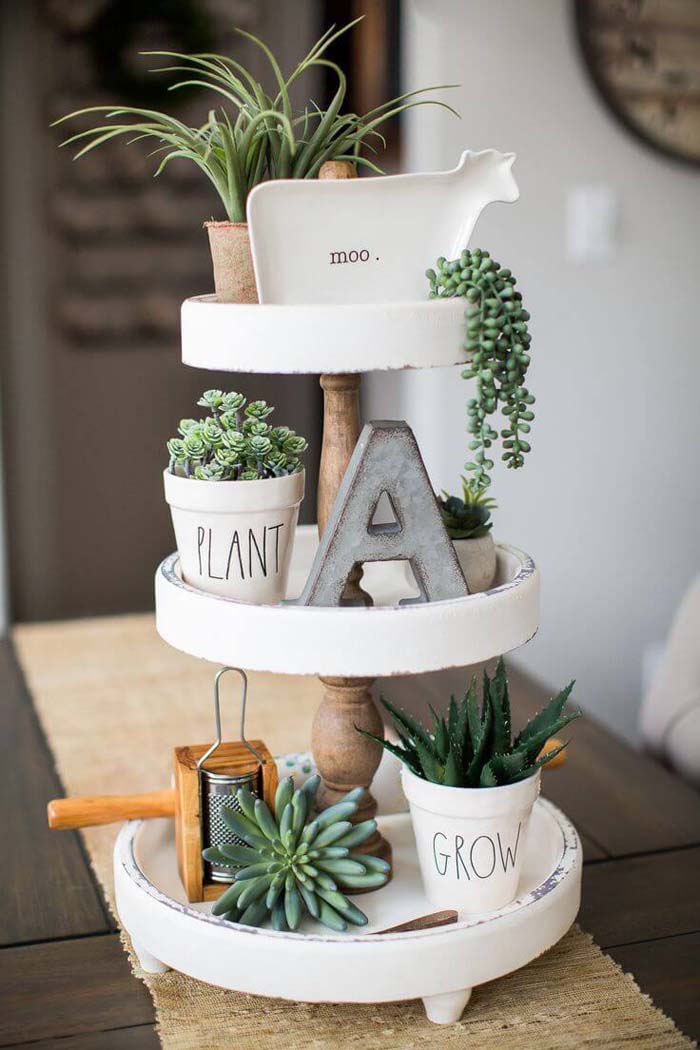 If you are looking into a unique tray design, then trust yourself and make it. You need two round wooden trays, some white paint, sandpaper and a leg from a table or a chair.
Apply the white paint on the trays and after it has dried, sand the edges to make signs of distress. Assemble the pieces by drilling holes in the centers of the trays to fit the spindle.
Arrange ornaments depending on the season or the holiday.
6. Galvanized Steel Tray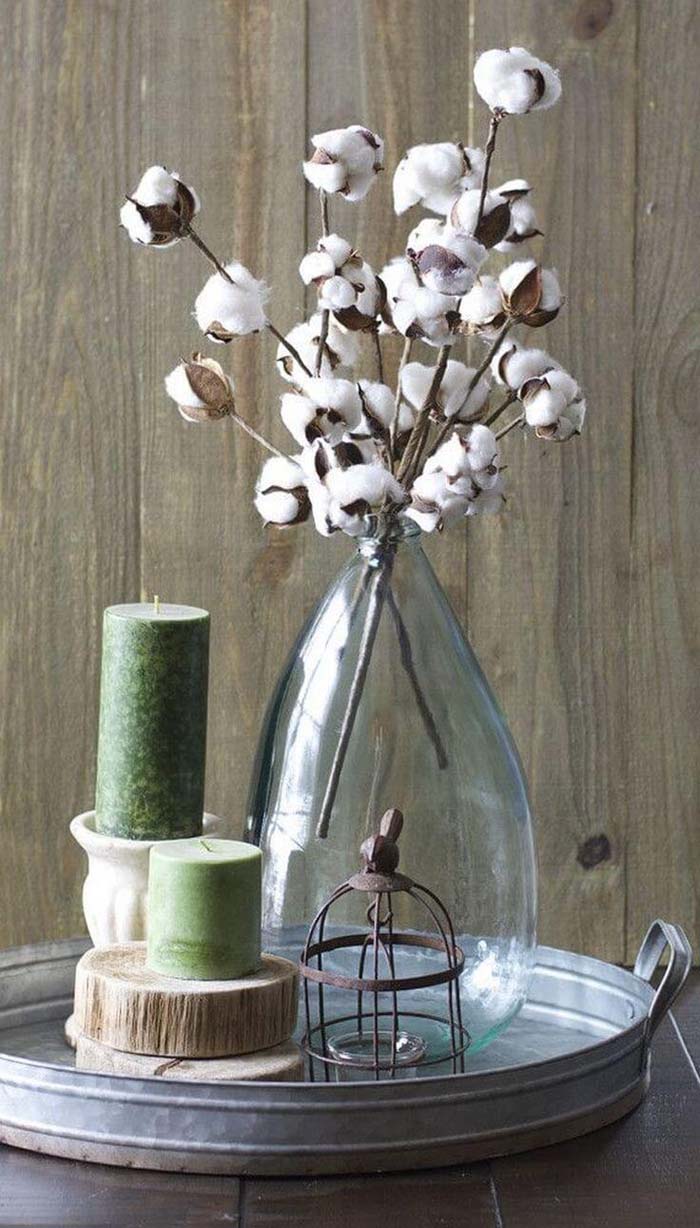 In this tray design, we see a lovely for-the-eye combination of farmhouse tray and rustic elements.
A tall glass bottle acts as a vase while slices of wood create a stand for a candle. A small metal cage reveals signs of age with its rusty layer on the metal.
The cotton bouquet is what adds to the arrangement a touch of elegance with its soft and delicate buds.
via Liz Marie
7. Long Wooden Centerpiece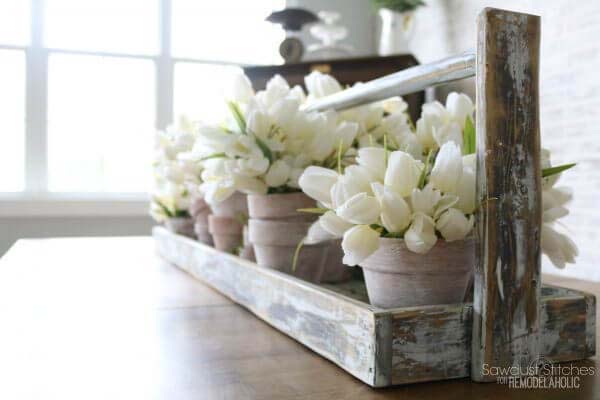 For this tray decor idea, you need pieces of reclaimed wood to assemble in the shape of a long box with a handle.
The whitewashing technique has been applied over the weathered wood to age more the surface and let it add an impacting farmhouse charm to the interior. The piece is sized to fit the length of the dining table and function as a centerpiece.
The contained elements can vary depending on the season or the existing decor- pumpkins, candles, flower pots, jars with seashells and sand, etc.
8. Painted Galvanized Tray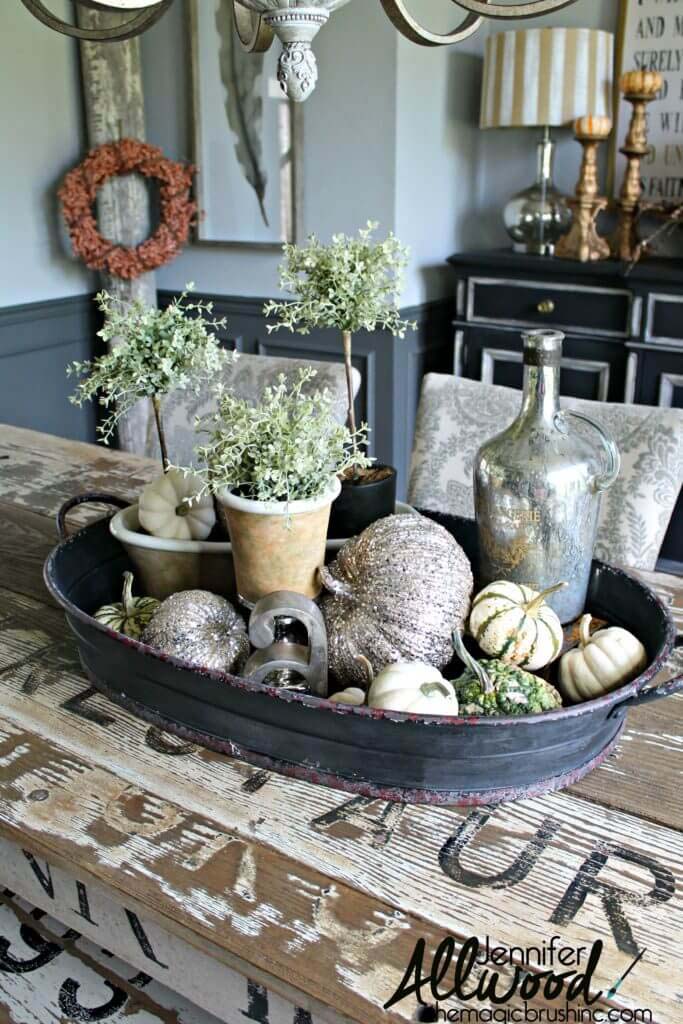 If you are looking for a bold farmhouse accent on the dining table, why not paint the galvanized tray black? Leave the rims in their original state- rusty and authentic.
The tray arrangement here is fall decor themed featuring varying in height elements- flower pots, pumpkins and a metal initial.
9. Flat White Wooden Tray
Making this beautiful tray is an easy DIY tray decor idea. Pallet slats are cut to the desired size and then framed with wooden slats. Two beautiful vintage handles are attached to both sides to let the assembled item look like an original tray.
The author has decided to paint all elements white to contrast the existing decor. In case the surroundings belong to a lighter color palette, you can stain the lumber to let it stand out.
10. Festive Winter Tiered Tray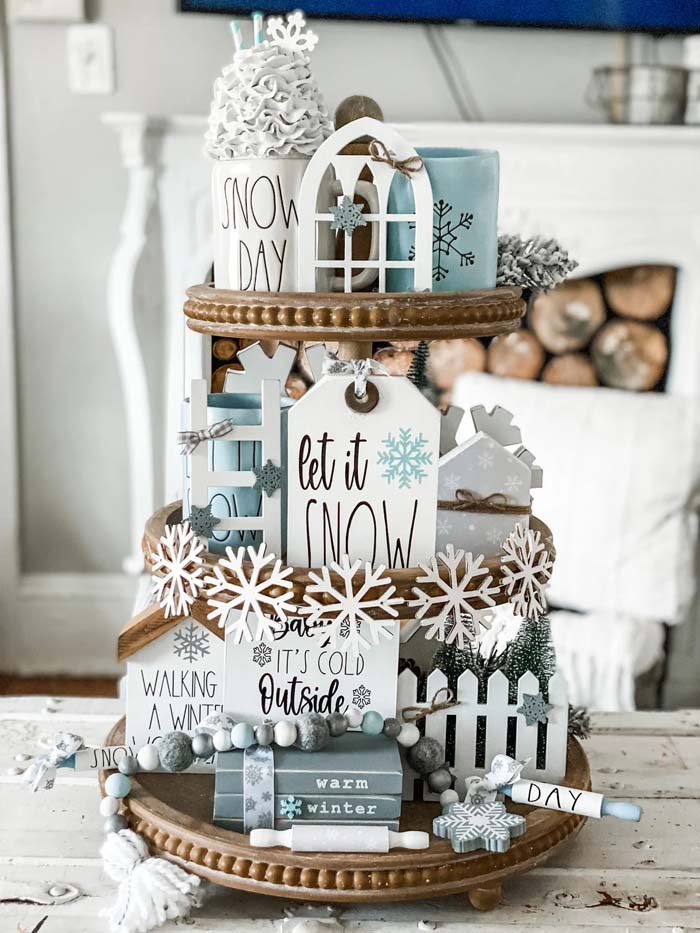 This ceramic tray looks very authentic and it should be definitely part of the decoration. The beautiful bead ornaments on every tray show the uniqueness of a craftsman.
Its color is suitable for an interior in the light color palette where it will stand out. The arrangement on the tray features elements in the Christmas theme that praise the warmth and coziness at home.

11. Spring-Inspired Three-Tiered Tray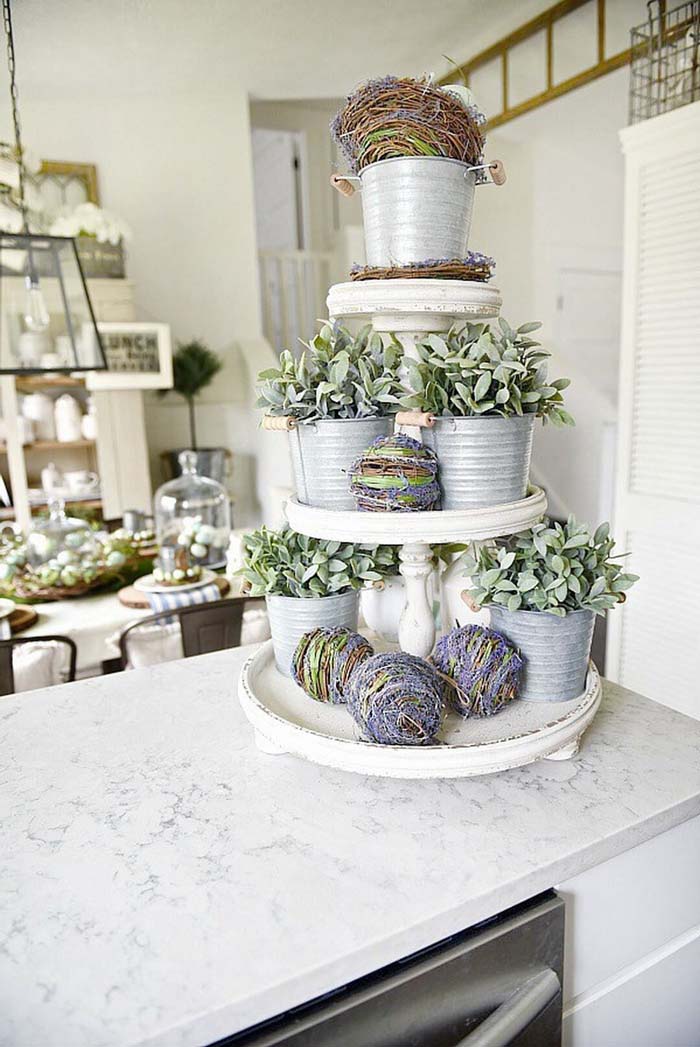 Usually, the tiered trays are used as centerpieces. They can be the focal point of party decor or the bold piece anchoring a theme in the home decor.
This three-tiered tray provides plenty of space for ornaments which can be quite challenging but not if you follow some easy rules in the post below.
12. Crate Repurposed Into Decor Tray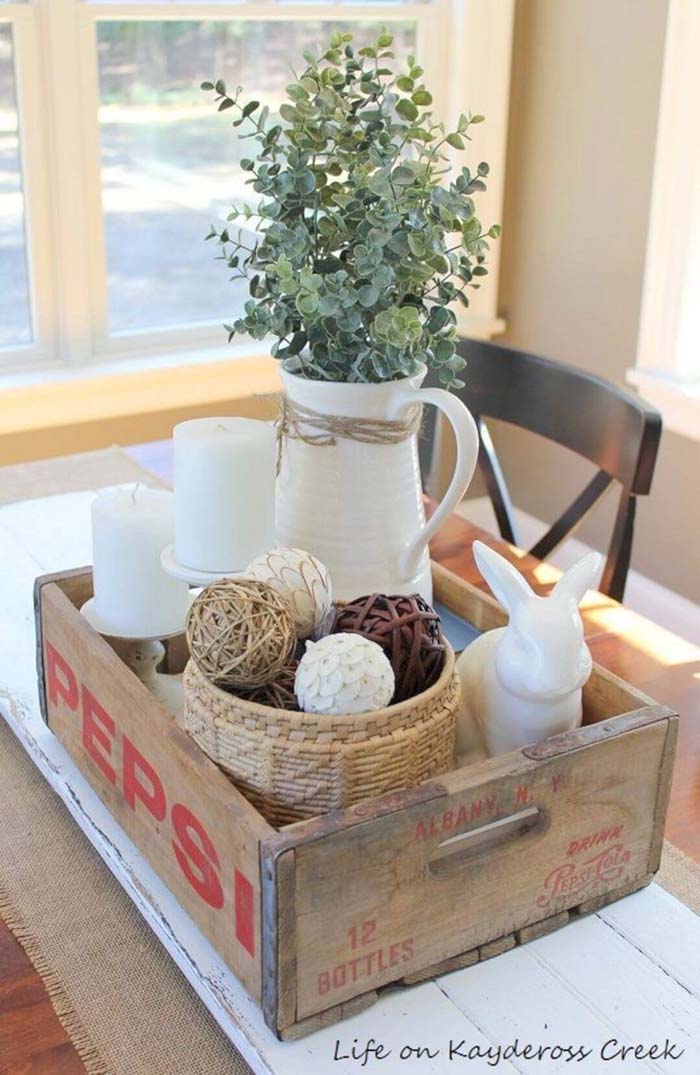 This tray design is one of the easiest ones. No need to change anything on the soda crate finish. On the contrary, use its worn and age signs to make it the centerpiece of a room.
Then choose the items that will be contained in it. Since it is quite deep, you'd rather arrange taller ornaments that will be visible.
13. Kitchen Tray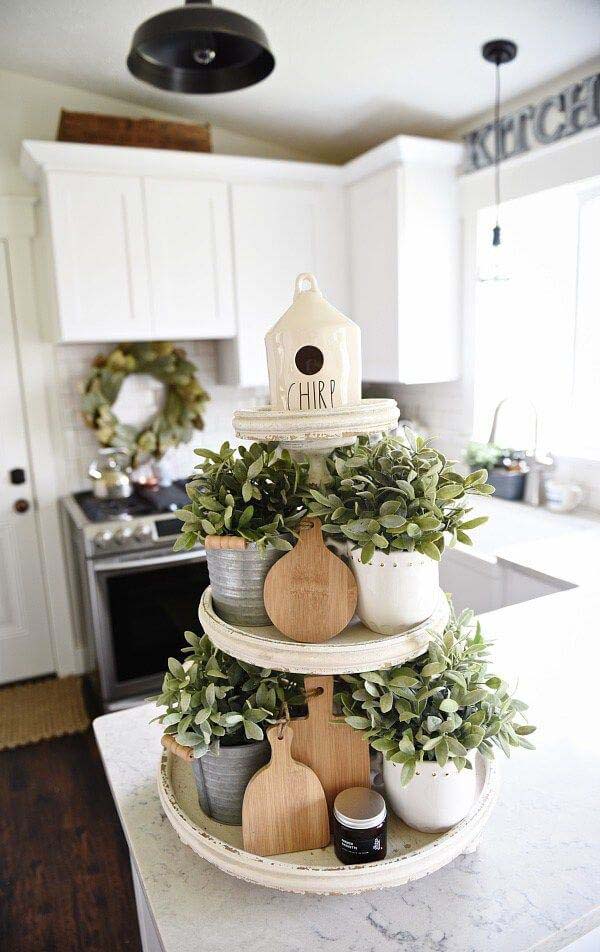 This cute tray arrangement is created to make the kitchen more inviting and charming. In addition to the greenery planted in farmhouse pots, there is a set of tiny cutting boards spread on two of the tiers.
The smallest in diameter tier is left for a ceramic bird feeder with a Rae Dunn script inscription that ties up all elements together.
via Liz Marie
14. Repurpose Metal Baking Trays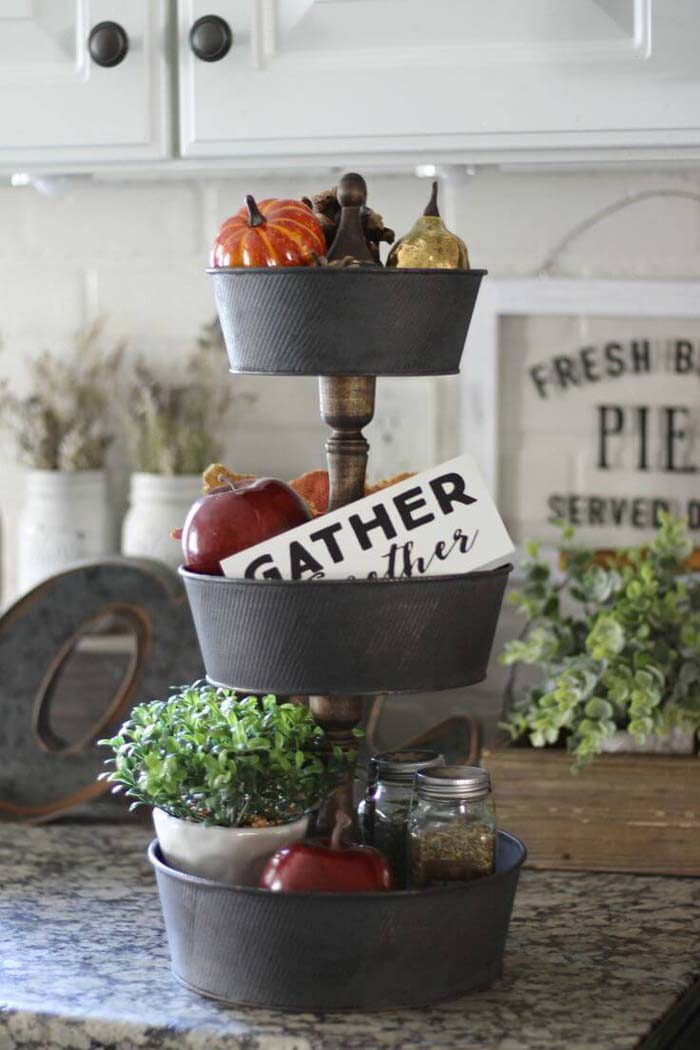 In case you have an old rusty set of metal baking trays, this decor idea will bring it to new life. Each tray has been drilled in the center to accommodate a long wooden spindle with carvings.
The decor pieces in the trays are arranged together to mark Thanksgiving Day. A simple wooden sign is placed diagonally in the second tray to stand out with its white color and be an inspiration for the holiday.
via Par La Grace
15. Flower Stand Repurposed Into A Tray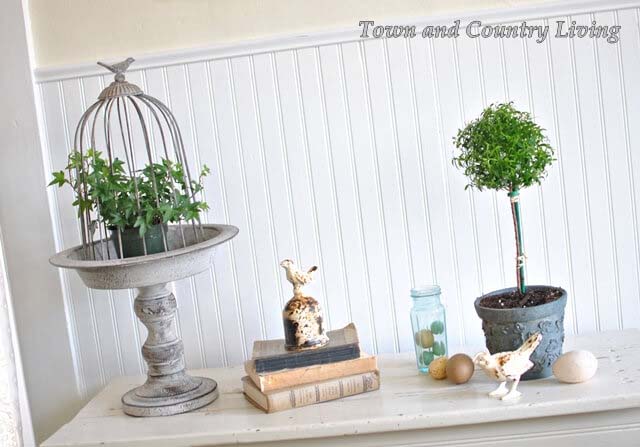 You can repurpose the outdoor flower stands on pedestals into indoor trays.
The decoration here is simple and compatible with its original application. It holds a flower pot but it is caged with a vintage birdcage which creates a unique point of interest.
16. Galvanized Tray For Easter Decor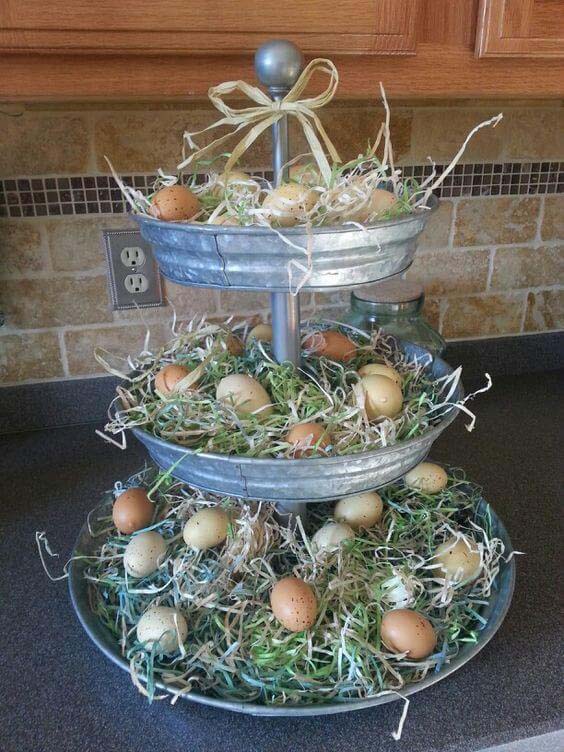 Tiered trays are great for Easter decoration.
Especially, when the tiers are shallow as these galvanized trays are, the small eggs can be easily seen on the paper grass filling.
17. Coffee Table Tray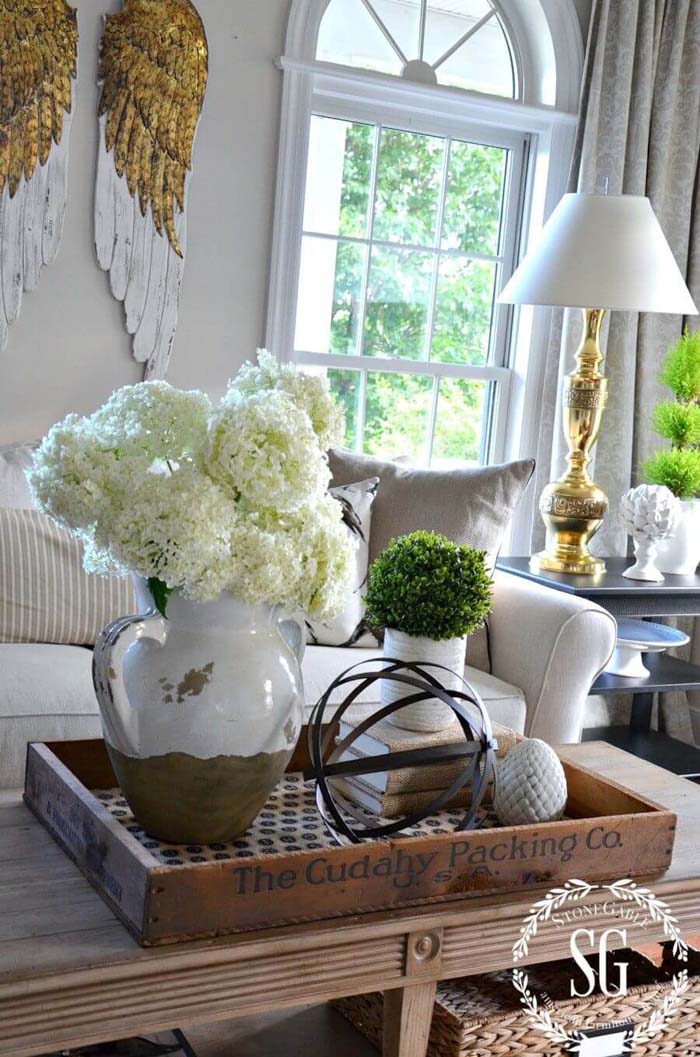 This summer decoration is simple and so adorable. Old pieces from a crate are assembled in a tray shape to become the centerpiece of a coffee table.
A pile of books works separately as part of the decoration but also as a stand for a pot with boxwood. A lovely bouquet of hydrangeas marks that summer has come.
18. Modern Twist Of The Wire Basket Tiered Tray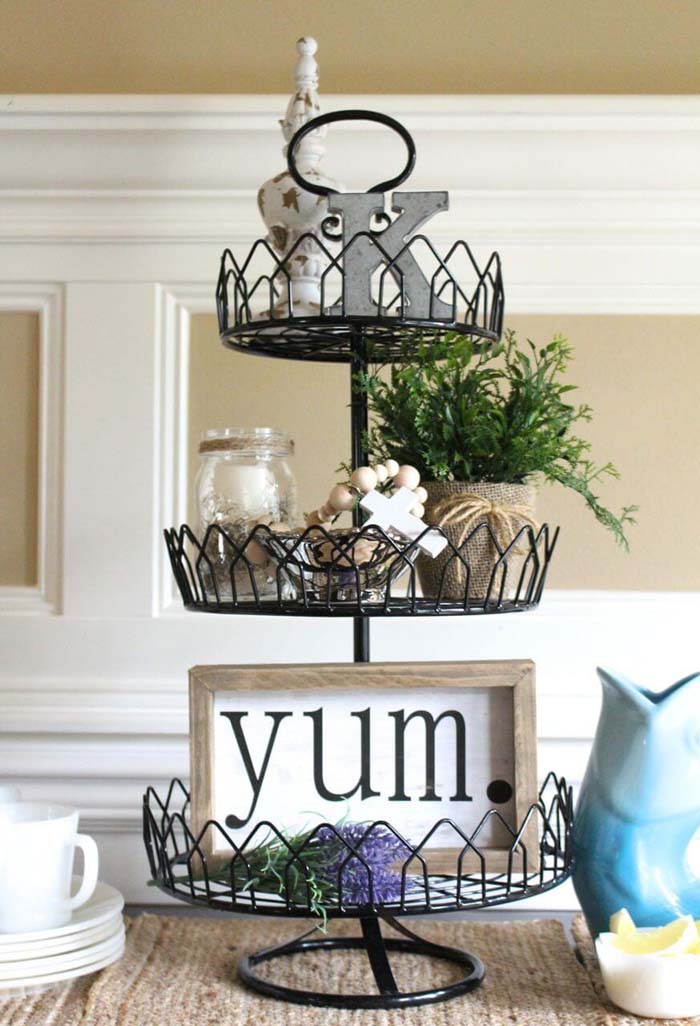 If you are looking for a tray piece that combines farmhouse and modern, no need to look further. This tiered tray design features three levels for decoration storage.
Each level is made from a metal stand with geometric wire shapes. The entire piece is evenly painted black to easily grab attention.
19. Metal Stand For Storage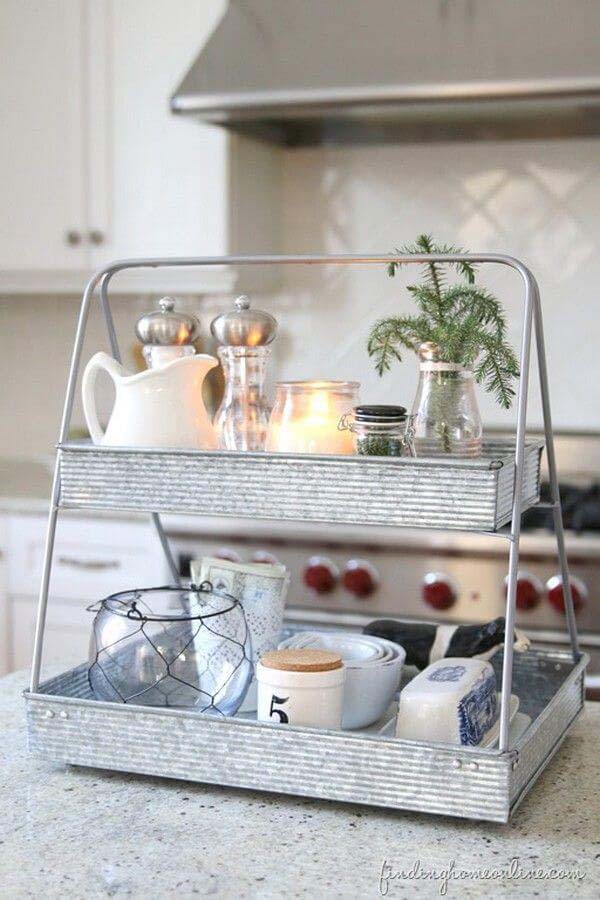 Trays can be of any geometric shape and this tray design clearly shows it. The rectangle compartments are descending in size and placed on two levels.
Their silver finish mimics galvanized steel which instantly gives them a farmhouse vibe. The handle left at the top makes moving the piece easy so you can displace it to the room that needs a touch of festiveness.
via Little Glass Jar
20. Flour Sieves Repurposed Into Tiered Tray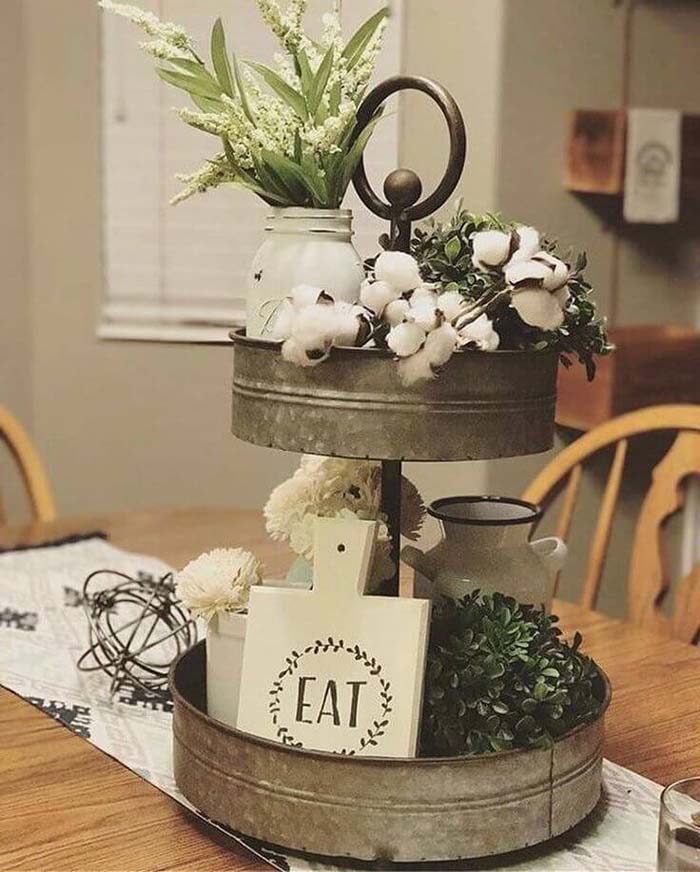 This is another great recycling idea that gives old and useless kitchen items new life. The flour sieves are made from galvanized steel which easily gets rusty.
And before throwing the next sieve into the garbage, why not dedicate some time to making your unique tray for seasonal decoration?
21. Traditional Wooden Trays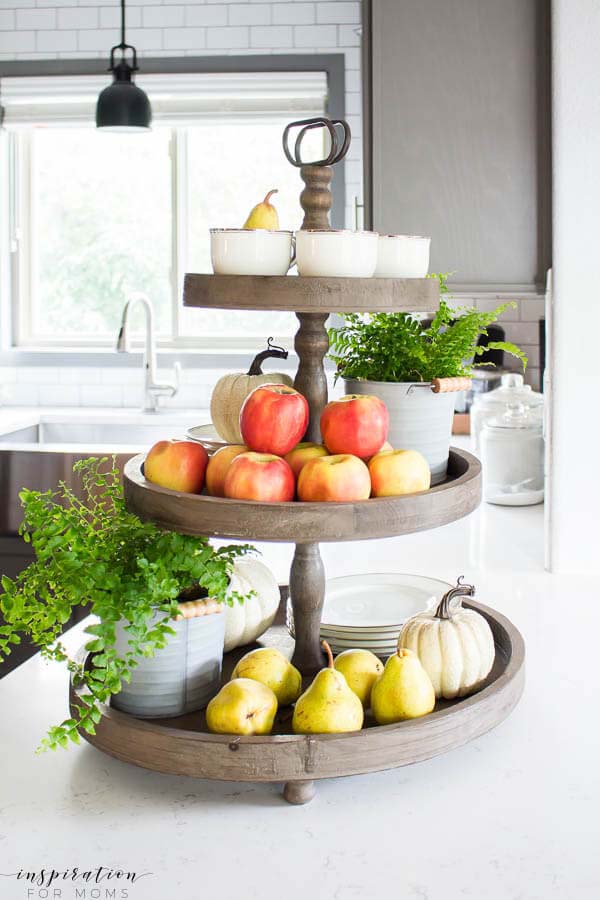 This type of round tray can be found in local Dollar stores. To achieve the tiered design, get at least two trays in different diameters.
The dowel that keeps them elevated can be a repurposed leg from a table or chair or a brand-new dowel.
22. Frame Your Tray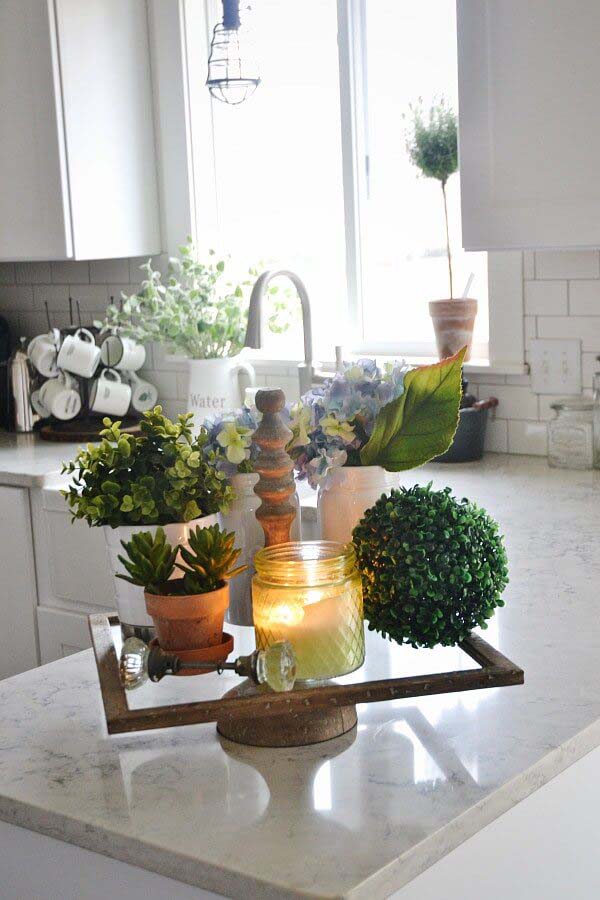 Two weathered pieces are assembled together in an intriguing alternative to a free-standing tray.
An old picture frame is backed with plexiglass and thrust onto a wooden candlestick. The visual effect the containers create when standing on the transparent surface is amazing, especially when the candle is lit.
via Crisp Collective
23. A Tray As A Farmhouse Coffee Station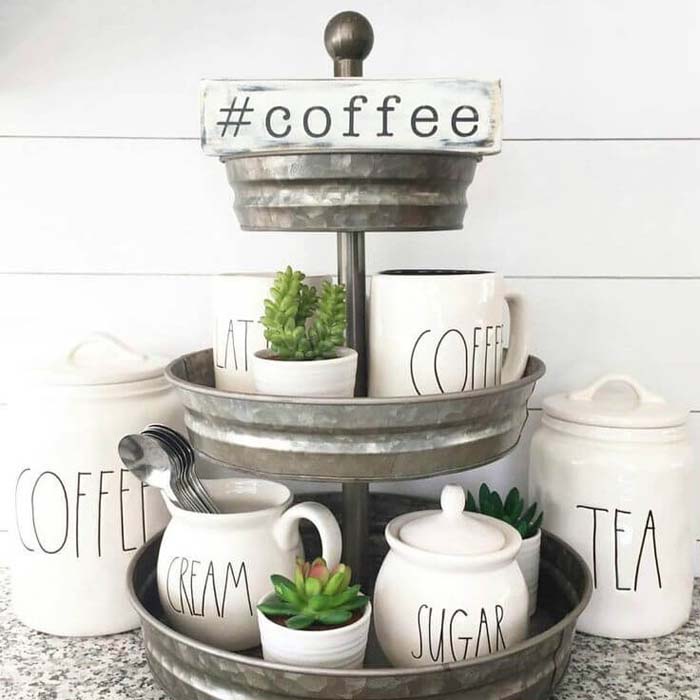 This is an interesting idea of creating a coffee station in a vintage style. Usually, the ready-sold storage pieces are too modern for a farmhouse kitchen.
Galvanized, wooden and wire trays are great for decluttering the kitchen and they also fit perfectly with the farmhouse concept.
24. Newly-Made Flat Tray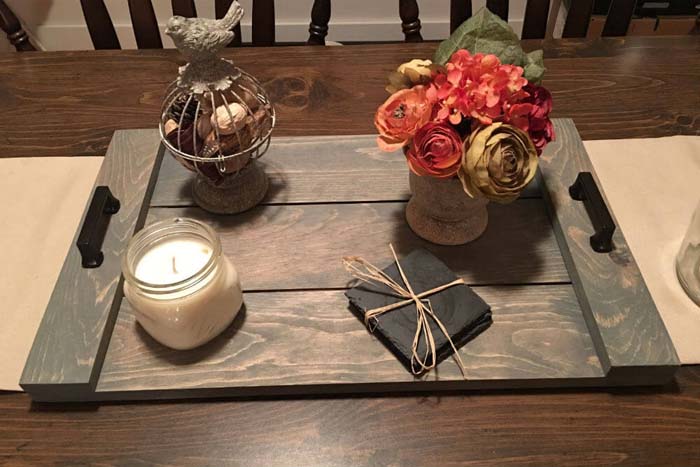 You can make a tray from new wooden boards and give the wood a distressed look with paint. This will give the newly-made creation an aged look that every farmhouse-style piece possesses.
Add metal handles in a clean design or vintage ones with a flower ornament to enhance the farmhouse look.
25. Reclaimed Wood Tray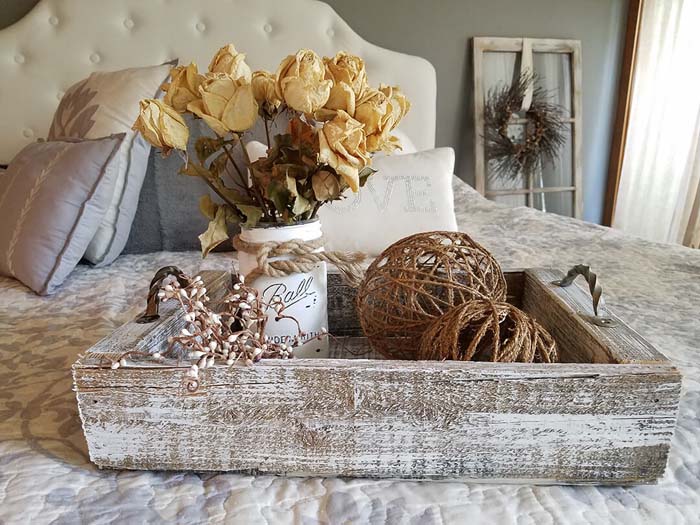 You can source supplies for your unique farmhouse tray from any old wooden piece. A door, a window, a pallet, a crate.
Once you are ready with the newly assembled piece, apply white paint on it to refresh the surface and also give it a weathered look.
via Remodelaholic
26. Match The Farmhouse Tray With Your Modern Interior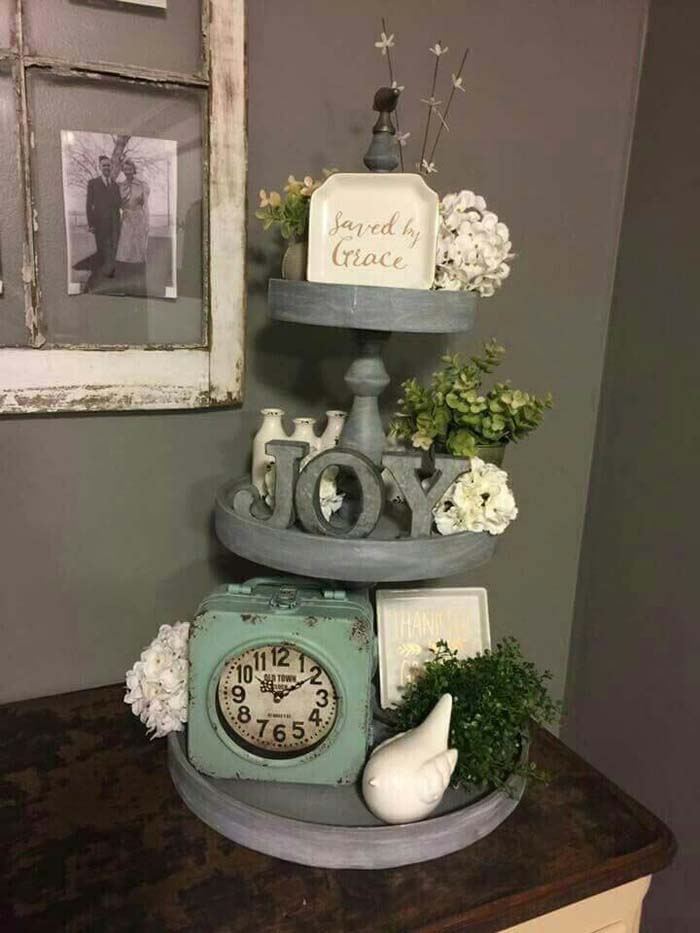 Paint the wooden trays grey to match them with the modern color of the interior walls. The grey color will also give them a cement finish which will let the piece stand out.
When you pick up the ornaments for the seasonal arrangement, aim to choose colors different than grey.
via Jarful House
27. Tiered Herb Garden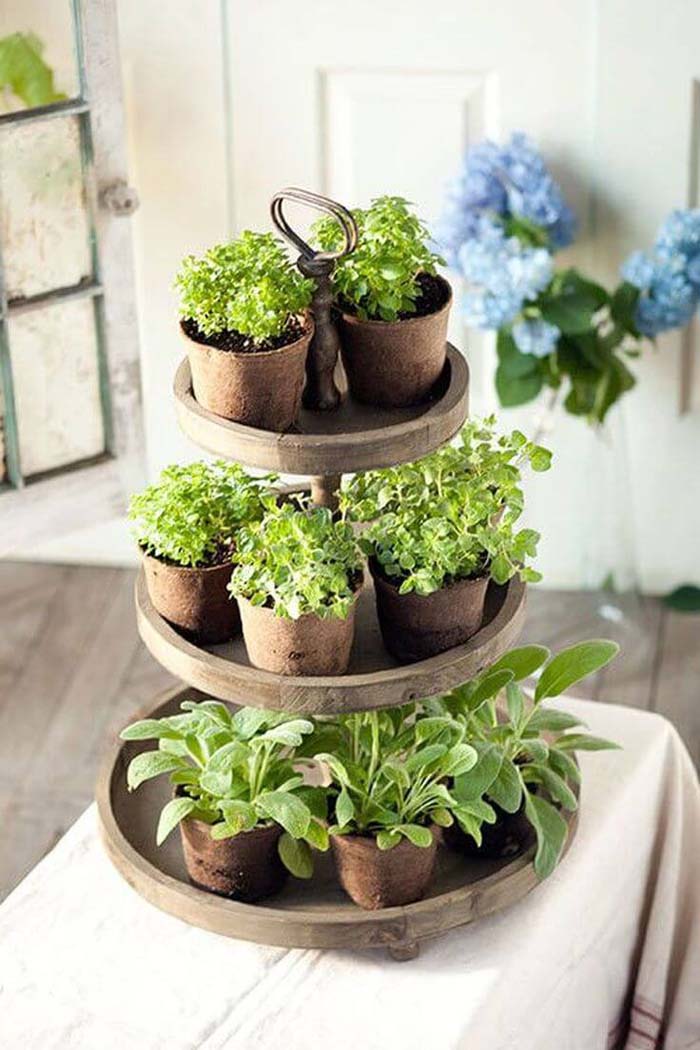 This tray idea is not only decor-impacting but also very helpful.
Using the tiered tray for storage of fresh herbs will let your whole family enjoy their unique taste all year long.
28. Tiered Tray As A Succulent Garden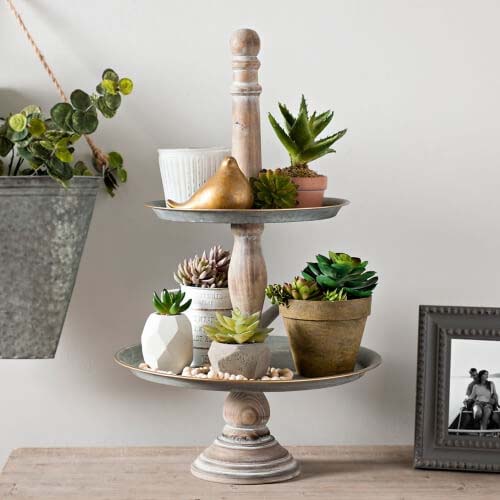 This vintage tiered stand has been repurposed into a succulent display.
Succulents are grown in small pots because of their size and the size of this tray is perfect to gather all of them together and bring them to the light.
29. Party Side Table
Use the tiered trays to arrange tableware for your Thanksgiving Day party.
Add some seasonal decorations to blend the helpful storage unit with the festive decor.
via Sarah Joy
30. Succulent Pots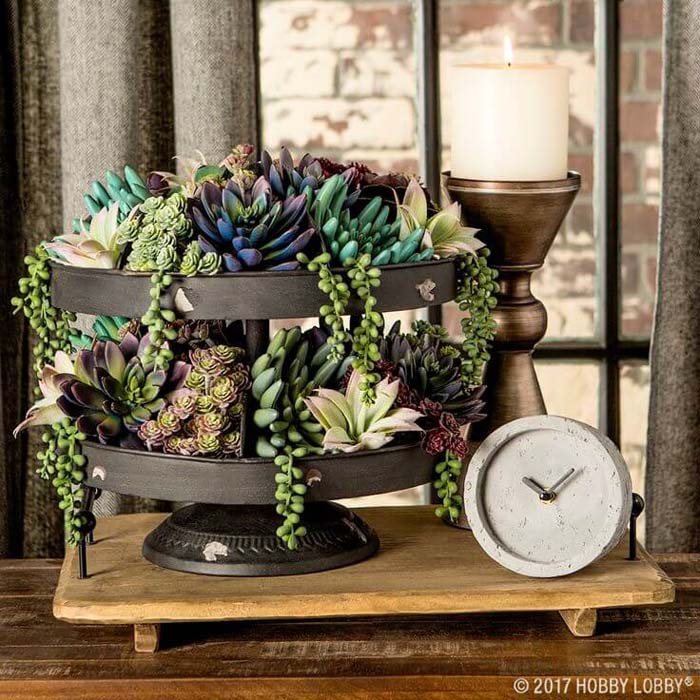 This tray design gives us inspiration for an alternative succulent pot. Succulents are with shallow roots and they can be planted literally in any container. And why not that be a tray?
Double the effect by tiering two identical metal trays! Adding vining succulents will create a lovely visual effect of a green waterfall.
31. Themed Tray Arrangement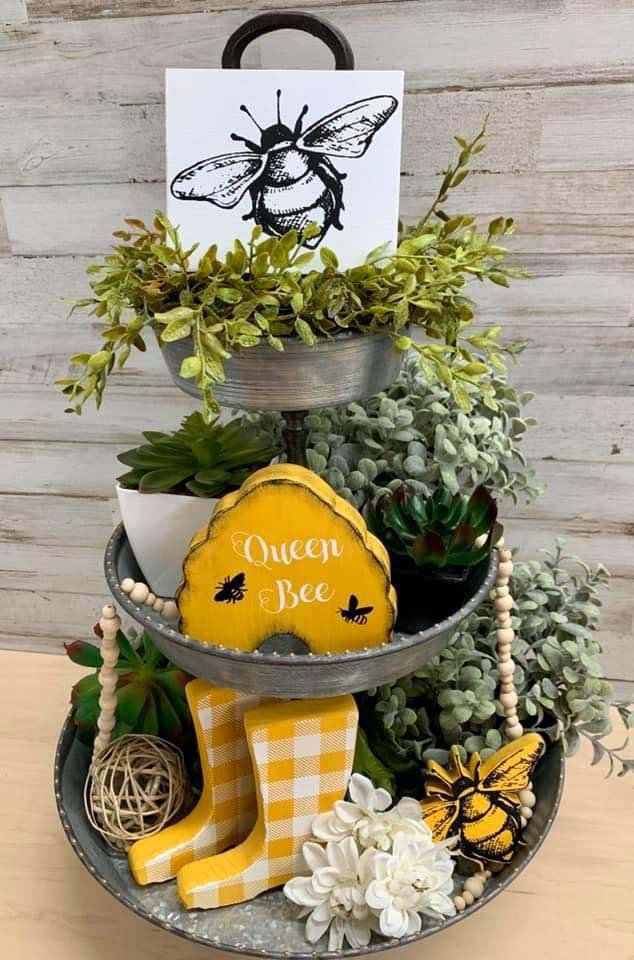 This tray idea features three vintage baking trays arranged in height on a metal dowel.
The decoration here focuses on a summer countryside landscape- bees, flowers, and greenery.
The statement piece here is clearly the bee presented with the bright yellow color and signs.
32. Tray For A Homely Kitchen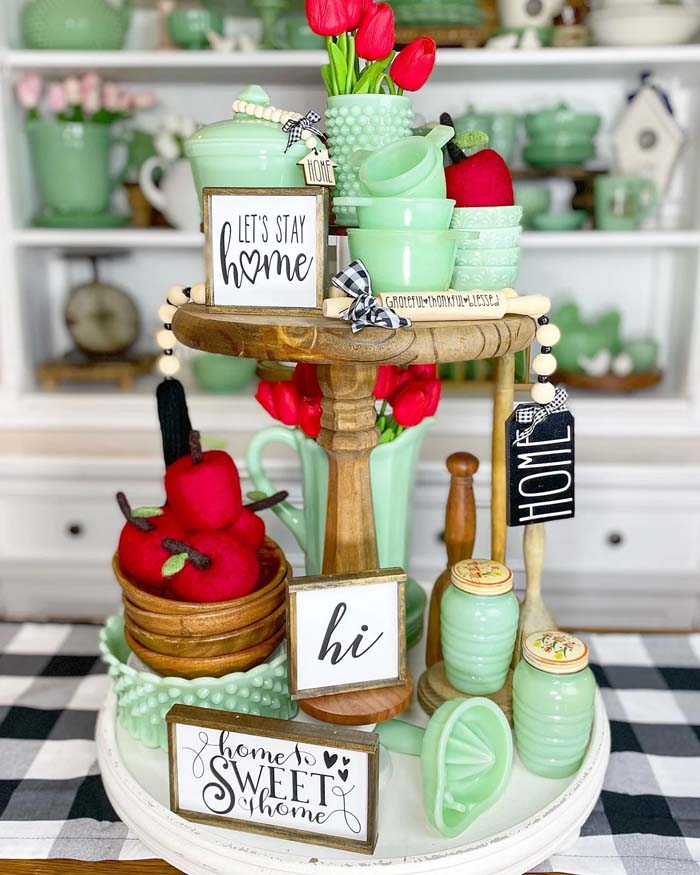 Every room is part of your home and every room needs to show that. This tray idea is inspiring not only with its design but also with the stylish color choice and symbolic signs.
The tiered tray stays on a wooden table with a buffalo plaid runner which creates a contrasting backdrop for the mixture of green, white and red decor pieces.

33. Farmhouse Tray Design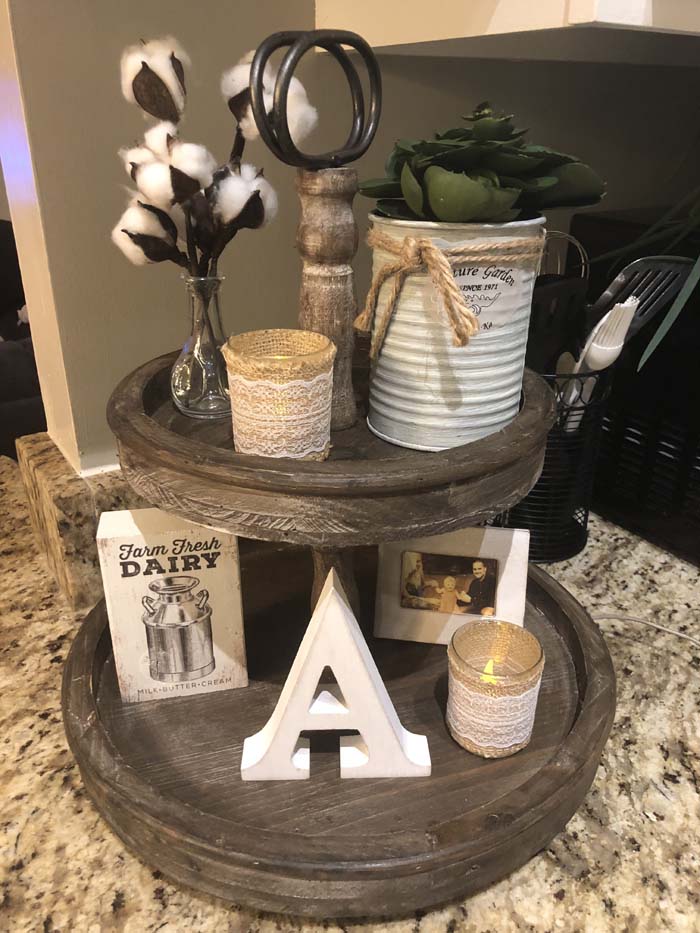 This is another farmhouse tray idea that aims to make the kitchen more homely. Instead of using it for storage of kitchen essentials, the tray displays family-related elements.
They set an inviting vibe in the busy room and unite it with the overall home decor.
34. Family-Inspired Farmhouse Tray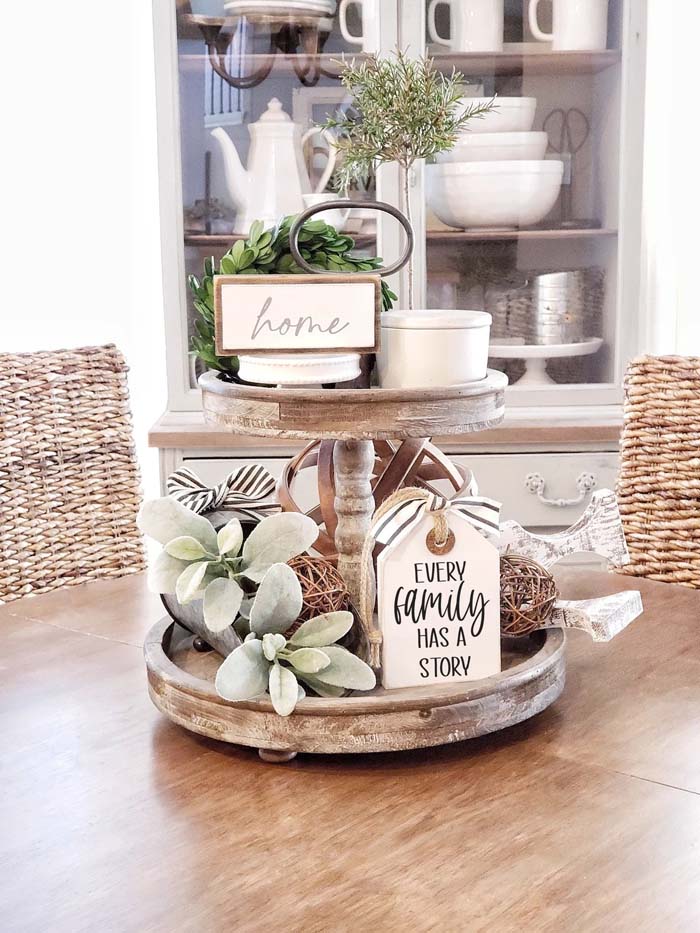 This is another tray arrangement that can inspire your personalized decor. It features natural elements setting a delicate background for signs praising the value of the family and the home.

35. Unfinished Wood Tray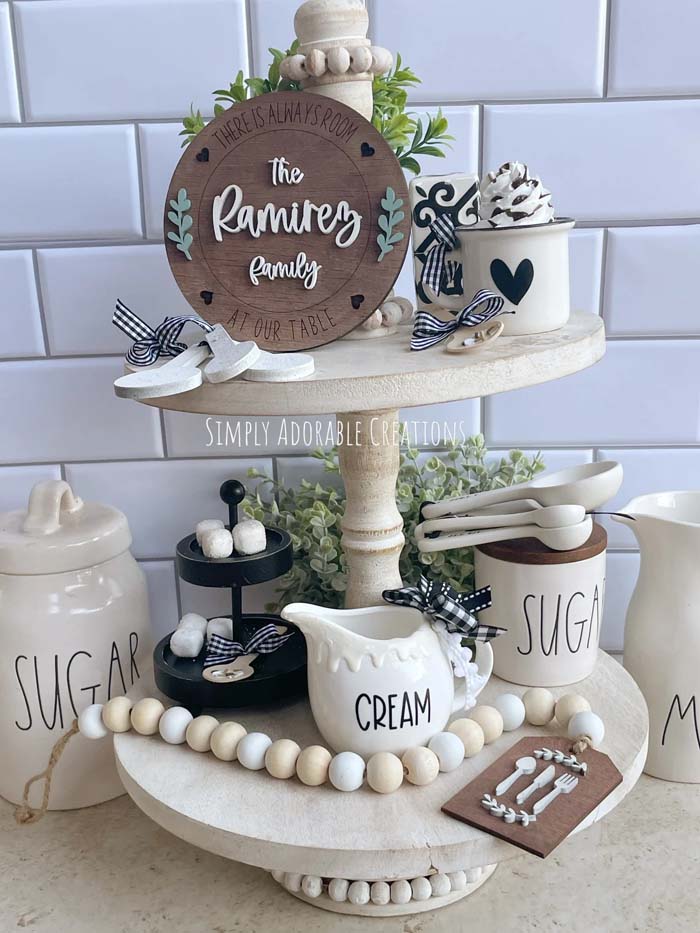 If you want a tray with a casual farmhouse look, this is your design. It features two round boards from solid wood left in its original color.
They stay on a pedestal decorated with wood beads at the bottom of the stool. The decoration picked up for this blonde wood tray is charming and cute combining useful kitchen containers with Rae Dunn labels and personalized signs.

36. Fun Farmhouse Tray Arrangement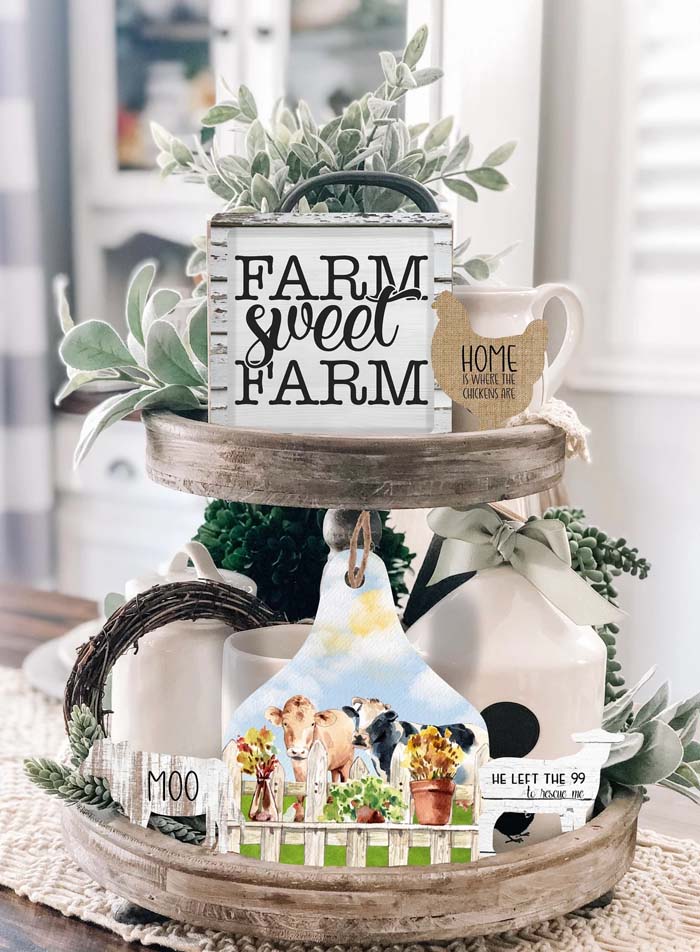 Use the animal names and images to create your unique tray arrangement that will raise smiles.
Cows, chickens and pigs are related to farmhouse life, hence commonly used in farmhouse DIY decorations.