When you're getting ready to decorate for Christmas, you might already have one of the most useful displays — a tiered tray.
Whether it's a wooden tray or an antique dessert stand, these multi-level pieces are the perfect way to show off a collection of smaller items.
Set them on any open spot for instant festive appeal. Check out these spectacular ideas to inspire your own creative design.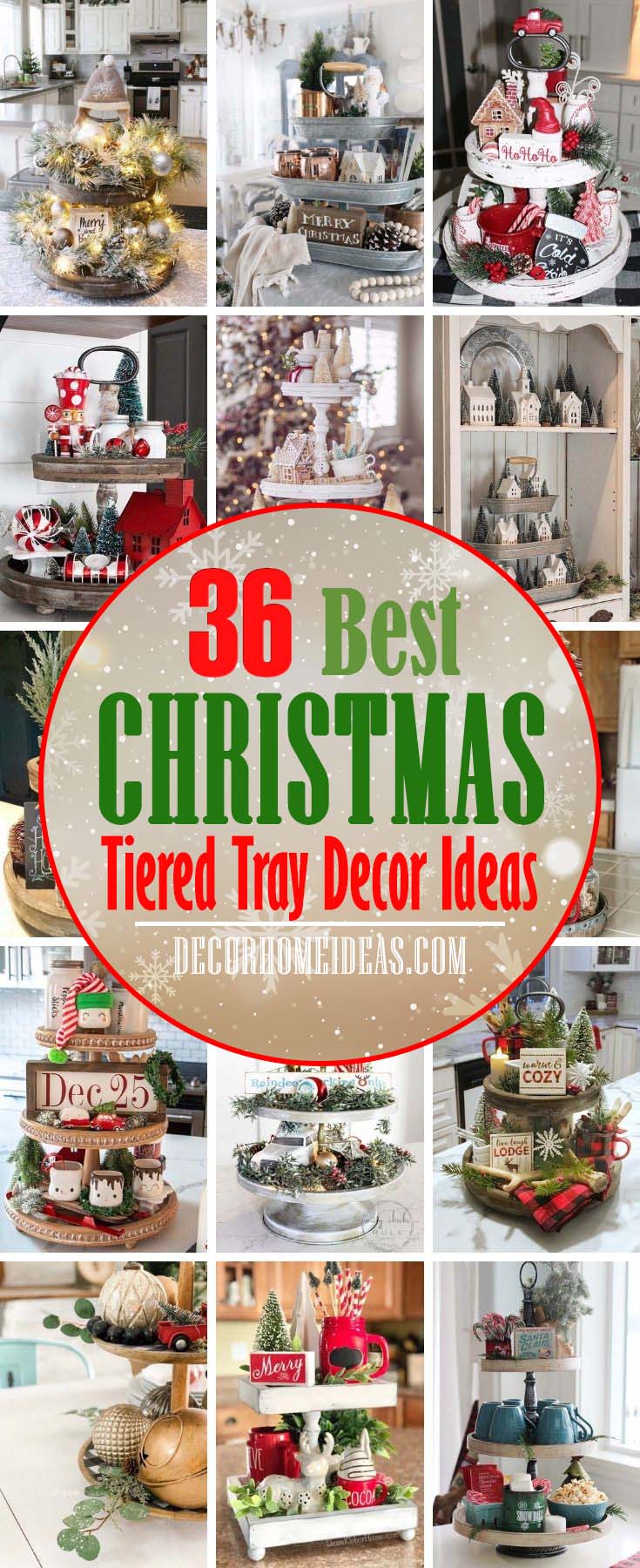 List of Tiered Tray Decoration Essentials:
1. Buffalo Check Christmas Tiered Tray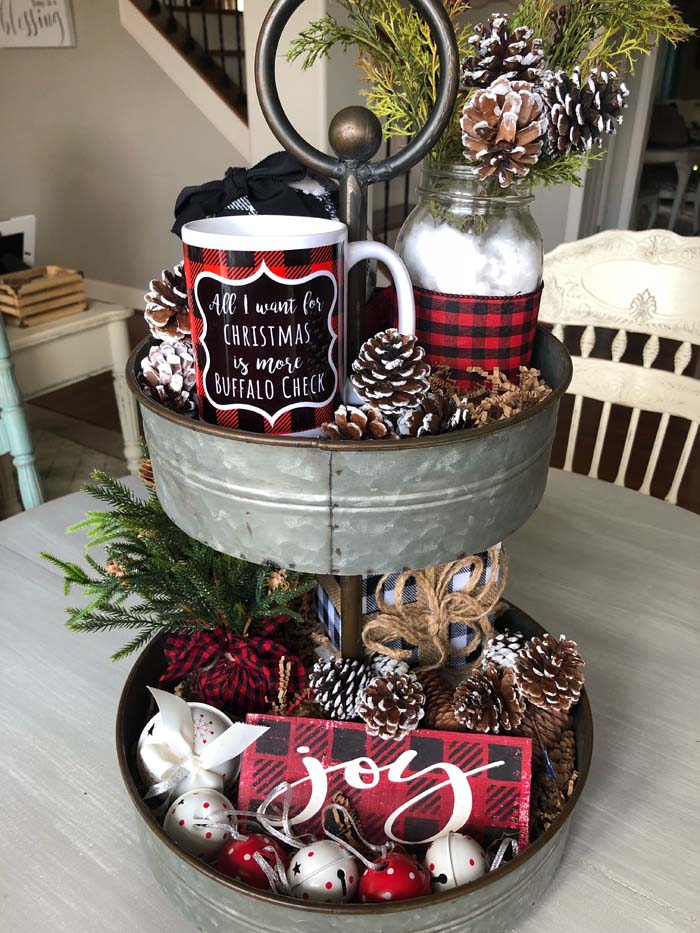 When you want to create a cozy, classic Christmas setting, buffalo check is a beautiful choice.
Here, it appears on a mug, a jar wrap, and a sign, bringing a unified look to contrasting items.
Fill in the extra space with pine cones and tiny ornaments.
2. Buffalo Check Galvanized Tiered Tray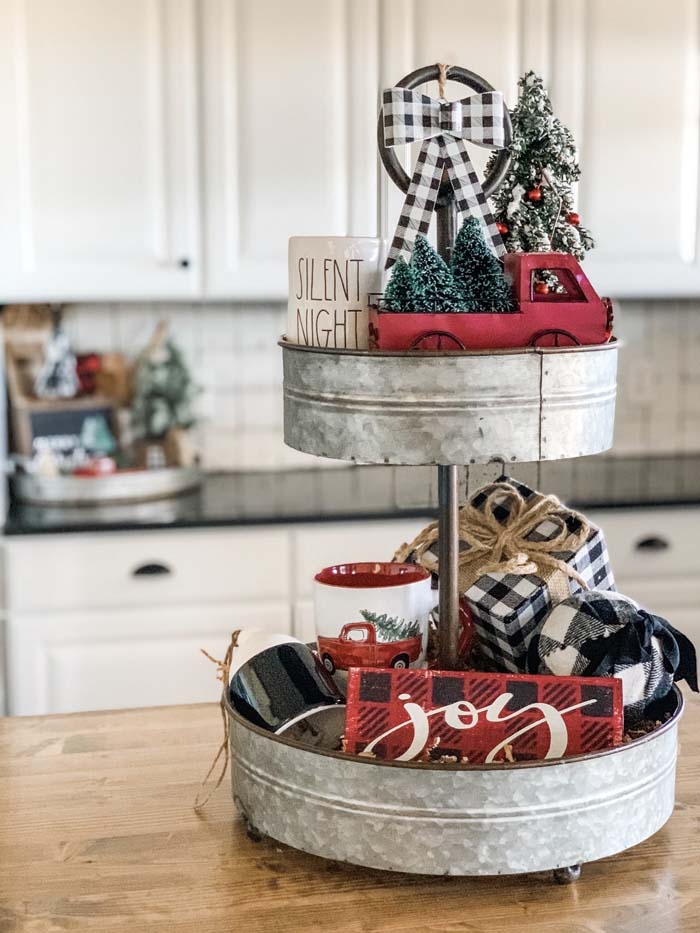 Here's another fun way to use buffalo check — this time, in a sweet black and white.
Red vintage truck elements bring an old-world vibe, and tiny Christmas trees bring a festive pop of color.
3. Cake Pedestal Christmas Decorations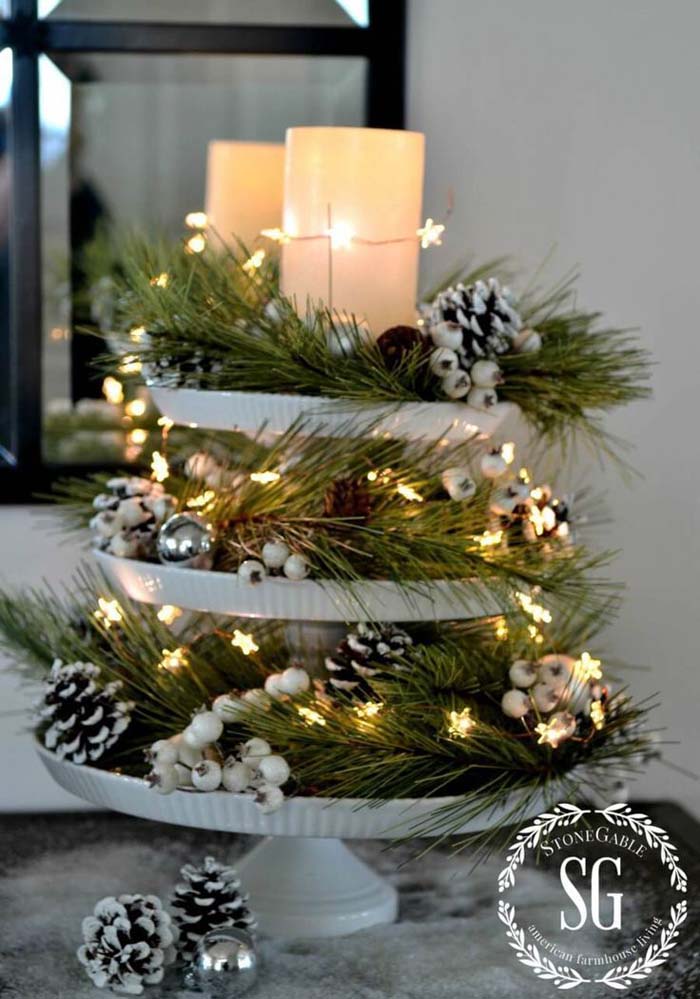 Do you have a length of faux pine garland that's too short to display?
No problem — wrap it around a tiered cake tray for an instant Christmas decoration.
A few white lights, frosted berries, and pine cones complete the design.
via Stone Gable
4. Christmas Coffee Tiered Tray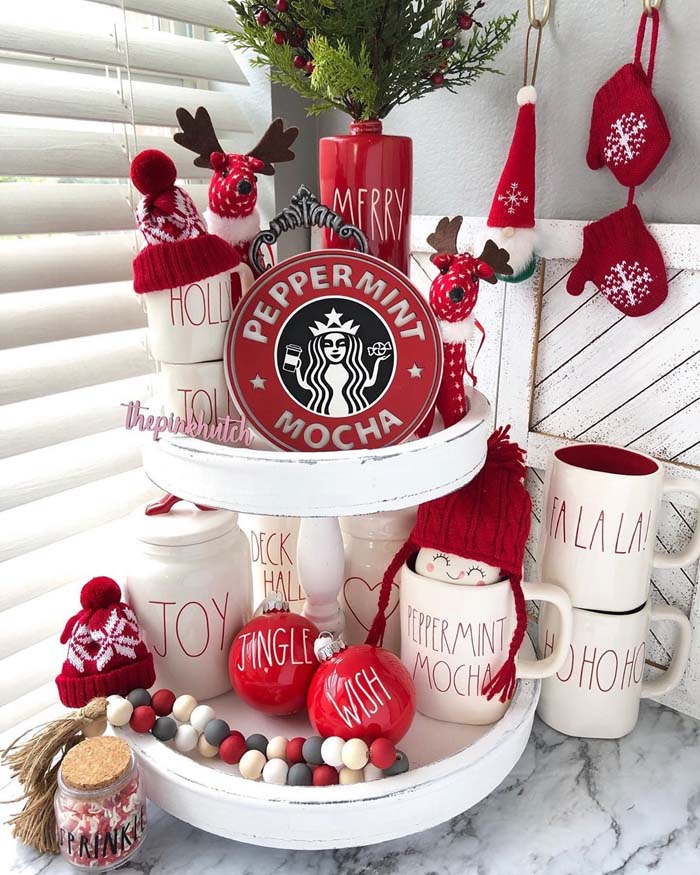 Welcome your holiday guests with a coffee-themed Christmas tray.
A stack of holiday mugs interspersed with holiday ornaments makes a cute holiday centerpiece.
Use your tray as a server, or leave it up for decoration.
via The Pink Hutch
5. Christmas Gnome Tiered Tray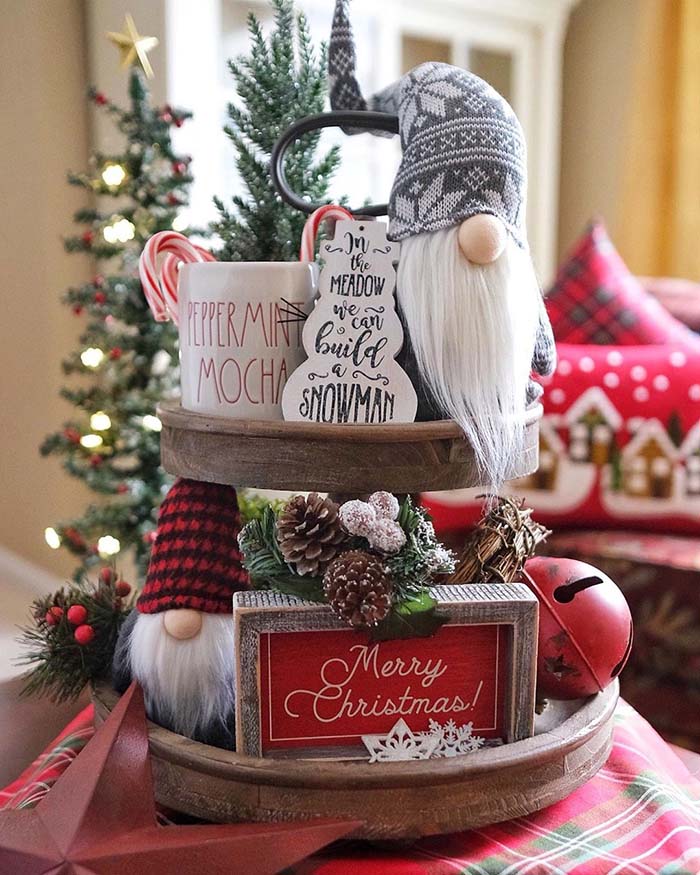 What's cuter than Christmas gnomes?
Here, they accent a rustic wooden tray for a festive display item.
A mug of candy canes, a wooden sign, and snowy pinecones add a wintry vibe.
via Wanda Guess
6. Christmas-Inspired Tiered Tray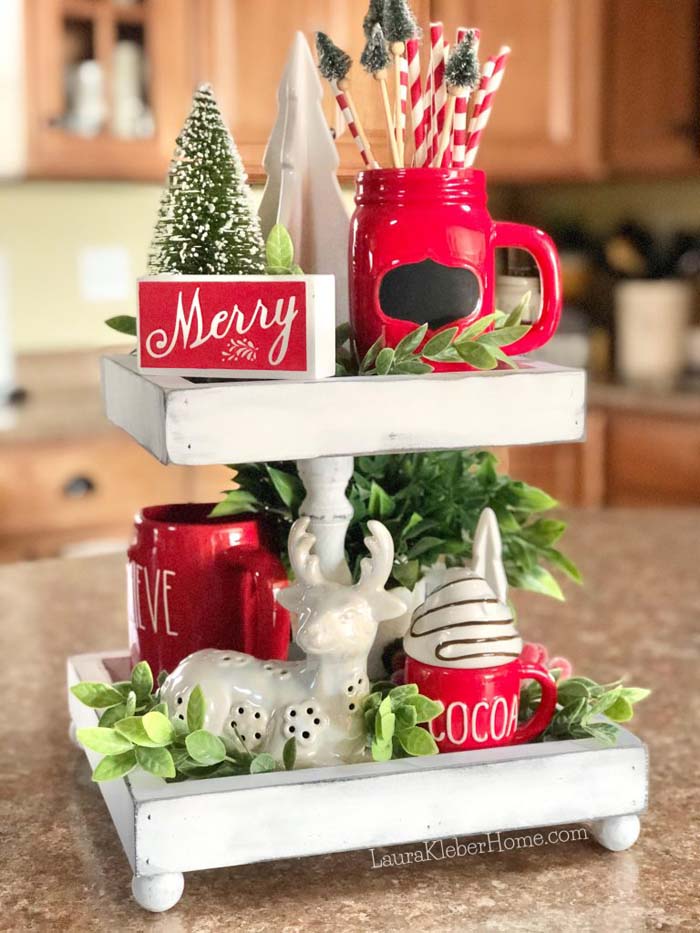 This tray is all about the classic Christmas colors — it's a joyous explosion of red, white, and green.
To recreate it, find all of the red and white decor elements you have.
Then, wrap a few strands of faux ivy around the base for a burst of freshness.
via My Home Matters
7. Christmas Tiered Tray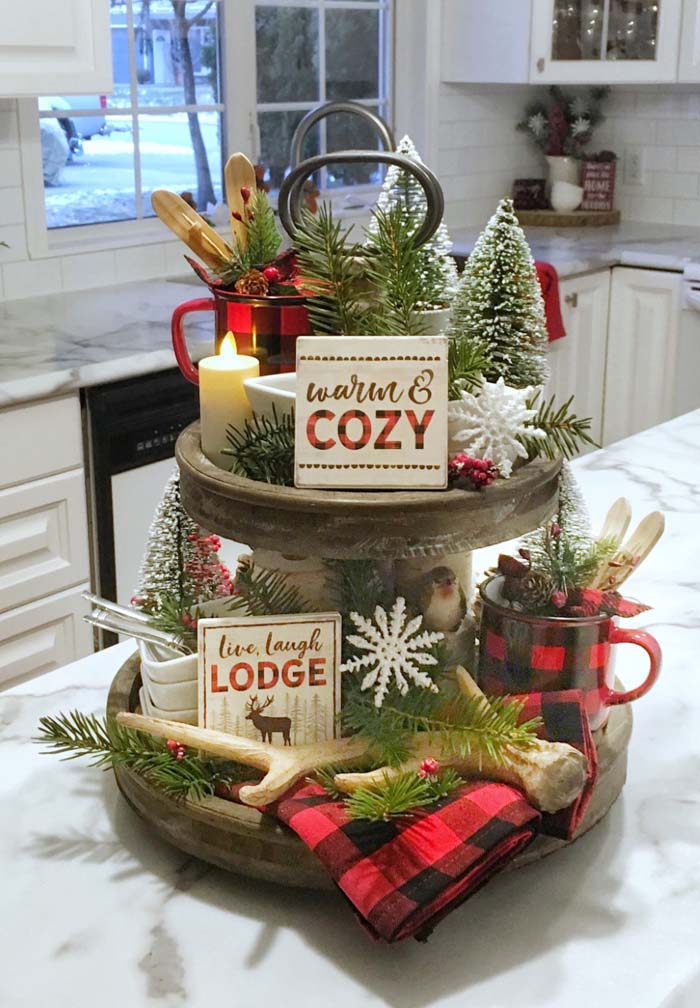 When you're creating a cabin-themed Christmas, a wooden tray is a beautiful choice.
This beautiful tray is loaded with elements of the season: buffalo-check napkins and mugs, flocked mini-trees, pine boughs, and snowflakes.
If you look closer, you'll spot an antler, a lodge size, and a bird — they bring in a natural vibe.
via Dining Delight
8. Christmas Tiered Tray Decor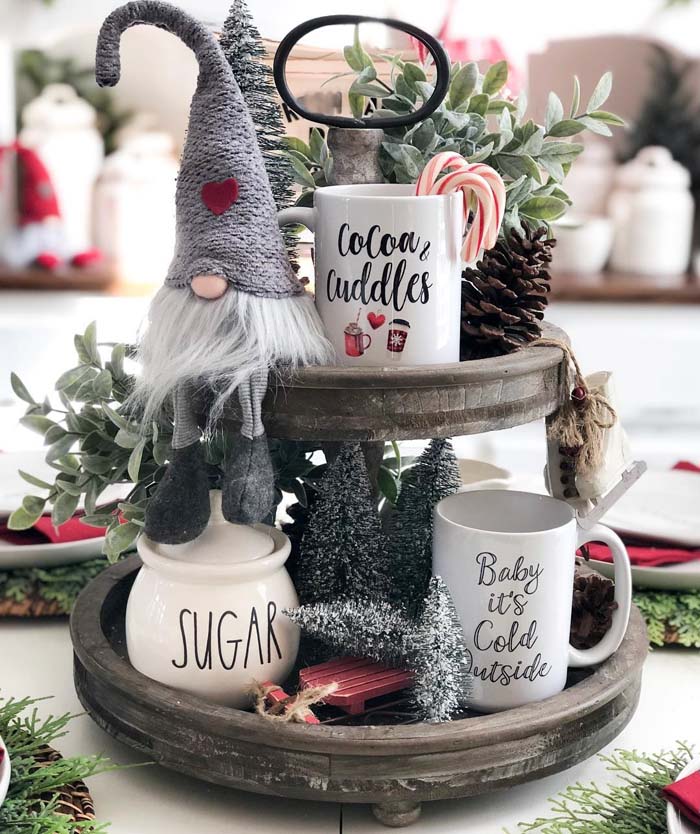 A tiny gnome rests on the side of this cozy tray, which features everything you need for a cup of cocoa or coffee.
The real magic is in the chic color scheme, which features greys, rustic browns, and soft sage greens.
9. Christmas Tiered Tray Styling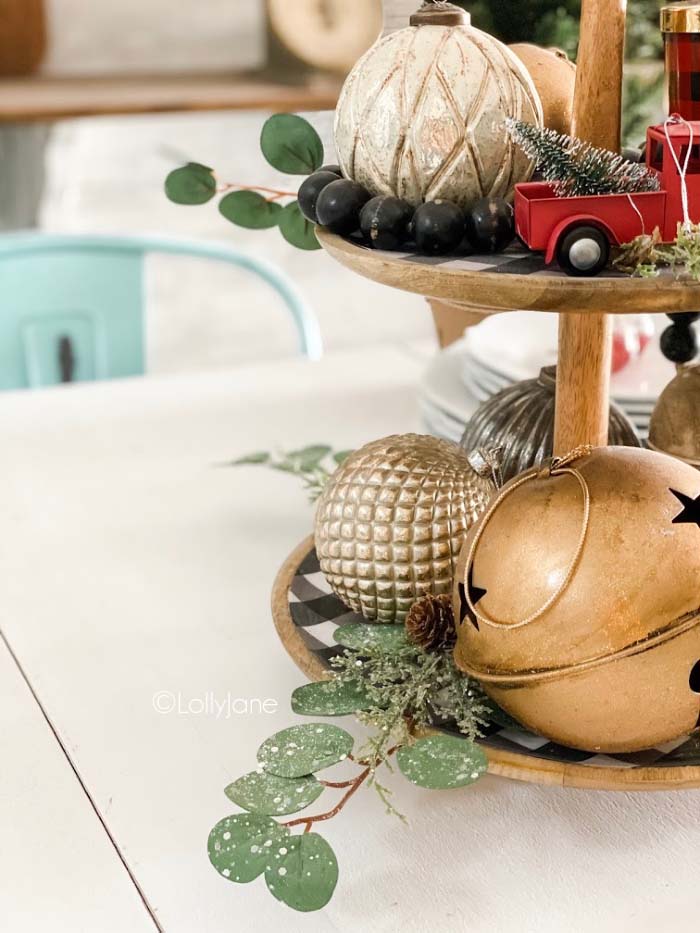 Do you have ornaments that don't work with your Christmas tree theme?
Show them off on a tiered tray. Set them on top of a bed of decorative leaves, and you have a centerpiece that will delight all of your guests.
via Half Full
10. Christmas Tiered Tray With House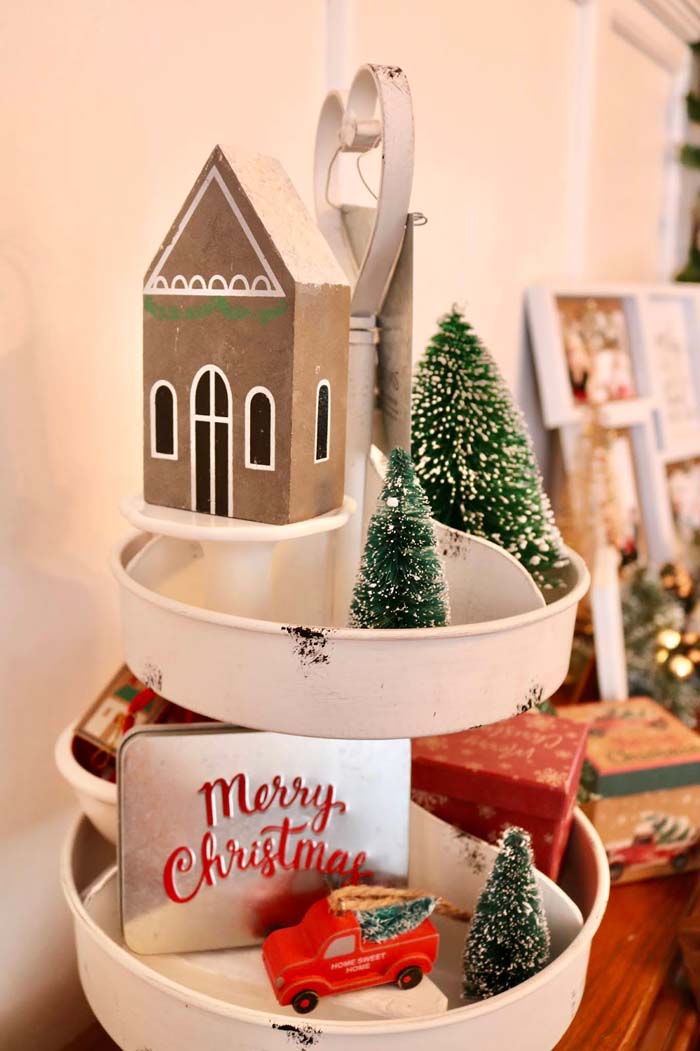 Step back in time with this vintage tiered-tray design, which features a rustic truck and a sweet gingerbread-style house.
Toss in a few tiny trees and a cute tin for a piece that dresses up your hallway table.
11. Christmas Village Tiered Tray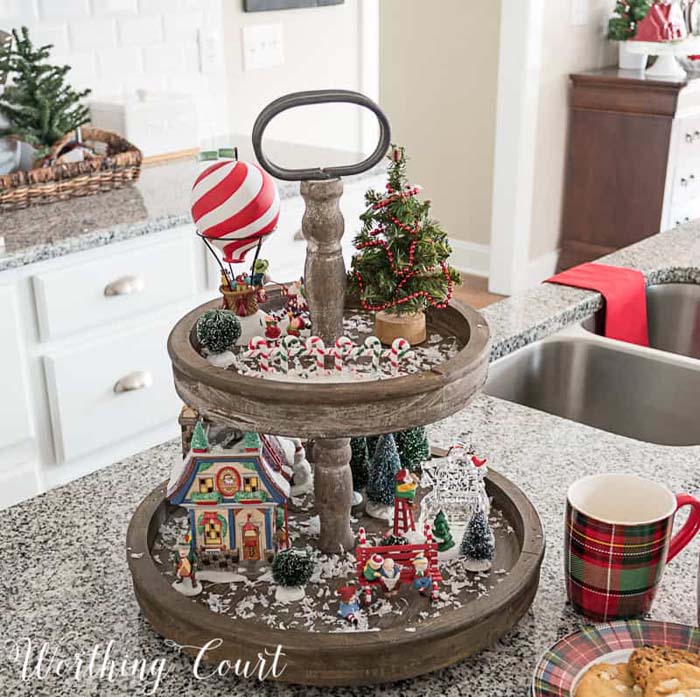 Create an unexpected twist on a classic Christmas village by using a round tray as the base.
The rim creates a natural boundary, so you can add snow and tiny characters in a perfectly contained spot.
Go with a wooden tray for an old-world look, or select crisp white metal for a snowy scene.
via Worthing Court
12. Christmas Village Tray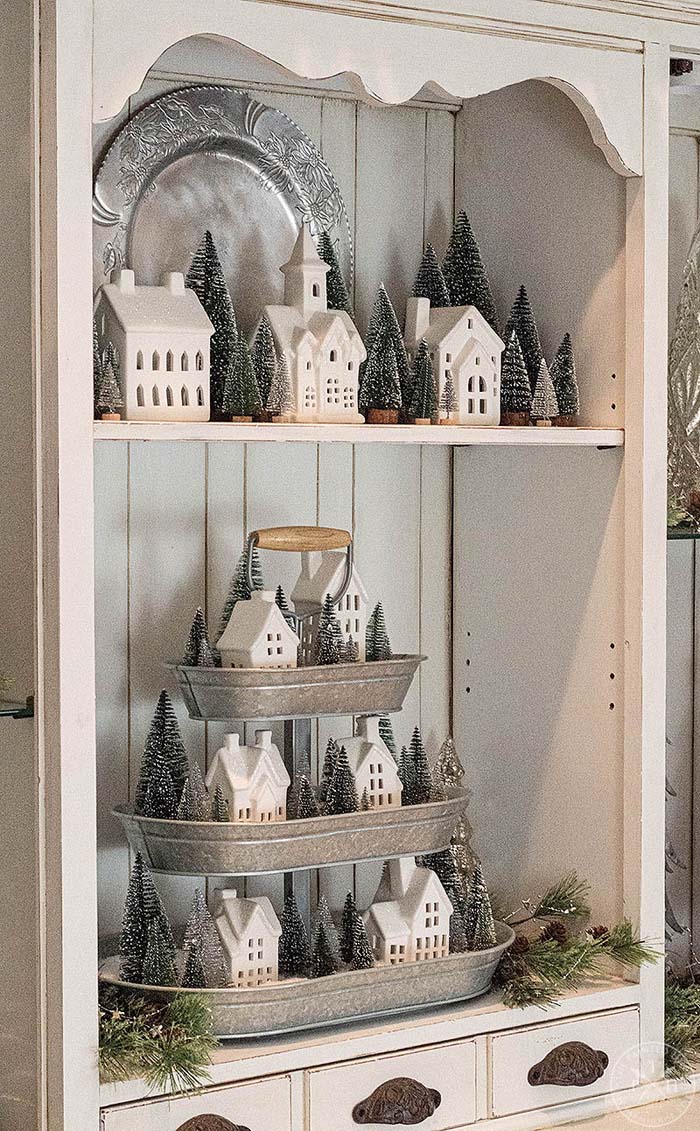 Add levels to your existing Christmas village with a three-tiered tray.
The gorgeous galvanized metal adds a soft shine and texture — all you need to do is load in your tiny houses and trees for a professionally styled look.
This is a great way to maximize the space on a tall shelf.
13. Classic Christmas Tiered Snack Tray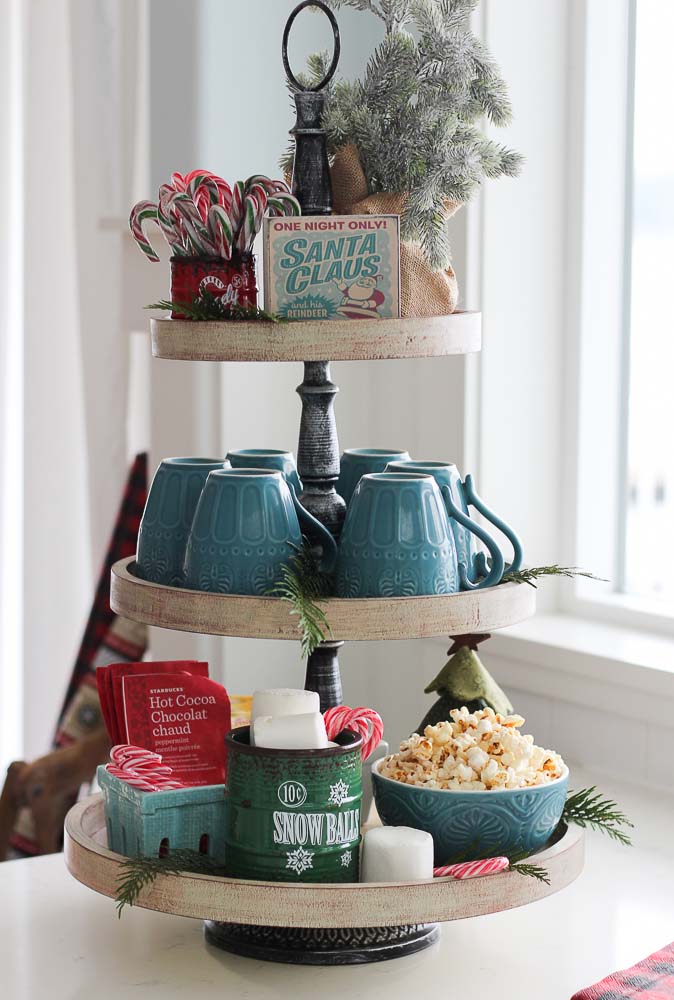 Are you expecting guests for the holidays?
Invite them to partake of the treats on your tiered snack tray.
Use one tier for cups, and load the others with drink mixes, candy canes, and other delicious goodies.
via Happy Housie
14. Cute Hot Cocoa Tiered Tray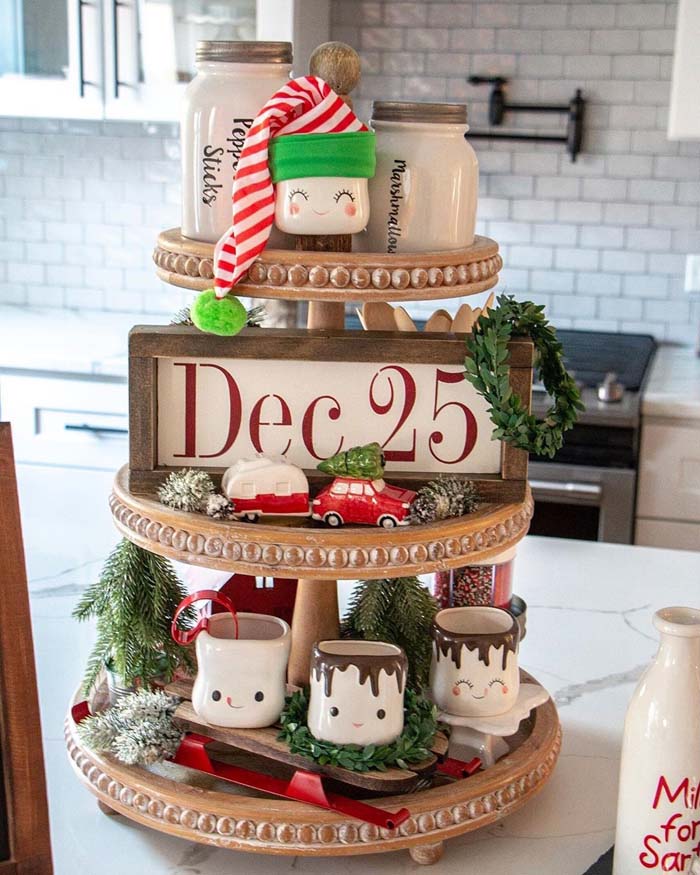 Design an irresistible hot cocoa station using a large tiered tray.
Add cups and supplies, and toss in a few small ornaments or trees for a festive twist.
Keep the tray filled, and your family and friends will be warm and happy all season.
15. Farmhouse Christmas Tiered Tray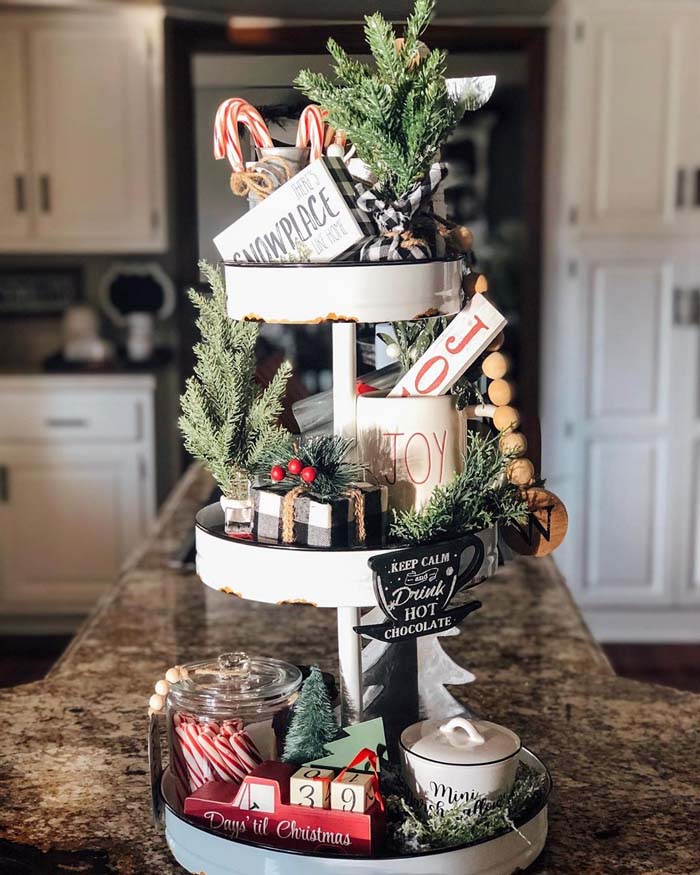 This farmhouse tray is all about textures — corroded metal, rustic wooden beads, fabric wrapping paper, and natural greenery.
This gorgeous mix creates a laid-back charm and sets the stage for tiny red and white accent pieces.
16. Farmhouse Christmas Tray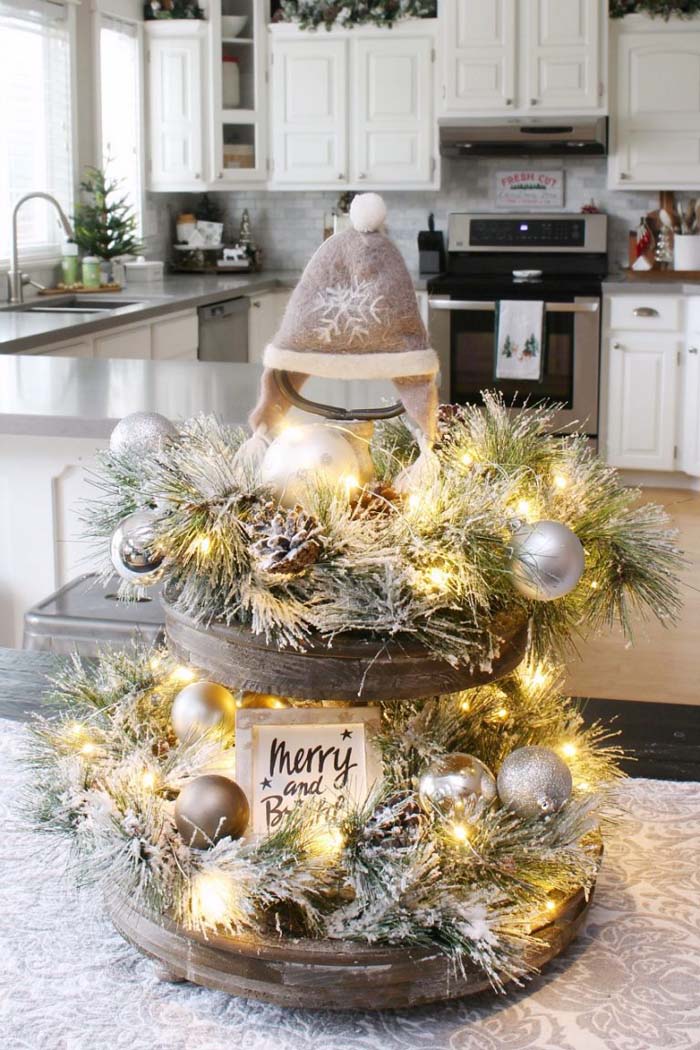 When you want a fast DIY project with a big visual impact, this farmhouse-inspired tray is a good option.
Short lengths of flocked garland create a convenient canvas for anything you have on hand — lights, ornaments, and pine cones are a great place to start.
A vintage doll hat tops off the arrangement.
17. Farmhouse Styled Christmas Tiered Tray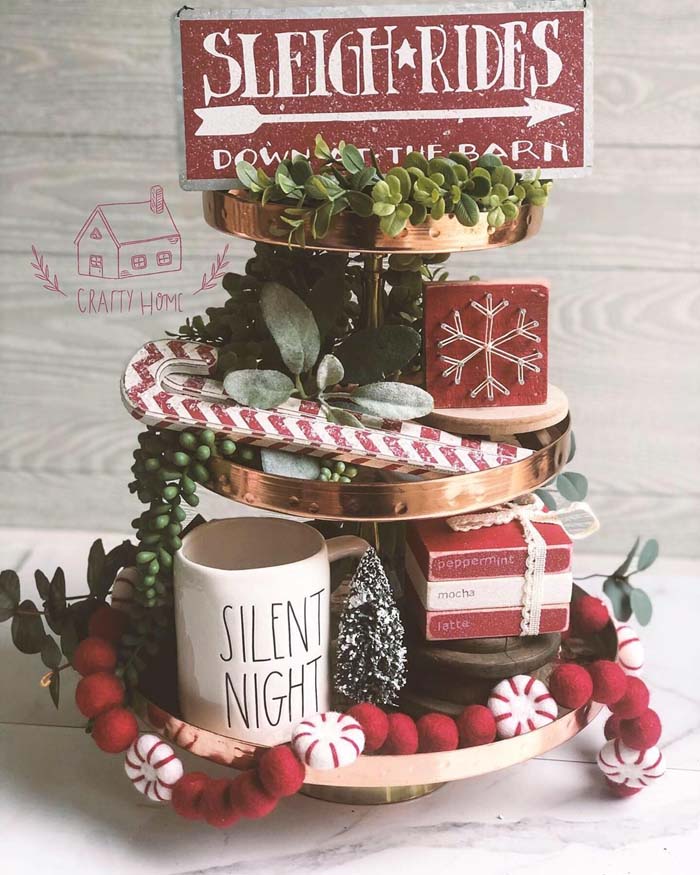 If you have a modern farmhouse, this sleek copper tray will fit right in.
The joy is in the details — and with its wide collection of festive garlands, ornaments, signs, and mugs, there's plenty to look at.
18. Farmhouse Winter Tiered Tray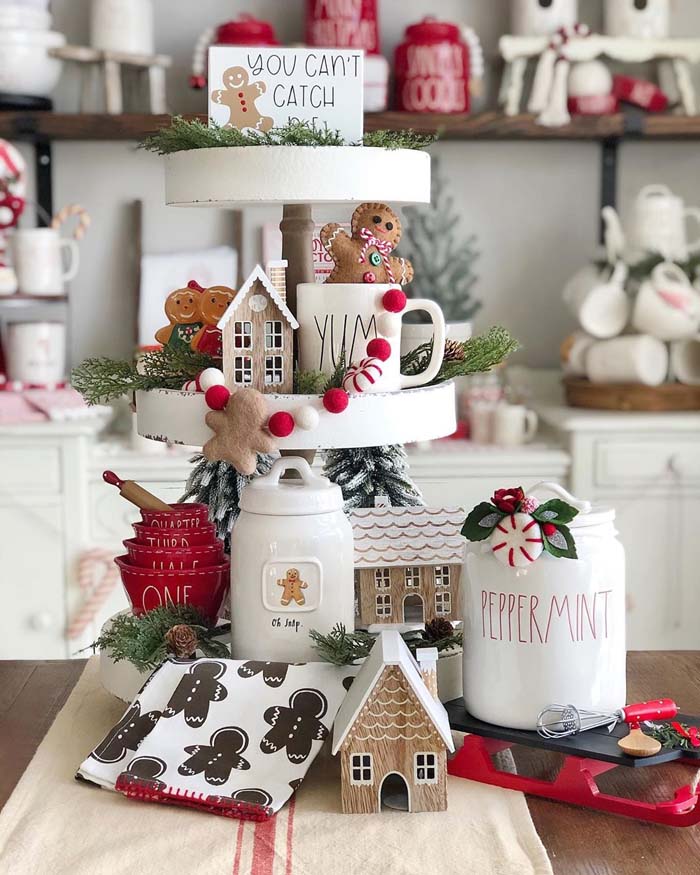 Your little cookie-lovers will adore this gingerbread-themed farmhouse tray.
It's filled with all of the treats of Christmas, from tiny gingerbread ornaments to miniature mixing bowls.
Stick to a cohesive color palette for a sophisticated twist.
19. Galvanized Christmas Tiered Tray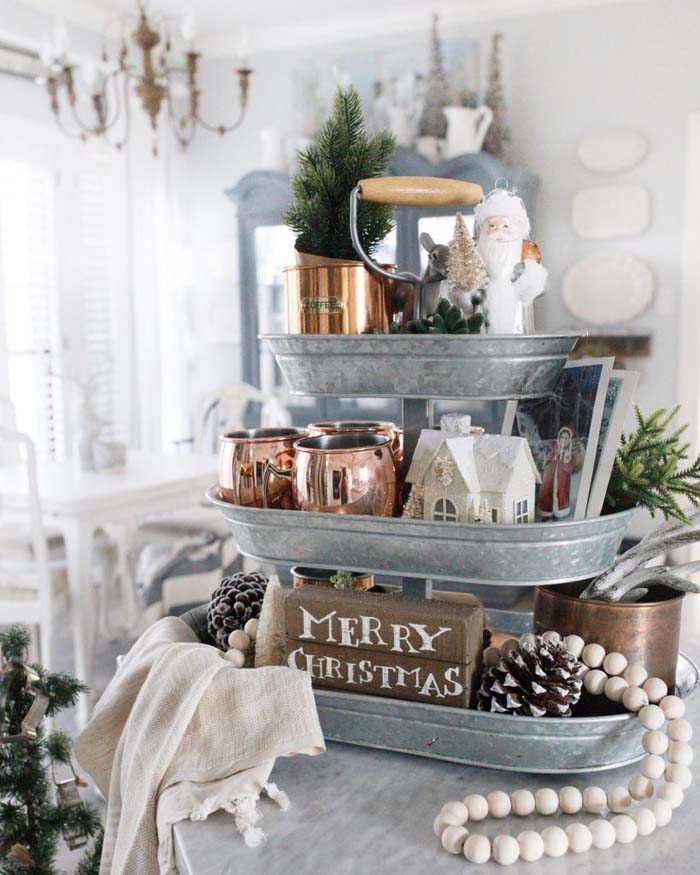 Take advantage of beautiful galvanized metal with this Christmas tray, which mixes in copper and wood elements for a thrilling blend of textures.
Pine cones, wooden beads, and a vintage Christmas card add just the right combination of colors.
via Cuter Tudor
20. Galvanized Tiered Tray Christmas Centerpiece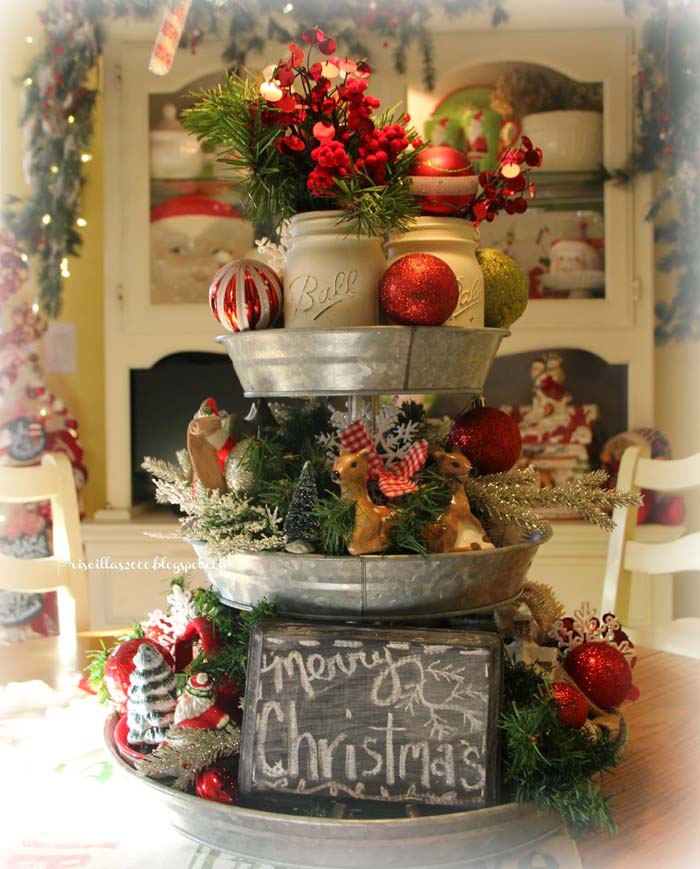 Are you looking for traditional Christmas decorations?
A galvanized metal tray makes a rustic base for red, white, and green ornaments.
Load up whatever you have on hand, and top it off with a hand-lettered chalkboard sign for good measure.
via Priscillas
21. Gingerbread Tiered Tray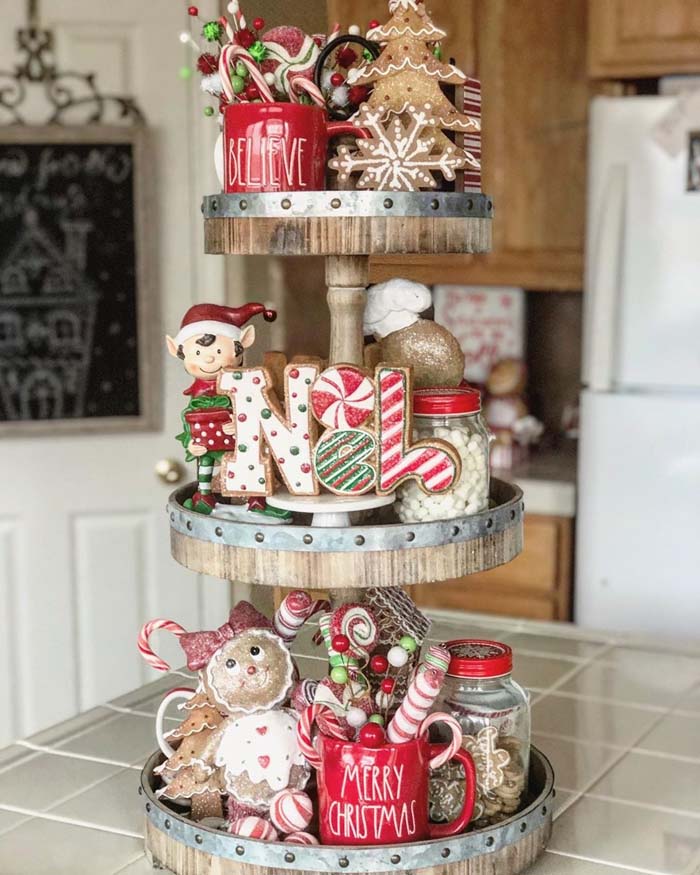 This gingerbread tray looks good enough to eat.
That's because it displays all of the delicious elements of a gingerbread house, from marshmallows to the gingerbread itself.
The classic colors are accented with rich browns for a sweet, down-home vibe.
22. Grinch Tiered Tray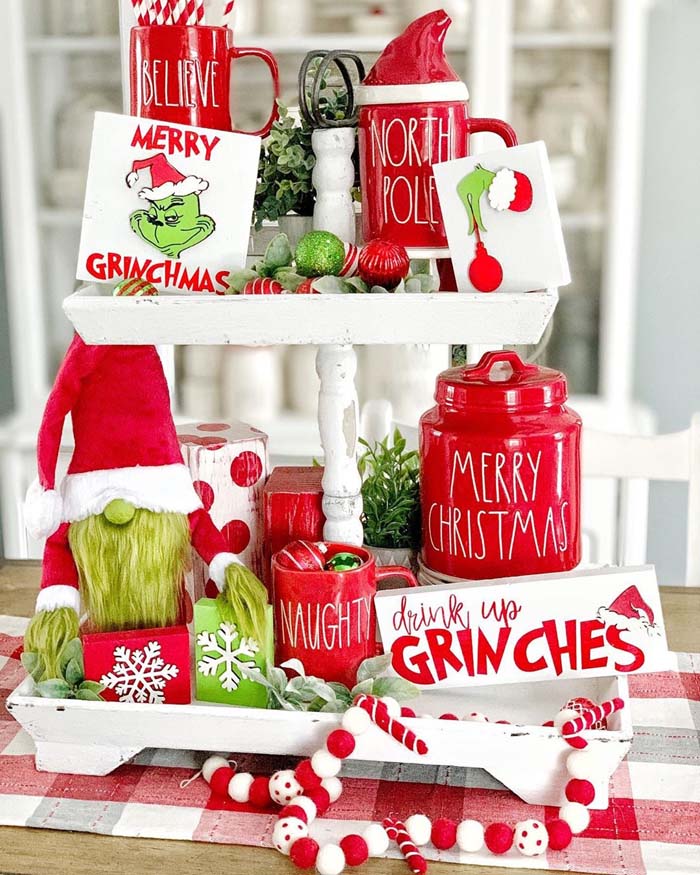 Celebrate everyone's favorite Grinch with this themed tray. The secret?
Use a bright Grinch green in place of typical forest green for a fun, vibrant effect. Bonus points if your display features the Grinch himself.
via Baileys Branches
23. Grinch Tiered Tray Idea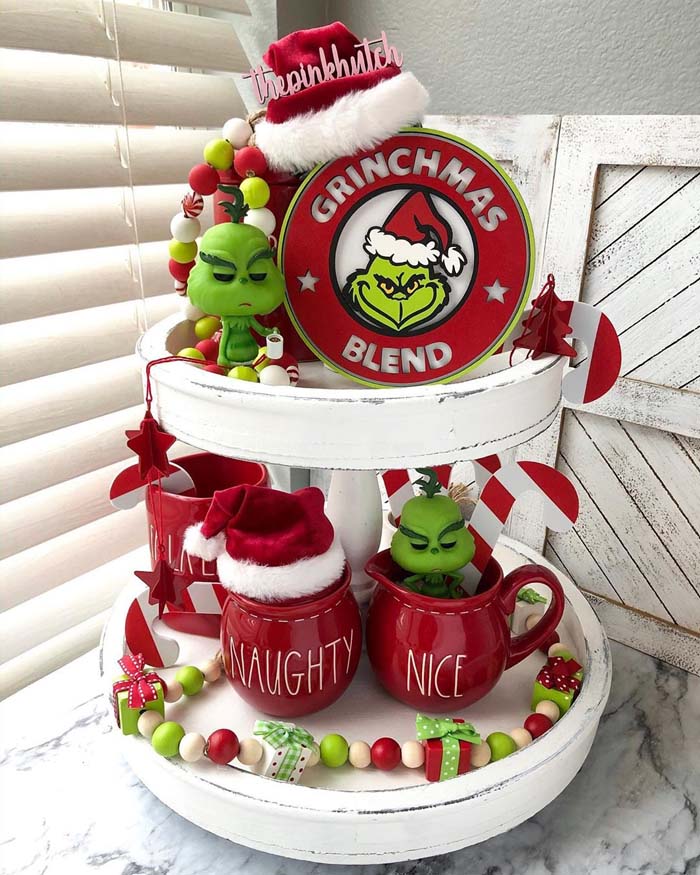 Here's another way to celebrate everyone's favorite Christmas character.
Comical miniature figurines and the Grinch's signature lime green color create a bright and brilliant decoration for any corner of the house.
via The Pink Hutch
24. Holiday Tiered Tray Makeover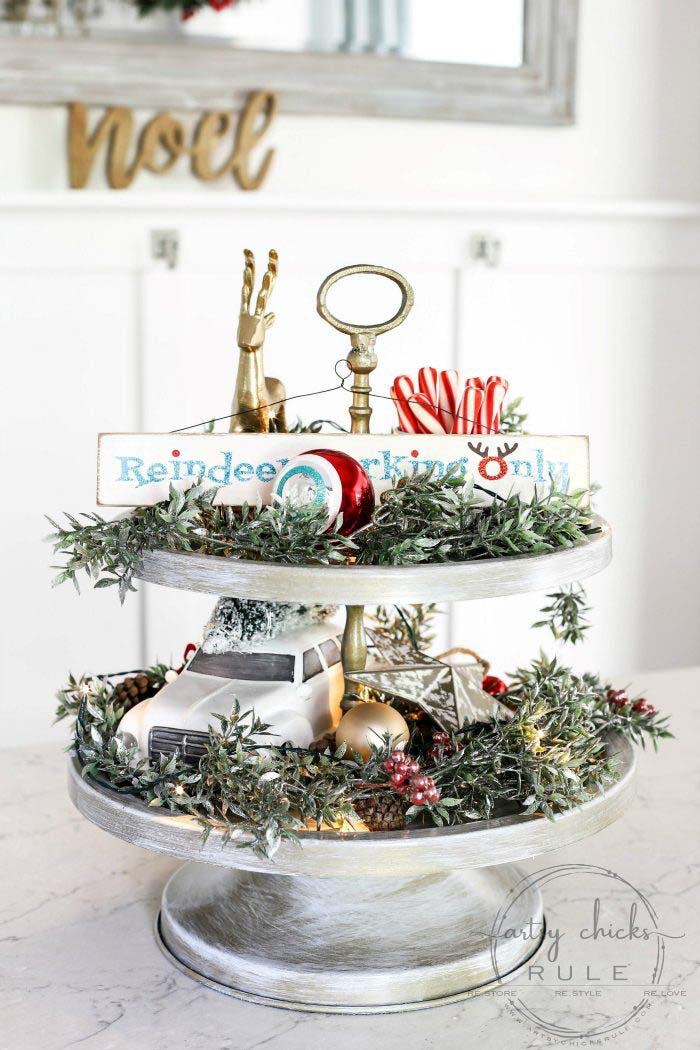 Create a charming rustic centerpiece for Christmas using a brushed metal tiered tray.
Piles of snow-covered branches make a lush base for vintage vehicles, ornaments, and any other items that are precious to your crew.
25. Hot Cocoa Tiered Tray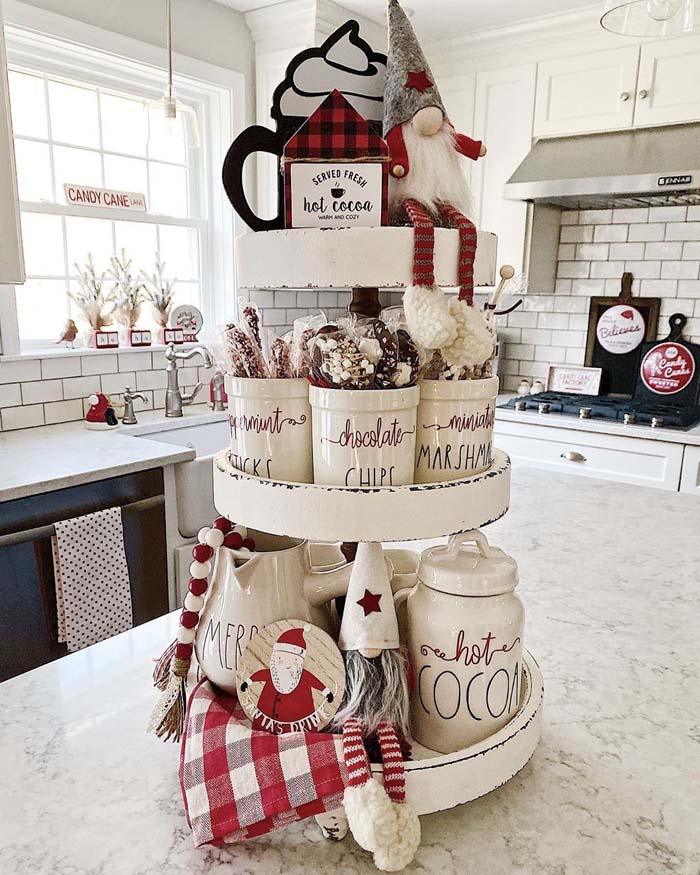 This cocoa tray doubles as a serving station and a decorative item.
To recreate it, simply load a tray with cocoa powder and canisters of delicious dippers.
Your guests or children can serve themselves and create a gourmet drink.
26. Little Red Truck Christmas Tiered Tray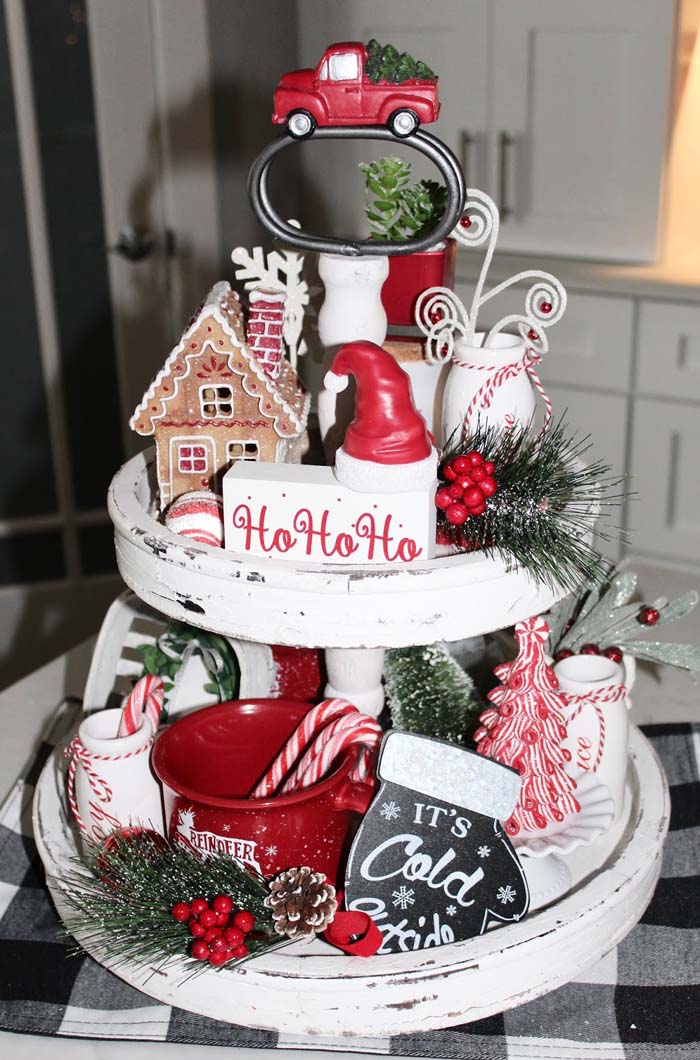 This cute Christmas tray stands out from the crowd due to one thing: a bright red truck that sits atop the handle.
The tiers are filled with beautiful red and white elements, with a few green pine branches tucked in for a traditional holiday look.
27. Mini Wood House Hot Cocoa Signs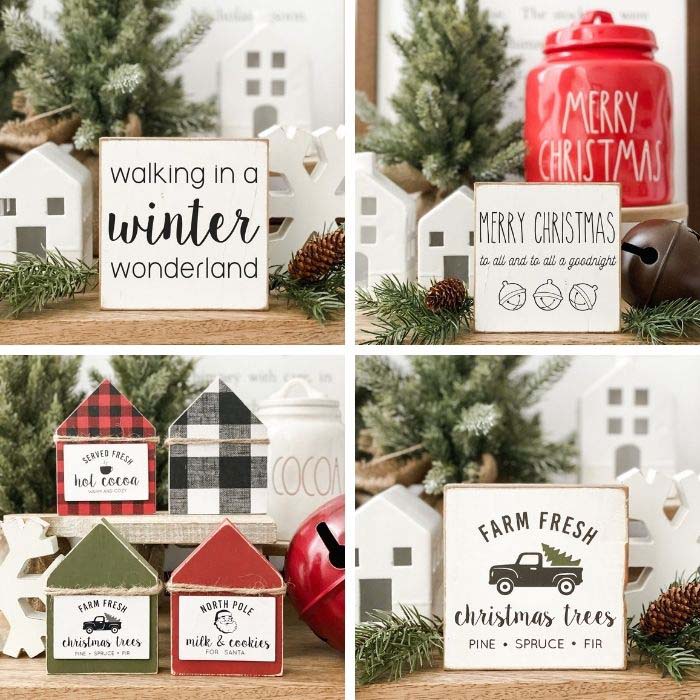 There's no reason your tiered tray has to be large — here, a single-tier creates levels for handmade wooden signs.
Paint your own, or buy them premade for a rustic Christmas vignette.
28. Neutral Farmhouse Christmas Tiered Tray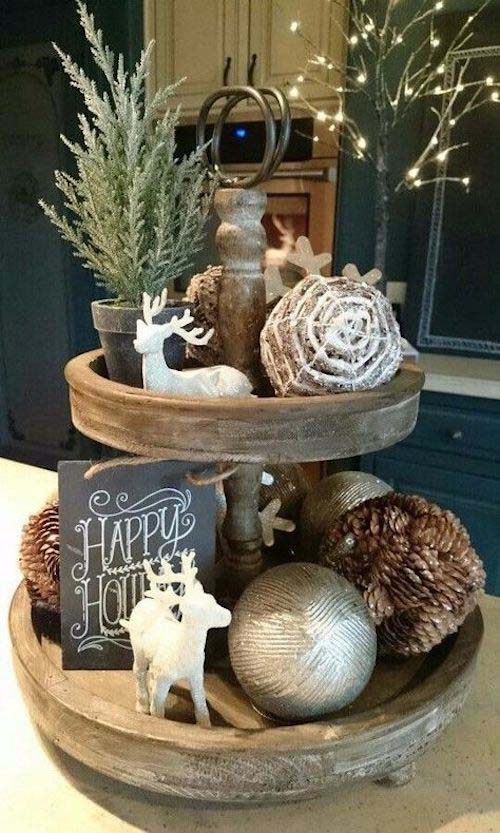 Are you looking for sophisticated Christmas decor?
Try a neutral color palette.
Here, rustic brown, gold, and shades of cream combine to create a super-chic piece.
29. Neutral Gingerbread Tiered Tray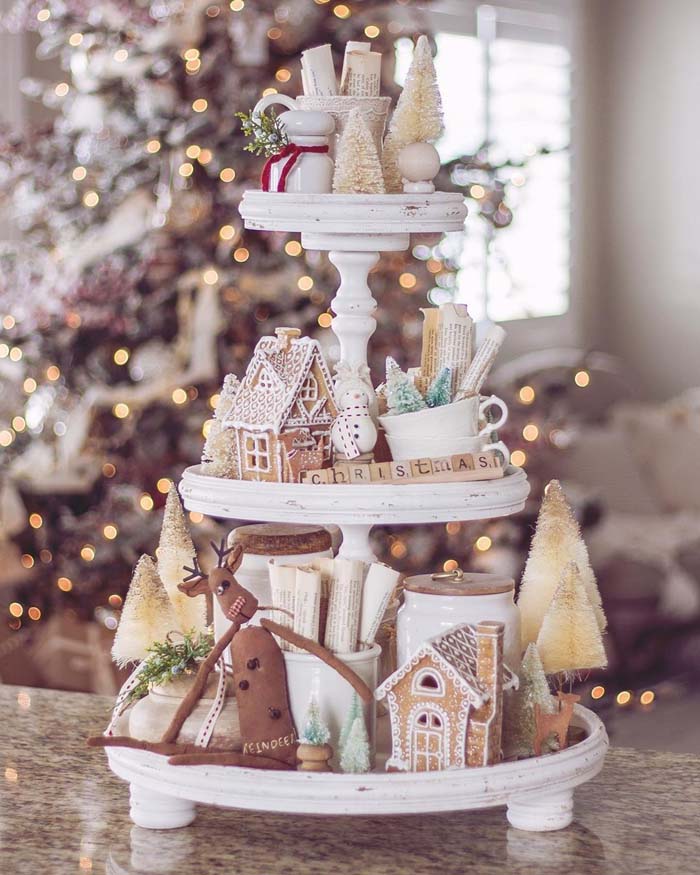 Brighten your wintry home with an all-white and beige Christmas tray.
This clever arrangement uses a wide variety of items, including gingerbread houses, reindeer, white trees, rolled-up book pages, and even wooden Scrabble tiles.
30. Red and White Christmas Farmhouse Tiered Tray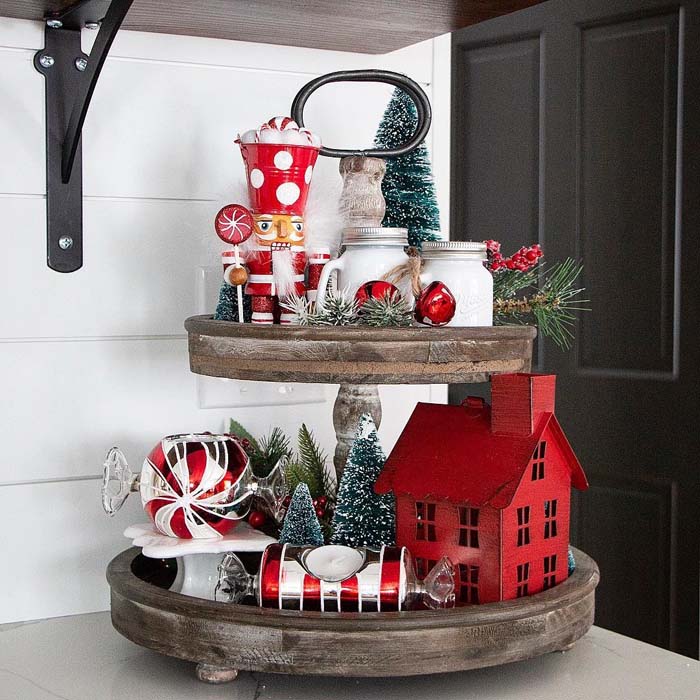 It doesn't get any more classic than this stunning Christmas tray, which uses white accents to set off the rich browns, greens, and reds.
The deep, traditional colors are the perfect way to ring in the season in a farmhouse or historic home.
31. Santa Tiered Tray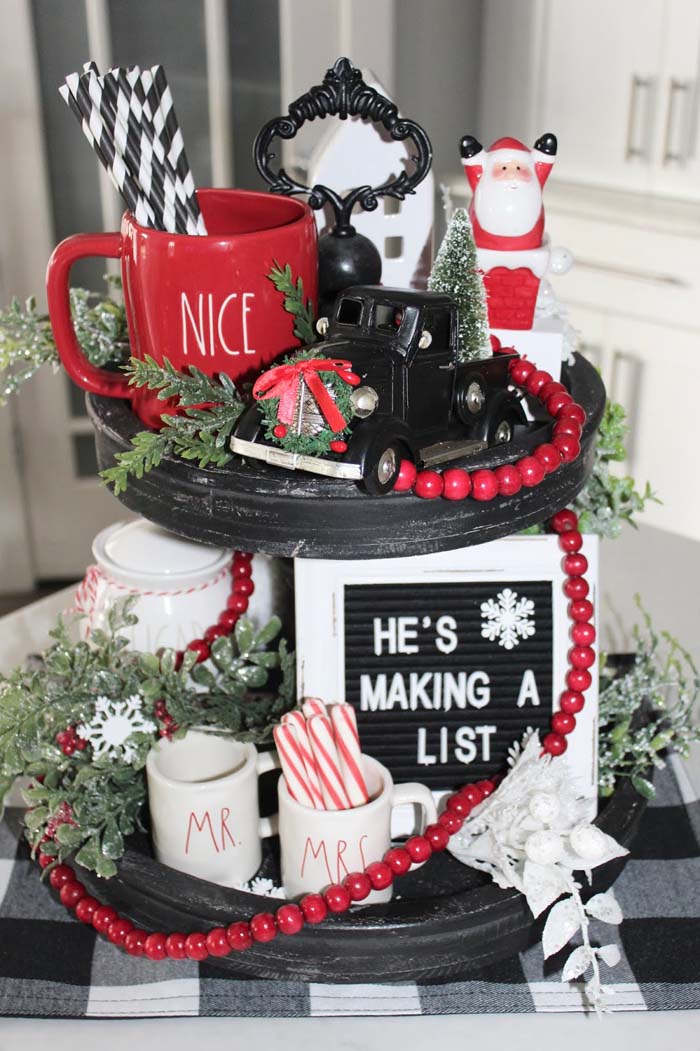 Keep your kids on their toes with a Santa-themed Christmas tray.
Traditional holiday items set the stage for the jolly elf himself, who peeks out of a chimney. We love the black elements, which bring a fun, modern vibe.
32. Touch of Red Festive Christmas Tiered Tray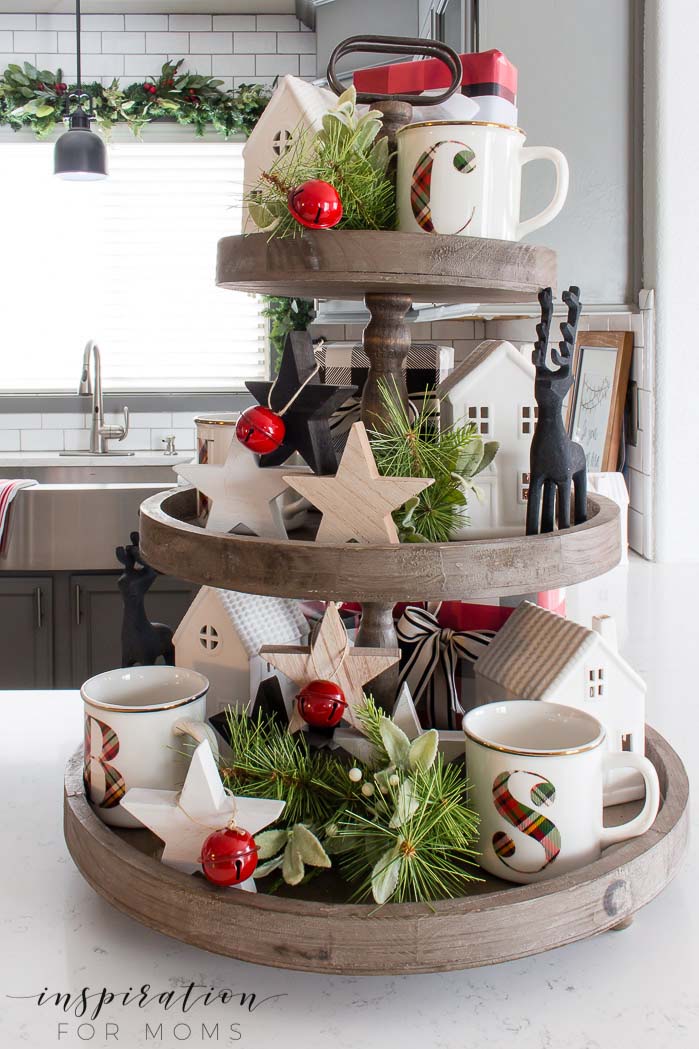 Bring a chic Scandinavian vibe to your holiday decorations with a pale wooden tray.
Other light-toned wooden elements pair perfectly with cream, green, and black for a modern-rustic look. Tiny hints of red keep things feeling festive.
33. Vintage Christmas Tiered Tray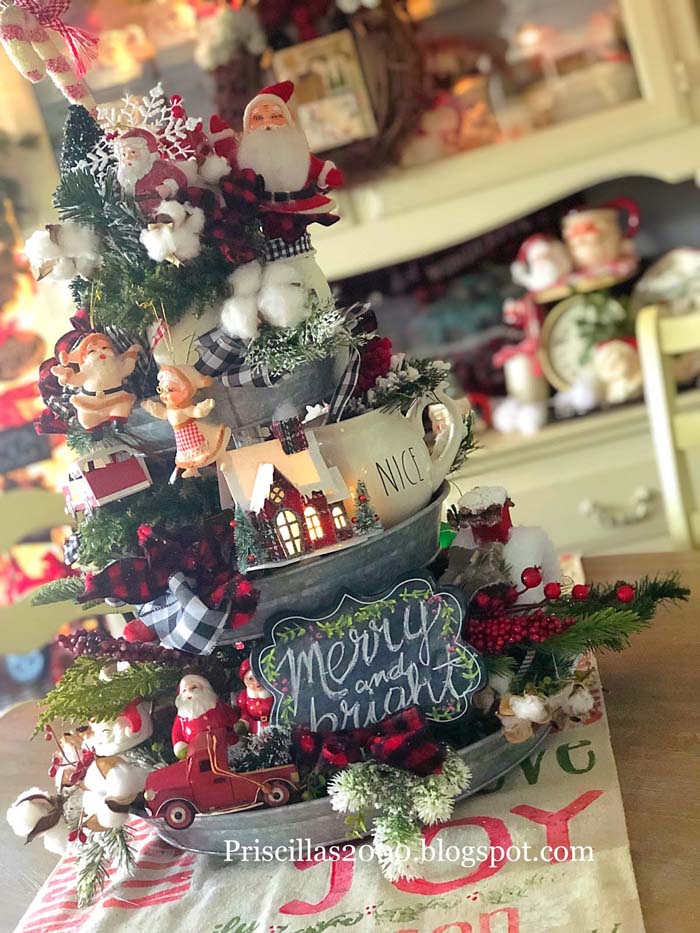 This vintage Christmas tray is packed with old-world elements, creating an instant conversation starter with every holiday visitor.
Anything goes — just gather your favorite ornaments and tuck greenery into the mix.
via Priscillas
34. Winter Village Tiered Tray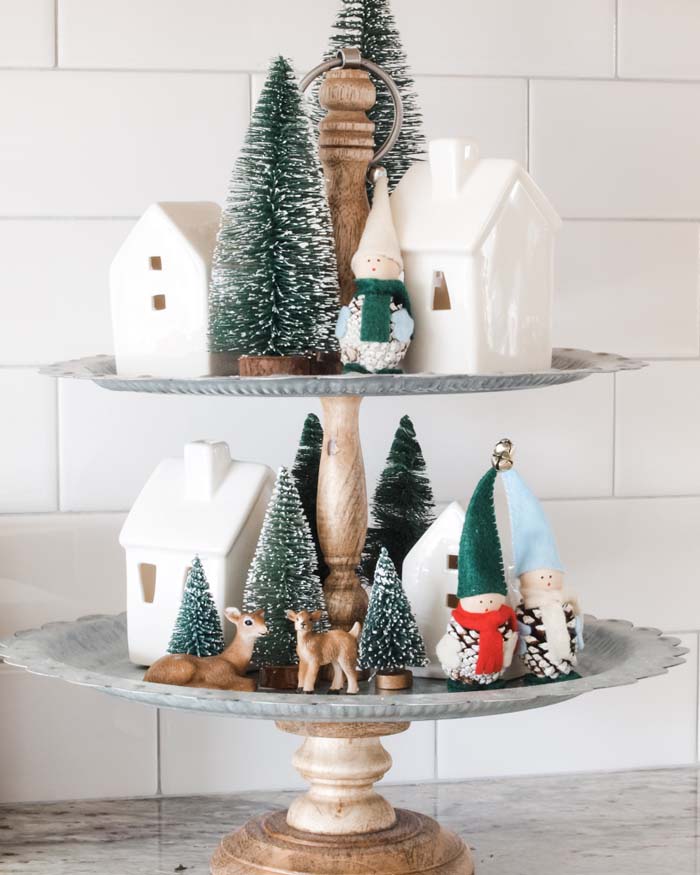 A wood and metal tray makes a sophisticated setting for a tiny winter village in this creative decorative piece.
The elegance originates in the minimalist color palette; a tiny hint of red makes a bold finishing touch.
via Hymns and Home