When you live in a nautical home or a seaside cottage, traditional Christmas decorations don't always work with your color scheme.
That's where coastal Christmas decor comes in — with a fresh, breezy take on the season, you can create a design that complements the vibe of your home.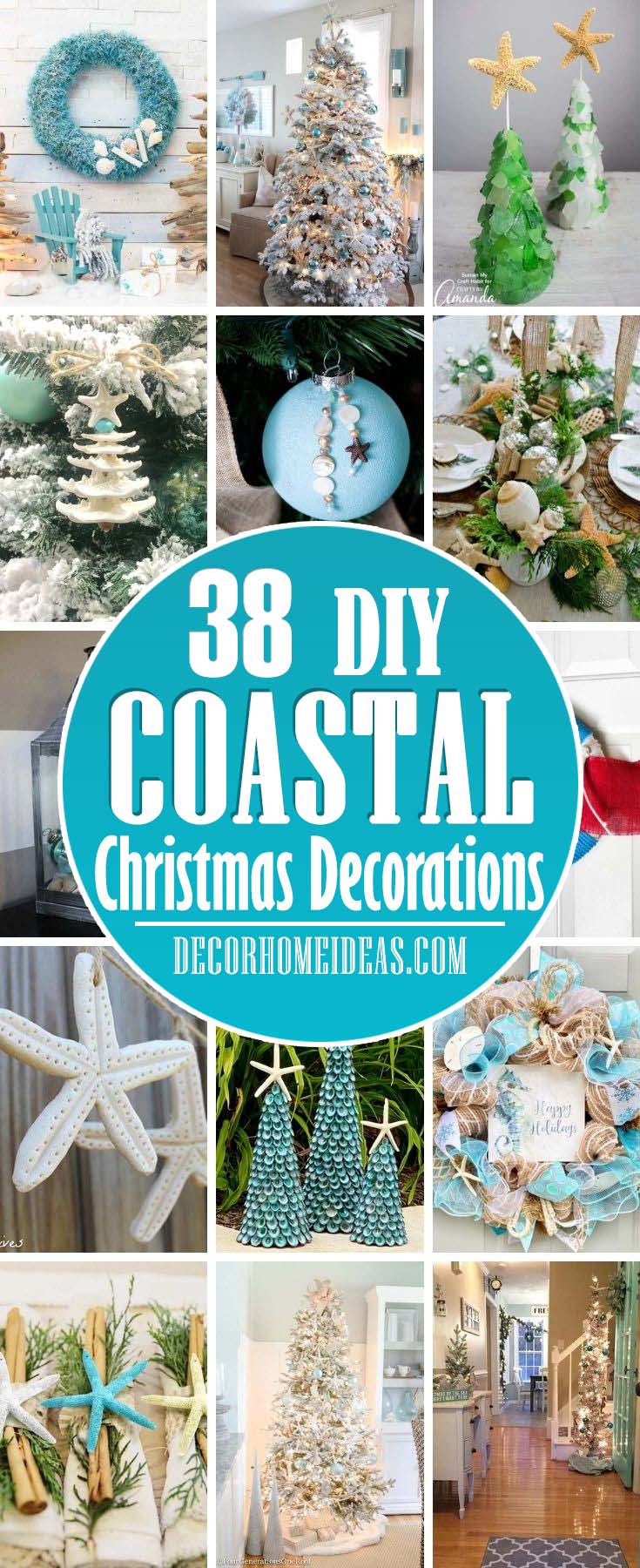 Need ideas? Check out these stunning examples for inspiration.
1. Coastal-Inspired Wintry Décor with Soft White and Aqua Tones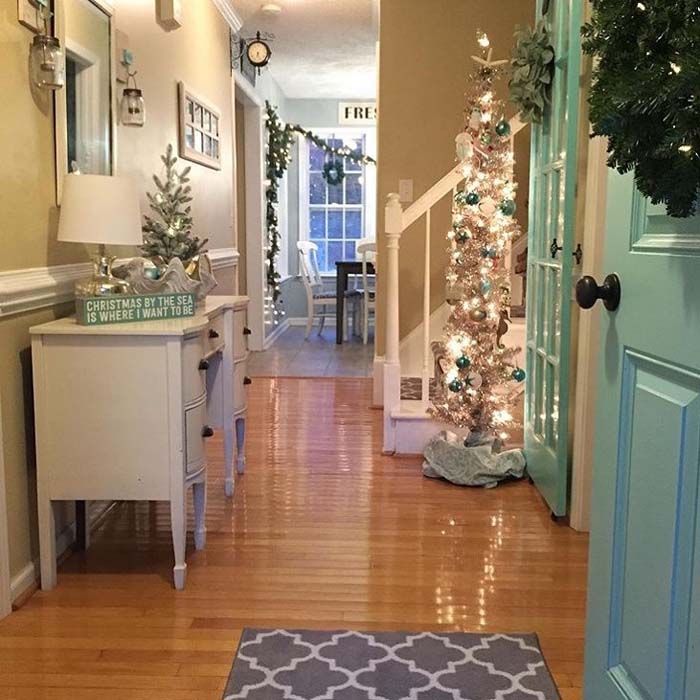 Soft wintry whites set the stage for coastal-inspired tones of aqua and teal in this lovely home.
It all starts with the snow-flocked trees, which create a look that's perfect for the season.
Top it off with signs and ornaments that coordinate with your home decor.
2. Transform Your Home with a Seaside Christmas Tree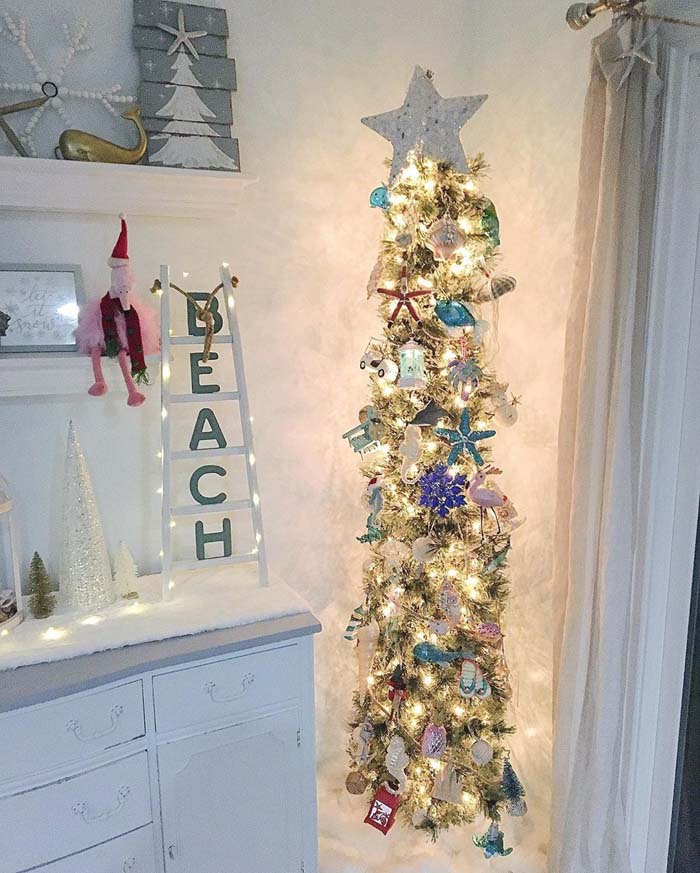 When you live at the beach, the world around you is filled with potential Christmas-tree ornaments.
Starfish, flamingo, and seahorse ornaments turn this adorable tree into a seaside masterpiece.
Add in snowflakes and a few classic pieces in matching colors for a fun, unexpected look.
via Shorely Cozy
3. Add a Coastal Touch to Your Winter Decor with Blue and White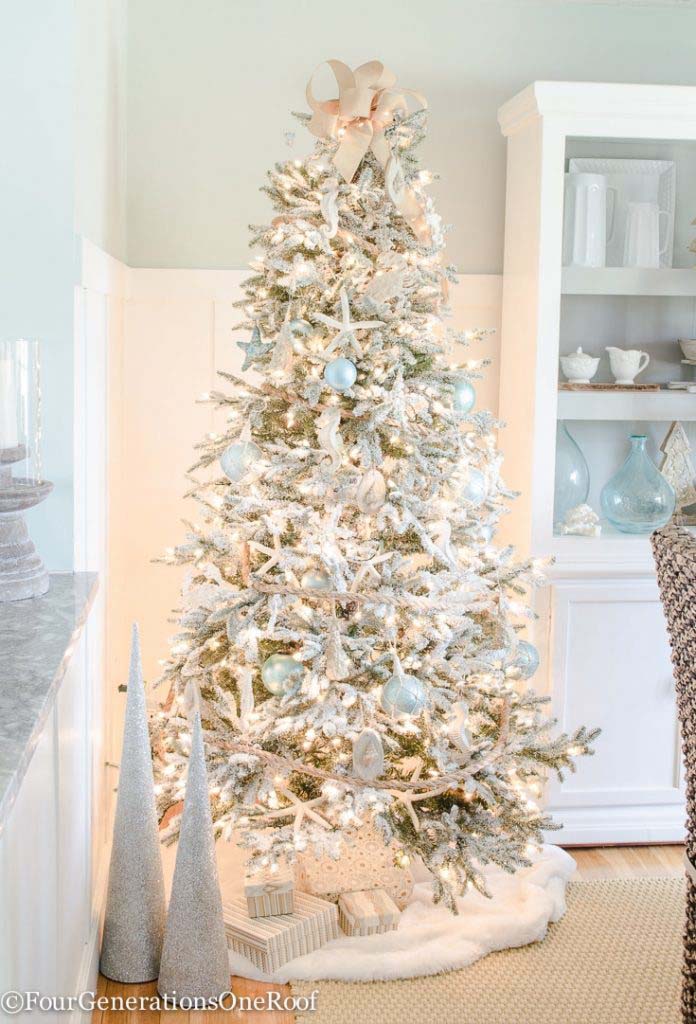 If you love the traditional decor, why not turn to a classic winter palette of blue and white?
The icy colors are perfectly suited to the season; for a coastal update, replace your typical ornaments with starfish and seahorses.
White lights add a glistening effect.
via Jessica Bruno
4. Stunning Coastal-Inspired Christmas Tree with Coral Accents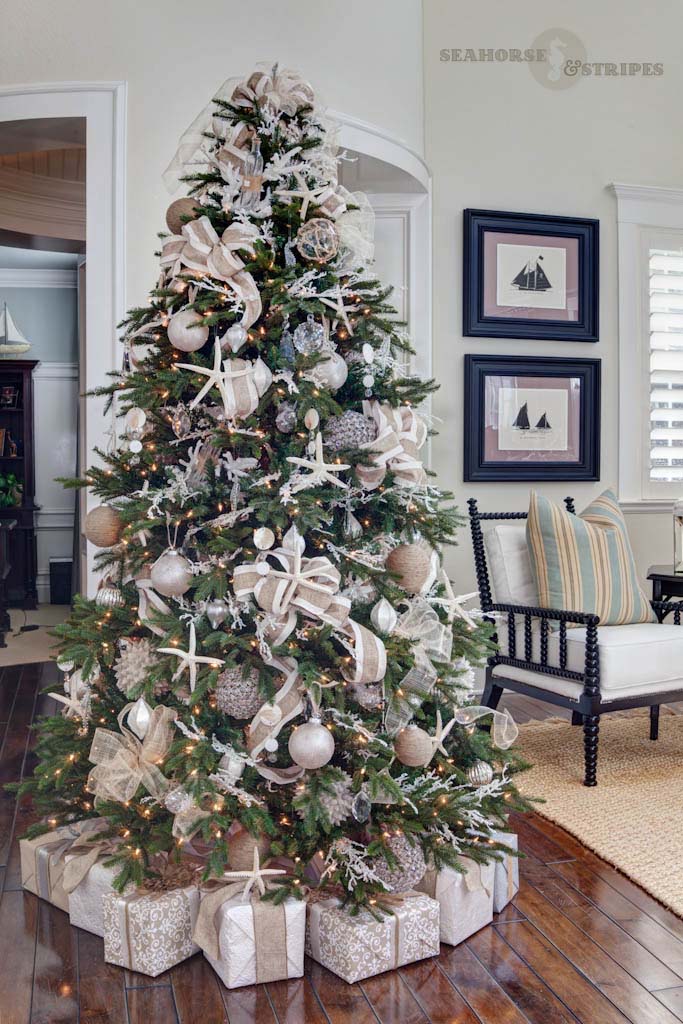 Your guests won't be able to stop exclaiming over this chic Christmas tree.
The beauty is all in the color scheme, which features icy white, beachy natural tones, and shimmering crystals.
We love the stunning coral elements that peek out from between the branches of the tree.
5. Coastal Christmas Tablescape with Seashells and Starfish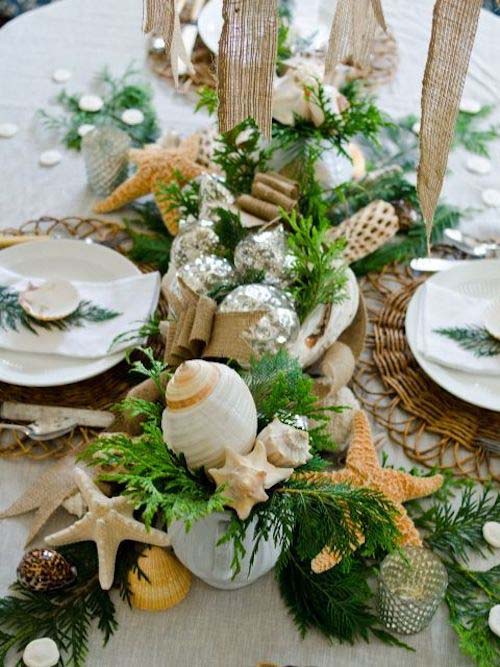 Do you have a bag of seashells that you're never sure how to use?
Add them to a Christmas tablescape for a fun coastal effect.
Here, the homeowner starts with a base of greenery and sparkling ornaments. Shells and starfish complement the natural colors.
via HGTV
6. Welcome Visitors with a Beautiful Beachy Wreath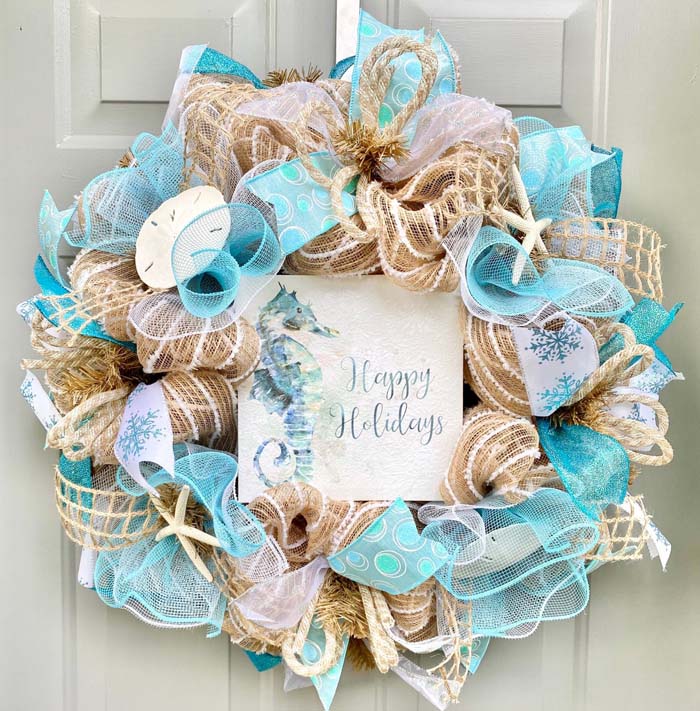 Welcome visitors to your home with a beachy wreath.
This design is all about the natural tones of the sand and the fresh blues of the water — look closer, and you'll see a few snowflakes.
Tuck a "Happy Holidays" sign in the center for a sweet finishing touch.

7. Decorate with Aqua-Colored Beads and Starfish Garland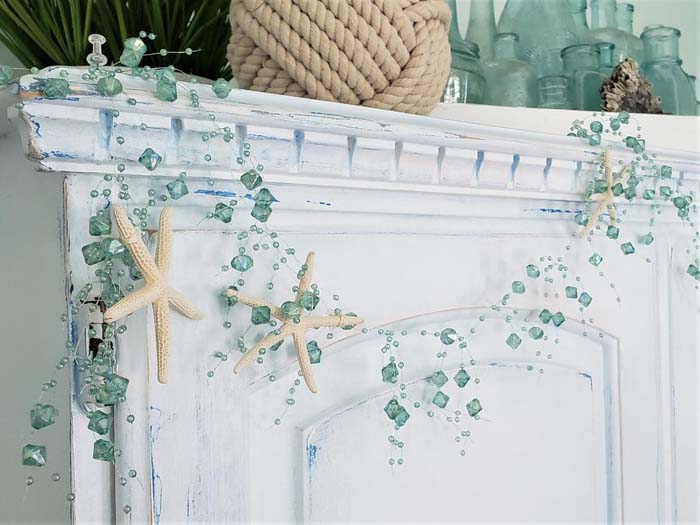 Are you looking for an alternative to pine garlands?
Enhance the coastal vibe in your home with aqua-colored beads. The soft tone works beautifully with any coastal home.
A few small starfish add just the right pop of cream to complete the wintry effect. This garland is so versatile, you can leave it up all winter.

8. Enhance Your Home with a Nautical-Themed Front Door Décor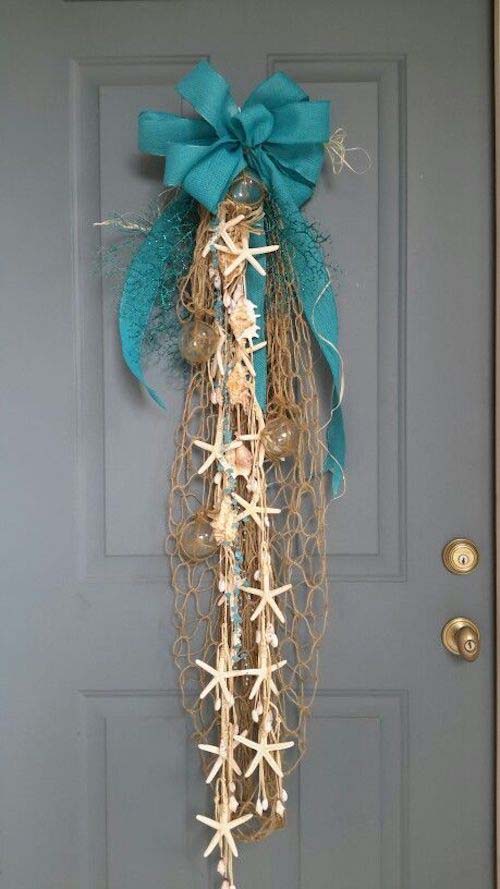 Front door decor is a big part of dressing your home for the holidays. If you live near the sea, try celebrating the natural environment with a nautical hanging.
Fishing net, glass bulbs, and starfish create a gorgeous blend of textures, and the large bow brings in a festive feeling.
9. Brighten Up Your Space with a Coastal-Inspired Lantern Décor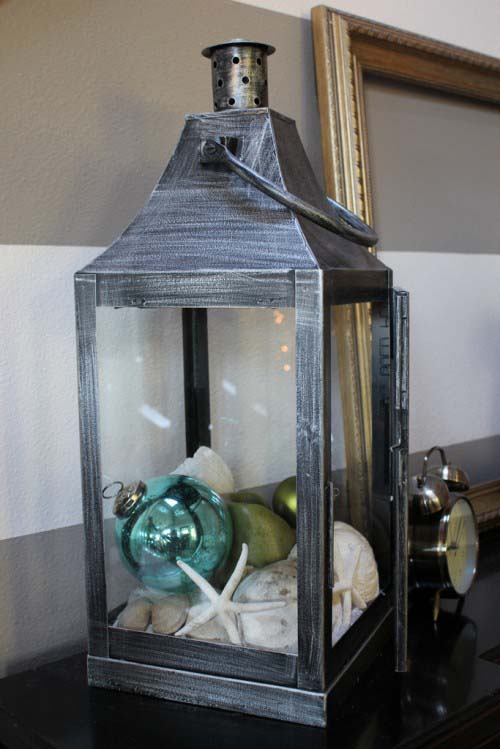 Lanterns are a huge part of the coastal decor — they're also perfect for Christmas decorating.
Just toss in a few shiny ornaments, and you're all set. If you're looking for a bit of extra sparkle, add in a strand of battery-operated lights.
10. Spice Up Your Christmas Table With A Coastal Napkin Ring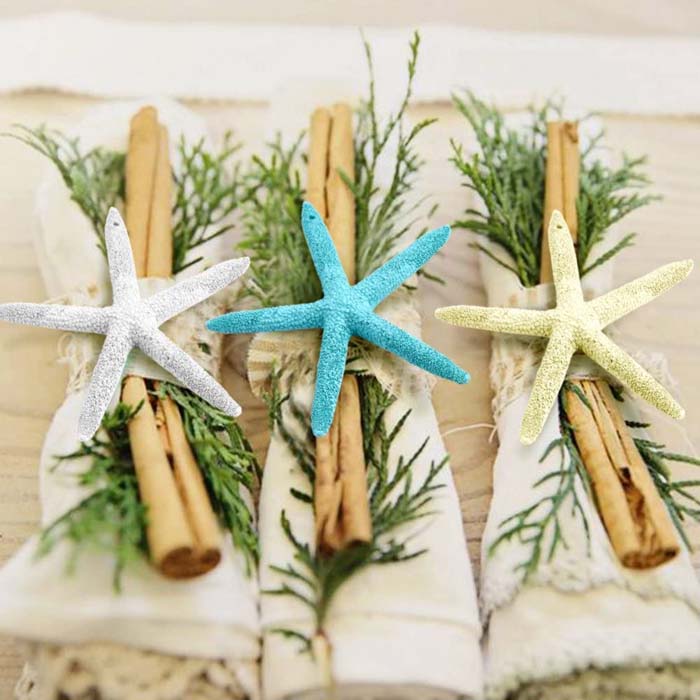 A stunning napkin ring is the perfect way to dress up a Christmas table.
Here, traditional and coastal elements combine — cinnamon sticks and greenery celebrate the season, and adorable starfish tie in the sea theme.
After the event, your guests can take home their starfish as souvenirs.

11. Add Subtle Sea-Themed Ornaments to Your Tree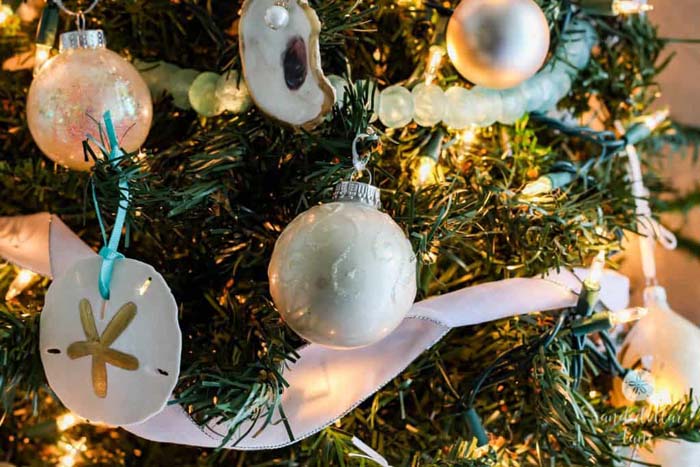 Looking for a subtle coastal Christmas vibe?
Switch out some of your tree ornaments for sea-inspired versions. Sand dollars and starfish make the perfect low-key option.
As a bonus, they fit right in with your existing Christmas balls and stars.
via Sand Dollar Lane
12. Gorgeous Winter Tree with Soft Color Palette and Lights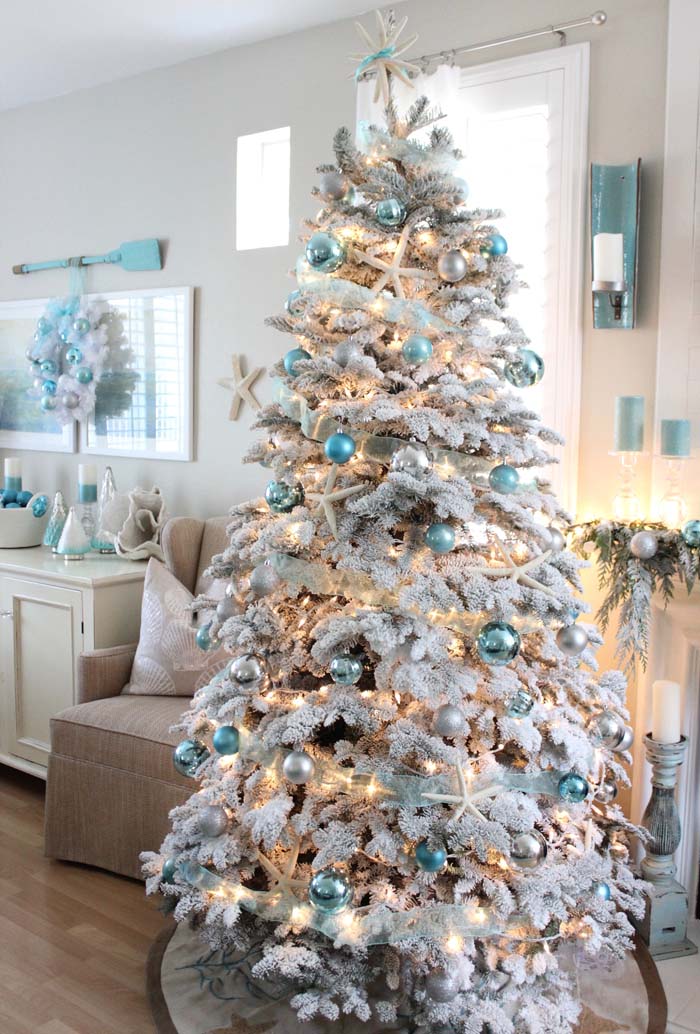 Is there anything more beautiful than a sparkling, wintry tree?
This tree, with its snowy branches and soft color palette, is impossibly chic.
The beauty is in the all-white base, which makes the soft seafoam-colored ornaments pop. White lights add a soft, glowing atmosphere to your living space.
via Breezy Designs
13. Add Coastal Charm to Your Tree with a Fishing Net Accent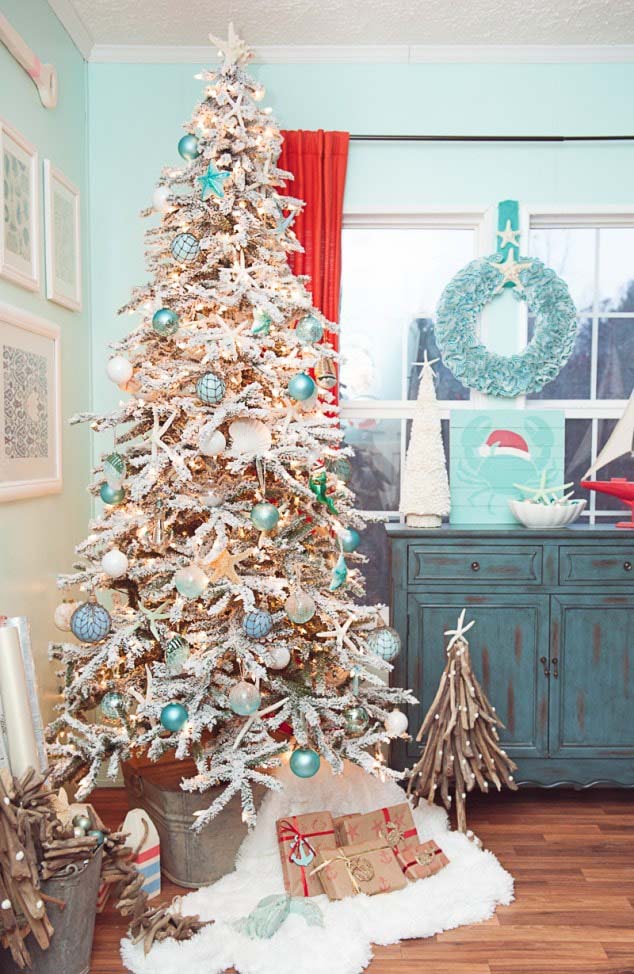 Packed with textures and coastal elements, this Christmas tree is the centerpiece of any room.
The flocked branches and crisp white starfish are gorgeous, but the real star of the show is the cleverly used fishing net.
Just wrap a few balls in the net for an unexpected on-theme decoration.
14. Refresh a Christmas Wreath with a Coastal-Inspired Upgrade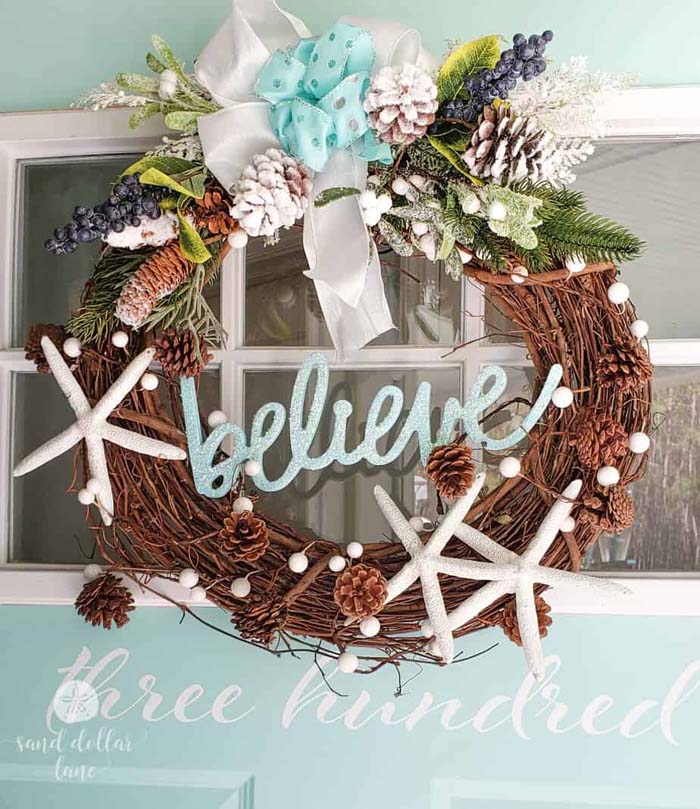 Tired of your usual Christmas wreath?
Give it a coastal upgrade with some white and aqua-colored elements.
Ribbon, starfish, and a few white berries do the trick — you can even add them to an existing wreath for a budget-friendly decoration.
via Sand Dollar Lane
15. Make Memories with a DIY Beach-Themed Ornament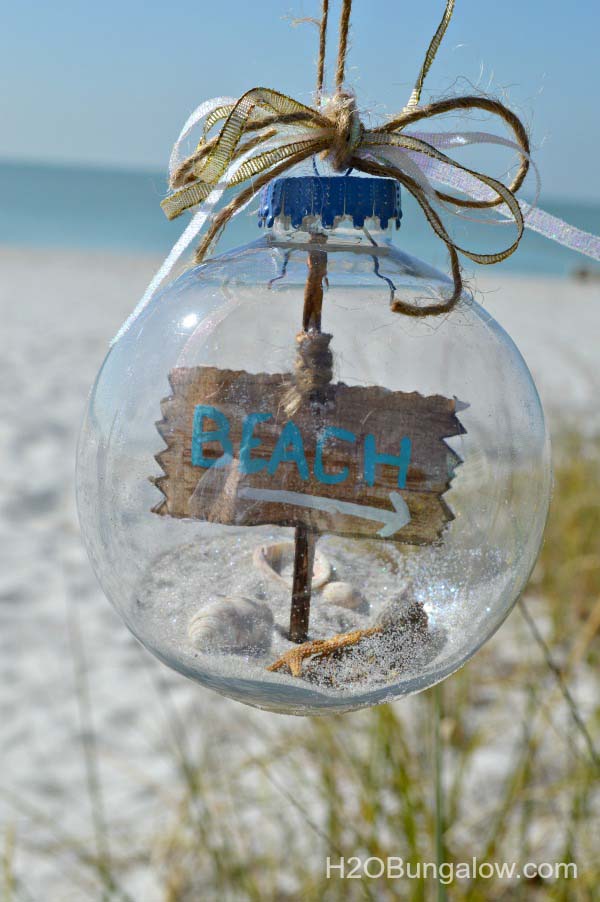 Remember your sunny beach vacation with a DIY ornament.
To start, all you need is a clear glass or plastic ball.
Add in a bit of sand, some miniature shells, and a tiny beach sign for an instant vignette.
These completely customizable ornaments look adorable on your tree; they also make great gifts for loved ones.
via H2O Bungalow
16. Create Your Coastal Ornaments with Driftwood and Twine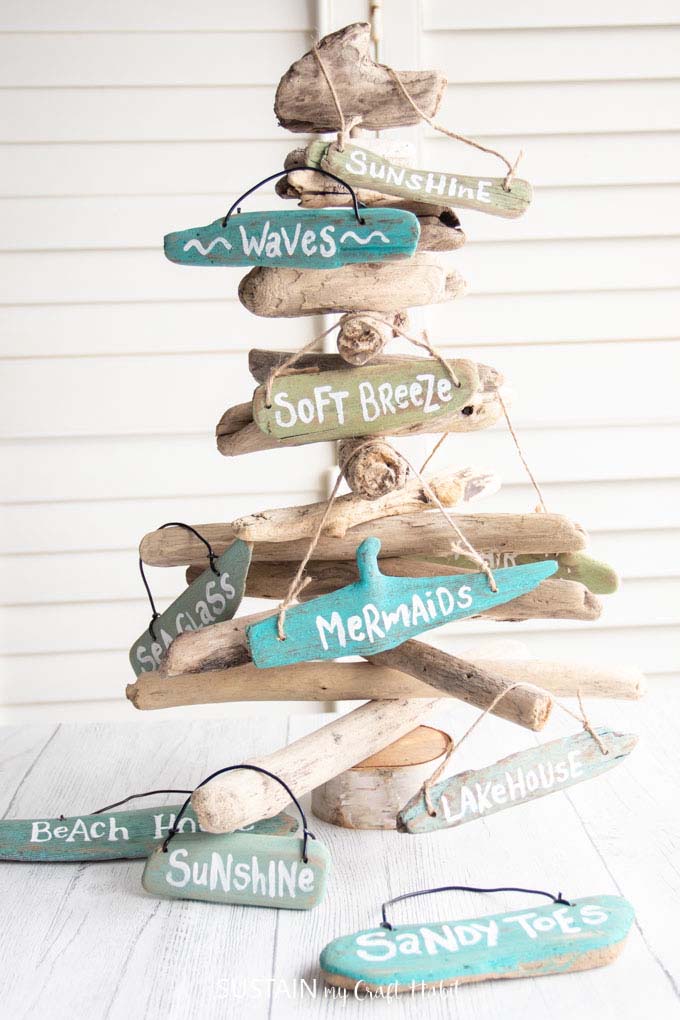 Looking for budget-friendly ornaments for your coastal Christmas?
All you need is a few pieces of driftwood. Paint your own sayings or phrases on each piece; use festive sayings or beach-themed words.
Short lengths of twine or wire make perfect hangers.
17. Add Humor to Your Décor with a "Seas and Greetings" Sign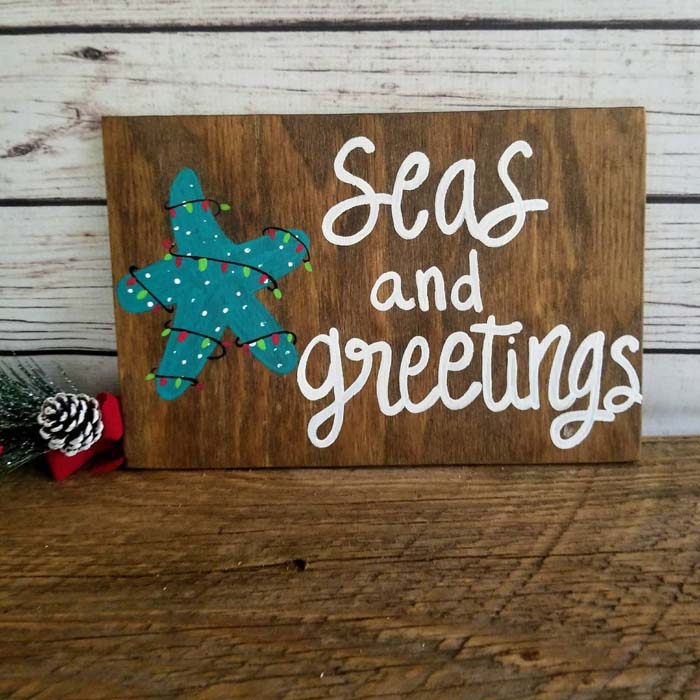 If you love puns and wordplay, this cute sign is a fun addition to your holiday decor.
The phrase "Seas and greetings" brings a smile to every guest's face.
Customize your sign with a hand-painted Christmas element, or leave it as is for a sweet and simple piece.

18. Create a Driftwood Star for a Beach-Inspired Vibe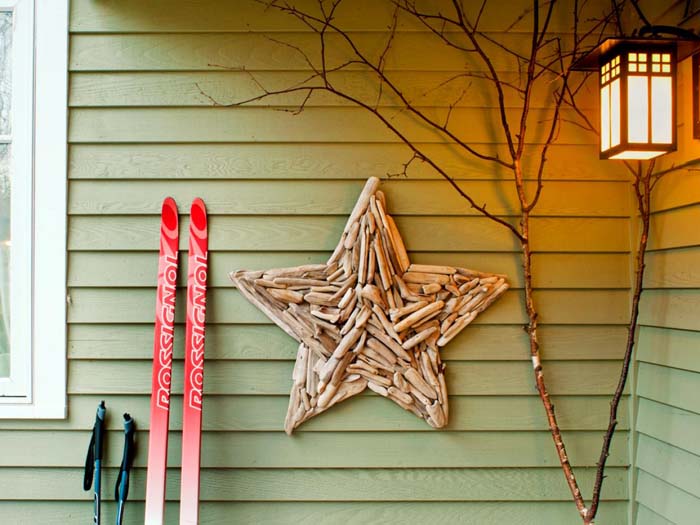 Nothing says beach life like driftwood — and this star captures the laid-back vibe perfectly.
The best part? You can make your own star in an hour using strong wood glue and a thin wood backing.
Hang it or lean it indoors or outdoors to celebrate the season.
via DIY Network
19. Make a Unique Christmas Tree with Seashells and Starfish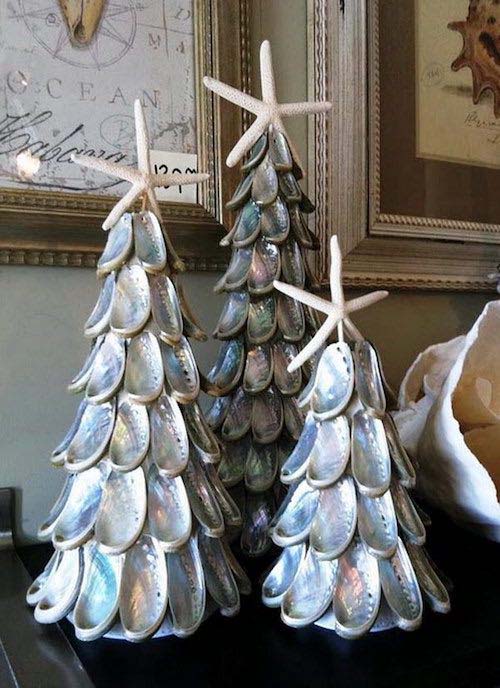 Do you have a collection of seashells sitting in a bag?
Turn them into gorgeous Christmas trees.
Using foam or wood cones as a base, these trees sit easily on a shelf, end table, or hallway table.
The cute starfish toppers take the place of a traditional star.
20. Create Sea-Glass Christmas Ornaments with Chalk Paint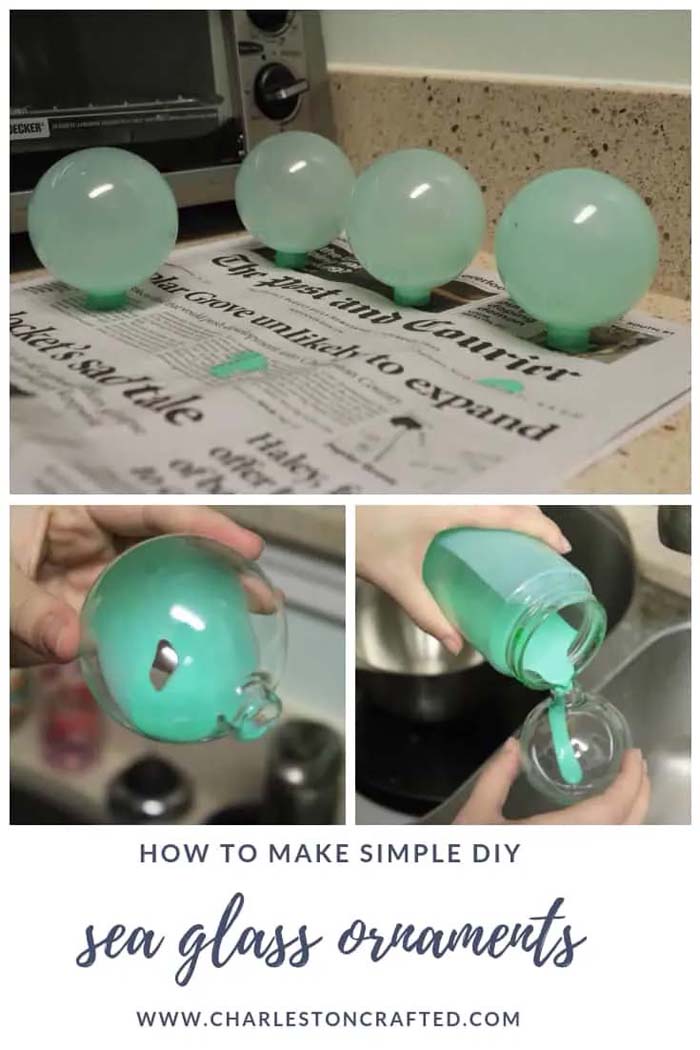 If you love the look of sea glass but you don't live near the sea, you can make your own.
With chalk paint and clear glass ornaments, it's a breeze to create coastal Christmas ornaments on a budget.
Mix your own colors or choose pre-mixed versions for this fast, easy craft.
21. Create a Rustic Christmas Tree with Driftwood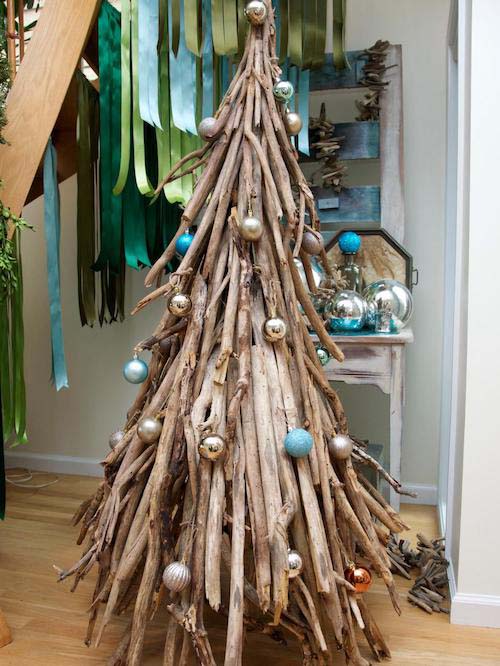 Here's another clever way to use driftwood — make it into a cute Christmas tree!
Leave it bare to allow the beauty of the wood to shine through, or add tiny ornaments to tie it into your decorating theme.
We love that this tree can be used indoors or outdoors.
via DIY Network
22. Create Coastal-Inspired DIY Ornaments with Paint and Beads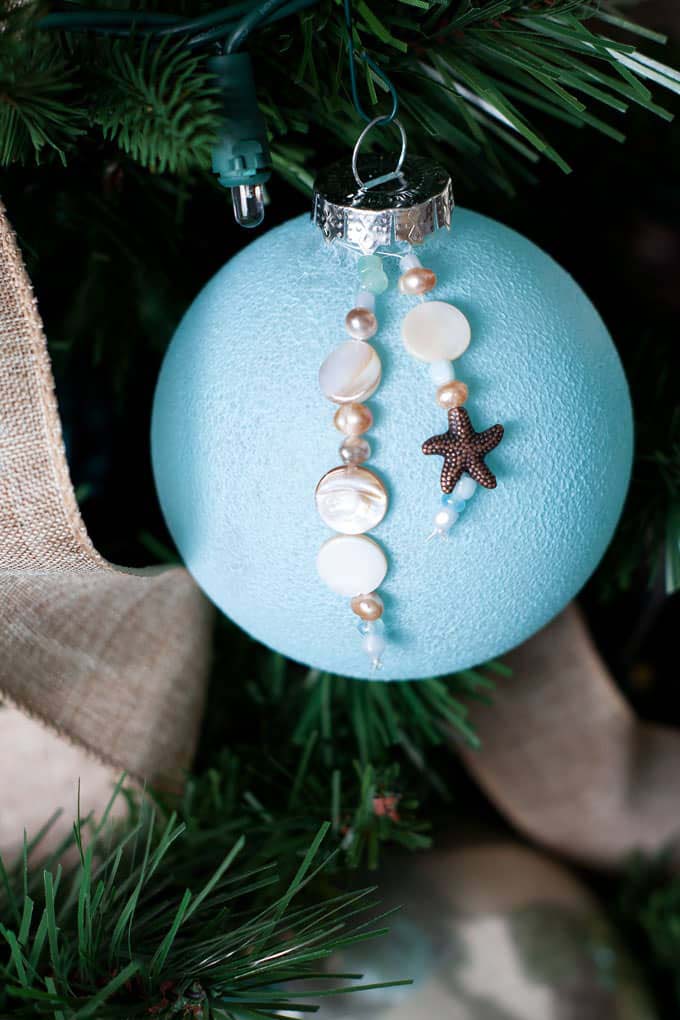 Does it get any more adorable than these DIY ornaments?
This is a super-flexible craft project for adults or kids.
Paint your own bulbs for a custom look, or simply add strands of coastal-inspired beads to an existing ornament for a fast upgrade.
via My Wee Abode
23. DIY Nautical-Themed Ornaments for Your Christmas Tree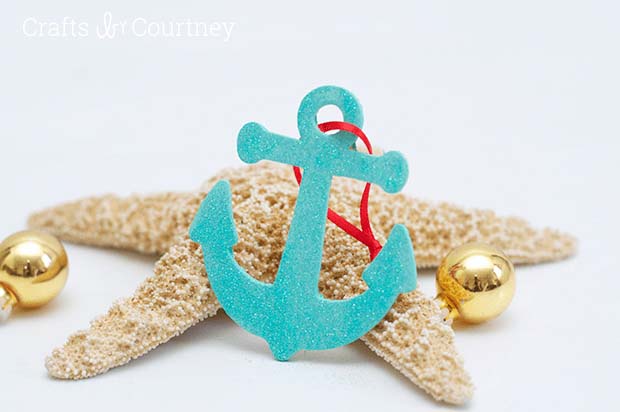 Every craft store has a selection of pre-cut wood or foam shapes.
Find anchors, stars, or other sea-themed pieces and paint them to match your tree — a coat of glitter adds an extra-special touch.
Add a ribbon, and you have an instant ornament.
24. Create Fishing Float Ornaments for Your Christmas Décor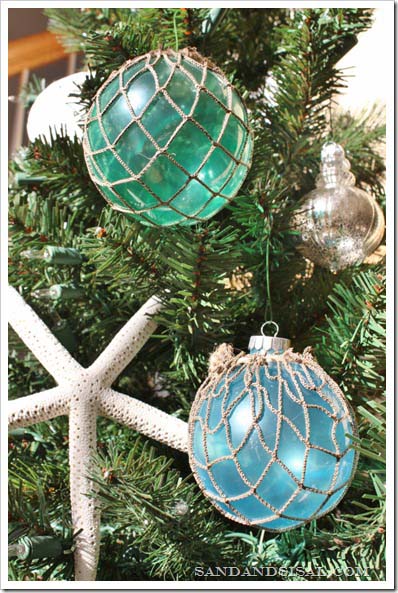 Have you ever seen beautiful fishing floats in the water?
Bring that beauty to your Christmas decor with float ornaments.
Make your own by covering pastel glass ornaments in netting for a cheap and chic project.
via Sand and Sisal
25. Coastal-Themed Christmas Wreath with Lifesaver Décor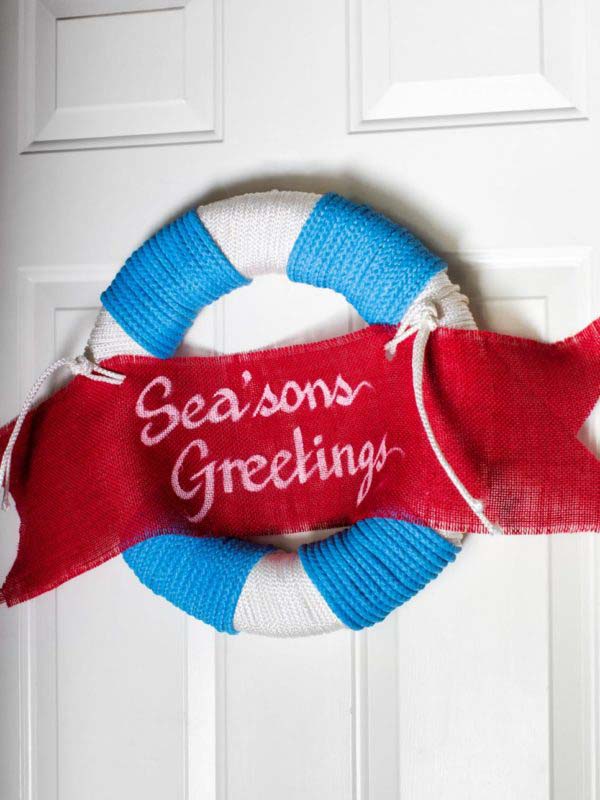 Cute and coastal, this lifesaver Christmas wreath is a breezy alternative to traditional pine boughs.
Just add a "Sea'sons Greetings" banner, and you're good to go.
Use an existing life ring, or make your own by wrapping rope around a foam wreath form.
via HGTV
26. Sophisticated Driftwood Tree for Holiday Decoration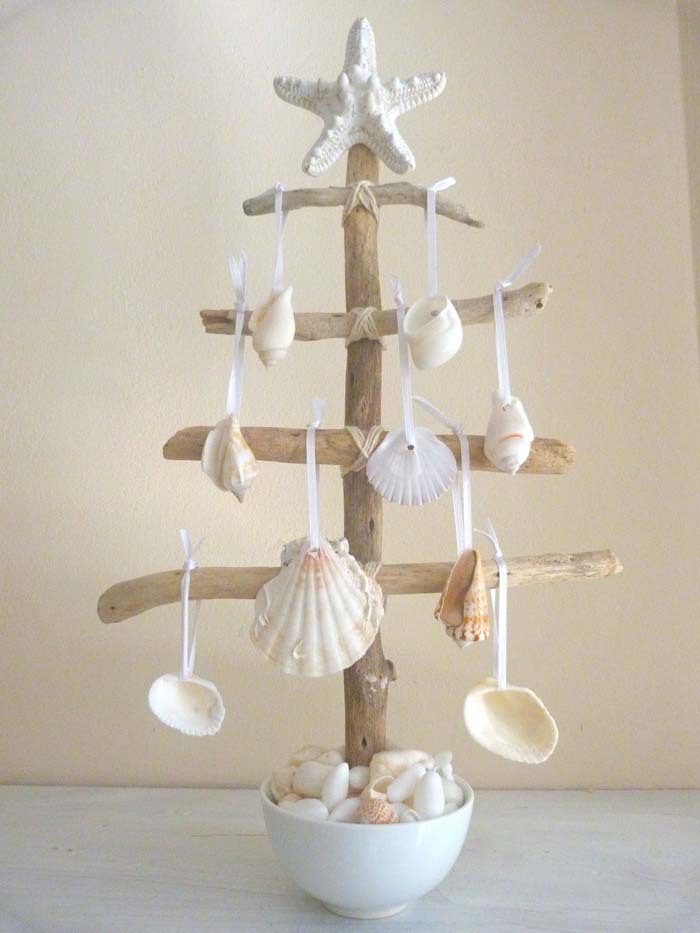 Looking for a Christmas decoration for a desk or hall table?
This sophisticated driftwood tree is the perfect option.
To keep it chic, use a collection of monochromatic shells as ornaments. Naturally, a starfish makes the ideal tree topper.
via Beachcomber
27. Decorate Your Stairs with a Coastal-Themed Pine Garland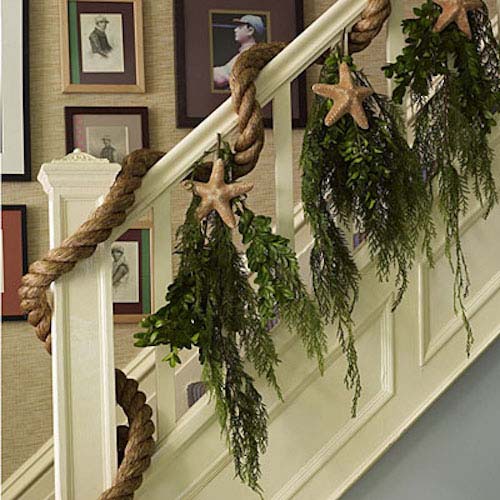 If you want to integrate coastal elements into your traditional decor, a garland is a lovely place to start.
Thick rope and starfish accents transform a pine garland into a work of art.
The natural tones work perfectly with the rich shades of green for a result that's festive yet refined.
28. Add Nautical-Themed Stockings for a Coastal Home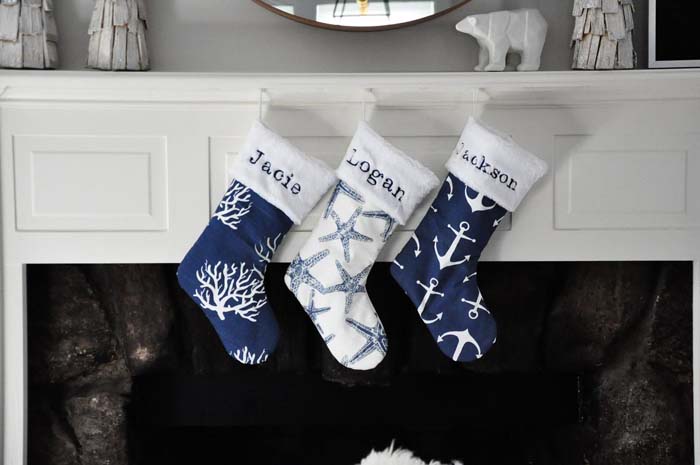 Extend the coastal theme to your stockings by choosing cheerful nautical prints.
Anchors, fish, coral, and other sea life add a pop of pattern and texture to your space.
An all blue-and-white color scheme helps unify the arrangement.

29. Create a Festive Sea Glass Christmas Tree for Your Home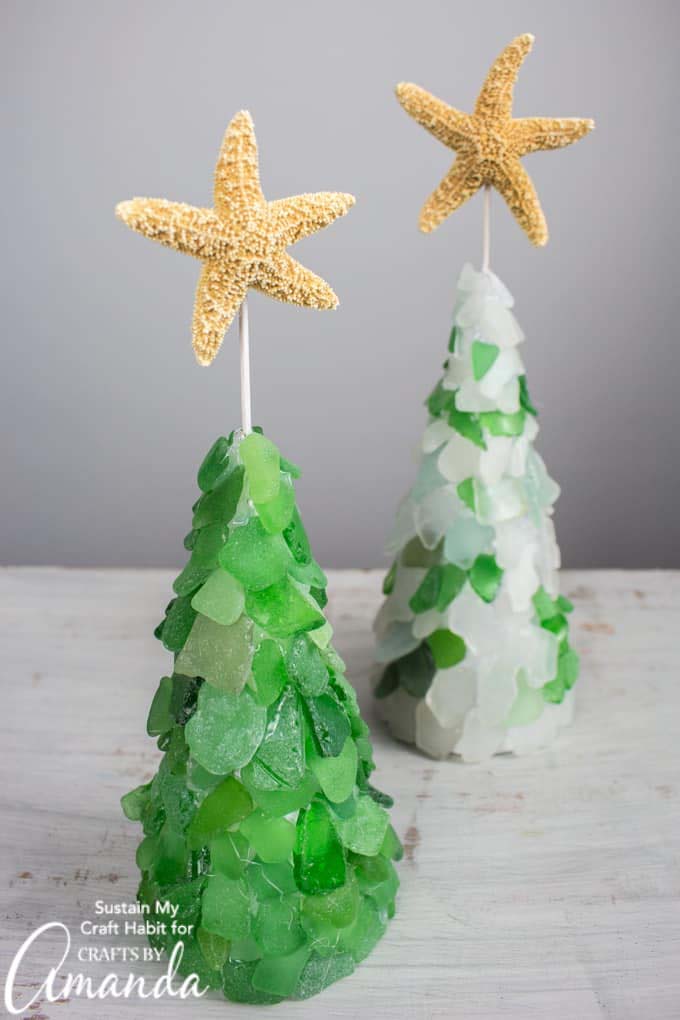 Put your sea glass collection to good use with these tiny Christmas tree crafts.
Making the trees simple — just glue your glass to a foam cone. If you can find a starfish, add it to the top of the tree for a twist on the classic topper.
via Crafts By Amanda
30. DIY Christmas Tree Decorations Using Limpet Shells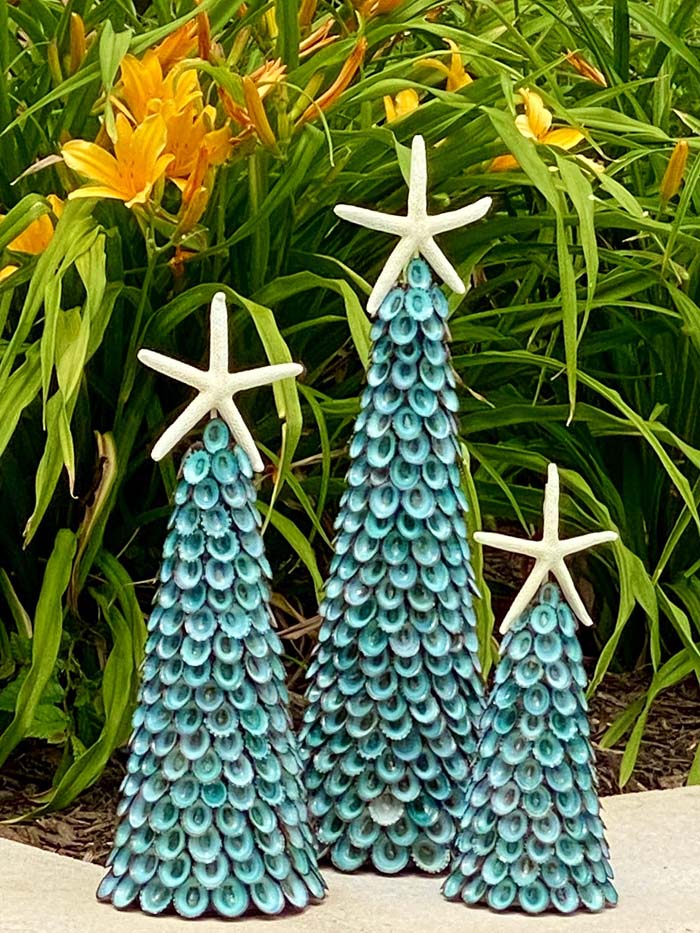 Gorgeous limpet shells make the ideal Christmas tree decorations in this fun DIY project.
We love how the color depth and natural texture of the shells recreate the look of a real tree.
Make a single tree for a small shelf, or go with a trio.

31. Create a Christmas Ornament with a Stack of Faux Starfish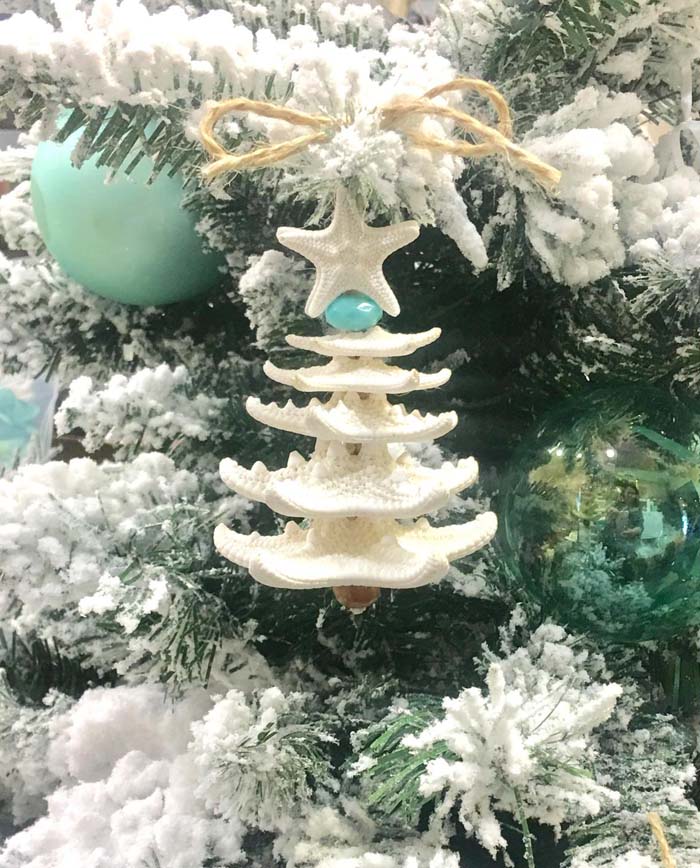 Of all the sea creatures, faux and real starfish are the easiest to find.
Here, a clever crafter has turned a stack of starfish into a Christmas tree ornament.
A piece of natural rope or twine works beautifully with the soft colors.

32. Create a Spectacular Starburst Tree Topper with Starfish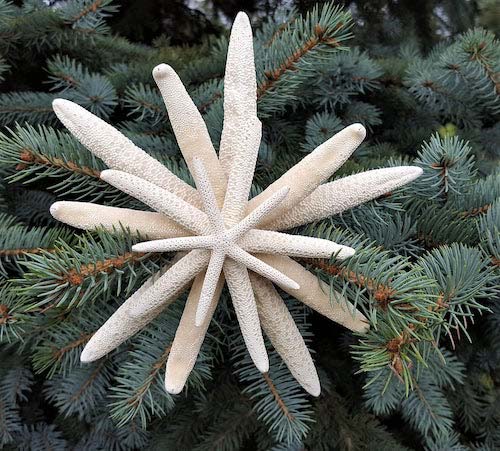 There's no doubt that a starfish makes the perfect topper for your Christmas tree — but if you want something even more dramatic, why not combine multiple starfish.
Here, four pieces in increasing sizes create a stunning starburst topper.

33. DIY Starfish: Create An Inexpensive Salt Dough Ornament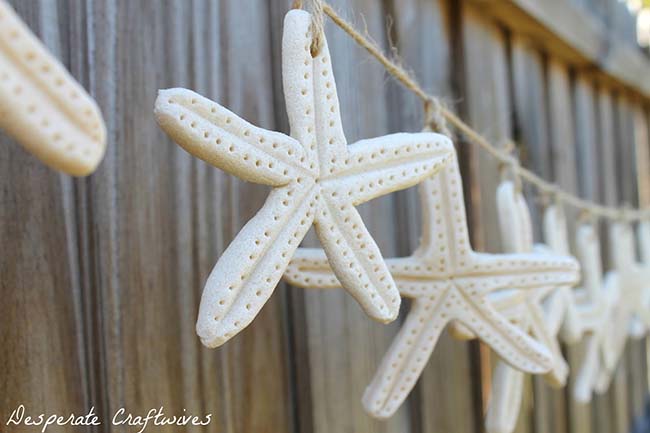 Can't find starfish? No problem — a quick, inexpensive salt dough is all you need to make your own.
Shape them, use toothpicks or a fork to create the signature holes, and bake.
Your DIY starfish are ideal for garlands and Christmas ornaments.
via The Chickabug
34. Make a Stylish Christmas Wreath with Fabric and Shells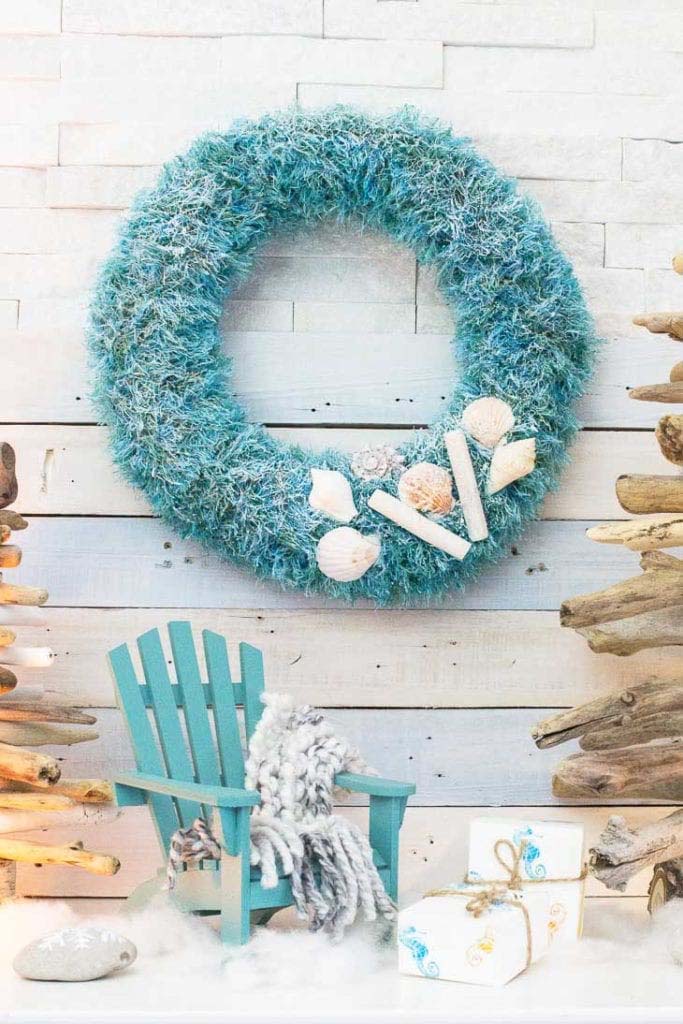 This wreath is so chic, your friends will never believe you made it yourself.
It's a fun way to use a piece of fabric or an old scarf.
Break out the hot glue gun, add some shells, and you're ready to celebrate the Christmas holidays in style.
35. Gorgeous Coastal-Colored Flocked Christmas Tree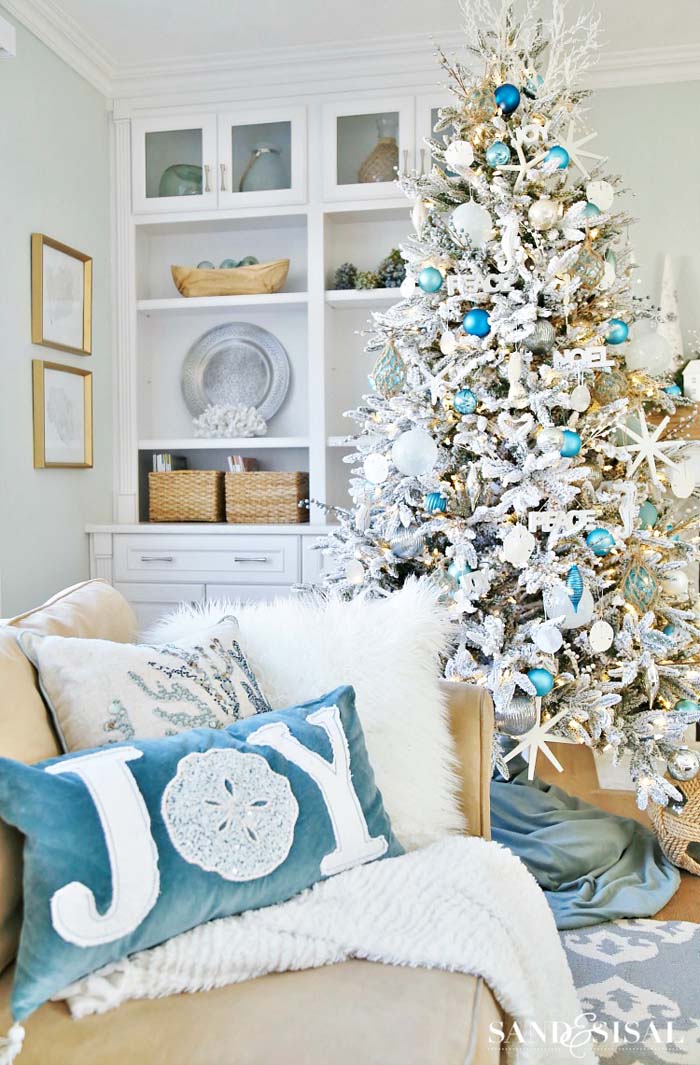 Once you try this spectacular white Christmas tree, you may never go back to a traditional option.
The sparkling flocked branches are loaded with gorgeous ornaments in coastal colors, creating a centerpiece for all of your holiday gatherings.
via Sand and Sisal