Why don't you make the holidays more special with these unique Christmas trees?
Finding new and affordable ways to put a new twist on the traditional holiday decorations can prove to be difficult.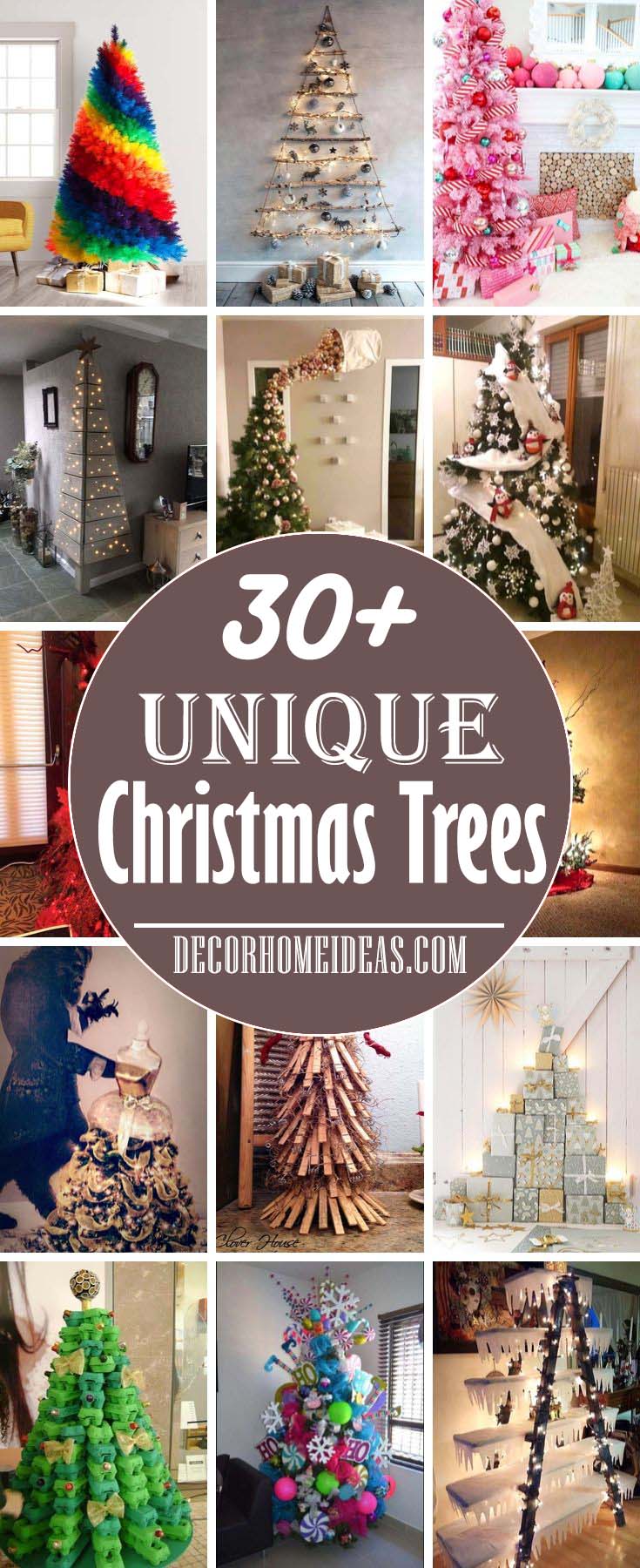 Here are just a few DIY ideas you can try this year to add a bit of whimsy and uniqueness to your holiday home decor.
1. Add a Rustic Touch with a Corner Christmas Tree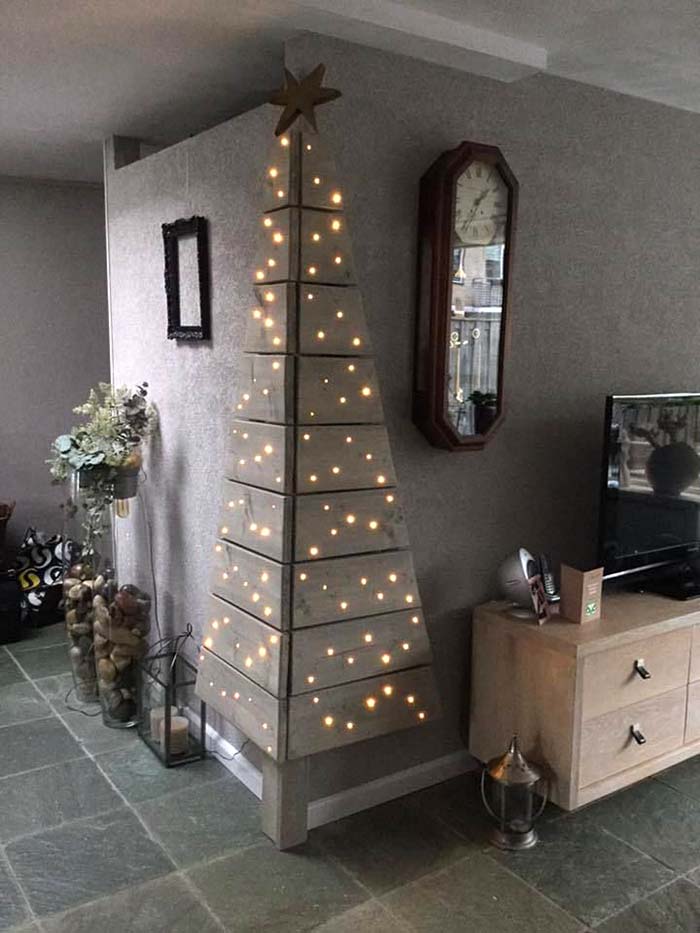 This rustic Christmas tree will add a decorative accent to any corner of your home.
If you are crafty, you could decorate the wood more with Christmas lights before topping it with a wooden, gold or silver star.
Step-by-step tutorial: How To DIY Wooden Corner Christmas Tree
2. Enchanting Organic Hanging Christmas Tree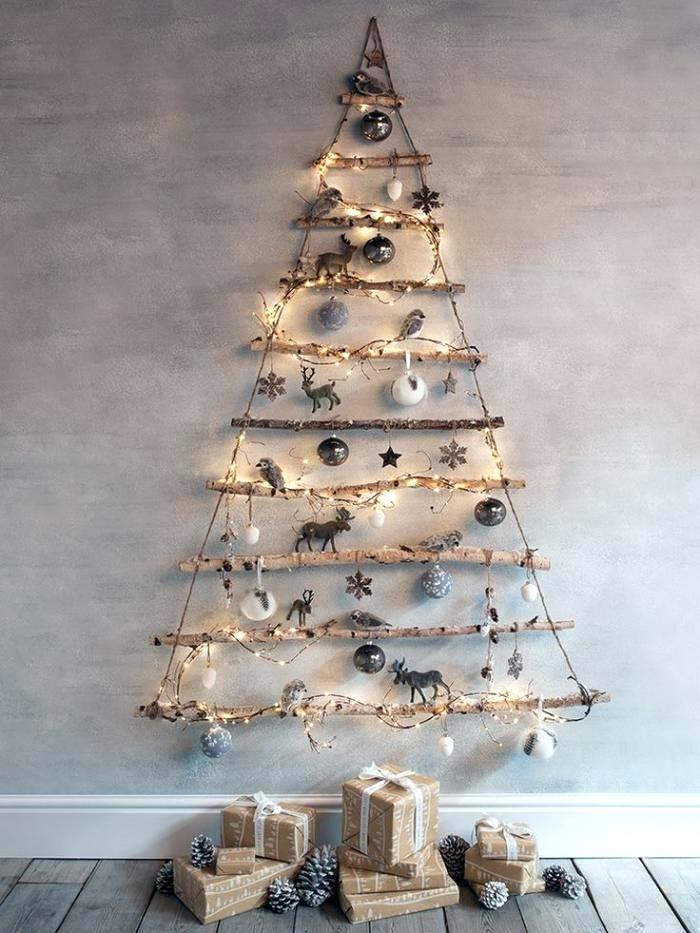 This organic tree is a great way to bring the outdoors inside during the holidays and is a real space saver.
Dress it up as much or as little as you want to create the perfect focal point for the holidays.
via Cox & Cox
3. Unleash Creativity with a Pouring Ornaments Basket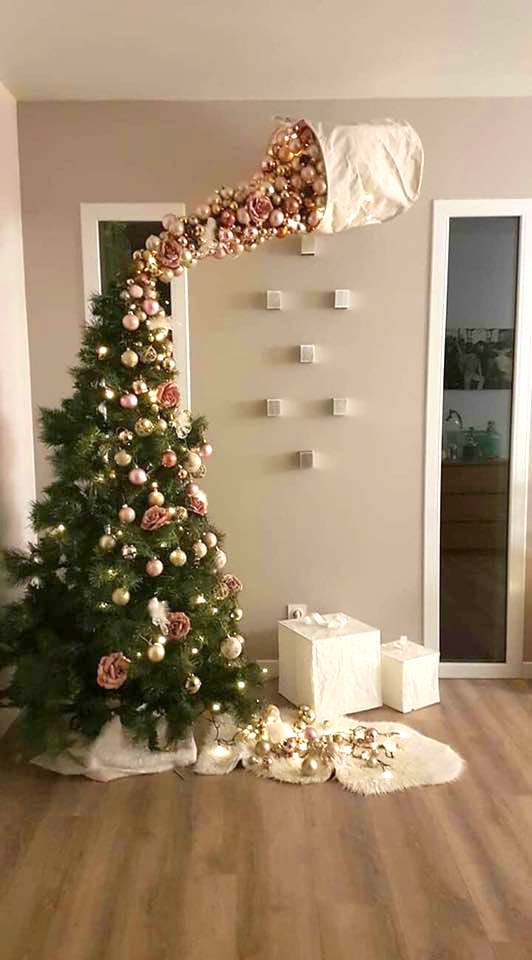 One of the most unique Christmas tree ideas that is sure to keep your visitors talking.
This whimsical floating DIY design can be completely customized in any Christmas colors that strike your fancy.
4. Liven a Holiday Party with a Wine Bottles Christmas Tree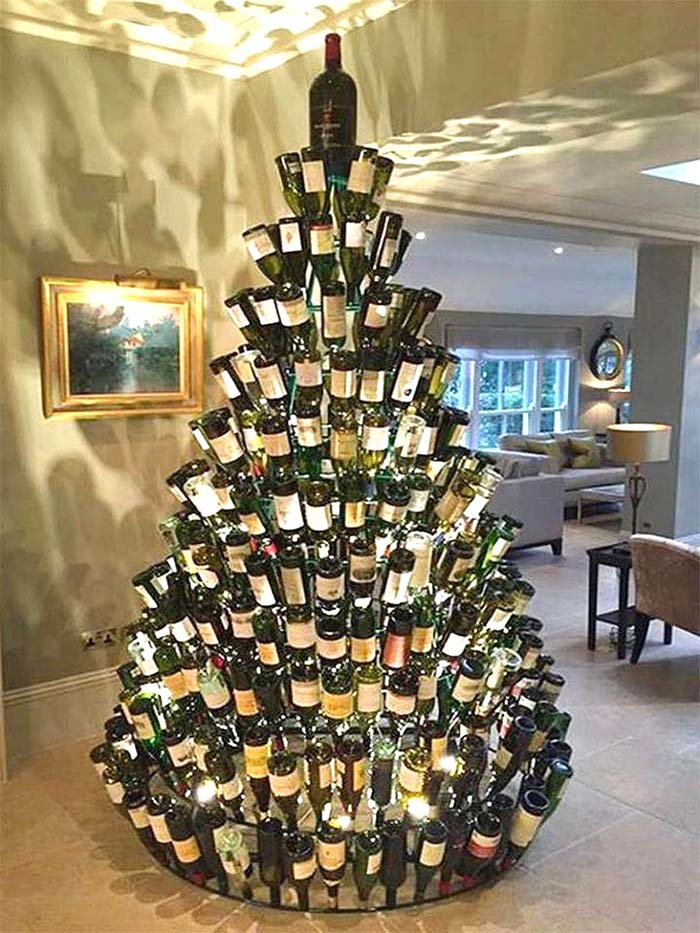 If you are an avid wine lover and you have been stockpiling a lot of empty bottles, this is the tree for you.
Although not kid-friendly, this unique Christmas tree would be a real eye-catcher at any adult holiday party.
5. Amaze Guests with a Whimsical Christmas Tree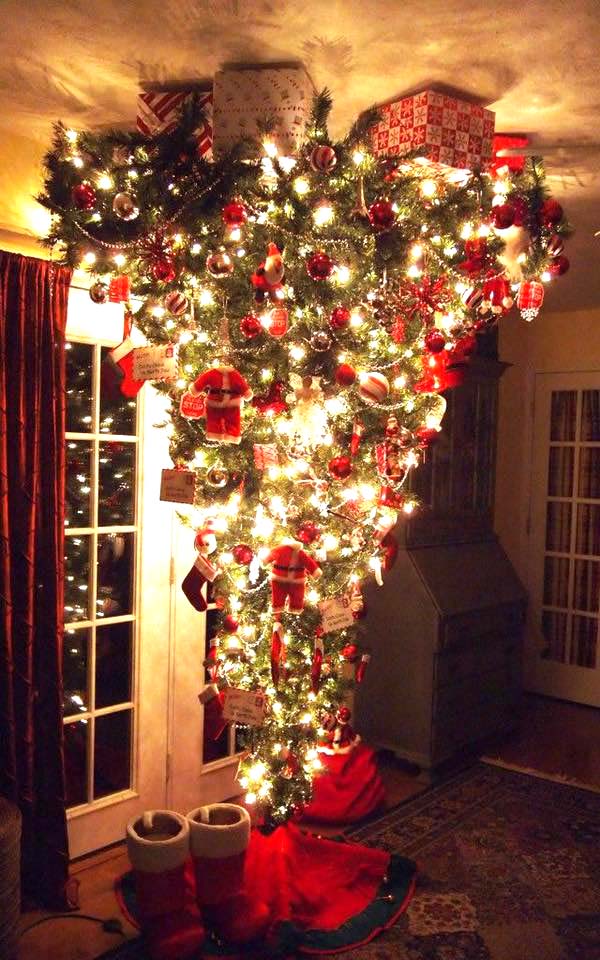 This one-of-a-kind whimsical Christmas tree will leave guests to your home staring and wondering just how you got it to stay.
You can decorate the tree to match all your other home decor and even attach presents to the ceiling.
6. Utilize Presents to Make a Unique Christmas Tree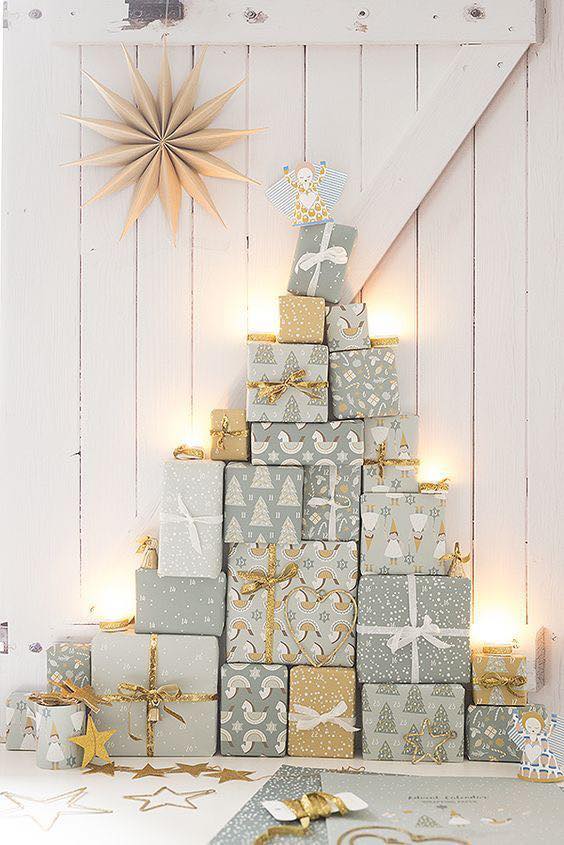 Everyone sits presents under the tree during the holidays, but using empty wrapped presents to create your tree…Brilliant!
This special holiday tree is a great space saver and presents can be wrapped to match any type of decor.
via WunderSchon
7. Create a Ravishing Scene with a Butterfly Christmas Tree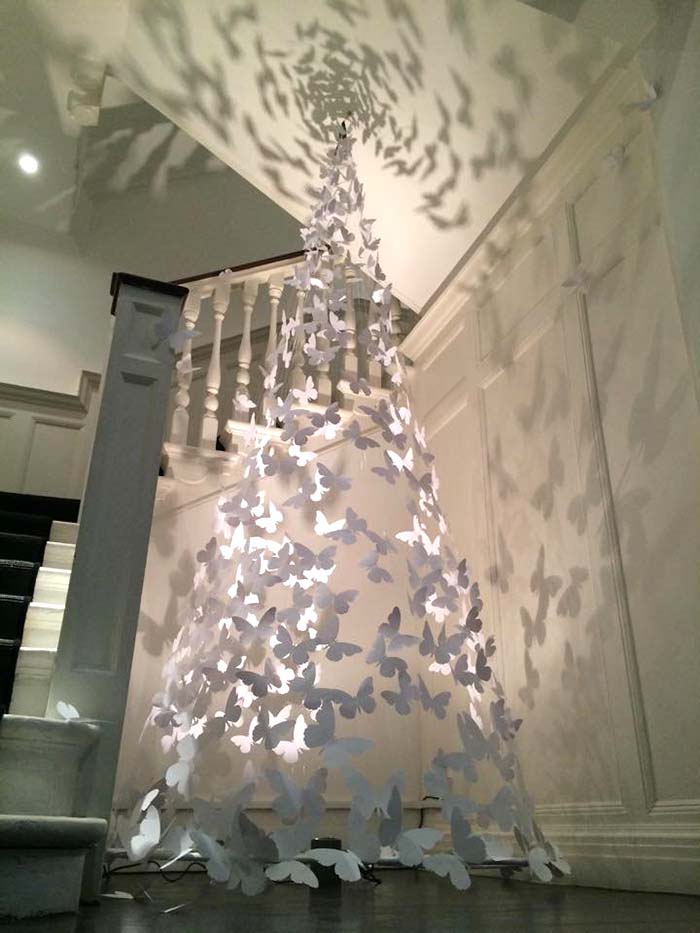 Far from traditional, this holiday tree made from paper butterflies strung together to form a tree shape is a whimsical home edition.
Consider using colorful butterflies to match your other holiday home decor to make this design your own.
via YOO Design
8. Upcycle Wooden Slats for a Rustic Christmas Tree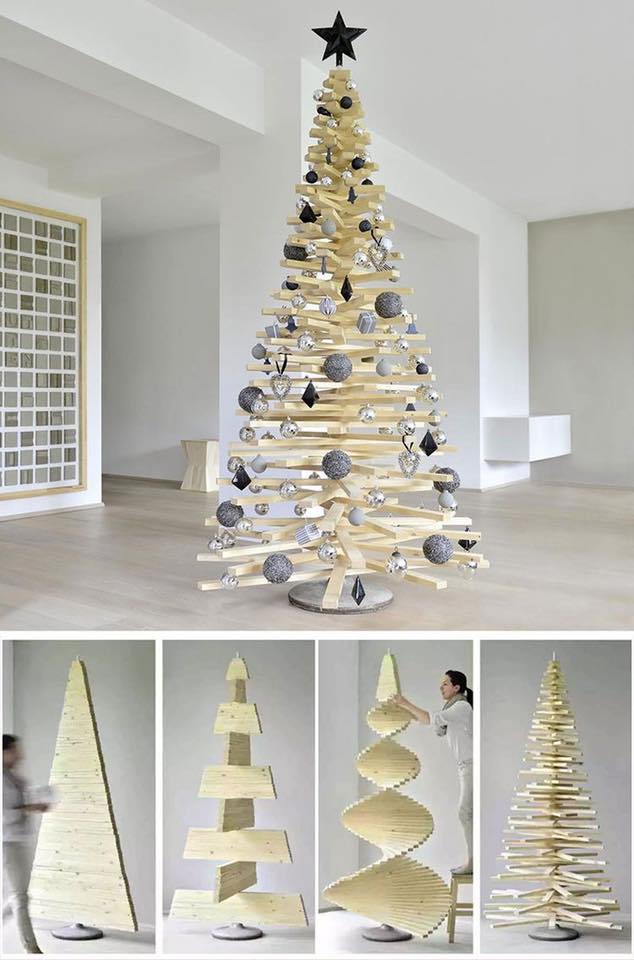 This rustic DIY Christmas tree is a real eye-catcher.
The best part about it is that you can change the way the central design of the tree itself appears from year to year.

via Muttis Blog
9. Spook Up Your Christmas Tree with a Halloween Decor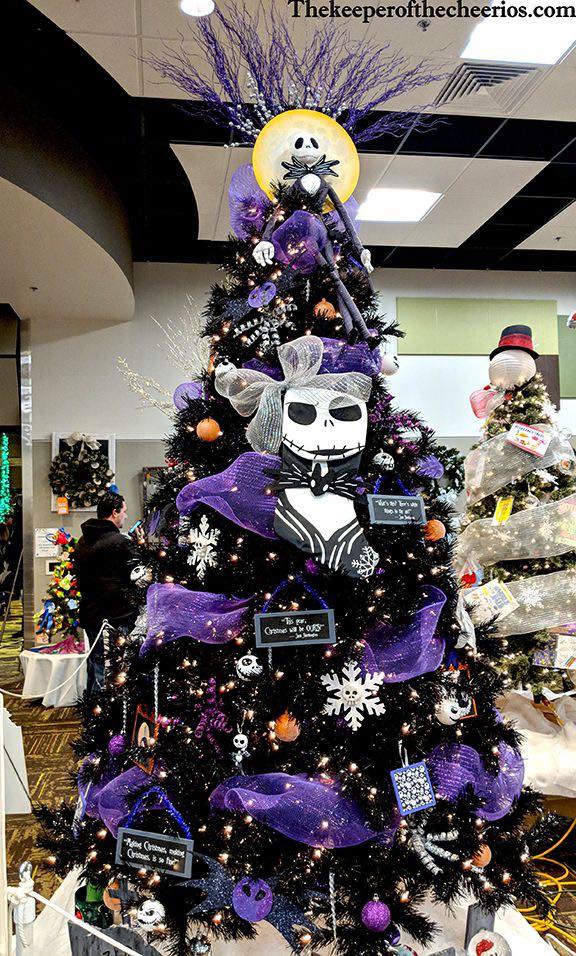 If you are one of the many who believes Halloween does not last long enough, carry the spirit of Halloween over to your Christmas tree.
A black tree with purple accents is perfect to pull off this look, adorned in traditional Halloween colors and accented with traditional Halloween decor.
via The Keeper Of The Cheerios
10. Combine a Christmas Tree with a Village Display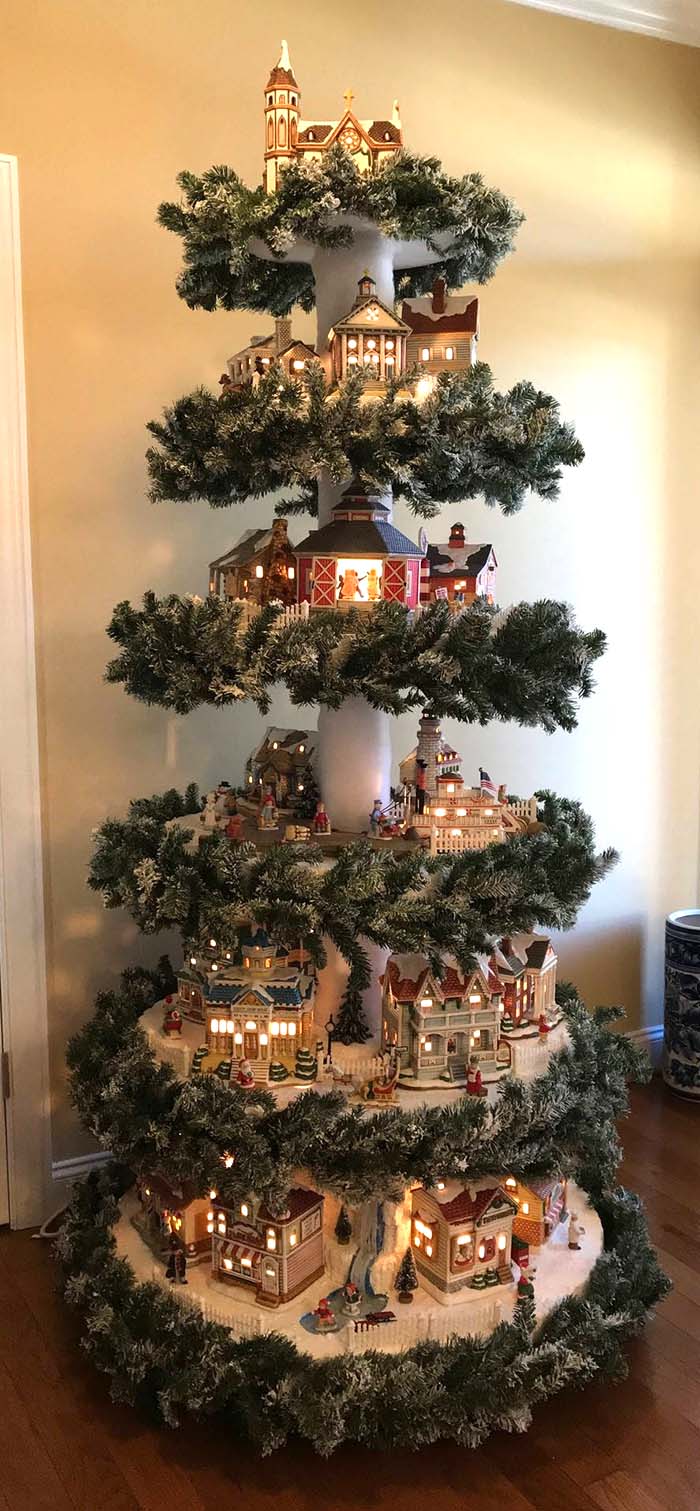 Why not combine your Christmas Village display with your Christmas tree?
This is a unique and easy way to display your entire village in one location and take up less room.
Learn more: Here
11. Repurpose a Ladder into a Rustic Christmas Tree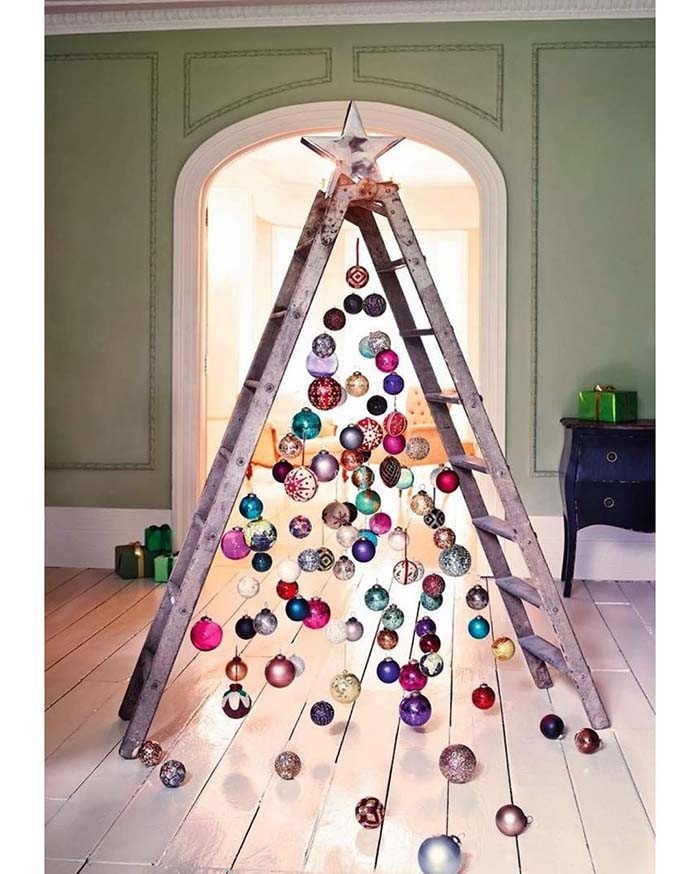 A painters ladder creates the perfect shape for a one-of-kind tree.
Simply add string across the rungs of the ladder and hang decor to match the rest of your home and it is sure to be a hit.
via Riciclarte
12. Make a Unique Wall Christmas Tree with Greenery Garland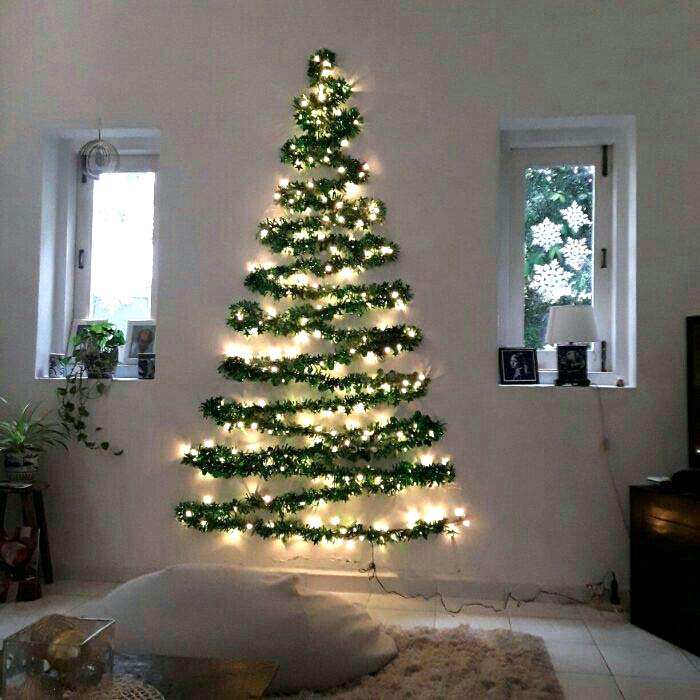 So simple to complete, so gorgeous to look at and so cost-efficient.
This unique space-saving holiday addition is a must if you live in a small space and have a small budget, but still want the look and feel of the traditional Christmas tree.
13. Create a Festive Christmas Cactus Tree for Your Arid Home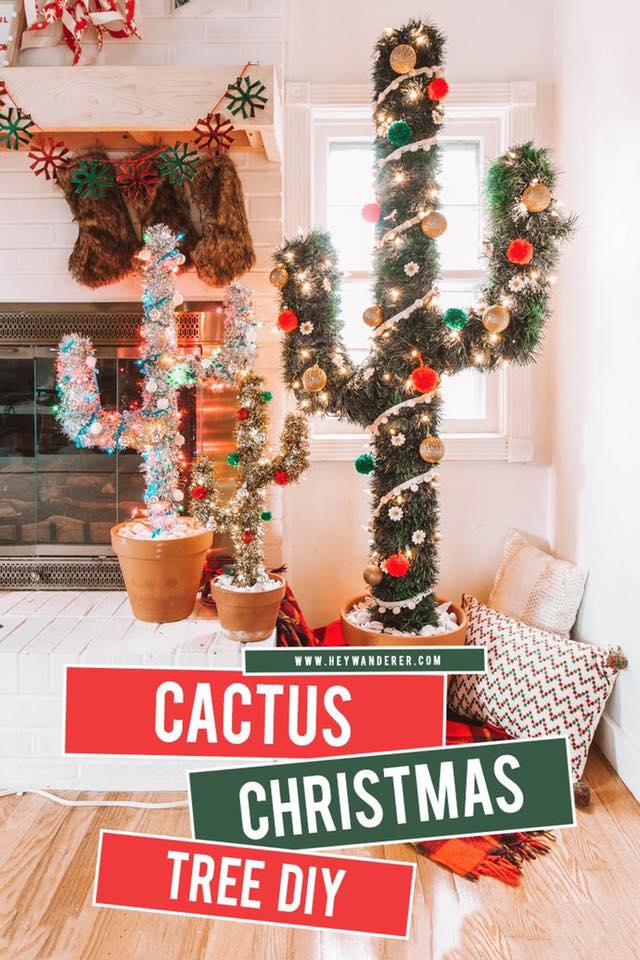 Perfect for those that live in an arid climate where the weather stays warm year-round.
Wrap a cactus in natural pine garland or some shimmery garland, decorate and add some lights to create your own Christmas cactus.
via Hey Wanderer
14. Add a Snowy Fabric Slide to Your Christmas Tree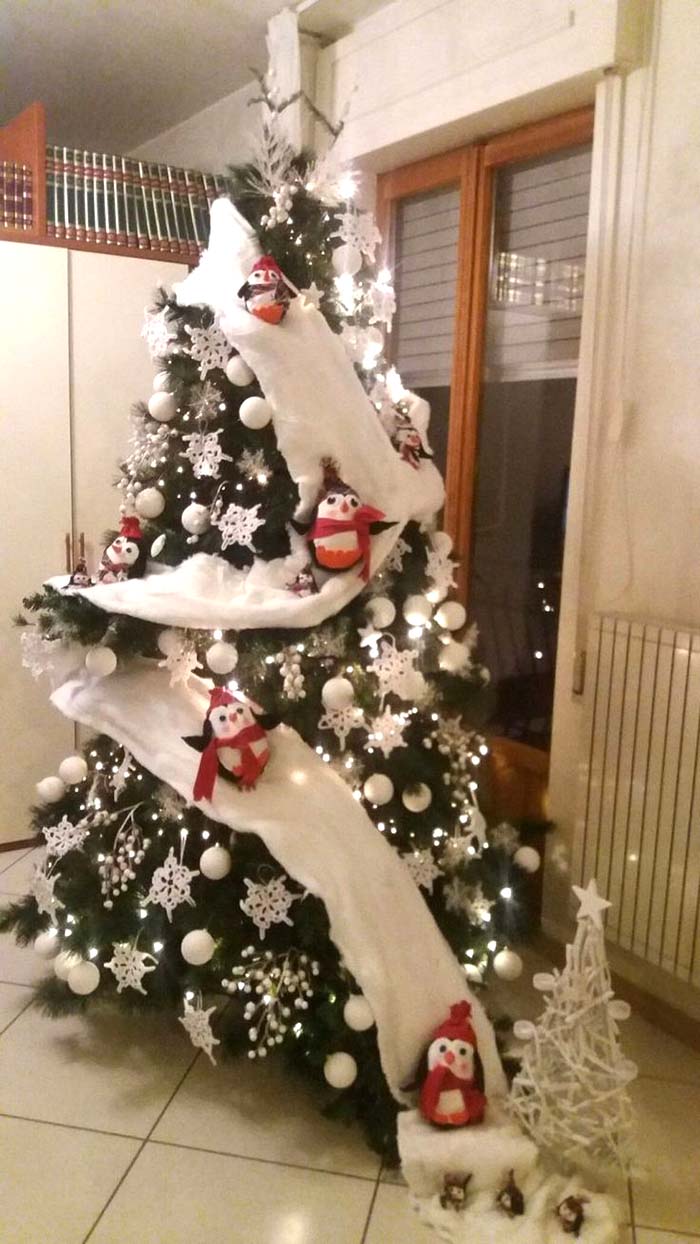 This whimsically decorated tree is sure to be a hit with the kids.
You could make it your own by using other stuffed animals or even dolls.
15. Decorate Your Christmas Tree with Kids Toys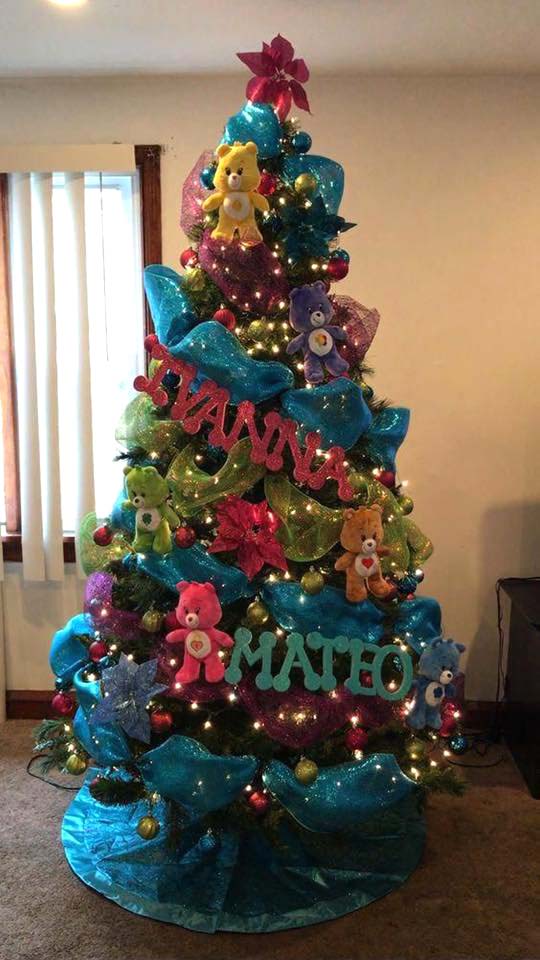 Design this tree to be a unique holiday edition for your kids.
Decorate the tree with their favorite toys, colors, and even their names to personalize this one-of-a-kind tree.
16. Brighten Up Christmas with a Colorful Treats Tree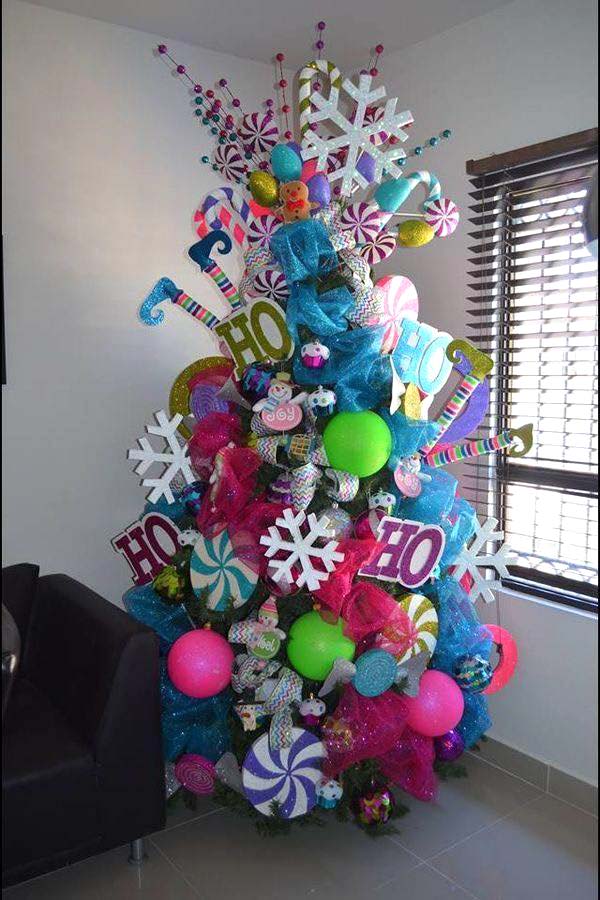 This colorful and whimsical tree is a modern addition to your holiday decor.
This fun tree can be decorated with any type of sweets and treats in colors of your choice.

17. Make a Grinch-Themed Christmas Tree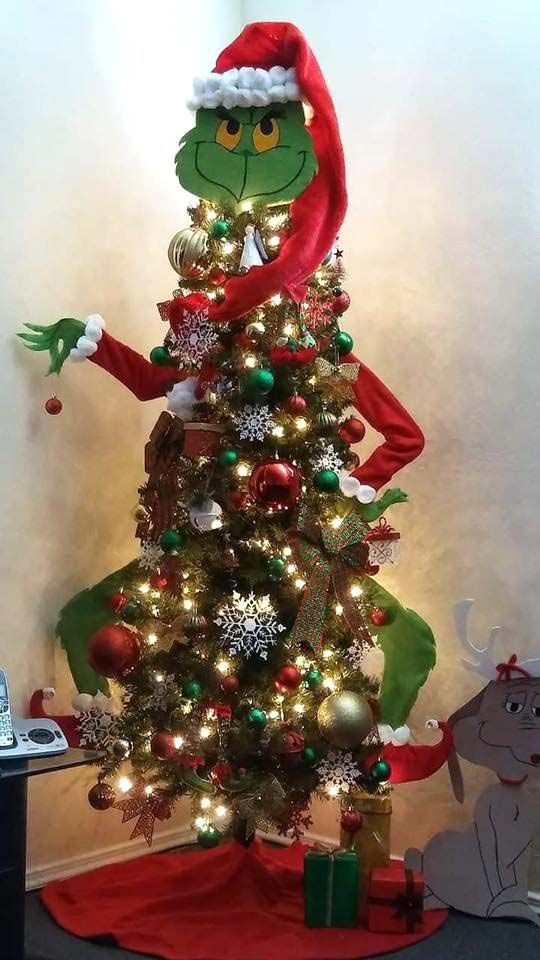 The Grinch is one of the most iconic holiday characters, so why not use his likeness to enhance your tree.
Make cut-outs and attach them to your tree to make it look like the Grinch is attempting to steal your Christmas.
18. Red Ladder Christmas Tree with a Wood Slats Village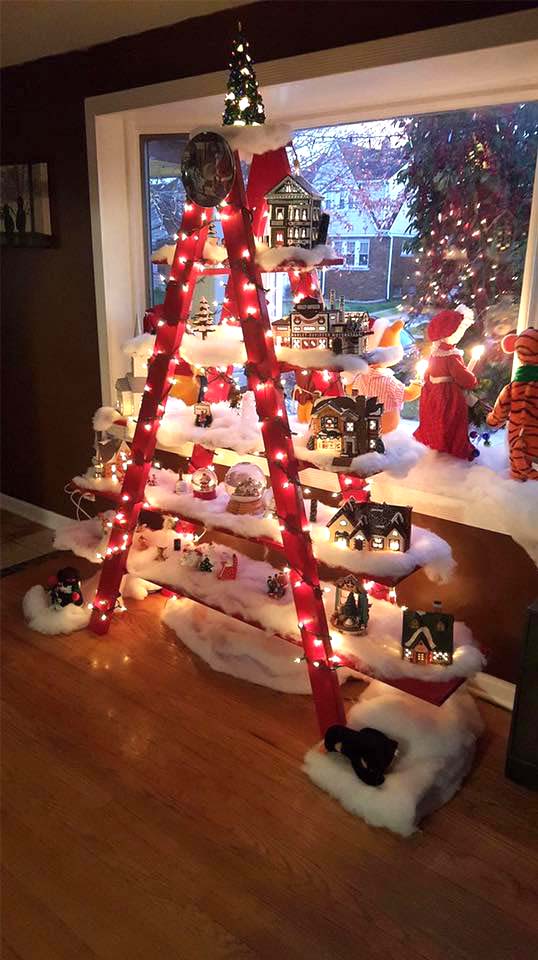 Another painter's ladder design using some red paint and some slats of wood instead of string.
It is another way to display your Christmas Village complete with lights and other decor.
19. Create a Frozen Ladder Tree with Wood Slats and Felt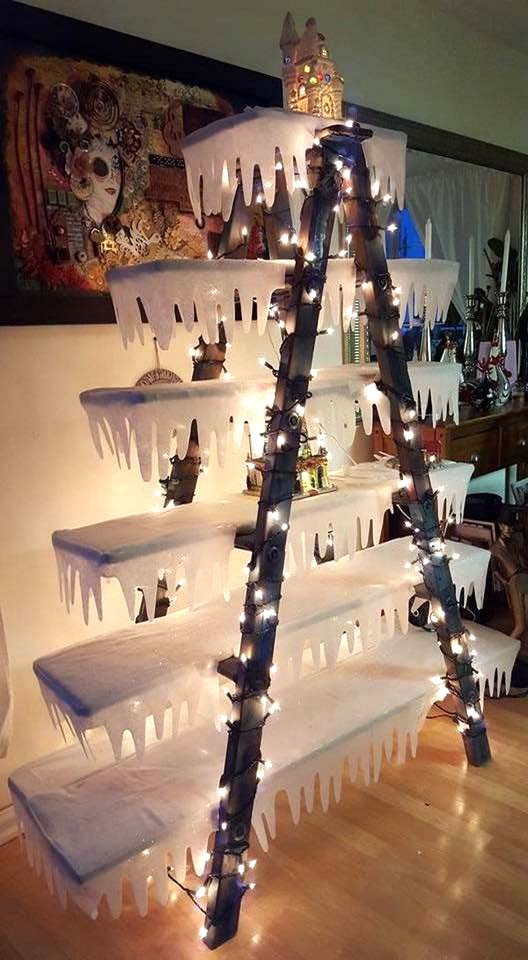 This unique Christmas tree idea uses a painter's ladder colored blue and slats of wood wrapped and dripping in white felt.
Another colorful idea for displaying your Christmas Village or other holiday decor.
20. Achieve a Whimsical Modern Christmas Tree with Pink Decor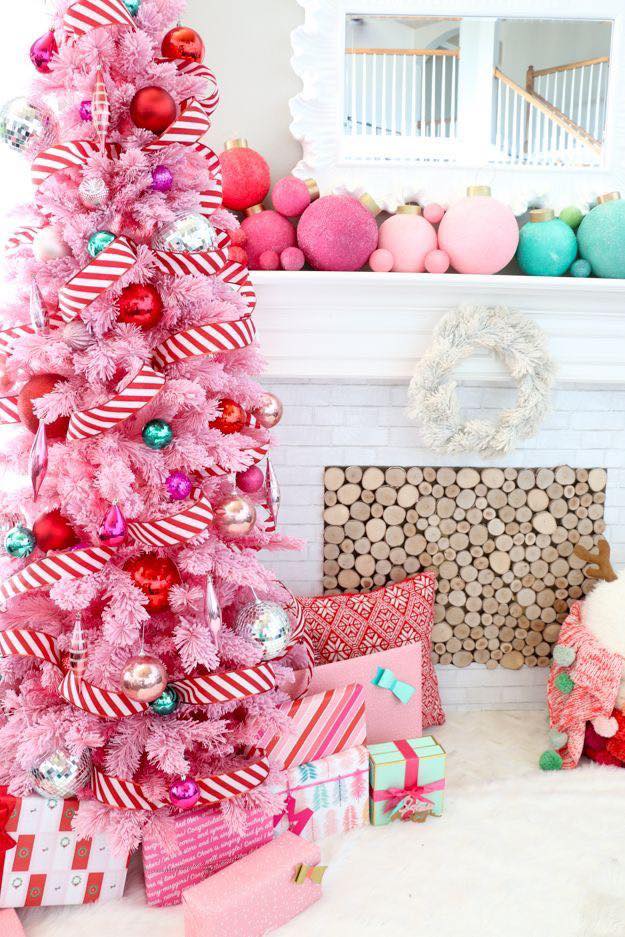 Starting with a pink Christmas tree to pull off this whimsical modern tree.
Add accents, ribbons, and lights in the colors of your choice for the perfect effect.
21. Vintage Tinsel Christmas Tree with Victorian Era Decorations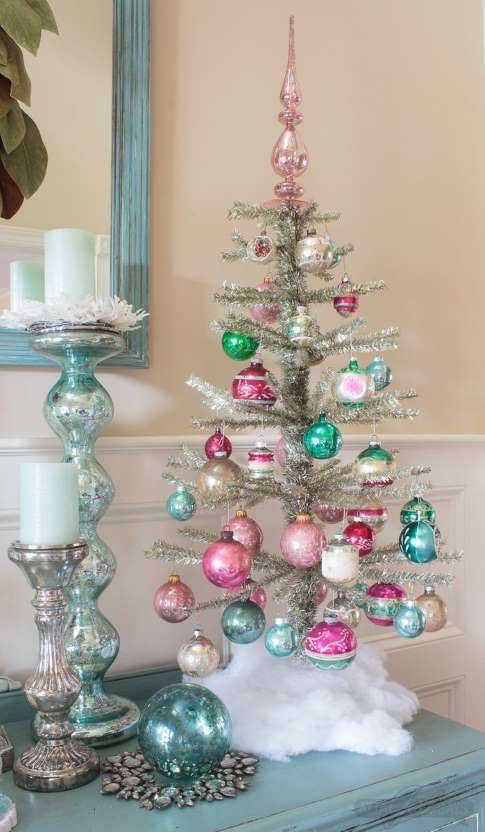 Combine old vintage decorations to a tinsel tree in Victorian era pastels and lace. A simple, yet beautiful and dainty, way to dress up your holidays.
22. Utilize a Compact Christmas Tree for Small Spaces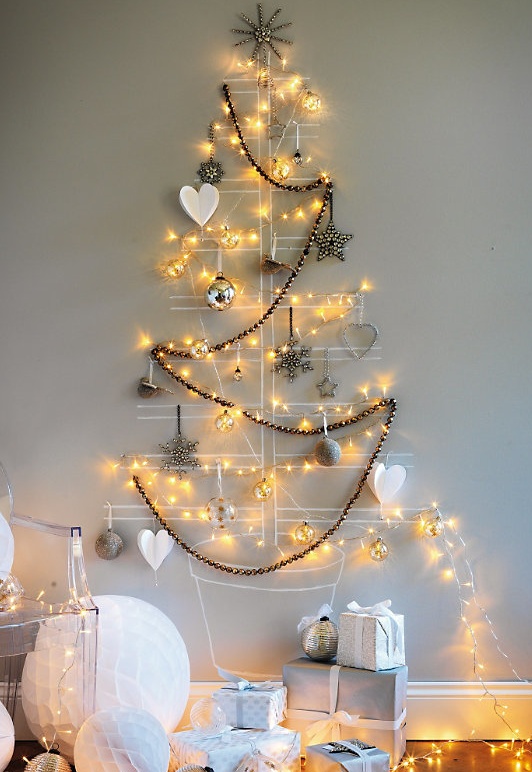 The perfect one-of-a-kind tree for those that live in small spaces, but still want the feel of the holidays.
Simple and inexpensive, this tree can be made and completely decorated in just an hour or two.
23. Create a Festive Christmas Tree with Wine Corks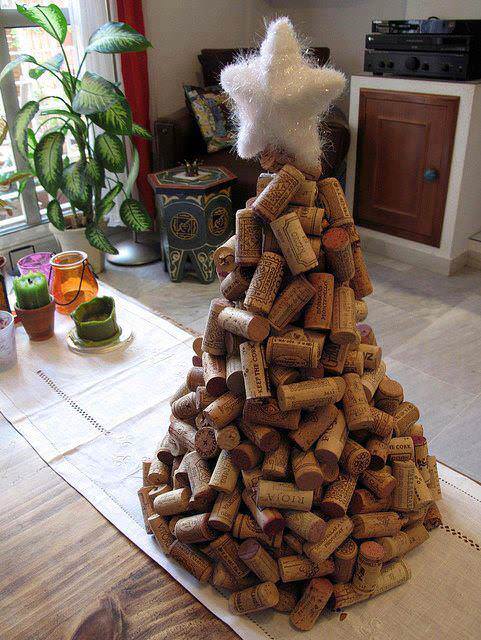 What's better than a Christmas tree made out of wine bottles?…one made out of the corks!
This project will make a great centerpiece on your table or bar for the holidays.
24. Embrace Your Fashion Skills with a Red Dress Tree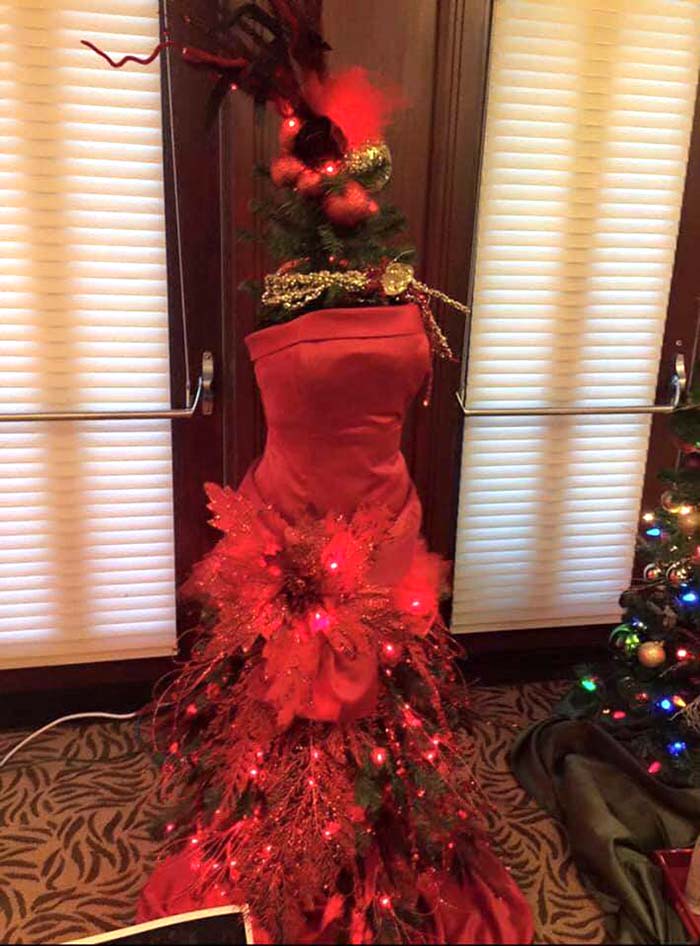 If you are into fashion, use this idea to replace your traditional Christmas tree.
This unique Christmas tree idea is sure to be a showpiece when guests come over to visit.
25. Make a Beauty and the Beast Themed Tree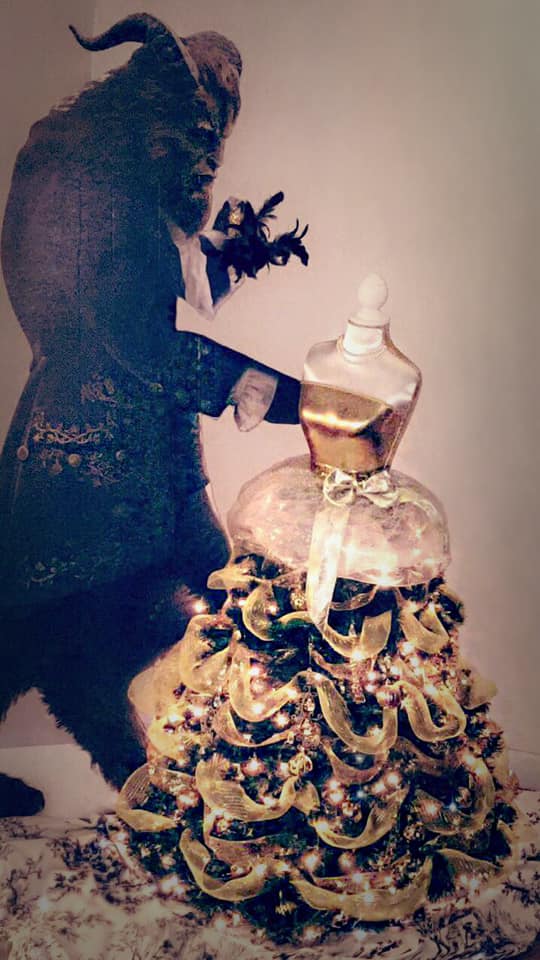 One of the most beloved couples of all time, add this whimsical and fun twist to your DIY decor.
You could even create your favorite couple by using other fairy-tale characters for inspiration.
26. Use Wood Dowels for a Snowy Village Display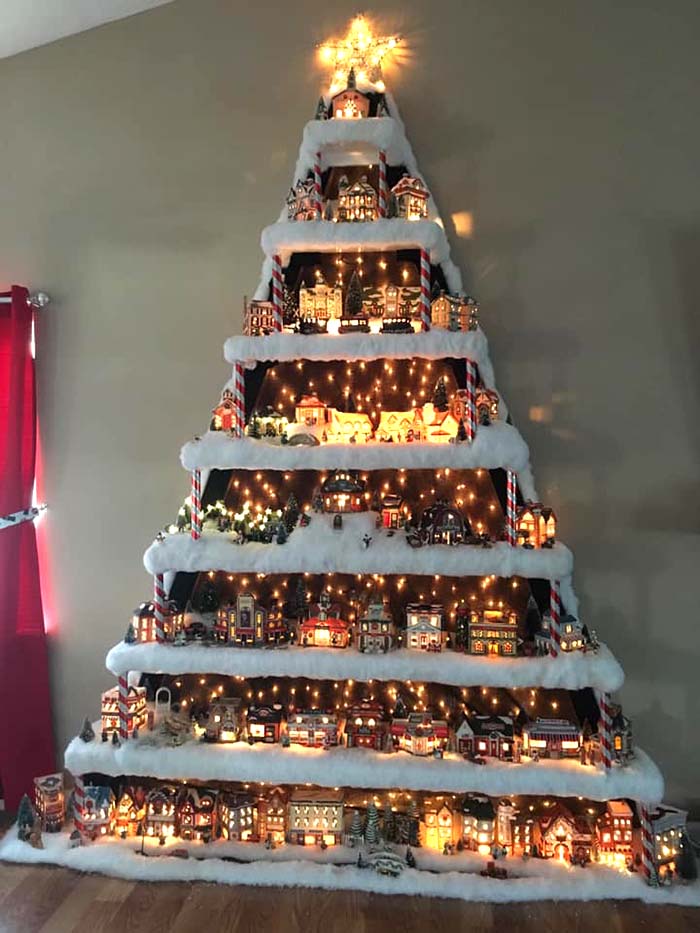 This unique wood shelving unit is perfect for showcasing your decor during the holidays and every day after the Christmas season is over.
Wrap the wooden dowels in festive ribbon, add cotton to the shelves for snow and decorate the shelves with your Christmas Village or other holiday decor.
27. Show Off Your Book Collection with a DIY Christmas Tree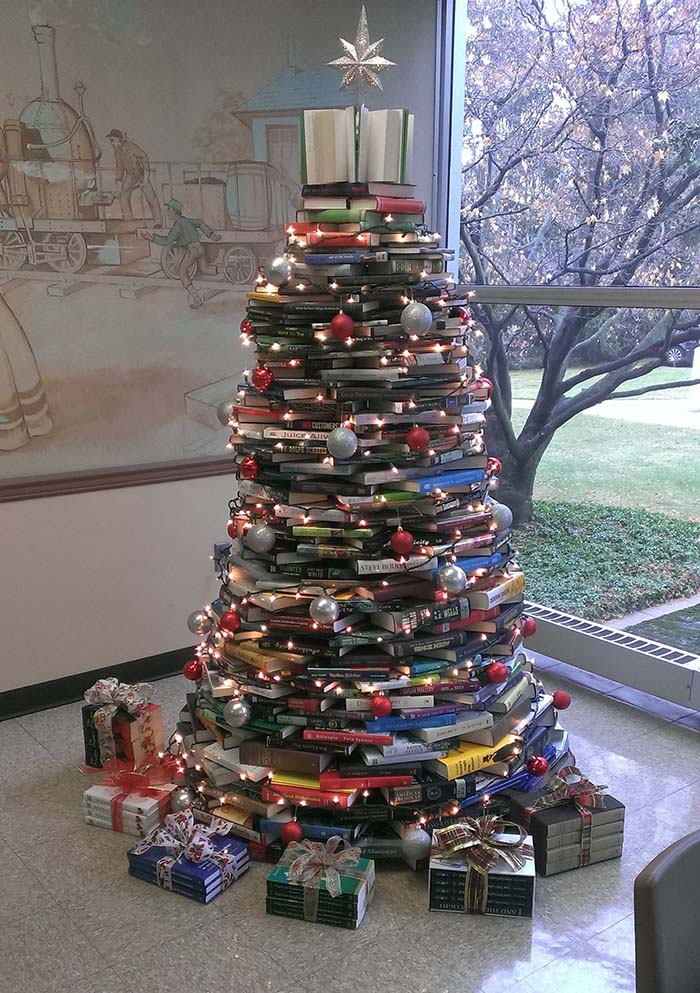 If you are an avid reader with a lot of books laying around, this is the tree for you.
Simple, creative and an inexpensive way to add holiday appeal to a reading nook or in-home library.

via Reddit
28. Make a Unique Egg Carton Christmas Tree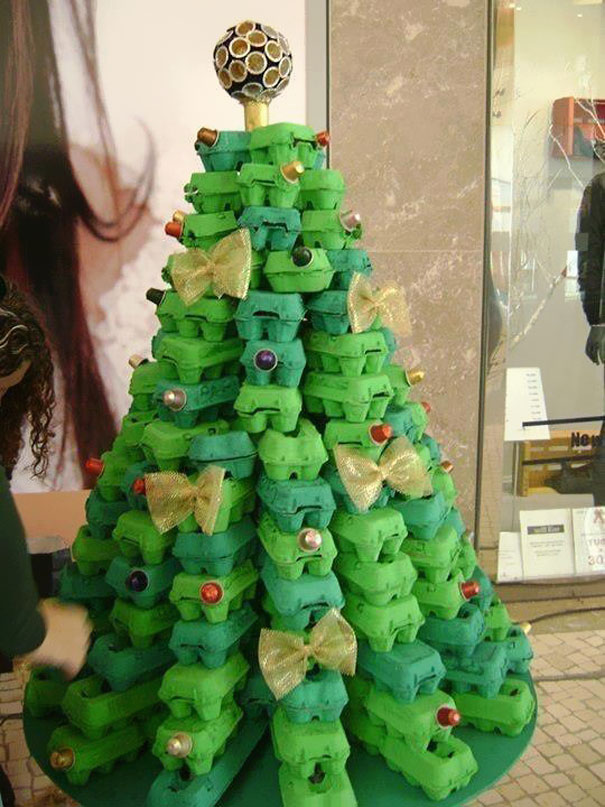 Another inexpensive and simple way to create a unique tree.
If you have been saving up egg cartons or have time to before Christmas, try out this true unusual and whimsical design.
29. Create A Soft Christmas Tree with DIY Pillows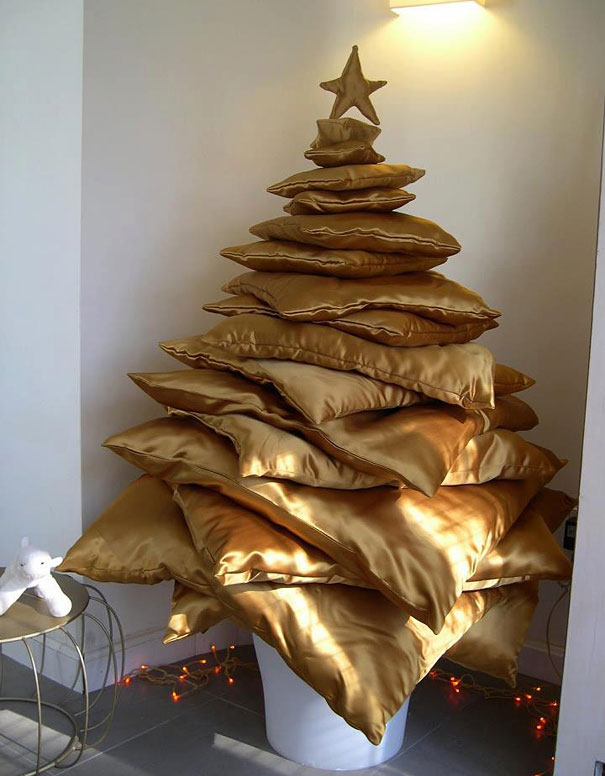 DIY your own pillows in fabrics and then stack them together to form the softest Christmas tree ever.
A very modern take on traditional decor.

via Lunivers Dellez
30. Make a Christmas Tree Centerpiece with Clothespins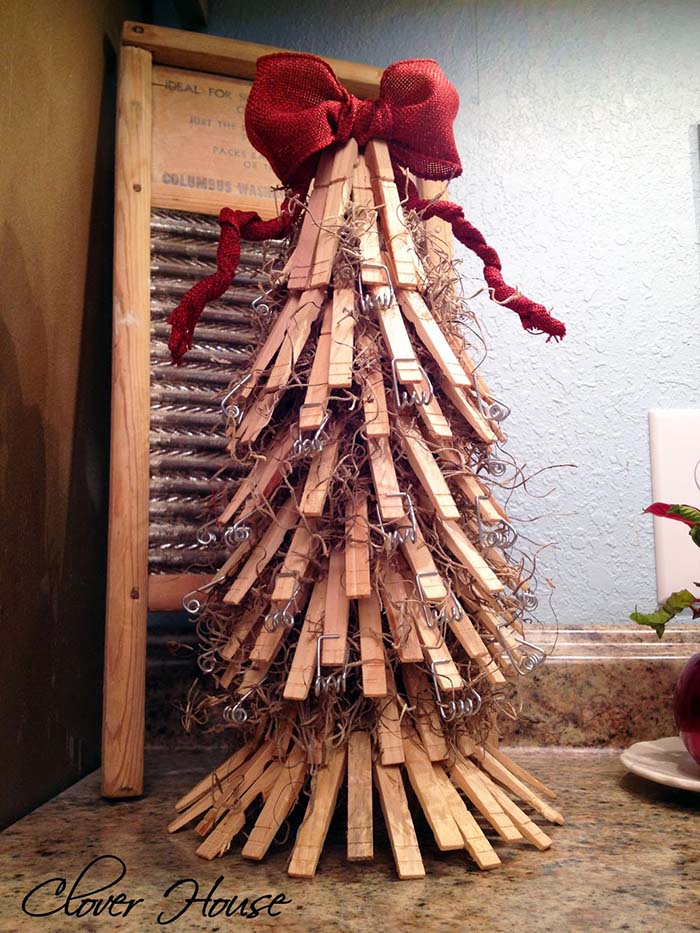 This small tree is the perfect addition to your holiday table as a centerpiece. Top with a DIY bow or wooden star.
via Clover House
31. Create a Festive Snowman Christmas Tree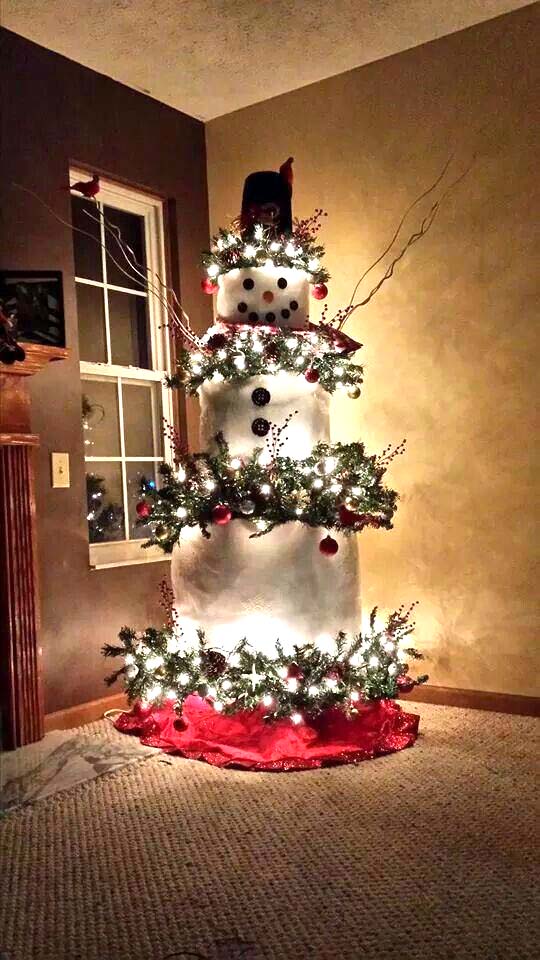 Make your tree look like one of the most recognizable characters of the Christmas season.
The kids are sure to love a snowman in the house that will not melt.
32. Boldly Decorate Your Room  with a Rainbow Christmas Tree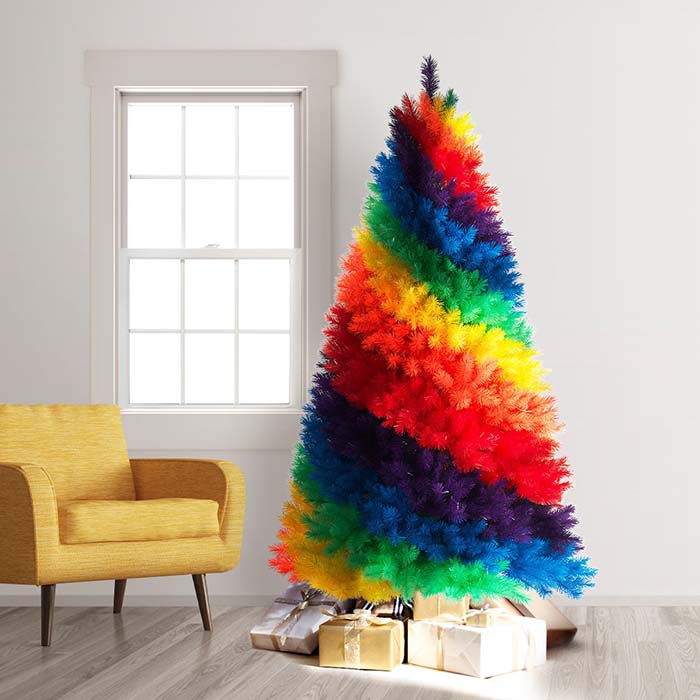 What about the latest trend in Christmas decorations? Rainbow Christmas Trees!
It's quite unusual and challenging to incorporate in a more traditional home decor, but if you would like something bold, why not?
Learn more: Here
33. Add Snowman Decor Pieces to Your Christmas Tree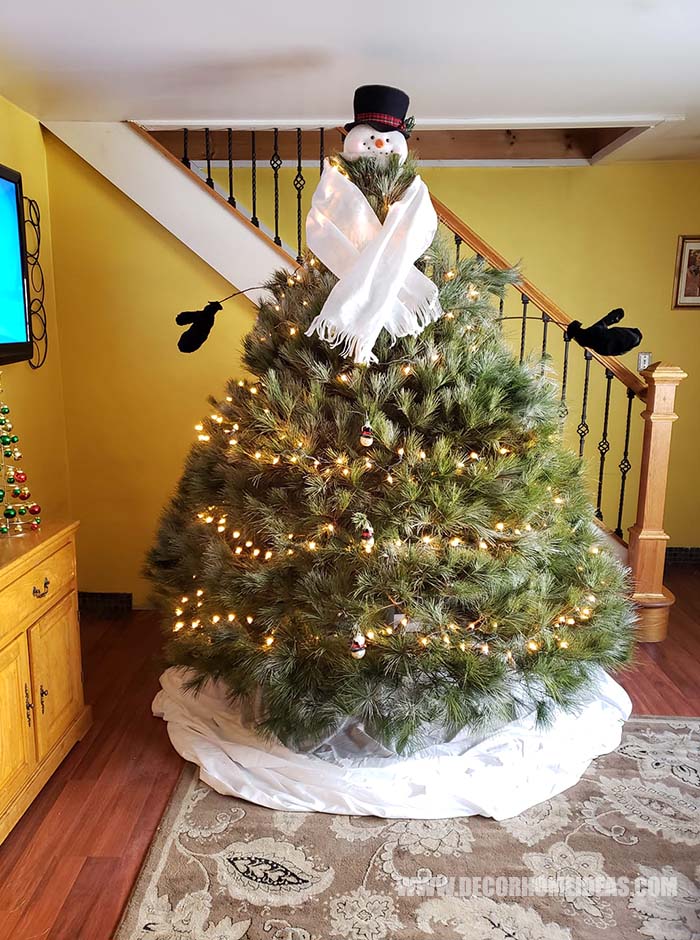 The tree was just too pretty to put anything on it. When I first saw it made me think of a big snowman so that's what it became – said Karen.
34. Upcycle Materials for a Rustic Outdoor Christmas Tree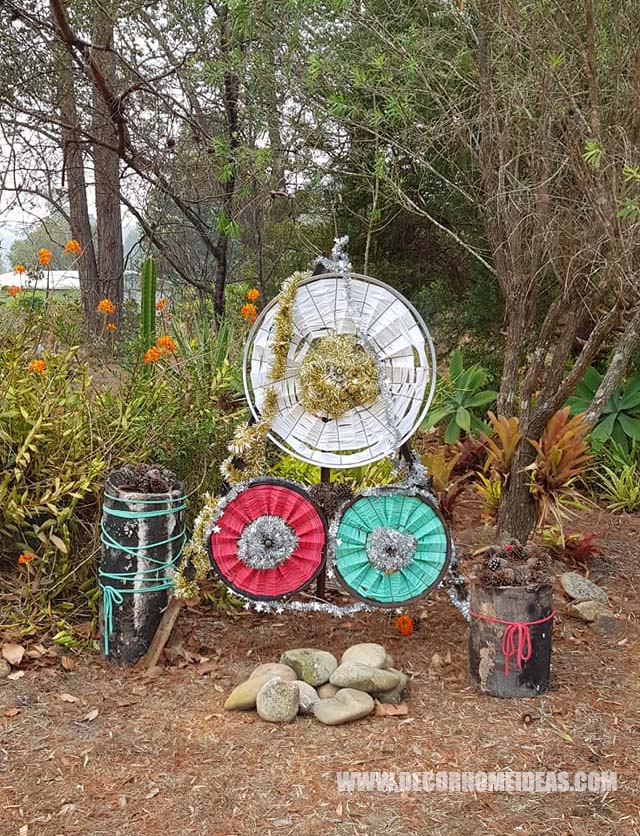 When you live in a bushfire area where the land is so dry like in NSW Australia your best option is to create an extraordinary upcycled Christmas tree.
35. Decorate a Christmas Tree with Harry Potter-Themed Decor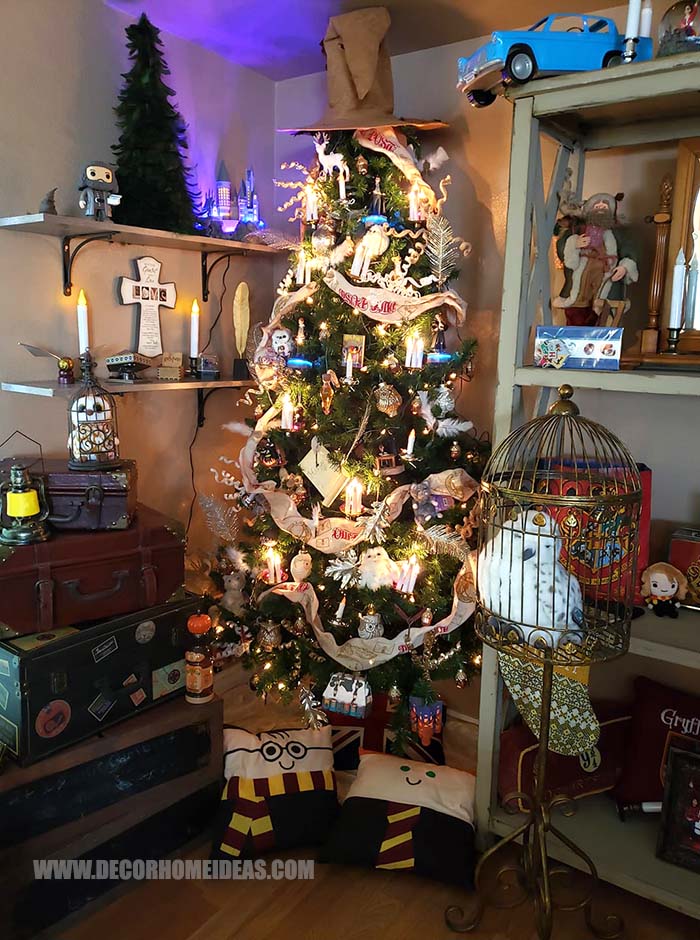 Are you a real fan of Harry Potter? If so, this one is just for you. You can start with the unique tree topper – a sorcerer's hat and then continue with all the magical ornaments that you could find.
36. Bend a Fake Christmas Tree for a Unique Holiday Look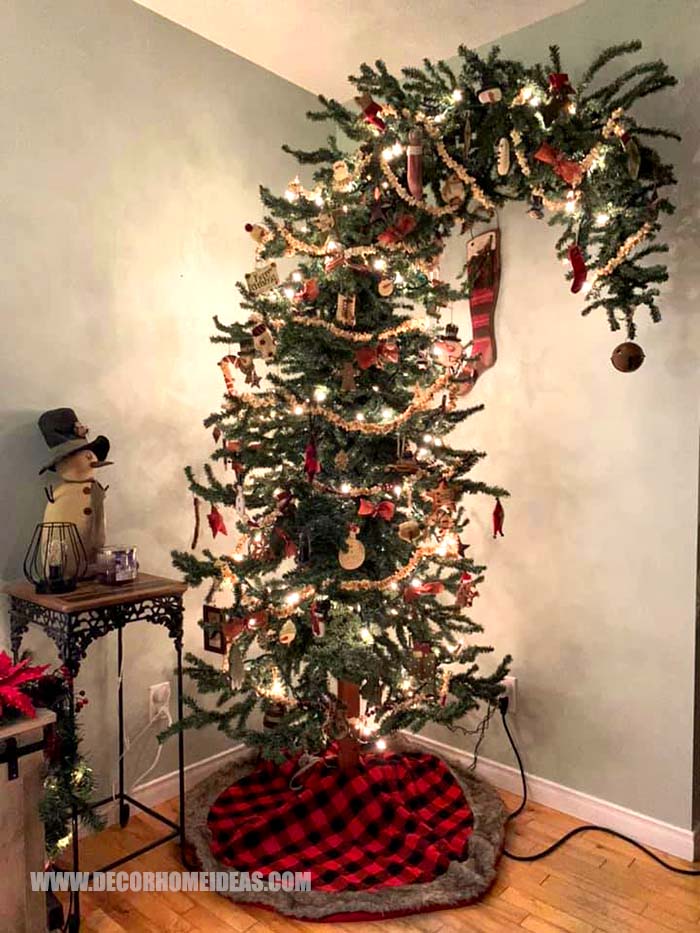 If your tree is too tall here is a creative idea – bend the top! Looks really impressive and unique. It would be too difficult to bend a real tree, so a fake one will do the job.
37. Add an Enchanting Village to the Base of Your Tree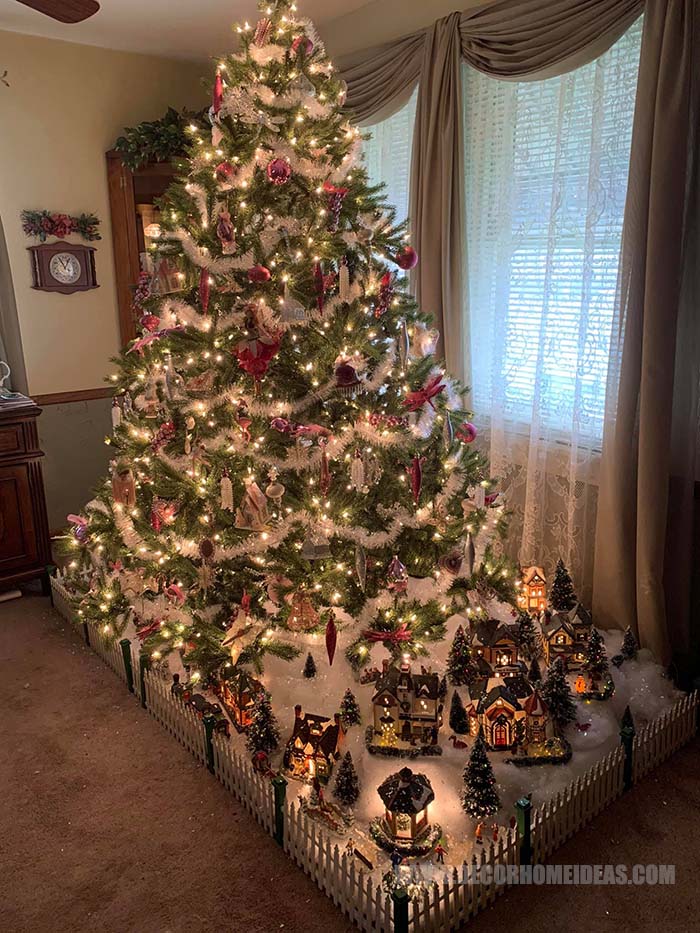 "I worked on my parents Christmas village today, they do the tree and I do the village, the fence is very old and was under my mom's parents tree, the village is ceramic buildings and lots of the trees have working tiny lights, also a few lawn ornaments light up as well.
The first few pictures show the basic layout, I use styrofoam from the house boxes to make different height layers and then cover with snow, thus adding height as well as a place to hide all the wiring and power cords.
Then I took a few pictures after the lighting is complete, I use buffalo snow (looks like quilt batting but made for holiday decorating) to hide any wires as well as make the transitions of height look more natural.
I make it different every year and hope you enjoy seeing my thought process and work 🌲🌲🌲😁😁😁 new this year we're some pink flamingos for mom 🦩🦩🦩😁😁😁" – says Mike.
38. Handcrafted Christmas Tree Decor with Sea Glass and Starfish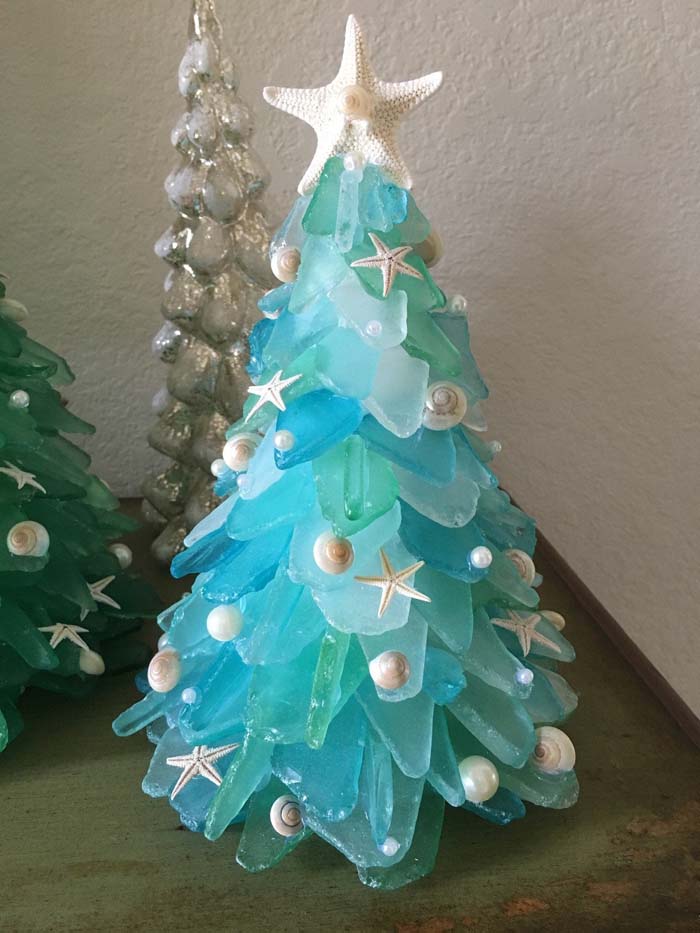 This Christmas tree is made of sea glass, seashells and other starfish. They are handmade and you can check the price here or you can read more about it here.
39. Place a Beautiful Christmas Village in Your Tree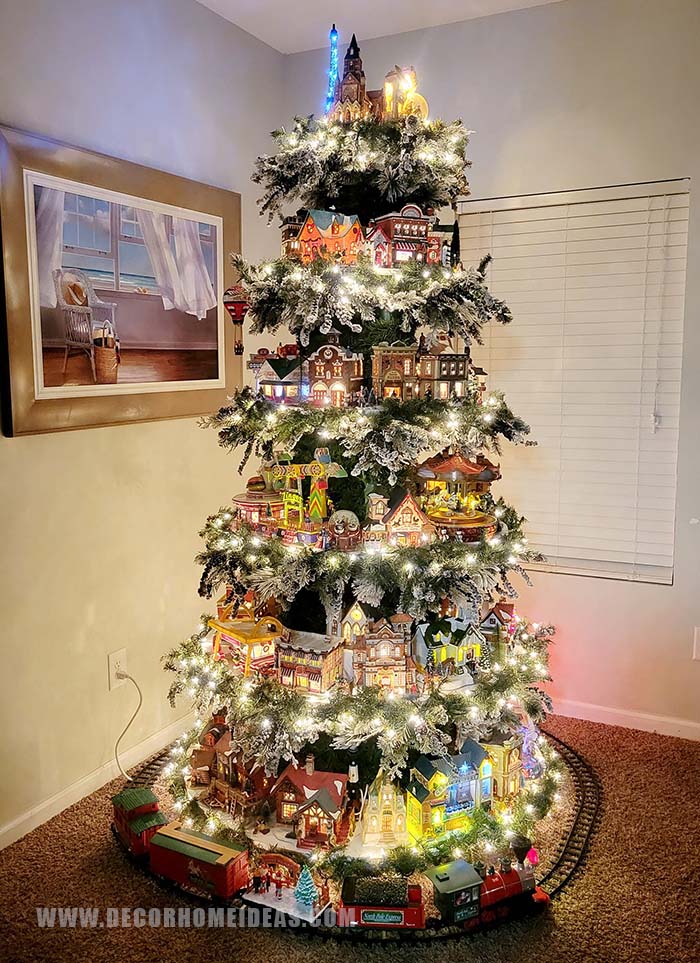 While it is extremely heavy and won't work on a traditional tree stand, it's amazing.
40. Let Kids Relax in a Christmas Tree Tepee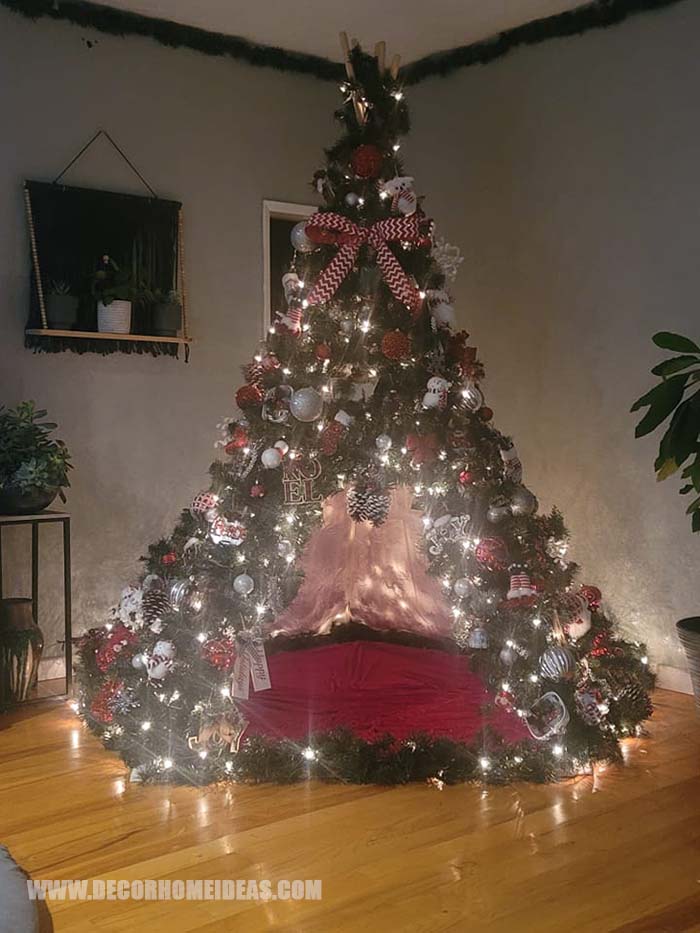 I have an adult daughter that always slept under the Christmas Tree when she was little. Sometimes I moved her to her bed, and sometimes I just left her until morning.
41. Repurpose Fishing Rods into a Rustic Christmas Tree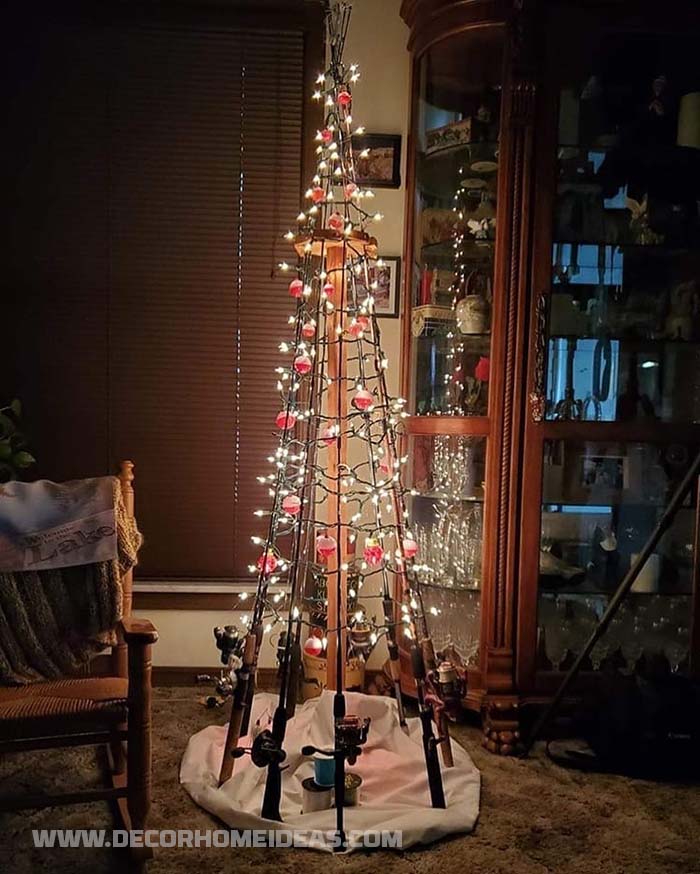 Get creative with fishing rods and create your dream Christmas tree. I'm sure folks that are keen on fishing would love that.