Are you looking for some new ideas for unique Christmas tree toppers? Here they are, unusual and extraordinary, but still very creative.
Although Christmas trees are usually topped with either a star or an angel, that does not mean you can't break the rules.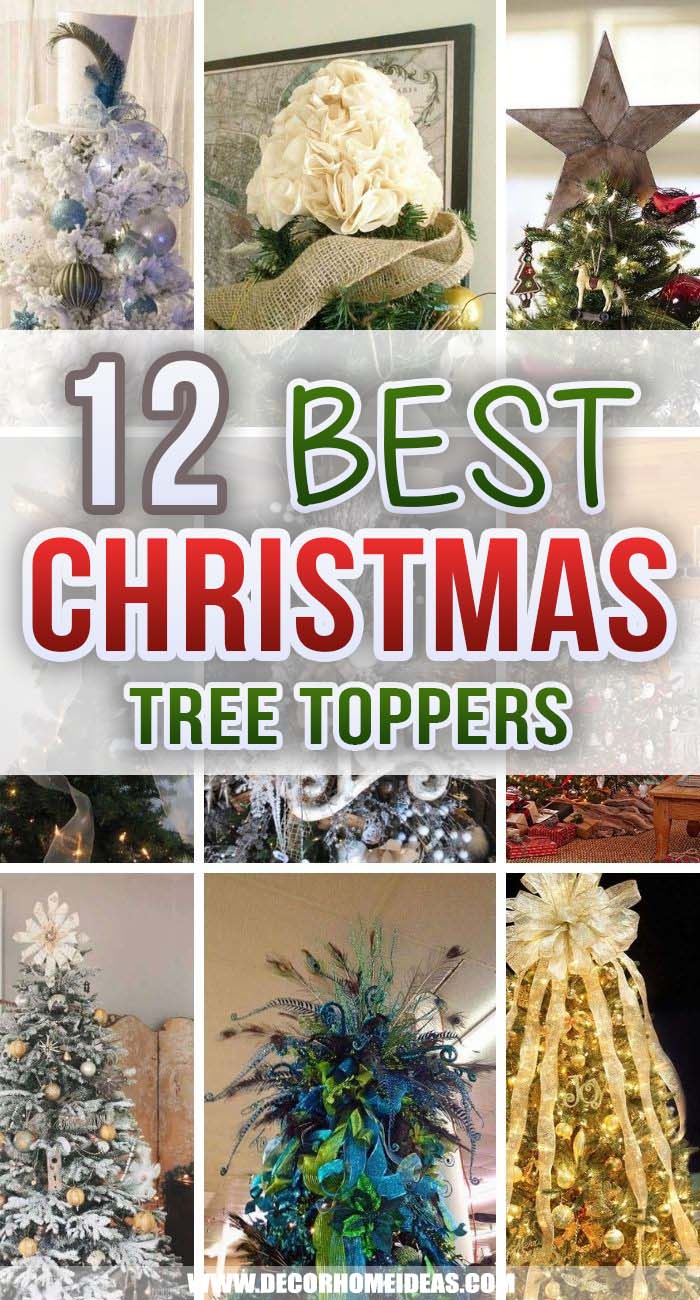 Why don't you try something else that's perhaps a little more modern or that fits better with the theme and style of your décor?
Get creative, the possibilities are endless. Make a unique Christmas tree with all these ideas.
You can try with a sea star, a crown, peacock feathers, ribbons, music sheets, and even antlers…Your only limit is your imagination and resourcefulness.
Just try to think outside the box and you can come up with a statement solution.
Ultimately, your unconventional tree topper might even serve as a great conversation starter for your holiday party or family get-together.
1. Elevate Your Holiday Décor with a Royal Crown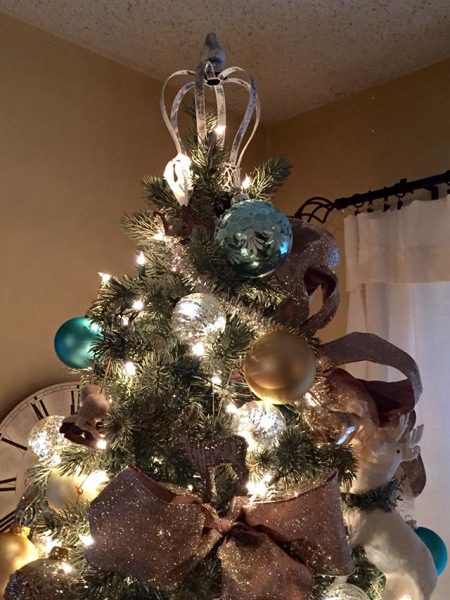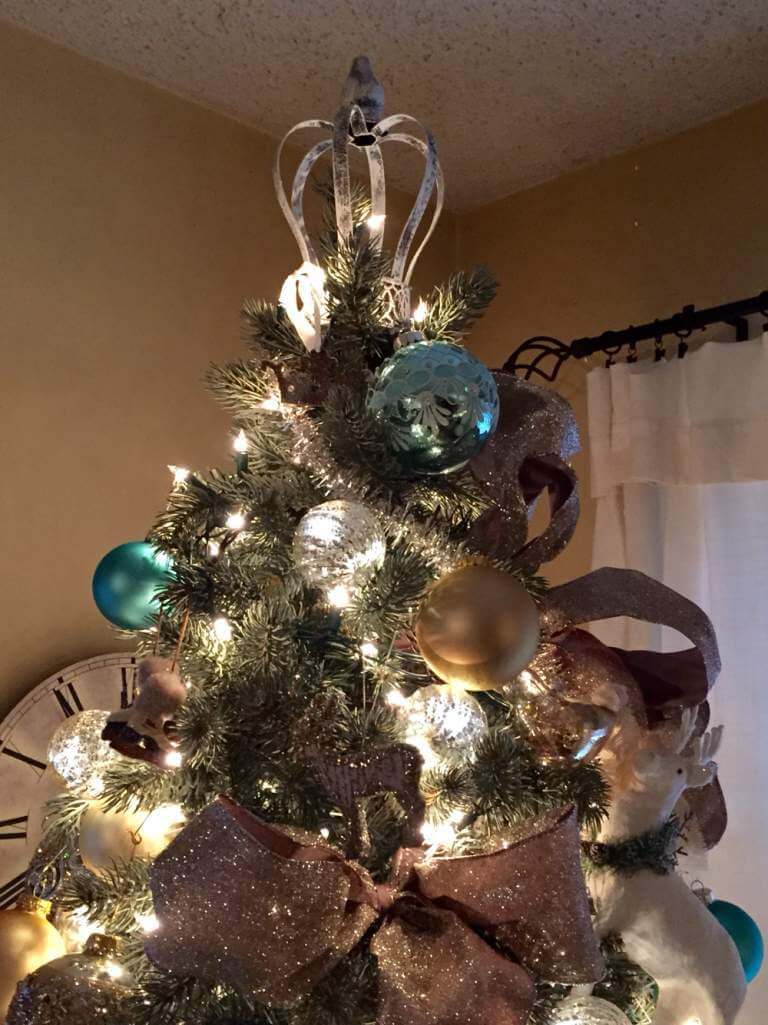 Photo: Credit
Beyond doubt, everyone puts a lot of work into making the Christmas tree look stunning. That's why an elegant crown seems to be the perfect finishing touch!
Just have a look at this lavishly embellished Christmas tree! It is definitely a statement seasonal décor piece, don't you agree?
2. Add a Touch of Class with an Elegant Vintage Hat Topper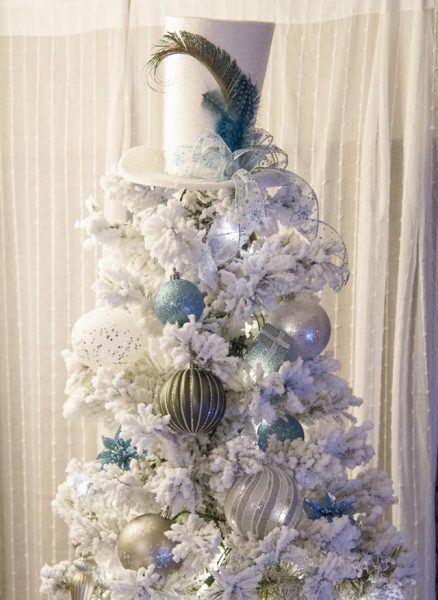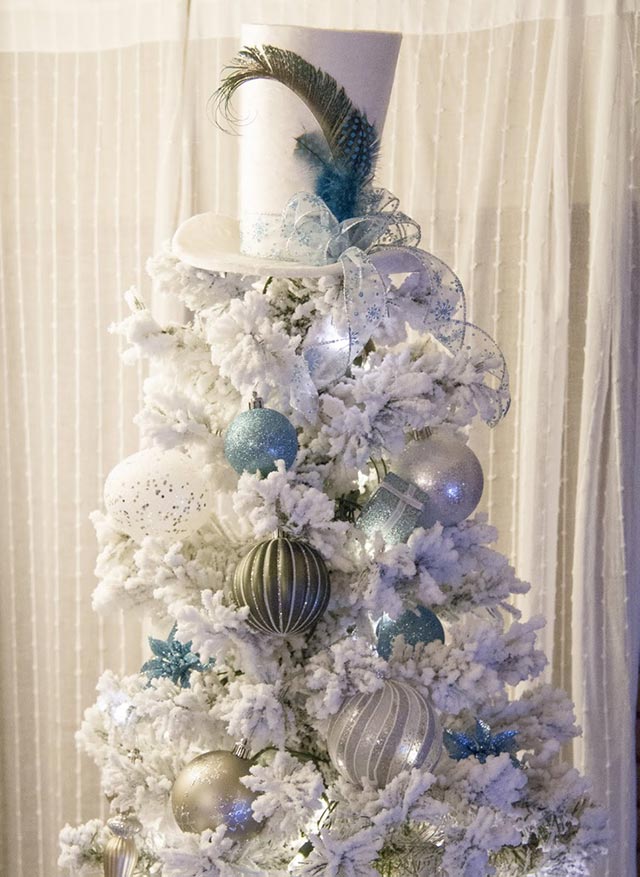 Photo: Credit
Somewhat similar to the elegant crown topper idea is to use a beautiful vintage hat.
This white Christmas tree topped with an elegant hat looks absolutely stunning! What a brilliant idea!
3. Give Your Tree an Unforgettable Look with Peacock Feathers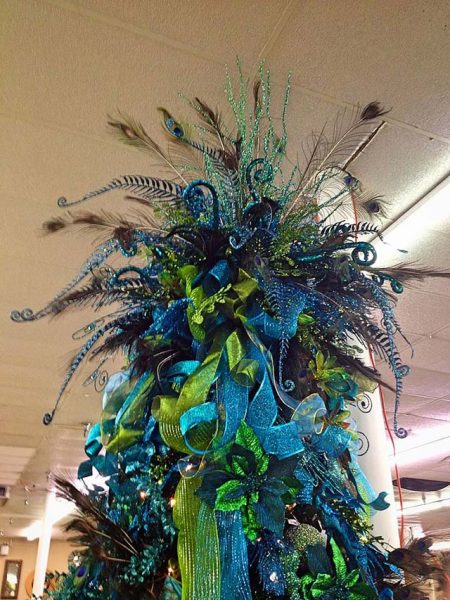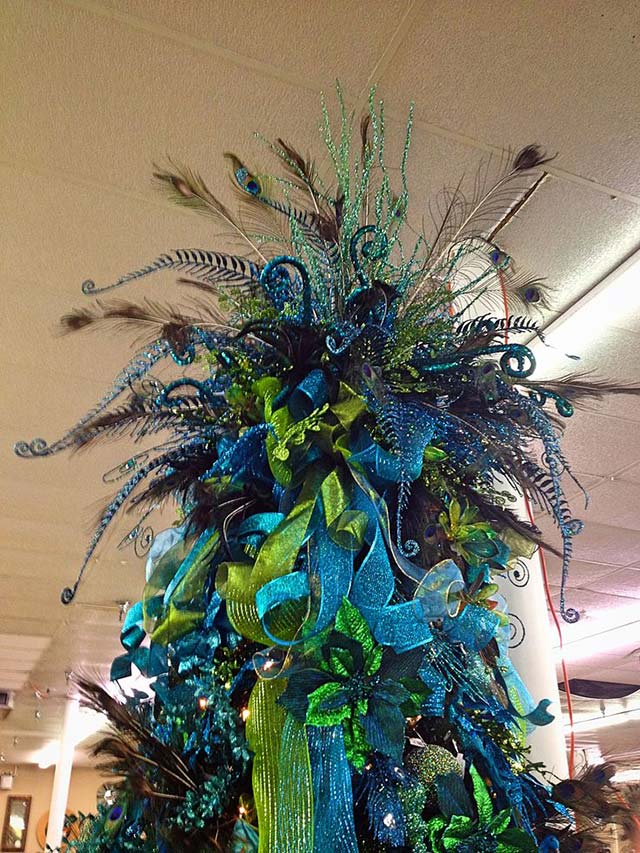 Love the turquoise Christmas color scheme? What about this Christmas tree?
Ribbons and feathers in blue and green lend it a peacock-inspired look. Isn't it charming?
4. Add a Rustic Touch to Your Christmas Tree with Antlers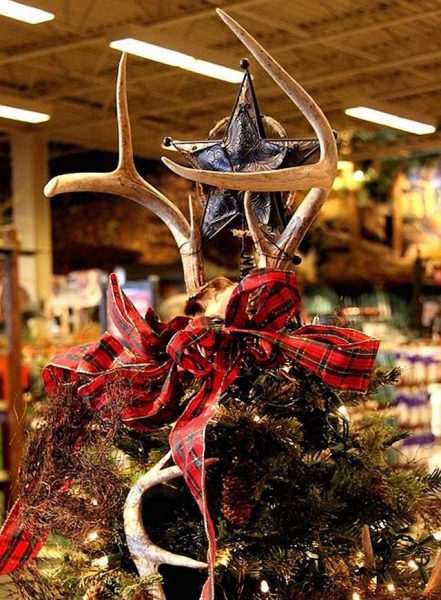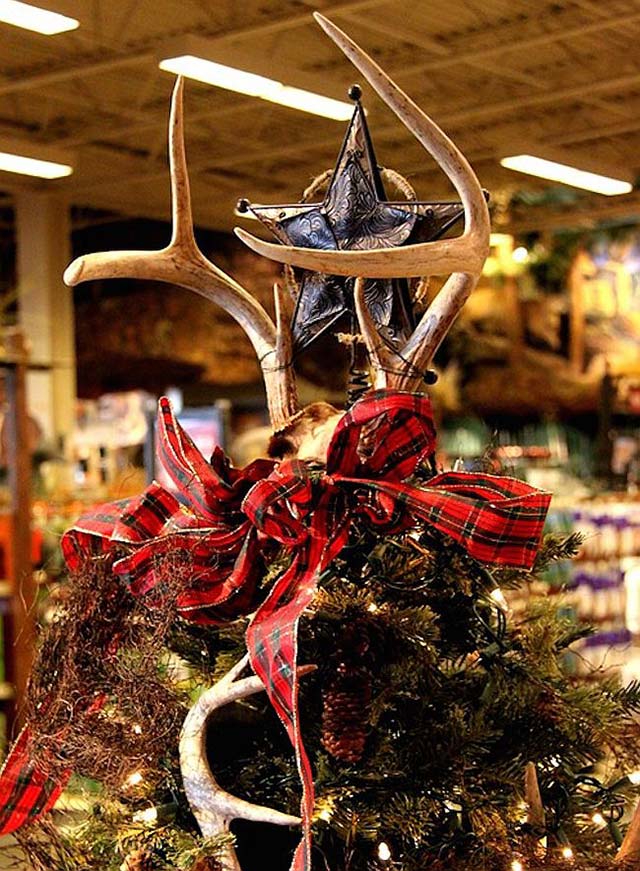 Photo: Credit
Are you a hunter? Spending Christmas in a cabin or at home surrounded by rustic décor?
Then, why don't you go for a pair of antlers, real or faux?
This is definitely an impressive way to both make your Christmas tree unique and add organic touches to the space!
5. Get Creative with Timeless Charm of Antique Music Sheet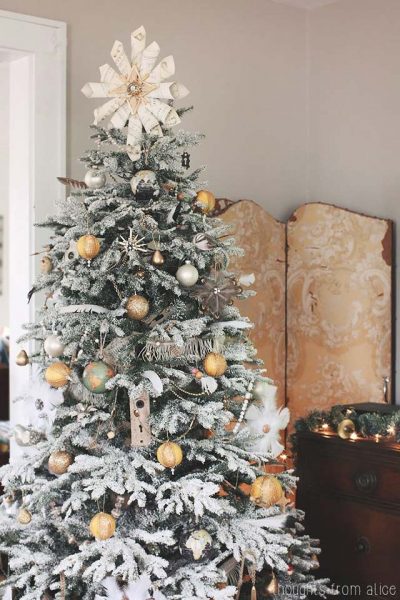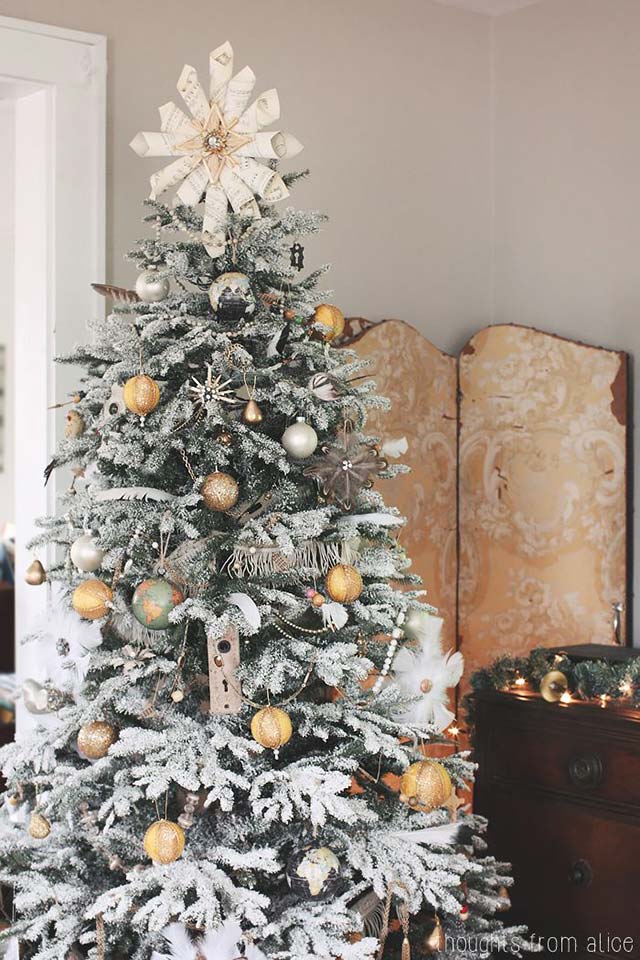 Photo: Credit
Want to try a DIY project? Opt for some old music sheets.
Look at this beauty! A jewel piece in the middle of the beautifully arranged sheets adds extra sparkle and visual interest.
So creative and beautiful! Pure vintage perfection! Definitely a magical Christmas tree!
6. Create a Custom Tree Topper that Stands Out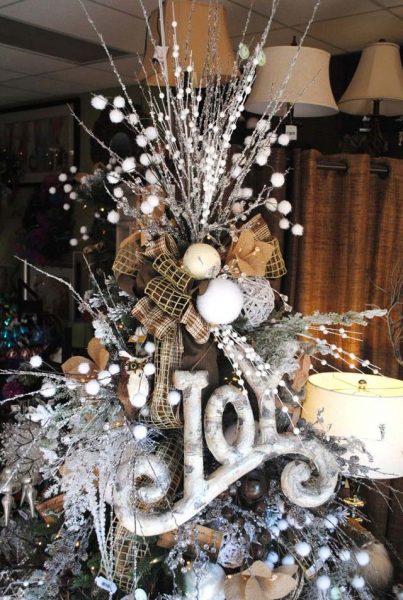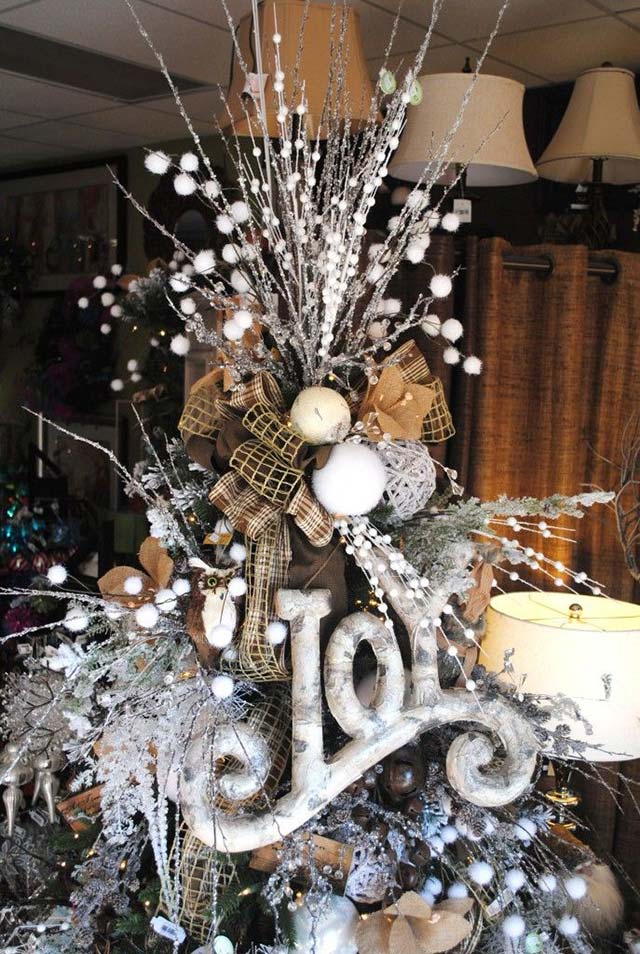 Photo: Credit
Speaking of DIY projects, try combining a bunch of things into your own tree topper masterpiece.
Get inspiration and ideas from the statement Christmas tree shown above!
7. Turn Christmas Tree into Showstopper with Real Starfish Topper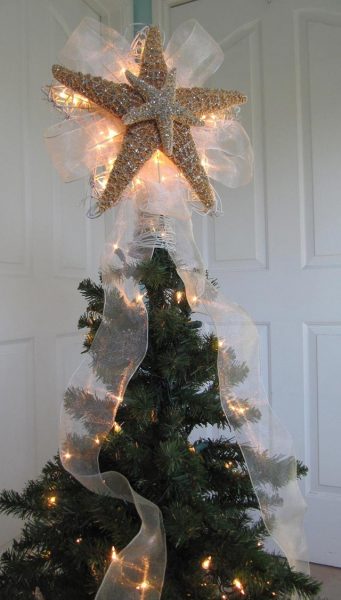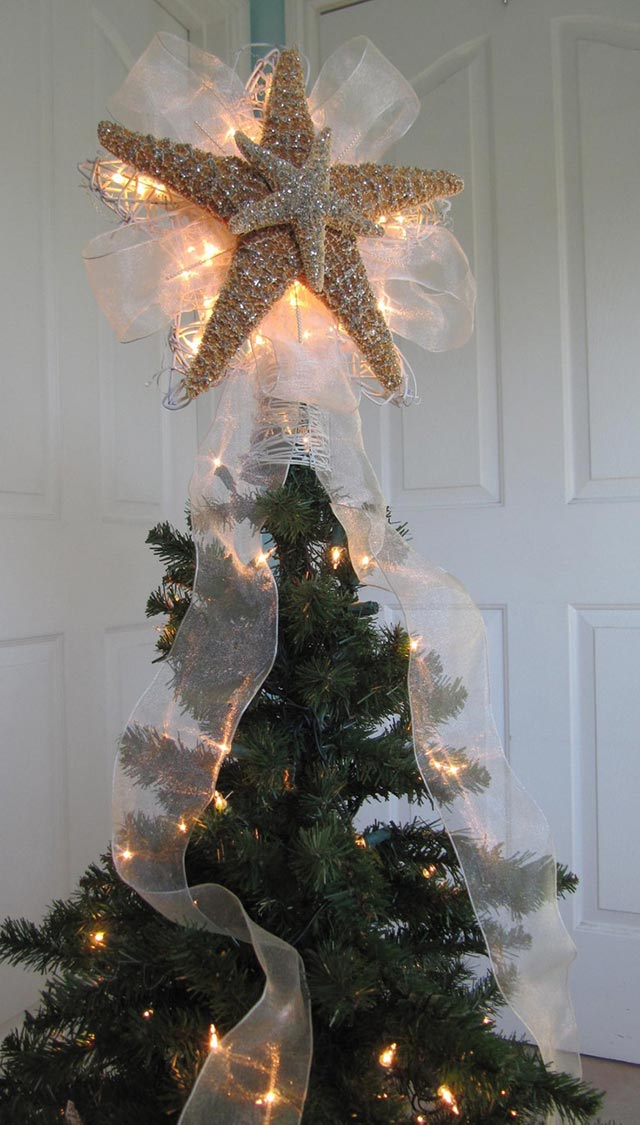 Photo: Credit
Keeping with at least part of the traditional tree toppers, why not swap out a regular star for a real starfish?
This tree topper would look great on almost any tree, but it can turn a beach-inspired Christmas tree into a true show-stopper. It's the best coastal Christmas tree topper idea.
You can even go a step further and combine the starfish with some extra little seashells and pearls. Rose gold Christmas decoration is getting more and more popular so it will be a great original piece of decoration.
8. Celebrate Nature this Christmas with a Pinecone Tree Topper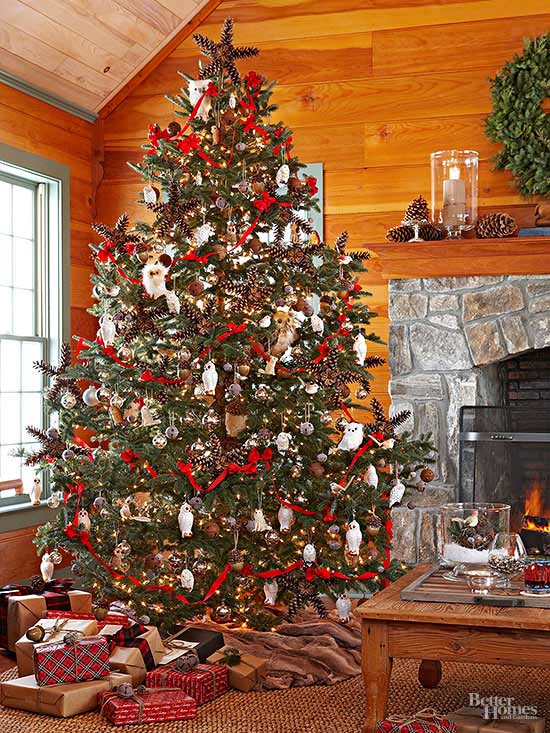 Photo:Credit
If you have some spare pine cones you can easily glue them and create another unusual Christmas tree topper. Look out for big pine cones and evenly shaped to create the perfect star.
9. Make Holidays Extra Special with Faux Flowers Tree Topper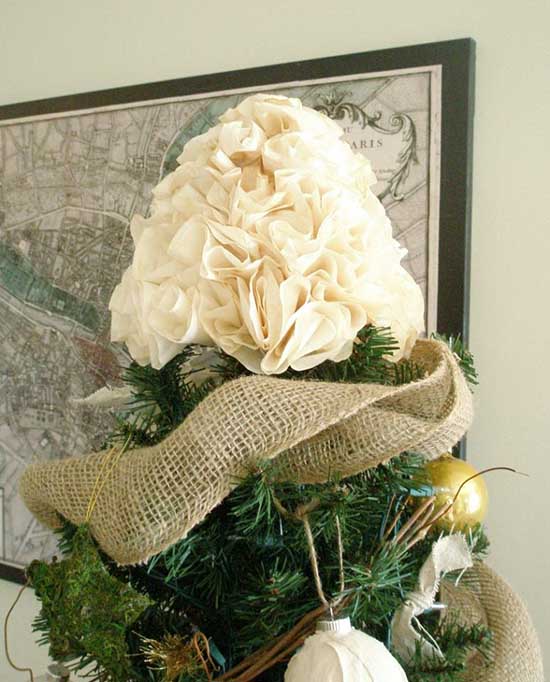 Photo:Credit
Here's an elegant way to top your tree. Wrap it with burlap and hang some old school ornaments for a festive touch. The topper could be made from paper or faux flowers.
10. Bring Rustic Charm with a Wooden Star Topper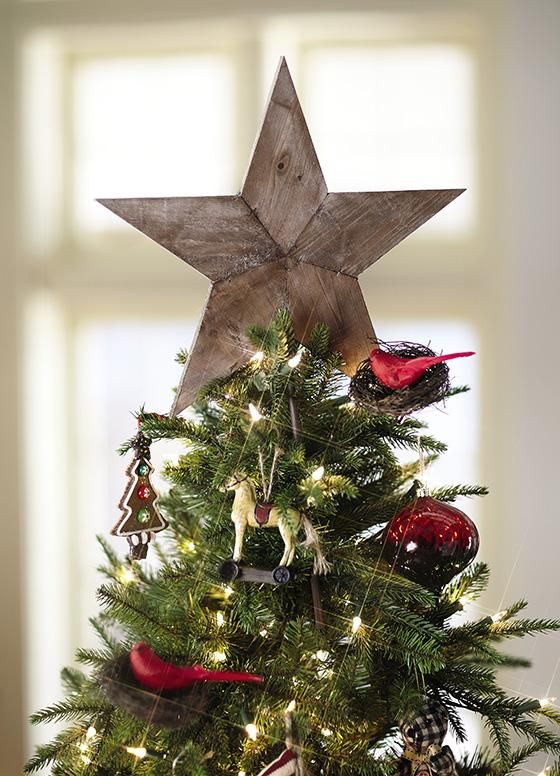 Photo:Credit
I'm not sure whether you can DIY this topper or it's available on sale somewhere, but it's quite unusual and very rustic. Great farmhouse Christmas decor item that will compliment any rustic interior.
11. Add a Touch of Flair to Your Tree with a Striped Bow Topper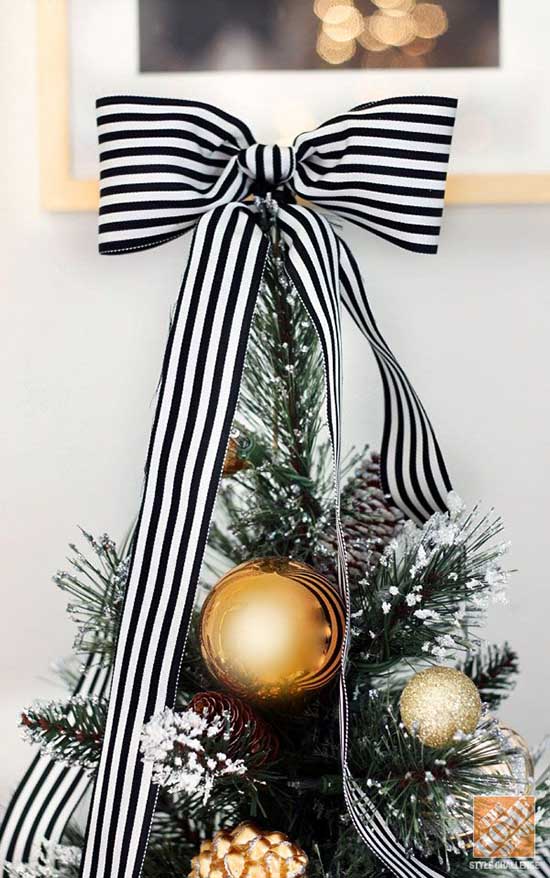 Photo:Credit
Your best Christmas Tree Topper could in Home Depot. This one is very trendy this year and everyone is crazy about Christmas tree bow topper with streamers trend.
12. Create a Bold, Beautiful Effect with a Sheer Bow Tree Topper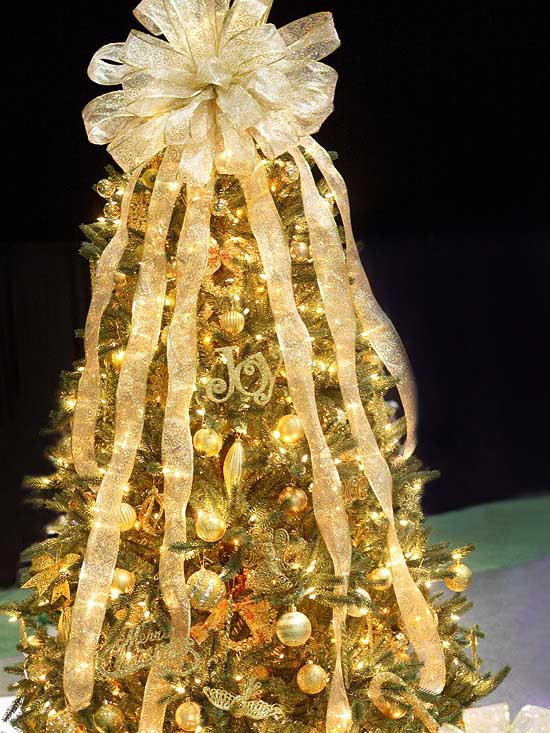 Photo:Credit
We loved this glitter bow tree topper with cascading tails. Decorate the tree with golden lights and ornaments.
What kind of a Christmas tree topper are you going to use this year?
13. Add a Touch of Glamour with a Gray Snowflake Ribbon Topper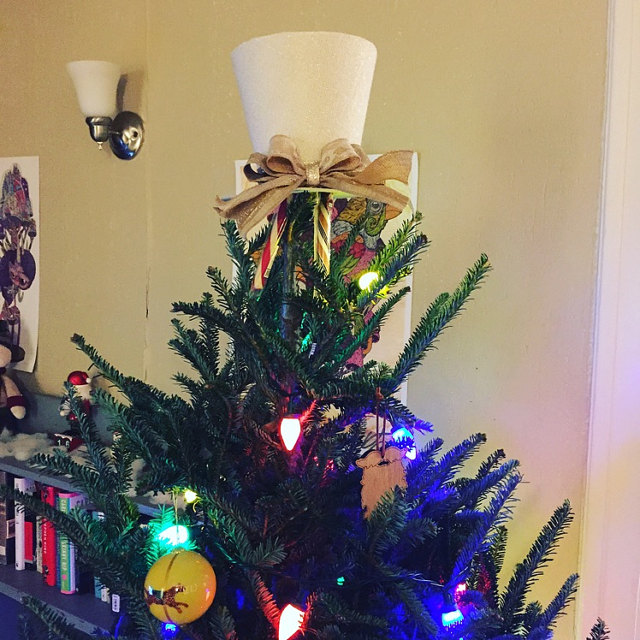 Let this Rustic tree topper bring your tree to life. Filled with flecks of gold throughout the beautiful white burlap fabric, this tree topper will glow on any tree or even as a centerpiece for a table. You can even add a monogram letter to make it more personalized.
Learn More: Here
14. Snowflakes Decor Bow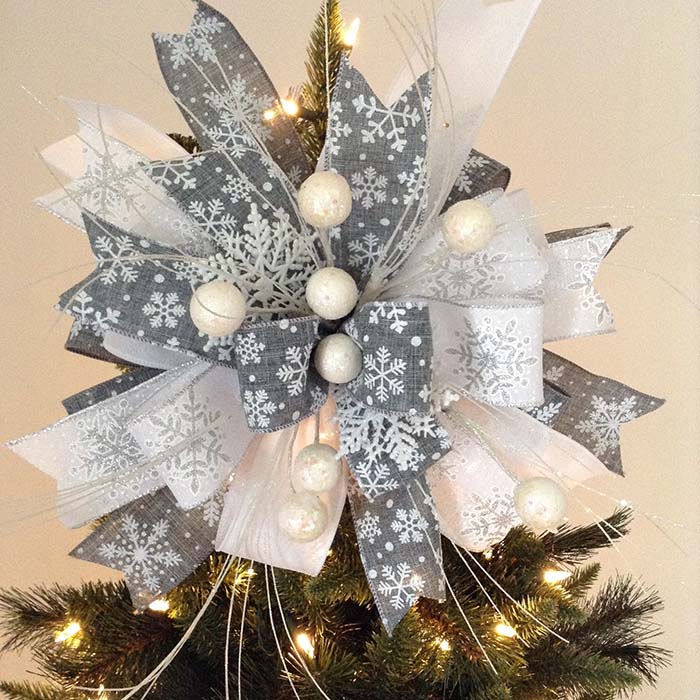 This Christmas tree topper is a mix of ribbon on white and gray colors and decorated with white snowflakes and small white balls – long picks making a beautiful touch for this gorgeous Christmas Bow.
Learn more: Here