While decorating for Christmas can be a lot of fun, it's important that you consider the style and appearance of the decorations that you want to use in your home.
While there are many people who prefer to use the same decorations each year, if you want to update your decorations, then you will want to consider the way that rose gold decorations look.

These Christmas rose gold decorations are timeless and will add a lot of beauty to your home, which is why so many people turn to them when they want to update the way their decorations look.
If you are going to use rose gold Christmas decorations in your home, then you need to make sure that you pick decorations that will be timeless and will really fit with your décor.
These 18 rose gold color Christmas decorations are sure to make you fall in love with decorating your home all over again.
Rather than the traditional Christmas colors that people expect when you decorate, gold rose Christmas decorations are a great way to decorate for Christmas without sacrificing the elegance of your decorations.
Try one of these amazing options the next time you are going to decorate for Christmas.
1. Gold Bowl with Balls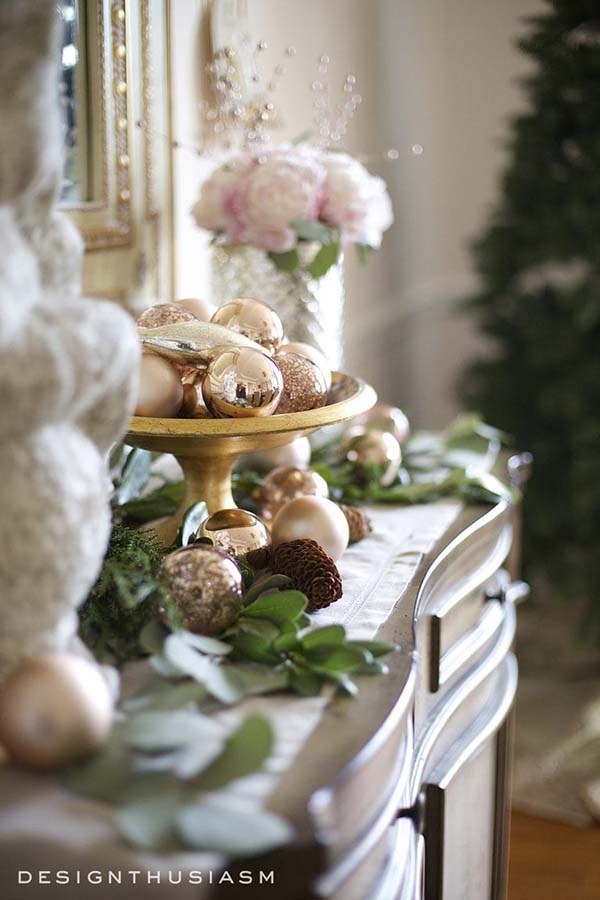 Photo:Credit
A footed bowl with balls tucked inside is a great way to showcase the beauty of Christmas table decorations rose gold and to add a little height to your display so that you can easily see all of your decorations.
2. Rose Gold Candle Surround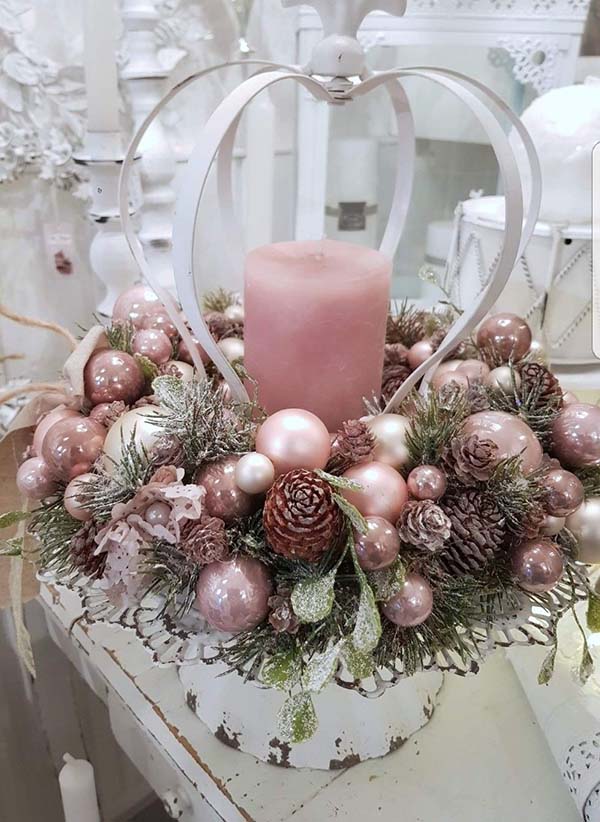 Photo:Credit
There's nothing like a candle surround to really draw attention to the candle itself.
This gorgeous option features plenty of rose gold balls, greenery, and pinecones as well as a stunning candle in the middle.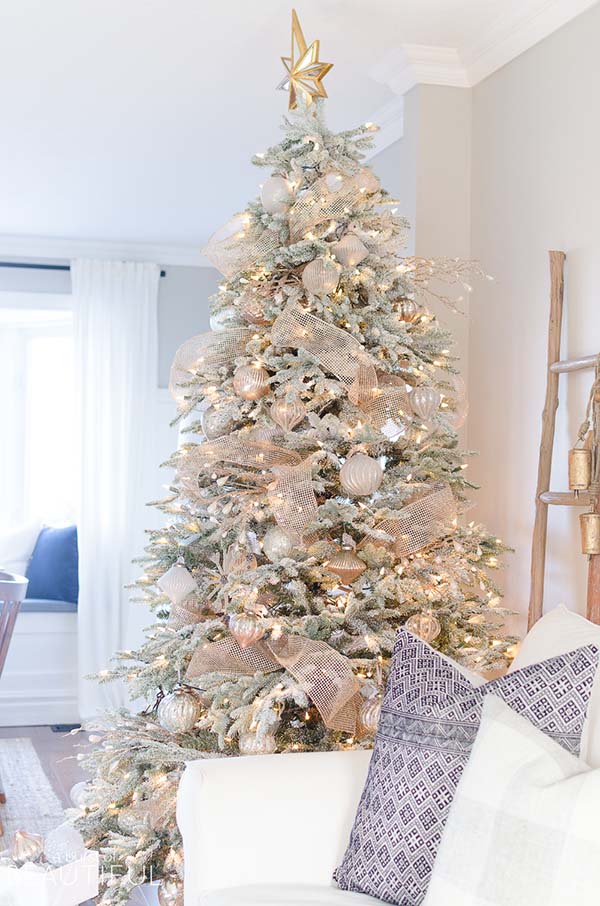 Photo:Credit
Rose gold Christmas tree decorations are a great way to update your decorations and enjoy the elegance of rose gold.
These decorations will make a huge statement when you use them to completely cover your tree. Add a gorgeous Christmas tree topper and you'll have the best tree ever.
4. Rose Gold Table Decorations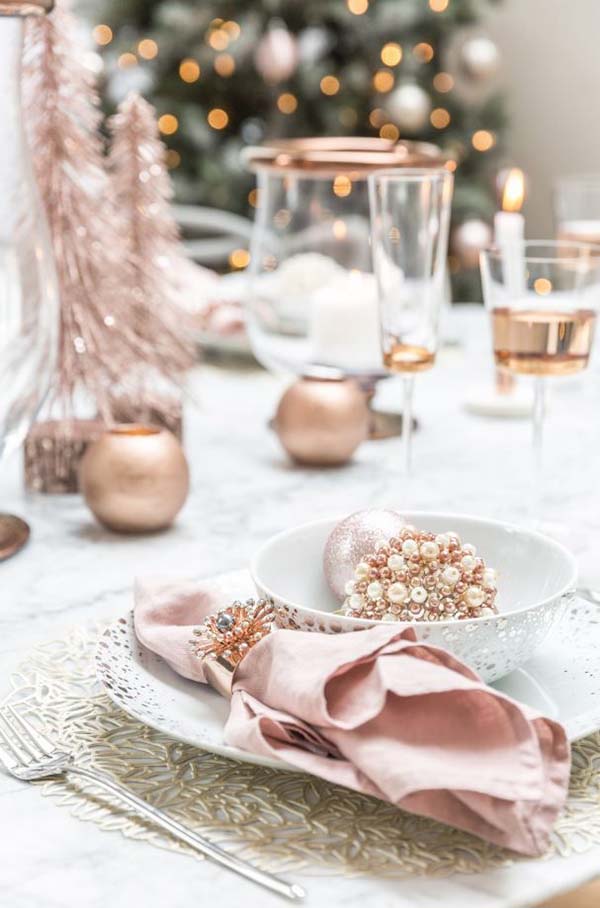 Photo:Credit
Nothing will make your table appear more elegant than rose gold Christmas table decorations.
Look for stemware that has rose gold on it as well as small rose gold Christmas trees to scatter around.
5. Entryway Display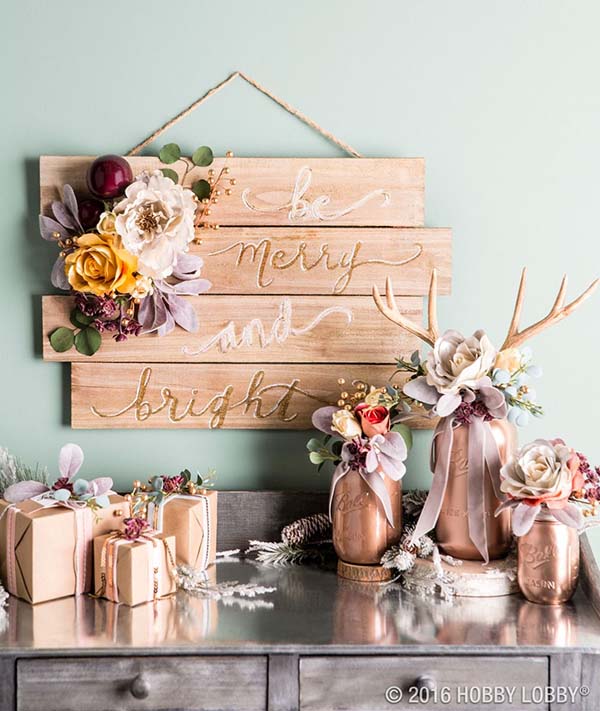 Photo:Credit
Make sure that your Christmas entryway makes an impression on your visitors when you decorate with rose gold.
This color is stunning when use to wrap mini packages and paint the inside of mason jars for flower display.
6. Rose Gold Nutcracker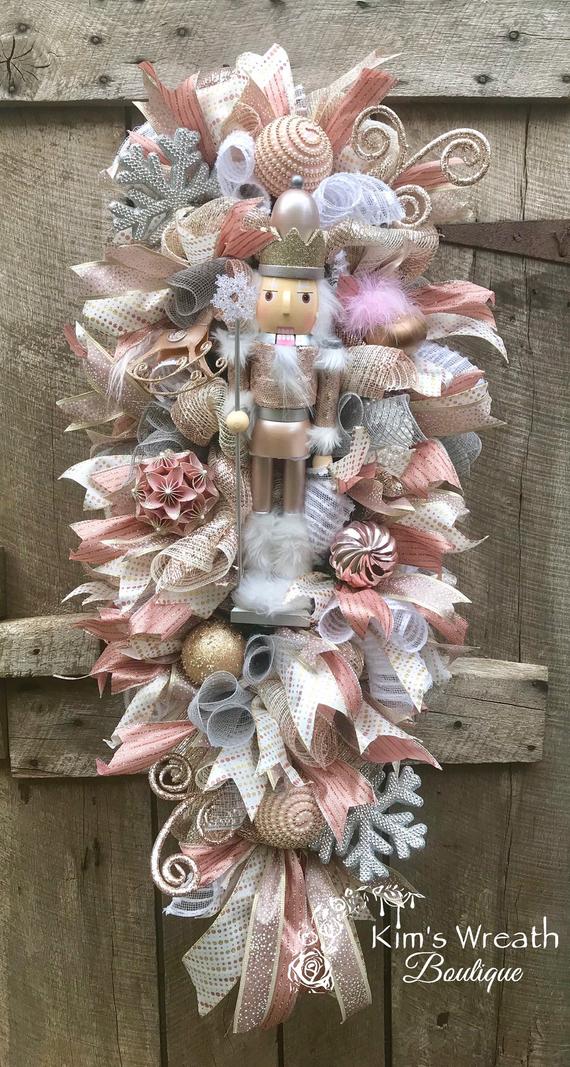 Nutcrackers are a classic Christmas decoration, and you can really improve the way your decor looks when you opt for a rose gold nutcracker.
Choose one in rose gold, and surround it with ribbons for a fun and festive look.
Learn More: Here
7. Rose Gold Door Wreath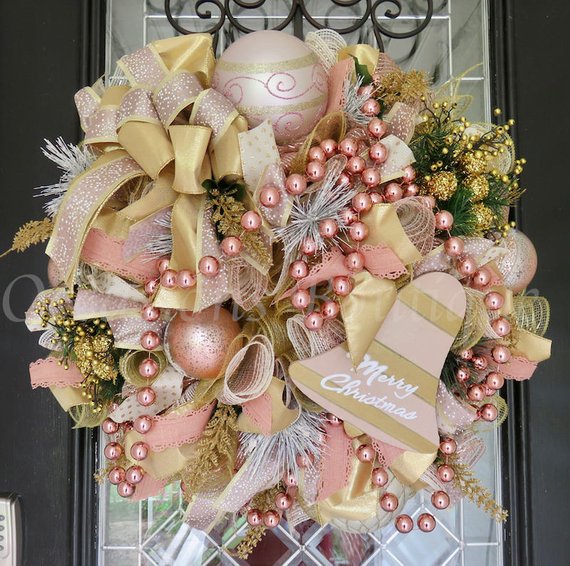 Christmas decorations rose gold don't have to just be used in the home.
Hang a rose gold wreath on your front door to let everyone know what kind of decorations you have chosen for the inside of your home.
Learn More: Here
8.  Mix of Rose Gold Balls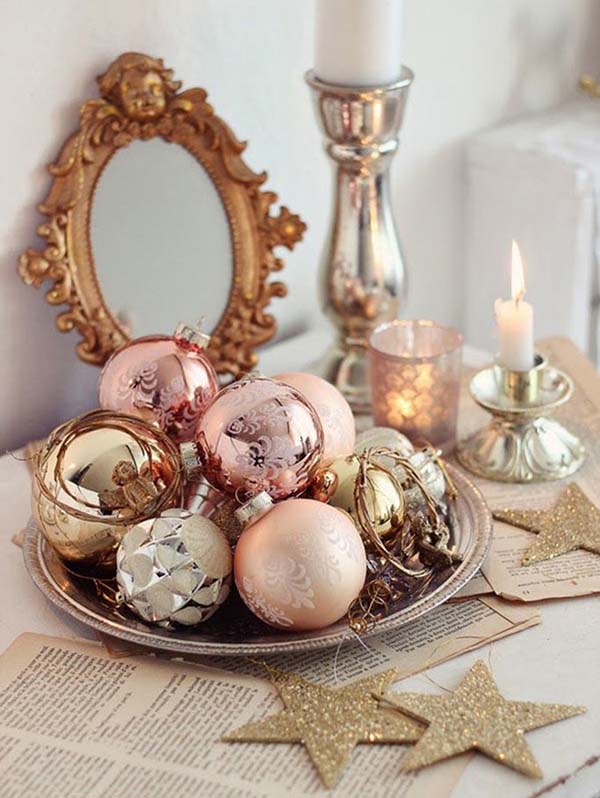 Photo:Credit
Rose gold glitter Christmas decorations will add a lot of beauty to your space.
These Christmas balls vary in appearance, with some plain rose gold and others with a bit of glitter on them to really brighten them up.
9. Rose Gold Fireplace Mantle Decorations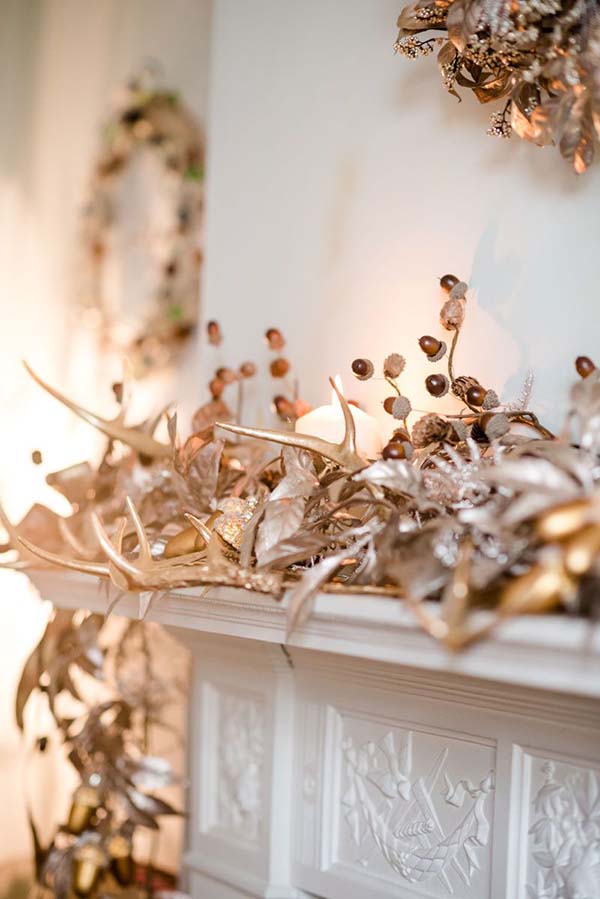 Photo:Credit
Decorate your fireplace mantle with stunning rose gold brown Christmas decorations.
These appear earthy and natural and are a great way to draw attention to your mantle without using garish or bold colors.
10. Chair Decorations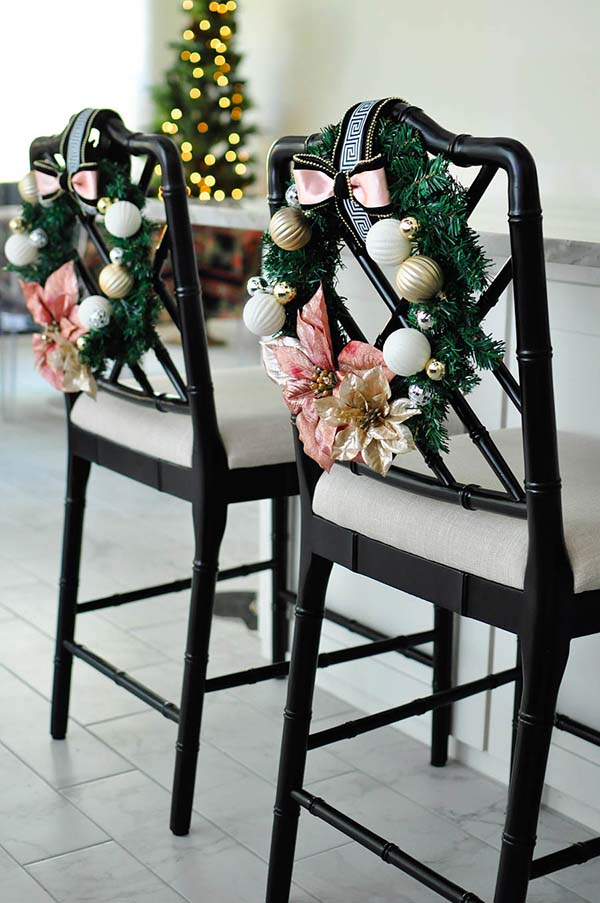 Photo:Credit
The back of your dining room chairs is a great place to hang smaller wreaths with rose gold balls.
These Christmas elegance classic Christmas decorations rose gold are sure to thrill anyone you have over to eat.
11. Full Door Surround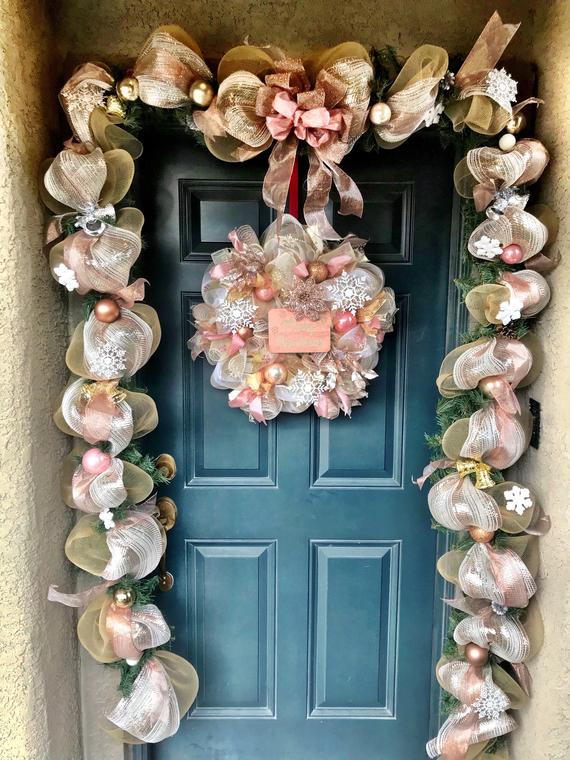 Make a huge impact on your guests with this full door surround and wreath.
White Christmas tree rose gold decorations look stunning when hung around your door as a way to welcome guests to your home.
Learn More: Here
12. Rose Gold Candle Cases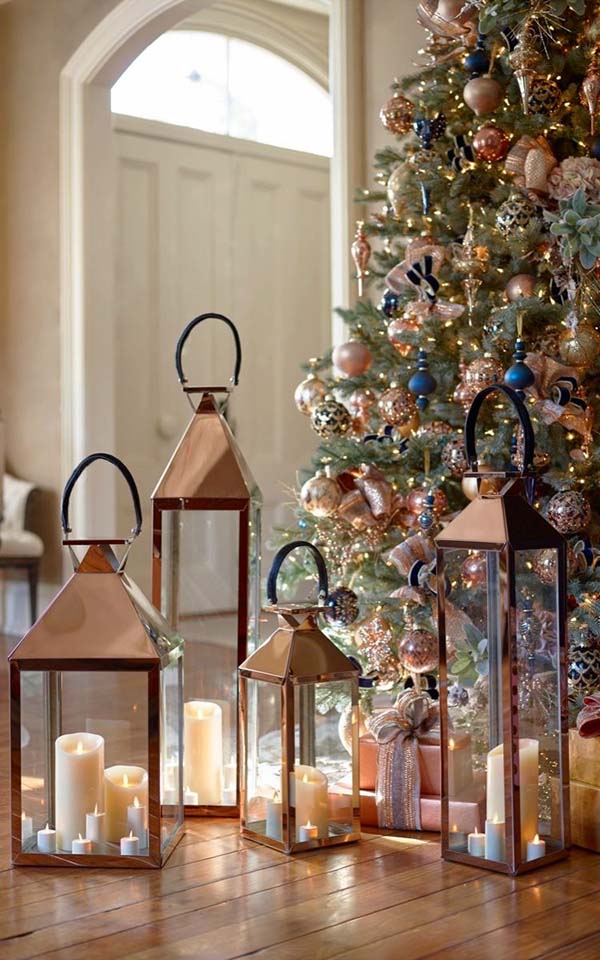 White candles inside of rose gold candle cases are a great way to protect the candles from being knocked over and also showcase the beauty that they provide.
You'll love how the light reflects off of the rose gold.
Learn More: Here
13. Personalized Ornament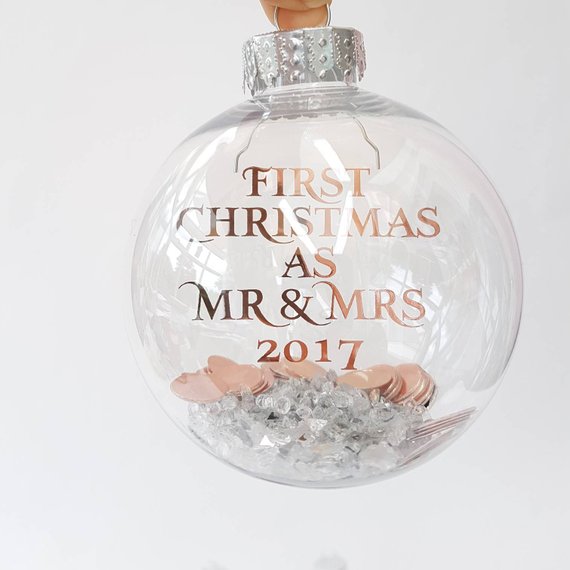 Make someone feel really special with personalized Christmas tree decorations in gold and dusty rose.
This is a great way to commemorate a milestone, such as a marriage or birth of a new baby.
Learn More: Here
14. Glittery Letters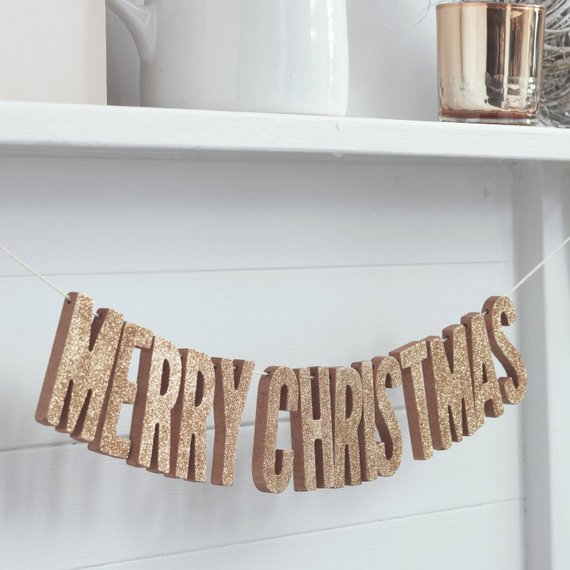 String together rose gold glittery letters to spell out a number of great messages, including "Merry Christmas".
These fun letters can be placed anywhere in your home for a fun pop of color that you'll love.
Learn More: Here
15. Gorgeous Rose Gold Stockings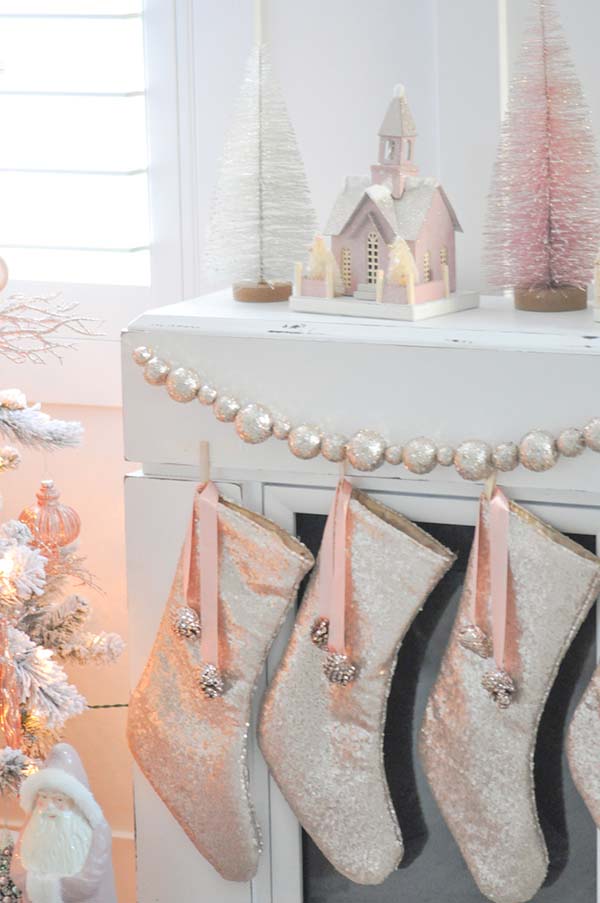 Photo:Credit
Your stockings don't have to be boring when you opt for rose gold Christmas stockings.
They will look elegant hanging by the fireplace and are sure to really help to tie your new decorations together.
16. White and Rose Gold Tree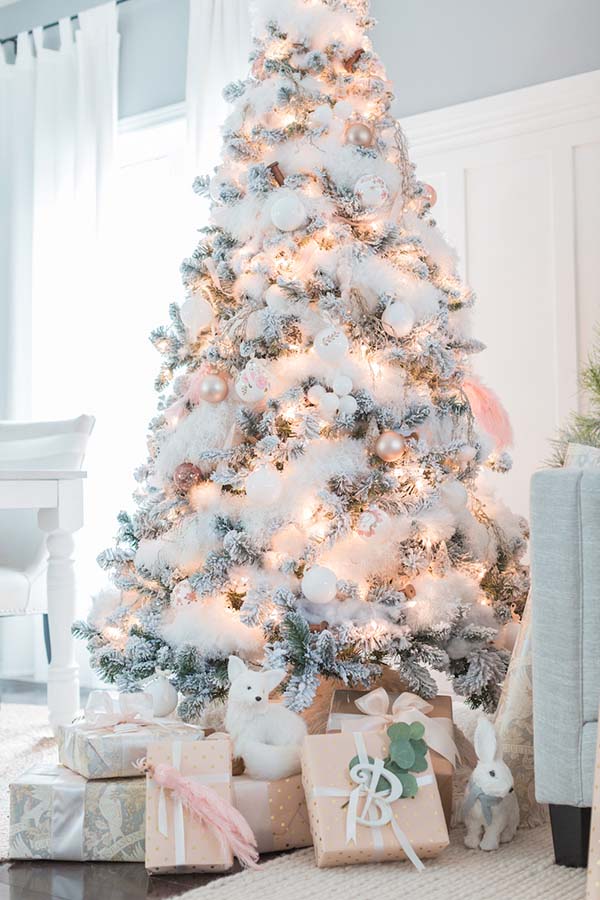 Photo:Credit
A green Christmas tree with rose gold decorations is sure to be the star of your decorations.
Allow the beauty of the tree to peek through your new decorations and enjoy the way that white and gold go together.
17. Glittery Rose Gold Acorns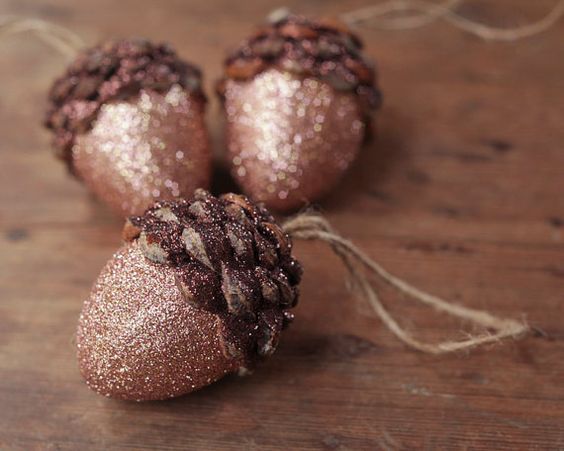 Glittery acorns that are brown and rose gold look amazing hung on a tree, placed on the table, or inserted into a wreath.
There is a myriad of ways that you can use these incredible decorations in your home.
18. Rose Gold Candle Cups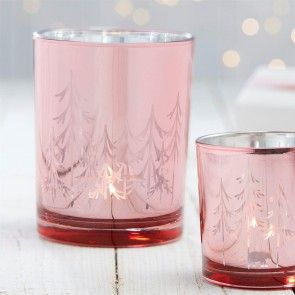 Candle cups don't have to be boring, and these rose gold cups and red Christmas decorations cups with etched trees are sure to lighten up your table and your space, making any home look festive and bright.
19. Pastel Rose Gold And French Blue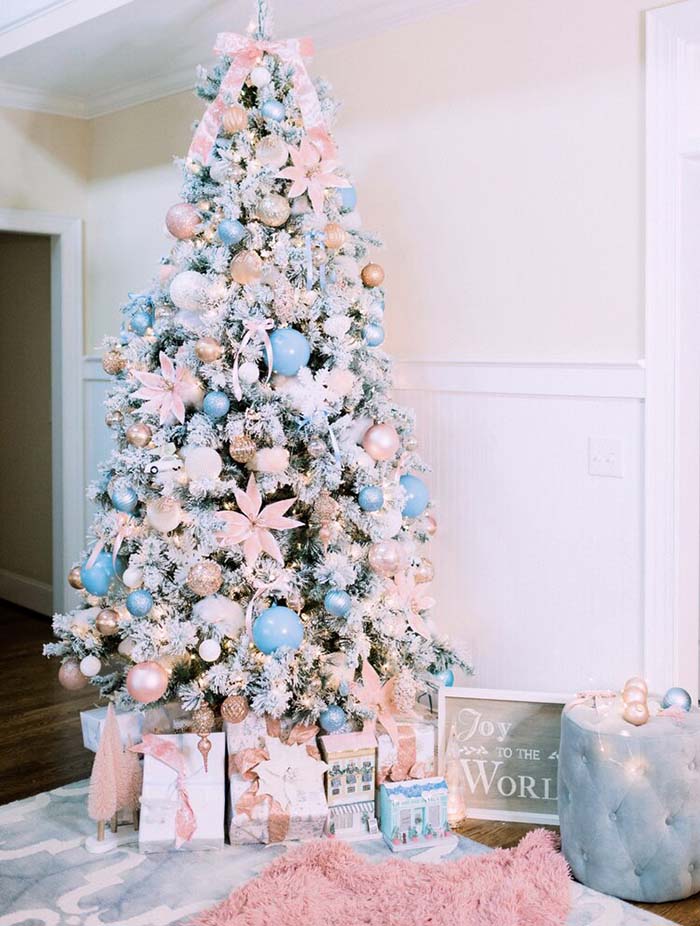 This Christmas tree is so adorable. Super cute color combo – pastel rose and french blue.
20. Rose Gold Christmas Tree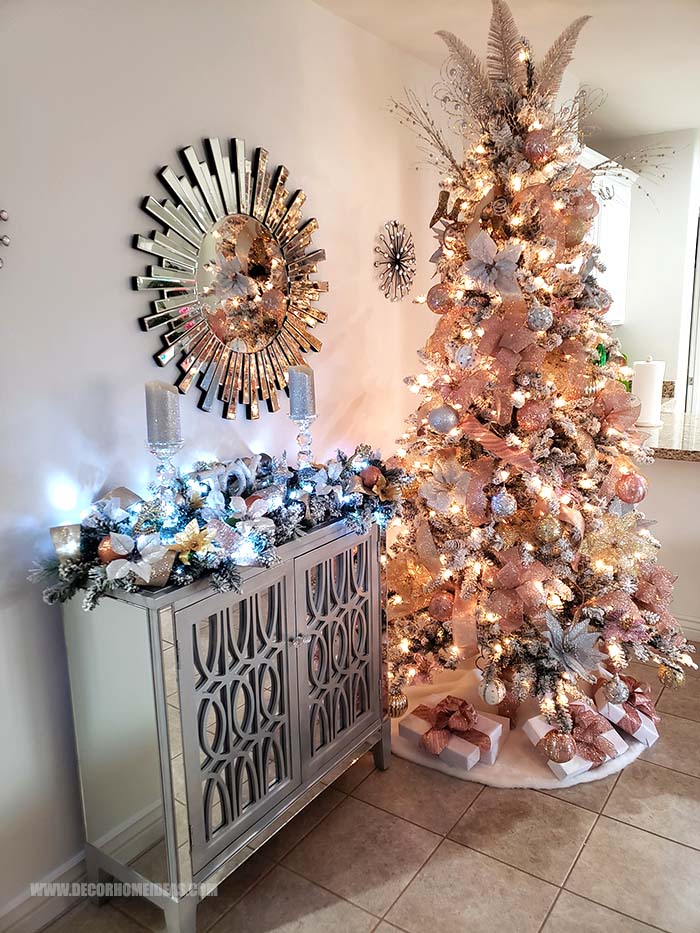 Judy Richards
Amazing rose gold Christmas tree decorations complemented by the cabinet and sun-like mirror.
21. Rose Gold and Silver Christmas Tree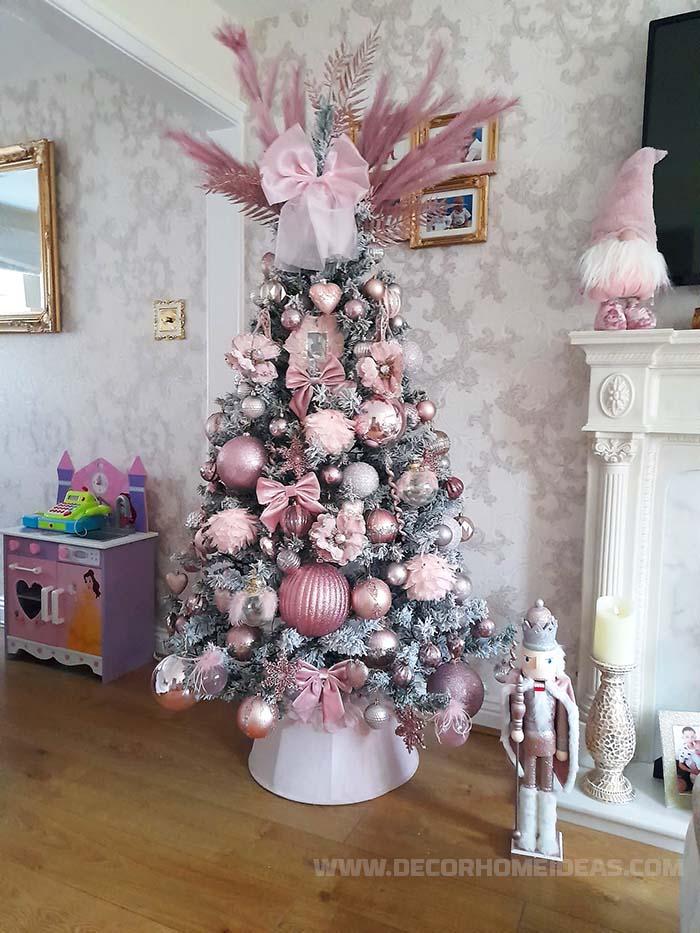 Cheerful Christmas tree with a lot of rose gold ornament and decorations.
No matter how you want to decorate with rose gold, you are sure to love the joy and elegance that your new Christmas decorations bring to your home.
Choosing between white Christmas tree rose gold decorations ideas can be difficult, but when you come up with a cohesive decorating plan for your home, then you are sure to love the updated look that you enjoy.
Mix your rose gold decorations for a look that is uniquely yours by combining rose gold and red Christmas tree decorations with white ornaments for a classic look with a spin on it that everyone is sure to love.