Your front door is the first thing that anyone sees when they come to your home, which is why you need to make sure that you carefully choose the best Christmas door decorations for your home.
Even before your guests enter your home, they are going to be paying attention to what your outside door Christmas decorations look like and imagining what your indoor decorations will be.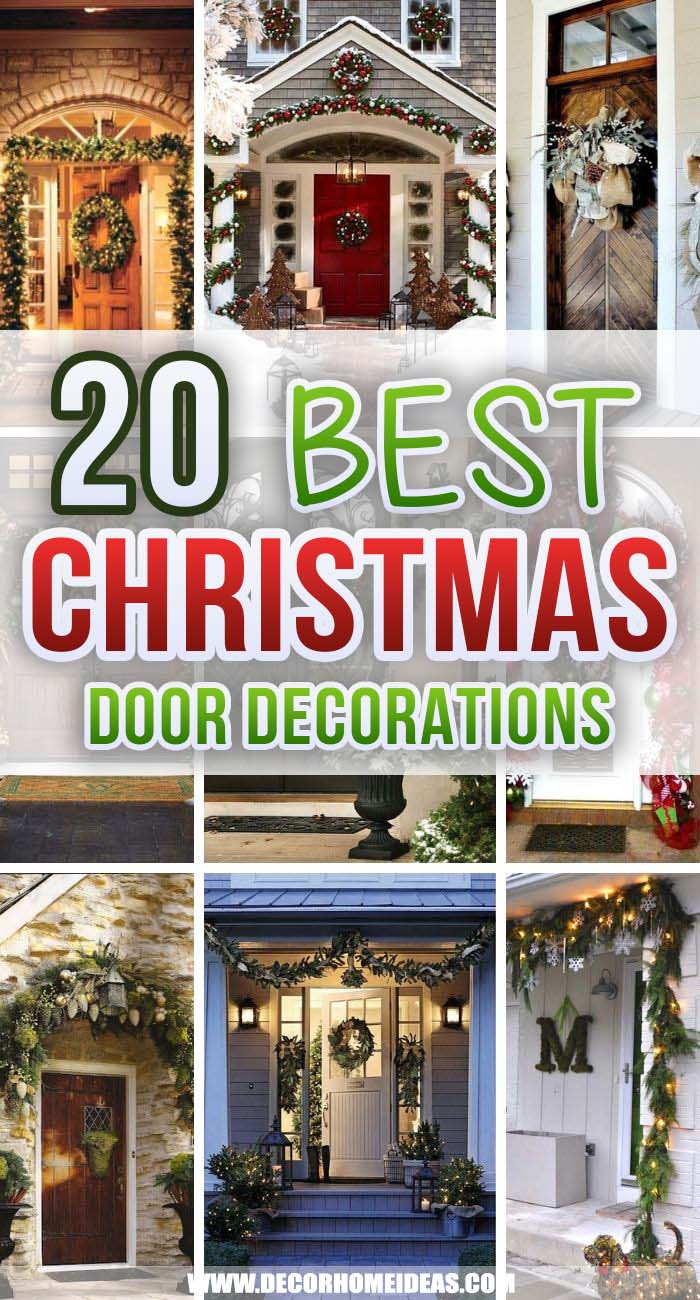 No matter if you want to match your indoor and outdoor decorations or have front door Christmas decorations ideas that are different than your indoor decorations, don't forget this important part of your home when decorating.
Even if you are not planning on having a Christmas party, you still need to decorate your front door.
People love to drive by houses and look at Christmas front door decorations, and you don't want to be the only home in the neighborhood that didn't participate.
Coming home every day to a front door that is fully decorated for the season is sure to help get you in the mood and make you as excited as possible about the upcoming holidays.
Consider some of these great Christmas door decorations ideas when thinking about how to decorate your door.
1. Hang Ornaments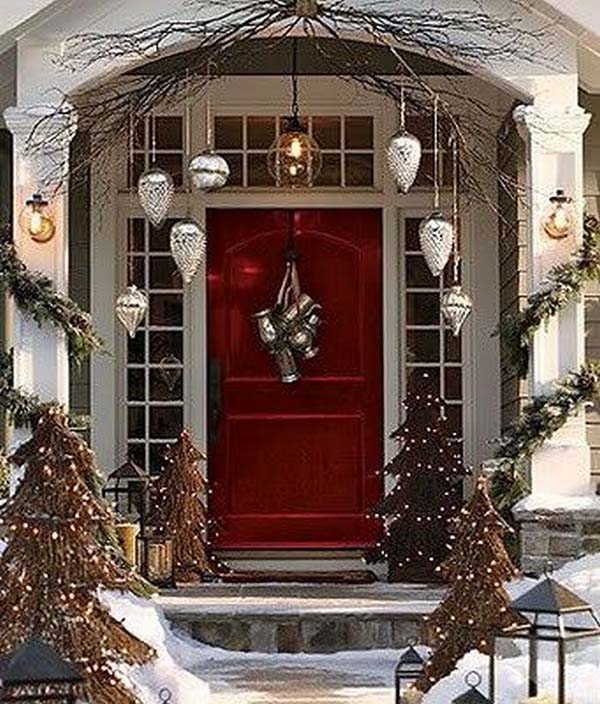 Photo: Credit
Christmas ornaments aren't just for on the tree. Hanging large ornaments by your front door is sure to attract a lot of attention.
This is a fun place to use larger ornaments that won't work inside.
2. Keep it Simple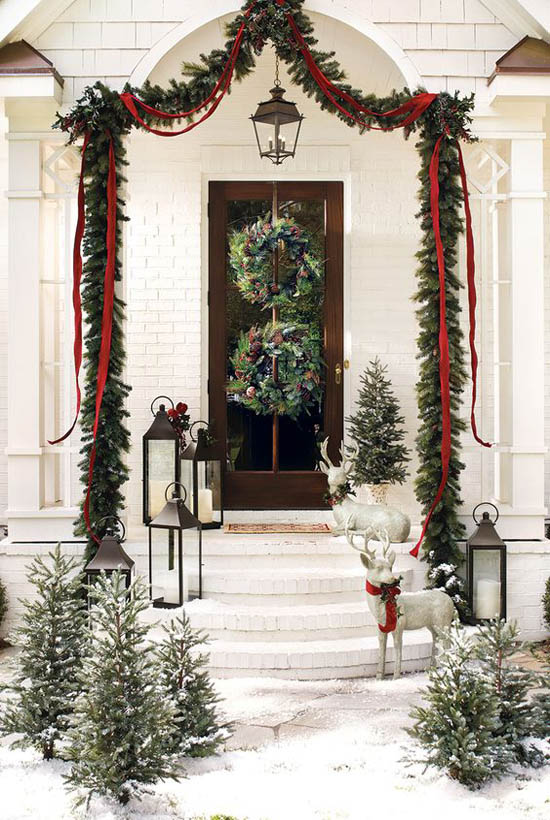 Photo: Credit
Your front door Christmas decorations don't have to be over the top.
Keep your decorations simple with garland, wreaths, and some candles, and you are sure to attract a lot of attention with your classic look.
3. Light it up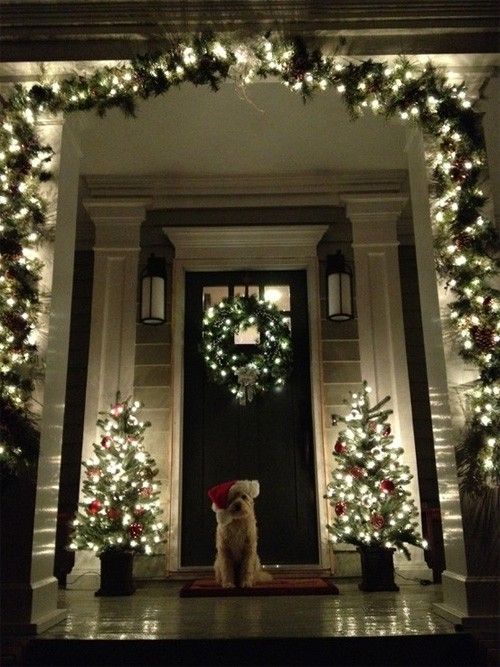 Photo: Credit
Plenty of white lights around your door, on trees, and on wreaths will make your front door look very welcoming on cold and dark nights.
Choose white Christmas lights for a classic look.
4. Go Bold with Green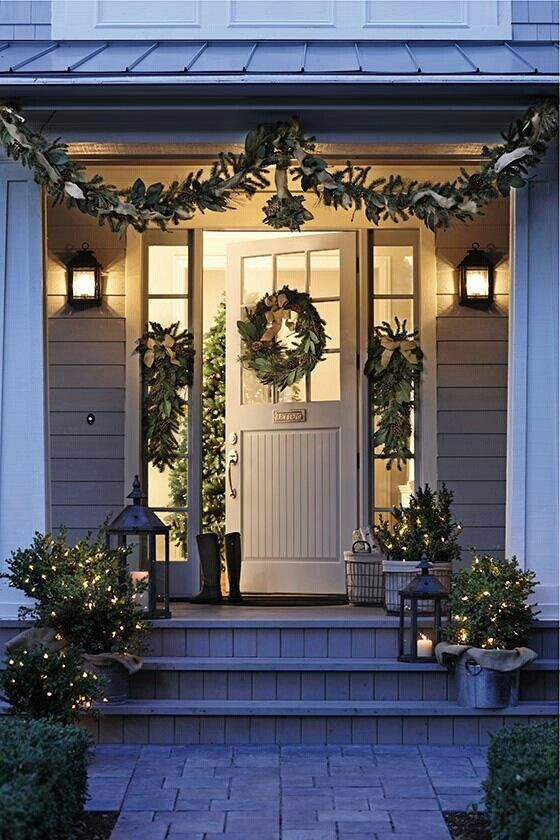 Photo: Credit
Traditional Christmas trees aren't the only plants that can be draped with lights.
Easy Christmas door decorations include hanging a wreath and other garland and then lighting up your porch plants.
5. Let the Door Shine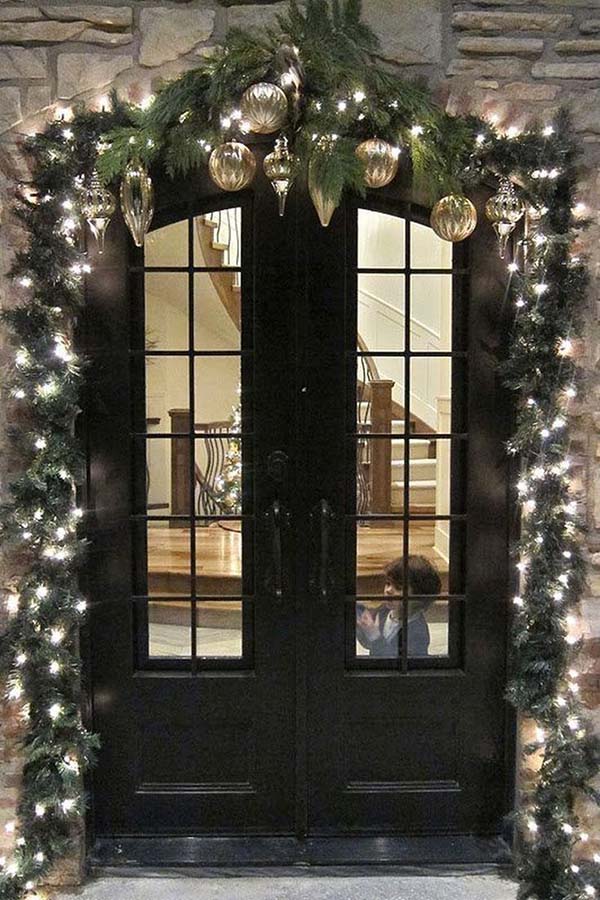 Photo: Credit
If you have a really beautiful front door, then skip the wreath and use a garland to outline it.
These beautiful Christmas door decorations will keep your home the focal point.
6. Keep it Simple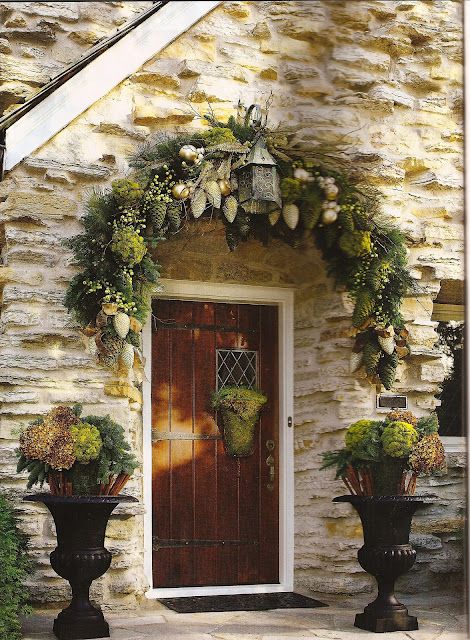 Photo: Credit
A simple garland that is dripping with pinecones may be all that you need to decorate your door.
It will look very festive without being over the top or too bright.
7. Make it Snow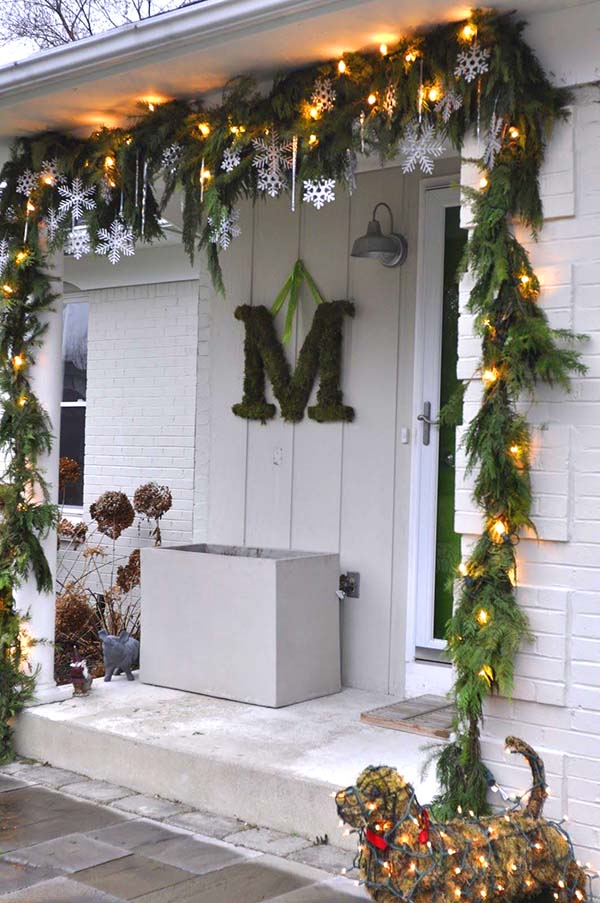 Photo: Credit
Modern Christmas front door decorations include fun snowflakes hanging from the porch.
They will outline the door and make you feel like you may really get to enjoy a white Christmas.
8. Go Big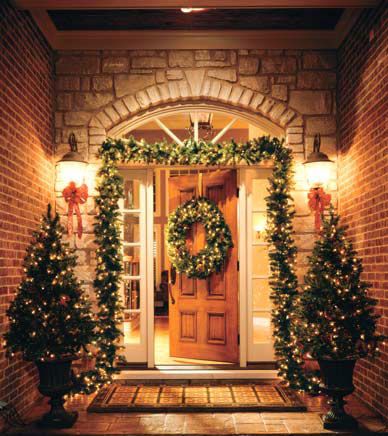 Photo: Credit
Garland that's packed with lights, a bright wreath, and matching lit Christmas trees will mirror the door, make it the focal point of your home, and help your house to really shine.
9. Incorporate Red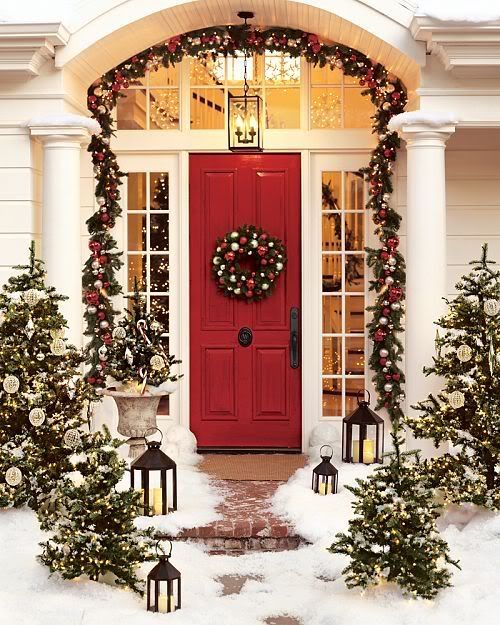 Photo: Credit
Red is a classic Christmas color, and if your front door is red, then you want to make sure to use it in your door Christmas decorations.
Make your door pop with the bright color.
10. Layer Your Lights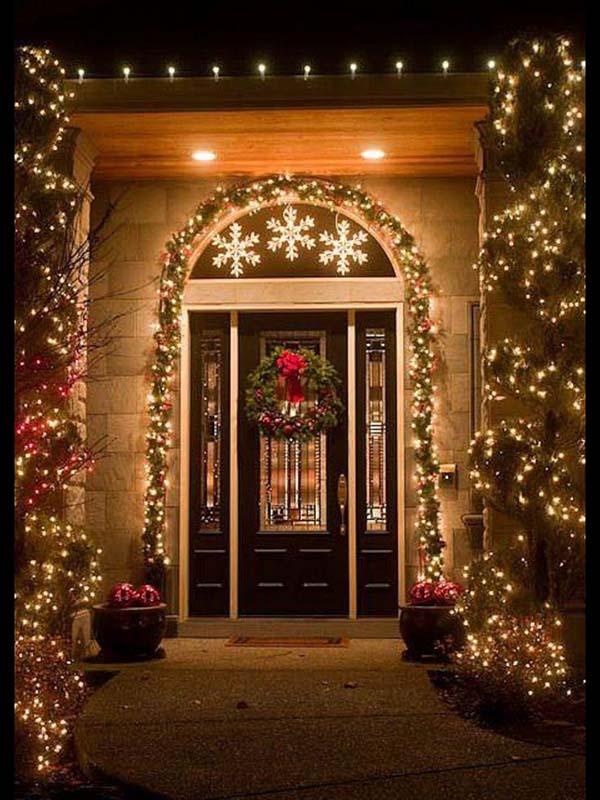 Photo: Credit
The more lights you use, the more impressive your home is going to look.
Make sure to consider layering your lights for a 3D look that is bright, inviting, and warm.
11. Use Two Wreaths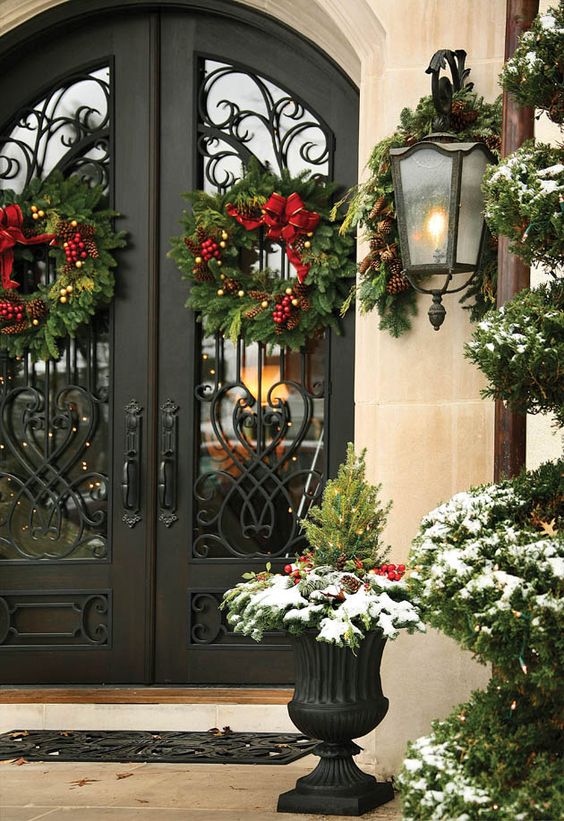 Photo: Credit
Some of the best Christmas door decorations are simple. Nature-inspired decor is all about greenery and plants.
Matching wreaths on the door, along with a few plants on the porch are all you need to make an impression.
12. Mirror Your Image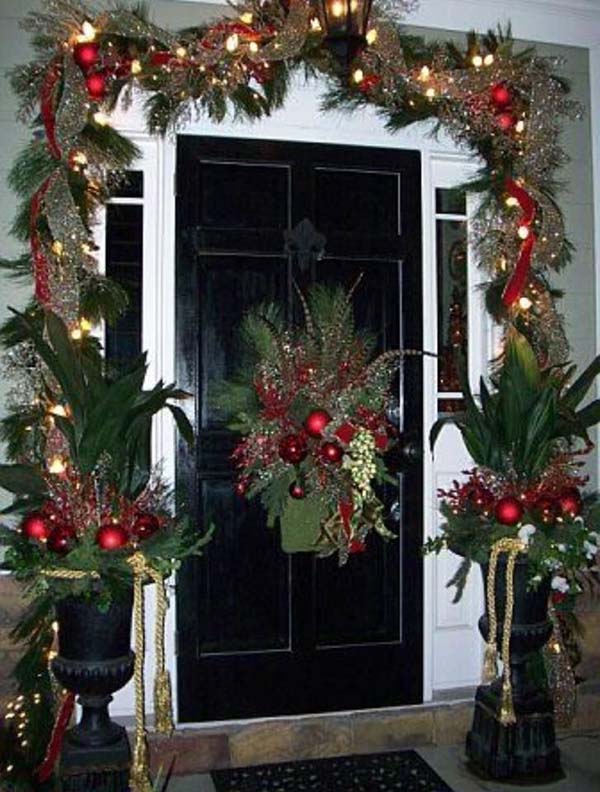 Photo: Credit
To make sure that your front door is visible and impressive, you will want to mirror the decorations that you use.
This will keep your door the focal point and ensure that your decorations match.
13. Take Advantage of Space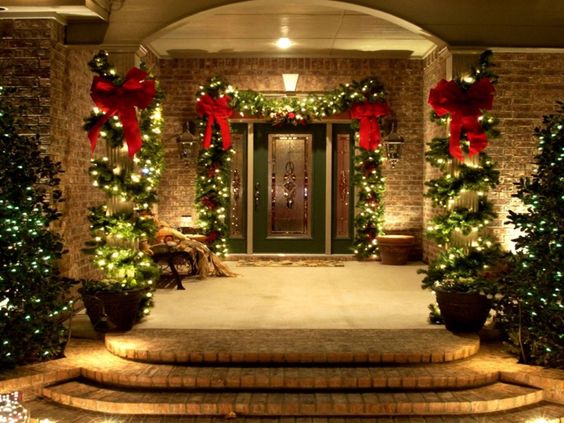 Photo: Credit
When considering unique Christmas door decorations for your home, make sure to take advantage of all of the space you have.
If you have a large front porch, then use a lot of decorations to fill the space.
14. Go Bold with Color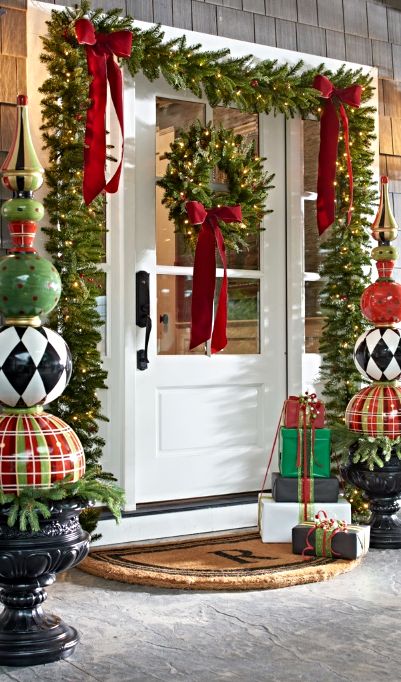 Photo: Credit
You don't have to only use white and green to decorate your front porch.
Fun Christmas balls in bright colors and patterns will make your home look more inviting.
15. Match Your Home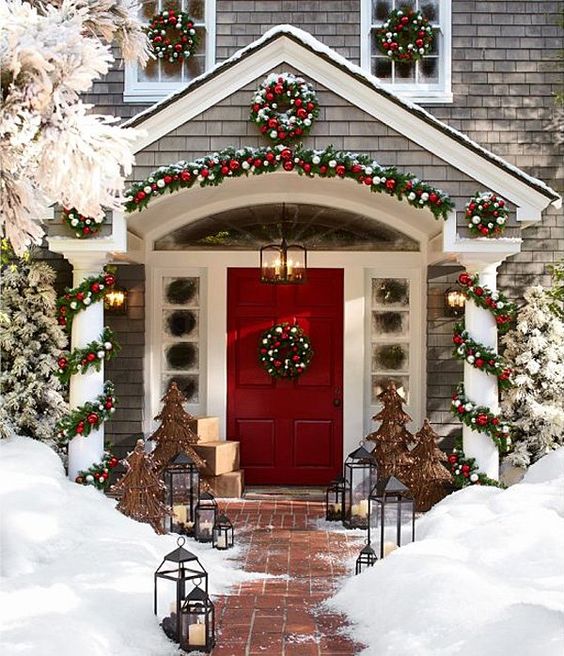 Photo: Credit
Wreaths are great door decorations for Christmas, but can also be used on the windows on the rest of your home.
Use the same wreath all over your home to create a cohesive look.
16. Use Browns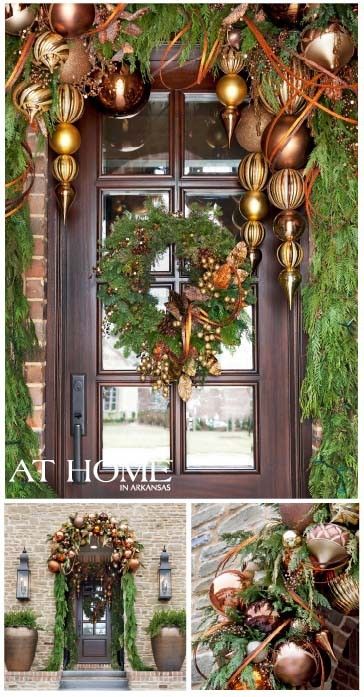 Photo: Credit
Not many people think of brown as being a Christmas color, but brown and gold look amazing together.
Use some bronze ornaments, as well for a look that is unique and will make your home pop.
17. Make it a Candy Cane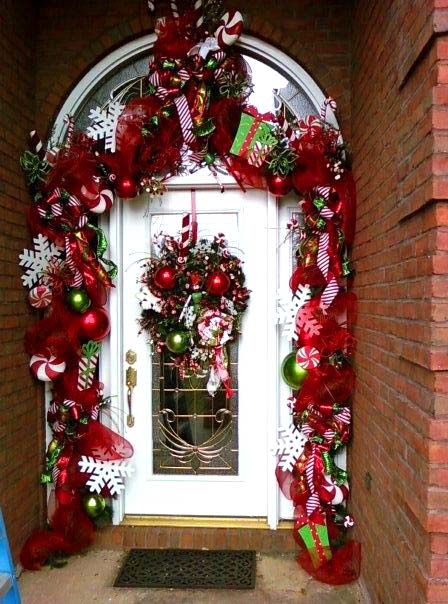 Photo: Credit
Kids in the neighborhood are sure to love these DIY Christmas door decorations.
Using candy cane ribbon, red ribbon, green and red ornaments, and snowflakes, you can create a candy cane paradise.
18. Keep it Neutral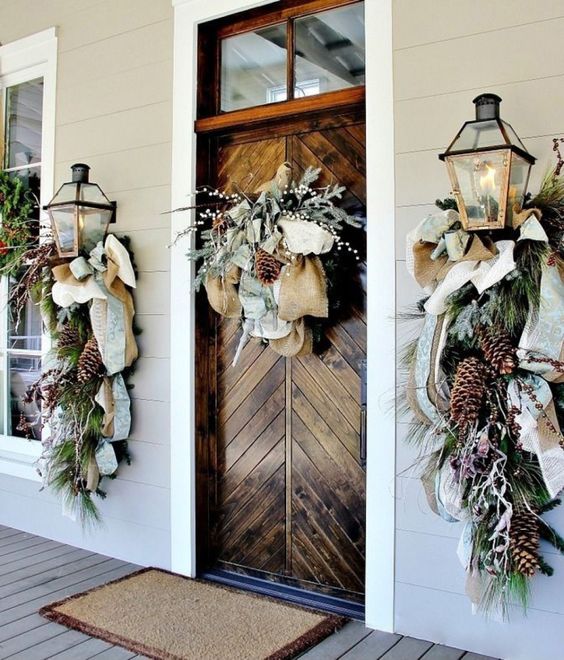 Photo: Credit
If you have a neutral and calm color scheme in your home, then use the same colors outside.
Frosted greenery, burlap and white ribbon, and pinecones will create a gorgeous neutral look.
19. Incorporate Lots of Ornaments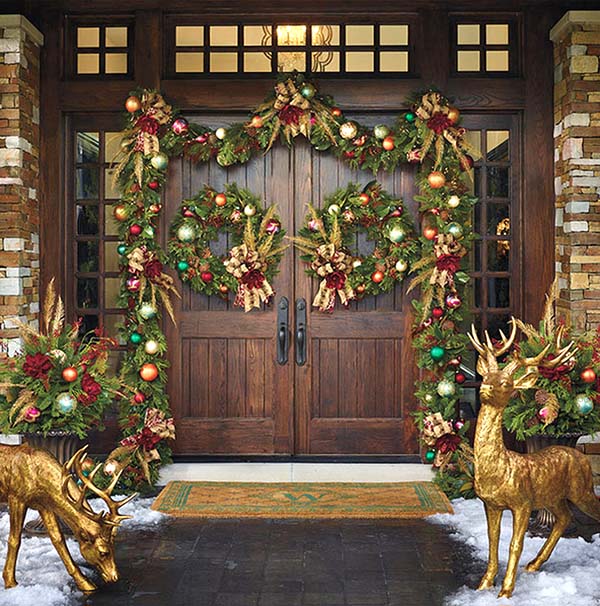 Photo: Credit
Keep your door decorations Christmas fun for everyone to see by incorporating lots of ornaments.
Choose balls in different sizes and colors so that your decorations look varied and interesting.
20. Go Stately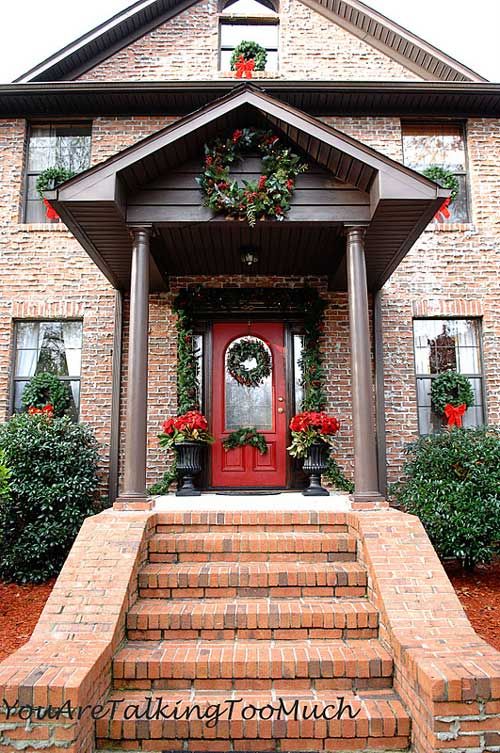 Photo: Credit
Red ribbon trimming real greenery and wreaths will look very stately on your home. This is great if you want more of a classic look and aren't as interested in bright colors on your door.
Christmas decorations for front door at your home don't have to be difficult to plan or to put up. Consider what decorations you have used inside your home and if you want to carry the theme to the front porch.
Also make sure that the style of decorations that you choose for your porch and front door will match your personal style and the appearance of your home.
Decorating your front door is a great way to make sure that you feel as festive as possible every time you drive up to your home and will put a smile on your face.