While many people only think of using white, red, green, and gold for their Christmas decorations, purple is a great color to consider.
Purple Christmas decorations may not be quite as popular as other colors that you can choose from, but that is changing as more and more people recognize the amazing hues you can choose from, how rich this color looks and how well it goes with other colors.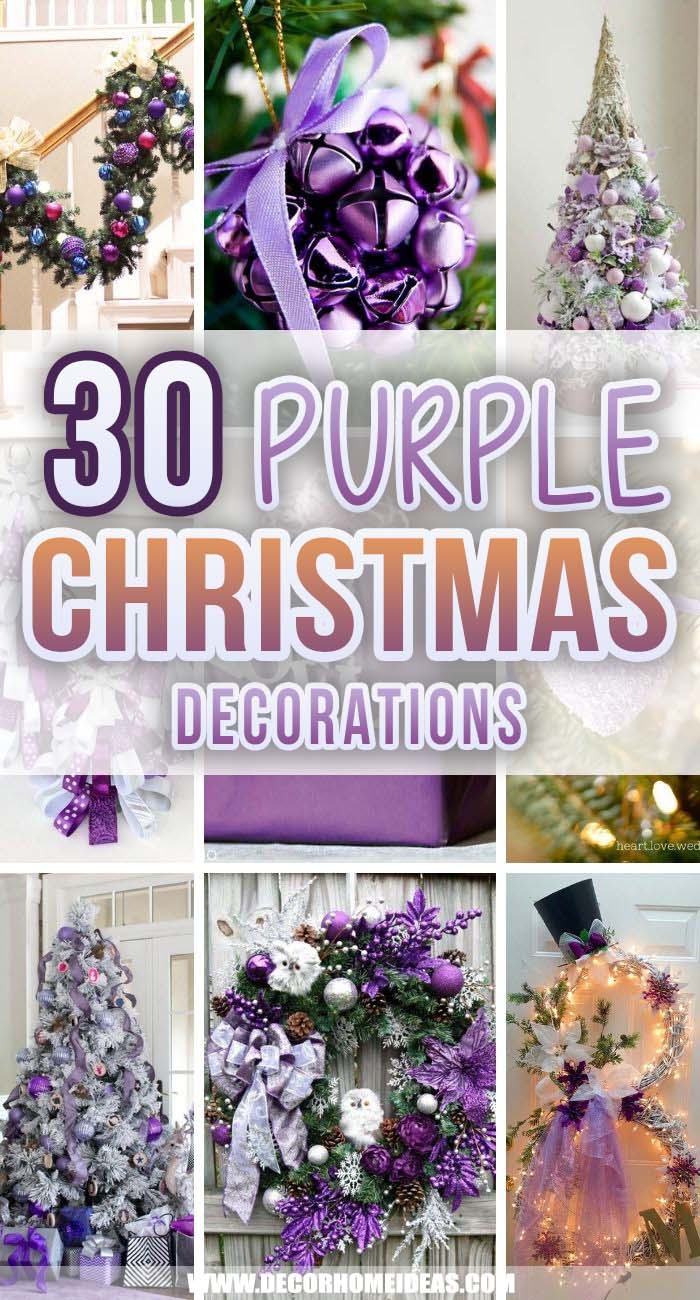 If you haven't ever considered using silver or pink and purple Christmas tree decorations, then now is the time.
Because it can be a little overwhelming to try to come up with your own ideas to incorporate purple into your Christmas decorations, it's a good idea to consider what other people have done and what kind of success they have had with their decorations.
This will allow you to enjoy more confidence that you are making a great decision when it comes to your decorations.
While you may not want to use purple Christmas tree decorations every year in your home, it's a fun color to try in your decorations at least once.
Long associated with royalty, it's time that purple is finally elevated during the Christmas season.
1. Let Your White Wreath Sparkle with Purple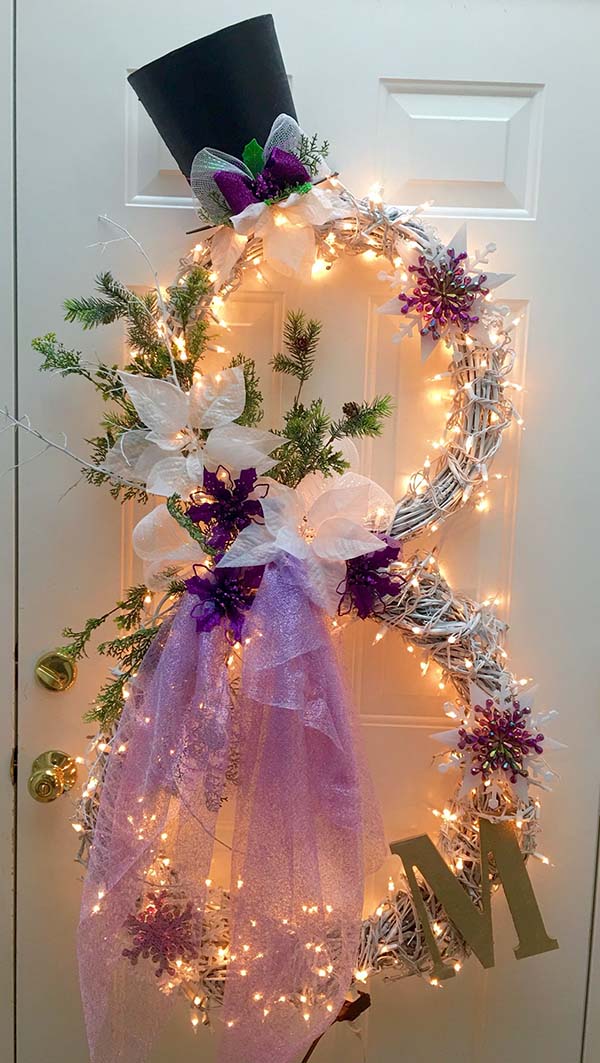 Purple Christmas decorations ideas don't have to be overwhelming. Adding a touch of purple to your white wreath is a great start.
2. Adorn Mini Christmas Tree with Silver and Purple Decor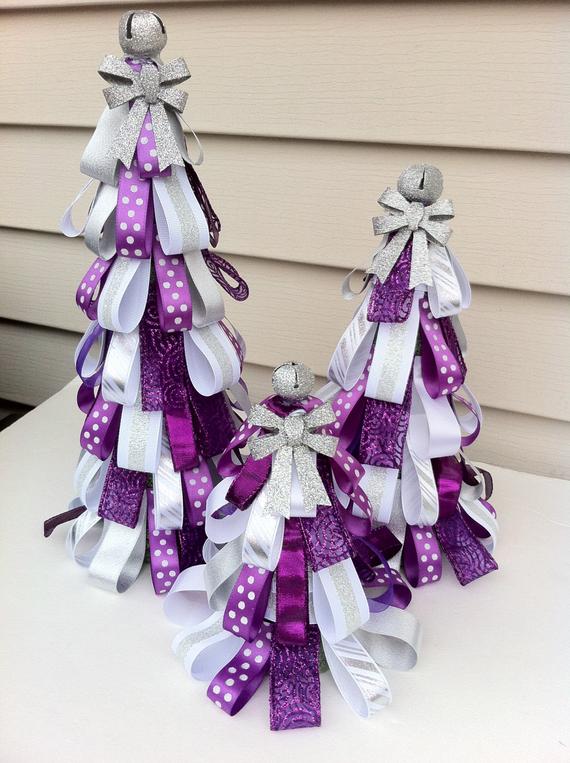 Purple and silver Christmas decorations look great in your home, and you can make your own miniature Christmas trees from various ribbons.
Learn More: Here
3. Create an Eerie Atmosphere with Purple Candles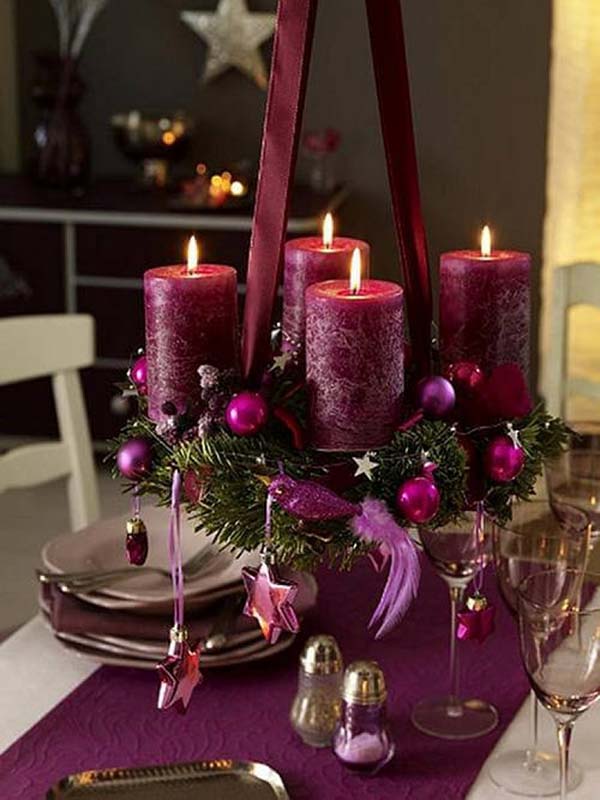 Photo:Credit
Deep purple candles surrounded by a matching purple ribbon can be stunning.
Display yours by your table for a great addition.
4. Brighten Your Fir Decorations with Purple Ornaments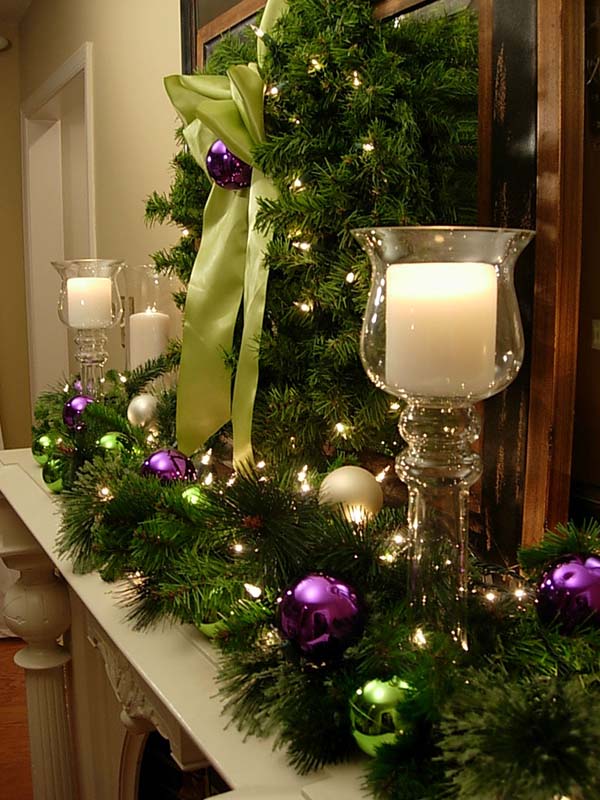 Photo:Credit
Just a few purple ornaments scattered in your greenery will be gorgeous. They will catch the light and reflect it back in an attractive way.
5. Decorate Your Christmas Tree with Shiny Purple Baubles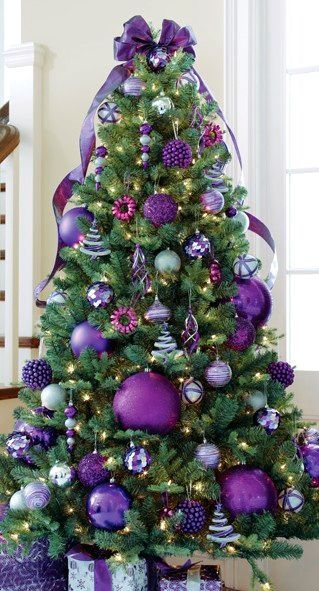 Purple Christmas trees decorations can be stunning. Opt for using all purple ornaments on your tree for a fully-committed look you'll love.
6. Get a Rustic Christmas Twist with Purple Stockings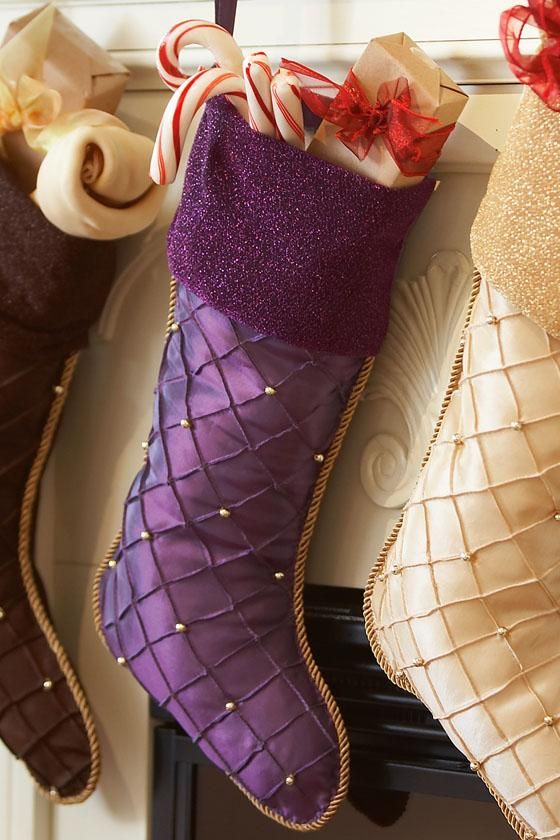 Photo:Credit
Purple and gold Christmas decorations look great together. Choose purple and gold stockings for a unique twist on an old classic.
7. Make Your Door Wreath Stand Out with Purple Accents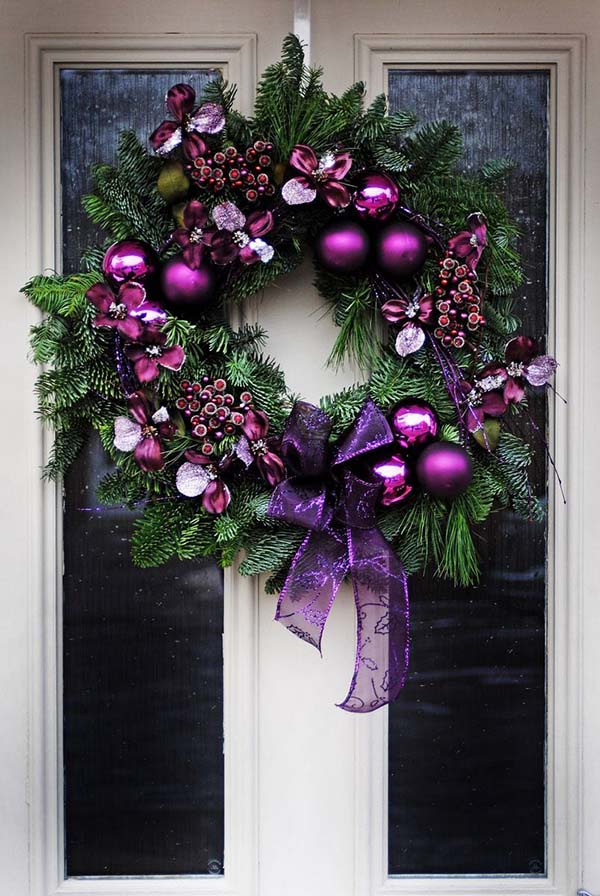 Photo:Credit
Replace the ornaments on your front door wreath with purple ones and you are sure to make an impression on any guests that you have.
8. Bring Christmas Cheer with DIY Silver and Purple Angels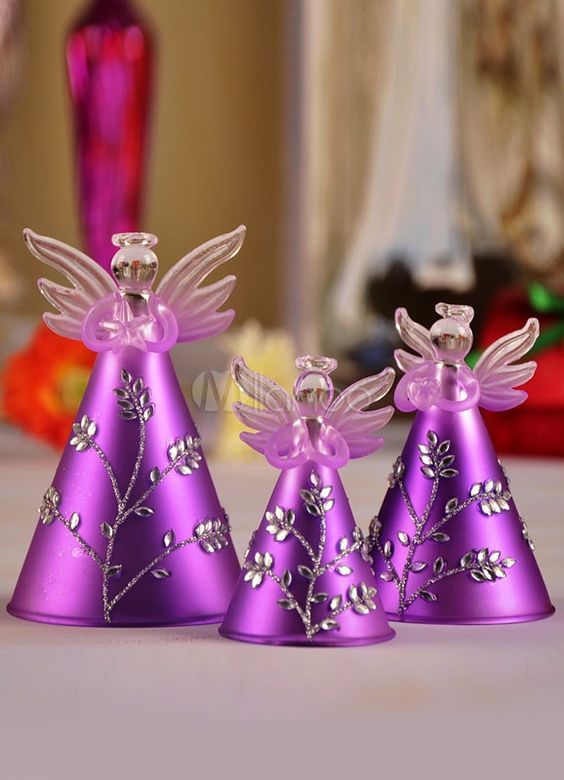 A trio of purple and silver angels are a great way to embrace purple. Choose purple angels for your table that will make everyone smile.
9. Embellish Your Lanterns with Purple Decorations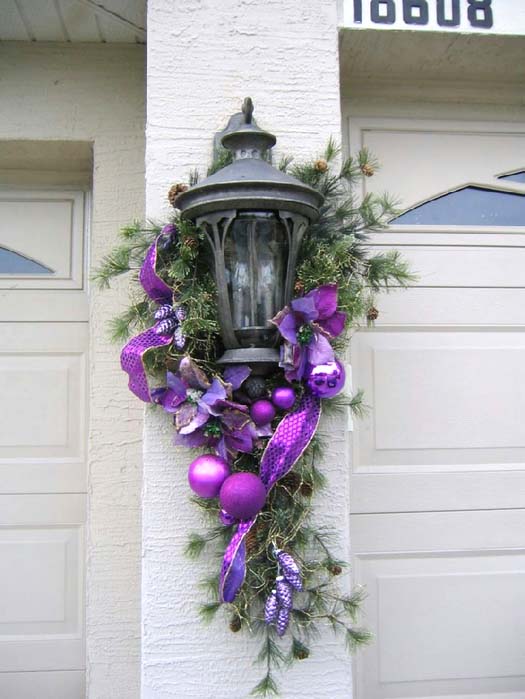 Photo:Credit
Your outdoor lights will look great with silver purple Christmas decorations. Use ribbon and balls with your greenery for a great look.
10. Add Color to Your Frosted Tree with Purple Decor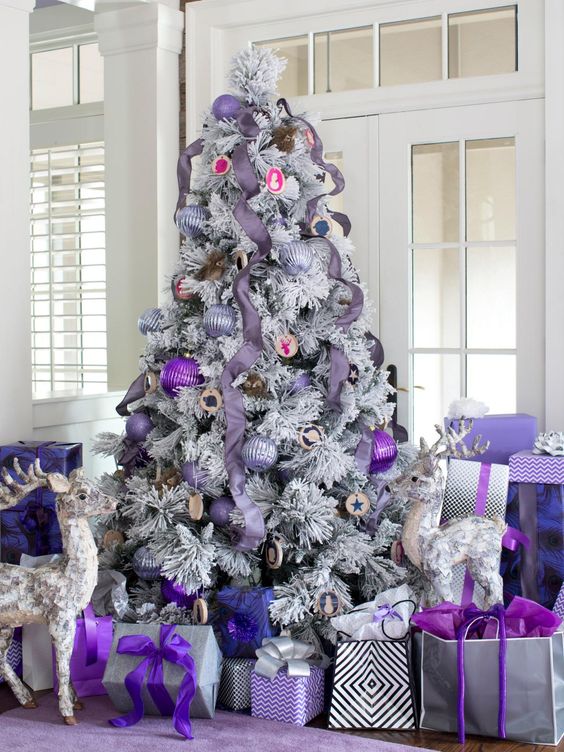 For a unique look, choose a white Christmas tree with purple decorations. The purple is sure to pop against the frosted tree.
11. Unleash Your Creativity with Glitter Purple Reindeers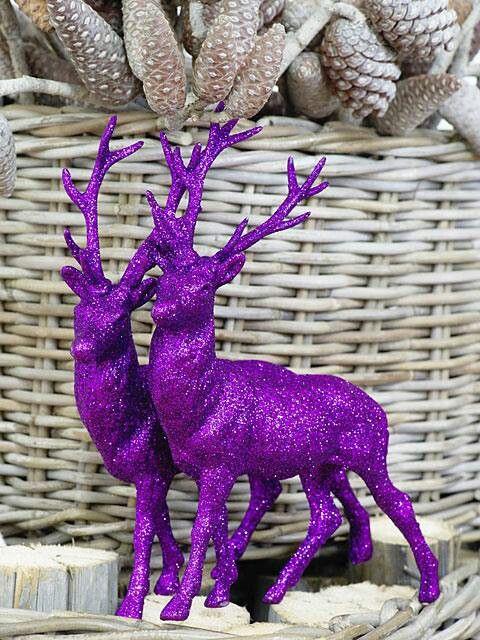 Your purple decorations don't have to be boring. Use glitter to make sure that your color really pops, no matter what you choose to decorate.
12. Uplift Your Tablescape with Purple Ribbons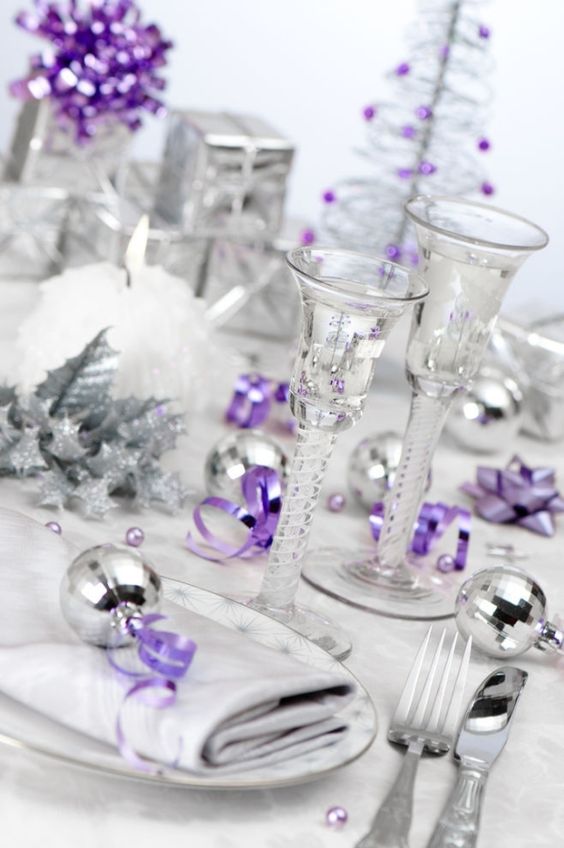 Photo:Credit
Using purple silver Christmas table decorations will really brighten up your table. Purple and silver go great together throughout your home.
13. Impress Guests with Purple Tree Ornaments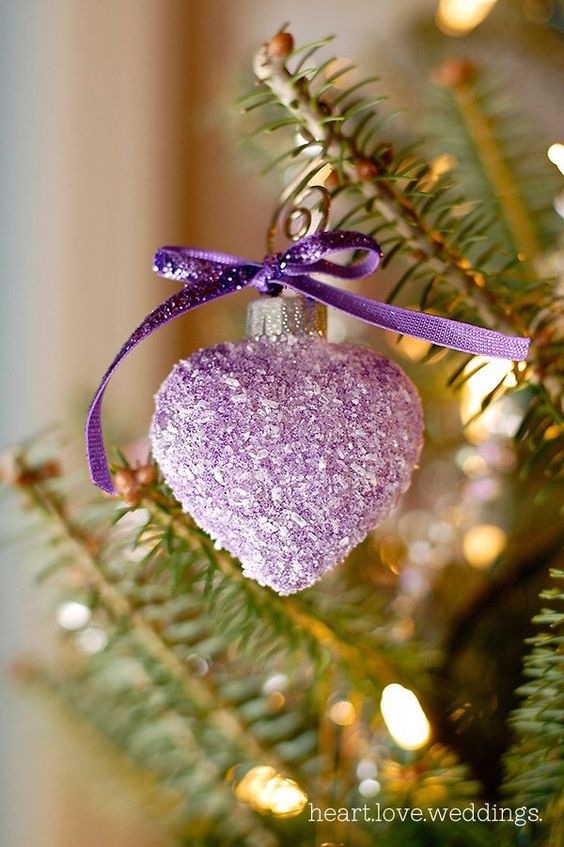 Photo:Credit
A Christmas tree with purple decorations will be the star of your home. Make sure that your ornaments are visually interesting and appealing for a great final look.
14. Add Instant Country Charm with a Purple Wreath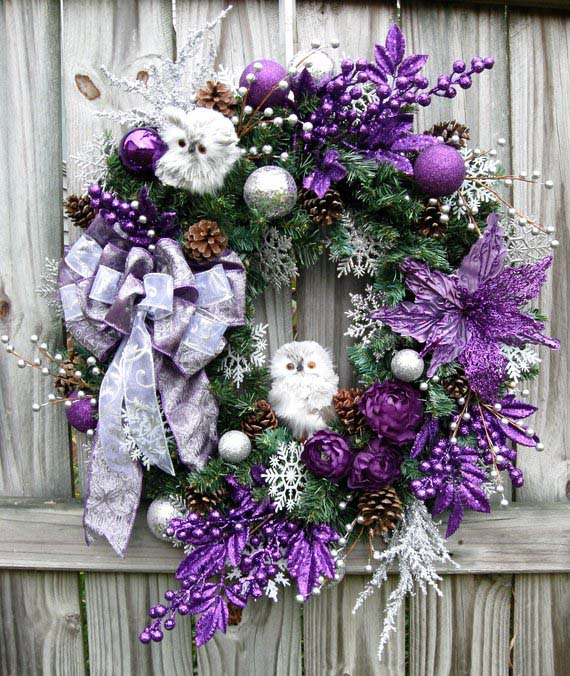 A wreath decorated with purple, white, and brown will really impress. Tuck a few pinecones into the mix for a natural element.
Learn More: Here
15. Give Gifts an Elegant Look with Purple Wrapping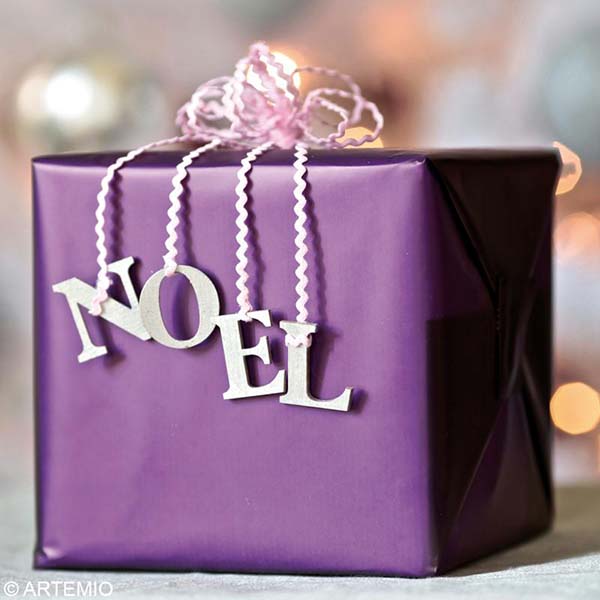 Photo:Credit
Your Christmas tree decorations purple don't just have to be on the tree.
Consider purple wrapping paper to tie together with your theme.
16. Make Your Ornaments Sparkle with Purple Glitter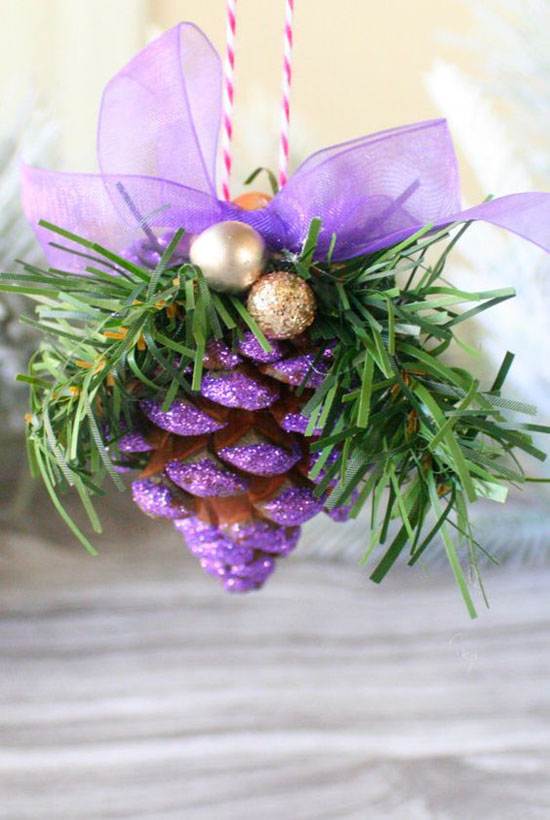 Dip pinecones in purple glitter for a fun and bright look. When paired with gold balls this is a bright ornament to hang in your home.
17. Make Your Wreath More Wonderful with Purple Fabric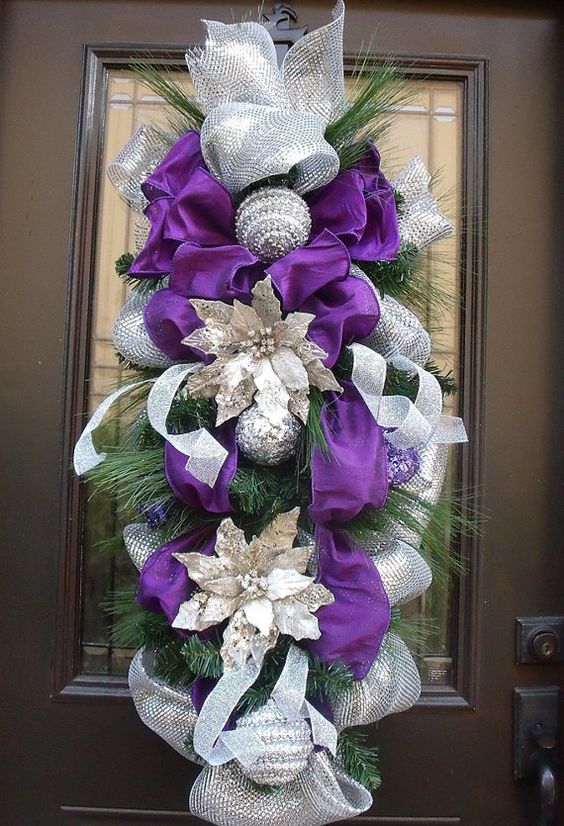 Purple and silver Christmas tree decorations look great when used elsewhere, as well. Use these decorations on your front door.
Learn More: Here
18. Make a Bold Statement with Large Purple Ornaments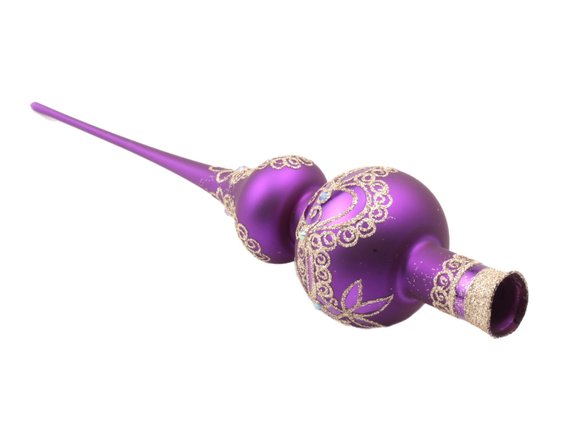 Large purple ornaments look great on your tree. Don't be afraid to choose ornaments that are bigger than the ones you'd normally pick.
Get one unique Christmas tree topper.
Learn More: Here
19. Add Big Purple Bows to Your Wreath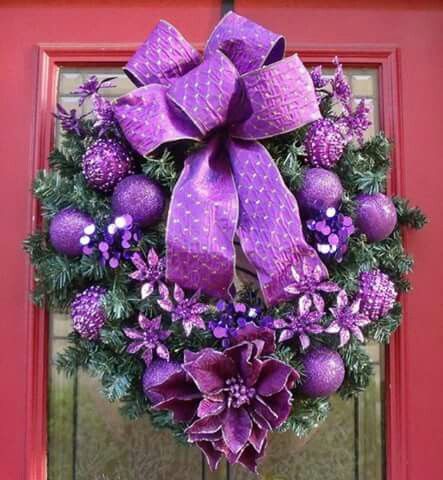 Big purple bows are sure to draw attention. Pair them with purple ornaments on a wreath for an eye catching front door.
20. Elevate Your Purple Ornaments with Gold Accents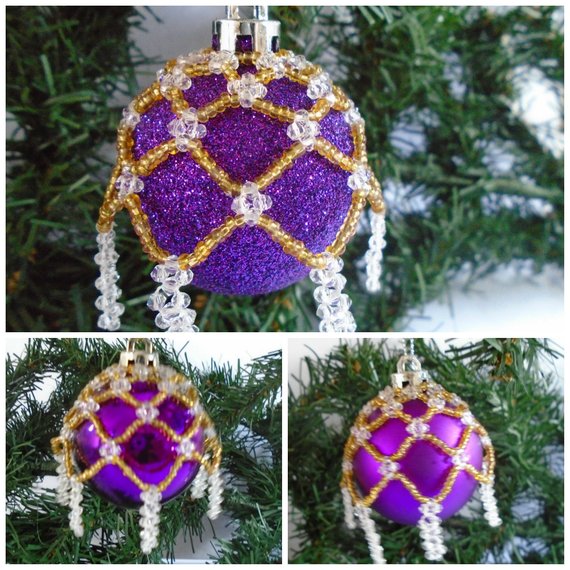 Your ornaments can be multiple colors. Opt for a Christmas tree with purple and silver decorations as well as gold for a fun look.
Learn More: Here
21. Transform Your Staircase Garland with Purple Baubles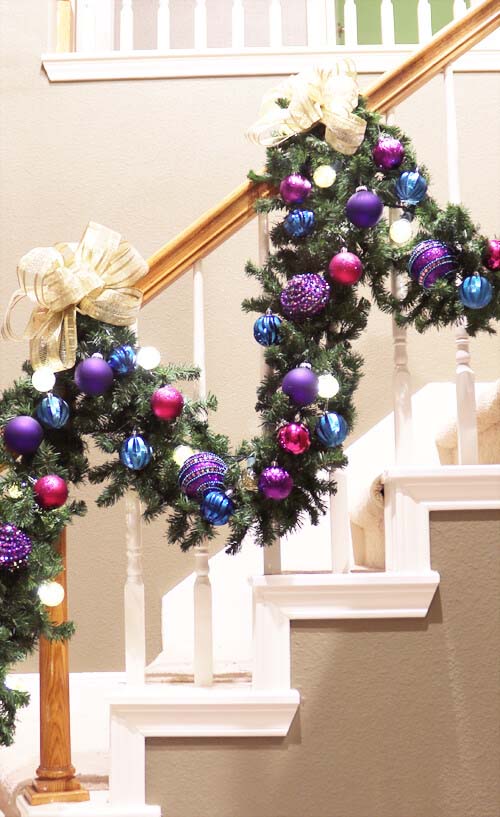 Photo:Credit
Purple is a jewel tone and looks great with other jewel tones, especially when they are strung along the banister.
22. Bring Festive Cheer with Hanging Purple Ornaments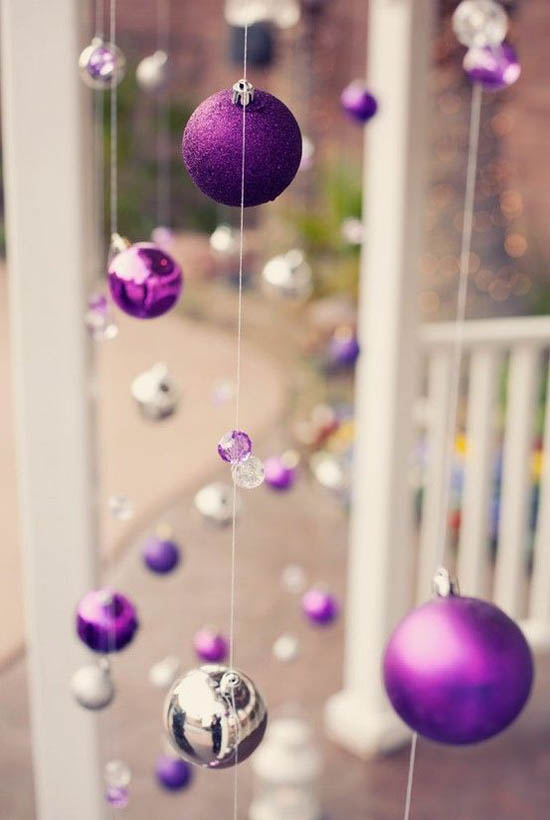 Keep it simple with hanging ornaments that are suspended from thin strings. This is a fun and elevated look for your home.
23. Brighten Up Holiday Decorations with a Purple Centerpiece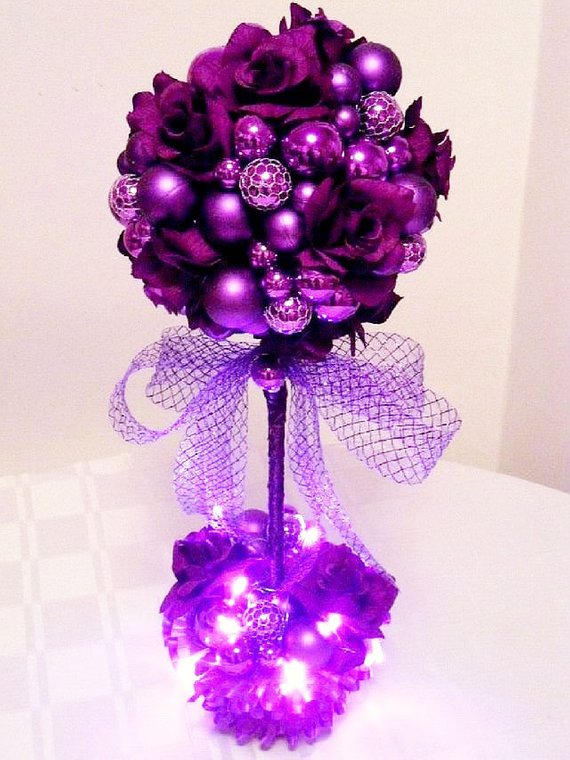 A bold purple centerpiece will add a lot of interest to your table. Choose one that is taller than normal for an impressive look.
Learn More: Here
24. Mix Purple and Gold Decor for a Stunning Christmas Tree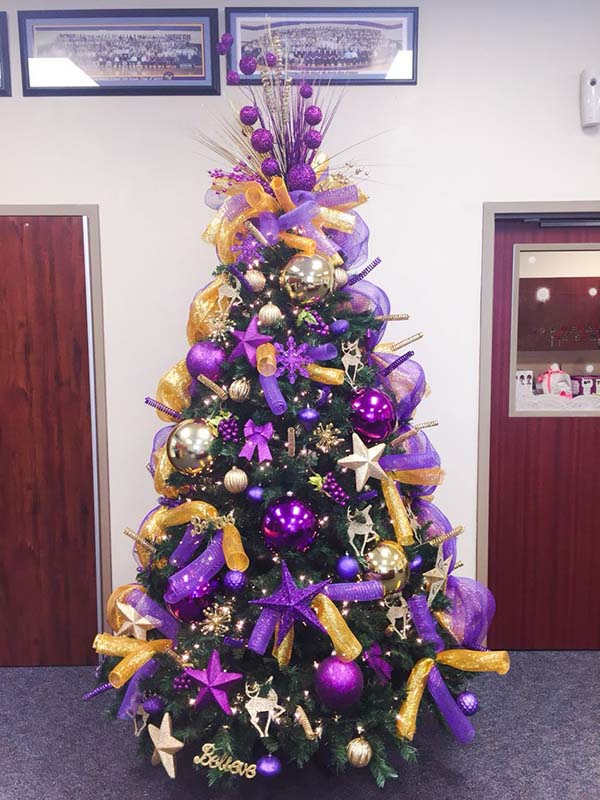 Your Christmas tree will look great when you opt for gold and purple ornaments together. These two royal colors complement each other.
25. Bring Farmhouse Charm with Rustic Purple Pinecones 

A deep purple bow hung with silver bells and pinecones is rustic, but still very attractive, making it a great choice for your front door.
Learn More: Here
26. Personalize Purple Christmas Baubles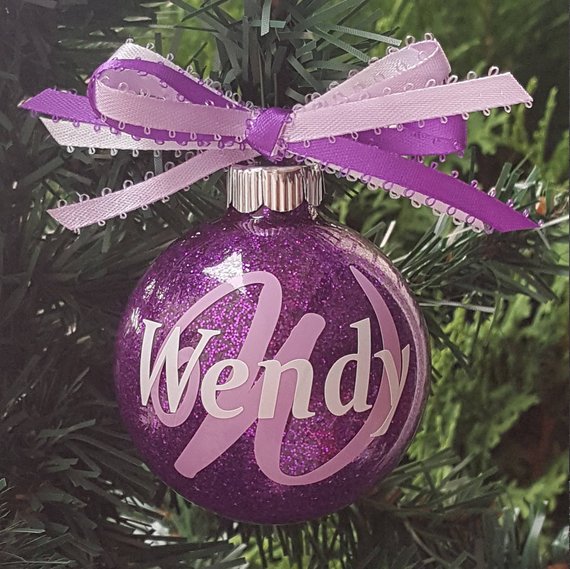 Make an ornament that you will love to hang each year when you personalize it. You can use various shades of purple.
Learn More: Here
27. Get Creative with Matte and Shiny Bells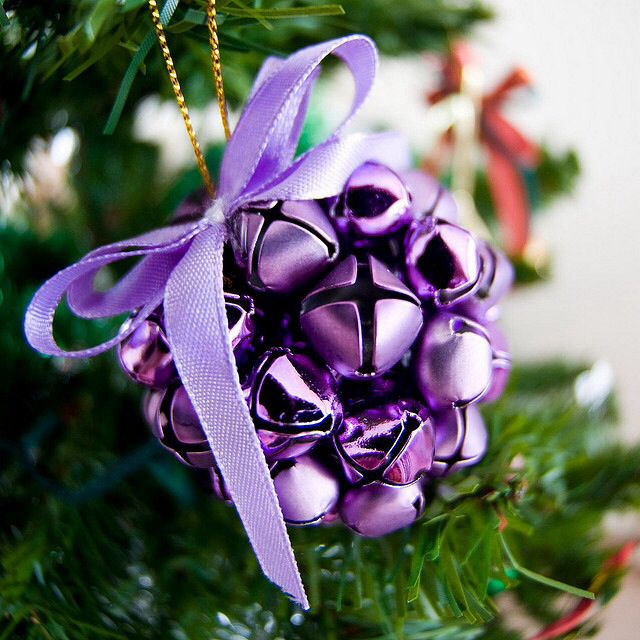 Matte and shiny bells when mixed together are fun and noisy. Hang these purple ornaments on your tree where everyone can see them.
28. Create a Cozy Atmosphere with Muted Purple Tree Decor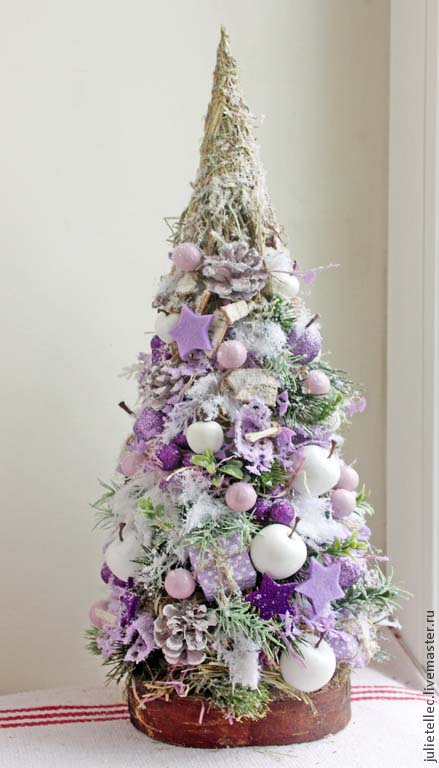 Photo:Credit
A white Christmas tree with purple and silver decorations looks amazing. It's okay if some of the green of the tree shows through.
Silver, gold, purple and green Christmas decorations can all be used together to update your home and really help it shine for the holiday season. If you haven't ever used purple decorations before when getting your home ready for Christmas, then now is the time.
You are sure to love the way that your new decorations brighten up your space and add a little more visual interest to your tree, your wreaths, your banister, and your dining table.
Consider purple decorations this year and you are sure to fall in love with the beauty that this gorgeous color has to offer.