Outdoor lighting is one of the easiest ways to make your yard more appealing and functional.
The right lights are both practical and beautiful, illuminating your space and creating a vibe.
Whether you want to turn the yard into a romantic escape or a bright area for family dinners, these gorgeous yards can help you find the perfect lighting solution.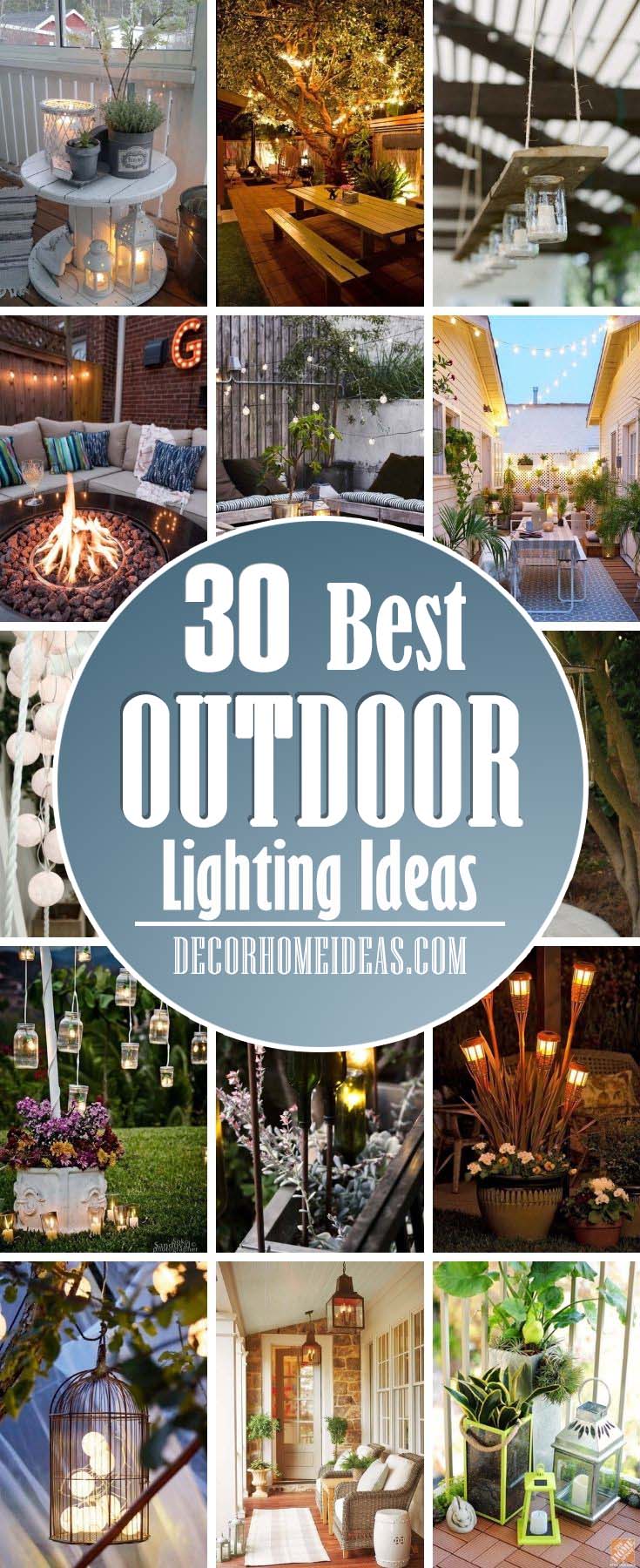 1. Luminous Caged String Lights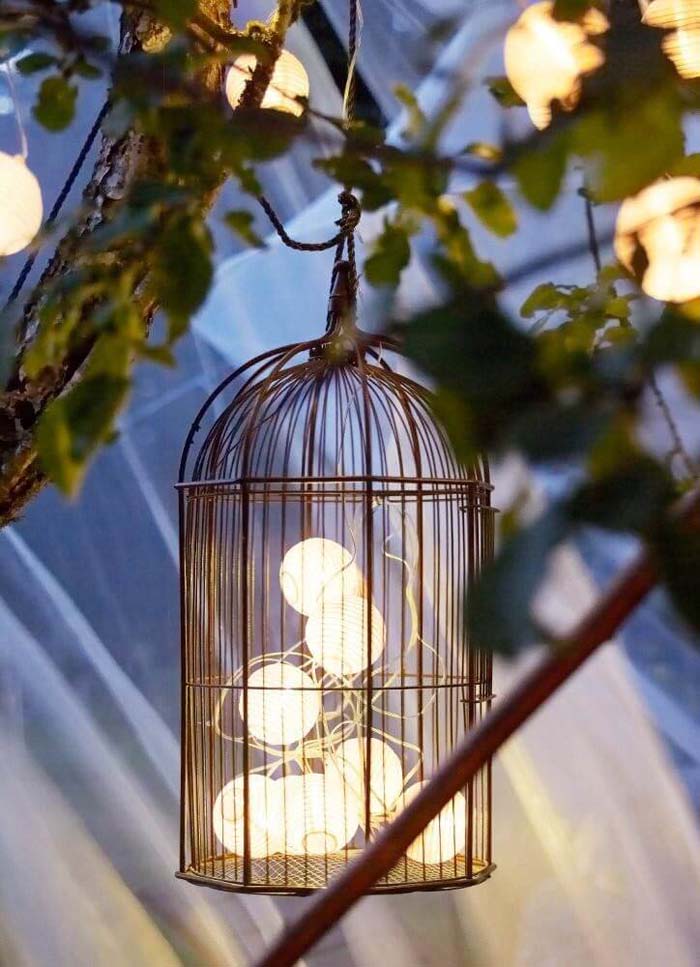 Are you looking for ways to jazz up typical string lights?
Amp up the illumination and the style factor by tucking a short string of lights into a hanging birdcage.
The cage looks lovely during the day and comes to life as soon as you turn on the lights.
2. Add Interest With Various Light Strings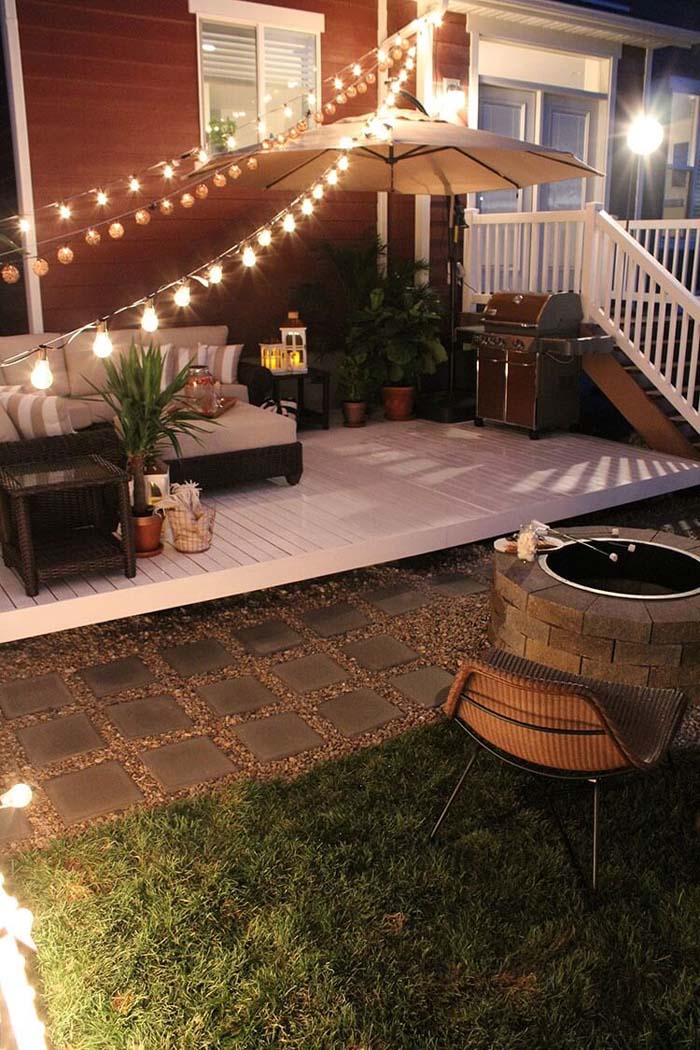 Power outlets are the biggest limiting factor for outdoor lighting.
If you're working with one power point, don't bother with extension cords; instead, use the outlet as the starting point for multiple strands of lights.
If necessary, you can use a simple outlet expander to create extra points.
via Home Depot
3. Carry Candlelight Throughout The Space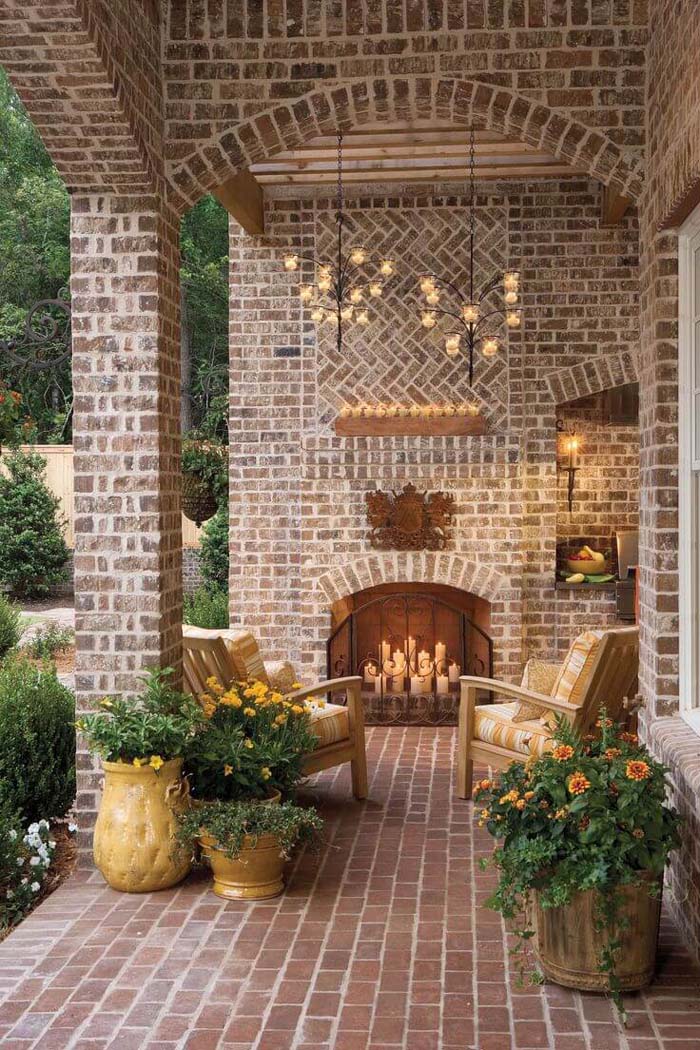 Create a romantic, softly-lit outdoor space with a variety of candles.
For maximum brightness, use candles in multiple spots: an outdoor fireplace, wall sconces, chandeliers, and shelves.
Whether you choose real or battery-operated versions, the result is sure to be magical.
via Southern Living
4. Illuminate A White Theme With String Bulbs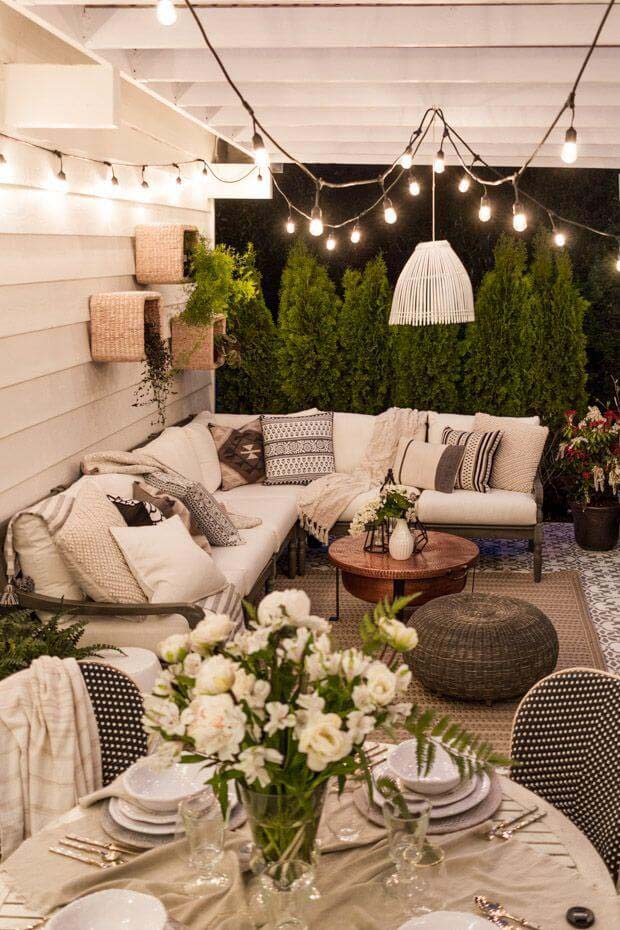 Is your only outdoor space dark or completely covered by a porch or upper deck?
An all-white theme can help it feel light and cheerful.
White walls, furniture, and lights transform this dim patio to a fresh, open space.
via Zevy Joy
5. Add Permanent Hard-Wired Lanterns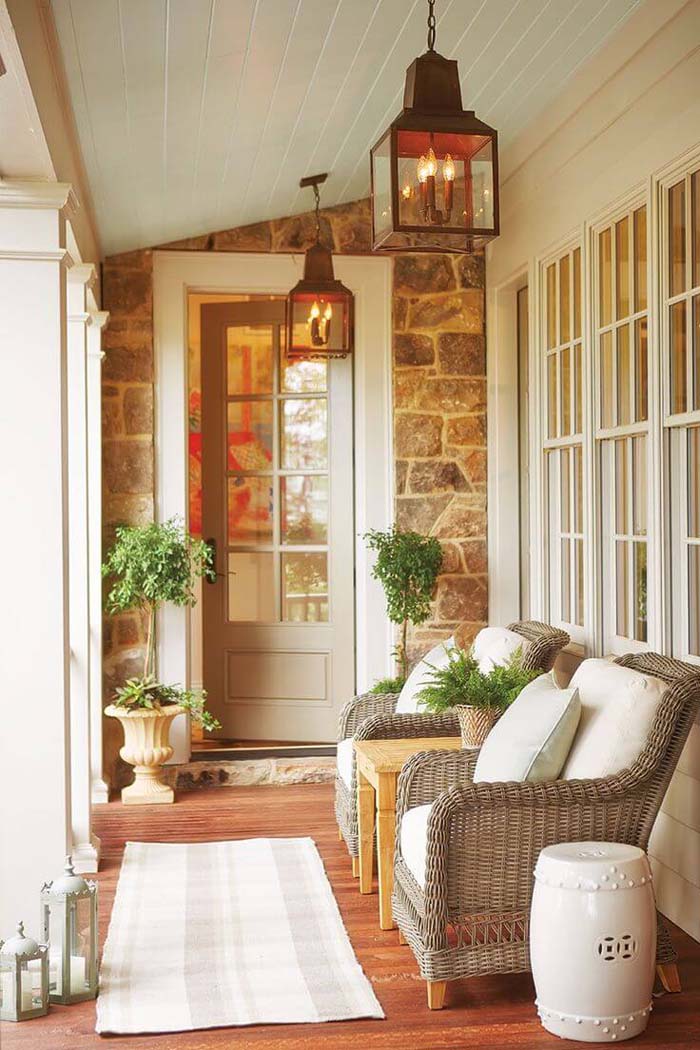 When you spend lots of time outdoors, hard-wired lighting is a worthwhile investment.
Here, hanging lanterns elevate a beautiful porch; after dark, just switch them on for soft illumination.
With hard-wired fixtures, there's no need to worry about outlets and cords.
via Ballard Designs
6. Combine Flickering Candles With Recessed Lighting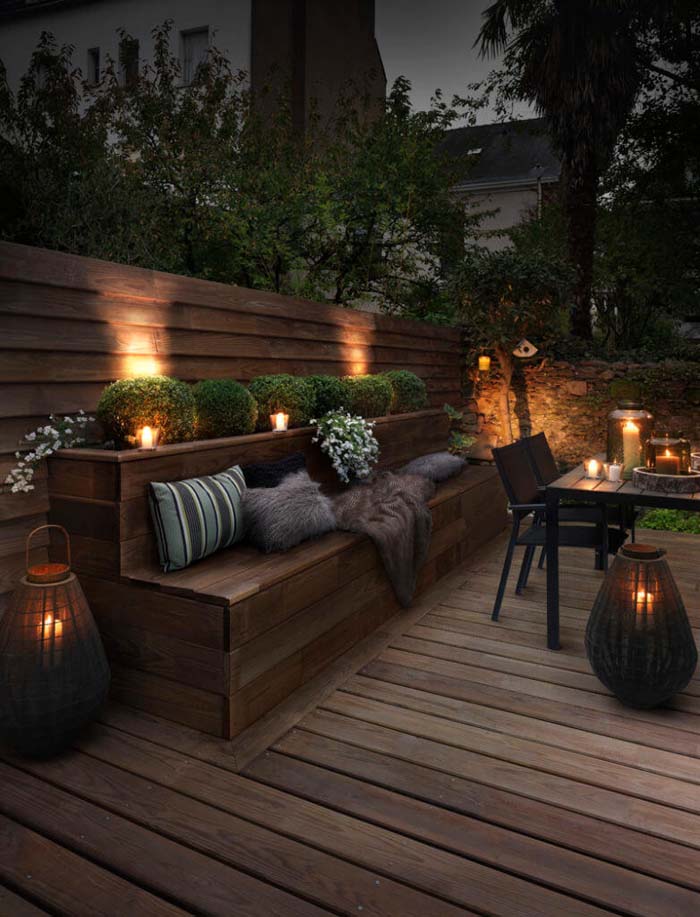 Have you ever seen an outdoor area that seems to glow from within?
The secret is recessed lights. Tuck them behind plants or into the earth and adjust the lights so they point up.
Add a few candles for a gentle, flickering glow.
via Cote Maison
7. Add Ethereal Ambience With String Light Curtains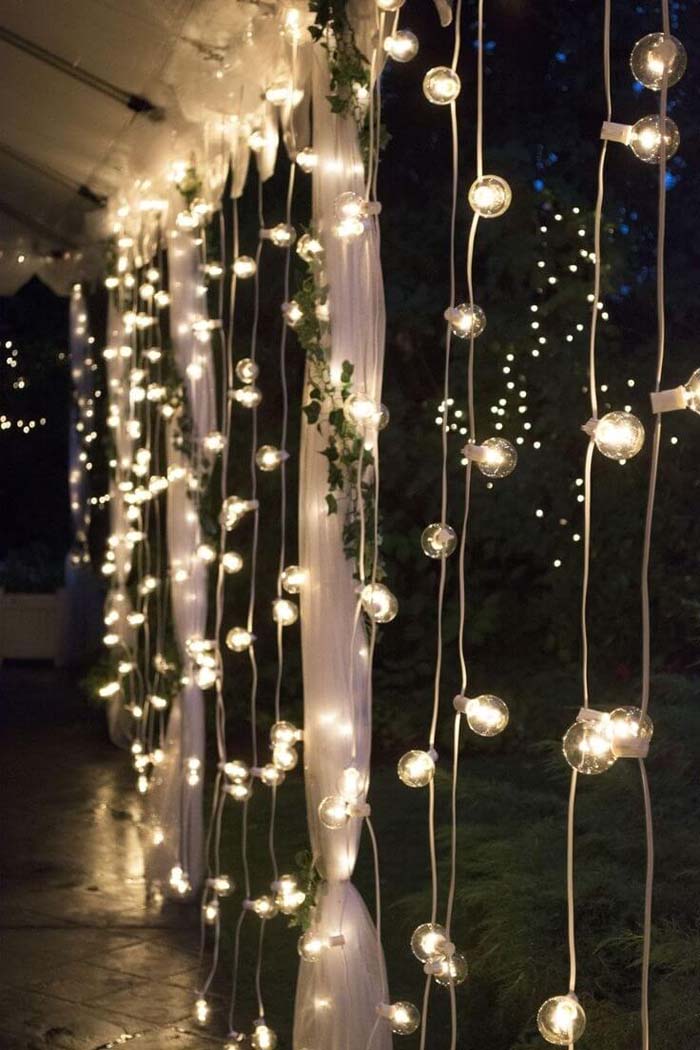 Whether you're setting up for an event or turning your back porch into a fairy-tale escape, a light curtain is the perfect solution.
Hang individual strands of lights vertically to create a beautiful illuminated wall.
The result is bright yet soothing, making it a perfect option for dinner parties or wedding receptions.
8. Integrate Walls Into Your Lighting Concept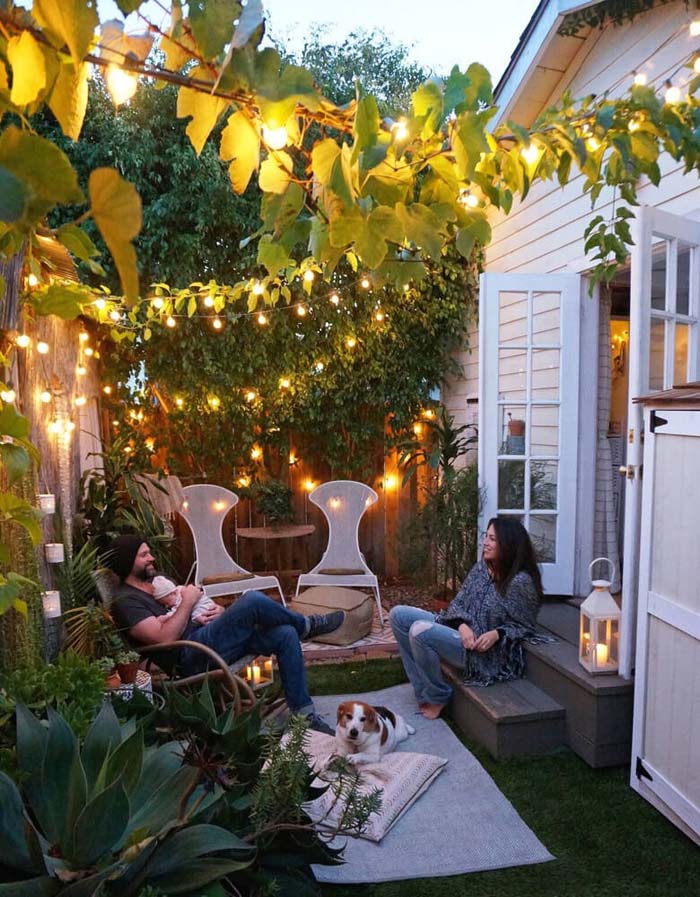 As you're illuminating an outdoor space, overhead lights are a natural fit.
Don't forget about a fence or an exterior wall — it's the perfect canvas for string lights.
Hang them in soft loops for extra brightness in a small space.
via Domino
9. Capture Fairy Lights With Illuminated Mason Jars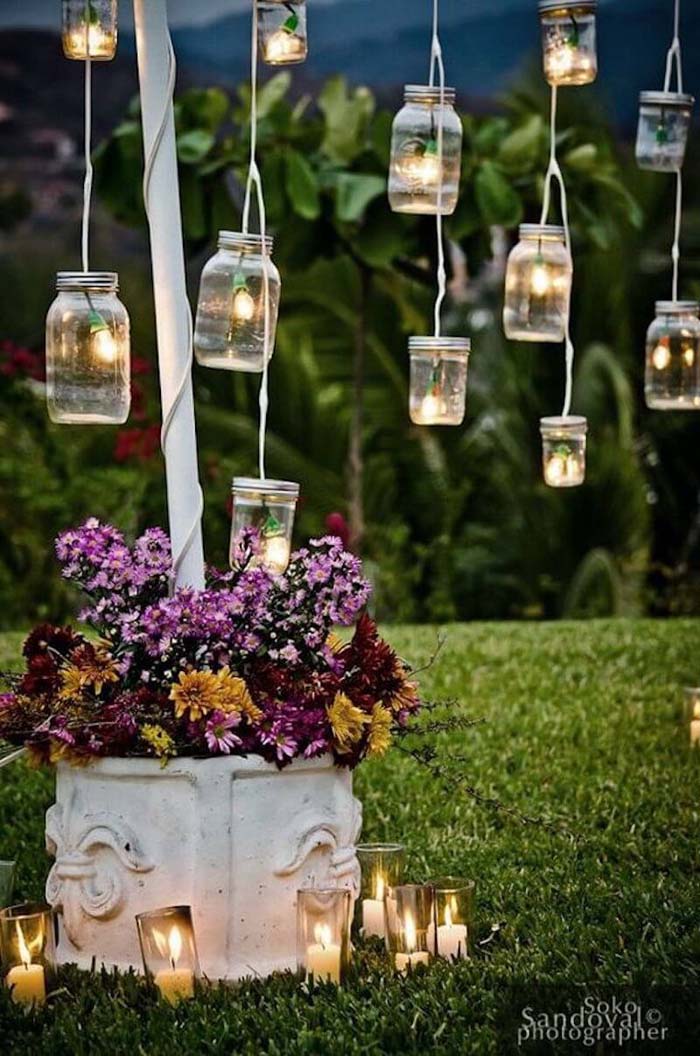 Enhance a simple strand of fairy lights with a collection of small Mason jars.
To make this project work, select heavy-duty outdoor lights with wires that are strong enough to support jars.
Simply drop a light inside the jar and secure it by placing the lid over the wire.
via Closette
10. Lanterns Double As Colorful Décor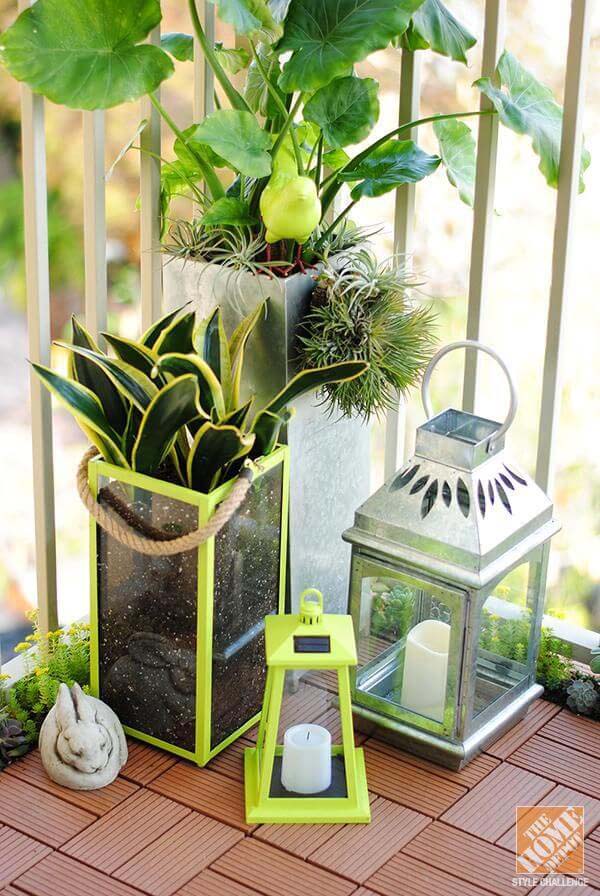 This creative outdoor lighting project looks good at any time of the day or night.
It's easy to make — just pop a battery-operated candle inside a decorative lantern.
During the day, the lanterns take center stage; after dark, the lights emit a cozy glow.
via Home Depot
11. Repurpose Glass Bottles As Whimsical Torches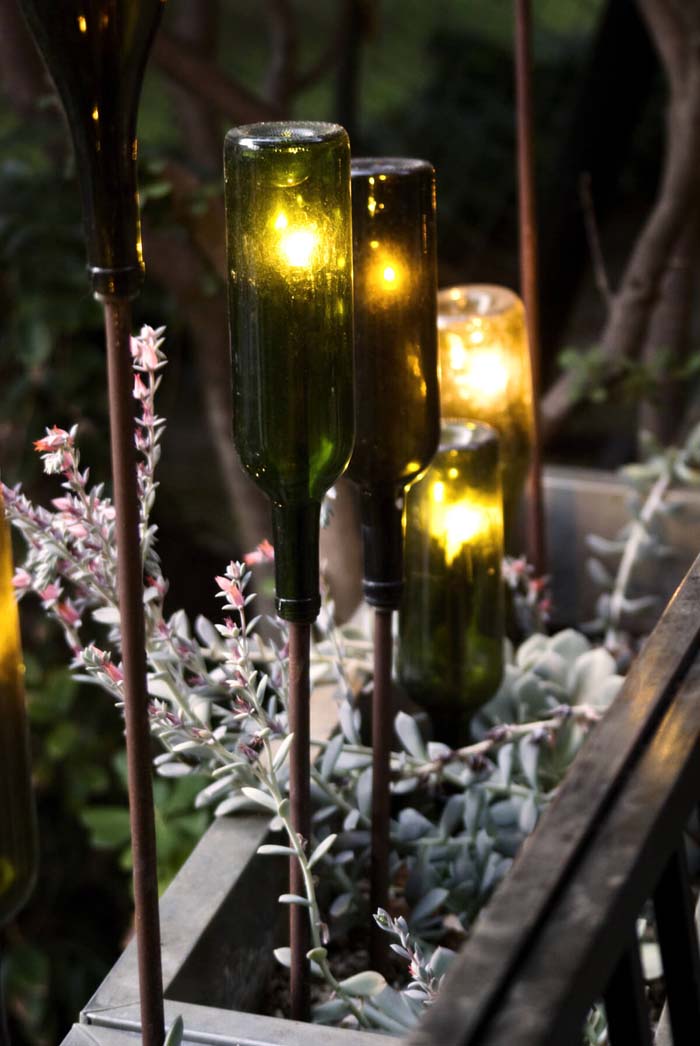 Brighten your outdoor space and help the Earth by turning old wine bottles into torches.
The green glass changes the color and quality of the light, giving your garden an otherworldly charm.
Sink the lights into a planter or directly into the ground.
via Archinect
12. Emphasize A Stunning Tree With Lights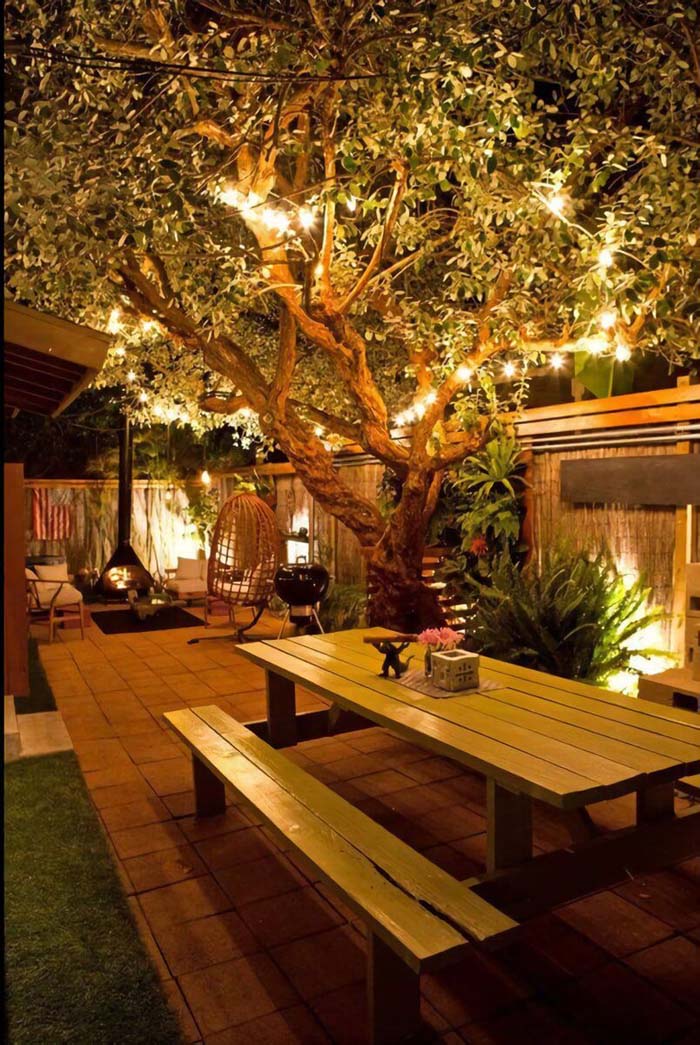 In a large yard, multiple lighting types offer the most effective glow.
Here, the homeowner illuminates the space from above with a set of string lights in a tree.
At the same time, sconce lights on the bottom of the fence eliminate dark corners.
via Estilo and Deco
13. Go For Natural Ambience With Classic Bulbs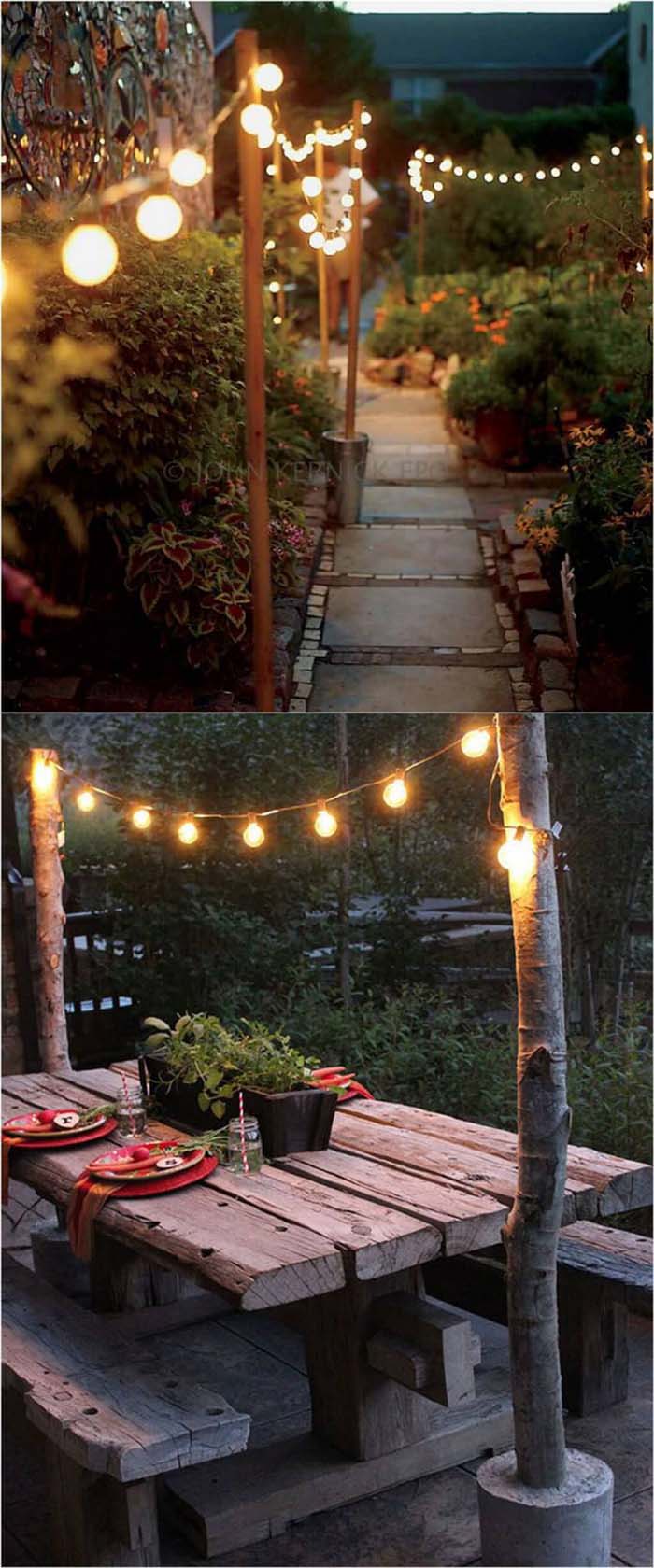 Elegant and classic, strands of bare light bulbs never go out of style.
The options are endless — string them along a fence, between trees or posts, or across your deck railings.
If you don't have an existing structure, sink vertical posts into a planter filled with cement for sturdy, portable supports.
via Home Depot
14. Illuminate A Deck Space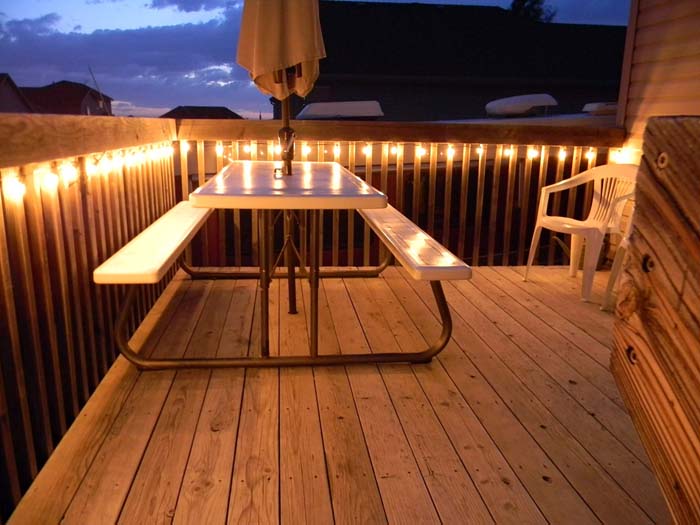 Here's another simple yet effective way to use string lights; simply mount them underneath your deck railing.
To achieve a neat, even design, make sure to fasten the lights at each post.
15. Cluster Tiki Torches For A Fun Light Display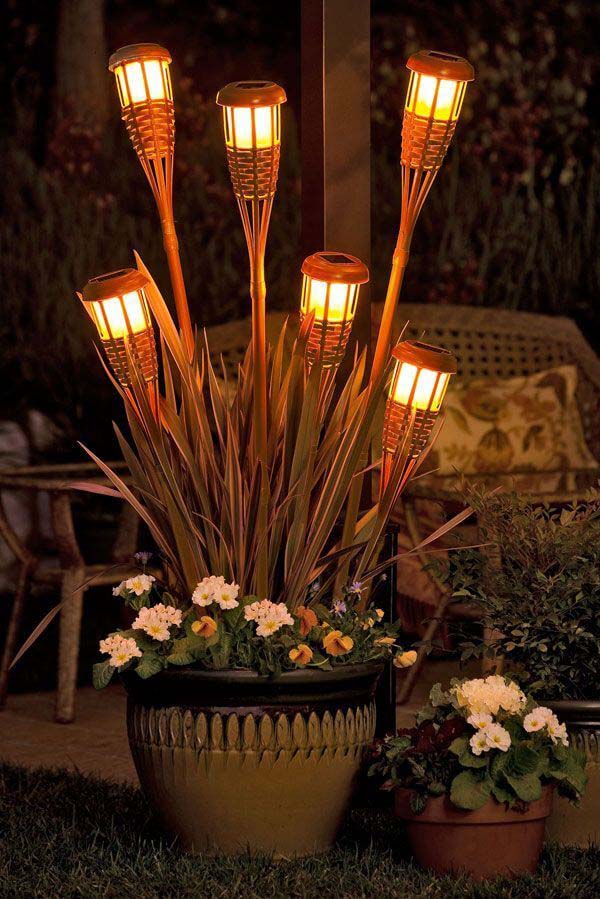 Tiki torches are a classic type of outdoor lighting.
Put a fun, unexpected spin on these timeless pieces by arranging them in an unexpected way.
Here, a cluster of tiki torches appears to grow from a large planter, acting as an extension of a large green plant.
16. String Lights Go Elegant With Fabric Bulbs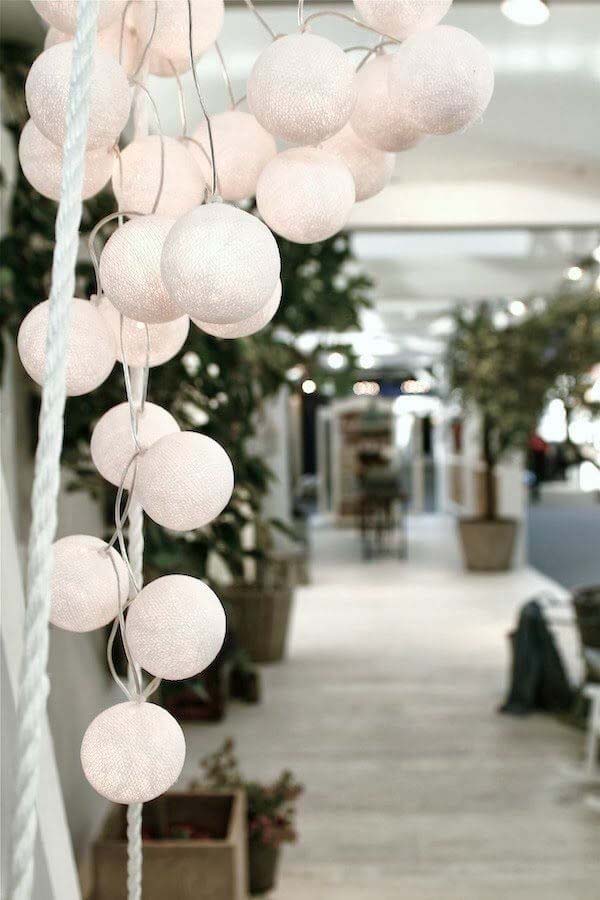 Covered with white fabric shades, these gorgeous string bulbs diffuse the light and create a soft, relaxing glow.
Hang them from the ceiling or arrange them in bunches to give your outdoor porch or patio a welcoming feeling.
via Ensuus
17. DIY Stunning Jar Chandelier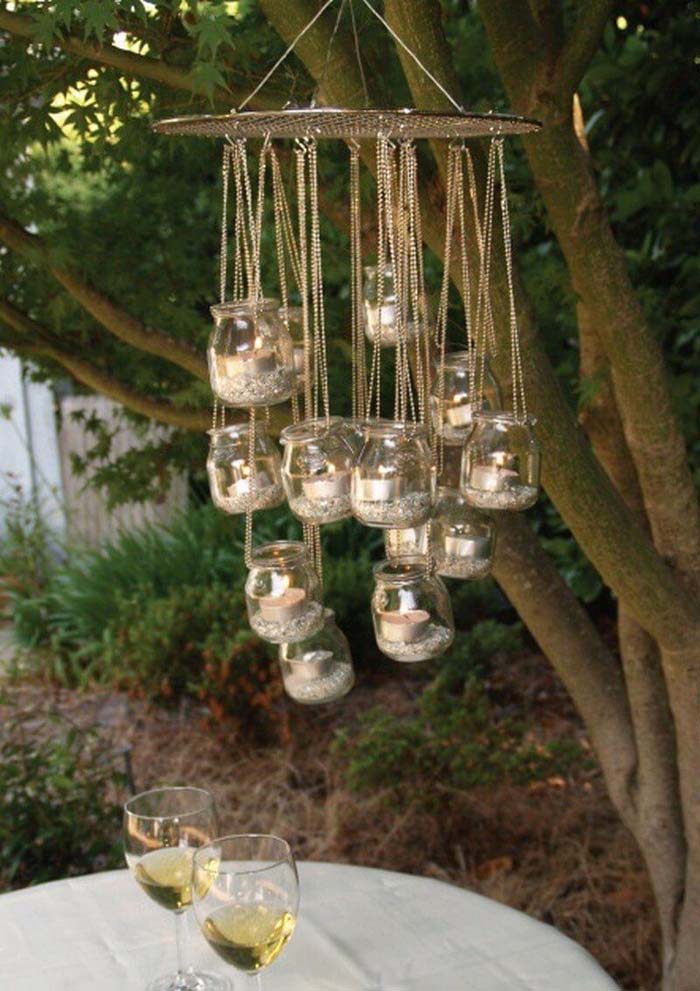 This stunning chandelier proves that statement lighting is just as beautiful outside as it is inside.
It looks elegant, thanks to its metal hangers and decorative rocks in the jars, but it's exceptionally easy to make.
Just use a barbecue lighter to light each candle.
via Decoracion 2.0
18. Eclectic Light Features Create A Captivating Mix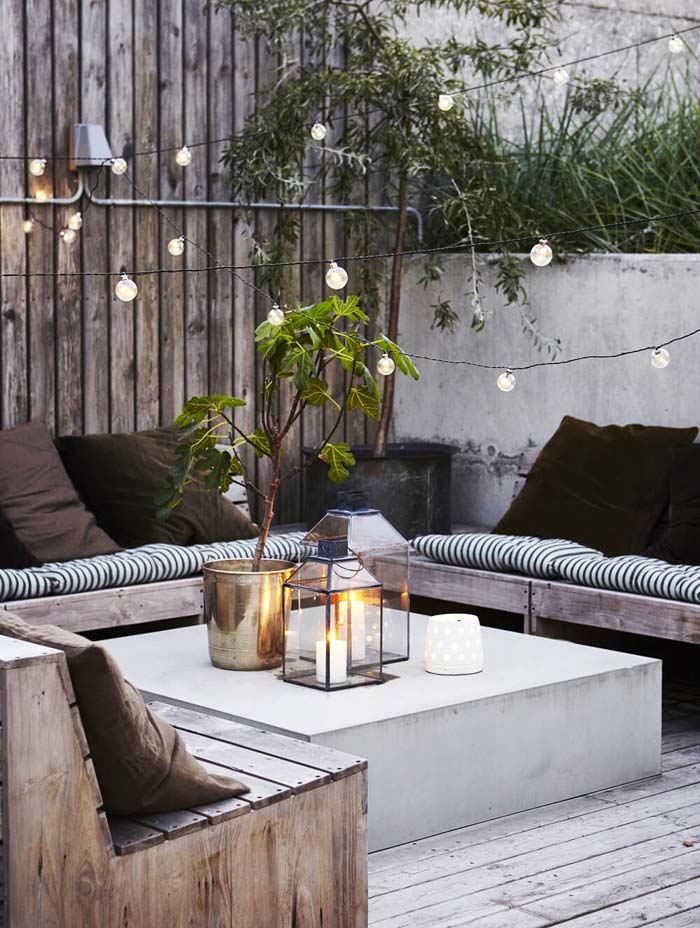 Outdoor lighting is similar to indoor lighting in one key way: more types of lighting create better coverage and a more interesting style.
On your patio, don't be afraid to mix it up with candles, lanterns, string lights, and more.
via Show Home NL
19. Mirror Your Coastal Driftwood Color Scheme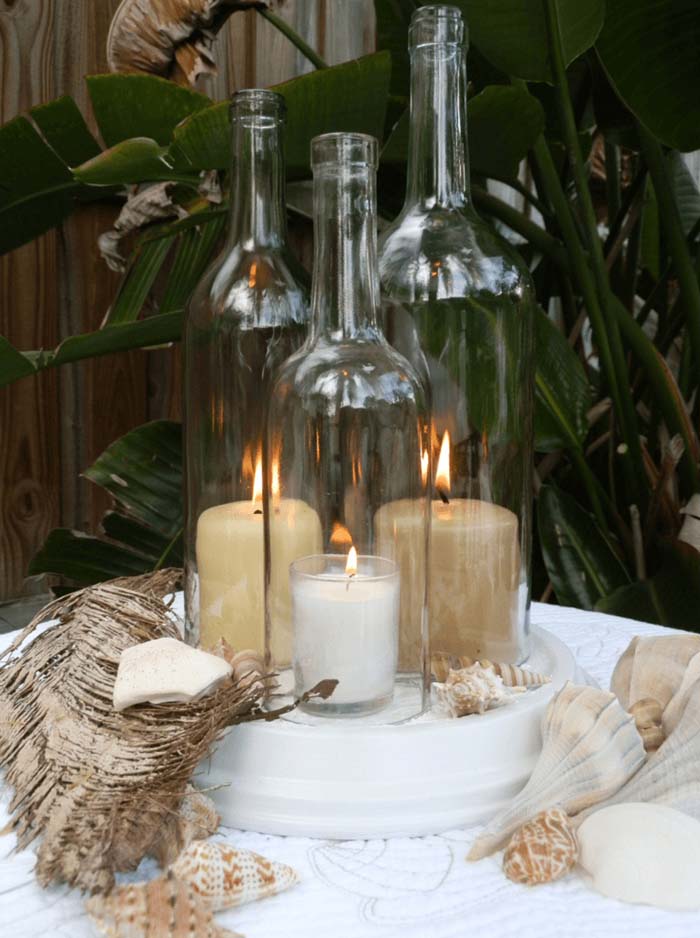 Whether your yard is beachy or rustic, you can't go wrong with a neutral color palette.
Here, candles in shades of white, cream, and beige combine to create a contemporary and stylish look that matches any home.
We love the creative cut-off glass bottles used as hurricane shades.
20. Create A Colorful Bohemian Mix Of Fabrics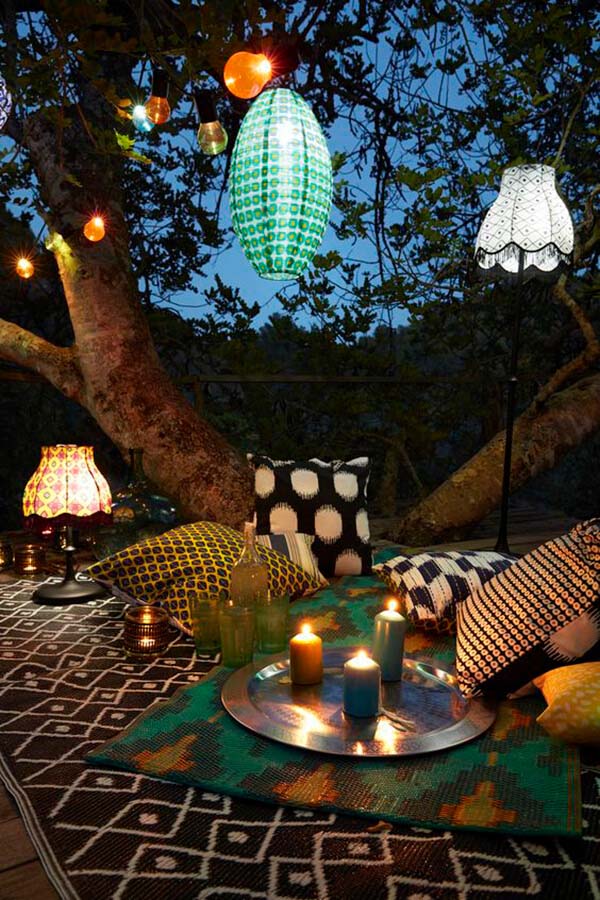 Wouldn't you love to curl up in this outdoor relaxation space?
Fun and colorful, it's perfect for cocktails with friends or an evening with your favorite book.
Lights covered in colorful printed fabric complement the cheerful pillows for a bohemian vibe.
21. Jar Lanterns Add Moveable Candle Lighting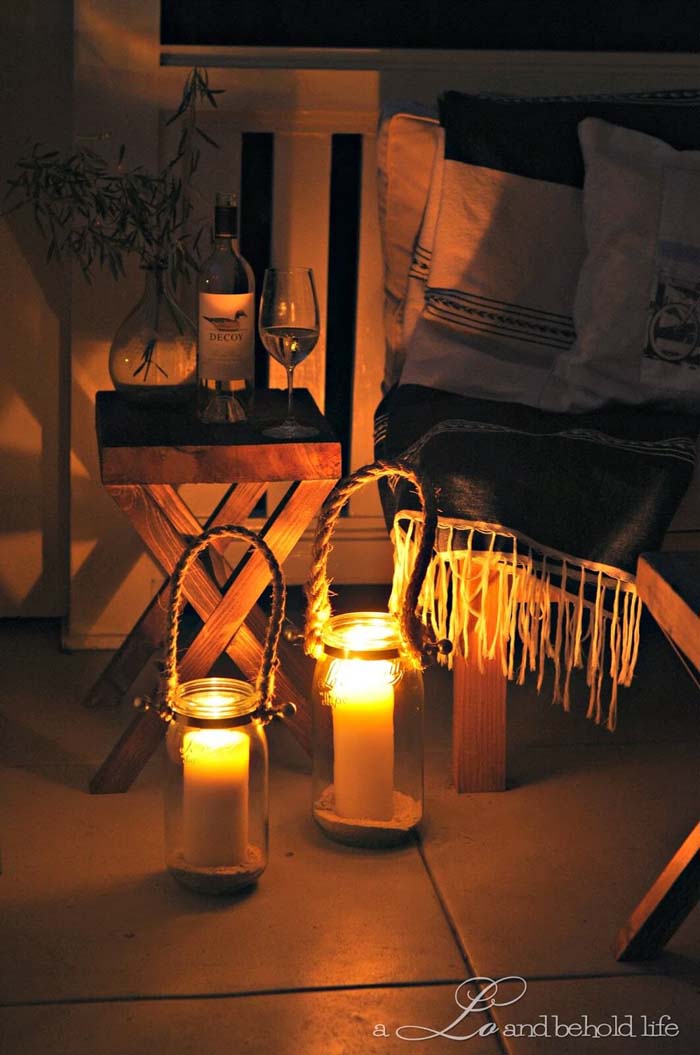 When you want to create a romantic and elegant look, you can't go wrong with candle lanterns.
Choose oversized lanterns that fit large pillar candles for a look that's interesting and subtle.
22. Simple Yet Stunning Jar Candleholders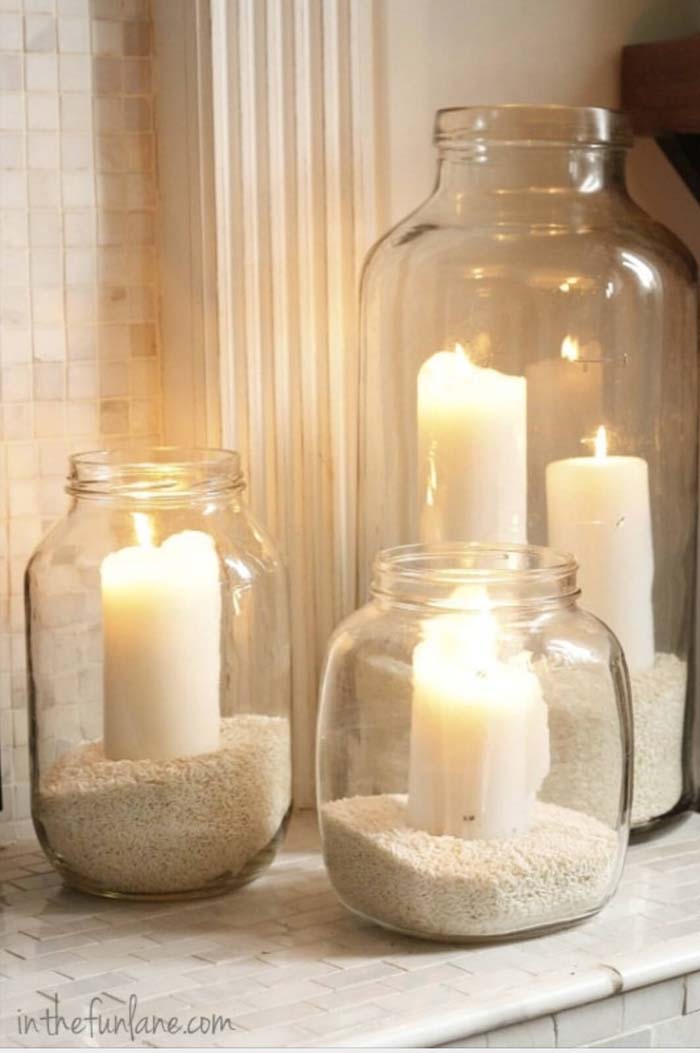 Are you looking for a way to update your outdoor space without spending much time or money?
These beautiful jars filled with tall pillars are a great solution.
Just fill the bottom of each jar with sand; it supports the candle and adds soft color and texture.
23. Light Your Umbrella For Seating Area Ambience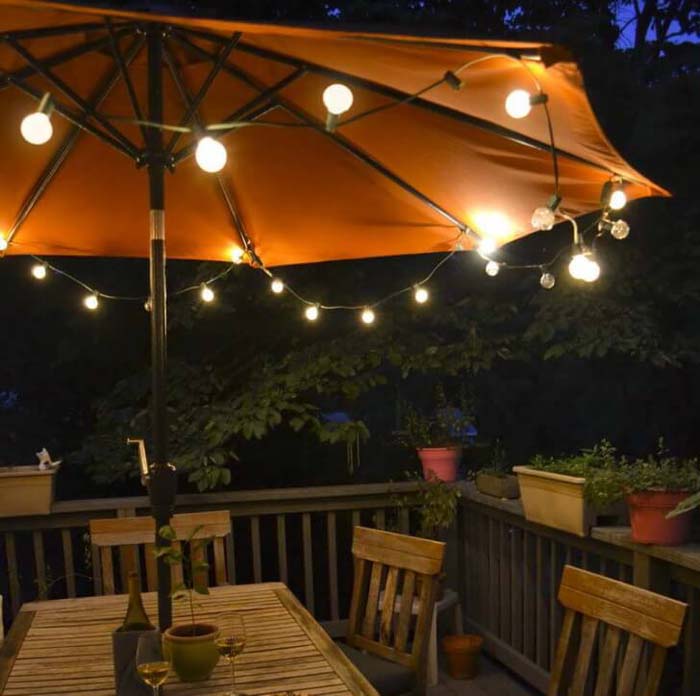 When you don't have vertical posts or a convenient exterior wall, an outdoor umbrella is a convenient spot for your outdoor lights.
Hang a strand of lights from the umbrella, using the ribs for support.
This is a lovely way to illuminate an outdoor dining table for summer evening meals.
24. Hooks Create Hanging Space For Jar Lanterns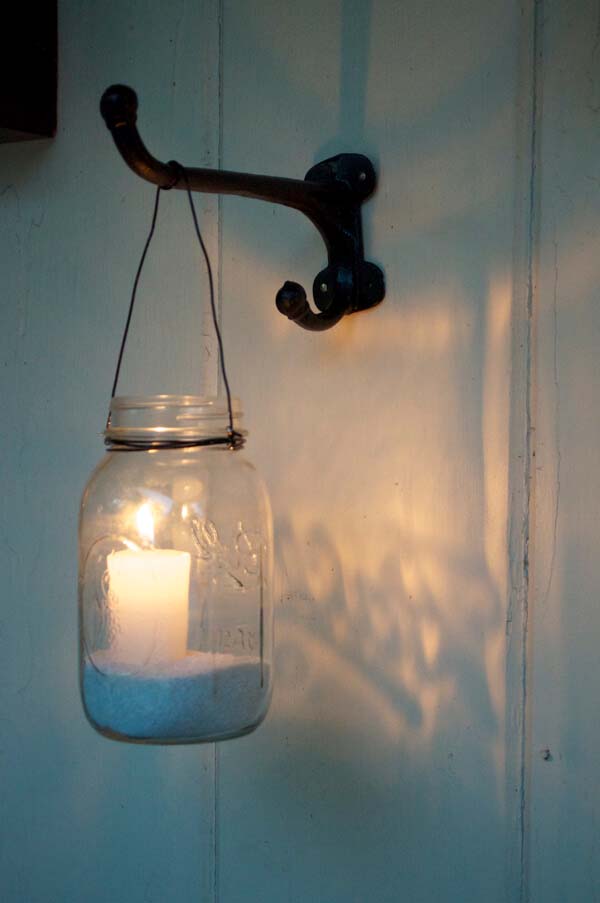 Help guests find their way around your home with hanging candle lanterns.
These simple pieces feature candles in Mason jars and a wire hanging loop.
Suspend them from wall-mounted hooks for a piece that's beautiful and useful.
via Home Depot
25. Reclaimed Wood Highlights A Rustic Chandelier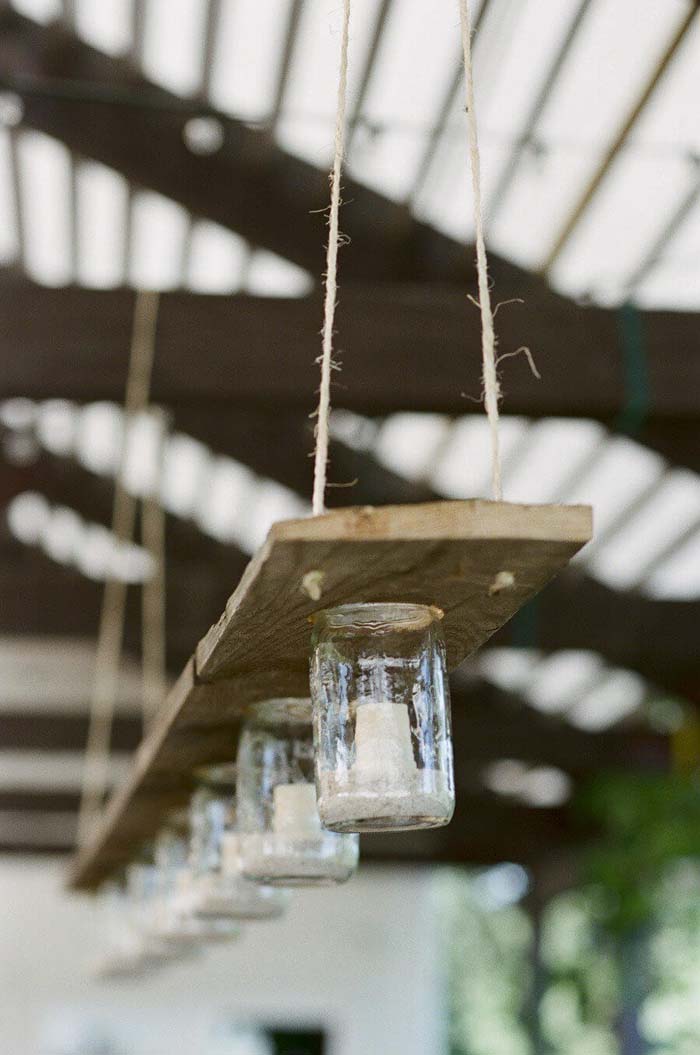 When your yard is small, make the most of the space by hanging lights from the ceiling.
This creative chandelier features Mason jars suspended from a reclaimed wooden plank.
Add a candle in a bed of sand to each jar for an elegant and beautiful light fixture.
26. A Backyard Fire Pit Creates Its Own Light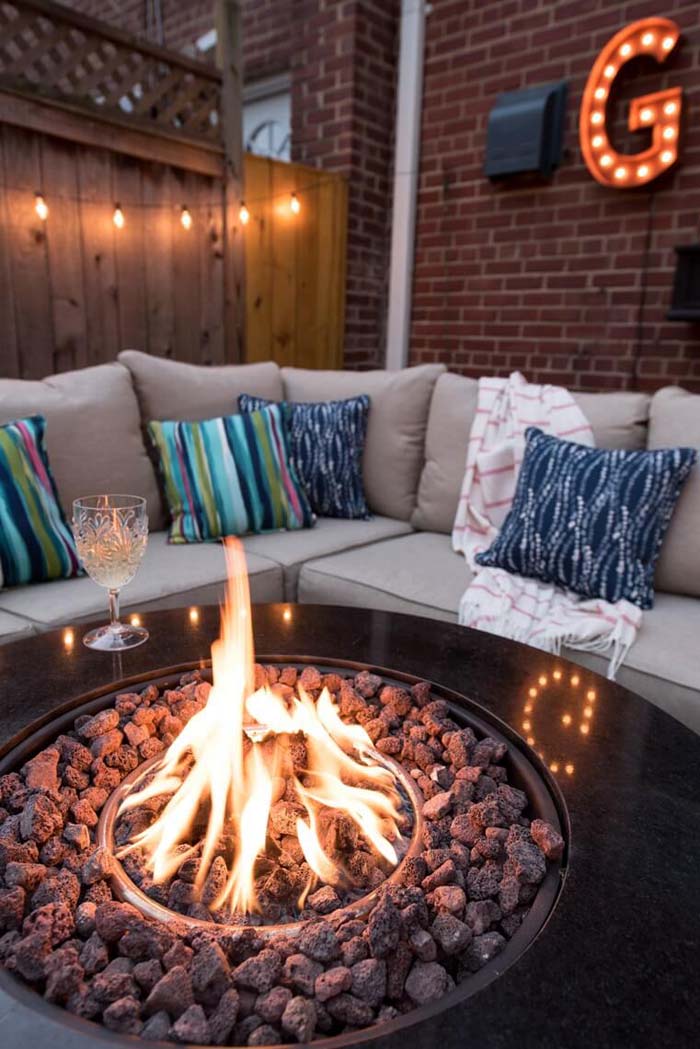 If you like to relax in the great outdoors, a fire pit is a perfect addition to your yard.
The flames create plenty of illumination on their own, but you can add string lights and a lighted wall sign for extra brightness.
via Simple Stylings
27. Complement Fairy Lights With A Basket Of Bulbs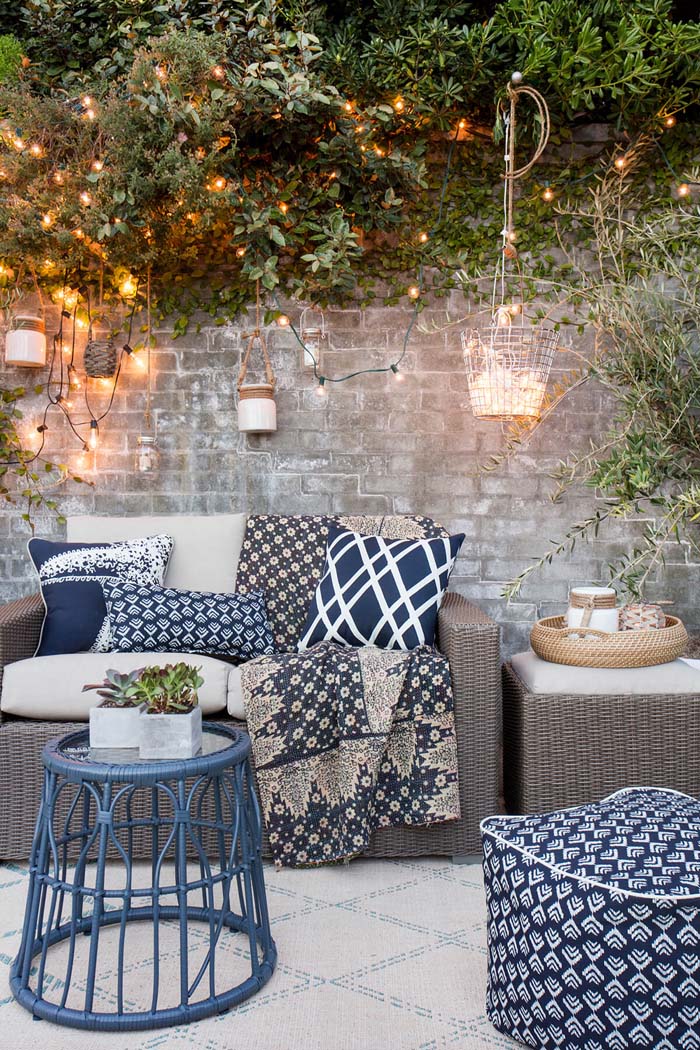 Do you have an old wire basket at home?
Fill it with hay and a string of lights, and you have a DIY outdoor chandelier that sets your space apart.
We also love the imperfect strands of lights that adorn the tree and the brick wall.
via Blog Lovin
28. Play With Shadows Using Patterned Lanterns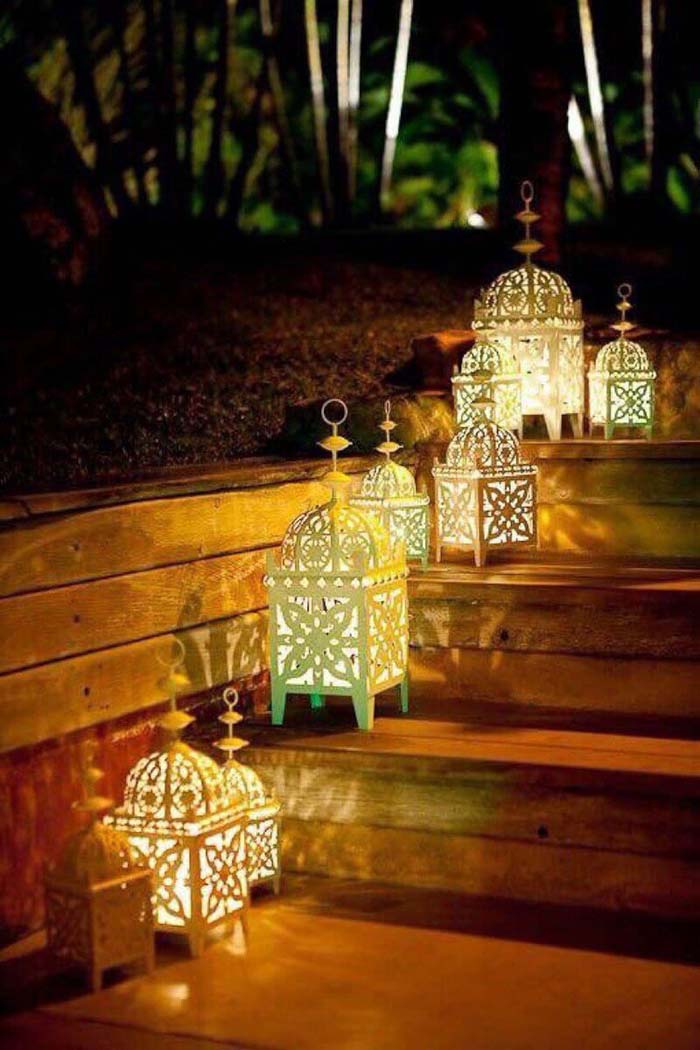 Help your guests navigate an outdoor staircase with intricate metal lanterns.
The geometric laser-cut patterns create fascinating patterns of shadow and light, setting the tone for an elegant yet playful event.
For maximum visual impact, look for lanterns in varying sizes and colors.
29. Stick With A White Palette For Farmhouse Chic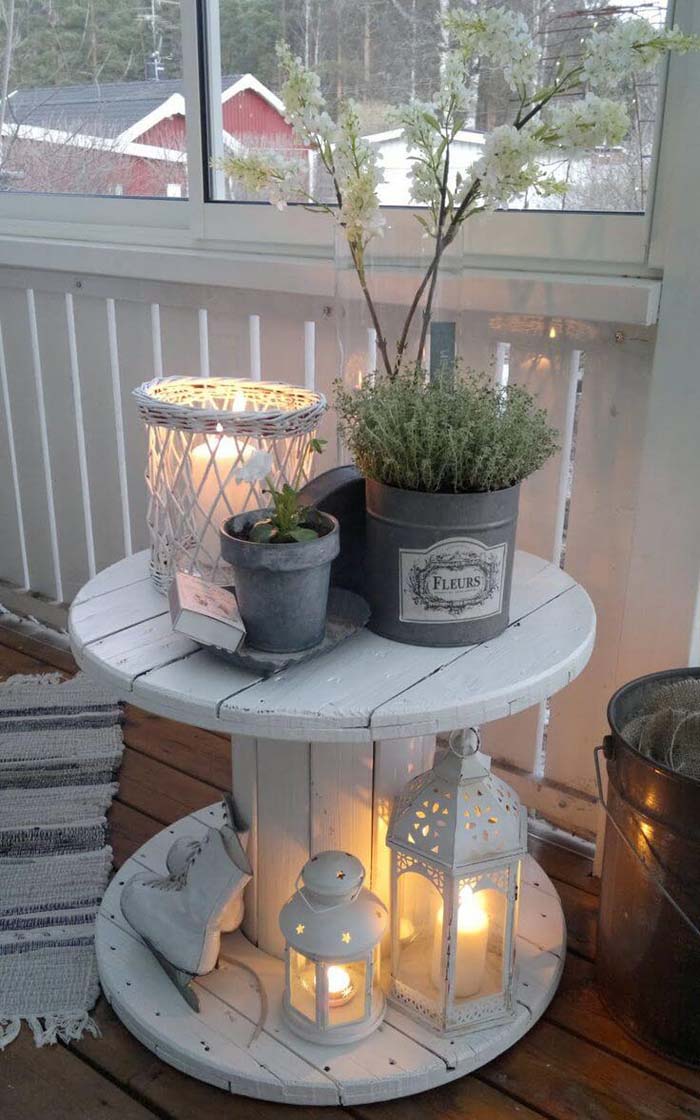 Is your outdoor space rustic?
Play up the shabby-chic vibe with a combination of wicker candle holders and distressed metal lanterns.
By choosing lighting in an all-white color palette, you can create unity while embracing a pop of eclectic charm.
30. Create A Whimsical Light Display In The Garden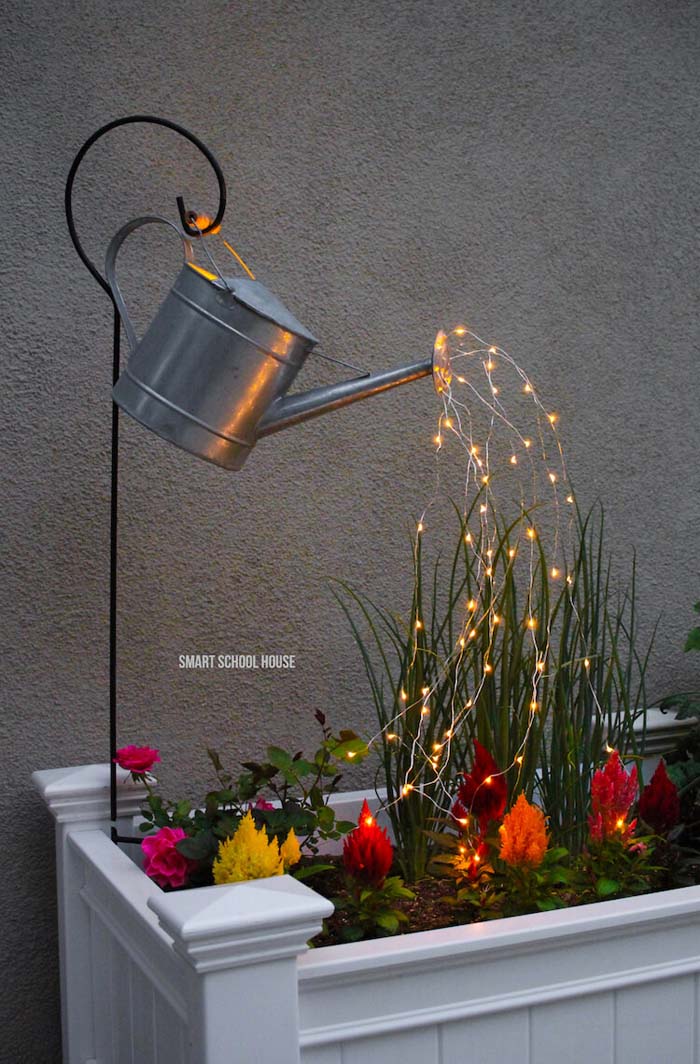 Head to the outdoor section of your favorite craft or home-goods store to find battery-operated LEDs.
These tiny strands feature thin wires connecting each light and a battery pack that's a breeze to hide.
Here, the lights are arranged to create a glimmering stream of water from a watering can that's suspended from a post.
This is a fun way to brighten a walkway or the side of the house.
31. Brighten A Cozy Space For Big Impact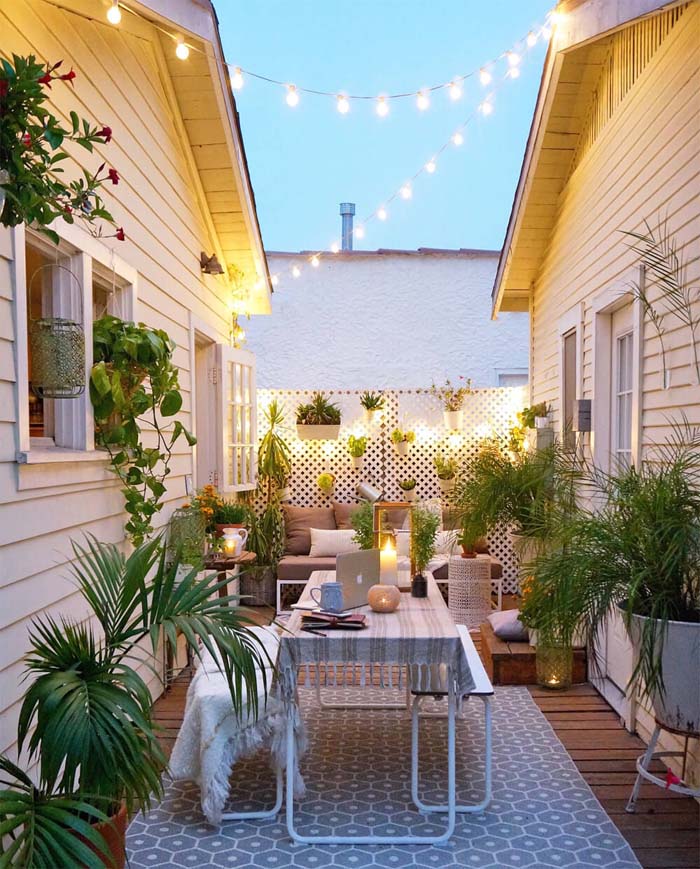 This spectacular patio proves that small spaces can have a big impact.
This design is all about the lighting. White lights hang from the roofline, drawing the eye up and creating the illusion of height.
For extra brightness, white lights reflect off of a white lattice and light-colored furniture.