It doesn't matter if you're living in Guatemala, England, New York, or South Carolina; your backyard is the reason you were willing to part with more of your money when you bought your home.
When it comes to backyard landscaping, your backyard porch should be a top priority. When coming up with back porch ideas, really take some time to decide exactly what you want.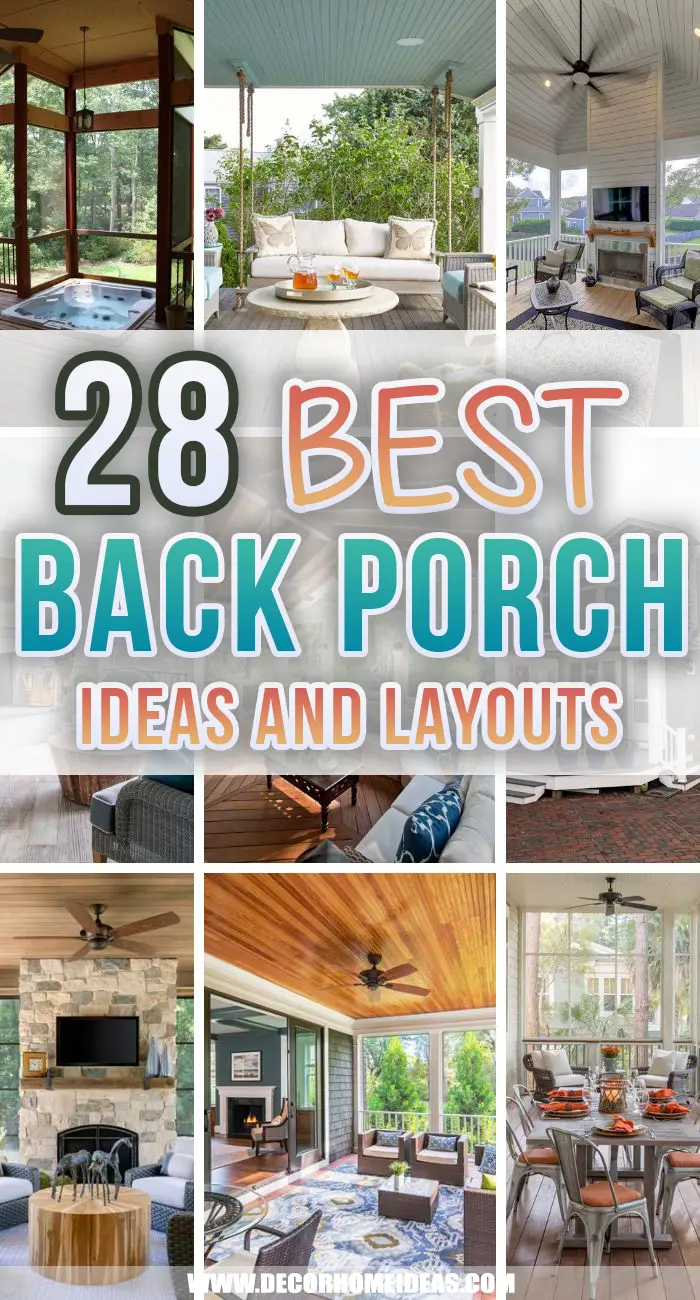 Part of the allure is that it's private. Your backyard landscape is an extension of your home but doesn't have to be an exact fit to the interior design.
Make it a place where you can unwind and rejuvenate your body and mind. For that reason, embrace back porch ideas that reflect your personality. Take a look at some of the fantastic porch design ideas below to fuel your imagination.
How can I make my back porch look nice?
Treat it as if it were a casual indoor seating area with loads of light. You'll want plenty of seating using colors, soft textiles, and small tables for drinks and snacks. Music is always welcome and there are plenty of weatherproof Bluetooth speaker options available to pipe in an appropriate playlist. Don't forget to bring in botanicals from the store or your garden.
What is a porch in the back called?
If it's on the ground, it's usually called a patio. If it's built on posts, it's usually called a deck. Another type of roofed structure is a veranda, which is like a wraparound porch or deck.
What is the purpose of a back porch?
It provides a transitional area between your backyard and your house. It can be as elaborate or simple as you like, but it's often used for entertaining and relaxing.
1. Add a Feature Wall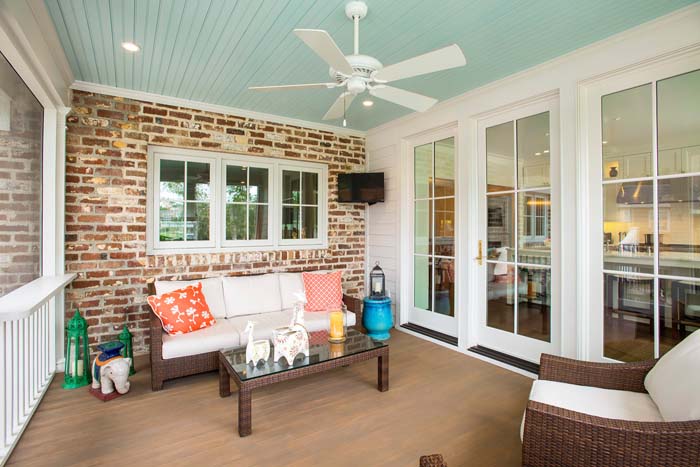 A feature wall can bring new life to any outdoor living space. This is easily accomplished by adding a facade to suit your home decor.
This brick cladding is available in most any home improvement store, such as Home Depot.
via Classic Remodeling & Construction
2. Hang a Daybed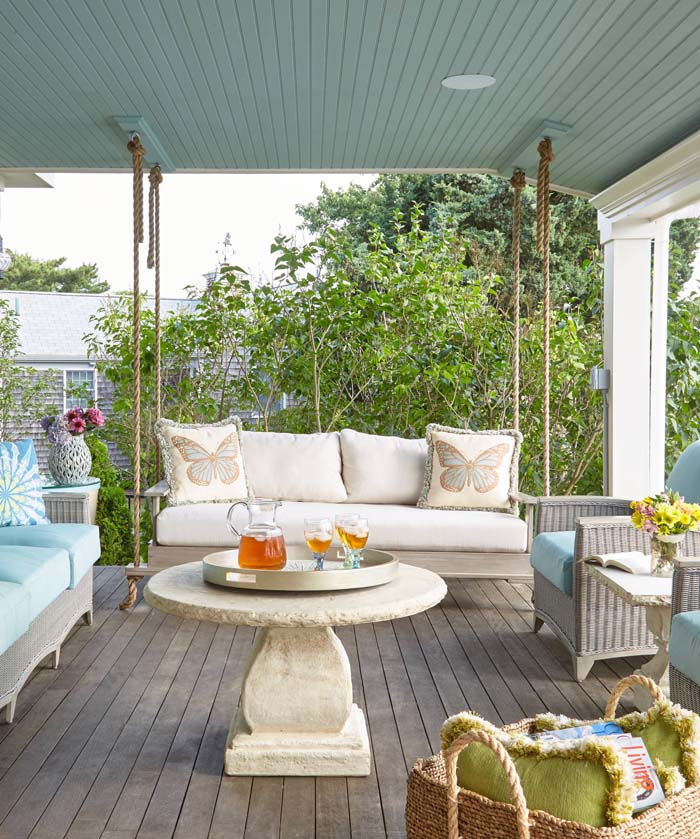 Light colored wicker is the hallmark of outdoor furniture. A porch design idea that's caught on big over the past couple of years is suspending a couch from the ceiling.
It's a new play on porch swings found in southern states such as South Carolina.
This Romanesque coffee table adds to the Contemporary design with leanings towards the playful fringes found in Boho Chic.
3. A Second Living Room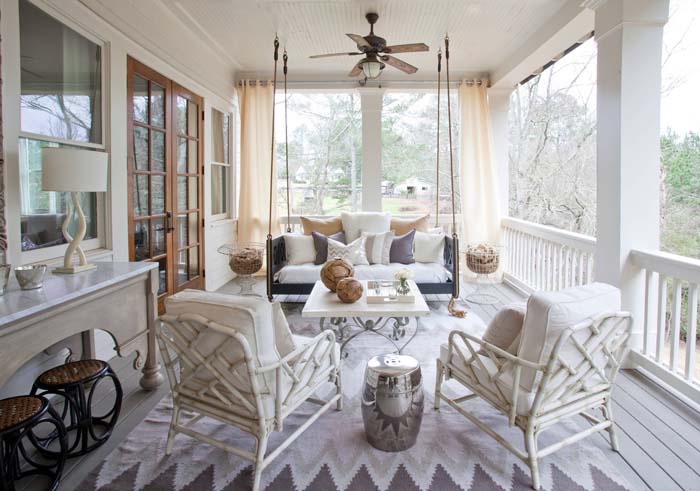 Bring your indoor home decor to your outdoor patio. We see all the earmarks of an indoor living room under this covered back porch.
Especially notable are the marble top console and coffee table. A graphic rug ties it all together. When closed, sheer hanging curtains offer a more intimate seating area.
via Lindsey Hene
4. Contour Furniture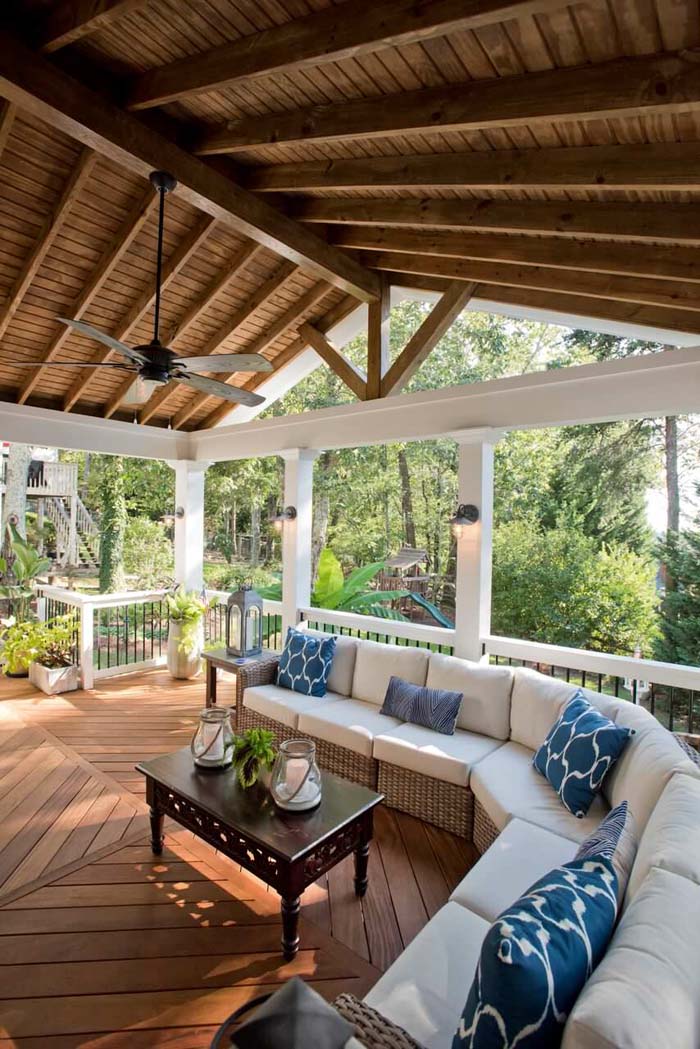 A curved seating area set against the porch railings does wonders to create a welcoming, relaxed porch area. The unfinished vaulted ceiling and wide slatted deck allow the room to maintain its connection to nature.
Graphic pillows in deep blue visually break up the beige cushions.
5. Touch of Blue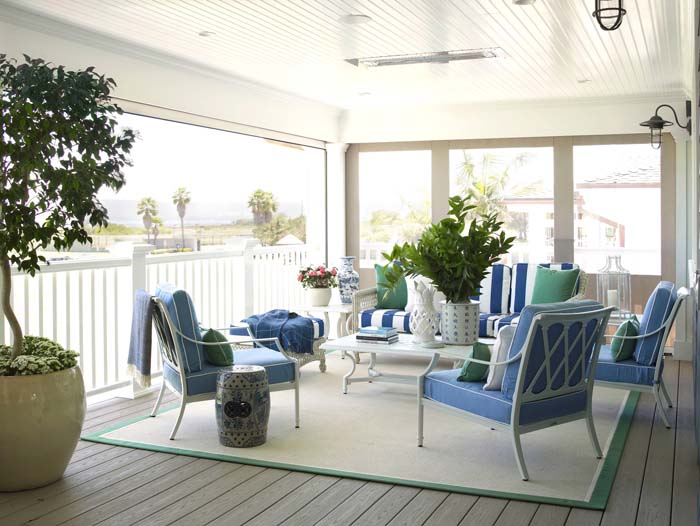 Since it's a primary color, blue easily fits in with most decorating ideas. As a soothing, cool color, it's an easy choice for decorating a backyard porch.
This coastal style seating area is defined by an outdoor rug with a turquoise border. Turquoise has a lot of blue pigment, so it's a natural match for any outdoor space.
via Burnham Design
6. Relaxing Retro Porch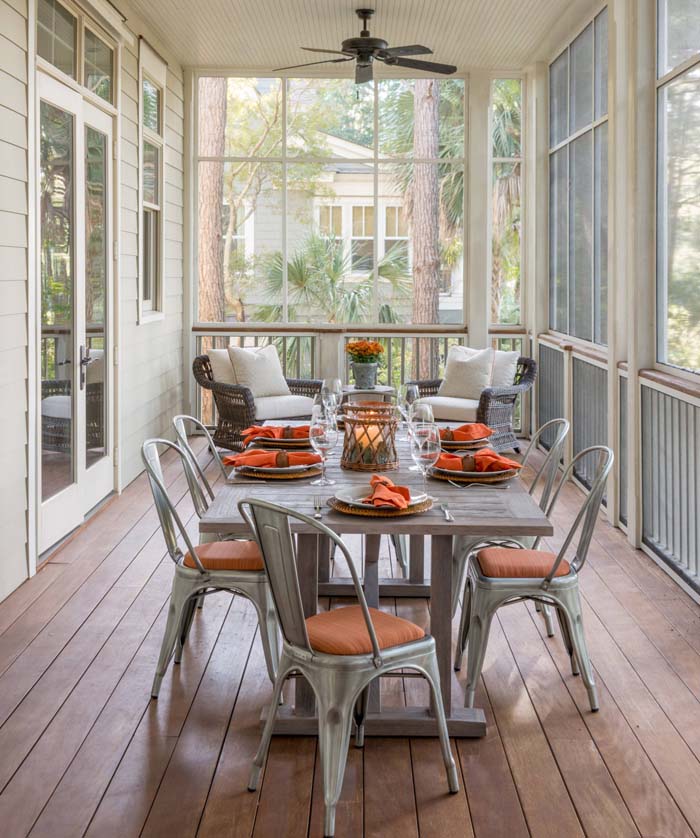 You can have the industrial look on your porch with a reclaimed lumber deck, a table of rough wood and steel, and metal chairs.
Keeping the wood top rail and adding galvanized metal frames adds to the retro vibe. Brighten it up with cushions and table linens in a muted shade of orange picked up from the wood floor.
Keep the theme with an older style of ceiling fan, which is a must-have item for comfortable southern living.
via Lucas Eilers Design Associates
7. Use a Soft Palette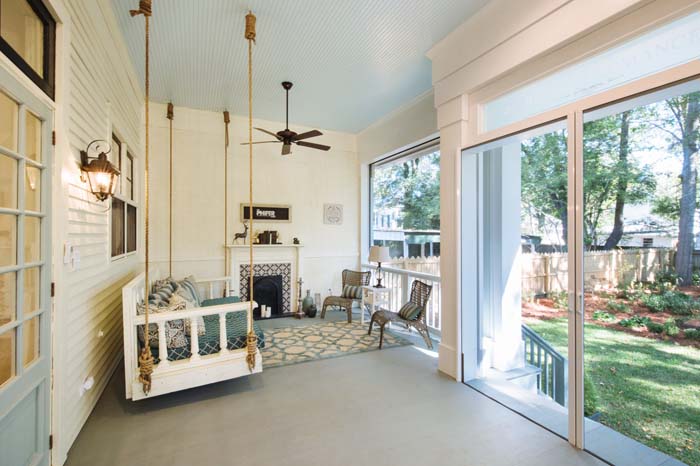 Many porch decorating ideas start with a soft palette of peach, pale yellow, and mint green.
A cozy nook was created using a faux fireplace, a pair of curved chairs, and a daybed/swing suspended from the ceiling.
via Phantom Screens
8. Mediterranean Chic Patio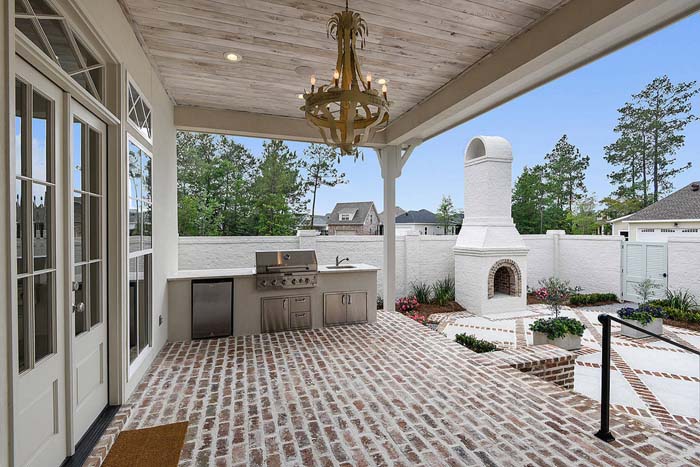 Bring your kitchen outdoors and you'll never want to leave your porch. We see a hearth that could be used as a pizza oven set away from the patio.
The patio under the roof uses whitewashed brick. The owners added a full kitchen, complete with running water, a grill, and a small refrigerator.
9. Contemporary Lodge Enclosed Porch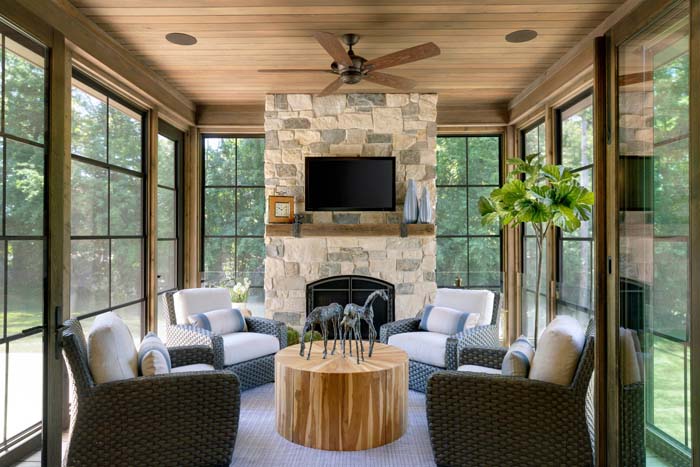 A hint of the transitional style mixed with a rustic fireplace has all of the earmarks of a lodge. Get comfortable with contemporary seating around a round wooden coffee table.
A wood porch ceiling warms up the room. Add a TV over the fireplace and your guests will never want to leave.
10. Rustic Rumblings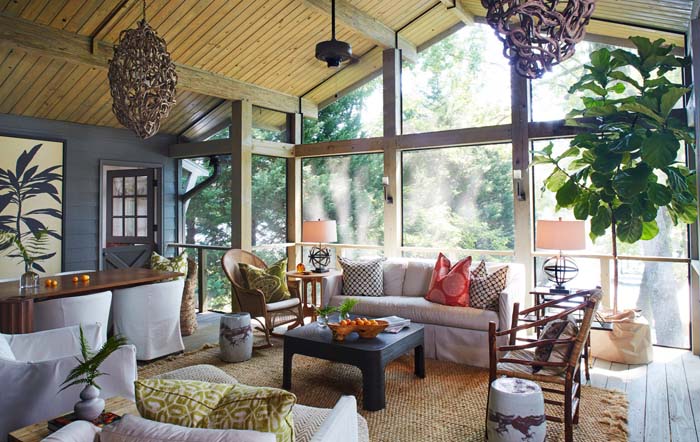 Playful patterns on throw pillows bring a bright and lively feel to this rustic room. A natural fiber rug and unusual hanging lamps contributed to an almost Bohemian vibe.
White slipcovers keep everything grounded so as not to distract from the true star of the show, which is the great outdoors.
via Studio C Architecture & Interiors
11. Grass Window Coverings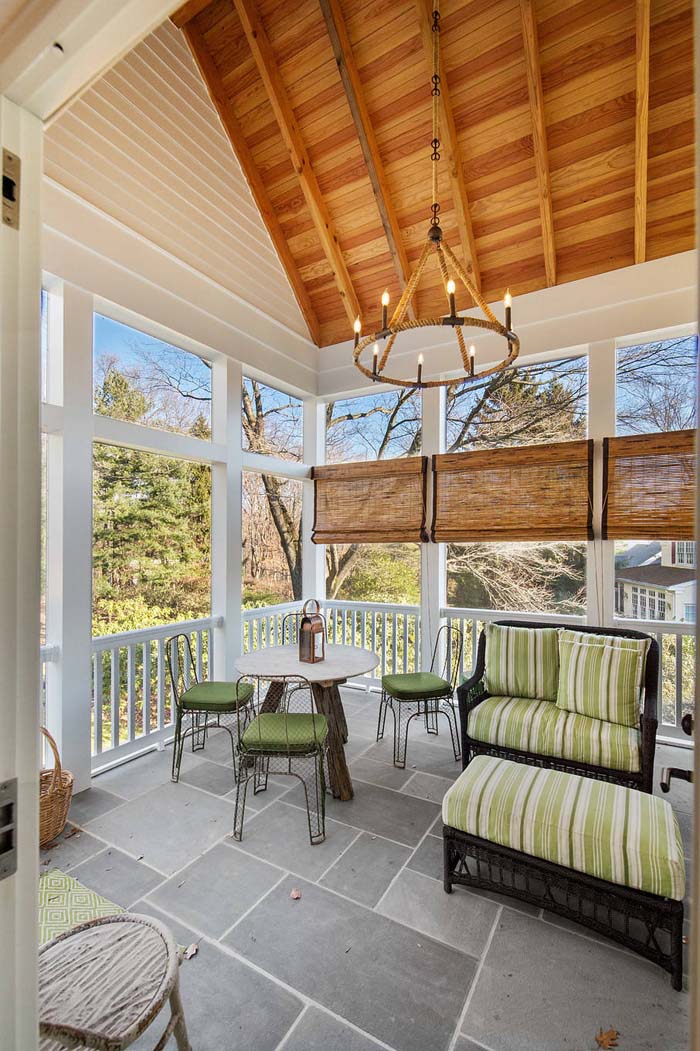 The grass shades over the open windows bring a tropical feel to this covered porch. The vaulted roof is kept in a natural tone.
The rustic chandelier adds an industrial feel to the space, as do the metal chairs around the small table.
via Vaughan and Sautter Builders
12. Modern and Magnificent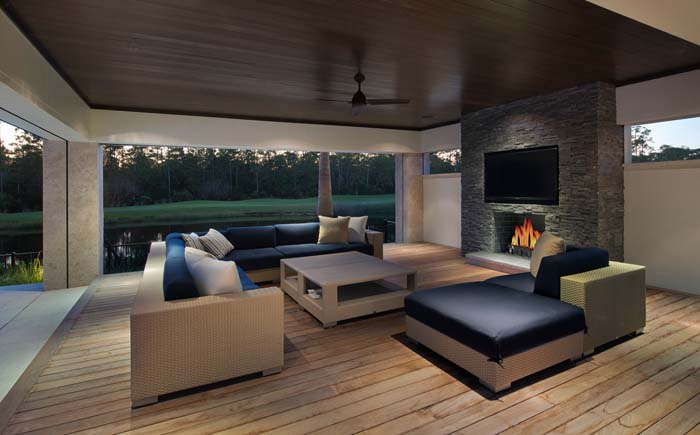 Who needs a fire pit when you can have a fireplace? The sharp angles of the modern-style are shown here. The wooden floor and ceiling bring warmth to the space.
The stacked stone fireplace has a sophisticated feel. The addition of color is more of a contemporary touch.
via Harwick Homes
13. New Nordic Back Porch Idea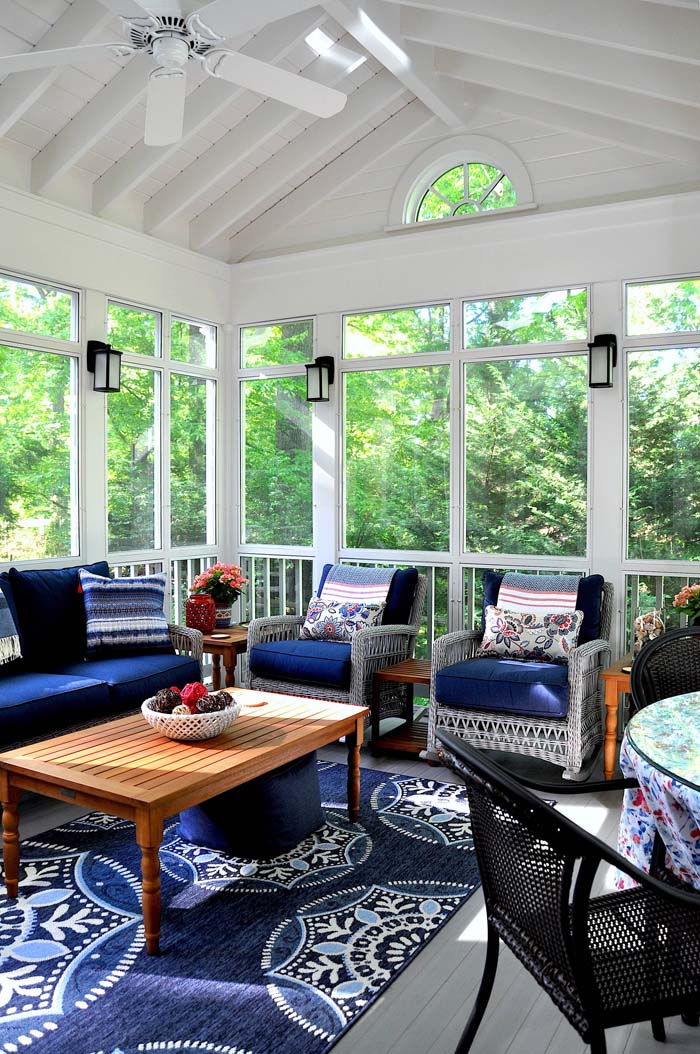 A rug in a vibrant blue with a graphic pattern brings new Nordic flair to a traditional style porch. Floral textiles add a feminine look.
via MPR Architecture
14. Wraparound Rock Revival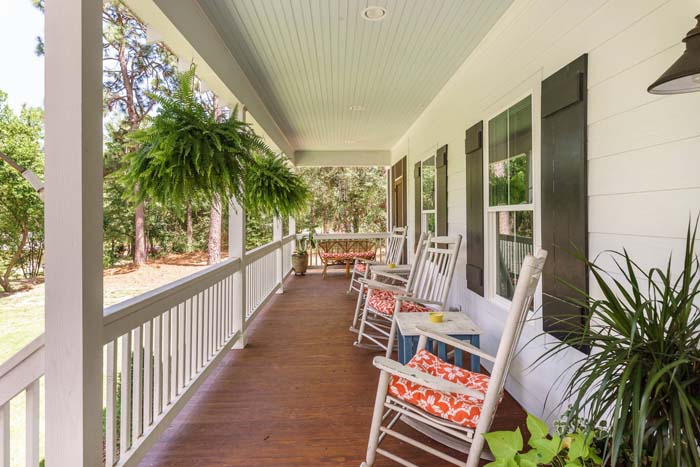 Traditional Board and Batten exterior shutters pop against the long southern style wraparound porch. Seating vignettes were created by using a pair of white rockers with a small side table painted in blue. 
Orange patterned cushions pick up the orange hue in the porch's stained deck.
via Pineland Homes and Remodeling
15. New England Coastal Back Porch Idea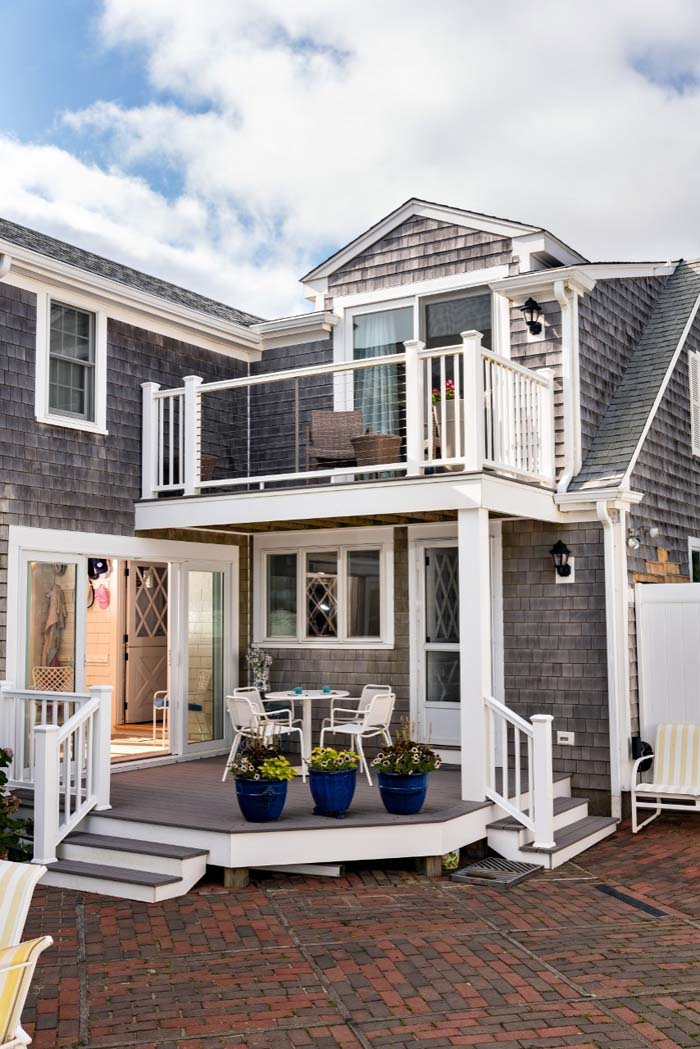 The gray siding and white trim hints at the coastal view of this New England home. On the second floor, the widow's walk was extended out to create a full porch.
The traditional wood balustrade was replaced with cable, allowing a more open view. The bottom porch was left open as well, further confirming that the view from these porches is breathtaking.
via ERT Architects
16. Minimalist Porch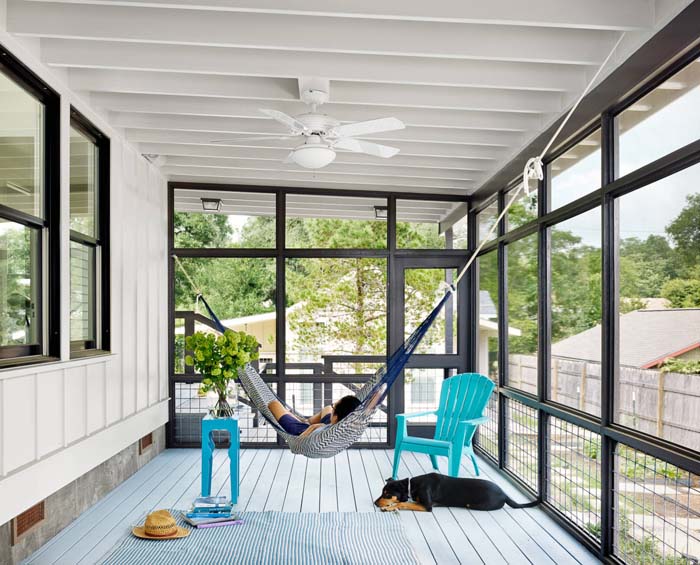 The true minimalist look created for this porch more than makes up for the small backyard. The details are in the architecture with its exposed beam ceiling and windows with thick frames. Interest was added by using pops of blue against a black and white base.
A single chair suits the look just fine. A hammock is used in place of wicker furniture, and a soft patterned rug was dropped onto the deck for the occasional downward dog.
17. Rustic Meets Bright and Modern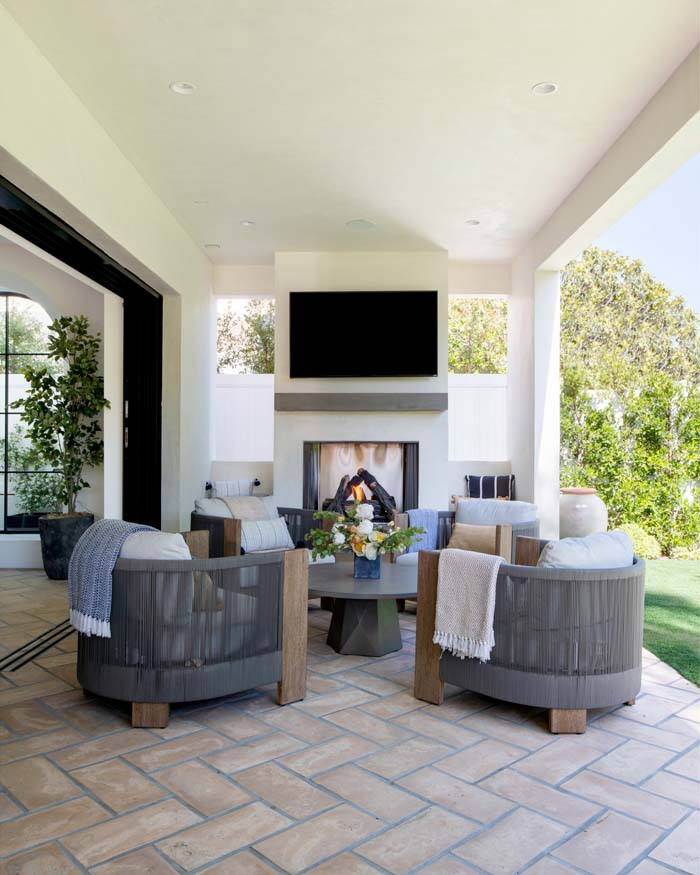 If you like cushy chairs but not the heat, check out these semi-circular pieces made from rough wood and metal. The screens allow breezes to flow through easily.
Recreate this patio using pavers or poured concrete that's been stamped and dyed. Recessed lights are a high-end touch in a covered patio.
18. Boldly Basic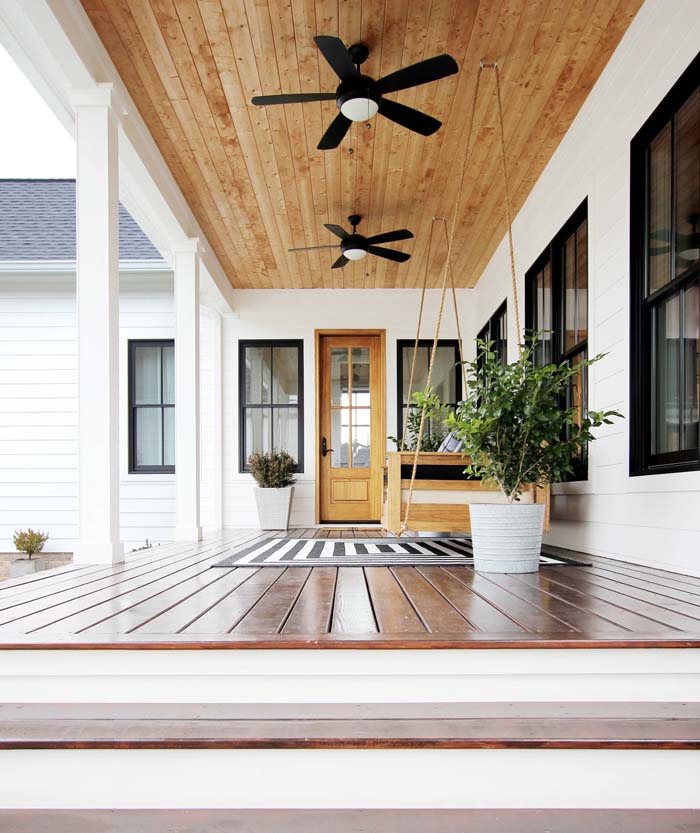 If you're looking for a porch design idea with more visual interest but without too much color, change up your deck by using a stain with a semi-gloss or glossy finish. It's a quick and affordable porch makeover.
The suspended daybed/porch swing blends in seamlessly with the color of the ceiling. A bright black and white graphic area rug adds interest while staying within the neutral color palette. The black and white ceiling fans put a stamp on the style.
via Plank & Pillow
19. Add a Spa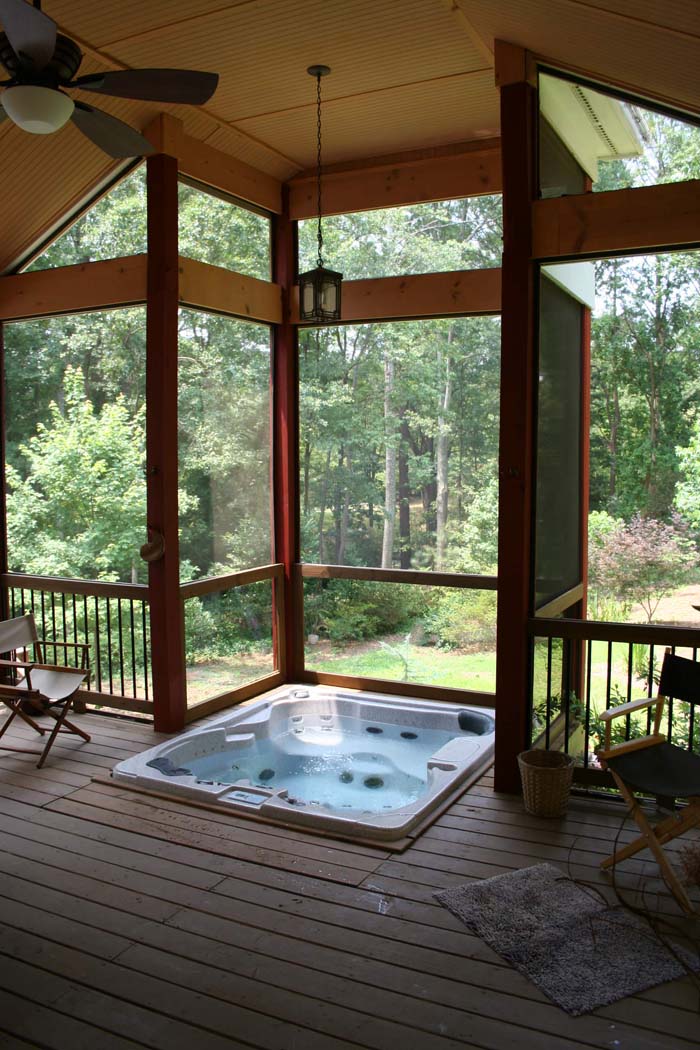 When it comes to decorating a deck, screened porches give you more freedom. The homeowners designed a deck with a hot tub dropped In so that it's level with the deck.
The porch railings and balustrade were modified, so anyone sitting in the tub has an unobstructed view.
20. Minimal and Multi-functional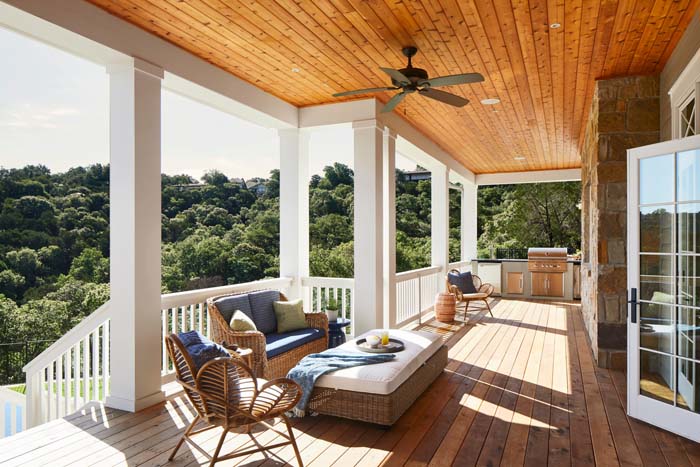 Keep your deck uncluttered by choosing furniture that does double duty. The long ottoman can be used for propping up feet, or used as a coffee table.
The Rattan patio chairs can swing around and enjoy the view after the direct sunlight has passed over the roof.
21. Farmhouse Fresh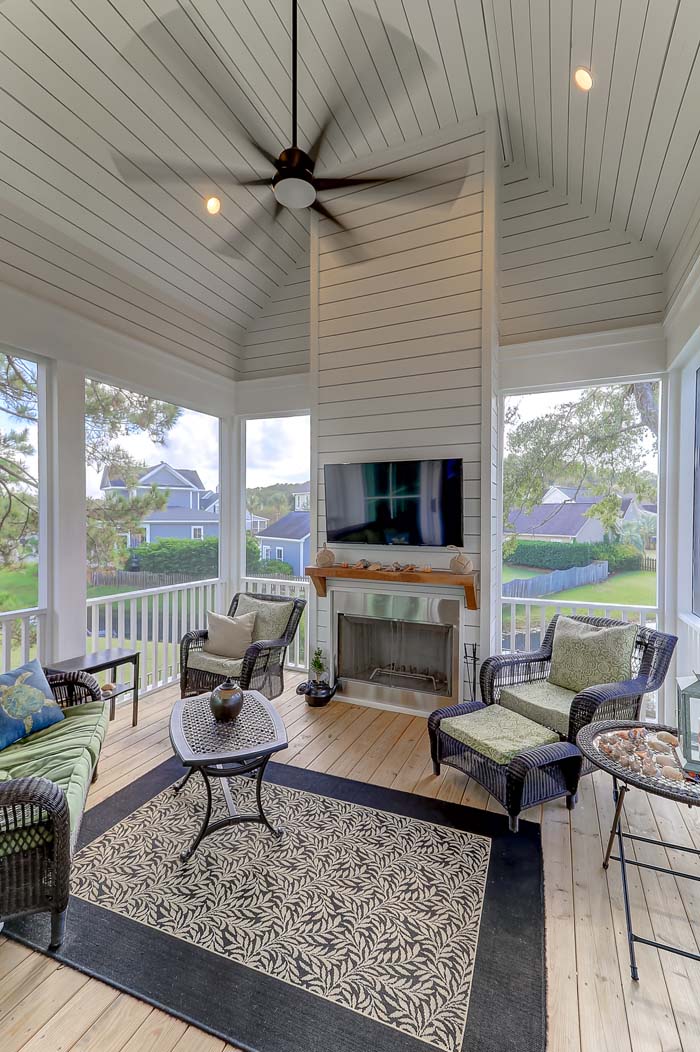 This porch works as a relaxed blend of contemporary furniture with modern farmhouse touches like the area rug. The fireplace would be considered modern if it weren't for the natural edge mantel.
The shiplap overmantel can be seen in many modern farmhouse living rooms.
22. Add a Pass-Through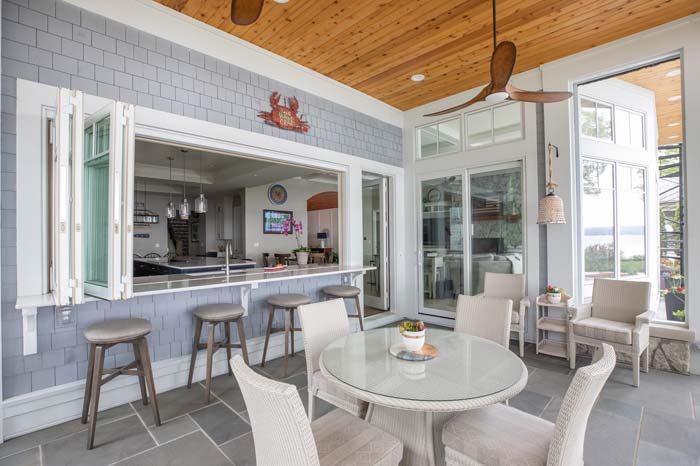 An enclosed porch has a vintage wall lamp and some coastal touches. Its biggest advantage is the four-person bar with access to the bar.
It doubles as a pass-through.
23. Transitional Delight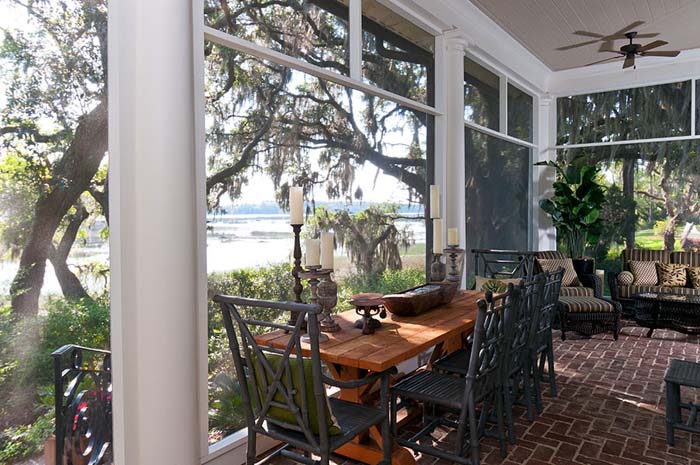 Nothing brings the outdoors in like oversized windows. Everyone at the table gets an unobstructed view through the screened porch.
The transitional brick patio is properly dressed with a distressed wood table and metal high-back chairs with an art déco motif.
24. Touch of Gray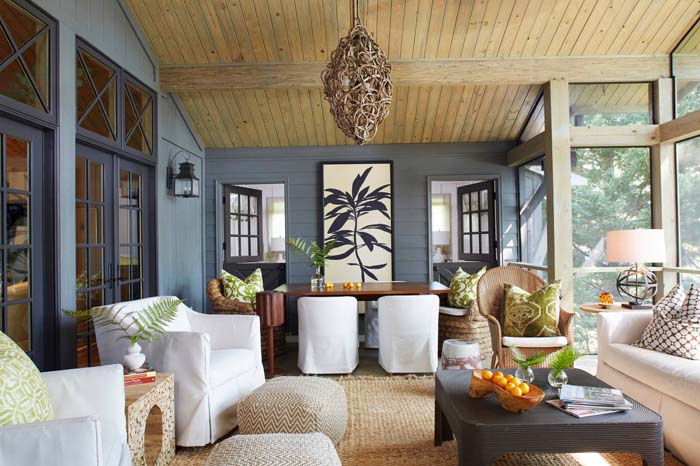 A gray wall brings a calm, relaxed feeling to this porch. Other points of comfort are the white slipcovers, natural grass rug, and fabric pouf ottomans.
The organic feel keeps going with natural wood framing between the seating areas, hanging lamp, and botanical green motif spread throughout the two spaces.
via Studio C Architecture & Interiors
25. Softened Lodge Patio Idea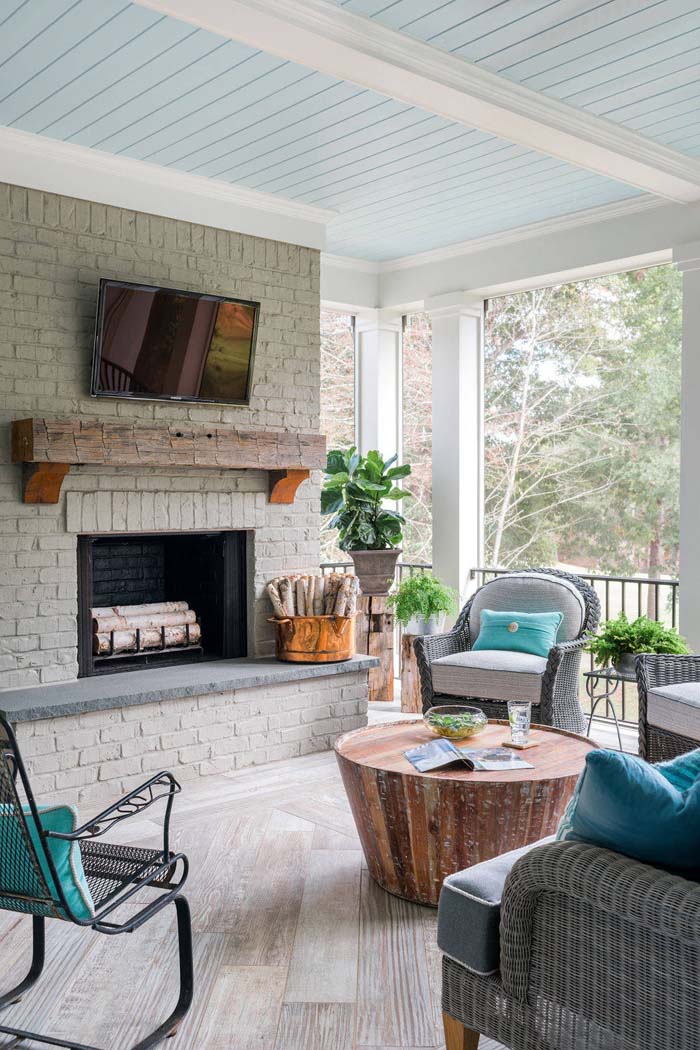 Get the rustic vibe without having your porch feel like a hunting lodge.
The ceiling is painted a pale blue. The brick fireplace and rough-hewn mantel are must-haves, but are brightened by painting the brick sage.
The look is further softened with a floor of bleached wide planks set at an angle. Rattan chairs with soft cushions and blue pillow covers add a modern nod to the space.
via Webber Development & Construction
26. Bringing Culture to a Back Porch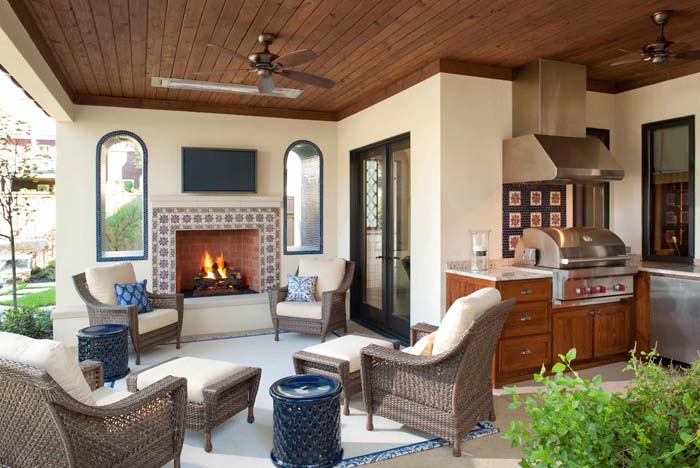 Arched windows with thick openings, blue Moroccan style side tables and decorative fireplace tile add culture style to this patio. If you want to change out your fireplace tile, try a stencil first.
Paint over the old tiles and experiment with different patterns
via Phillip Jennings Custom Homes
27. Put the Chic in the Shabby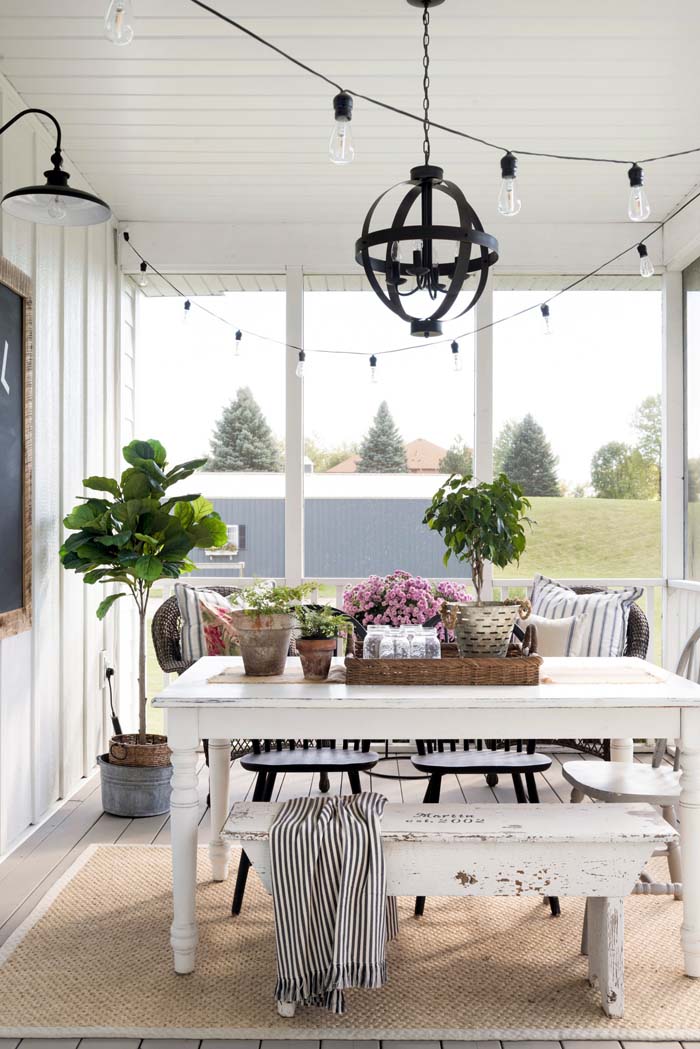 Start with white walls and ceiling over a gray deck. Put a repurposed farmhouse work table on top of a sisal rug. Set a distressed bench on one side and Windsor chairs on the opposite side. This gives you the base for a great look.
Bring in the lights with an iron hanging lamp, barn lights, and a string of bare patio bulbs. Wicker seating is at the back. Make it chic with striped throw pillows and a table topped with florals in a woven basket tray and terracotta planters.
via Beautiful Chaos Interior Design & Styling
28. Bring in a Beautiful Area Rug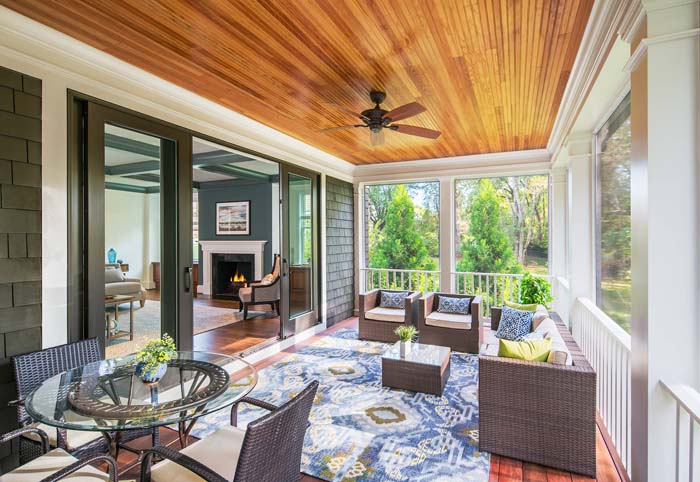 A three season porch gets an upgrade with a graphic print area rug. Connect the look to basic modern patio furniture by replacing the beige seat back cushions with graphic blue throw pillows.
The porch looks grand with wide moldings and a light stained ceiling. The full-length sliding doors are flanked by exterior shingles that become wall decor.