Spend more time outdoors at a place you love- your patio! Make it comfortable for a quick morning coffee or a night out with your family and friends.
Stop scrolling the furniture stores on the Internet. We have another idea for you – DIY furniture ideas that will satisfy your expectations and needs.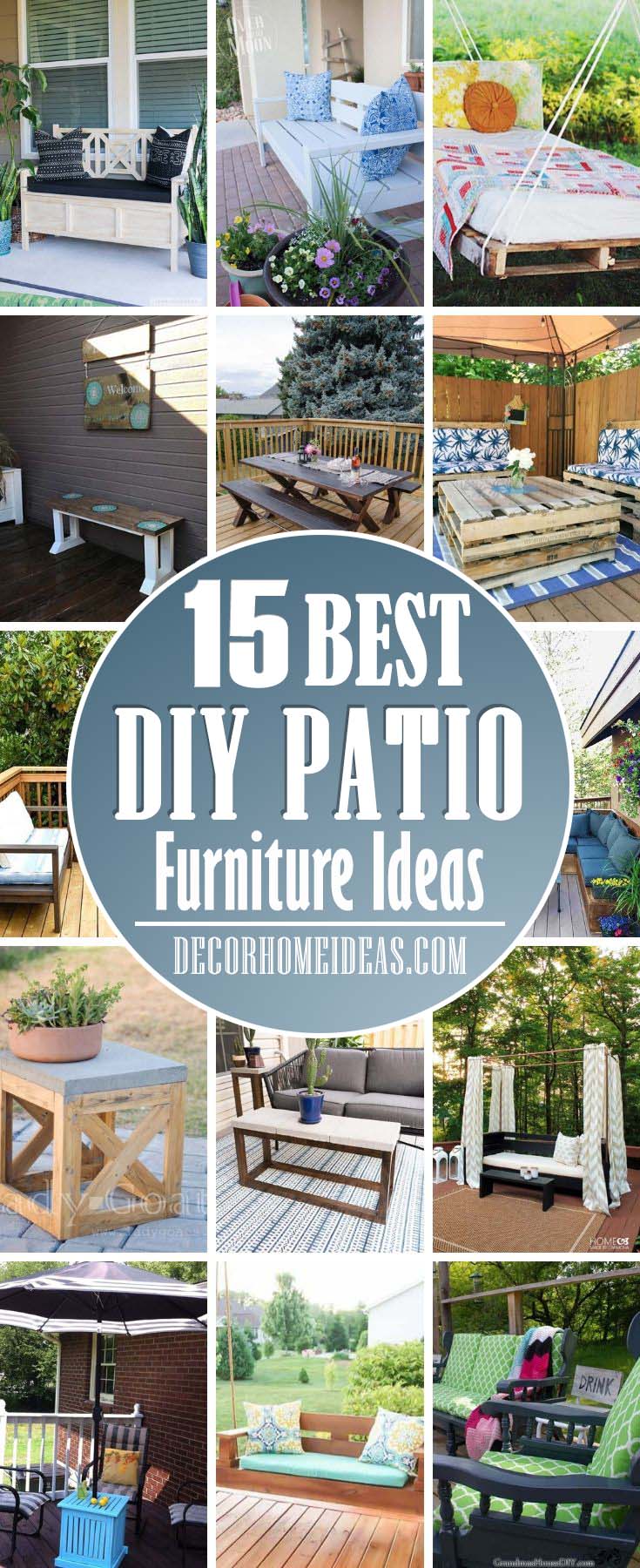 Choose an idea, do it and enjoy the time under the sky sitting or lying in your hand-made patio furniture!
The list below exhausts the best patio furniture ideas which are affordable and doable even by a beginner in hand-made projects. Make sure to read the instructions and don't forget to add your personal touch.
1. All-Weather Concrete and Wood Patio Table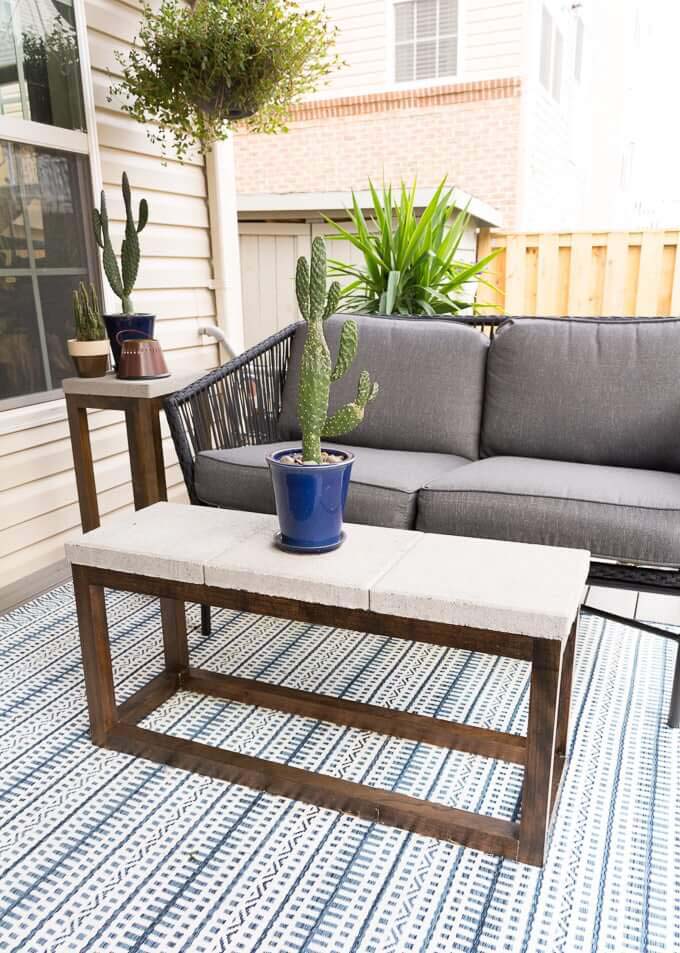 If the sitting furniture at your patio takes too much from the deck, then you need to consider a really small table that will yet be useful and not just another decoration.
With the help of some pine posts and three pavers, you will mix and match rustic and industrial supplies to make an interesting patio table.
2. Beachy Natural Wooden Benches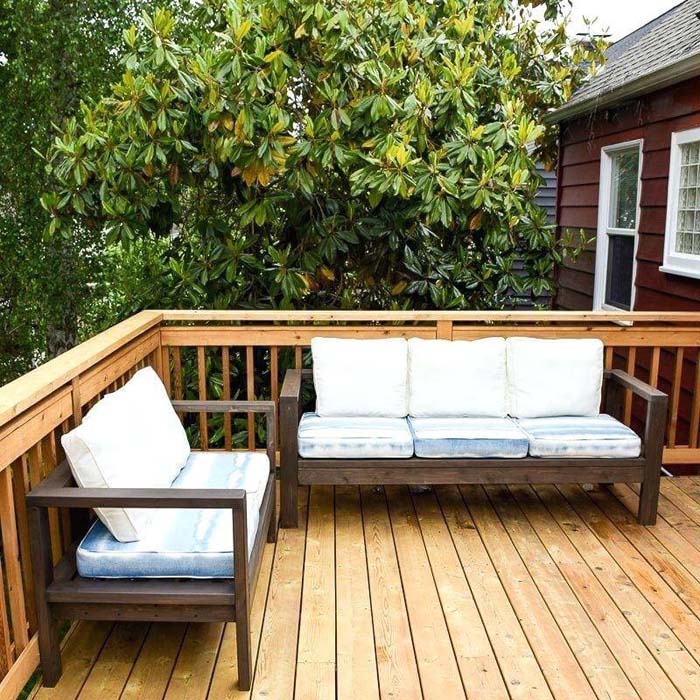 The price for making this total set is under $200 and it can comfortably accommodate 5 adults!
The design of the sofa and the loveseat is simple and with modern lines so that makes it suitable for almost any taste. Add soft cushions in the design you like.
3. Beautiful Mandala Painted Décor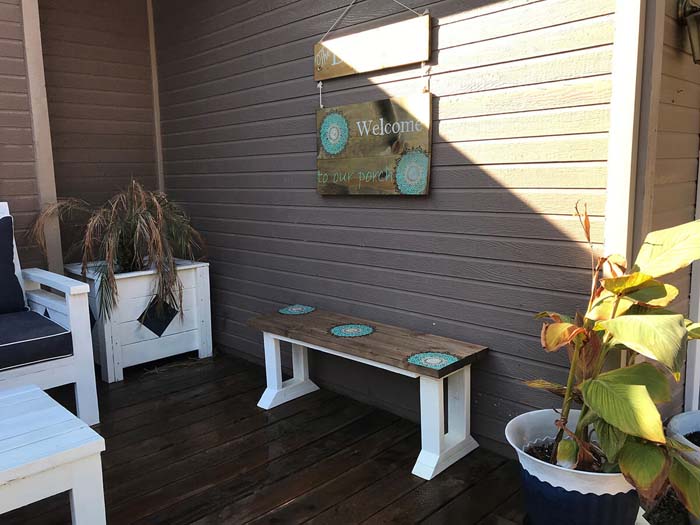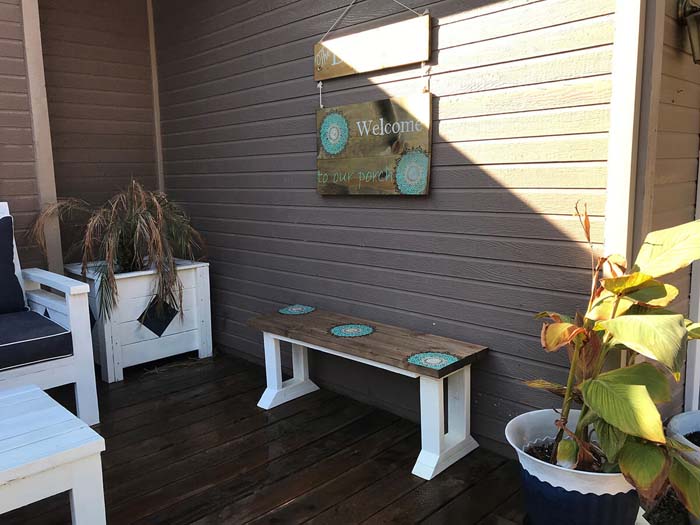 Benches are not that comfortable but they are perfect for extending the sitting area to an already furnished patio. Another advantage they give is that they don't take up too much space.
Since the bench is on-and-off sitting furniture, it is clever to decorate it with mandala signs so that it beautifies the area while unused.
via Pinspired to DIY
4. Bright and Sturdy Crate Umbrella Stand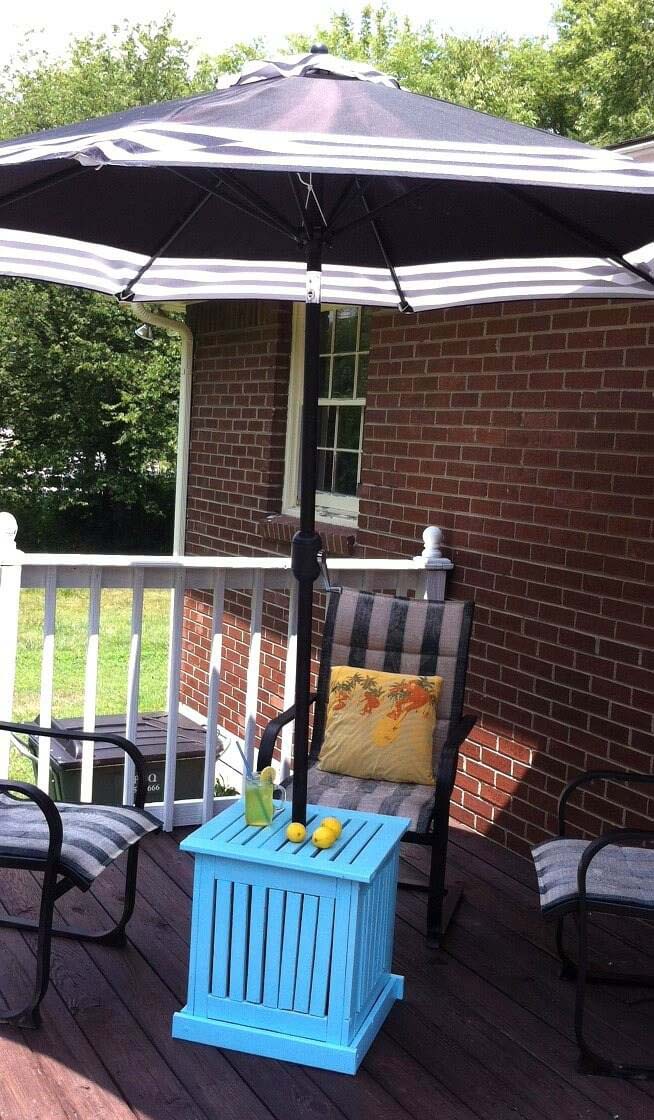 Umbrella stands are quite expensive so it is worth making one.
Making it is quite easy and the best of all is that you can use it also as a table in case you haven't decided on one.
5. Cabana in the Backyard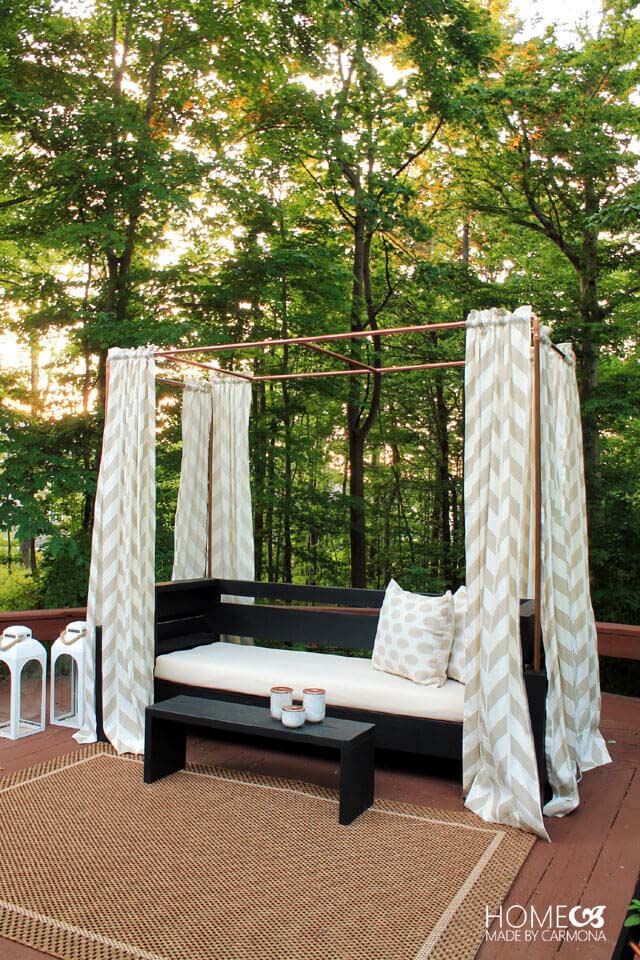 Elegance is never too much. Combined with the warmth of the copper, this DIY copper cabana will make any patio furniture a desired private place.
The needed supplies are copper pipes and T-fittings, some lumber, curtain rods and fairy drop cloth.
6. Classic Patio Bench for Two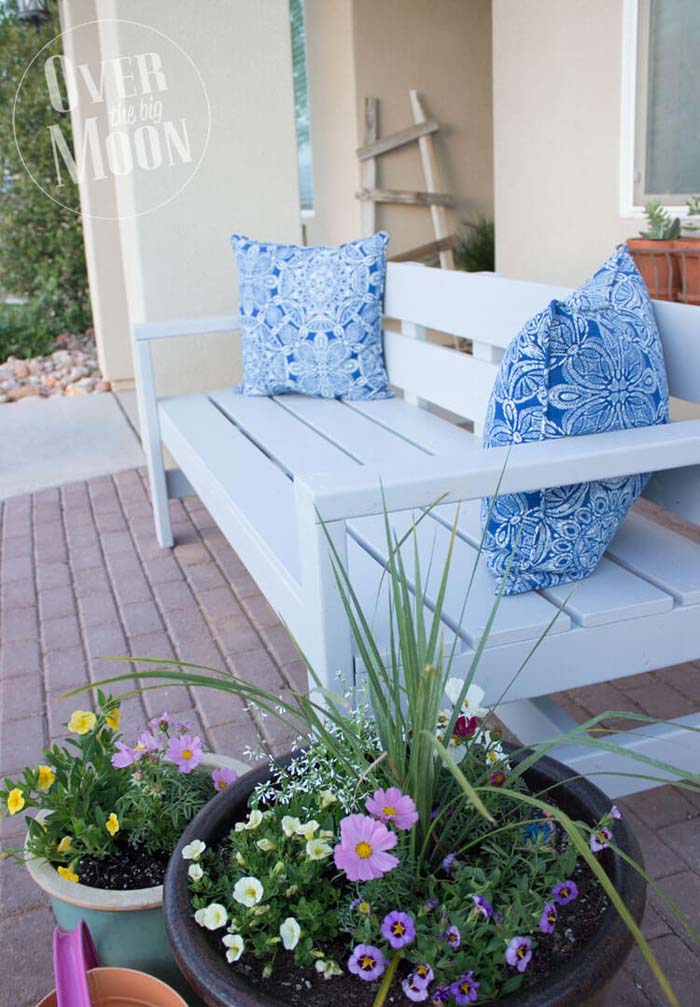 Made within only a few hours, this bench design is very comfortable as it is big enough, stable and with a back.
It can be located further from the sofa of the patio and be used as auxiliary furniture when needed.
7. Delightful and Dreamy Swinging Pallet Bed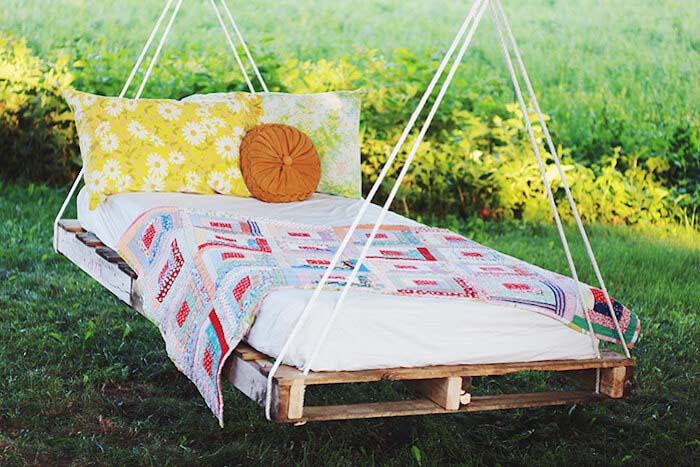 The swing bed must be a dream come true for every woman. Luckily this DIY swing bed is easy to make and it requires only basic supplies like wood pallets and rope.
Its size is to fit a twin bed mattress so the quiet nights can be pleasantly spent swinging with the beloved person.
8. Designer Style DIY Patio Table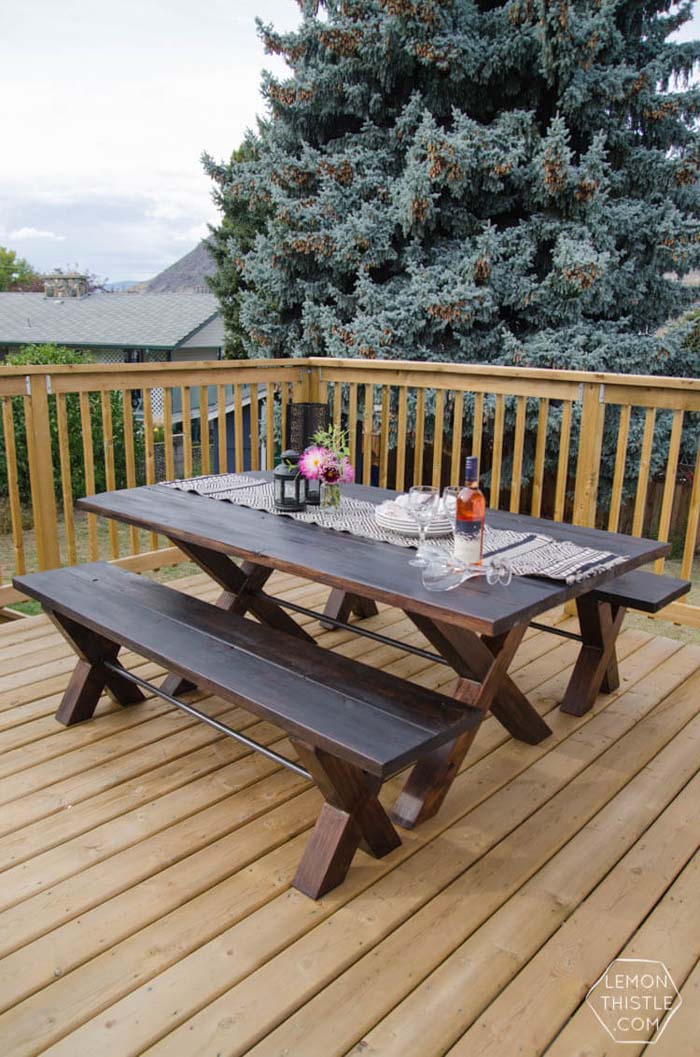 It's not only the sitting furniture that makes the time spent outdoors more qualitative, the table is also of the same importance.
It is important that it is of suitable high, has a large surface to accommodate dishes and drinks for at least two people and be made of massive wood to last in time.
via Lemon Thistle
9. Large Sectional Perfect for Outdoor Hosting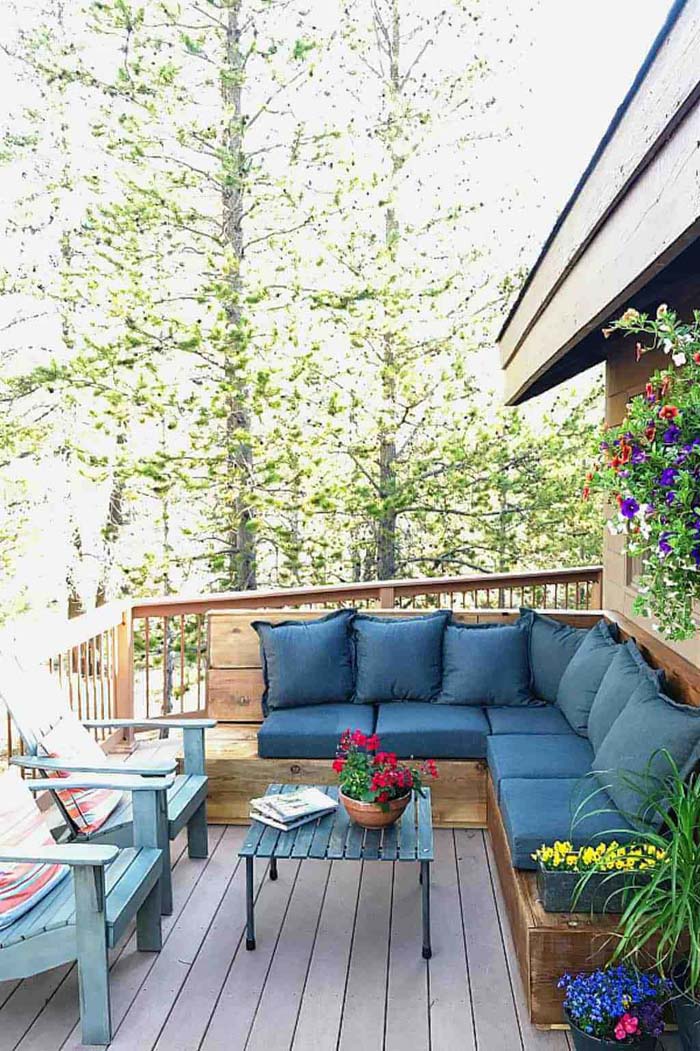 One of the basic rules you can trust when furnishing a space is to get a sofa that follows the geometric shape of the space.
Thus you get the maximum number of seats and optimize the space. This large sofa follows this conception and is perfect for both small and big patios.
10. Light Wood Cushioned Storage Bench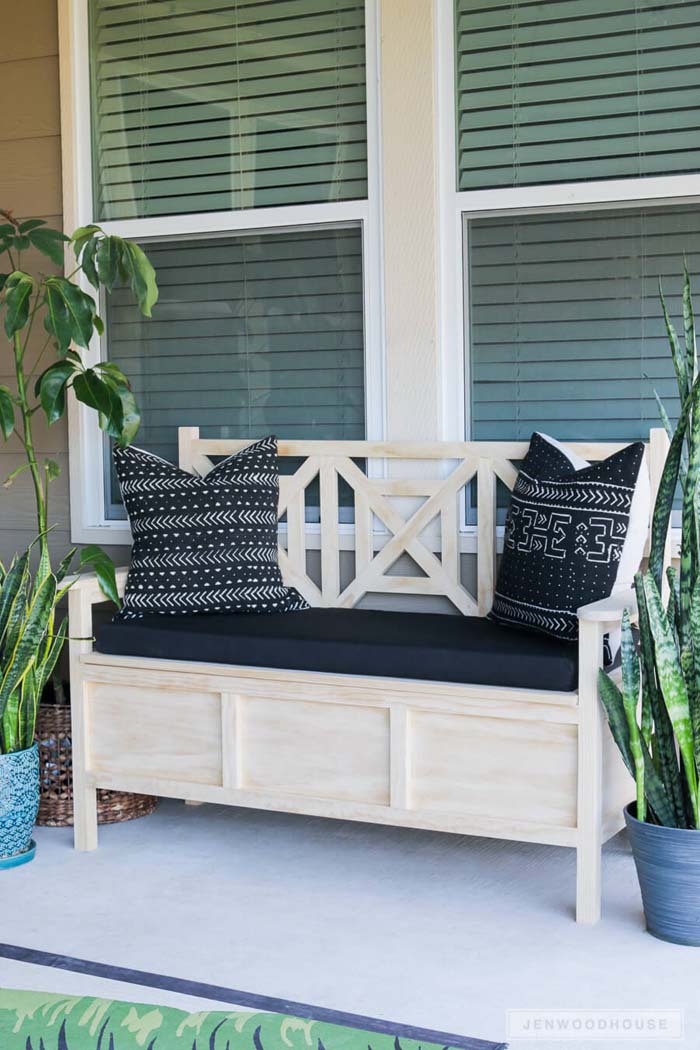 Making this bench will be the jackpot for your patio as it combines all of these features: designer look, large storage area and comfortable sitting area.
Decorate it with thick cushions which you can easily store under the seat.
via Jen Woodhouse
11. Pretty Pallet Outdoor Living Set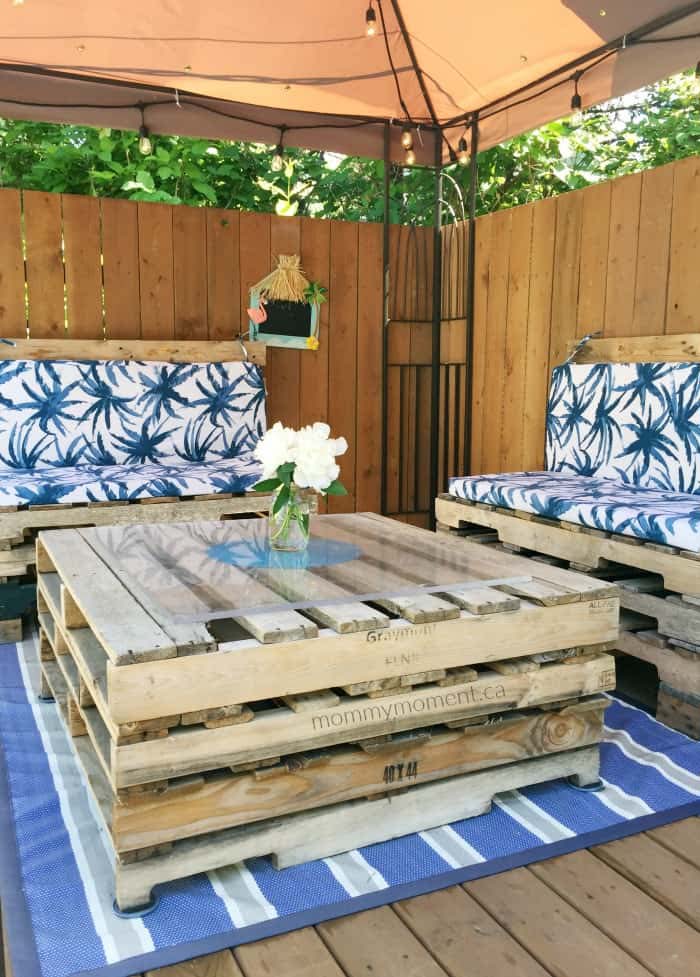 Pallets are among the most affordable and easy to work with materials so choosing them for the outdoor furniture is never a mistake.
You can make the size of the sofas and table to fit your own patio. Read the article below for tips, basic steps and inspiration.
via Mommy Moment
12. Refined and Refinished Classic Furniture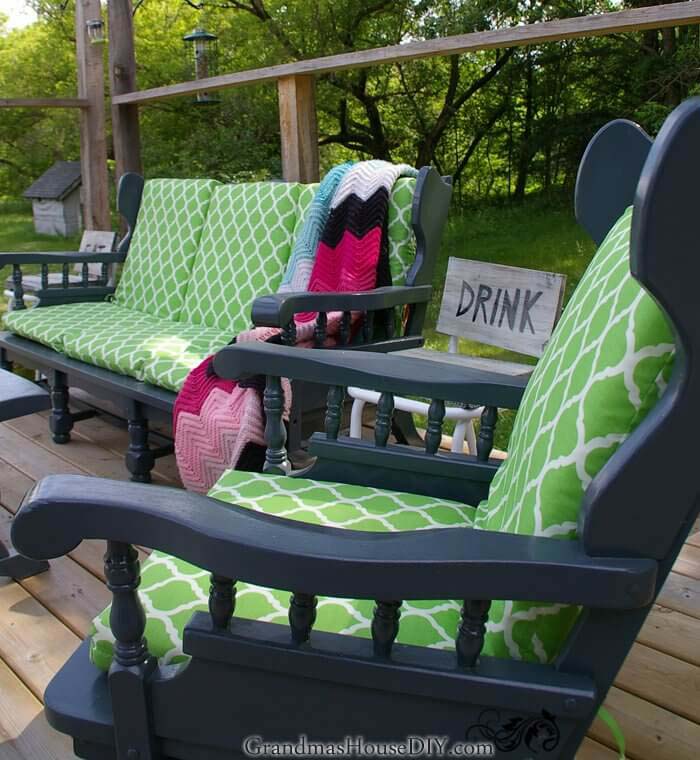 If you see old furniture on sale, don't miss it as it can be turned into great outdoor furniture only with a bit of refining and re-painting.
You won't believe how much it will change by applying a new paint coat and bright cushions.
via Grandma's house
13. Relaxing and Picturesque Porch Swing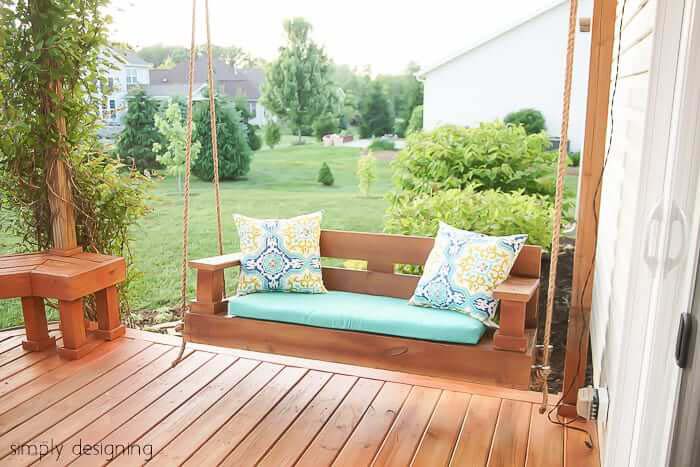 A swing bench will always find its place on the patio. It doesn't take up much space and at the same time will transform the patio area in a romantic way.
There are free material lists and plans for how to make yourself this cozy swing on the link below.
via Simply Designing
14. X Marks the Spot Square End Table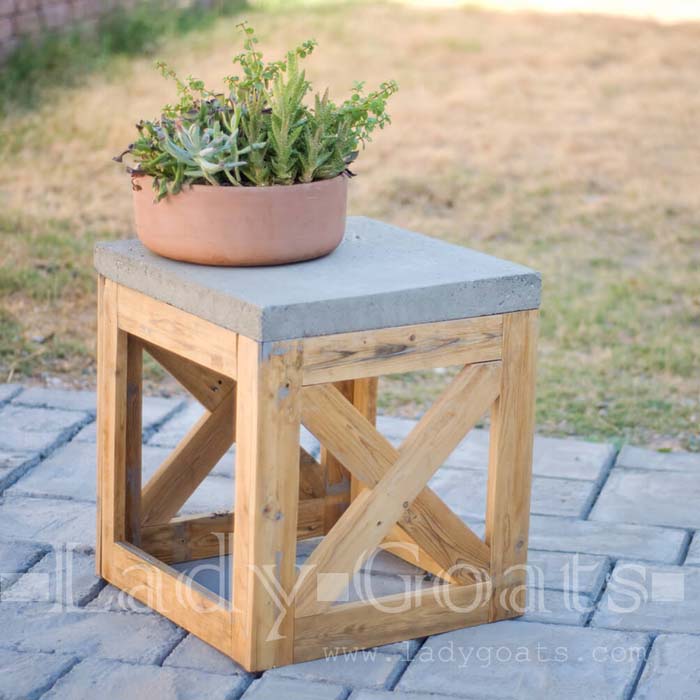 This small piece of furniture can be used as a stool, as a side table and as a decoration stand. You can make as many of these as you like and use them according to the occasion.
If you have guests, take the flower pots down, asking two of them next to each other and the table has been secured.
via Lady Goats