It isn't surprising that the slogan of the company Leisure Season is 'transforming outdoor spaces'. Their ideas for outdoor furniture transform your regularly looking yard into a luxurious spot, allowing you to spend your free time qualitatively.
One of their best selling products is the swing bed with canopy.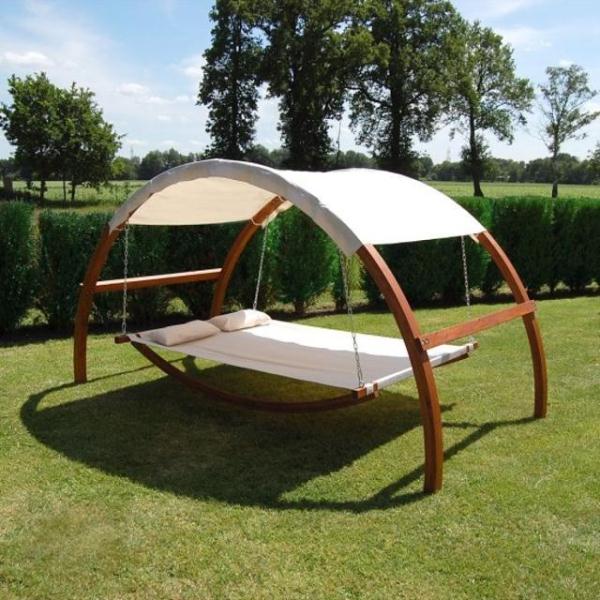 Although a piece of outdoor furniture, the swing is made to standards that ensure the comfort of a conventional indoor bed. That swing will give you the opportunity to breathe fresh air and enjoy the surrounding nature while truly relaxing.
What's the best thing about it?
What will you get if you buy that swing bed? Indeed that would be one of your most valuable acquisitions since it combines designer's approach, quality materials and range of characteristics for optimal usage.
The canopy cover of the swing bed protects from the sunlight so you can stay outside as much as you would like to with no fear from the ultra-violet light. If you would rather prefer to sunbathe, you can take off the cover and enjoy the direct sunlight soaking through your skin.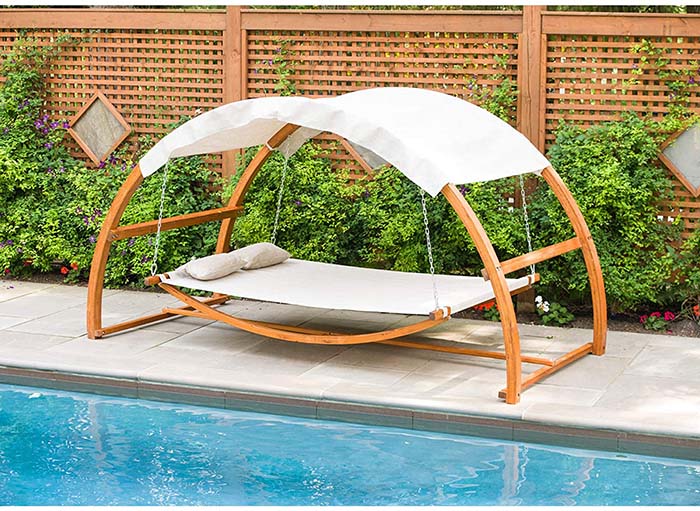 Check availability and price: HERE
The height of the hammock can be adjusted. If it is used by two adults which is the maximum load it could take, we suggest that you adjust it at a lower level. If you are using it on your own and you would like to get the most out of it as a swing, adjust it at a higher point.
The two pillows which are part of the swing bed set are very comfortable and additionally contribute to the relaxing feel as lying in a real bed.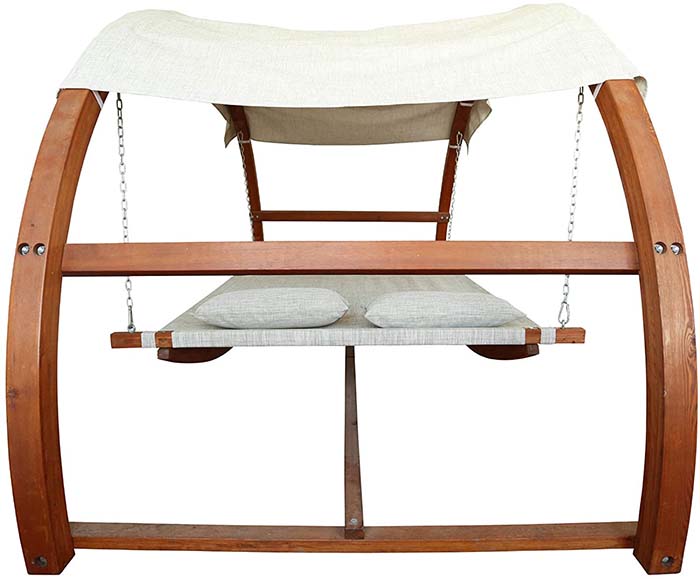 When you consider buying this awesome product, you would probably be also interested in the material used. The manufacturer has considered making this bed a highly resistant product to the outside environment which will definitely prolong its lifetime.
This getaway hammock is made of natural materials that are solid and resistant to ambient temperatures and conditions. Although the swing bed looks very modern, it does provide the swinging effect of the standard hammock.
What distinguishes it from the plain hammock is the solid hardwood frame in a stylish curved line; the canopy that is highly respected for usage for outdoor furniture in the past decades and which is stretch-resistant.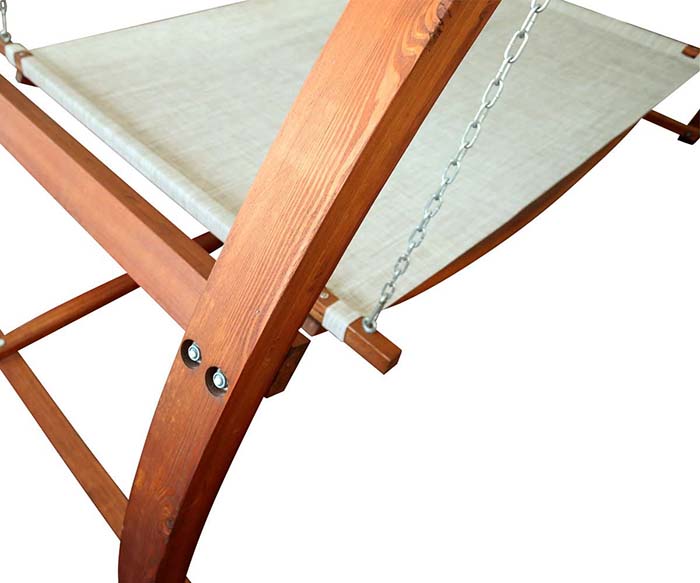 The relaxation surface is made of Texteline and is complemented by two bolster pillows that will immediately take your cares away. We must note that the lying surface is resistant to moisture rot or mildew so you shouldn't take any special care for preserving it. It can fit well in your garden or on your terrace as long as you can provide free space with dimensions 126″W x 63″D x 69″H. 
This piece of furniture is so elegant that you can easily place it even in your house. You will define a relaxing indoor swing area where you can spend the nights reading after a busy day at work.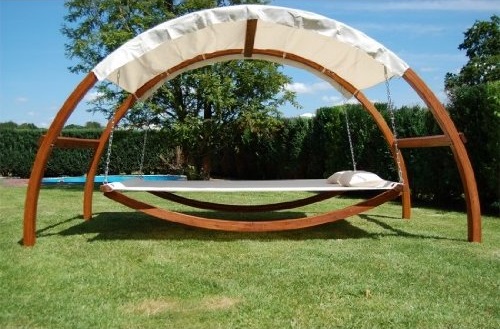 Have we convinced you in buying this product? You will never regret it! This is one of the best outdoor products you should invest in! You would have a stylish piece of furniture that will help you recover from the craziness of the every-day life.
Leisure Season is providing detailed instructions on how to assemble the swing bed with canopy yourself. It wouldn't take much to fit the parts together. Once you receive your package, you would be approximately 60 minutes away from experiencing the best outdoor swing ever!
You can check full specs and details here: Swing Bed With Canopy