It doesn't matter how small your bathroom is, every bathroom needs a dedicated piece of furniture to hold towels, beauty essentials and necessities.
Bathroom shelves are usually corrosion-resistant and functional. Another obligatory feature they must offer is appealing look matching the existing interior because they are visible and among the few items placed in the bathroom.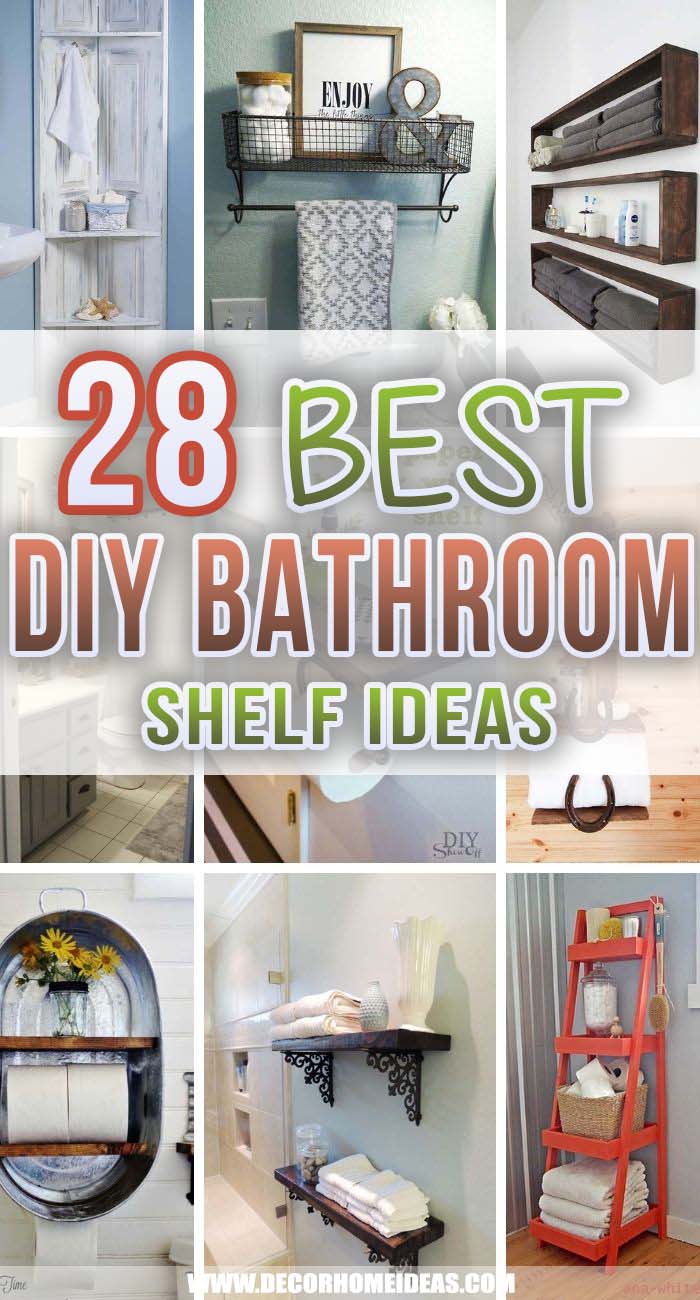 If you are searching for unique, DIY bathroom shelf ideas, no need to further look. There are solutions for every style of bathroom that help with the decluttering and take care of your budget.
1. Build Hand Towel Rack From Vintage Egg Basket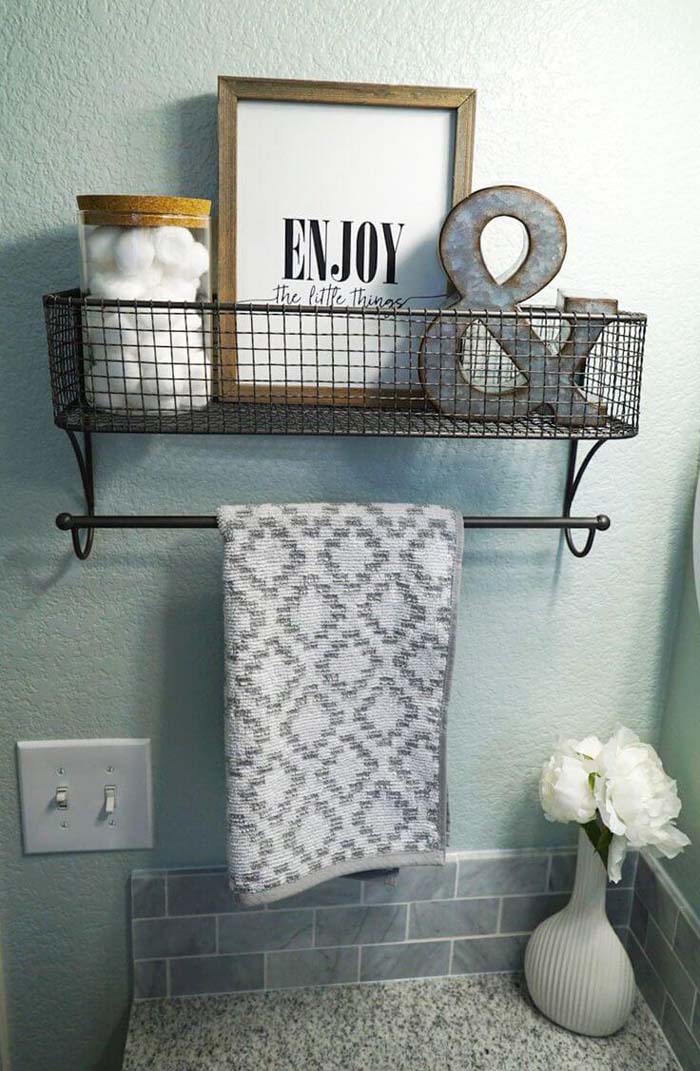 Add a warm farmhouse touch to your bathroom to act dually as a décor accent and as a practical storage area. This egg basket shows signs of age with the rusty spots on the wire.
This is not an issue at all because smaller containers are put into it to protect the stored anyway.
Added wrought iron rod at the bottom functions as a towel holder- the towel can "breathe" and you can access it easily.
via Hello Hayley
2. Wooden Window Shutter Becomes Extra Towel Rack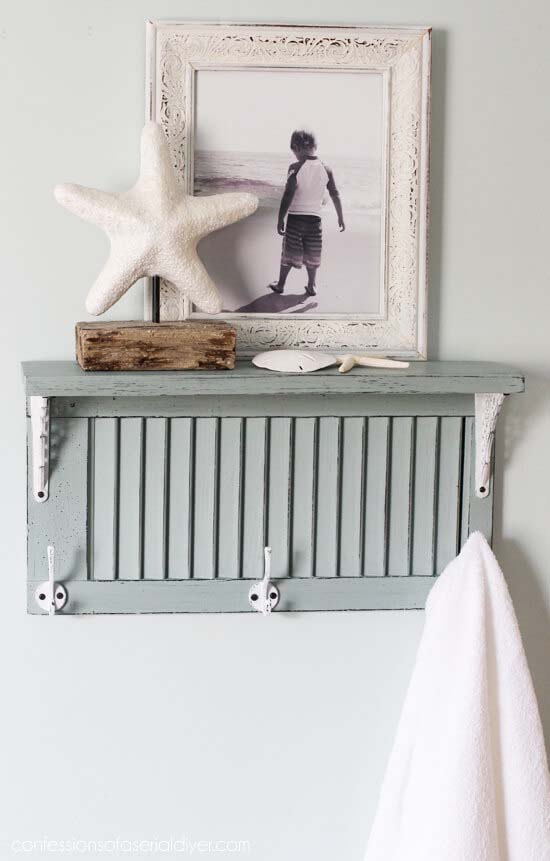 This DIY shelf idea is probably one of the greatest shutters upcycle projects. Its original dark stain color is covered with a coat of coastal milky grey.
Subsequent sanding of the edges lets the aged look of the wood be visible.
An additional piece of scrap wood is added to form the actual shelf for storage, wrought iron corbels to assemble the wood pieces together and plain white hooks for towel storage.
The nautical colors of the shutter shelf match the ocean-inspired decoration which altogether makes the bathroom very welcoming.
via Confessions of a Serial DIY-er
3. Turn a Bifold Door Into a Corner Shelf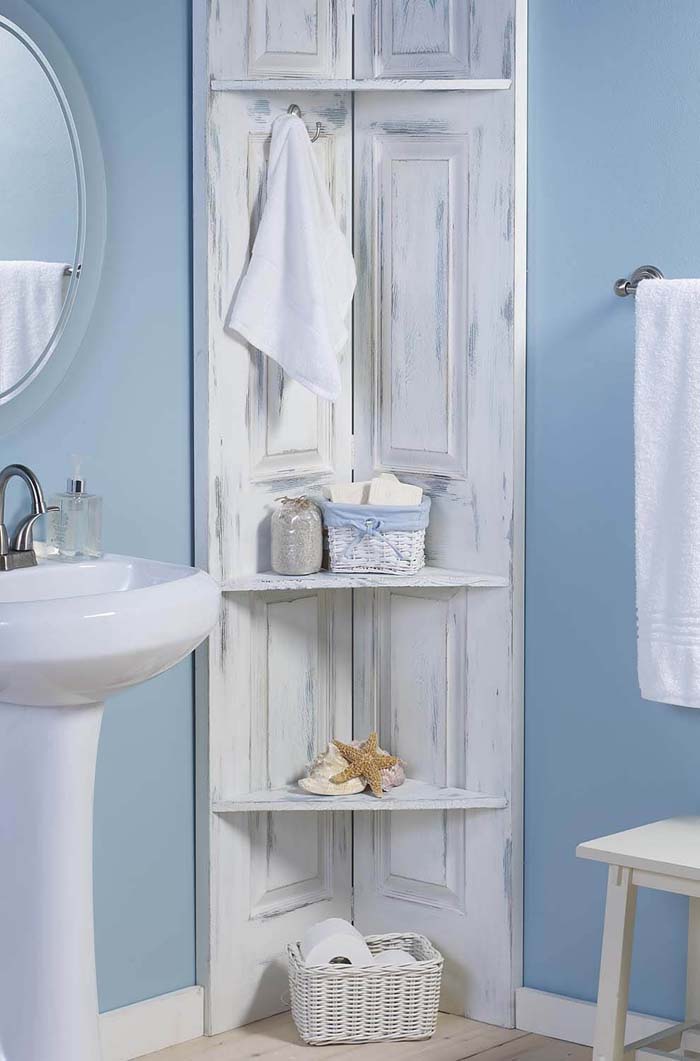 If you are looking for an extra storage space in your bathroom that is space-saving and appealing, try this functional DIY bathroom shelf unit.
The calming blue color of the bathroom is the perfect backdrop for farmhouse accents, hence the newly added corner storage shelf unit is given an aged farmhouse look.
Two pieces from a carved wooden door are assembled tightly in the corner to act as a support for triangle shelves. They function as storage places for nautical accents and bathroom essentials.
via Home Depot
4. Build Shelves With Reclaimed Wood and Pipe Fittings

The combination of rough black industrial pipes and weathered but warm wooden boards makes this DIY bathroom shelf unit perfect for a farmhouse-inspired or modern-inspired bathroom interior.
These materials also ensure a sturdy and compact design that can be added to an empty part of a wall close to the main activity spots such as the vanity sink, the toilet, or the shower.
5. Floating Mirror and Shelf Project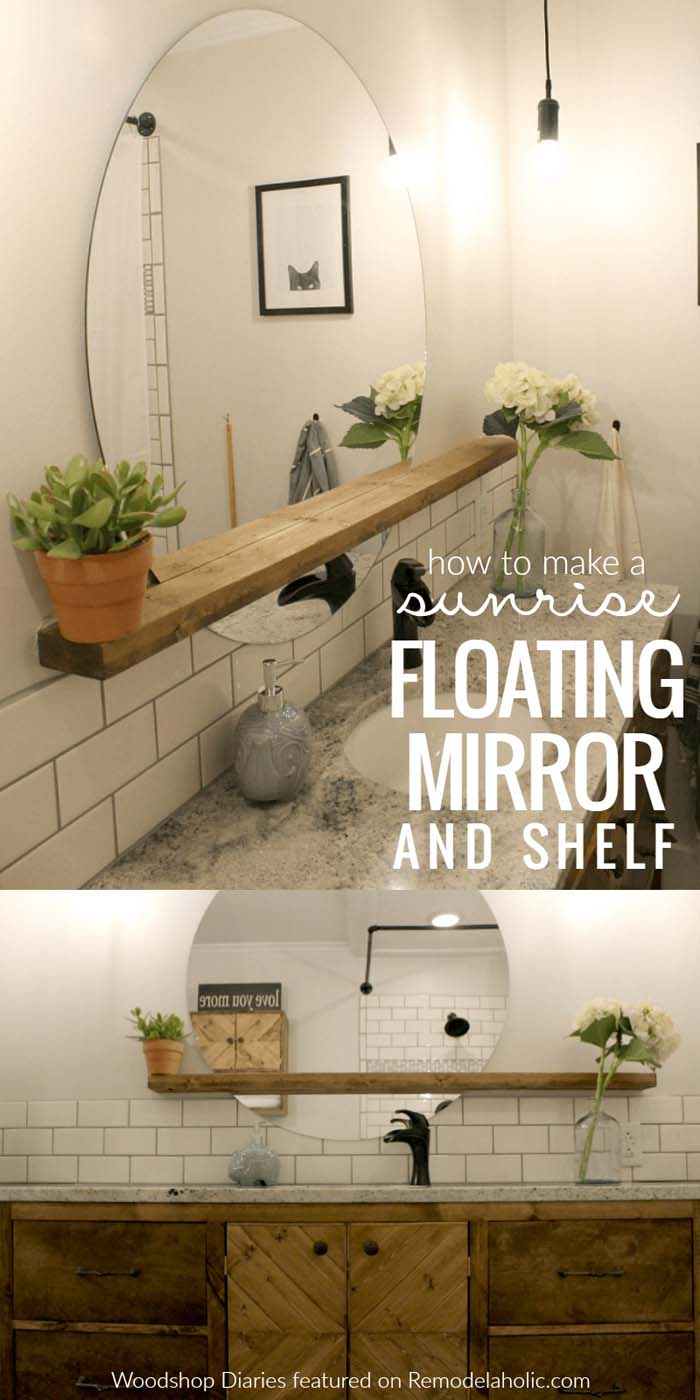 Even basic bathroom items can look expensive and unique with some easy modifications or updates. This plain round mirror is an appealing example of that being turned into a reproduction of a sunset landscape with one simple trick.
28 Best DIY Bathroom Shelf Ideas To Keep Everything In Perfect Order video:
A slot has been cut in the solid wood shelf that was originally planned to sit below the rim of the window frame (which was never mounted) where the mirror goes through partially and then sits securely fixed.
via Remodelaholic
6. Crown Molding Floating Shelves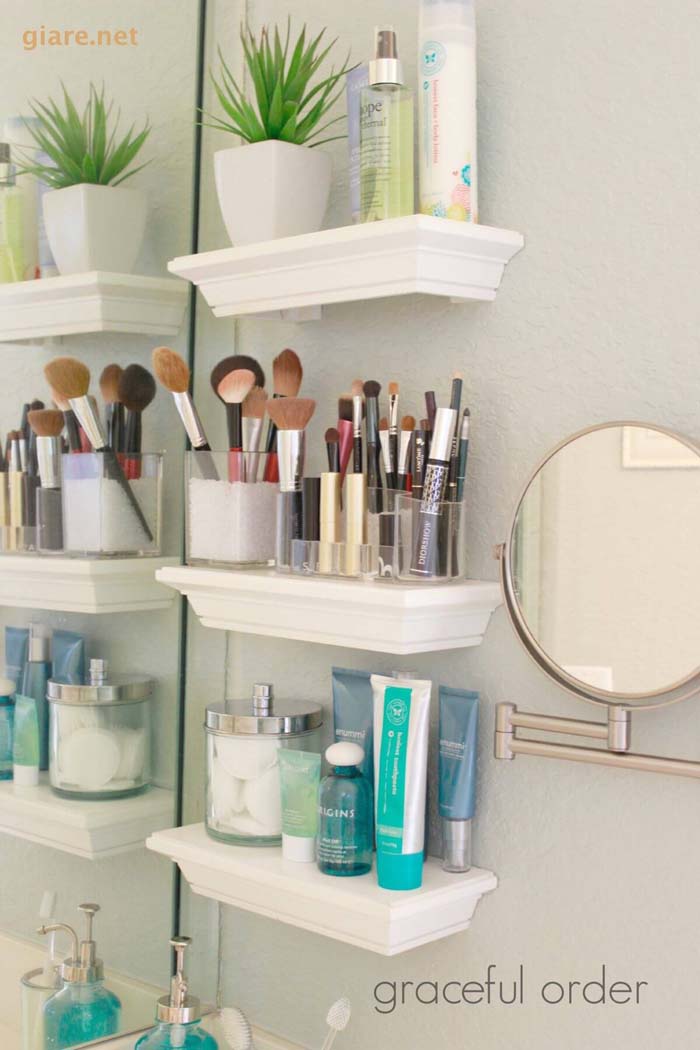 Narrow rectangular shelves in white are attached to the wall next to the bathroom vanity to accommodate cleaning products.
The shelf set takes up very little space and doesn't overwhelm the space. The open design is another advantage letting the homeowner easily find and grab the needed items.
via Graceful Order
7. Wall Mounted Shelf From Pallet Wood

One of the easiest and quickest DIY ideas for a shelf is to simply mount a pallet on the wall. Depending on the existing décor of the room, you may want to give the slats a weathered look or a fresh coat of paint.
Added slats to the feet of the pallet from the shelves where small bathroom necessity items can be placed.  
via Remodelaholic
8. How to Mount Toilet Paper Holder Anywhere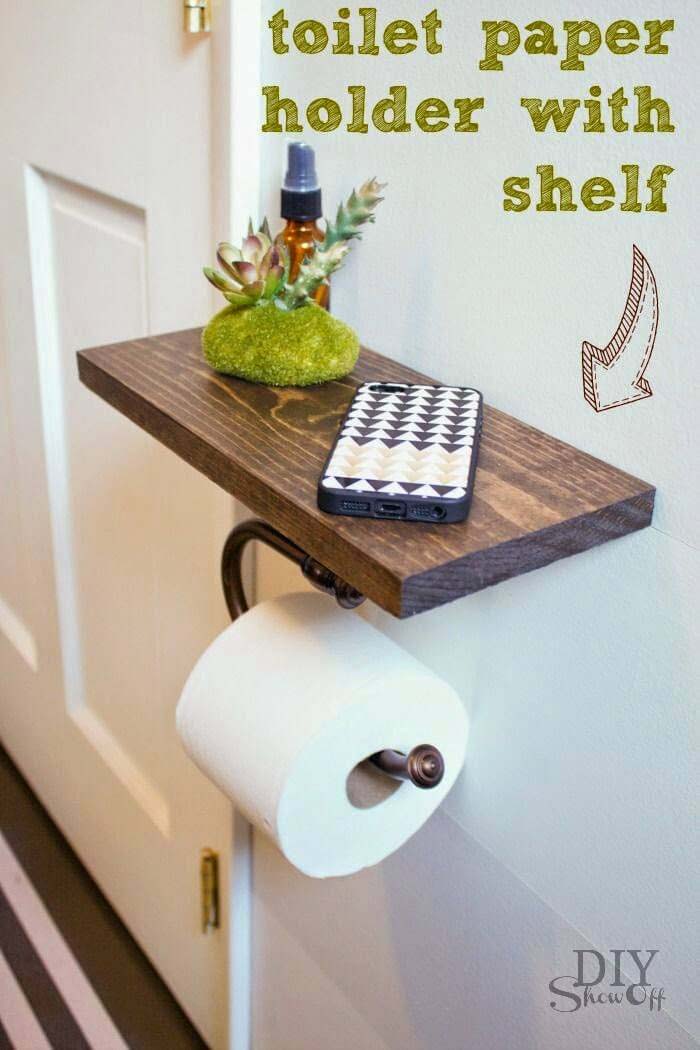 This is a toilet paper and a shelf combination that is perfect for tiny bathrooms. It is made of a reclaimed piece of wood and a decorative pipe.
The shelf can store a small towel, a fragrant or simply your phone for some time.
via DIY Show Off
9. Multipurpose Shelf From Galvanized Washtub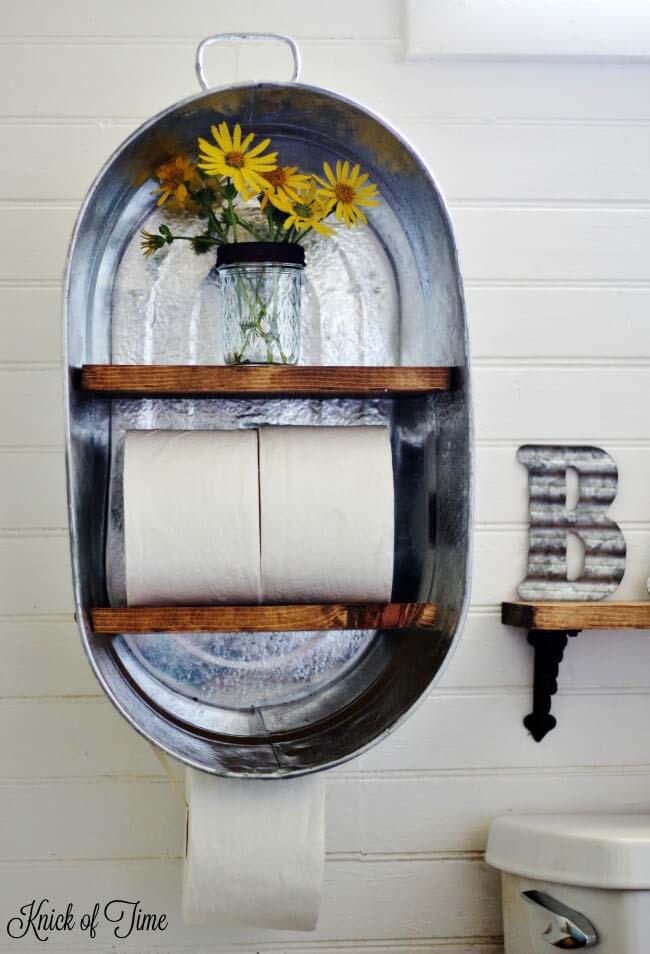 This inspiring shelf unit offers farmhouse beauty and functionality acting dually as a toilet paper holder and storage place.
The shape of this galvanized tub allows mounting of two wooden shelves cut to fit inside it. The section below the lower slat can be also practically used for the storage of one or two hand towels.
via Knick Of Time
10. Repurpose Painter's Ladder as Shelving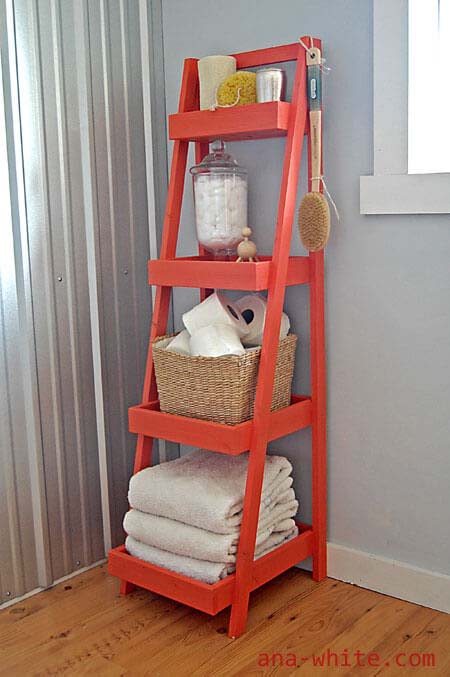 Ladders repurposed into storage units are usually used in smaller spaces as they offer elevated storage and cover only a small part of the floor.
This idea features how an old ladder can be upgraded to a rigid and comfortable storage shelf unit in the bathroom.
It is always a good idea to use such unique or repurposed items also as an accent in the décor so be brave and apply a coat of bright paint on the surface.
via Ana White
11. Turn Produce Crates Into Shelves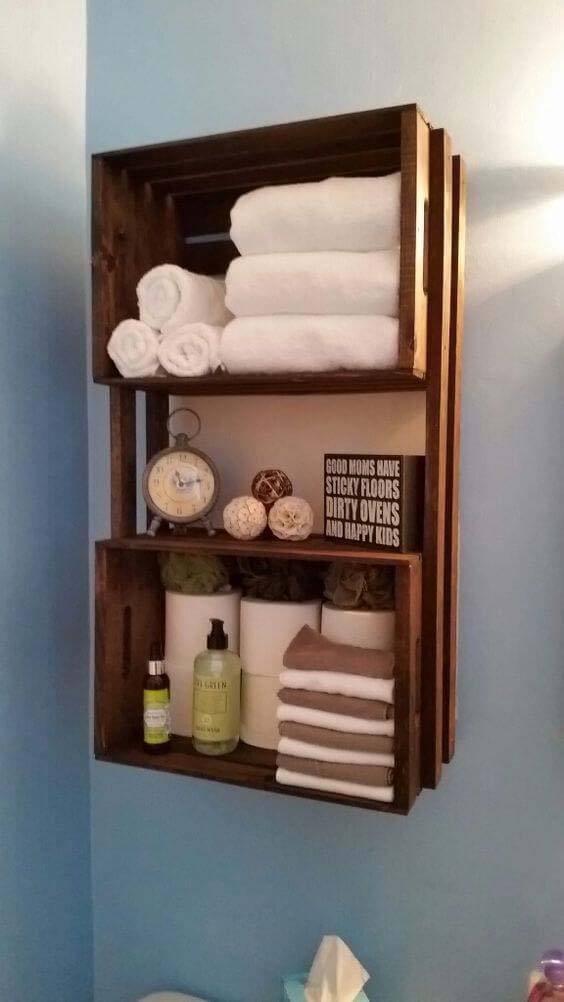 When you want a farmhouse touch to your modern bathroom with no risk of overwhelming the space, go for this crate idea.
The crates are brand new with a smooth stained surface. They are mounted to a frame with a wooden board filling which makes attachment to the wall easy.
12. Cabinet Storage From Antique Public Towel Dispensers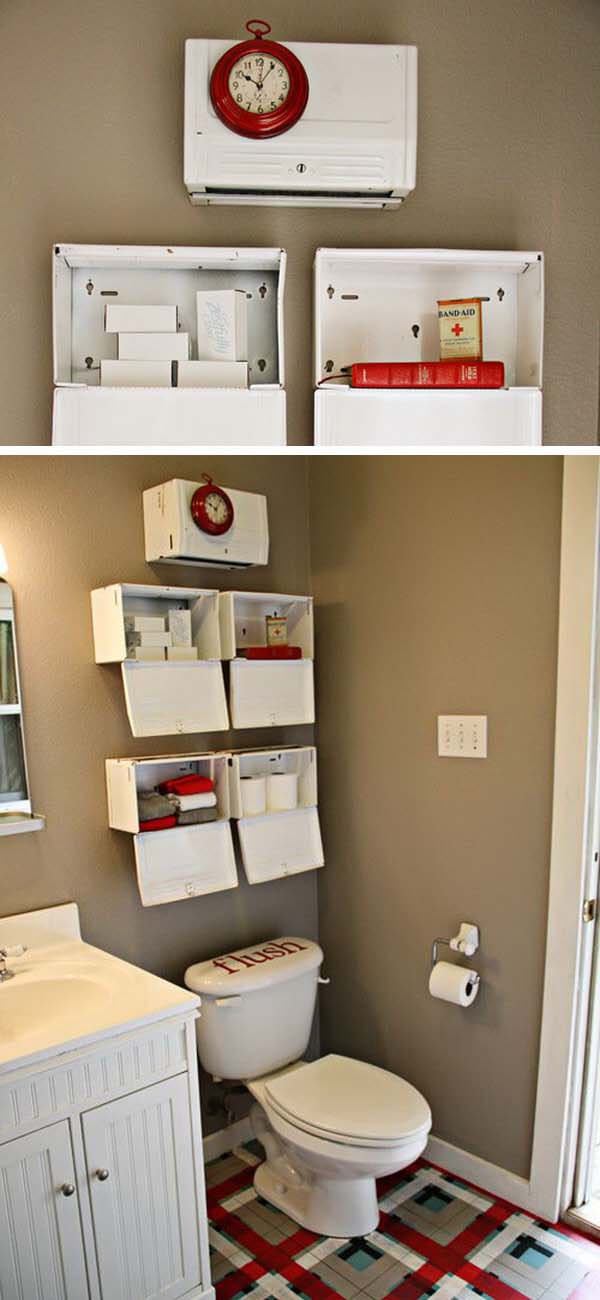 One of the best places to mount an extra storage unit is the wall above the toilet as usually, it is blank.
This idea features a 5-piece set of metal dispensers that can store various bathroom items especially if you are a big family.
Each box has a door that can be left open for an enhanced point of interest or closed in case you want to keep the stored items better protected.
13.  Idea for Hanging Rope Shelves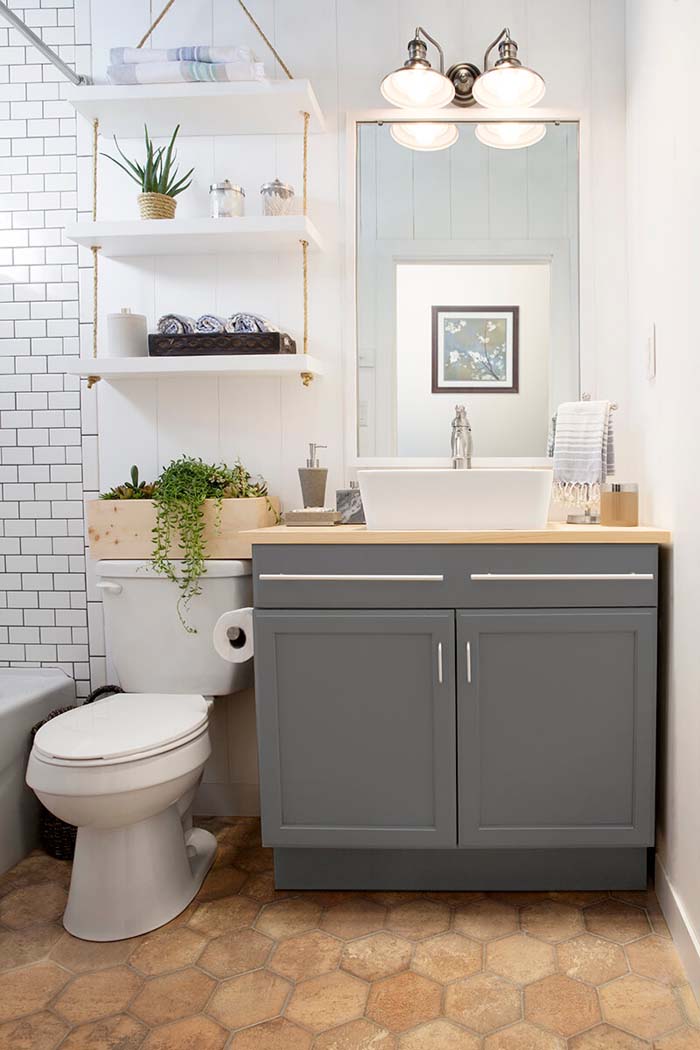 This bathroom fascinates with its modern farmhouse look gained through the appealing combination of trendy hexagonal floor tiles and rustic shiplap wall boards.
An added shelf above the toilet enhances this unique design featuring a combination of nautical ropes with glossy white shelves.
14. Floating Shelf Anchored With Rope and Cleat Hitch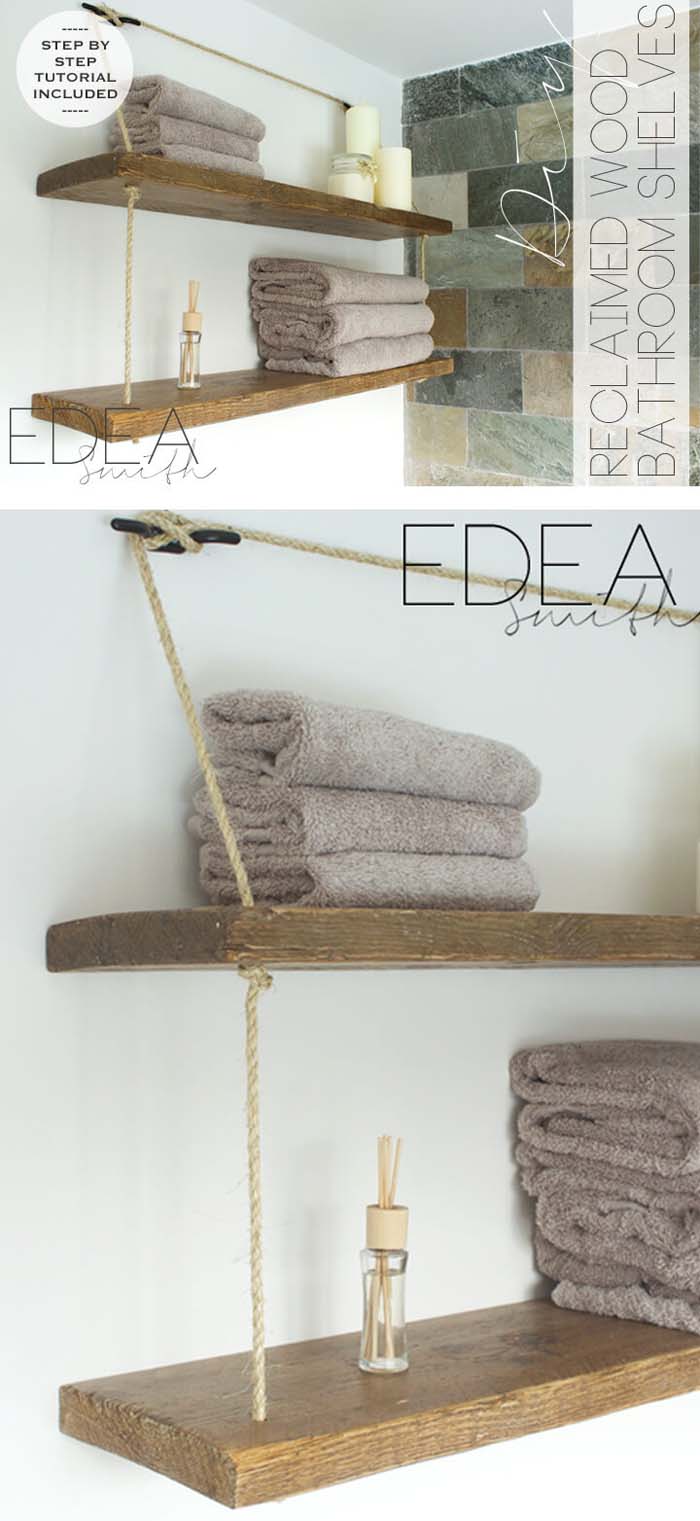 The shelf is one of the most important elements of a bathroom interior because of the typical lack of many pieces of furniture and because it is usually visible.
For a clean and minimalist bathroom where an airy feel is important, choose a shelf unit that is of an open concept, adds a unique touch without overwhelming the space and is function.
This combination of ropes and wooden beams matches perfectly the overall design of the bathroom featuring predominant white surroundings and a statement wall with natural stone tiles.
via Edea Smith
15. Scrap Wood and Brackets Become Rustic Shelves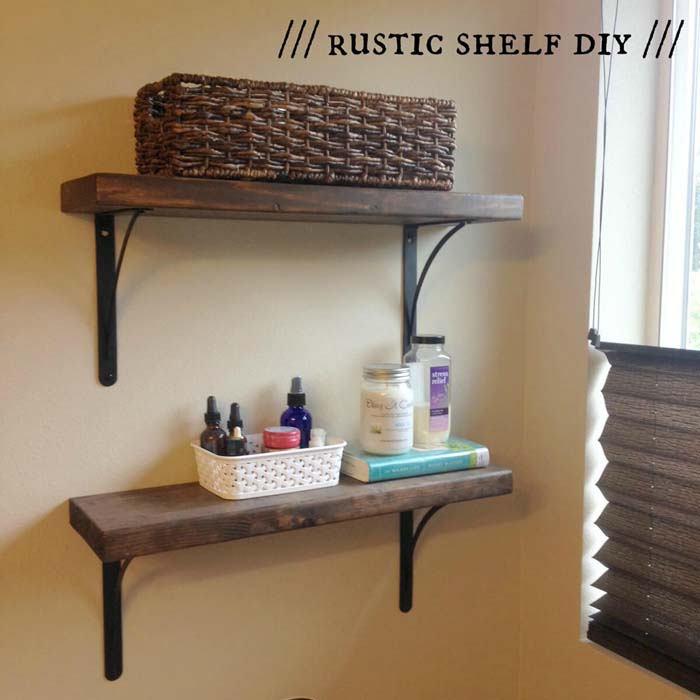 You probably have some leftover scrap pieces in your garage, don't you? Then you have one of the two elements to make these charming and sturdy farmhouse shelves.
You can customize them in length and number depending on the free wall space available. For enhanced rustic effect, support them with wooden corbels. If you prefer a modern look, metal brackets will do great.
16. Basic Shelving Gets Driftwood Makeover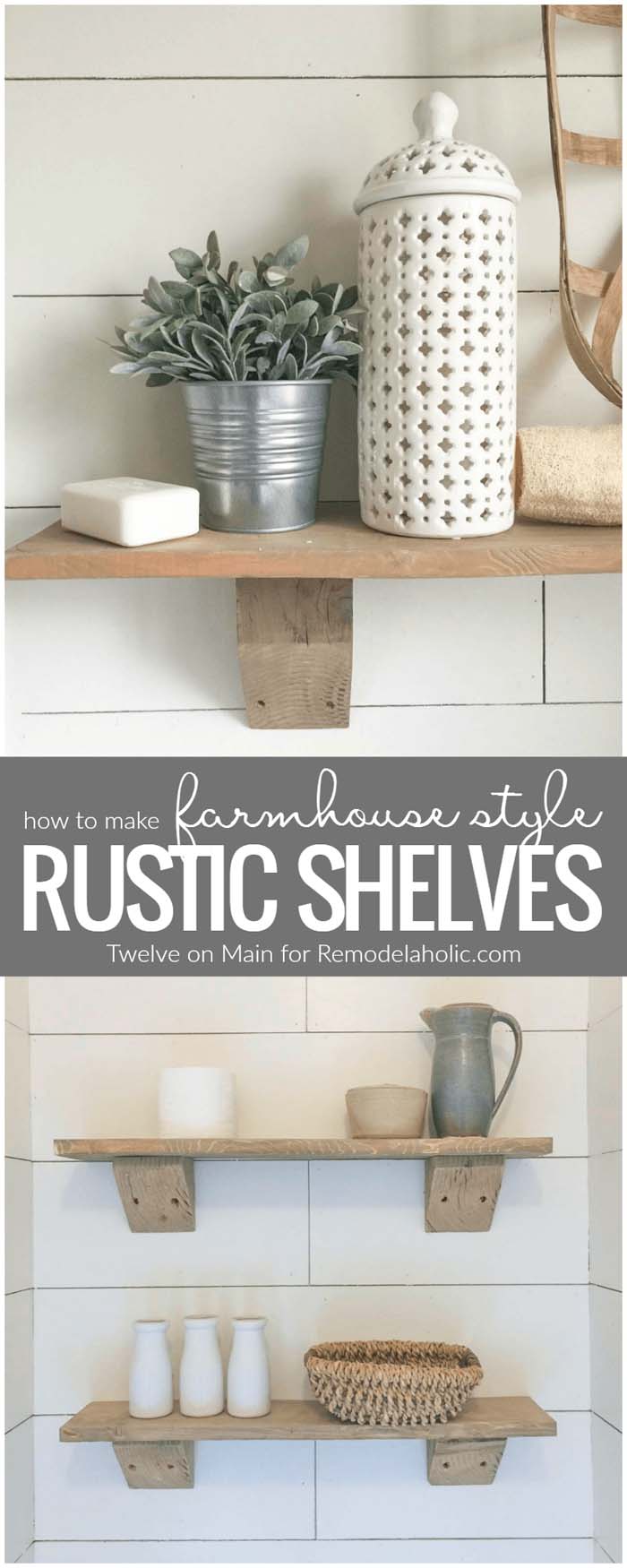 The authentic look and color of these two shelves make a wonderful combination with the shiplap boards on the wall.
If you are looking for a way to add a bold farmhouse accent to your bathroom which can also improve the comfort and neatness of the room, follow the instructions below.
To achieve the driftwood texture of the corbels, cut them yourself from posts with a miter saw.
via Remodelaholic
17. Floating Shelves Fit in Small Corners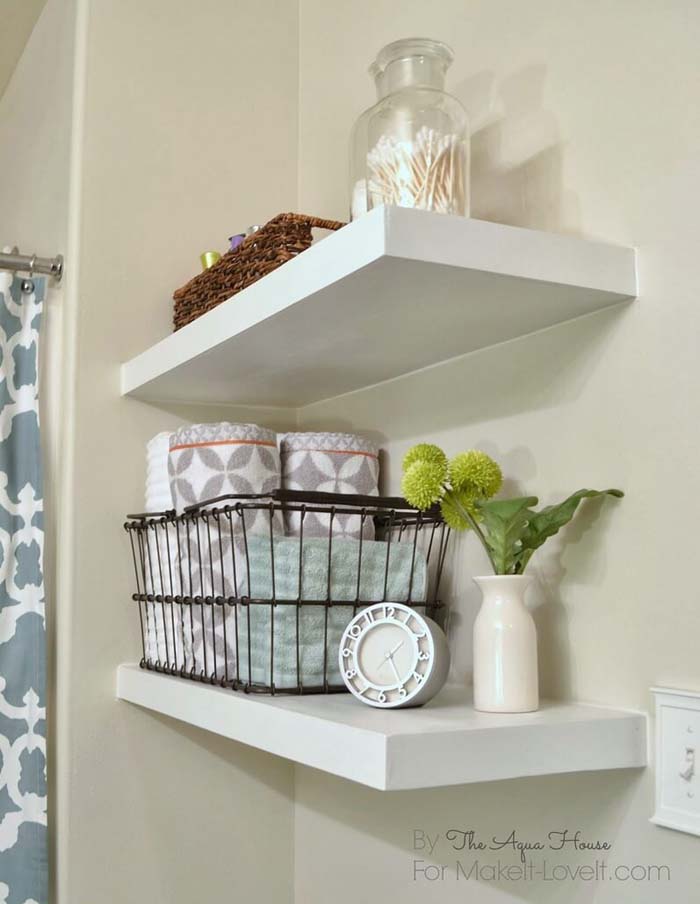 Simple, functional and adding a pure touch to the bathroom décor-this is how we see this floating shelf design. They are cut to fit a small corner space that will otherwise be overlooked and unused.
Added metal and rattan baskets help with the decluttering and also impose a charming farmhouse accent to the Scandinavian-inspired interior.
via Make It Love It
18. Vintage Window Frame Becomes Door for Cabinet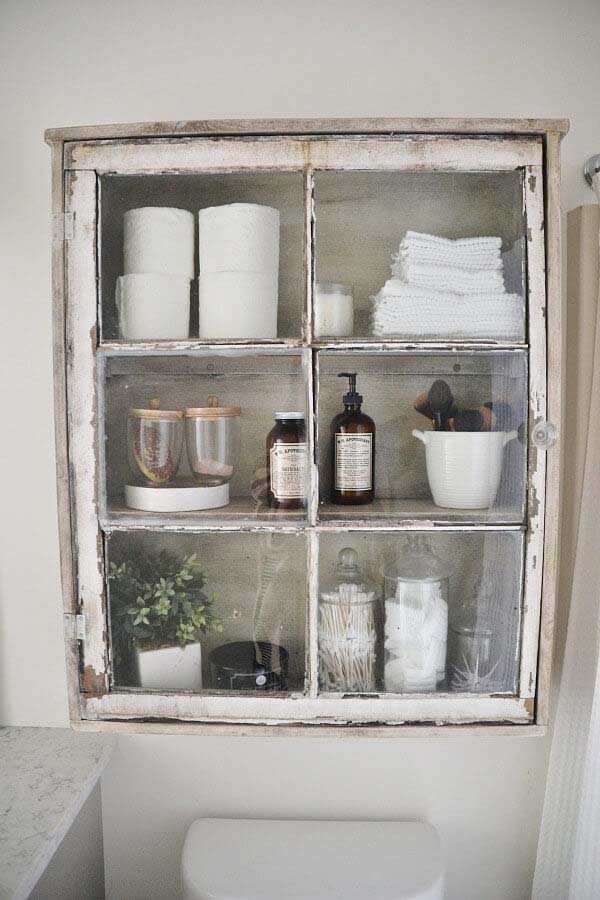 This bathroom storage idea can be used for utilizing a niche or for defining the space with a functional farmhouse accent.
It is mostly so inspiring because of the usage of reclaimed materials which in combination create a unique design.
Find a window with glass panes and a few reclaimed wood slats for the frame, the backing and the shelves. Added metal hinge and a knob to open the door are simple to enhance the antique look of the shelf unit.
19. Extending Shelves Adds Storage

A budget-friendly idea to utilize the wall above the toilet with comfortable and practical shelves!
Wooden beams are cut to the desired size and then decorated with lightweight molding which gives them a unique stylish look.
The open concept for storage is the best choice for this small bathroom, otherwise, the space will look too overwhelmed and closed.
via 320 Sycamore
20.  Add Storage With Built-in Wall Project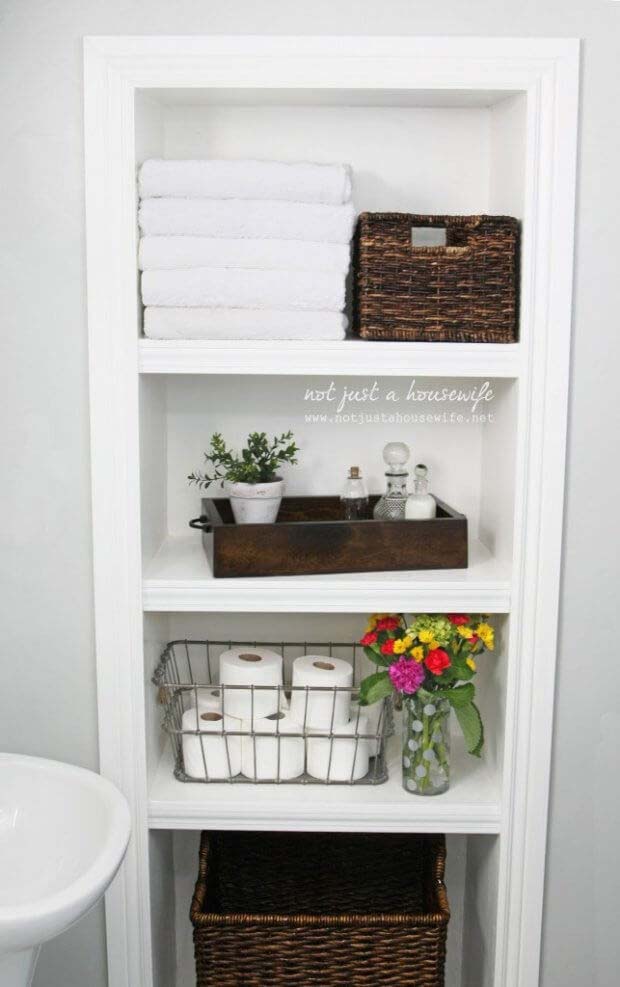 If you are currently designing your bathroom, you may want to take a look at this appealing, modern and practical shelf unit idea.
Instead of positioning it against the wall to take up a lot of the space, the unit is built in the wall.
The whole piece is made from wooden boards subsequently painted pure glossy white to let them match the general interior.
Storage happens in various types of farmhouse baskets for a decluttered look. Decorative elements are placed directly on the shelves to make the atmosphere more pleasant and homely.
21. Antique Spigots Add Character to Coat Rack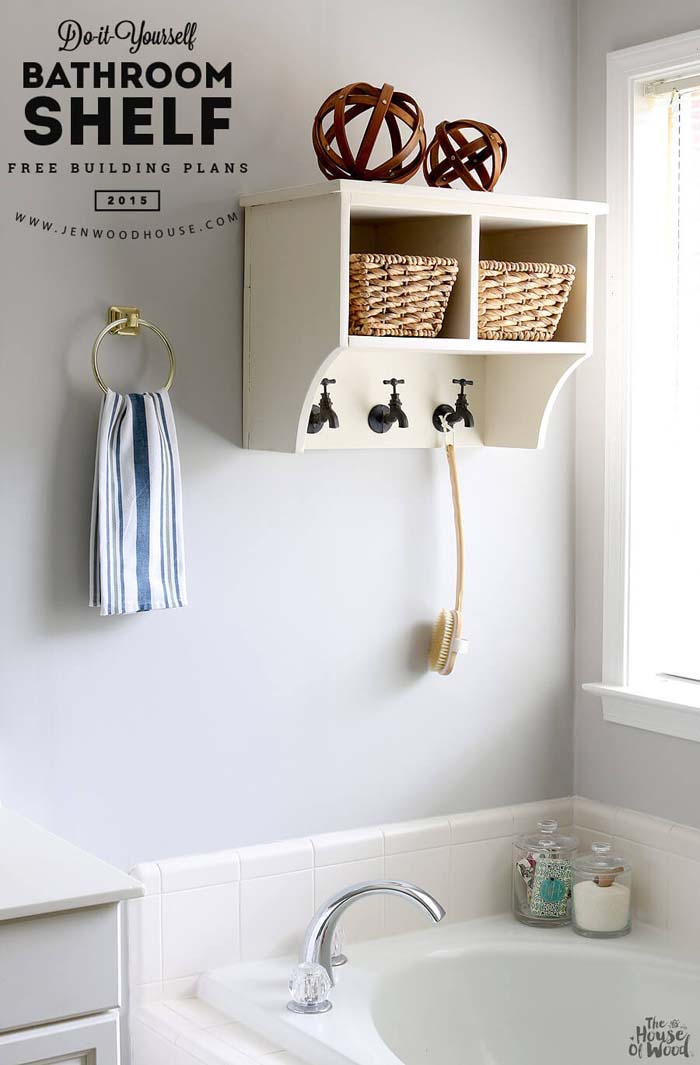 Need a way to make your bathroom interior personalized and appealingly defined? There is a way that doesn't require makeovers. Simply add a handmade shelf assembled from reclaimed wood pieces and with added faucets to act as hooks.
The unique design customized per your taste will make the bathroom more homely and will let you also enjoy an extra storage place for bathroom essentials.
via Jen Woodhouse
22. Fabric Strips Anchor Baskets to Towel Bars
Another easy and very affordable shelf idea features metal towel rods and rattan baskets for open, interesting and space-saving storage on the bathroom wall.
This type of storage is great for the blank part of the wall above the toilet where towels and extra toilet rolls can be easily stored thanks to the depth of the inclined baskets.
via Simply DIY 2
23. Add Horseshoes to Shelves for Rustic Décor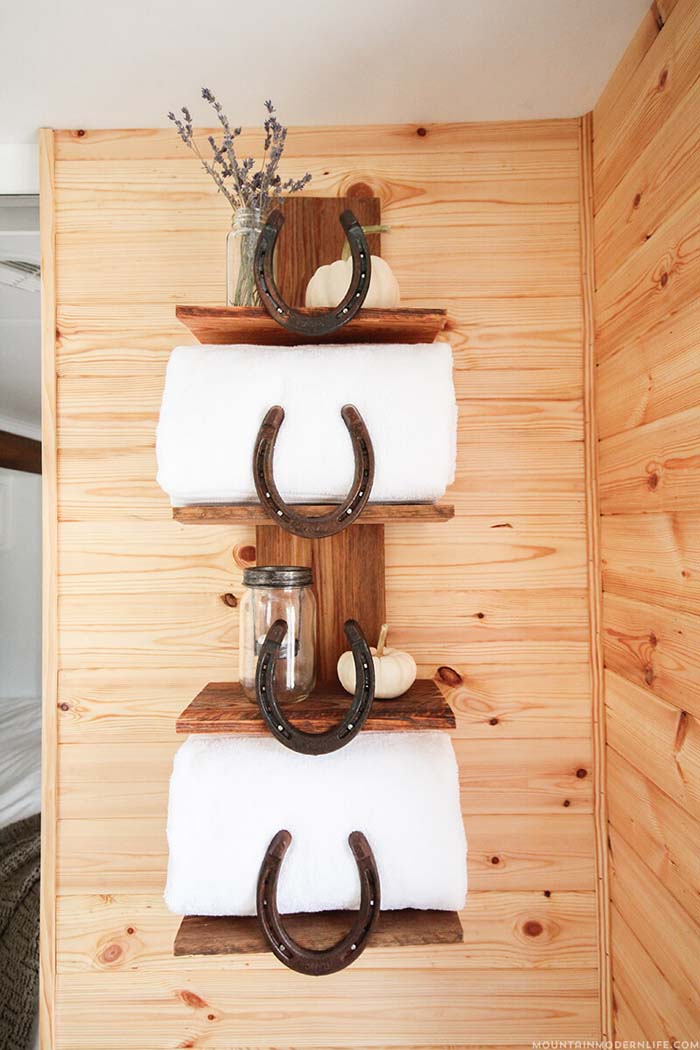 This slim but tall shelf unit idea is perfect for a cabin loft or for your rustic townhouse. A combination of reclaimed wood slats secured with metal horseshoes to keep the items in place is adorable.
All slats are screwed to a base beam to make mounting to the wall easy and shelve rigid.
24. Quick Project Turns Baskets Into Shelves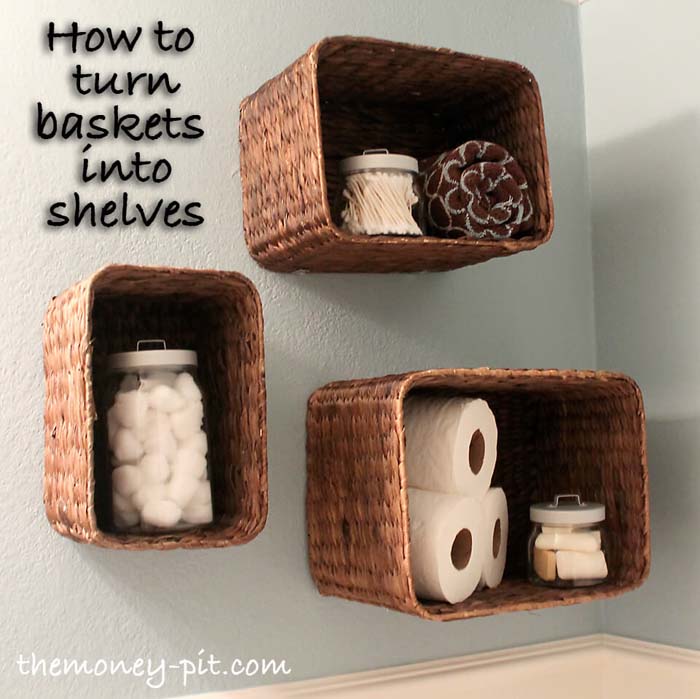 Extra storage solutions in the bathroom don't always require a big investment or makeover. With simple items suitable for storage, you can create an outstanding and personalized shelf unit that will match the existing décor.
Rattan baskets are great for this purpose because you can find them in a variety of sizes and at a cheap price. Get as many as you may need to declutter the bathroom and screw their bottoms to the wall. Easy, isn't it?
via The Kim Six Fix
25. Create Victorian Shelves From Scroll Brackets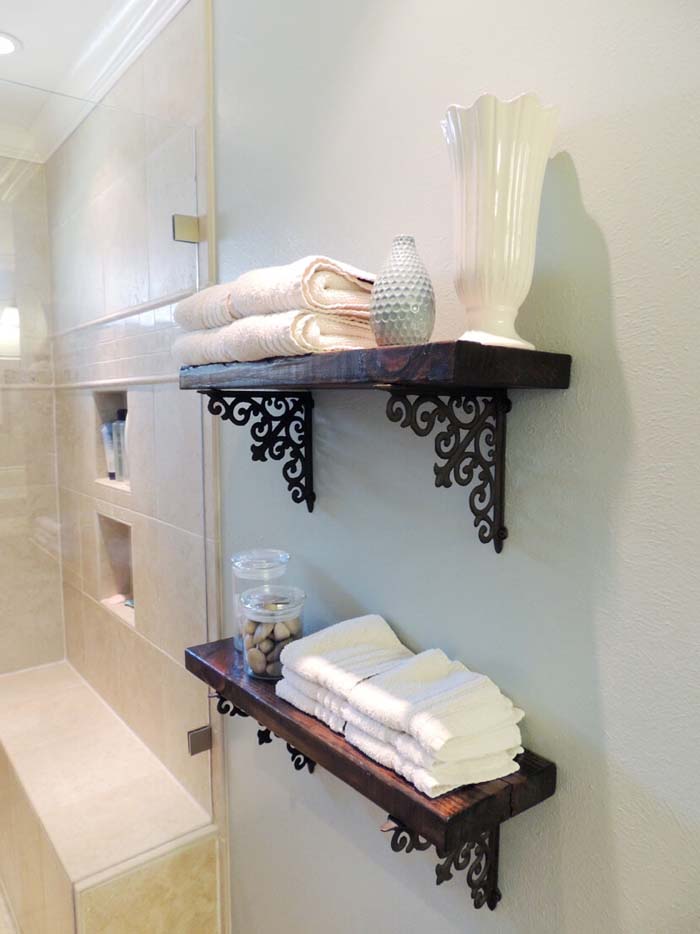 If your bathroom's existing décor anchors luxury and style, you can still find an affordable DIY bathroom shelf idea.
Changing the wooden corbels with wrought iron brackets will give the shelves a refined overall look.
via Do or DIY
26. Ladder Shelf Fits Over Toilet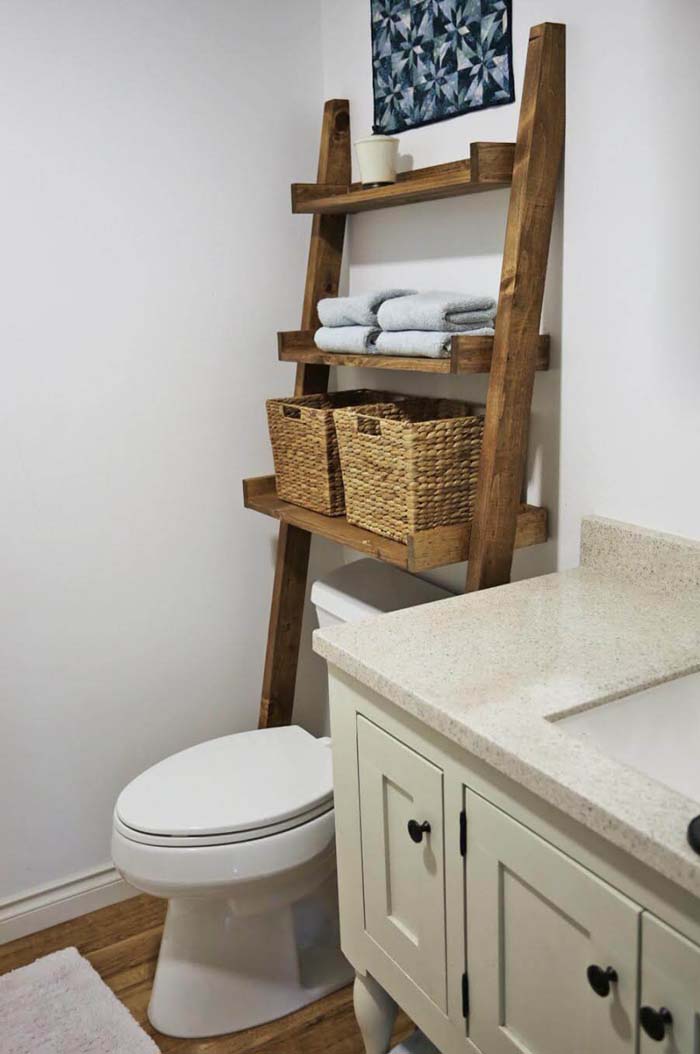 The ladder shelf unit is perfect for the storage of various bathroom stuff. Bulkier items can be placed in hung baskets while towels can be placed directly on the step.
Another advantage the ladder design offers is that it takes minimum space and can be inserted behind the toilet to ensure storage on the wall above the toilet tank.
via Ana White
27. Trio of Simple Box Shelves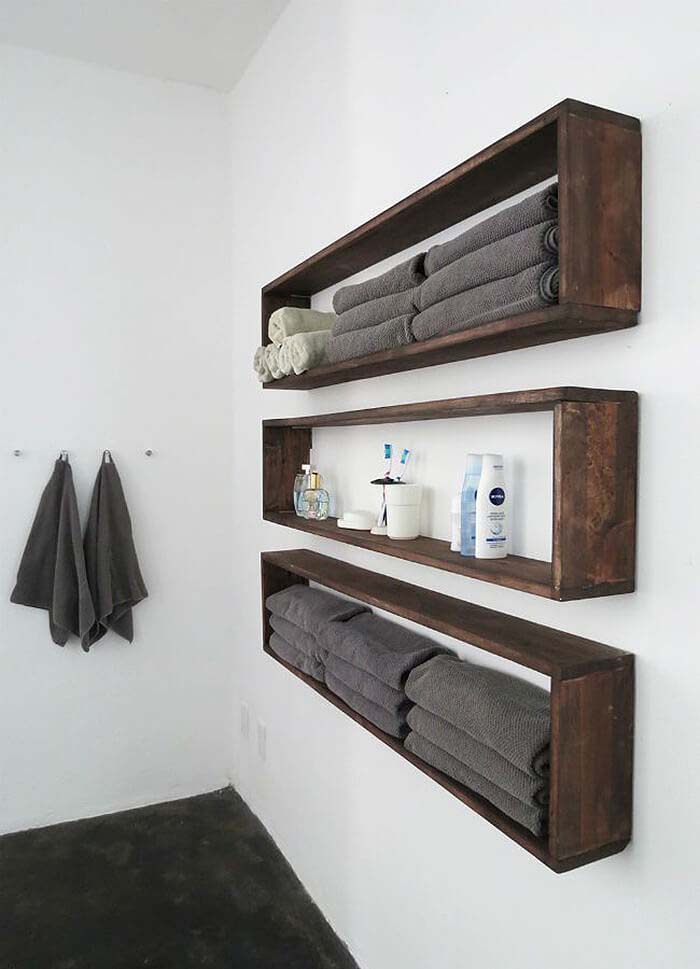 The dark-toned repurposed wood shelves fascinate not only with their contrasting color but also with their functionality.
Open, geometric and big enough to accommodate different in size bathroom necessities. Having three of them lets you sort neatly towels, perfumes or bath essentials.
via Oh Oh Deco
28. Custom Size Faux Floating Shelves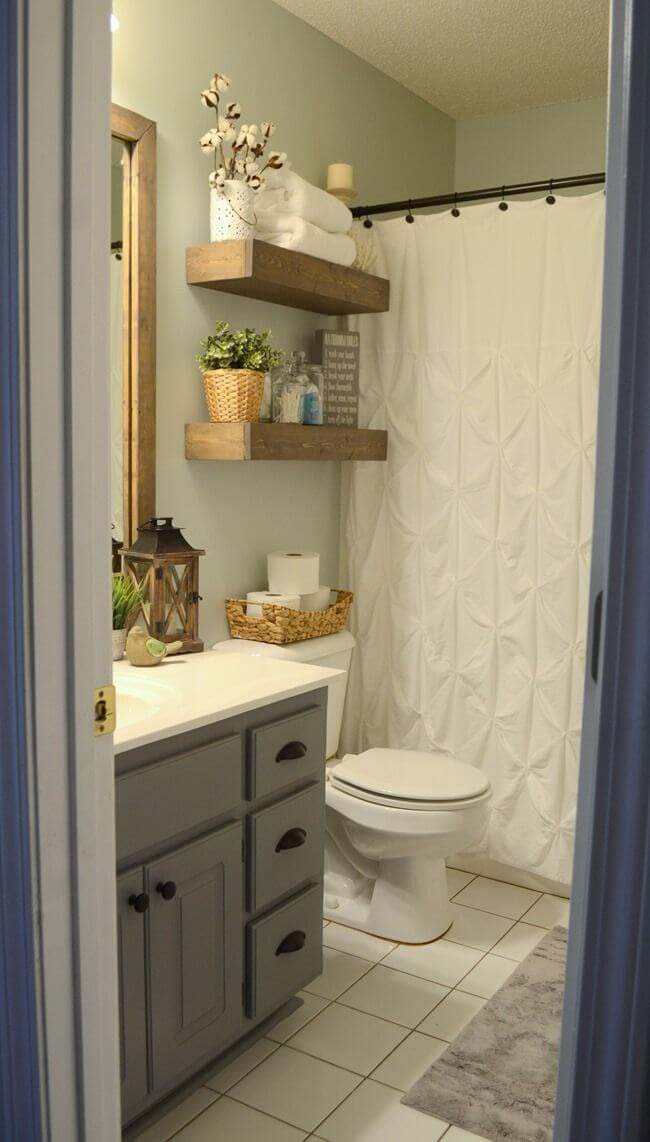 These are typical floating shelves in look, however, they offer more than that- they are perfect in size for the wall above the toilet and add so much warmth to the space. And this is only possible when you put your own efforts to build them.
Luckily, there is a tutorial on how to faux the floating shelf look with simple lumber material and the best of it all is that you won't spend the money you would if you had them ready to sell at a store.