If you are always looking to make your bathroom more spacious and organized then you will probably need some creative and easy-to-do bathroom storage ideas.

Take a look at all these bathroom storage ideas and organization tips and choose one to do it yourself.
1. Store Your Bathroom Essentials with Chic Cabinets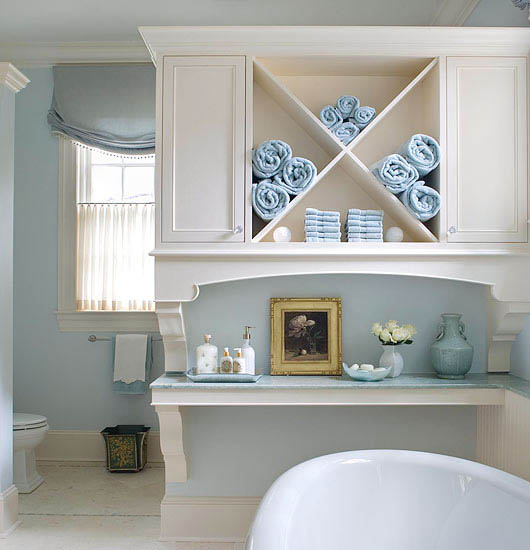 Photo: Credit
This bathroom with pastel blue walls is pure elegance and sophistication. A Roman shade offers light control and privacy and adds to the appeal of the space.
Accessories add visual interest and charm and a bouquet of white roses – freshness, charm, and scent. However, what immediately grabs the eye is the custom storage solution.
A combo of cabinets and crossed open shelving adds personality to this stunning bathroom.
Bathrooms are the go-to places for heavenly pampering. Their interior design can make the experience of taking a shower or a bubble bath all the more pleasant. 
I have 20+ inspiring suggestions for bathroom design for you. The first one incorporates beautifully white colors, baby blue, and sensuous, gentle atmosphere.
2. Maximize Bathroom Storage with Woven Baskets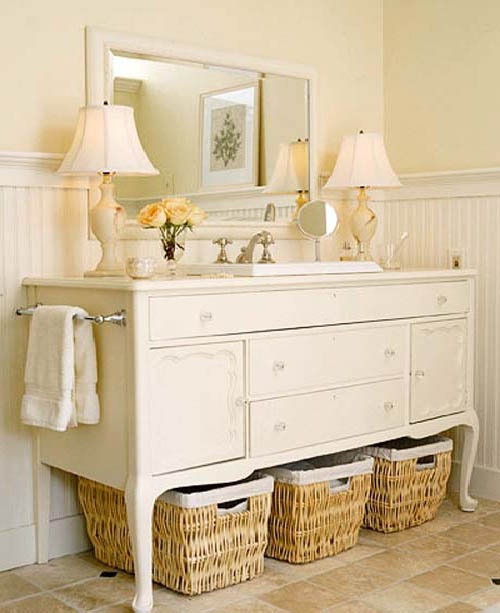 Photo: Credit
When it comes to storage, baskets are always an option!
An antique dresser transformed into a bathroom vanity! So creative! Definitely a gorgeous way to add personality and elegance!
Two matching table lamps with an eye-grabbing base flank a large mirror. Large wicker baskets offer under-sink storage. A bouquet of roses adds freshness, color, scent, charm, and romance. An enchanting space!
White beautiful bathroom cabinets, towels on the left and the scent of roses all around.
A magical atmosphere where the white colors unfold the beauty of the light coming in.
Feeling special in a spacious and peacefully decorated bathroom… It is all about the little things.
3. Get Creative with Hanging Wooden Boxes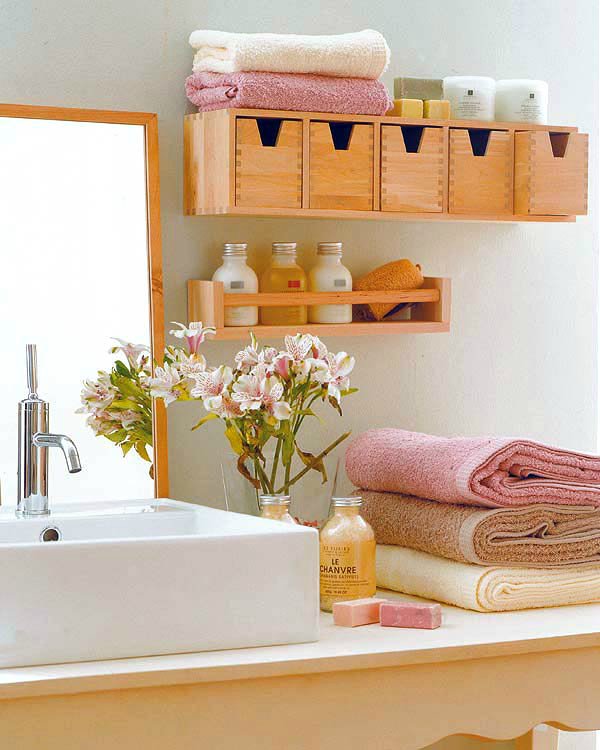 Photo: Credit
Wooden boxes on the wall. So creative!
A row of wood boxes complemented by a floating wood shelf offers appealing storage in this all-white bathroom, which exudes so much warmth, elegance, and sophistication. 
A large mirror with a simple wood frame adds a sense of space. Towels add splashes of color and visual interest and cut flowers – extra color, scent, and freshness. A delightful bathroom!
The pink color is unfairly mistaken for being too girly.
As a matter of fact, a pink and white interior design speaks of love, compassion, being gentle and truthful.
Fill a vase with flowers, use a diffuser for essential oils, and fill in with all pampering tools for extra comfort.
4. Keep Your Bathroom Tidy with Nets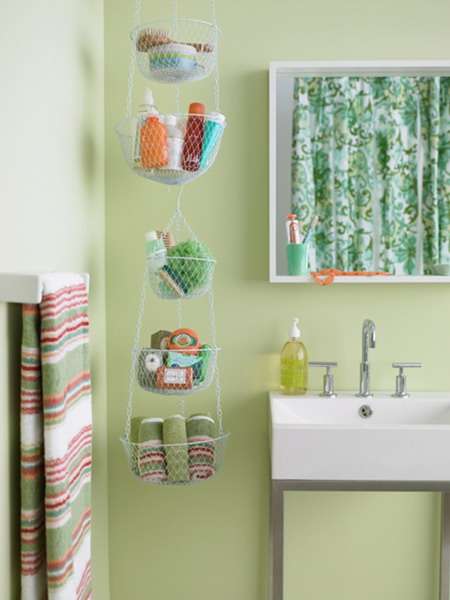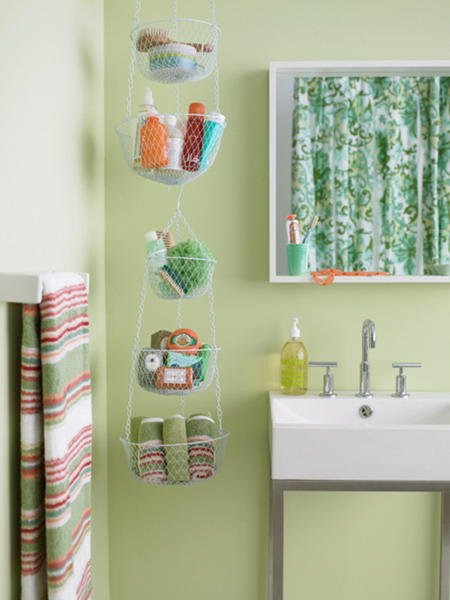 Photo: Credit
You can keep your bathroom accessories organized in nets. They are not expensive and easy to install.
5. Upcycle a Rustic Basket into Stylish Basket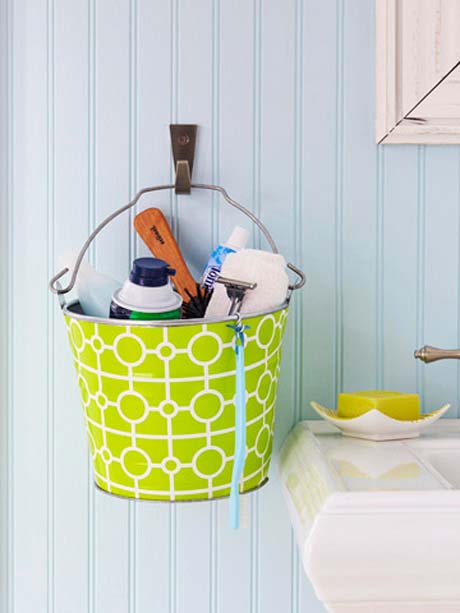 Photo: Credit
Metal basket near the sink. Pure creativity!
I have a gorgeous eccentric solution for your bathroom.
Use a colorful bucket to hang on the wall and fill it in with all the small valuable items for everyday use.
There is a heartfelt, jolly idea for your bathroom! Use a vase or a big bottle if you are not a fan of the bucket.
6. Make Your Bathroom More Relaxing and Comfortable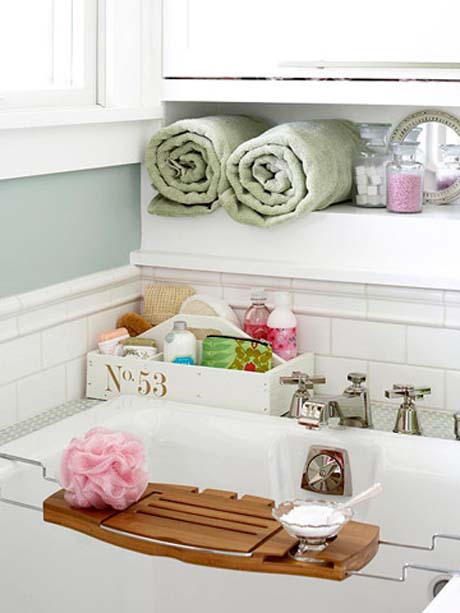 Photo: Credit
Creative use of space!
Bathroom salts, comfy towels and a lovely little piece you can use for books while you are enjoying the bubbles. This is such a great addition to the bathroom!
Have a stash of favorite books and magazines around.
Bring in macaroons and drinks, if you like and the interior is ready!
7. Transform Your Bathroom into an Oceanic Haven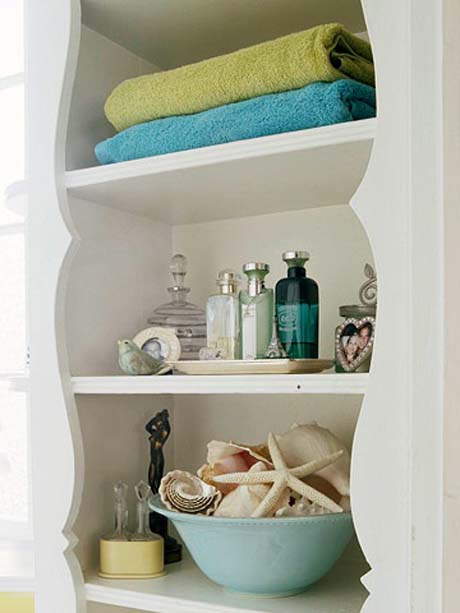 Photo: Credit
What a way to add storage, visual interest, and appeal!
Seashells and details that remind us of the blissful sea. The bathroom often reminds us of the green-blue waters of the loveliest places we have been to.
If you already have a stash of souvenirs from your travels, the bathroom is probably the best place.
Make your own DIY plate or glass!
8. Get the Most Out of Your Bathroom with a Rack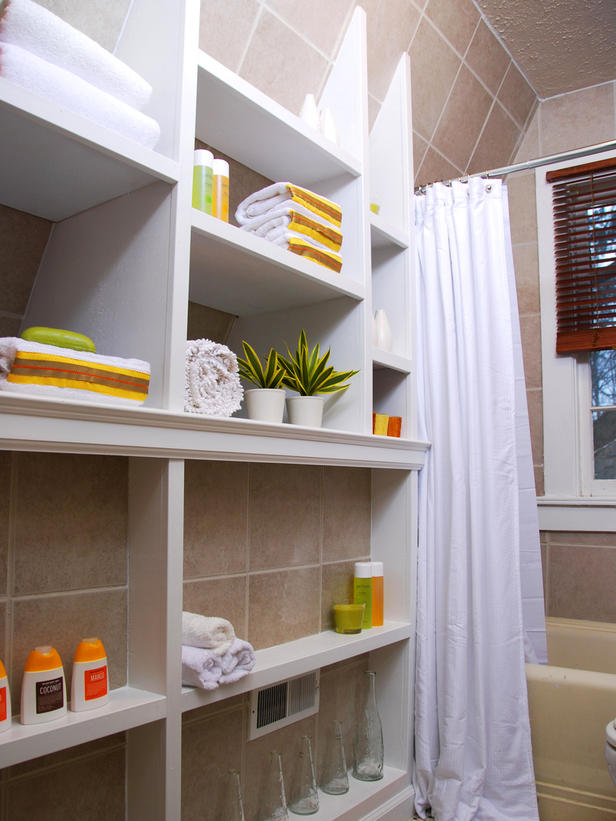 Photo: Credit
Bathroom shelving offers plenty of storage.
What is unique about this bathroom is the rack. There is plenty of space for each item, yet it is not necessary to have everything out on display.
Use decorative flowers, scented candles or simply place your perfumes there.
An open rack is a super useful and necessary item.
9. Add Visual Interest and Appeal with Terracotta Pots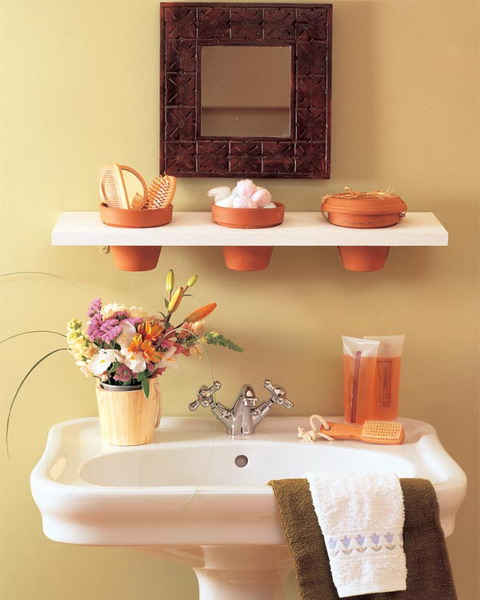 Photo: Credit
Definitely a charming, creative storage option!
Sunny colors and colorful flowers. What more could you possibly need?
Keeping it simple is great for easy cleaning and quick changes of the bathroom look.
Using bright colors uplifts your mood. Add a little bit of happiness and sunshine by using citrus shades.
10. Build a Rustic Bathroom Storage Station with a Ladder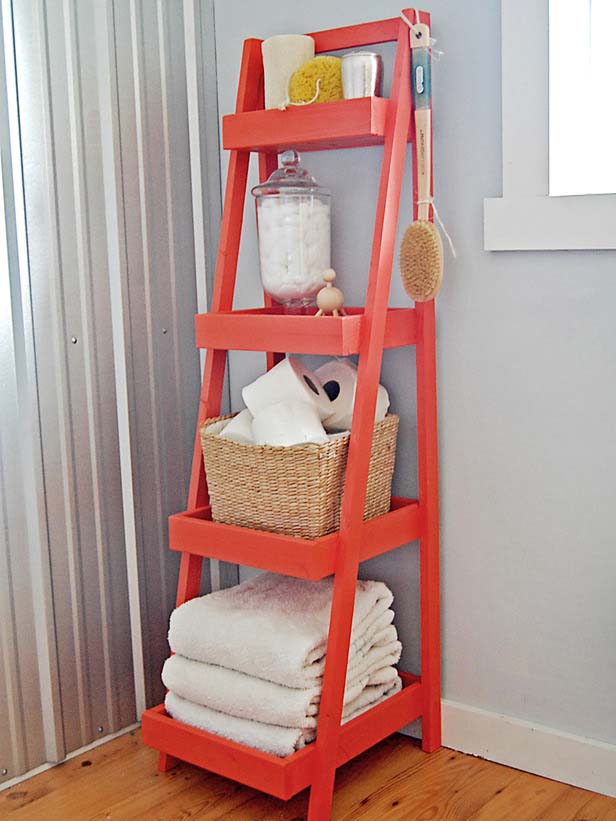 Photo: Credit
Bold, space-saving storage adds personality to this bathroom!
I adore this rack-ladder. So trendy, chic and cheerful! Again, the orange pops and creates a sunny atmosphere inside.
Great for storage, everything is nice and clean on the racks.
Solve the dilemmas of the interior by simplifying and letting creativity be the guide.
11. Upgrade Your Bathroom with a Mobile Storage Rack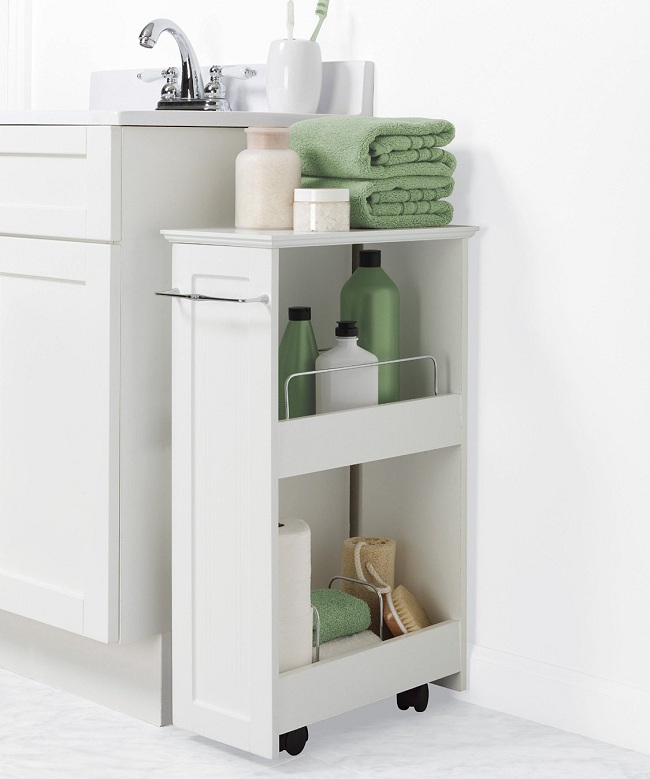 Photo: Credit
Mobile storage rack like this one can save a lot of space and you can move it around to free additional space where needed.
12. Elevate Your Bathroom with Bright Colors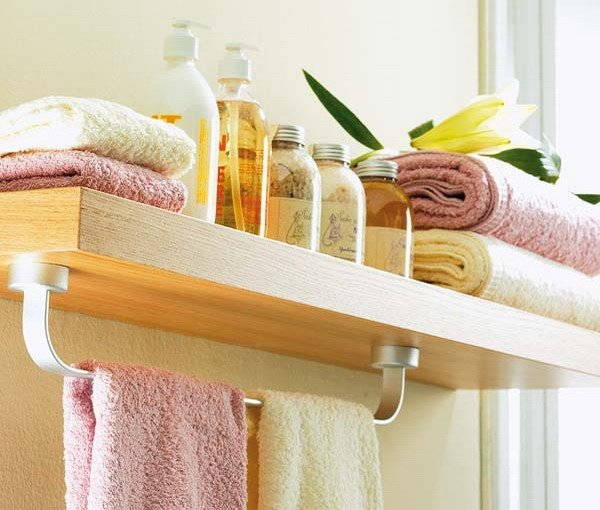 Definitely an eye-grabbing bathroom storage solution!
It is often a good idea to mix some of your favorite colors. This is especially true for the fluffy towels.
A good tip for a small redecoration is to change the old towels and spruce up with some lively colors.
Purple, yellow, orange or white, make your shelves look like the sunlight!
13. Add Style and Functionality with Glass Shelves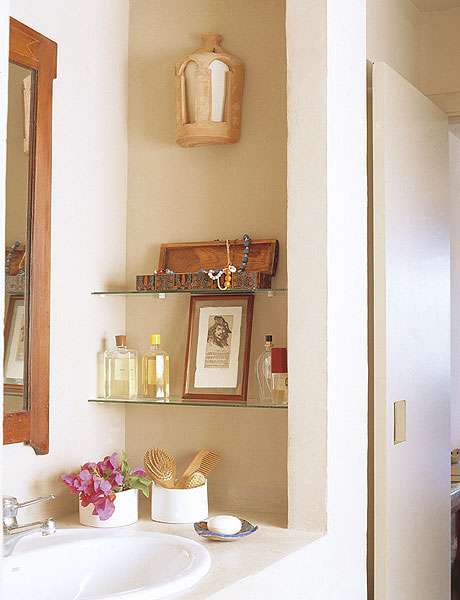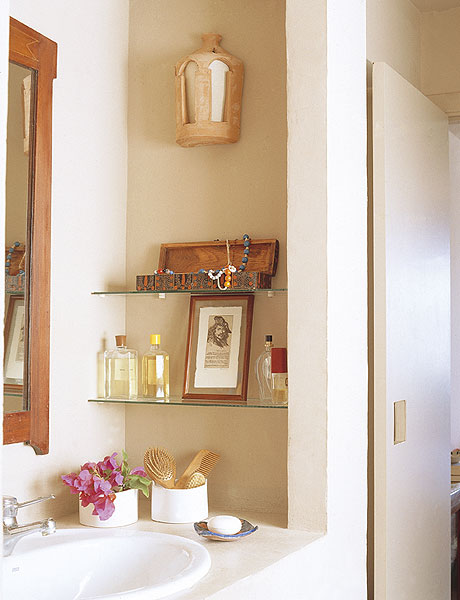 Photo: Credit
Glass shelves above the sink: an adorable storage solution!
I am about to bring some diversity in the mix of bathroom interiors by adding this modest, yet beautiful idea.
A small rack by a large mirror is the place where you can add jewelry, perfumes, and colognes.
Another tip would be to add a small painting, an inspiring quote or picture.
14. Utilize Space Under Bathroom Sink with Custom Shelves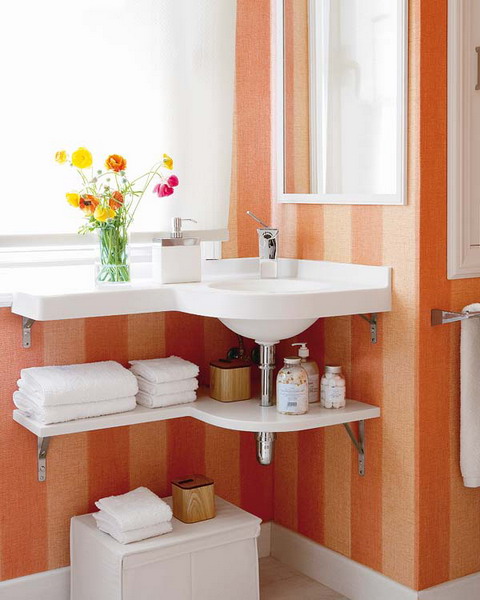 Under-sink storage adds extra visual appeal to this gorgeous orange bathroom.
We are on the verge of welcoming the spring in our homes and I cannot help but add another sunny bathroom interior.
I would always prefer more vibrant colors that inspire us for self-expression and fun.
This bathroom angle is the ideal option and very easy to achieve on a budget.
15. Step Up Your Decor Game with Storage Hangers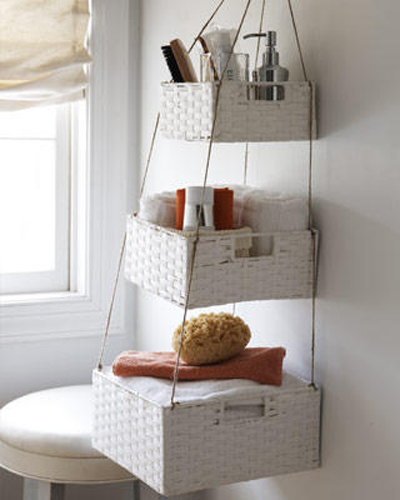 Creative, budget-friendly, and functional storage option!
Hangers that contain your beauty products like douche gels, exfoliates and personal items are really awesome.
This is the second one I am showing you so far and it is smaller than the previous one.
Neutral white color makes it good for any bathroom design.
16. Store Your Towels on a White Ladder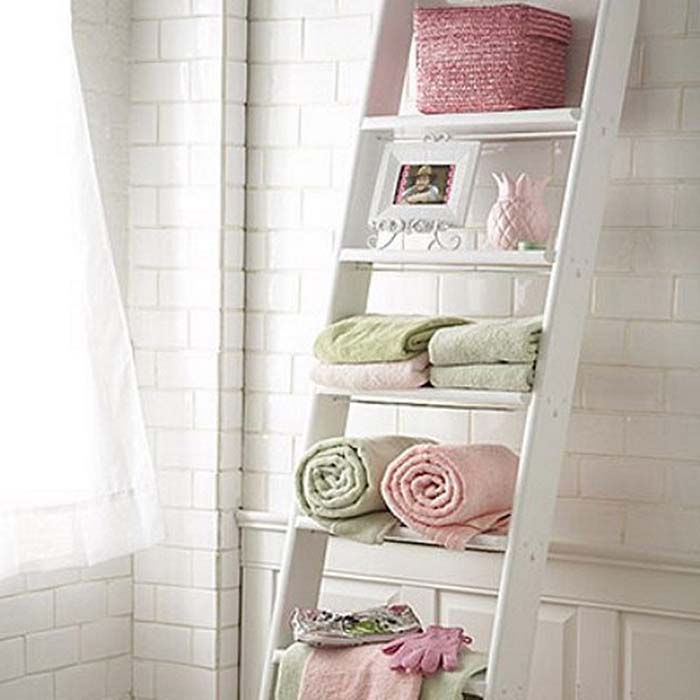 Another ladder storage option. This all-white space is pure perfection!
Green and pink go great together. So do pink and gray. You can fold or roll the towels to create a surprise in bathroom organization.
The ladder can be equipped with picture frames, flowers or candies. Anything that makes you comfortable, confident and lively.
17. Make Every Nook and Cranny Count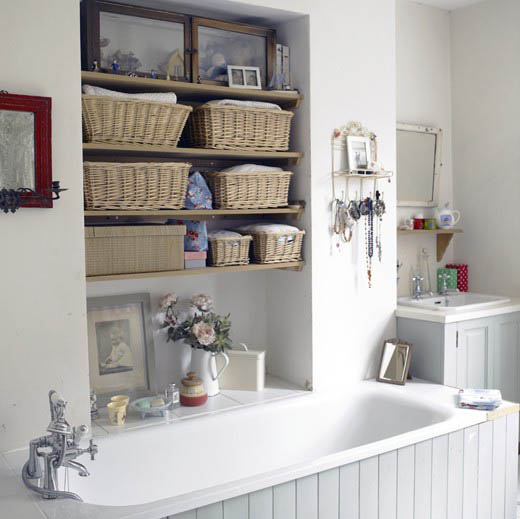 Shelves with boxes in a niche above the tub. Accessories add extra interest to the space.

It is not often that we see racks and cabinets placed like this. However, it works as a space-saving technique.
You do have to reach over the tub to get what you need, but this looks beautiful. Great jewelry hangers for necklaces and earrings are widely available, so good for the bathroom walls.
18. Separate Two Bathroom Sinks with a Stylish Cabinet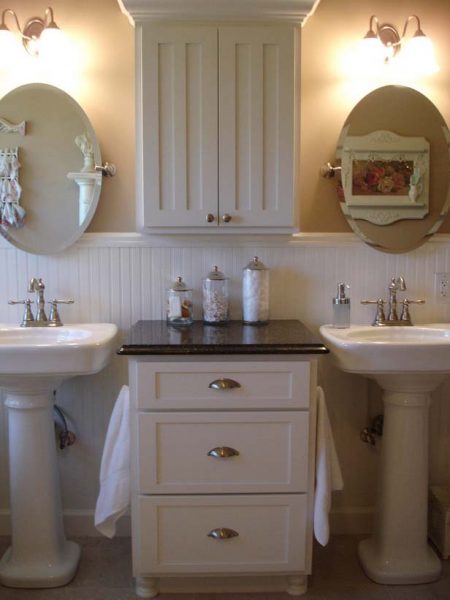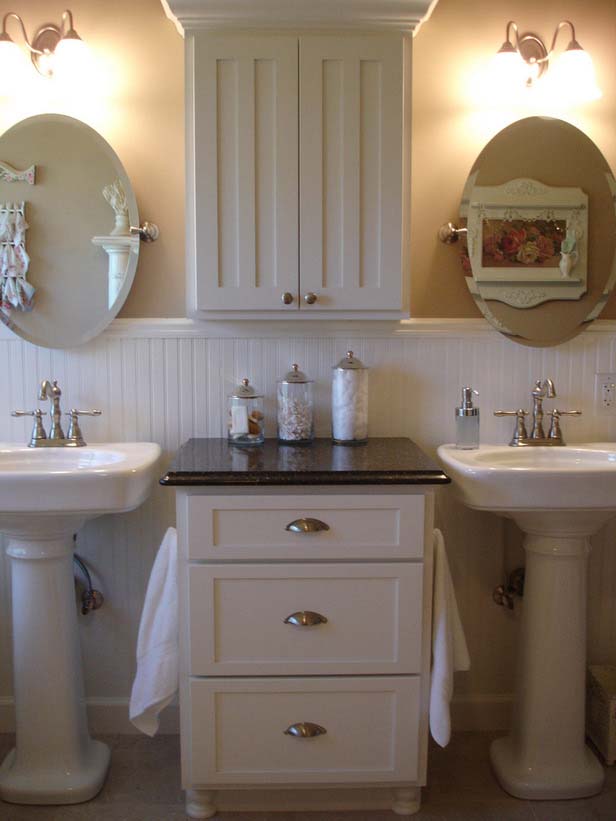 Photo: Credit
Two-sinks bathroom for him and her and a dresser between the sinks. So creative!
Two gorgeous white sinks, silver drawer handles and a sense of style. This is a classic beauty in bathroom designs.
You can use plastic drawers or tables instead of the usual heavy marbles. Mix the geometric shapes inside for a funky look. You will absolutely adore each start of the day here.
19. Add Layers of Style with Stack Up Cabinets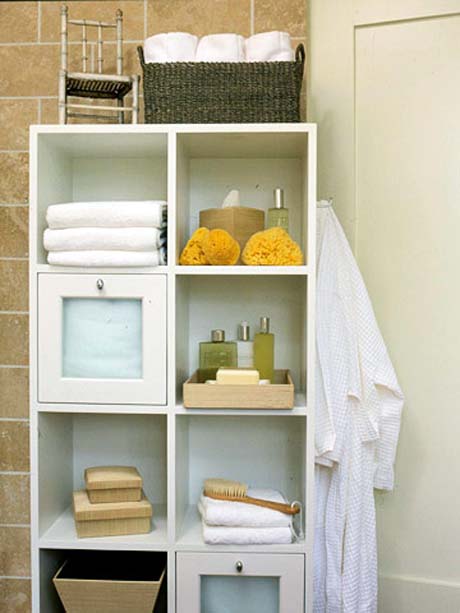 Storage option, which offers functionality and appeal.
Another color combination worth seeing is the mix between yellow and white. Essentially, you can mix any color with white and create a good combination.
Stack up the racks with tools for dry brushing and exfoliation, natural products and flowers. You will be satisfied with the result, I promise.
20. Update Your Bathroom Cabinet with Turquoise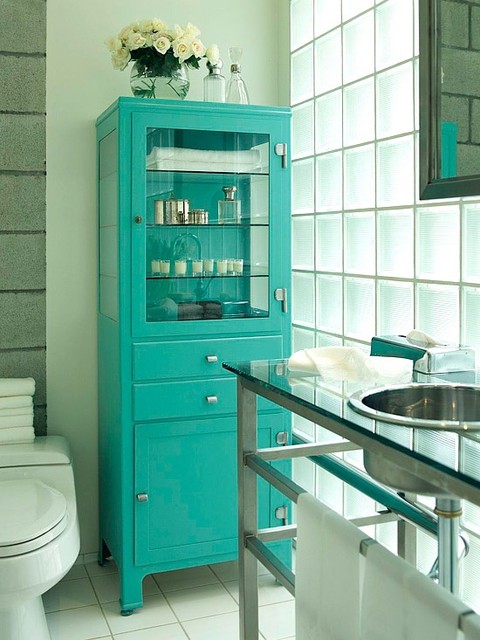 Photo: Credit
Appealing cabinet in turquoise offers storage and adds personality to this bathroom.
I love this minty-turquoise bathroom. Possibly one of the best color picks. Look at these small beautiful candles inside! So adorable and stylish.
The cabinet has glass windows make this design look so polished and lovely. High-class, darling design choice that would last for a while.
21. Save Time and Money with a Wall Cabinet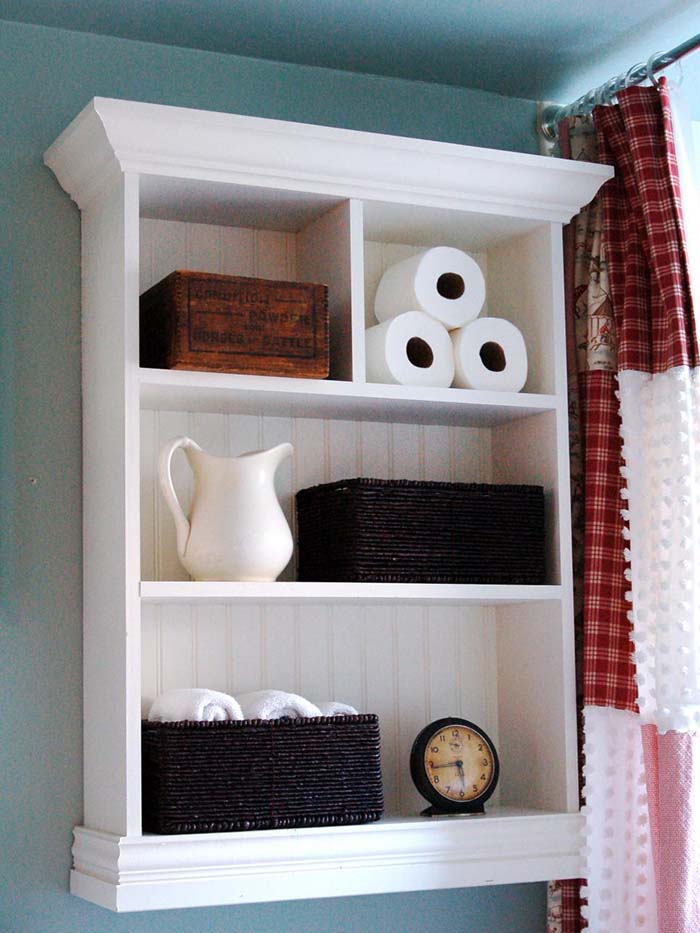 Wall cabinet offers an easy, budget-friendly solution.
Last but not least, this is a corner view of a bathroom with white, crimson and dark brown colors. Towels are neatly rolled and kept away from the water.
Using the higher corners of the room can be efficient. You can always add a clock, a souvenir or another fancy accessory for a happy home!
22. Utilize Wire Baskets for a Contemporary Look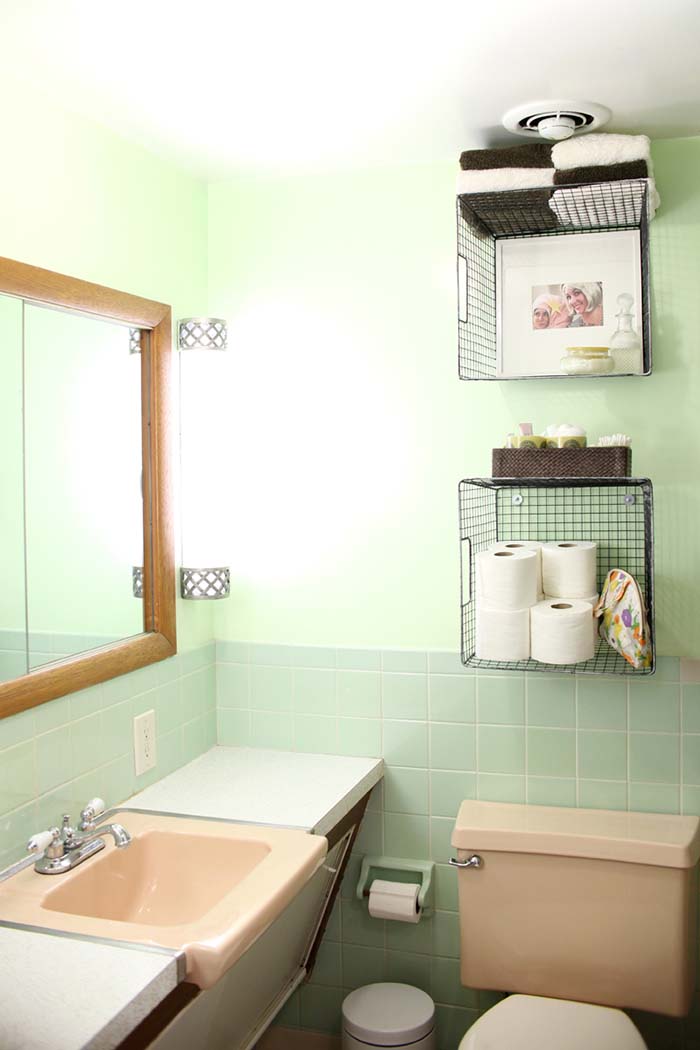 Photo: Credit
Wire baskets are great for bathroom storage.