Would you like to make your bathroom more cozier and beautiful? Why don't you try teak wood?
…but what is teak?

Teak is a tropical hardwood that is weather-resistant and used for boat building, outdoor furniture and was recently introduced as a reliable material for bathroom, spa and other indoor areas where water resistance is of utmost importance.
First, let me show you some amazing teak bathroom designs with which you will fall in love.
Teak Bathroom Designs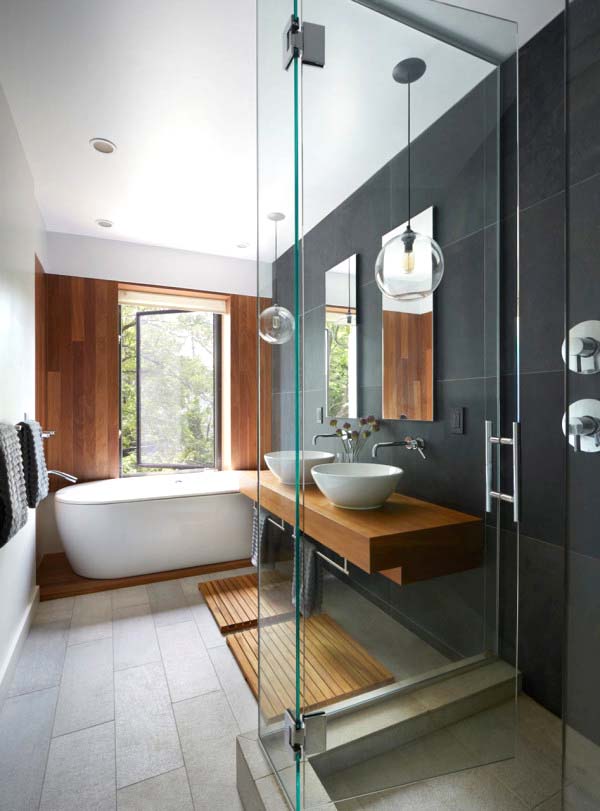 Photo: Credit
This teak bathroom design features a teak wall where the window and bathtub are followed by flooring underneath the bathtub.
Underneath the double wall hung vanity sits two teak bathroom mats.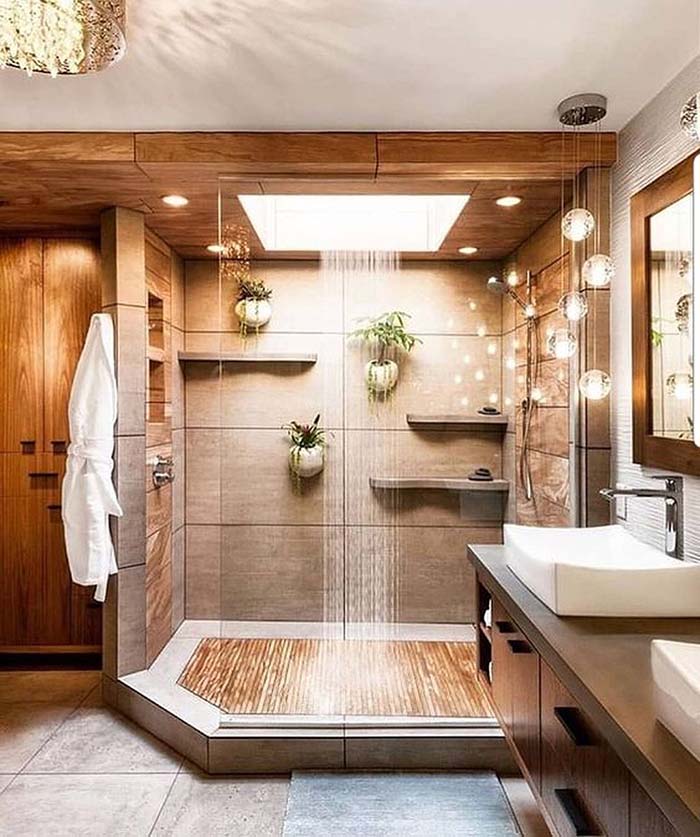 Photo: Credit
In this bathroom, we see a room composed almost entirely of teak! It features teak walls, shower mats, a double wall hung vanity, and shelving.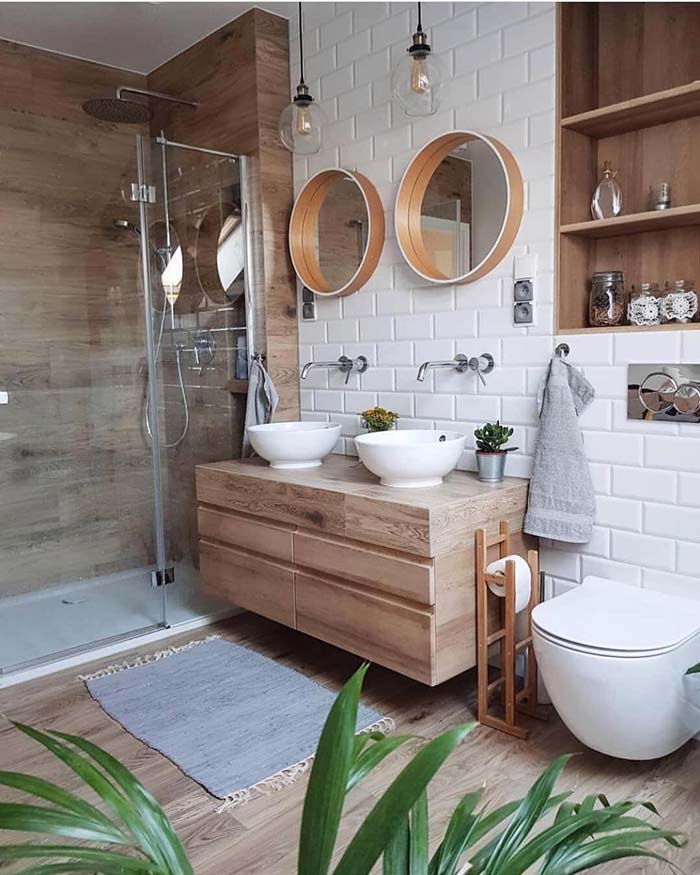 Photo: Credit
In this photo teak covers the shower walls. It has teak mirror frames above the double wall hung vanity, and a rack next to the toilet. There's also an open faced cabinet above the toilet as well.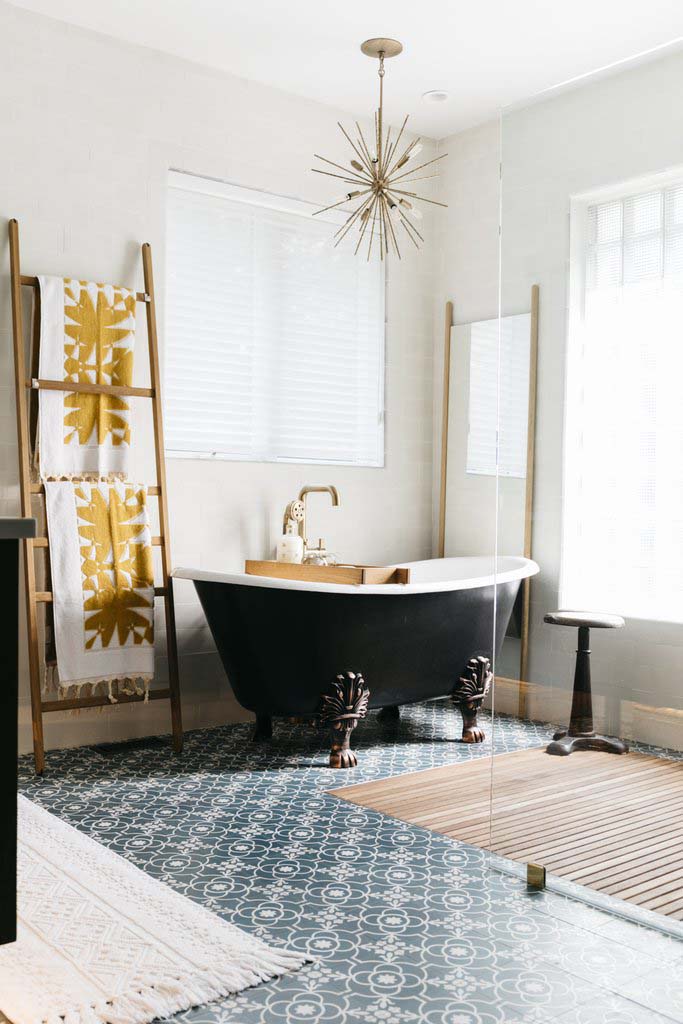 Here we have a part of the bathroom floor covered in teak for stepping out of the bathtub.
There is also a towel rack next to the tub and a tray inside the tub for placing essentials.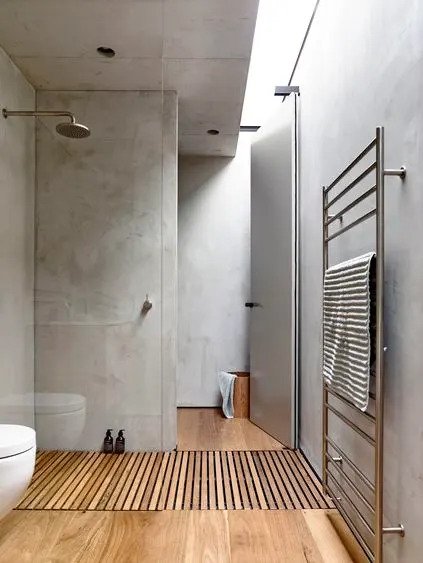 This room features teak flooring throughout. It also has a mat where the shower area is and even a teak waste bin.
1. Teak Bathroom Vanity
There's no doubt that your bathroom vanity is one area of the home where you and your family will spend a significant amount of time.
After all, it's the place where everyone prepares for the day ahead.
A teak bathroom vanity adds sophistication and flair to any bathroom.
Understated and modern, teak bathroom vanities are durable, healthy, and water-resistant.
Homeowners can select from a variety of vanity styles, including wall-hung, free-standing, and ones that include countertops and cabinets for convenience.
Depending on the space you have available, free-standing vanities only need a minimal amount of space for installation.
Wall Hung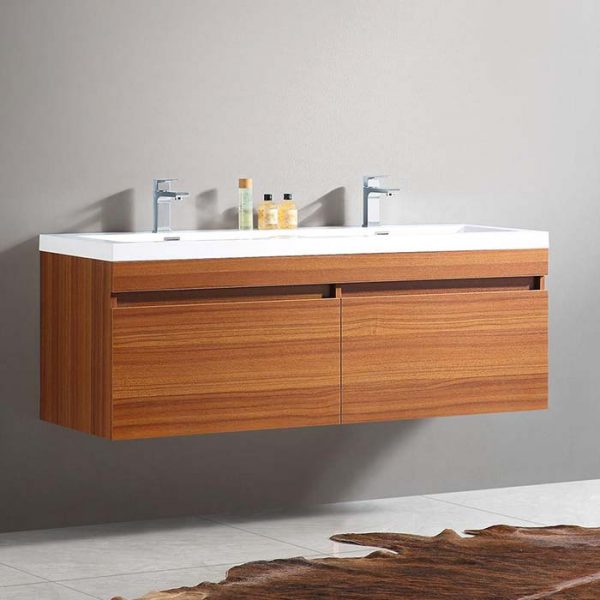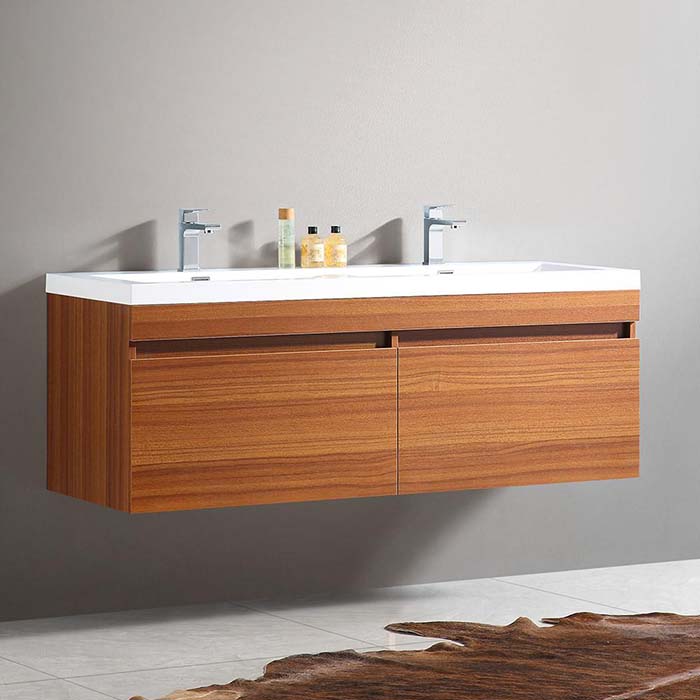 Check price: Here
This double wall hung vanity is ideal for master bathrooms and offers space around the sink area and underneath as well.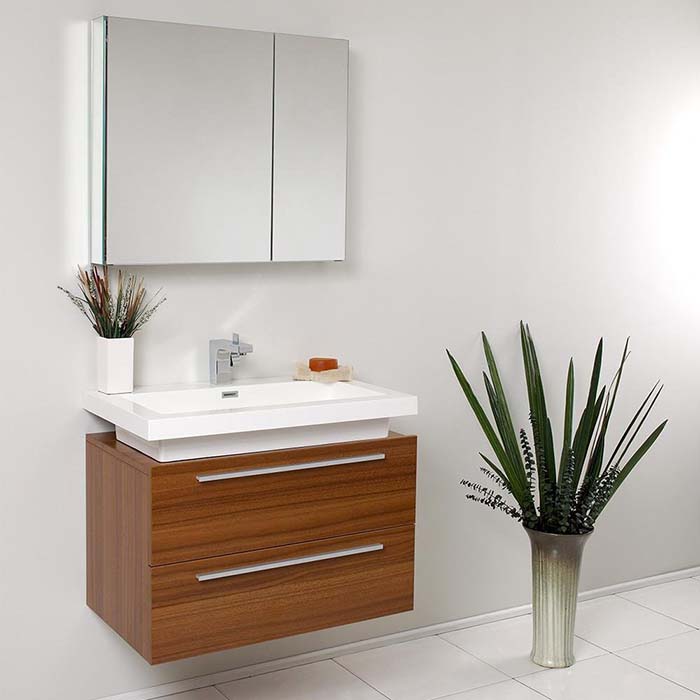 Check price: Here
Here we have a single unit teak wall hung vanity that offers storage under the sink.
Free Standing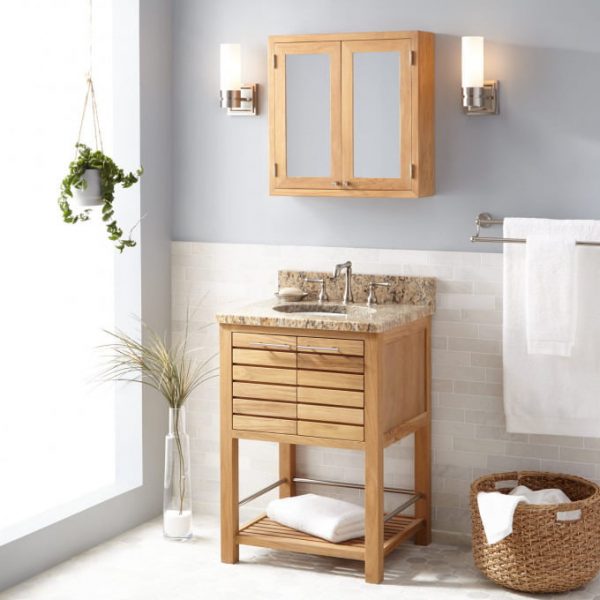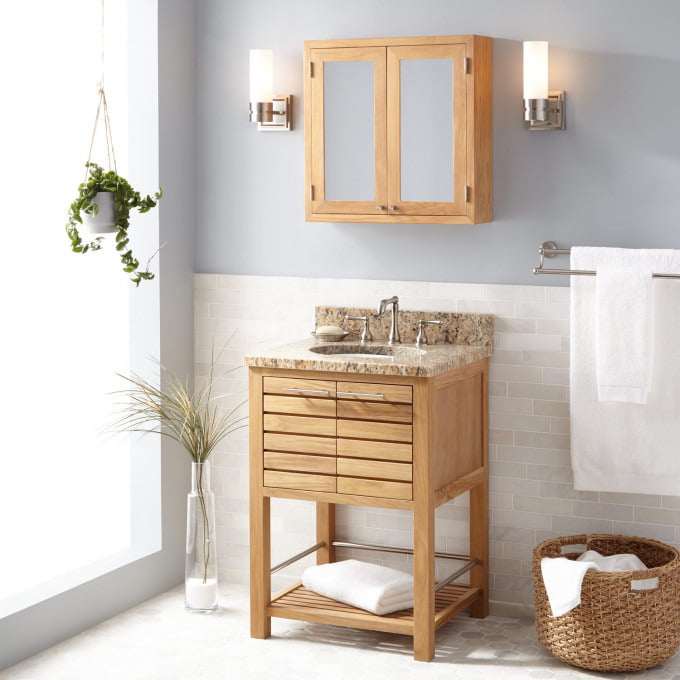 Check price: Here
This free standing single teak vanity has pull out drawers and an area to store items on the bottom open faced shelf.
It also comes with space on the sink area as well.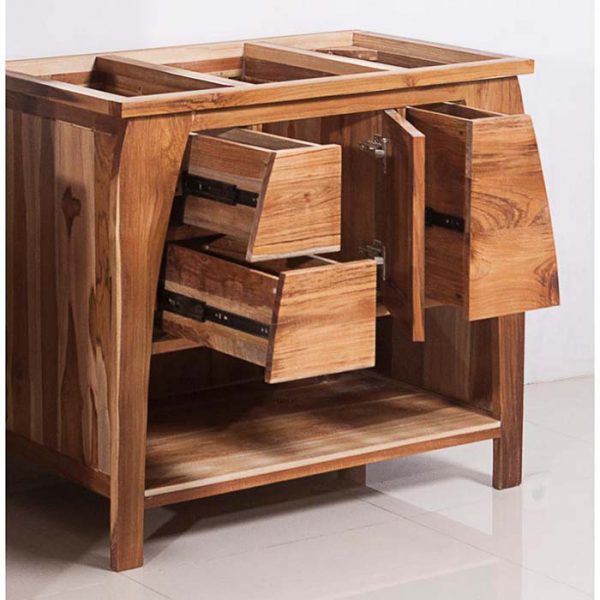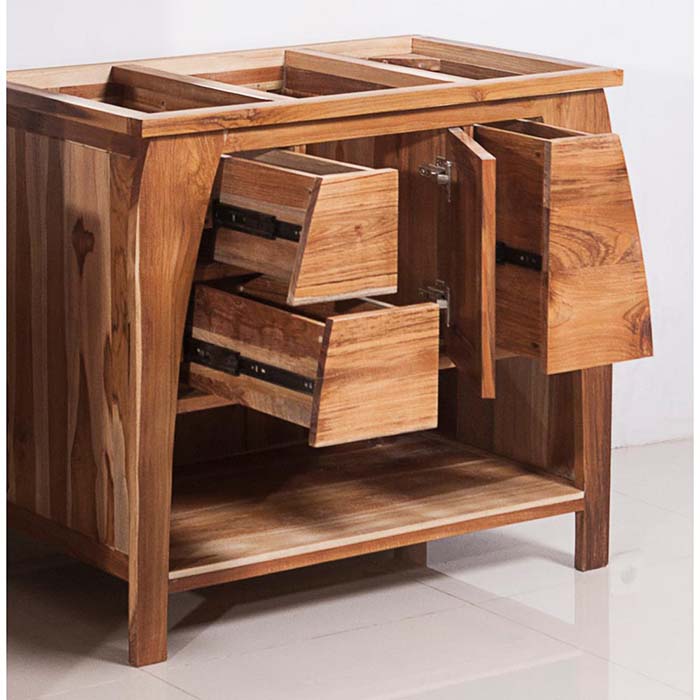 Check price: Here
This vanity features several areas of storage. It has pull out drawers, an open faced shelf at the bottom of it, and a small cabinet area with a door.
2. Teak Bathroom Bench
Adding a teak bathroom bench adds form and functionality to your bathroom space.
Because teak is water-resistant, this teak bathroom furniture can get used as a shower bench, if needed.
Added features such as handles make it easy to move, while shelving offers additional storage space if it's getting used for decorative purposes in your teak vanity bathroom.
If your home features a spa or sauna, a bathroom bench provides extra seating.
Since teak is water and mold resistant, it is ideal for warm, wet environments such as bathrooms and spa areas.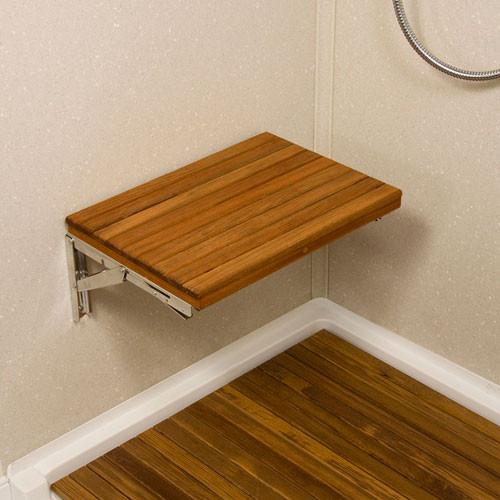 Check price: Here
Teak benches are ideal because of their slip-resistant nature. This particular one mounts to the wall and is foldable.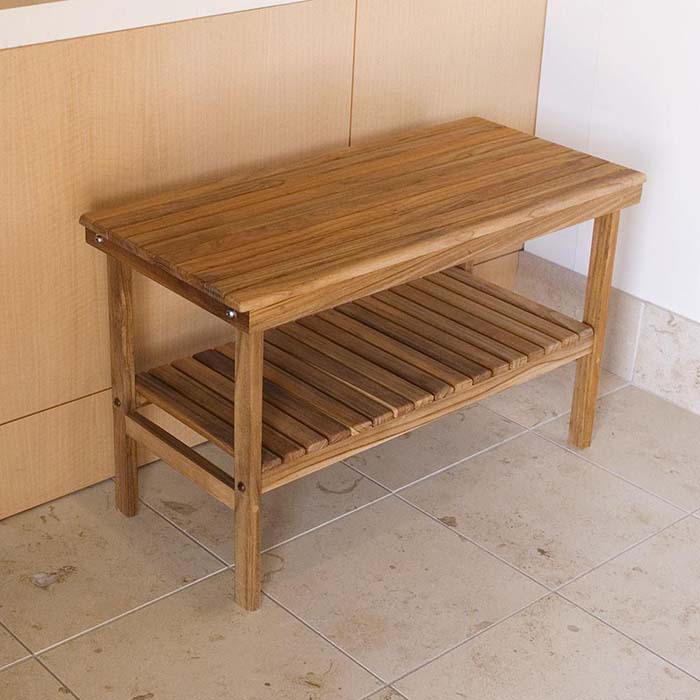 Check price: Here
Portable benches can be convenient for people who want to use them in other areas of their home.
This bench not only is portable but also has a storing space on the bottom of it so you can place essentials in the shower or other items when not using it in the bathroom.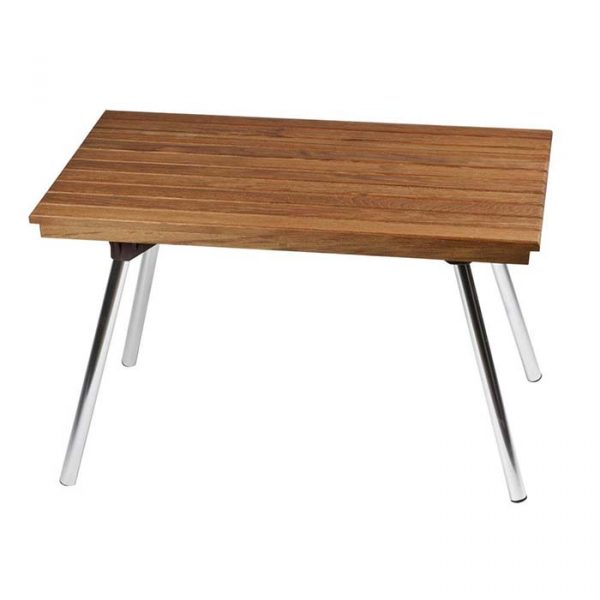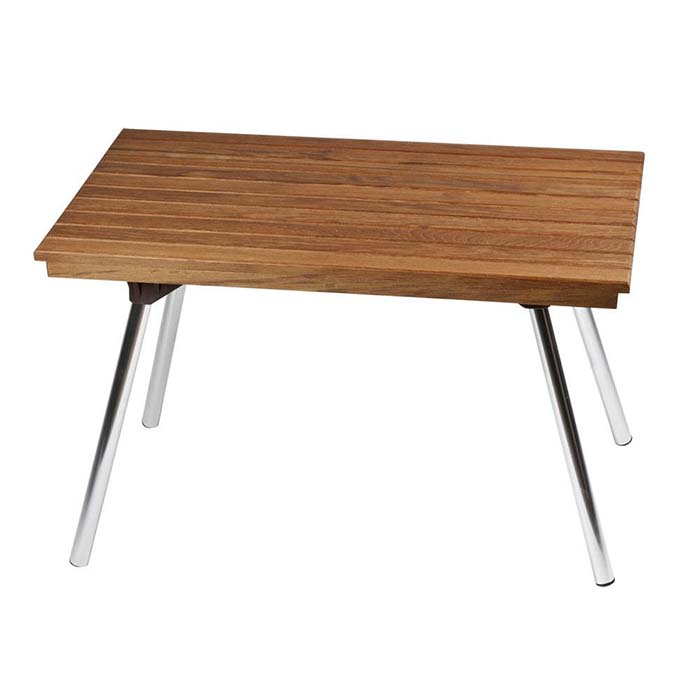 Check price: Here
Pictured here is another portable teak bench but this one doesn't offer storage space at the bottom like the one above.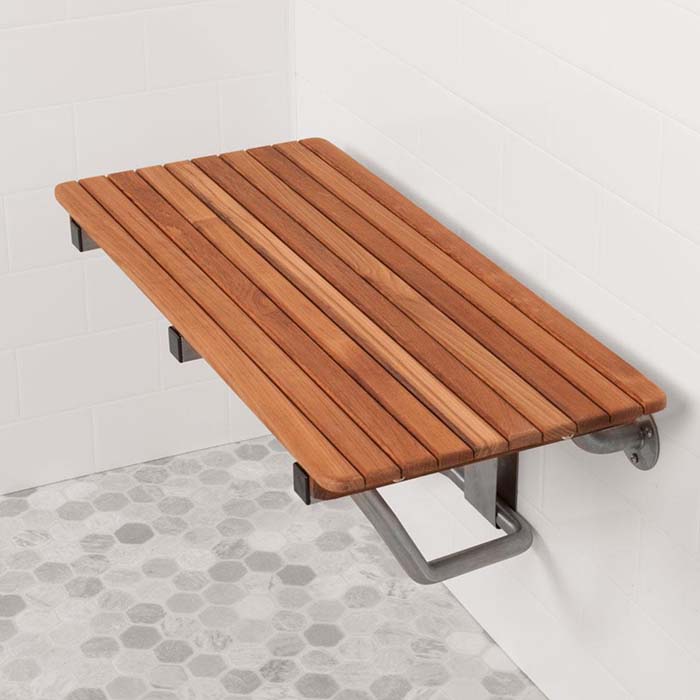 Check price: Here
Like the other foldable teak bench pictured, this one also folds but is much larger for bigger shower or bathroom areas.
3. Teak Bathroom Shelves
Installing teak bathroom shelves is a practical and elegant addition to your washroom, spa, or sauna.
Homeowners can choose from wall shelves, corner shelves, and floating shelves that provide functional storage space in the places where it's needed the most.
You can choose from a variety of bathroom shelves in multiple finishes, including natural or dark.
Depending on the type of rack, it could offer additional features such as hooks, which always come in handy for hanging towels or clothes.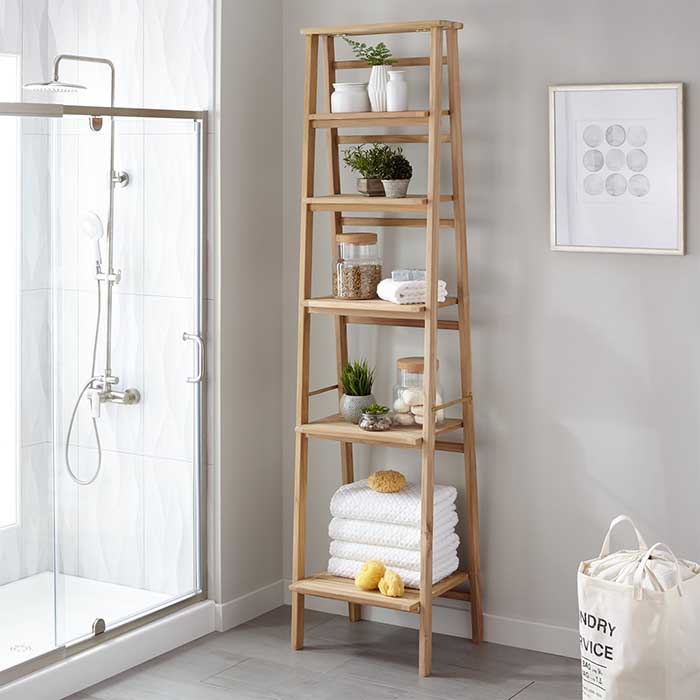 Check price: Here
Teak ladder shelves are perfect not only for the bathroom but for any room in the house. Here you can place decorative items to bathroom essentials.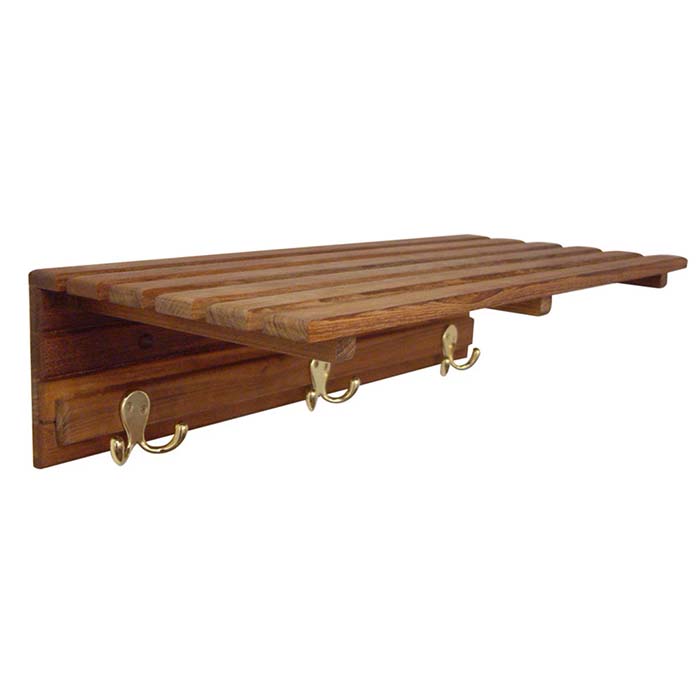 Check price: Here
This teak shelf has both a shelf and a rack to hang towels or robes.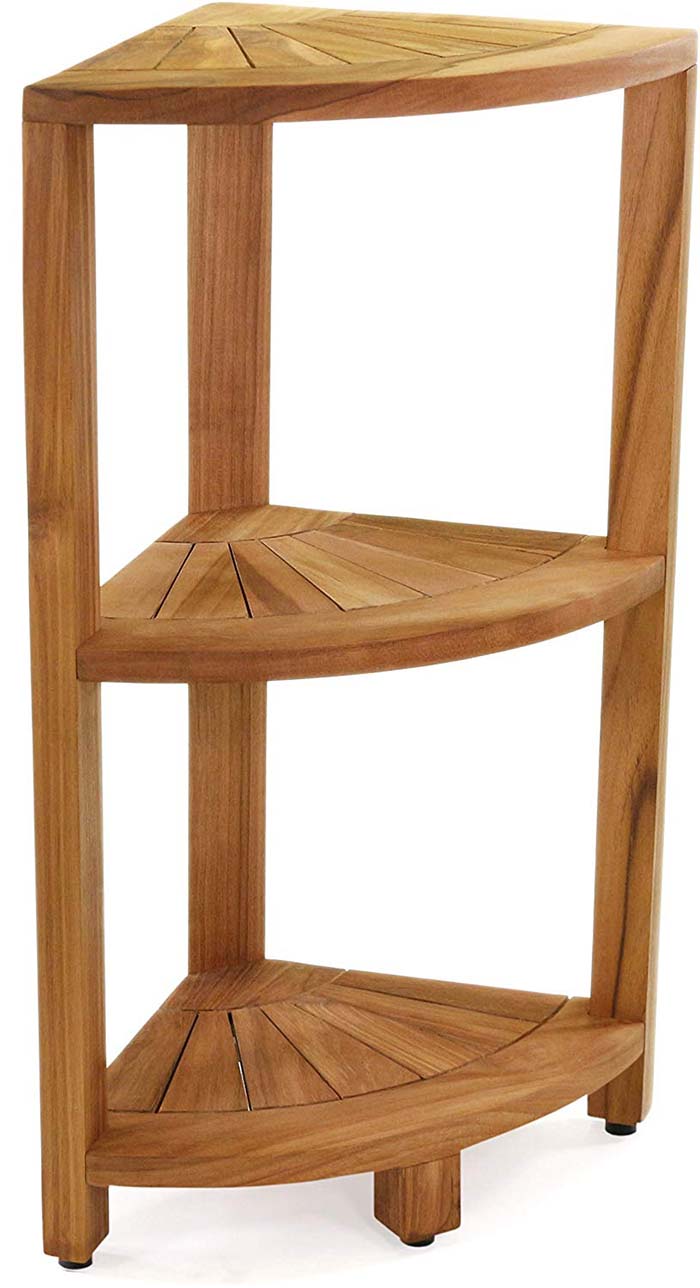 Check price: Here
Teak shelves come in many different styles. This 3 tier corner shelf offers ample space for all your bathroom essentials for in and out of the shower.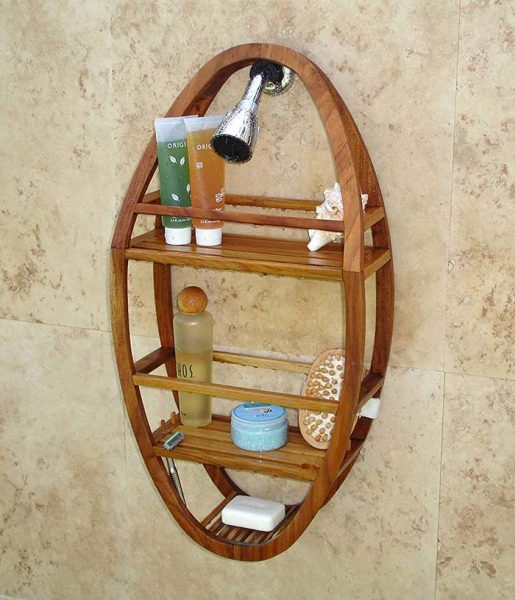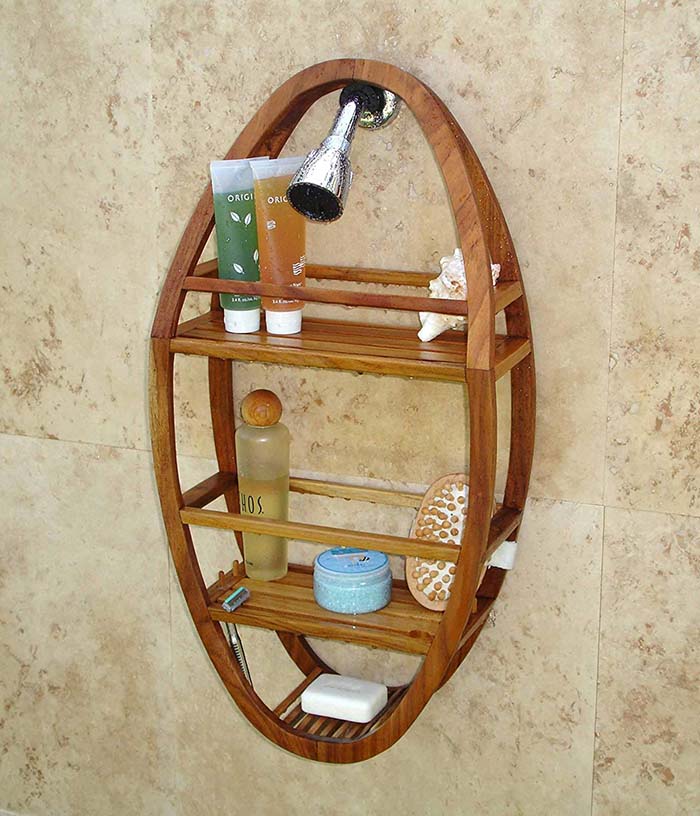 Check price: Here
Pictured here is an oval teak shower organizer.
This can be hung around your shower head or in the shower. It's ideal for holding all your personal items such as shampoo, razors, soap and wash clothes.


Check price: Here
This mounted wall shelf is large enough to hold everything from towels to decoration or bathroom items.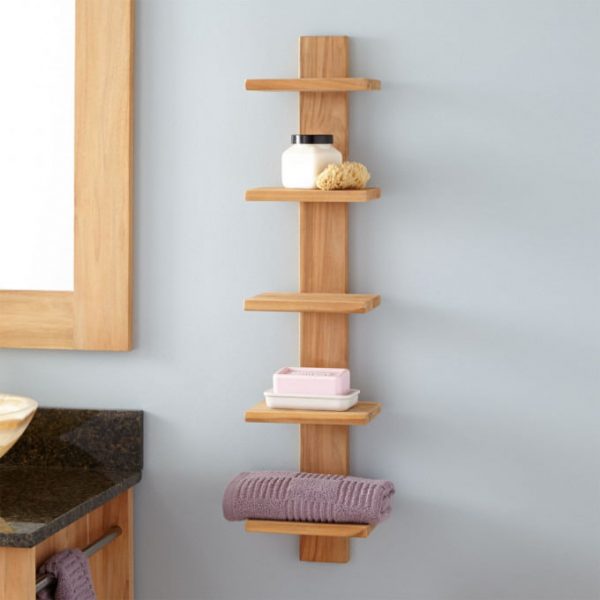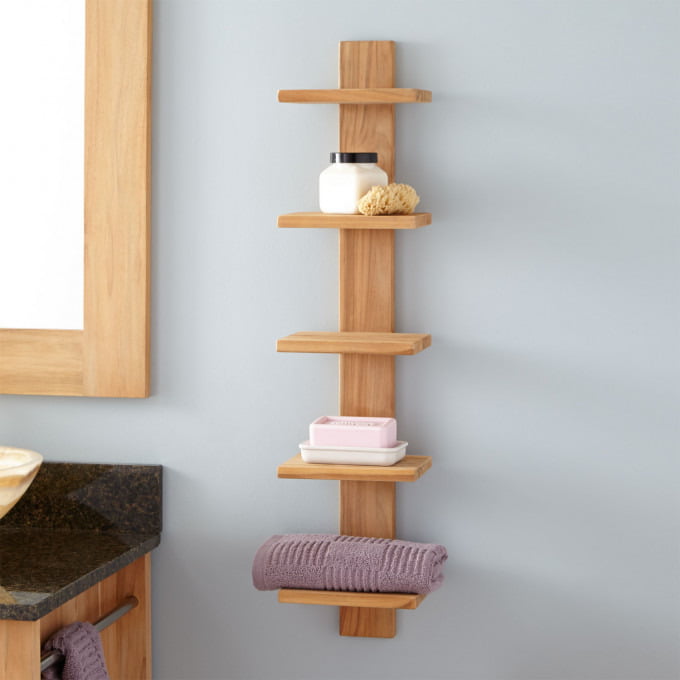 Check price: Here
This 5 tier teak bathroom shelf holds items while minimizing space.
4. Teak Bathroom Sink
A sink made of teak is exquisite and visually appealing. Homeowners can choose from a variety of styles, including vessel sinks, basin sinks, single wells, a sink for above the counter, and double sinks.
These varieties of teak sinks are available in many styles and configurations including round, rectangular, and square. Above the counter style, sinks are unique and eye-catching.
No matter what type of teak sink you like the best, you can be sure that this investment in your master or guest bathroom is an upgrade that you and your family are sure to love.
It is so much more sophisticated and savvy when compared to boring, old-fashioned drop-in sinks, porcelain pedestal sinks, and other dated looking bathroom fixtures.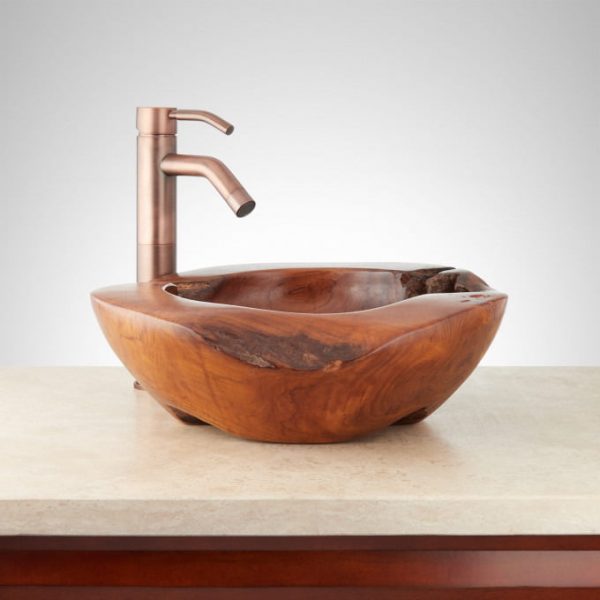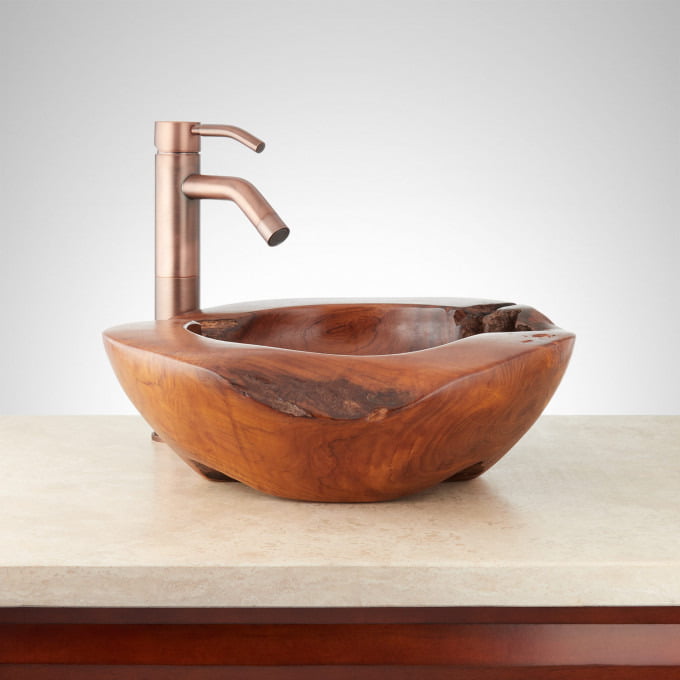 Check price: Here
Teak sinks come in a variety of styles and can even be handcrafted.
This vessel sink has a handcrafted look to it with its imperfect groves and edges etched in, that will make it the topic of any bathroom.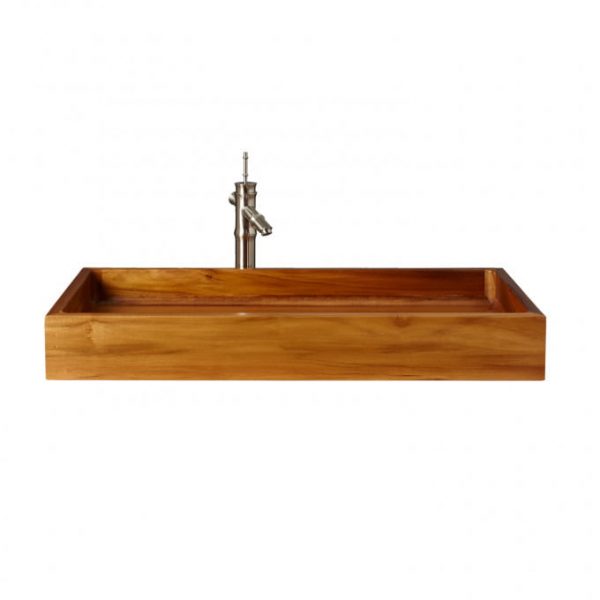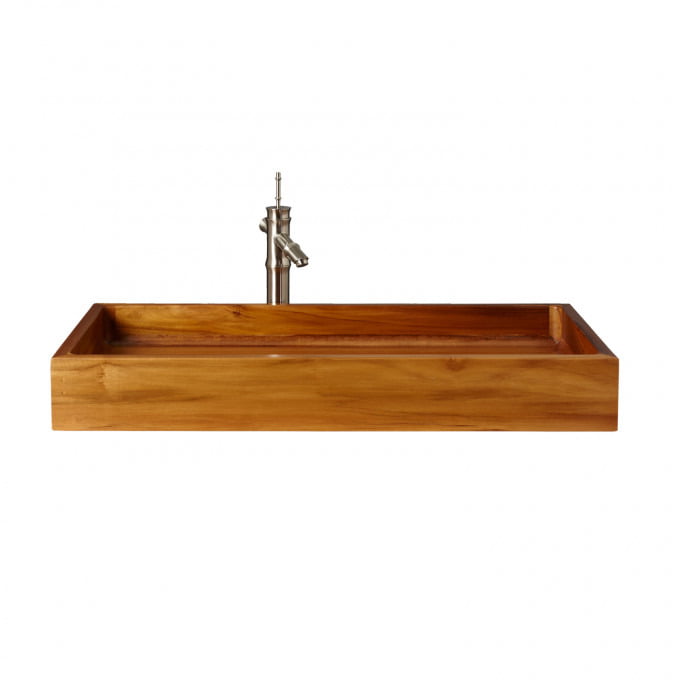 Check price: Here
This particular offers a modern yet rustic feel to it because of its rectangular trough style.
5. Teak Bathroom Cabinets
Bathroom cabinets and storage made of teak is pleasing to the eye, as well as functional for all of your bathroom storage requirements.
Teak medicine cabinets provide a convenient place to store personal care items, medications, and other items.
Free-standing bathroom cabinets offer additional areas to store towels, toiletries, hair care products, and more.
Bathroom cabinets are available in several sizes and styles. These styles could feature drawers and specialized storage areas for the items in your bathroom.
Corner shelves provide a convenient place for decor and other bathroom accessories.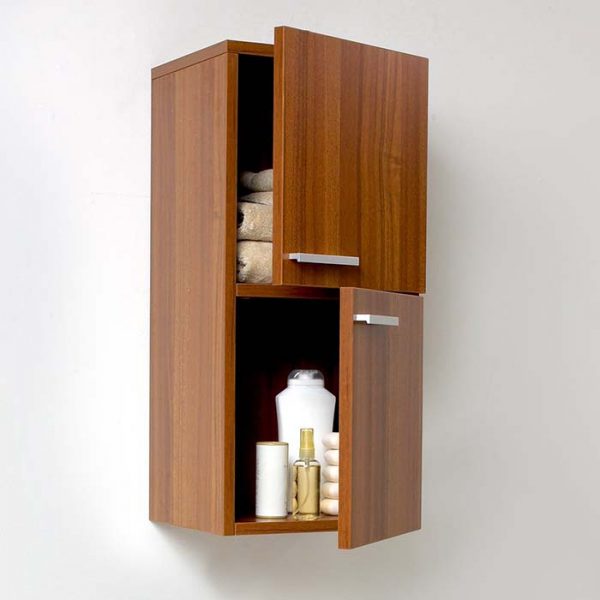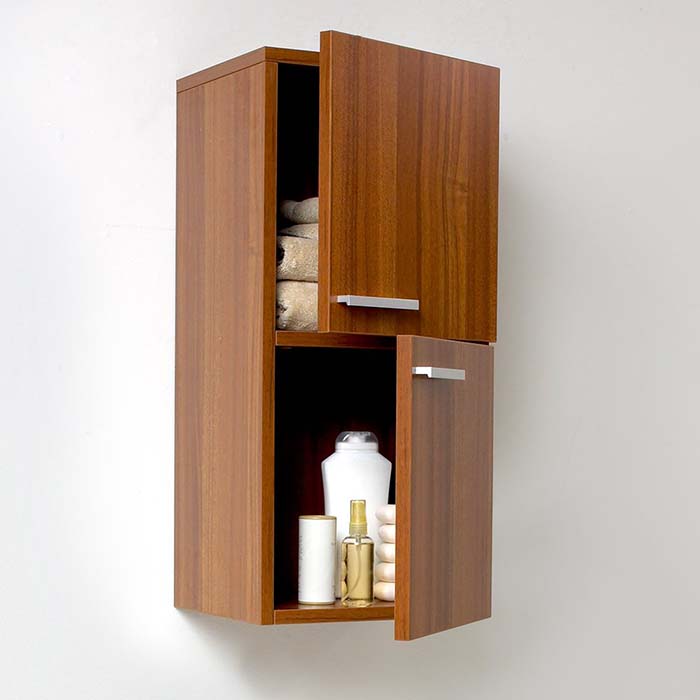 Check price: Here
Cabinets are ideal for storing all your bathroom items and come in all shapes and sizes.
This cabinet offers 2 areas to place your items and comes with doors and is mounted to your wall.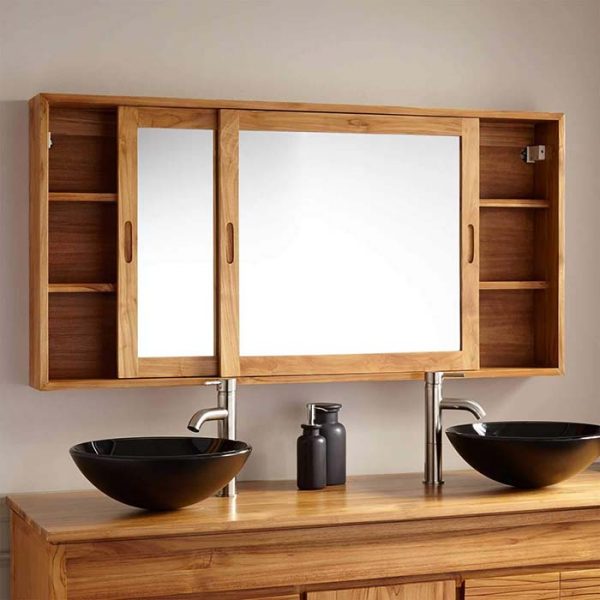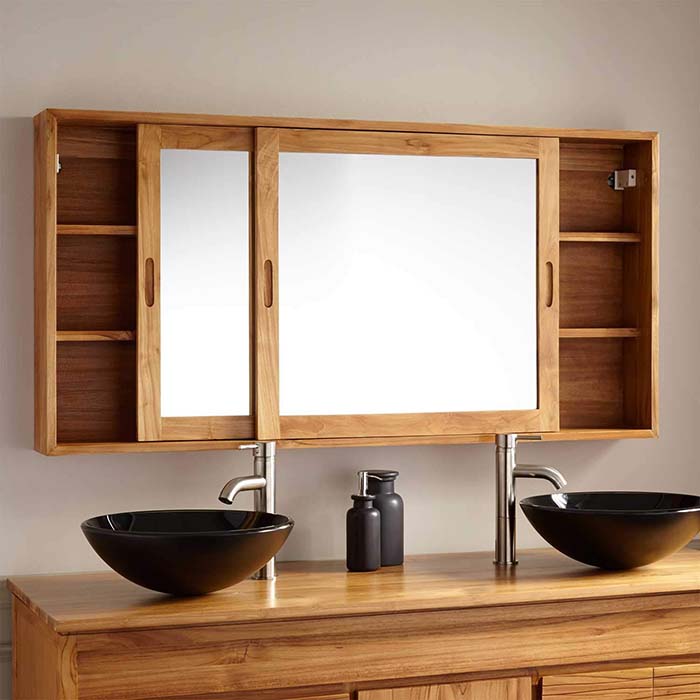 Check price: Here
Medicine cabinets are a staple for every home.
This medicine cabinet includes a sliding double mirror that reveals small shelves where you can place items like toothbrushes or medication.
6. Teak Bathroom Mats
If you are not a fan of using a carpeted bath mat, a teak bathroom mat could be the perfect addition to your master or guest bathroom.
These high-quality bath mats last for years and years. Due to the makeup of the wood, they resist damage caused by exposure to water, steam, and humidity.
Teak mats are available in several configurations including roll-up style mats, floor runner style mats, and solid mats. Additionally, you can choose from multiple types of finishes, including oil-treated, natural, or dark.
Another benefit of using a mat made of teak is that it is a non-slippery surface. This non-slippery surface adds an extra level of safety and security to using this type of mat around your shower, bathtub, sauna, spa, jacuzzi, or pool area.
It's worth noting these mats can get used in other areas of the home including in the spa, sauna, or pool house area.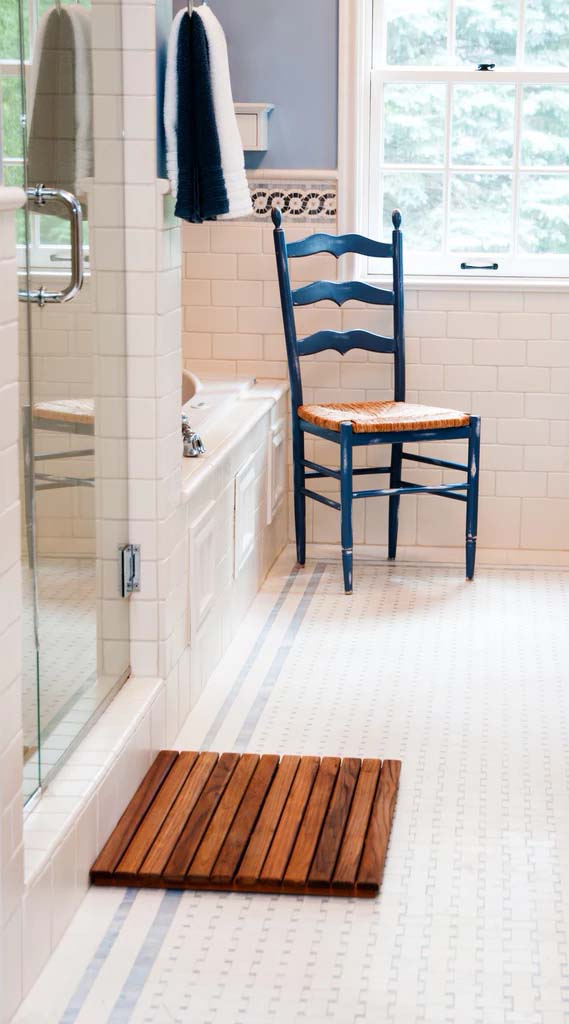 Check price: Here
Pictured is a teak shower or bath mat that is ideal for placing outside your shower area or you can even place it outside your home.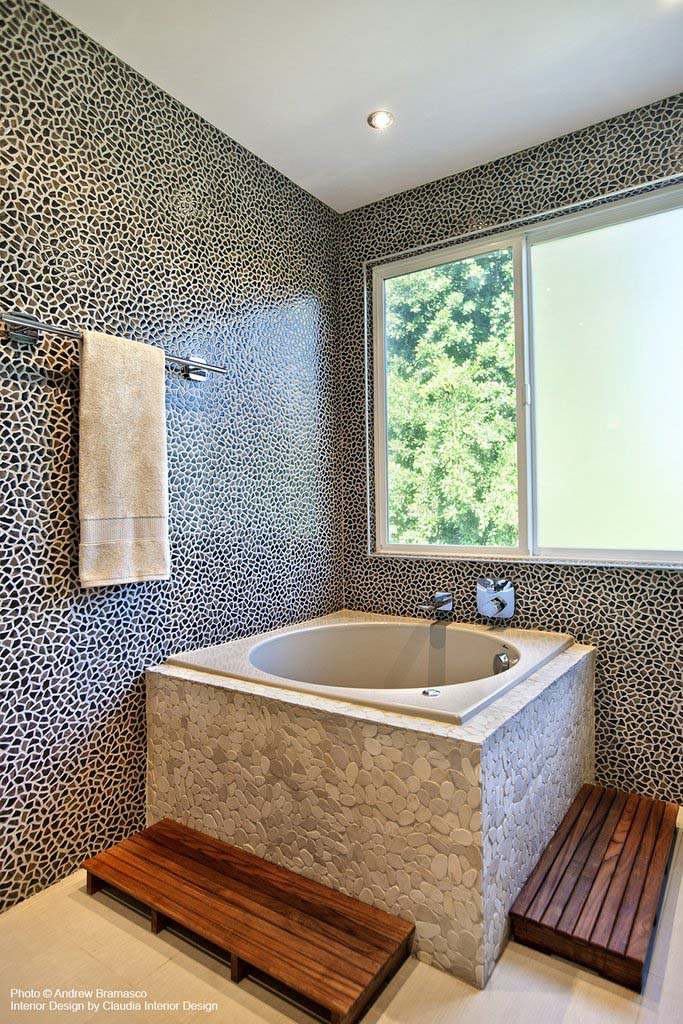 Check price: Here
This mat is unique in that it has a feature that enables you to add a step to it.
7. Teak Bathroom Flooring
If bathroom tile isn't for you, teak flooring could be a wise choice for your bathroom flooring needs.
Teak floors are available in many style and color variations. Some examples of teak flooring include Chinese teak, Burma teak, African teak, Golden teak, and Brazilian teak.
Finishes can vary from natural to light, to dark, to even mahogany. Teak bathroom flooring is beautiful because it looks sharp and simple with straight lines. For a more customized look, the use of patterns in the layout adds depth and variety to the finished flooring.
Benefits of teak flooring include having a natural resistance to water, mold, mildew, and even bugs.
No matter what type or style of teak flooring you choose, it's critical to care for it to assure it looks great for years to come. Luckily, teak flooring doesn't require a high level of care. To avoid damages, always be mindful of things that could scratch or stain the wood. A properly sealed floor is assumed.
Cleaning Tips
Always use a soft broom with soft bristles on hardwood flooring. Brooms with hard or stiff bristles could potentially scratch the floor.
If you see large stains or dirt that's hard to remove, use a hard sponge with a small amount of neutral soap and rub gently. A little bit of soap goes a long way and could potentially damage the wood, so go easy.
Protection Tips:
To minimize wear and tear on your floors, consider placing mats by all potential access points that enter into teak wood flooring areas. To decrease the chance of damages from scratching furniture, add scratch protection on the bases of your furniture.
Conservation Tips:
Optimally, teak floors should get sanded with 120 grit sandpaper every couple of years. By taking the time to do this task, the teak will look renewed – so much that you might even think that it's new! However, this is a job that you should defer to a professional, as he or she will have the tools, the skills, and the know-how to accomplish this job without damaging or ruining the teak floors.
Special Attention
Avoid rubbing your teak floor with any type of brush that has hard bristles. While they might seem relatively innocent, these bristles can cause serious damage to wood floors. In addition to not using hard bristles, also avoid using detergents that contain bleach or ammonia on wooden floors, as they cause serious damage to the wood.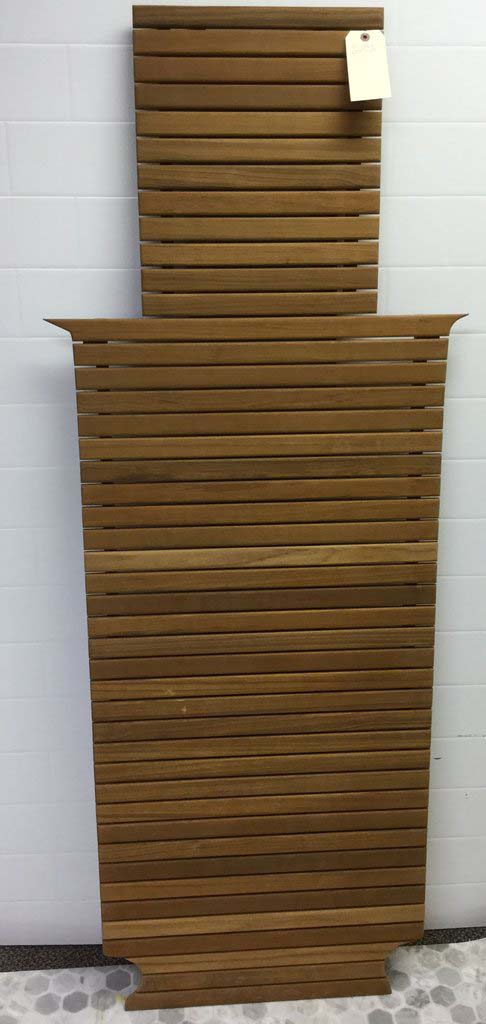 Check price: Here
Teak flooring is ideal since it's slip-resistant and can withstand the elements.
This particular one doesn't cover the whole floor but will cover a shower or bathtub area and is custom made.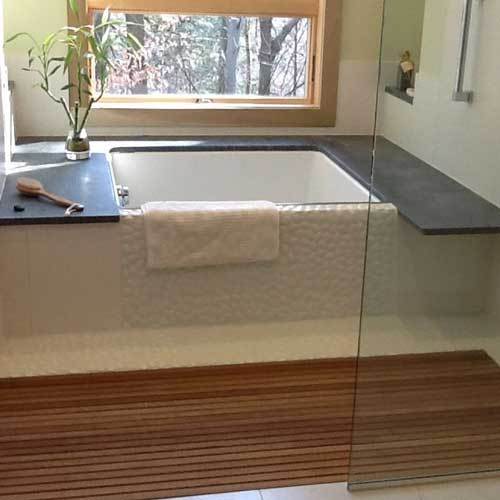 Check price: Here
While teak can cover full bathroom floors, this type of flooring has a design that allows for adding more pieces so you can have the desired space you want covered.
8. Teak Bathroom Stool
A bathroom stool made of teak is elegant and useful. It fits nicely in sitting areas your bathroom and dressing rooms. Bathroom stools made of teak are available in a vast number of styles.
Solid teak corner vanity stools fit nicely into corners. Modular stools are ideal for use in the bathroom or shower because of the triangular design. It requires little space. However, it's sturdy for sitting.
Bathroom stools are available in a variety of lengths ranging from 20 inches to 29 inches in width.
These stools make life easier for people who need to sit down while they shower for personal or health needs.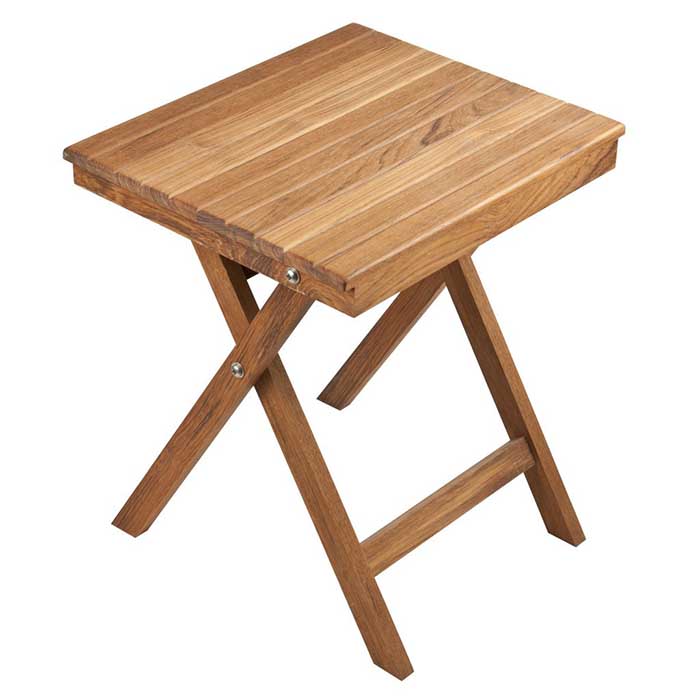 Check price: Here
This teak stool doubles as a stool and table. It's portable and folds making it easy to store when not in use.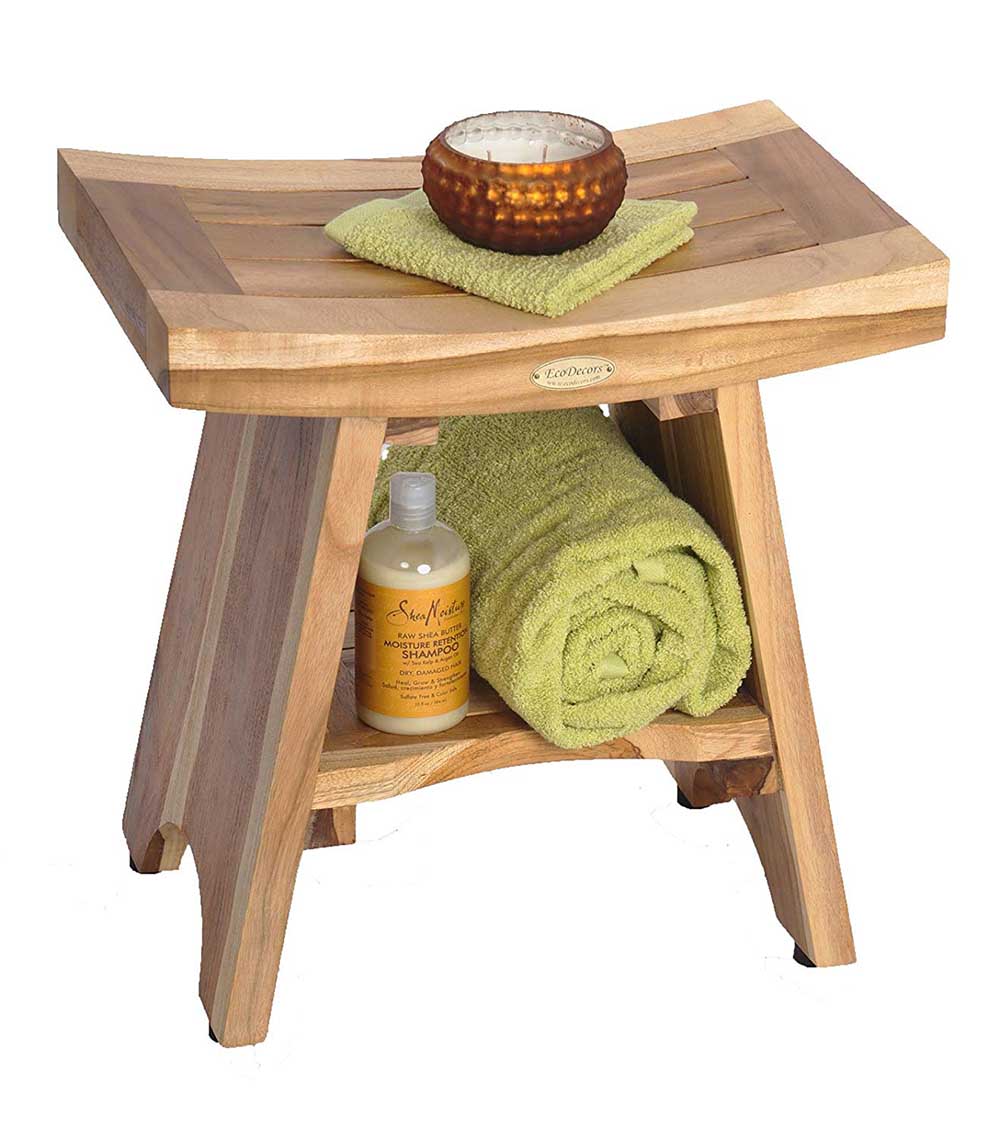 Check price: Here
Pictured here is a stool that has a storage area underneath for holding items and can also be used in the shower.
9. Teak Bathroom Accessories
Teak bathroom accessories and teak bathroom cabinets are the perfect addition to your master or guest bathrooms. Types of bathroom accessories you can find made out of teak include:
Baskets – Teak baskets are the ideal place to store extra hand towels, hand soap, tissues, magazines or books, and other everyday bathroom needs.
Shelving – Everyone can use a little extra space to add decorations or functional storage space for odds and ends in the bathroom. Teak shelving looks terrific and isn't negatively affected by moisture and humidity that is often common in washrooms.
Folding Shower Seats – Folding shower seats are helpful for people who want or need to sit down while showering. If not used when showering, a folding shower seat can also get used as a table or a storage area for items. Or, it can get folded up and tucked away. It is entirely up to you!
Towel Racks – Teak towel racks help assure that your bath towels are fresh and dry when you go to use them. All you need to do is hang them after using and let nature do the rest. Since teak is moisture and bacteria-resistant, teak towel racks are ideal for drying towels, washcloths, bathing suits, and more.
Corner Stools – Corner stools tuck away nicely in the corner, providing space for someone to sit, or to use for storage. While styles vary, some types of corner seats offer additional shelving to store items like candles, lotion, and other things. This type of stool is often used at spas and salons to hold items such as tissues, lotions, washcloths, towels, and other items that are needed to create a calm and relaxing environment for patrons and visitors of the business.
Bathroom Caddies – Bathroom caddies help keep shampoo, conditioner, body soap, and other personal care items organized in the shower. The most popular type of caddy hangs over the top of the showerhead, making the items kept in it easier to access from standing level.
Teak Bathroom Storage – Bathroom storage made of teak is available in multiple configurations. Standing cabinets serve well as a linen closet. Large storage cabinets can hold a large number of items. Tower cabinets offer numerous tiers of shelf space for homeowners.
Floor mats – Floor mats are a more hygienic approach to bathroom floors. Unlike carpet mats that absorb and create an ideal environment for bacteria to grow, teak mats do not absorb moisture and repel bacteria and mildew.
All of these items are relatively affordable items to add to your bathroom or other areas of your home. In some cases, you might even consider implementing some of these furniture pieces into other areas of your home.
For instance, a bench or stool could be an ideal addition to your entryway or mudroom. By giving your kids – and your not so little kids – a place to sit and remove their shoes, you can reap the benefit of clean floors in the rest of your home.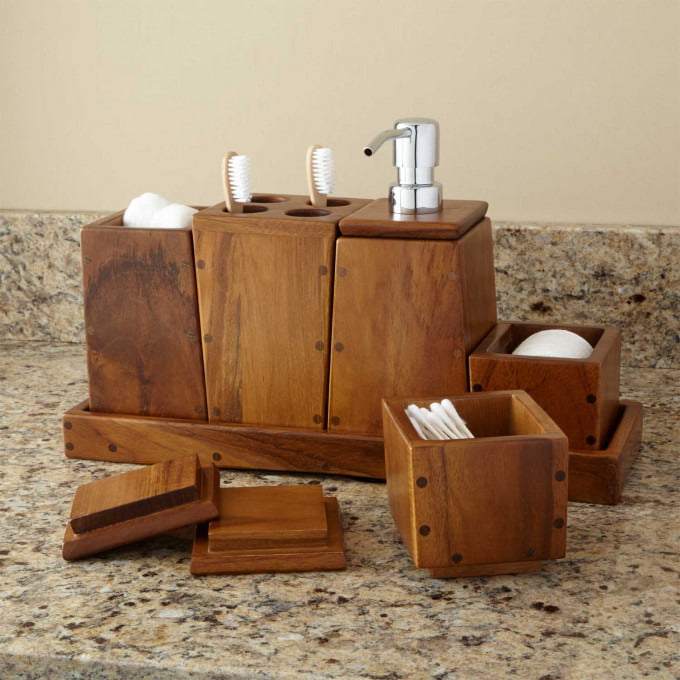 Check price: Here
This bathroom set holds toothbrushes, Q-tips, cotton balls, and even soap.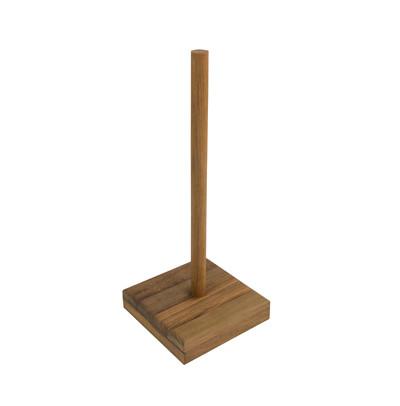 Check price: Here
Above is a toilet paper holder that can be mounted to the wall or placed on the floor.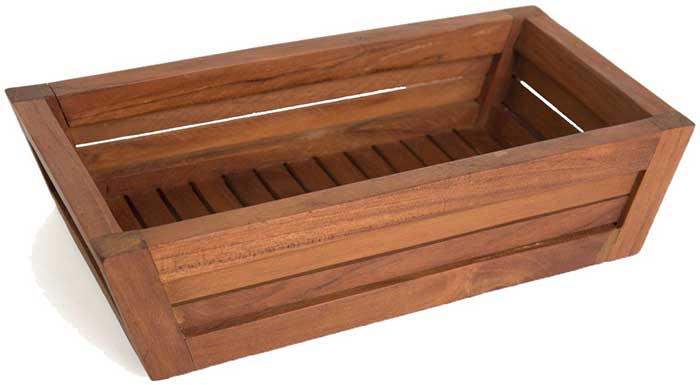 Check price: Here
This teak tray can be placed on top of sinks and holds various items like hand towels or soap containers.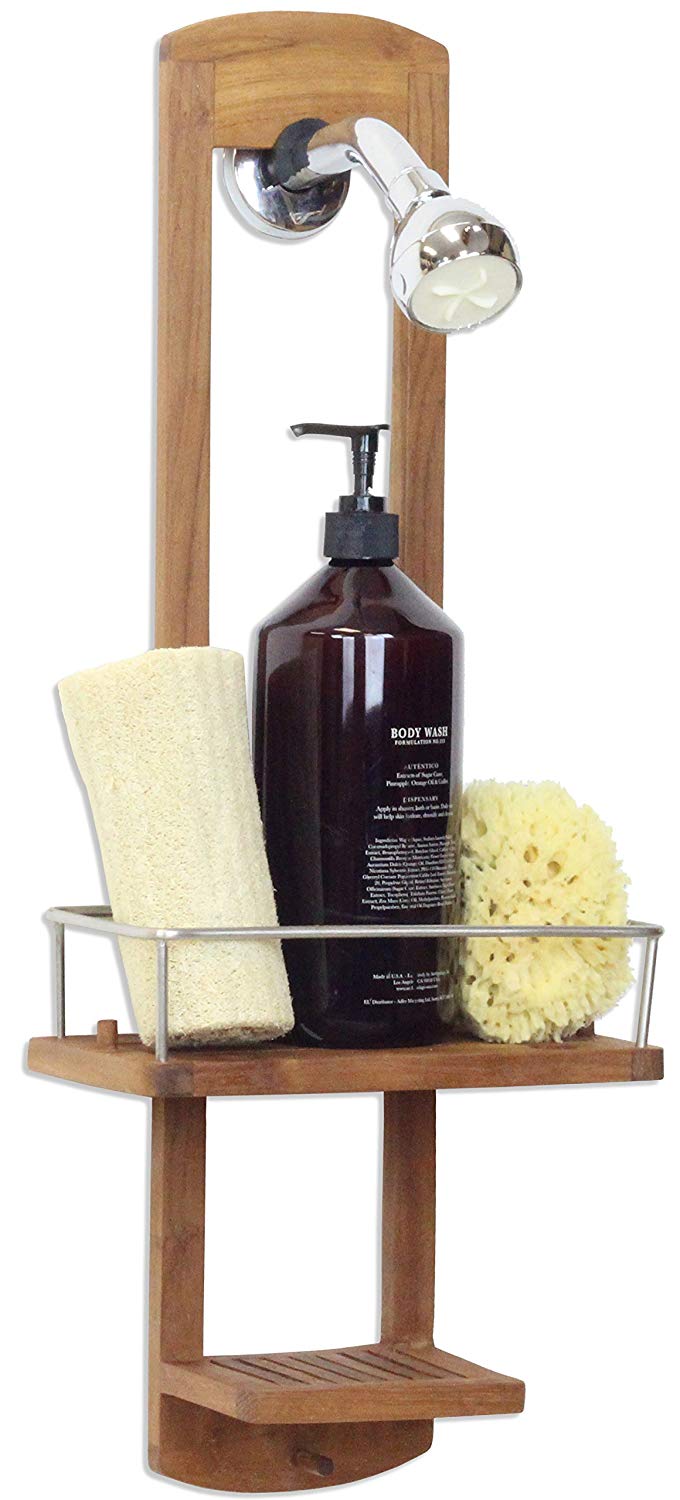 Check price: Here
Shower caddies are perfect for holding items while you shower. This one made of teak even comes with a soap holder.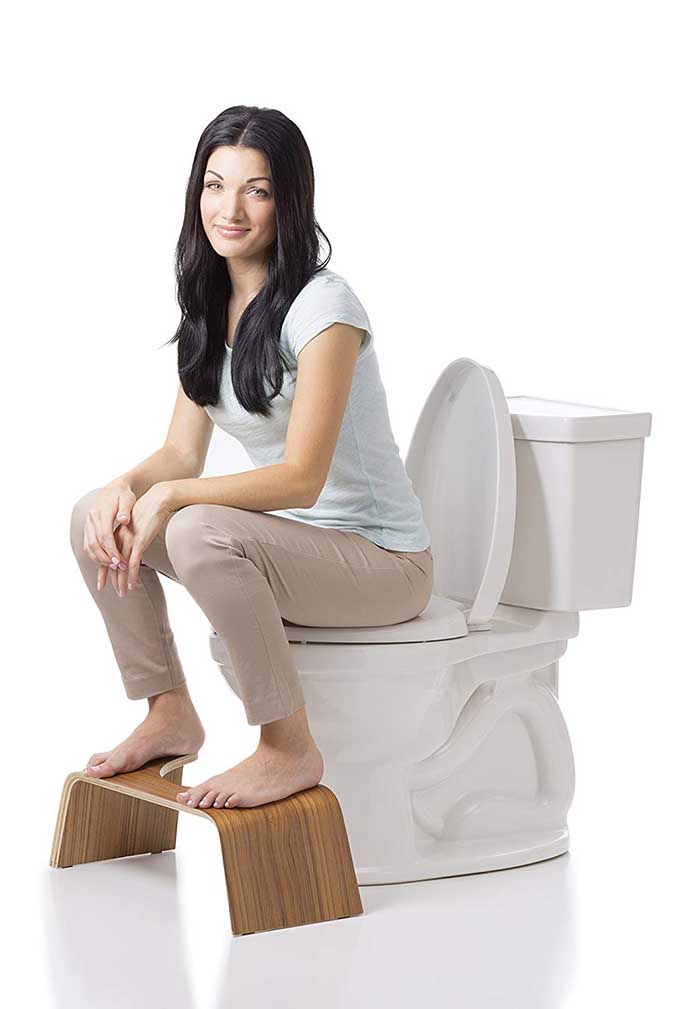 Check price: Here
Toilet stools can help the elderly or small children with reaching the toilet.
10. Other Teak Furniture
The best thing about teak furniture is that you can use it in any room in your house. Teak patio bar stools are ideal for use in your kitchen. Alternatively, teak is a popular wood used in outdoor furniture including, outdoor tables, sling chairs, and other pieces of furniture.
If you love the fashion and flair of a teak bathroom, you'll undoubtedly want to explore all of the wonderful options that outdoor teak furniture has to offer.
Enjoy an evening under the stars or at the beach in a comfortable and easy to transport sling chair. Or offer the perfect outdoor setting to eat a meal with family and friends al fresco style.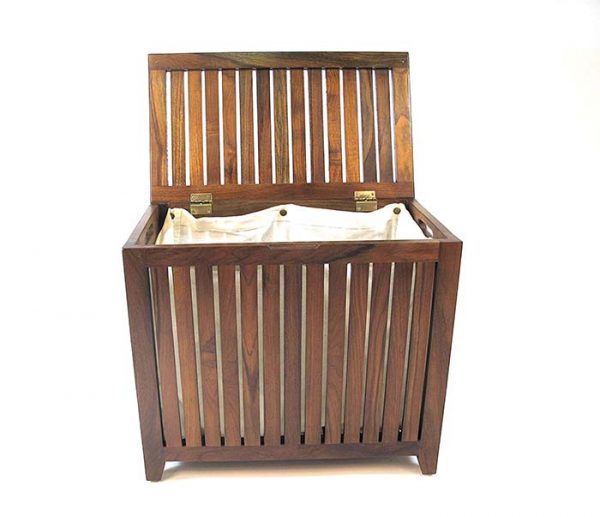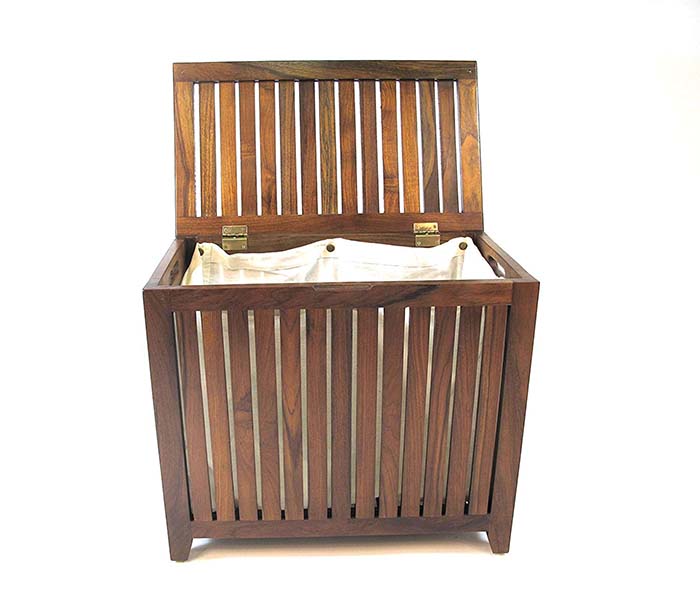 Check price: Here
This teak hamper holds all your delicates and will match the rest of your bathroom.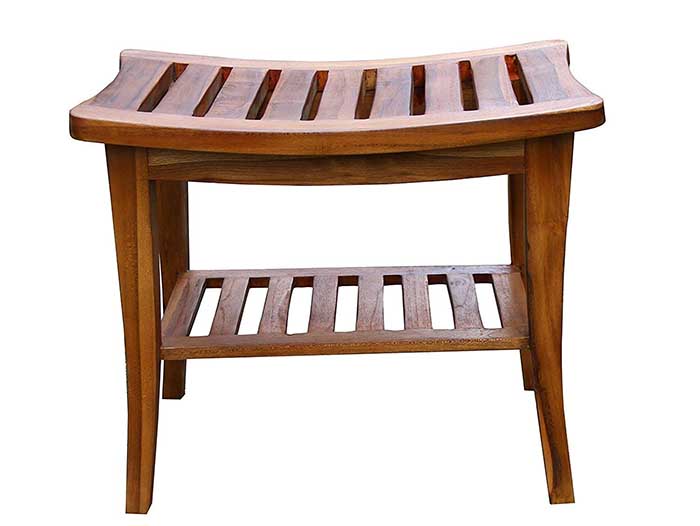 Check price: Here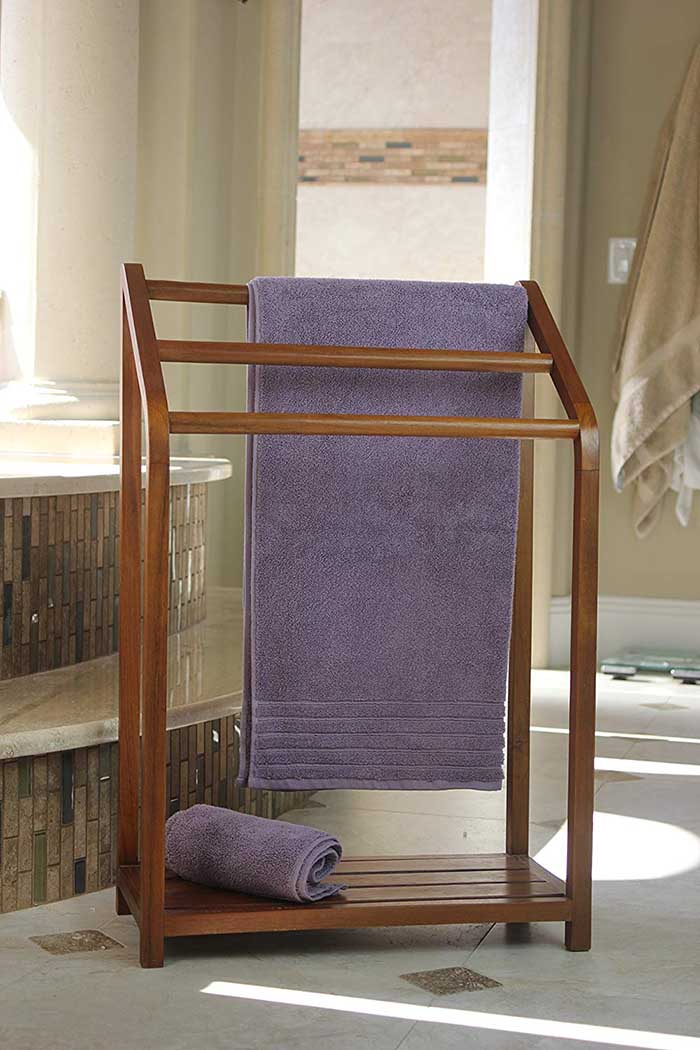 Pictured here is a towel rack that is ideal for hanging towels up and for folding them on the bottom shelf.
Check price: Here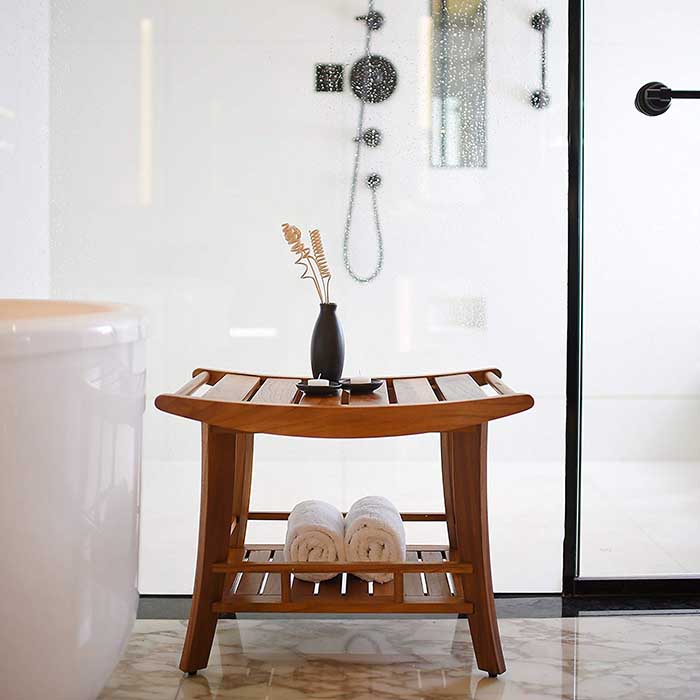 Check price: Here
Are you ready to spruce up your bathroom with teak?