Let me ask you – what could be more relaxing than a nice long soak? The answer is soaking in a bathtub that looks as awesome as it feels!  😉
As I'm sure that you consider you've seen all kinds of tubs and there's nothing more to see, I'll prove you are wrong!

We have prepared a list of 34 cool bathtubs and showers that you will love. Some of them are so extravagant that you would not believe they are real.
And although most of us will never be able to afford such glimpses, there is nothing wrong to just enjoy this selection and see how far the creativity and inventiveness of the interior designers can go.
1. Bathtub Made of Wood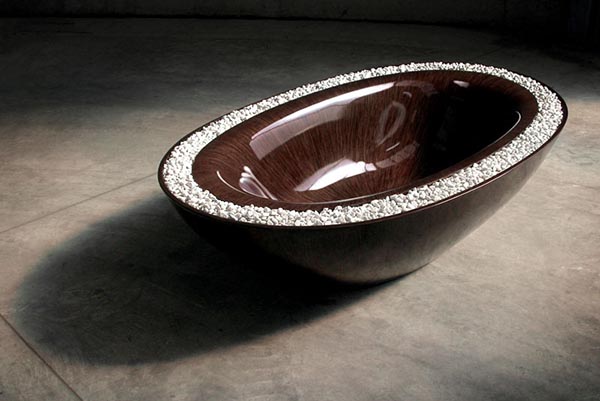 Photo:Credit
I will start with a beautiful freestanding bathtub made of wood that would surely transform every bathroom into an island of wellness.
The white pebbles are a nice final touch to this piece of art. However, you can easily switch to other material or element to make it more personal and unique.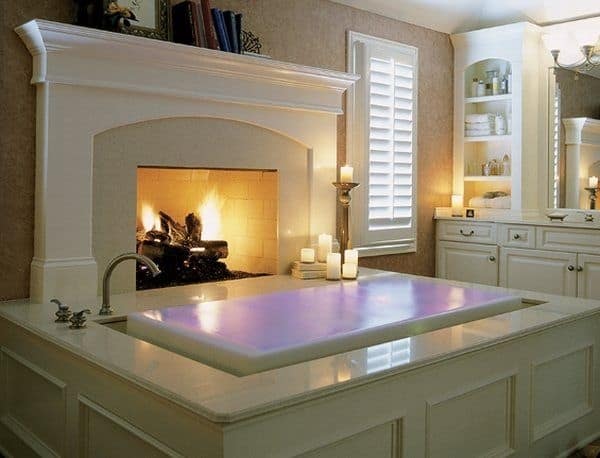 When speaking of cool bathtubs, take a look at this stunning overflow tub next to a fireplace.
Looking at the fire while soaking …what a better way to spend your free time?
Besides, the shape looks comfortable and invokes a natural sense of serenity.
3. High Heel Bathtub Design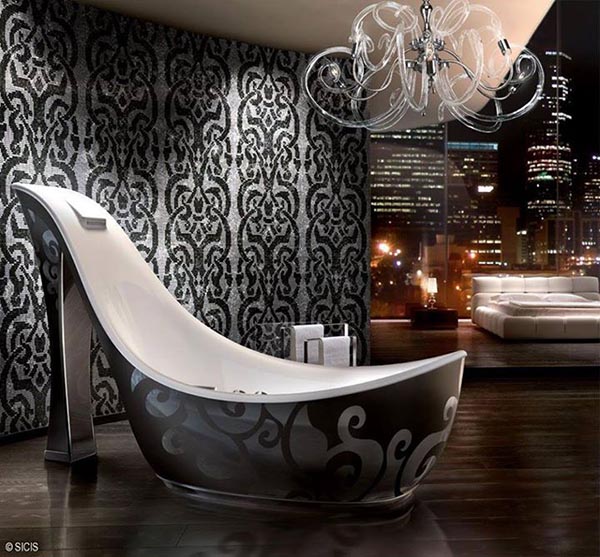 Photo:Credit
This high heel shoe shaped tub looks surreal! It ideally fits the luxurious surrounding and it is visually appealing.
The tilted edges give this modern tub an extravagant personality while providing extra support for the back.
4. Rock Crystal Bathtub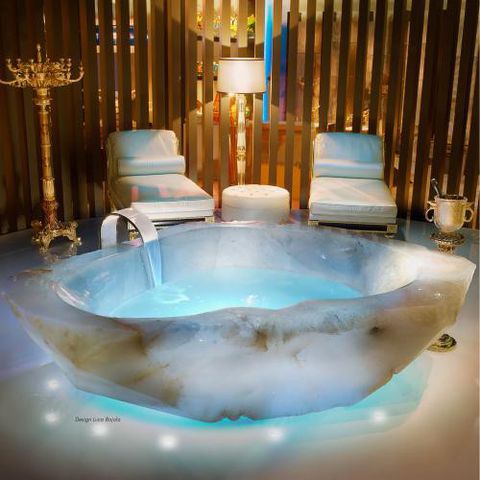 Photo:Credit
Here is something that would bring the wide Scandinavian nature directly into your washing room!
This two-person soaking tub is made of a solid rock crystal found in the Amazonian rainforest. Thanks to the appealing lighting, it's a pleasure for the eyes.
5. Hammock Bathtub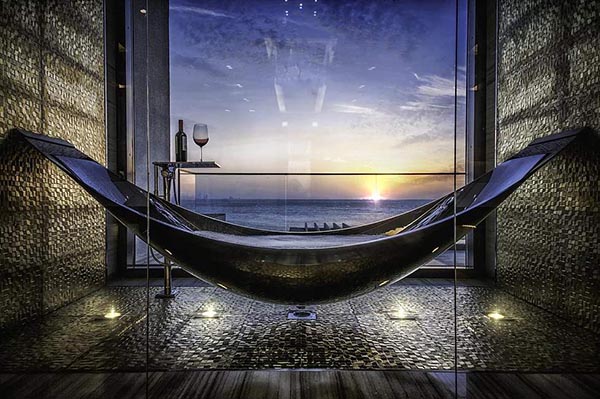 Photo:Credit
The two things that immediately come to my mind when speaking of relaxation, are the hammock and the bathroom tub.
But how about combining these two into one undeniable fixture of relaxation – the hammock bathtub, made of carbon fiber?
6.TV Built-In

This expensive-looking entertainment center features a 42-inch HD plasma monitor, a contemporary small bathtub, and a powerful surround sound system.
Make the surrounding even more relaxing by adding some candles and an essential oil diffuser.
This is where your husband will watch football from now on!  😀
7. Bathing sphere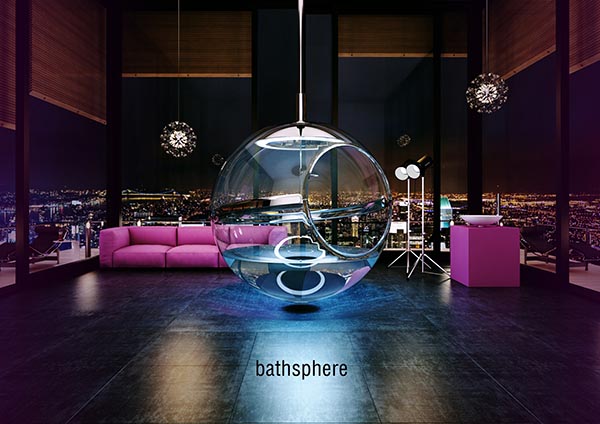 Photo:Credit
The surreal bathing sphere definitely comes first in my list of super cool bathtubs!
It presents a large glass-bubble kinda suspended sphere that would allow you to create your own relaxing spot.
Moreover, you can control the temperature, stimulate drizzle, the level of humidity, and lights. Stunning!
8. Free Standing Air Bathtub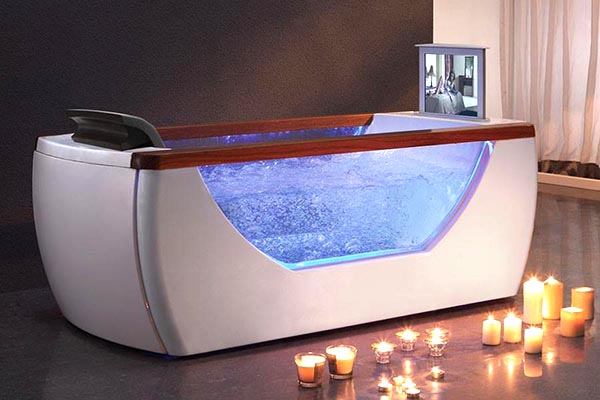 Photo:Credit
Here is a freestanding small jacuzzi tub looking like a tiny pool that would make you feel more intimate with the water.
The best part is the appealing timeless design of this tub that would fit almost every bathroom interior.
9. Le Cob Design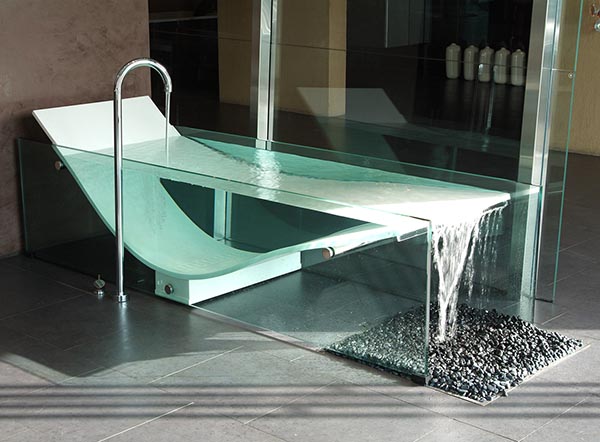 Photo:Credit
This bathtub is a brilliant piece of art that every contemporary bathroom should have!
The comforting cascade overflow, made of solid glass, is simply healing, evocative of a river, as the water falls onto the black pebbles below.
10. Bathtub For Two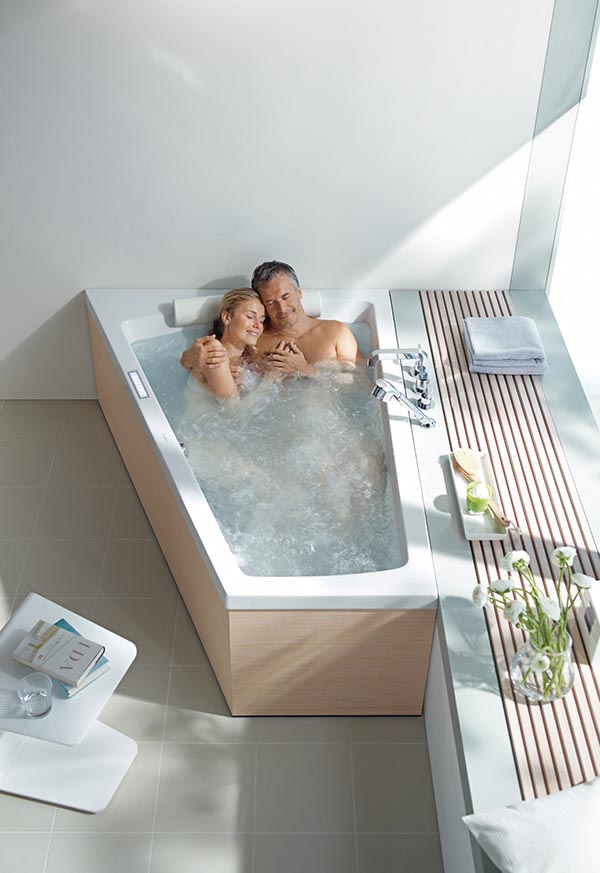 Photo:Credit
The best thing about this stylish soaker tub for two is that fact it can be installed either as a freestanding or as a built-in bathtub.
The soft neck pillow gives you and your partner an additional comfort.
11. Wooden Design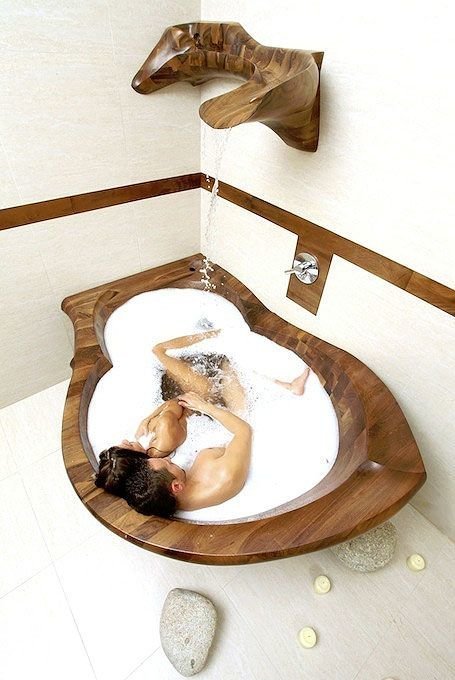 Photo:Credit
While I was searching for some cool shaped bathtubs, I found this naturally looking built-in tub for two people.
Its rounded rectangle shape looks soothing and invokes a natural feel of tranquility. Plus, there is enough space for you and your partner.
What an amazing way to spend the upcoming weekend!  🙄
12. Built-In Floor Bathtub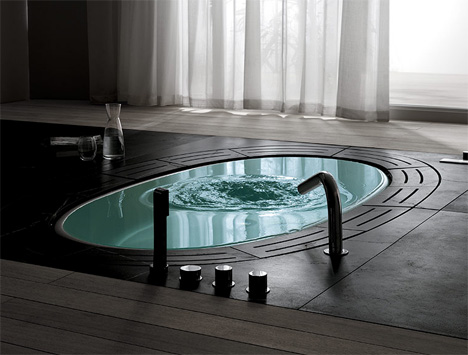 Photo:Credit
I just love this built-in floor tub bath! Why?
Because, it is an innovative result of a state-of-the-art design, born by technique, ergonomics, and aesthetics.
It is egg-shaped which allows an exceptional amount of water.
13. Future Is Now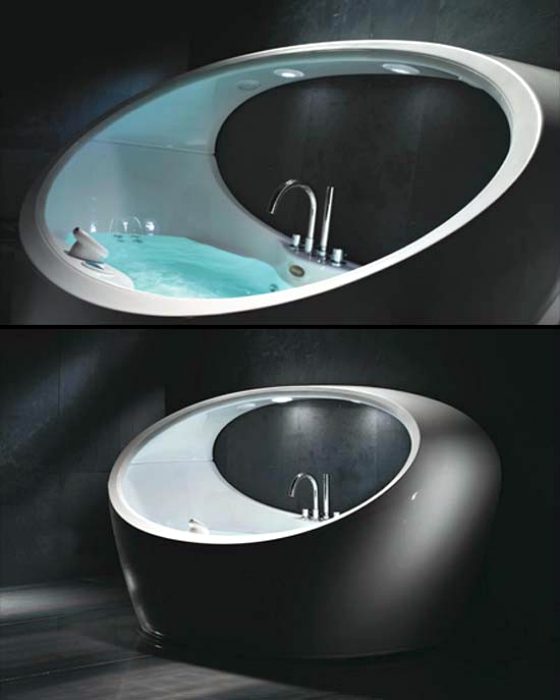 Photo:Credit
This futuristic bathtub with lights and ingrained heating will surely appeal to lovers of long soaking and complete relaxation. Its shape gives a high level of privacy and coziness.
You should add this to your list of really cool bathtubs in black!  😀
14. Smart Hydro Bathtub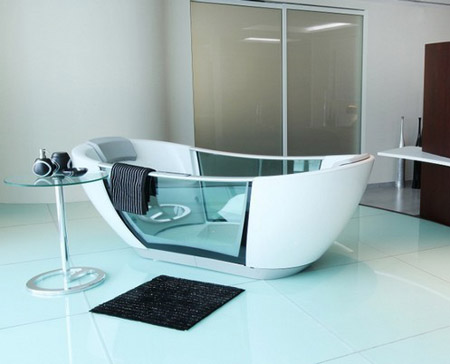 Photo:Credit
This tub, made of highly-resistant glass, is visually appealing thanks to its transparent walls and ergonomic design.
However, its key benefit is the self-cleaning system which would save you lots of time and nerves!
15. Rectangular Shaped Bathtub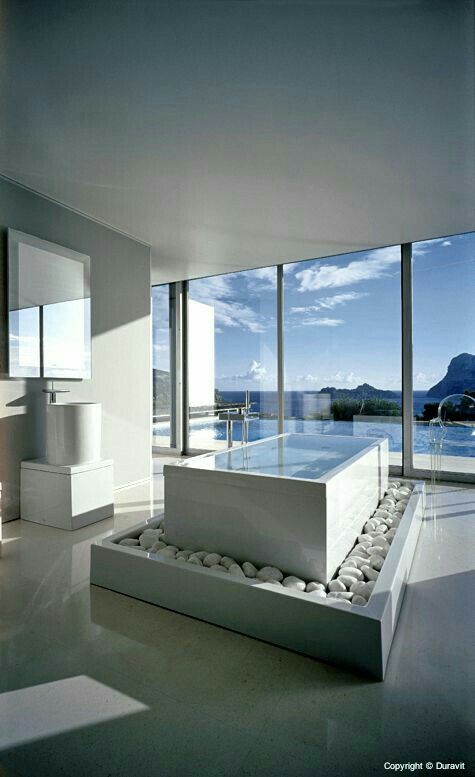 Photo:Credit
Looking for a dose of contemporary elegance in your bathroom?
This stylish, functional, and sustainable freestanding bathtub might be the right answer for you! It will ensure your well-being for many decades to come.  😉
16. Shower & Bathtub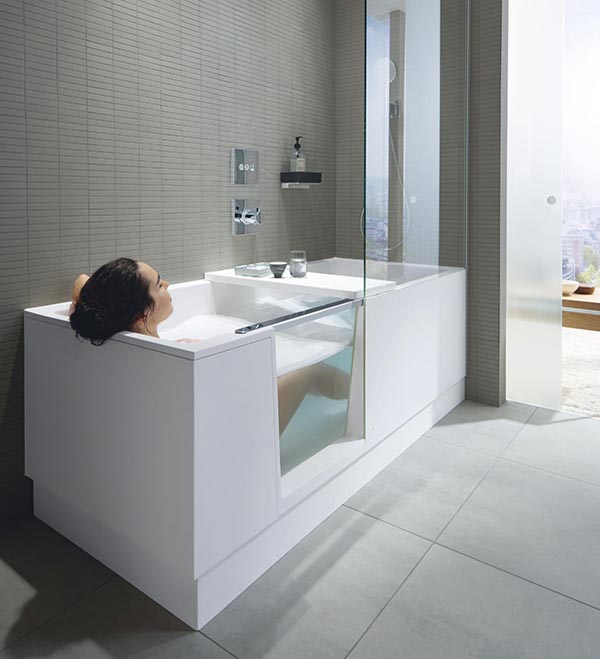 Photo:Credit
For those of you who do not have enough space in the bathroom, you should look for some small but cool bathtubs.
This one, for instance, is a shower and bathtub in one that combines functionality, airiness, and chic.
The minimalistic design transforms this bathtub into a timeless piece of bathroom fixture.
17. Bowl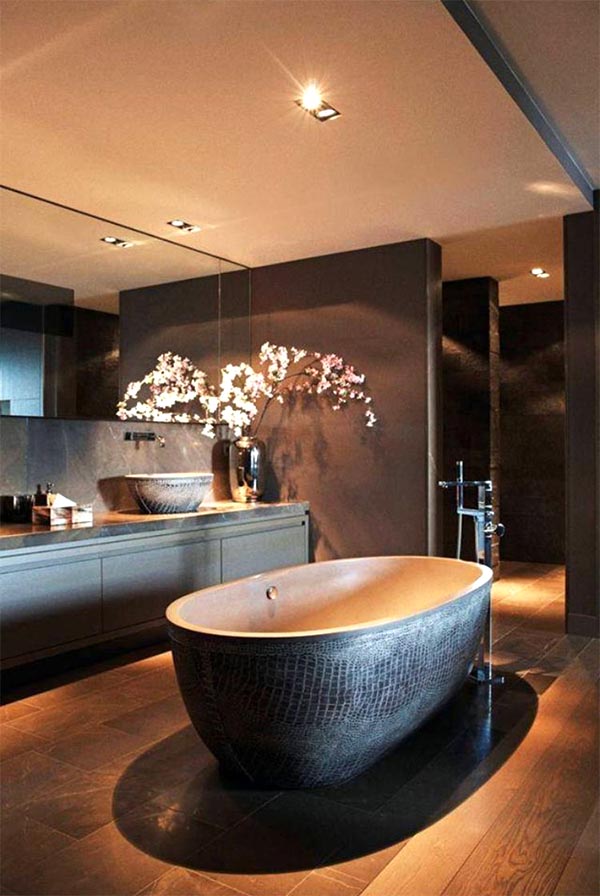 This tub design makes the most of dramatic contrast – extremely stylish and luxurious.
The wood floor and the bathtub pattern give you an example of how to build a great bathroom design without using perfectly coordinated fixtures.
18. Storage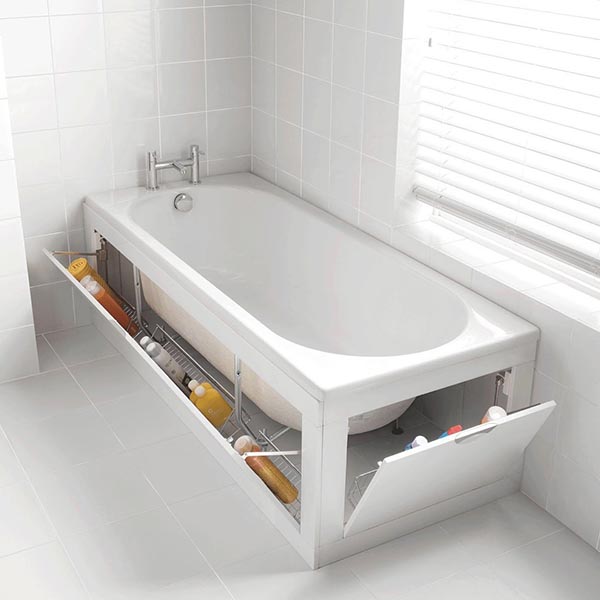 Here is another example of cool looking bathtubs for a tiny bathroom without enough storage space.
This traditional all-white built-in wall tub keeps lots of storage room away from your eyes so the washing space looks nice and tidy all the time.
19. Rain Shower Bathtub Design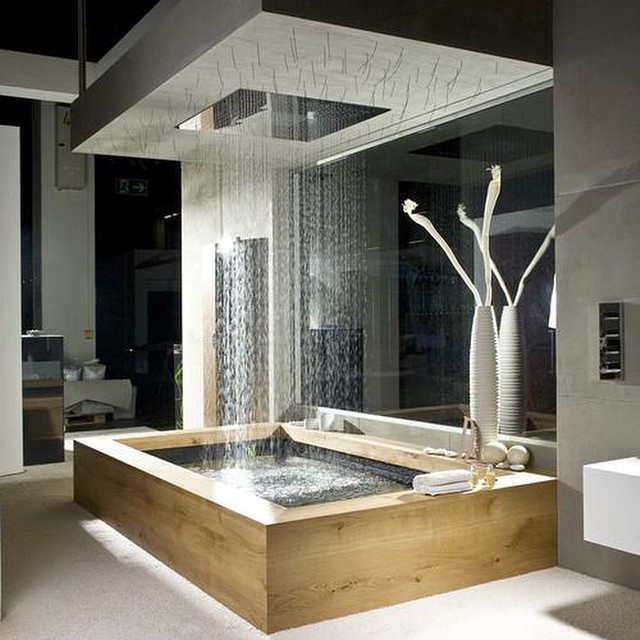 If you are dying to make your shower look brilliant and unique, why don't you create a rain shower bathroom?
It will make you have some unforgettable soaking experience and is also a place where you can quickly unwind after a hard working day at the office.
20. Yin Yang Bathtub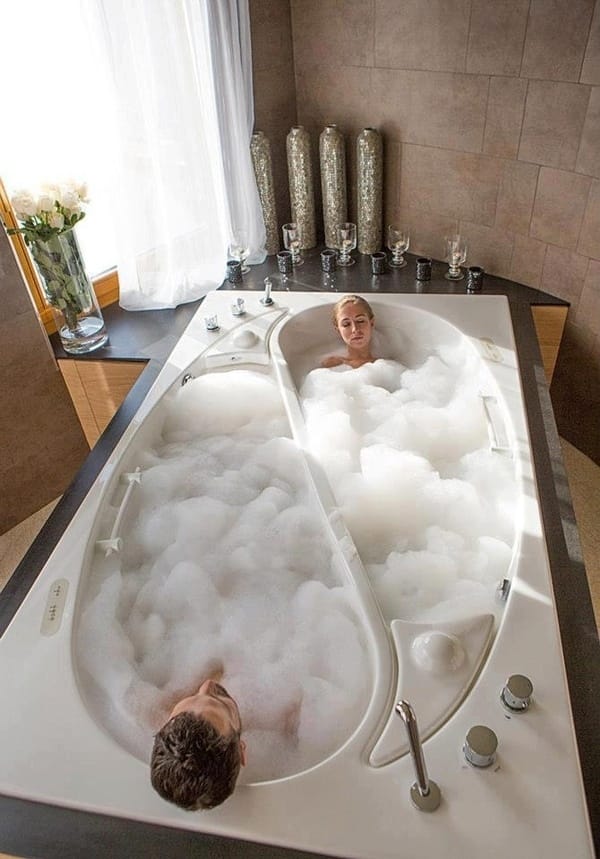 Initially designed as cool bathtubs in hotels, the Yin Yang tub consists of two side-by-side tubs, each of them with own faucet, drain, and taps.
How cool is that – soaking for hours with your beloved one and the water temperature in each tub is being set to every bather's liking.
21. Copper Plated Bathtub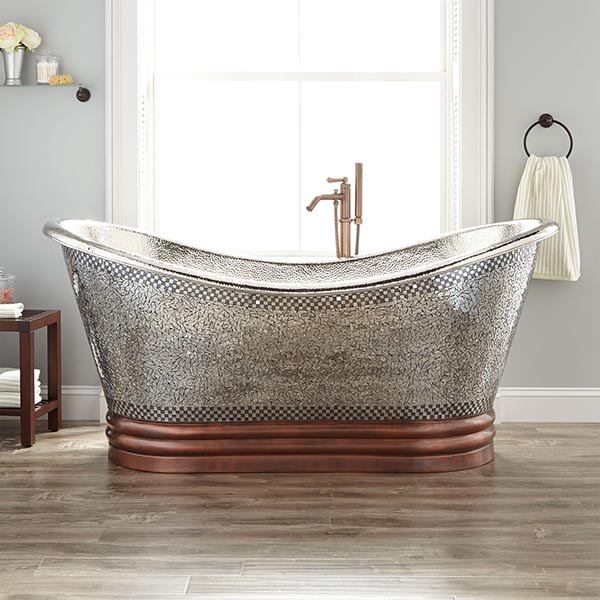 Photo:Credit
This handmade copper bathtub is very appealing and expensive-looking. Simply dripping with luxury.
However, this tub is quite demanding and, sadly, won't fit every bathroom interior. Also, it takes lots of maintenance and there are several restrictions in order to keep the copper material in premium condition.
22. Simplicity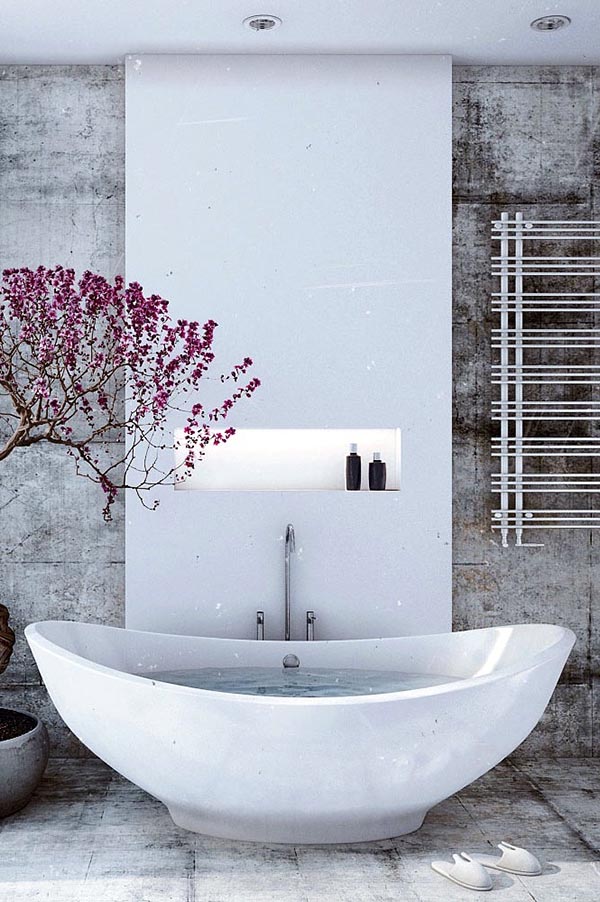 Photo:Credit
 When a friend of mine recently asked me to show her some timeless cool soaker bathtubs, I chose this Asian-style captivating bathtub with a unique profile that proves spectacular from any angle.
Its simple shape provides added support for the back while remaining easy to enter or exit.
23. Mother Of Pearl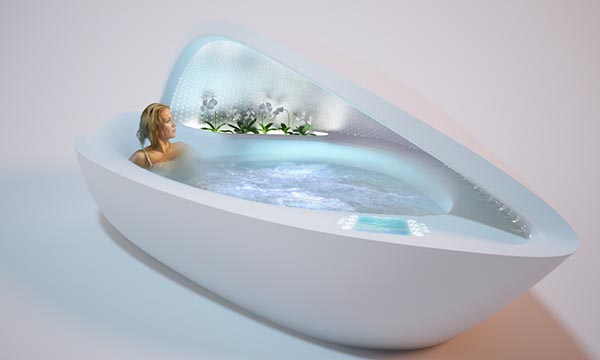 Photo:Credit
The shape and the features of this beautiful tub make it a unique piece of bathroom fixture.
Besides, it allows a pleasure-seeking escape from the stressful everyday life by combining the right lighting, sounds, and aromatherapy.
24. Farmhouse Designed Bathtub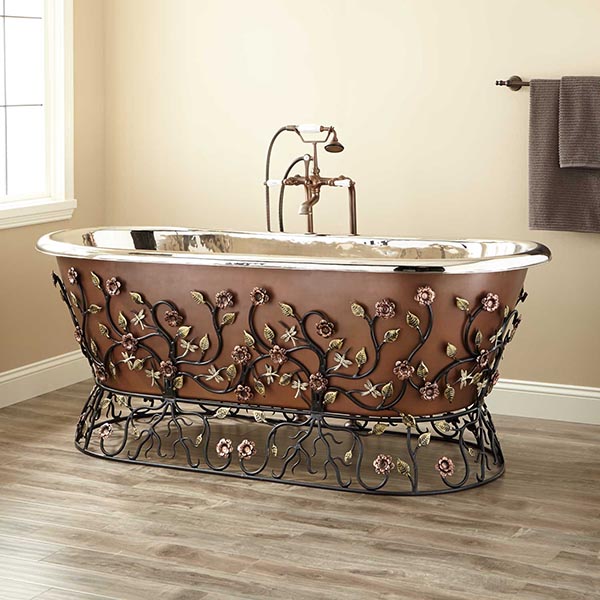 Photo:Credit
After so many modern cool bathtubs, I decided to show you a vintage design of a copper-covered bathtub with nickel interior.
Its shape is a bit unusual and the size is not enough for two people, however, this could be the centerpiece in your classical washing room.
25. Stone Bathtub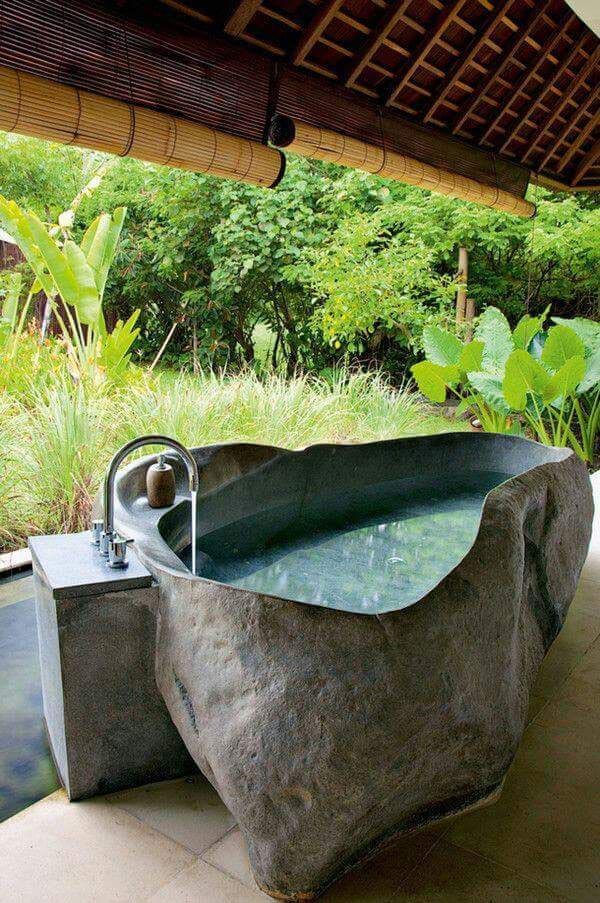 Do you know what happens when you blend pure nature, innovative technology, and science?
Answer: this beautiful surreal stone freestanding bathtub.
In its setting, this tub is visually alluring, abrupt, and spacious.
26. Corner Bathtub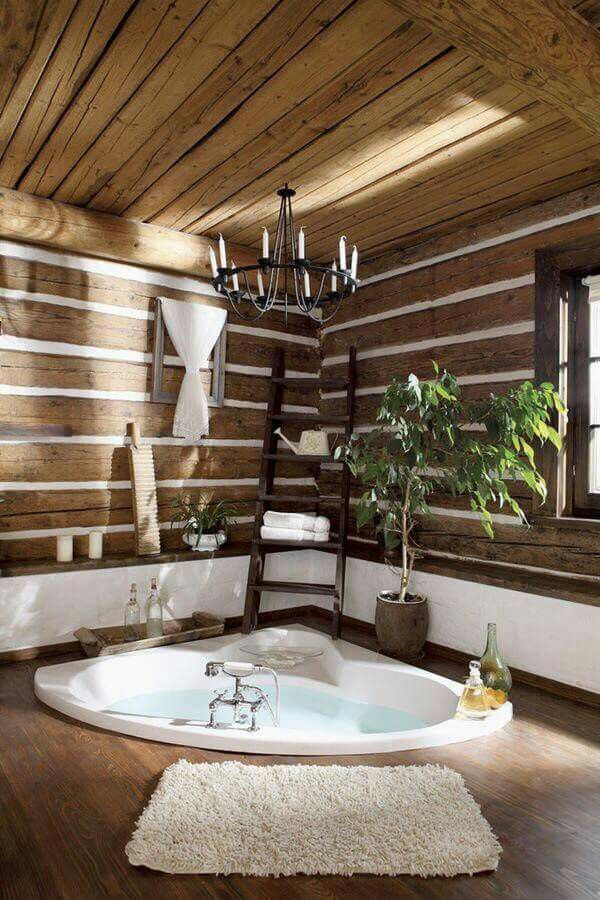 If you want to optimize your bathroom space and still create a stylish sense of luxury, you might need to find some corner cool walk-in bathtubs.
Add some candles, and essential oil diffuser and some greenery to create a cohesive aesthetic. Make your own meditation spot to escape from daily life stress.
27. Curved Lines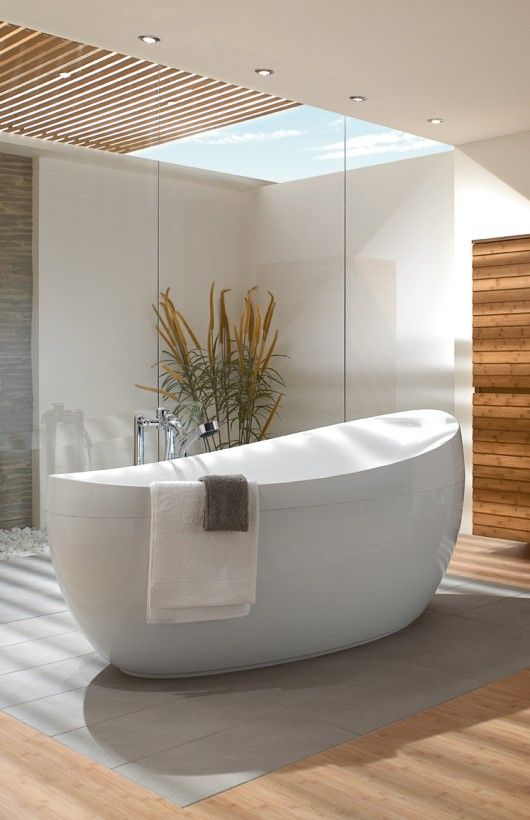 Photo:Credit
Trying to refresh your boring bathroom by giving it some clean sophisticated look?
This egg-shaped bathtub is the crown jewel of any minimalistic bathroom. This design features a refined faucet and overflow so the soothing shape can take center stage.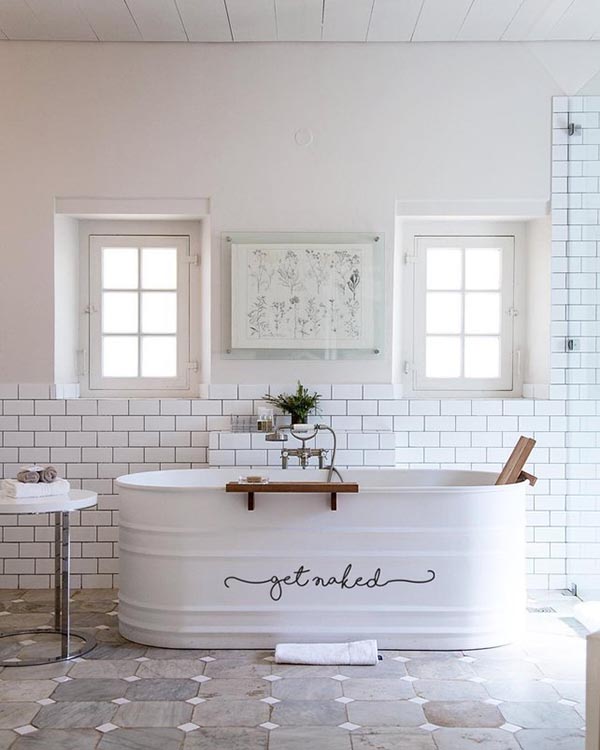 Photo:Credit
Organic, vintage, and slightly rustic, this tin bathroom encourages relaxation.
It is enough spacious for two people so you can soak together after work. For sure, one of the super cool bathtubs for couples.
29. Smooth Lined Bathtub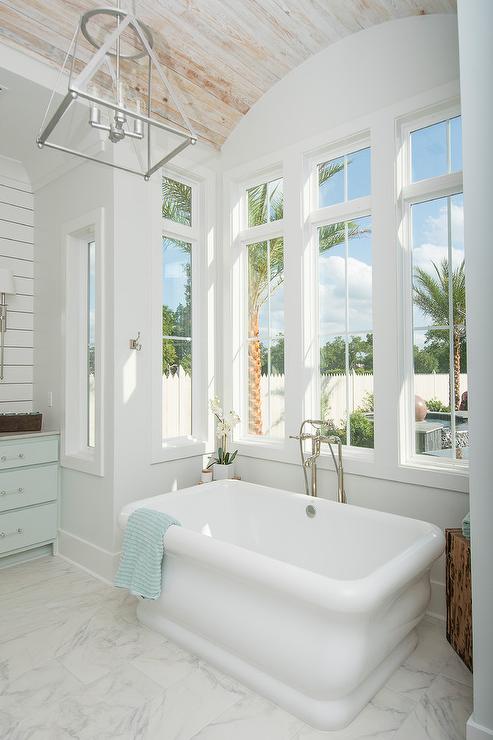 Sometimes a simple detail, such as the placidly integrated drain covers or the simple smooth lines, can determine whether you just like or truly love a bathtub design.
And what about the nice view outside? You can basically soak for hours while looking after the kids playing in the backyard.
30. Soaking Bathtub For Two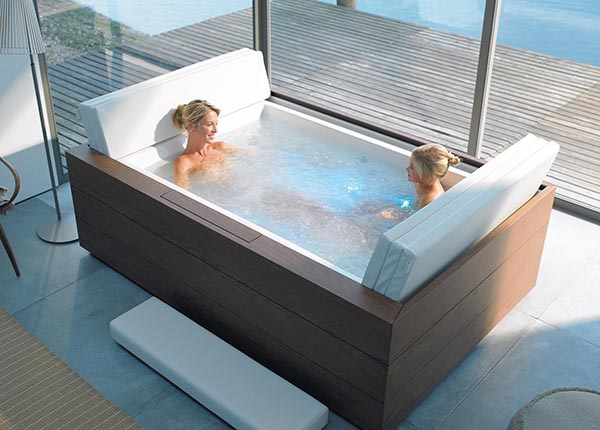 Photo:Credit
The two-person jacuzzi tub means more quality time with the people you love.  😎
The finely nuanced geometry and the freshness of the design will make you fall in love with this modern tub. Moreover, you can easily enjoy the outside scenery and sunbathing while being at home.
31. Square Bathtub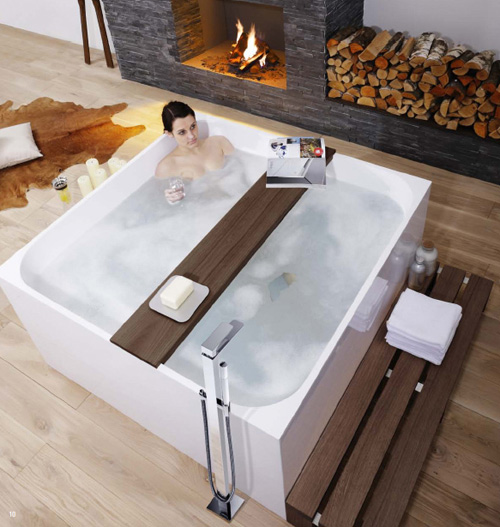 Photo:Credit
The luxury of this square bathroom tub contained in the intimate, compact space of a shower tray.
You will share the precious soaking time with your family or some friends as this tub is spacious enough to fit 4 people. Moreover, the useful bathtub table brings a natural unpretentious feel.
32. Ceiling Waterfall Bathtub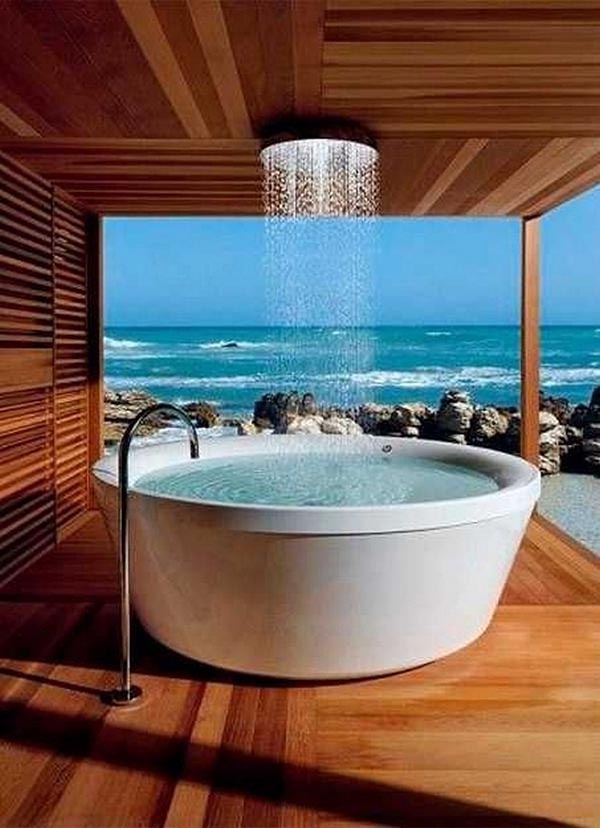 This surreal ceiling waterfall bathtub will carry you over into the wild Amazonian rainforest.
It is not just the ovoid shape that makes it so stylish and visually appealing, but also the high level of relaxation it provides.
33. Natural Rock Bathtub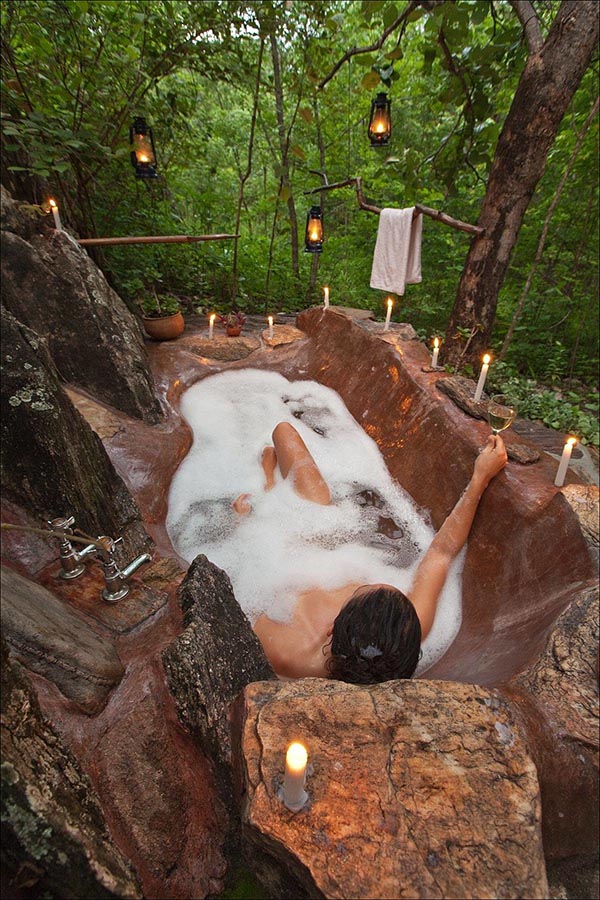 Photo:Credit
Perhaps this is the most stunning one from all the cool bathtubs and showers I showed you so far.
The fact it is being made of something that comes from Mother Nature, allows this natural rock bathtub to bring a relaxing environment into your bathroom space.
34. Black Diamond Bathtub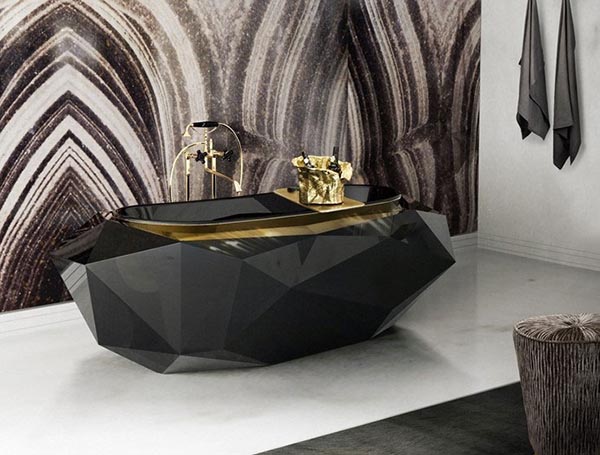 Photo:Credit
This eccentric black diamond bathtub project maintains a fine balance between the timeless values of decoration and ultimate quality with an ever-growing contemporary vision.
Your bathroom would definitely get richer with a one-of-a-kind black diamond.  😉
So did you like these 34 super cool bathtubs projects I just showed you? 
I guess some designs would be too eccentric or luxurious for your taste. However, I am sure everyone would like to soak at least once in some of them.
Unfortunately, when I travel, I usually don't stay in the most expensive hotels, so the bathroom is not very appealing, but if I accidentally find a good deal, I always book it so I can enjoy the cool hotel bathtubs at least for a night.
Now go to take a shower (without a bathtub) to get back to reality, where the bathtubs are made of simple porcelain, have no TVs, Jacuzzis, and golden handles.