Does your bathroom need a new tub? Are you planning a bathroom remodel? If so, why don't you skip the boring, common tub designs and use to chance to install a drop-in bathtub?
Installing a cool bathtub can make your bathroom look more polished and trendy.

What exactly is a drop-in tub?
Basically, that is a type of bathtub that is "dropped in" to a frame or construction, also known as a surround.
Moreover, these tubs have a rim around the top to fasten to the top of the frame, which is either tiled or built out of wood, metal or other materials. The external part of the tub is covered by the surround, leaving only the rim seeable.
What are the main advantages of the drop-in tubs?
Drop-in tubs are a common choice because they are being offered in a wide range of shapes and designs. They are very popular thanks to their relatively low cost. Moreover, they can also be easily replaced and fitted into the current surround at a minimal cost.
I've prepared a collection of 24 amazing drop-in tub ideas that you would surely want to have in your bathroom right now. Also, some of the projects are showing great drop-in tub surround ideas so have a look. Get inspired!
1. Enjoy Relaxing Moments with an Acrylic Oval Drop–In Tub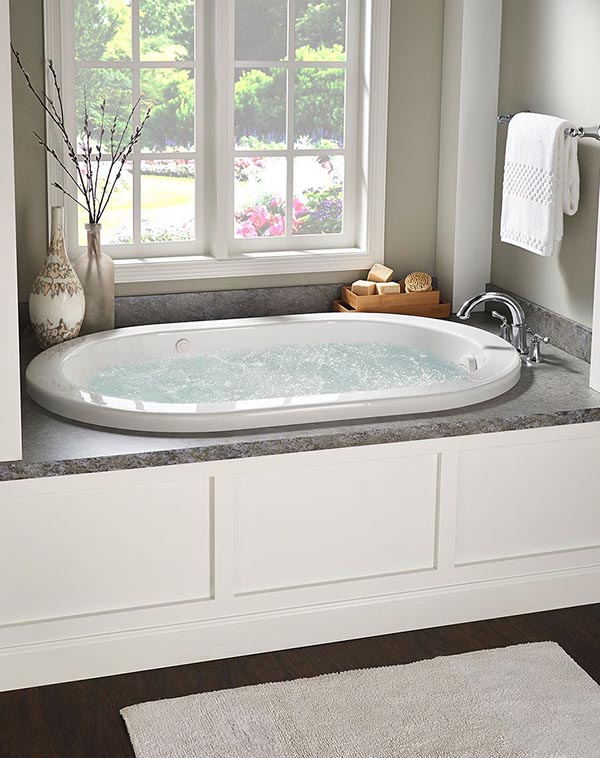 Photo:Credit
Even though most drop-in tubs on the market are standard rectangular tubs, I would suggest having a look at this acrylic oval-shaped that makes the bathroom space look more airy and spacious. 
2. Upgrade Your Master Bedroom with a Timeless White Tub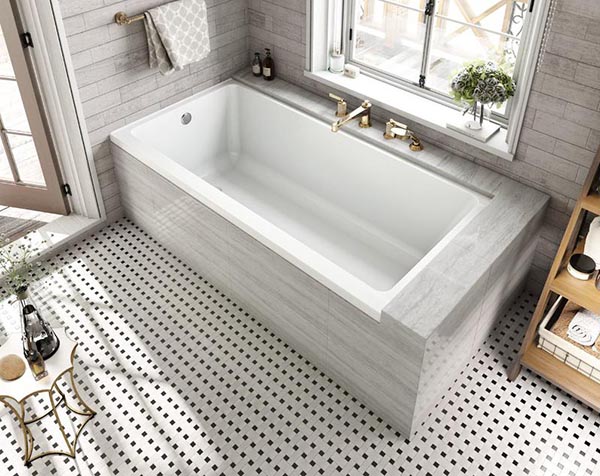 Photo:Credit
This is one of the best tub design ideas I've seen so far! Its clean lines would complement any master bathroom space. 
Moreover, the rich gleaming white color of this bathtub gives space a timeless, stylish vibe.
3. Maximize Bathroom Space with a Shower in Drop-In Tub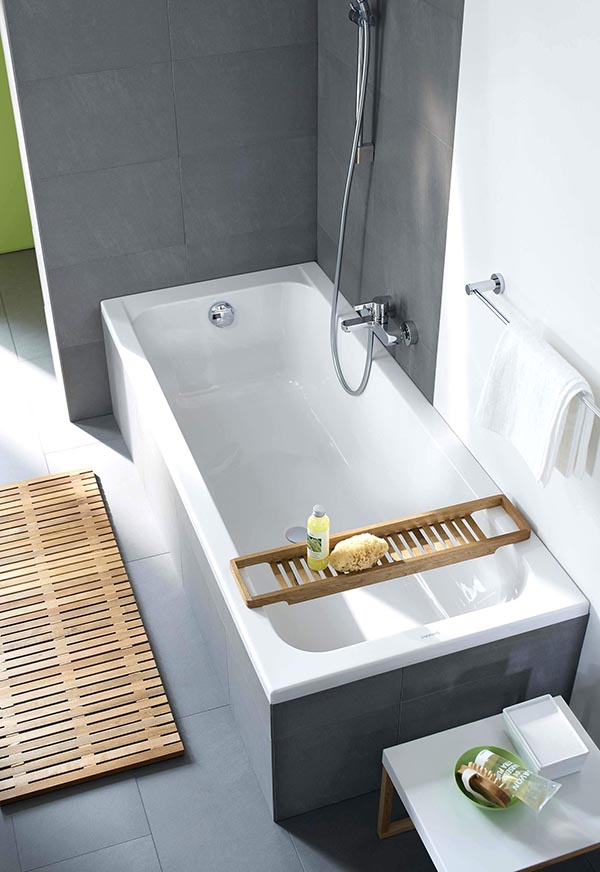 Photo:Credit
Are you suffering from a lack of bathroom space? Are you wondering how to fit the tub and the shower? Do not worry!
Most tubs can be equipped with a shower as long as they are against a wall and have an adequate enclosure (check out the project on the picture above).
Matching the color of the tub and the floor like in this photo ( gray floor bathroom ) is an option, when you don't want a mish-mash of colors.
Also, I'll make sure to show you more tub ideas with a shower in the collection. 
4. Enjoy a Luxurious Spa Experience with a Stylish Drop-In Tub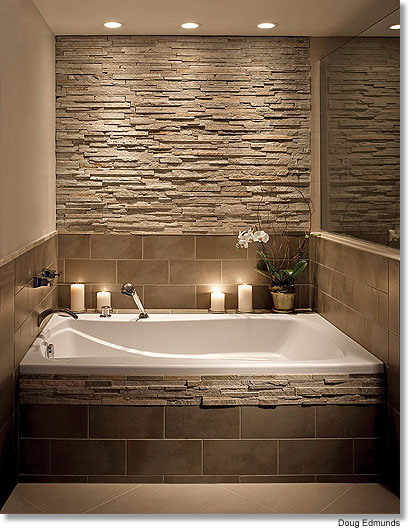 As there are many drop-in tubs surround ideas on Pinterest, I've chosen this one as it looks like a little SPA gem right at your home!
The stones and the tiles are in the same color palette which is very soothing and relaxing for the eyes. 
The candlelight gives this tub surround a dramatic look. 
5. Relax with a Loved One in a Deluxe Two-Person Jacuzzi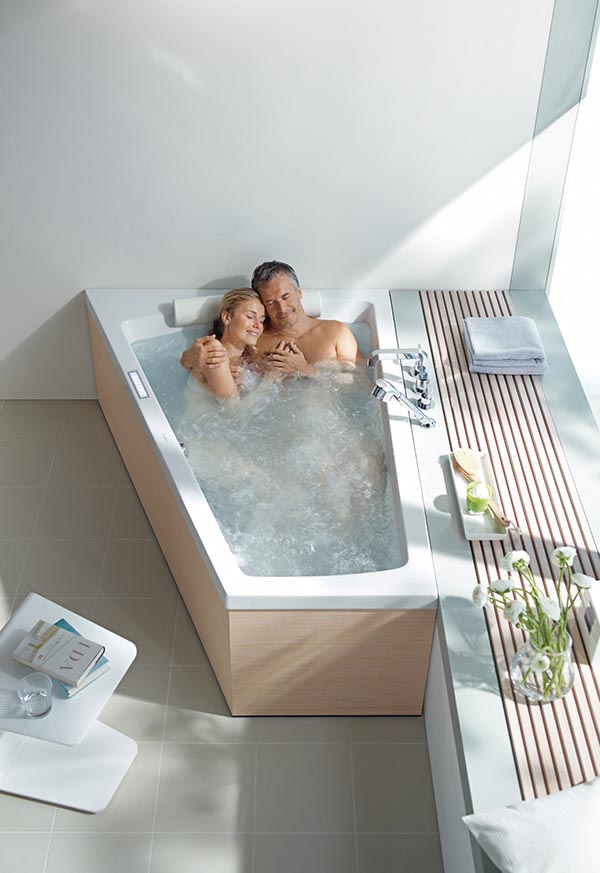 Where else to spend a lazy Sunday with your beloved one?
This drop-in jacuzzi bathtub has the perfect shape and size to fit two people. It also features a soft, pillow-like extension for even more relaxing afternoons. 
6. Upgrade Your Bathroom with Stylish Acrylic Drop-In Tubs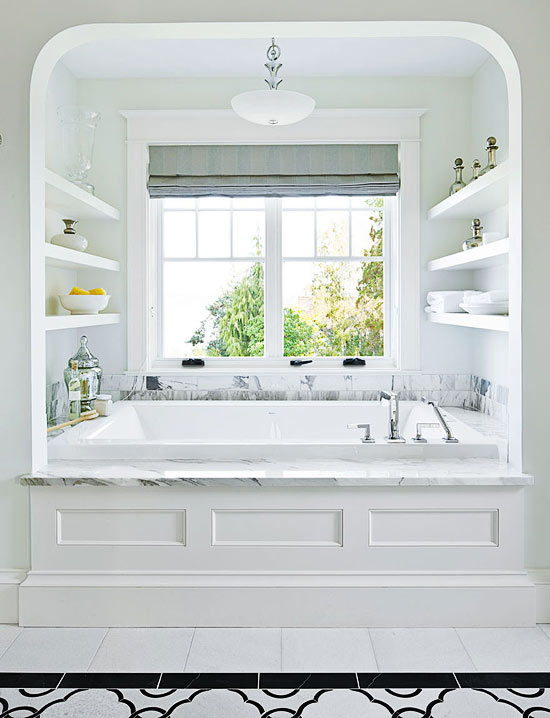 When you start searching for drop-in bathtub ideas, consider the various types of materials they are made out of. 
The acrylic ones are very durable, relatively affordable (compared to the tubs made of copper or cast iron), and, they easily fit the rest of the interior.
7. Turn Your Bathroom into a Rustic Retreat with Wood Paneling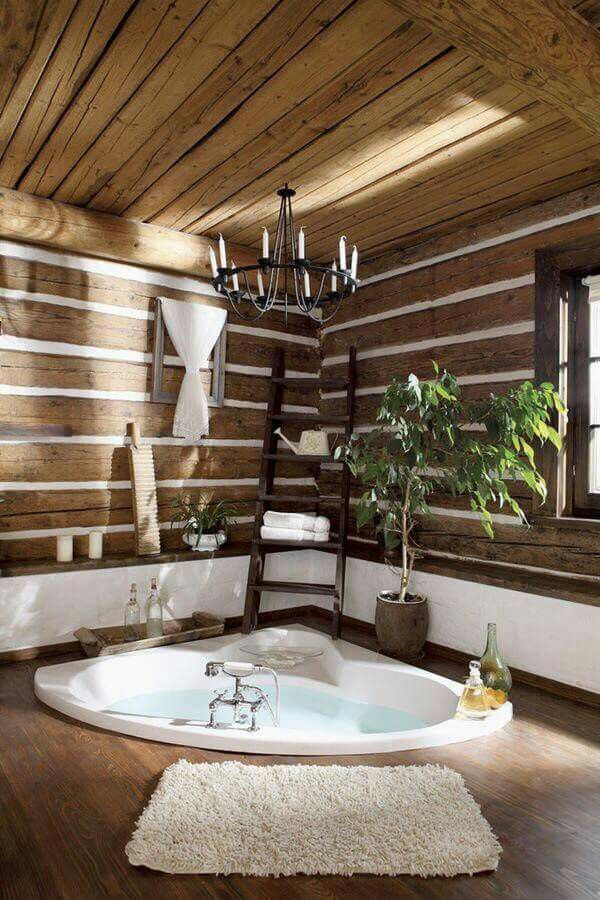 Some drop-in tub ideas offer other surrounding materials than tiles, such as wood paneling for instance. This corner bathtub is the perfect example.
The wood panels give the bathroom a rustically chic, unpretentious feel. Tip: Make sure that your tub surround includes a removable panel for easy access to plumbing.
8. Enjoy the Elegance of Natural Marble and Polished Nickel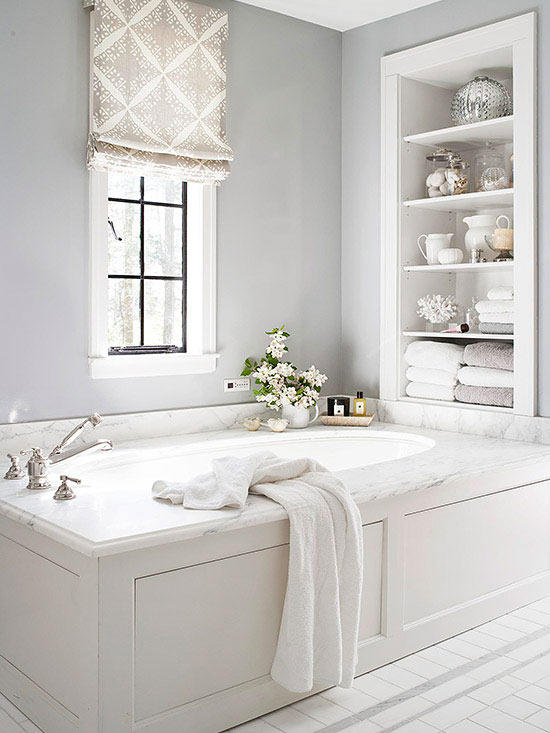 The ideal place to loosen up, this lovely country house bathroom boasts an oval wainscoted drop-in tub accented with a solid marble deck and a polished nickel tub filler. 
That surely is one of my favorite oval tubs!
9. Embrace American Style with a Fiberglass and Acrylic Tub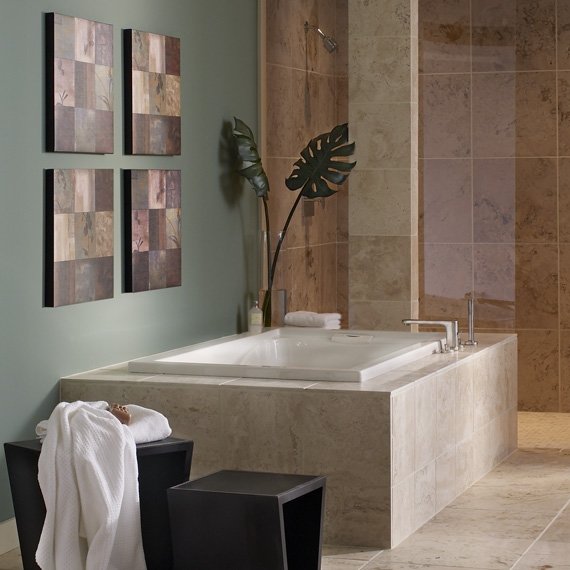 Photo:Credit
Looking for bathroom ideas that would prove greater depths of relaxation? Here is something you might be interested in – a classic, American style drop-in tub made out of fiberglass and acrylic for extra strength. 
The design surely makes a solid statement. 
10. Add an Extra Level of Comfort with Floor Installed Tubs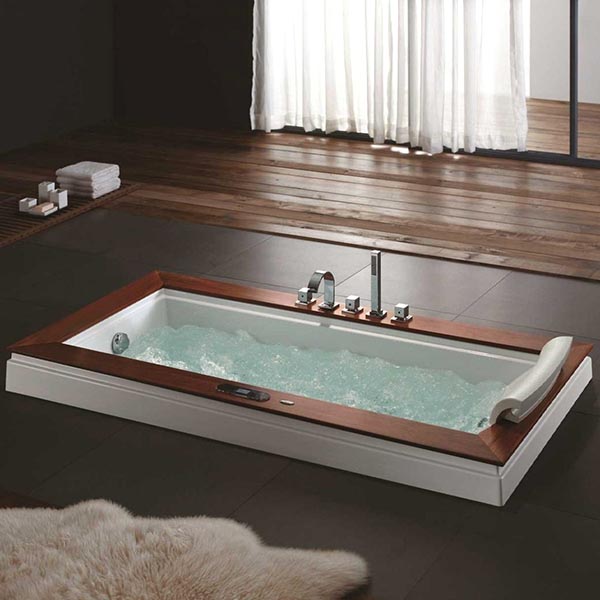 Photo:Credit
According to some experts and interior designers, the tub can be dropped straight into the floor for a spa-like experience.
However, do not install a tub in the floor if you or any other bather has difficulty moving in and out of the tub or if it will pose a danger to your kids or dog.
11. Elevate Your Design with Gray and White Tiled Walls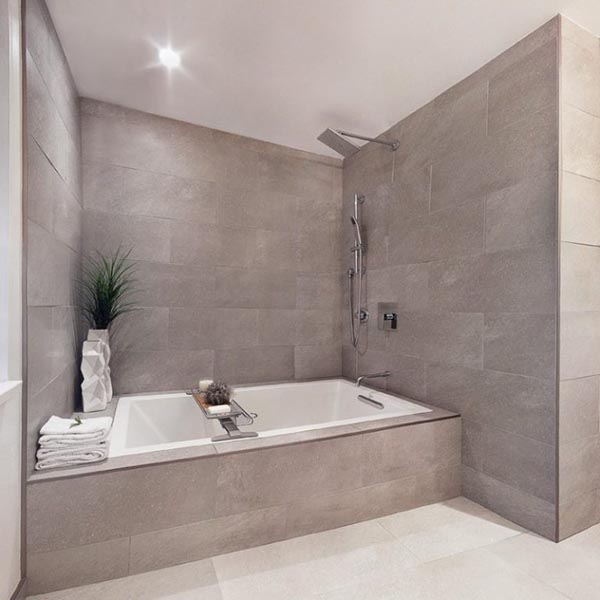 Photo:Credit
Following the drop-in tub in master bathroom ideas, the combo of gray and white tile can make your master bath look fancy and chic.
The tub is surrounded by three wall side which gives the space more privacy. 
12. Add Charm and Personality to Your Tub with Retro Styling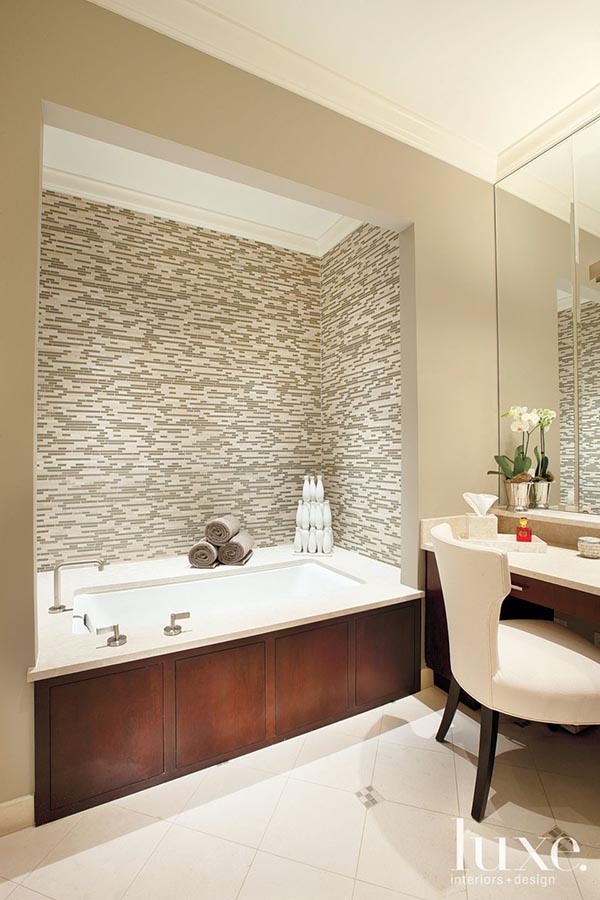 Photo:Credit
This vintage bathroom features a vintage tiled wainscoted tub accented with two-colored small tiles fitted. The surround has a mosaic tile pattern. 
The whole bathroom design is very romantic and a bit outdated, but in a good way. 
13. Create an Ambiance of Soothing Candles and Stones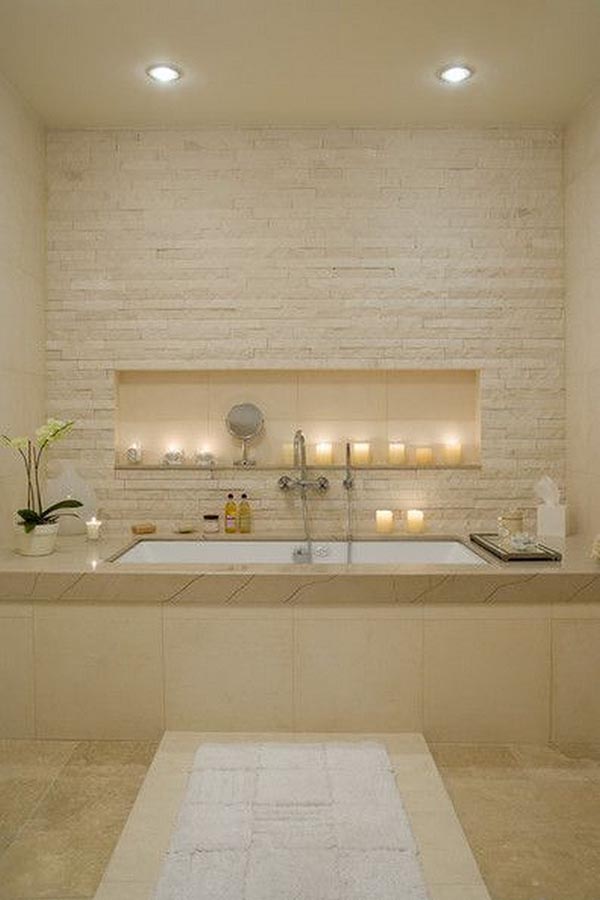 Even though there are many drop-in tub frame ideas out there, I am sure that many of you would like love this one because there is enough space from both sides of the marble tub to display some decoration. 
14. Get the Unpretentious Look with a Nordic Corner Drop-In Tub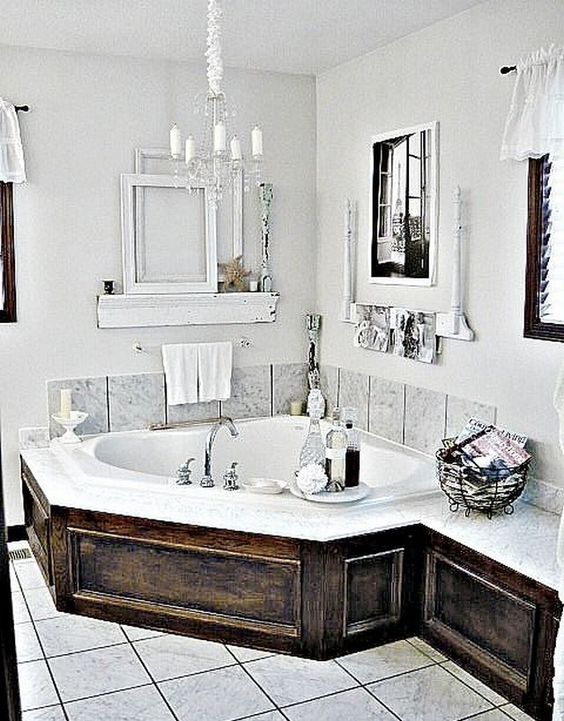 Asking the people who are looking for some cool drop-in tub in master bathroom ideas – who wouldn't love this one?
It brings a strong Scandinavian feel thanks to the white acrylic base and the other white elements.
Love the contrast between the white color and the dark wood. 
15. Make a Statement with a Stunning Corner Drop-in Tub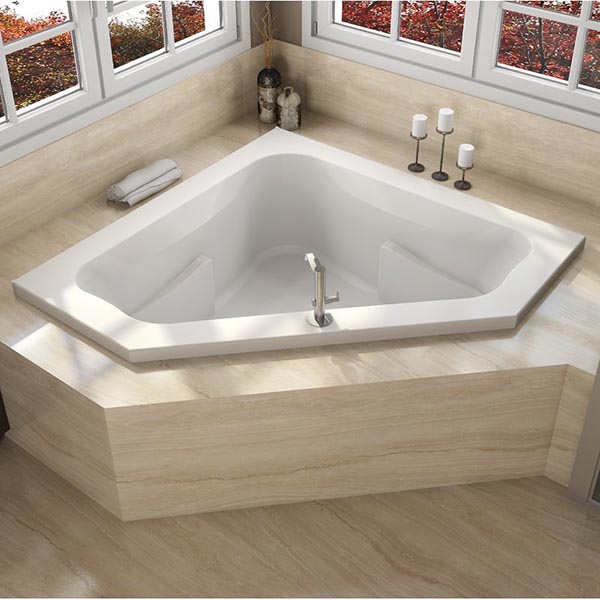 Photo:Credit
Following the cornered drop-in tub base ideas, here is a drop-in tub design that would definitely show you why the hoary ritual of soaking in a warm bath is so remedial!
16. Elevate Your Master Bedroom with an Elegant Bathtub Alcove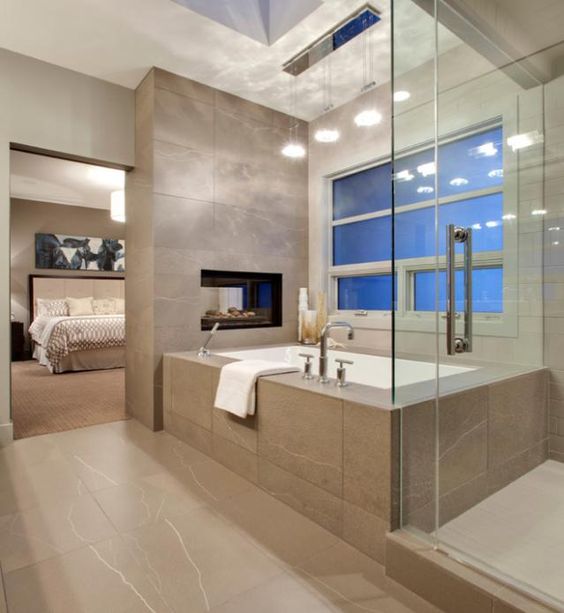 Here is a dazzling master bathroom with glass paneled alcove filled with a large, standard rectangular drop-in tub which is framed by a marble tub deck and mirror paneled surround.
17. Upgrade Your Drop-In Tub with Seamless Tiles and Stones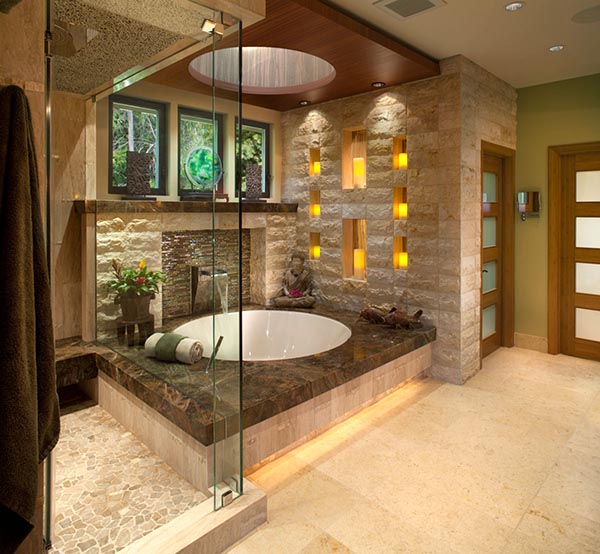 One thing I always look for in all drop-in tub designs is how the tub tiles coordinate with the wall tiles or stones for a seamless, elegant appearance and visual appeal. 
You can also consider marble flooring.
This is the reason why I like this project so much!
18. Experience the Comfort and Luxury of a Quality Drop-In Tub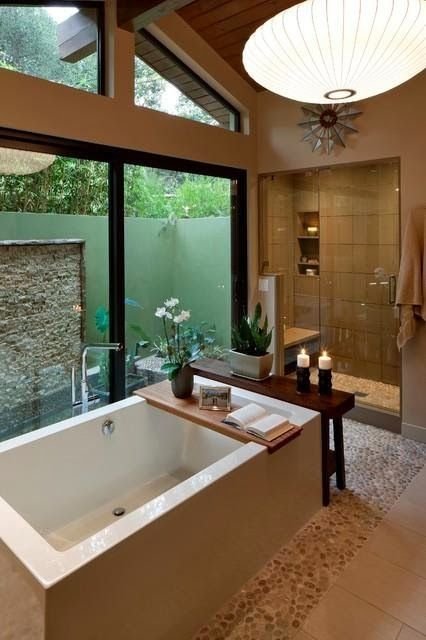 This extra deep acrylic drop-in tub surely offers some deep soak experience. 
However, it might be too simplistic for some of you, I love the clean, easy design that would fir any kind of bathroom interior – from vintage to modernistic. 
19. Give a Drop-In Tub a Contemporary Look with Black and White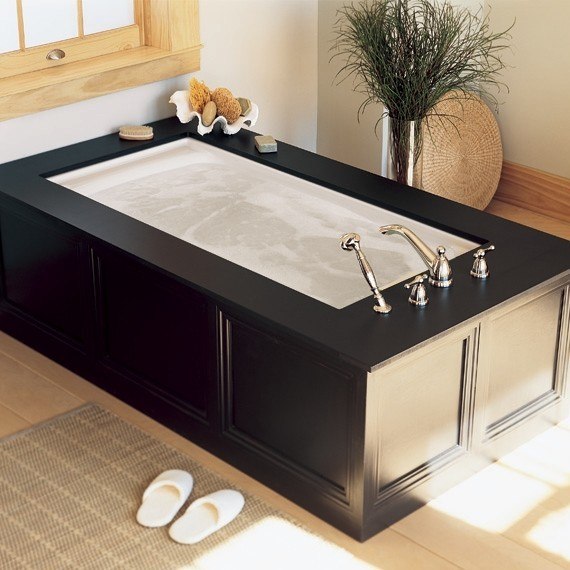 I usually prefer the drop-in tub design ideas that create a contrast with the surrounding. 
This one, for instance, is a great example of what I am talking about. Black and white – classic!
20. Transform Your Master Bathroom Into a Luxury Retreat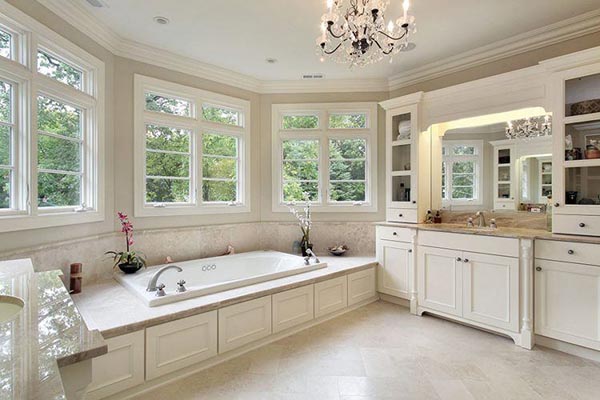 Here is a solid marble deck that frames the large drop-in bathtub design fitted with a vintage spout faucet located under a window.
Great addition to your master bathroom, eh?
21. Elevate Your Home with a Luxurious Oval Drop-In Tub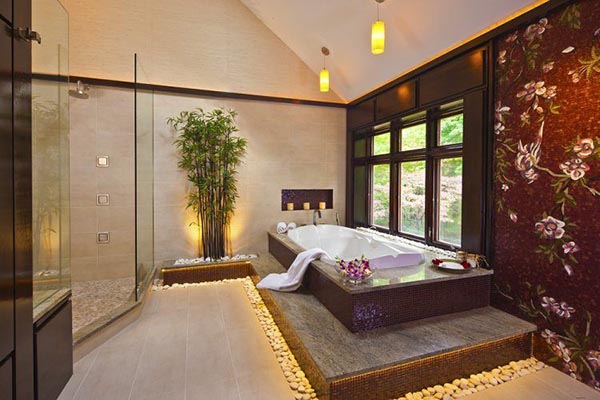 Here is a large, luxurious, deep bathtub with some extra features.
It is the ideal spot to hide for some "me time". The headrest and the armrests will surely make you comfortable for luxurious deep soak bathing.
22. Stay Safe and Secure with a Set of Steps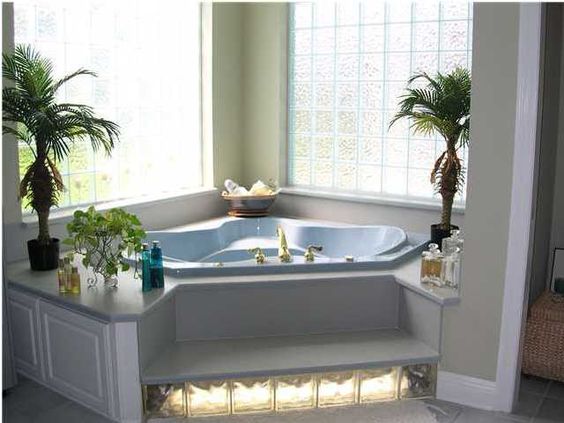 If your cornered drop-in tub is very deep, consider a step (a set of steps) (built into the platform or a freestanding set) to make going in and out of the tub safer and easier.
There many stylish decisions you can choose from (as the one shown in the picture above). 
23. Unwind in Style with a Swiss Chalet-Style Bathroom Design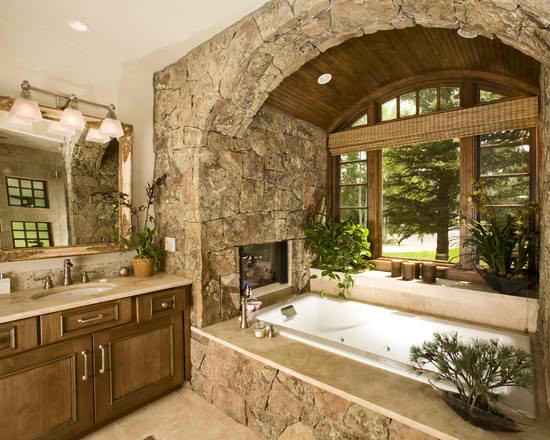 As I already said, the drop-in bathtubs vary widely in size, making them an ideal choice for virtually any size bathroom…even this cozy, large, high-ceiling Swiss chalet style bathroom. 
24. Rediscover the Classic Feel of an Oval Jetted Bathtub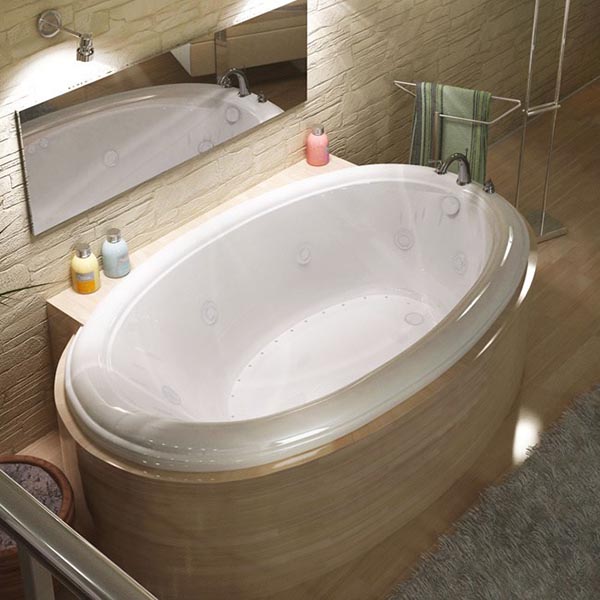 Photo:Credit
I decided to finish my collection with a very minimalistic and contemporary model of a jetted drop-in tub. Great for small bathrooms!
The colors are very earthy and unpretentious, I love it!
Last but not least, to get your tub looking its finest, better hire a professional who is well experienced in how to tile a drop-in bathtub surround.
Hope that you liked my collection of 24 stunning drop-in tub ideas.