Shabby chic decor brings a comfortable yet elegant vibe to your home — but when it comes to the bathroom, it can be difficult to figure out how to integrate the style's signature cozy and feminine elements. The trick?
Focus on vintage pieces, and integrate soft textures wherever possible.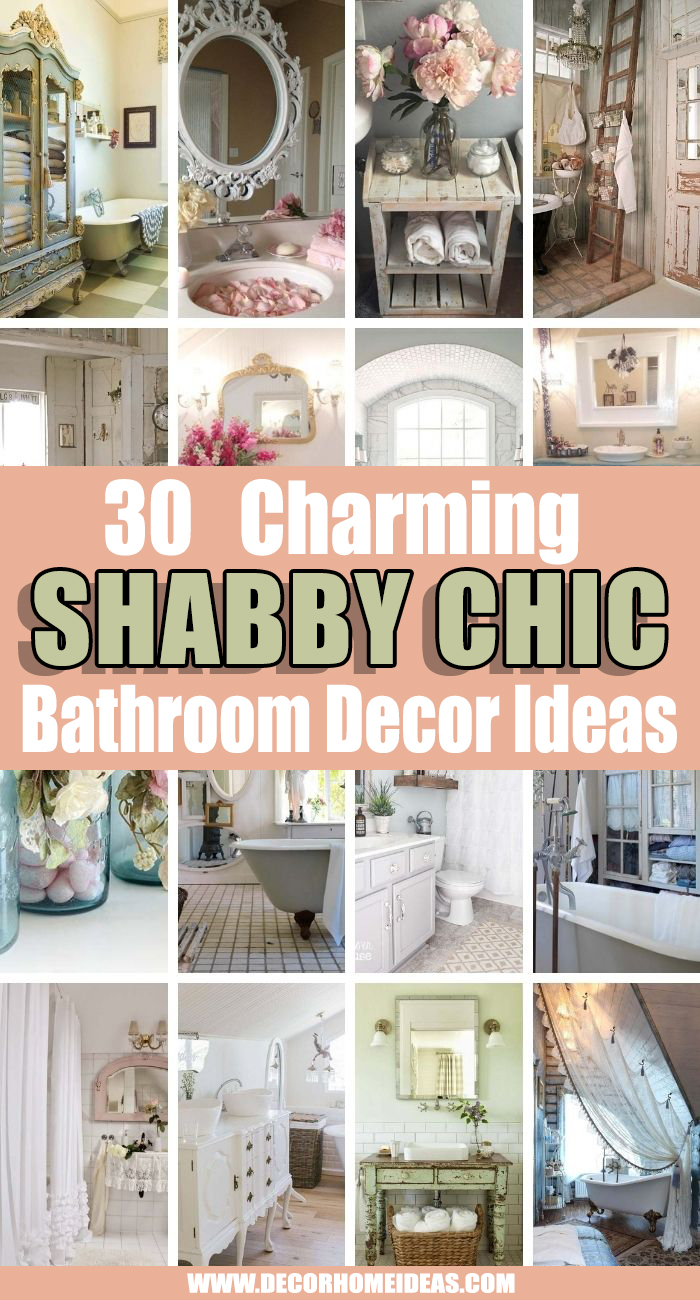 For inspiration, check out these gorgeous shabby chic bathroom decor ideas.
1. Distressed Paint Treatment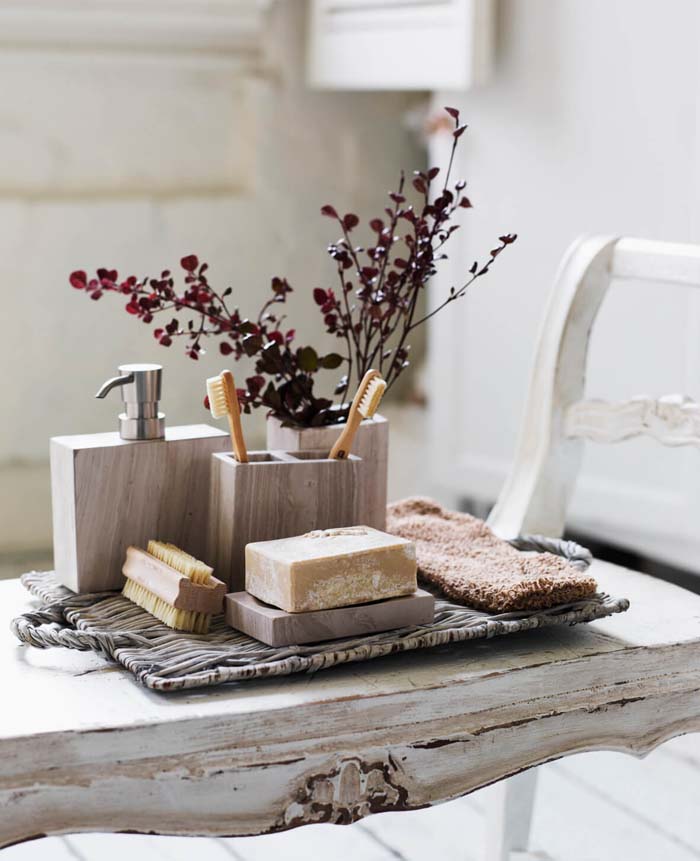 Antique pieces are the heart of shabby chic style.
They're also easy to incorporate into your bathroom — here, a vintage bench doubles as a table.
A traditional washcloth adds a touch of texture, and a scrub brush completes the Old-World display.
We love how the richly colored plant and modern accessories bring balance.
2. Vintage Window Bathtub Screen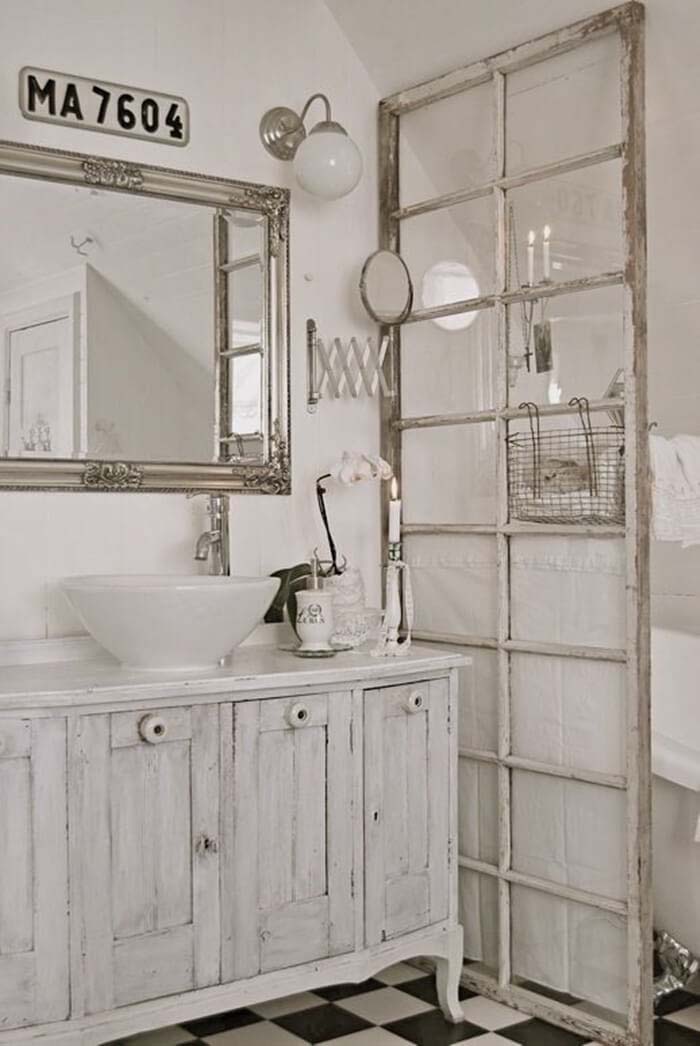 Is your bathroom a shared space? Create a bit of privacy by using a vintage window as a divider.
Simply cover the bottom panes with antique tea towels or simple cotton fabric, and you have a piece that's both functional and beautiful.
As a bonus, the pane separators can serve as a mount for a shower caddy.
3. Antique Mirror Collection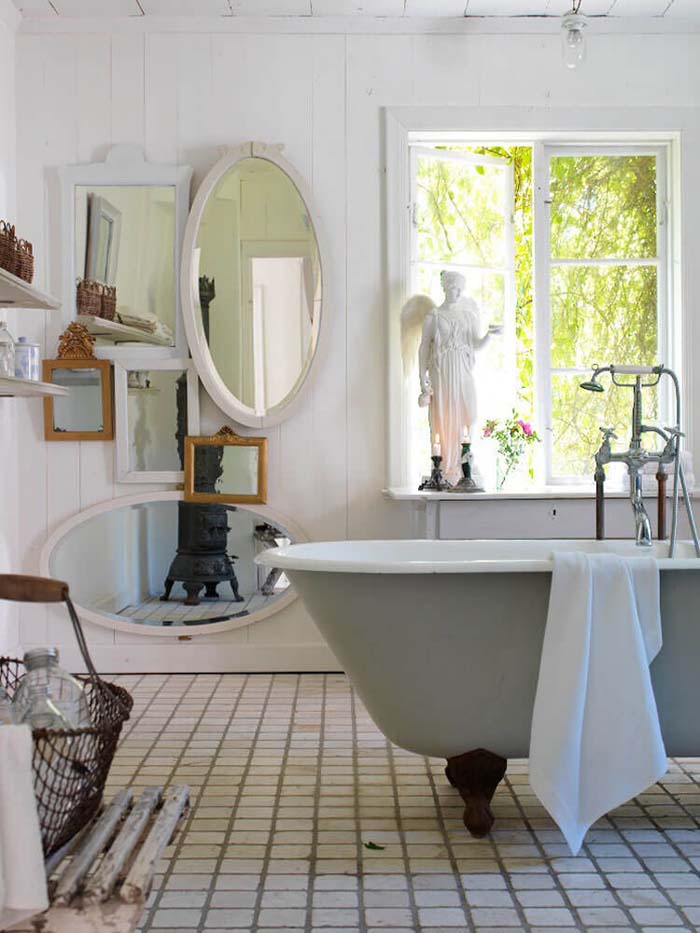 Dress up a plain wall in your bathroom with a collection of unique mirrors.
This is a super-affordable project — all you need is a few mismatched mirrors from a thrift store or garage sale.
If you don't like the frames, paint them and use sandpaper to add light distressing for a true shabby chic look.
4. Faux Window With Chandelier Artwork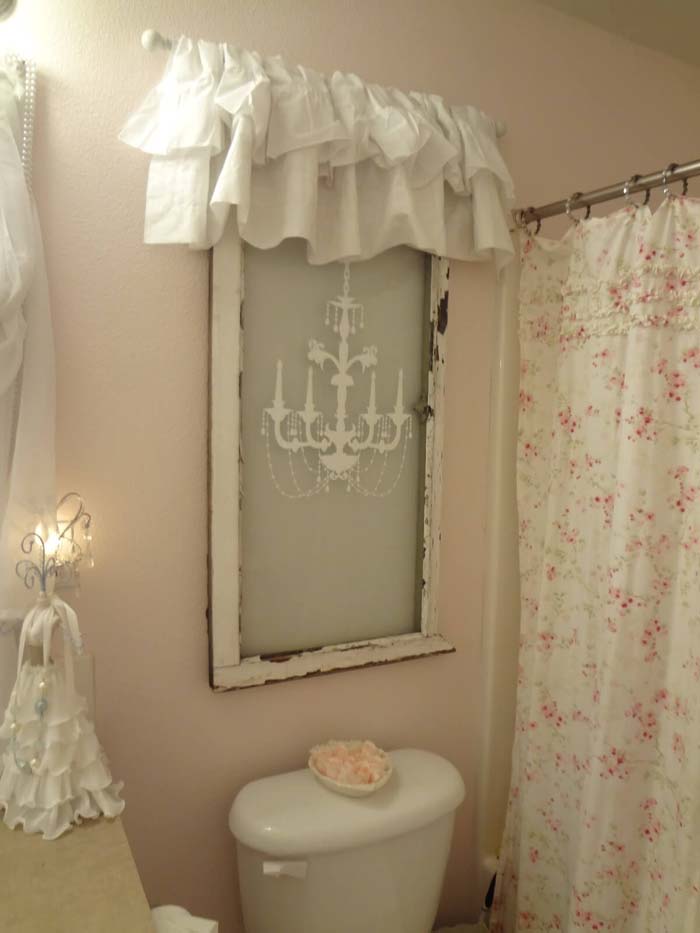 If you like a soft, romantic take on shabby chic decor, look for bathroom-safe fabric pieces.
Create the look of a country window by topping a vintage pane with a ruffled valance and using it as wall art.
Here, a floral shower curtain, silk flower petals, and a fabric sink decoration add extra texture.
5. Blue Mason Jar Rose Vases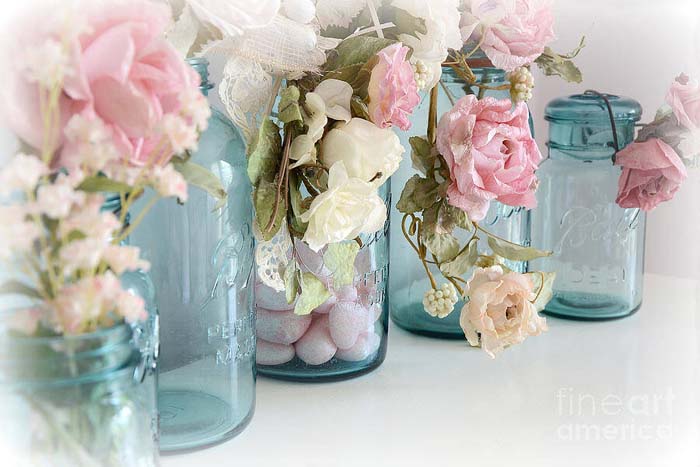 Enhance your bathroom on a budget by making shabby chic Mason jar decorations.
Fill blue jars with artificial roses and set them on a shelf or the back of the toilet.
The pastel colors soften the space, bringing a traditional farmhouse feeling to the hard porcelain fixtures.
6. Upcycle A Vintage Cabinet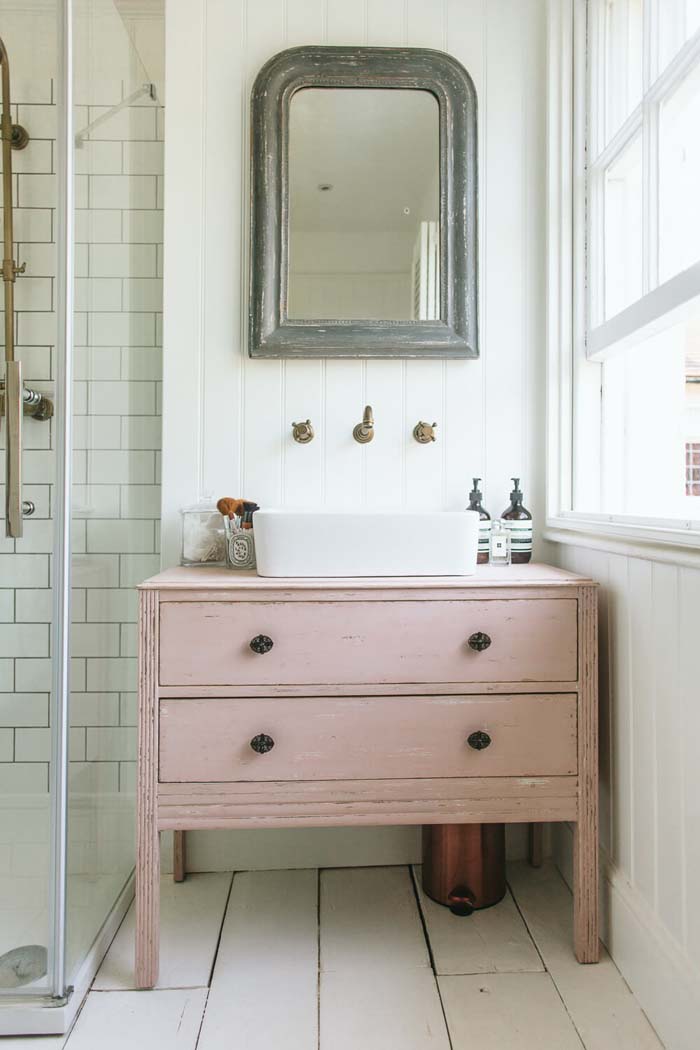 Break out your pastel paint and sandpaper for this project — you'll need it to transform a vintage dresser into a vanity.
Sand the paint off the edges to create a worn look, and replace the hardware with antique knobs.
A vessel sink and a bit of plumbing complete the makeover. Shower tiles are the perfect background for this bathroom vanity.
via Rock My Style UK
7. Add A Romantic Curtain Treatment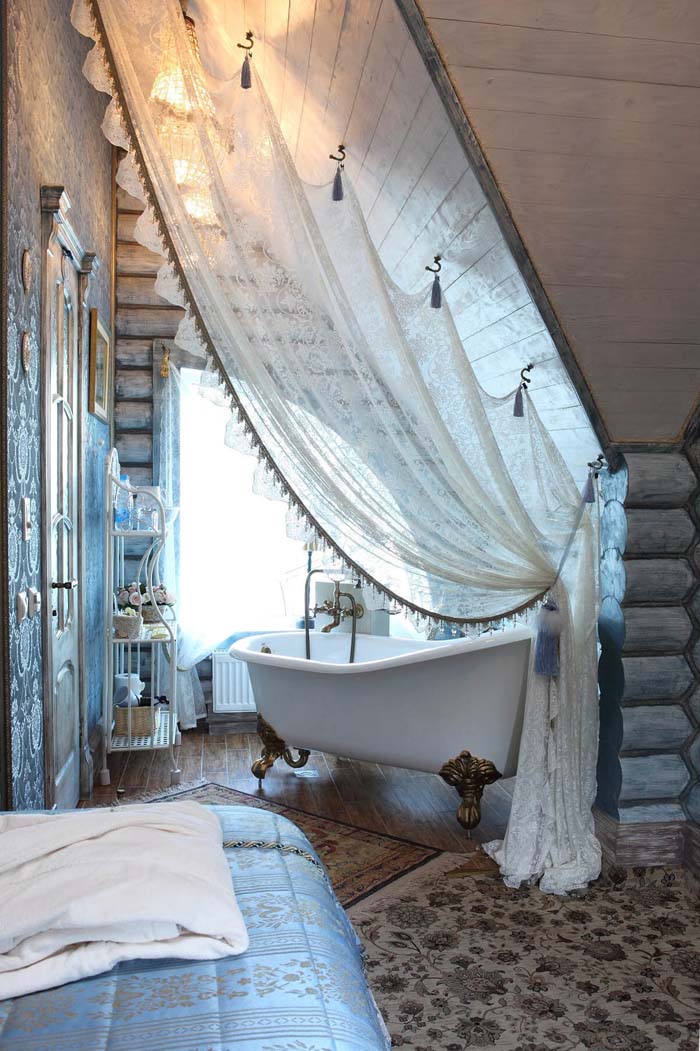 Bring an element of drama to your shabby chic bathroom by creating a privacy curtain around the tub.
Simple lace fabric adds elegant texture and a vintage vibe; add trim to one edge for extra impact.
Don't worry about complicated mounting systems; a simple row of ceiling hooks helps the fabric fall in romantic folds.
8. Add A Natural Element With Wood Shelves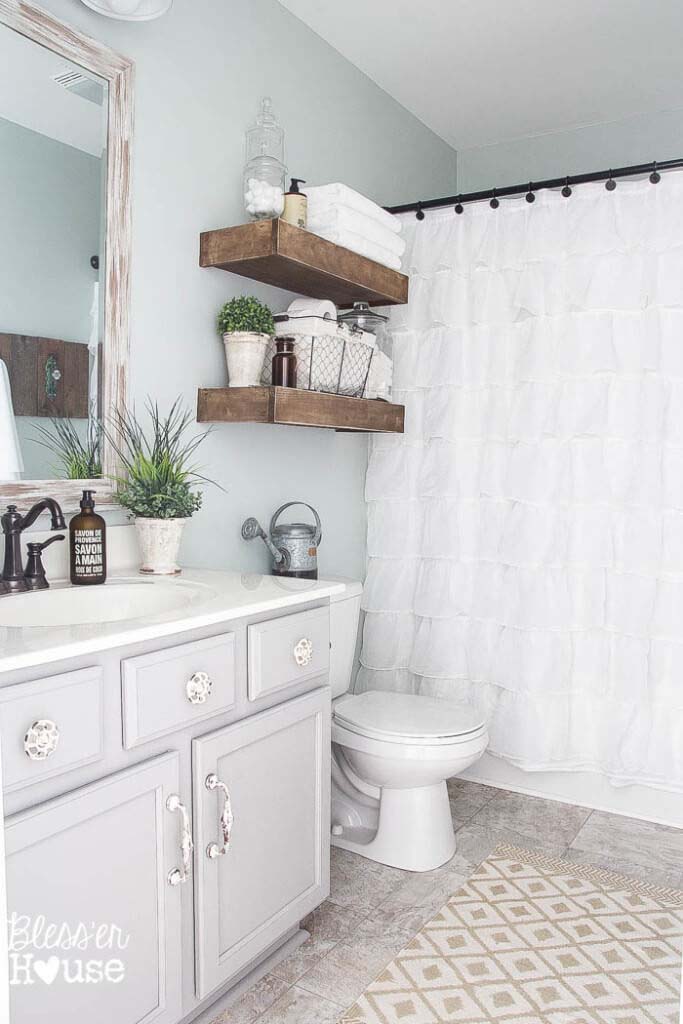 In a new construction, simple walls and floors can minimize your shabby chic decorations.
Introduce a rustic texture and color with wooden shelves. You can build them yourself using scrap wood and mount them with everyday hardware.
Don't worry if the finish isn't even — the imperfections enhance the effect.
via Bless'er House
9. Elegant French Country Style Bath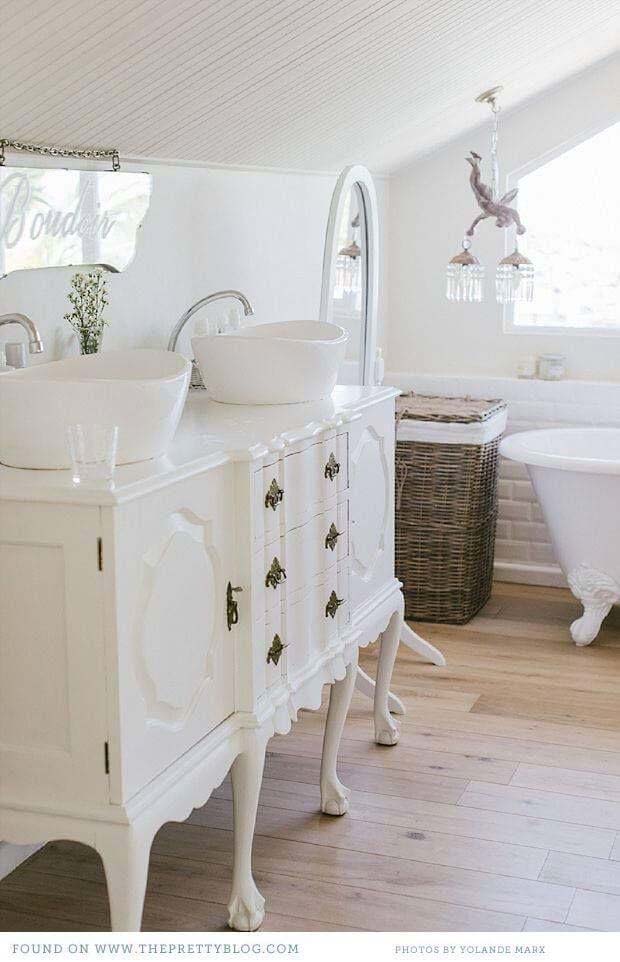 The romantic details of French Country furniture make it a perfect fit for a relaxed yet elegant bathroom.
This vanity is the perfect example; its elegant curves, cabriole feet, and scalloped apron complement the vintage vibe.
The new construction and clean finish keep the space from feeling overly worn.
10. Add Vintage Doors To Showcase Linens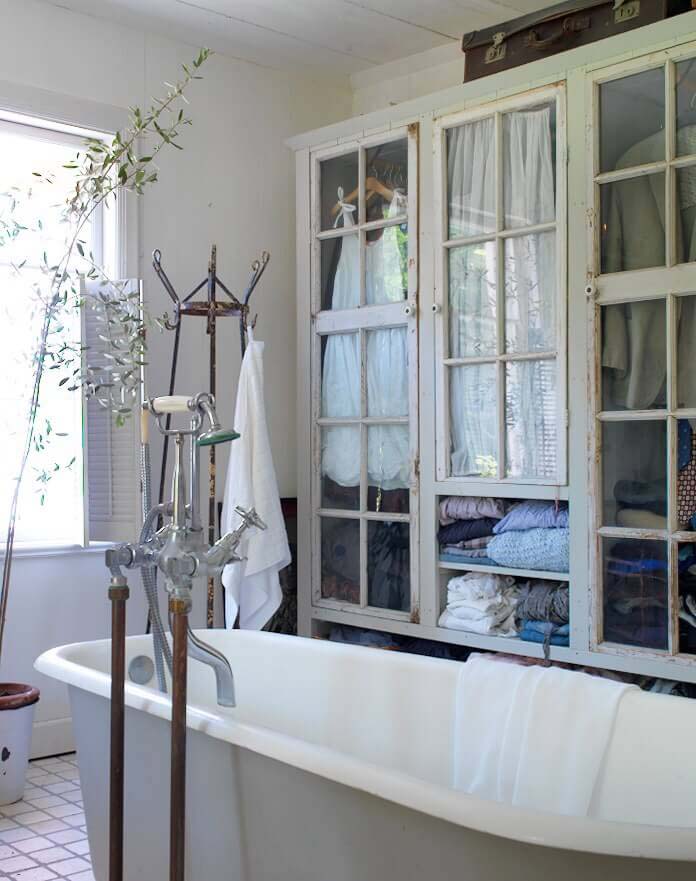 Transform a new linen closet into a centerpiece by replacing the doors.
Find antique doors with clear glass panes to replace the originals — the chipping paint and uneven color will create a bold look.
If you want to conceal some of the clutter, simply hang a gathered panel of fabric inside.
via Mrs Shabby
11. Showcase Pretty Items In Wire Baskets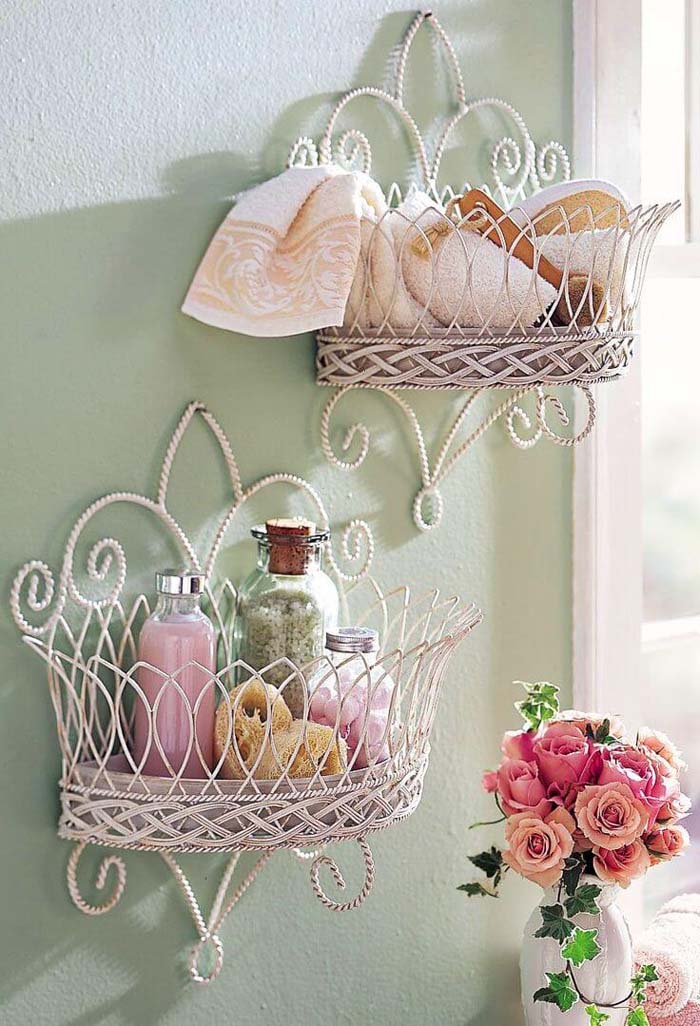 Does your taste fall on the cottage-inspired end of the shabby chic spectrum?
These adorable wire baskets make the perfect bathroom storage. When mounted on the wall, they act as decorations and an easy-access spot for bath products, towels, and more.
Wall-mounted baskets require a single hanging nail, so they're ideal if you live in a rental.
12. Cottage Garden Bath Accessories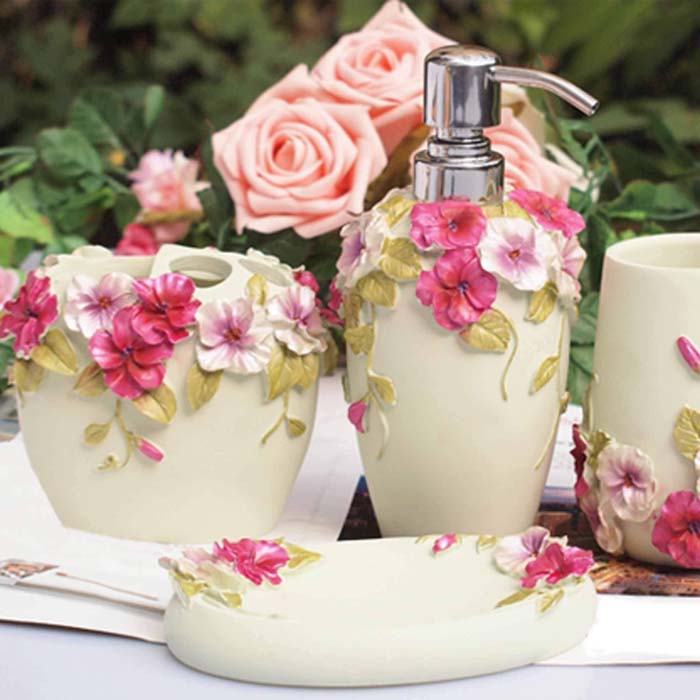 Floral accents fit easily into a shabby chic space. The trick?
Choose unusual items with dimension and texture. These unique bathroom accessories feature raised flowers that draw the eye and add depth to the countertop.
We love the blend of pastel and vibrant colors; they nod to both vintage and modern design.
via Lovely Decor
13. Shabby Chic Comes Through In Textiles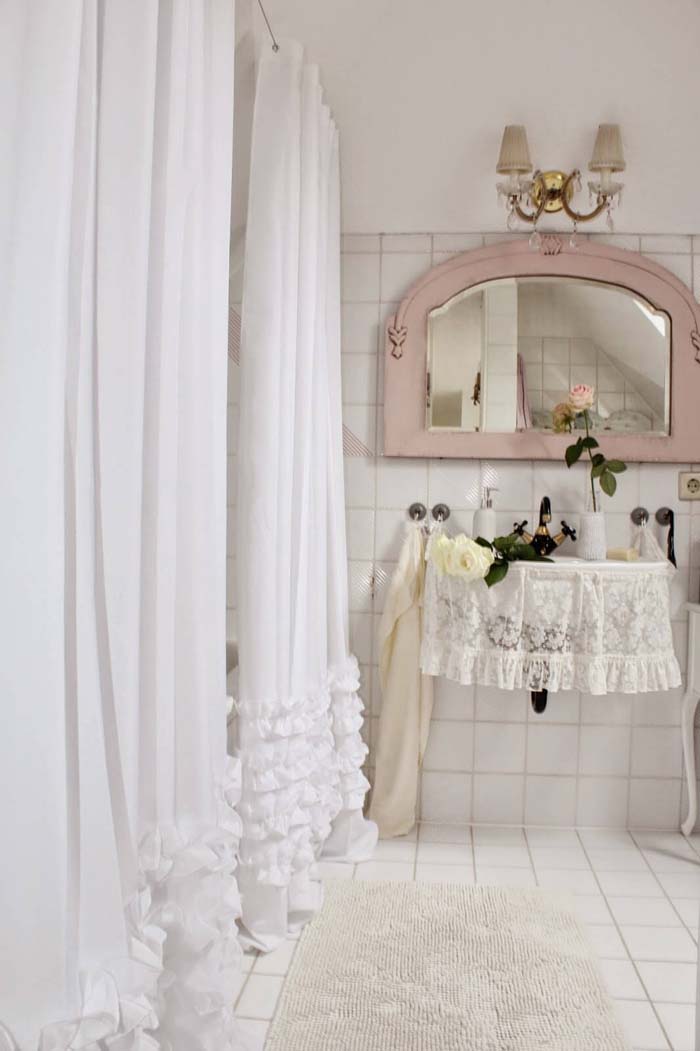 The easiest way to give your bathroom a shabby chic makeover is to replace your shower curtain.
Here, rows of delicate ruffles add a vintage charm to a simple white curtain.
For added texture, a ruffled lace curtain hangs from the sink and conceals the plumbing.
via Heavens 163
14. Add An Elaborate Mirror Frame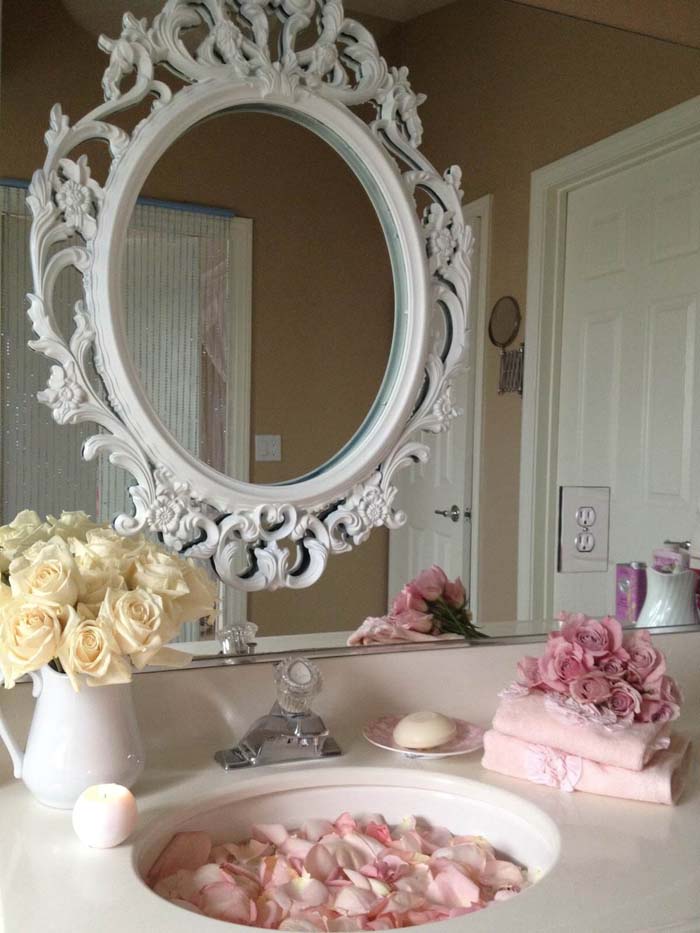 Enormous frameless wall mirrors give you plenty of space for hair and makeup, but they don't fit the shabby chic style.
Don't worry about replacing the mirror — simply mount a vintage frame on the center.
The effect is completely unexpected, and still preserves most of the reflective surface.
via Romantik Evim
15. Upcycled Vintage Table Sink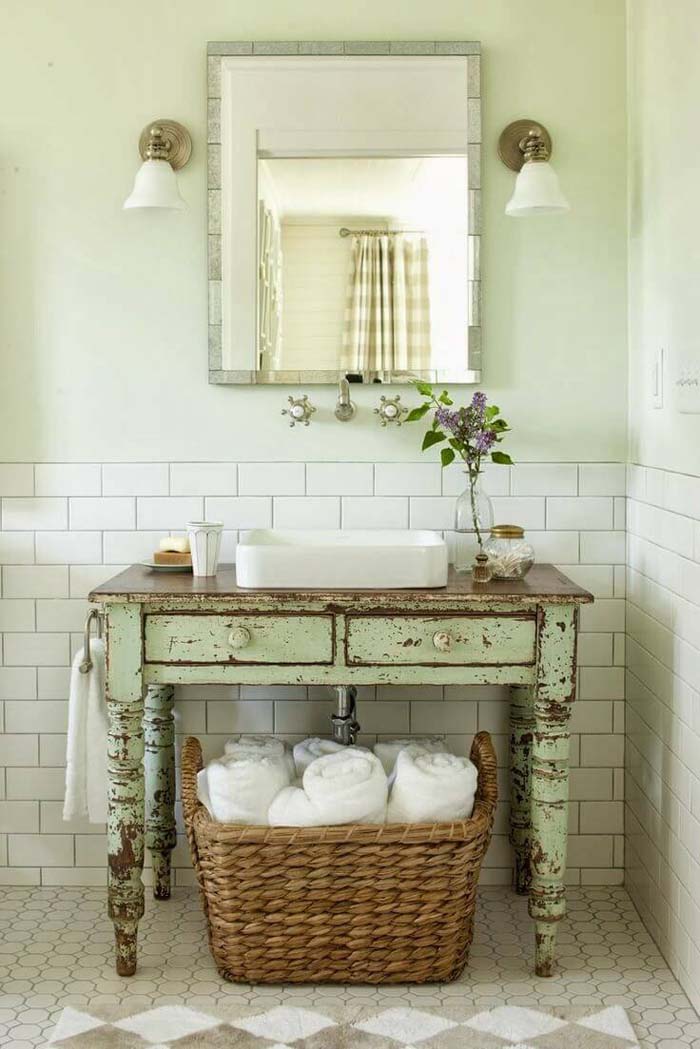 In a small bathroom, your vanity takes up a significant amount of space.
By replacing it with a repurposed antique table, you can change the look of the room instantly. The best part?
You don't have to worry about repainting; the worn look only adds to the charm.
via Made In Heaven
16. Chalk Painted Antique Sideboard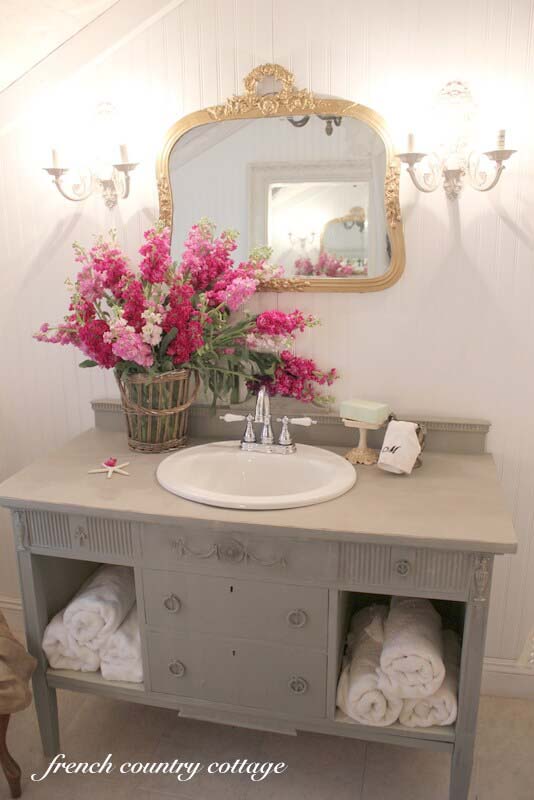 A sideboard is another fun piece of furniture to use as a vanity.
Simply pick one up from an antique store or garage sale — the built-in storage is ideal for a bathroom.
You can use a vessel sink or cut into the top of the sideboard to create a well for a traditional recessed sink.
17. Ruffled Curtain Vanity Table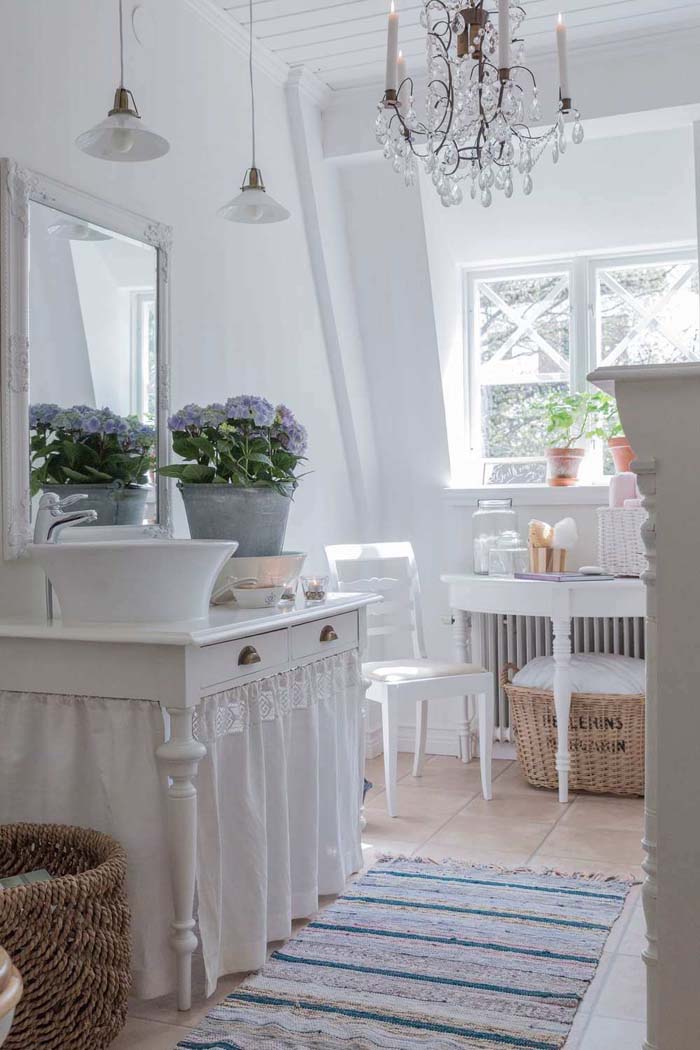 There's no reason to spend big bucks on a shabby chic vanity — a simple vintage table is a great option.
Instead of leaving the base open, add a simple fabric dust ruffle for an Old World look.
Crisp white cotton or a pastel floral print adds just the right touch of softness.
via Lantliv
18. Create A Romantic Space With Accents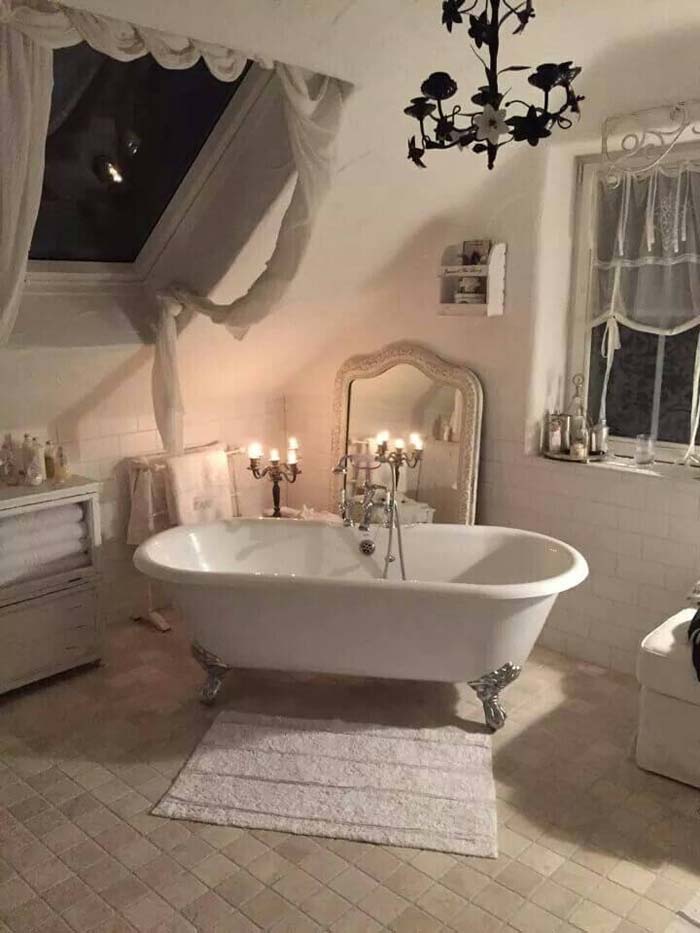 This bathroom looks like a designer space, but it's remarkably easy to create.
Add sheer, draped curtains, lean a vintage mirror against the wall, and add a few antique candle holders.
Each piece is distinctive and dramatic, so it softens the clean lines and modern finishes in the room.
19. Ruffled Curtains Add Instant Shabby Chic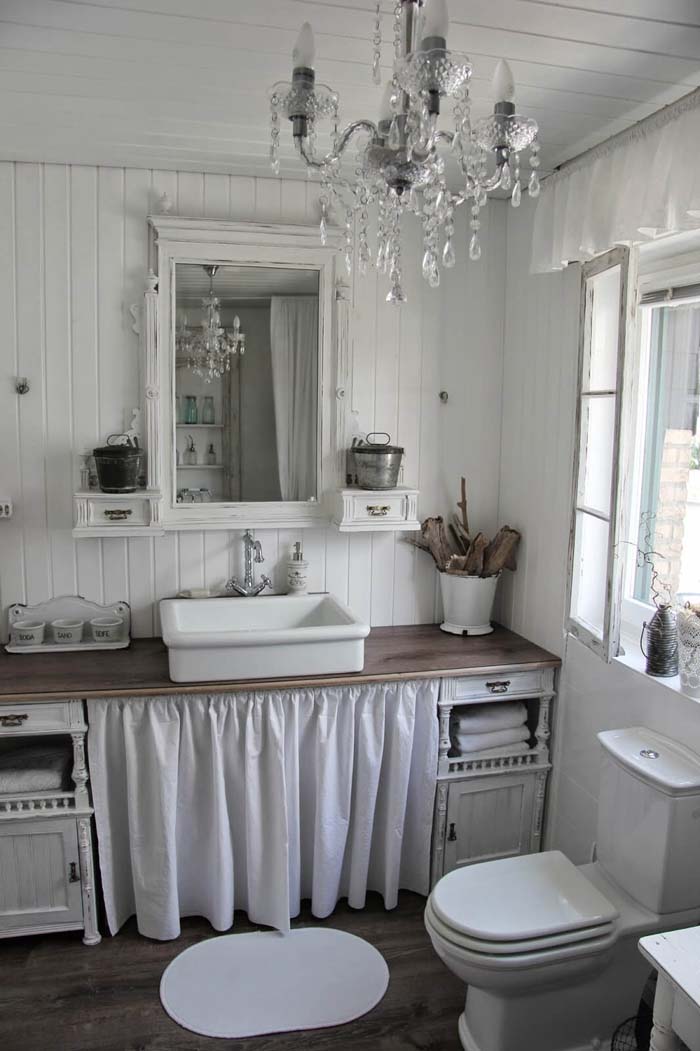 Are you looking to add a touch of softness to your bathroom?
Simple gathered fabric is a great way to achieve that goal without making the room feel overly romantic.
The trick is to choose a simple white fabric; it showcases the gathers while maintaining a clean, bright aesthetic.
20. Lace Insets Are Cottage Chic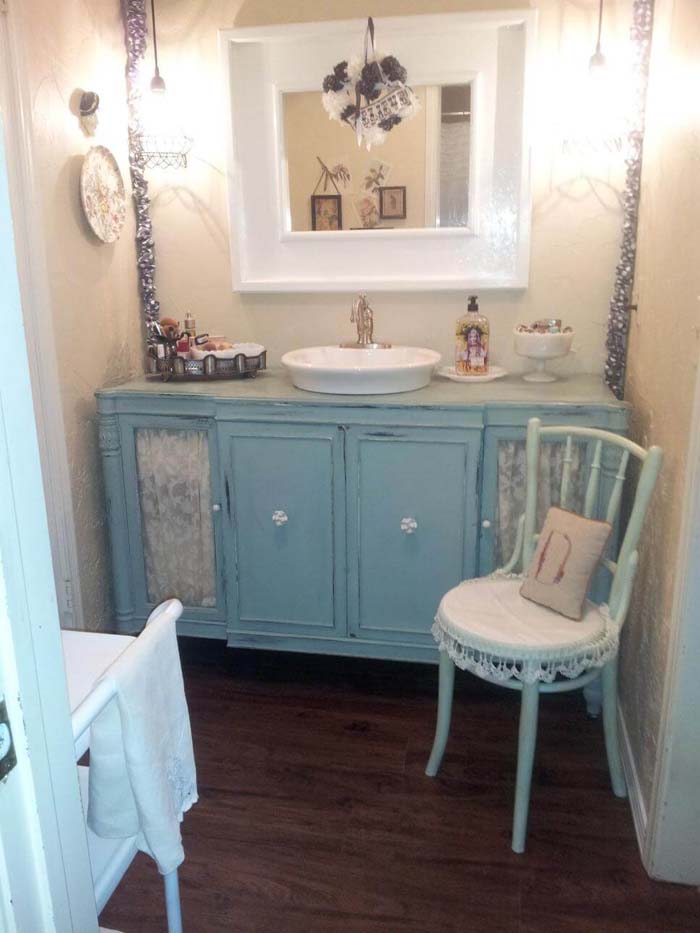 Lace accents are a quick and affordable way to give your bathroom a shabby chic upgrade.
A little bit goes a long way — think lace chair covers, lace-edged towels, and lace vanity accents.
For variety, choose lace in different patterns and textures.
via Decoist
21. Utilize Vintage Distressed Furniture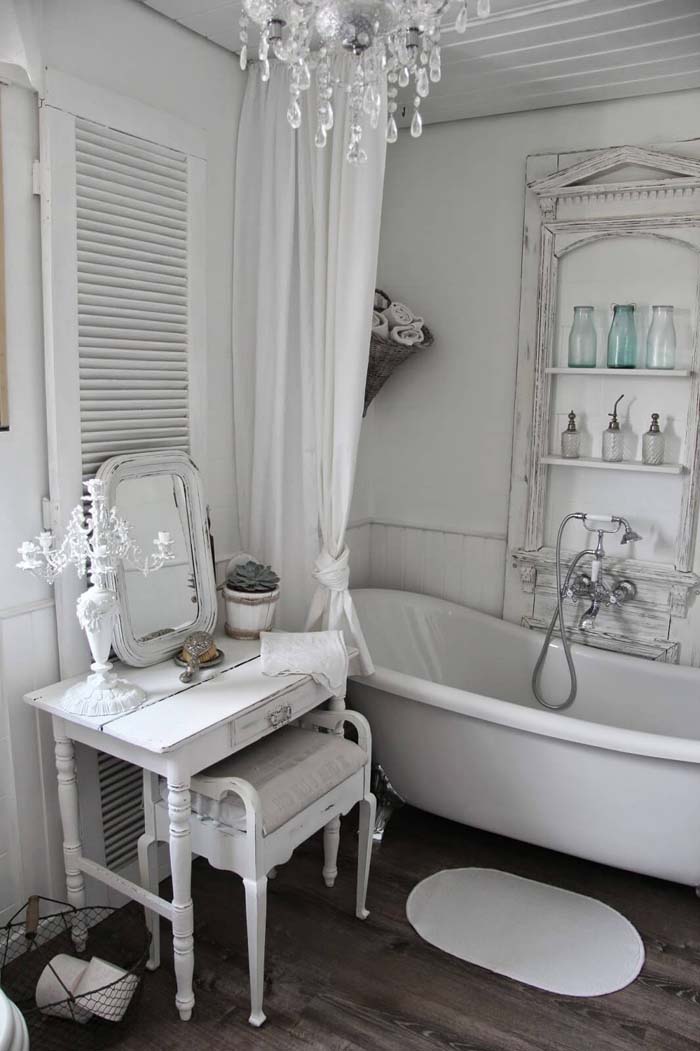 Here's another example of how a few key pieces can make a big impact in your bathroom.
Here, a vintage dressing table sits in front of a slatted door.
Behind the tub, a gorgeous antique door frames a set of simple, wall-mounted shelves. The effect is striking and restrained.
22. Make Your Curtain A Standout Piece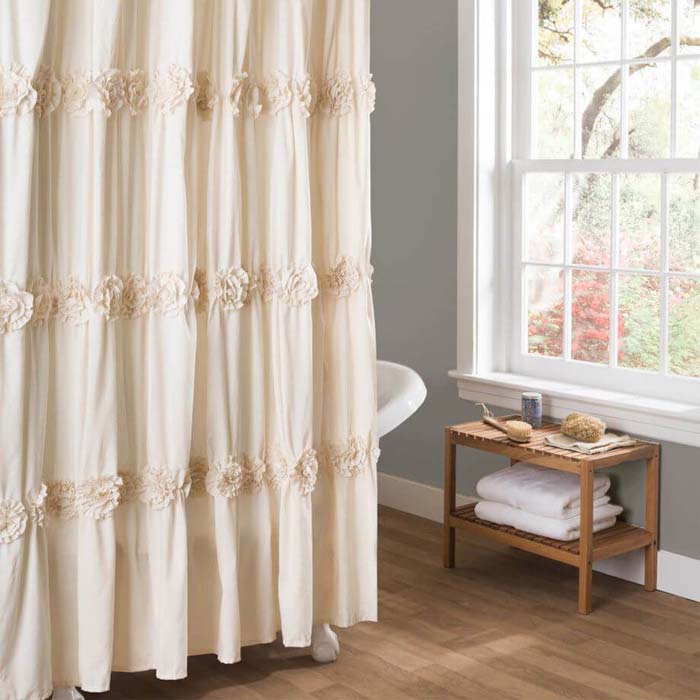 Do you want to blend contemporary and shabby chic styles?
Do it on a budget by switching out your shower curtain.
This cream-colored fabric curtain features rows of simple rosettes, adding just the right hint of vintage style to the clean, modern space.
23. Stunning Garden Tub Nook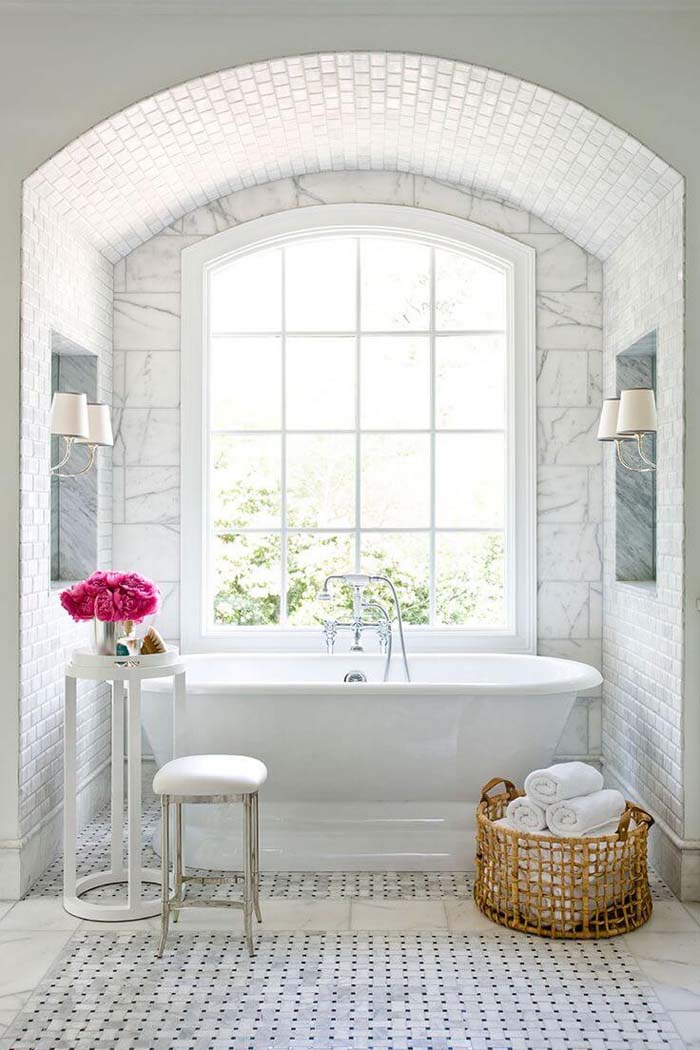 Maintain your crisp, easy-clean bathroom tile by adding a shabby-chic twist.
Here, the bathtub sits in a vintage-inspired nook, and recessed shelves frame gorgeous antique light fixtures.
Fabric shades, roses, and a natural-fiber basket add a pop of texture.
24. Repurposed Armoire Open Storage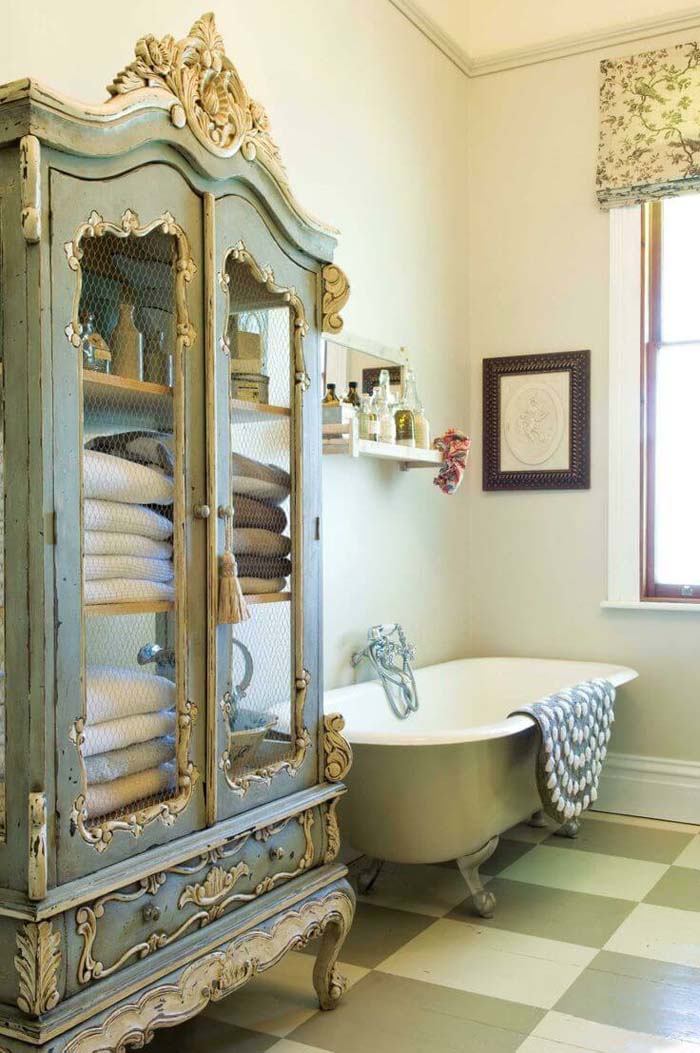 Orient your bathroom around a single focal point by creating a linen closet out of an antique armoire.
This design is all about the details — the vintage finish, the arching doors, and decorative molding make a big, bold statement.
25. A Quilt Rack Adds Vintage Textiles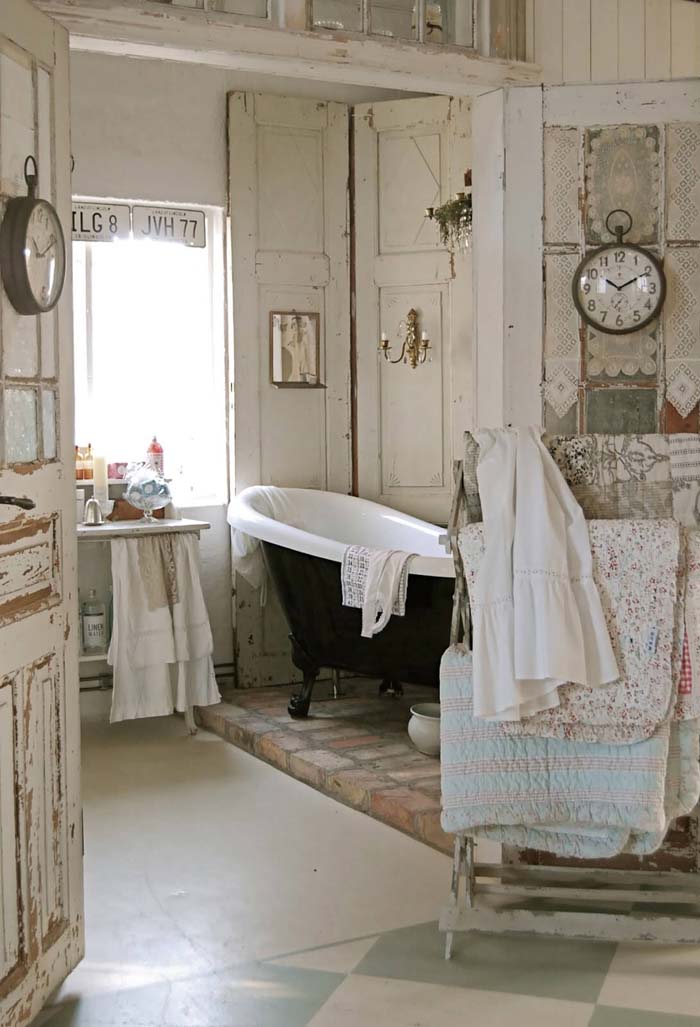 In a big bathroom, dividers help create a cozy, welcoming vibe.
For a unique divider, why not consider a vintage quilt rack? It doubles as a towel rack or a spot to hold your bathrobe.
via We Heart It
26. Incorporate Elegant Bath Accessories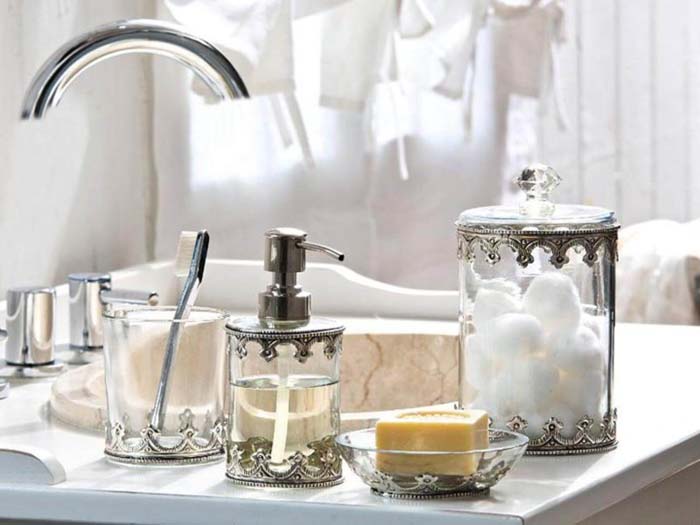 Save money on your shabby chic bathroom design by starting with small details.
These adorable accessories feature elegant metal detailing.
Place them on your vanity for a quick and easy style upgrade.
27. Distressed Towel Holder With Bold Peonies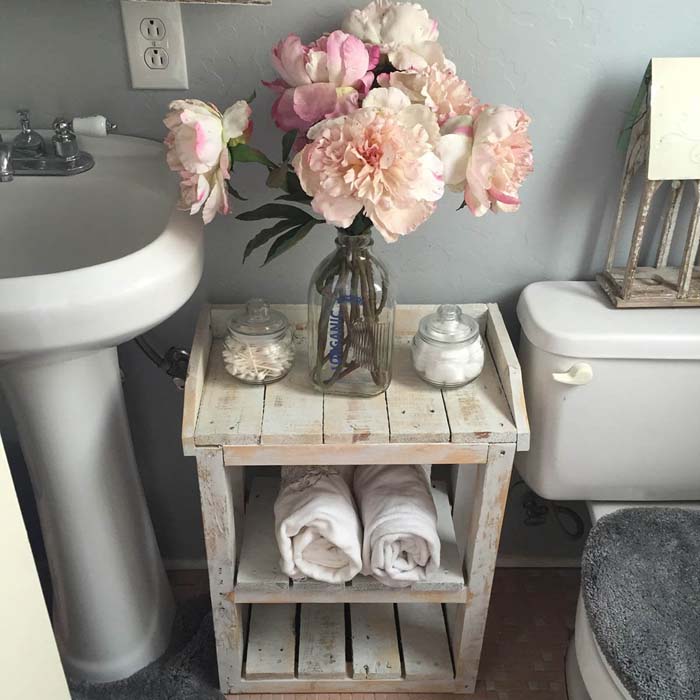 You can never go wrong by adding whitewashed wooden pieces to a vintage bathroom.
The uneven finish brings to mind images of handmade furniture and casual country homes — the perfect fit for an eclectic space.
28. An Antique Ladder Holds Storage Baskets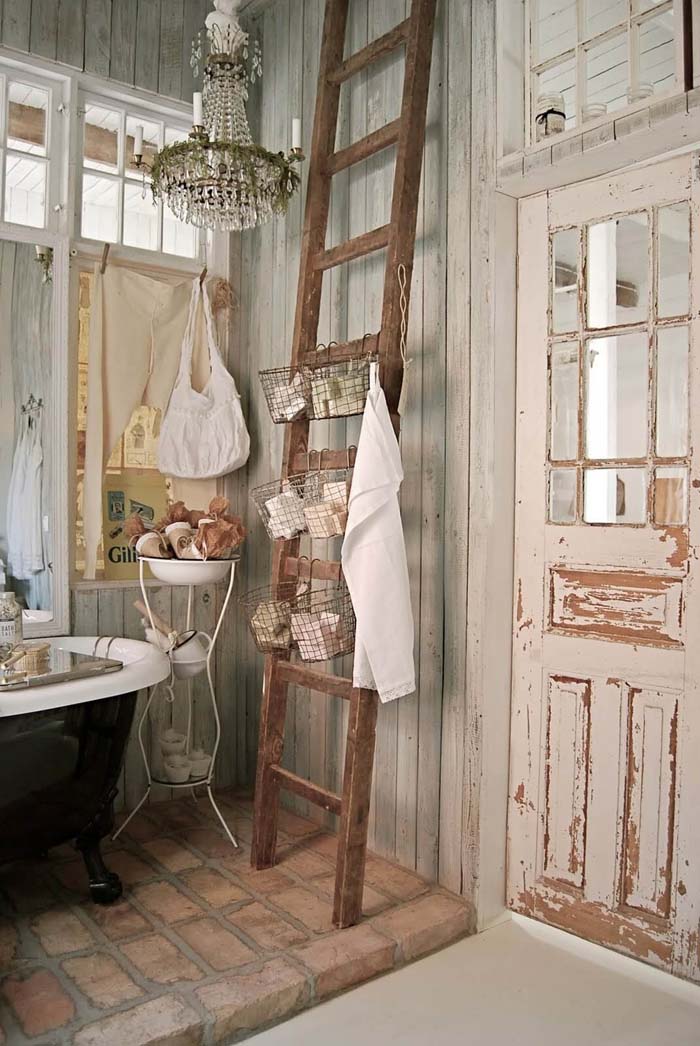 Are you low on bathroom storage space? Make use of an empty wall with an old wooden ladder.
When you lean it against a wall, it becomes a beautiful shabby chic spot to hang towels or wire storage baskets. In a modern bathroom, the ladder adds a bold burst of rustic style; here, it enhances the overall vibe.