If you are considering subway tiles for your bathroom and not sure about the color – these white subway tile shower ideas will help you finally decide.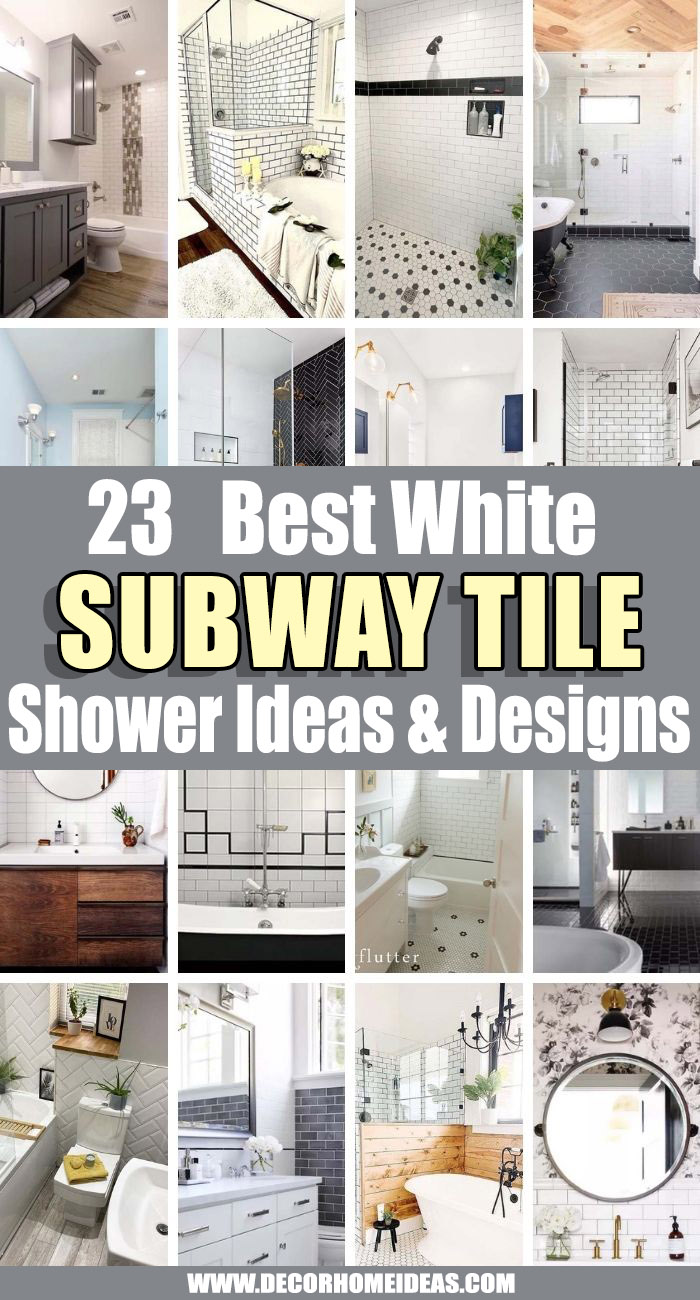 Distinguished by their pop-out visual appeal against an otherwise white brick-like backdrop, subway tiles spruce up any interior space, especially small bathrooms with a refreshingly unforced beauty.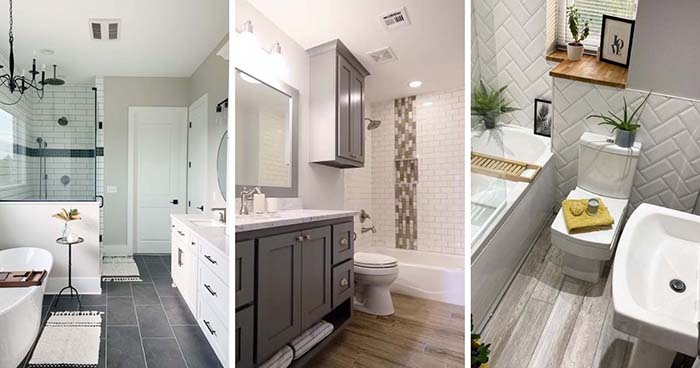 Let me answer some of the questions about white subway tiles before showing you the beautiful gallery of bathrooms tiled with white subway tiles.
Are subway tiles out of style 2021?
The rectangular shaped tiles are a timeless classic shape with the versatility and variety to fit any style. They come in different colors, but white is the most popular thus most preferred.
You can buy a Clorox Disinfecting Bathroom Solution or you can DIY one. An ounce of vinegar, a few drops of dish soap and water. Spray the mixtures on your tiles and leave the cleaning solution on there for a couple of minutes. The vinegar and soap will work on breaking down grime and any other dirt.
How much does subway tile shower cost?
Standard subway tile costs around $2-$3 per square foot; the beveled edge variety costs around $4 per square foot. Check current prices at Wayfair.
What is the best grout color for white subway tile?
As a rule of thumb, dark colored grout will make white subway tiles to pop. Grey grout is a beautiful choice for white tiles as the slight contrast in color helps make the white tile more textured. Once you add a color difference between your tile and grout, the shape of the tile is revealed more clearly, and the grout itself forms a pattern out of the negative space.
Where can I buy white subway tiles for my bathroom?
You can check your local store, but if you are looking for more options and variety take a look at these online stores:
They offer some big promotions on tiles so you can get the best price.
1. Tile Pattern Pops Against Black Tub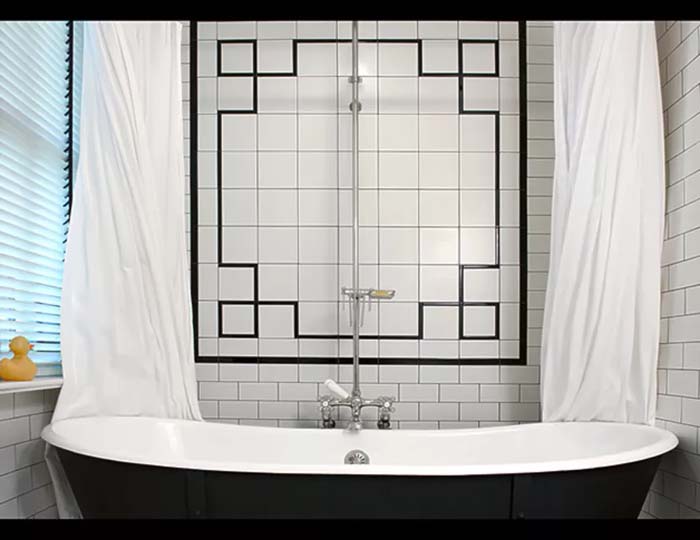 Black accents are a surefire way to take your white subway tile shower to the next level.
Here, subway tiles and square tiles bring visual interest to the white wall.
Narrow black detailing adds an Art Nouveau-inspired design that works in both vintage and modern bathrooms.
The effect is chic and stylish — the perfect way to make a small bathroom pop.
2. Full Vertical Tile And Recessed Shelves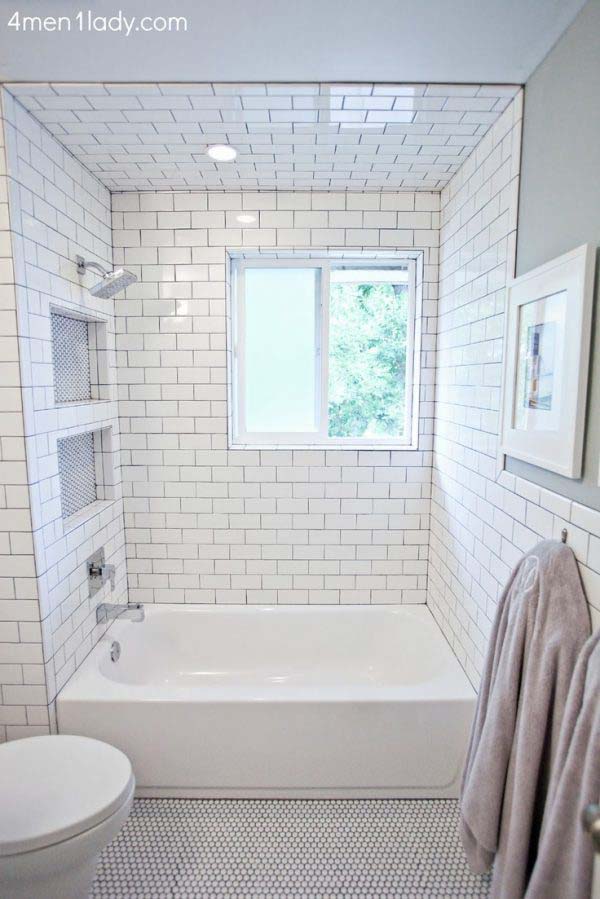 When you love white subway tile, there's no such thing as "too much".
Instead of restricting these beautiful tiles to the walls, why not use them to cover the ceiling, as well?
The all-over design showcases the linear design and classic shape.
Two built-in niches create just the right amount of space for your bath products. It's a perfect way to save on bathroom shelving.
via 4 Men 1 Lady
3. Tonal Grout With Black And White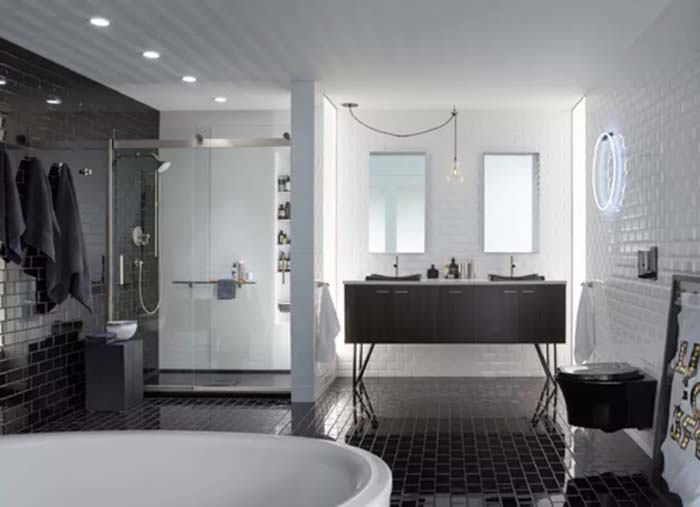 Black and white decor never goes out of style.
Bring this stark design into your bathroom by pairing white and black subway tiles.
In a small bathroom, use the white tile on the walls and the black tile on the floor to maintain an airy vibe.
In a bigger bathroom, you might add on an extra black accent while for a bold look.
via Castle Building and Remodeling
4. Subway Tile Looks Bright And Fresh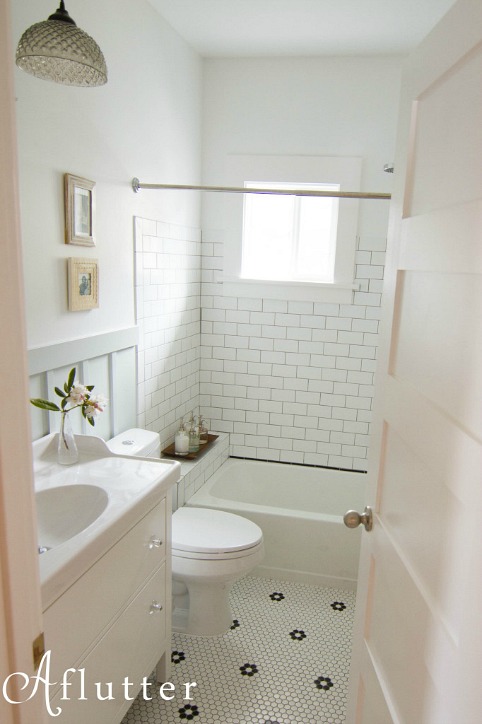 If you have a small bathroom, white subway tile is the perfect way to add texture and dimension while amplifying the natural light.
This tiny space is a great example: the tile covers just the shower walls, adding a pop of geometric design without going overboard.
Pale grey grout completes the low-contrast look.
via Hooked on House
5. Wood Chevron And Black Honeycomb Accents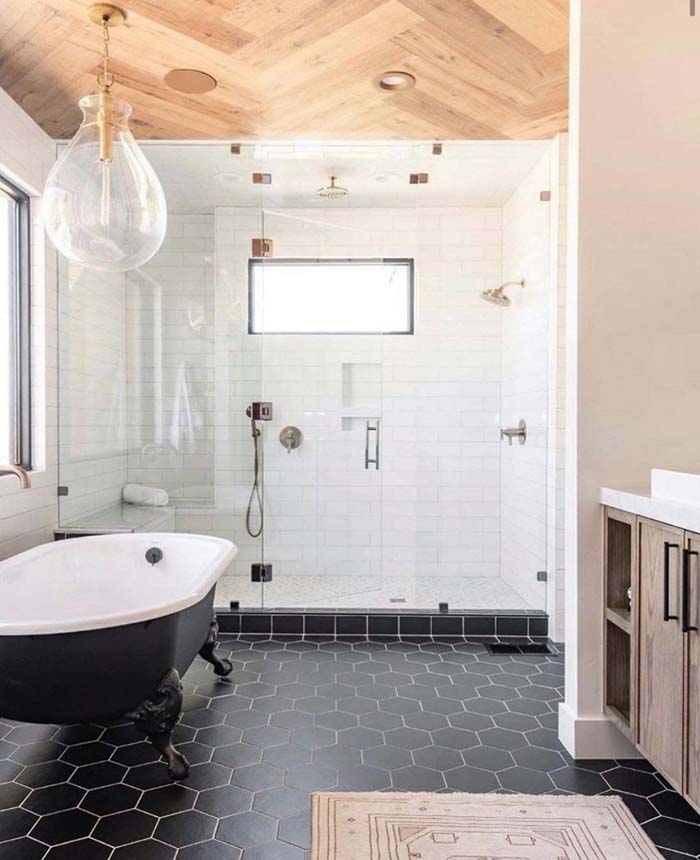 Not sure how to help your white tiles shower stand out?
Pair them with a hexagon-shaped floor tile in black. The contrasting shapes add plenty of visual interest, so you don't need to worry about additional decor items.
We love how the white floor grout echoes the color of the shower for a cohesive vibe.
6. Not Your Standard Subway Tile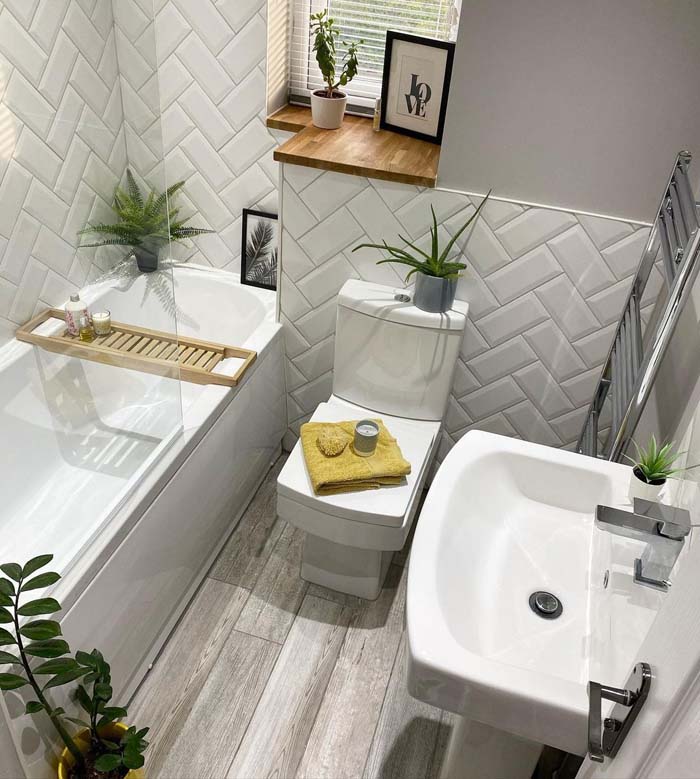 Subway tiles are beautiful in a traditional brick pattern — but if you're looking for something new, try a herringbone arrangement.
By aligning the tiles at an angle, you can subvert expectations and turn your shower into a focal point.
This is a great way to elevate a small bathroom without adding clutter or additional color.
7. Classic Industrial Bath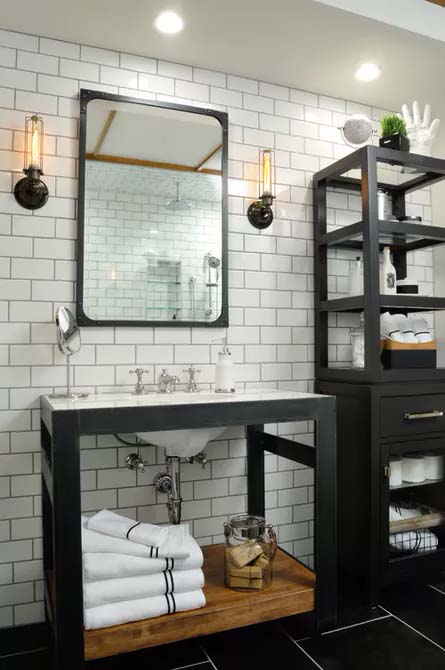 White subway tiles are exceptionally versatile.
Here, the homeowner pairs them with metal and wood accessories to create an industrial vibe.
The raw, rustic feel of the furniture brings out similar qualities in the tile, showcasing their simple beauty.
The warmth of the wood adds a cozy, natural feeling that balances the stark black and white elements.
via Houzz
8. Dark Grouted Half Wall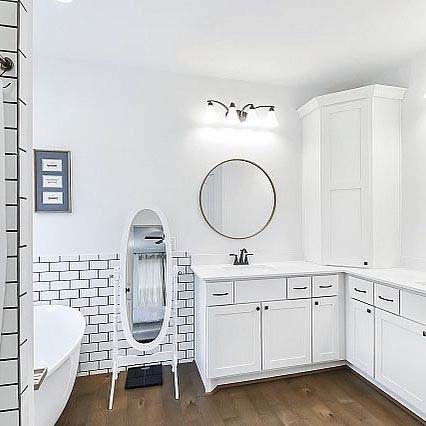 All-white bathrooms feel fresh and bright. If your space is starting to feel too one-dimensional, black grout is an easy solution.
On an all-white palette, the dark lines stand out dramatically. For extra impact, echo the black in your cabinet hardware, mirror frame, or light fixtures.
Here, a warm-tone wooden floor adds a hint of natural texture and a welcoming feeling.
via The House That Faith Built
9. Retro Subway Tile With Hex Floor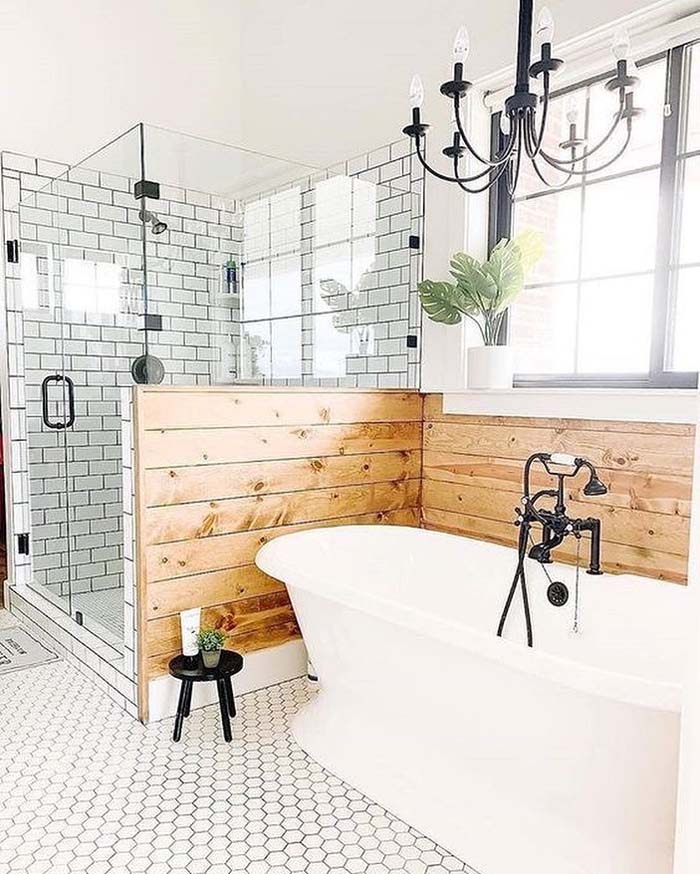 Here's another example of white subway tile with black grout — this time, it's contained to the shower enclosure.
To make sure the beautiful tile work is on display at all times, this shower uses clear, fixed glass panels for full visibility.
Antique-inspired black metal fixtures give the tile a charming vintage quality. Looking for extra texture?
Do what this homeowner did and use wood planks and hexagon floor tiles for a bold design.
10. Subway Tile In Elegant Gray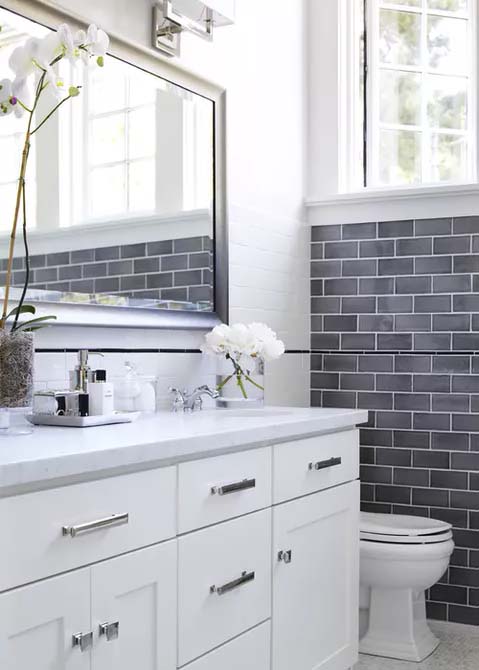 Two subway tile colors help bring your bathroom to life.
If you're going for a softer vibe, try white and grey tiles. The slate color pops against the bright white tiles, but the effect is calming and relaxing.
For extra nuance and depth, look for slate tiles with slight tone variations within each piece.
White grout is an easy way to create a visual connection between the two tile types and the other elements in your bathroom.
via Urrutia Design
11. Symmetrical Looks Chic And Modern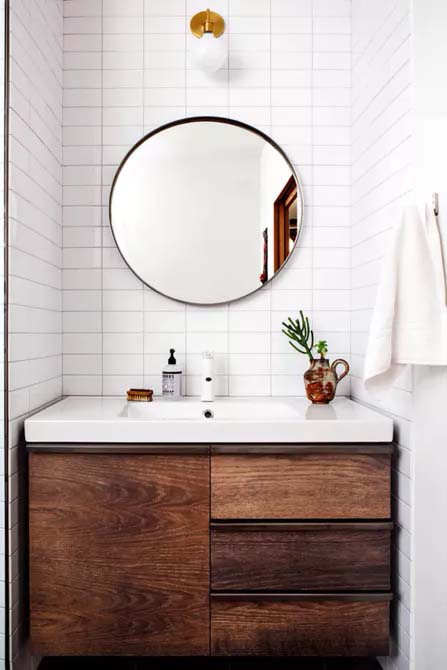 Put a contemporary spin on white subway tile by changing the orientation — instead of a traditional brick-style layout, go with a stacked design.
This symmetrical arrangement creates simple, clean lines that extend across your walls.
To tone down the crisp, modern look, add a wood vanity with a strong grain pattern for a pop of warmth.
via Design Sponge
12. Complement A Bold Wallpaper Look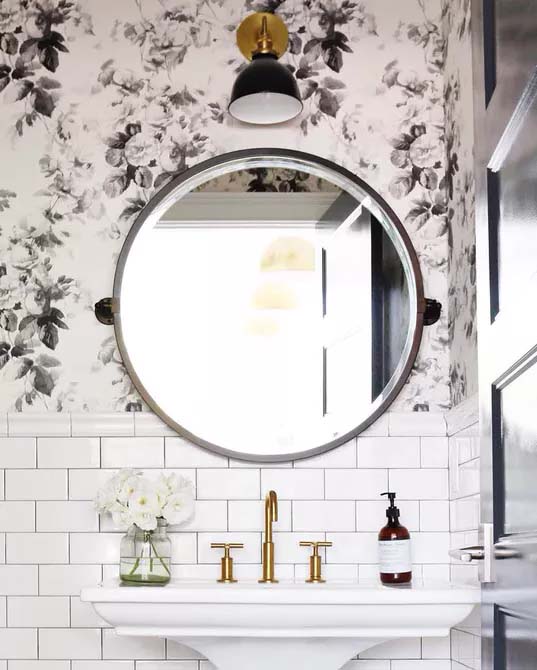 Are you dying to makeover your bathroom with printed wallpaper?
Balance the bold effect of a striking pattern with white subway tile.
The clean, elegant tiles reduce the amount of wallpaper, so it's beautiful but not overpowering.
As a bonus, the sharp lines of the tile can bring a crisp feeling to a flowery or feminine print.
via Studio McGee
13. Subtle Subway Tiled Wall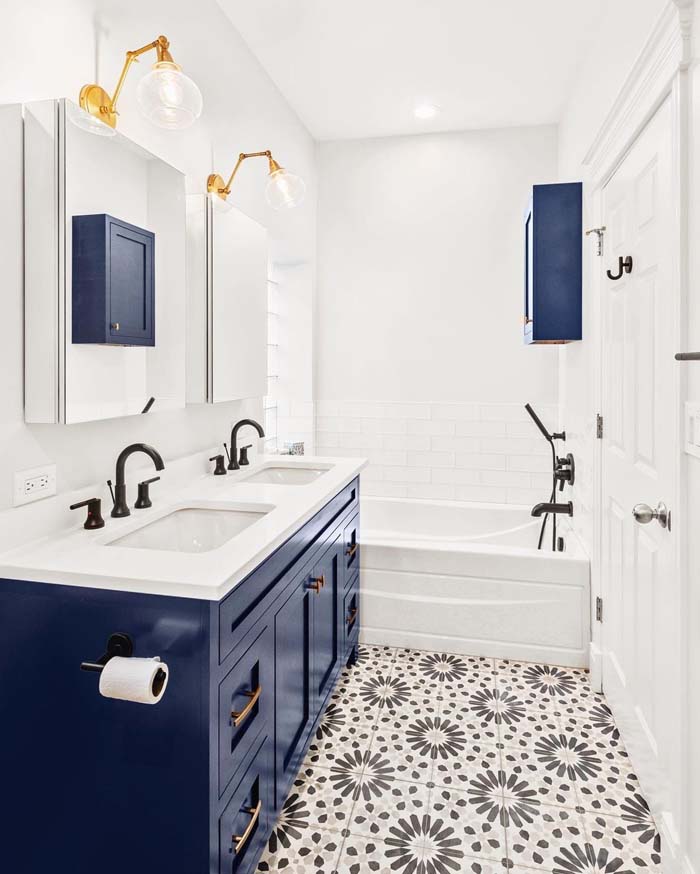 Elevate your built-in bathtub by replacing the traditional enclosure with a tiled wall surface.
White subway tiles work beautifully with any type of tub.
Finish the tile with white grout for a low-key look that suits large and small bathrooms.
The subtle texture looks lovely with any type of tile, wood, or laminate flooring.
via Magda Interiors
14. Add Interest With Herringbone Inset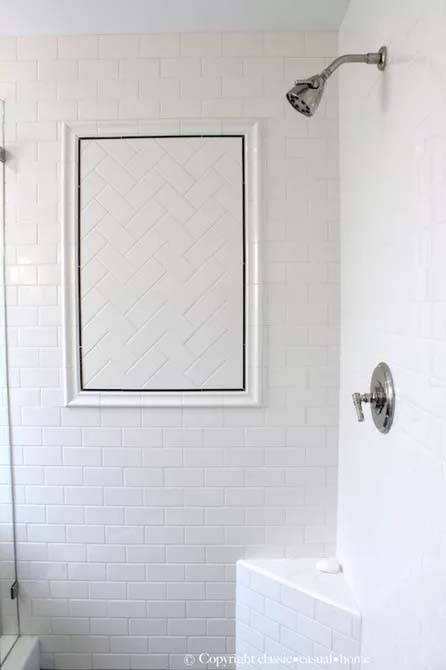 Bid farewell to plain shower designs by using white subway tiles in two different orientations.
Here, a classic brick arrangement surrounds a framed section of herringbone tile.
Set off the herringbone effect with a sleek black border.
The effect is delightful yet subtle — a lovely way to make a statement in a small bathroom.
15. Subway Tile With Glass Tile Mosaic Border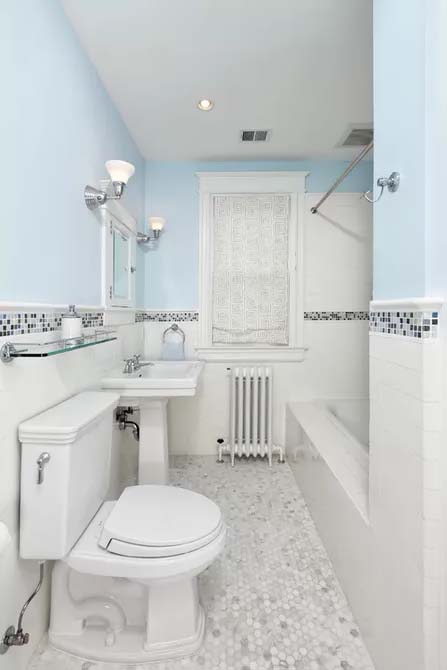 Bring new energy to your white subway tile with a mosaic border.
A little goes a long way — the high-contrast mosaic pops next to the simple, chic white walls.
Keep it simple with all-white accents, or choose a complementary color from the mosaic for extra impact in a bigger bathroom.
16. Subway Tile Goes Cottage With Vintage Mirrors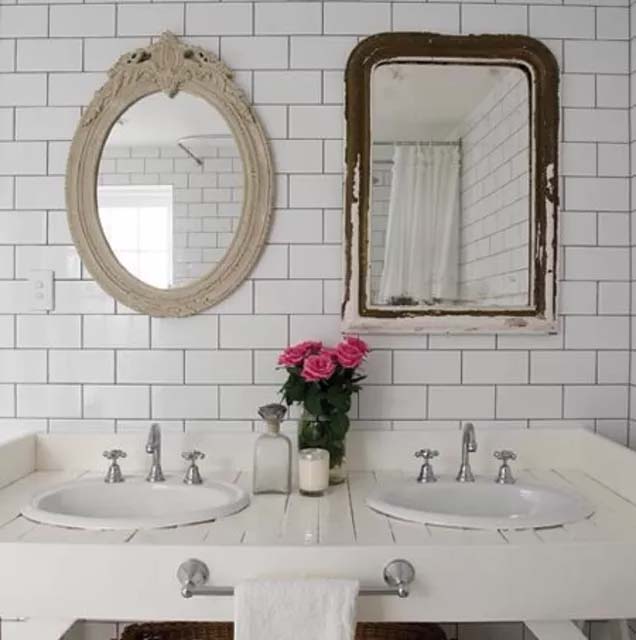 Subway tile is an easy way to bring out the vintage aspects of your home; it's a common feature in bungalows and cottage-inspired spaces.
The trick is to pair the tile with other vintage elements, such as mirrors, fixtures, or vanities.
Here, weathered mirror frames and a planked wooden countertop pair with white subway tile for an eclectic, chic result.
via Absolutely Beautiful Things
17. Unique Vertical Tile Pattern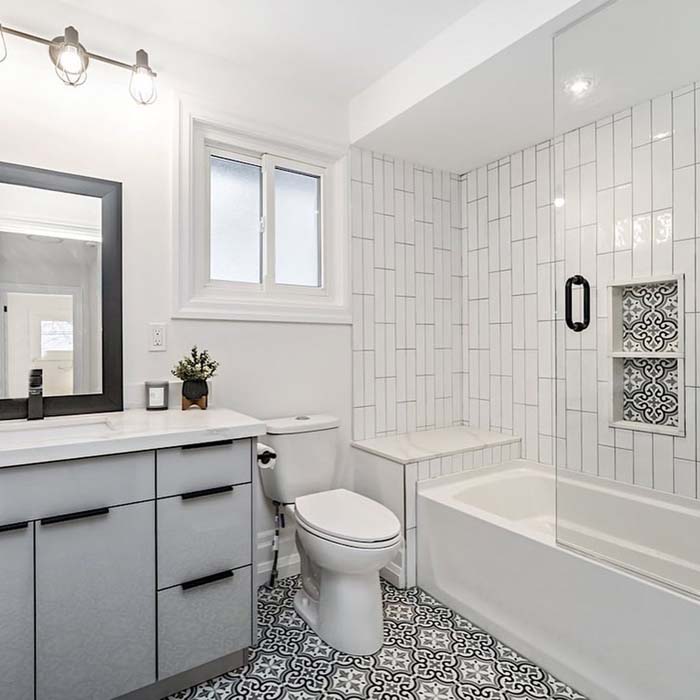 Embrace the unexpected by arranging your white subway tiles in a vertical pattern on your shower wall.
This design recreates a typical offset-brick pattern — but instead of individual tiles, it uses a dual-row design for a surprising style.
We love how the Moroccan floor and shelf tiles add a traditional contrast.
via Bryan Castelli Contracting
18. Accent With Contrasting Black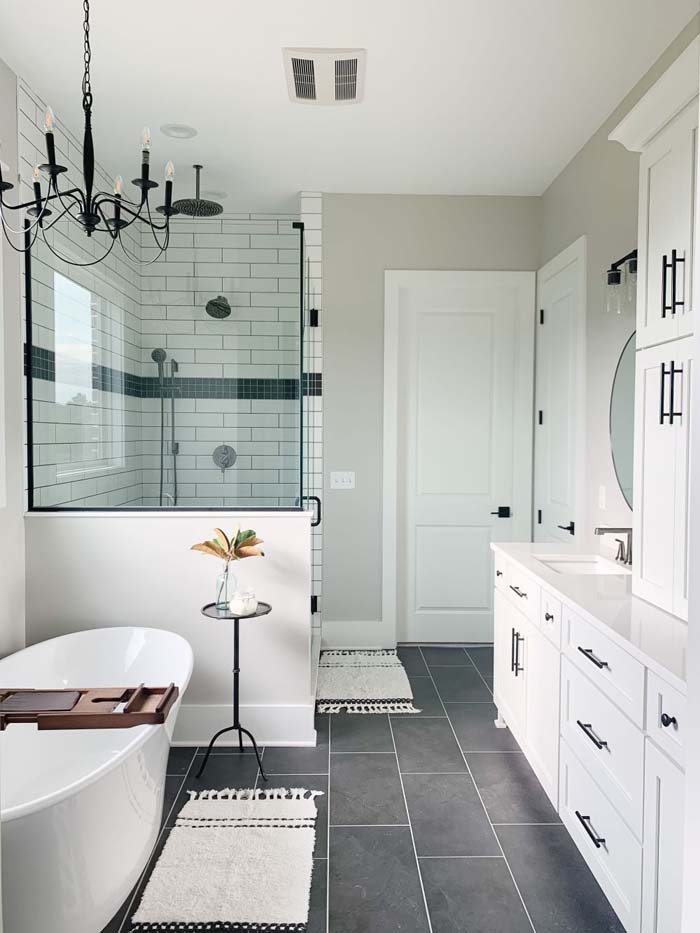 If you look closely, you'll see that this gorgeous bathroom has three different tile types.
The floor features oversized slate tiles, and the shower pairs white subway tile with a border made from tiny black squares.
To tie the space together, the designer used white and grey grout and black hardware.
Fresh yet vintage-inspired, this bathroom is made for relaxing.
19. Gray Grout Works With White And Black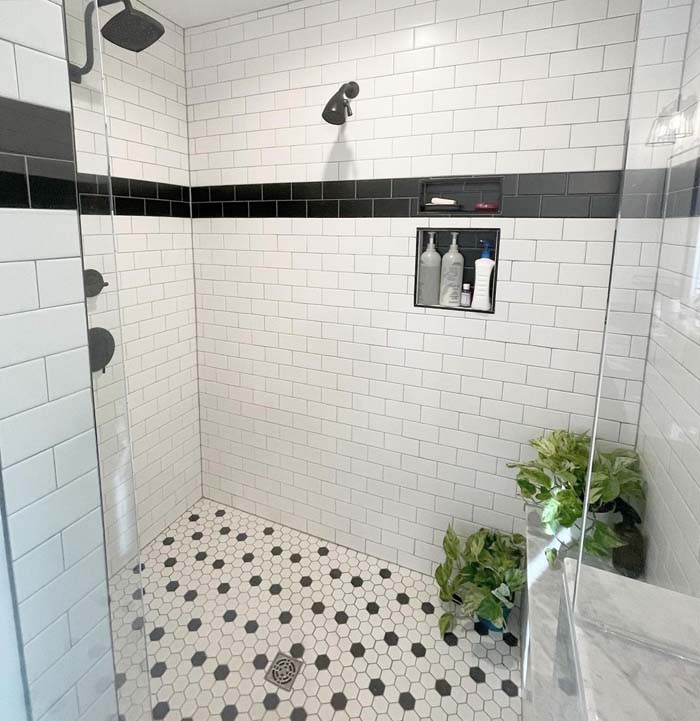 When you're using white subway tile, the grout color has a big impact on the final effect.
Grey grout hits the sweet spot for medium-sized bathrooms — it showcases the tile shape, but the low contrast doesn't overpower the space.
Here, the grey grout looks great with black accents and green plants for a look that's striking and stylish.
via Fausz Haus
20. Subtle Backdrop For A Shower Accent Wall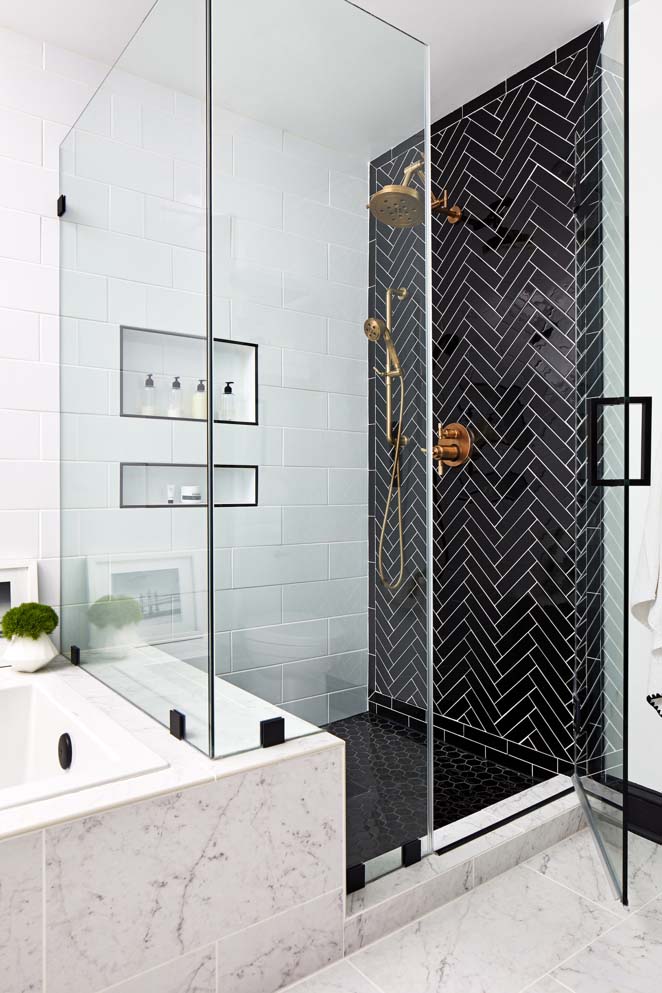 There's no easier way to elevate your bathroom design than to choose a black, white, and gold palette.
This example starts with the tile: oversized white subway tiles highlight a stunning black herringbone accent wall.
To take it to the next level, the designer uses gleaming gold shower fixtures. The result is modern and undeniably luxurious.
21. Bold Tile Shower And Tub Surround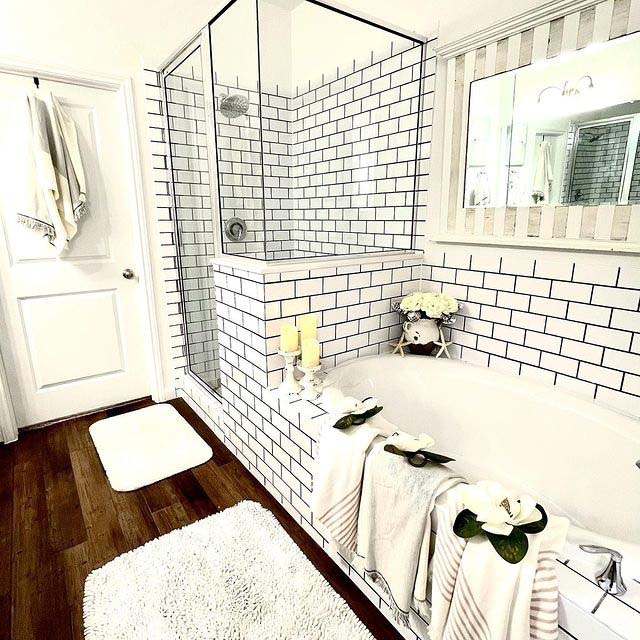 Are you ready to go big or go home?
Choose all-over white subway tile paired with black grout. The high-coverage design makes a strong, eye-catching statement — your guests will gasp when they walk through the door.
Add colorful accents for a lively vibe, or keep the focus on the tile with white accessories.
22. Retro Vibes With Checkered Floor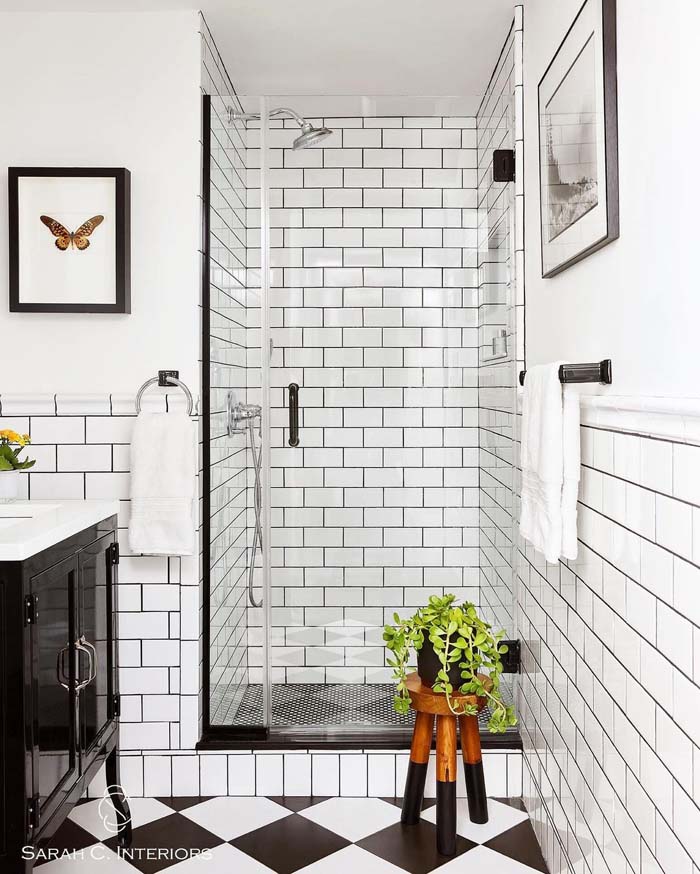 A black-and-white checkered floor brings retro charm to your bathroom.
Set off this high-impact flooring with classic white subway tile.
Black grout creates a unified aesthetic, and minimalist black accessories complete the style.
We love how the plant and the wooden stool add a burst of life and color to this sleek, crisp space.
23. Classic Style In Traditional Bath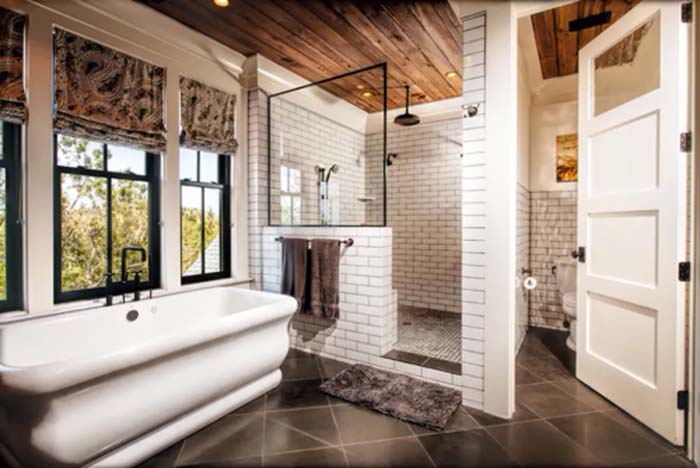 Big bathrooms give you plenty of design freedom.
Upgrade your shower enclosure by covering it in white subway tile and adding a dark grout color — in an expansive room, this high-contrast tiling becomes a subtle accent.
Add in other textures, such as a wood ceiling, floral drapes, large-scale floor tile, and fluffy rugs to create a true showpiece.
24. Contrasting Gray Accent Tiles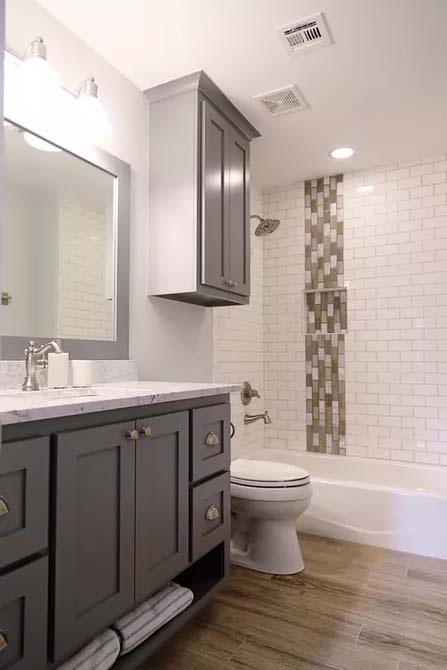 Reinvigorate your beautiful white subway tile shower with a contrasting inset.
This is a fun and affordable way to upgrade your bathroom without a full renovation; just add in a strip of neutral-toned tile for a fresh look.
To help the inset blend into the rest of the bathroom, choose a tile that uses colors from the rest of the space.
Here, a selection of warm greys complements the color of the vanity and flooring.