A front door color could make all the difference in how people view your house.
Whether redesigning a refreshed home exterior or adding a bit of color to a brown house, the front door significantly impacts your home's appearance. 
Can a brown house have a colored front door?
Yes! A colored front door brightens up your house and creates a good contrast between the two colors. These shades are uplifting and could be an excellent way to add character to your house.
What color should I paint my front door if my house is brown?
Various options are available; it all boils down to your personal style and preferences. You can try darker and light hues for light shades of brown if your exterior has dark shades.
What shades of color work well with a brown house for the front door?
The shade you choose depends on the mood, vibe, or feeling you want your front door to evoke. Warm shades create a warm and cozy vibe, while fabulous shades are more inviting and exciting. 
What colors match with brown exterior?
Brown is versatile, so neutral and bright colors will work well with your exterior. When designing your exterior, consider how you want your home to feel.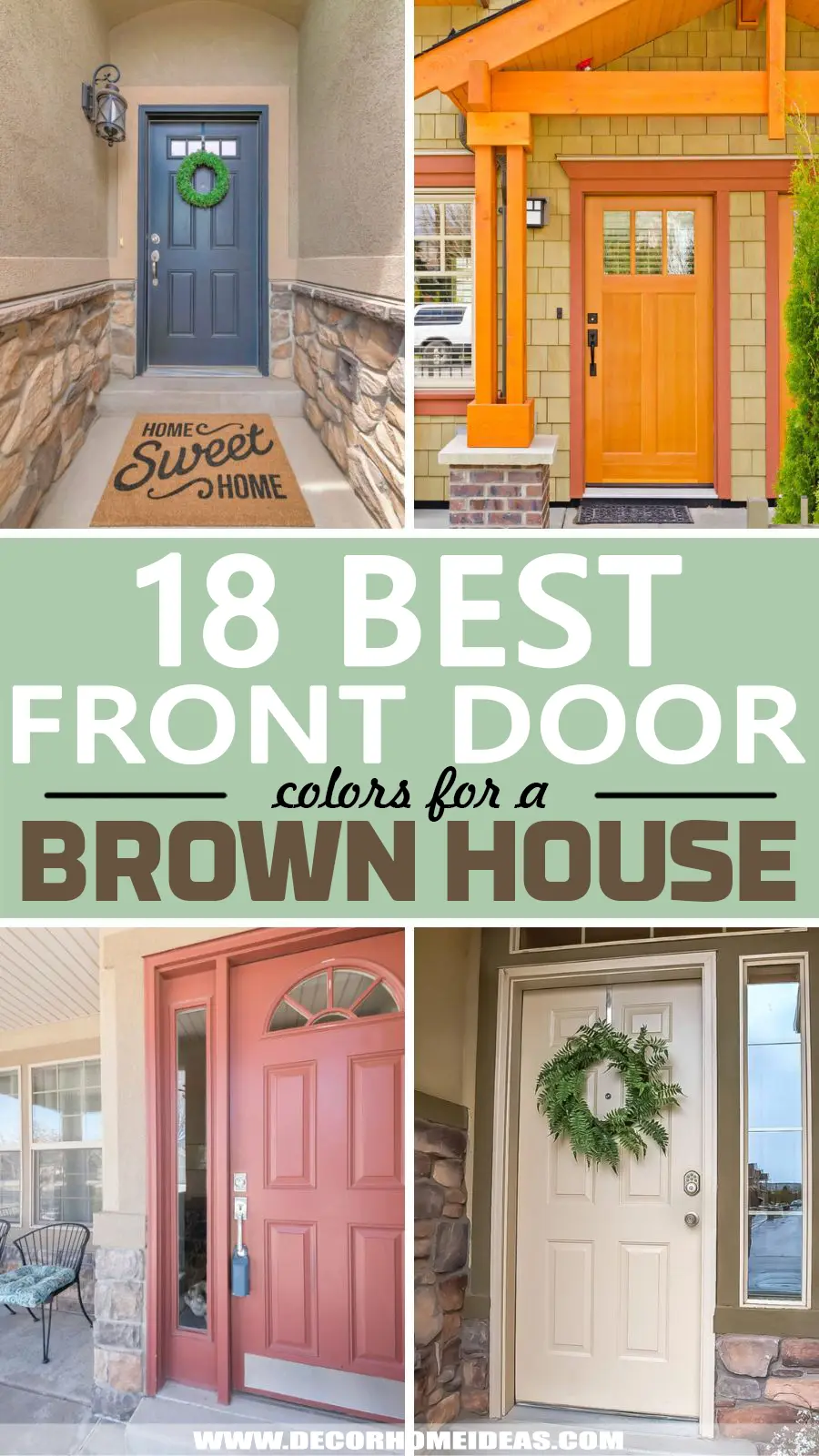 So don't get dizzy looking at many colors and trying to pick the best one for your house. This article has compiled the 18 best front door colors for your brown house. 
1. Red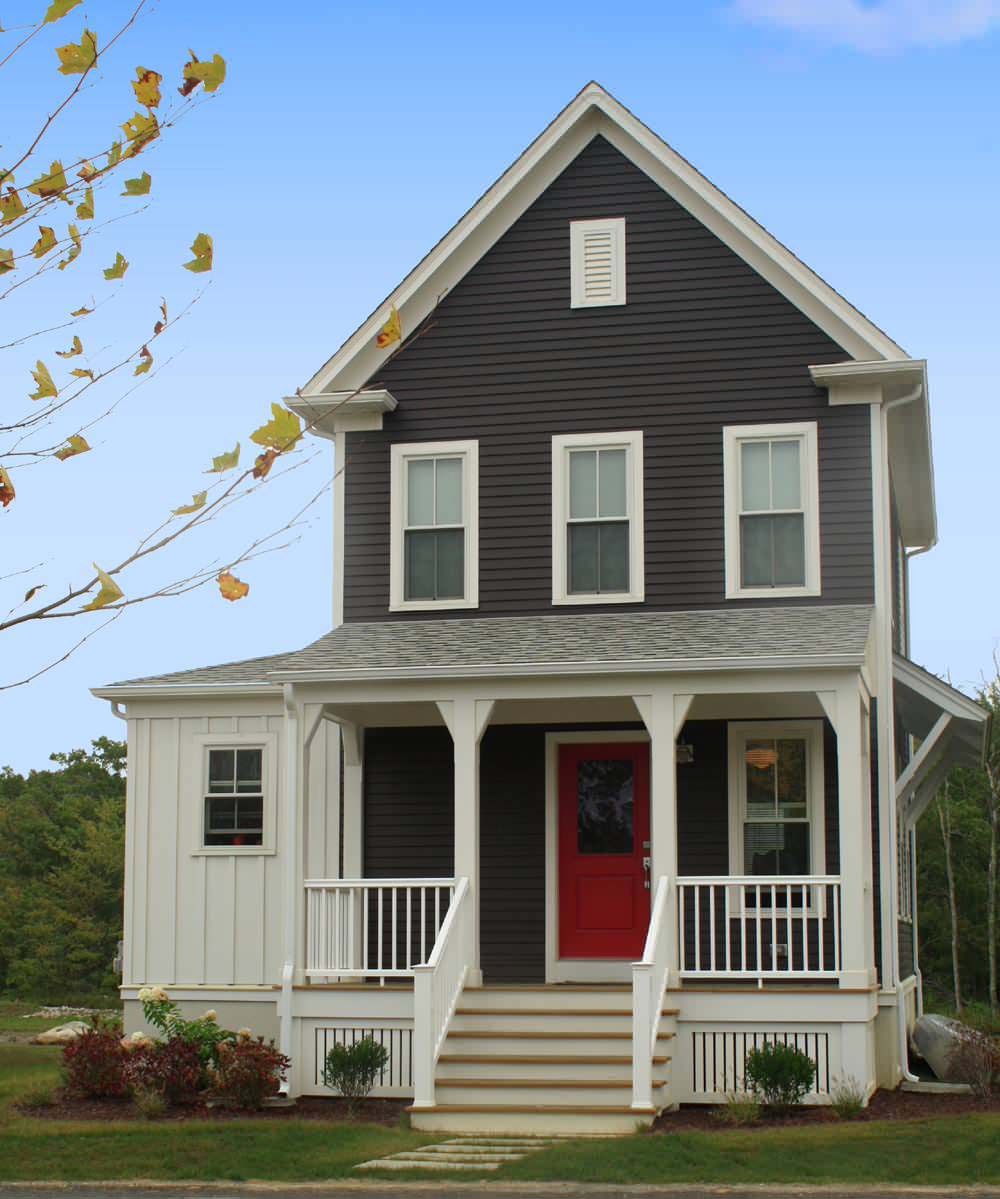 via Union Studio
Legend has it that a red front door symbolizes welcome to weary travelers, and in Chinese culture, red symbolizes prosperity, good luck, and good health. 
A red door gives your house a timeless and classic look far from basic. You don't necessarily have to go for fire engine red unless you want the front door to be the highlight of the house. 
Tones like burnt red are perfect for a brown house, especially with white trim around the door.
2. White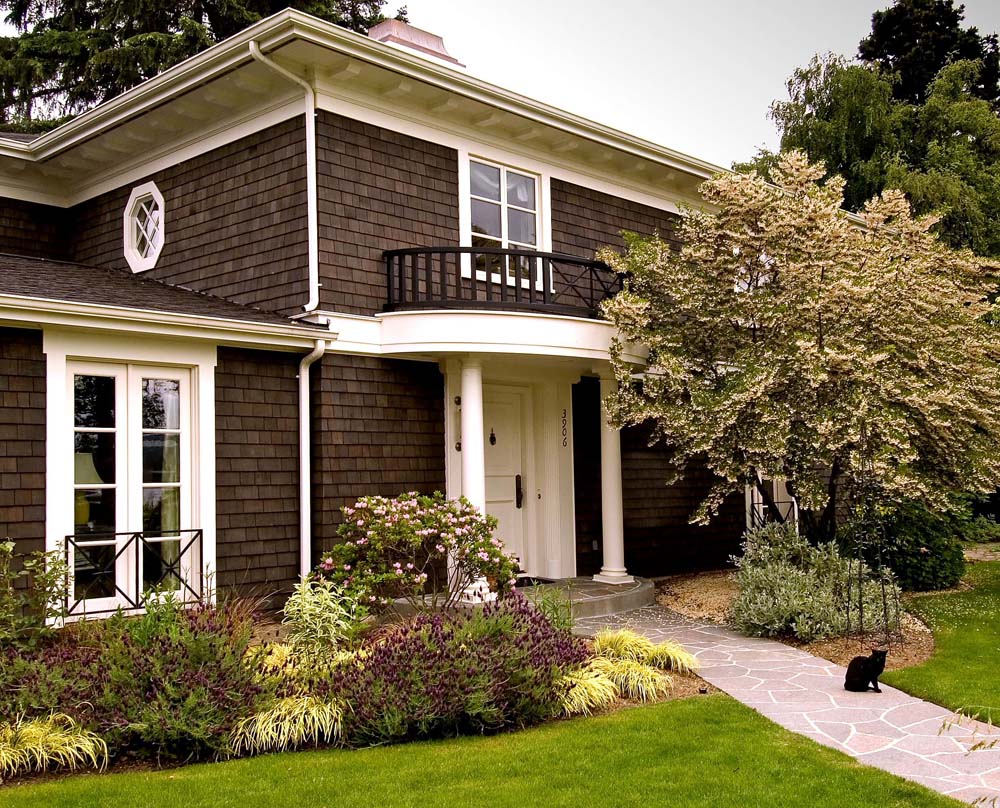 via Patricia Brennan Architects
A classic front door color for a brown house. White is versatile and will work with just about any home style. Try this color for cottage-style homes, homes with architectural columns, and colonial-style homes.
White not only brightens up your home but also gives it a clean, fresh look and will also boost its curb appeal. 
3. Turquoise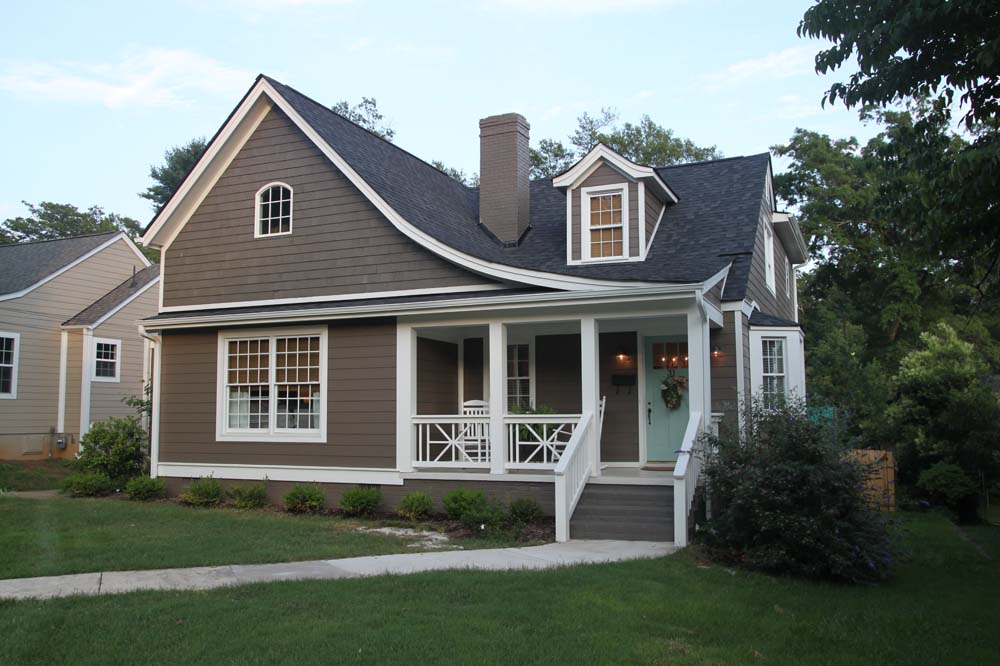 A calming and striking color that can be the perfect choice for a front door. You can use this beautiful hue in various ways, but its best application is for a front door. 
With different shades of turquoise, you are guaranteed the perfect match for your home, whether looking for a muted or bold shade.
4. Wood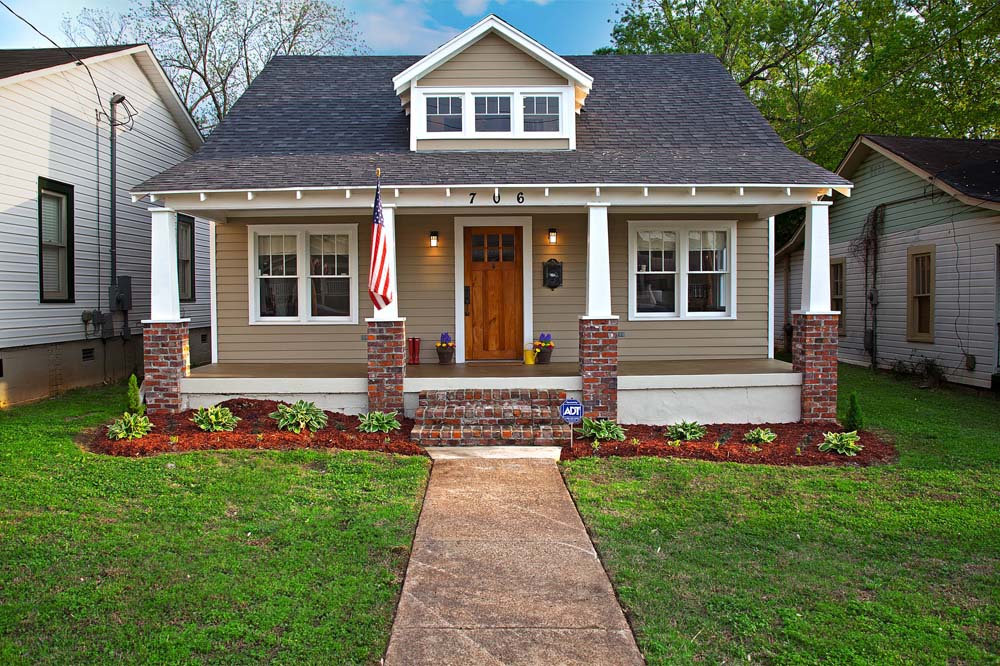 Natural wood is one of the colors that strikingly complements a brown house. This color provides a touch of sophistication and elegance to your home while offering the much-needed contrast against the dark exteriors. Wood works well when paired with red brick or a brown brick house. 
You can opt for a paint or stain that matches the house's siding.
5. Black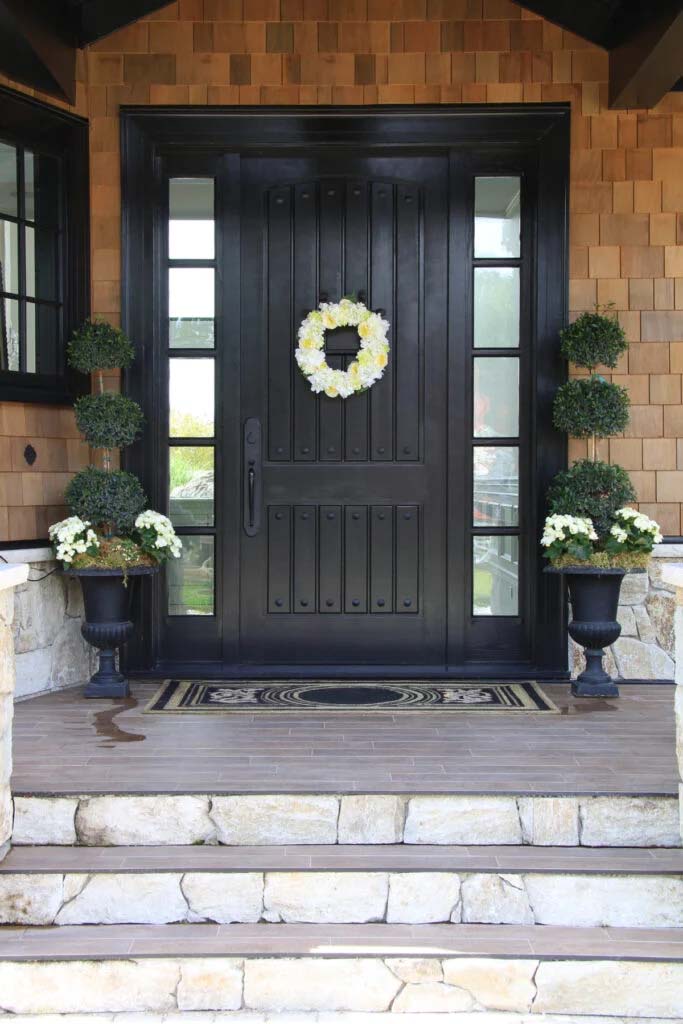 Want your front door to make a statement? Then black is the perfect color for you. Not only does it compliment a brown house, but it also gives it a bold and updated look. Adding a light-colored wreath to your black front door will uplift the look. 
One of the main advantages of using this color is that it matches everything, be it the siding or the shutters. You can choose from a wide range of undertones to match your preference.
Warm undertones such as Black Fox by Sherwin Williams work exceptionally well with brown houses.  
6. Yellow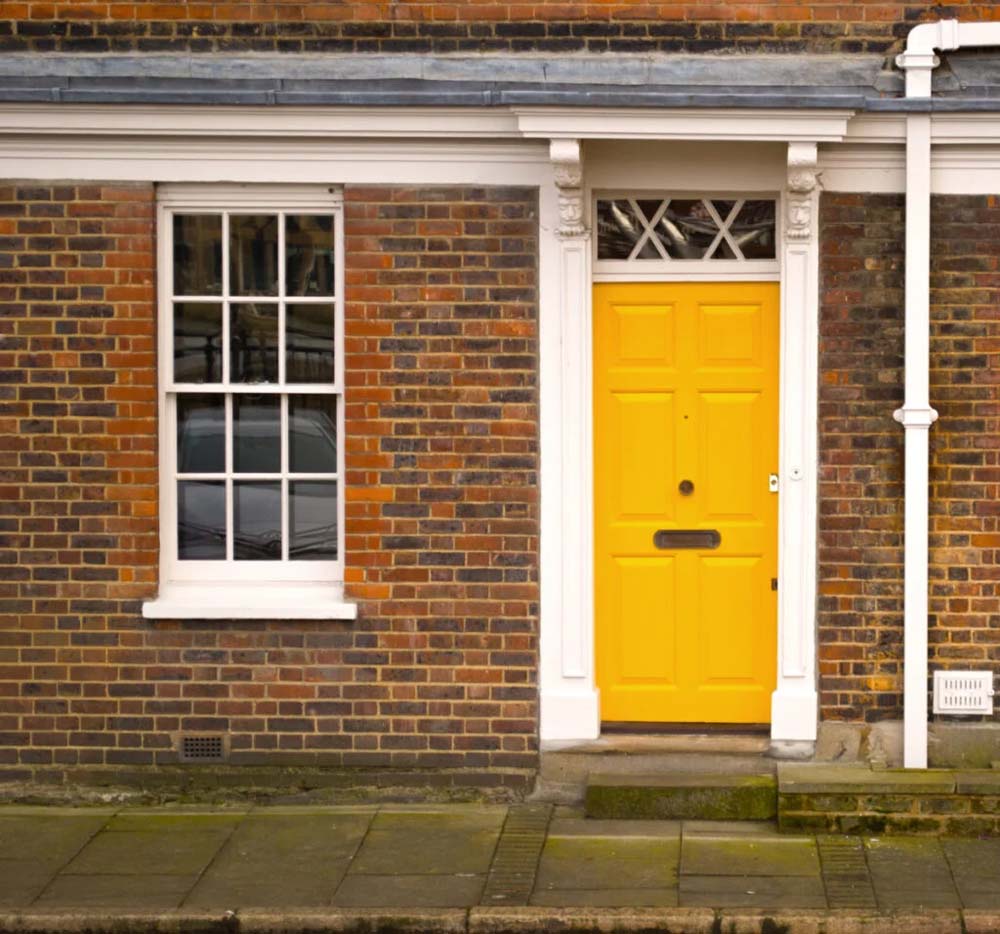 Yellow is an energized color that feels friendly and welcoming and pops out to make a statement without being too bold or bright. This is precisely why it makes an ideal front door color. 
There are a variety of yellow front door colors that will look good on a brown house, such as Saffron yellow, butter yellow, and golden yellow. 
7. Navy Blue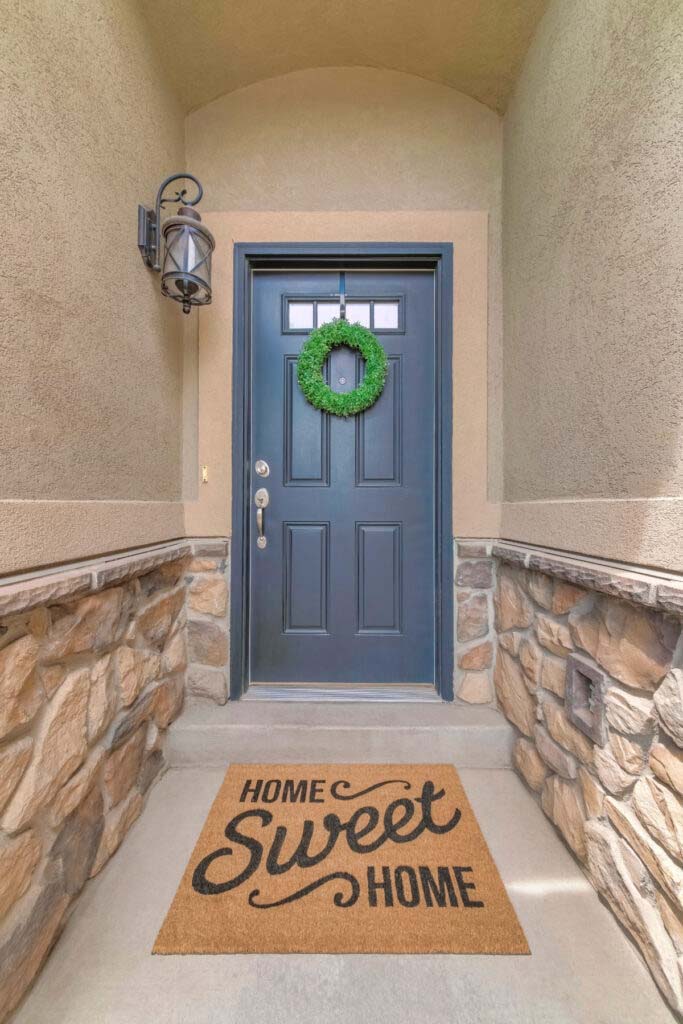 Navy blue is an excellent choice for a brown house, primarily if you use light tones of brown for the exterior.
The versatility of this color ensures that it pairs with various home styles, so it should be easy to design. 
8. Cream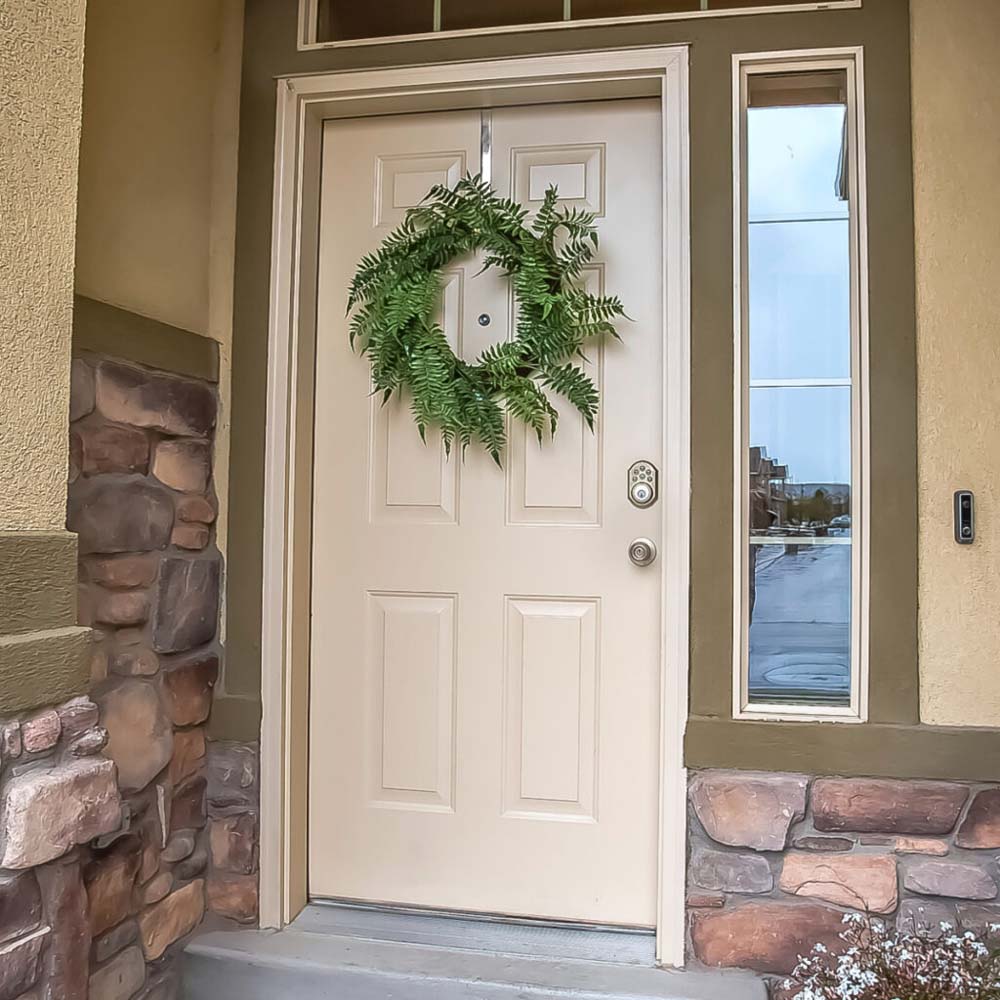 If you want to brighten up your brown house and make it look fresh, cheerful, and inviting, opt for a soft shade of cream. 
Since cream pairs well with various other colors, it gives you leeway to get creative with the exterior design. Try the warm undertones to create an inviting atmosphere and add curb appeal to your home. 
9. Dark Brown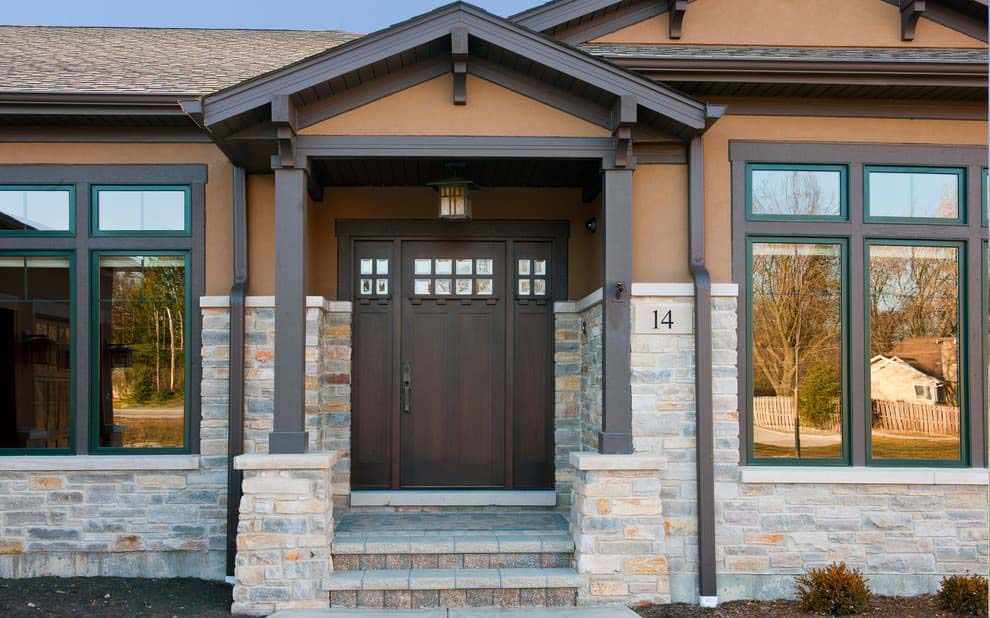 Elegant and sophisticated dark brown is the perfect color for a front door and will create the perfect mood in autumn when the leaves start changing color. 
This color creates a pleasing contrast if your home has light exterior walls and can also combine well with darker shades. Just ensure the door trim is light so the door pops in the dark background. 
10. Red-Brown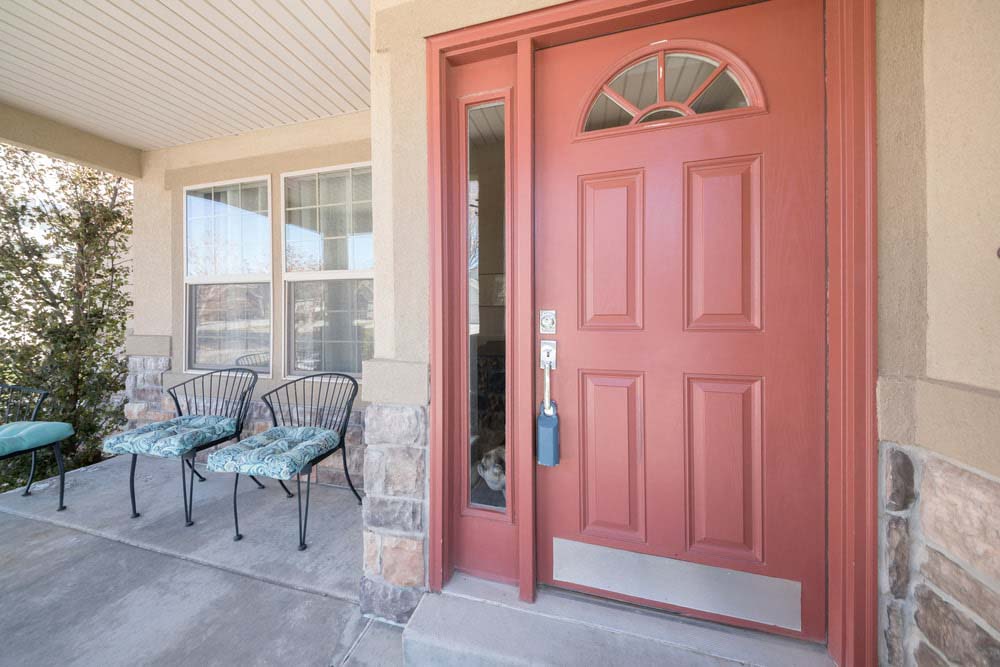 A red-brown front door and a brown house will make a perfect marriage. The color pops in a dark background and creates a cheerful vibe. You'll even like it more in autumn when the leaves fall off.
One of the reasons this color is so attractive is its versatility. Red-brown may appear dark or bright depending on the colors around it. 
11. Orange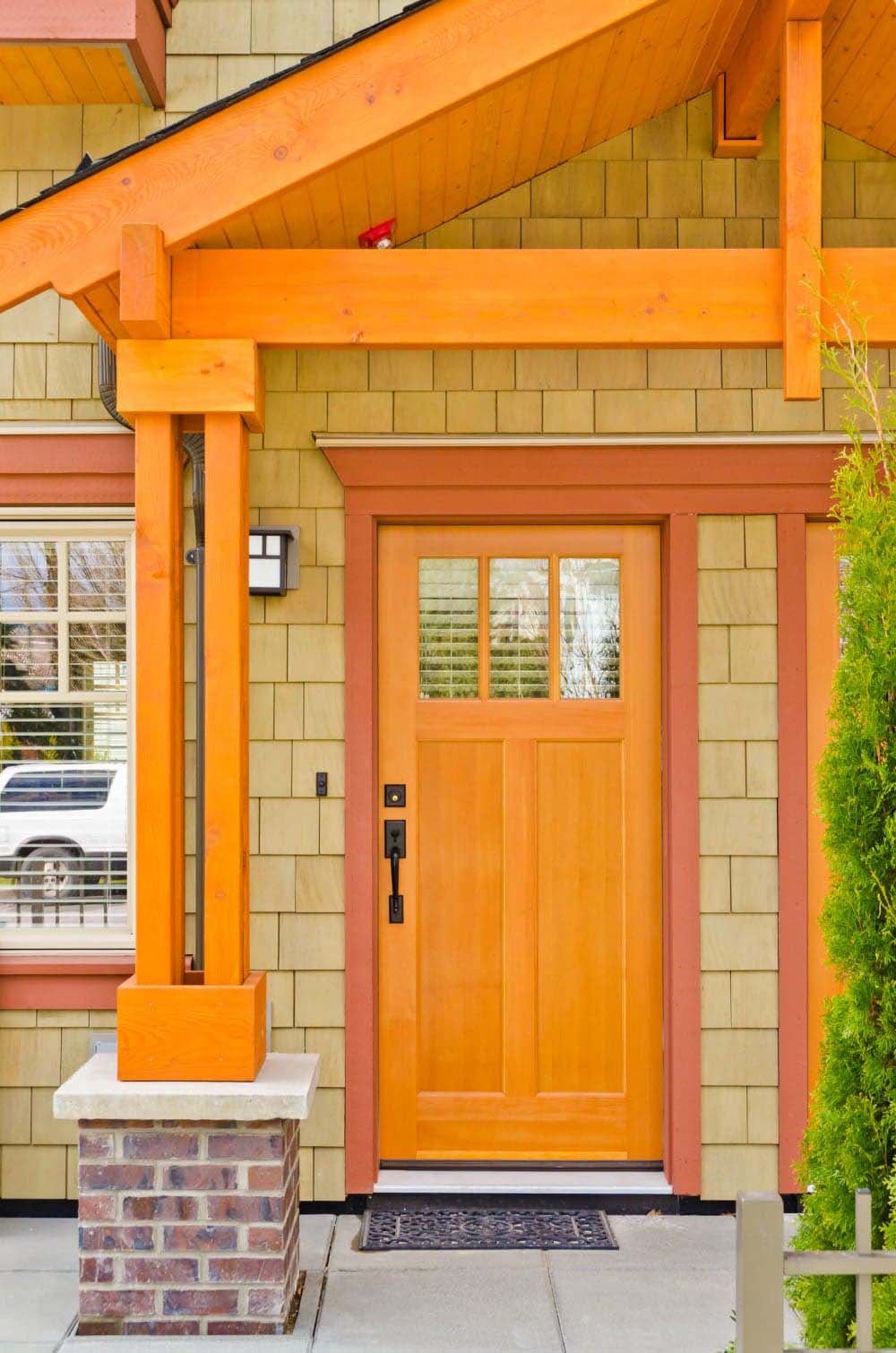 A contemporary and exciting shade for a front door. This color takes a more fun and exciting route against neutral colors such as brown. 
While the warm brown color around the house creates a cozy vibe, an orange front door brings some light and makes your house stand out. Its uniqueness might give you a one-of-a-kind front door in the neighborhood. 
12. Chartreuse Yellow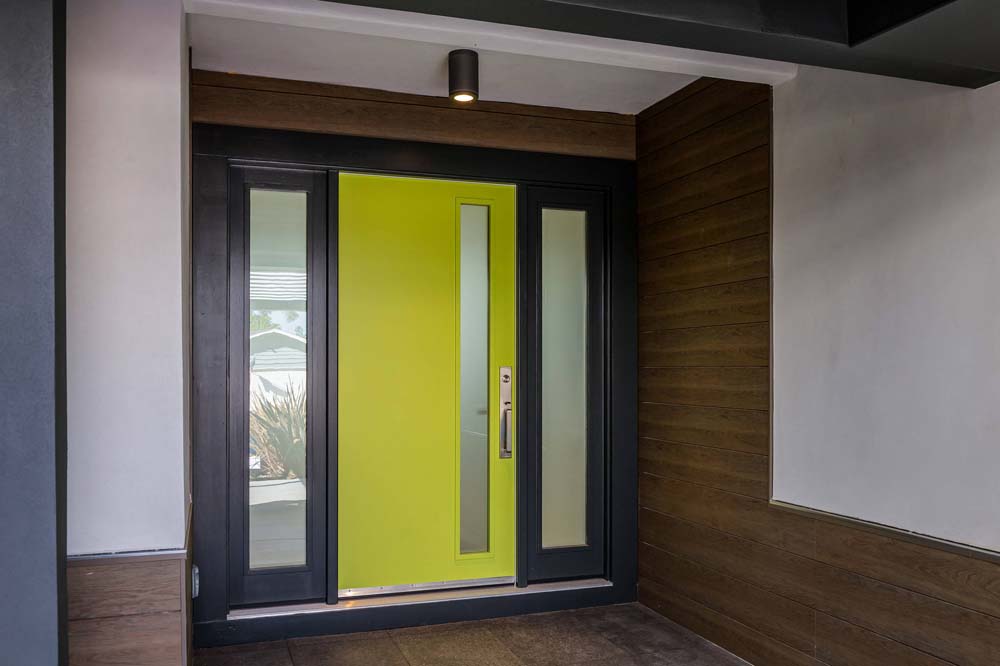 via Synergy Design Development
If you want to create a happy and energetic vibe around your home, try yellow. There are shades of yellow ranging from dark gold to pale pastel, and whichever side of the spectrum you choose will combine well with a brown exterior.
Dark gold shades are vivid as compared to cool yellows. For a subtle shade, accentuate the door frame with white paint that softens the front door's appearance. 
13. Olive Green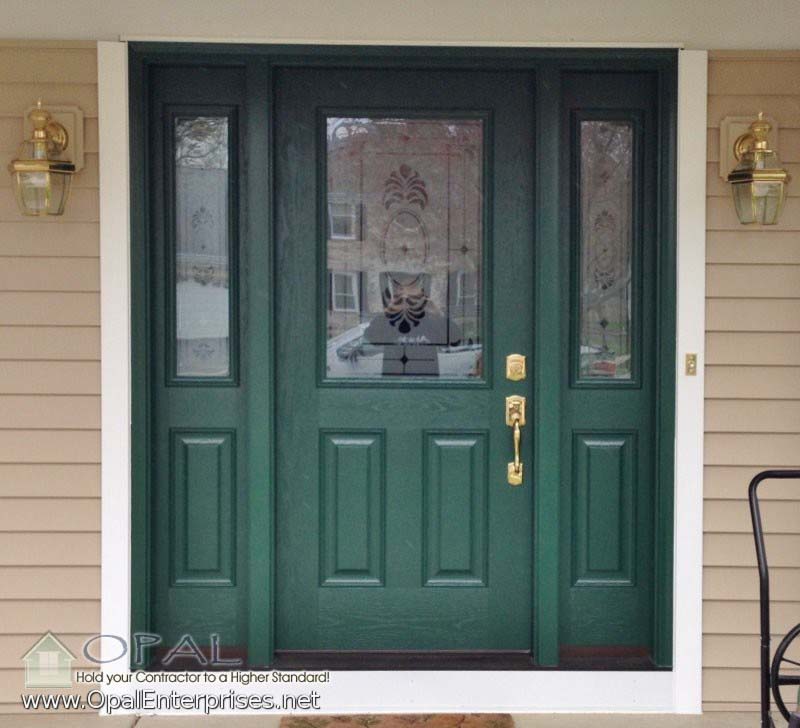 via Opal Enterprises
Olive green is the best color to make a statement and one of the best choices for a brown house. This color not only brightens up your home but also its uniqueness makes it stand out. 
Green evokes many emotions and thoughts as it is considered the color of emotion, new beginnings, and envy, so it may be the best color to spike conversation with your guests. 
14. Purple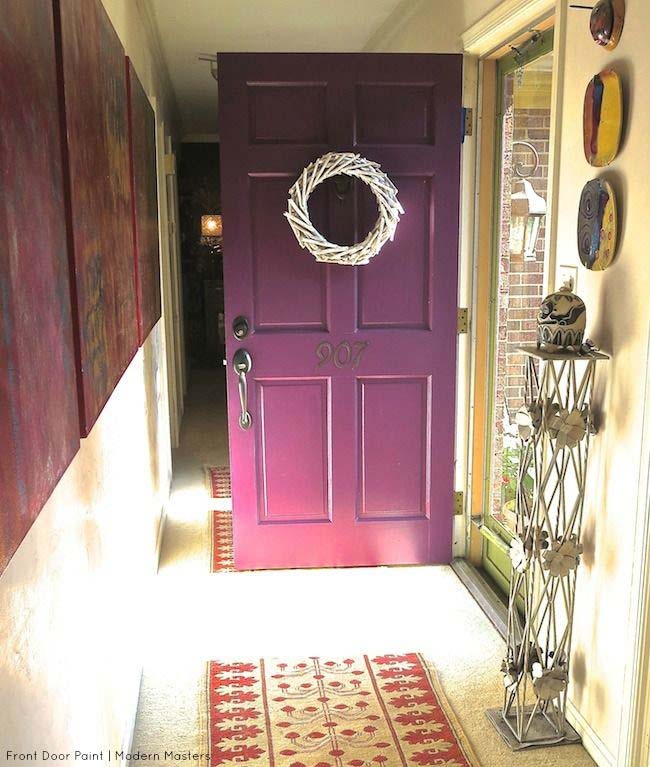 via Modern Masters
One of the most sophisticated choices for a front door for your brown house. Purple makes a space feel more inviting and intimate and has a lot of personality.
If you are looking for a unique option for your door, this may be the right color for you. When choosing this color for your front door, consider the trim that matches the overall style of your home. 
15. Beige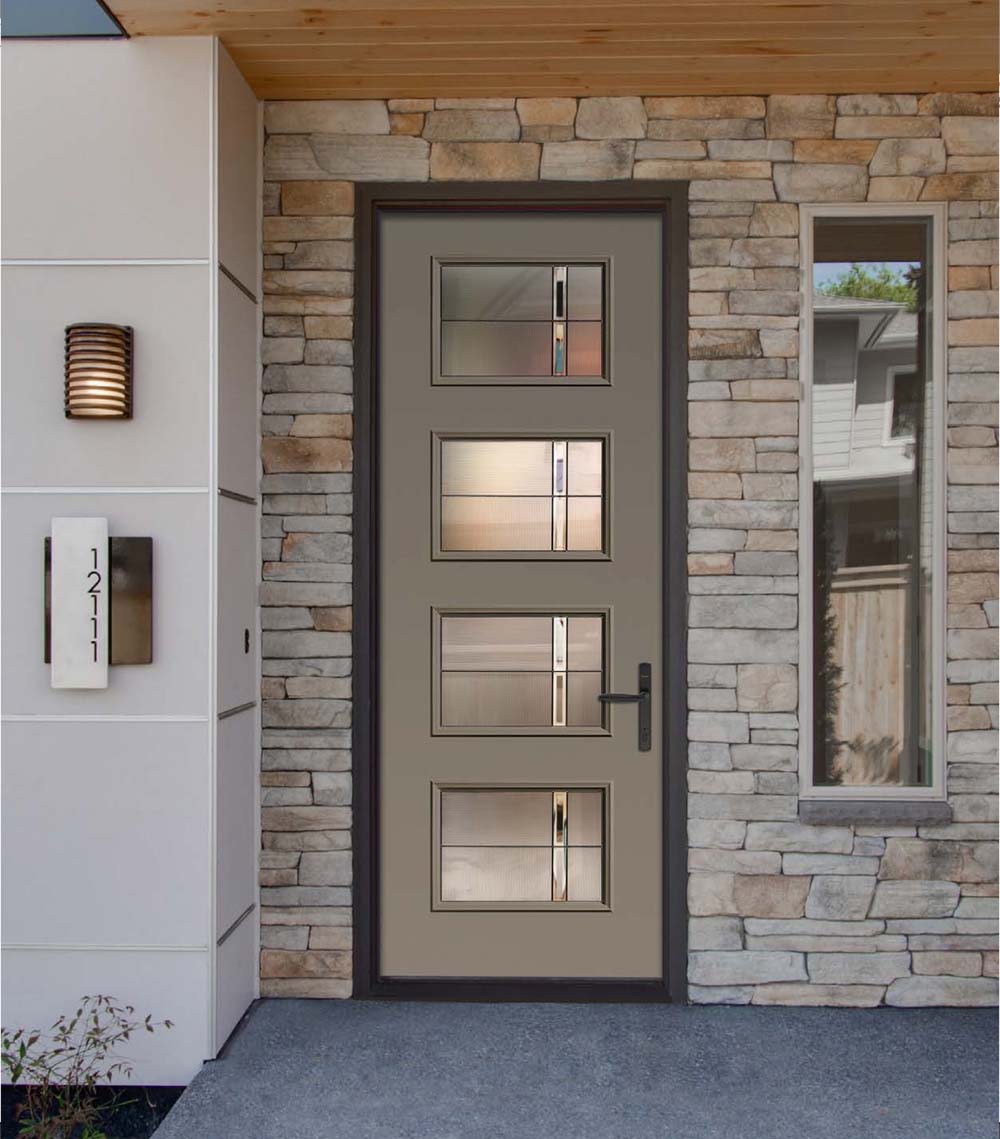 Beige works very well with a house with dark brown bricks. The light shade created by beige is subtle yet powerful. 
The color evokes a warm white look when paired with a brown house. The only downside to using this daring color is that it may require additional maintenance compared to other colors. 
16. Grey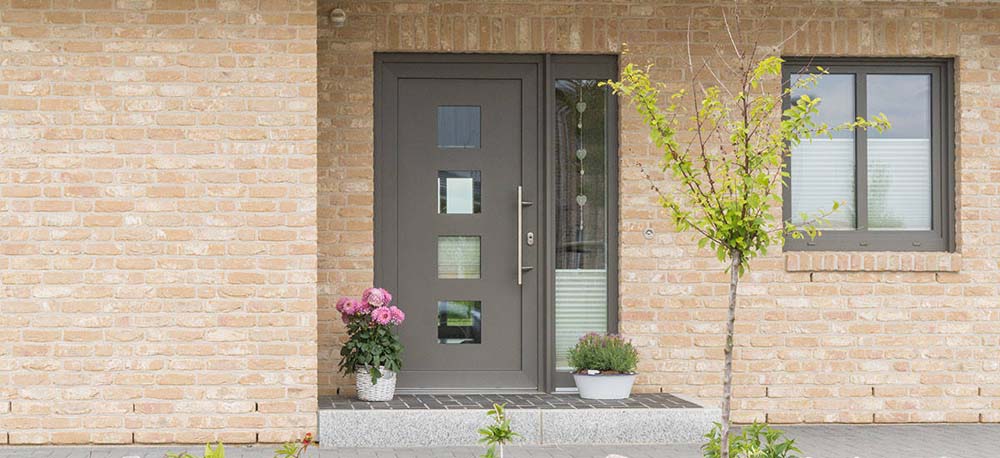 A color that's not only beautiful but also versatile. You can use this shade in cool or warm shades, making it the perfect pairing with your house. 
Gray is a timeless color that will never go out of style. Try matching it with the shutters and trim of your house. 
17. Light Wood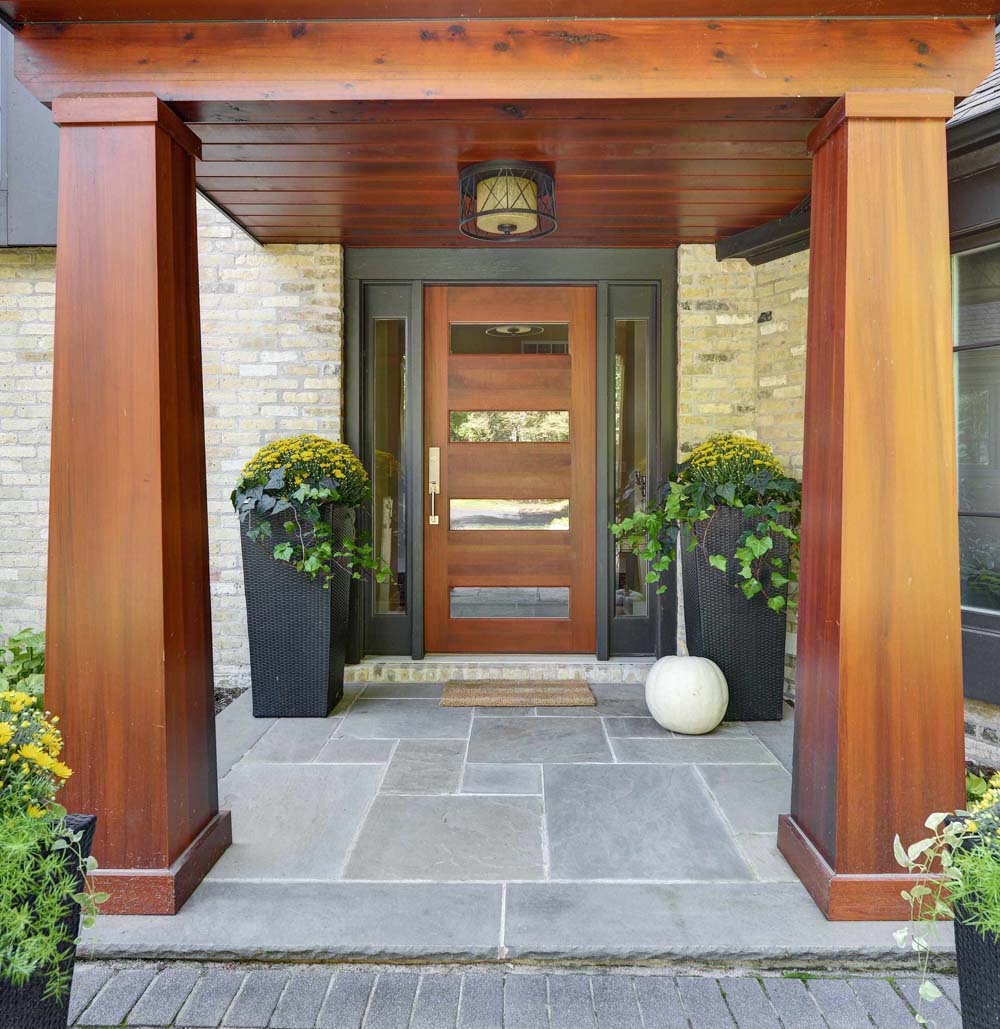 Light wood is a good complementary color for a front door for your brown house. 
Combining this color with darker wood on the trim will highlight your front door while matching the rest of the exterior.
18. Light Blue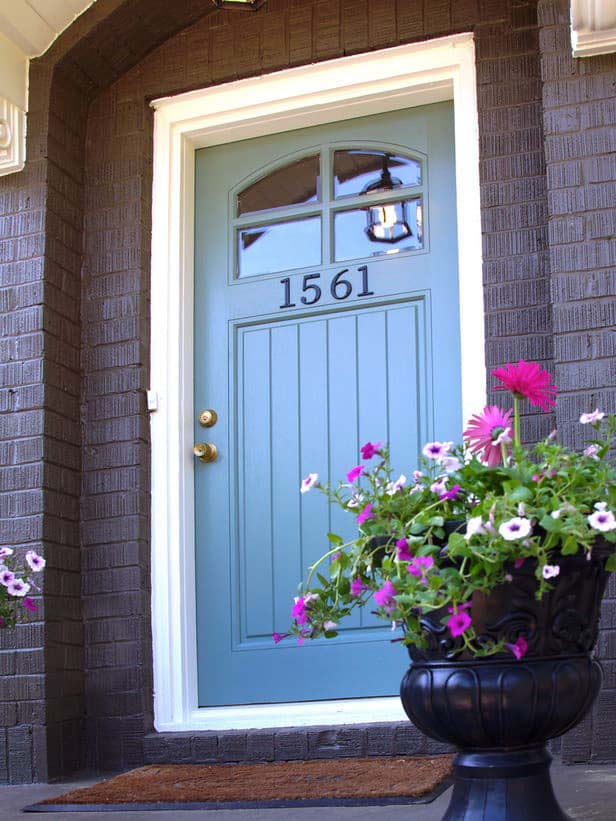 One of the most jolly front door colors for a brown house. This shade will bring light to any room and can change the mood of your home.
A light blue front door and a brown house are excellent pairings since they contrast nicely. Brown brings out the cool tones in blue, while blue brings out the warm tones in brown.