An easy way to add character and personality to your home is to change the color of your front door.
Splash out on a brand-new door, or cut costs with a can of paint and a few hours of labor.
Whether your style is restrained or jubilant, this easy DIY project is a wonderful way to boost curb appeal.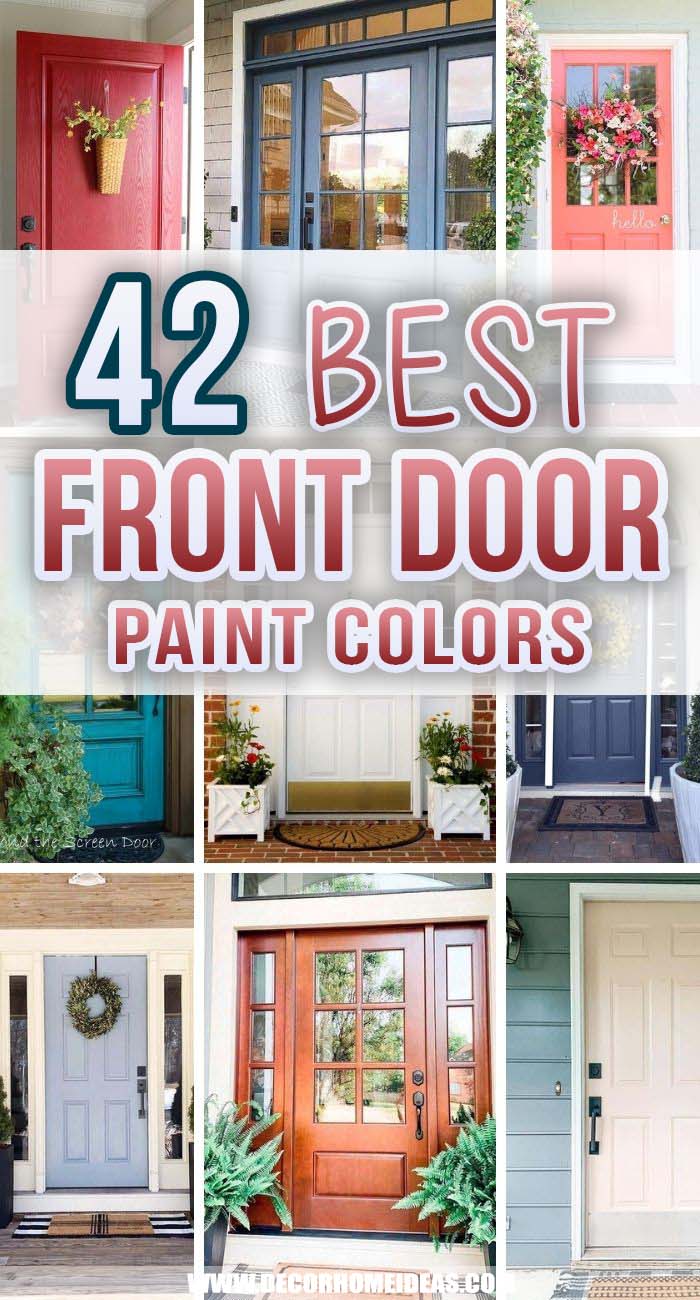 Not sure where to start? These gorgeous front door paint colors will inspire you to consider fun jewel tones, cottage-style pastels, and everything in between.
1. Classic Navy Is Coastal And Stately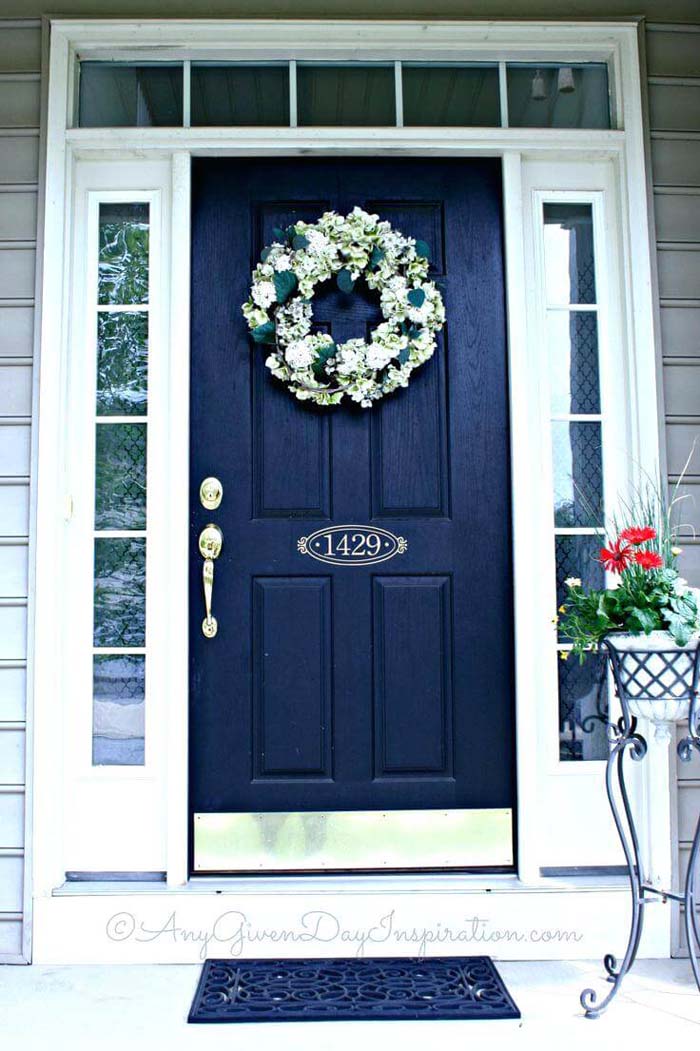 You can't go wrong with a blue door, and this stunning shade is anything but ordinary. It's deep but bright, creating an effect that encourages you to look twice.
The keys to this design are the white framing and grey siding — they keep the front entry feeling light and fresh.
2. Earthy Sage With Charming Knocker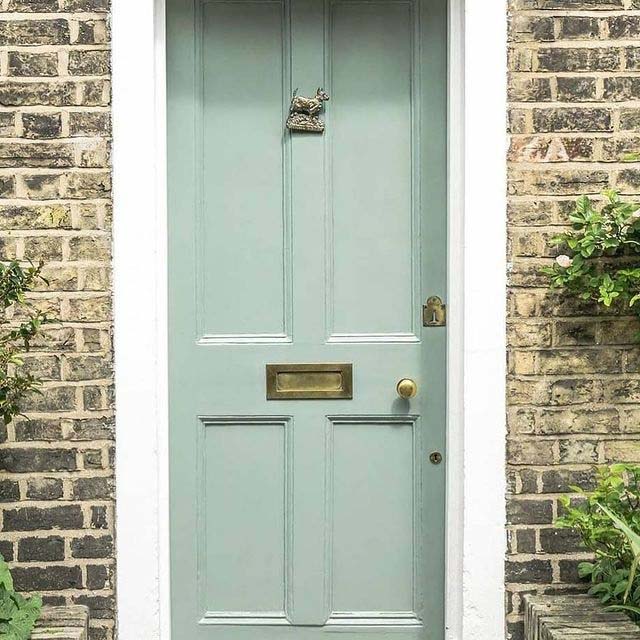 Is there any color combination that's more relaxing than sage green and grey?
Here, a green door perfectly sets off the tones in the grey bricks, turning your front door into a soothing oasis.
The white trim keeps the design from feeling gloomy.
via Fleetwood Paints
3. Bright Blue Offsets A Neutral Home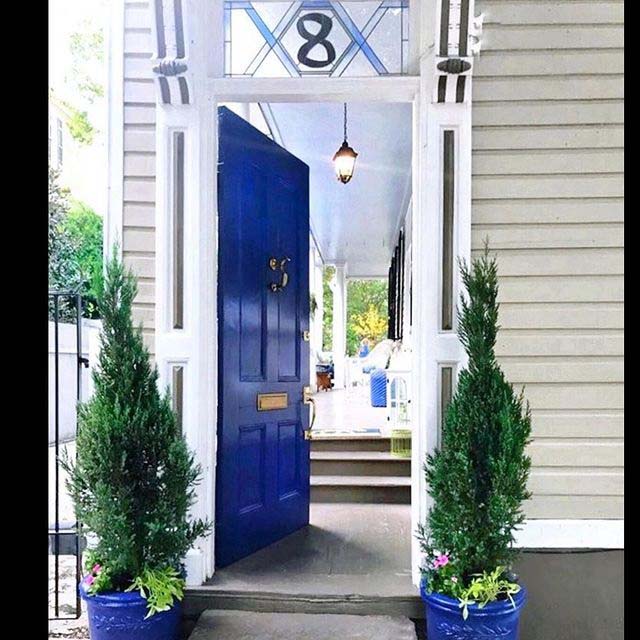 This royal blue door brings a thrilling, vibrant feeling to your entryway.
Paired with white trim, it's reminiscent of the Greek islands. Here, the homeowner has added taupe-colored siding and darker accents for an unexpected and modern feel.
We love how the blue tones are reflected in the planters and stained-glass transom windows.
via Rhonda Jones
4. Stunning Dark Grey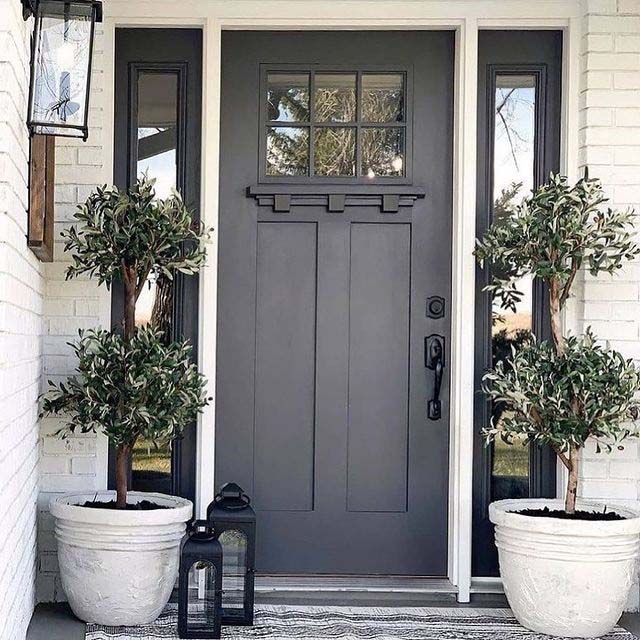 Dark grey is a classic, timeless front door color. It's elegant but not splashy, so it's a great choice if you prefer a refined look.
Use it to elevate an adorable cottage or farmhouse; dark grey also looks lovely on historic Victorian and Colonial homes.
via Jess's Nest
5. Royal Blue With Shiny Silver Accents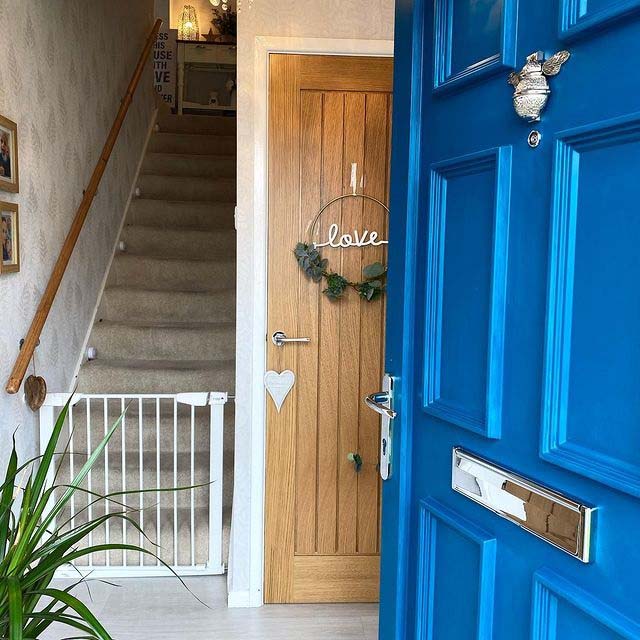 You'll feel energized every time you step over the threshold with this spectacular shade of blue.
Depending on the light, it looks almost teal; these subtle hints of green make your home feel cheerful and decidedly contemporary.
via Home at Cedar
6. Deep Blue Door And Side Windows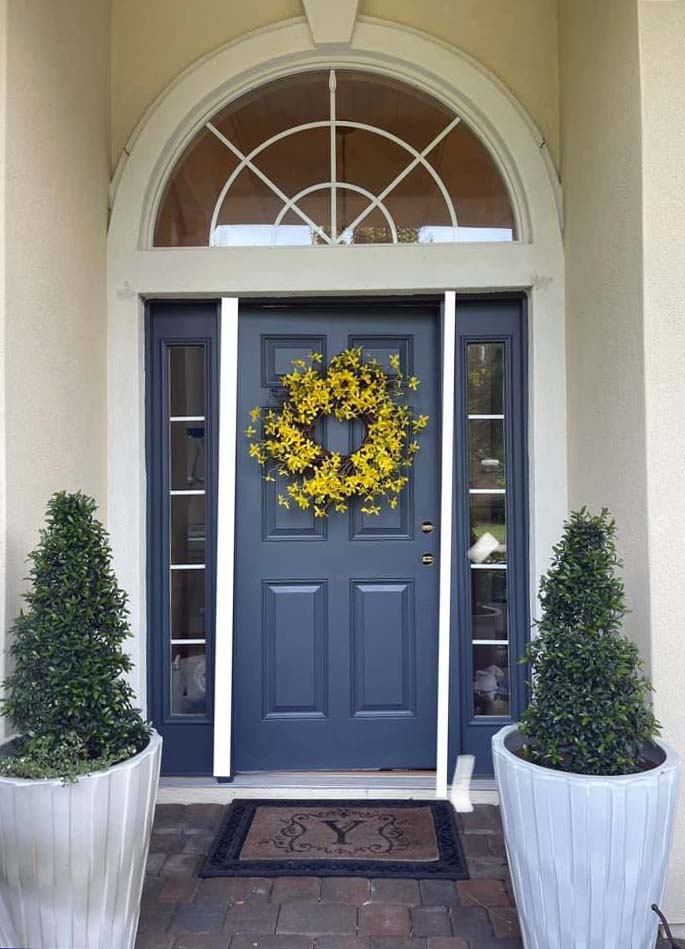 If the perfect front-door color exists, this elegant dusky blue might be it. It's deep but not dark, thanks to subtle grey hints in the paint.
Use it with almost any type of siding, from brick to natural wood.
7. Bold Purple Makes An Impact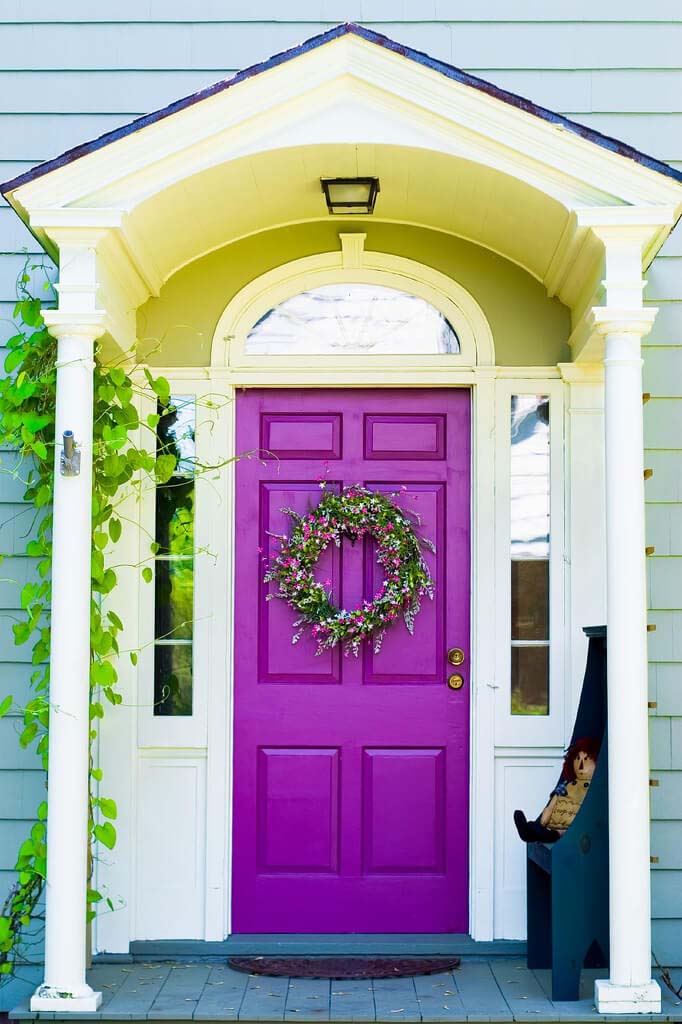 Tired of a boring front door? Pick up a can of purple paint — it's fun, unexpected, and it will give your home a completely new look.
Make sure to test a few different shades first to find the undertones that look best with your existing trim and siding.
via Tammy Swales
8. A Pinky Red Highlights The Flowers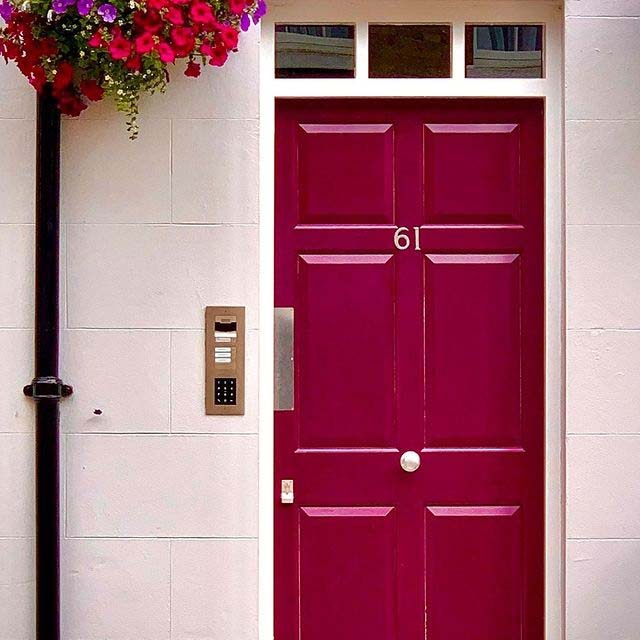 This classic red is a wonderful way to experiment with a daring front door color.
The brilliant shade instantly lifts your mood — plus, it looks great with almost any exterior color.
Here, the owner has chosen a red with a pink hue for a thrilling result.
via Innovatus Design
9. Keep It Light And Neutral With Grey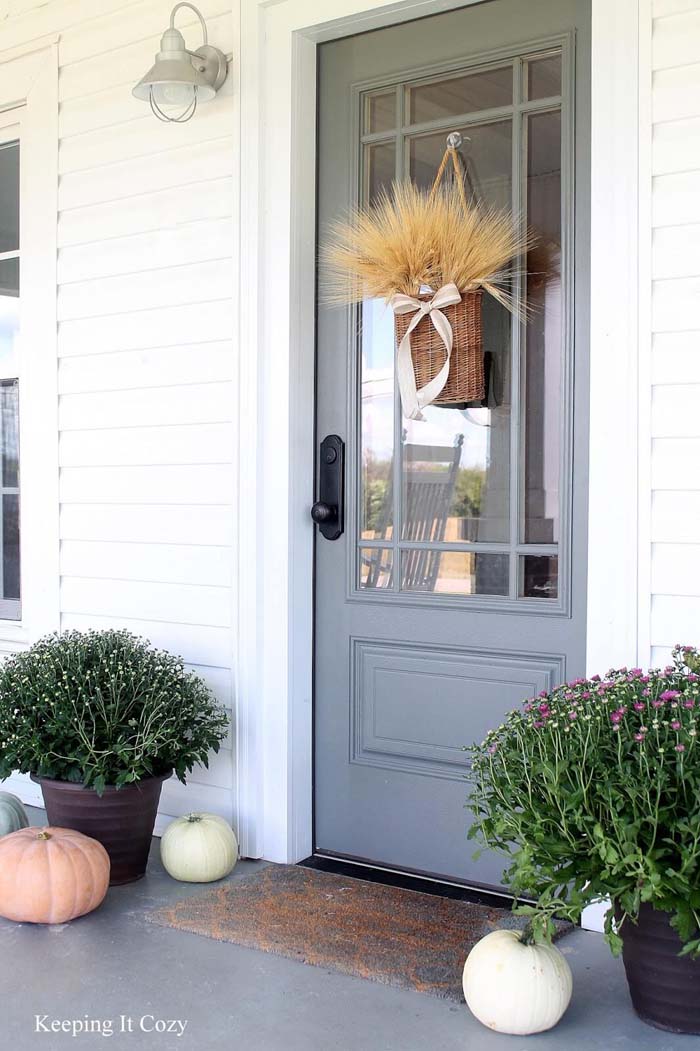 Do you like to switch up your front porch decor every season?
Choose a neutral color for your front door. This medium grey is the perfect example: it's beautiful, and it looks wonderful with decorations of all kinds.
via Keeping It Cozy
10. Brighten A Dark Exterior With Red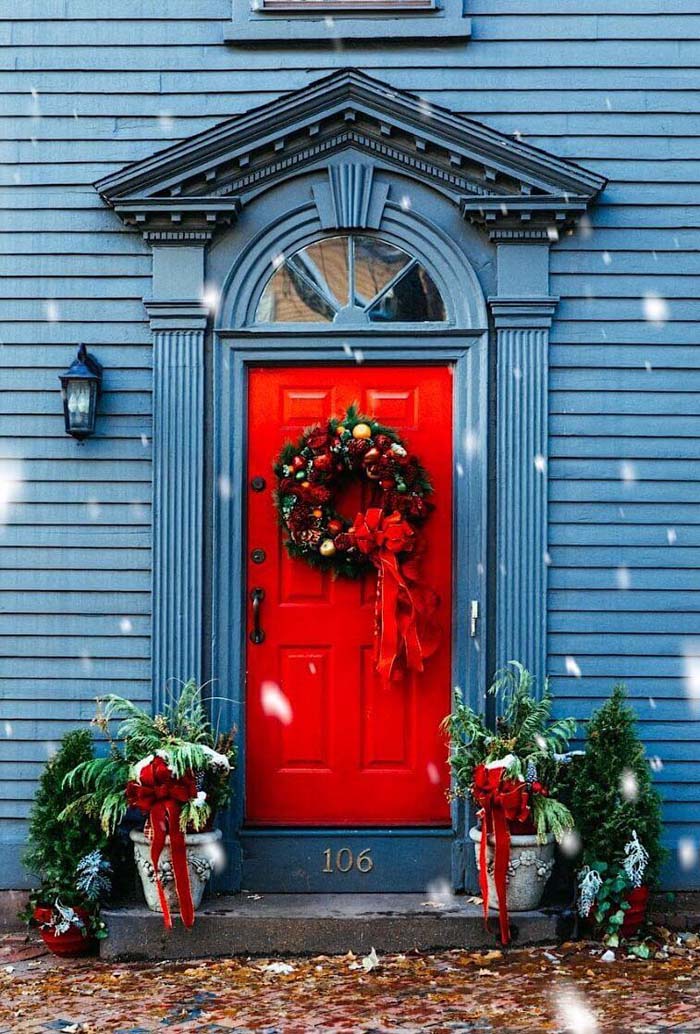 A fire-engine red door brings instant joy and energy to your entryway. Here, it's paired with a medium-blue home for a result that's stunning and surprising.
If you love to deck the halls in December, the red is the perfect canvas for holiday decorations.
via Sarah Patrick
11. Spring Green Looks Fresh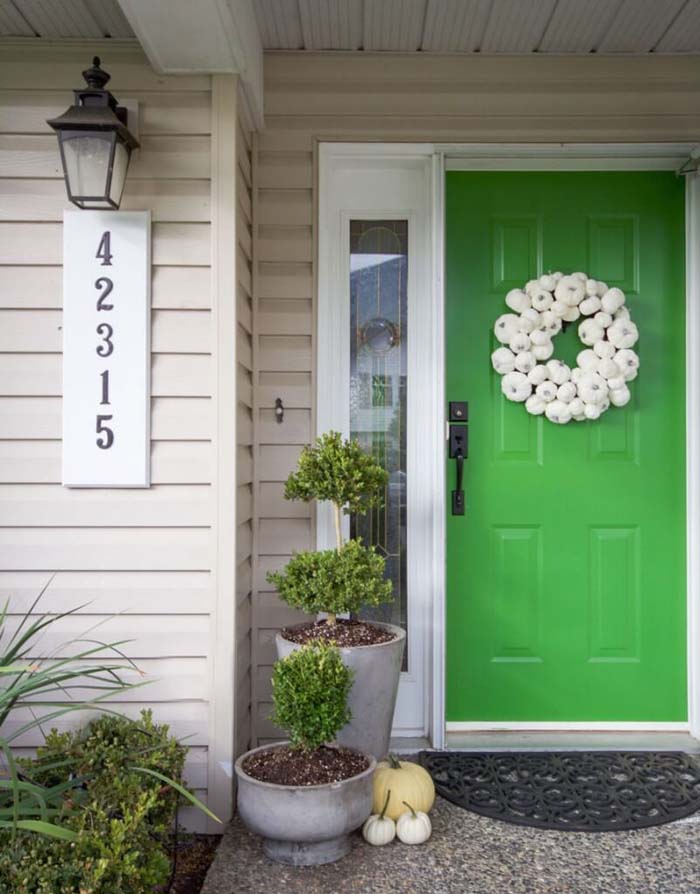 A new front-door color often demands new decor ideas — especially if you choose a non-neutral shade.
When you're going with a bright, vibrant color like this cheerful green, white decorations are a great way to keep the space looking chic.
via Maria Killam
12. Subtle Color In Grey/Green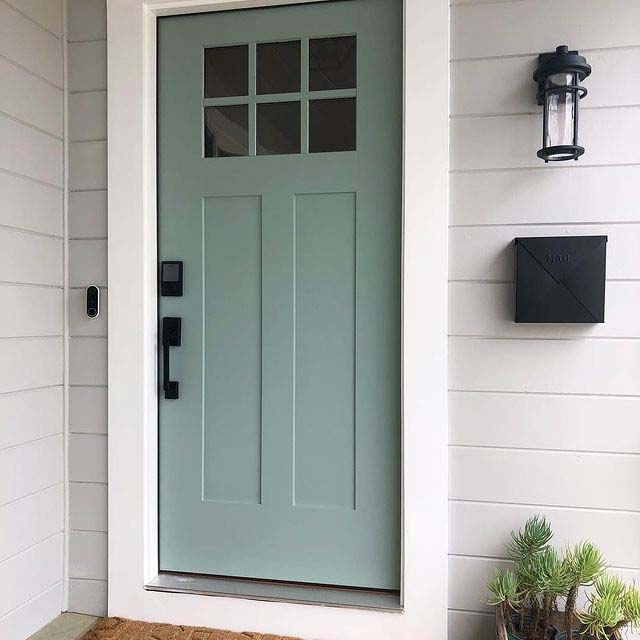 It doesn't get much more sophisticated than this stunning arrangement.
The light green door plays perfectly with white trim and pale grey walls. The trick?
Choose a green with undertones that are similar to your siding color for the perfect match.
via Jenn Bunzel
13. Dark Stained Craftsman Style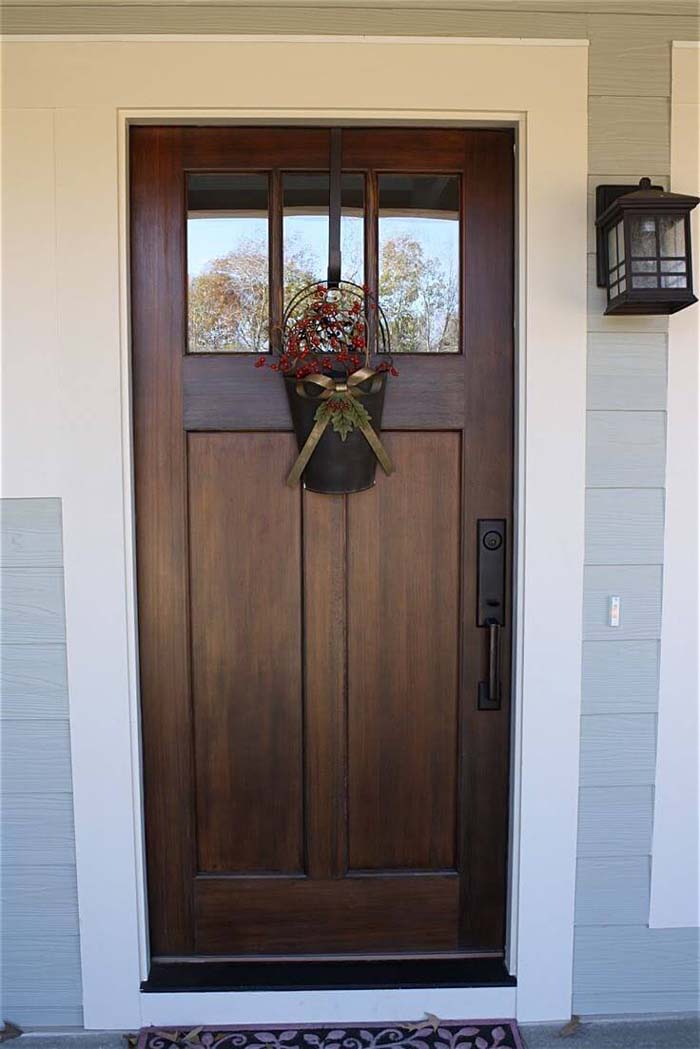 Do you love the look of a hardwood door? Stain can be a great alternative to paint.
Just sand down your existing door and add a few coats of stain. Dark wood balances a light, bright exterior, giving it a traditional vibe.
14. Pastel Contrast With A Creamy Door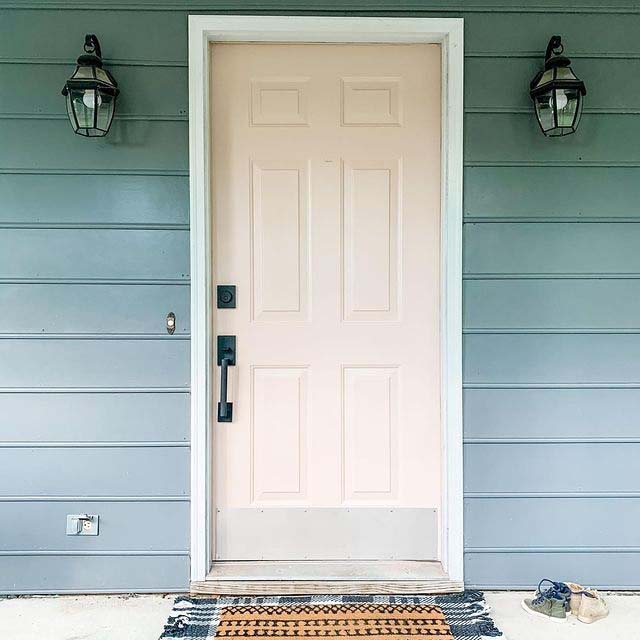 When you have limited natural light around the front entry, pale pastel colors are a great way to brighten it up.
An easy option is to paint your trim a few shades lighter than the exterior of the house.
Then, add a cream-colored door for a cool, calming result.
via Carbon and Co
15. Varying Shades Of Blue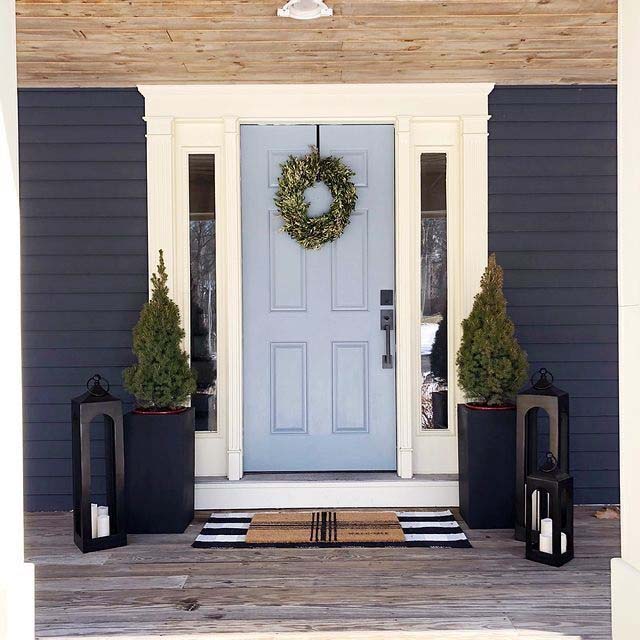 Are you looking for a way to balance dark siding?
Try adding a lighter-colored door. This front entry uses a pale blue door and white trim for a look that's bright and refreshing.
The natural-wood porch adds just the right pop of texture.
via Janis Snell
16. Magenta With Black Makes A Striking Statement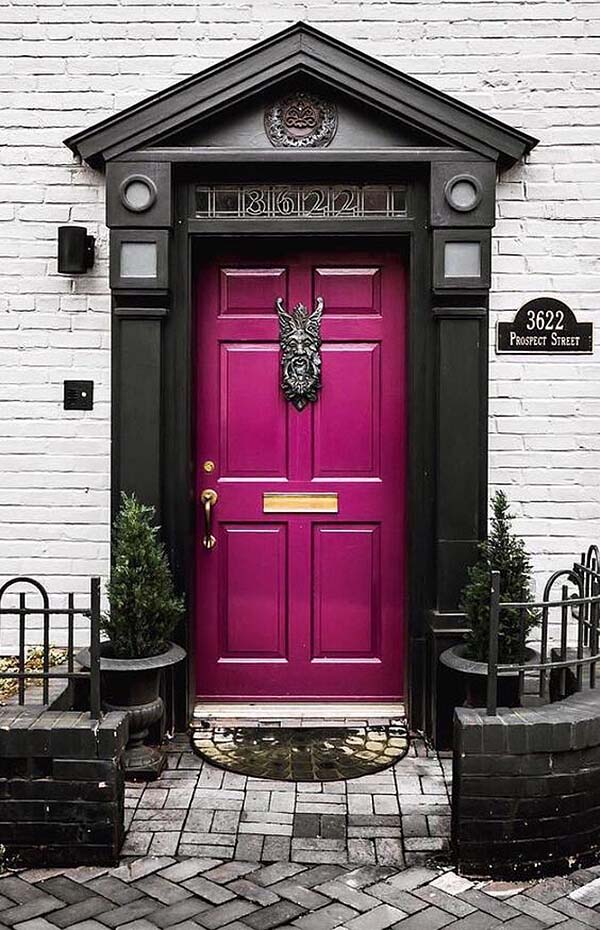 A magenta front door is a serious style statement.
Here, the owner embraces the bold color by adding imposing black trim and an eye-catching door knocker.
It's a fun, cheeky take on gothic style that's unlike anything else on the block.
17. Grey On Grey Farmhouse Style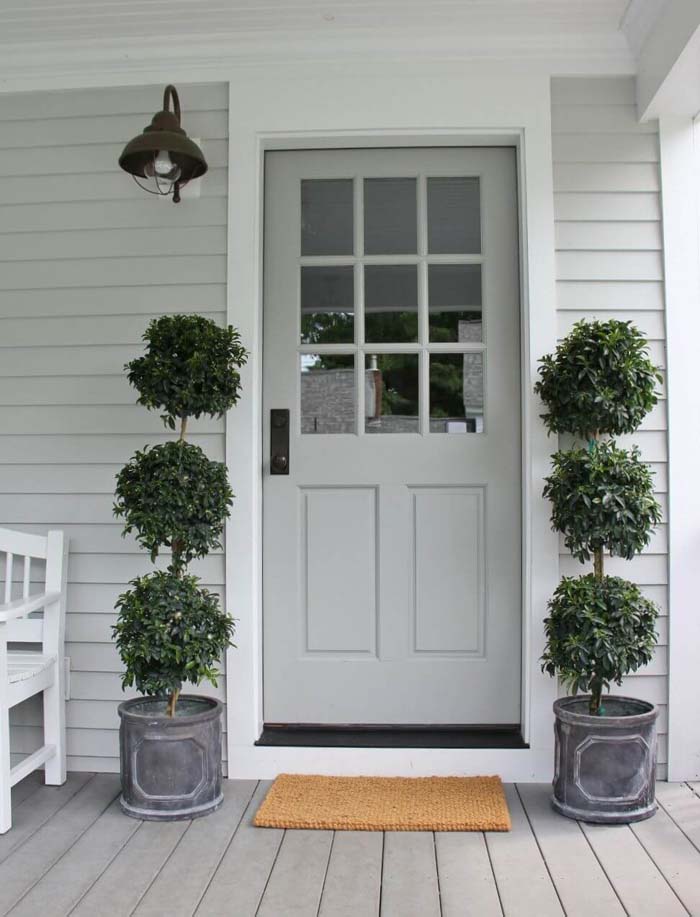 Keep your home feeling chic and modern with a classic grey and white color combination.
A door that's one or two shades lighter than the siding is interesting but not jarring; the white trim highlights the contrasting colors.
18. Anything But Boring Grey With Rustic Wood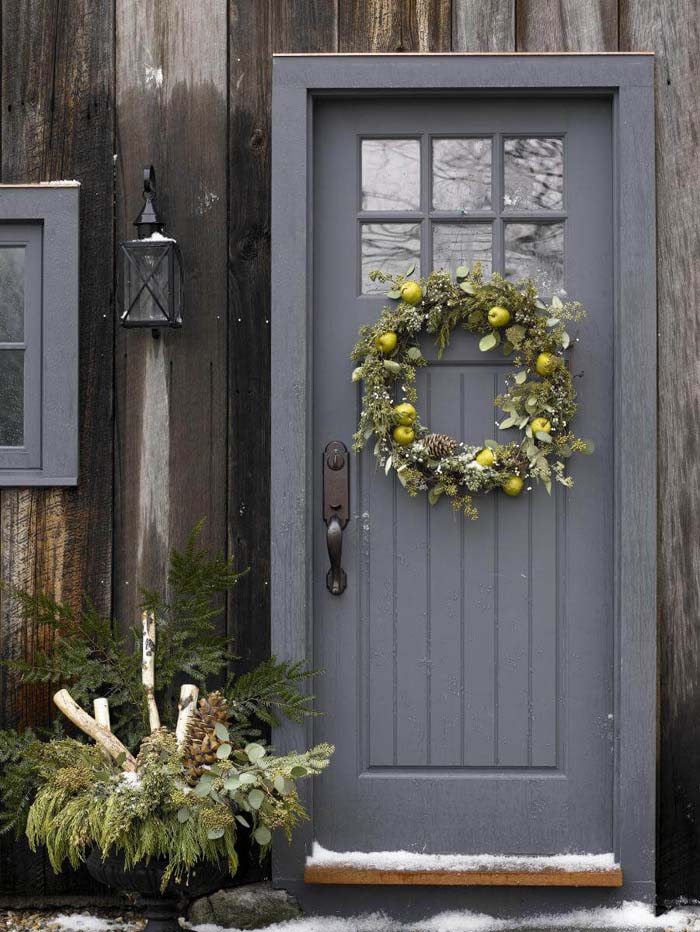 Neutral tones are anything but boring.
A medium-grey door paired with rustic wood siding sets a tone that's both chic and cozy — you can just image the roaring fire that's waiting inside.
Plants are the key to this design; they add just a hint of natural color.
19. Traditional Black And White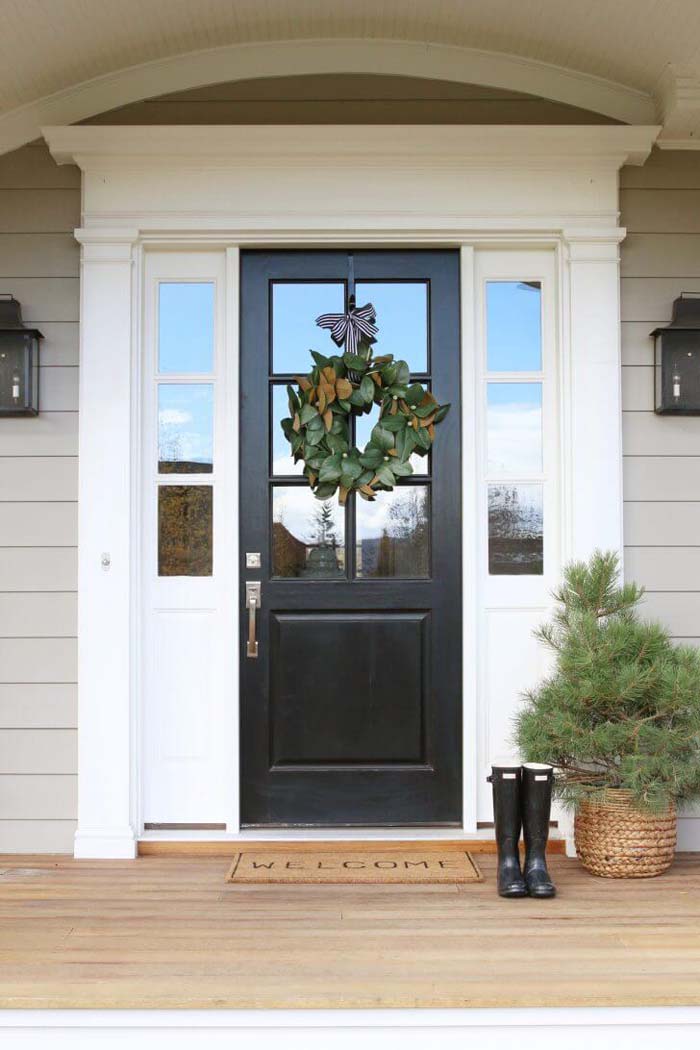 Black and white is a timeless color combination.
To keep it from feeling too modern, pair it with neutral-colored siding and decking; the softer grey and brown shades temper the high-contrast door and trim, making the space feel elegant.
via Stuido McGee
20. Glossy Black Lightens A Dark Hue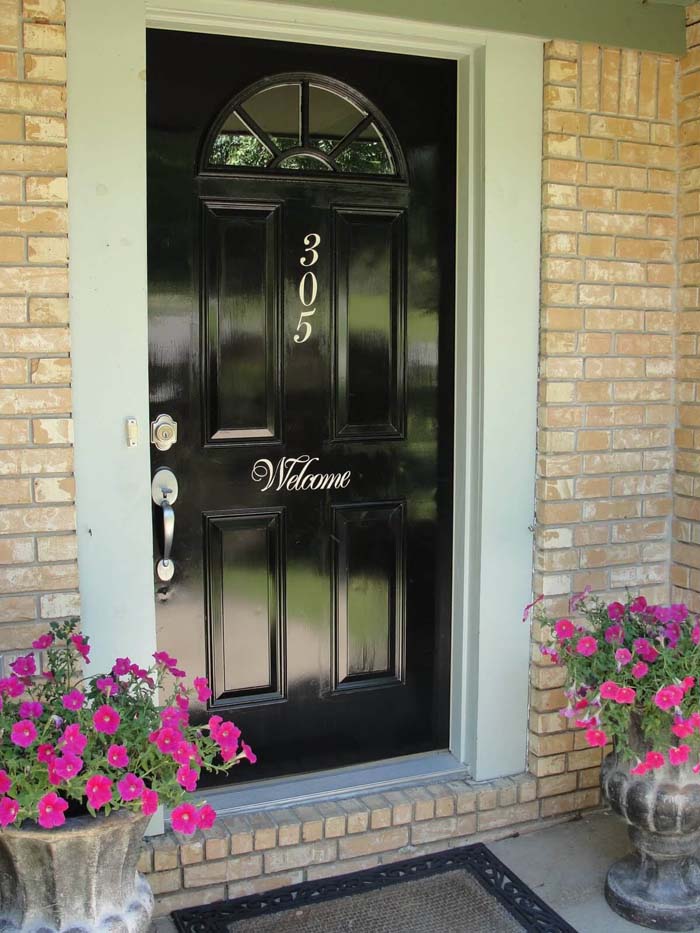 It's challenging to find the right front door color for a brick home.
Whether you have light or dark brick, black is a fantastic choice. It's chic, bold, and guaranteed to make your bricks look their best.
21. Natural Olive Brings Out Redwood Shingles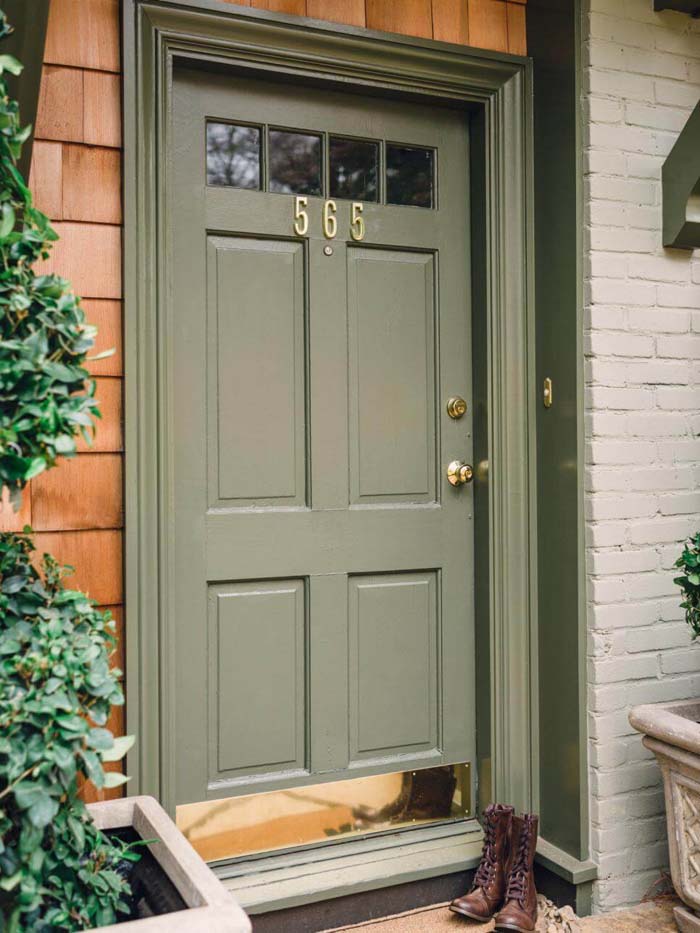 Do you have a red brick or painted brick home?
An olive-green door could be the perfect solution. The soft green sets off the shades of red and orange in the brick, giving your front entry a warm, cozy vibe.
via HGTV
22. Be Fearless With Orange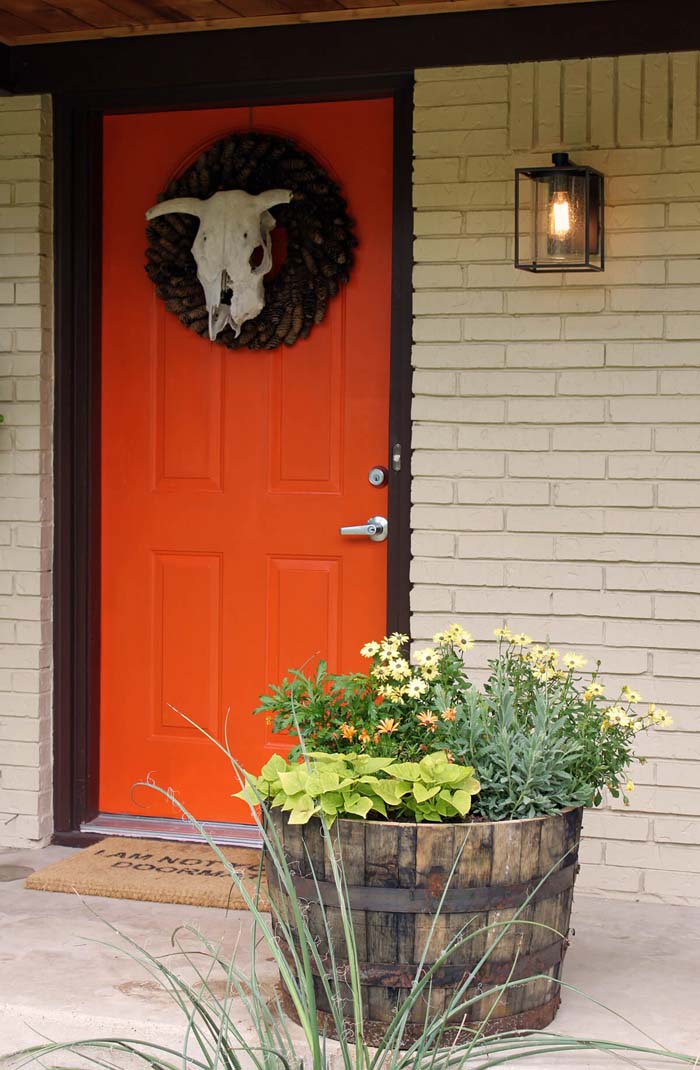 Makeover your front door with a can of brilliant orange paint — it's bright, it's unapologetic, and it's guaranteed to turn heads.
The key to using this color is to set it off with dark trim; it anchors the design and offers a nice contrast with the exterior of the house.
23. Soft Pink With Stained Glass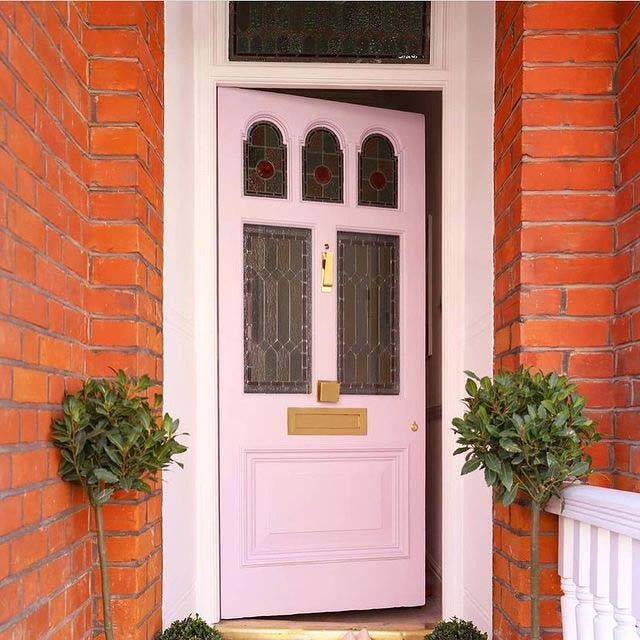 You might think that pastel pink is best suited for adorable country cottages, but this red-brick home shows that pink can work almost anywhere.
It's all about the white trim; it eases the contrast between the door and the bricks.
24. Candy Colored Pink With White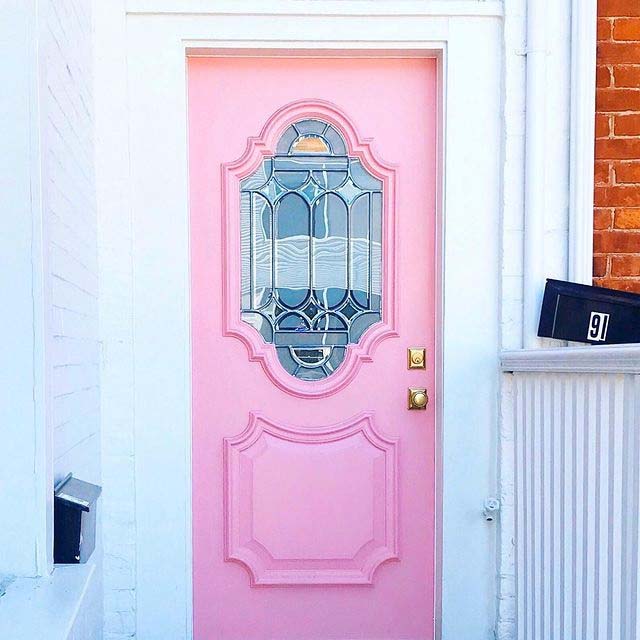 A pretty pink front door turns your front entry into a candy-colored wonderland.
Here, the all-white trim draws attention to the fanciful pink. This bright shade highlights the gorgeous vintage molding and leaded-glass window.
via Stephanie Galt
25. Vivid Turquoise Brightens Your Entryway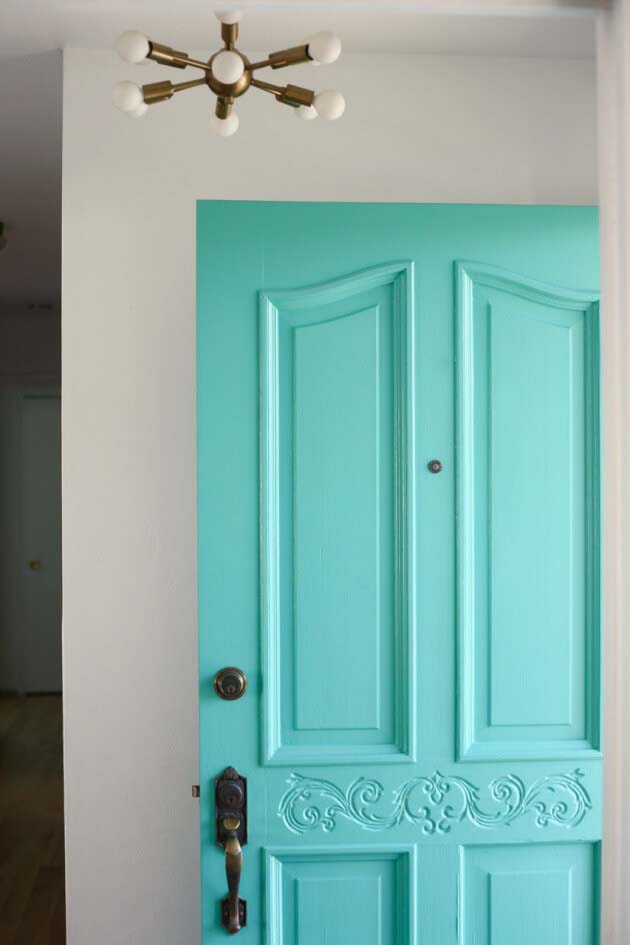 This light turquoise color feels like a breath of fresh air — it's the perfect way to bring life to an old or boring door.
The best part? It works on practically any style of door.
Add white trim and a statement handle, and your home will look completely renewed.
via Suburban Pop
26. Coral Pink Contrasts Light Hued Brick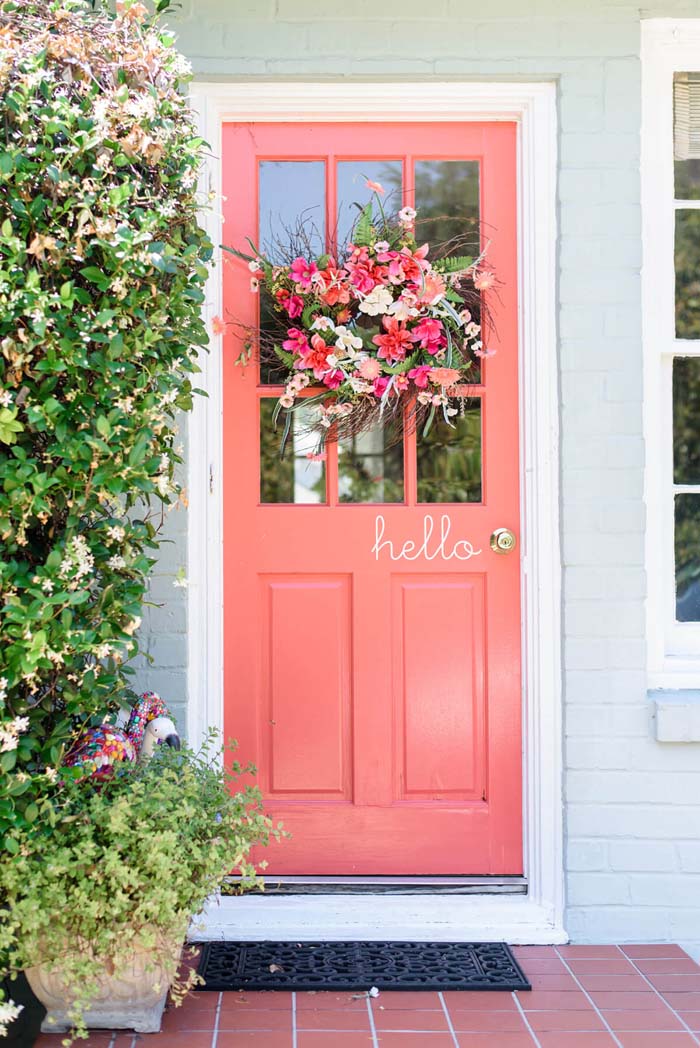 Do you notice how this coral pink door looks like a natural fit for the home?
That's because it pulls in colors from the surroundings.
The pink works beautifully with the red tile porch and the planter; the stunning floral arrangement ties everything together.
27. Coastal Cottage Colors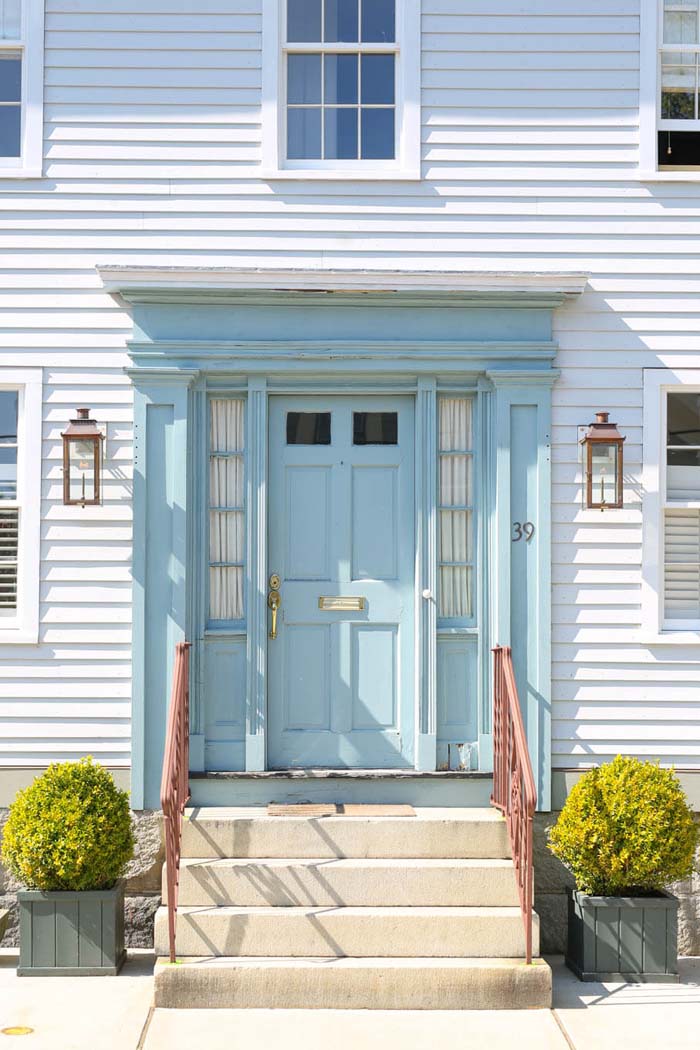 Give your home the look of a coastal cottage by pairing white siding with a pretty pastel door.
This design uses a pale blue color on the door and the trim, creating a large wash of color that's proportional to the home.
28. Deep Purple Is Regal With Gold Hardware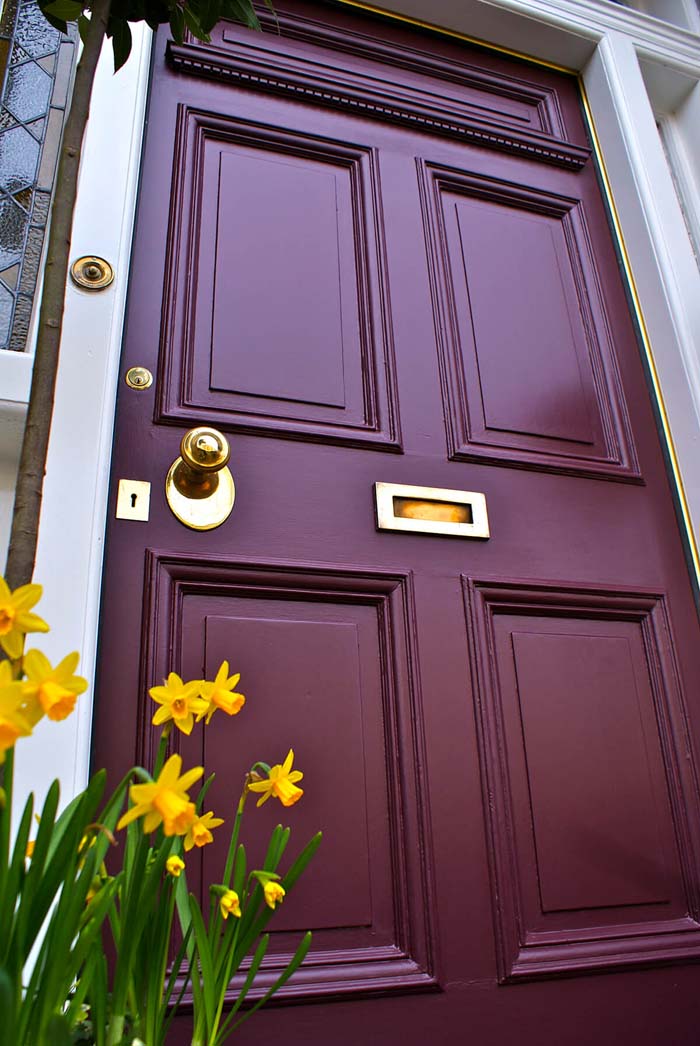 You'll feel like royalty every time you unlock this rich purple door.
To make this style work, choose a modern shade of purple. Note how the subtle gold edging and hardware highlight the jewel-tone color for a luxe look.
29. Add Matching Pieces To Highlight A Door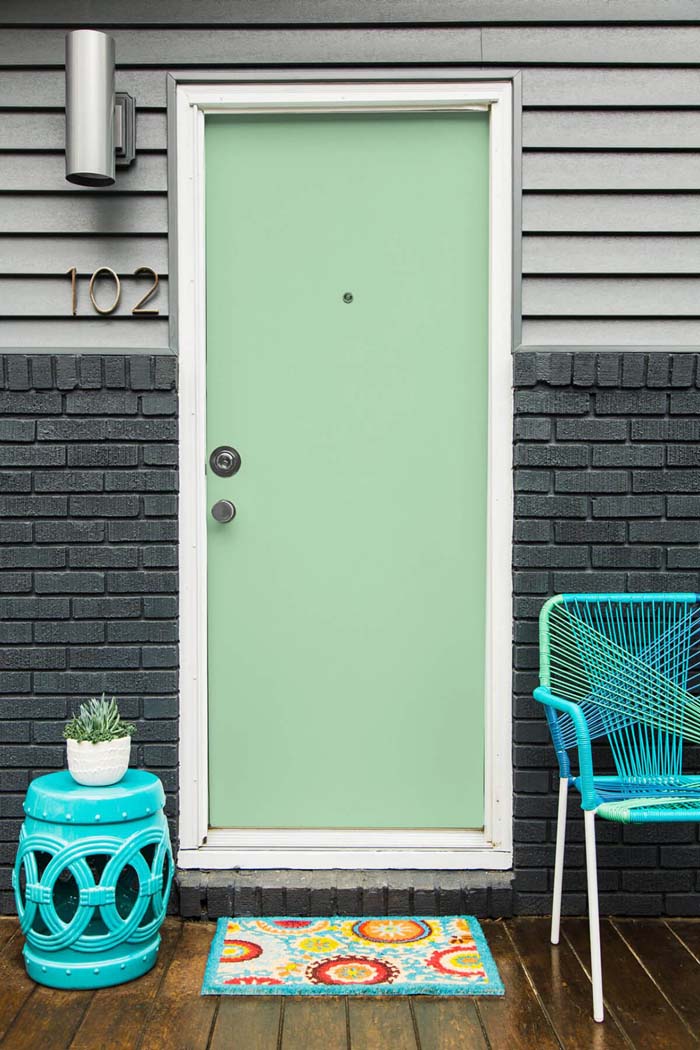 Not sure how to work with a statement door color? It's all about the accessories.
This pastel mint door is fine on its own — but when you add a vibrant chair, mat, and table in a similar color palette, the front entry comes to life.
via HGTV
30. Warm Wood Contrasts A Stone Exterior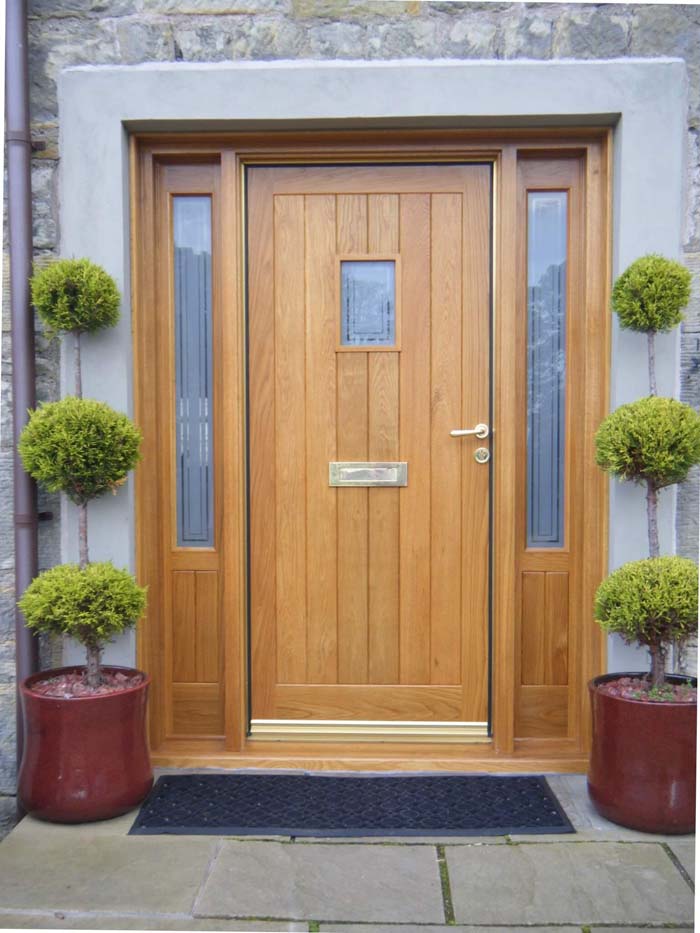 Wood and stone make your home's entryway feel like an extension of the great outdoors.
To make the space feel inviting, choose a warm-toned stain color for your door.
It plays perfectly against the cool grey stone, bringing out the warmer undertones.
via Grassfire
31. Night Sky Blue Works With Yellow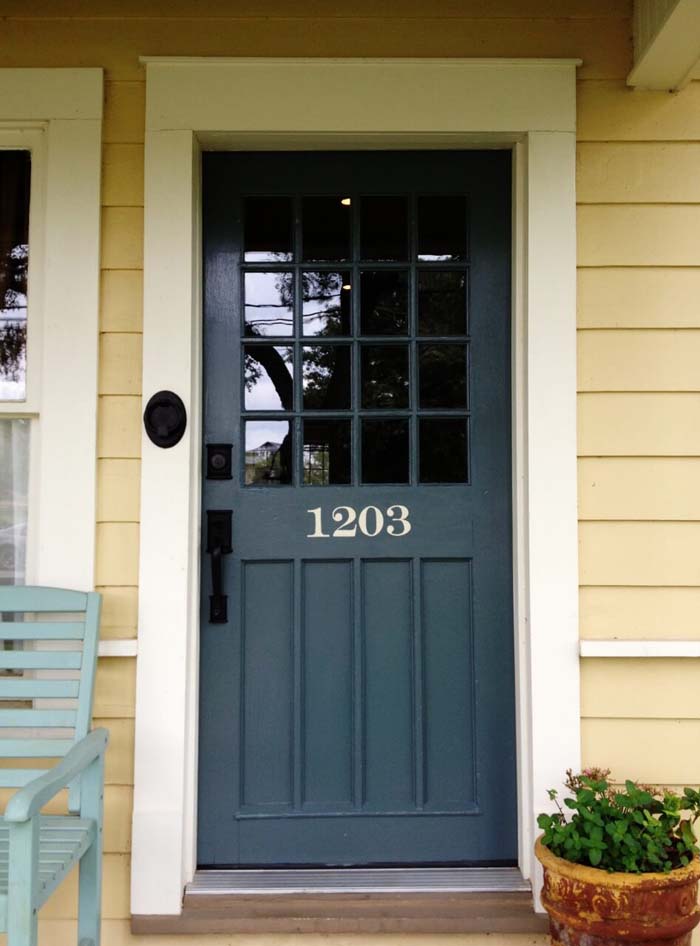 If your home is an unusual color, the right front door color is key.
To start, look at the shades on the opposite side of the color wheel. This yellow home uses a muted sailor blue for a look that's eye-catching yet refined.
via The Rescued Home
32. Total Porch Décor With Blue Door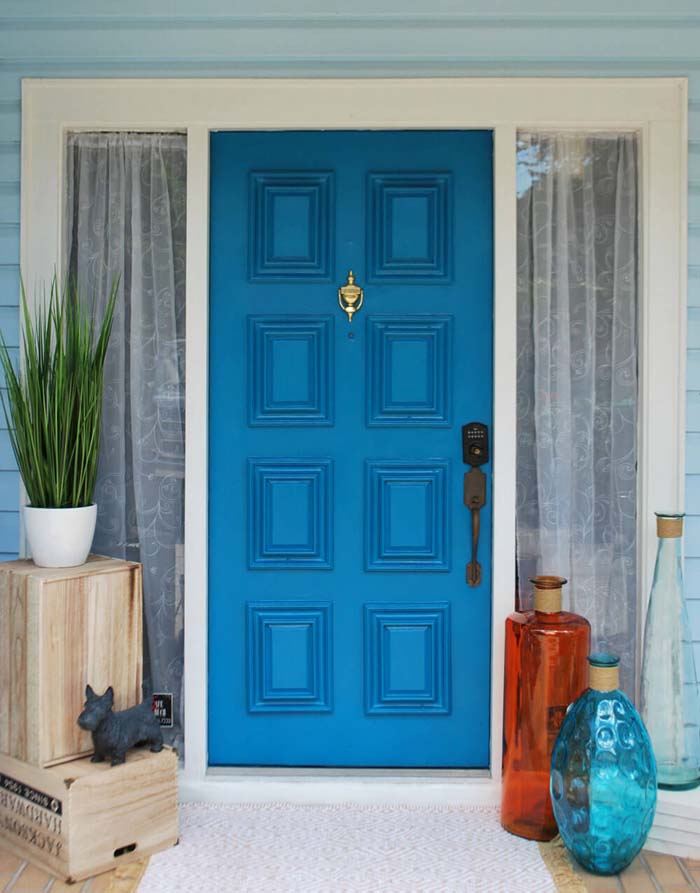 This cheerful blue door is gorgeous on its own — but when you add colorful decor elements in a similar vibrancy, it really pops.
The green plant and colorful glass jars feel playful and bright; the white trim, white mat, and natural wood elements offer a soothing balance.
33. Stay In The Same Color Family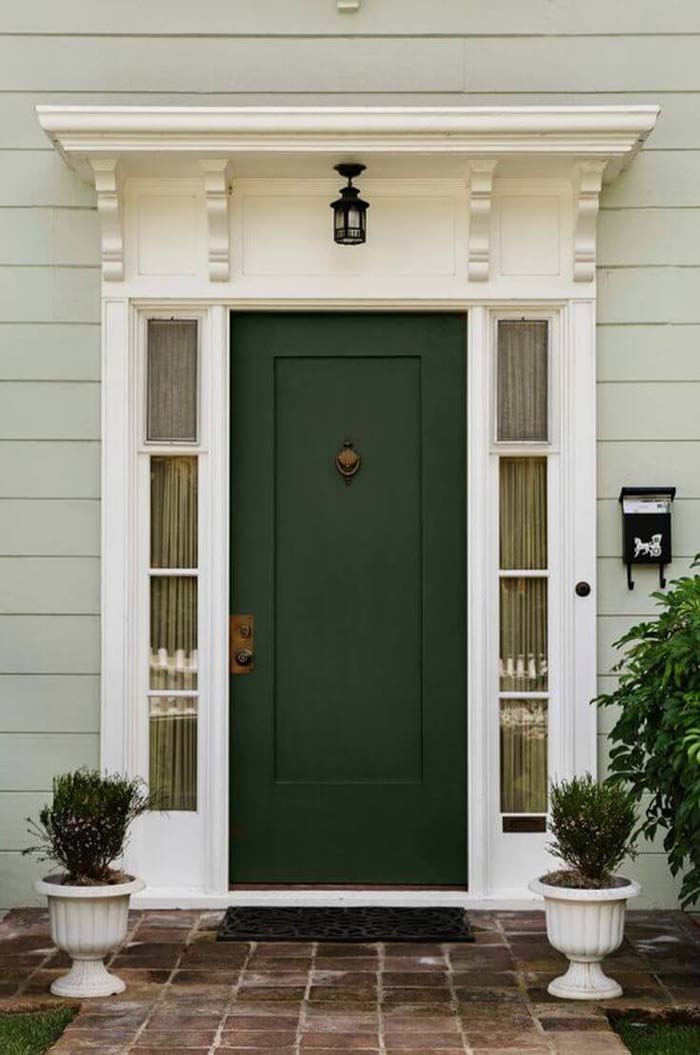 Want to achieve a perfectly coordinated front entry? Paint your door a darker version of your siding color.
This striking green door is undeniably sophisticated, especially placed next to the light green siding and elegant white trim.
via Maria Killam
34. Wedgewood Blue Adds Coastal Appeal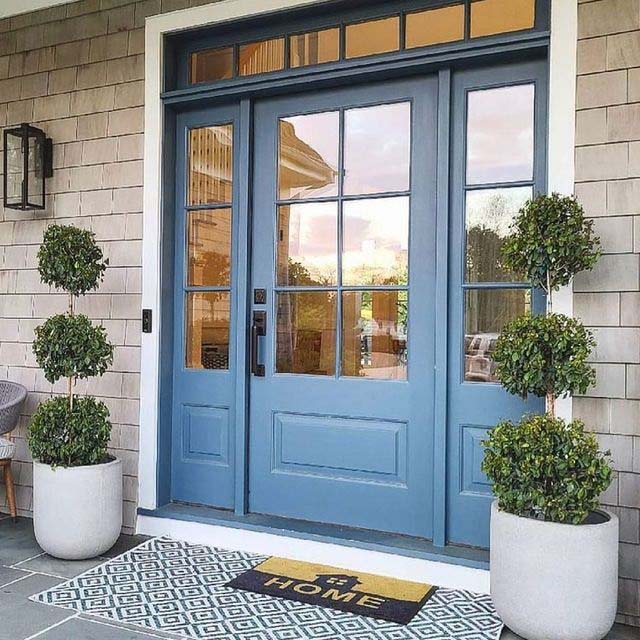 Embrace nautical style with weathered wood and a steel blue door.
Here, a lantern-style sconce and a blue-and-white mat reinforce the coastal vibe, and two simple topiaries add a pop of natural texture.
via Cad Codw
35. Accent Brick With Sunny Yellow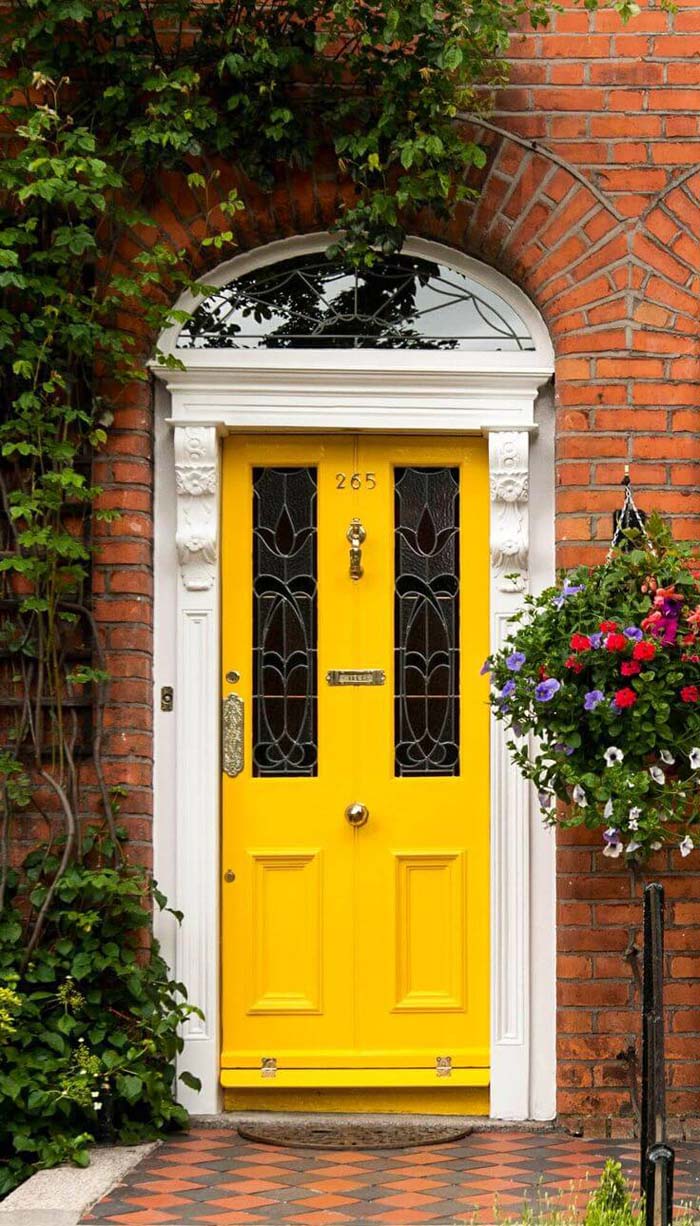 When you live in a rainy climate, a sunny yellow door is an instant mood-booster.
It looks lovely in any type of weather. Add some brightly colored flowers and climbing ivy for an extra-lively feeling.
36. Distressed Teal Is Cottage Perfect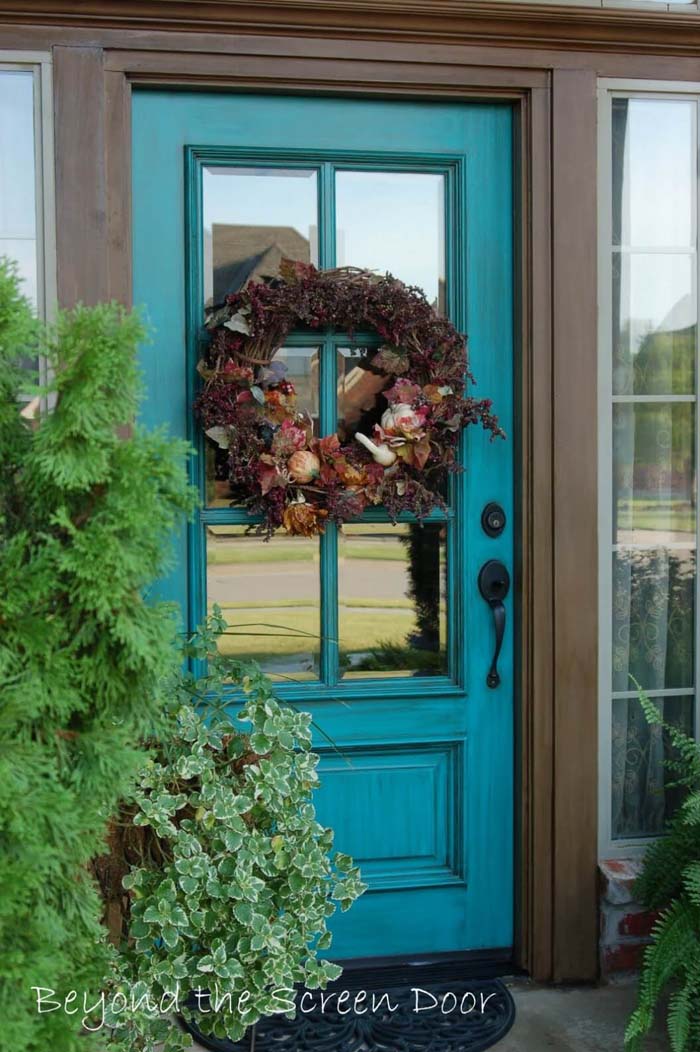 This clever color combo makes your front entry look professionally designed.
The teal color brightens the brown home, making the muted color feel surprisingly sophisticated.
37. A Grand Entryway Calls For Bold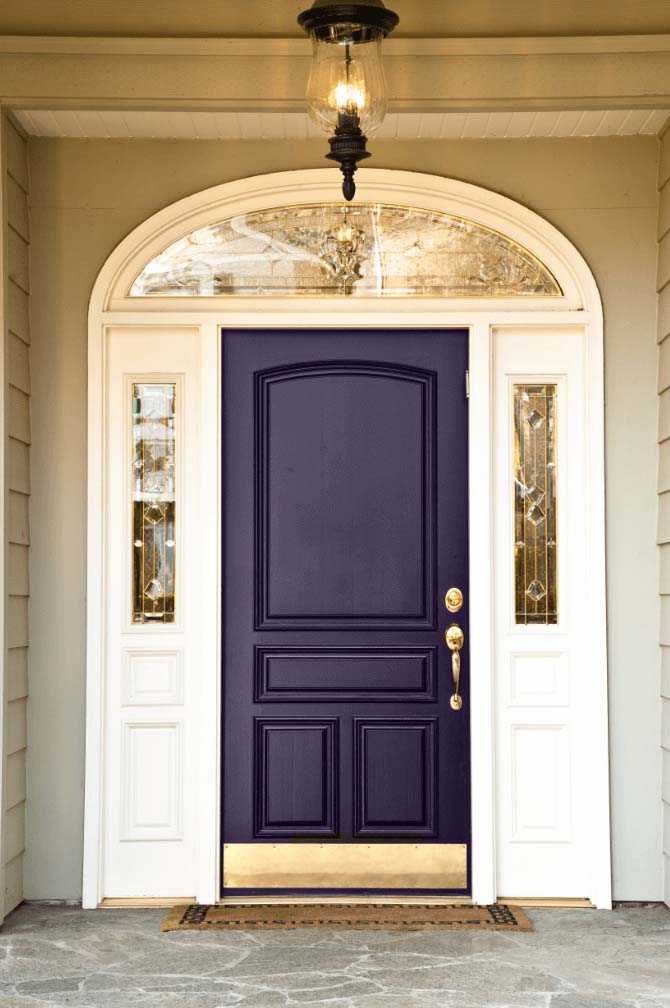 Purple is the color of royalty — especially when you add golden hardware.
The warm, gleaming finish of the kickplate and door handle enhances the deep purple for a style that's opulent and anything but ordinary.
38. The Perfect Fire Engine Red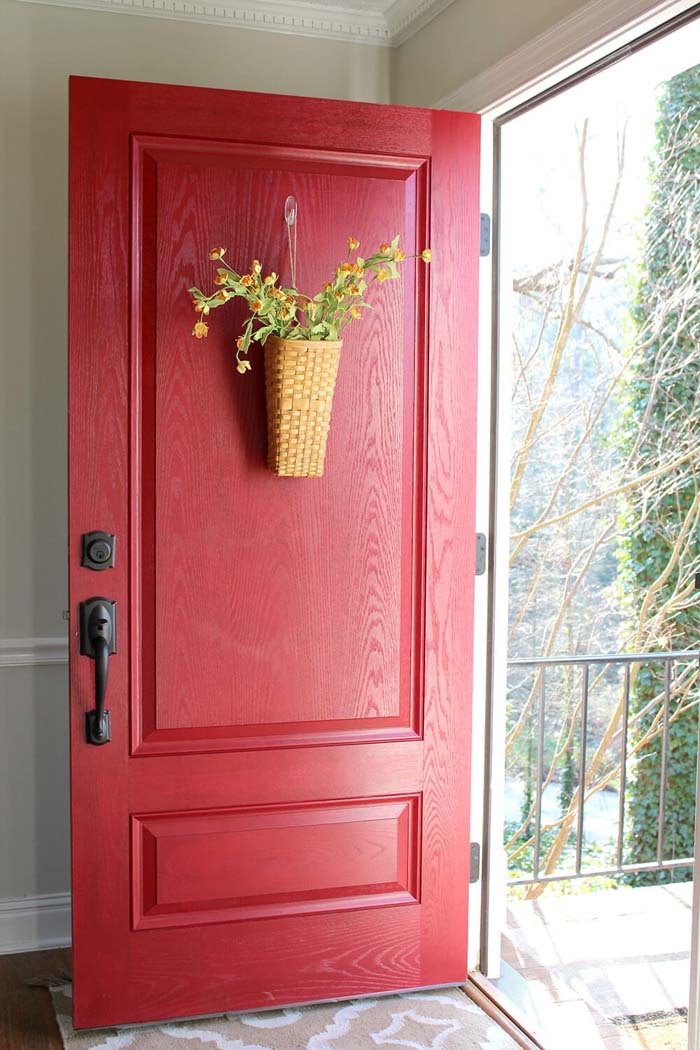 Finding the perfect shade of red can be a challenge, but this door knocks it out of the park.
The red is bright but not garish, so your home maintains its classic styling.
Dark bronze metal hardware enhances the traditional aesthetic.
39. Muted Yellow Complements Whitewashed Grey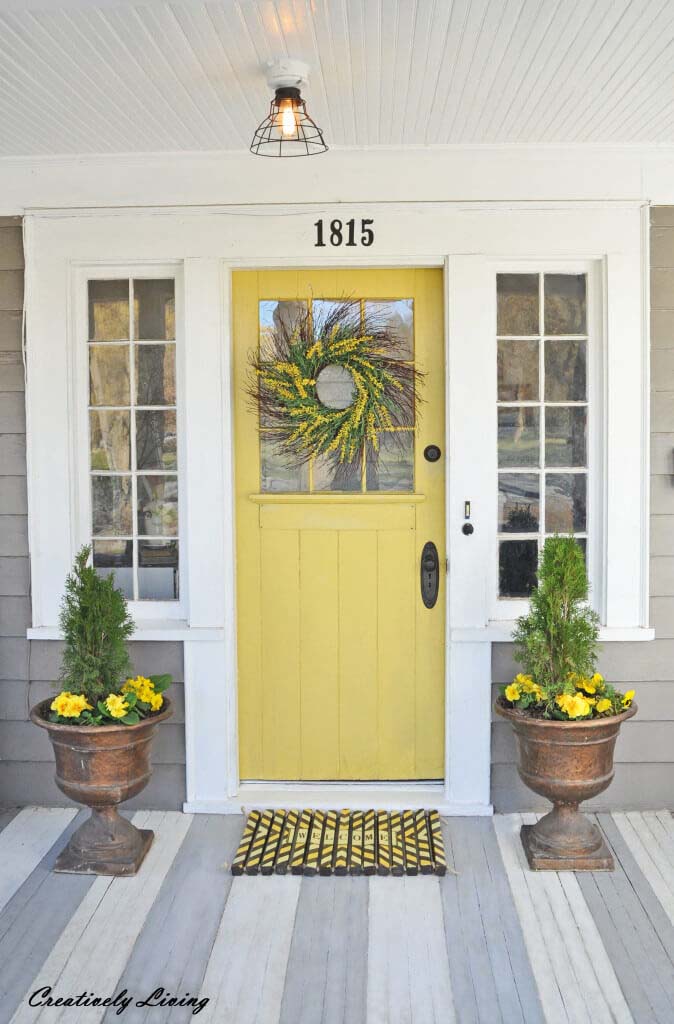 Yellow is another color that requires precision.
This home gets it right — the slightly muted yellow door looks natural with the warm grey siding and expansive bright white trim.
Yellow accents in the planters, doormat, and wreath tie the whole arrangement together.
40. Warm A Grey Entry With Copper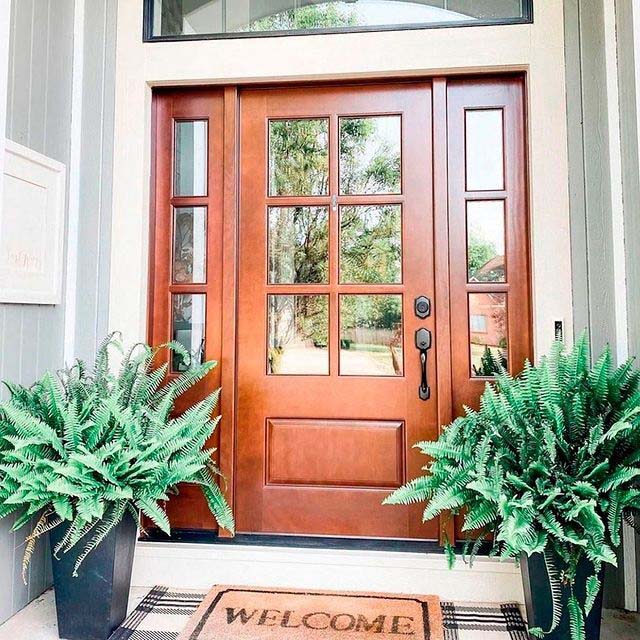 Achieve the look of hardwood without the expense by painting your door a rich copper color.
The warm shade mimics the look of cedar and oak; add lush green plants to enhance the effect.
41. Crisp White With Brick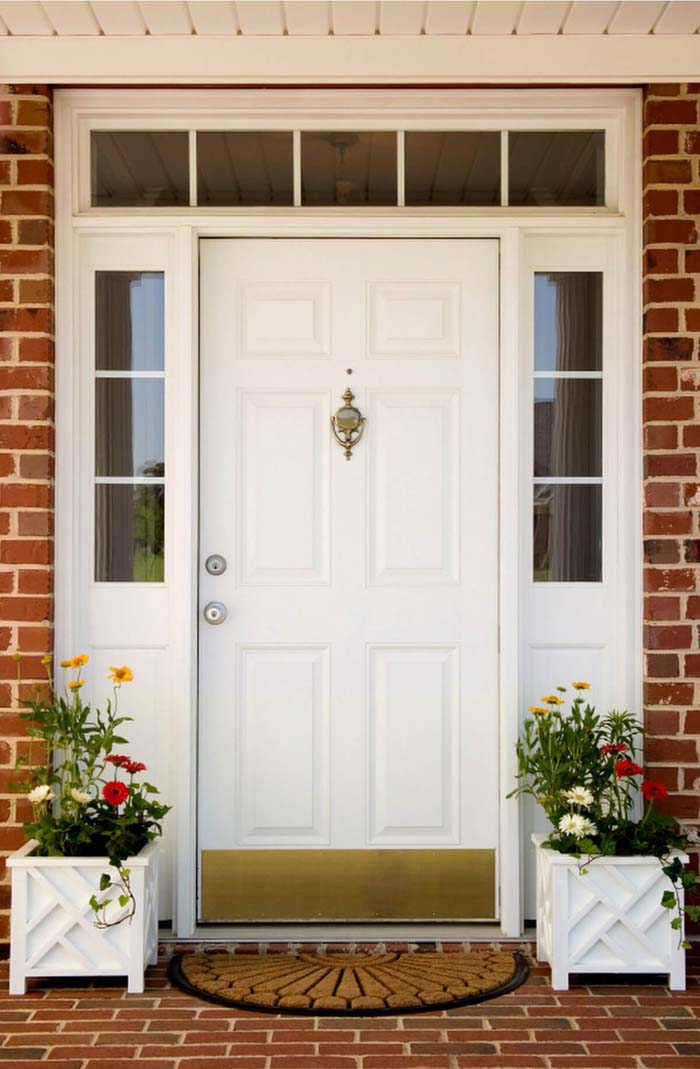 Is there anything more beautiful than a red brick home with a fresh white door?
The bright color brings out the light tones in the mortar — it's like an instant facelift for your home.
42. Modern Farmhouse Barn Wood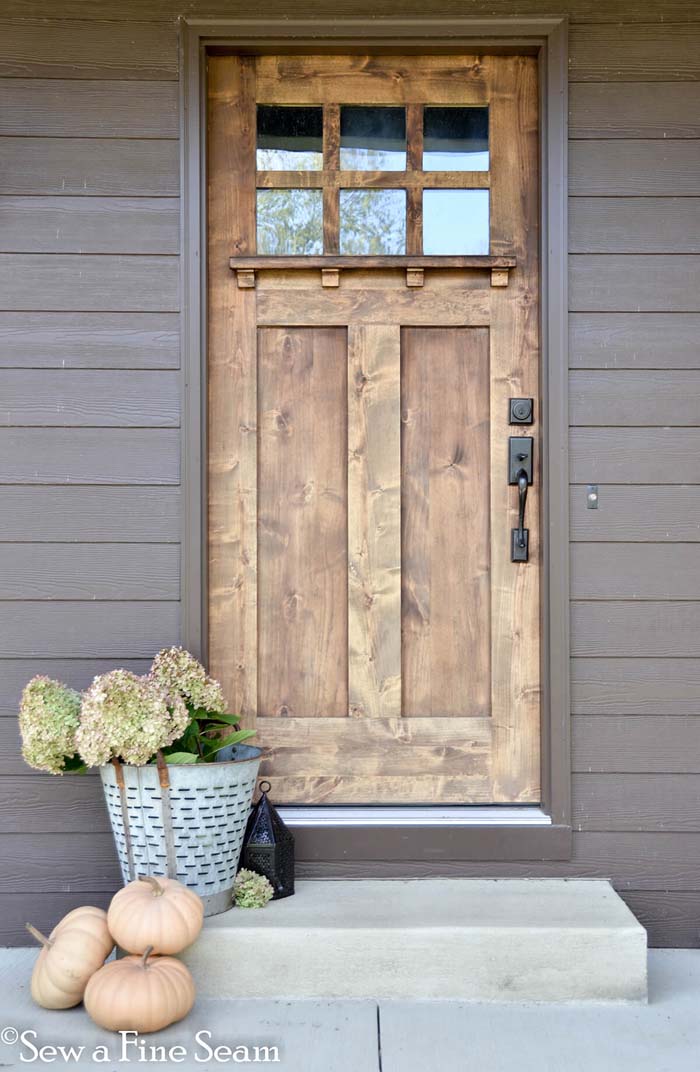 This remarkable wooden door is a statement piece; the unusual grain and knot pattern is a stunner.
The real magic to this front entry lies in the hydrangeas — their muted purple undertones look spectacular next to the gleaming wood finish.
via Sew a Fine Seam