Front doors are an inseparable part of the home as they form the first impression for the property not only for the guests but also for everyone passing by.
The choice of their design and style plays an important role in the general curb appeal. They create the perception about the interior and the exterior and serve as a special means to express yourself.
And before you choose the door for your home, think about what theme you want to set and how you would like yourself and your home to be perceived.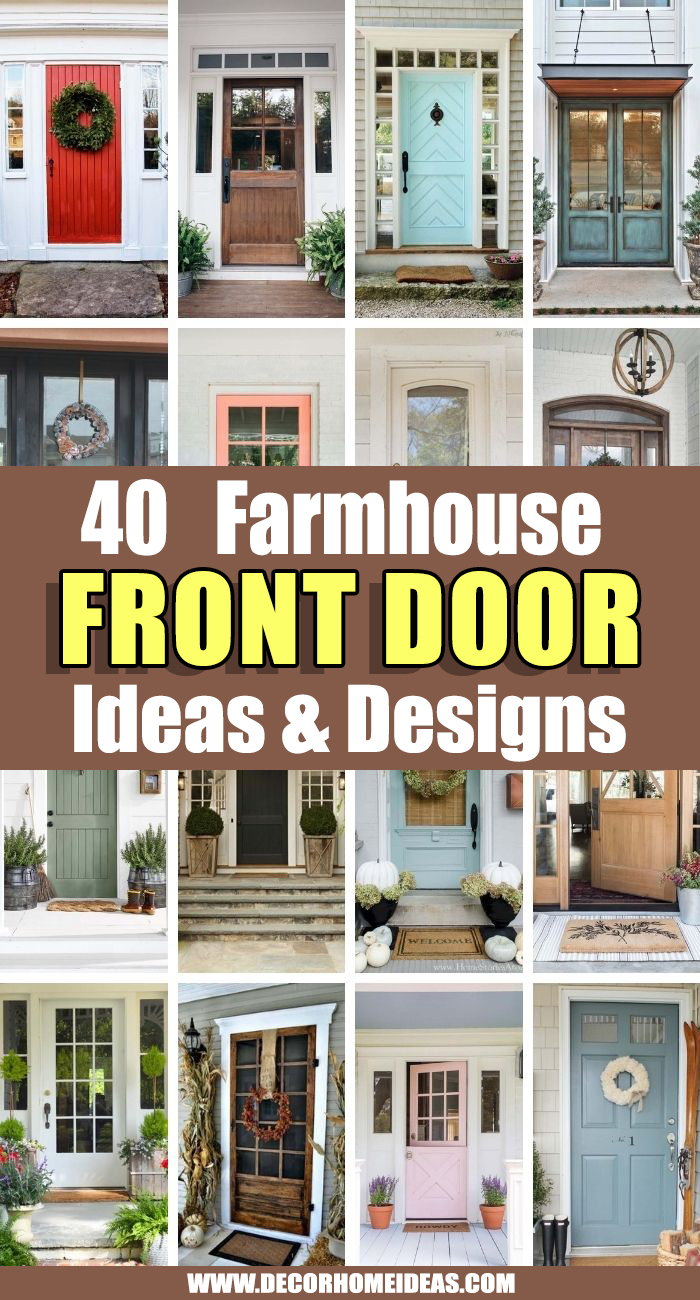 Farmhouse style is the best of all when it comes to the front door. This style inspired by old times living and nature gifts makes every space look inviting and cozy and this is the core purpose of the so important task to create a curb appeal.
The front door, being the window to your soul needs special attention. Luckily for you, we have gathered an interesting collection of farmhouse front door ideas that will help you decide which farmhouse design will suit your personal taste and the space particularities.
1. All Things Green Inspired Front Door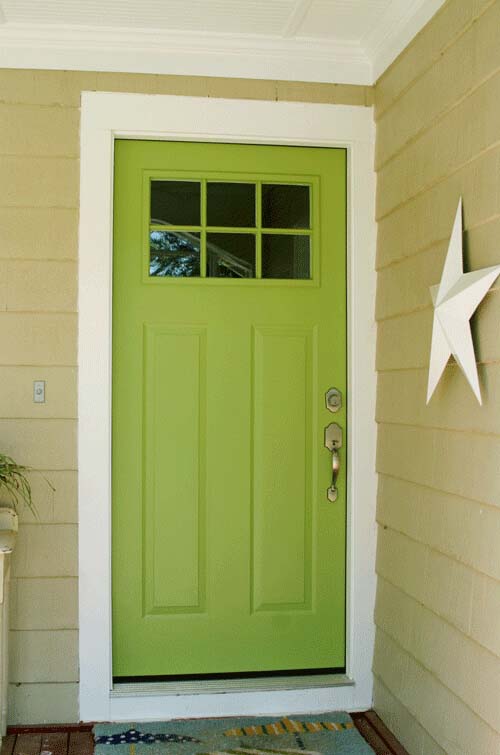 A bold color like green will enlighten your front porch and give it a magnificent point of interest.
This is one of the quickest makeover ideas as you don't have to replace the door with a new one, you only have to repaint it.
2. Autumn And Winter Inspired Front Door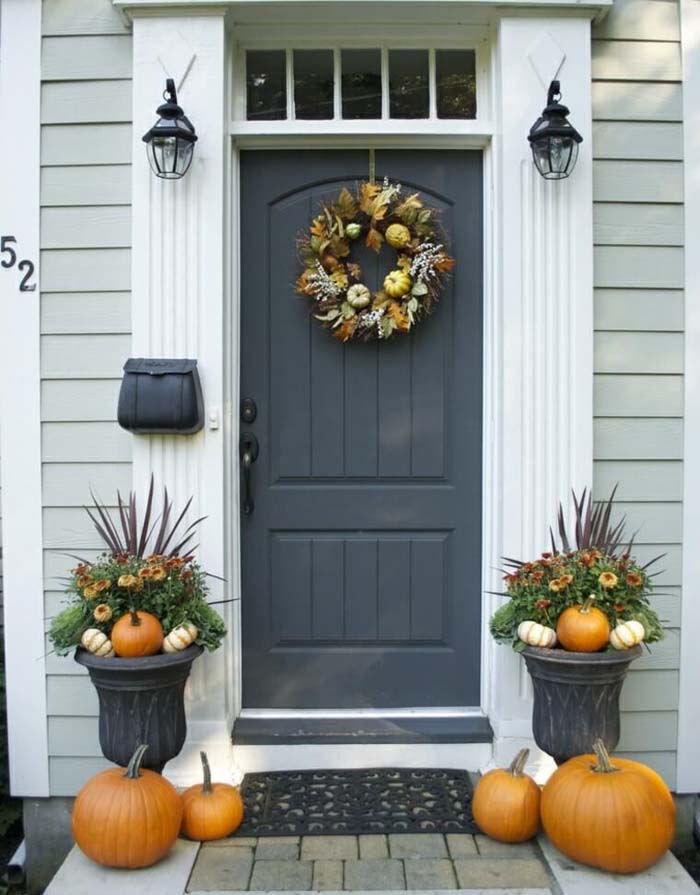 Painting your front door in a dark color will ensure a bold contrast against which seasonal decoration will easily pop out.
Grey color is one of the most suitable ones because it matches any type of decor and materials.
Framed with a white case, the significance of the front door becomes literally and figuratively outlined.
via Worthing Court
3. Baby Blue Paneled Barn Door Idea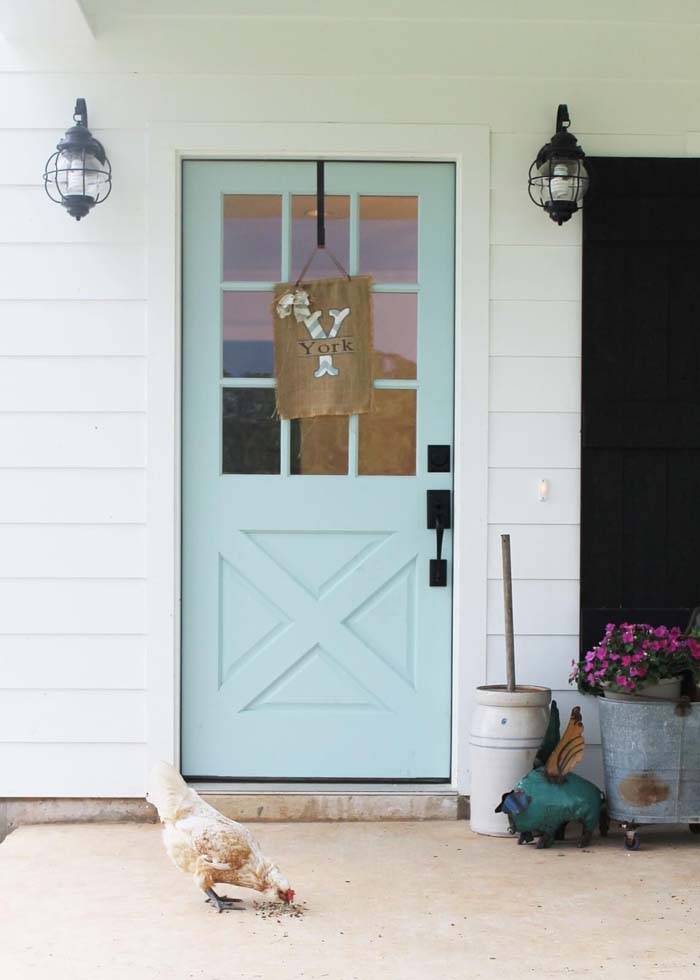 The trend for using barn doors in contemporary designed homes exists for some years now and continues to be one of the most popular.
We have seen them used indoors especially in rooms which are limited in space.
Using them outdoors for a front door has the same visual effect as they instantly make the house more appealing and welcoming.
via Hooked on Houses
4. Basic Wooden Barn Front Door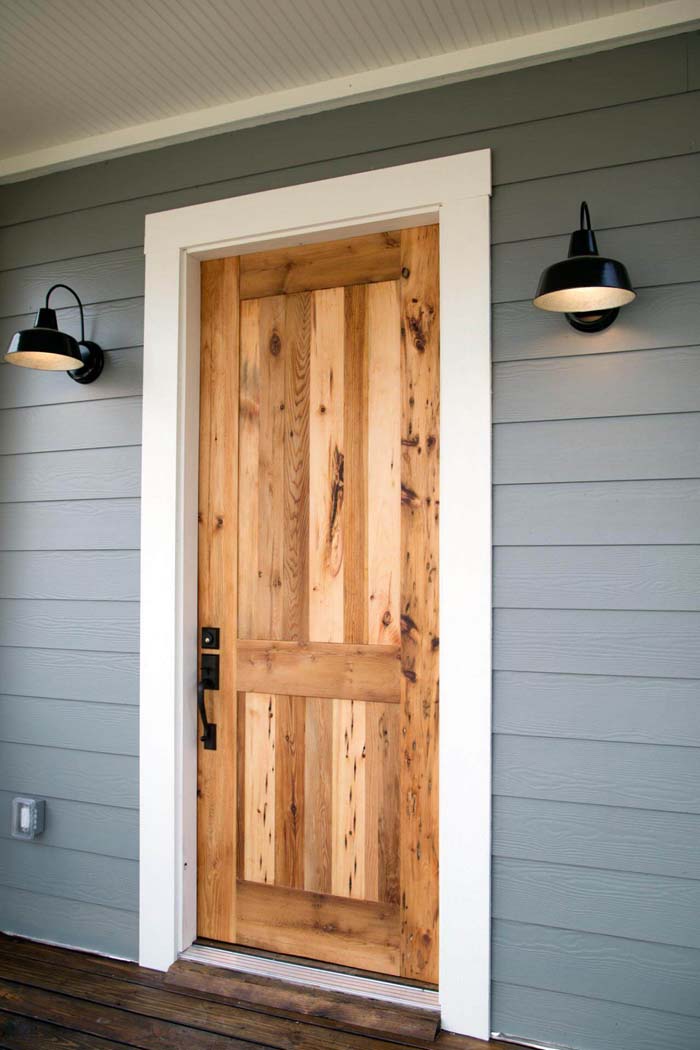 This is an example of how to use a barn door of a basic design and its natural color.
Its warm color and natural texture are extremely inviting. A particular visual effect to grab the attention is also achieved by the contrast with the siding on the walls.
via DIY Network
5. Big, Bright And Yellow Front Door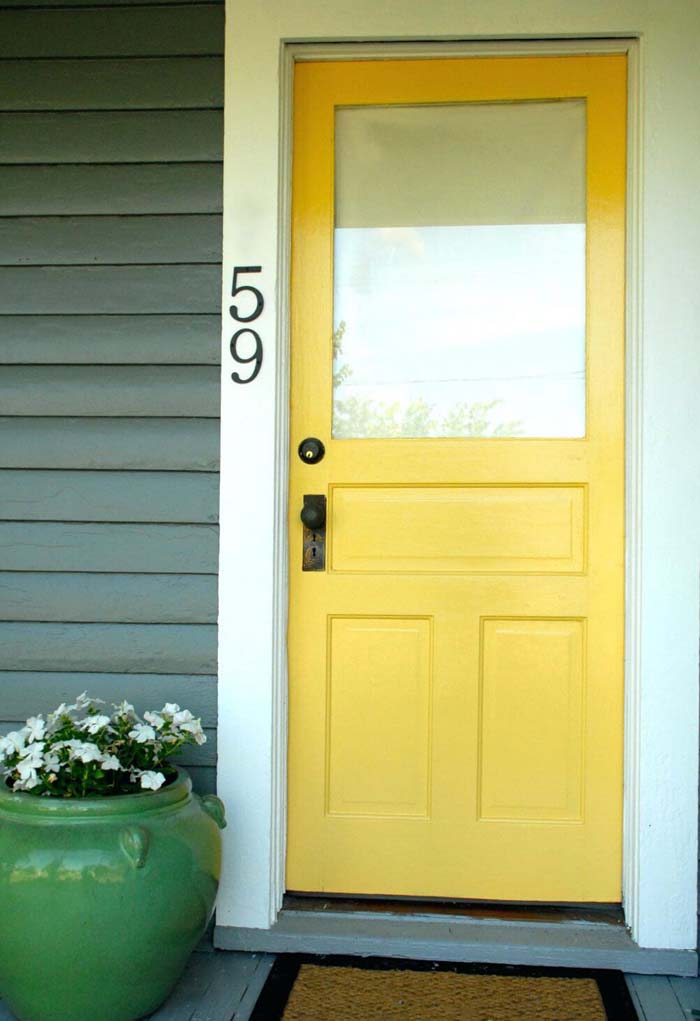 Yellow is one of the most extravagant colors. It creates a point of interest and makes a quick relation with the sun.
So warm and inviting, this front door is the perfect way to cheer up your and your guests' mood even during the coldest days.
6. Big Door For A Big Home With Wall Lamps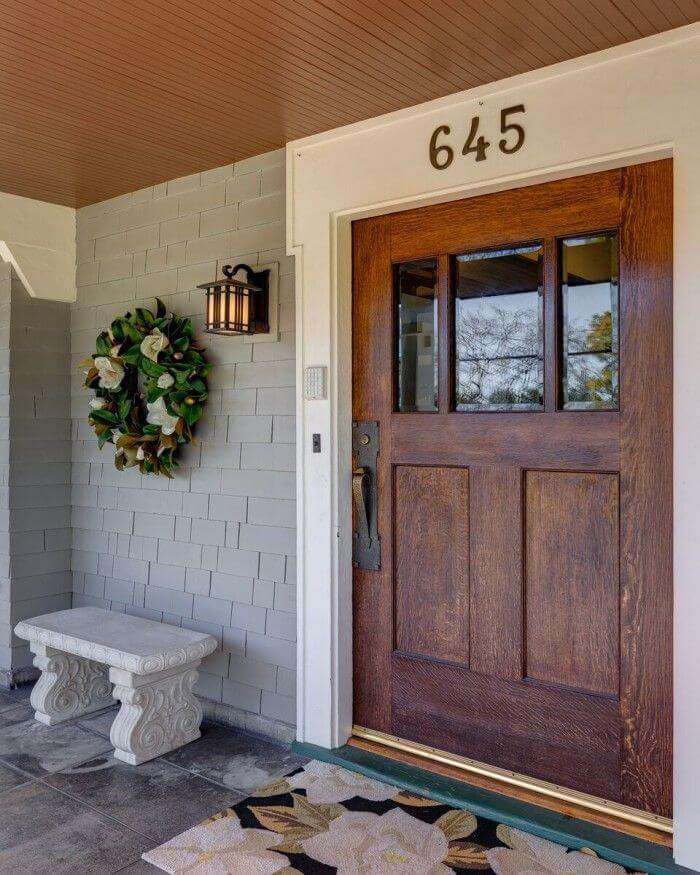 This big door makes a big statement. The owners of this home express their nostalgia for the calm countryside living where nature is obeyed and preserved inside their home and hearts.
The large hinge additionally enhances the farmhouse appeal, sending a message for a unique authentic taste.
via Hooked on Houses
7. Big Windowed White Front Door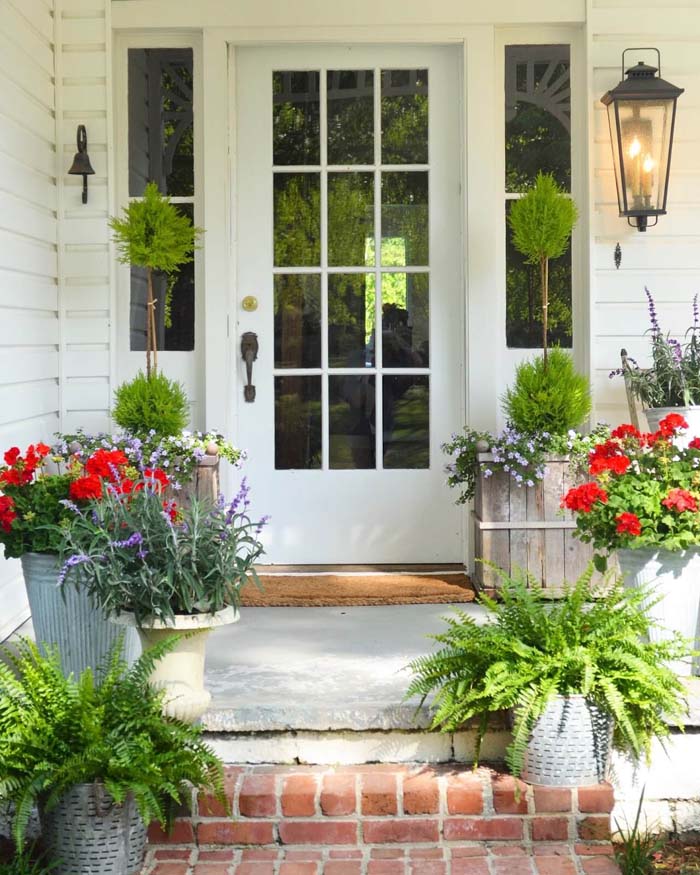 This door is the perfect way to welcome light indoors. Combining wood and glass provides a beautiful retro design.
The color of this door is white to provide contrast for seasonal decor and makes the property more inviting.
8. Bold, Bright And Beautiful Orange Front Door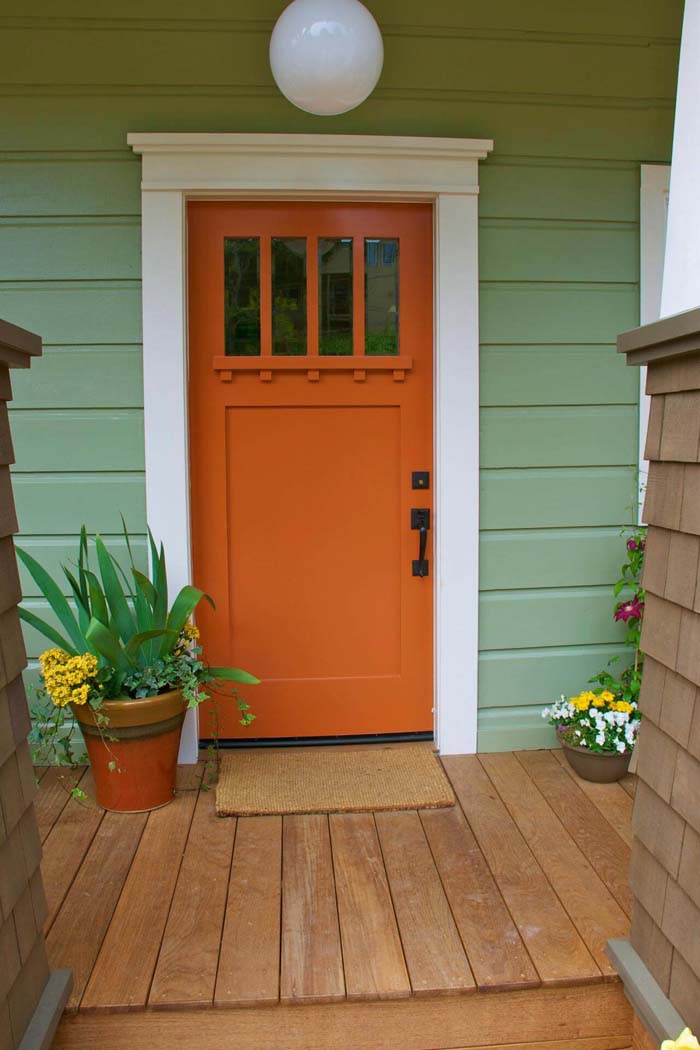 The orange color looks very tasty on this door, doesn't it?
Especially when framed by this white case, it gives the front porch a big dose of uniqueness and brightness.
via HGTV
9. Bright Blue Patterned Front Door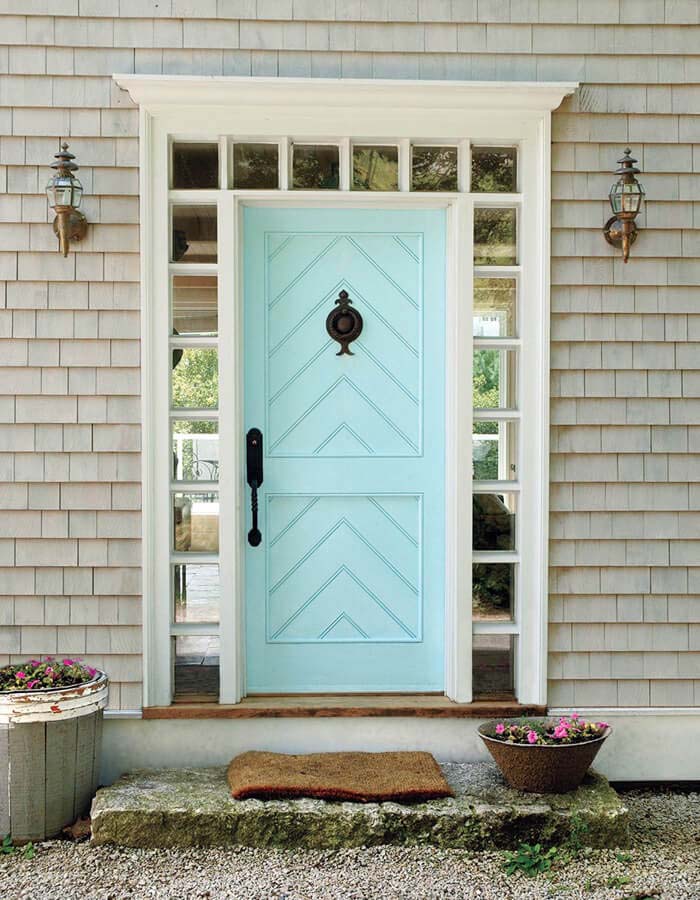 Turquoise color is related to the nautical style.
When it is applied to a wooden front door, it mixes with the rustic texture and gives the door a modern look that still possesses the charm of the old times.
10. Brown Front Door With Thick Foliage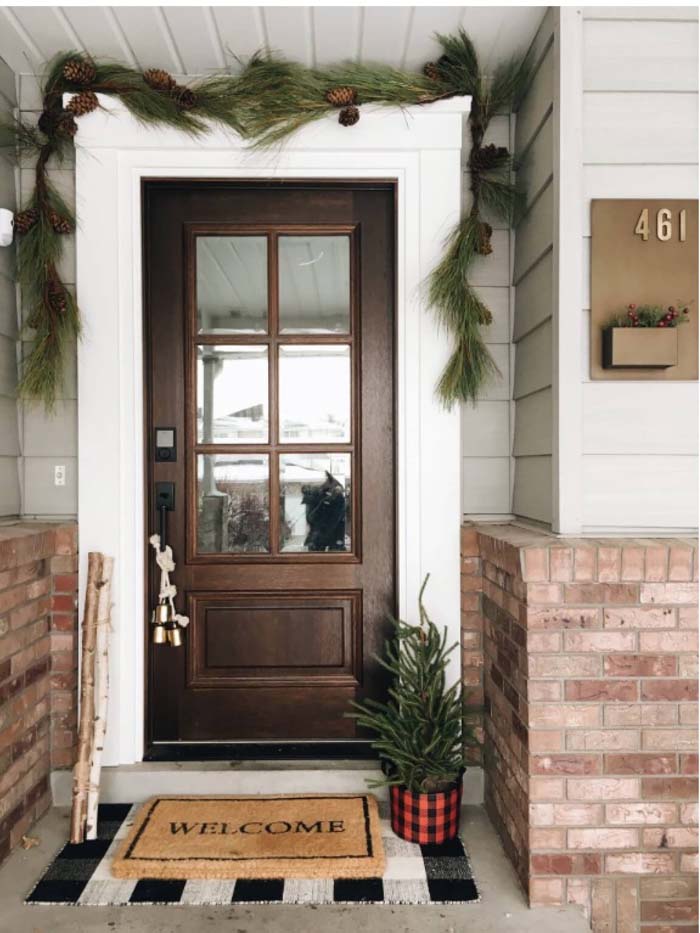 This is a classical example of a stylish front door inspired by the farmhouse design.
Made mostly of wood, there are ornaments that frame glass panels that let light pass through.
This front door creates a neutral canvas for any seasonal decor in the same theme.
11. Chocolate Brown Windowed Front Door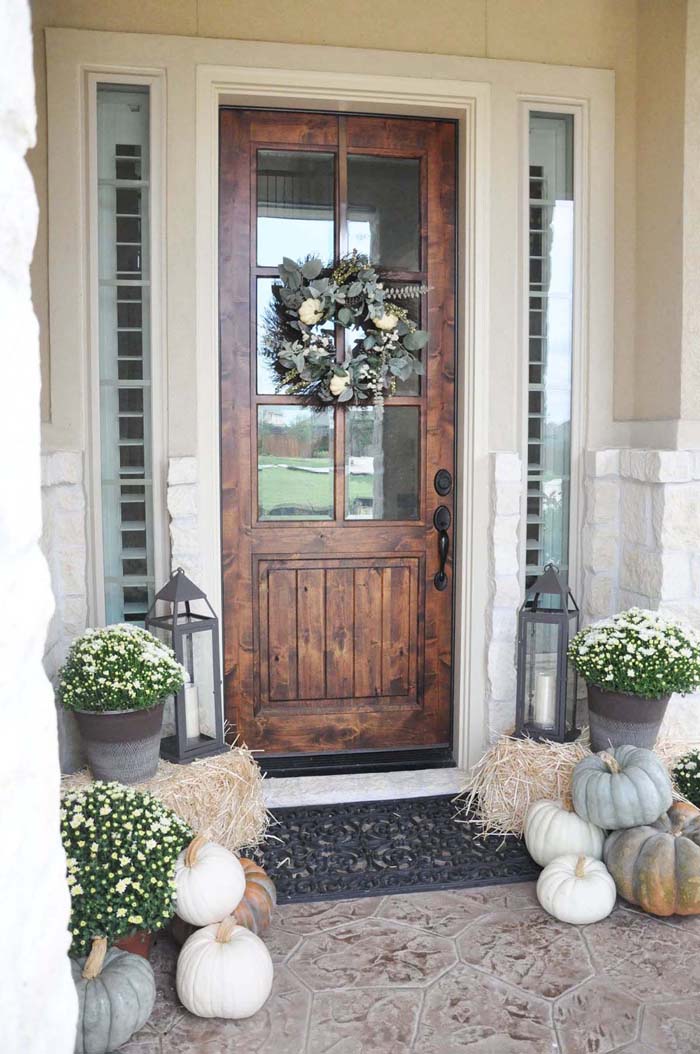 This wooden door has been stained in chocolate brown to ensure that it is clearly and easily seen at the first glance.
The glass panels are beautified with a green wreath. On each side of it, there is seasonal decoration celebrating the fruits of nature.
via The Grace House
12. Christmas Colors Farmhouse Front Door Ideas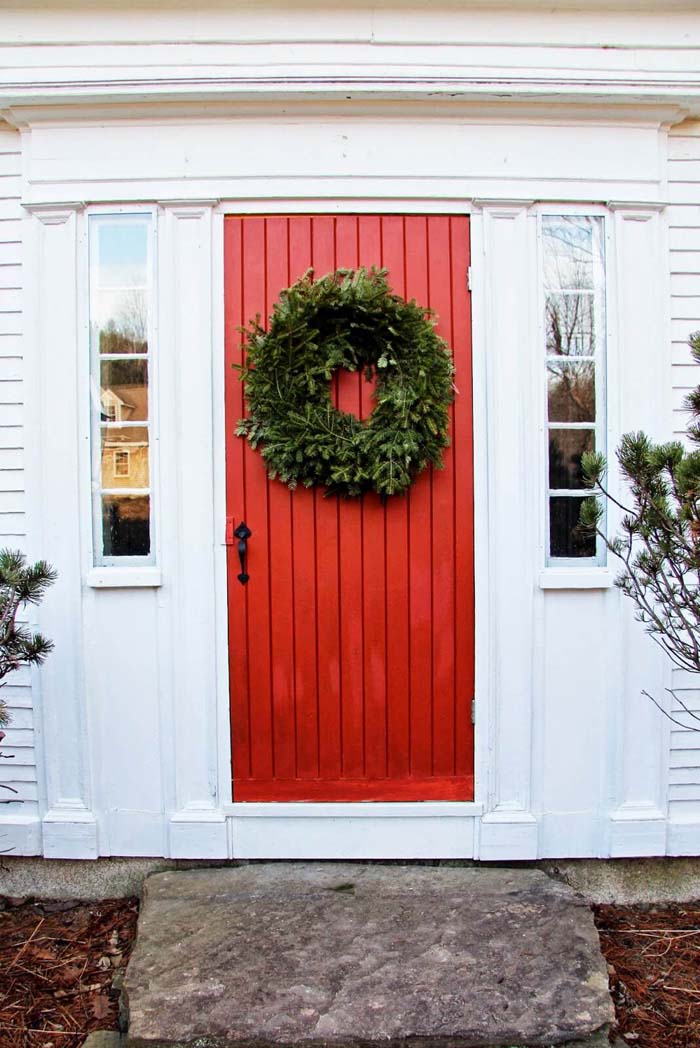 If your house is painted in white, you are given endless options for the design of the front door.
An easy uplift is only to change its color. In this instance, the front door has been painted in red to make it more special and thematical for Christmas.
Once this holiday passes by, you can change its color or leave it as a unique touch to the exterior.
13. Cookies And Cream Farmhouse Front Door Ideas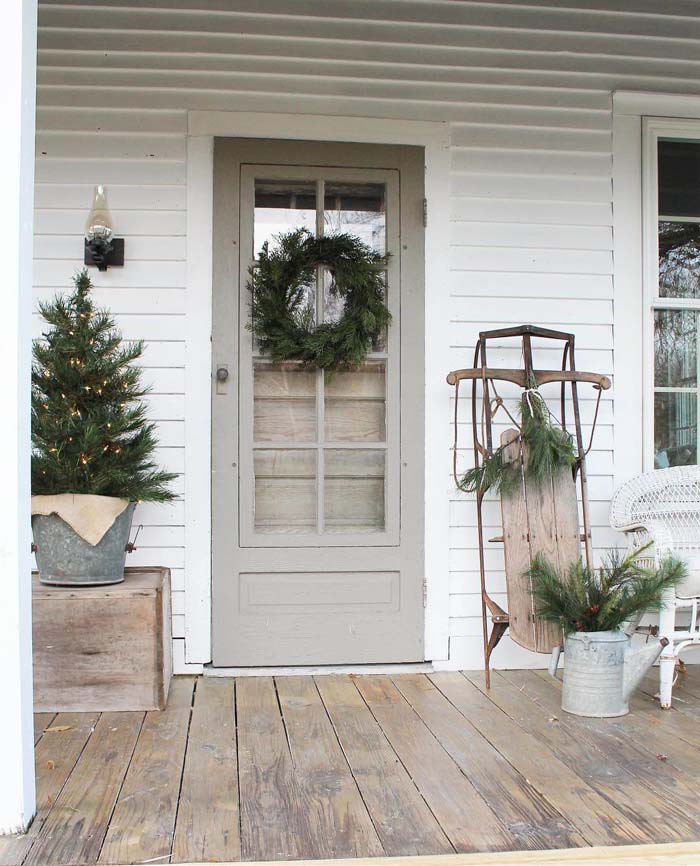 The glass panels of this front door have been shaded on its inside to show the texture of weathered beams.
This effect matches the wood planking of the porch floor which is typical for a cabin or a cottage. This casual setting enhances the welcoming vibe of the house.
The attention towards the front door is additionally ensured by its neutral earthy color.
14. Double Trouble Two-Tiered Farmhouse Front Door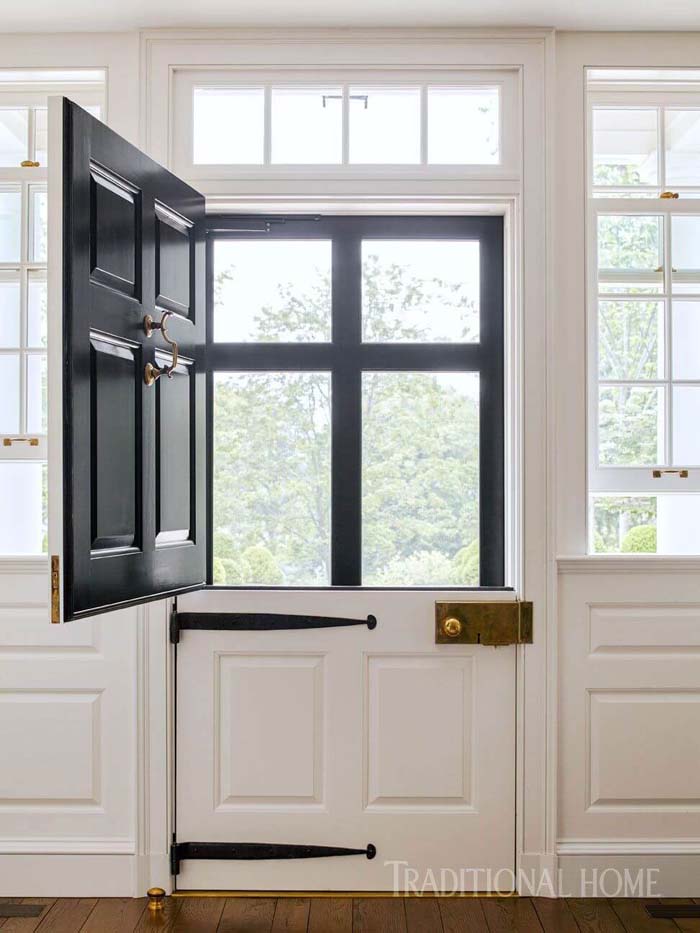 The front door inspired by the farmhouse style can be very practical.
Look at this example which has taken care of the youngest members of the family and also about the amount of fresh air entering inside.
Instead of opening the entire door and let dirt come in or accidentally miss your kids going out, you can open only the top compartment and enjoy the view and the fresh air income.
via Traditional Home
15. Full of Sunshine Yellow Front Door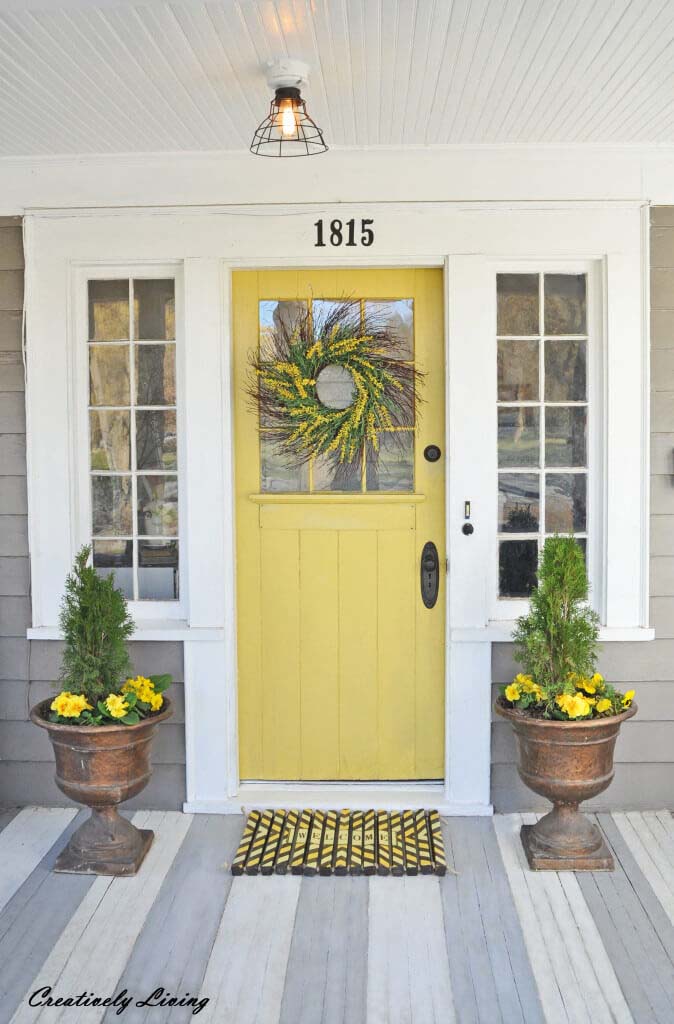 This gorgeous color combo features neutral shades of grey and white and a pinch of interest provided by the bright yellow color. White frames the yellow front door making it stand out and become a characteristic feature of this house.
The smaller accents like the welcome rug, the yellow flowers planted urns at each side of the door and the wreath anchor the yellow color making it feel like belonging to the place.
16. Greyscale Mirrored Modern Front Door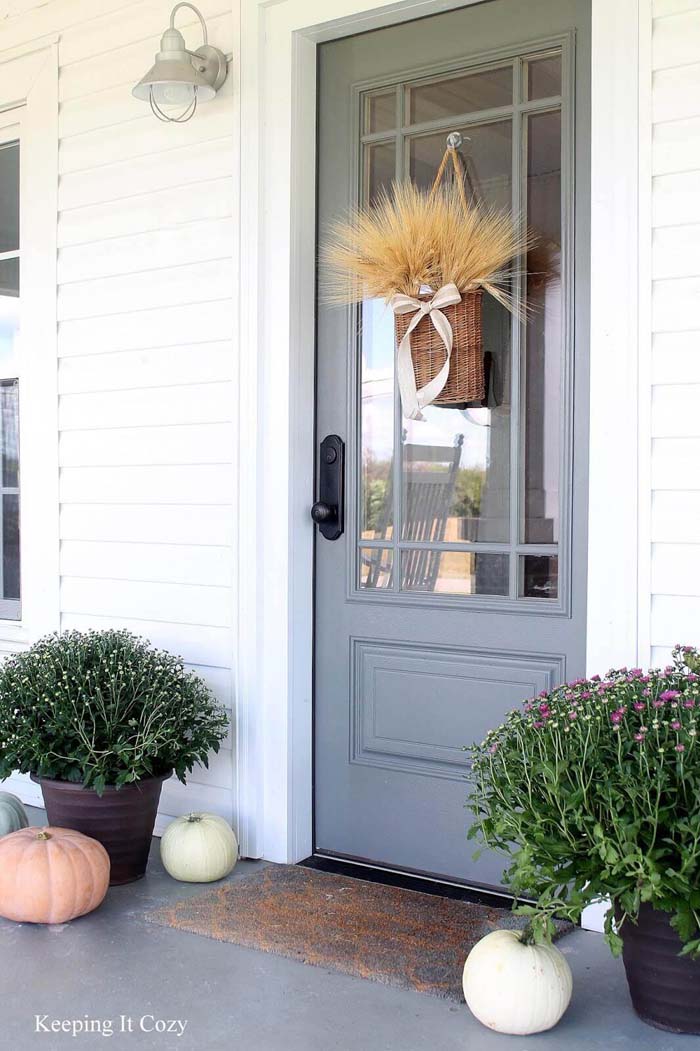 Dark grey is a color that creates a lot of calmness and therefore it is commonly used indoors, especially in bedrooms and living rooms.
When it is applied to the front door it gives the porch the same effect-smooth and welcoming.
Another advantage it will ensure is the great contrast with the walls and with the accents.
via Keeping It Cozy
17. Light Wood And Glass Combo Front Door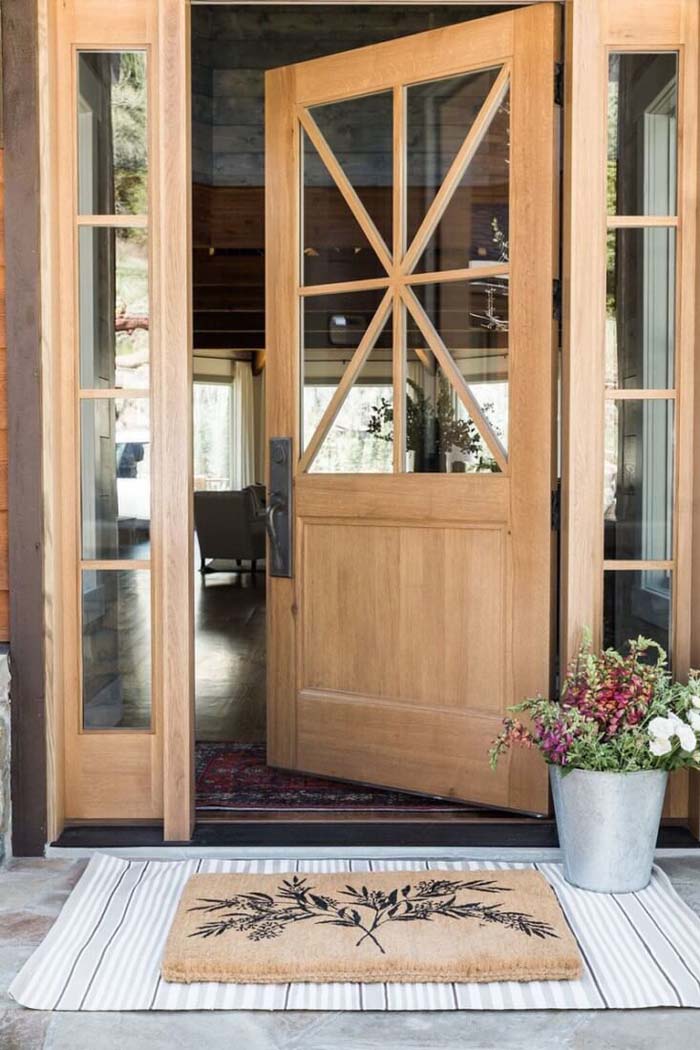 The design of this farmhouse door creates a zen ambiance.
The combination of glass and wood has been balanced in such a way that the door somehow whispers "come inside and relax".
The light color of the wood also contributes to this effect making the door warm and inviting.
via Studio McGee
18. Matte Black Glass Windowed Front Door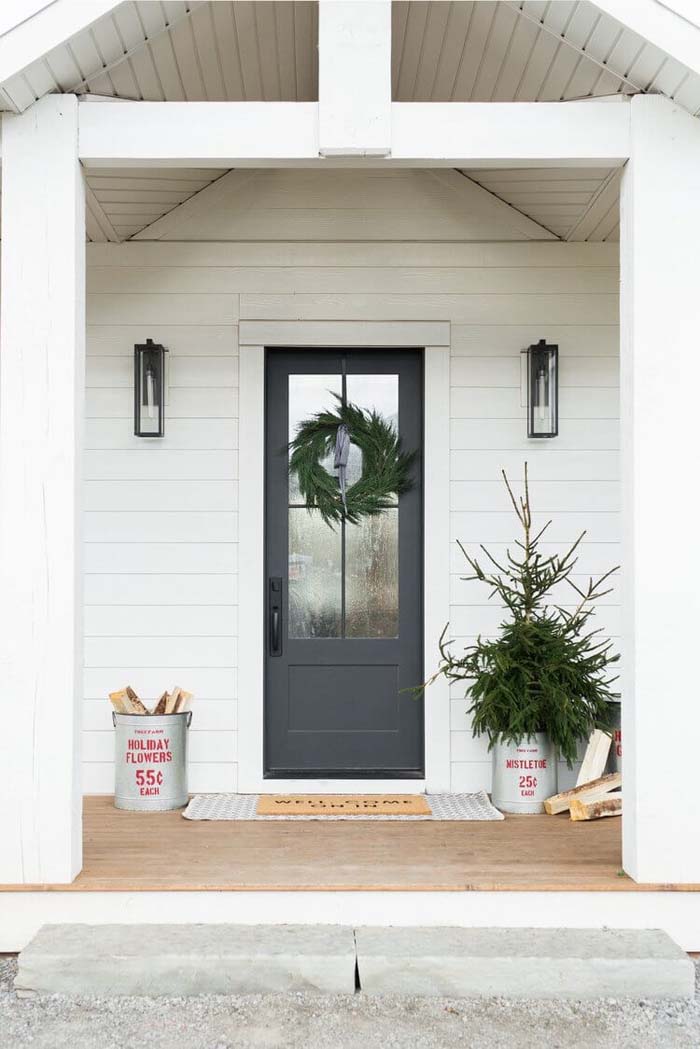 Another example for a farmhouse front door shows how to do it in a classic way.
The color combination choice is an evergreen one- black and white. White is the predominant color that frames the black "jewel" of this house.
Accents like lanterns placed on either side of it contribute to the smooth mixture of these colors, especially if they are also in black.
via Studio McGee
19. Minimalist Black Front Door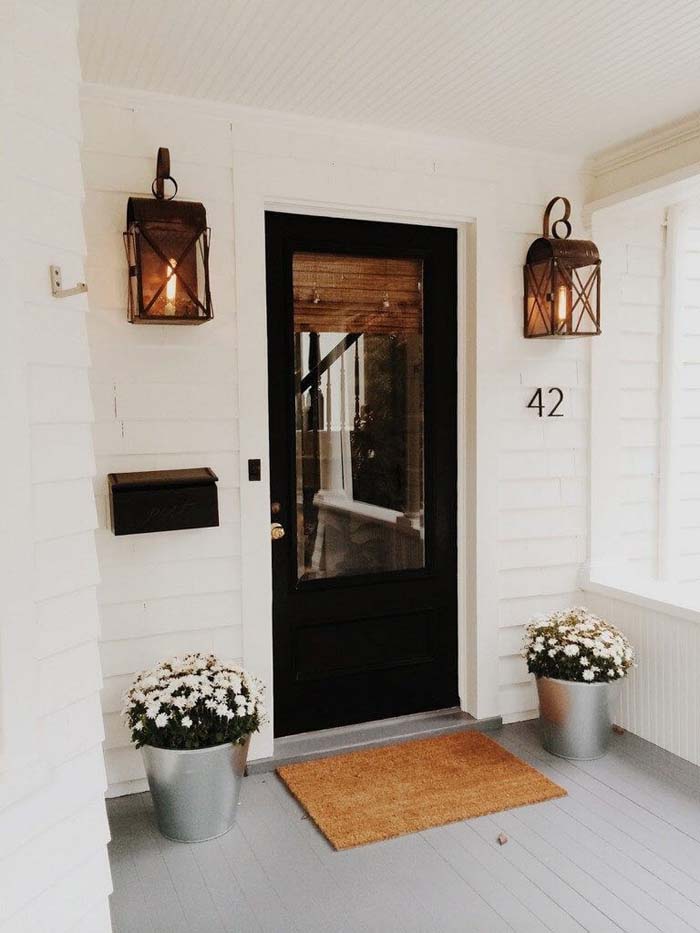 This is another example of a great black and white color combination.
The difference here is the design of the door- the glass panel is clear, with no wooden cross-sections.
As you see, the black color continues on the walls but it is applied on smaller accents in order not to overwhelm the space.
20. Oh, So Peachy Pastel Front Door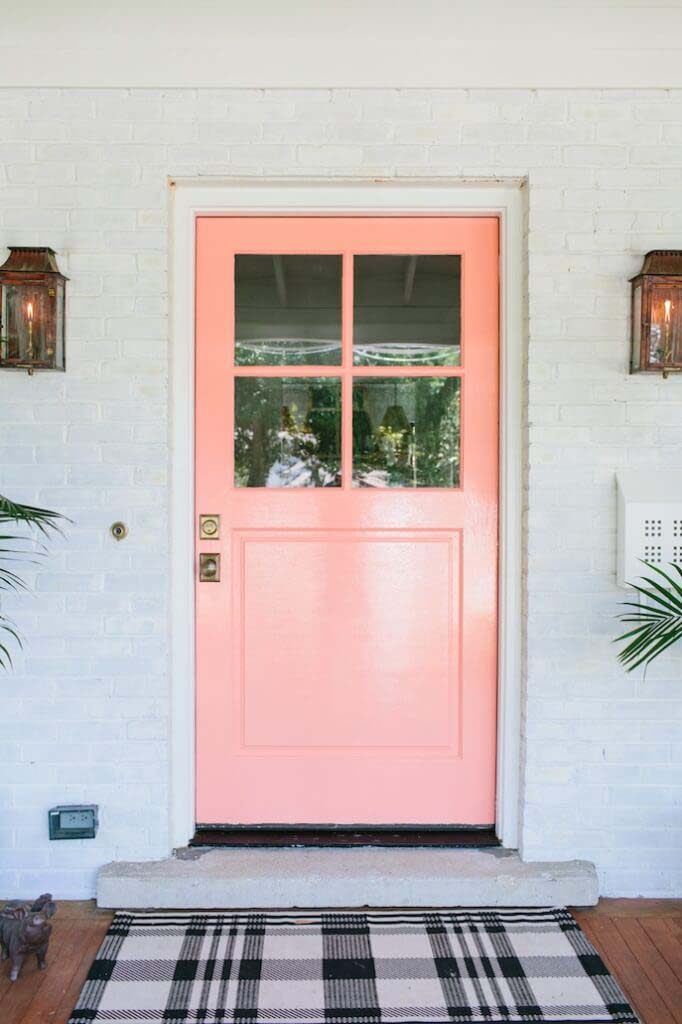 Another bold farmhouse front door design features a non-traditional color.
The warmth of the door is yet there being made of wood.
The owners of this home have decided to make their porch attractive by painting it in a peachy pastel color- the perfect way to celebrate the warmer weather.
via Look Linger Love
21. Parisian Styled Pastel Blue Front Door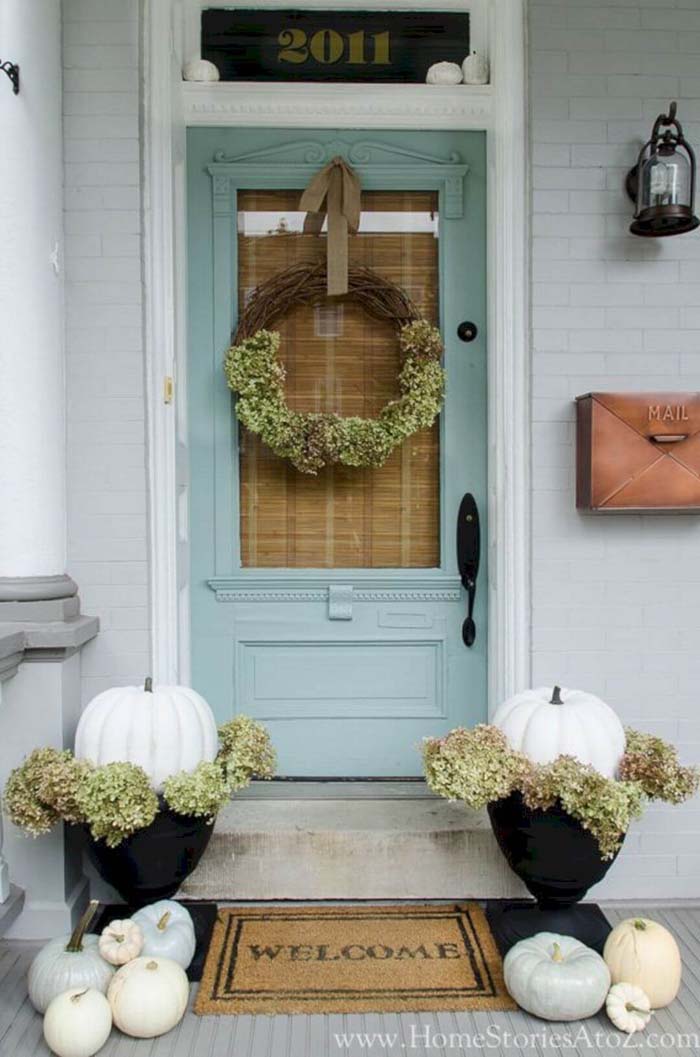 Pastel blue is a perfect solution to give the wooden front door an uplift when you don't want to risk the final effect.
It is neutral in a way but on the other hand, it also creates a point of interest being a non-standard front door color.
Applied on a door with ornaments, it will not hide them but let them look neat and refreshed.
22. Pastel Green Paneled Front Door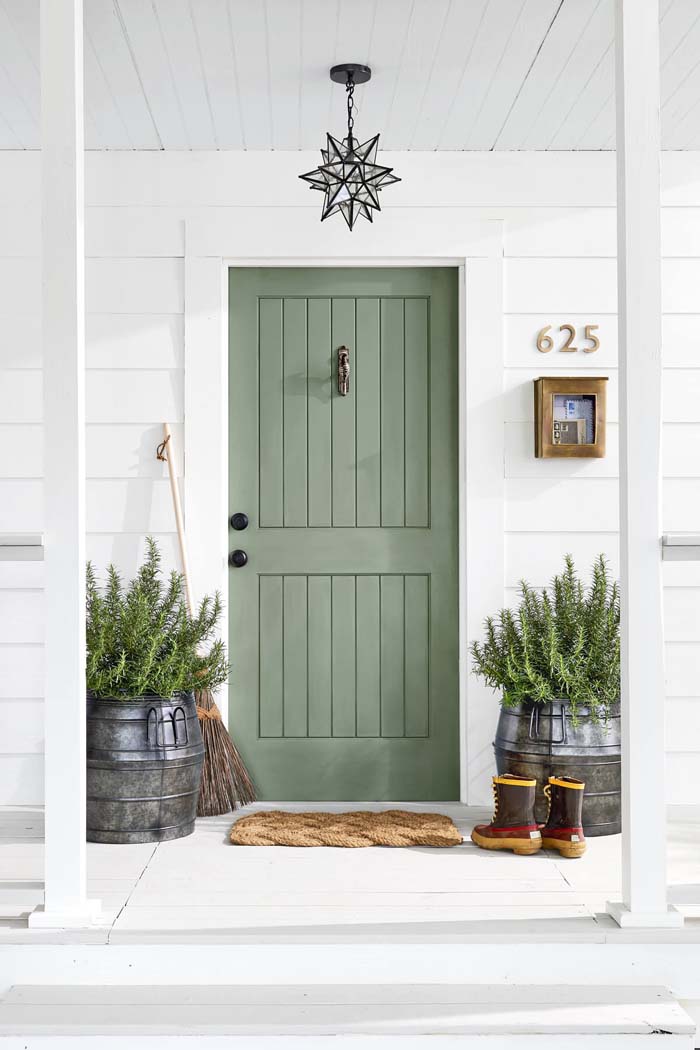 Olive green is another color that goes into the non-risky palette.
Wherever pastel colors are applied, they create a warm and welcoming vibe.
When it is applied to the front door, it makes a connection with nature which is the symbol of the farmhouse style.
via Country Living
23. Pretty In Pink Front Door With Lavender Pots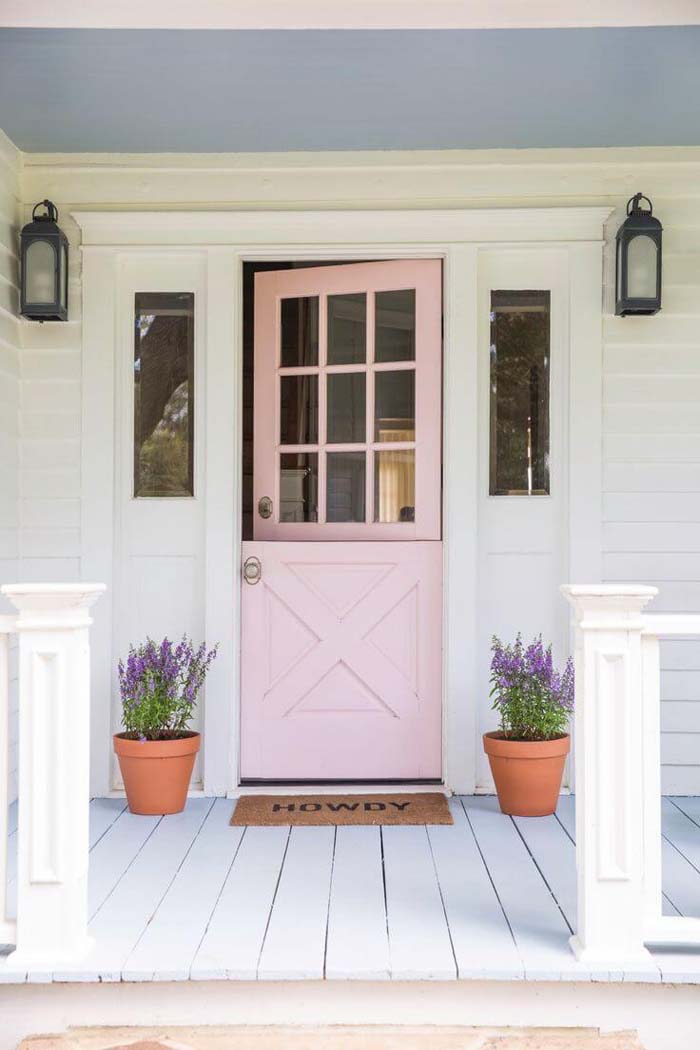 This shade of pink also goes to the pastel palette.
When the front barnwood farmhouse door is refreshed with this milky pink shade, it makes the house sweeter and very chic.
Such a color is a good way to make your home more inviting even in the coldest months.
via One Kings Lane
24. Pure And Pristine White Door With Planters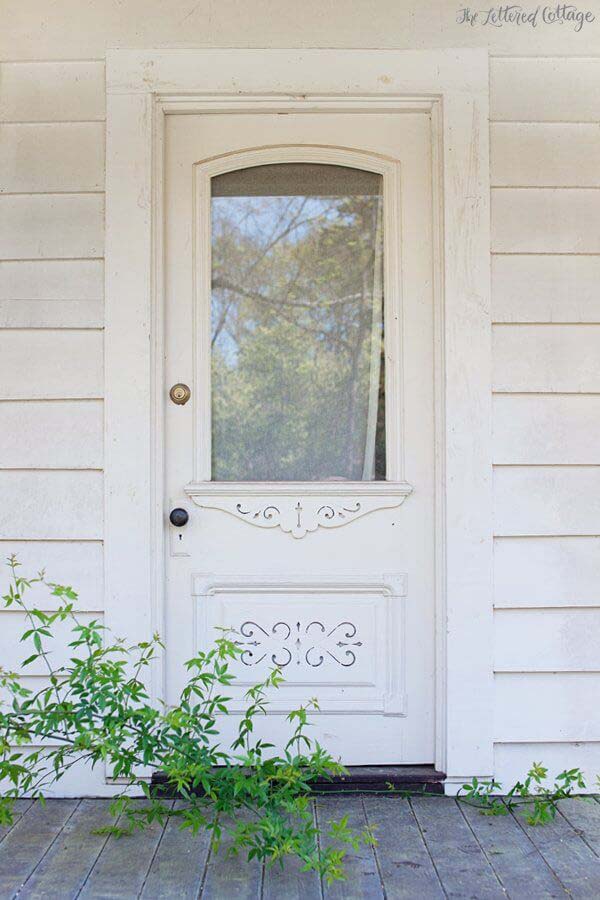 Not much should be done on such an artistic door. Its design and the handmade ornaments on it give it enough charm and character.
A quick and simple uplift like a repainting in white will refresh its condition.
25. Pure Woodland Inspired Front Door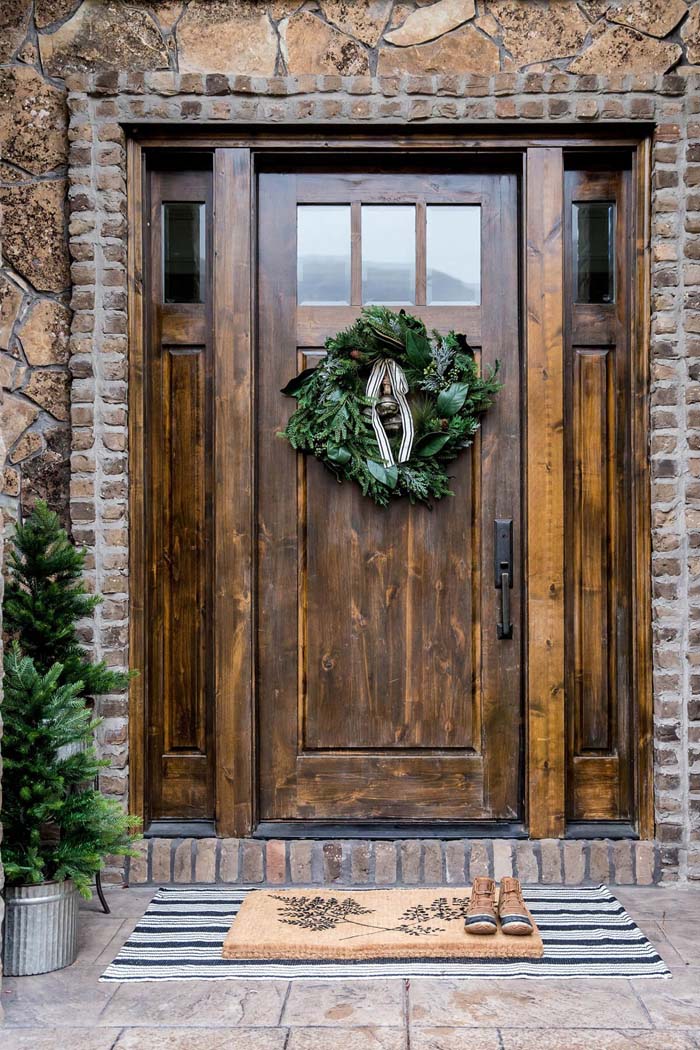 This farmhouse front door is made of solid wood and that speaks for luxury and aristocratic taste.
Its size also has a great impact on the overall acceptance of the house mimicking a large entrance.
26. Rustic Chic Mirrored Front Door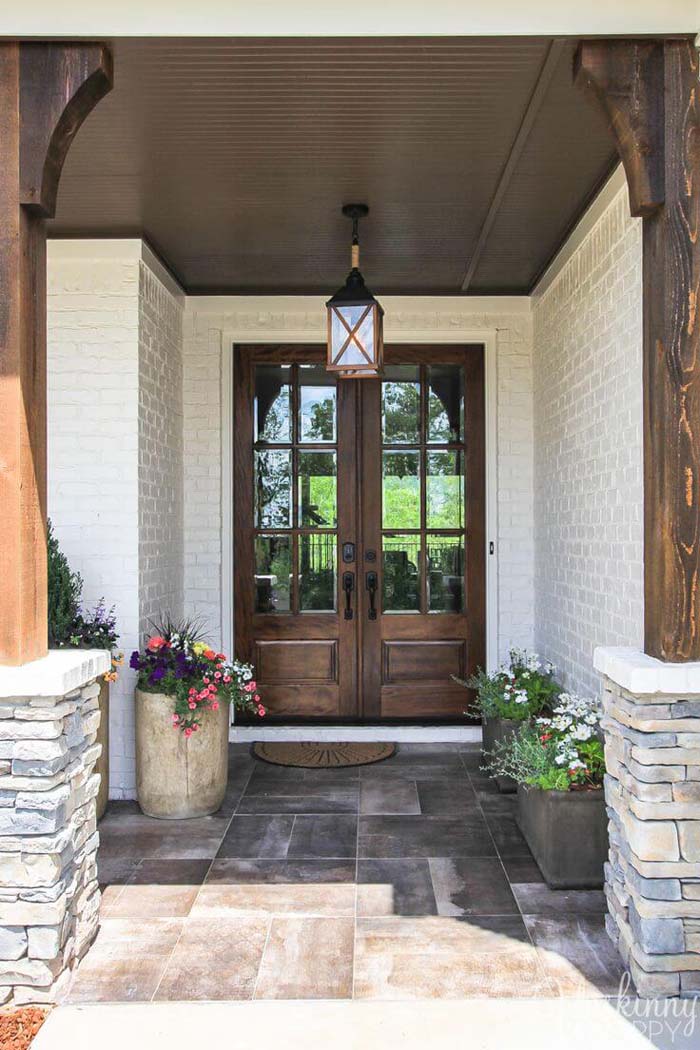 If you want to clearly state out that you love welcoming guests, a double front door with a farmhouse look will easily claim that.
Part of it has been covered with glass panels to avoid creating a darker and blocking porch atmosphere.
via Beth Bryan
27. Rustic Simple Wooden Bark Panel Front Door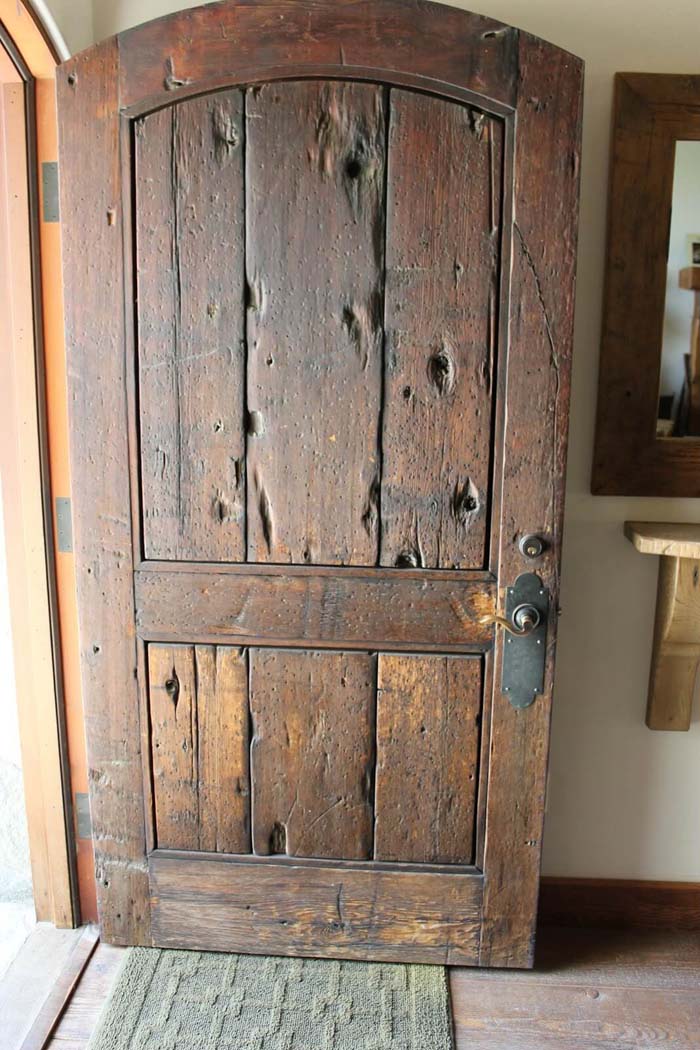 If you are in love with the authentic farmhouse look, this front door will be your new love.
Made of solid wood beams, it shows the signs of usage that turn it into a treasure.
Choosing such a door for your house will add a lot of charm and interest to your porch.
via Deja Vue Designs
28. Rustic Styled Farmhouse Front Door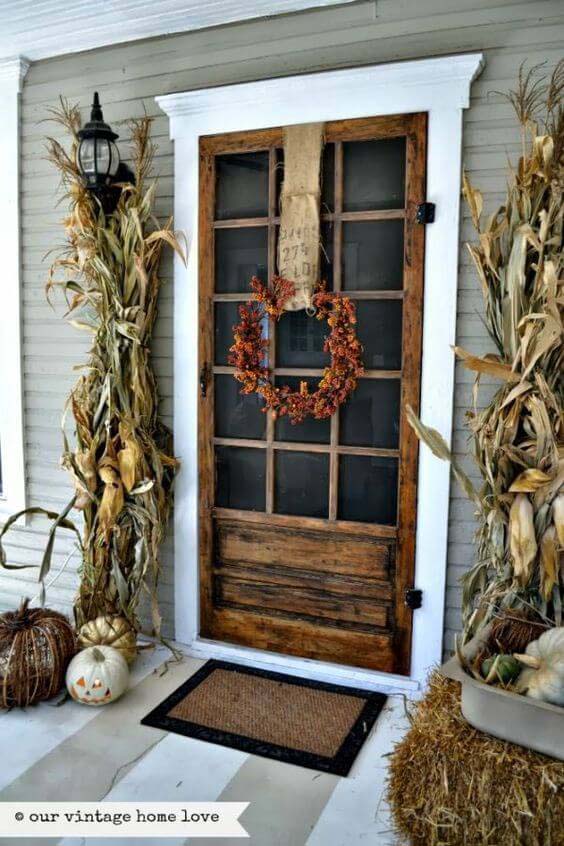 This front door looks so natural and authentic.
You won't believe that it has actually been bought from Lowes and its surface was redone to give it the farmhouse effect.
29. Rustic Wood Panelled Farmhouse Front Door Ideas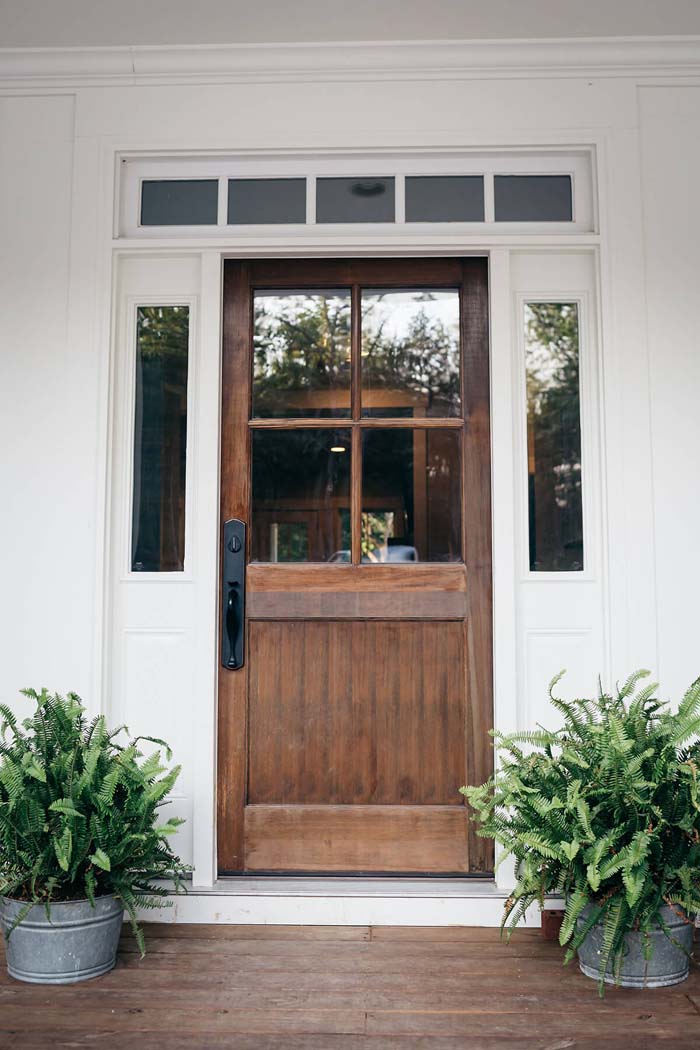 The look of this door hints that it will open the entrance to a home that is warm and comfortable.
The combination between glass and wood is well handled- light can come in but privacy is also ensured as glass covers only a small part of it.
30. Send Away The Blues Front Door Idea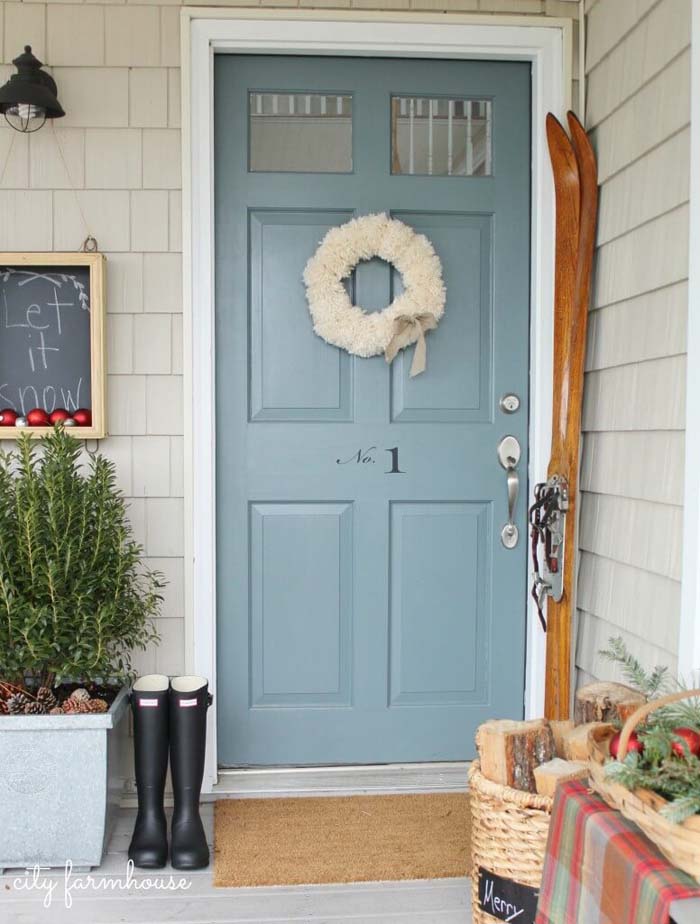 The pastel blue color is a universal nuance that can welcome any seasonal decor.
This image shows other effects this color has- it gives depth to the ornaments of the wood and at the same time it makes the entire door look very neat and fresh.
via City Farmhouse
31. Simple Rustic Blue Whitewashed Front Door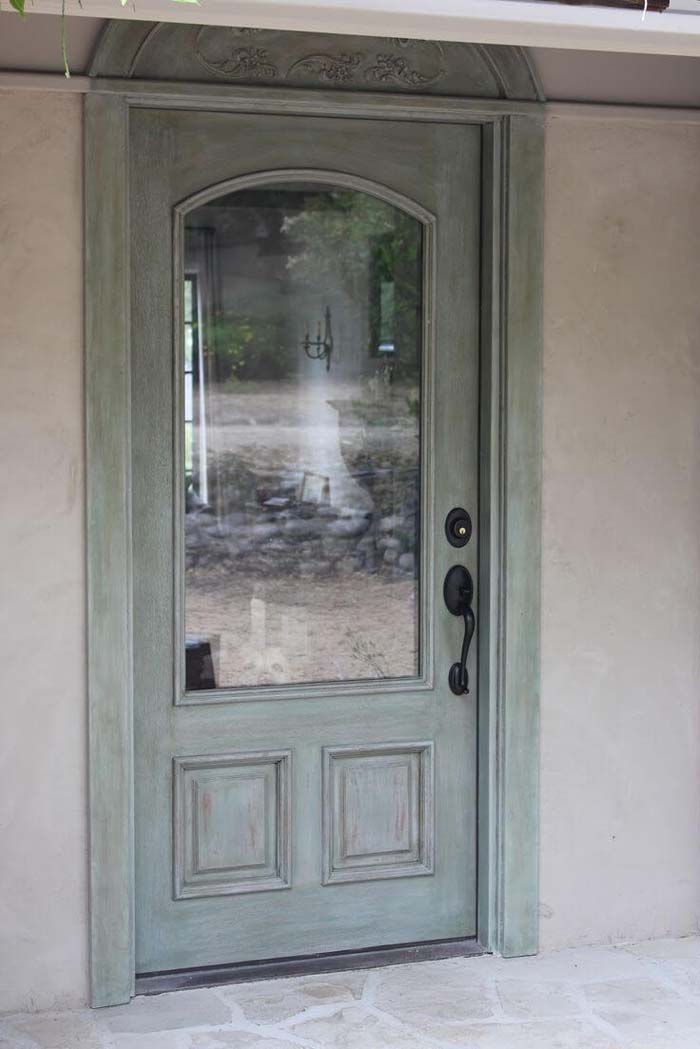 Using the paint techniques for creating a rustic look on a wooden surface is a great way to change the look of your front door.
The whitewashing technique and the distressing are some of the most used ones.
To give ornaments similar to those on the photo an aged look, don't be too generous with the paint or sand off the paint from random sectors.
32. Something Blue Windowed Front Door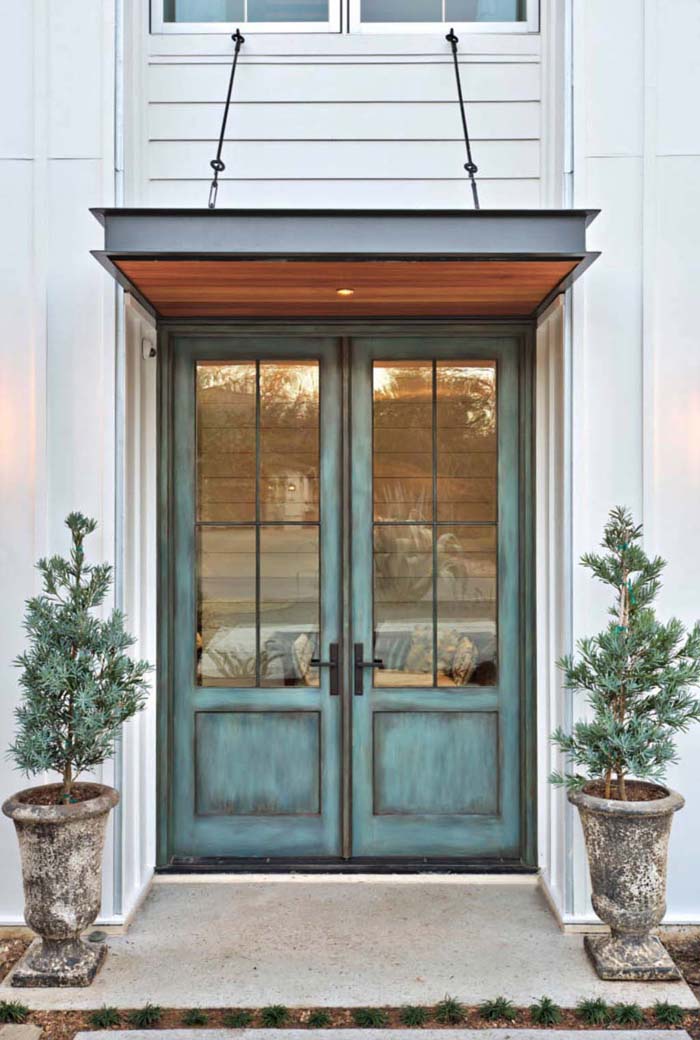 The same aging technique has been applied to this wooden front door.
This time, the authentical effect has been achieved by applying a coat of dark stain prior to the whitewashing with green.
Thus the dark shades can be seen on the edges which creates a weathered look and gives the door an evergreen look.
via OneKinddesign
33. Southern Country Home Styled Front Door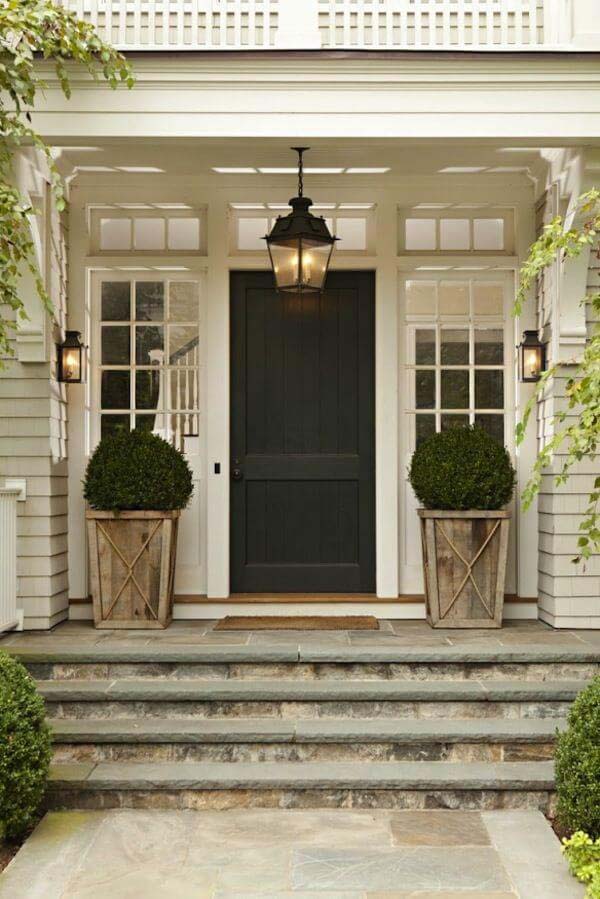 The charm of this door has been outlined with vintage light fixtures and large wooden planters.
The dark color of this modern farmhouse porch has become the means to make it more personalized and appealing.
via Lee Ann Thornton
34. Varnished Rustic Black Front Door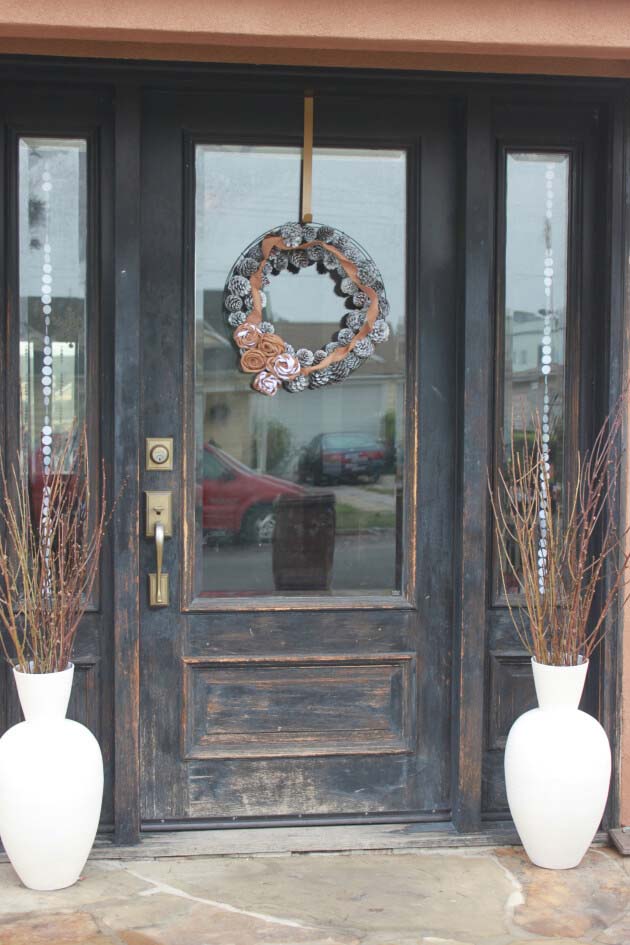 The finish of this door creates the feeling for an antique that has been there to welcome the family and guests for ages. This weathered look can be achieved in two ways but for the first one, you need to wait longer.
The second way is to stain the wood randomly in order to leave sections unpainted. Then give them additional sanding to create the signs of usage.
35. Wooden Front Door With Christmas Trees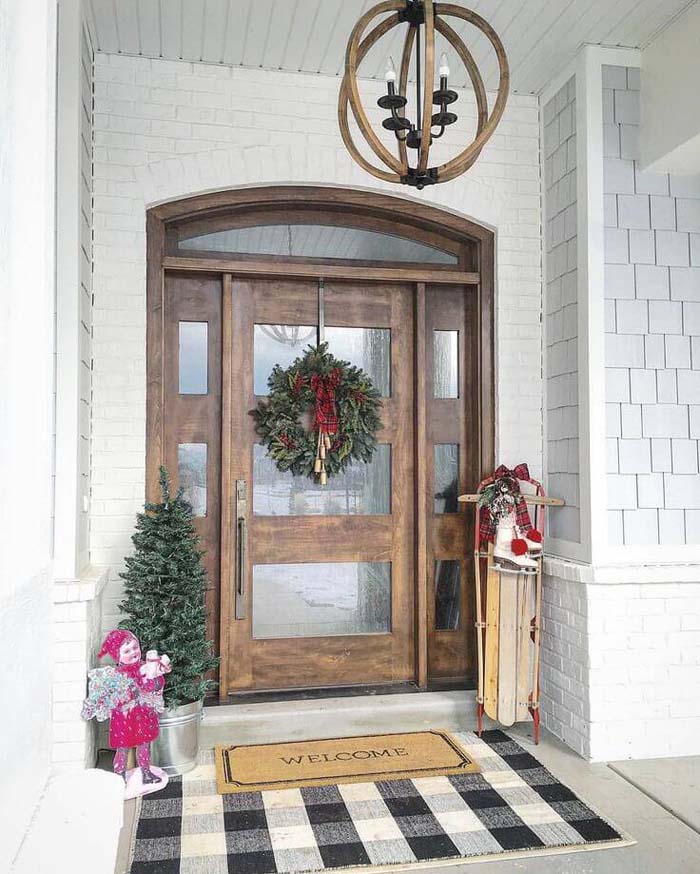 A well-designed farmhouse front door should be aesthetic and practical. The design of this one ensures that by including glass panels on the door and the case.
They will let the light come in and will create an airier look of the porch. Thanks to their matte finish on the inside, they will keep the privacy of the indoors.
via Millhaven Homes