Both the front porch and the patio are special places from our homes, especially in summer.
What makes them particularly important is that they are basically the first thing your guest see, so they should be treated with the same attention as the internal part of our homes.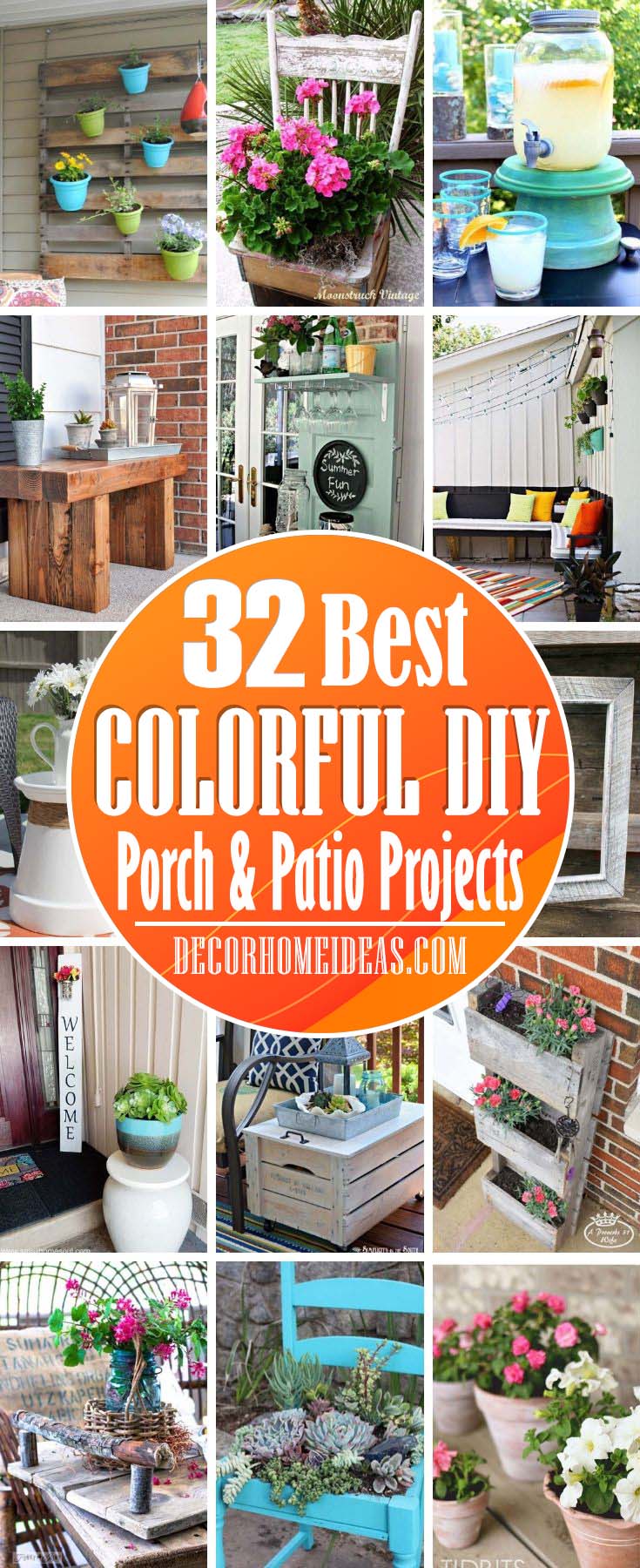 Each of the projects below will help you brighten your mood every time you have your coffee at the porch as it would have left a colorful scratch in the otherwise ordinary picture.
1. All You Need Are Stumps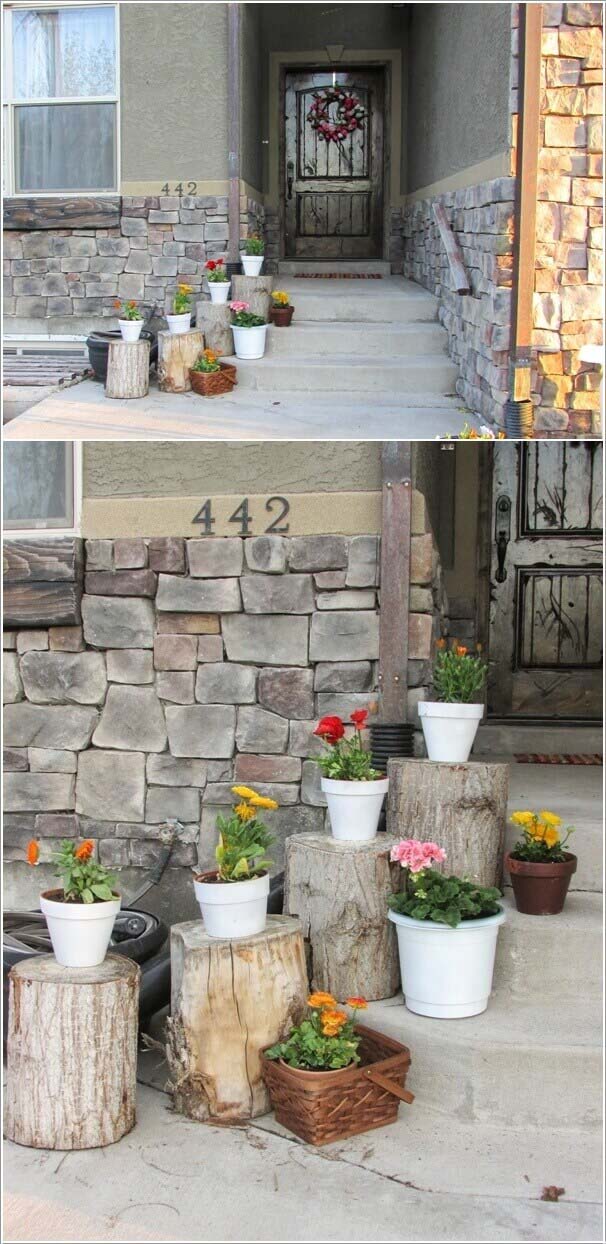 Make the neutral porch noticeable by decorating it with white flower pots, standing on logs.
via A Lively Hope
2. Barn Wood Terrarium Garden Lanterns

Another simple but effective idea is to place large lanterns on both sides of the porch or next to each other.
If you use LED instead of flame candles, you would be able to leave them to spread light all night long.
via 100 Things 2 Do
3. Beginner-Friendly Pallet Wood Trough Planter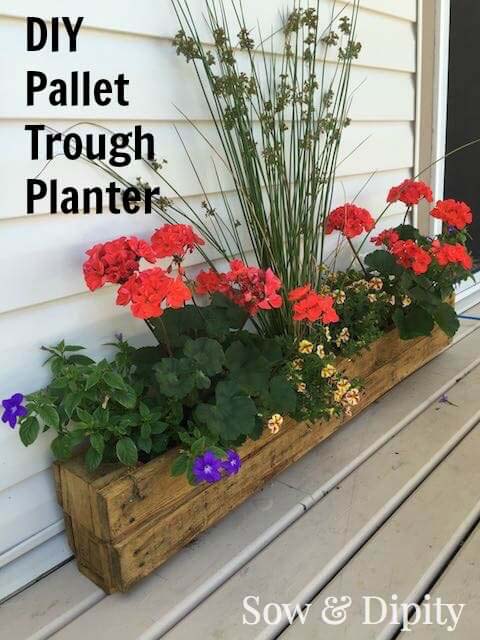 Choosing flowers as decoration is always the best choice!
Make a beginner's level pallet planter that is perfect for pushing up against a patio wall.
via Sow and Dipity
4. Branch Handled Barn Wood Serving Tray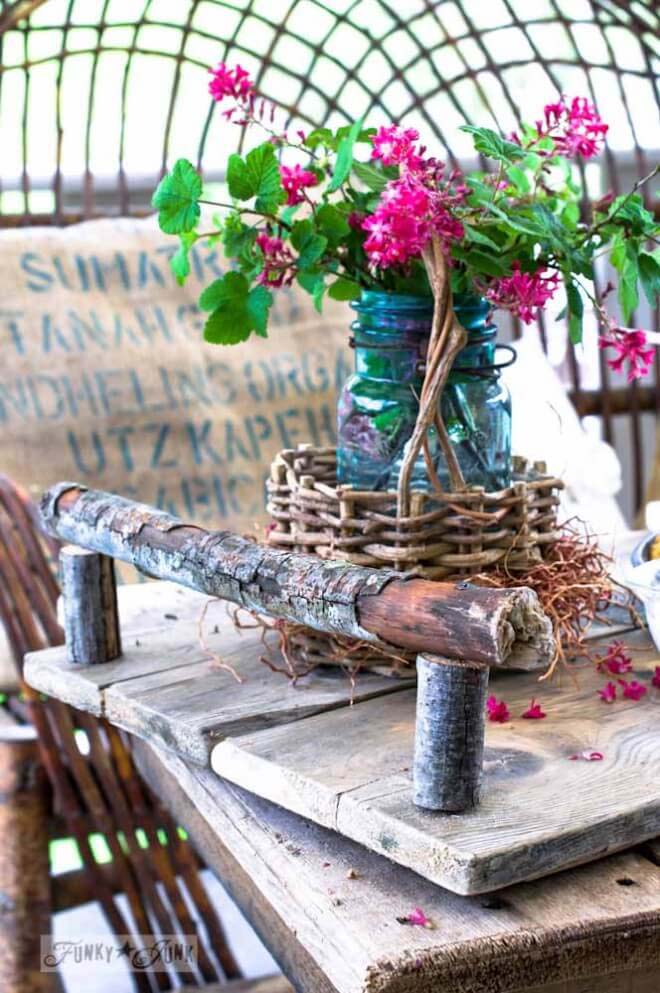 Using natural materials to create something from the modern world always fascinates with the final result as it is with this serving tray with branches.
It is perfect for dining outdoors on the porch!
5. Brilliant Solar Bistro Lamp Idea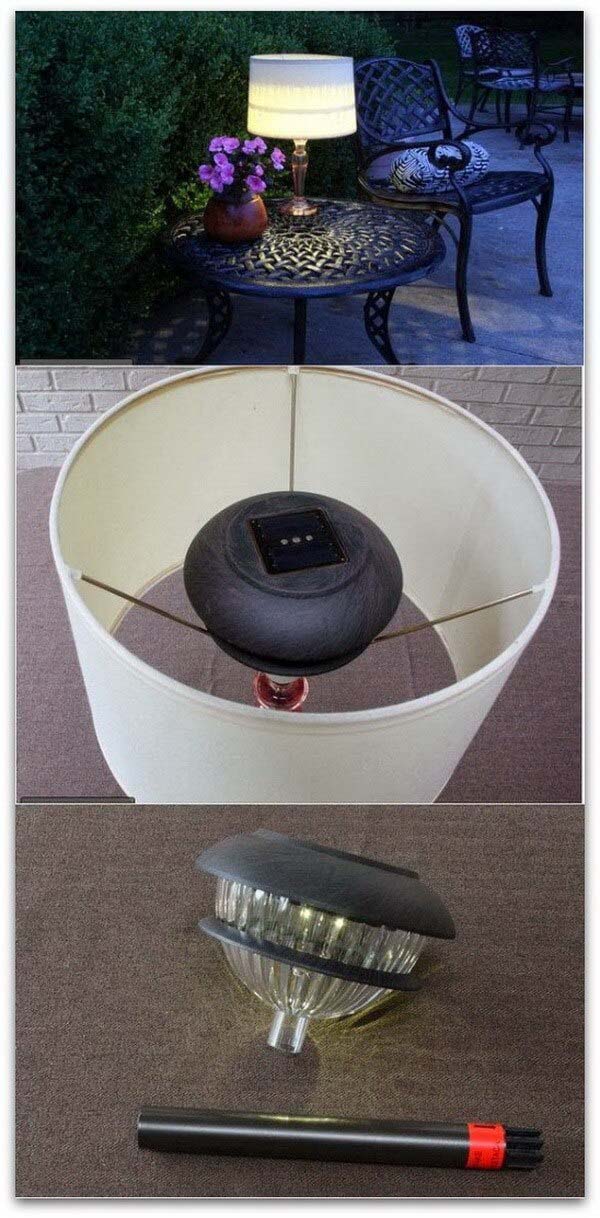 If you enjoy spending time on your patio during nights, you would rather like to have soft light that will not reveal too much but be just enough for you to have dinner or a quick drink.
This solar-powered outdoor lamp is the perfect light source for the quiet summer nights out.
via Houzz
6. Build Your Own Perfect Corner Bench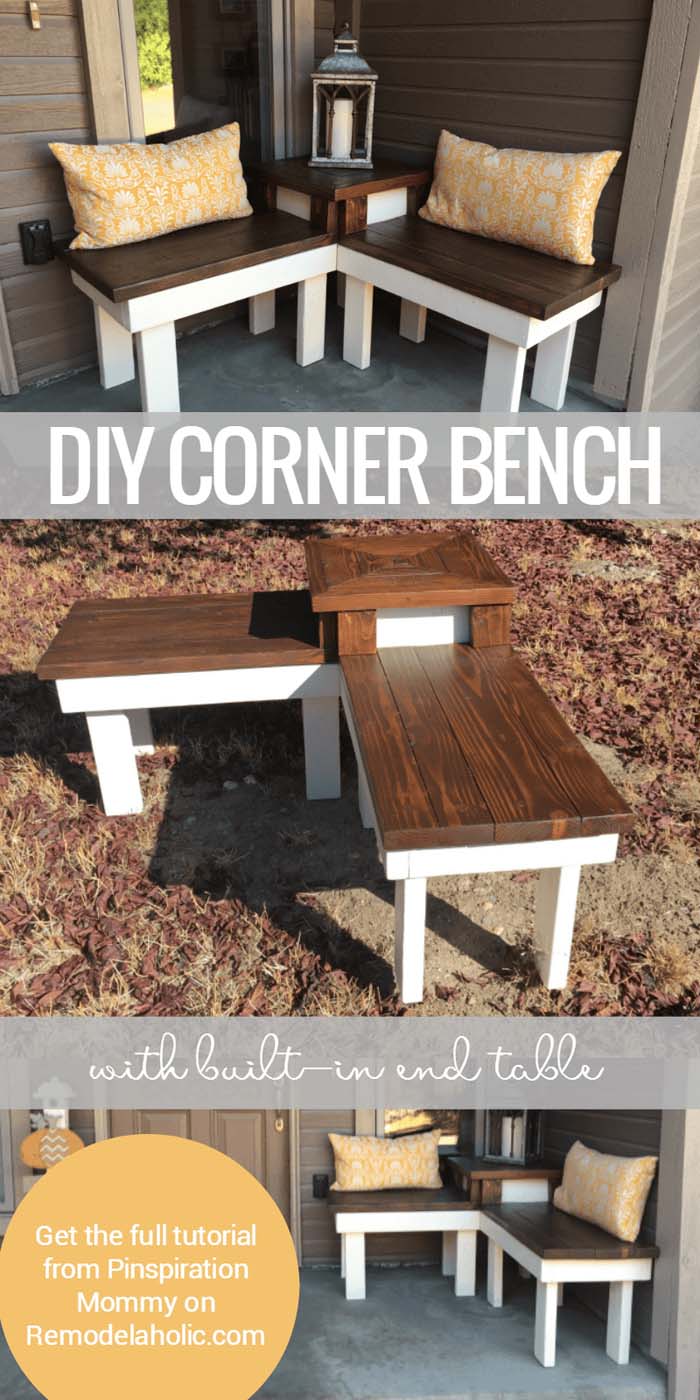 Make a sitting area for your porch or patio with a table to display seasonal decorations within a few easy steps.
This bench is very practical as it utilizes the corner patio area and is both fantastic and functional.
via Pinspired To DIY
7. Create a Fire Bowl from Anything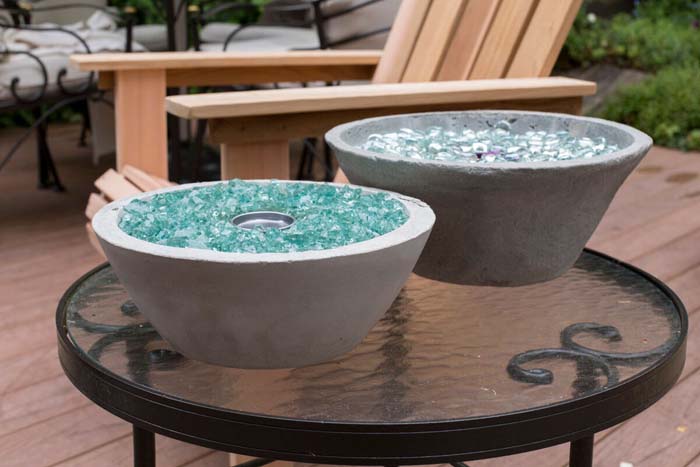 Wanna impress with decoration? This mini fire pit will impress your guests with its look and flame effect.
Luckily, the fuel to run the fire pit can be substituted with hand sanitizer.
via Dunn Lumber
8. DIY Porch and Patio Decor Ideas with Flowerpots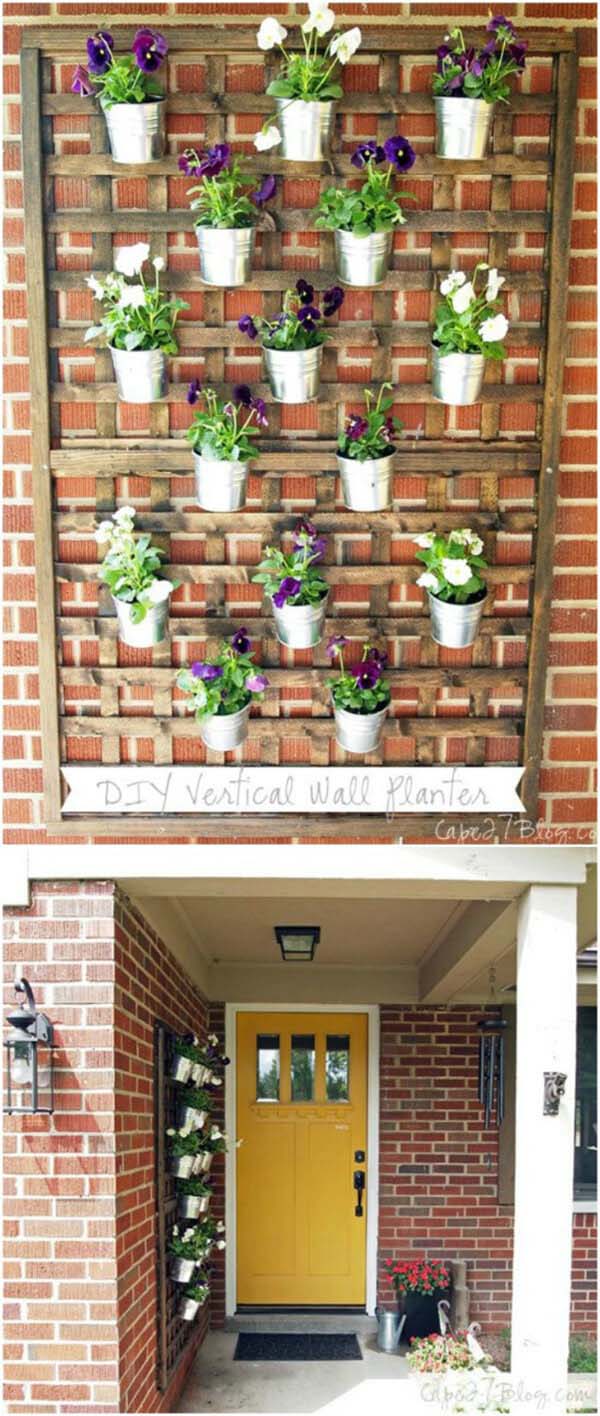 A vertical stand with many flowers is perfect seasonal decoration for the patio.
A large wooden frame with longitudinal and transverse slats as if woven will actually provide support for buckets with flowers.
9. DIY Porch and Patio Decor Ideas with Lights

String lights are among the most romantic outdoor light options for patio or backyard.
They will match any decoration on the patio because of their casual design.
via Home Depot
10. Easy 3-Plank Hanging Herb Garden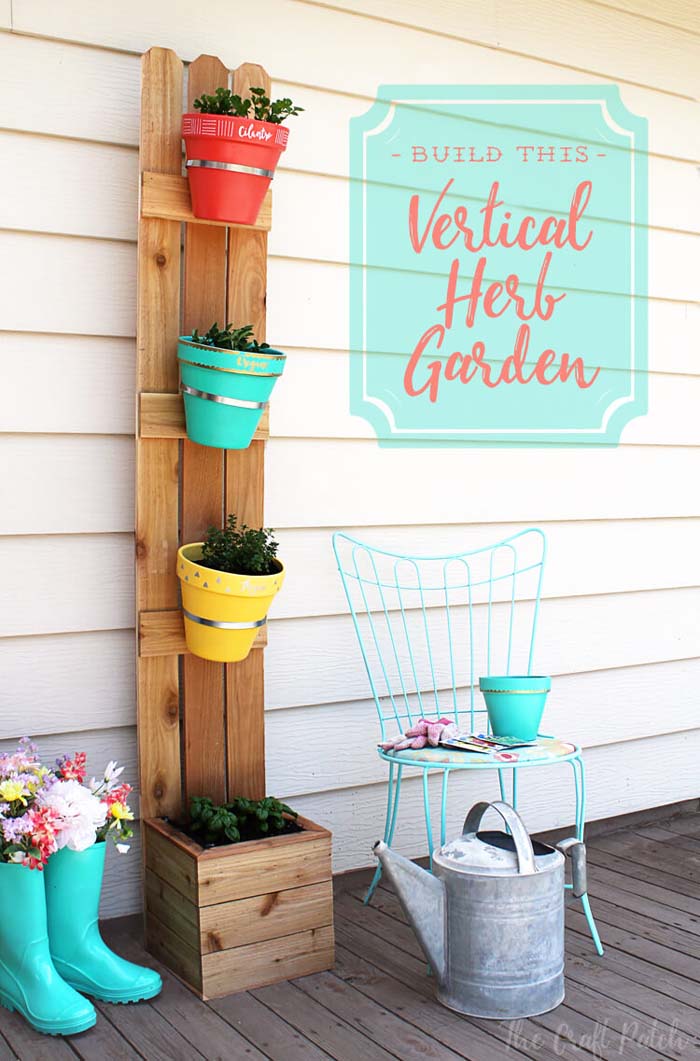 Add height to your porch decor with this sunny vertical herb or flower garden.
You can customize its size and the colors of the pots so that they fit well on your porch and match your taste.
via The Craft Patch
11. From Big Pot to Sweet Little Table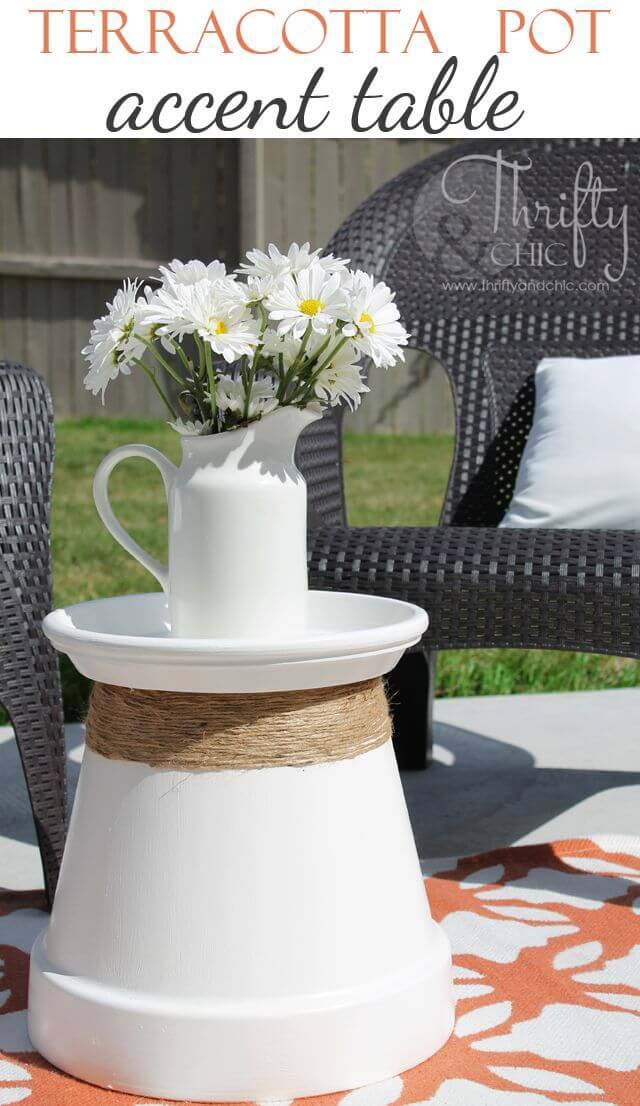 The simplest project ever that will suit any porch. Paint a large pot in the desired color, turn it upside down so that the pot dish becomes a small table.
Decorate with your favorite vase with flowers.
via Thrifty and Chic
12. Give a Succulent Garden Its Own Seat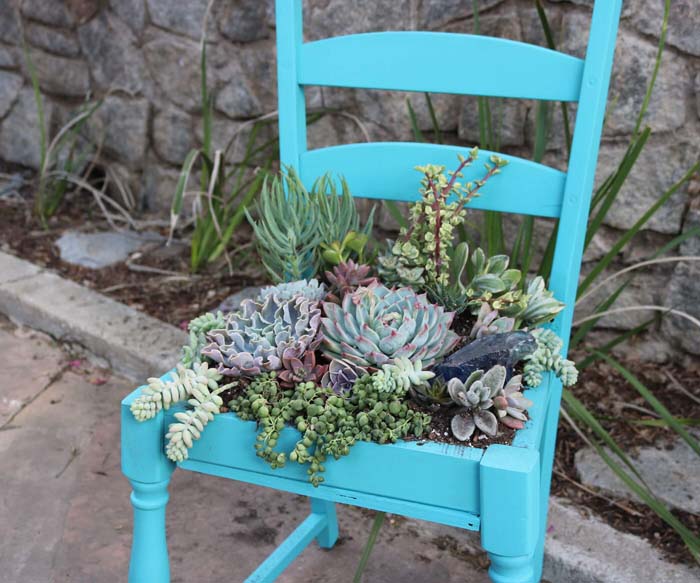 An old chair has been upcycled and transformed into a succulent planter.
Painting it in a sparkling color will make a beautiful contrast with your porch.
via Instructables
13. Highlight a Pot with a Distressed Frame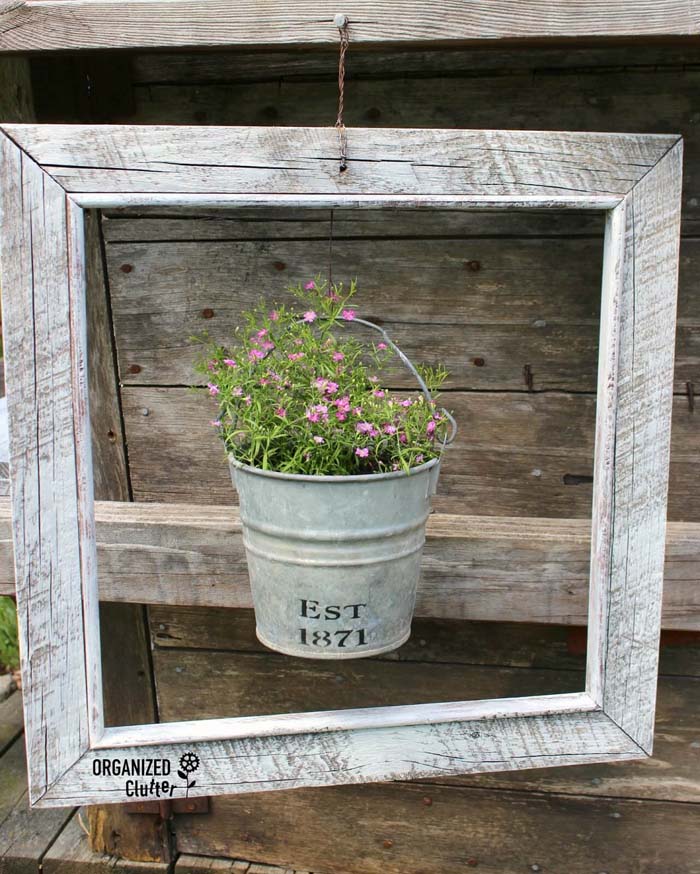 Paintings are a beautiful finish to the house interior. However, they cannot be exposed outdoors as they will not resist the ambient conditions.
Instead, you can frame an alive plant with rich tufts and hang it on your patio wall.
14. How to Distress New Terra Cotta Pots

A project that will take only a few minutes but will add beauty to your patio.
Whitewash regular terra cotta pots and arrange them in a group on a small table or your porch fence.
via Tidbits Cami
15. Instant Ambiance with Floating Patio Curtains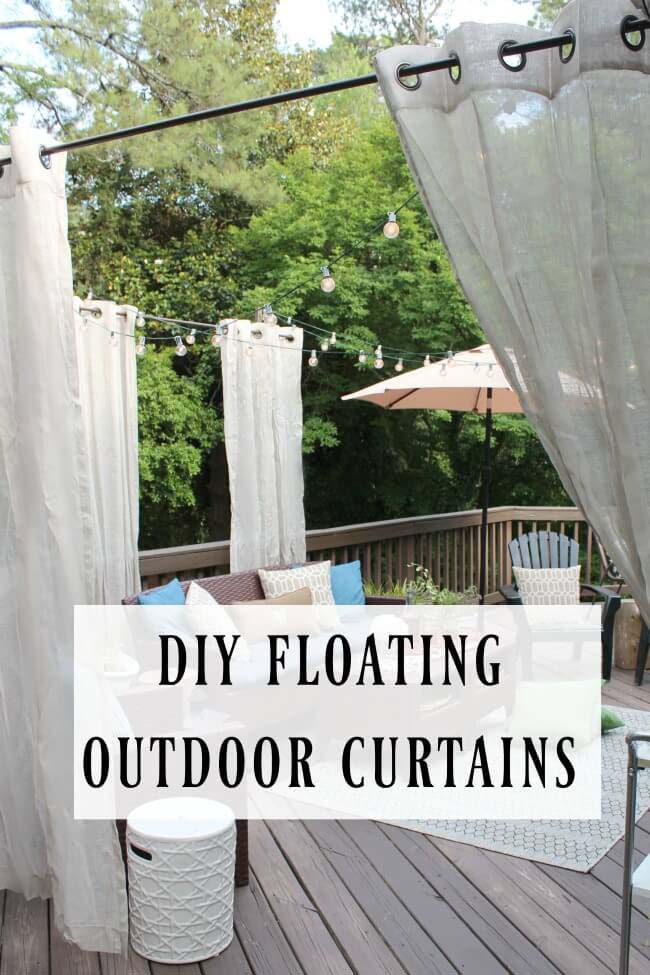 Bring new life to your porch by hanging outdoor curtains on the rod.
They will provide some privacy and will make the ambiance of the place more nautical.
16. Ladder Style Distressed Wood Planter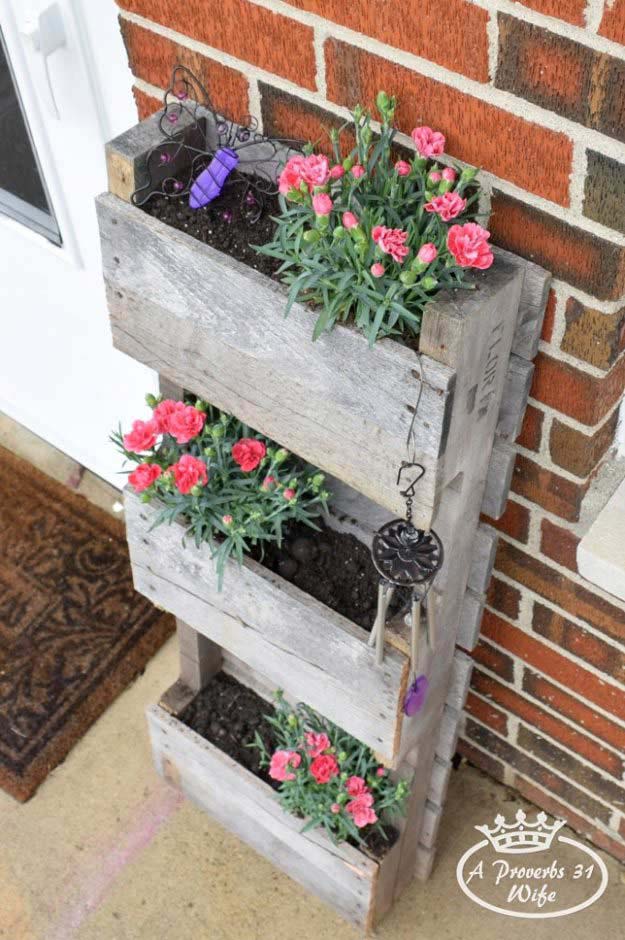 When it comes to patio decoration, before visiting the nearest shop, you can always try to find leftovers in your garage that can be upcycled and turned into functional and beautiful furniture or flower stand.
An old pallet can make two of these beautiful vertical planters.
17. Make Your Own Living House Number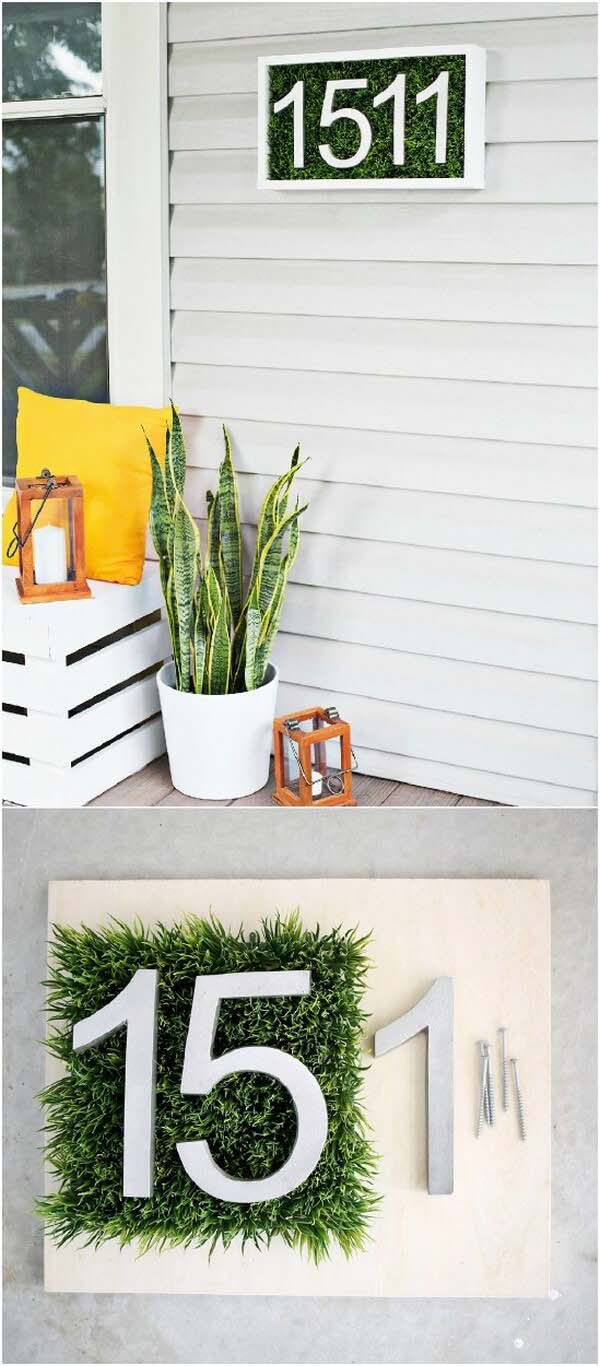 The key to sophisticated decoration is paying attention to the details.
Do you have a plate with your house number? It is now time to add personality to this fun DIY project.
via A Beautiful Mess
18. Mod Wire Side Table Project

If you purchase such a side table with wire legs from the shop, it will cost appr. $150.
Instead make one yourself to give height to your flower pots.
19. Monogram Wall Planter Picture Tutorial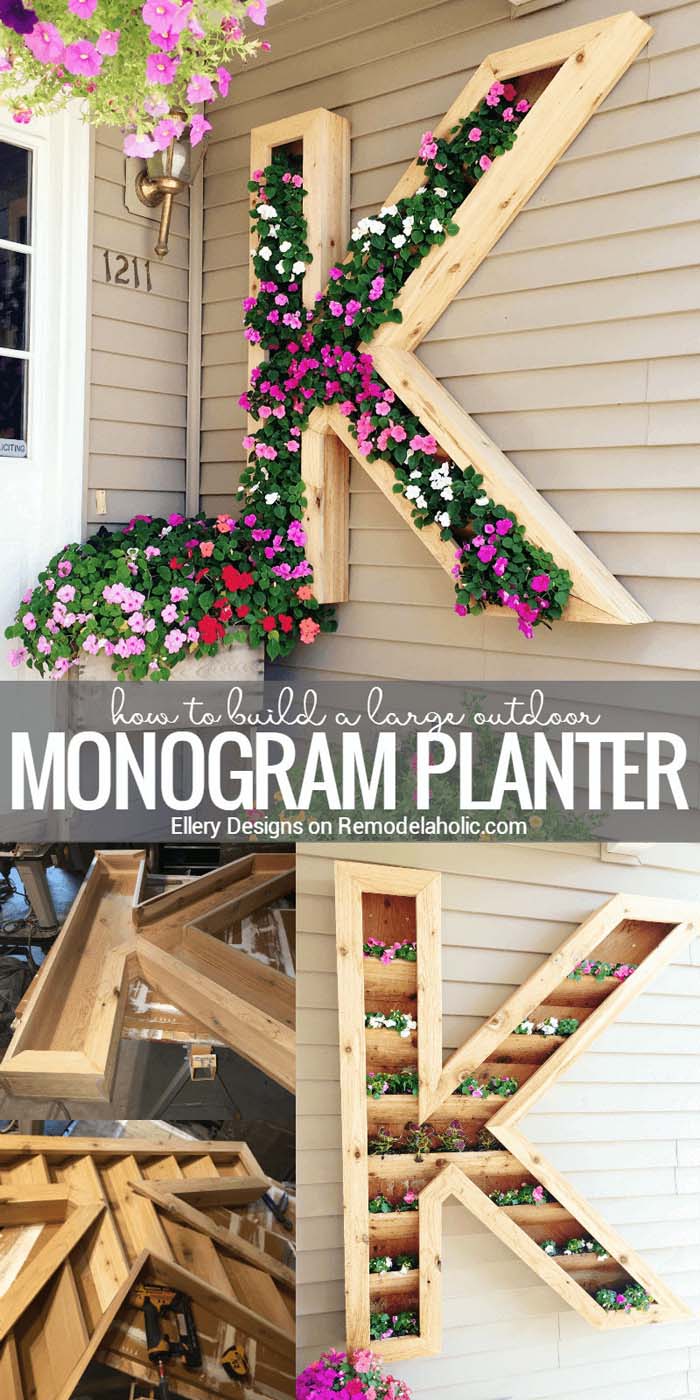 This monogrammed planter is a great porch project as it can be used throughout all seasons.
Blooming flowers, succulents, small pumpkins, pines can easily turn the big letter into seasonal decoration.
via Ellerry Design
20. One-Picture Plans for a Pallet Couch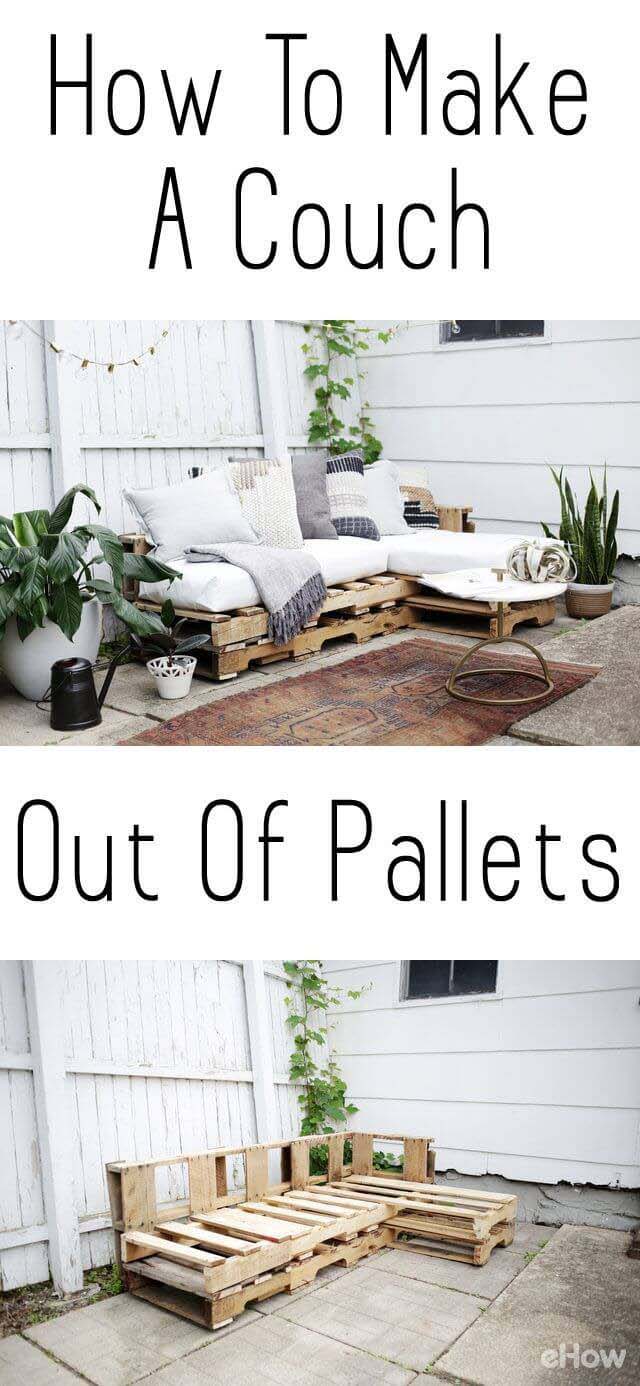 Four pallets and suitable cushions make a comfortable sofa that will urge you to spend nights at your porch.
It is easy to be made and can be customized depending on your porch size.
via Hunker
21. Outdoor Elegance with Chandelier Plant Display

The hardest to decorate part of the patio is its roof. We have an idea for you – hang an old chandelier with flower pots.
The elegant effect is guaranteed.
via DIY Showoff
22. Porch Pallet and Pots Wall Art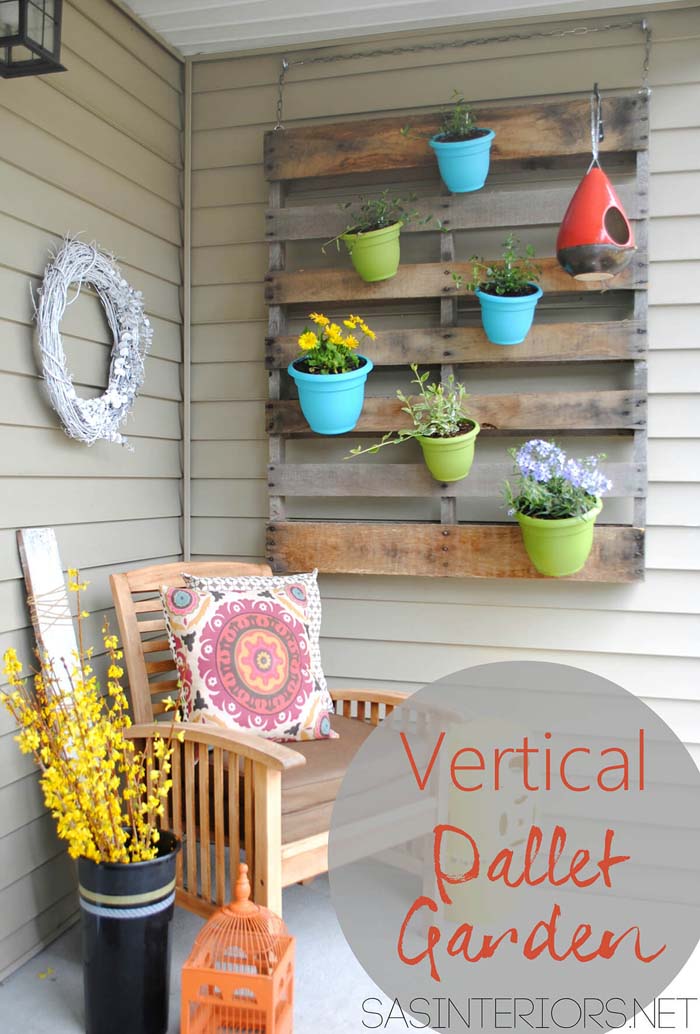 If your porch needs more colors, bring a rainbow of colors with a DIY vertical pallet garden.
As simple as this project is, it will make any porch more colorful.
via Jenna Burger
23. Pot Pedestal and Mason Jar Lemonade Dispenser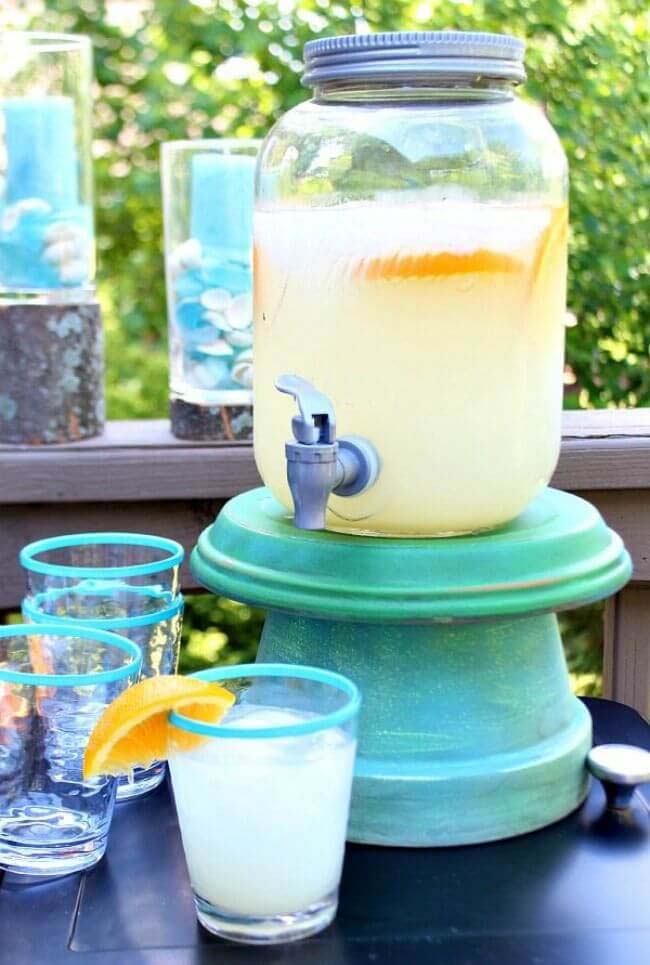 Along with the intended application of the terra cotta pots, you can use them in other non-standard ways.
For a side table or for beverage stands. What makes them that universal is that their surface can easily be decorated to suit the porch decoration.
via Refresh Restyle
24. Rolling Upcycled Wood Crate Accent Table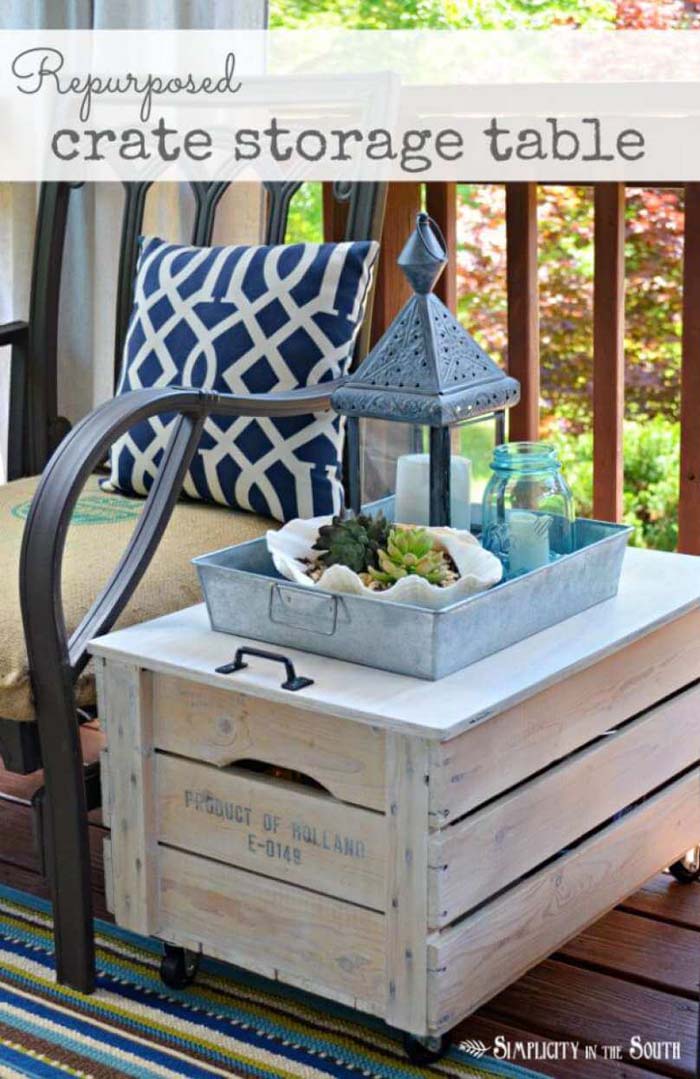 Do you need a storage box for your patio that will match the rest of the exterior?
This mobile storage table is both functional and beautiful.
25. Rustic Hardwood Outdoor Potting Table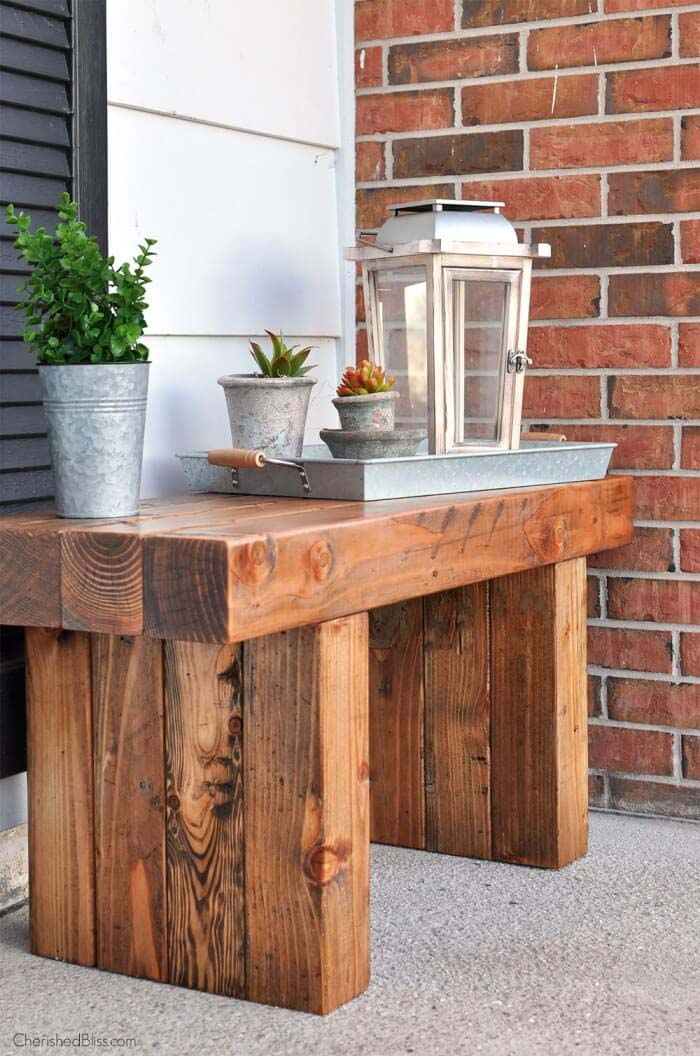 A small rustic table will look fantastic on the patio. It can be used for sitting, flower stand or side table.
via Cherished Bliss
26. Shabby Chic Chair Flower Planter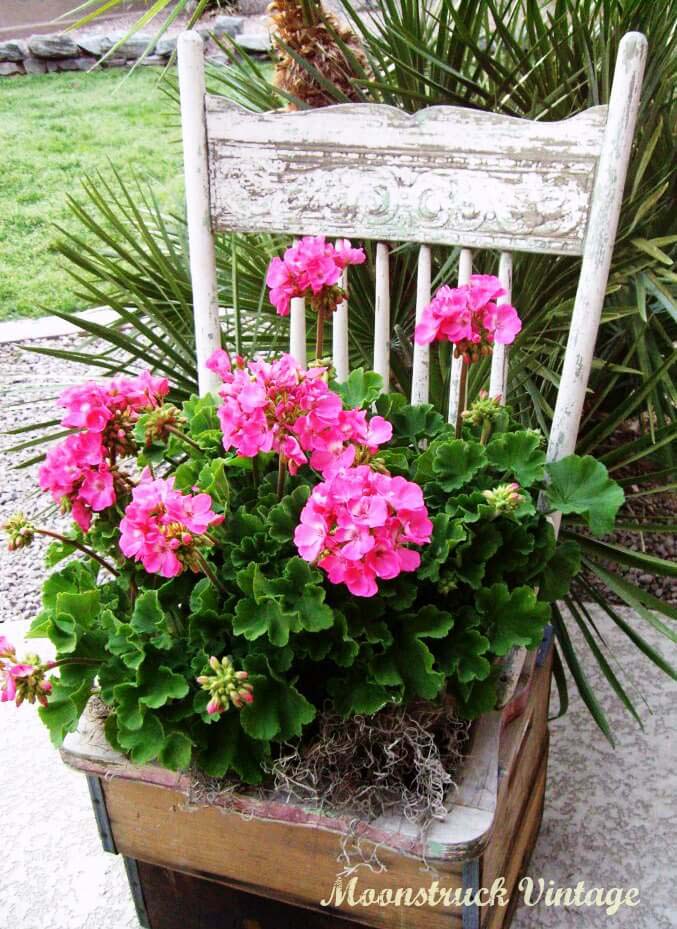 This is another suggestion of flower types that will look beautiful when planted in an old chair.
The chair has been distressed for a more vintage look.
27. Stencil Your Own Wooden Signs

If you want to add more personality to your porch, hang a homemade sign that means a lot to you.
Follow the instructions below to create a hand-painted wood sign.
via Christina Maria
28. Summer Fun Outdoor Wine Bar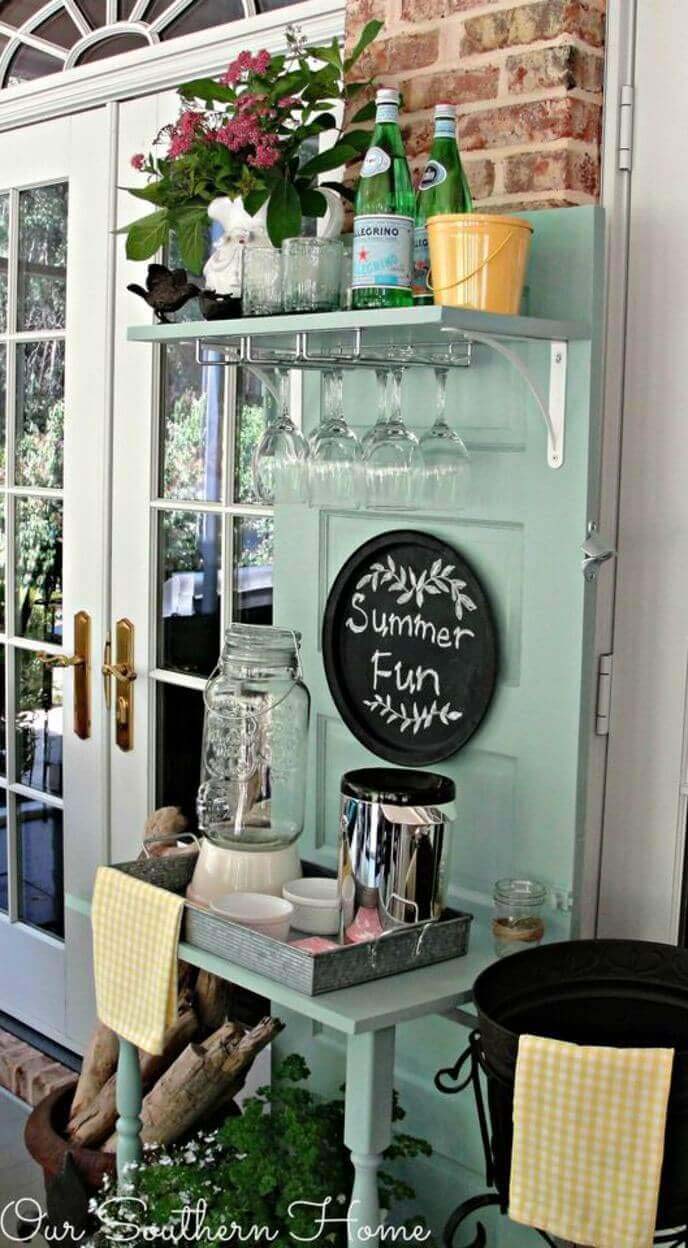 One of the greatest possible upgrades to any patio! Add a beverage station for the hottest days!
It is entirely made of upcycled materials and is so gorgeous.
29. The Prettiest Way to Repurpose Gutters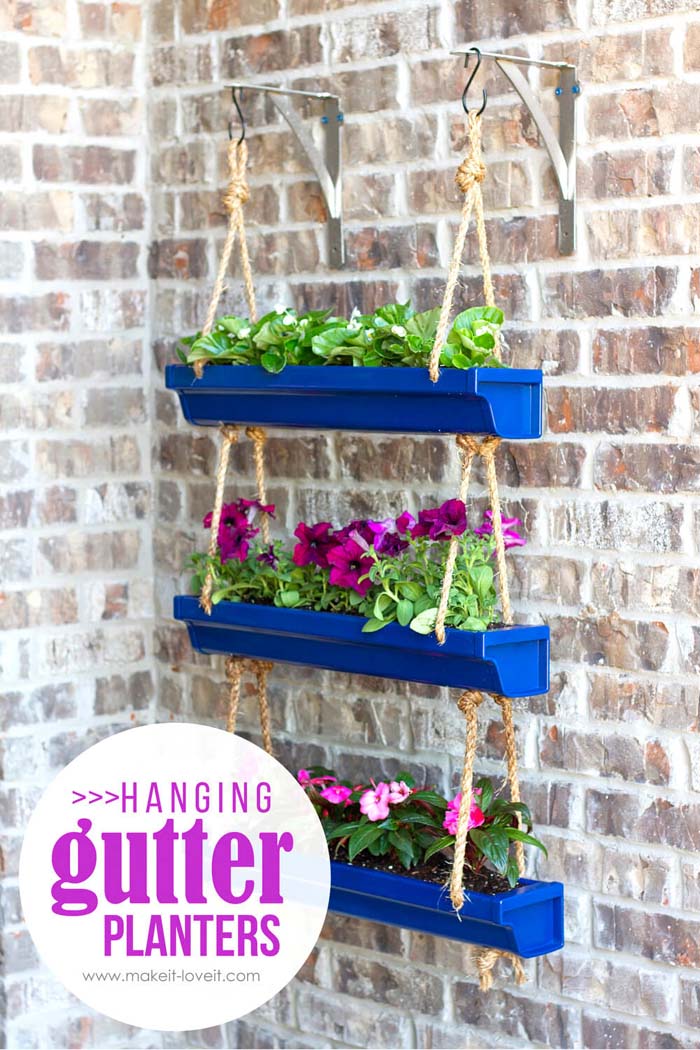 Vinyl gutters have been cut at the desired size and then hung with rope on the porch wall.
This hanging planter can display any flowers you love.
via Make It Love It
30. Vertical Posy Accented Porch Welcome Sign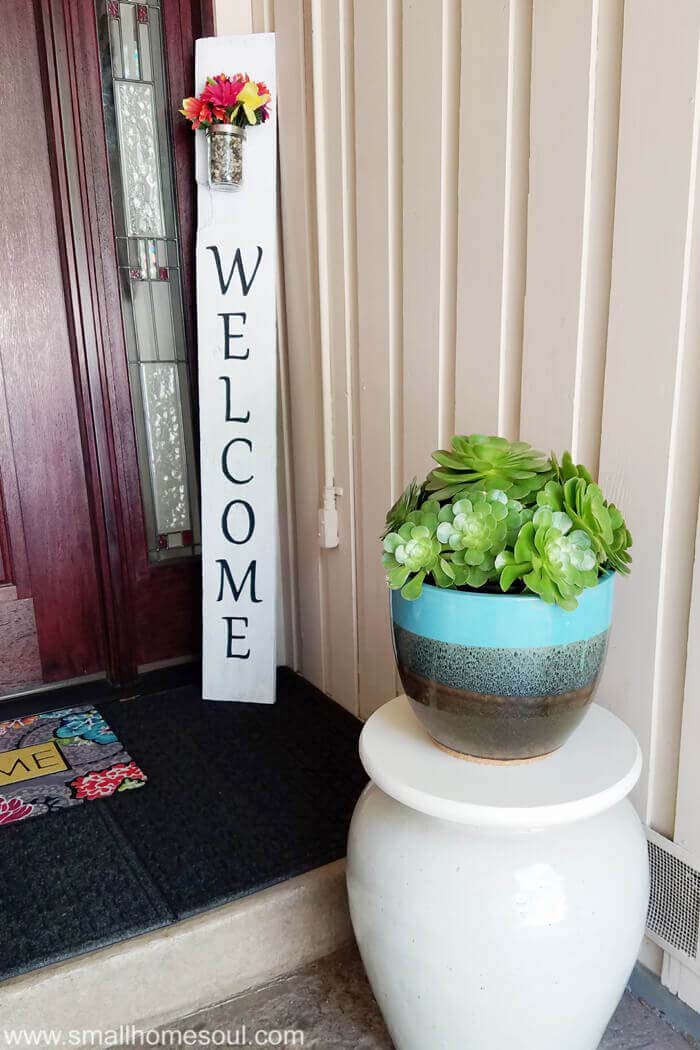 A personalized way to do a makeover to your front porch is to add a welcome sign for all your guests.
Add a nice touch to the sign by securing a mason jar at its top or bottom. Fill it with pebbles, gems and put seasonal or faux flowers.
via Girl Just DIY
31. Wall of Pots and Curtain of Lights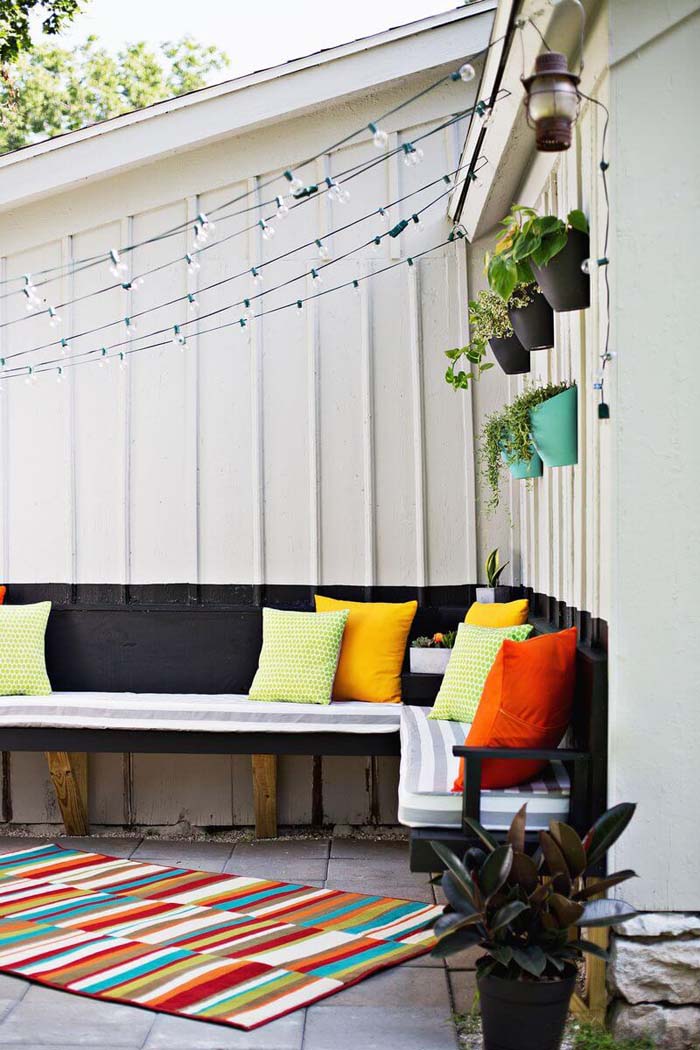 Stretch a few lines of string outdoor lights above your patio furniture.
This curtain-like lighting will look interesting in the daytime and will make the ambiance of the patio very romantic during night.
via A Beautiful Mess