Have you ever wondered what to do with the five gallon buckets that are lurking around your garage?
These big buckets are so spacious and sturdy that it's a shame to throw them away.
No need to head to the recycling center — these genius projects can help you repurpose five-gallon buckets in ways that are useful, beautiful or both.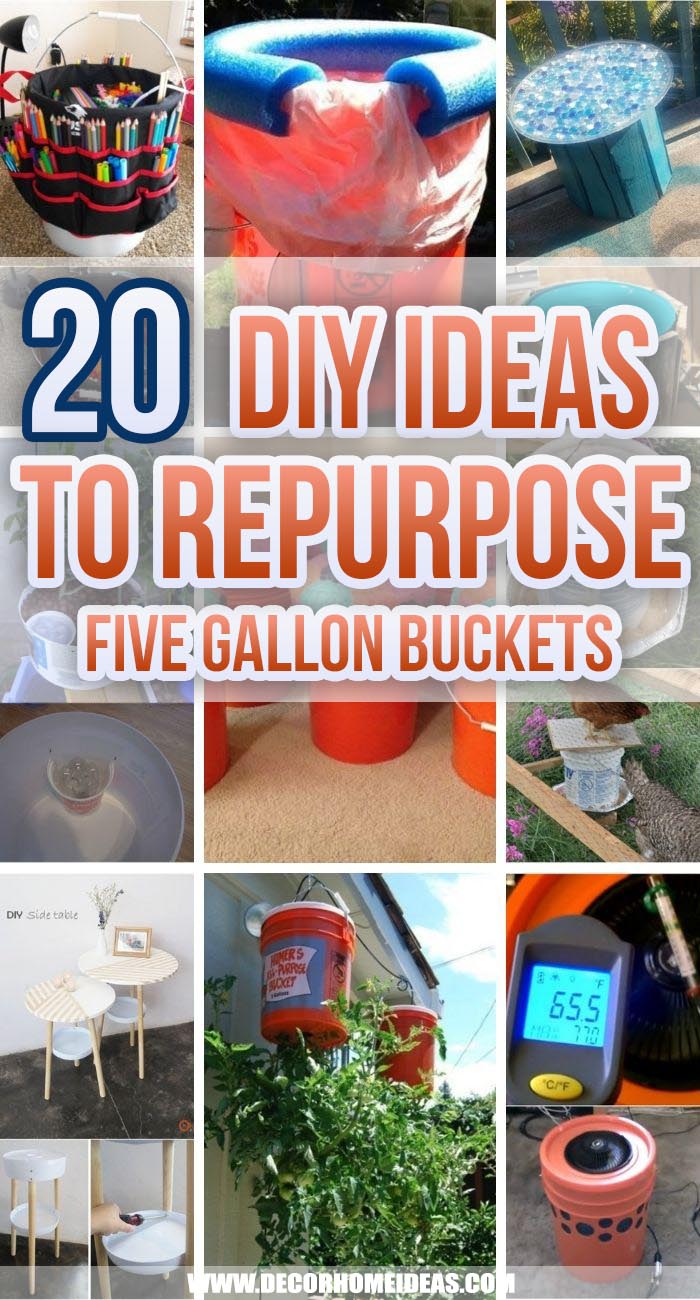 1. Create An Aquaponic Ecosystem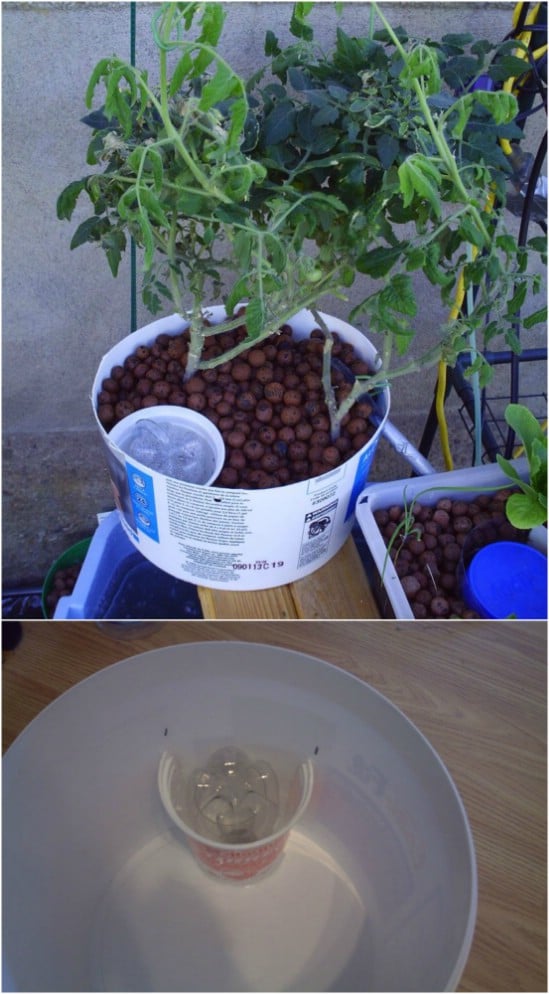 If you've been thinking about getting into aquaponics, don't race out to buy an expensive system — you can build your own with a couple of five-gallon buckets and a few containers from around the house.
The water from the plants filters down to the fish, who provide nutrients to the water via their excrement.
This fortified water is pumped back up to the plants.
via Instructables
2. Composting Tea Bucket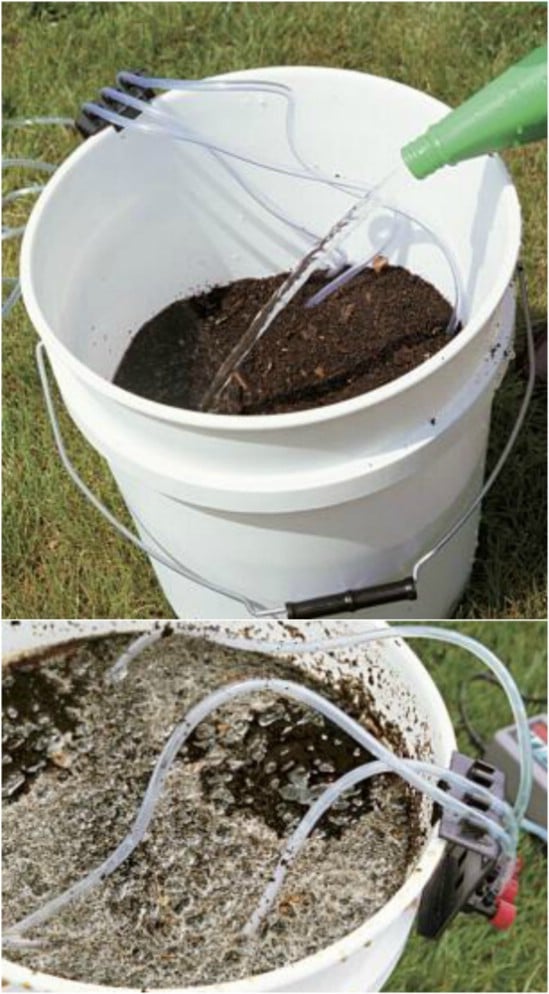 Compost is a well-known way to fertilize your garden and minimize household waste.
Turn that compost into easy to spread "compost tea" with the help of a five-gallon bucket.
The sturdy plastic walls keep the compost and the water inside safely, whether you're brewing outdoors or in the garage.
via Fine Gardening
3. Easy DIY Bucket Stools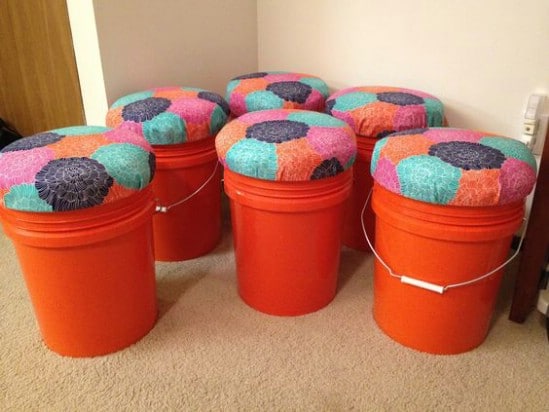 Do you ever wish you had extra seating for parties and kids' gatherings?
Add padding and simple fabric upholstery to the lid of the bucket, secure it to the top rim, and you have an adorable extra seat that's easy to store.
For best results, choose a fabric that complements the bucket color.
via Pinterest
4. Protect Your Plants With Bucket Covers
Keep rabbits and other pests away from your plants by turning a five-gallon bucket into a simple protector.
Using a handy oscillating tool, cut out large panels from the bucket and cover it with a mesh bag.
Set it over the plant to keep out the critters, all while allowing sunlight and water to nourish the leaves.
5. Upcycled Outdoor Table Base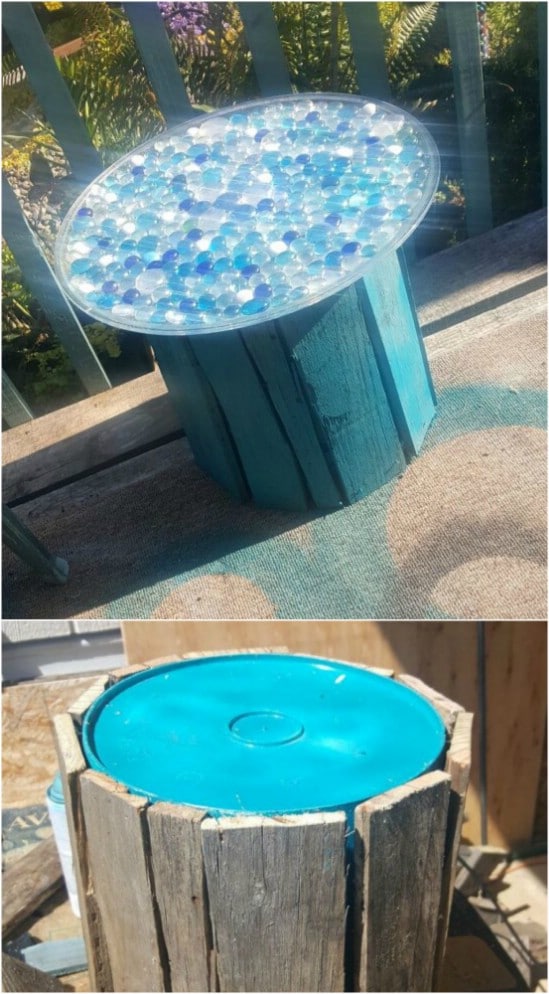 To look at this adorable table, you'd never guess it's built around a five-gallon bucket. The trick?
Cover the sides with planks of reclaimed wood and add a coat of paint before attaching the top.
Your table will look like it came straight from a shabby chic boutique.
6. Organize Your Bag Collection
Corral all of the plastic bags you get at the grocery store with this clever bucket dispenser.
Load them in through a hole in the top; whenever you need a bag, simply pull it out through the lower opening.
The bucket holds plenty of bags, and the plastic sides keep out water and dirt.
7. Bucket And Pool Noodle Outdoor Toilet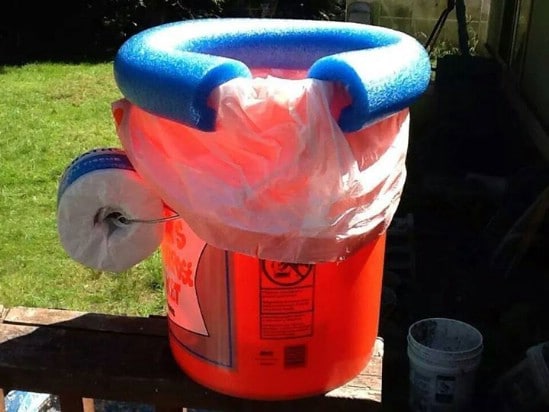 It's never fun to use the bathroom in the great outdoors, especially when you have to pack out waste.
This DIY camping toilet solves all of the problems — we love how the pool noodle keeps the bag in place and doubles as a seat.
Add a roll of toilet paper to the bucket handle, and you're ready to get outdoors.
8. Reduce Water Dependence By Harvesting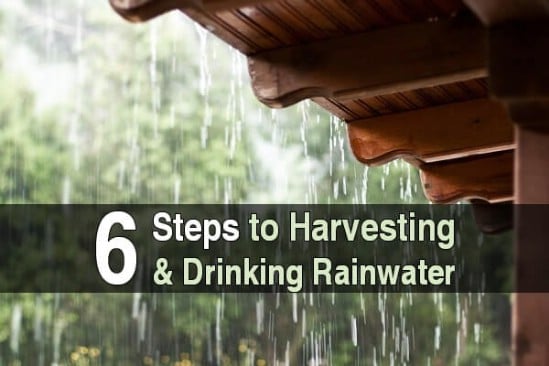 Reduce your dependence on city water by harvesting rainwater in a five-gallon bucket.
Use what you collect to water your garden or flush your toilet.
Depending on your local laws, you might even get a tax credit for this sustainable system.
9. Cool Your Space With A DIY Bucket Cooler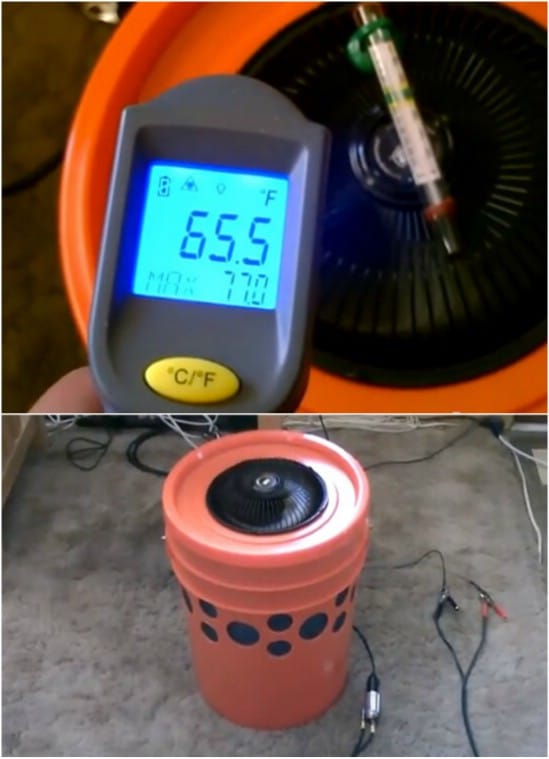 There's no need for an expensive air-conditioning system when you have a five-gallon bucket on hand.
This creative project uses a fan, a pump, and a few other inexpensive items to harness the cooling power of water.
Connect a solar panel, and you can even cool your RV or tent on a camping trip.
via Survival Life
10. Outdoor Camping Stove DIY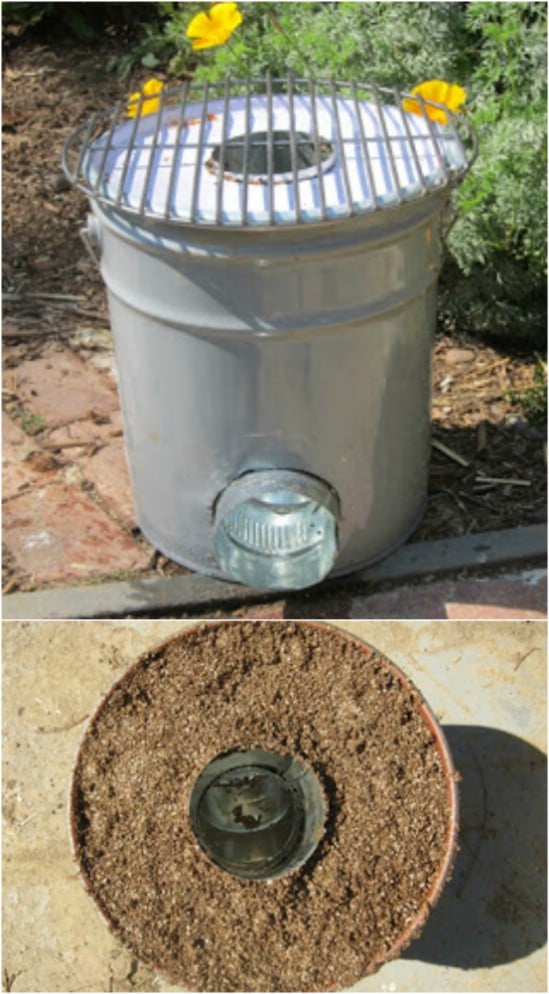 Do you have a metal five-gallon bucket on hand?
Turn it into a rocket stove that's small, portable, and perfect for outdoor cooking.
Since the flame is contained inside the bucket, this clever little stove reduces waste and eliminates messes.
via Root Simple
11. Hanging Bucket Planter For Tomato Plants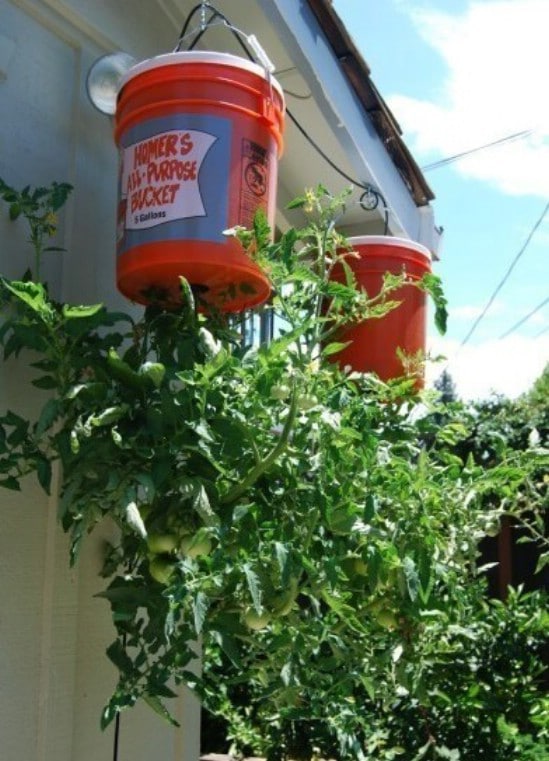 Enjoy a steady crop of fresh tomatoes all summer long with this DIY tomato planter.
The bucket becomes an upside-down planter — hang it from a hook, and your tomato plants will extend all the way to the ground.
When it's time to harvest, the tomatoes are easy to see and even easier to pick.
12. Large Scale Birdhouse Project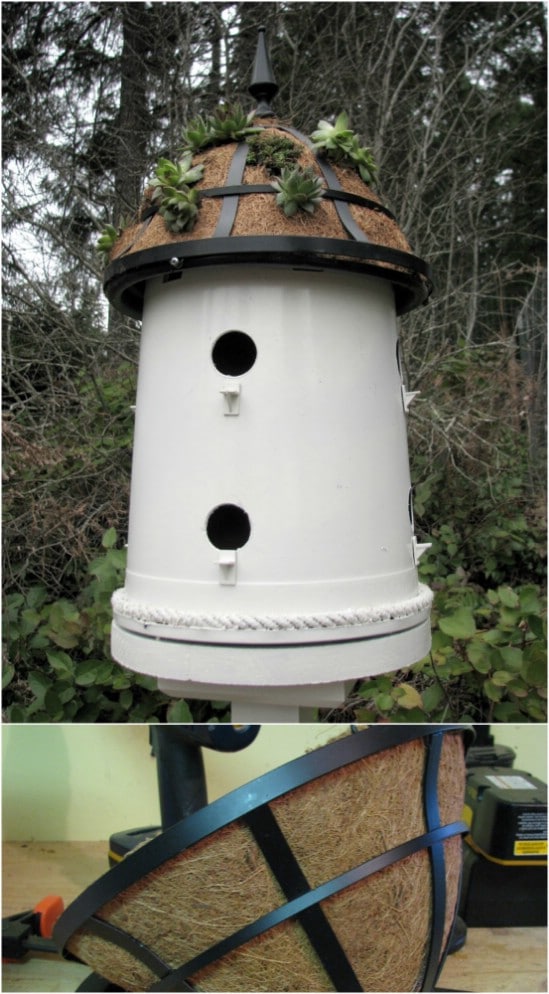 Upgrade your yard and encourage bigger birds to visit with this DIY birdhouse.
The base is a five-gallon bucket, so you'll create plenty of space for a variety of feathered friends.
We love the coco-lined top; add succulents to create a living roof that grows right from the natural fibers.
via Blue Roof Cabin
13. Weighted PVC Pipe Umbrella Stand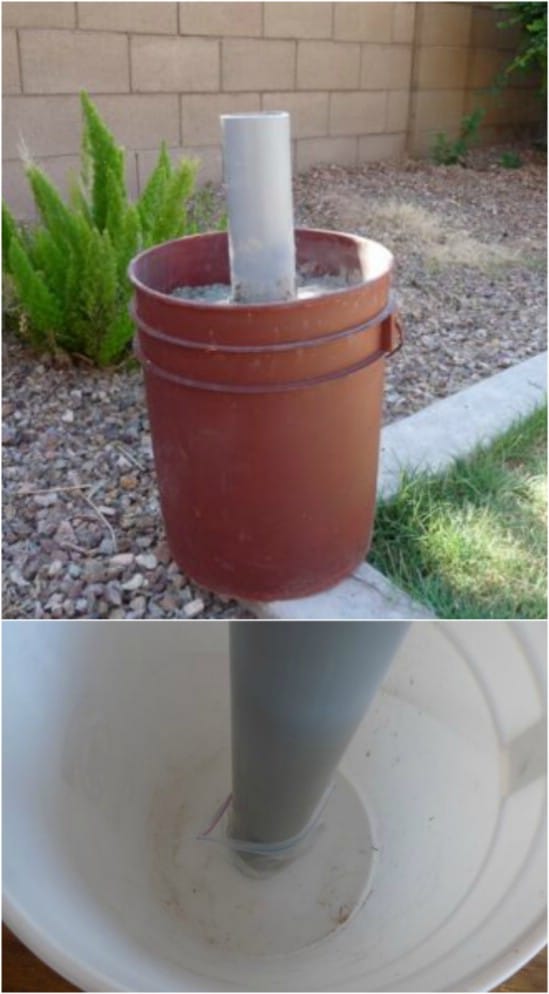 A patio umbrella is a lifesaver on a hot day, but the bases can be extremely expensive.
Save money by making our own out of a five-gallon bucket, cement, and a length of PVC pipe.
When the cement sets, slip your umbrella into the pipe for instant shade.
via Hub Pages
14. DIY Chicken Feed Dispenser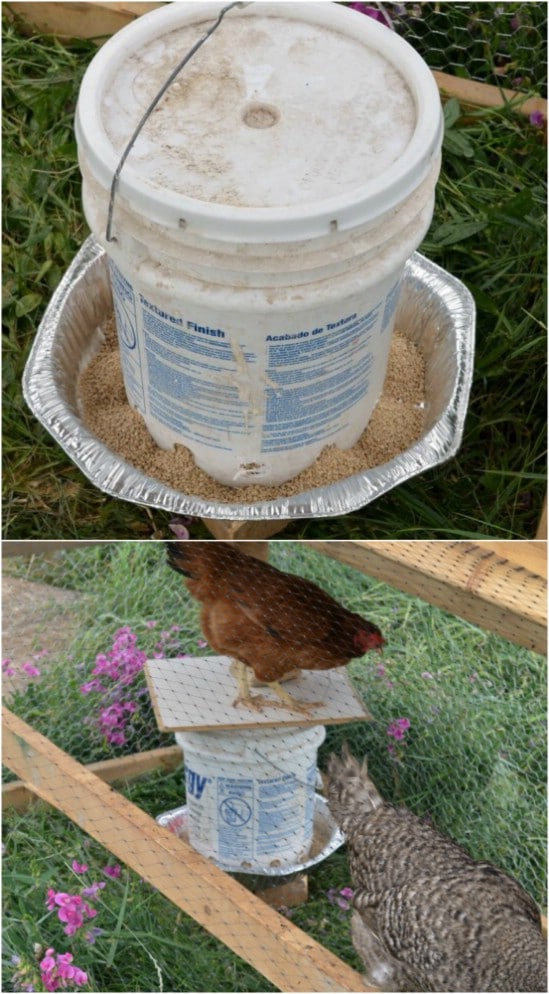 Keep your backyard chickens fed with the help of a bucket feeder.
This project takes less than an hour to make, but it can save you hours of time in the chicken coop.
A large metal roasting pan catches the feed and dispenses the perfect amount to satisfy your brood.
via Bless This Mess
15. Make A Toddler Swing From A Bucket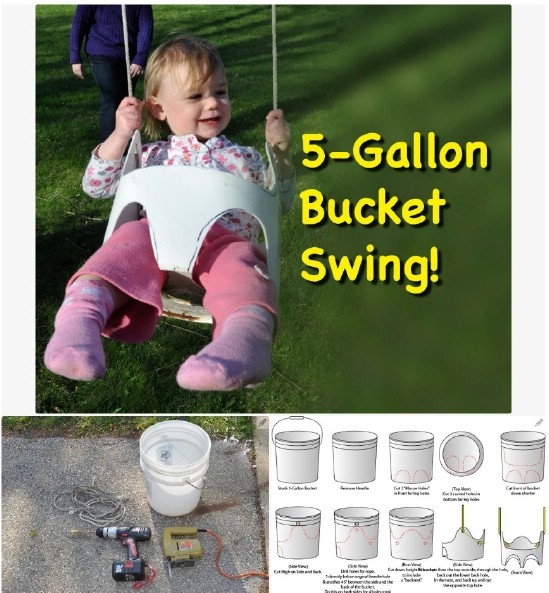 Kids grow quickly, and before you know it, they're too big for your expensive swing set.
Solve that problem by making a child swing out of a five-gallon bucket.
With a few simple cuts, you can turn a cheap bucket into a supportive seat that will delight your little ones.
via Instructables
16. Add A Fabric Organizer For Art Supplies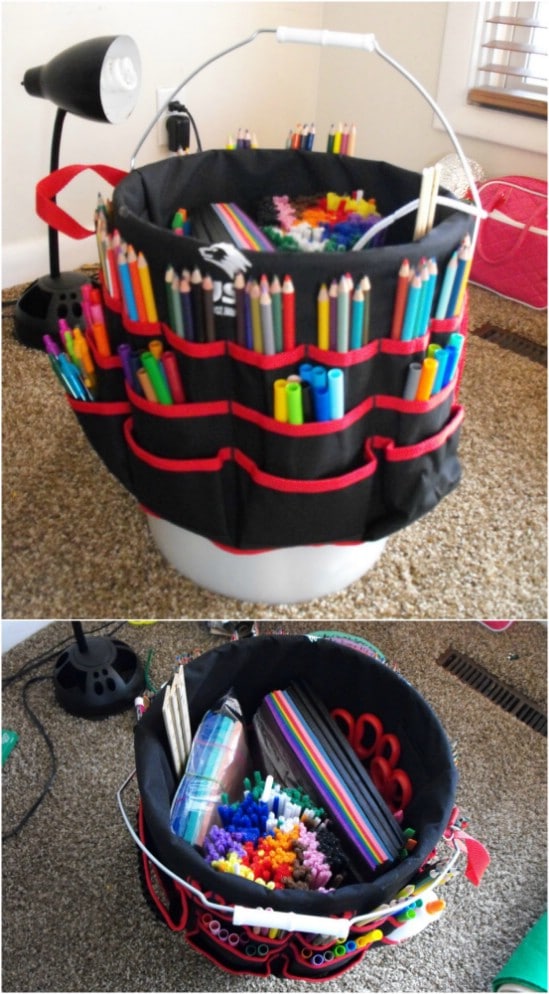 Do you need to bring an order to your art supplies?
All you need is a five-gallon bucket and a DIY fabric organizer.
The individual pockets hold pencils, markers, and paintbrushes, while the interior is the perfect spot for paper, scissors, and bulk supplies.
17. Grow Your Own Rice In A Bucket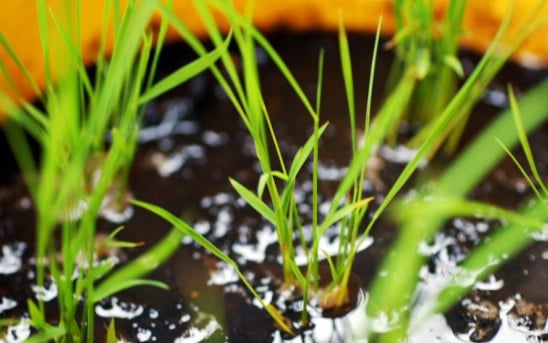 Grow your own crop of fresh, delicious rice in this DIY bucket planter.
Since rice requires lots of water, a durable five-gallon bucket is a perfect solution.
Start your seeds inside, and move them outside when the weather warms up — the handle makes it easy to transport your rice.
via One Green Planet
18. Easy DIY Side Table Shelves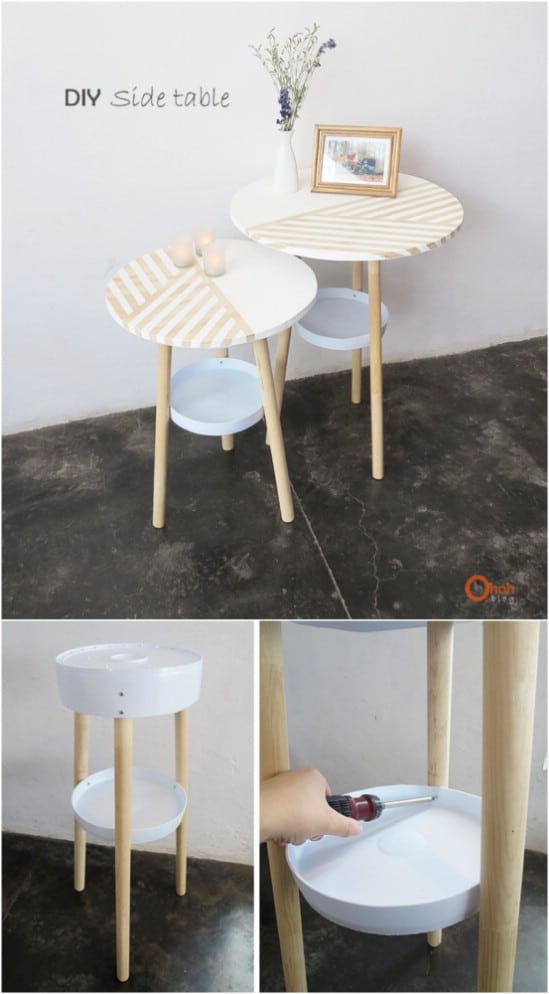 When you have buckets that are broken or flimsy, don't throw them away — turn them into these beautiful side tables.
The cut-down buckets become supports for the table legs, so you don't need to worry about complex cross-braces.
As a bonus, the supports double as handy shelves.
via Oh Oh Deco
19. DIY Portable Camping Shower
Feel fresh in the great outdoors with a clever camping shower.
This model is built inside a five-gallon bucket, so it's a breeze to transport and carry.
Just add a PVC shower spigot, hang the bucket from a tree, and you're ready to get clean.
20. Water Your Garden With Drip Irrigation
Drip irrigation is a great way to water your garden, and this creative system makes the process more affordable.
The bucket connects to the irrigation hose, allowing gravity to move the water to your plants.