Summer means one thing- a lot of time spent in the garden. Drinking your morning coffee, lazy afternoons enjoying a favorite book, barbeque with guests in the backyard, garden parties.
This piece of your property can be effectively used if it is planned well. And that includes more than just choosing comfortable and practical furniture. It means making it appealing and cozy.
And this is where we come to help. Instead of going inside when the sun sets, we would like to show you how to prolong the outdoor experience.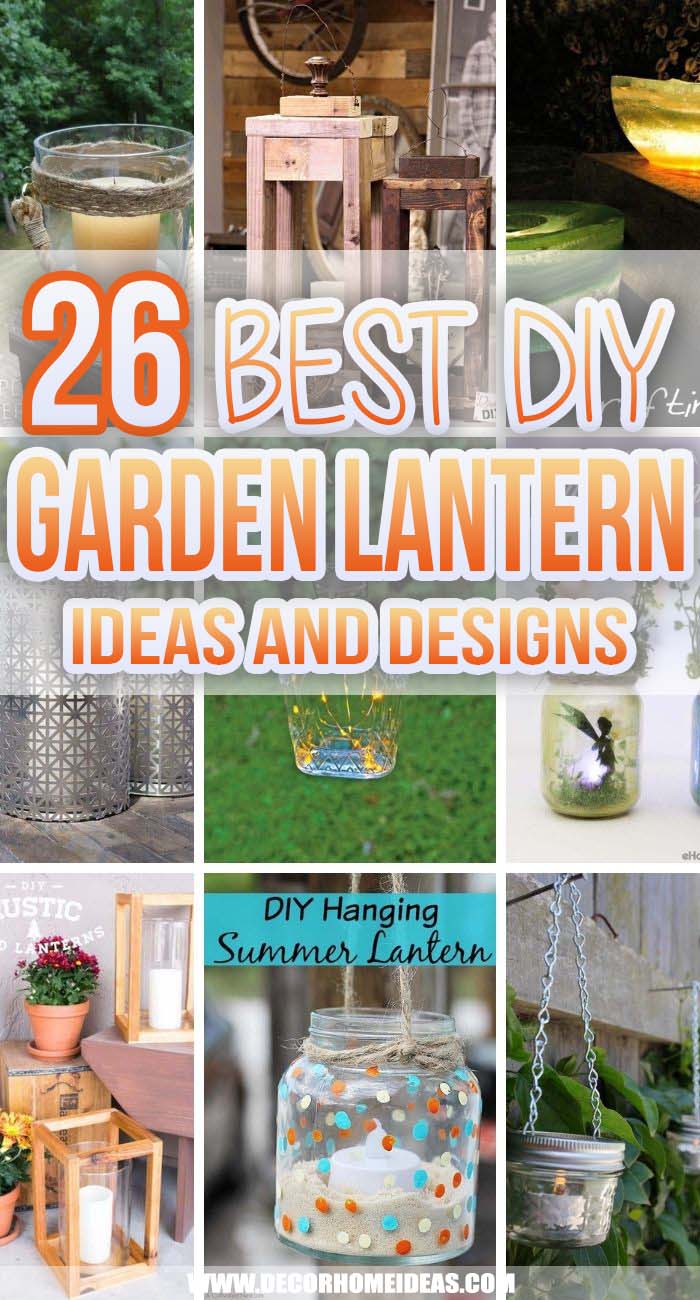 The DIY garden lanterns in our collection will provide sufficient light to take maximum advantage of the good weather. And we, being DIY addicts promise that the projects we have gathered are easy, fun and unique.
1. Coastal Look Rope Mason Jar Lanterns

Our favorite Mason jars come in hand when it comes to DIY garden lanterns ideas. They are transformed into glass lanterns that can be placed on the patio table or hang to the porch ceiling thanks to a rope handle.
The thick rope is tied on metal drawer knobs protruding out of a metal clamp.
The farmhouse design of this garden lantern is given a nautical vibe by covering the glass jar bottom with fine sand. This filling also has a functional feature holding the candle in place.
2. Ice Sculpture Colored Candle Holders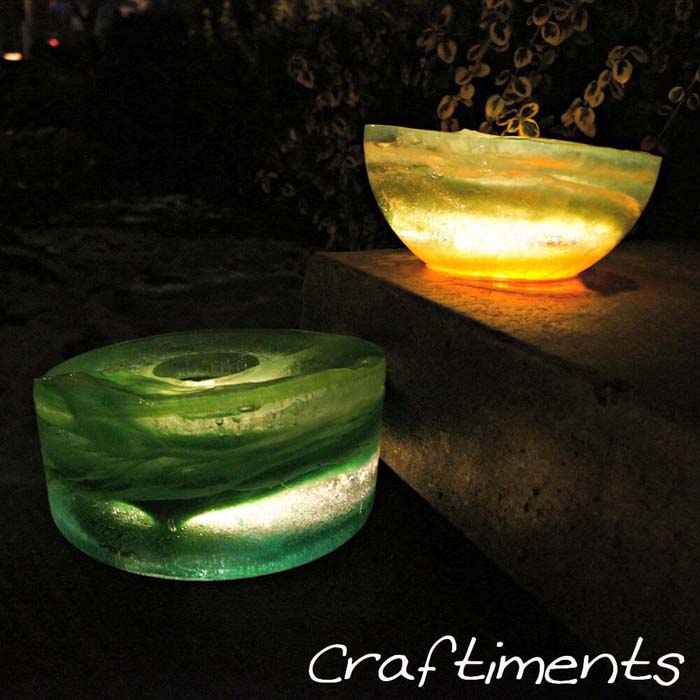 Looking for unique decor for your garden party? These ice outdoor light features are so cool and easy to make that you will make them even when no special occasion requires them.
Made of water, they can take various shapes depending on the plastic containers you have chosen for molds. The addition of food coloring creates magical textures and playful shades when the votive candles are lit in the dark.
via Craftiments
3. Wire Wrapped Fabric Collage Lantern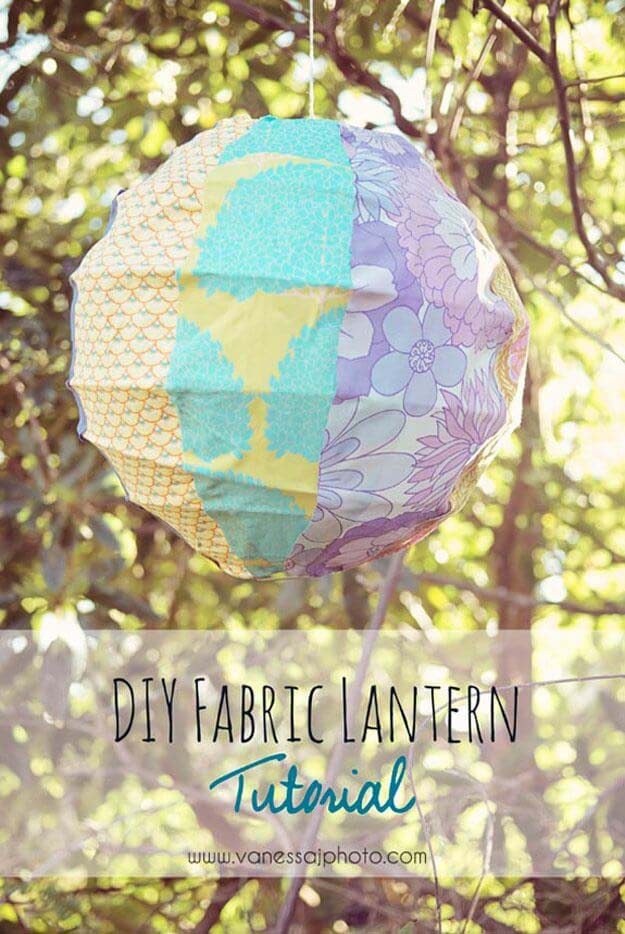 This DIY fabric lantern is the perfect way to add color to the green background of the outdoor space. The wire basis is in the shape of a sphere to take up pieces of scrap fabric pieces in cheerful designs.
Add a length of twine at the top to hang it on the front porch or to tie it to a tree branch.
4. Patterned Metal Makes Graphic Reflections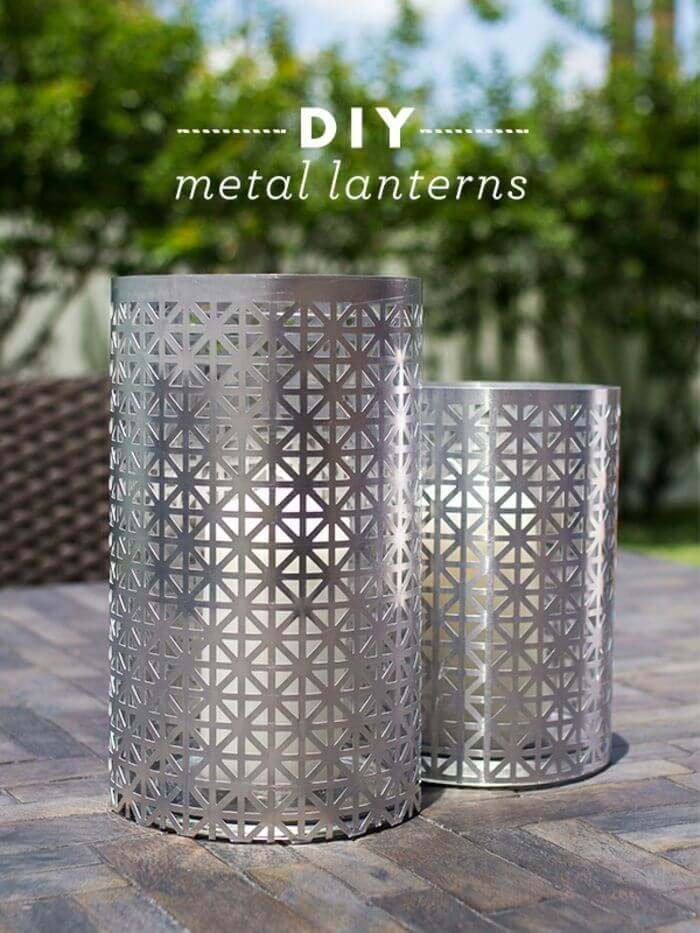 Welcome your guests to the garden with these stylish DIY outdoor lanterns. The net pattern of the thin metal sheet will create amazing light reflections around when the candle is lit.
They can be added to the porch deck or even on the patio table to be used as an elegant decor accent during the day or as lanterns during the night.
5. Whimsical DIY Fairy Lantern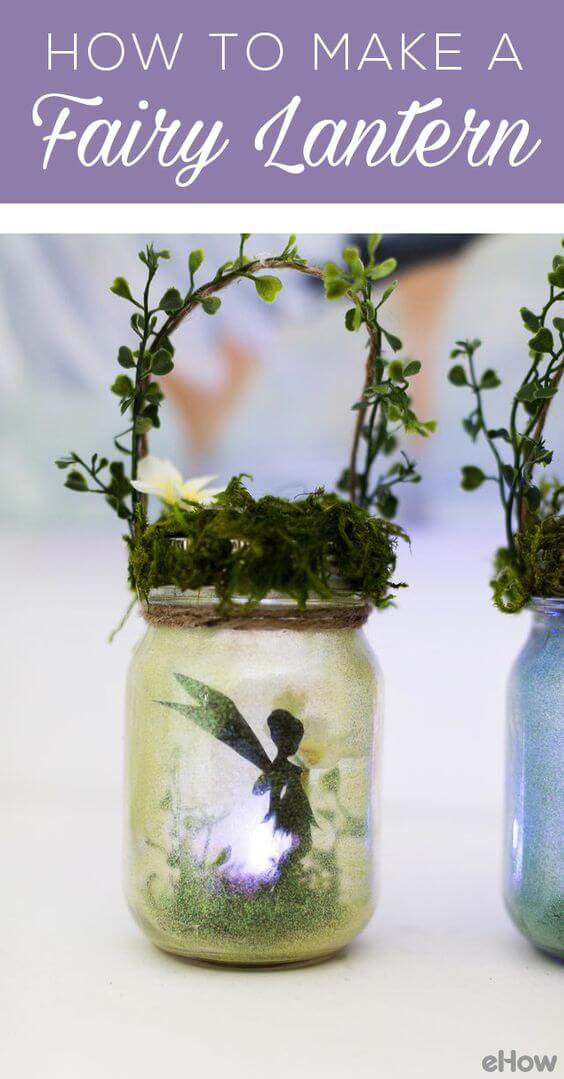 These unique lanterns are not only charming but also very easy to make. The inside of the glass jar accommodates a small fairy arrangement which can be seen even when the lantern is not lit.
When the tea candle is lit the fairy silhouette enlivens to inspire the kids and secretly the grown-ups.
via eHow
6. Hole Punched Painted Tin Can Lanterns

This affordable metal lantern recycles tin cans from baby or dog food that would otherwise be thrown away.
Using a hammer and nail or a bradawl, holes are made in the surface to create a starry image when the tea light inside the can illuminates. Since metal gets hot, consider making a handle from a wire.
via Oh Best Day Ever
7. Repurposed Bottle With Fairy Lights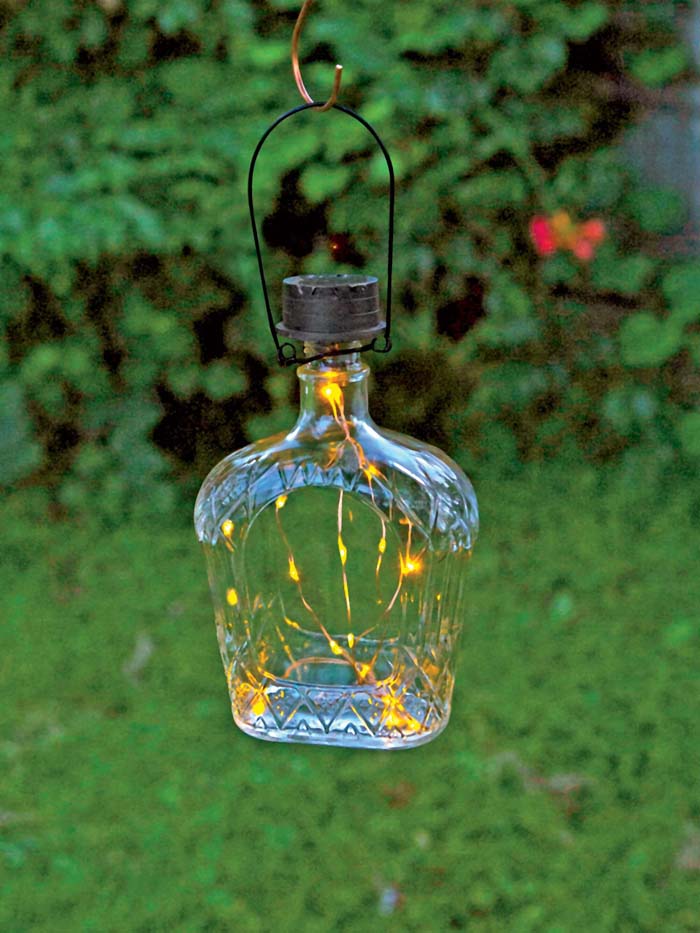 Take a string light and insert it in a glass container. That can be a Mason jar, a glass bottle, a vintage vase as long as its glass is transparent.
This easy garden lantern can become a centerpiece of the patio table or a hanging garden lantern if a loop for attaching is ensured.
via Gardeners
8. DIY Illuminated Fairy Scene Lantern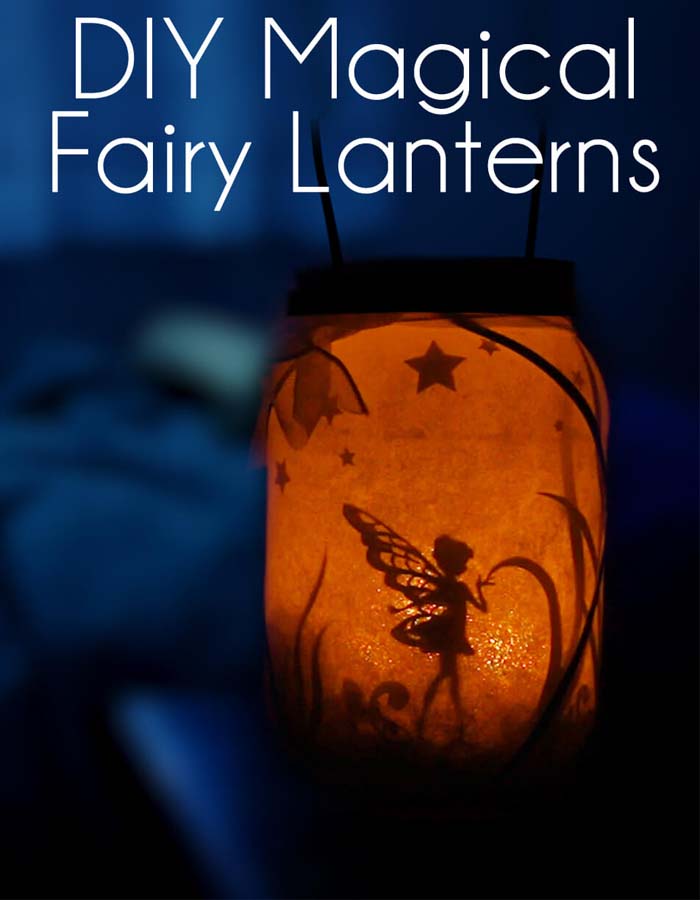 This mysterious look of this magical outdoor lantern is achieved by applying a layer of white tissue paper or vellum on the outside of the Mason jar. Inside, cutouts of stars, grass and stars are glued with instant glue.
To attach them rigidly, make sure that you slightly curve the paper to take up the original shapes of the jar.
To enhance the whimsical look of this type of garden lantern, you can apply a glitter layer over the tissue paper.
9. Dollar Store Glass Jewel Lantern Project

As easy as you can see on the images, you need a quick walk to the Dollar Store to get all the supplies needed for this sparkling luminary. Get round Mason jars and faux transparent gems.
Glue them to the external surface of the jar with your hot glue gun.
Once dried, place a votive or tea candle inside and enjoy the glow at night.
10. Simple Chain Hung Jam Jar Candleholders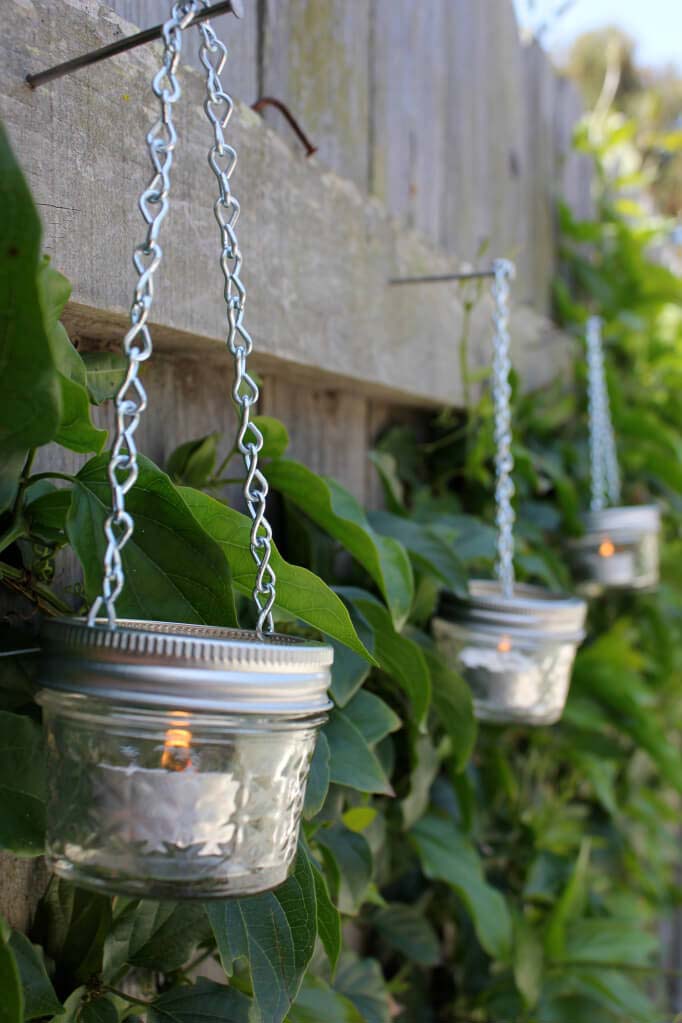 The garden lanterns are not only a source of light but also a great and affordable backyard uplift. This idea gives inspiration on how to turn jam jars into unique fence decorations that will outline the limits of your property at night.
A plain chain is attached on both sides of the jar lids to ensure easy attaching to the preliminary hammered nails.
The original DIY shows tea light candles inserted in the jars but it may be more convenient if short LED light candles are used instead.
11. Boho Macrame Mason Jar Lantern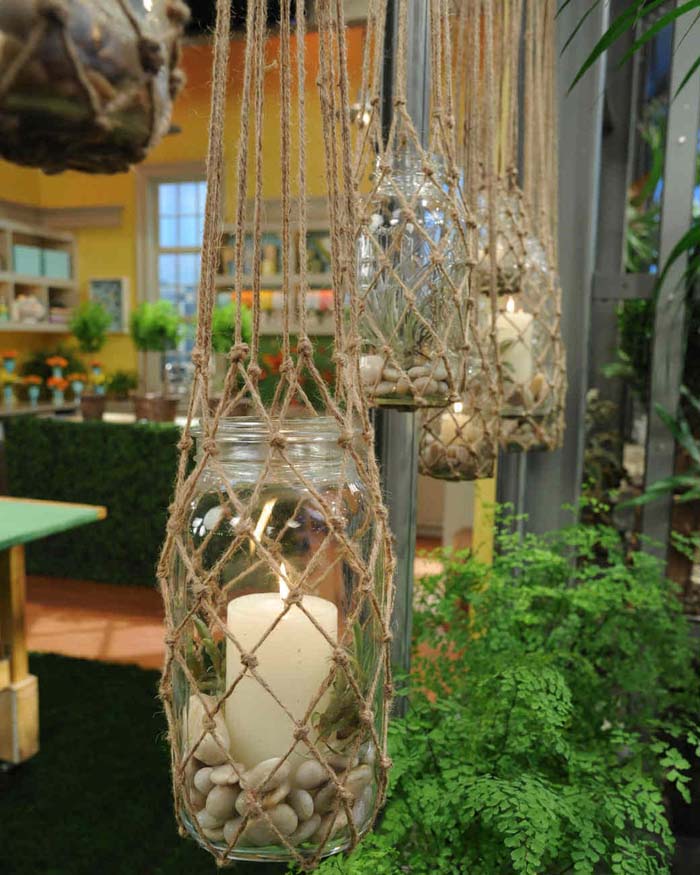 These hanging lanterns are all you need to make your porch more relaxing in a boho way.
Twine is used for knitting a macrame net wrapping it all around and continuing up to leave strings of twine for tying to existing supports like ceiling beams, window frames, posts, etc.
Each jar is filled with pebbles which ensures a good basis to insert the candle and take up the melted wax.
via Martha Stewart
12. String Light DIY Paper Stars

These paper star lanterns could be used not only as a summer decor of your garden but also as a unique Christmas garland or a 4th July decor idea.
Usually, the pieces of a star are prepared on a Cricut cutting machine which eases the next steps related to assembling and gluing. If you don't have such a device, you may want to find ready paper stars at the craft store.
From then on things get easy. Insert the bulb of a string light into a hole at the back of the star and enjoy the starry night.
13. Found Object Autumn Leaf Luminaries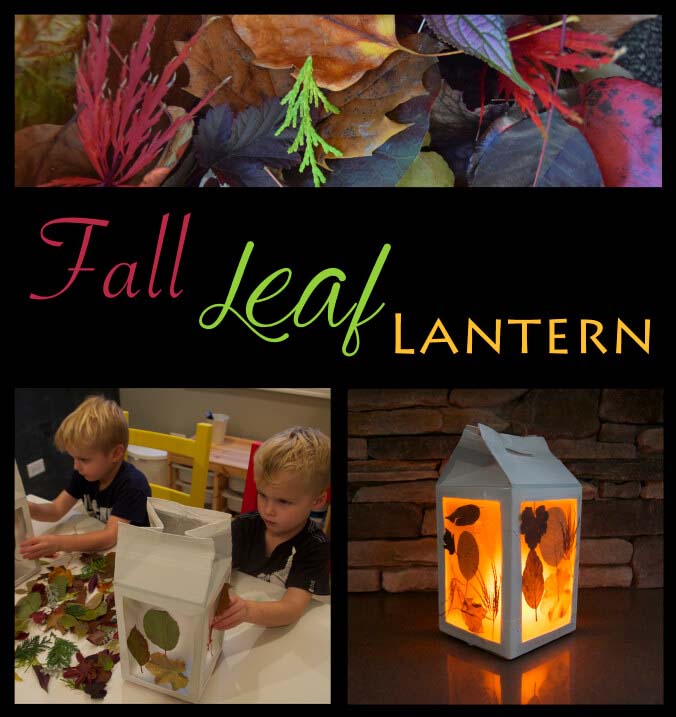 This amazing DIY project promises fun and educational time for your kids! While teaching them the colors of autumn through gathering and gluing fallen leaves, they will create their own luminary which takes care of the environment by recycling milk cartons.
Another advantage that makes this outdoor lantern so appropriate for kids is that the plain candle is replaced by a flameless one.
14. DIY Painted Dowel Candle Cubes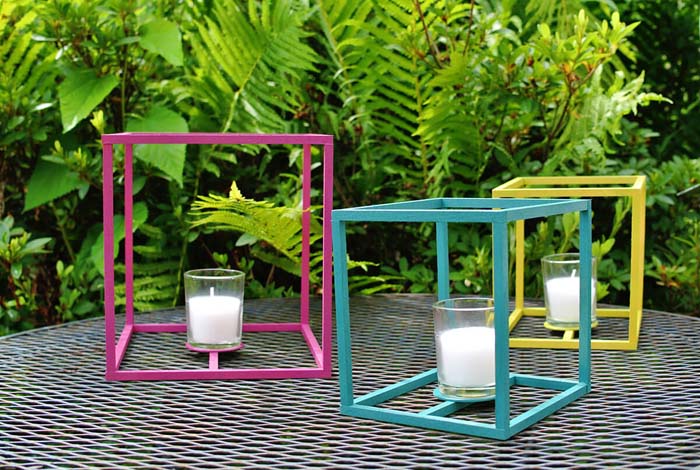 These lanterns will fit the clean and airy atmosphere of a garden maintained by a minimalist. They will surely be more than just a candle holder thanks to their design and bright colors which will make the backyard more summer-inviting and warm.
Each lantern is made by assembling 13 pieces of preliminary cut at the same length wooden dowels. Following the pattern shown a cube is formed to accommodate a votive candle on a washer glued to the intersectional dowel.
The lanterns look also amazing if they are left unpainted. This is an idea in case you are looking for inspiring Scandinavian outdoor space decor.
via Homedit
15. Rustic Natural Element Lanterns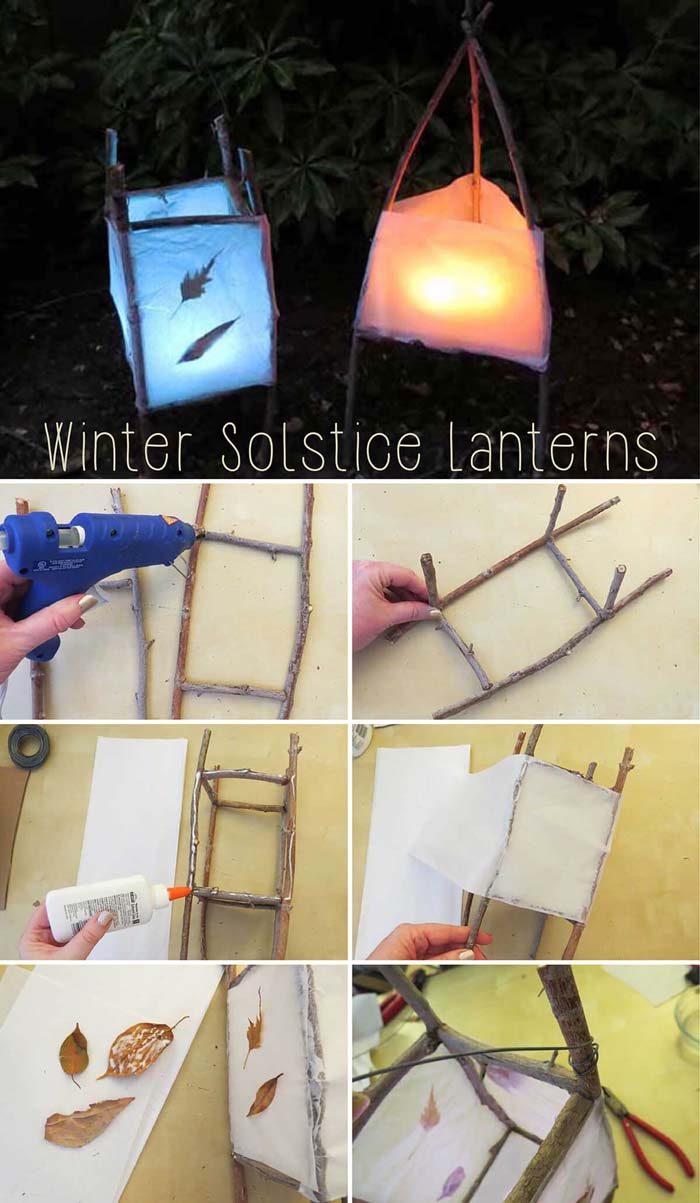 Making these DIY garden lanterns requires mostly supplies from nature. Cut twigs to create the structure of your lantern and then glue it together. Wrap it with white tissue paper or vellum to eventually let the light from the candle going through.
To make the lantern unique, glue leaves or pine needles on the inside of the paper which shades will play when the light is lit. For safety reasons, flameless candles are preferred.
via eHow
16. Beach Vibe Sand And Rope Lanterns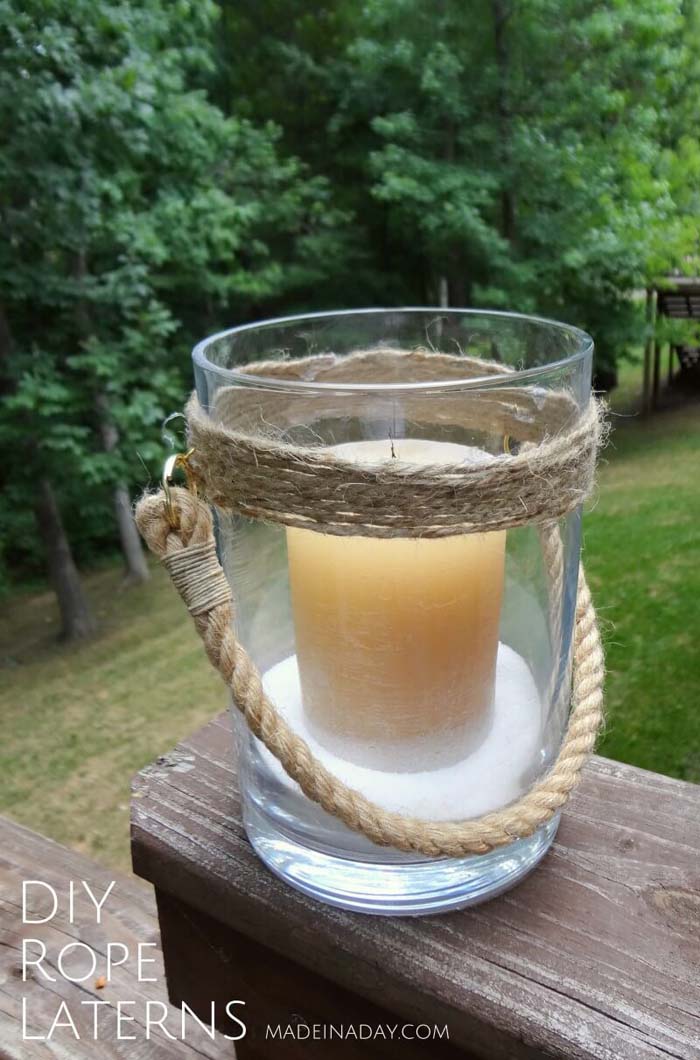 Any decoration that is influenced by the nautical style has the ability to make the atmosphere more relaxing and welcoming. So if you are looking for a summer-themed garden decor that will add a beach vibe to your outdoor space, make these affordable and made within only a day rope lanterns.
via Made in a Day
17. Glass Jar DIY Chandelier

This idea features not only a lantern but also a way to create a unique outdoor chandelier that spreads enough light to illuminate the porch at night.
Start by collecting a dozen of the smallest glass jars. Weave wire around the neck of every jar to put through a fine ball chain found at the hardware store.
The ends of a long length of this chain should be attached to both sides of the jar as it will be not only balancing the candle holder but also a means to attach it to the round metal base.
Each jar is filled with gravel and after that the tea light candle is inserted in the jar.
18. Cute Polka Dot Tealight Candle Holder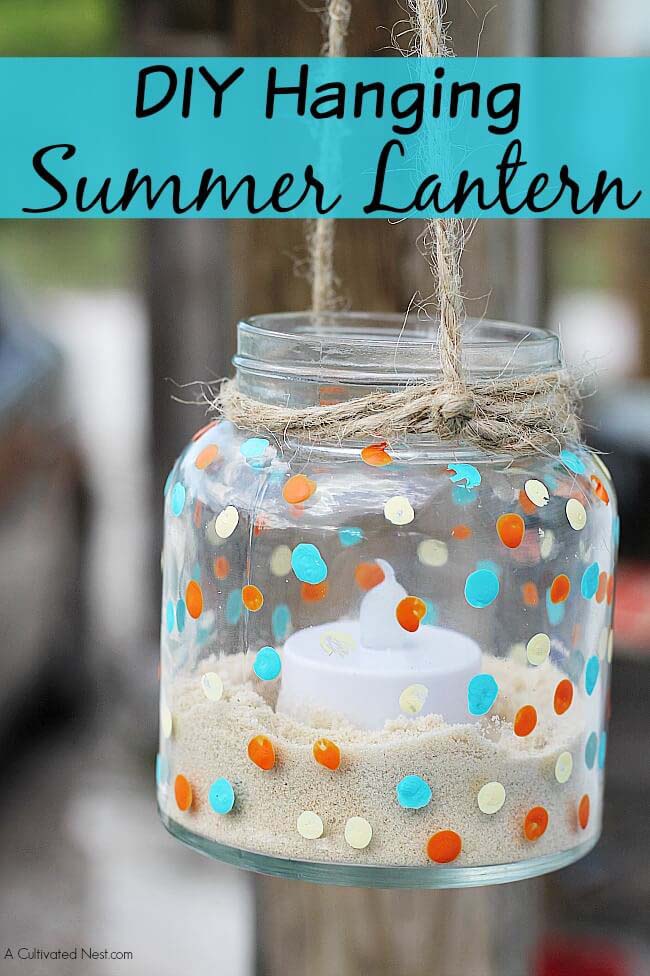 This garden lantern is a simple and frugal way to spruce up the outdoor space of your home. The colorful polka dots applied on a smooth glass jar surface make the lantern cheerful and attractive, just what a summer garden should be.
The author has used play sand for filling 1/3 of the jar and a battery-operated tea light for safety reasons. The twine woven around the neck forms a handle that allows using this jar candle holder also as a hanging lantern.
19. Easy Wax Paper Lantern DIY

You don't need special craft skills to make these magical wax paper luminaries. This project requires patience and good ironing skills as the leaves and flowers you see are ironed on the paper.
To recreate the cube shape of each lantern you can use washi tape as a joint between the square wax paper pieces or wooden dowels.
Once the lanterns are ready, lit the tea light candle to admire the soft and gauzy light effect from the fused waxed paper.
20. Make Your Own Lantern From Scrap Wood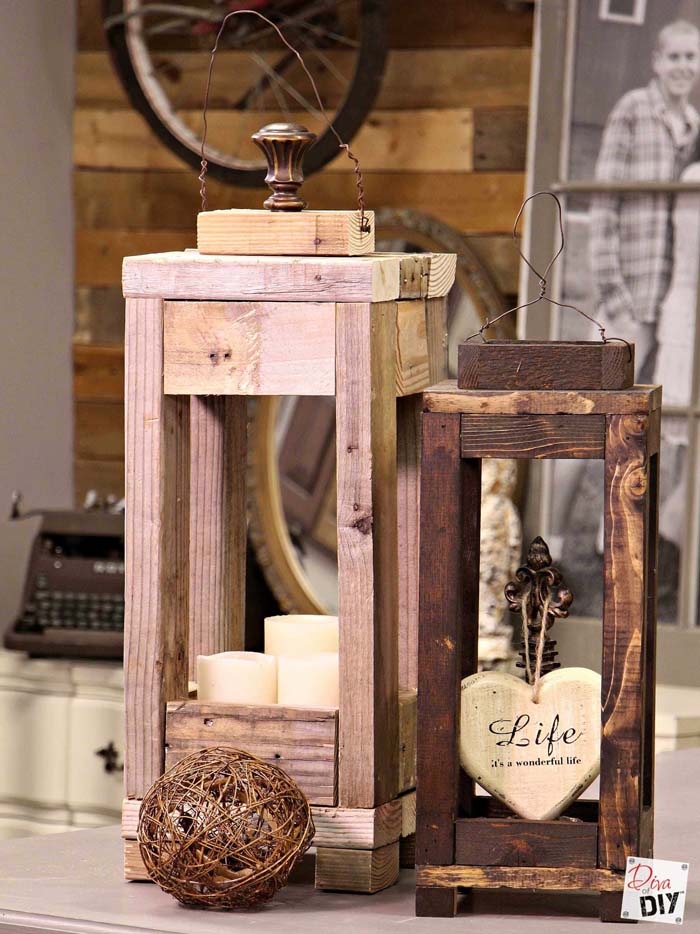 These rustic adorables have been entirely made with scrap wood pieces. If you have any left in your garage, don't waste time and get handy as you will be enjoying unique porch or backyard illumination with a unique aged design.
This DIY shows the exact measures of the reclaimed wood pieces that form the lantern but you may want to change them to fit the wood size you have on hand.
For a final touch-up apply a layer of dark stain which will let the weathered texture stand out.
via Diva of DIY
21. Wooden Frame Glass Hurricane Candle Holder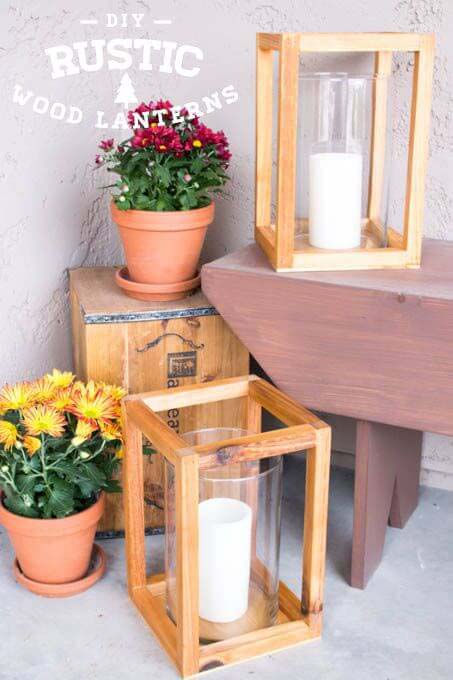 These amazing lanterns can spruce up not only your garden but can give your front porch a curb appeal all year long. Their design has been well thought to create a universal structure that has a multifunctional application- as a candle lantern, a planter, a seasonal decor holder.
Made of cedar boards cut down to the shape and size of lath, the lanterns can be as big as you need. What is important to keep is that the bottom of the lantern should be a thick plywood piece as it will be bearing the glass vase.
Depending on the surface texture on which these will be placed, you can change the color of the wood. Dark stain or wood oil will give the wood a rustic effect which makes a great contrast with the stone base.
via Addicted 2 DIY
22. Paint Or Whitewash Your DIY Lanterns

The traditional shape of an outdoor lantern is recreated with wood lathes that have been given a weathered aged effect with grey paint and an additional white-washed coat.
Thinking about safety, the plain candles are replaced with LED ones which will spread a gentle glow in the night.
via 100 Things 2 Do
23. Tiki Torch Mason Jar Project

The idea for these outdoor Mason jar lanterns is inspired by the tiki torch. The supplies are very affordable, making them super easy so if you need a quick illumination for the garden party you host, get to the Dollar store to get Mason jars, torch fuel and wick.
24. Flameless Pretty Paper Lanterns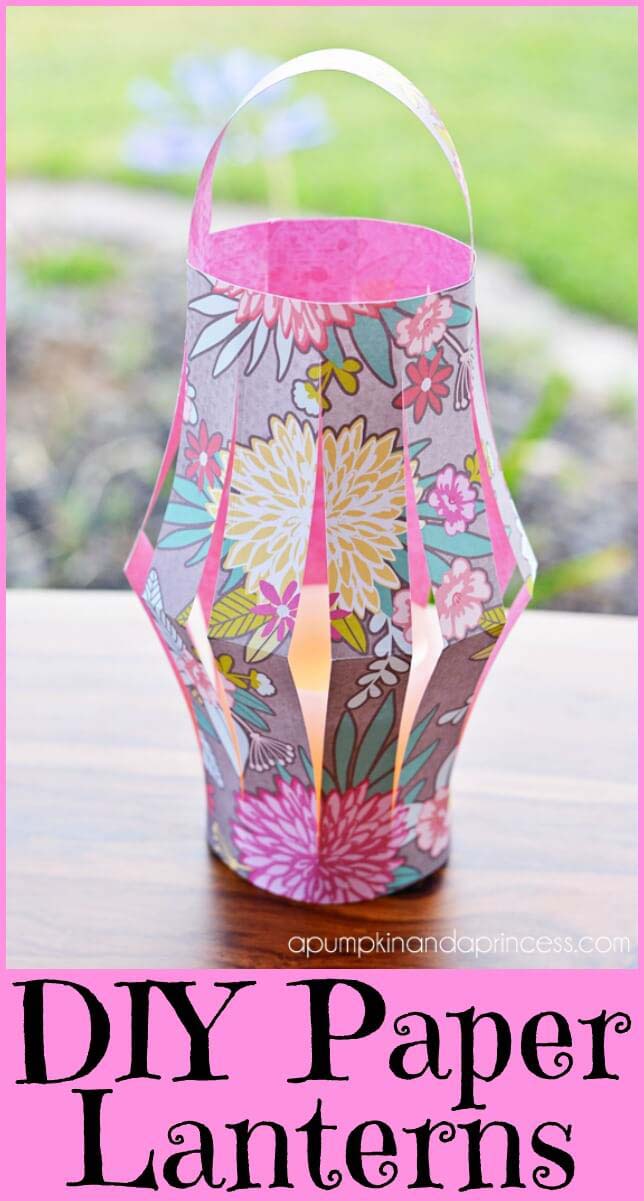 If you are looking for a way to add a pop of color to your outdoor space, the paper lanterns are what you need as you can choose the pattern and color of craft paper that complies with your idea and existing decor.
The thicker the paper is, the better as you will want to enjoy the folded edges and cuts as long as possible.
via Design Dazzle
25. Colorful Bead And Paper Hanging Lantern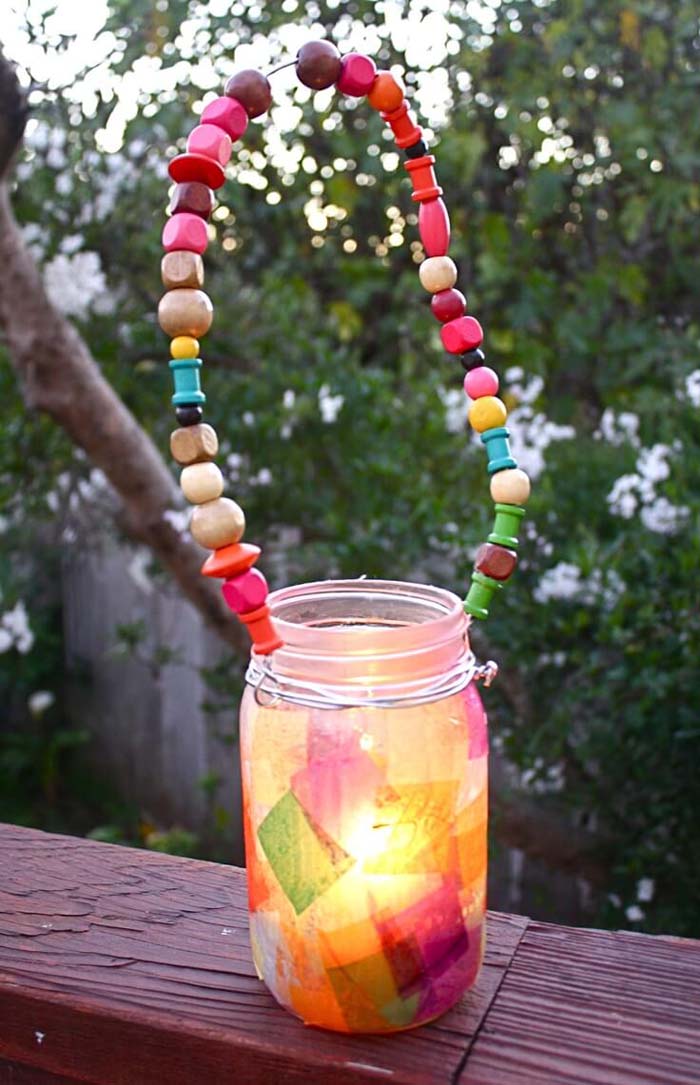 Making these garden lanterns will be a fun and meaningful time spent with your kids. They will enjoy gluing pieces of multicolored tissue paper on the inside of the glass jars and threading wood beads on the wire handle.
Their cheerful design makes them perfect for birthday party decor or for adding them to a nook from your garden which is missing interest. Another great application would be to hang them to the fence and watch the bright colorful shades reflected in the night.
via Buggy and Buddy
26. Upcycled Can Lanterns With Hole Punch Patterns

You can make the atmosphere of a romantic dinner outside in the garden more private and special by adding these DIY tin can lanterns to the trees around the table or on the table itself.
The "love" inscription is achieved by drilling holes in the tin with a drill. To let the drill bit fit flawlessly into the correct dot from the laid pattern, make a small hole with a tiny nail and a hammer in advance.
via Bren Did