If you are one of those people that love spending time outdoors and are looking forward to creating the perfect piece of heaven outside, you must be looking for clever and easy projects and ideas to improve your backyard.
Making something beautiful and functional doesn't always require a big investment. We have looked around and have gathered the most fantastic projects that use easy to be found materials or repurpose materials.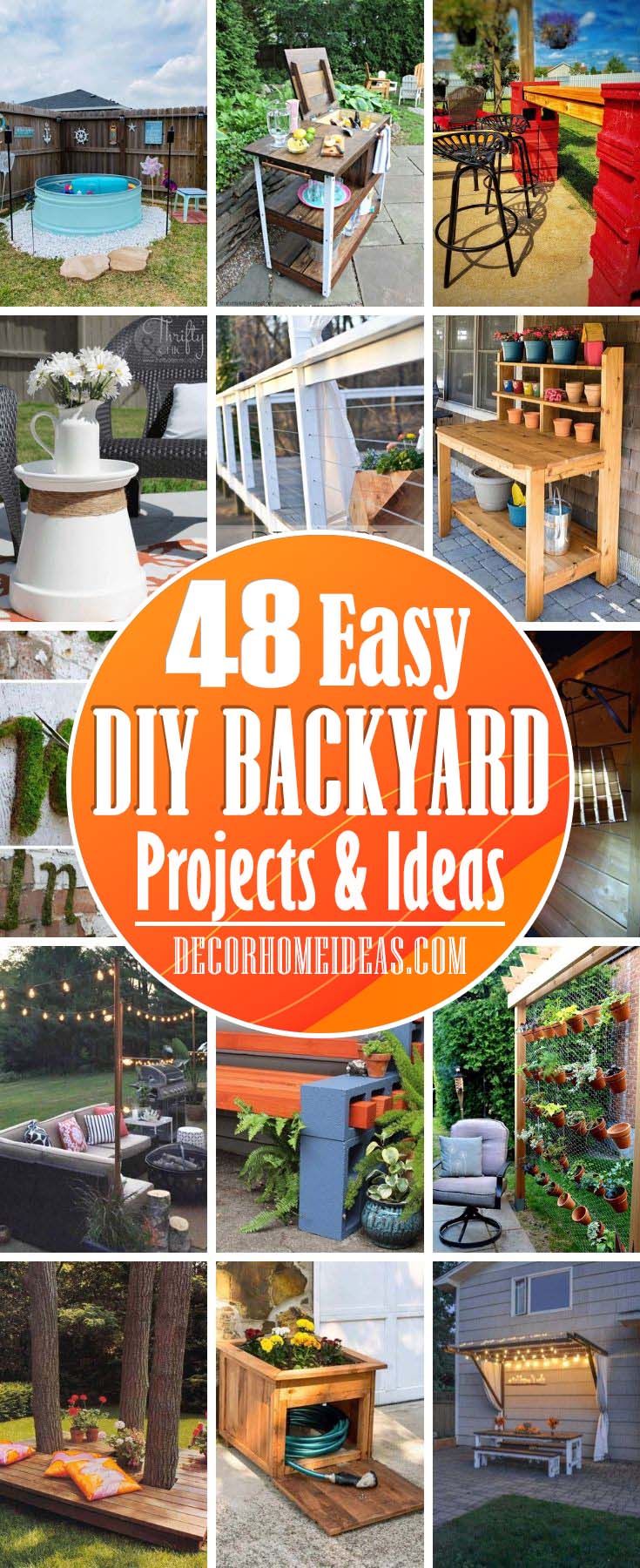 These projects are so simple that even a freshman in the DIY world would find them easy and pleasant.
1. Build a Sturdy Cinder Block and Wood Bench Set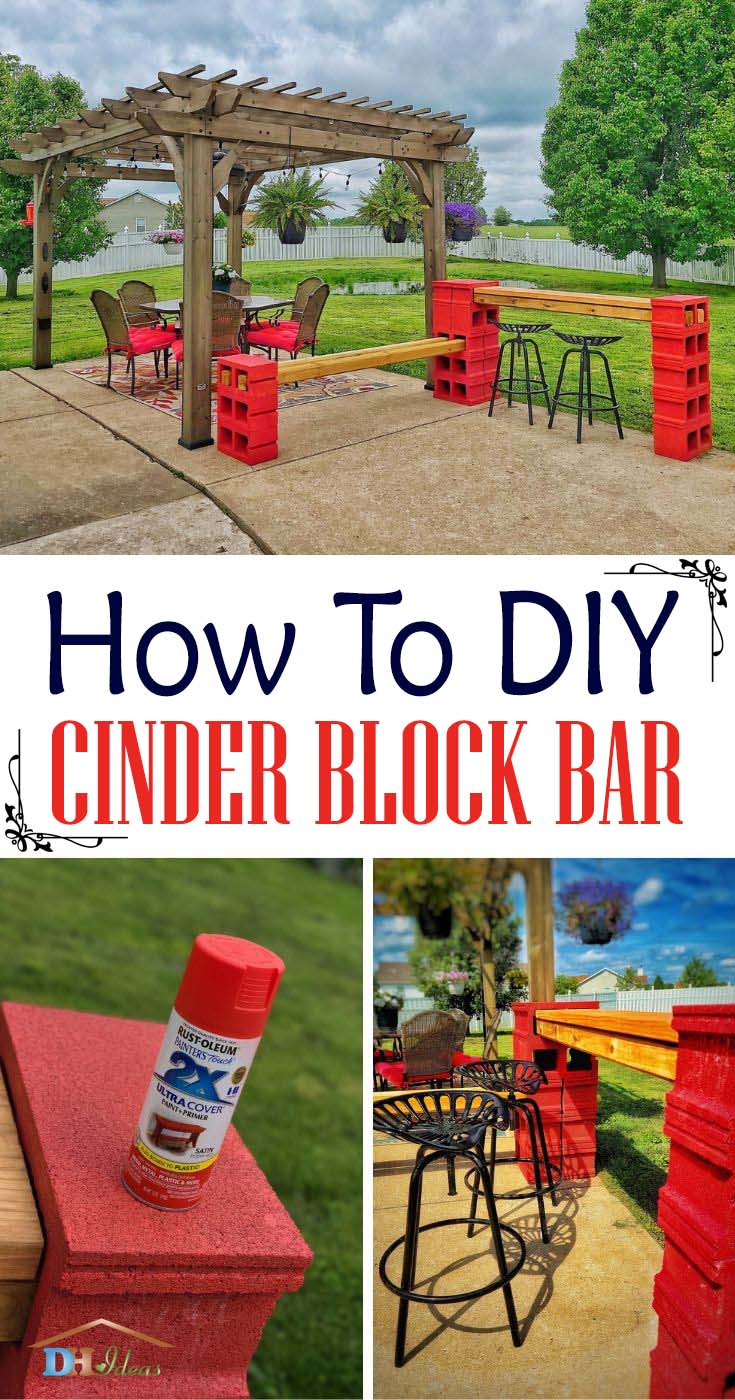 This gorgeous bar and bench are made of stacked cinder blocks and wood posts.
The structure is very stable and could make a modern extension to an existing sitting area.
via Decor Home Ideas
2. Transform Your Backyard with a DIY Pergola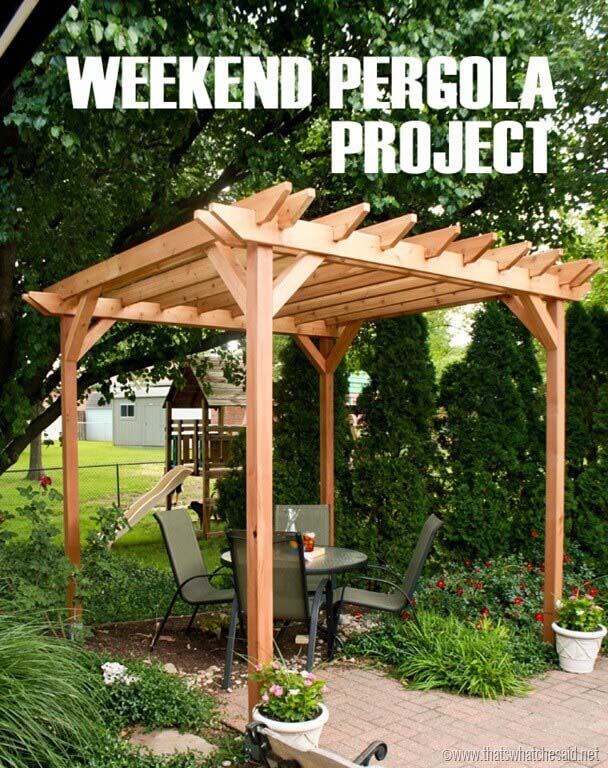 Want to divide space from the backyard? The pergola is perfect for that purpose.
You can build one only within the weekend and use it not only for shade but also for vines trellis, light features support etc.
3. Construct a Fire Pit to Enjoy Cozy Nights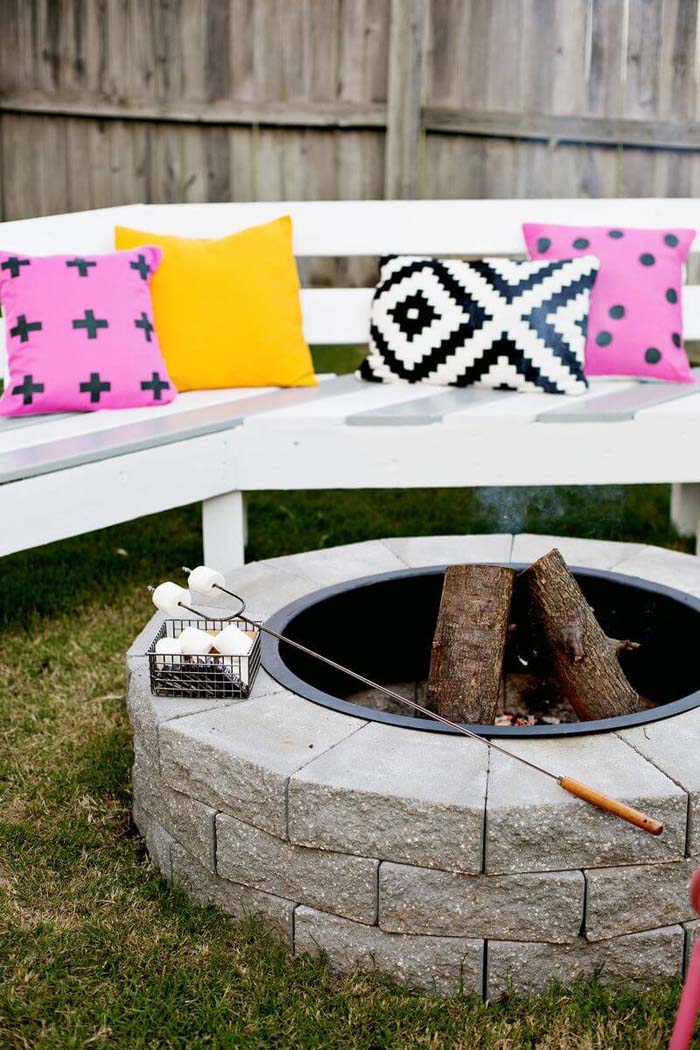 Fire pits are perfect for the colder summer and autumn nights.
Along with the warm light from the fire, you can enjoy sweet talks with your friends and loads of tasty marshmallows.
via A Beautiful Mess
4. Turn Your Agricultural Stock Tank into a Backyard Pool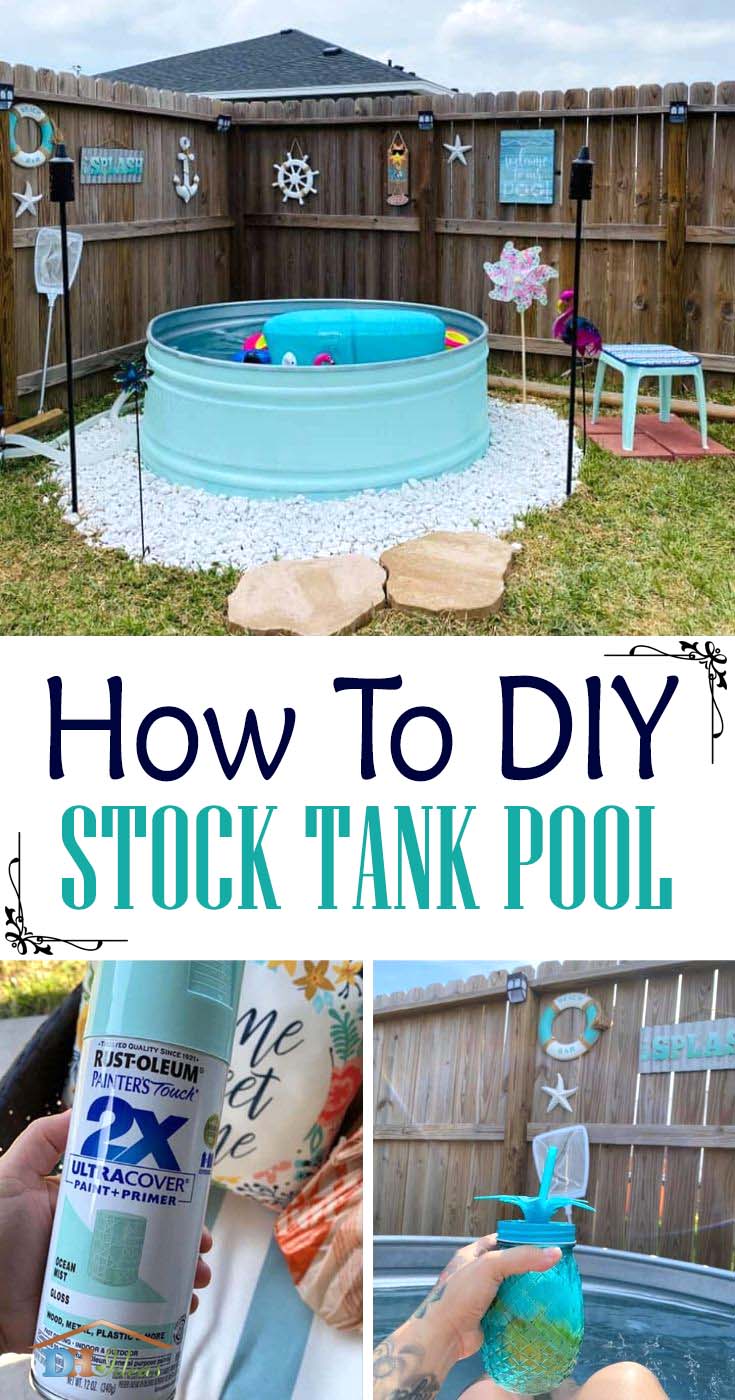 The agricultural stock tanks can be transformed into beautiful and long-lasting backyard pools.
Having a pool in your backyard will cool you down even on the hottest days and nights from the summer.
via Decor Home Ideas
5. Illuminate a Backyard with DIY Solar-Powered Chandelier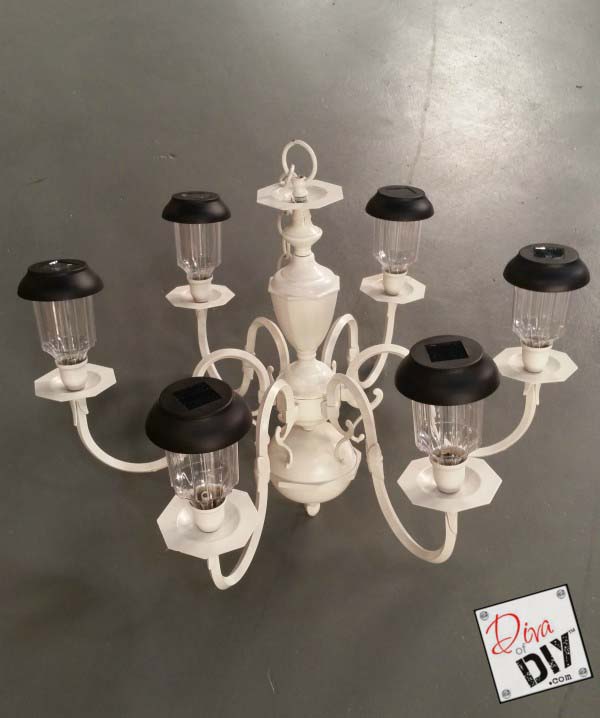 Those of you who enjoy the quiet nights in the backyard will fall in love with this DIY solar-powered chandelier.
It will sprinkle gentle light over the sitting area and will make the nights even more romantic.
via Diva of DIY
6. Make a Stylish Crocheted Hammock for Your Backyard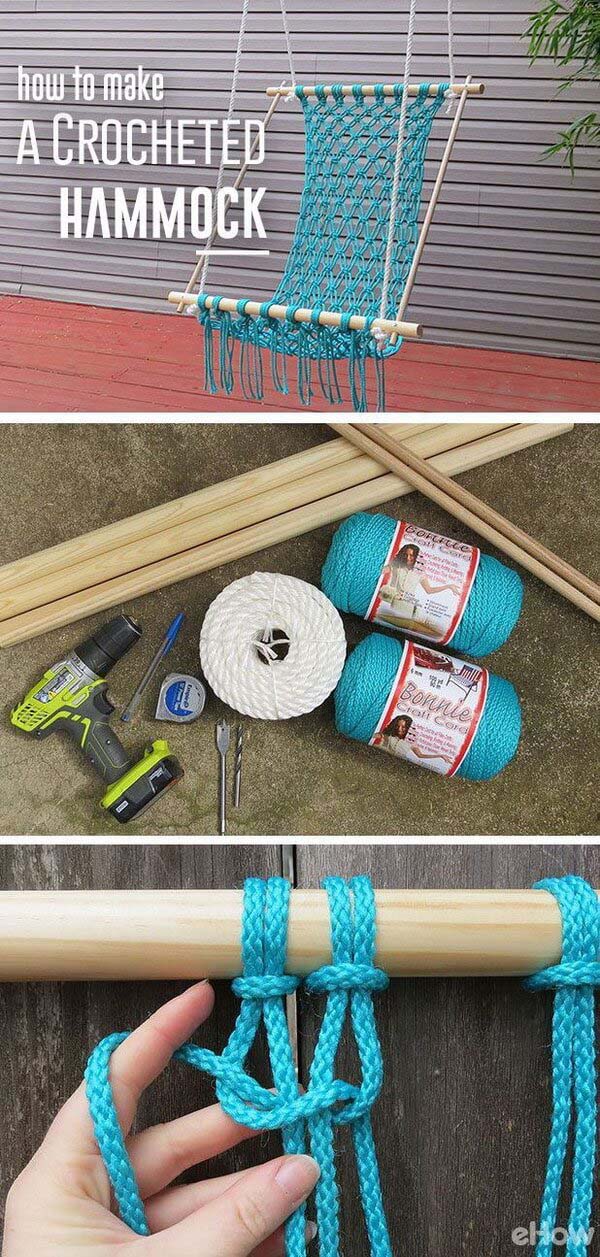 With a few tools and basic macrame skills, you can make yourself a stylish hammock chair for your yard or porch.
Making it will take only a day and you would be able to enjoy the swinging moments all summer.
via Hunker
7. Affordable Rustic Bench with Cinder Blocks and Wood

Large benches do cost money but believe it or not you can make yourself a comfortable sturdy bench with simple and cheap materials.
Cinder blocks, wood posts and cement adhesive are all the supplies you need.
via Hunker
8. Upgrade Garden with Chevron-Patterned Wooden Planters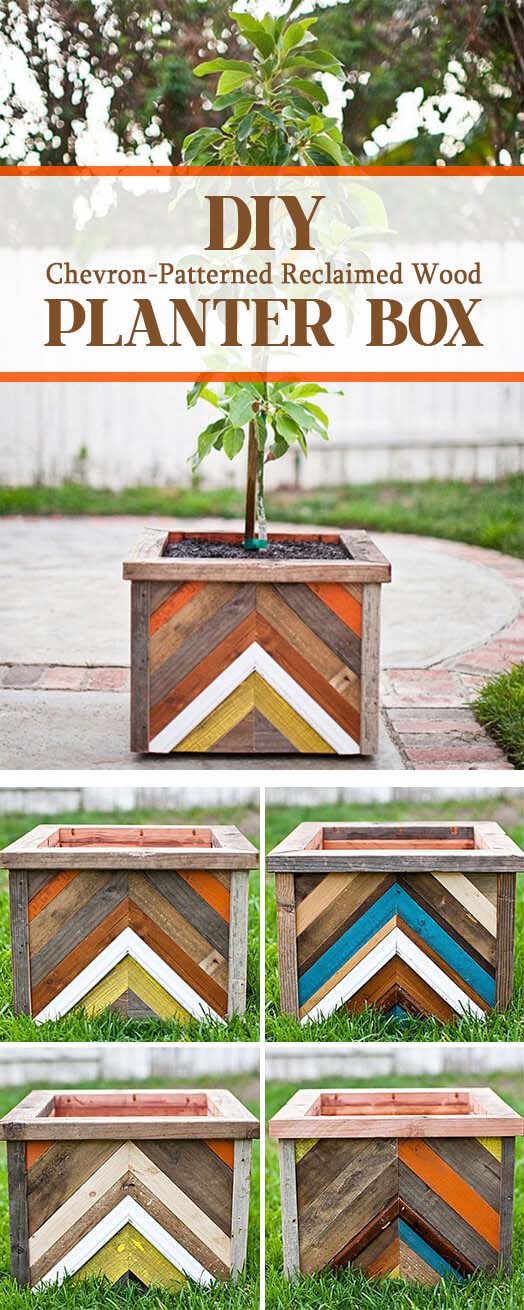 Add more texture and details to your flowers and your yard will quickly change its look.
With the help of scrap wood and attention to detail, you can make yourself colorful planter boxes of different sizes.
via Stuff Seth Makes
9. Brighten Your Patio with Stool-Like Plant Stands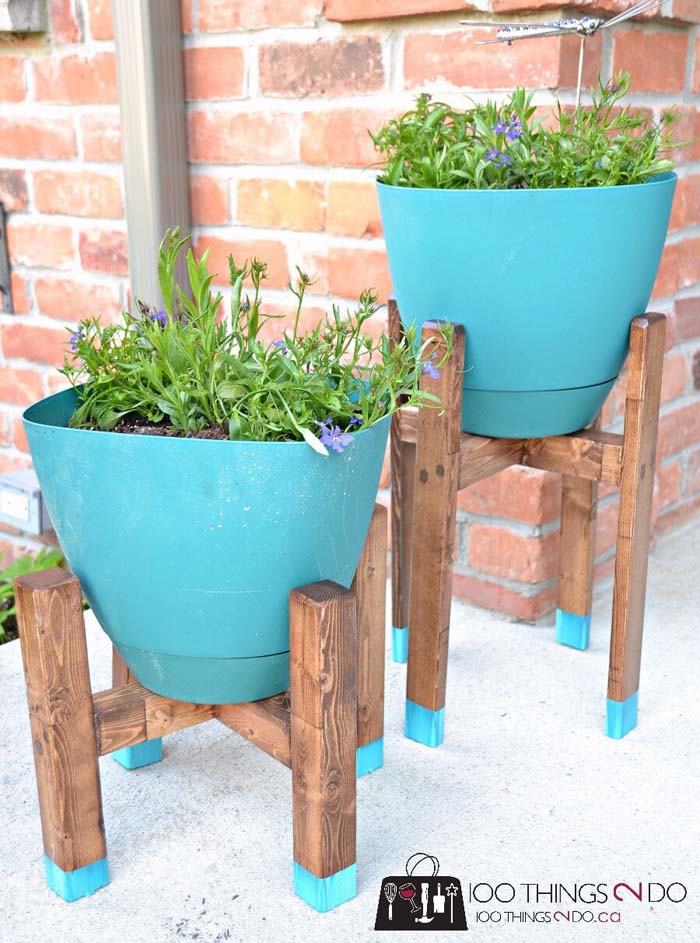 These small stool-like stands will cheer up your patio or garden.
Make a layer of paint with the same color as your flower pots.
via 100 Things 2 Do
10. Create a Natural Patio with Pea Gravel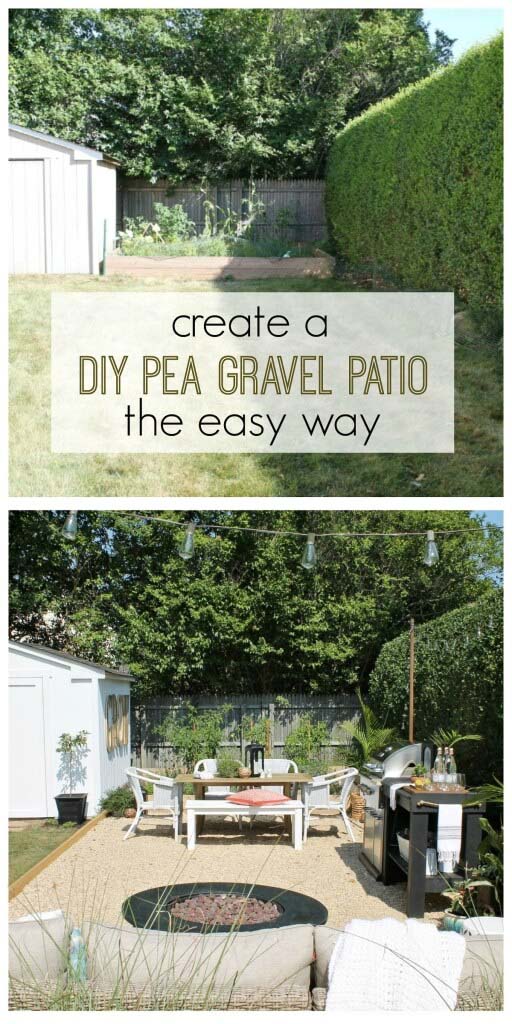 One cheap way to form the ground of a patio is to use pea pebbles instead of standard deck or pavers.
The texture is rich, the look is very natural and making it takes only 1 day!
via City Farmhouse
11. Construct a Potting Bench for Your Garden Essentials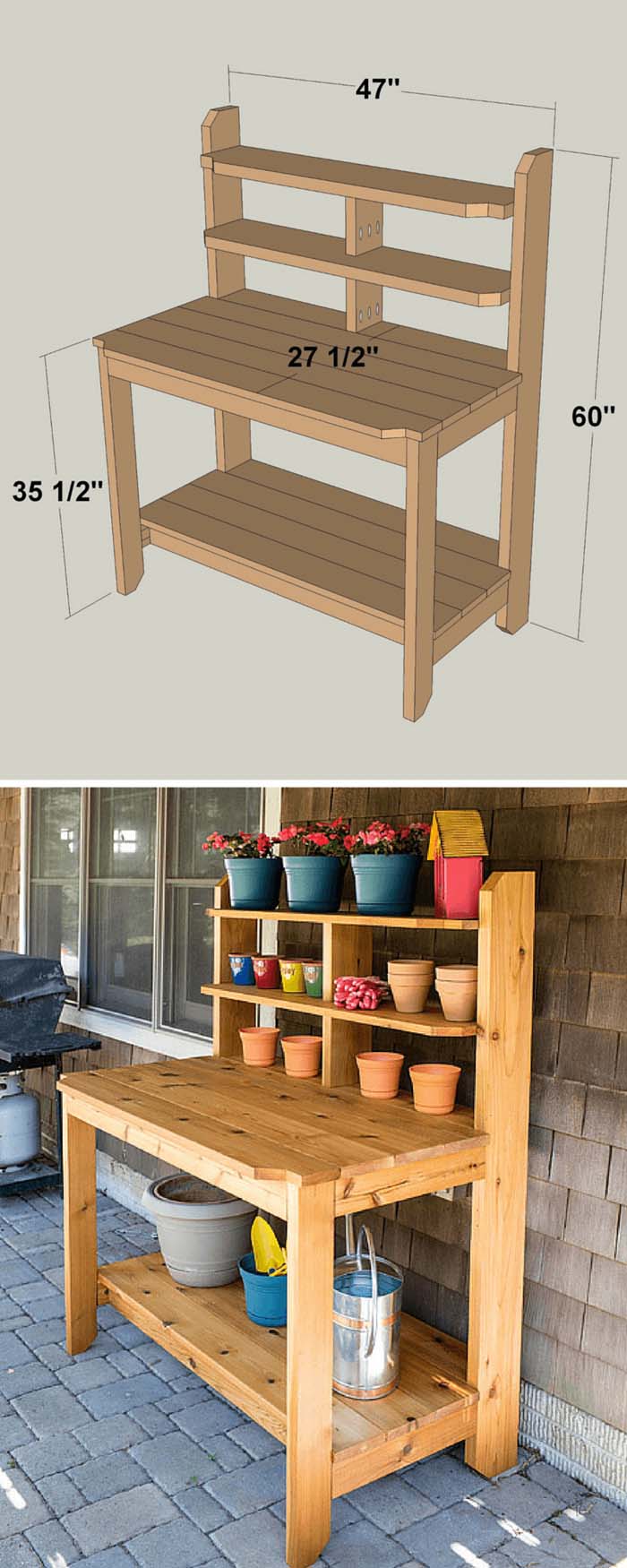 Made of cedar, this strong potting bench will last for years. Its board is so wide that it can easily be used as a side table.
via Build Something
12. Brighten a Backyard with Organic Grapevine Light Balls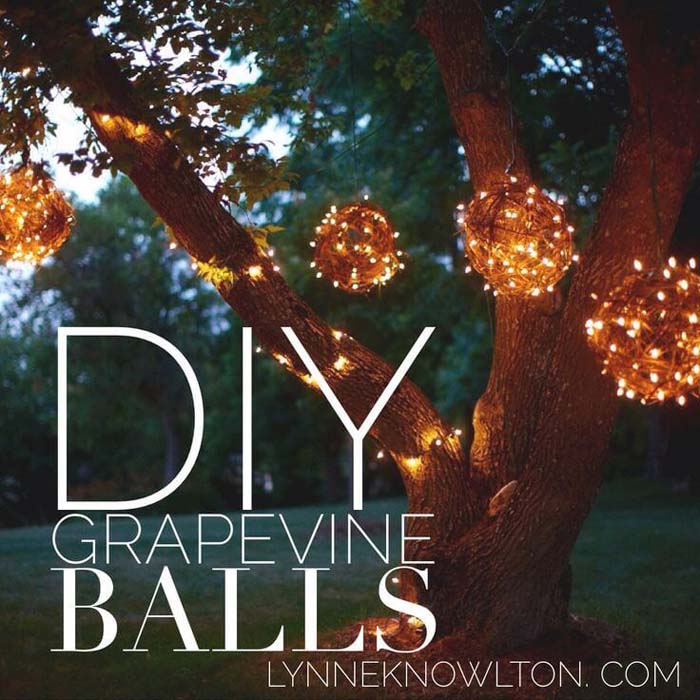 These magnificent light balls are made of grapevine and fairy lights. They are organic and stunning when lit.
via Design The Life You Want To Live | Lynne Knowlton
13. Build a Hammock Stand in Your Backyard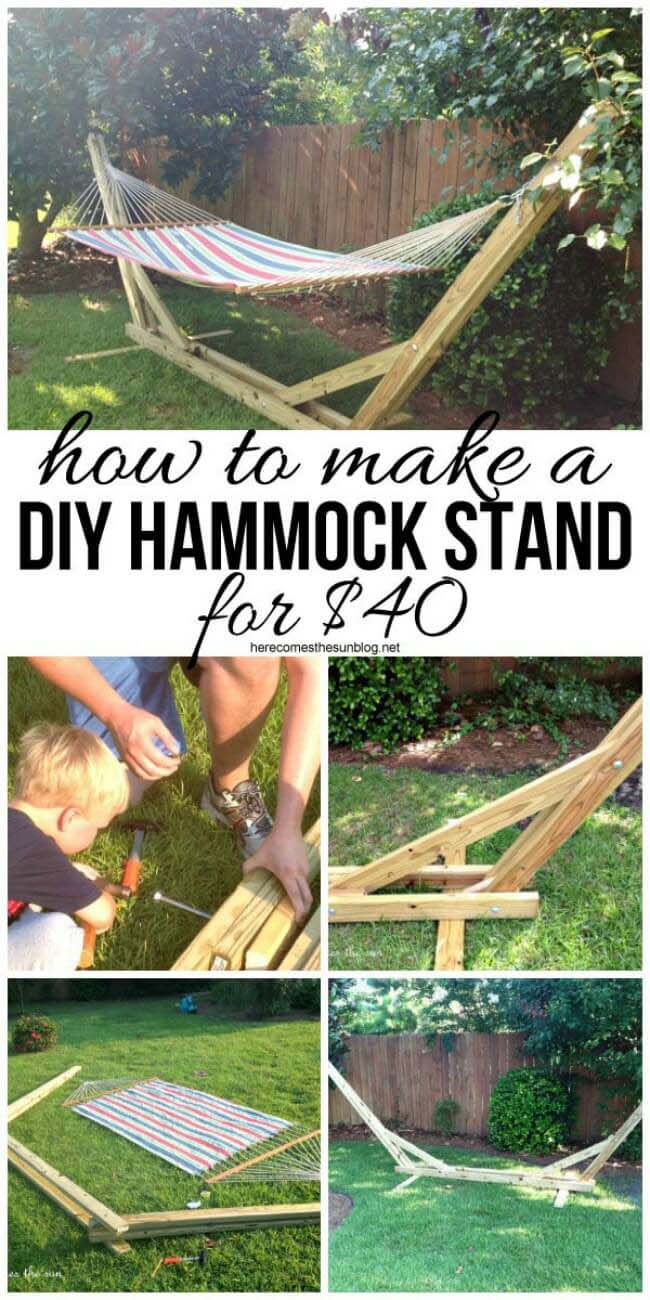 If you buy this hammock on a stand from a shop, it will cost you a few hundred bucks. Making it yourself is twice less the money and is big fun building it.
14. Create a Backyard Oasis with a Pacific Patio Pool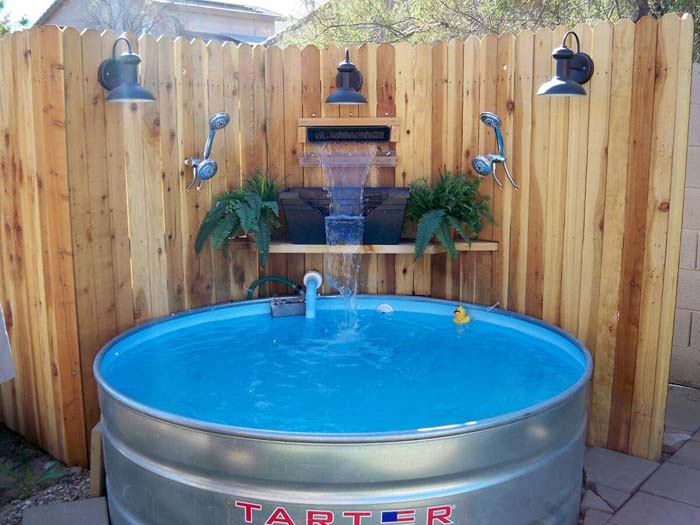 15. Make a Stunning Backyard Pond with a Fountain Feature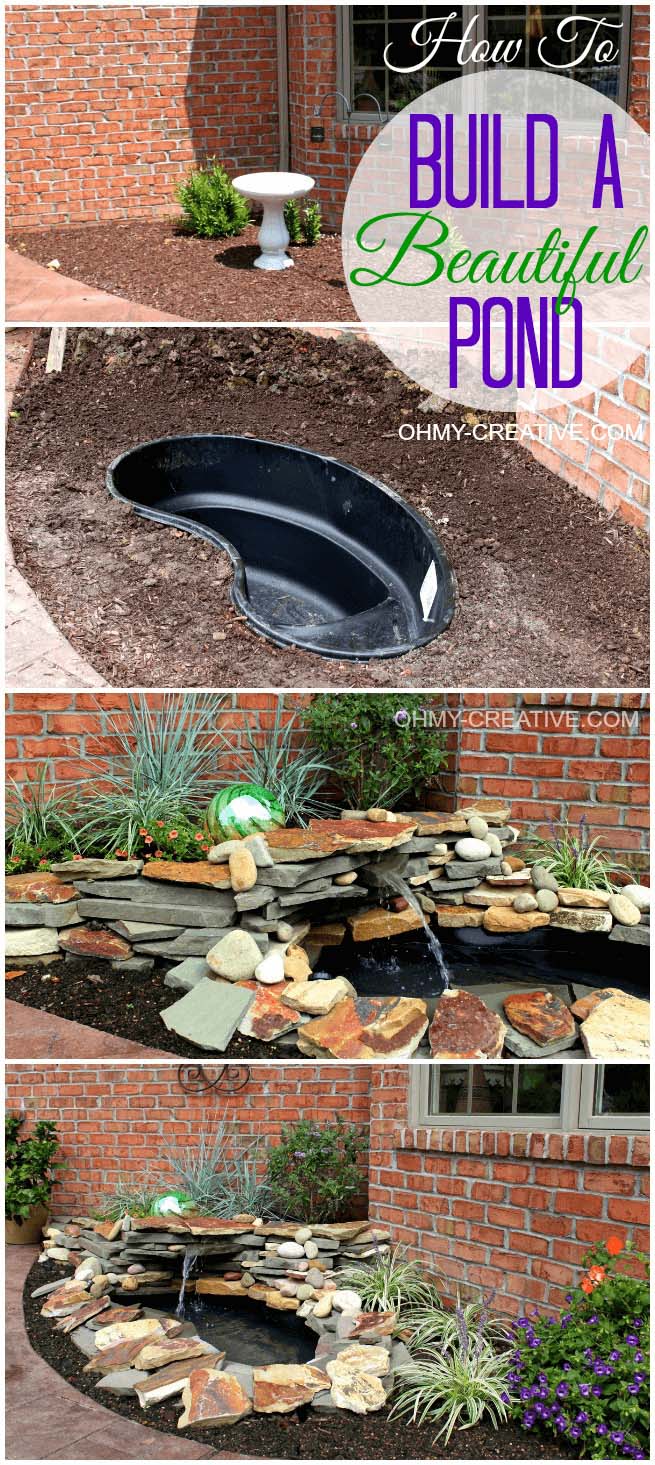 The pond is the perfect finish for every backyard. There are various designs of a homemade pond but this one is one of the most impressive ones as it combines fountain feature and beautiful stone wall as if made by nature.
via Oh My Creative
16. Construct a Serene Floating Island Backyard Deck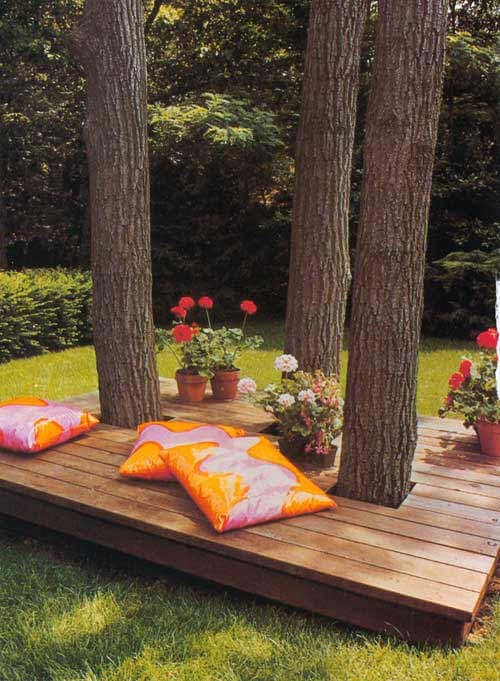 Take advantage of the natural shade of the big trees in your backyard and build an oasis around them.
via Poppytalk
17. Use a Chicken Wire to Create a Rustic Vertical Planter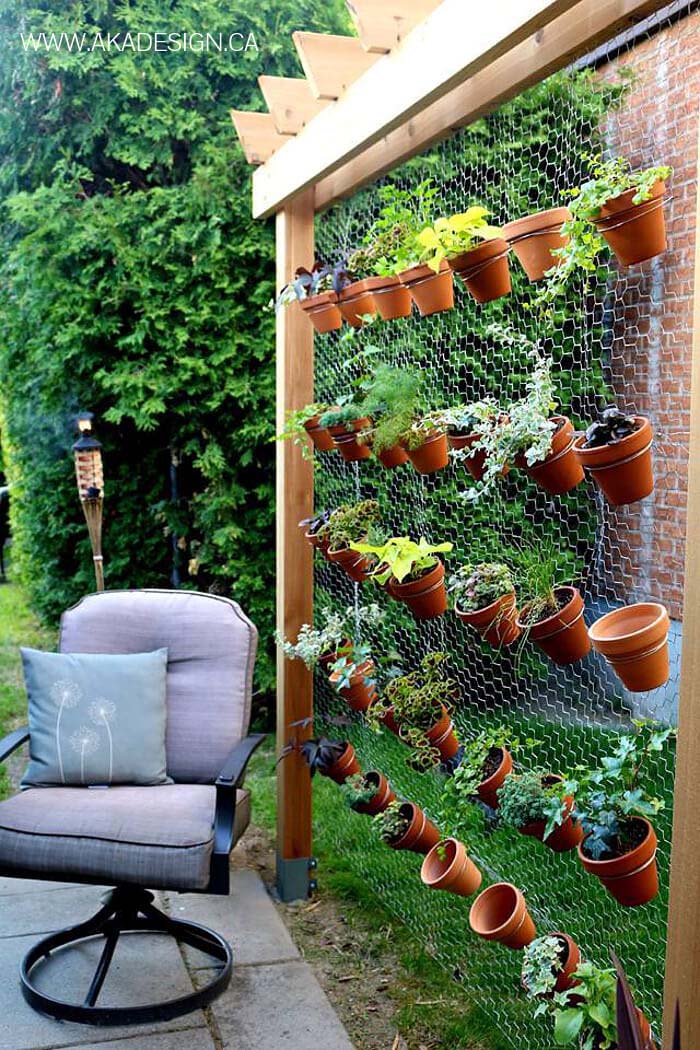 Vertical gardens are fantastic for many reasons- they are good for small spaces, they can also serve as space dividers, they can accommodate many pots.
via Home Made Lovely
18. Visual Contrast with a Pebble and Stone Patio Island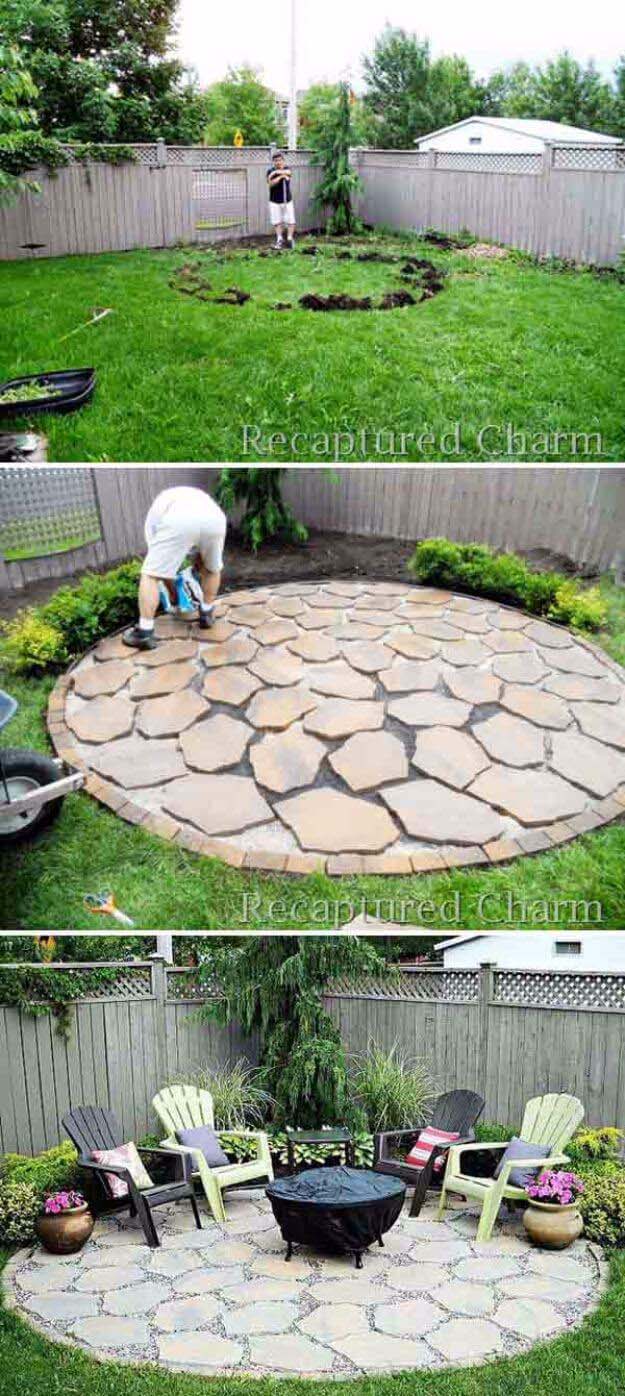 If you want to distinguish drastically the sitting area from the rest of the backyard, change the patio ground texture. This beautiful circular island, made of pebbles and stones looks natural and yet in contrast with the greenery.
via Recaptured Charm
19. Illuminate Your Flower Pots with Upcycled Tiki Torches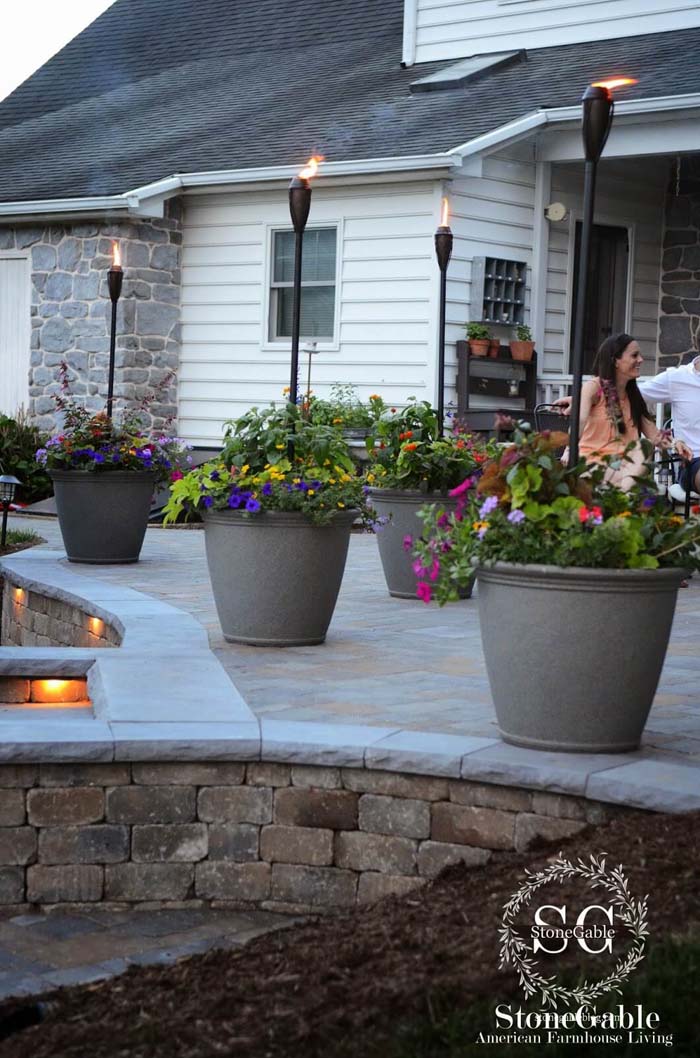 Tiki torches are among the standard backyard decoration. However, they will look totally different if "planted" in huge flower pots. Flowers will be lit even during the night.
via StoneGable
20. Elevate Your Hose Storage with a Rustic Built-In Planter

This is a clever and beautiful way to store the watering hose. Instead of hanging it on a tree branch, your fence or somewhere else visible put it in the box and take it out each time you need it.
via DIY Candy
21. Build Refined Corner Grill Station with Stackable Stones

Grill and barbeque are amongst the preferred meals in summer.
You can easily make a great station for your grill by building a steel structure like the one in the photo. Line it with stackable stones and place a beautiful countertop over the top surface.
via Faux Panels
22. Elevate Your Backyard with a DIY Fire Pit Sitting Area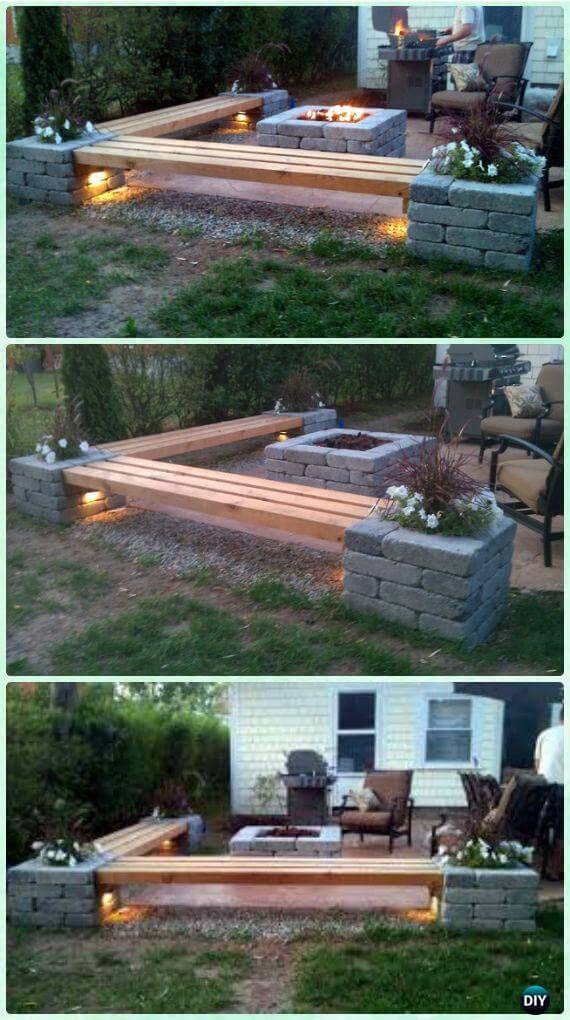 Customized furniture in the backyard takes the exterior to another level.
An what could be more customized than a DIY sitting area? This minimalistic fire pit corner is made out of concrete bricks, wood posts and light accents.
via Houzz
23. Enjoy Cold Beers with Patio Table Ice Boxes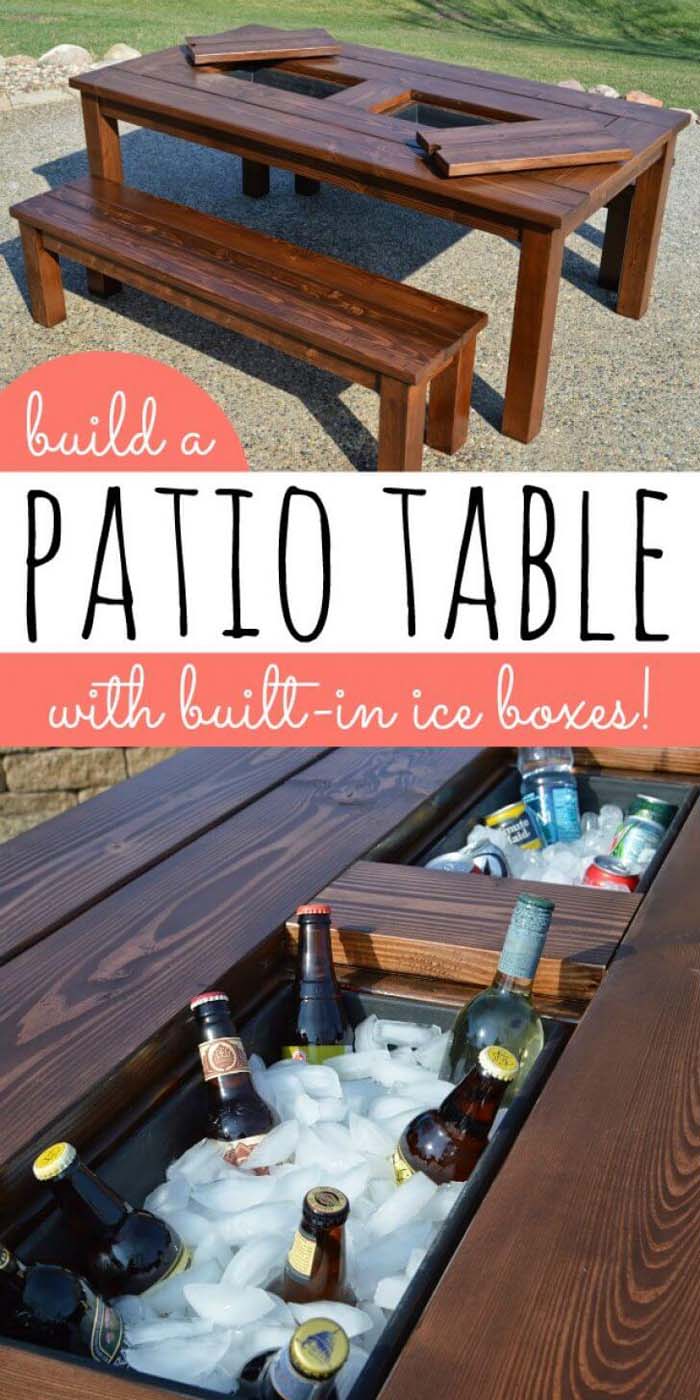 What is cooler than a cold beer on a hot day? Well, dozens of cold beers right beneath your nose.
This crazy patio table with built-in ice boxes is the best place for this summer season! And it comes along with two benches!
via Remodelaholic
24. Create a Magical Fairy Garden for Your Backyard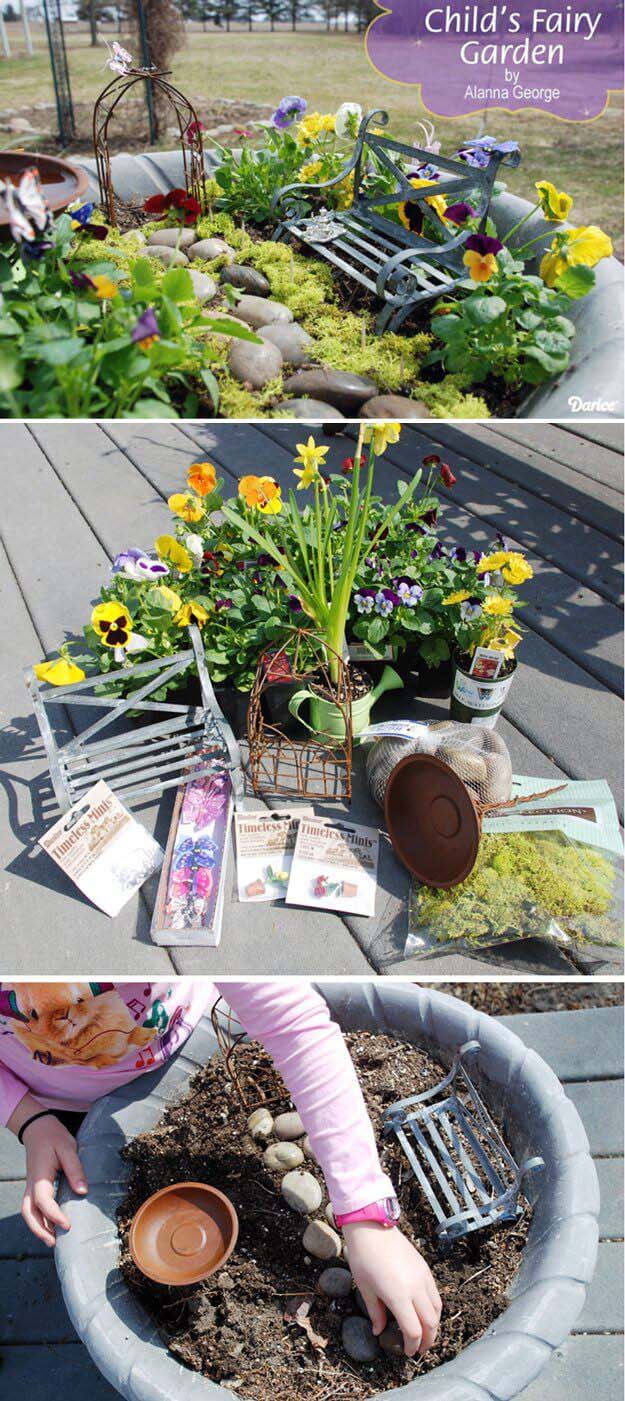 A small fairy garden will make a great accent to the backyard and will definitely impress people of all ages.
Fill a larger pot with soil and make a tiny representation of a garden.
25. Build a Mobile Wooden Bar for Outdoor Drinks Service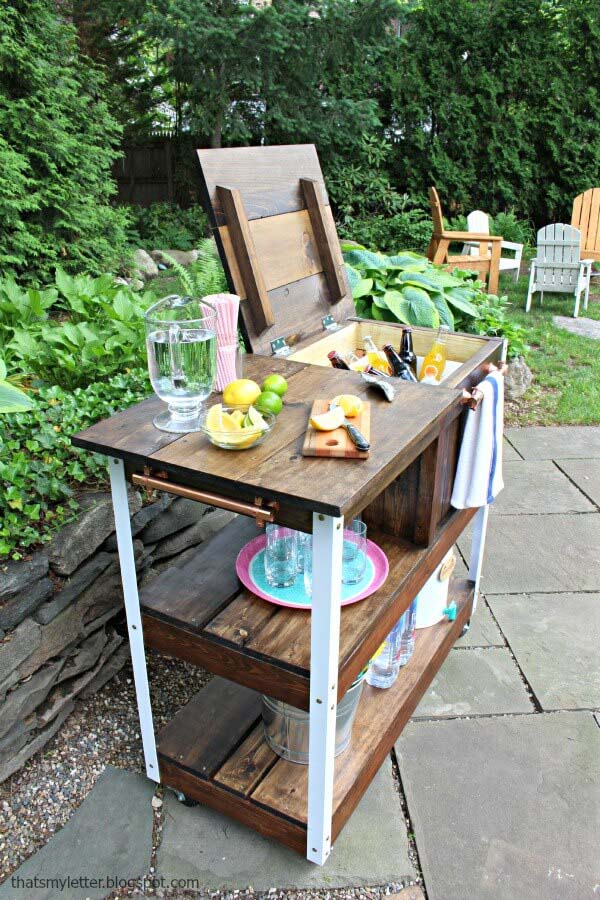 Easily store and serve cold drinks in the backyard with a DIY mobile wooden bar.
Detailed instructions and free plans are available on the link below.
via Jaime Costiglio
26. Construct a Backyard Treehouse without using a Big Tree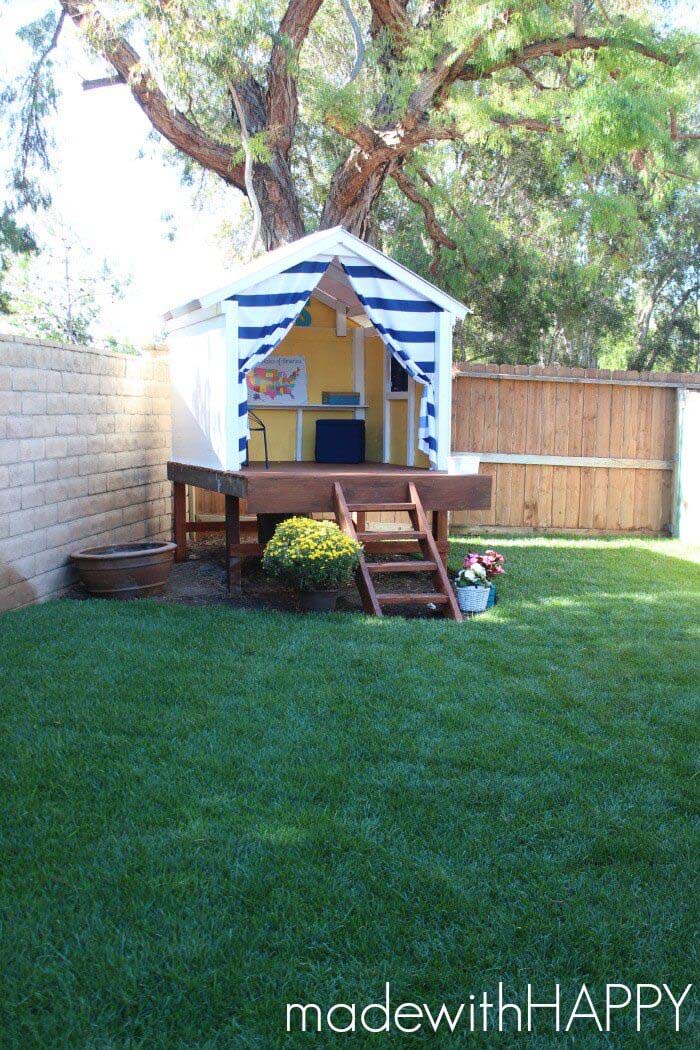 Surprise your kids with this fun treehouse. The best of all is that you actually don't need a big tree to build it on.
We promise, your kids will be more than happy to play in their tiny outdoor home.
via Made With Happy
27. DIY Planter Ideas with Vintage Light Strands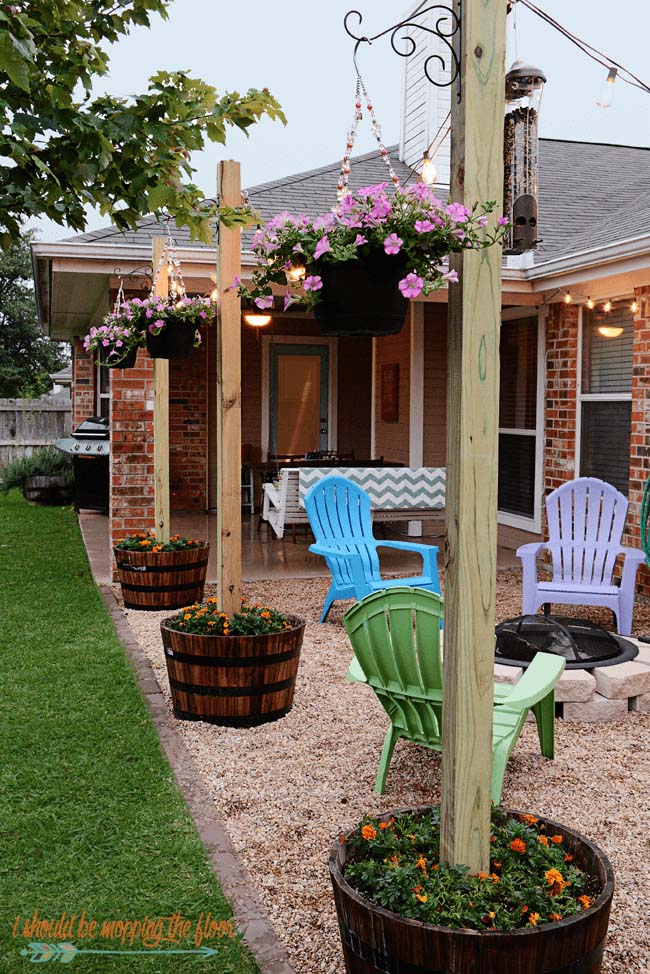 These flower posts are great, aren't they? These are one of the most functional DIY planter ideas. There are two places to grow flowers – in the bottom pot and on the stunning vintage strand.
The top of the posts serves also as an outdoor light string support.
via I Should Be Mopping The Floor
28. Create a Live Moss Artwork on Your Wall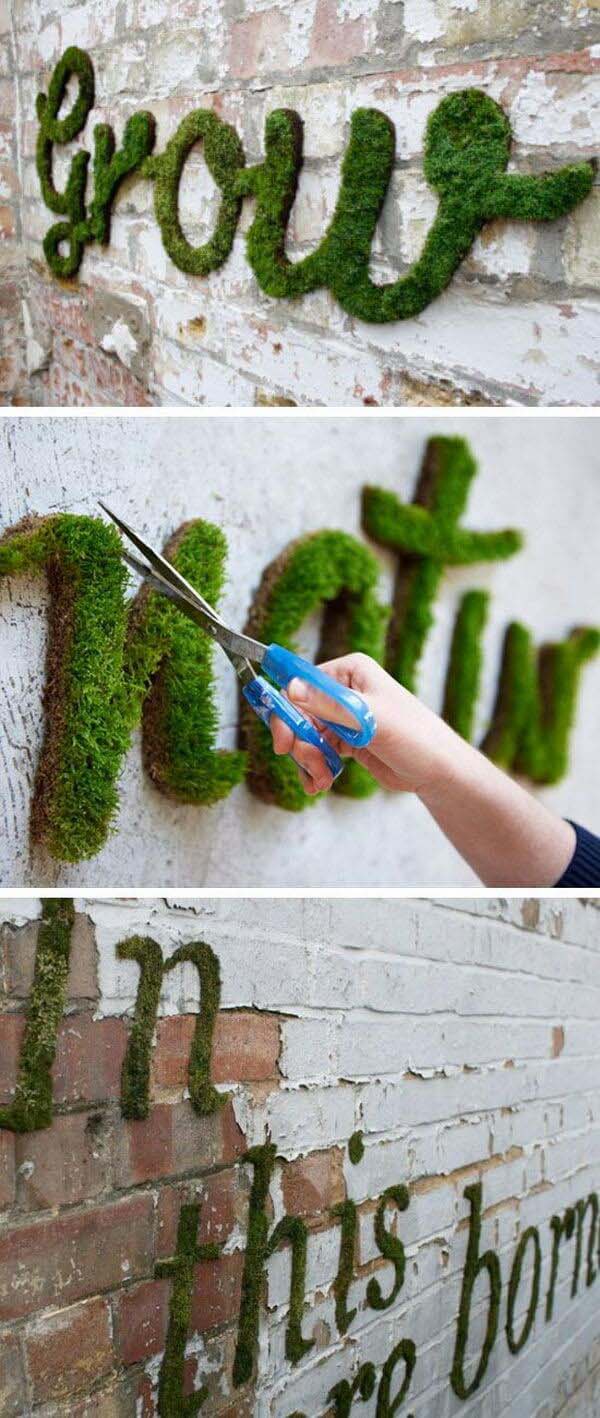 This is a DIY for the bolder ones. Make a statement or write a fav poetry line with live moss.
You should be patient for the end result though as it will take a month for the moss to start growing into rooted masses.
via Green Prophet
29. Revamp an Old Barrel into a Creative Umbrella Stand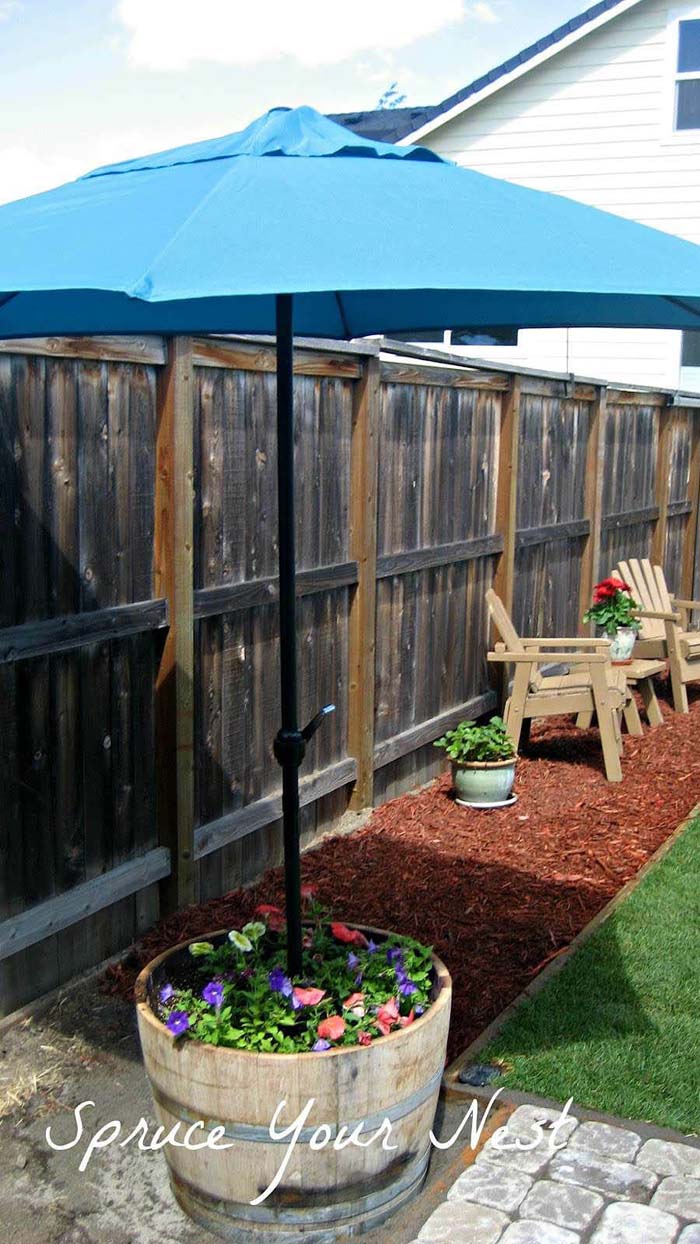 Standard umbrella stands are so boring.
Repurpose an old barrel by filling it with stones on the bottom, soil and beautiful flowers and use it as a stand instead.
via Spruce Your Nest
30. Spruce Up Backyard with an Inverted Flower Centerpiece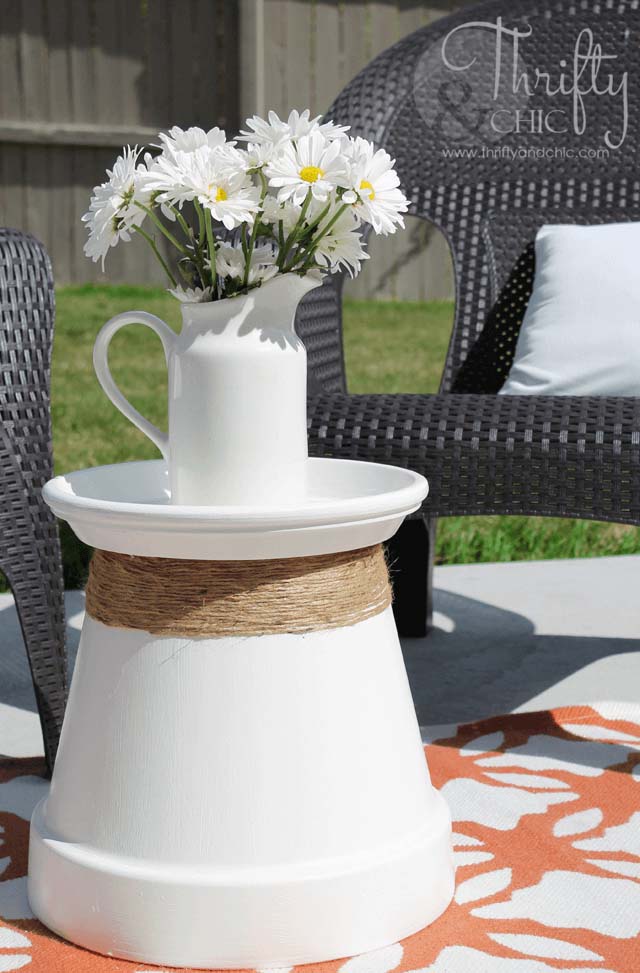 Simple as it is, turning a large flower upside-down could be used as a small centerpiece or table for the backyard sitting area.
Paint it in bright colors, add string accent on the top and a vase with fresh flowers.
via Thrifty And Chic
31. Build a Rustic Patio Sofa with Ease

This gorgeous rustic sofa looks like a designer's piece of furniture.
The good news is that each of us can make it following the instructions on the link below.
via Homemade Modern
32. Make a Textured Stone Walkway for Your Backyard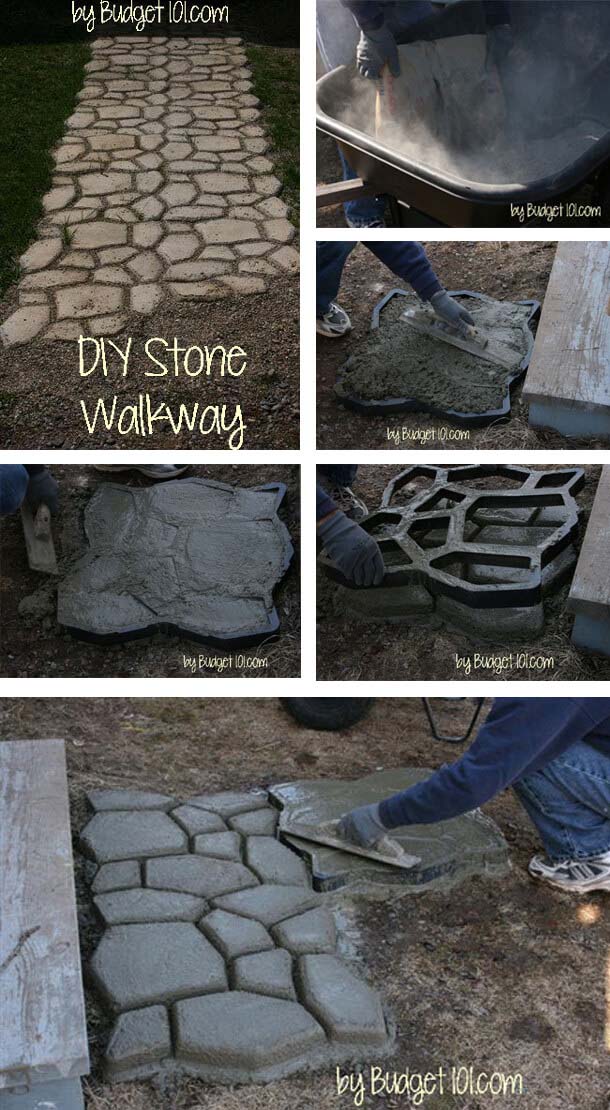 The neater the backyard looks, the better. If you distinguish walkways to the garden or to the patio, you will make it look more organized.
Make your own Rome stones and build a textured walkway yourself.
via Budget 101
33. Enjoy Summer with a Beautifully Constructed Fire-Pit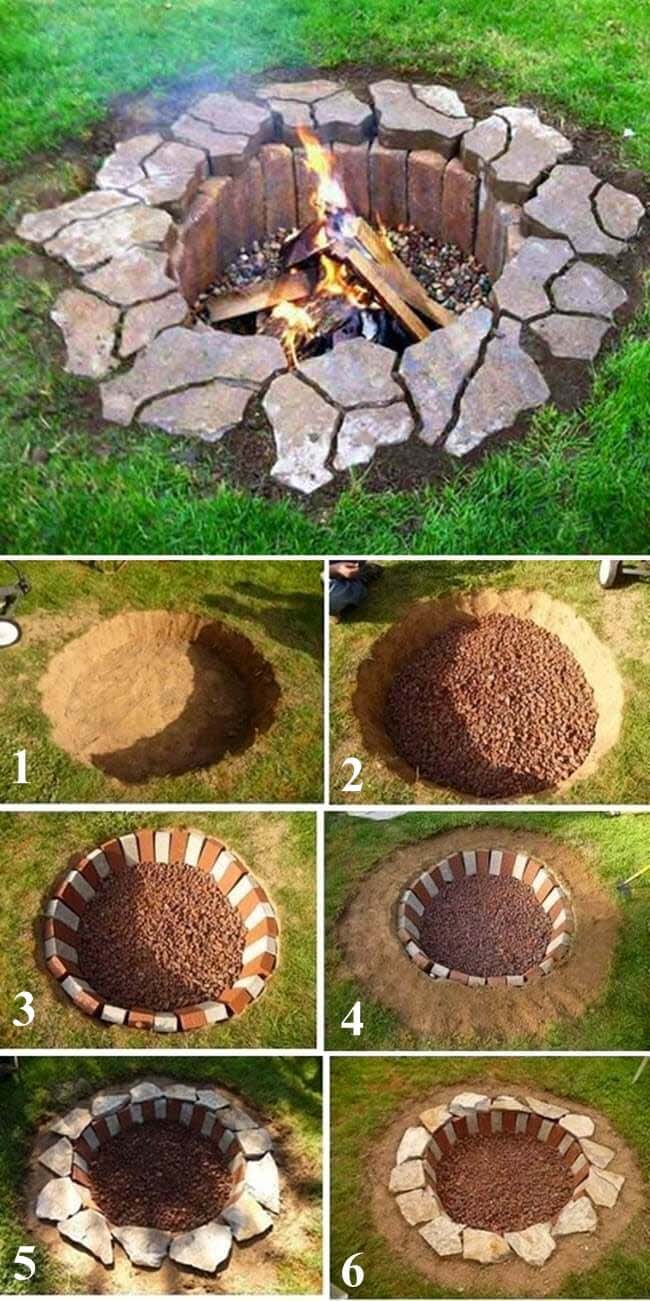 This fire-pit looks like a professionally built feature. It is dug in the ground and surrounded by rocks.
It will become the most attractive area from the backyard on the summer nights.
34. Recycle Tires to Make Rope Ottoman Seats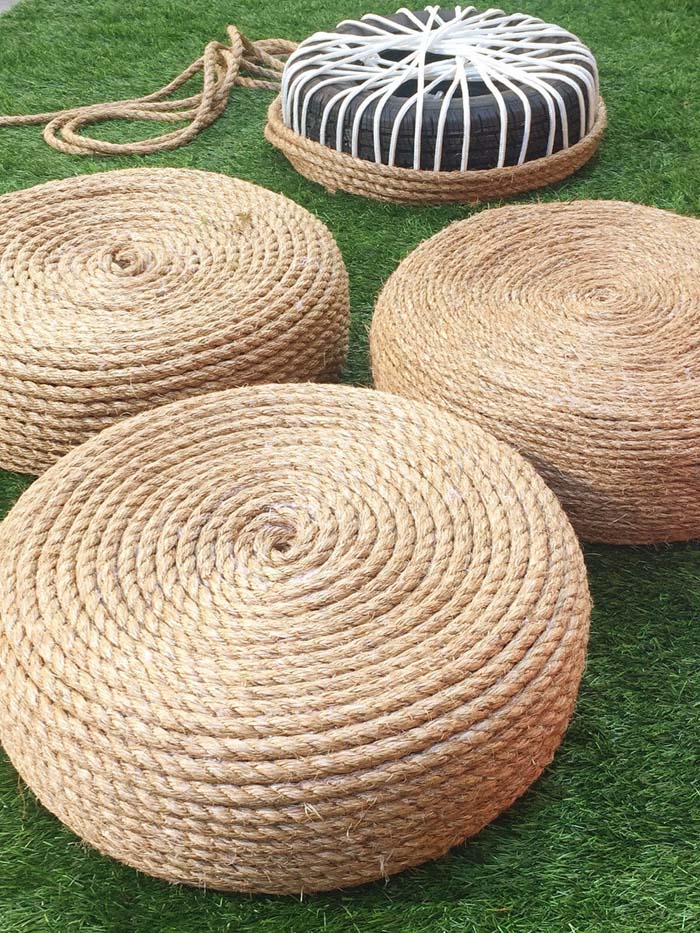 These ottoman seats are made of recycled tires, a thick cord and a hot glue gun.
Make sure to get as many tires as possible as they are the perfect solution when you don't have enough sitting places on your patio.
via Style Me Pretty
35. Construct a Rose-Adorned Wood and Stone Bench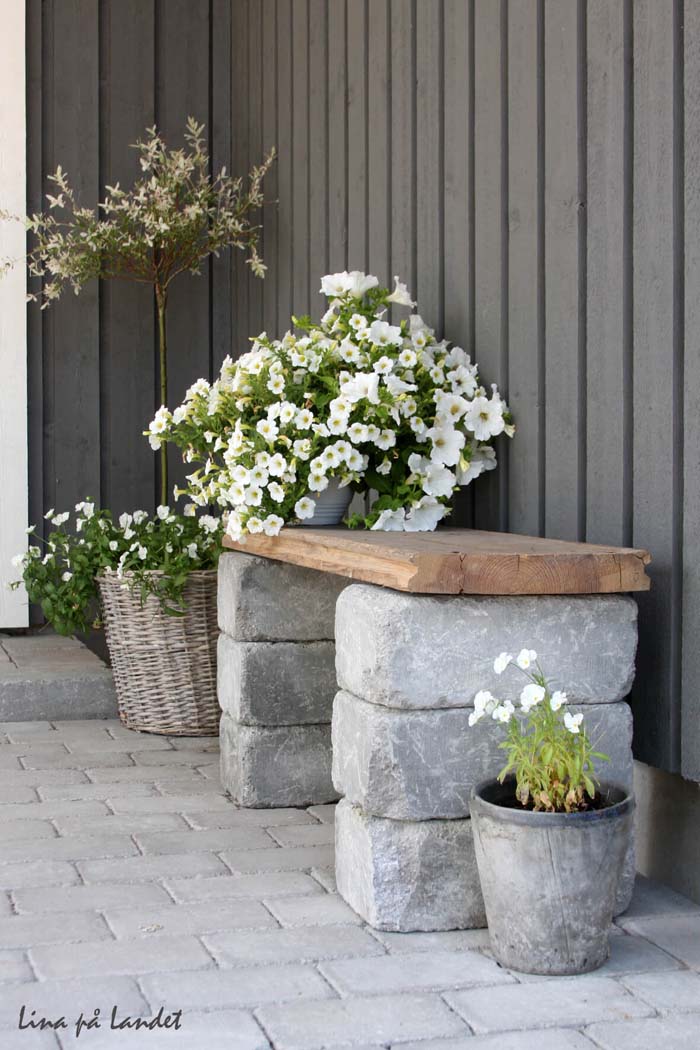 A small bench will always be useful- both for sitting and decoration stand.
This one is one of the quickest DIY benches ever. All you need is pavers and left-over laminate.
via Lina Pa Landet
36. Enjoy Sunsets on a DIY Swing

Another way to enjoy the sunsets is to sit on a swing on your own.
This is a very simple and quick DIY idea and will look great even only as a decoration when tied to a large tree in the backyard.
37. Illuminate Your Patio with String Lights on Poles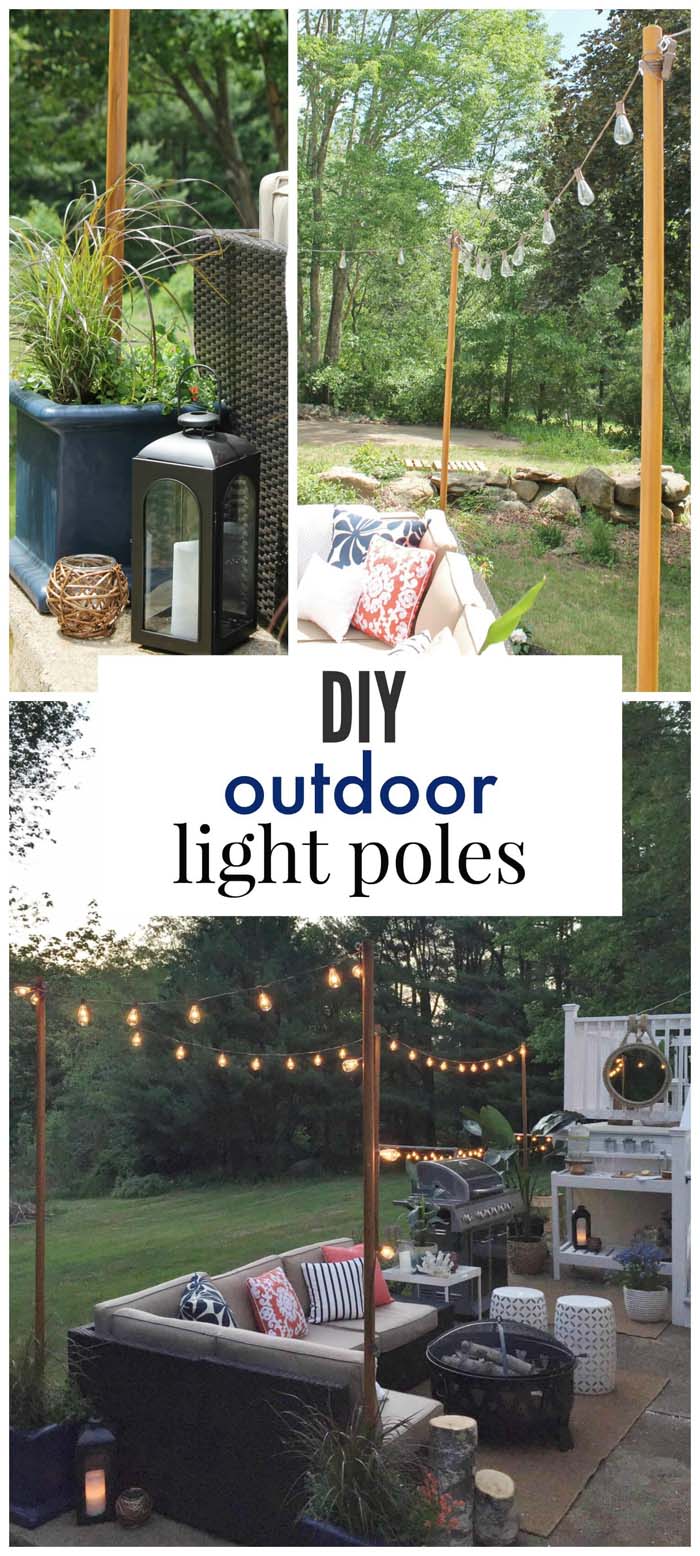 Outdoor string lights are very universal as they match well any exterior and provide just the right amount of light at night.
Use existing pots with flowers to insert wood dowels that will support the hanging stringed bulbs.
via City Farmhouse
38. Make a Storage Box for Backyard Decor Organization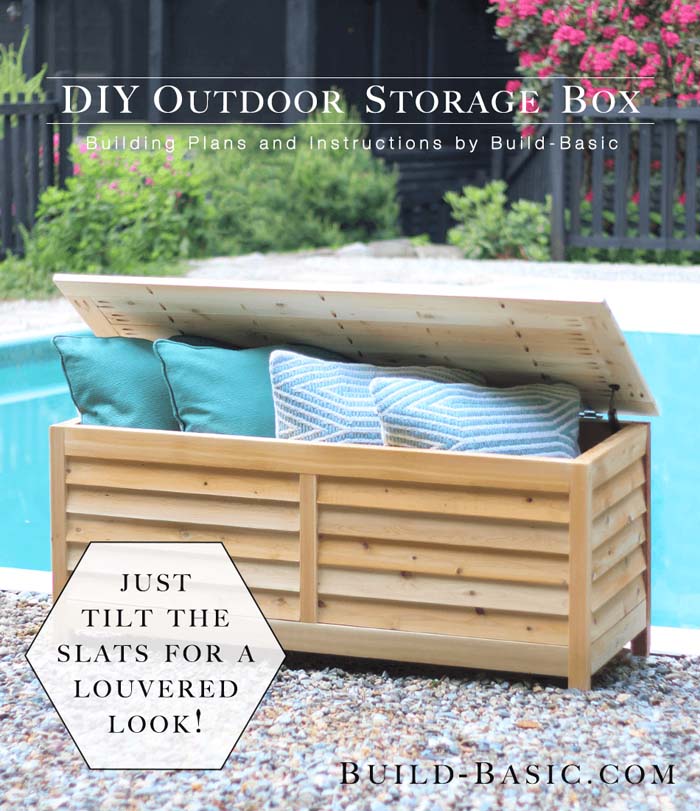 Want more organization and neatness in your backyard?
Make yourself a storage box that will accommodate the seasonal decor.
via Build Basic
39. Build a Romantic Retreat using a Pergola and Curtains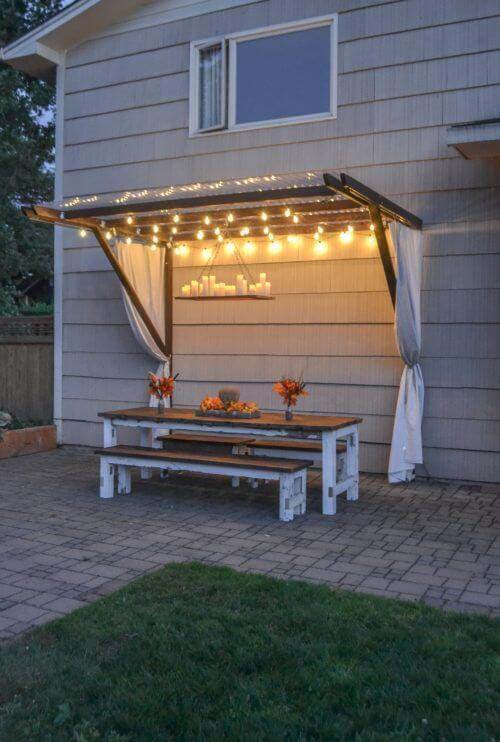 This pergola area can take a person to another place. It is a private outdoor space where romance rules.
via The Created Home
40. Backyard with DIY Dollar Store Burlap Lamp Shades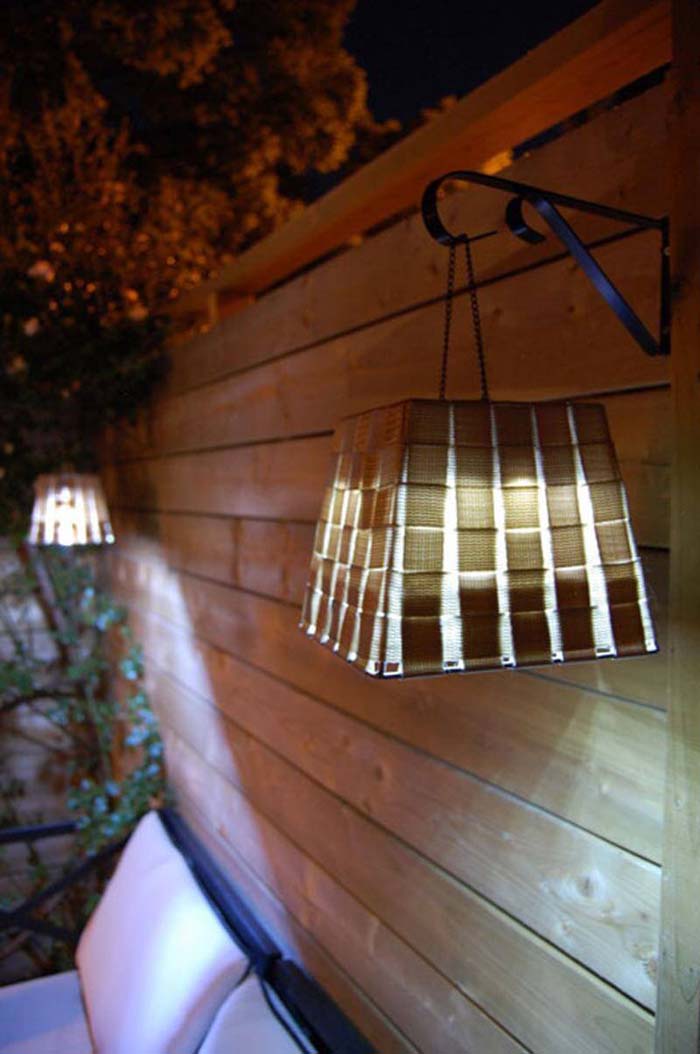 Will you believe me if I say that this burlap lampshade has actually be made with supplies only from the dollar store?
Almost for no money, you can make yourself these stylish lampshades for your backyard.
41. Enhance Your Outdoor Space with a Functional Canopy

Make sure to read the tutorial for this functional canopy as it will last for many years, it will provide just enough shade to your sitting area under the pergola and will make it look more sophisticated.
via Sailrite
42. Update Your Backyard Furniture with Stylish Cushions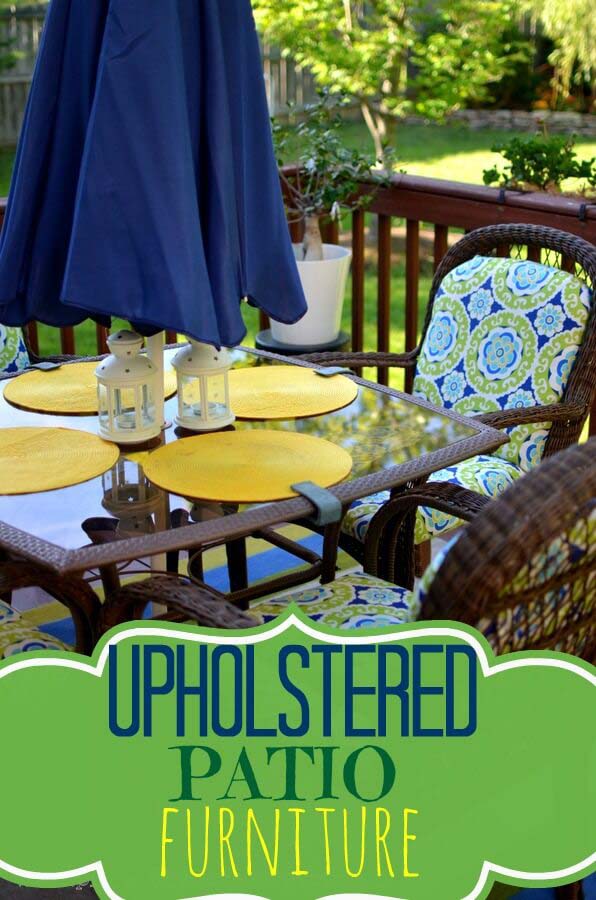 Upgrading the backyard sometimes requires only a few touch-ups like this one, for example.
Change the fabric of the chair cushions with one more modern and brighter pattern and your furniture will instantly change its appearance.
43. Nautical-Style Fencing for Raised Patios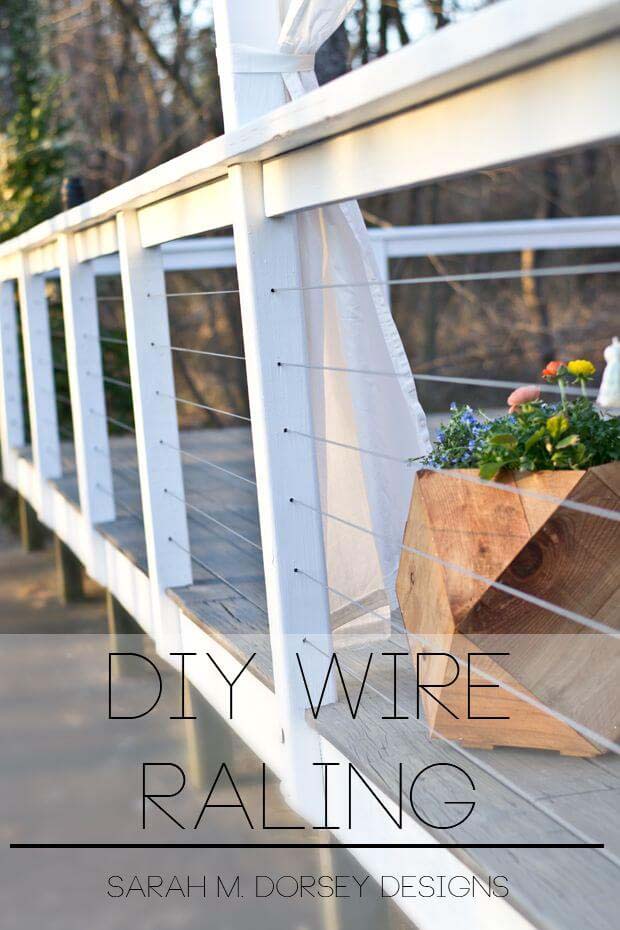 A great and modern idea for fencing around a raised patio is to run several rows of string lines transversely through the vertical wood posts. This will give a nautical touch to your patio.
via Bloglovin`