If you think it's too late to join the cinder block revolution, think again. It will never be too late for thinking up creative ways to use cinder blocks.
They're cheap and sturdy.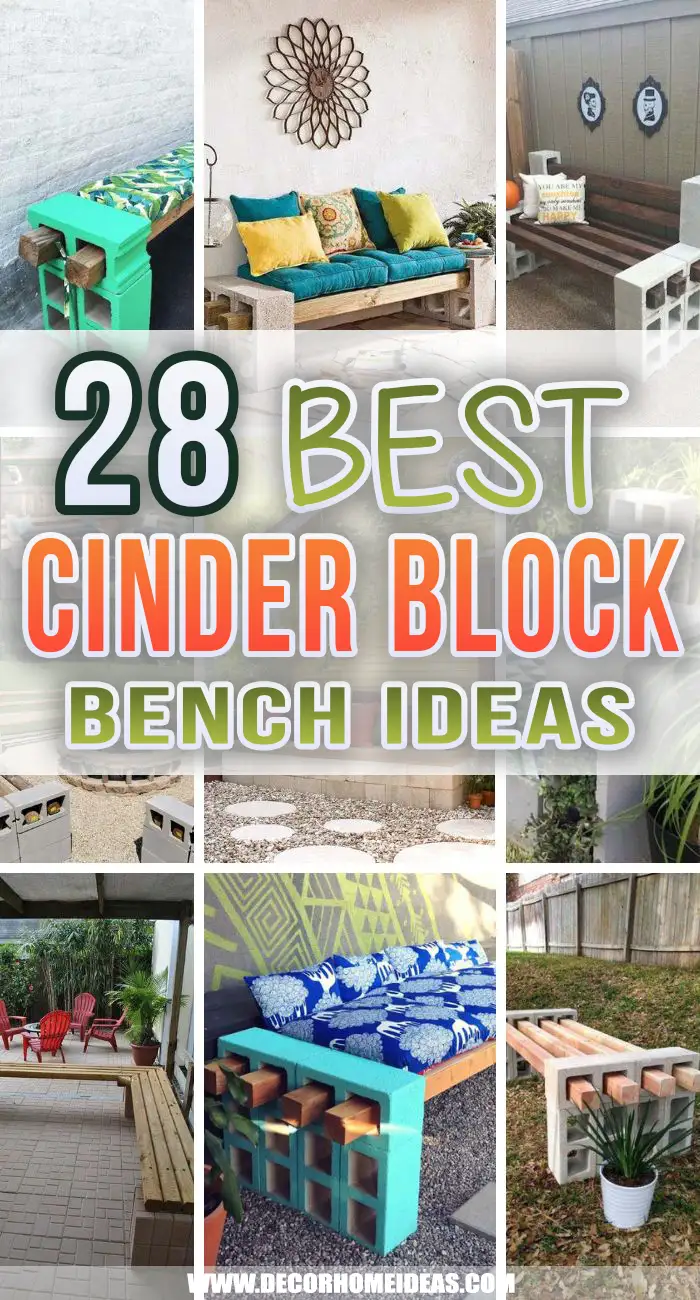 We've come up with a collection of cinder block bench ideas to get you thinking of ways to add seating areas to your landscape.
How much does it cost to make a cinder block bench?
A barebones basic cinder block bench can be built for under $50 USD. The price will go up depending on your choices of cushions, fabric and paint.
The 12 inch blocks run from $2.00 to $4.00 dollars a piece. They drop in price as they drop in size. You may find blocks for free through construction projects.
How many cinder blocks do you need to make a bench?
The most common design calls for twelve cinder blocks. That's 6 on each side. You can get away with six blocks in total for a small, low bench.
How do you stick cinder blocks together?
Construction adhesive or any type of liquid nails will securely hold a few blocks together. Mortar isn't necessary for any of the following ideas but should be used for bigger projects like retaining walls.
Keep in mind that the strength of cinder blocks is compromised when used with the holes facing outward or on their ends. This is mostly a concern when used as construction or heavy support, but good to know in case you have an ambitious project in your future.
Let's take a look at these bench ideas.
1. DIY Cinder Block Bar Tutorial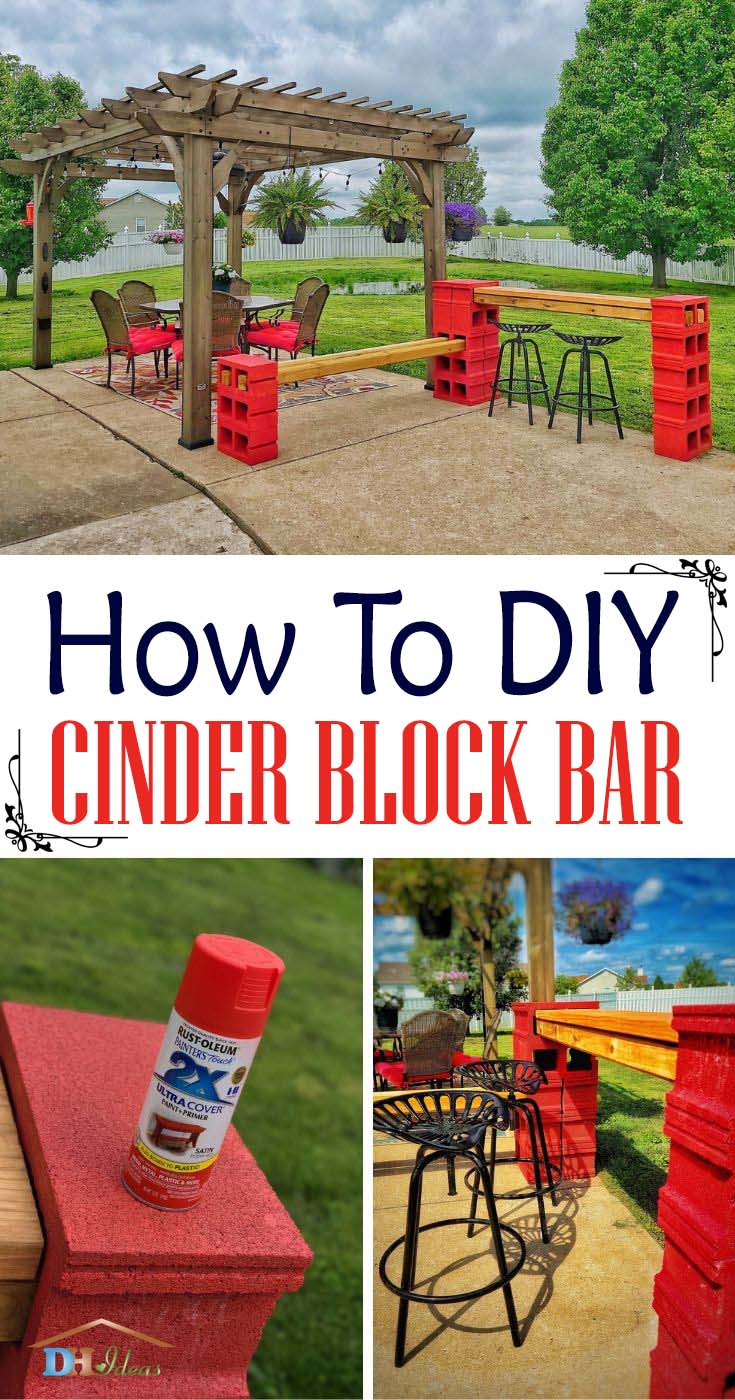 Yes, we know this article is about cinder block bench ideas, but why not add a bar to our bench while we're at it?
This easy DIY project gives you all the basics for making your own cinder block bar and bench.
Click the link to follow along with the tutorial on our site. When you've finished, you'll have all the skills you need under your belt to make any other project listed here.
via Decor Home Ideas
2. Cinder Block Bench With Smooth Surface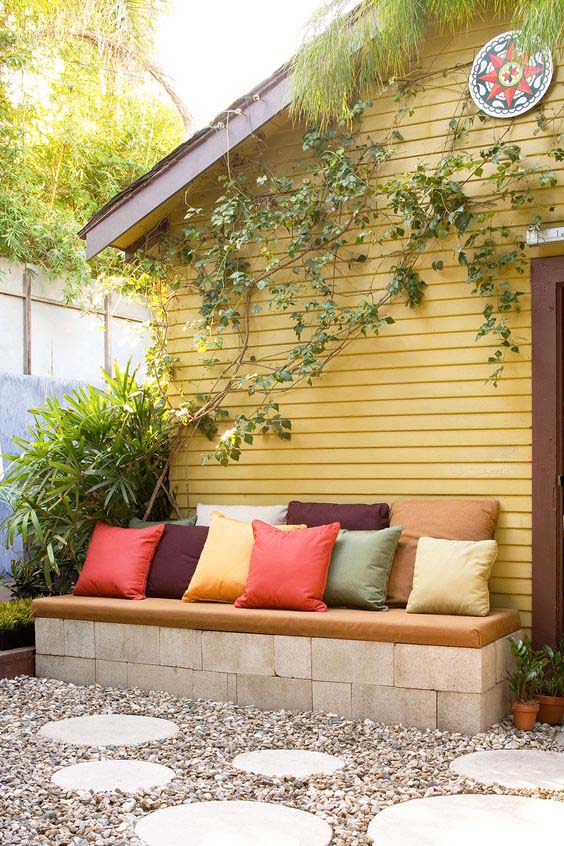 If you don't want to deal with 4 x 4 lumber, or you don't like the holes in the center blocks, check out this version of a cinder block bench. The blocks are set up as they would be when building a wall.
You can have a plank across the top or add a stiff cushion. Bring the cushions and pillows inside when the weather calls for rain. The cinder blocks can be stained or painted in whatever color matches your backyard.
via BHG
3. DIY Cinder Block Outdoor Bench

These cinder block bench projects all follow the same construction method.
You can see how different you can make it by changing out the colors of the cushions or the color of the wood stain.
If you don't want an extended bench, you can make a DIY cinder block chair as shown in the middle picture. The lumber extends past the side of a two-cushion chair, creating a side table.
4. Cinder Block Bench With Recycled Cushions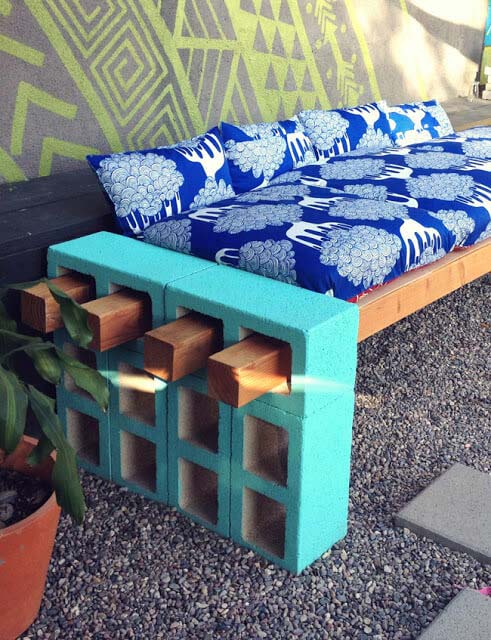 A graphic print and colorful cinder blocks highlight this charming bench.
A backrest was created by resting cushions against the wall in the back. The bench cushion was made by recovering an old camping mattress pad.
via Lena Sekine
5. Small Painted Cinder Block Bench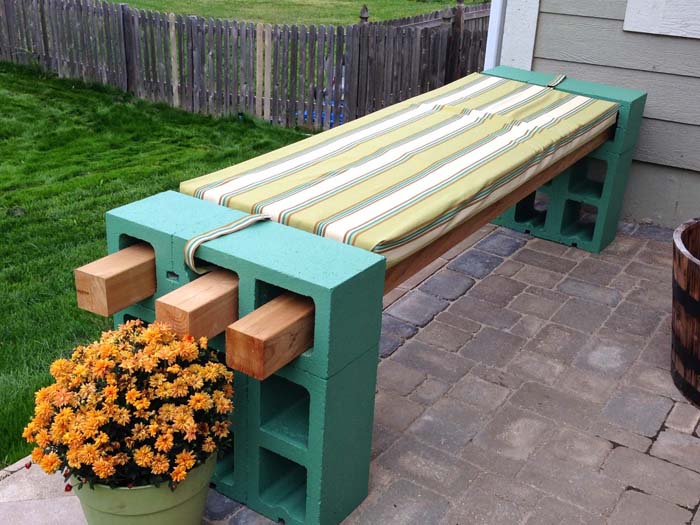 Many cinder block benches may be too wide for your patio. This DIY project uses only three 4 by 4 pieces of cedar. It also uses four large 2-hole cinder blocks and a single hole cinder block. The bottom is set up with 3 blocks standing on end and the fourth at one end on top
The single hole cinder block completes the top. The cushion is held in place with a strap and hook and loop fasteners.
via DIY by Kimberly
6. L Shaped Outdoor Bench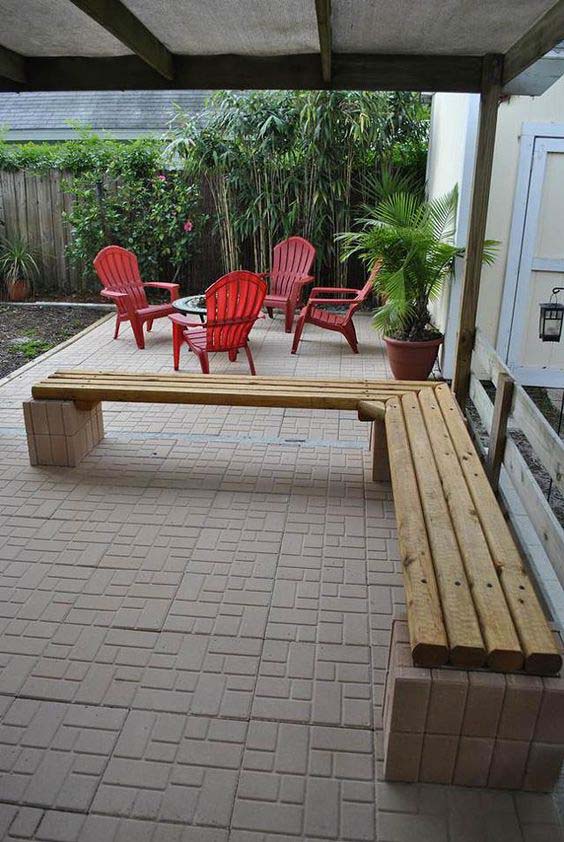 Here's a rustic outdoor bench that is reminiscent of a mid-century design. The mitred corners save precious space on this patio.
If you need more outdoor furniture, you can use this cinder block bench idea as a jumping-off point and turn this into a DIY cinder block sectional.
7. Sturdy J Shape Cinder Block Bench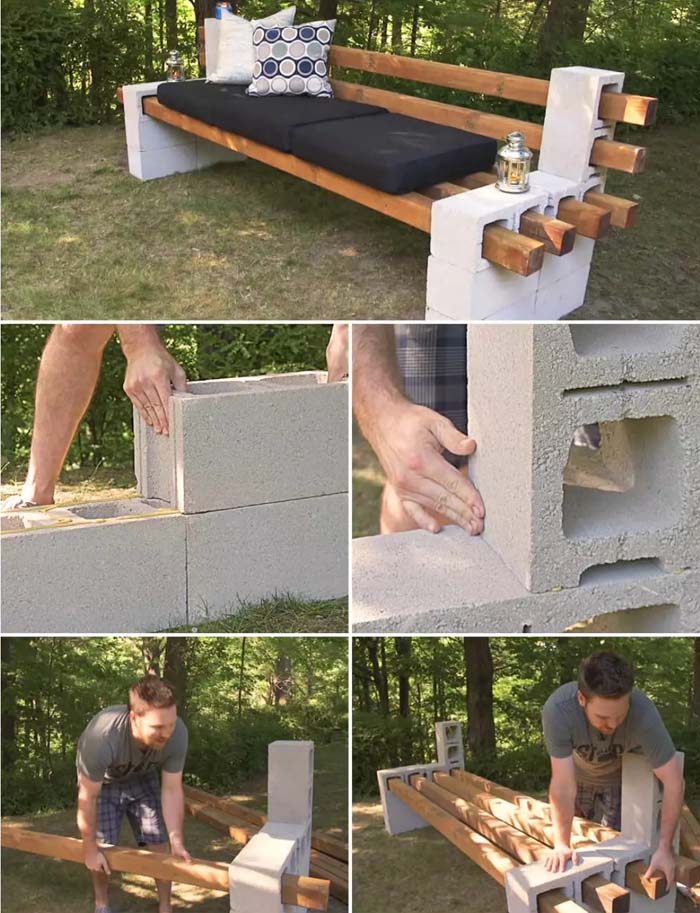 J Shaped cinder block benches have a backrest. This substantial bench was created with 14 cinder blocks and four pieces of lumber.
Make sure everything is level before you start gluing cinder blocks together with your construction adhesive. The 12 inch blocks weigh over 50 pounds each.
They'll be hard to move if you have to reposition them after the construction adhesive has set.
8. Cinder Block Furniture Ideas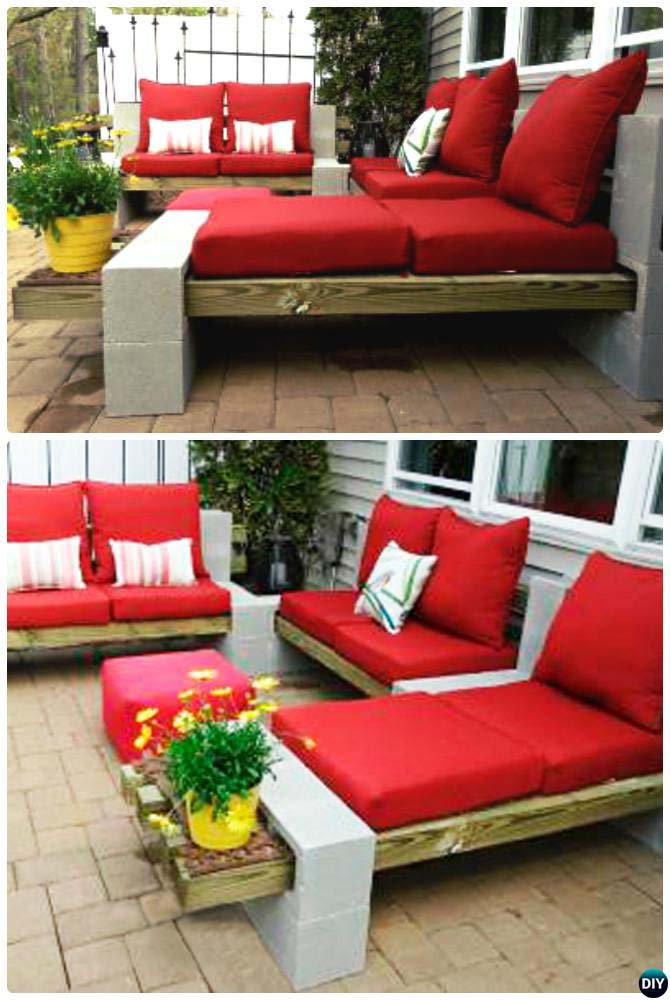 All of this patio furniture was created using cinder blocks and 4 x 4 lumber. The red and white colors bring modern styling.
The coffee table can be made from cinder blocks and painted or covered with fabric.
9. T Shape Cinder Block Bench with 4 x 4s

A simple t-shaped cinder block bench can add charm to any part of your backyard.
Since they're so affordable, you can add them to any part of a large yard where it would be nice to have a permanent seating area.
via Fab Everyday
10. Painted and Stained Cinder Block Benches

The owner wanted their cinder block benches to match up with each section of fencing. Half-lap joints were used to extend the lumber.
The result is the illusion of one long piece of timber for each railing.
via Instructables
11. Cinder Block Couch and Coffee Table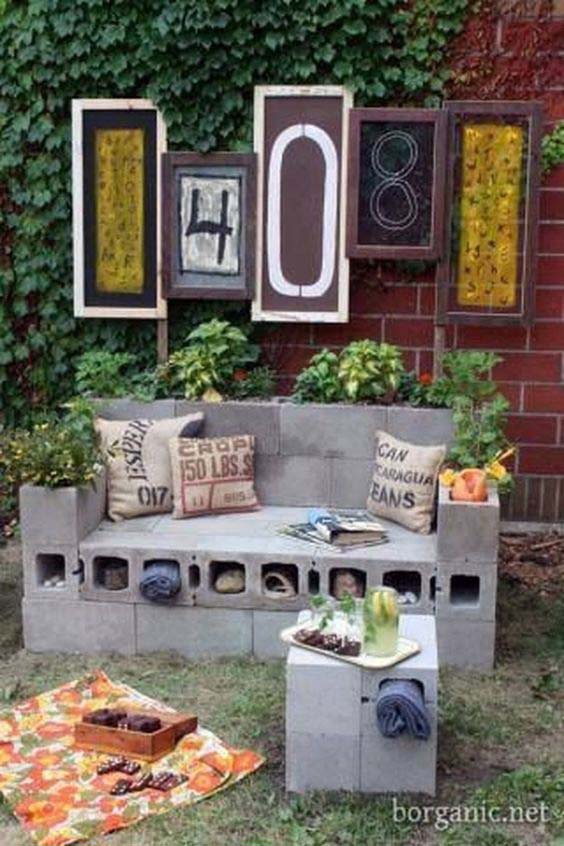 This couch proves you don't need lumber if you have enough cinder blocks. There are cubbies under the couch and the coffee table for extra blankets.
Using the backrest holes as planters adds texture and color.
12. Extended T Shape Cinder Block Bench

This cinder block bench uses 2 by 4s for the seating. If you're having trouble handling 4 by 4s, this is an easy workaround.
Each section is supported by three blocks.
via Somewhat Simple
13. Small Cinder Block Benches for Your Firepit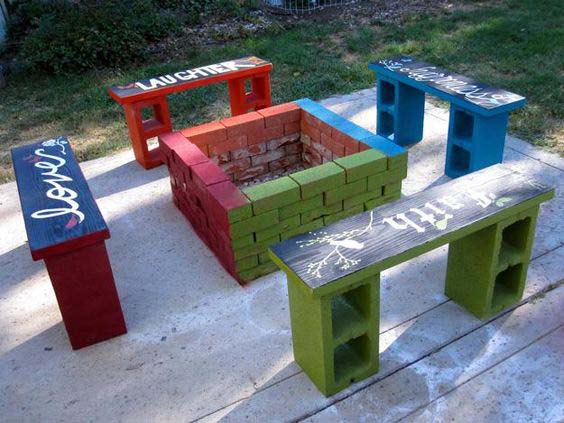 A cinder block bench project doesn't get any easier. Stand up the blocks on their ends and attach a plank.
Paint and decorate as you like. We like the extra touch of matching the colors of the benches to the sides of the fire pit.
14. Simple Cinder Block Bench With Planters

Let's deconstruct this cinder block bench idea. Two stained pine planks are weighted down at each end. The three planters in front of the bench add depth and interest.
The owner confessed the grasses in the top blocks were fake. She didn't want moist dirt rotting the bench.
15. Graphic T Shape Cinder Block Bench Idea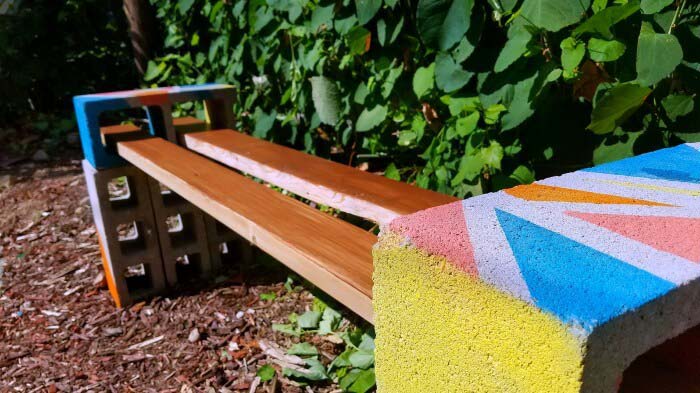 Cinder blocks can be painted with exterior paint or masonry paint. Be sure to seal the blocks before and after painting.
via A.V. Does What
16. L Shaped Boho Cinder Block Bench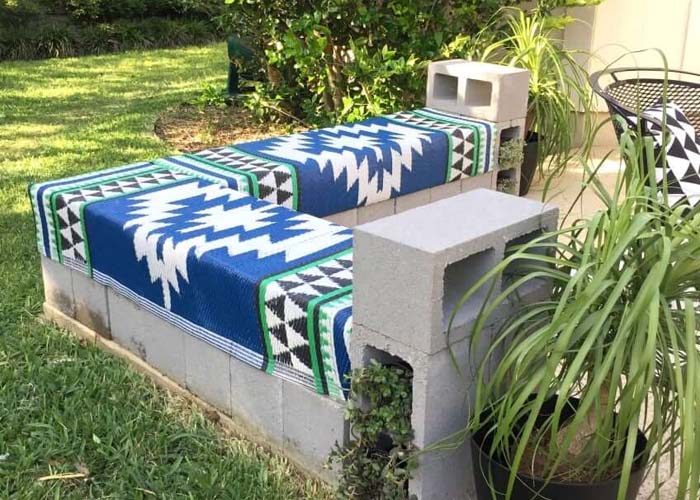 Here's another bench that doesn't use any lumber. The bottom rows of cinder blocks are glued together.
The top cushions are held in place by tucking the coverings underneath the top row of blocks.
via Jennifer Perkins
17. Small White Cinder Block Bench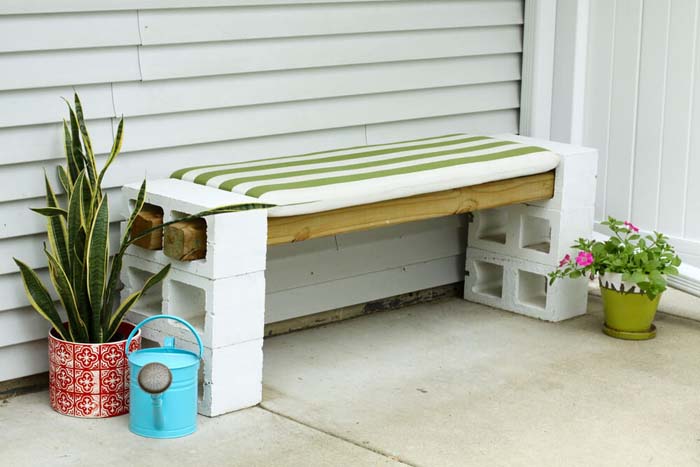 Give your cinder block bench a coat of paint to brighten the look.
Prior to pre-treating and painting, clean the blocks with TSP to remove grease or stains.
18. Extended Corner Cinder Block Bench Idea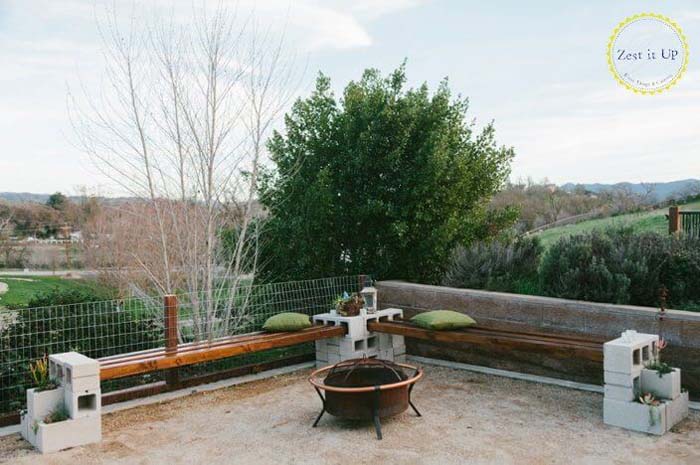 One way to ensure your cinder blocks are secure is by creating planters in the holes.
These long posts provide plenty of sturdy bench seating around this patio's fire pit.
19. Bright Cinder Block Benches For Any Area

Here are a couple of examples of cinder block benches that have been decorated with glossy paints.
The key is always pre-treating the surface with a waterproof sealant.
20. Beautiful Brown DIY Cement Block Bench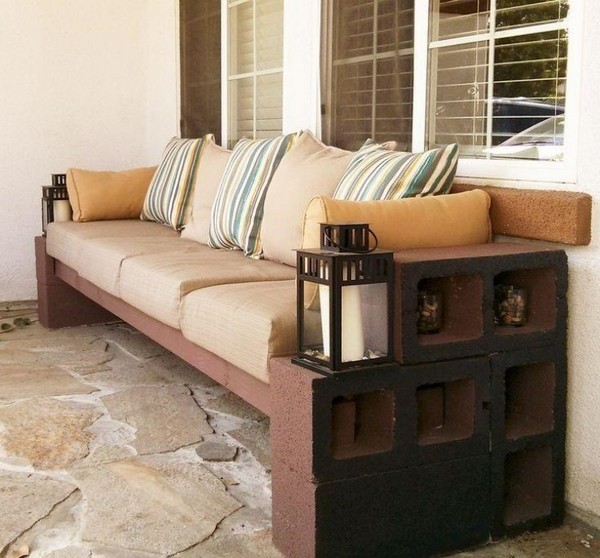 This cinder block bench is a beautiful addition to the patio. The chocolate, cream, and caramel colors are reminiscent of a chocolate candy bar.
The vintage styles lanterns make you think it's been there for years.
21. Corner Cinder Block Bench and Table Idea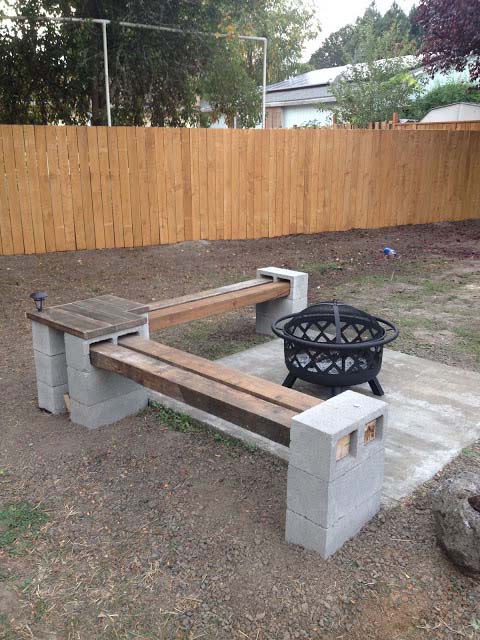 Here's an easy way to add a table to your L shaped bench. Adding another column of blocks at the corner set up a square to support some planks that were cut to size, sanded, and stained. 
It creates a convenient side table for drinks and lighting.
22. Add Cinder Block Benches to Gravel Areas

Cinder block benches provide a point of interest along pathways in your landscape.
Gravel is especially forgiving when it comes to leveling your bench.
23. U Shaped Cinder Block Bench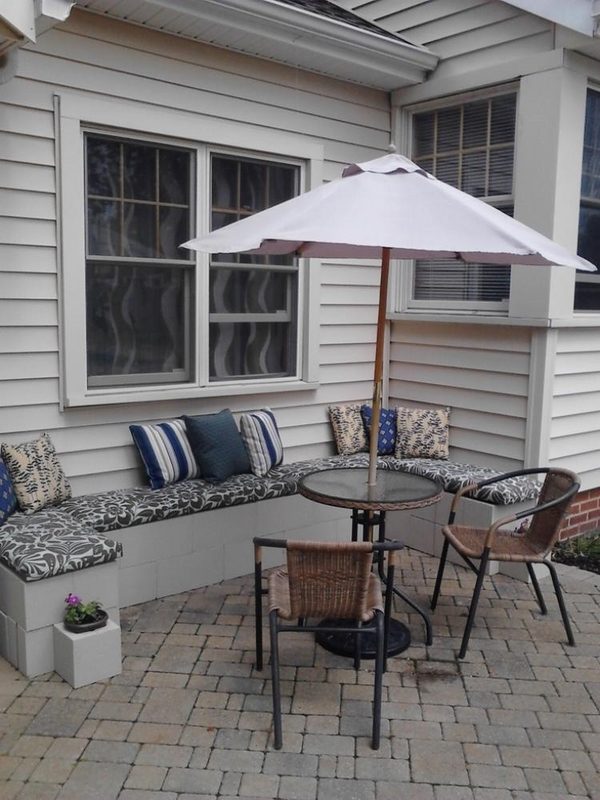 Extra seating was added to a standard DIY cement block bench project by adding extra blocks to the ends.
You do this by building two small benches with matching cushions. It gives the look of a sectional sofa.
24. Display Potted Plants on Cinder Block Bench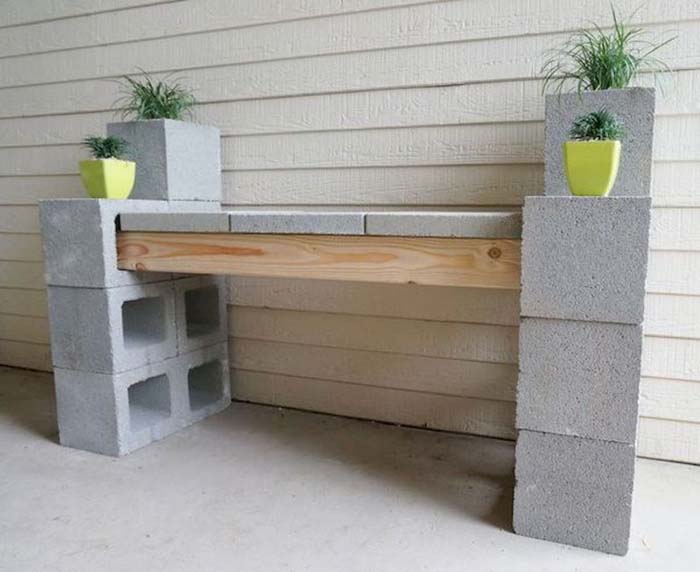 Add stone slabs on top of the wood planks to create a work area or outdoor display area.
25. Dress Up a Corner With Holiday Decor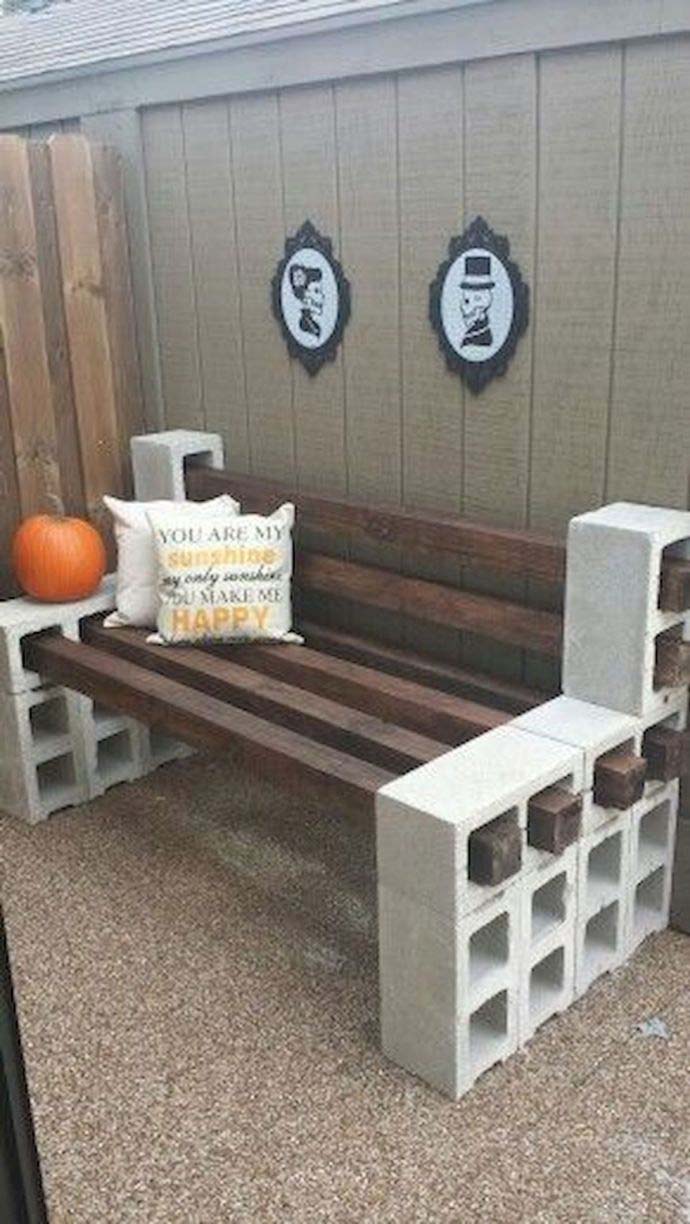 Here's an outdoor seating area idea that is full of surprises. The Halloween themed silhouettes are so cute.
They invite everyone to pose for selfies on the bench and sip hot apple cider.
26. Keep Cinder Block Bench in Natural Colors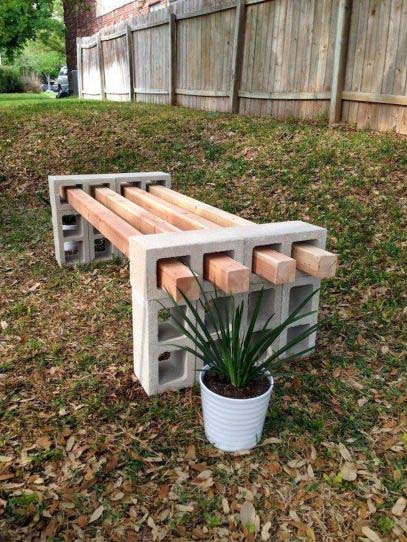 Here's a bench where all the cinder block holes are facing away from the center.
It's a little more unstable than other ideas, but since it's low, it poses no real threat to collapse.
27. Narrow Cinder Block Bench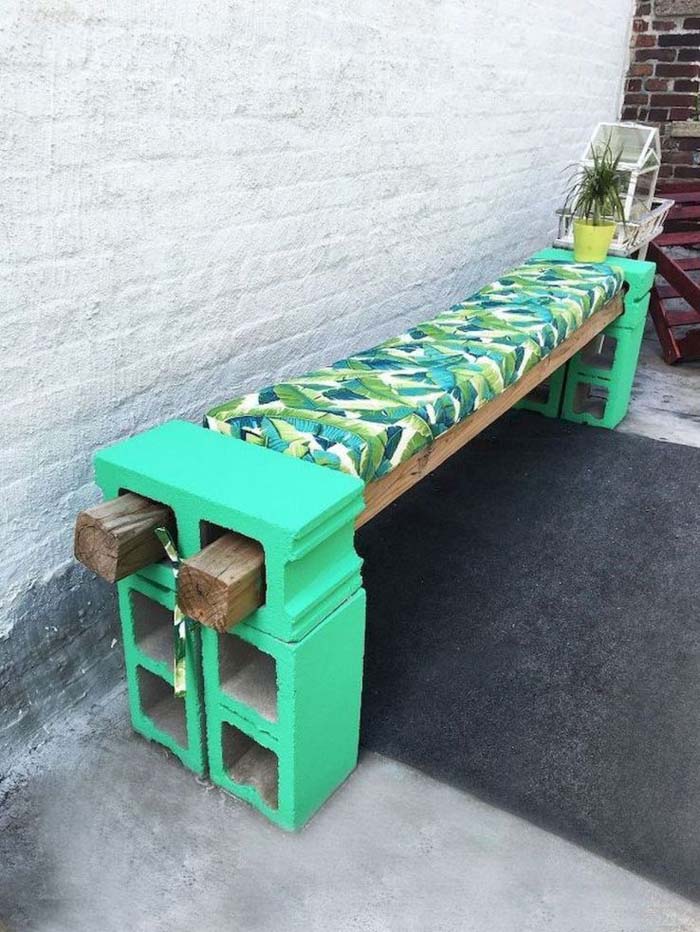 An otherwise plain white wall gets a huge color boost with a six block bench.
The outdoor cushions are anchored in place by tying fabric strips to the cinder blocks.
28. Create Lounge Area With Cinder Block Bench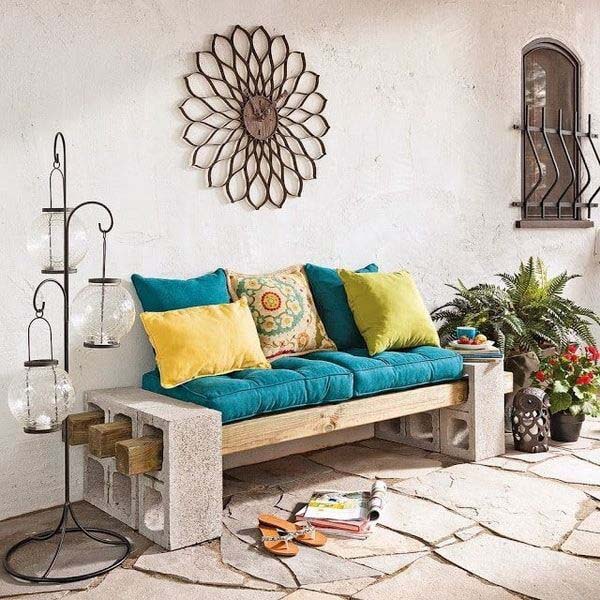 Using only six blocks standing on their ends, this low bench packs a punch with its bright blue tufted cushion seats and graphic throw pillows.